Today, we've compiled a list of our 10 Most Popular Recipes of 2012! There's everything from Gooey S'mores Cookies to Spicy Sausage Pasta – and it's all delicious!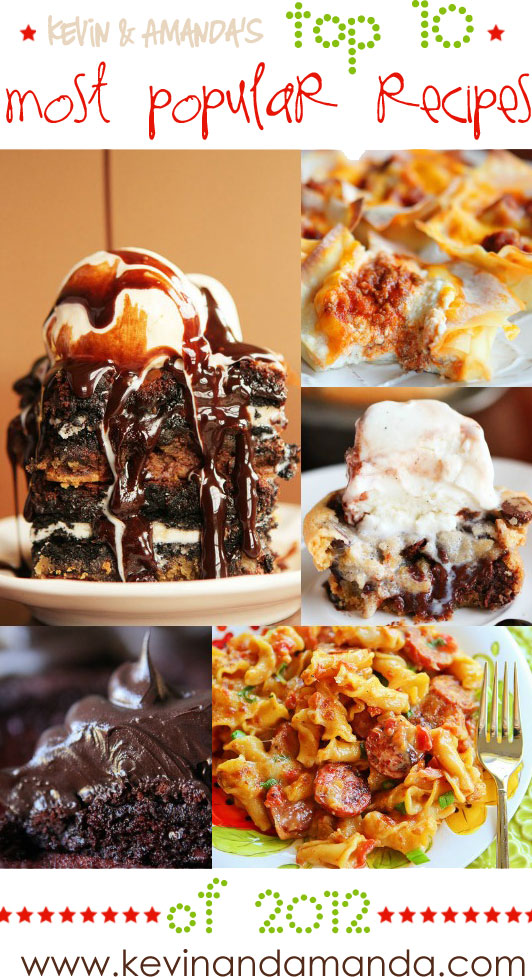 Happy New Years Eve! I seriously love seeing all the "Top Ten" posts that pop up this time of year! :) I always find so many fun new posts to Pin and bookmark. I especially love finding recipes, because you know they must be really good if they're the most popular! :) This year I decided to round up the Top 10 Most Popular Recipes on Kevin & Amanda. These are the top 10 recipes that received the most pageviews in the 2012 calendar year. I loved creating this list and finding that some of your favorites were some of my favorites too! :) Hopefully you'll find something new in here you've missed over the years. :)
Starting with number 10…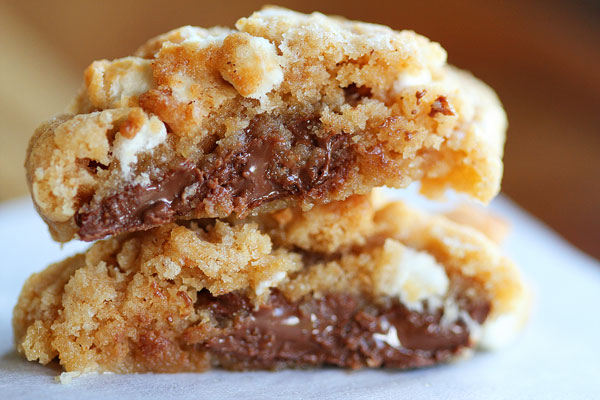 These cookies are sweet S'mores perfection! The soft, chewy cookie is made with sweet cinnamon graham crackers. It's stuffed with mini marshmallows that get all toasty from baking and mini Hershey's kisses that get all melty and gooey. It's everything I love about s'mores in one delicious cookie!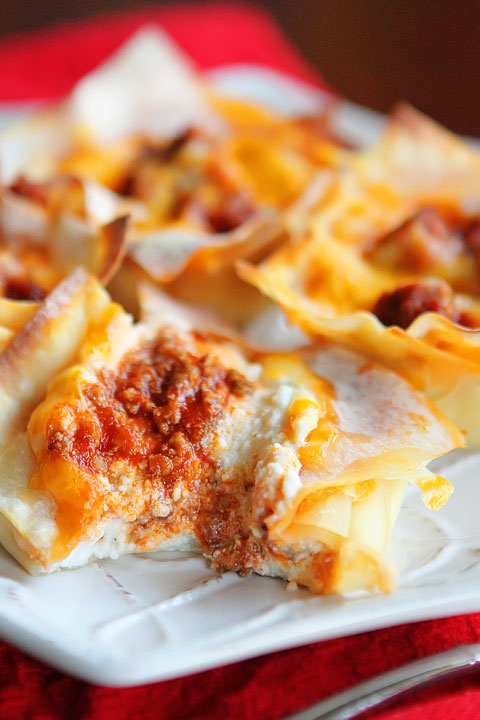 These mini lasagna bites are heaven! This recipe makes 12 mini lasagnas in a muffin tin by using wonton wrappers. So perfect for kids, appetizers, or just for fun! I LOVE how the layers of wonton gets soft like a lasagna noodle, while the outside gets perfectly toasty and crisp. Such a wonderful combo!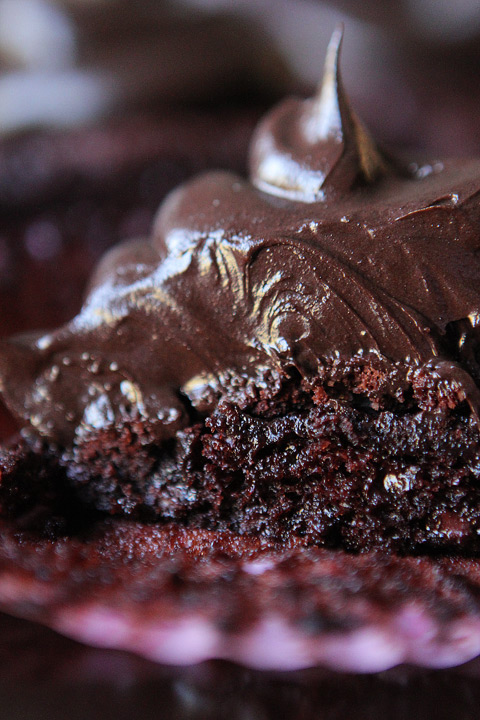 After I made cookie dough cupcakes, I HAD to make these Brownie Batter Cupcakes!! These are the fudgiest, richest, chocolatiest chocolate cupcakes ever. SO decadent! Make these for the chocolate lover in your life. :)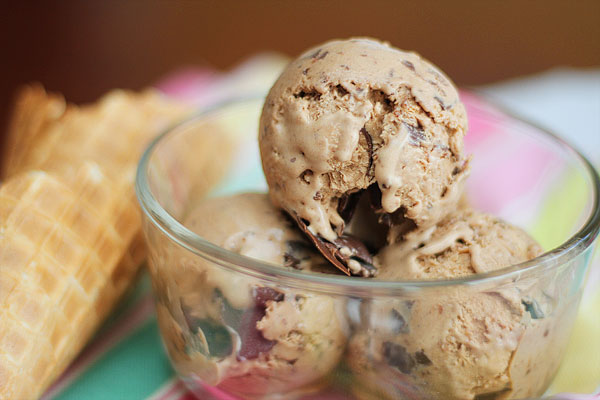 This recipe is just awesome. Make your own homemade ice cream with just two ingredients and without an ice cream machine. You won't believe how smooth and creamy it is! The best part is that  you can add your own flavors, syrups, and toppings in to create the perfect ice cream combination just for you. All you do is stir in your favorite toppings, freeze, and go!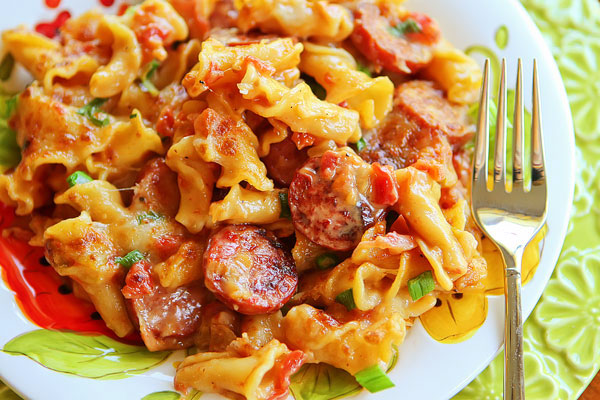 Oh my gosh you guys. This is so seriously one of my favorite meals ever. I'm so glad to see ya'll love it too!! I make this for us ALL the time. We love it! It's such a quick and easy weeknight meal, everything cooks in one pot, and you don't even have to boil the noodles first! Make this ASAP!! :)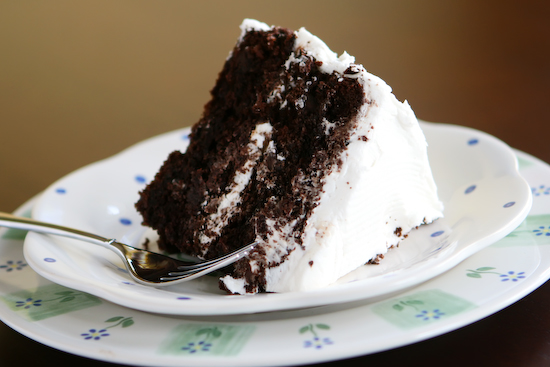 This doctored-up cake mix cake will knock your socks off! Add just a few "secret" ingredients to a cake mix to make it unbelievably delicious. One of the secret ingredients is a box of Jello pudding. This chocolate cake is made with a Devil's Food Cake cake mix and a box of Chocolate Jello Pudding — all chocolate. But you can mix and match any cake mix and pudding mix to create any flavor you want! Yellow cake + vanilla pudding, Red Velvet Cake + white chocolate pudding, Butter cake + french vanilla pudding, or a white cake + pistachio pudding are just a few of my favs. The options are endless! :)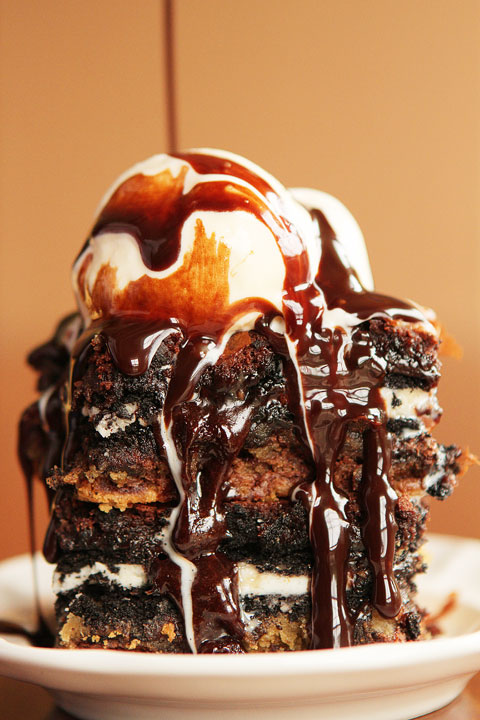 I had no idea what I was getting into when I created these brownies! :) Would you look at how insanely decadent this photo is?? Lol. These brownies are:
Layer of Cookie Dough
Layer of Double Stuffed Oreos
Layer of Brownies
All in one massive bar. You can opt to use a homemade recipe for both the brownies and the cookie dough, or you can go all store bought with refrigerated cookie dough and a brownie mix. Or you can do like I did — homemade cookie dough with a doctored up brownie mix. If you haven't tried them before, make them for your next party! They're especially fun with the bright and colorful holiday Oreos. You can also stuff them with any candy or cookie besides Oreos. I've made them with Reese's Peanut Butter Cups before too! :)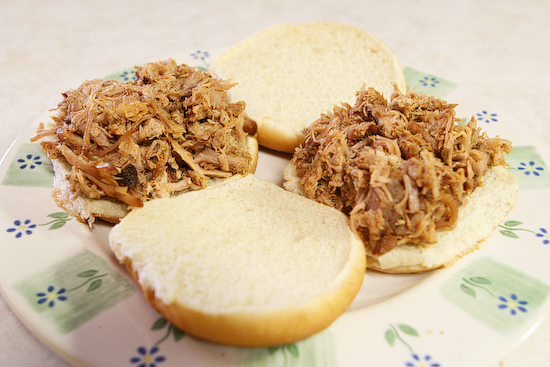 This is one of the very first recipes I ever shared, and I'm not surprised it's still in the top three recipes today. I call this a "company recipe" because it feeds a crowd, and everyone you make it for will rave over it! Prepare to have everyone ask for the recipe and beg to take home the leftovers. :) This pulled pork is tender, supremely flavorful, and perfectly seasoned. It's so good the way it is, it doesn't even need sauce . You can make this in a crock pot, but I much prefer it made in the oven, or better yet, a smoker! :)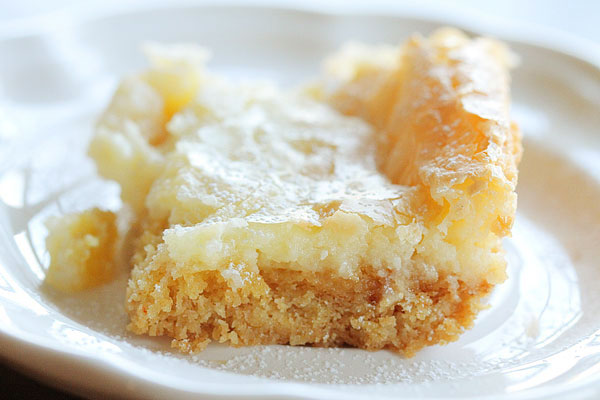 You guys, I almost didn't even post this recipe. (Find out why) But I am SO glad I did. :) I love these darn chess squares! This go-to recipe has been one of my favorite potluck standbys since college. It's sweet, buttery, chewy, and soft with a perfectly crackly crust. I love every single thing about it. Plus the way it makes the whole house smell while it's baking makes me want to FAINT! :)
And the number one recipe of 2012…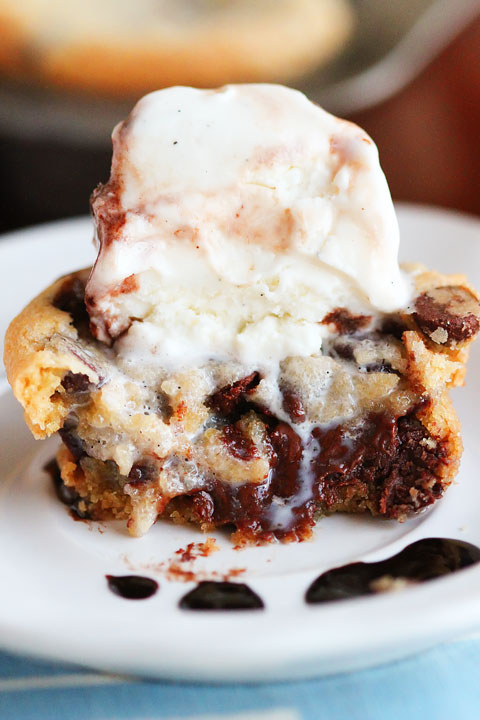 Chocolate Chip Lava Cookies! These cookies are so rich and decadent! They're ooey, gooey cookies made in a muffin pan and oozing with hot, melted chocolate. What's so fun about these lava cookies is that you can stuff them with just about anything! I've filled them with melted chocolate,  fun-sized candy bars, chocolate ganache, Hershey's syrup, peanut butter, Nutella, Biscoff, caramel sauce, and more. The options are endless with these gooey, melty cookie cups. The best thing about cookie cups? They're the perfect shape for a scoop of ice cream. :)
And here are three more of our most popular posts that weren't recipes, but definitely deserved an honorable mention. :)
To keep you organized in 2013…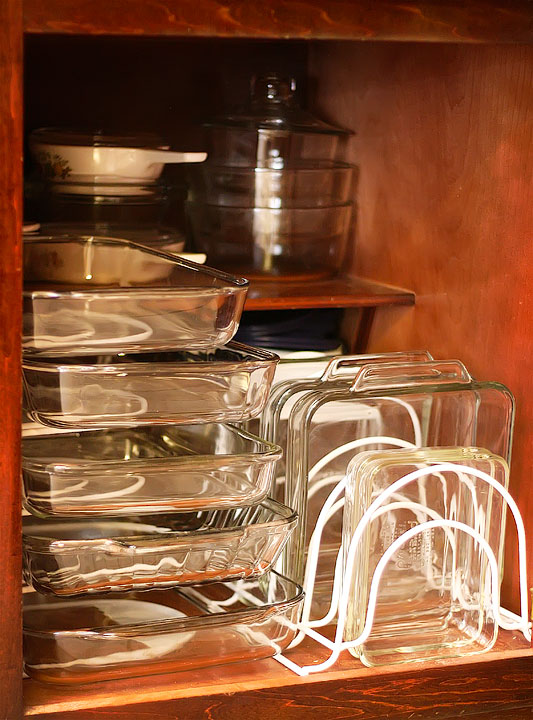 To keep you inspired…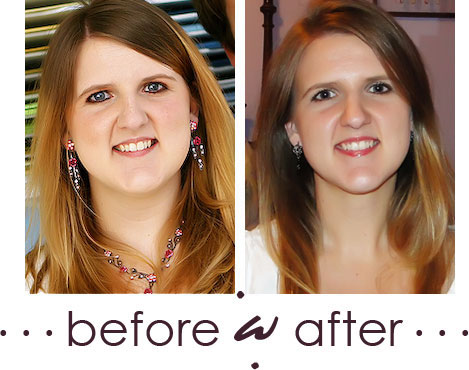 My Weight Loss Story — 30 lbs, before and after
And to keep you smiling. :)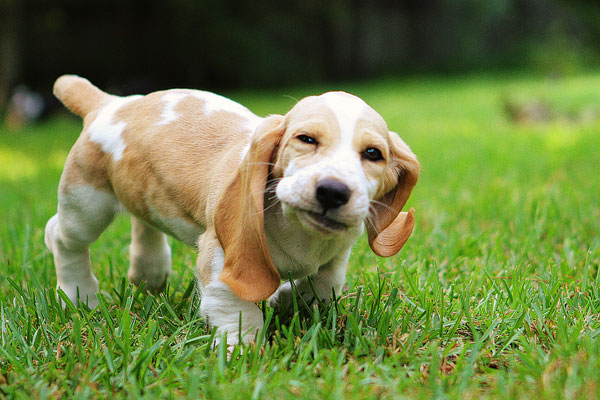 Louie the Lemon Basset Hound Puppy
Happy New Year!!! :)
XOXO