I originally invented these Cookie Dough Oreo Brownies in May of 2011. Soon after publishing this post, the internet gave them a new name… Slutty Brownies! Here is my original slutty brownie recipe, and what inspired me to invent these decadent brownies.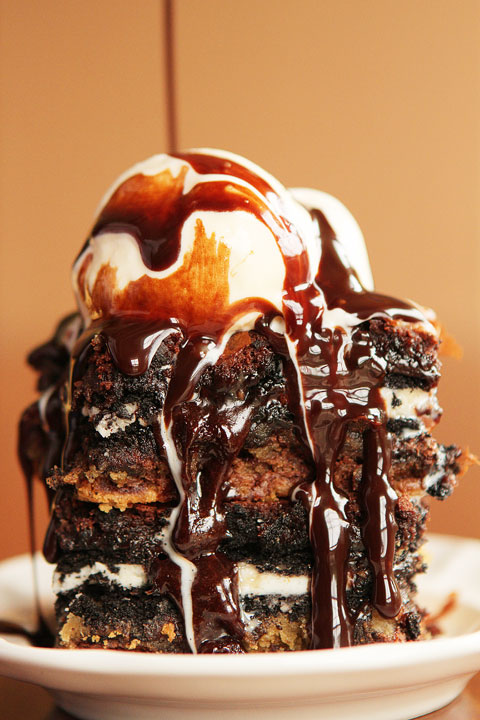 What are Slutty Brownies?
Slutty Brownies are the combination of three favorite desserts:
1st Layer: Gooey chocolate chip cookie
2nd Layer: Double Stuffed Oreos
3rd Layer: Warm, fudgy chocolate brownies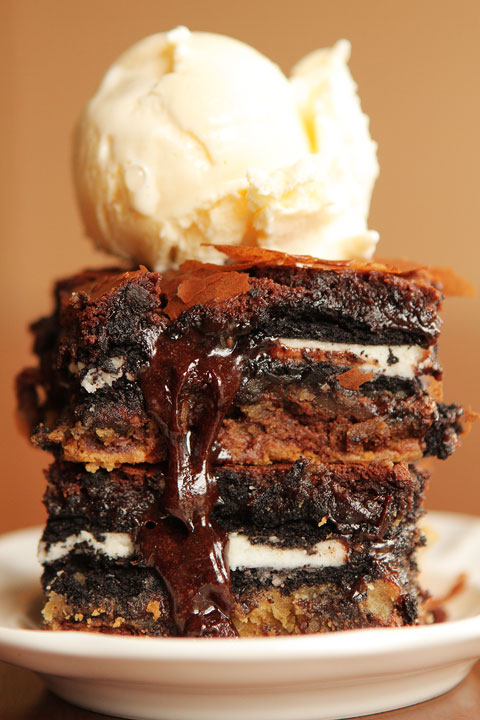 Way back in May 2011, I wondered what would happen if you combined my friend Jenny's Oreo Stuffed Chocolate Chip Cookies with my Oreo Stuffed Brownies.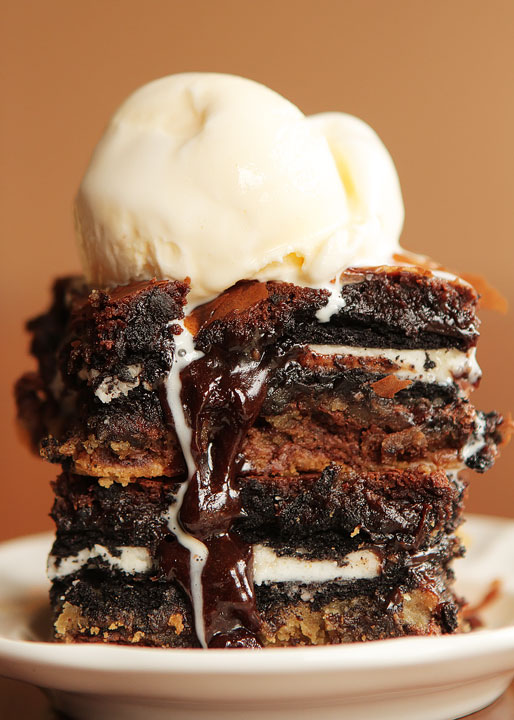 The result was an indulgent, outrageous, illegal in 48 states, ridiculously decadent brownie. These Ultimate Chocolate Chip Cookie Oreo Brownies, now known as Slutty Brownies, are without a doubt, completely and utterly insane. But I mean that in a good way, of course.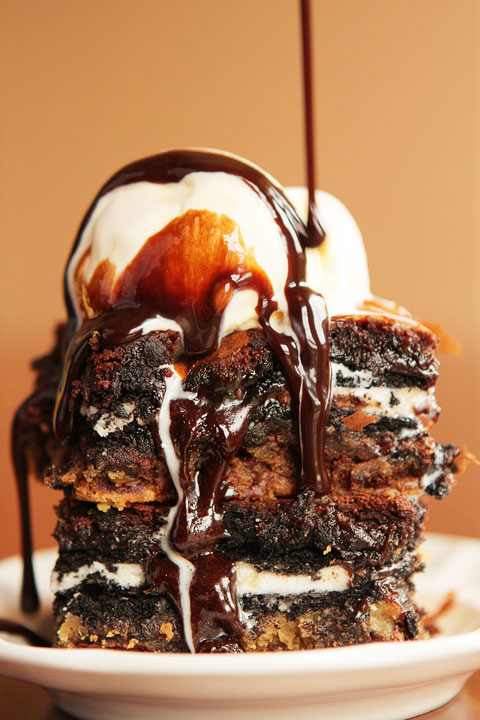 Slutty Brownie Recipe
All you need is cookie dough, a brownie mix, and Oreos. That's it! I made my own homemade cookie dough, but you could definitely use store-bought cookie dough.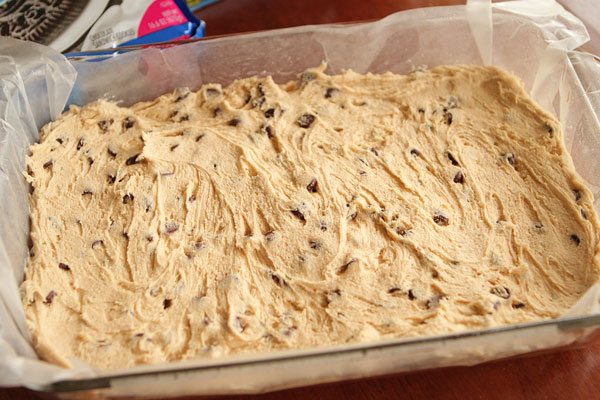 How To Make Slutty Brownies
Flatten the cookie dough in the bottom of a well greased 9×13 pan. You may want to line the pan with foil or wax paper. It makes the slutty brownies much easier to remove from the pan.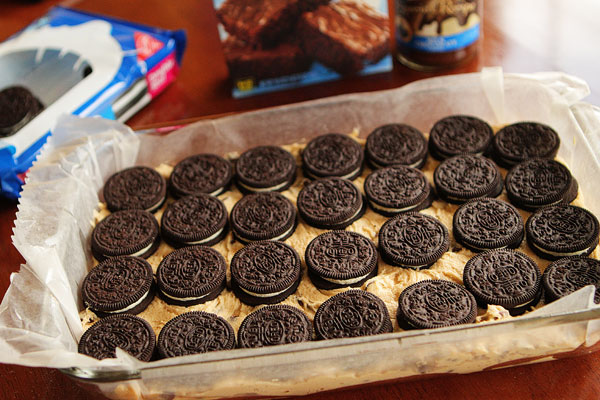 Top the cookie dough with a layer of Oreos. I use double stuffed Oreos because at this point… Why not?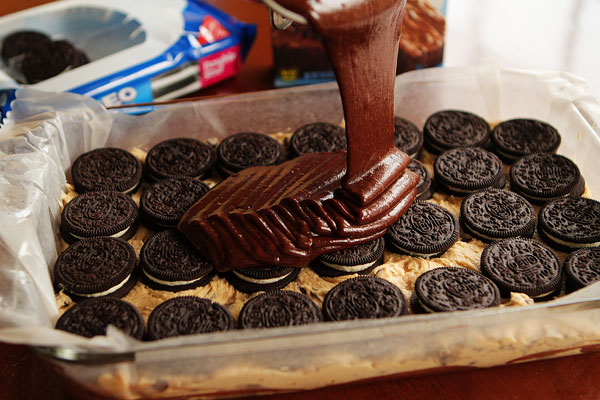 Prepare the brownie mix and cover the Oreo layer with brownie batter.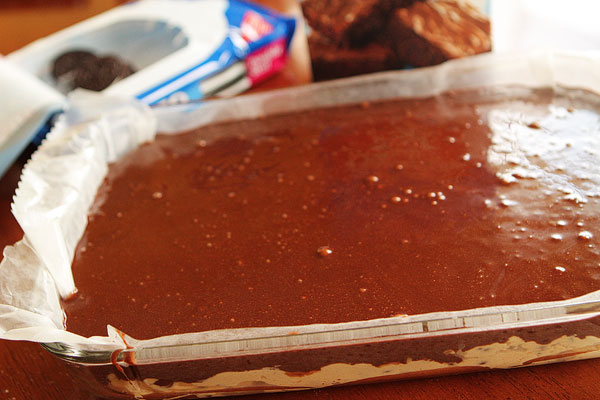 Then bake in a 350 degree oven for 45-55 minutes.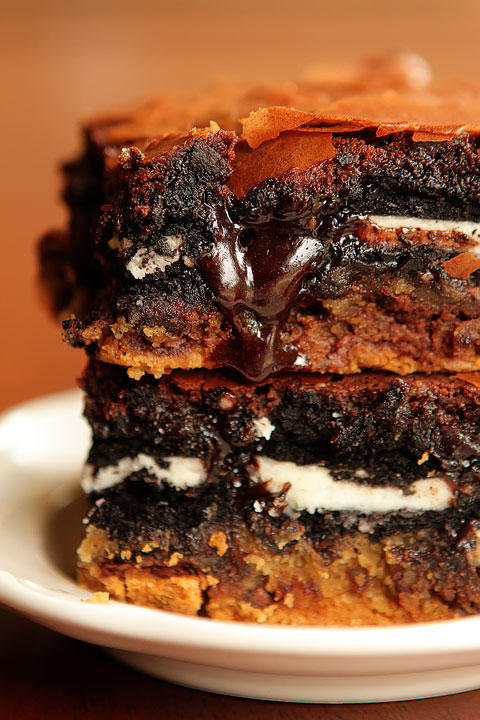 Oh my gosh, these brownies are insane!! I can totally see why they were quickly named slutty brownies!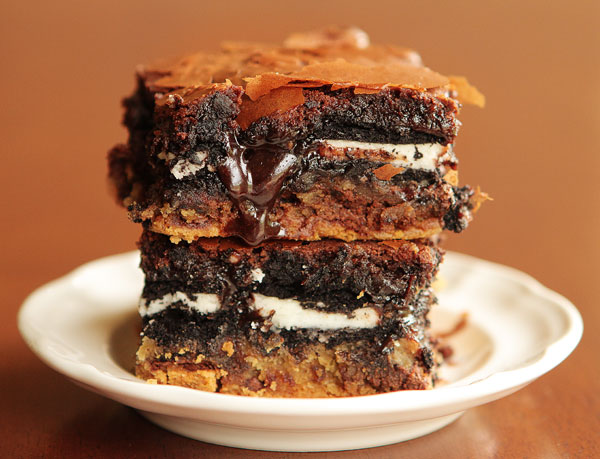 They are THE Ultimate Chocolate Chip Cookie Brownies!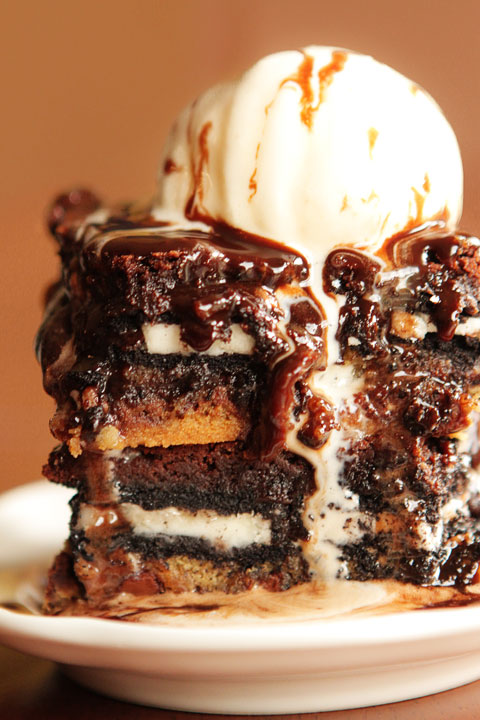 And that is our original slutty brownie recipe! Hope you enjoy these slutty brownies as much as we do!
Print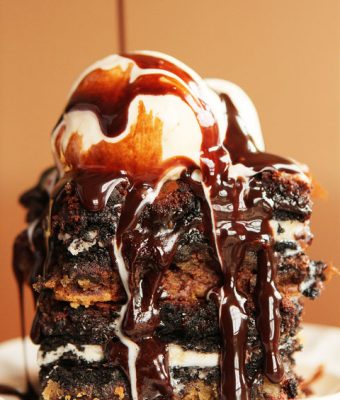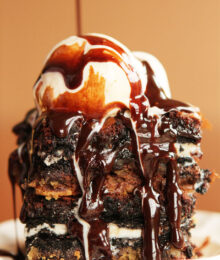 Slutty Brownies
Prep Time:

20 mins

Cook Time:

50 mins

Total Time:

1 hour 10 minutes

Yield:

1 (9x13) pan

Category:

Brownies

Cuisine:

Dessert
Description
The original Slutty Brownies recipe — An indulgent, three layer brownie with cookie dough and Oreos.
Ingredients
Homemade Cookie Dough Recipe
 1 cup (2 sticks) butter, softened
 1 cup granulated sugar
 3/4 cup light brown sugar
 2 large eggs
 1 Tablespoon pure vanilla extract
 2 1/2 cups all-purpose flour
 1 teaspoon baking soda
 1 teaspoon salt
 2 cups (12 ounces) chocolate chips
Oreo Layer
 1 package Double Stuffed Oreos
Brownie Layer
 1 Family Size (9×13) Brownie mix
 1/4 cup hot fudge topping
Instructions
FOR THE HOMEMADE COOKIE DOUGH
Beat the butter and both sugars in a large bowl with an electric mixer on medium speed for 3-5 minutes. Add the eggs and vanilla and mix well to thoroughly combine.
In a separate bowl, whisk together the flour, baking soda and salt. Add the dry ingredients into the mixer and beat on low speed until the flour is just combined. Stir in chocolate chips.
TO MAKE THE SLUTTY BROWNIES
Preheat oven to 350 degrees F. Line a 9×13 baking dish with foil and coat generously with nonstick cooking spray.
Flatten the cookie dough in the bottom of the prepared dish. Top with a layer of Oreos.
Mix together brownie mix, adding an optional 1/4 cup of hot fudge topping to the mix. Pour the brownie batter over the cookie dough and Oreos.
Cover with foil and bake at 350 degrees F for 30 minutes. Remove foil and continue baking for an additional 15-25 minutes. Let cool completely before cutting — brownies will still look gooey in the middle when warm, but will set up perfectly once cooled.
Notes
If you don't want to make your own cookie dough, you can definitely use store-bought refrigerated cookie dough!
Keywords: slutty brownies, oreo brownies, slutty brownie recipe, chocolate chip cookie brownies, oreo cookie brownies, how to make slutty brownies, slutty brownies easy