Are you looking for fun things to do in Dubai and thinking about going skydiving in Dubai? Read all about my experience with Skydive Dubai first! Here's what I wish I knew before skydiving in Dubai.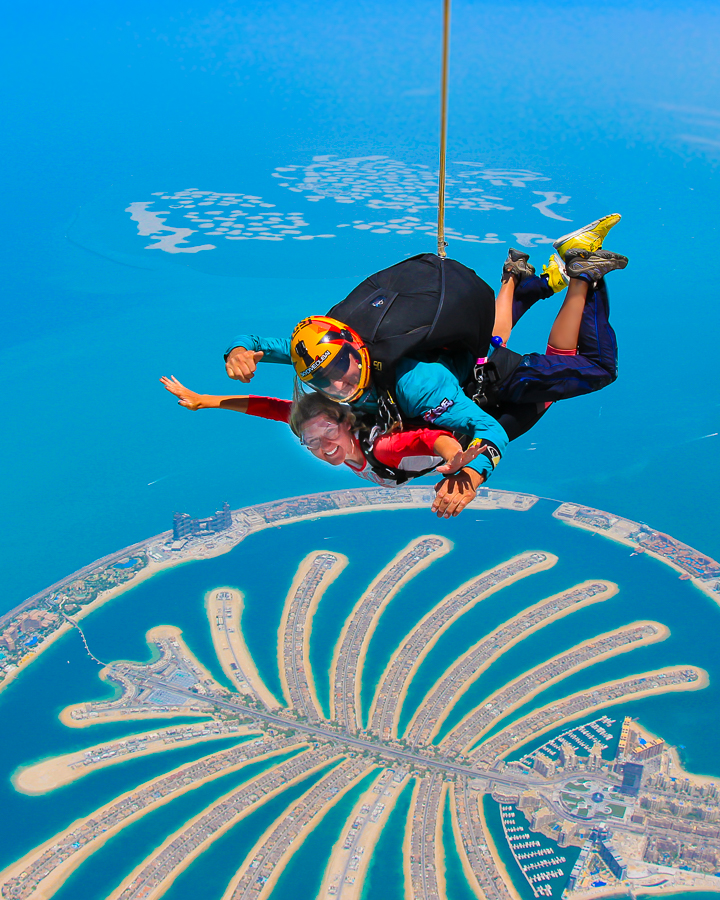 Skydiving in Dubai was easily one of the most exhilarating experiences of my entire life. If you're even considering skydiving, I highly, highly recommend it. I would do it again in a heartbeat!! I definitely hope I have the chance to go skydiving again in the future.
If you're thinking about going skydiving in Dubai, here's what your experience will be like: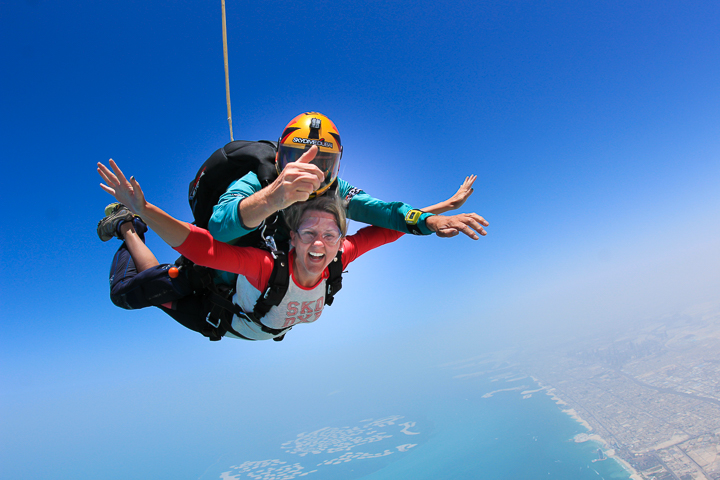 How much does it cost to skydive in Dubai?
A tandem skydive over The Palm in Dubai is approximately $600 USD. You are attached to an experienced instructor. The price includes all photos and a video.
It does not include insurance or the one-minute Instagram video, which can be purchased separately. I did not get the insurance or the Instagram video. It already comes with a video, the Instagram video is just a shorter version of that video to meet Instagram's one minute video limit.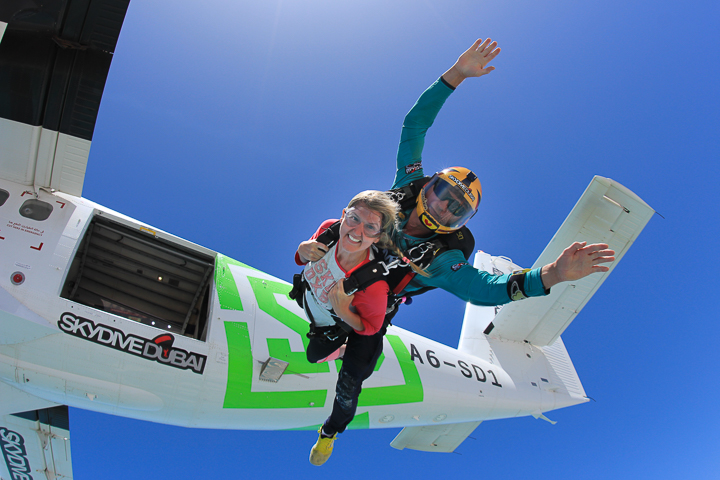 Is skydiving safe in Dubai?
Of course just like with any other adventure sport, there is an element of risk to skydiving. However safety is Skydive Dubai's primary concern.
Each Skydive Dubai instructor must undergo rigorous selection, training, and certification.
All parachutes are maintained under Federal Aviation Administration (FAA) supervision.
All Skydive Dubai equipment is equipped with an automatic activation device which will automatically deploy the parachute in the unlikely event that the instructor is unable to do so.
My instructor said he normally jumps 8 times per day!
When is the best time to skydive in Dubai?
Dubai enjoys year-round sunshine and very little rain. However summer in the desert can be hot, so to avoid the heat, the best time for skydiving is during the winter, from October to April.
I went skydiving at the end of April and the weather was perfect, it was not hot yet at all.
The best time of day for skydiving is in the morning, 10 AM. This is for lighting, weather, and to avoid the afternoon heat.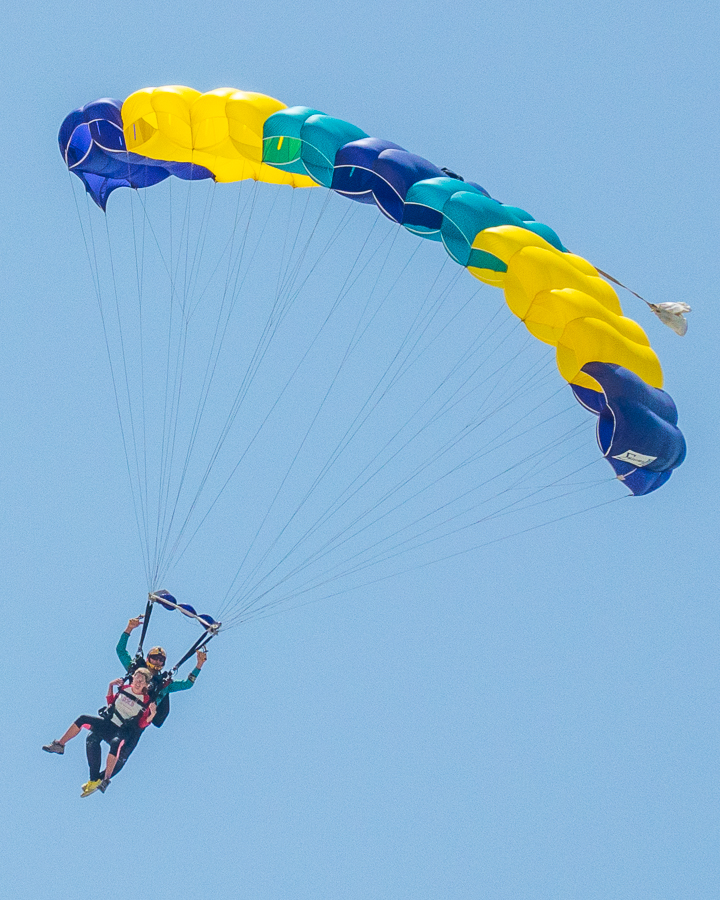 From what altitude do you jump when skydiving in Dubai?
You will jump out of the plane 13,000 feet over The Palm in Dubai!
How fast do you fall?
You will free fall over Dubai at approximately 120 miles per hour!
How long does the skydive last?
After jumping out of the plane, you will free fall approximately 60 seconds. After the parachute is deployed, you will gently float for about 5 minutes for the remaining descent.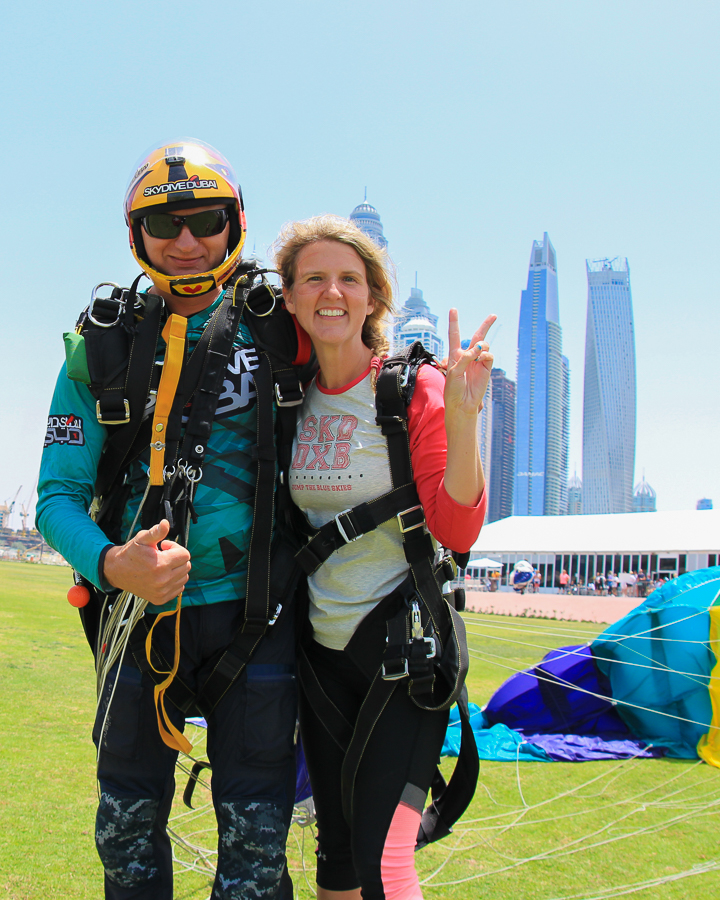 How long does the entire Skydive Dubai experience take?
Plan for at least 3-4 hours from the time you check in to the time you leave with your photos. First you will check in, where they will calculate your weight and BMI. Then you will get outfitted with your gear, meet your instructor, and do an interview with your photographer.
Once on the plane, the take-off, ascent, skydive, and landing takes approximately 20 minutes. Your videos and pictures will be ready to pick up about 45 minutes after you land.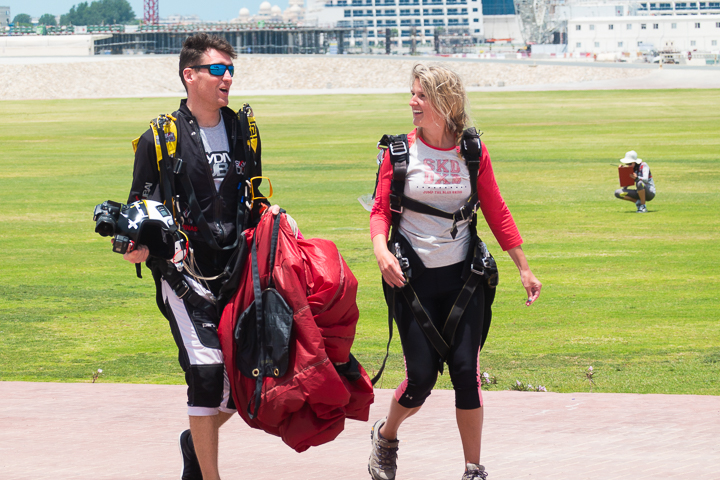 What is the best thing to wear for the Skydive Dubai experience?
The best thing to wear for skydiving in Dubai is athletic, comfortable clothes with sneakers or athletic shoes. The clothes should be not too loose and not too tight. You should be able to move easily in the clothes.
Because of the skydiving gear you need to wear, you must be wearing a shirt with sleeves (no sleeveless shirts are allowed) and longer shorts or pants.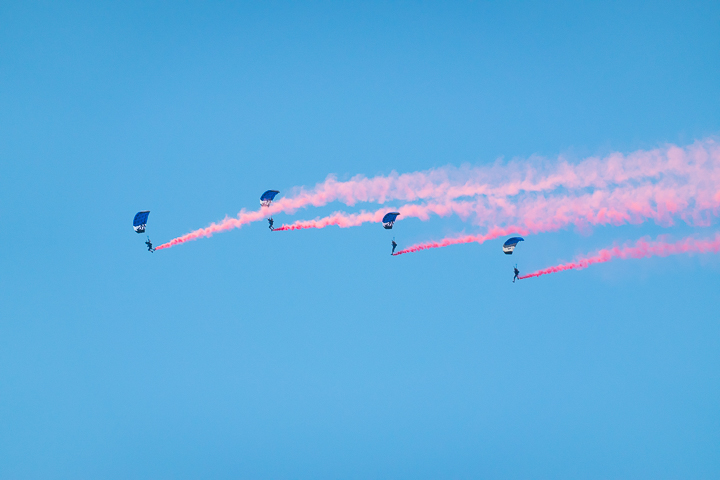 Is skydiving in Dubai scary?
I didn't think it was scary at all! You're attached to an instructor who is extremely experienced, calm, and reassuring. The entire experience goes by so fast you don't have time to be scared!
You don't have to get over the mental hurdle of jumping out of the plane, because you are attached to your instructor. They jump out of the plane and you just go with them!
Skydive Dubai — Watch the Video!
Watch the video above to see what it's really like to skydive in Dubai!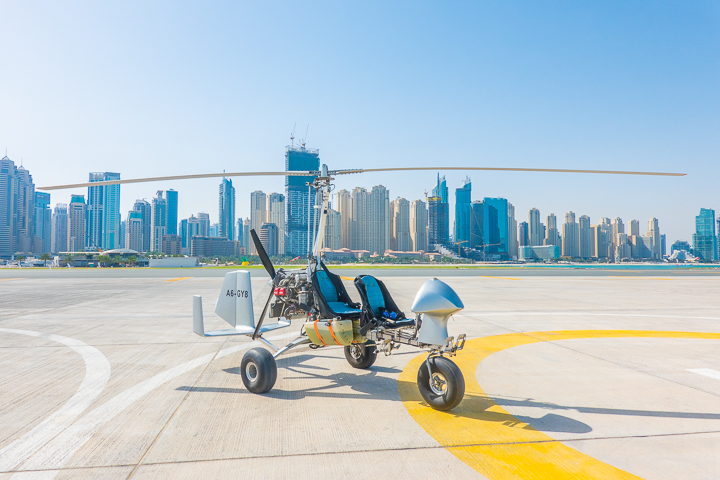 What are the alternatives to skydiving in Dubai?
Dubai is a really fun city to see from above. If you'd like to fly over Dubai without the extreme experience of skydiving, Skydive Dubai offers another unique option.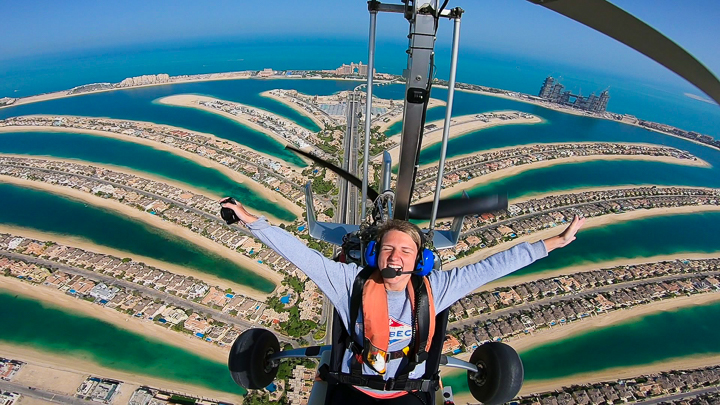 Gyrocopter Flight in Dubai
A gyrocopter is like an open-air, two-seat helicopter. At Skydive Dubai you can take a private gyrocopter flight over Dubai's most iconic sites.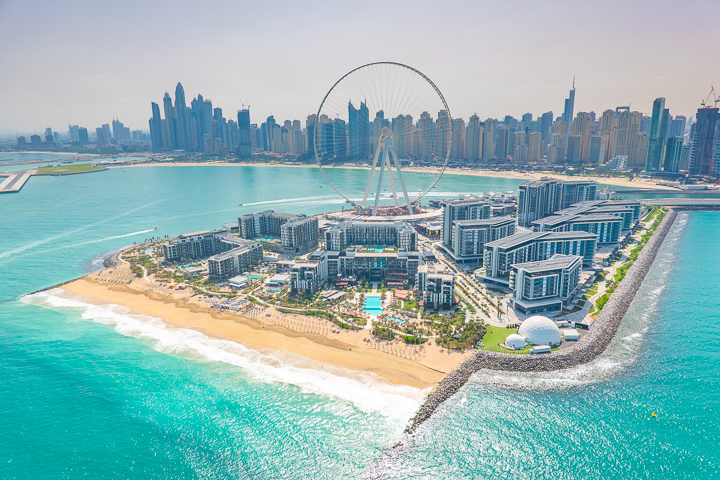 A gyrocopter flight is better than a helicopter because there are no doors, windows, or glass to get in the way of your view.
Gyrocopter Flight in Dubai — Watch the Video!
Watch the video above to see what a Gyrocopter Flight in Dubai is like!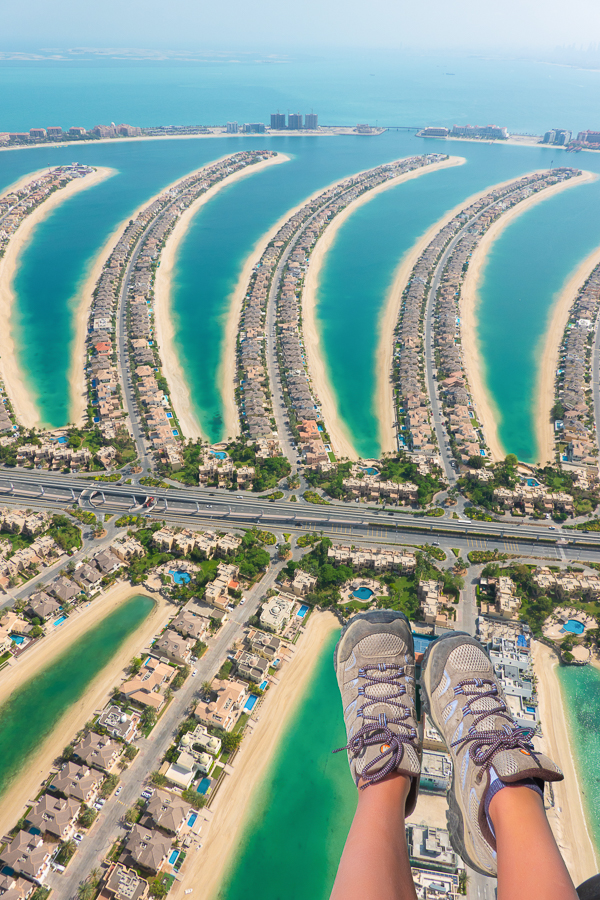 How High Do You Fly Over Dubai In The Gyrocopter?
The gyrocopter flies 1,500 ft above Dubai.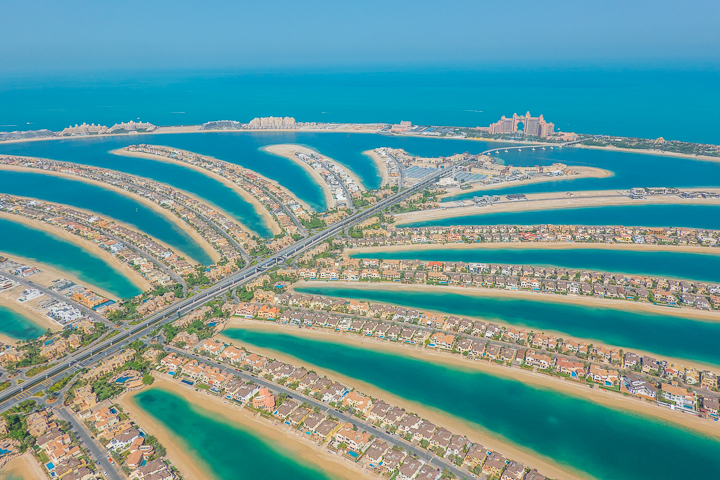 How Long Does The Gyrocopter Flight Take?
The gyrocopter flight lasts approximately 20 minutes.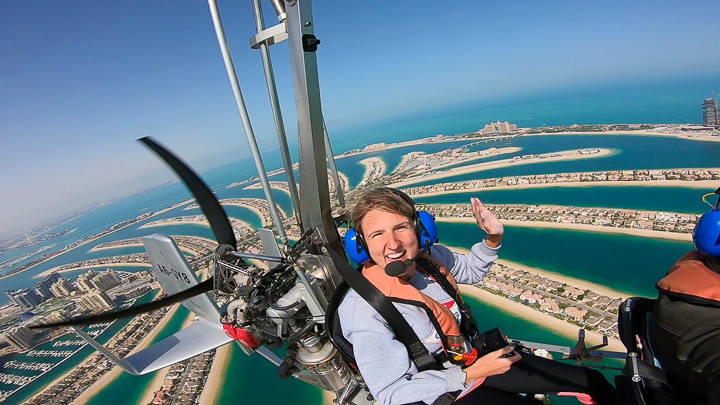 What Do You See During The Gyrocopter Flight In Dubai?
You will see some of Dubai's most iconic sites including the World's Largest Ferris Wheel, The Palm, Atlantis, The World Islands, and the Burj Al Arab (sailboat tower).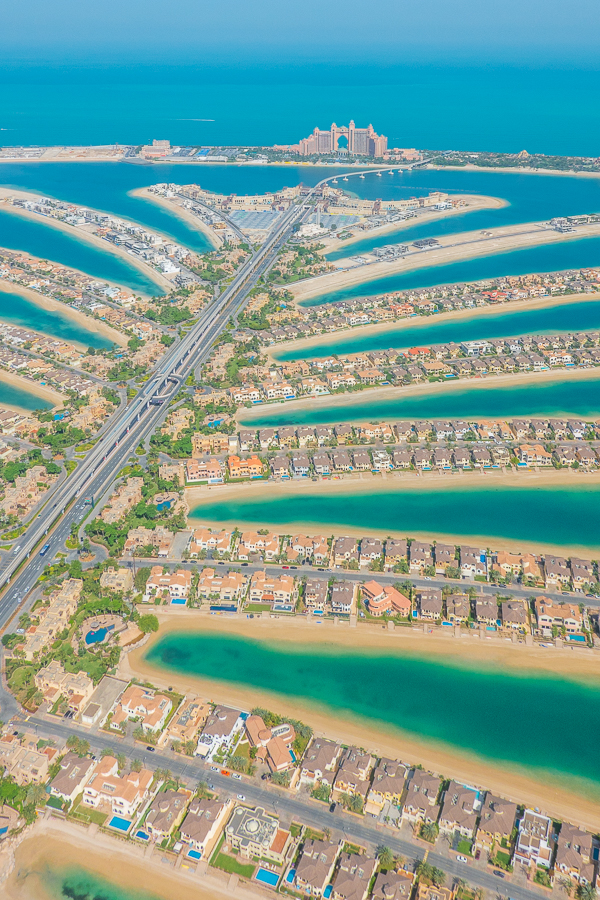 How Much Does A Gyrocopter Flight In Dubai Cost?
A gyrocopter flight in Dubai costs approximately $270 USD per person. This includes pictures and a video.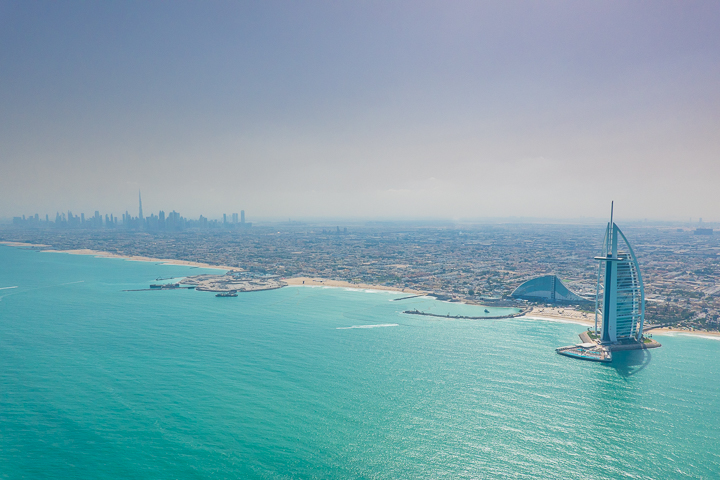 What To Wear For A Gyrocopter Flight?
Wear comfortable clothes with shoes that tie (no sandals or flip flops). It can be a bit chilly during your flight so you may want a sweater or light jacket. You may also want sunglasses to protect your eyes from the wind.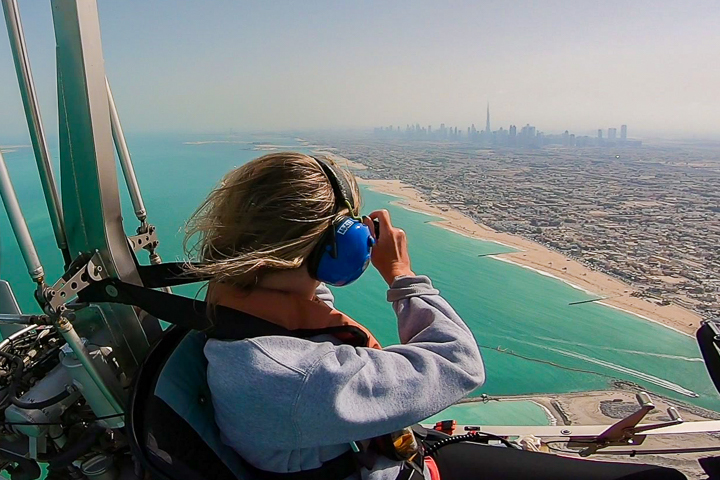 Can You Take A Camera On The Gyrocopter Flight?
Yes, you can take your camera or phone to take pictures on your gyrocopter flight! Make sure you can fully secure your device with a strap so you don't drop it.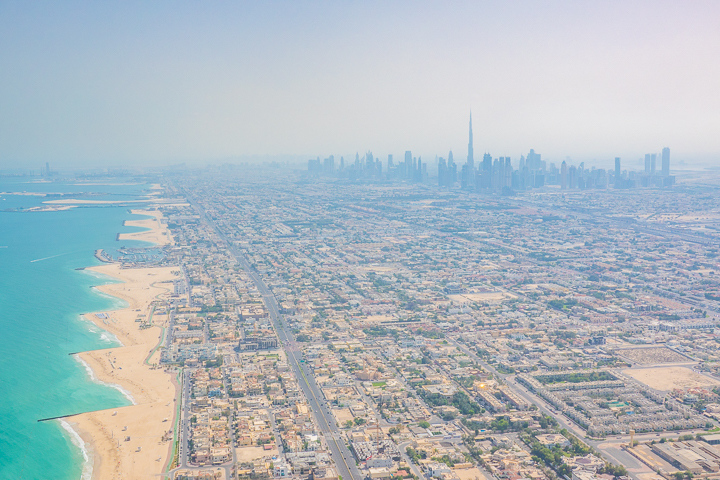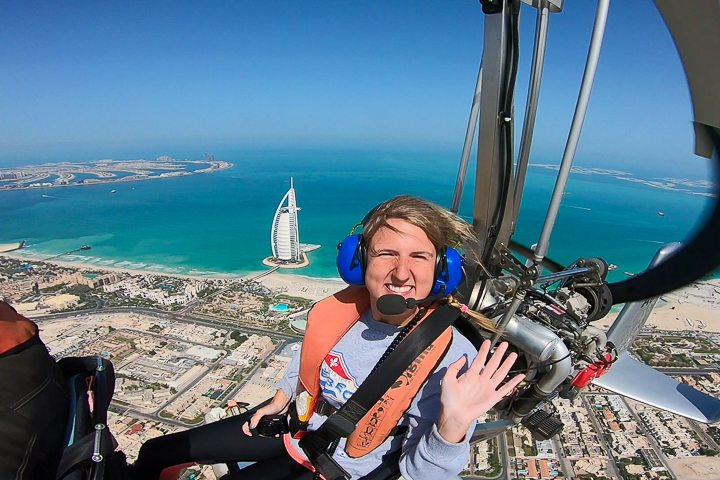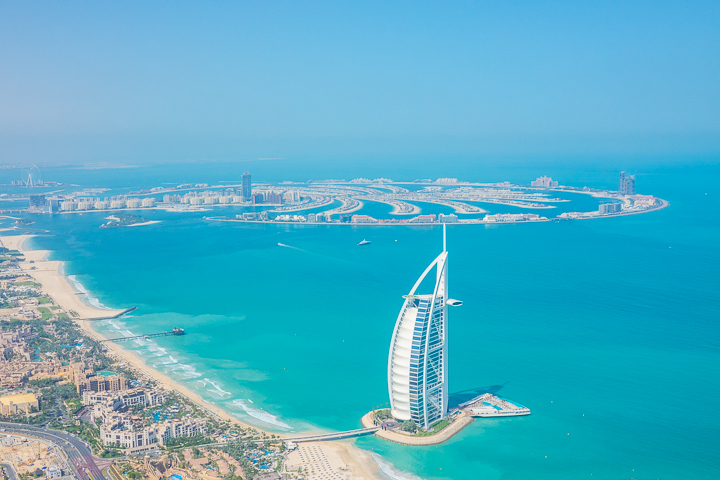 When Is The Best Time Of Year For A Gyrocopter Flight?
Gyrocopter flights with Skydive Dubai are only available from September to May.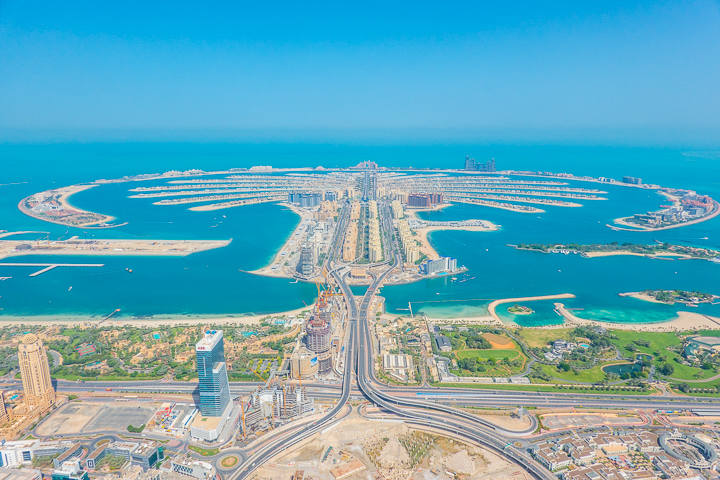 Is There Minimum Age Requirement To Take A Gyrocopter Flight?
You must be at least 17 years old to take a Gyrocopter flight.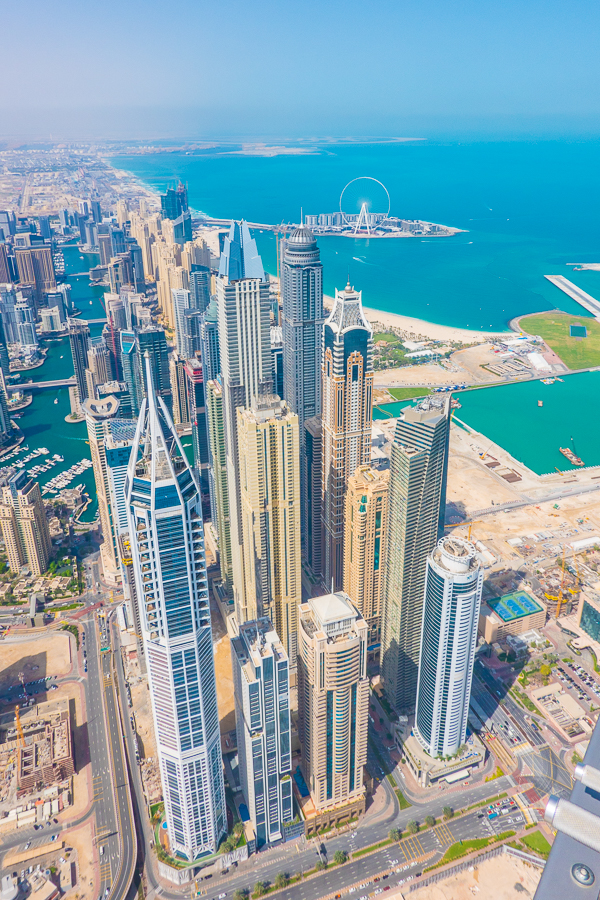 Would you go skydiving in Dubai?
Would you go skydiving or take a gyrocopter flight in Dubai?
---
Like this post? Save it on Pinterest!