Wondering what to do in San Francisco? Use this guide to make sure you don't miss any of the best things to do in San Francisco! Here's what you'll definitely want to see: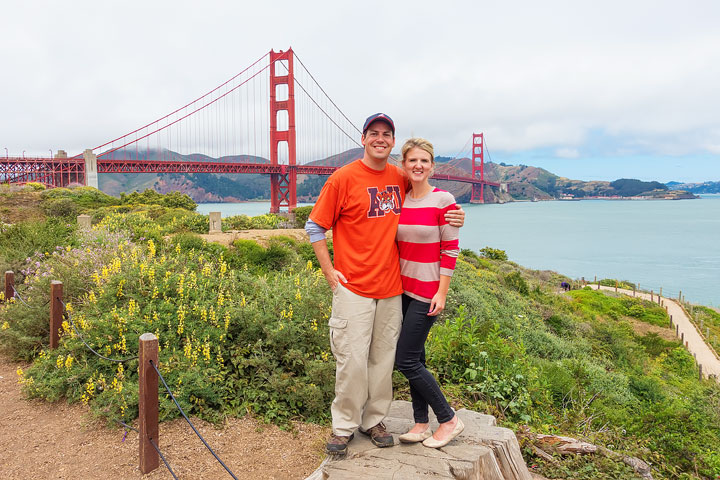 Best View Of Golden Gate Bridge
The first thing you want to do in San Francisco is see the Golden Gate Bridge! Here are the four best places to get the best Golden Gate Bridge view: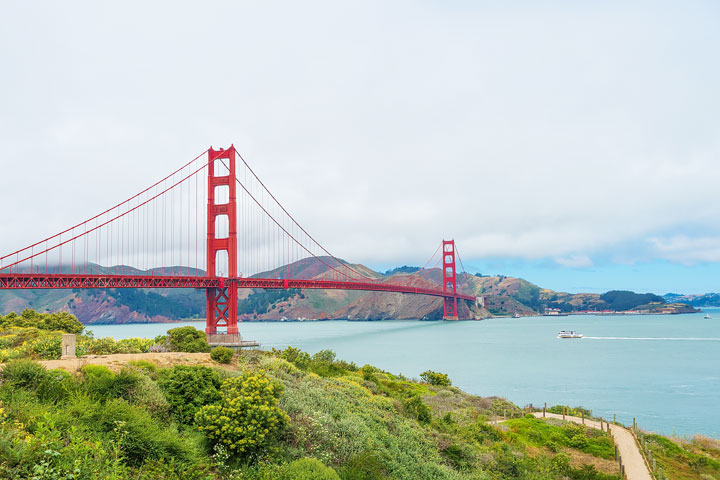 Best View Of Golden Gate Bridge #1 — Presidio of San Francisco
We found this Golden Gate Bridge view when we biked over the bridge to Sausilito!
Here's a link to the exact location on Google Maps.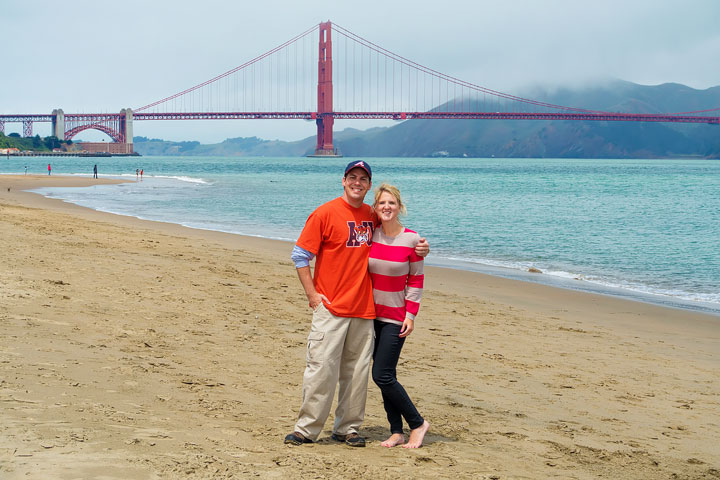 Best View Of Golden Gate Bridge #2 — Crissy Field
This grassy field and sandy beach with picturesque views of the Golden Gate is the perfect spot for a picnic!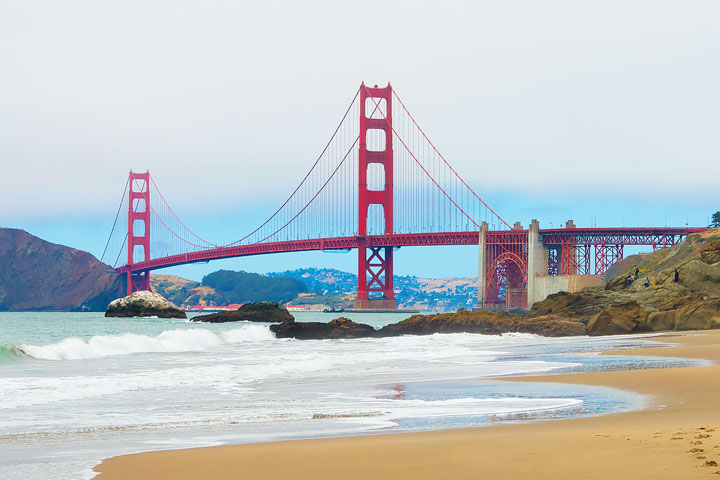 Best View Of Golden Gate Bridge #3 — Baker Beach
This was one of my favorite views of the Golden Gate Bridge!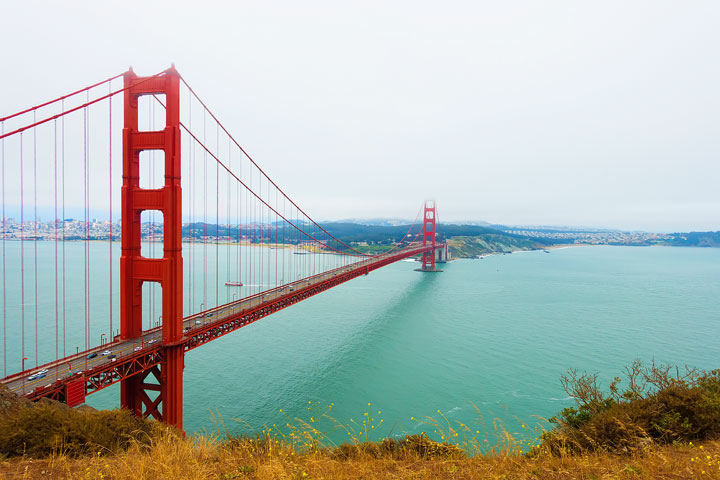 Best View Of Golden Gate Bridge #4 — Battery Spencer
This overlook is from the other side of the bridge. If you go to Muir Woods to see the redwoods, this is a great place to stop for Golden Gate Bridge views on the way back.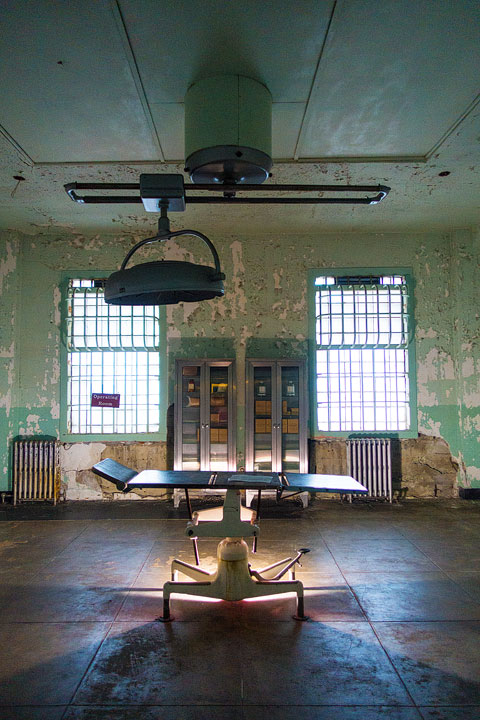 Alcatraz
Hands down, one of the most popular things to do in San Francisco is visit Alcatraz. This notorious prison was once home to Al Capone and is now open for tours. We took the Alcatraz Night Tour! For more information about visiting Alcatraz, check out our post below.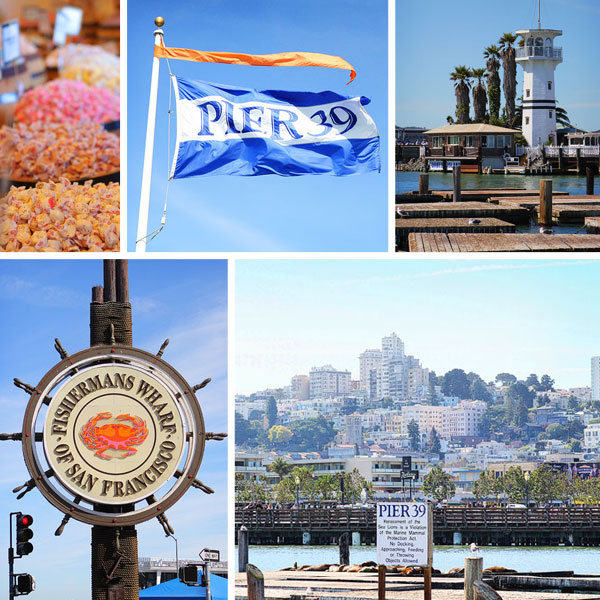 Fisherman's Wharf
Another one of the most popular things to do in San Francisco is Fisherman's Wharf. There are fun souvenir shops and restaurants where you can get clam chowder in sourdough bread bowls.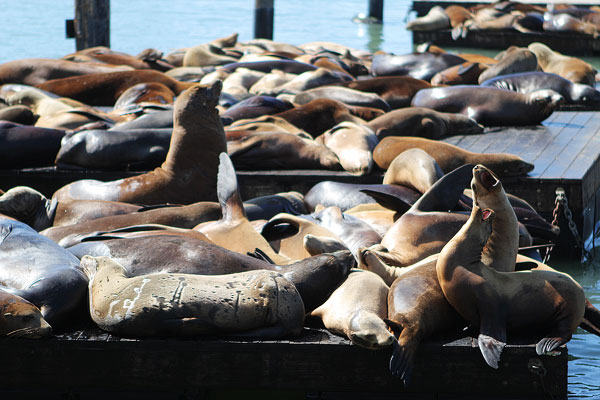 Pier 39
Right next to Fisherman's Wharf is the scenic Pier 39. The pier is lined with souvenir shops, boutiques, and restaurants. You can also see tons of sea lions from the pier!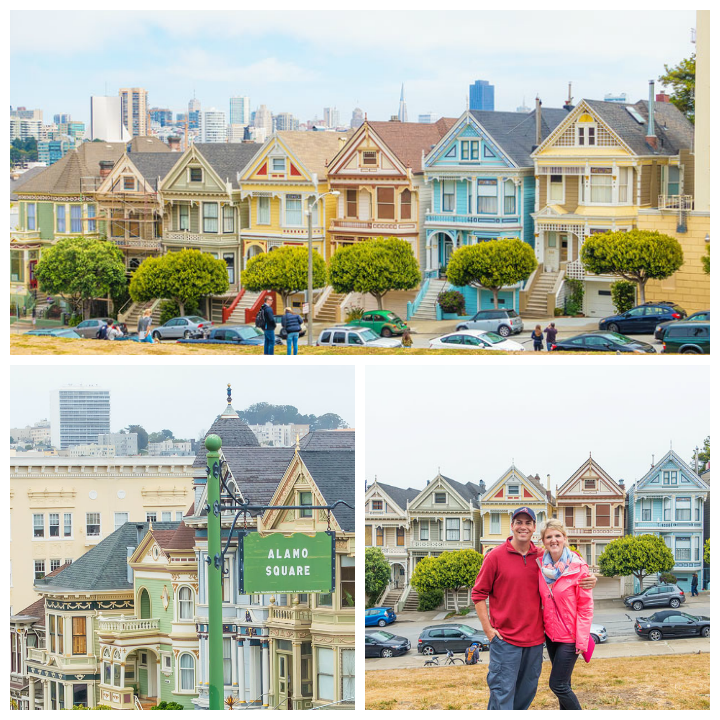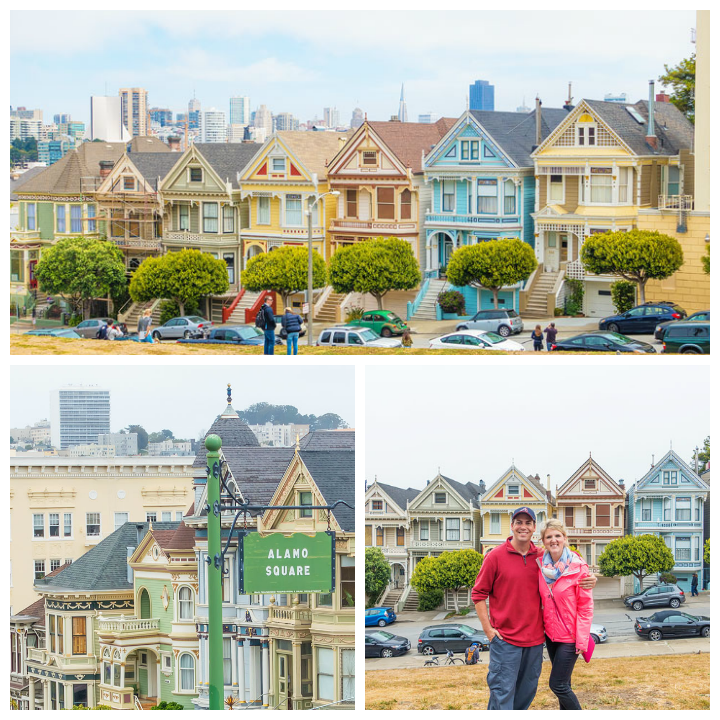 Painted Ladies
Another one of the most popular things to do in San Francisco is see the Painted Ladies in Alamo Square. The Painted Ladies are an iconic row of colorful Victorian homes. This is where the Tanners are having a picnic in the opening credits of Full House.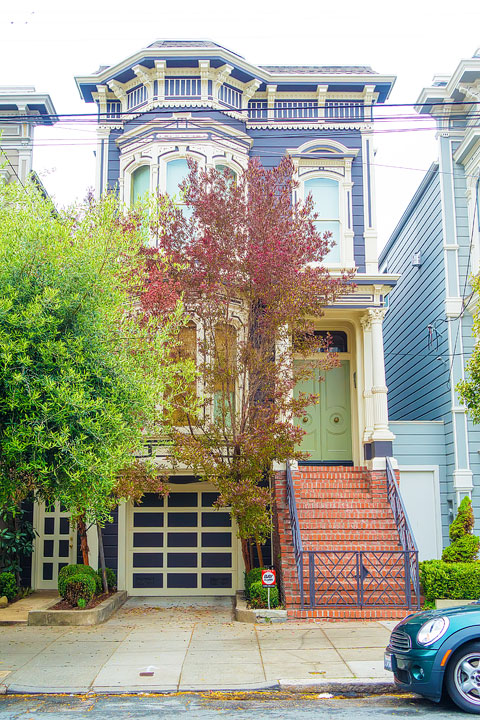 Full House House
If you're a fan of Full House, you may want to go see the Full House House! It's just a 15-minute walk from the Painted Ladies. When we were there it had been given a new paint job, but we were still able to recognize it!
Here is the exact GPS location of the Full House House.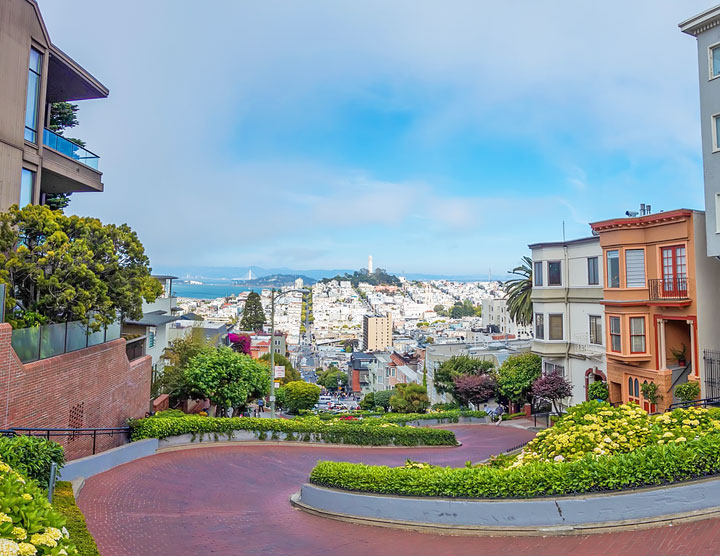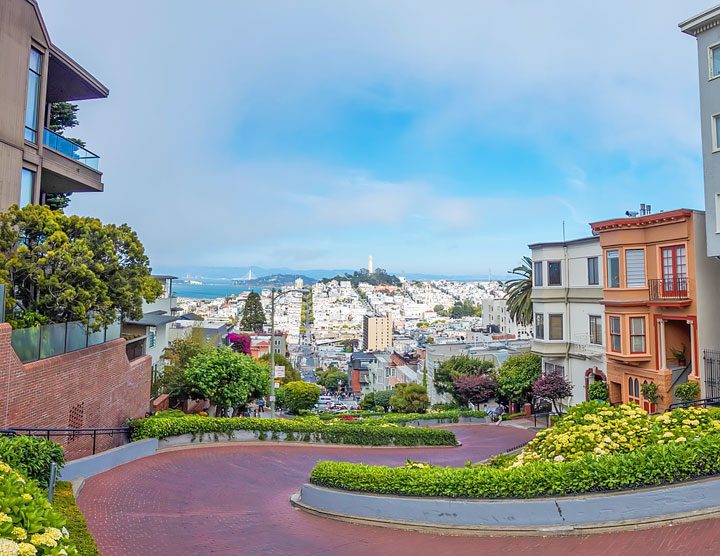 Lombard Street
San Francisco has crazy steep hills! The streets in San Francisco basically go straight up. Walking was more like doing lunges!! One of the most fun things to do in San Francisco is walk up to Lombard Street.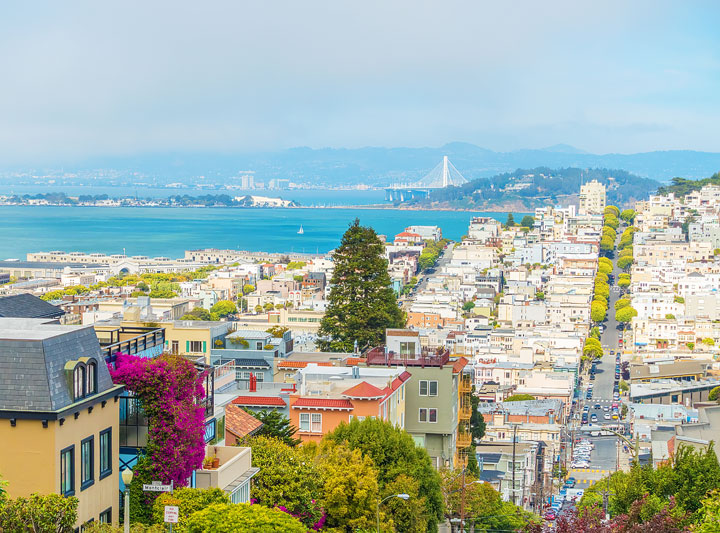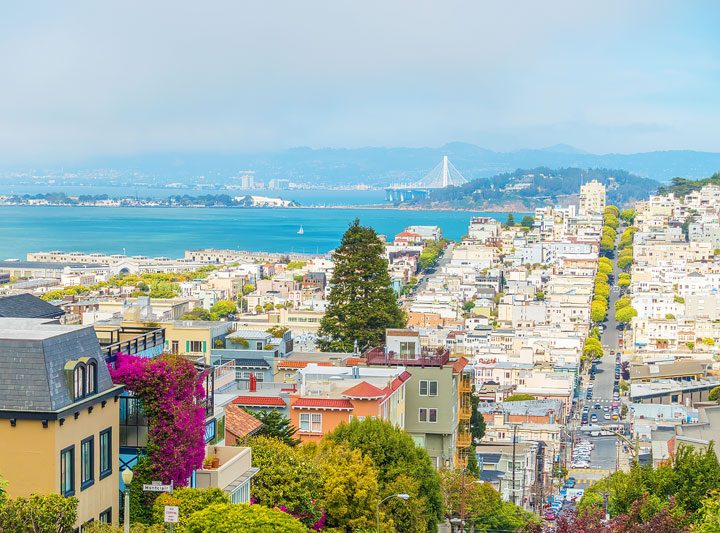 Lombard Street is that crazy curvy street you've probably seen in pictures or any movie set in San Francisco. The view from the top is gorgeous!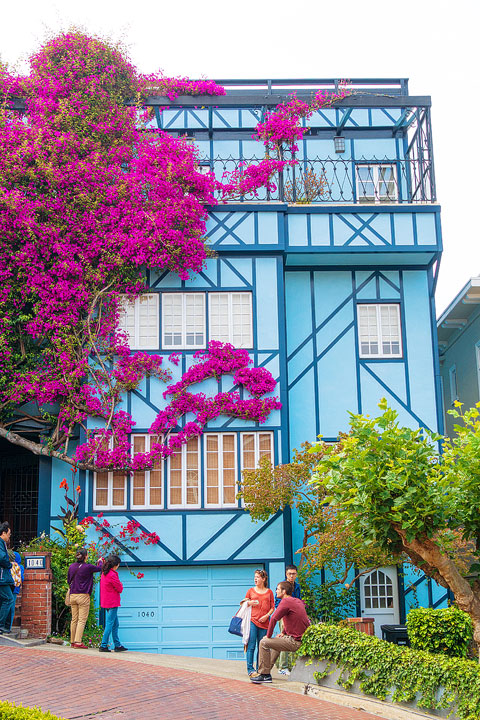 Lombard Street was originally straight, but in an effort to keep the neighborhood safer and quieter, the curves were added to deter cars from flying down the steep hill in a residential area. Unfortunately that plan seems to have backfired a bit, as the street is now such a popular attraction that there are literally hundreds of  tourists lining the street at all times of the day. There are crossing guards at the top of bottom of the street to keep the tourists out of the middle of the road, and there's a line of cars a mile long just to drive down this famous street!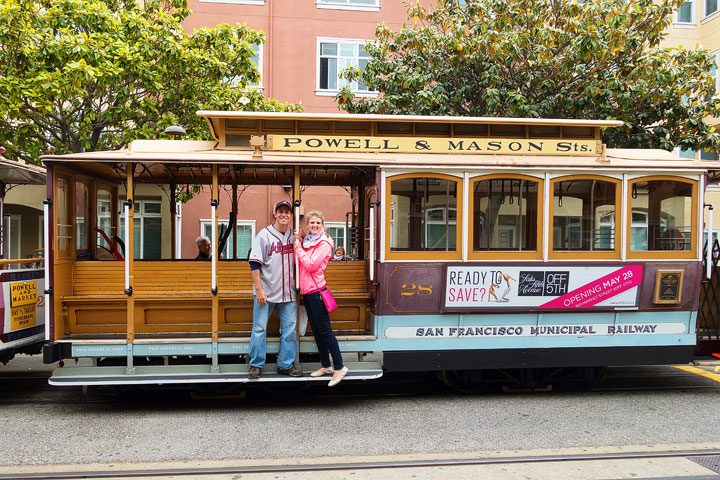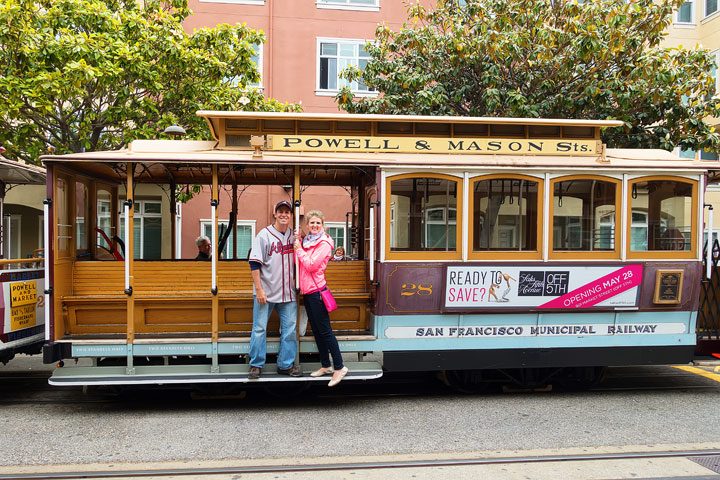 Ride a Cable Car
I highly recommend the San Francisco CityPASS. We took buses, trains, and cable cars everywhere to get around in San Francisco!! You get unlimited rides with the CityPASS, whereas just one cable car ride is $6 per person.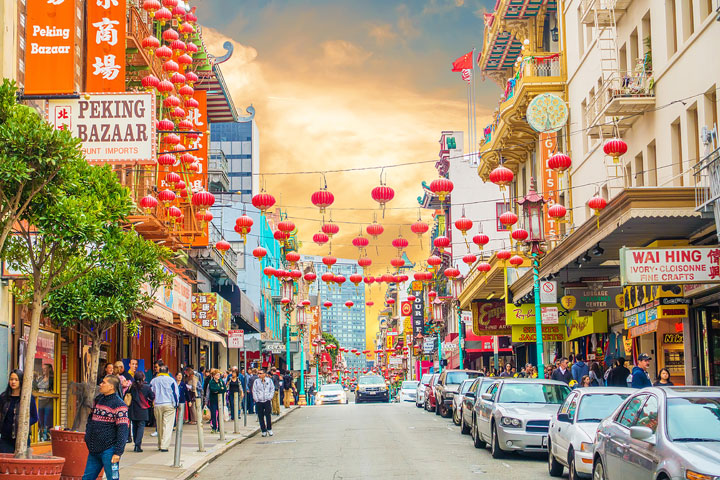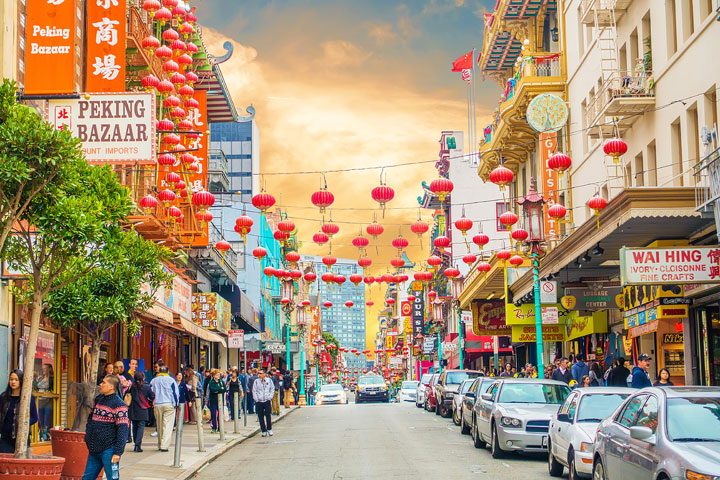 Chinatown
One of the most unique things to do in San Francisco is explore Chinatown. It is one of the oldest Chinatowns in the United States. This area is filled with narrow streets and alleys lined with traditional, authentic Chinese restaurants and shops. Don't miss the iconic Dragon's Gate!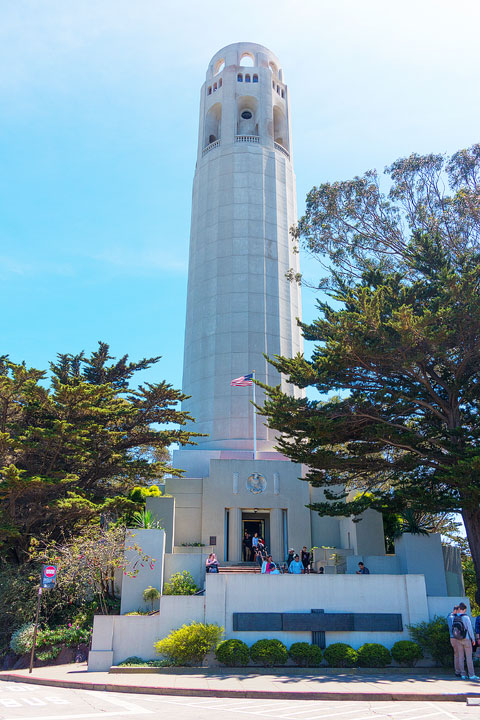 Coit Tower
Coit Tower has some of the best views of San Francisco!! There are gorgeous, 360-degree panoramic views of the entire city from the top of the tower.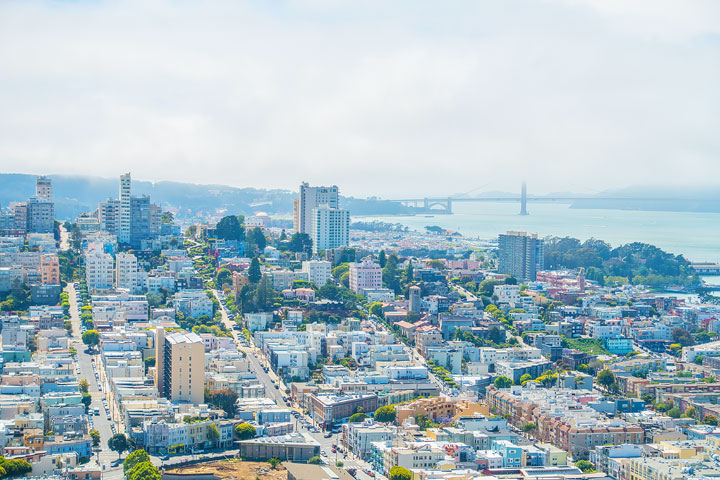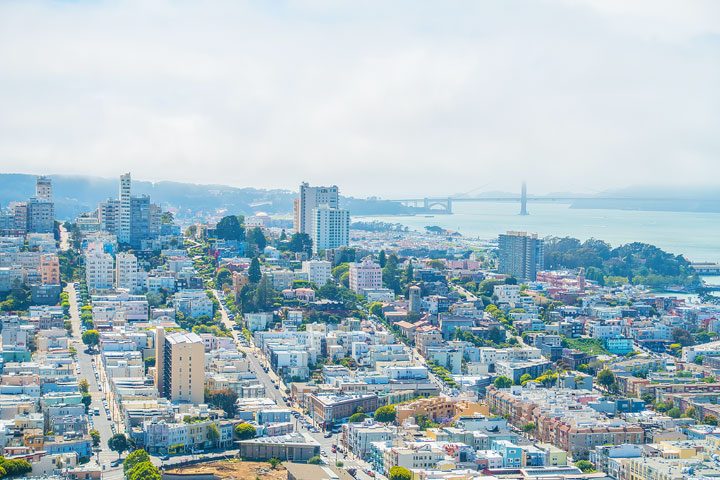 Can you see Lombard Street and the Golden Gate Bridge?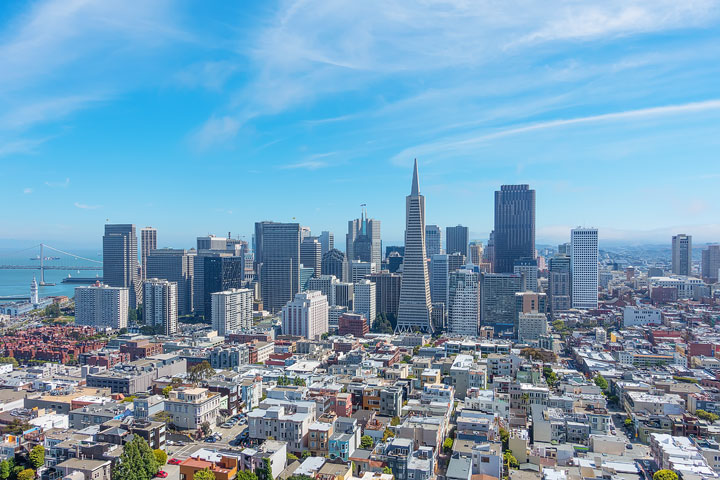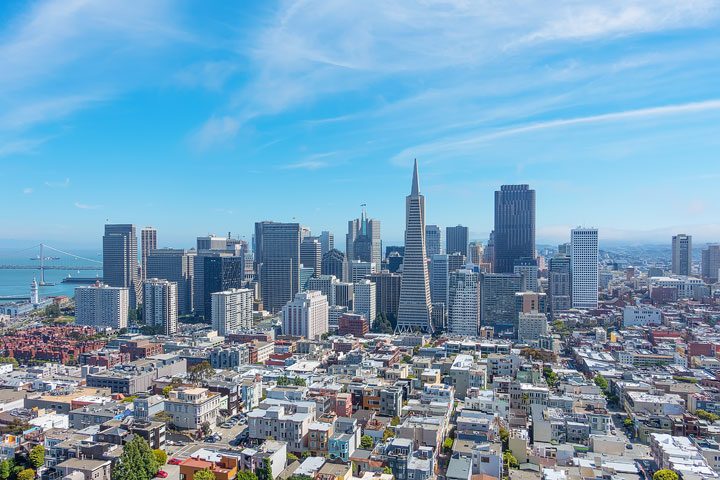 Looking the other way, you can see the Bay Bridge and the Transamerica Pyramid.


You can even see Alcatraz! This was one of my favorite things to do in San Francisco.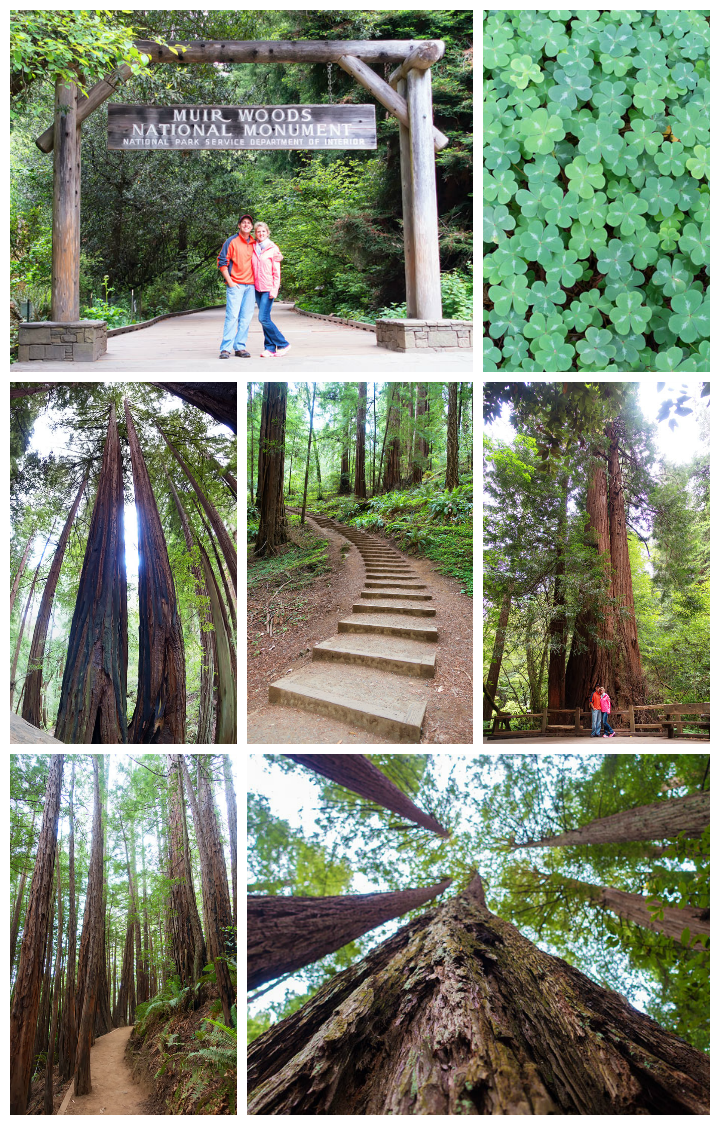 Muir Woods
If you've always dreamed of seeing the giant redwood trees, you can easily take a day trip to Muir Woods from San Francisco. It's a scenic park with hiking trails through a forest of giant redwood trees.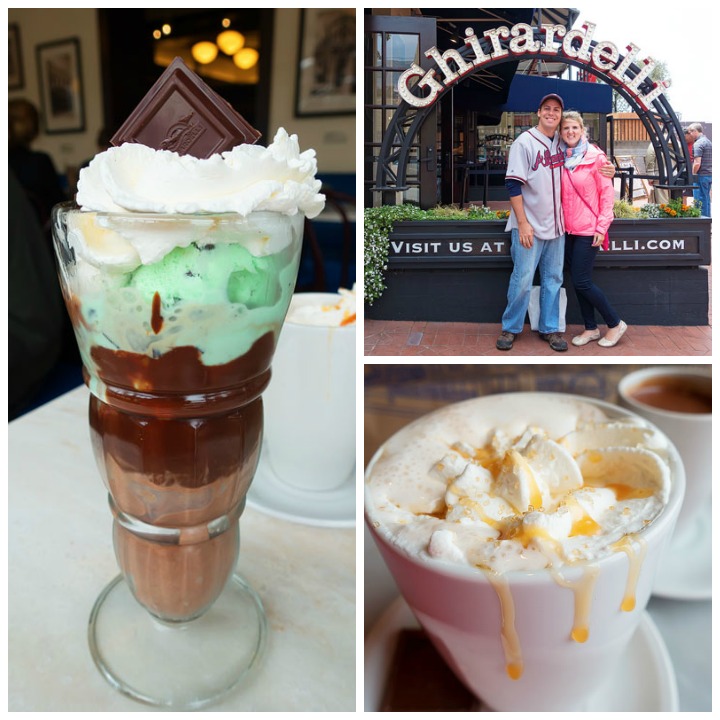 Ghirardelli Square
In 1848, an entrepreneur named James Lick arrived in San Francisco with 600 lbs of chocolate to sell. When all of his chocolate sold quickly, he urged his friend and neighbor in Peru to come to San Francisco and start his own chocolate company. His friend's name was Domingo Ghirardelli.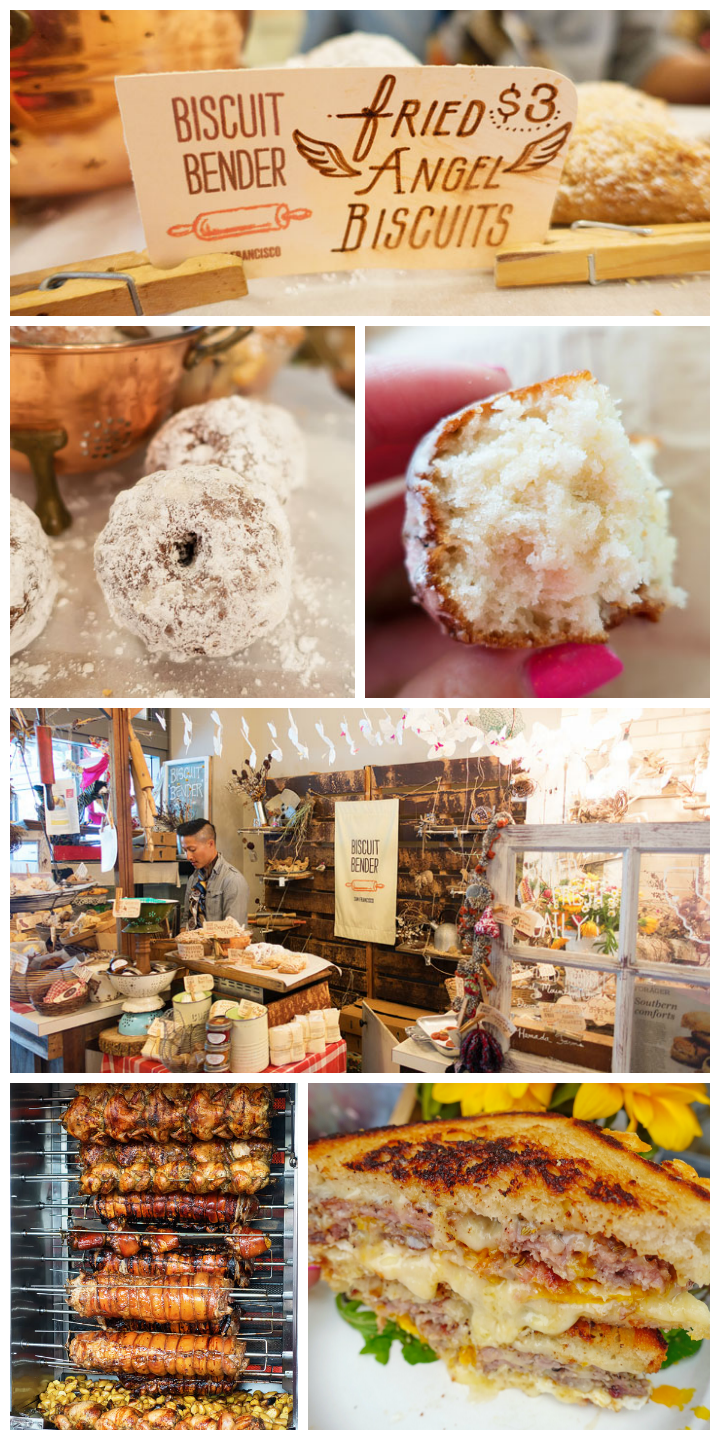 Ferry Building
The Ferry Building Farmer's Market is one of the best things to do in San Francisco for foodies! The Ferry Building opened in 1898 and the clock tower is an iconic symbol of San Francisco.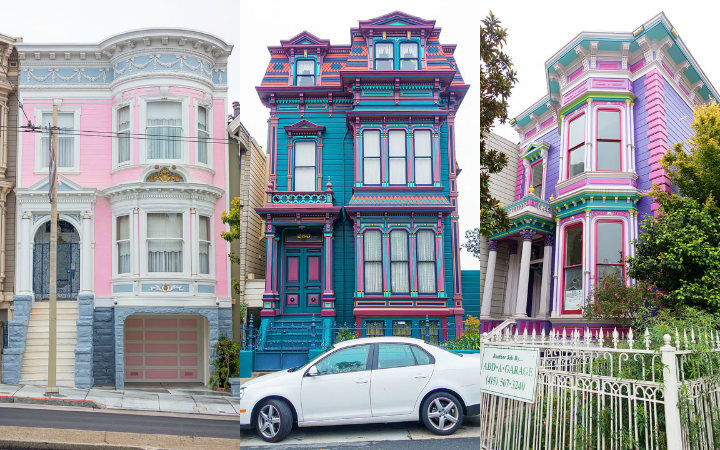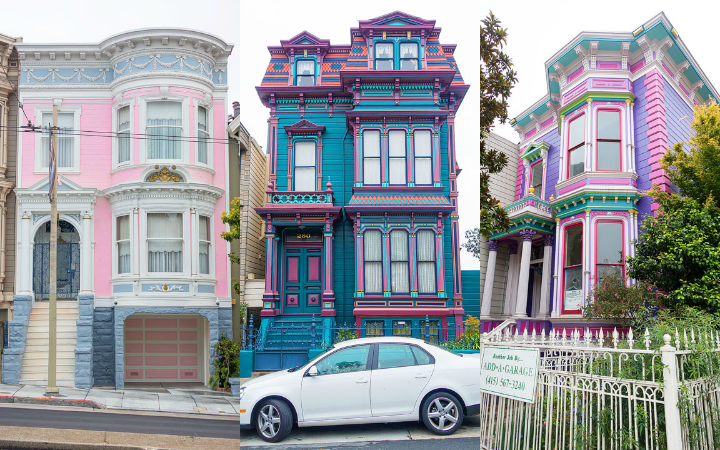 Haight-Ashbury
Haight-Ashbury is an ultra hippie neighborhood in San Francisco. I loved exploring this area to see all the colorful Victorian homes!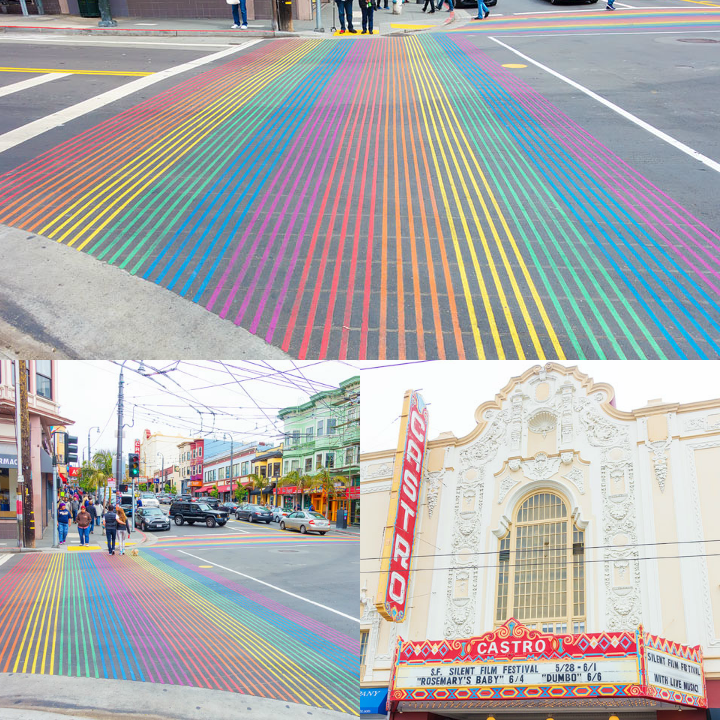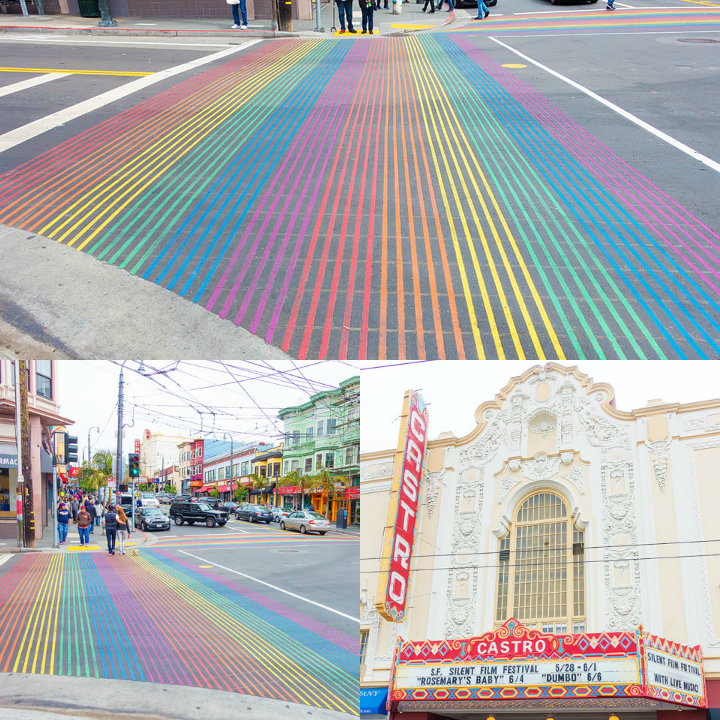 The Castro District
Another fun neighborhood to explore is The Castro! The rainbow crosswalk is at the corner of 18th street and Castro.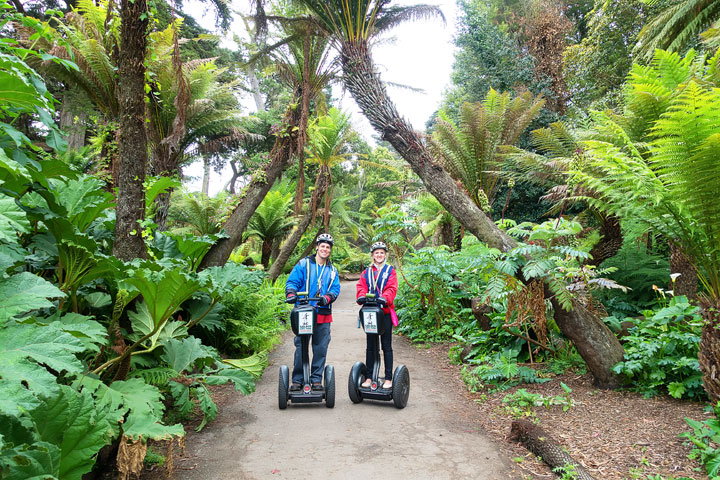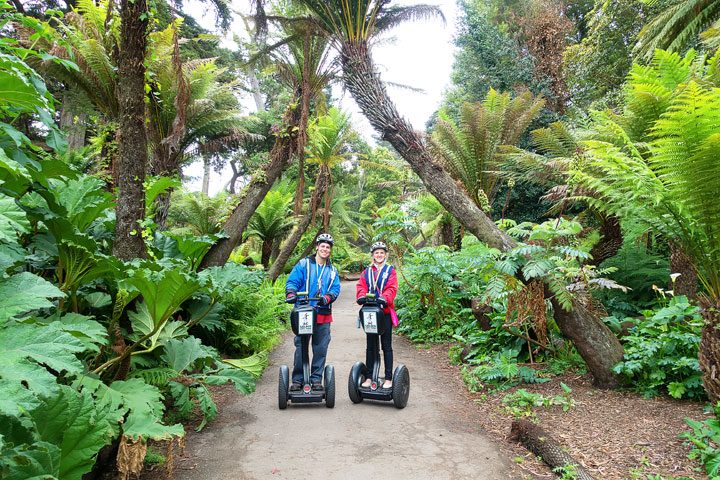 Segway Tour
One of the most fun things to in San Francisco is a Segway Tour of Golden Gate Park. We rode all over the park, and even went off-roading through redwood trees! Our tour guides were amazing and extremely knowledgable. They had both lived in San Francisco for 40+ years, and were able to give us so much history and tell us how much it has changed through the years.
They also offer a segway tour of Lombard Street!! You can ride a segway down that crazy curvy street!! Next time we are totally doing that!!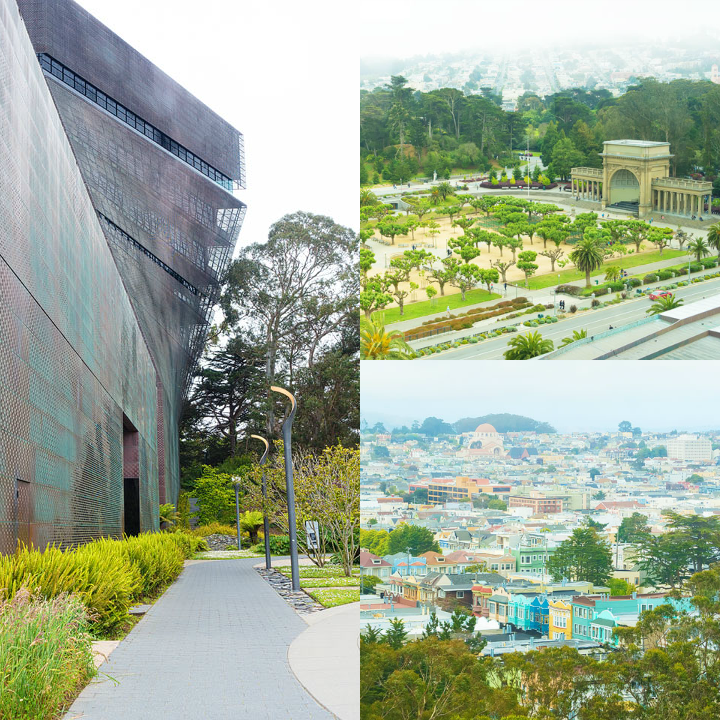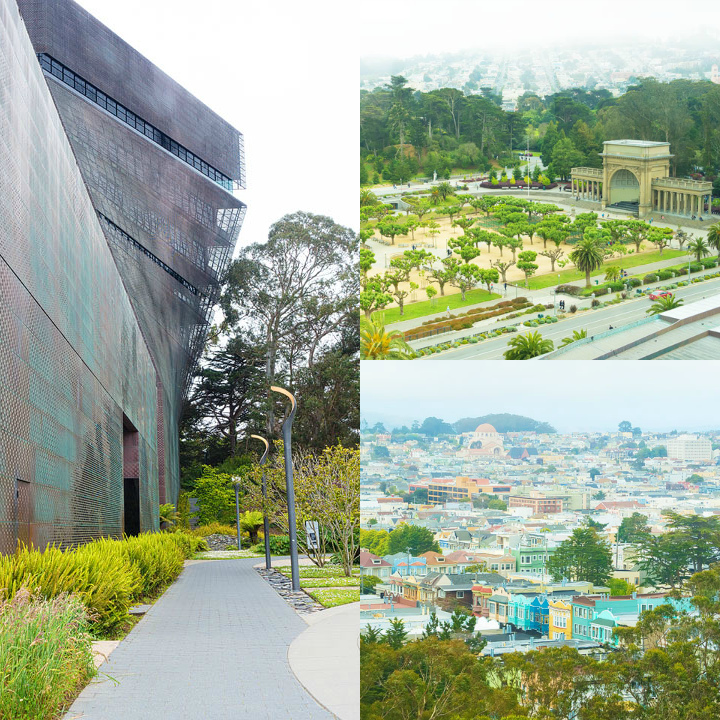 de Young Museum
One of the great tips our Segway guide gave us on the tour was to check out the view from the top floor of the de Young Museum. It's totally free. You can just walk right in and get straight on an elevator to the top floor. There's a gorgeous panoramic view of the park and San Francisco. If you are near Golden Gate Park, definitely check it out!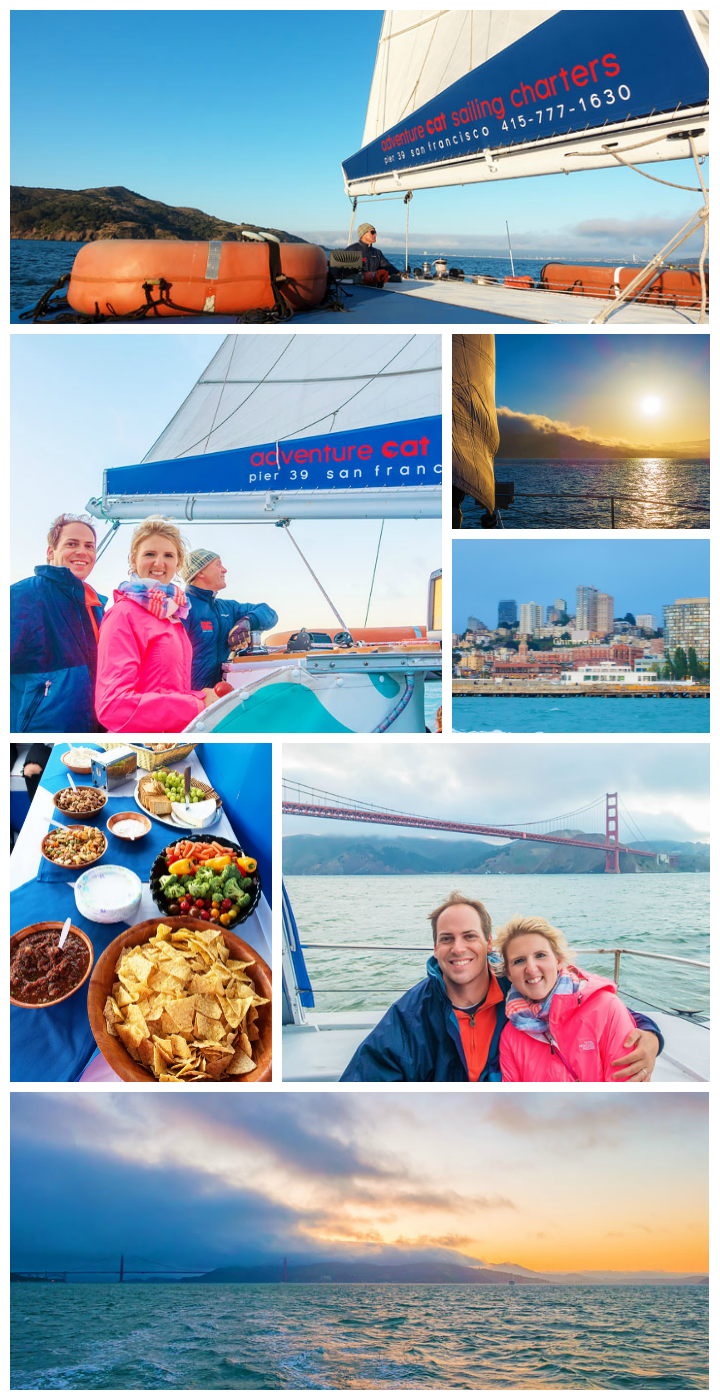 San Francisco Bay Sunset Cruise
One of the most romantic things to do in San Francisco is a sunset cruise of the bay with Adventure Cat Sailing Charters. We went all around the bay — past Alcatraz, under the Golden Gate Bridge, and right by the city shoreline at dusk as all the buildings were lighting up the skyline.
The catamaran held about 30 people, and the cruise lasted about an hour and a half. There places to sit inside (where it was warmer) and outside with the sea and the wind in your hair. It was a bit chilly, but the cruise offered plenty of warm jackets to wear. There are also snacks and 2 free drinks offered on the cruise.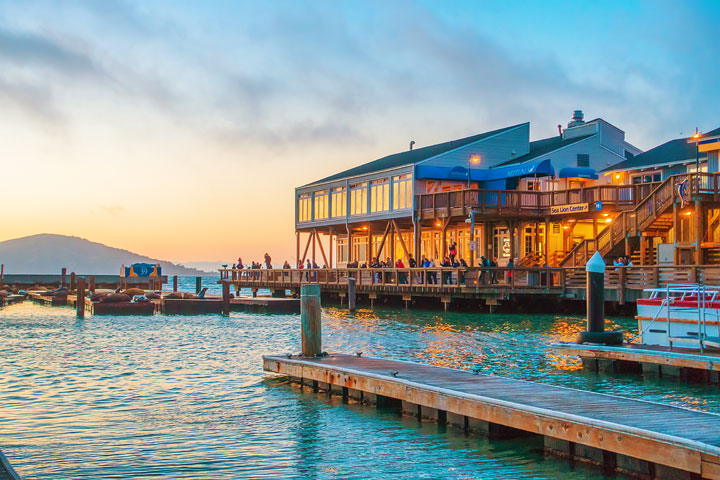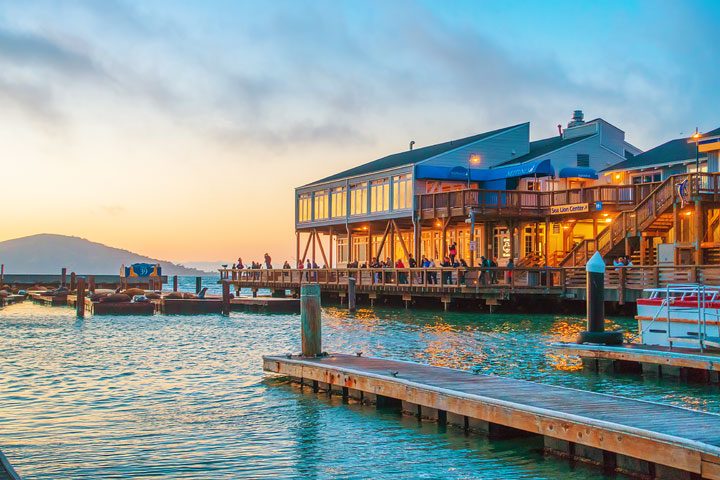 We arrived back to the dock right at sunset. The staff and crew were very friendly, funny, and knowledgable. They were always offering to take pictures. The atmosphere on the boat was very fun, with lots of upbeat sailing-themed music. At one point the Titanic theme song came on, and everyone wanted to go up to the bow of the boat for pictures, lol!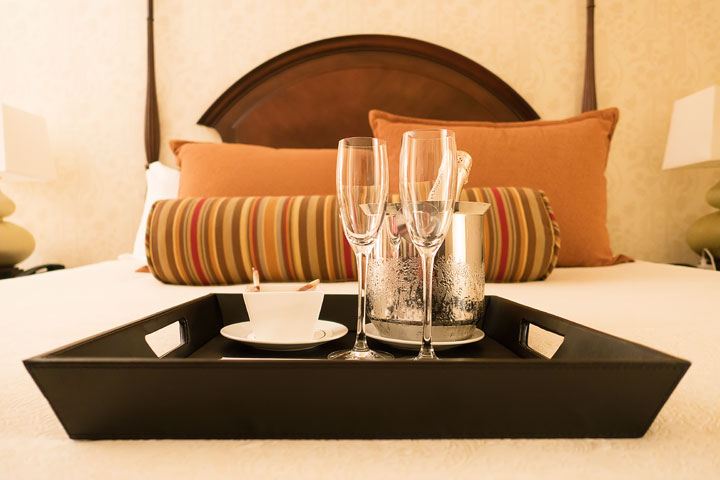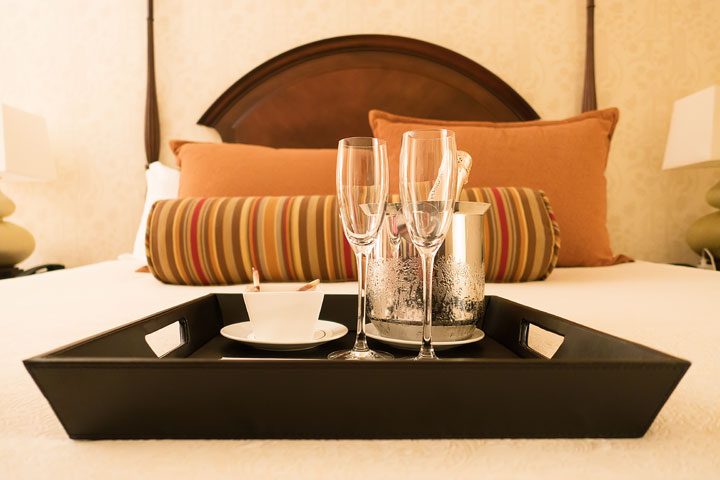 San Francisco Hotels
The Omni San Francisco Hotel is in a great location downtown — on a quiet street, but close to everything, and right on the cable car line so we could just hop on and off anywhere we wanted to go. The staff was super friendly and helpful. I always love staying at Omni Hotels for their excellent service!
---
Like this post? Save it on Pinterest!