Best Things To Do In Cairo, Egypt
Planning your ultimate trip to Egypt? Here are the best things to do in Cairo, Egypt. Use this guide to make the most out of your time in Cairo!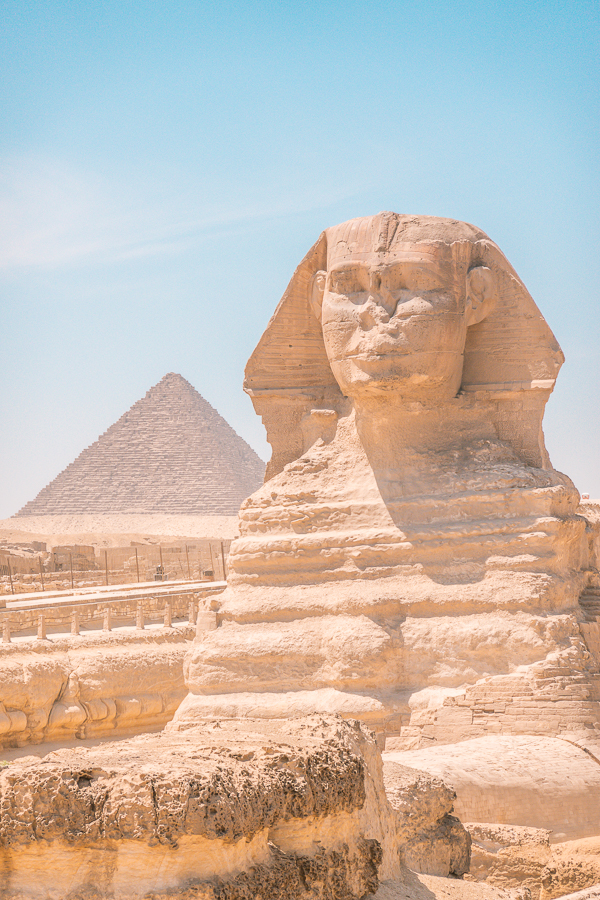 Great Pyramids of Giza
The great Pyramids of Giza are probably the number one reason for your trip to Egypt. There are a few very important things you need to know before you go. We wrote a post that is a must-read before you visit the pyramids.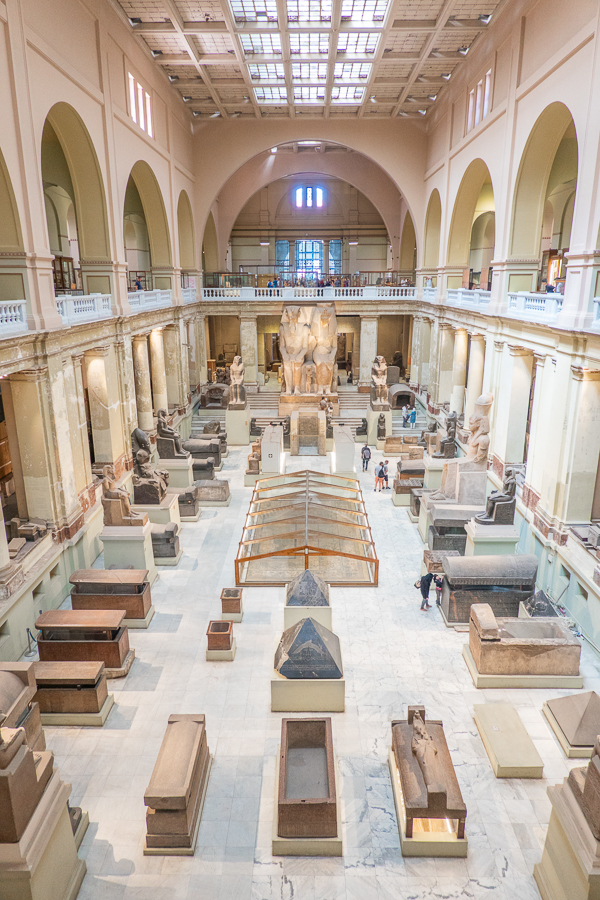 Egyptian Museum
At the Egyptian Museum you can see ancient Egyptian artifacts, real mummies, hieroglyphic carvings, and ancient papyrus from over 4,500 years ago detailing the daily life of the pyramid builders.
On the second floor you can visit the King Tut wing where you can see the 3,300-year-old royal treasures found in King Tut's tomb, including his famous gold mask, probably the most recognizable symbol of ancient Egypt.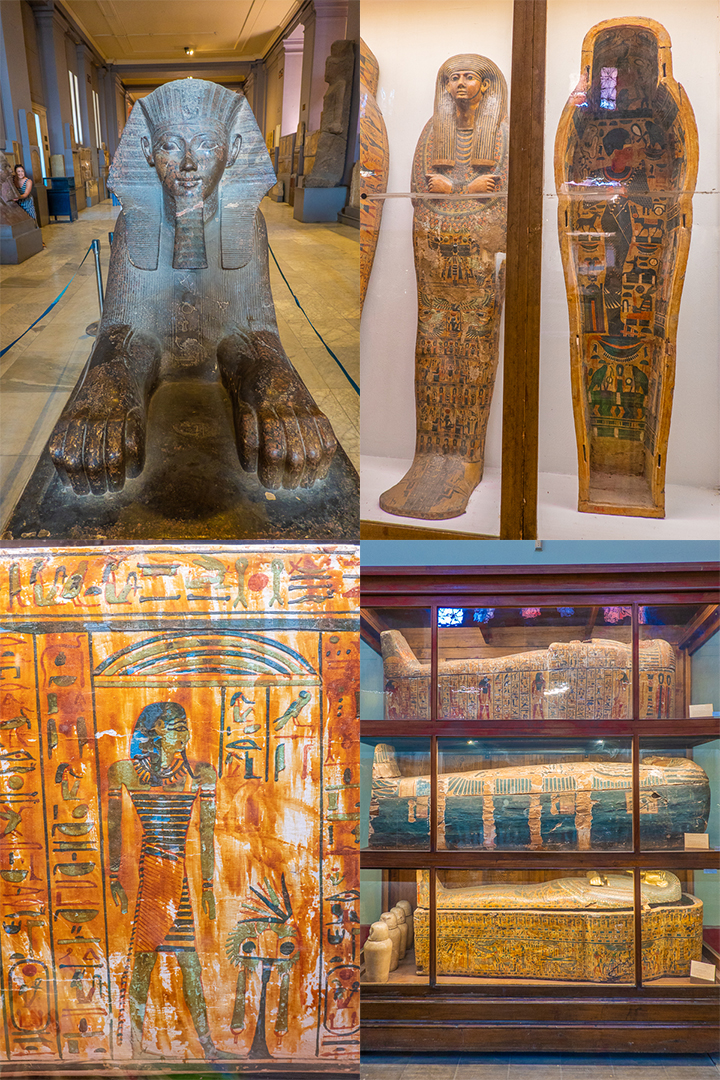 Tips for Visiting the Egyptian Museum in Cairo Egypt:
If you want to take pictures inside, buy the extra photography ticket
In addition to the general admission ticket, you will also want to buy an extra ticket for the mummy rooms
Be sure to save your ticket for the mummy rooms as you will need to show it twice. There are mummy rooms on both sides of the museum. You will use the same ticket for both sides.
Even with the photography ticket you cannot take pictures inside the mummy rooms or some of the King Tut rooms.
Plan for at least 2-3 hours at the museum.
I usually prefer to visit museums without a guide so I can go at my own pace. However the Egyptian Museum in Cairo is not well-marked and there are not very many signs at all, so most of the time you have no idea what you're looking at. You'll get a lot more out of your visit if you go with a guide who can explain these ancient wonders to you.
Contact EgyptElite.com for help choosing a reputable guide.
Tahrir Square
Just across from the Egyptian Museum is Tahrir Square, the site of the riots and political demonstrations that led to the Egyptian revolution in 2011.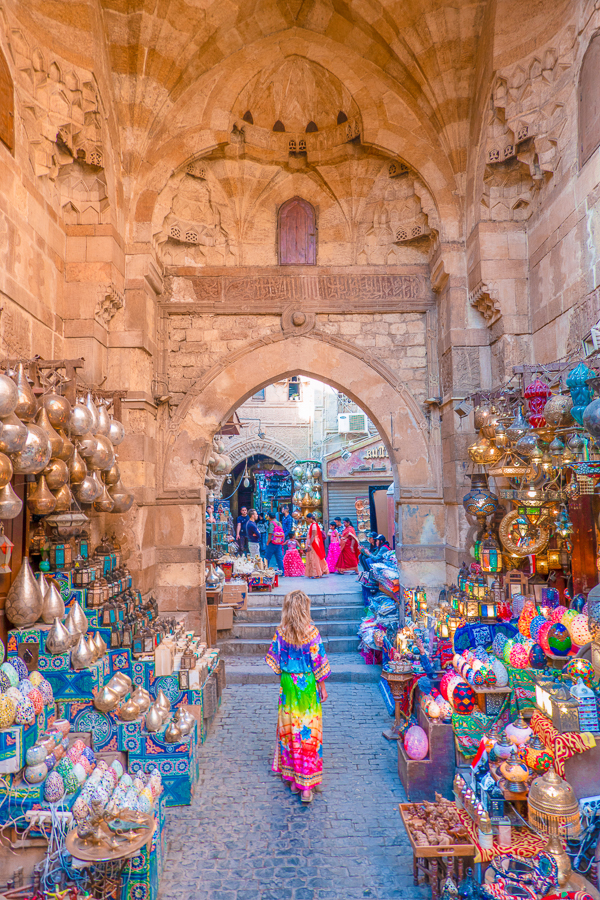 Khan el-Khalili Bazaar in Cairo Egypt
Khan el-Khalili is an ancient market in the historic center of Cairo, Egypt. The bazaar is over 1,100 years old, dating back to the year 900 AD.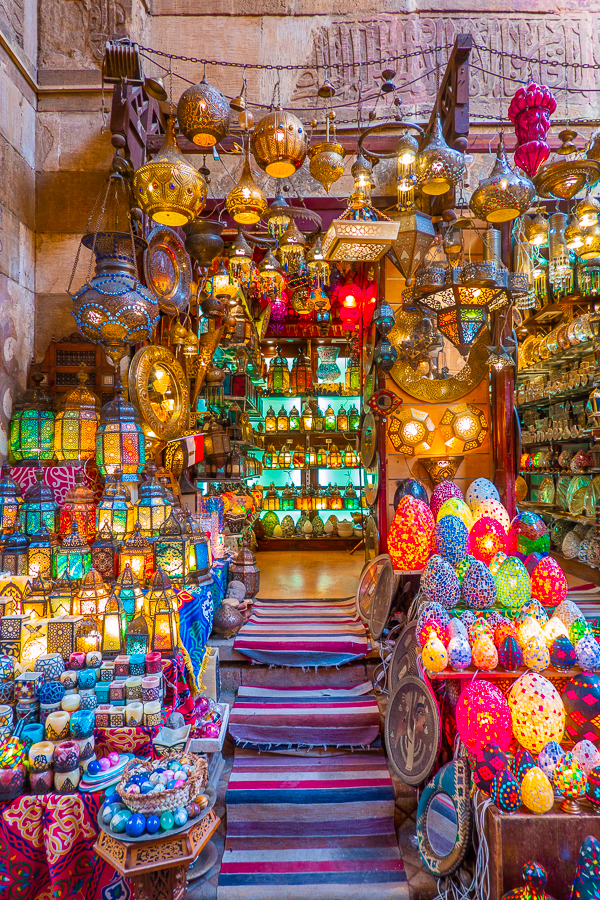 The market is a hotspot for tourists and locals alike — the locals do their daily shopping at the market as well.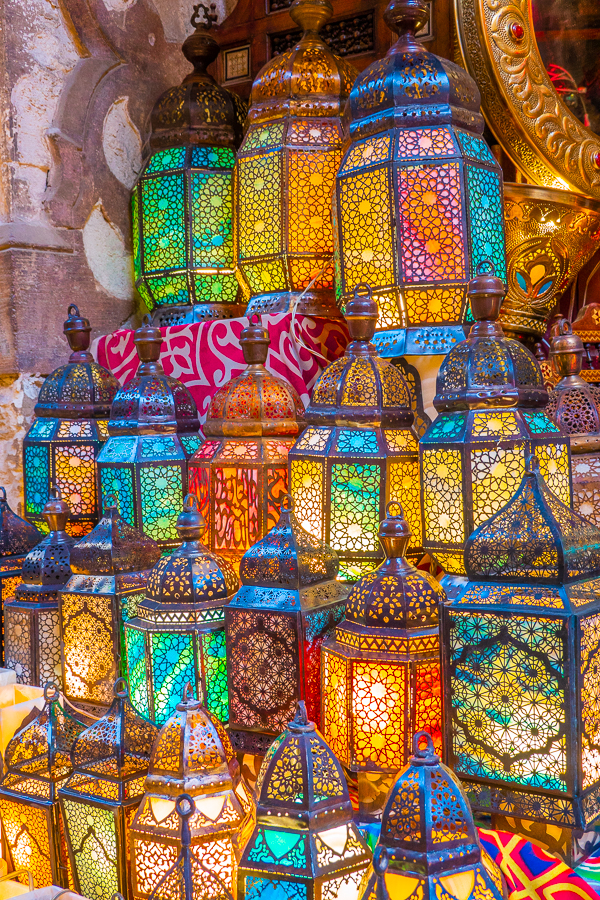 You'll find colorful lanterns, spices, clothes, and everything you need for the modern Egyptian home.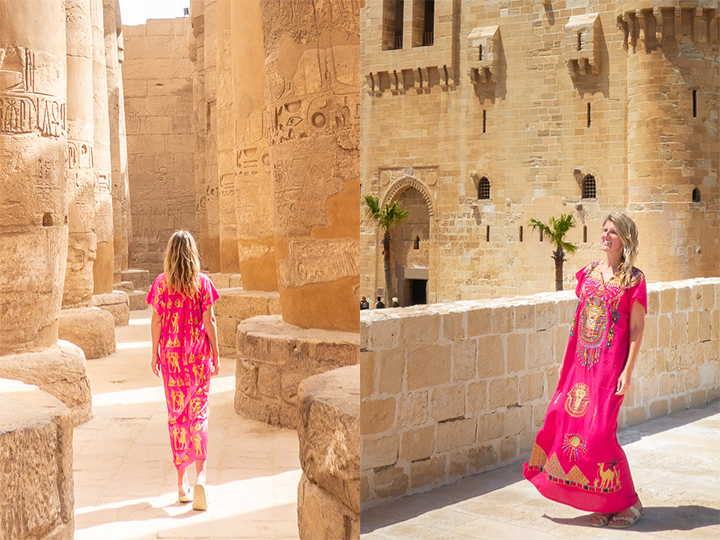 What To Wear in Egypt
If you're looking for light-weight, modest dresses to wear in Egypt, I highly recommend buying them at the Khan el-Khalili Bazaar! Before going to Egypt I bought a few dresses on Amazon, not spending more than $20 because I knew I'd probably never wear them again.
But after going to the Khan el-Khalili market in Cairo, Egypt, I wished I had waited to buy them at the market! They have so many beautiful, high-quality, modest dresses for dirt cheap. I got the two above for about $3-$5 each.
Our guide was a bit hesitant about me wearing the dresses — he was worried they would mark me as an "easy target" for the scammers/sellers at the other sites we were visiting. I countered that my blonde hair, blue eyes, and light skin marked me as a tourist anyway and no matter what I wore I would stand out. I'm also very comfortable blank-facing and ignoring anyone who tries to talk to me, so it wasn't an issue for me. I don't feel like I personally experienced any extra hassling because of the dresses, but if you're concerned or have a hard time ignoring people, you may want to wear something a little more low-profile.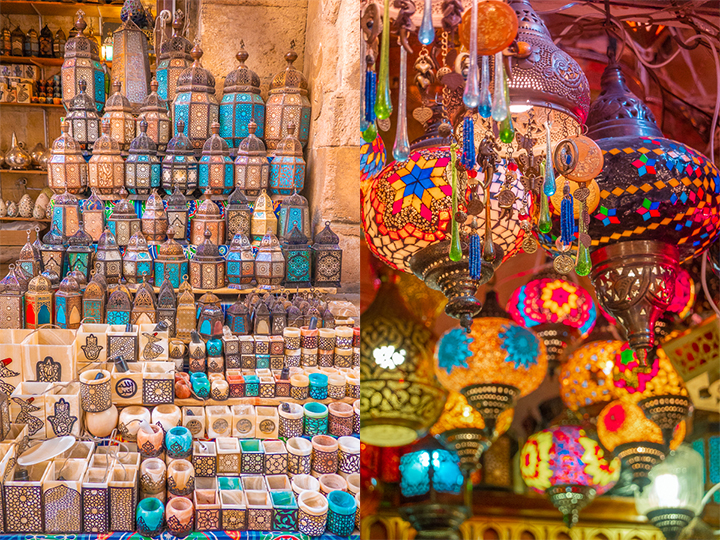 How To Haggle at the Khan el-Khalili Bazaar
I actually didn't mean to buy the first dress. I was just looking at all the shops in the bazaar, but you know how they keep offering you a lower and lower price if you act like you're not interested. Well, I really wasn't interested! I had just bought all my dresses from Amazon!
But when the price got to less than $3 USD, I paid him just because I started to feel a bit bad. This is his livelihood and $3 costs me next to nothing. However, I ended up LOVING the dress! It was so soft, comfortable, and well made. It was perfect for staying cool, but modest, in the very, very hot Egyptian sun. I sort of wish I had waited and bought all my dresses there!
I ended up seeing these dresses all over Egypt — in all the markets and souvenir shops around the sites. Out of curiosity, I asked how much they were at each shop. The starting price at the Khan el-Khalili Bazaar in Cairo ended up being way, way less than anywhere else in Egypt.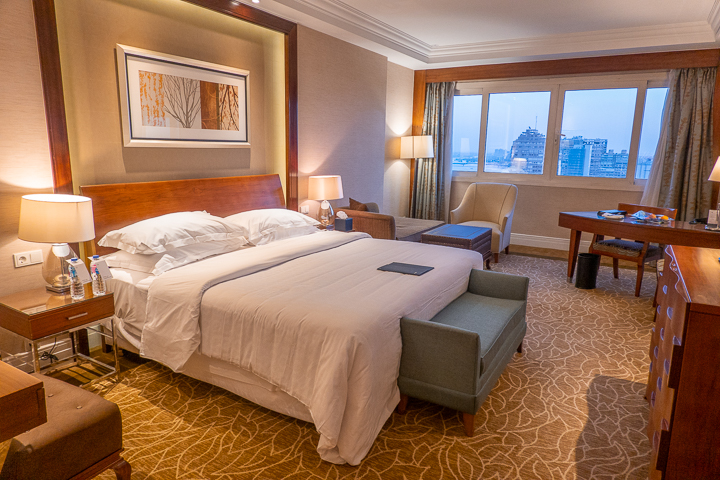 Best Hotels in Cairo
If you're looking for the best hotels in Cairo Egypt, I highly recommend the Sheraton Cairo Hotel & Casino. The hotel is located right on the bank of the Nile River, in downtown Cairo within walking distance to the Egyptian Museum. The rooms are clean and spacious, and the bed was super comfortable.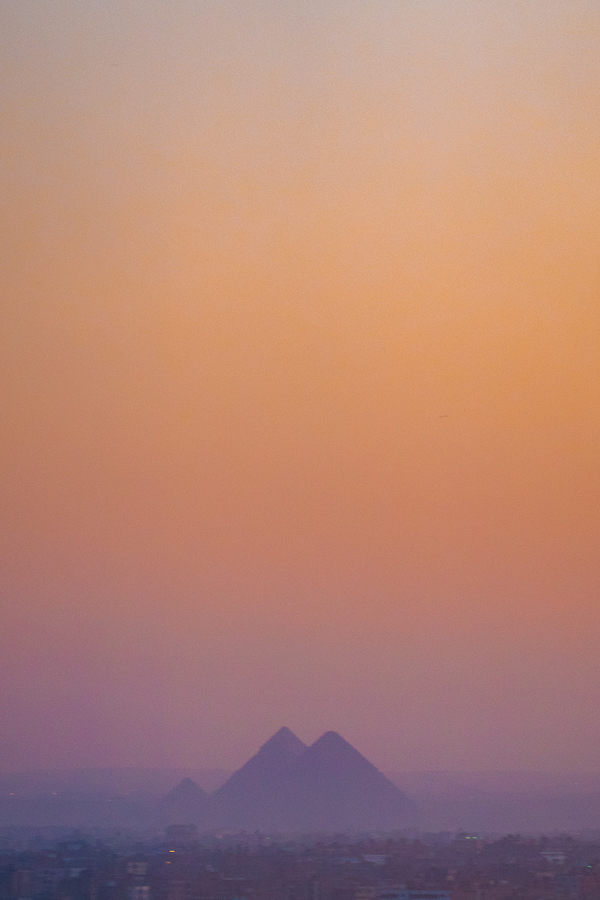 Our room had a view of the Nile River and the pyramids! It was so amazing to watch the sunset over the pyramids every night right from the comfort of our room.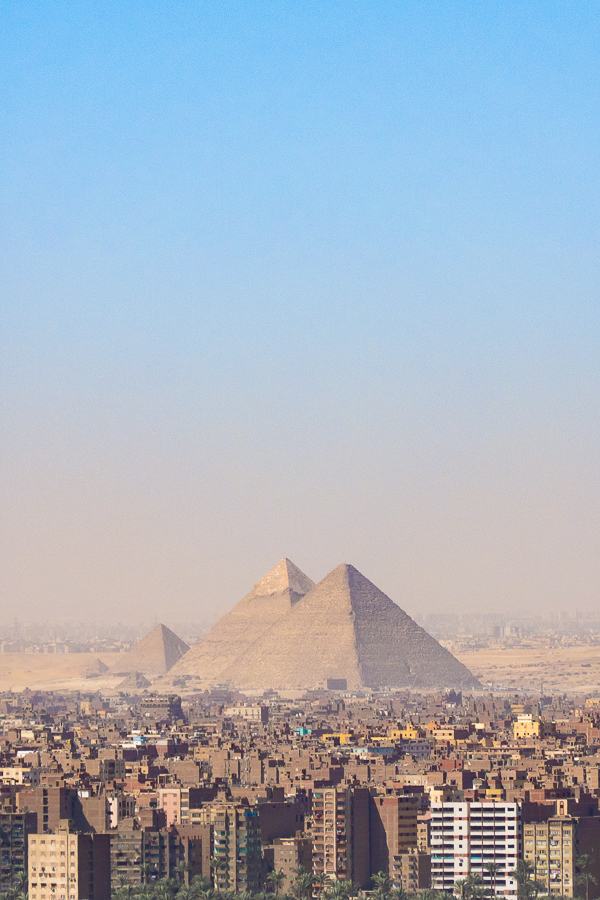 And so amazing to wake up to this view every morning!!
Club level rooms also have access to a large executive club with an outdoor terrace with a view of the Nile River and the pyramids. The club also includes a private breakfast exclusively for club level guests, as well as appetizers at lunch, dinner, and complimentary happy hour at dinner. I highly recommend the club level at the Sheraton Cairo Hotel & Casino!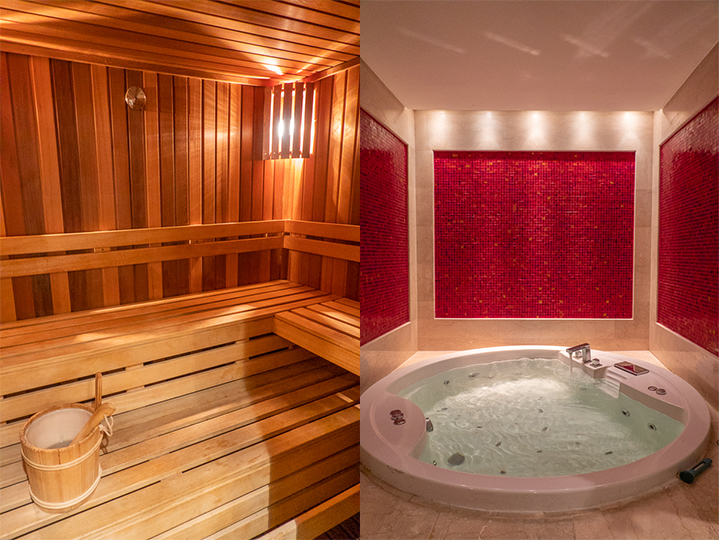 The Spa
I had one of the best massages of my entire life at the Sheraton Cairo spa. My therapist was extensively trained in multiple therapeutic techniques and was extremely professional. I have to admit I was a little worried about getting a massage from a male therapist in Egypt, but my therapist Walid was extremely professional. If I lived in Cairo I would have a recurring appointment with Walid once a month or as often as I could afford. I highly recommend a massage at the Sheraton Cairo spa, and be sure to ask for Walid!
Of course they also have female therapists if you prefer, even massage therapists from Thailand for an authentic Thai massage.
Best Restaurants in Cairo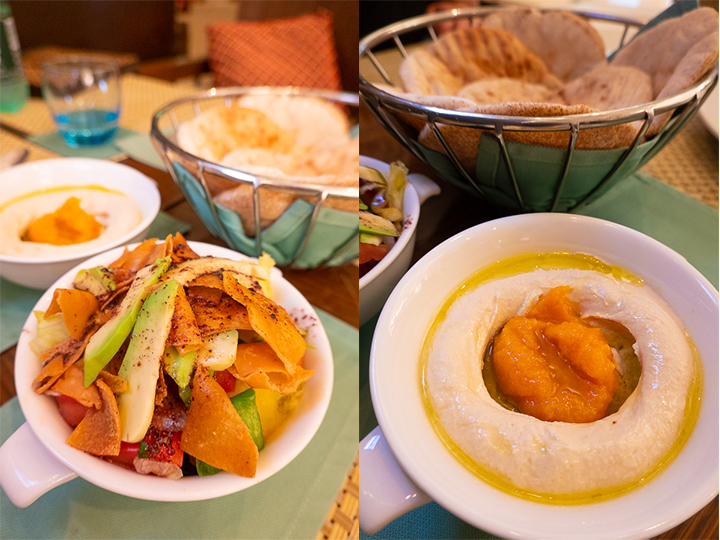 El Mawardia Café
If you're looking for an authentic Egyptian restaurant in Cairo Egypt, El Mawardia Café is the best choice for a traditional Egyptian meal.
The menu offers locally produced, freshly prepared Egyptian dishes with a unique concept, like their Avocado Fattoush Salad, Pumpkin Hummus, and Pineapple Tabbouleh.
Best of all, El Mawardia Café is conveniently located right inside the Sheraton Cairo Hotel.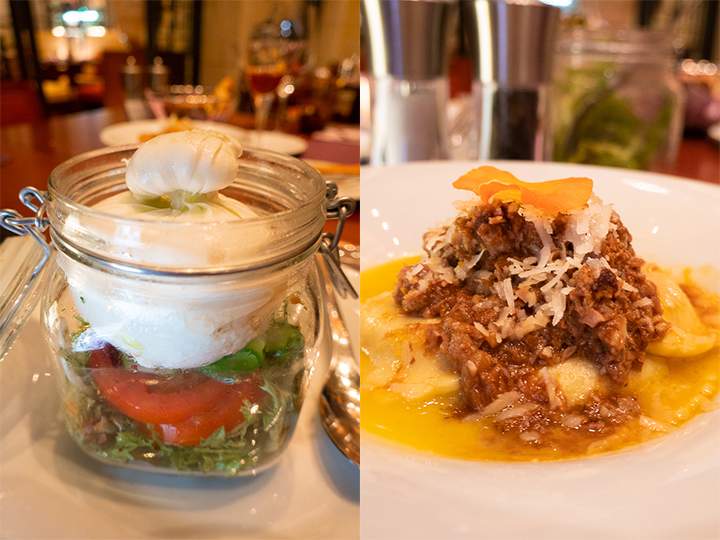 Giannini's New York Italian Restaurant
This amazing Italian restaurant is conveniently located right inside the Sheraton Cairo Hotel. It may seem "unauthentic" to eat at your hotel, but Giannini's New York Italian Restaurant is one of the top rated restaurants in Cairo Egypt on TripAdvisor. If you've just arrived in Cairo, you're a bit jet-lagged, and you don't feel like venturing too far out, Giannini's New York Italian Restaurant is one of the best meals you can get in Cairo.
Have you ever had burrata? I'm obsessed with burrata. Whenever I see it on a menu I always order it. The burrata at Giannini's in Cairo was hands down some of the best, creamiest burrata I have ever had. If you're obsessed with burrata like me, don't miss Giannini's in Cairo!!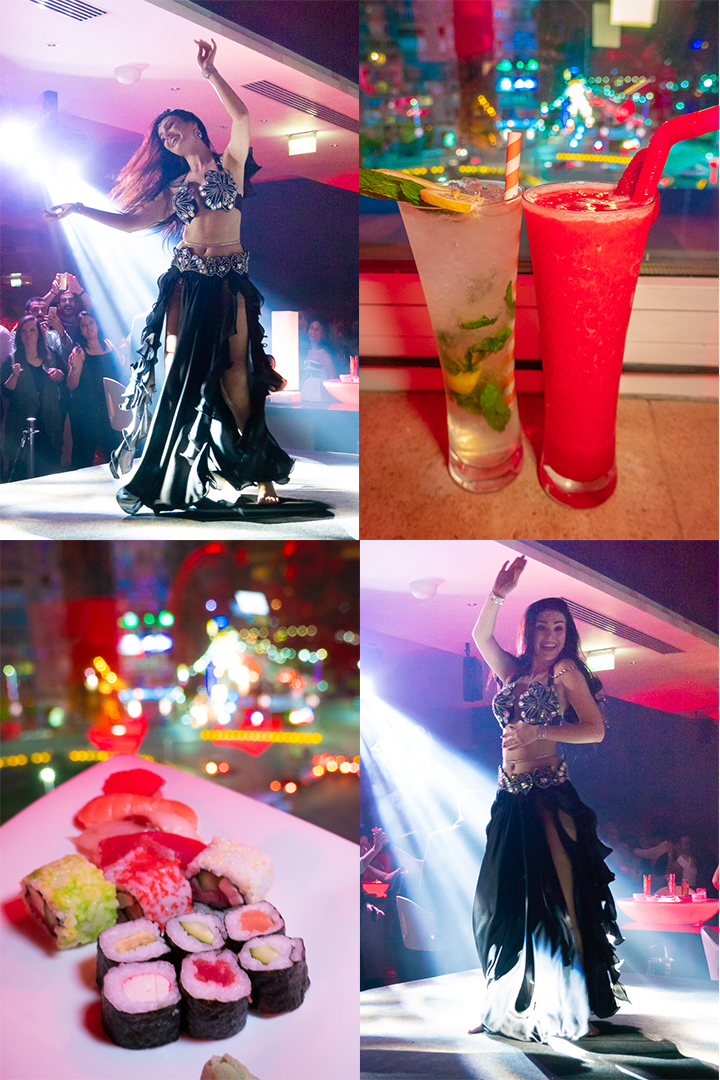 Rawi Restaurant & Bar
Rawi Restaurant & Bar is the place to be to experience authentic Cairo nightlife, with unique cocktails, small bites appetizers, and even a real-life belly dancer. Even though Rawi Restaurant & Bar is located inside the Sheraton Cairo Hotel, we were the only tourists there. If you want to experience true Cairo nightlife, but stay in the comfort and safety of your hotel, Rawi Restaurant & Bar is the place to go!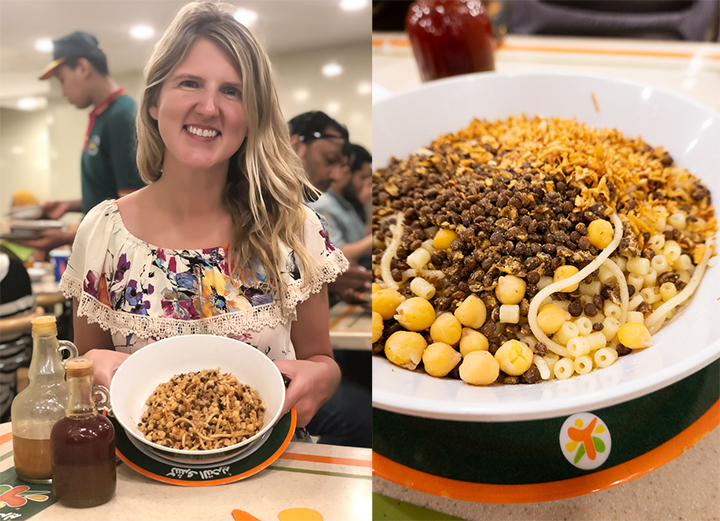 Koshary El-Tahrir
One of the most popular meals in Egypt is a dish called Koshary. It's a vegetarian pasta and rice dish with lentils, chick peas, and crispy fried onions topped with a savory tomato sauce. (You add the tomato sauce separately and I took these pictures before I added the sauce so you could see it better!) There's also a garlic-butter sauce you can add which is amazing.
If you want a truly authentic meal in Cairo, Koshary El-Tahrir is an 8-minute walk from the Sheraton Cairo Hotel. We were the only tourists there!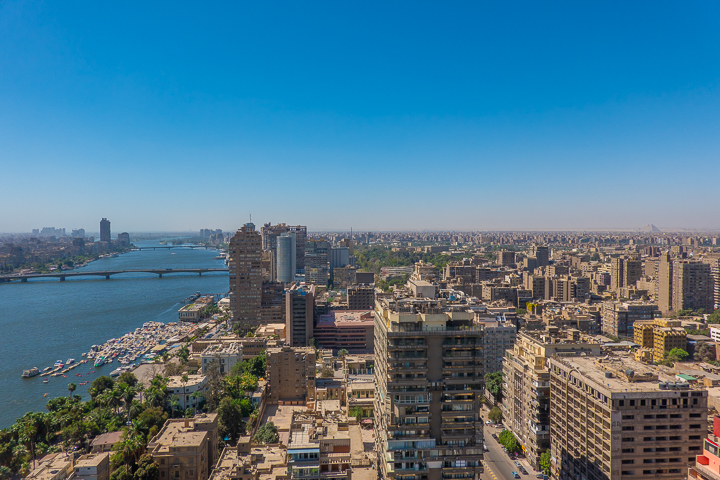 Taxis in Cairo
I highly, highly recommend to use Uber instead of street taxis in Cairo. Prices for taxis in Egypt are negotiated — there are no meters. So the locals will see that you are a tourist and try to get as much money from you as possible. If you don't want to waste time haggling or risk getting ripped off or hassled, Uber is the safest solution.
The price for Uber is fixed, you will see the price before you book, and it will always be much cheaper than what a regular taxi will charge you.
Ubers in Egypt are safe and reliable. We used Uber whenever possible when we were in Egypt.
Use the code amandab85 when you sign up for Uber to get a discount on your first ride.
---
Like this post? Save it on Pinterest!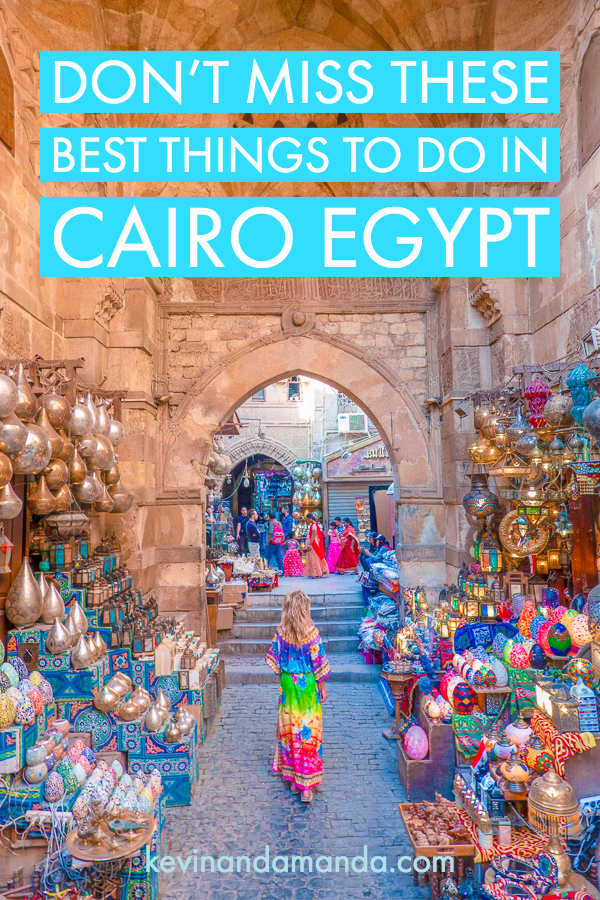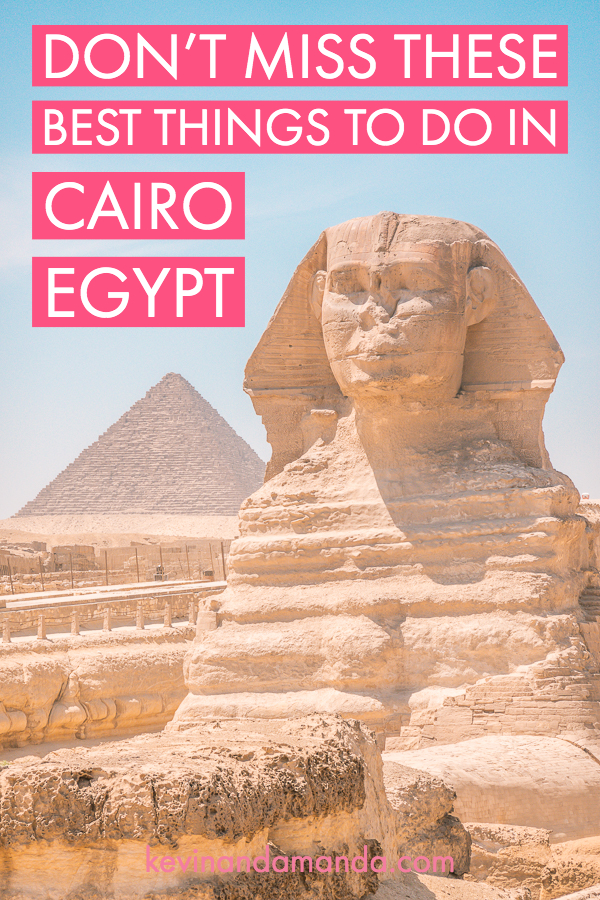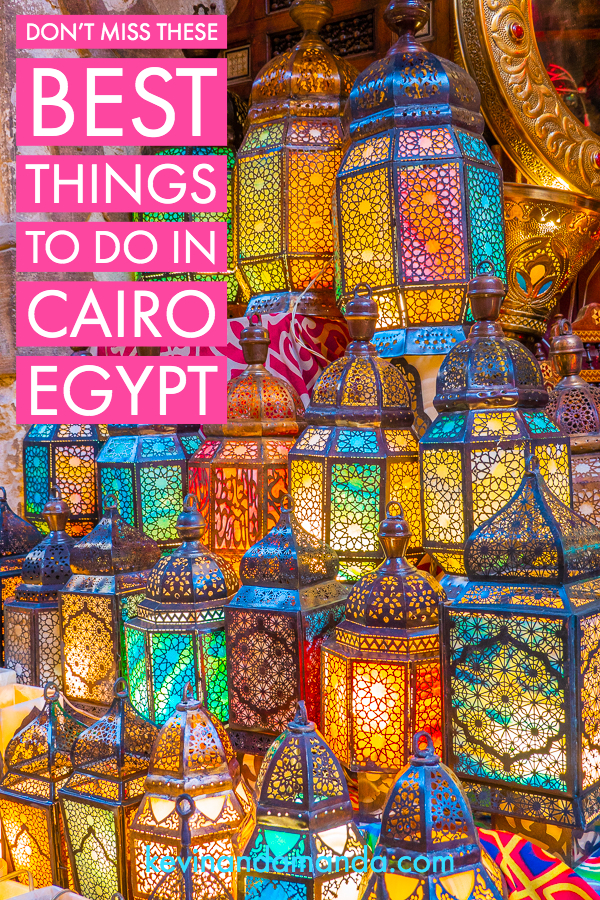 Did I miss any of the best things to do in Cairo Egypt? Let me know in the comments!