The ultimate guide to finding the best Australian food in Sydney! If you are looking for the best restaurants in Sydney, check out the list below!!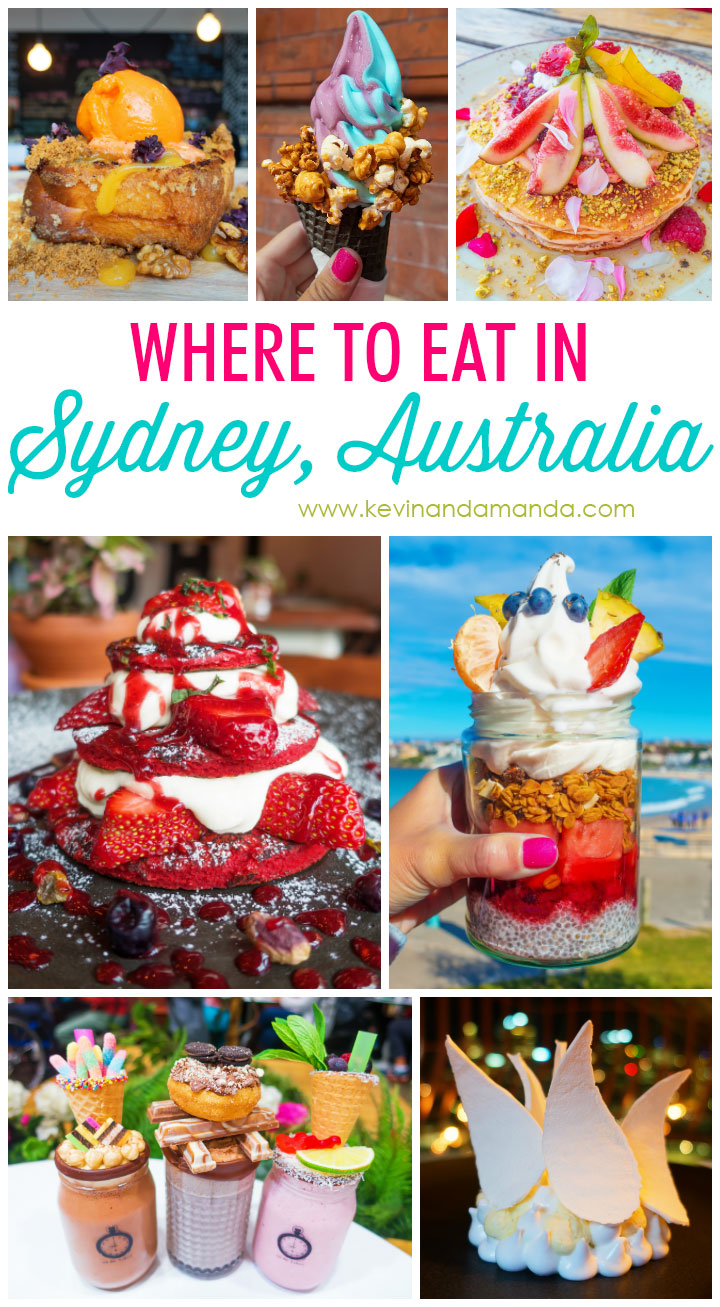 Sydney has an AMAZING food scene. I was absolutely blown away with how fun and gorgeous all the Australian food was.
Sydney is hands-down my favorite foodie city. I could've easily lived there a year, eating somewhere different for every single meal and still not run out of things to try! I am dying to go back.
We tracked down the most popular restaurants in Sydney and tried their most popular dishes. We've complied it all in a list for you here. If you're looking for the best Sydney restaurants, you'll find them here!
---
Breakfast & Brunch
Breakfast in Sydney isn't just a necessity, it's a way of life. Whether you call it breakfast or brunch, Sydney takes it to a whole new level and they know how to do it right. Everywhere we turned we kept running into hip, charming neighborhood cafes filled with light and gorgeous plates of eggs, pancakes, french toast and more.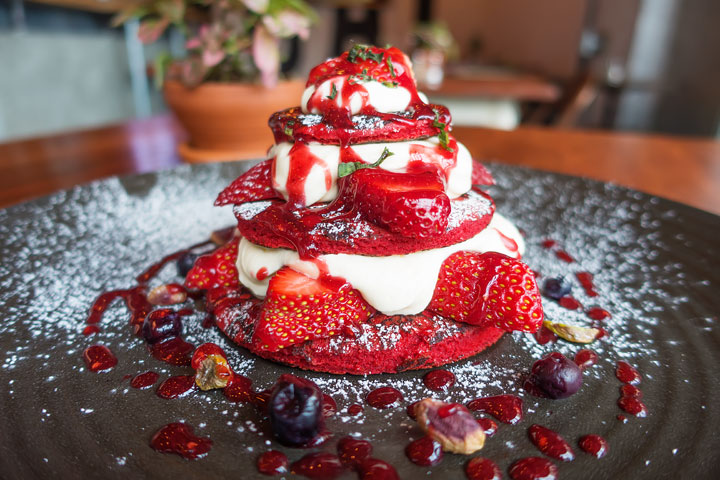 The Local Mbassy
One of my favorites was The Local Mbassy. They are famous for their red velvet pancakes! And they absolutely live up to the hype. So so good! The hint of basil sends them absolutely over the top. I want strawberry basil red velvet pancakes for breakfast every day!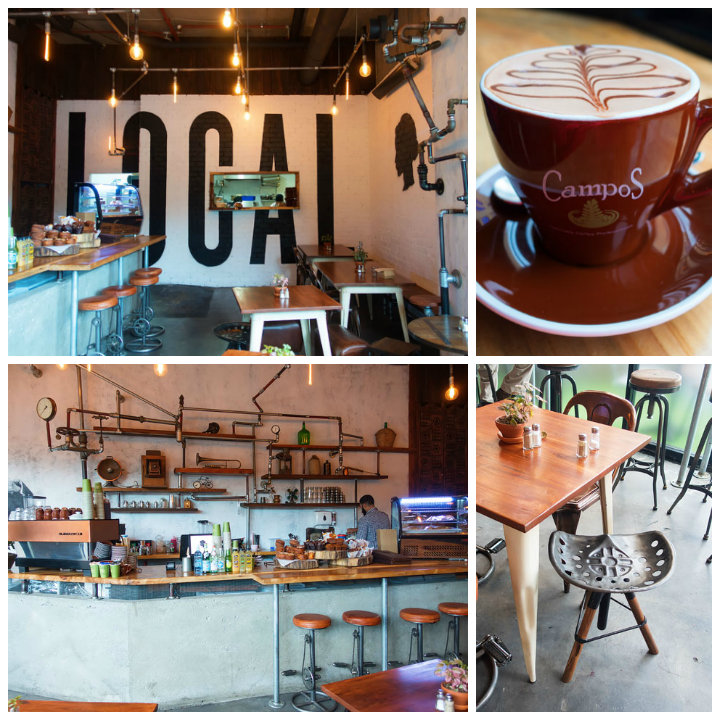 The Local Mbassy is gorgeous on the inside with funky chairs, reclaimed wood, iron pipe and metal decor.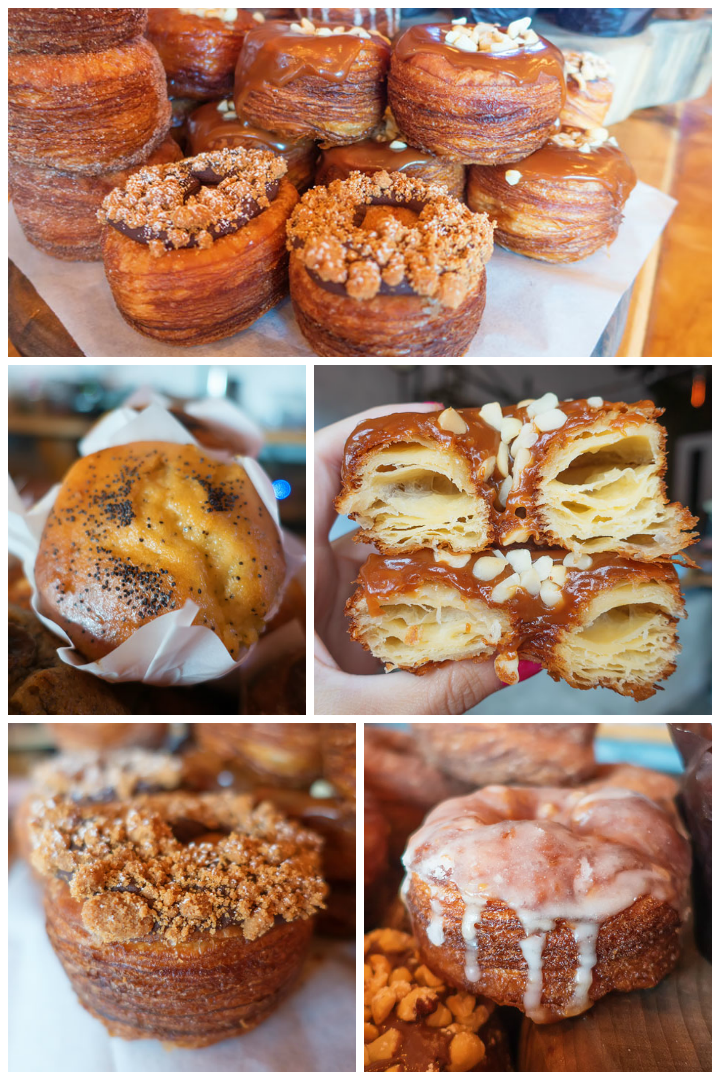 They also have TONS of freshly baked muffins, cronuts, and more!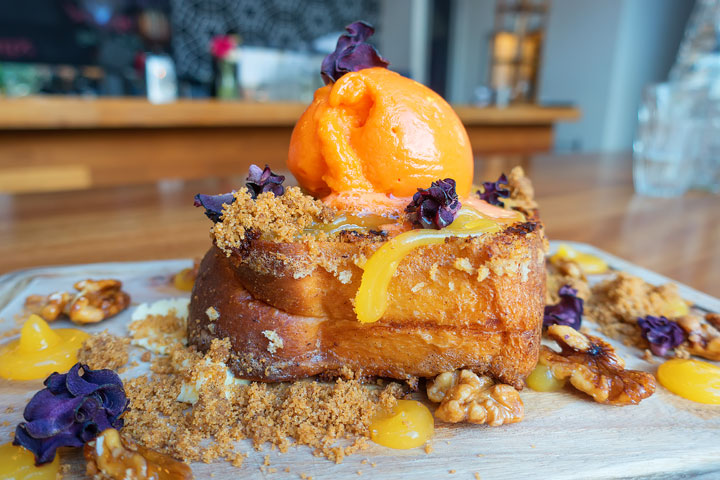 Devon Cafe
Another favorite was Devon Cafe. Their decadent, fluffy french toast is constantly changing with the season. This was like a fabulous lemon pound cake french toast. SO SO good.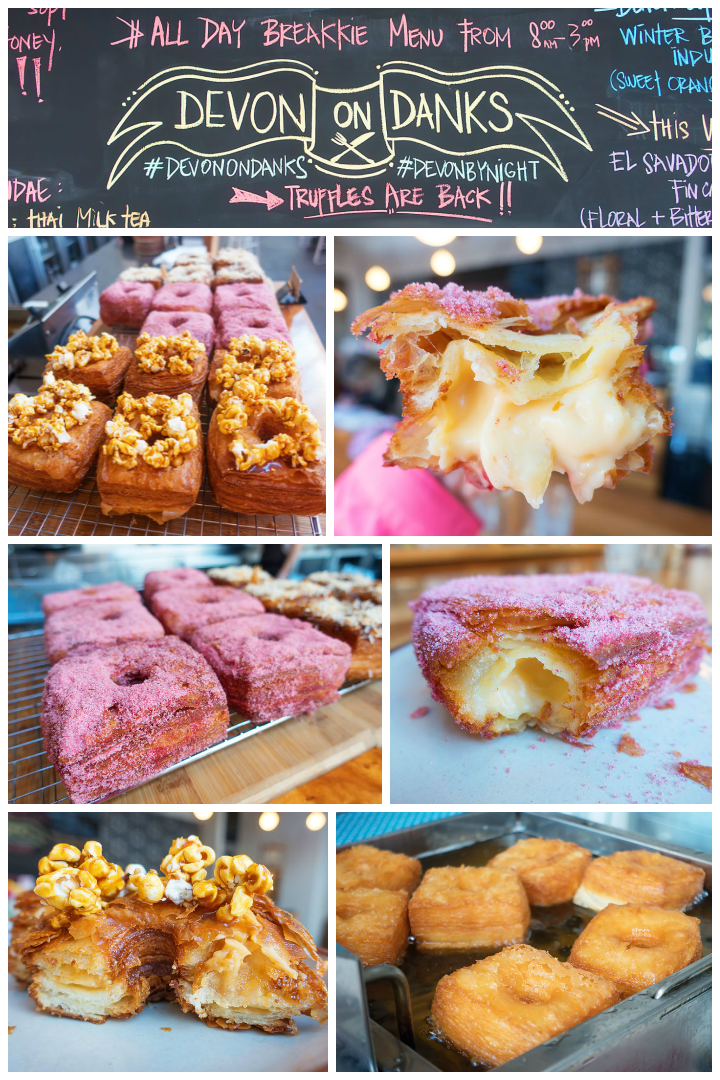 Devon Cafe also makes their own cronuts!! If you get there in the morning you can watch them being made and get one hot and fresh.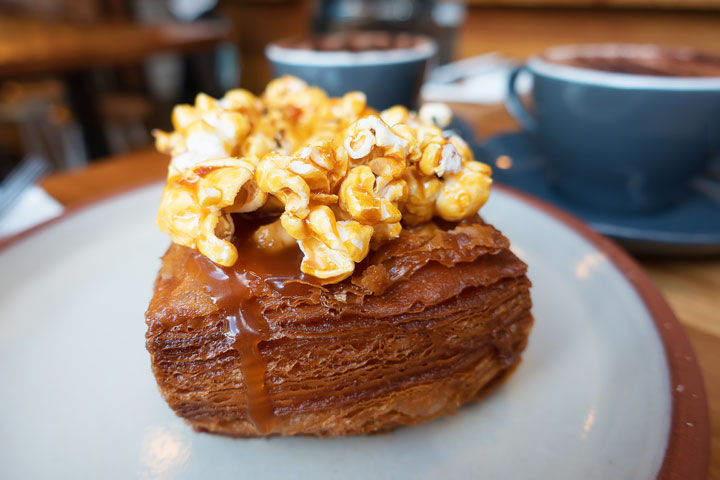 I highly recommend that you do that. How fun is this salted caramel popcorn cronut??!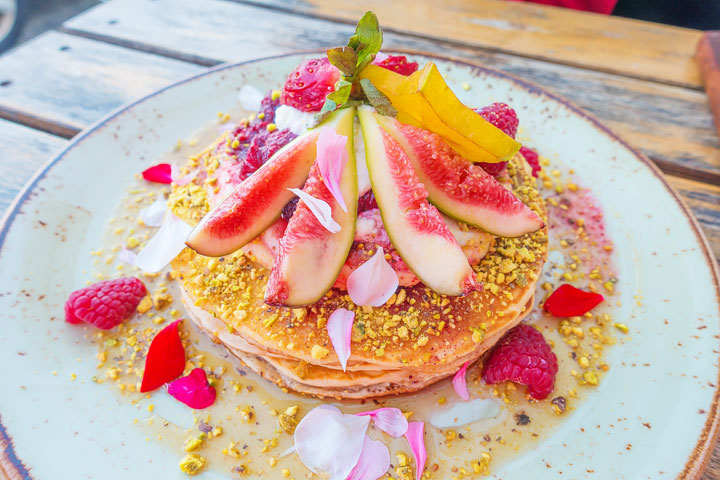 Speedo's Cafe
Speedo's Cafe is a MUST at Bondi Beach!! Fuel up here and then take the Bondi to Bronte Beach walk.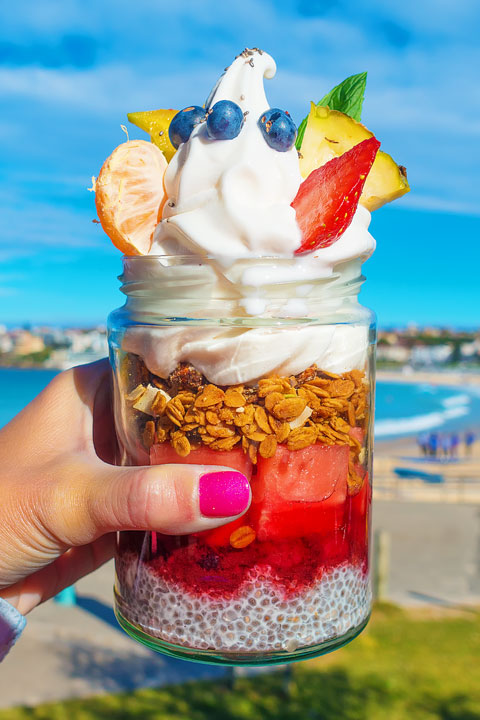 This gorgeous watermelon granola parfait is deceptively healthy. It looks like it's topped with sinful vanilla ice cream, but it's actually topped with CocoWhip! CocoWhip is a frozen soft-serve ice cream-like dessert made using ONLY coconut water. It's gluten-free, vegan, and dairy-free. And it tastes a lot like vanilla soft-serve! I could start every day with this gorgeous breakfast in a jar!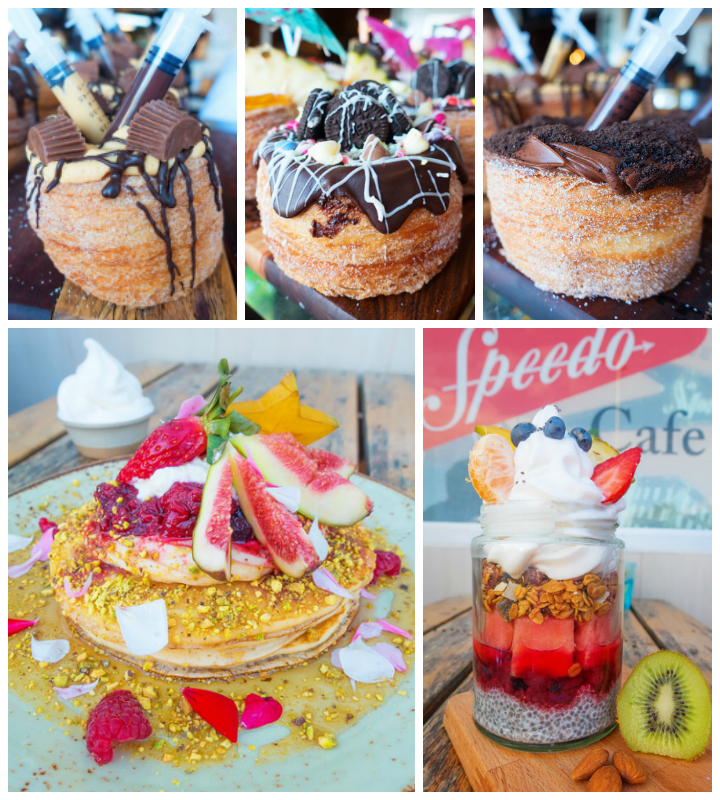 But if you're feeling decadent, like me always, they also have over-the-top cronuts, mile-high pancakes and so much more.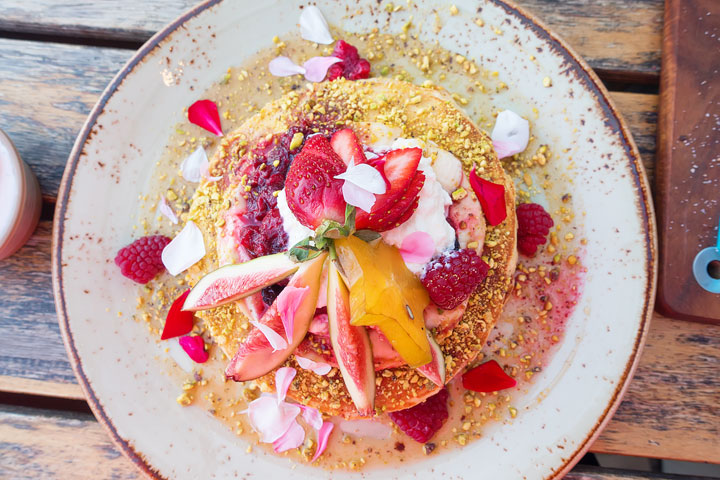 Loved how gorgeous these triple-stack pancakes were!!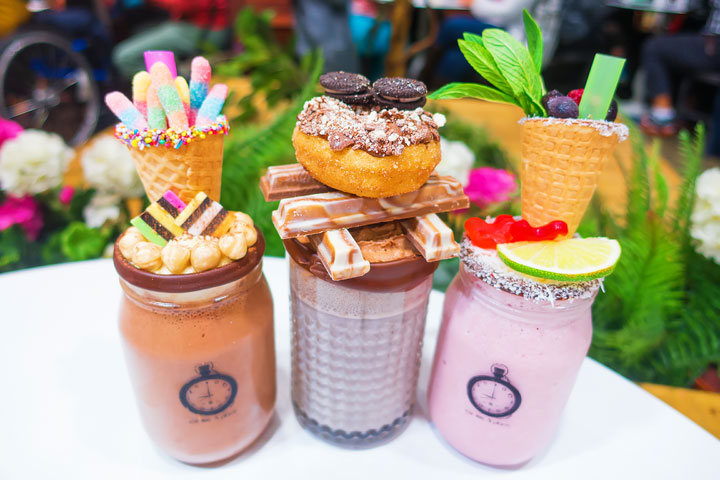 The Vogue Cafe
You guys!!!! Australia totally started the whole crazy milkshake trend. We HAD to try these outrageous milkshakes from The Vogue Cafe. Just look how fun these are! Doesn't every milkshake need Kit Kats and a donut on top?? :)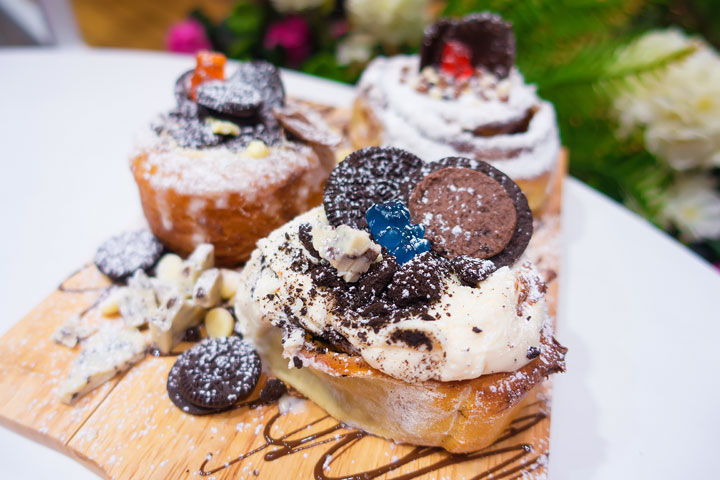 And then there was THIS.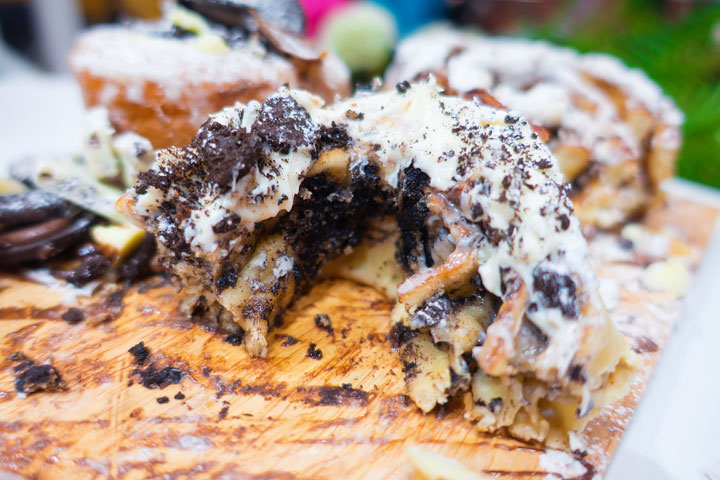 You guysssss. This is a Oreo stuffed CINNAMON BUN!!! I need to recreate this IMMEDIATELY. Basically it's been haunting my dreams ever since. A cinnamon bun stuffed with crushed Oreo cookies and topped with an Oreo frosting!! So good! This place had WAY too many fun things on the menu. I would've need to eat here every day for a month to try them all!!! If you love fun and outrageous sweets, put The Vogue Cafe at the top of your list!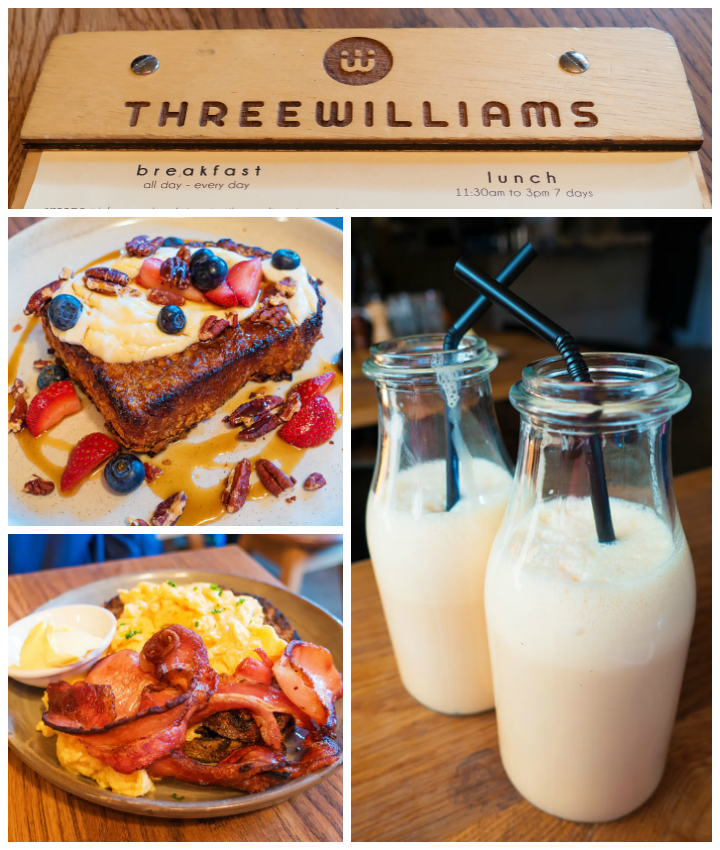 Three Williams Cafe
The final stop on our breakfast in Sydney tour is Three Williams Cafe! This crunchy brioche french toast with berries and pecans was delicious!
Our Favorite Sydney Restaurant for Breakfast
This cafe was so good, it deserves its very own post. Read about our  FAVORITE breakfast cafe in Sydney.
---
Lunch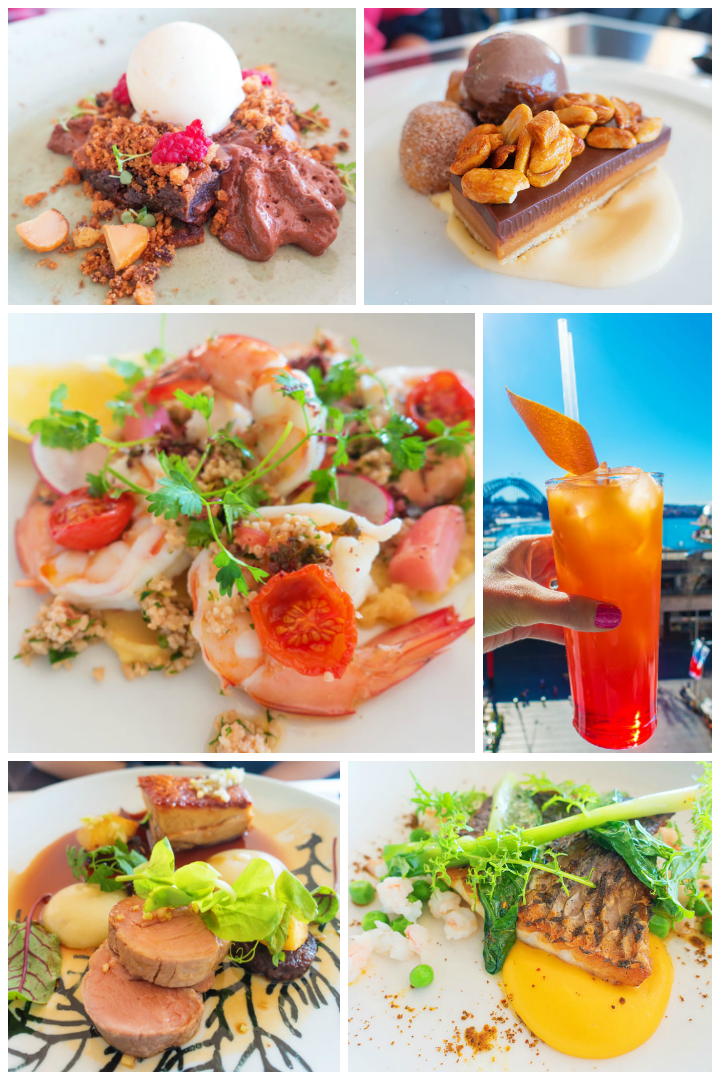 Cafe Sydney
We were told a meal at Cafe Sydney was a MUST during our week in Sydney. This rooftop restaurant boasts sweeping harbour views and serves modern Australian cuisine. Everything we had here was amazing! Perfect for a special occasion.
---
Snacks & Dessert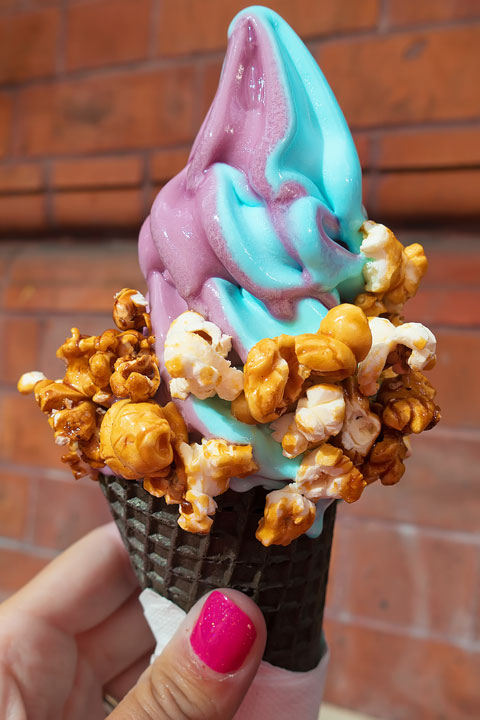 Aqua S
Aqua S — This fun soft-serve ice cream shop is literally a hole in the wall. If you didn't know it was there, you'd never find it! Basically you turn down some alley that looks like it leads to nowhere, and then it opens up to a mall! And in this unassuming little shop is Sydney's prettiest soft serve. You can get lots of toppings like caramel corn and even cotton candy! I didn't realize you could get cotton candy until I'd already gotten my cone. Kicking myself now! Totally getting popcorn AND cotton candy next time! :)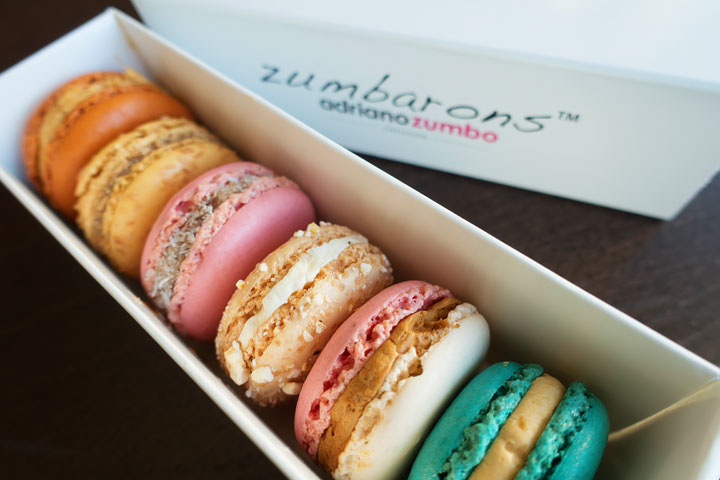 Adriano Zumbo
Adriano Zumbo is famous in Sydney for his incredible, delicious French desserts and pastries. Of course we had to check out his shop and get a box of his renowned macarons, especially when we saw the crazy flavors! Here are just a few of the ones we tried:
Malted Milkshake
Toasted Marshmallow
Salted Butter Popcorn
Seriously, are these not the most fun flavors of macarons you have ever seen?? I hear now they have a blueberry lavender macaron and now my life won't be complete until I try it.
---
Dinner
You know how in America we can pretty much get good Mexican everywhere? Especially here in the south! Well since Sydney is so close to so many different Asian countries, there is SO MUCH AMAZING Asian food in Sydney! Dumplings, dim sum, ramen, sushi — you name it, we tried it and it was all SO good. Sydney?? When can I come back??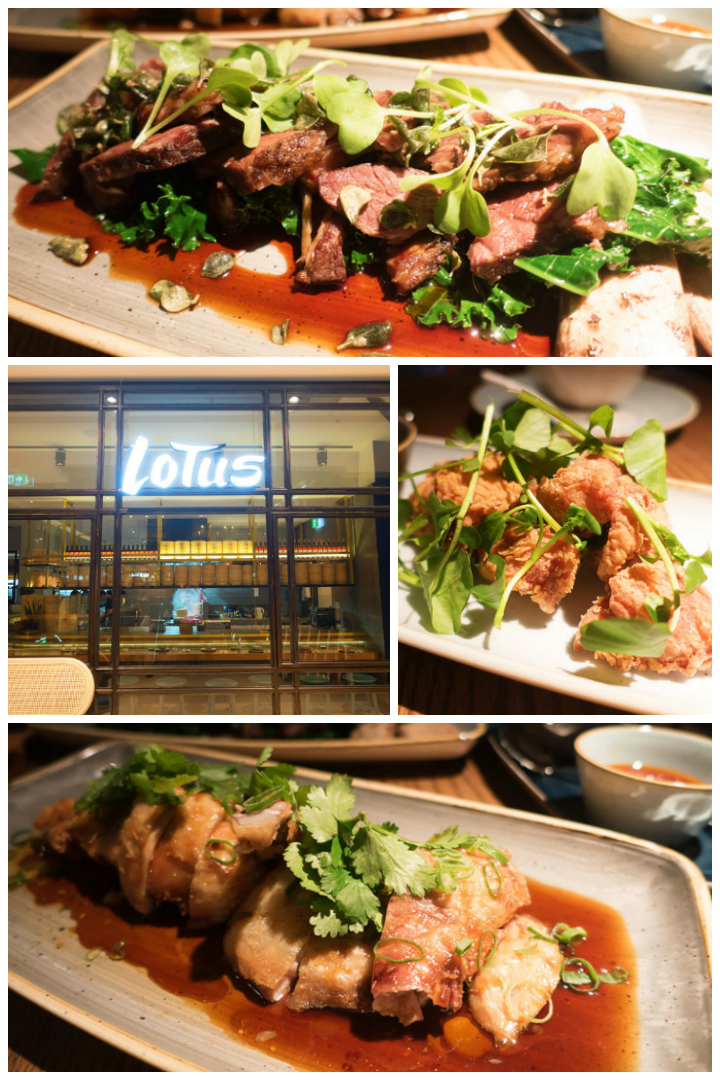 Lotus Dumpling Bar
Lotus Dumpling Bar — Delicious dumplings and authentic Chinese dishes! We got the slow cooked beef short ribs, Shanghai-style sweet and sour pork ribs, and the crispy skin chicken with spiced soy sauce.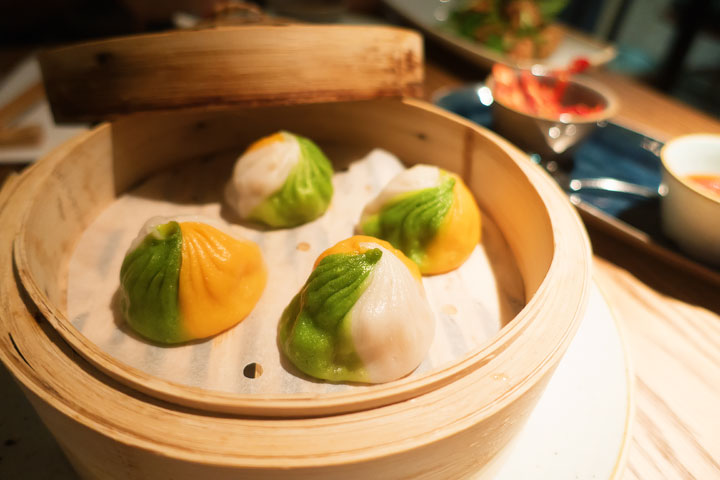 So, so good!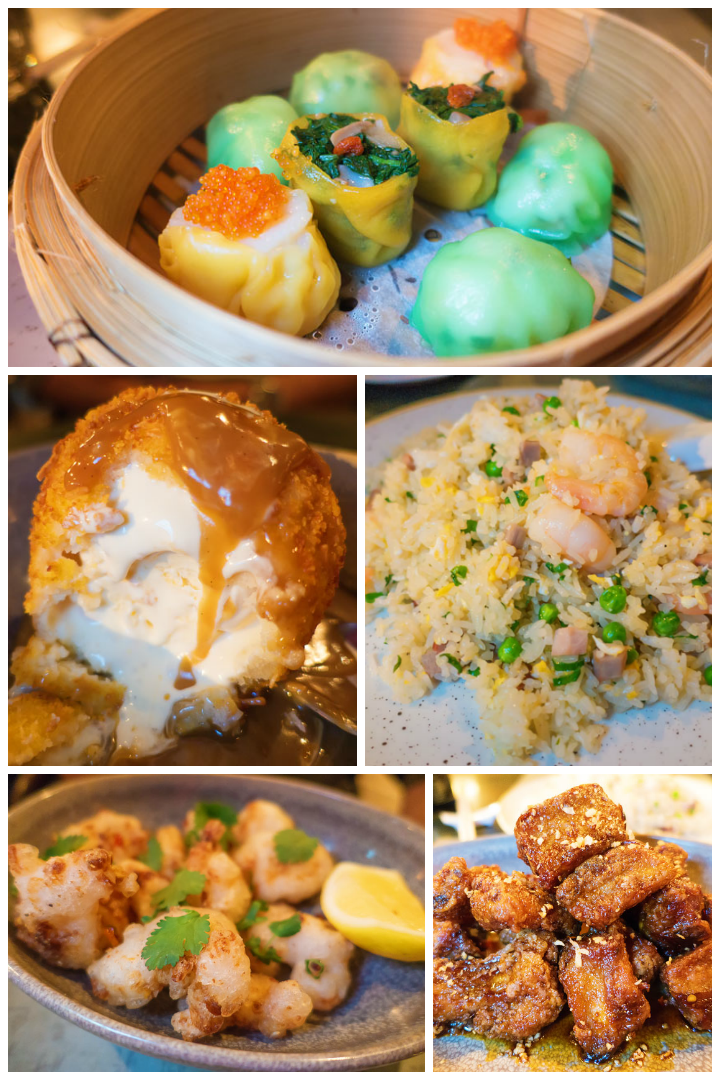 Mr. Wong
Mr. Wong is one of the largest restaurants in Sydney. The modern Cantonese-style menu features over 60 dishes, from dim sum to Sydney's famous mud crab, as well as an unrivaled dim sum selection. Loved the sweet and sticky pork ribs, dim sum, and deep fried vanilla ice cream with butterscotch sauce for dessert!! Highly, highly recommend!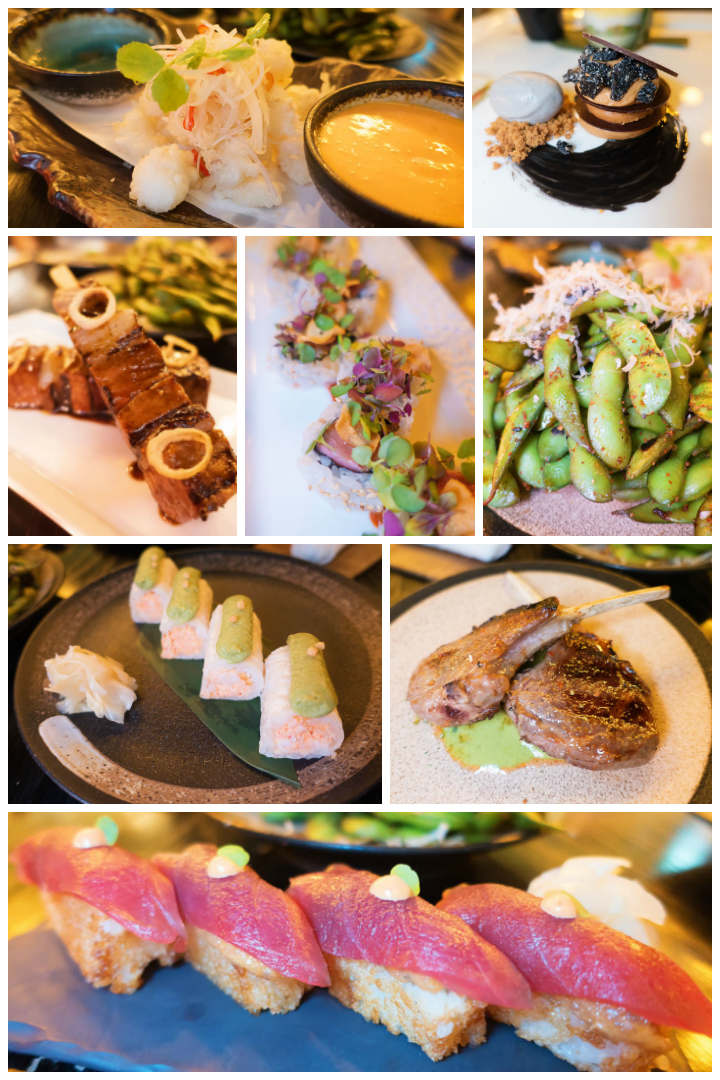 Sokyo
Another favorite was Sokyo. They offer small plates which are perfect for sharing and trying a little bit of everything. My favorite type of dining! We loved the tuna crispy rice, avocado roll,  lamb chop, spicy edamame, and the Japanese barbecue short rib.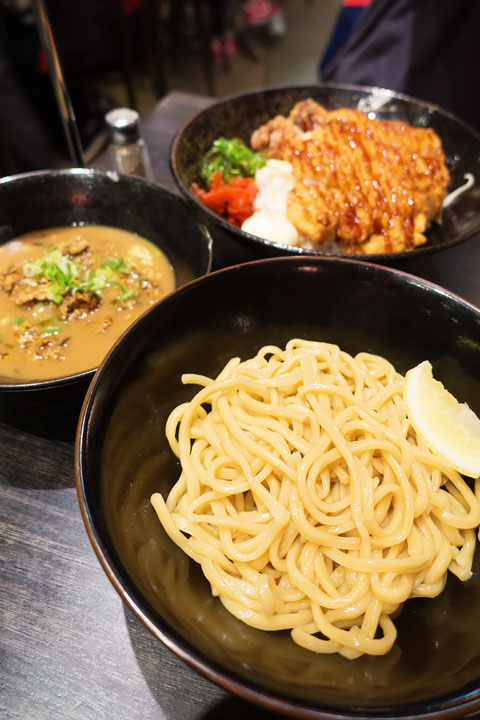 Ramen Zundo
Ramen Zundo — Have you guys heard of tsukemen? It's an extremely popular food trend in Tokyo. I was introduced to tsukemen 2 years ago in LA. You know, when I met my boyfriend Scott Foley? Since then I have been OBSESSED. You definitely can't get anything like this in Alabama. I even have a hard time finding it in major cities in the US.
If you ever see tsukemen on a menu anywhere, GET IT. It's like the glorious ramen noodles of our childhood, but eleventy billions times better. The noodles are just a bit thicker and AMAZING. The noodles and broth are separate so you dunk the noodles in the broth and then eat. So, so good. I was thrilled when I found it in Sydney!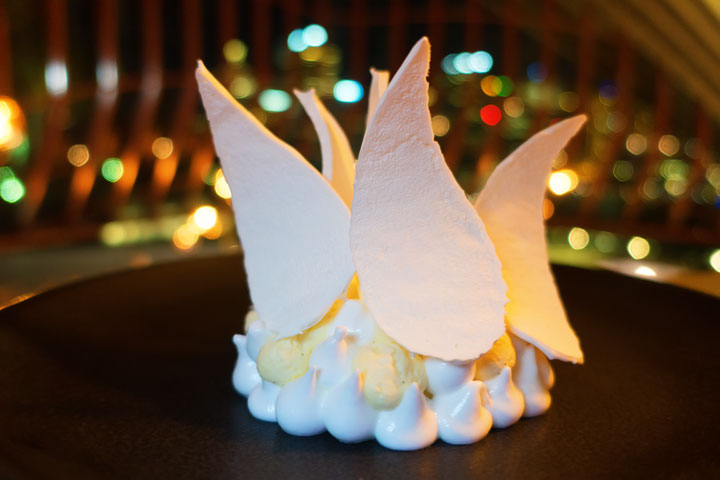 Bennelong
If you are looking for a fancy, special night out in Sydney, check out Bennelong located inside the Sydney Opera House. The architecture inside is stunning. Bennelong's signature dessert is a twist on pavlova, a classic Australian dish,  turned into a tribute to the restaurant's incredible setting inside the Opera House sails. It's filled with fresh seasonal fruit and topped with whipped double cream and Italian meringue. So pretty and fun. And of course, delicious!
---
Getting Around in Sydney
We loved walking all over Sydney everywhere we could, but sometimes you just need a taxi. I was so glad to learn Uber is in Sydney! Have you heard of Uber?? It's your own personal, private car service and it's cheaper than a taxi. All you do is download the Uber app, and it will show you where drivers are near you, and tell you how long it will take for a car to get to you. Uber is available in most cities worldwide. Usually a car can be there in less than 5 minutes. Just click Set Pick Up Location and your private car is on it's way. You even set your destination so you don't have to worry about your driver not speaking English and not knowing where to take you. It's all done through the app. They also usually will have a bottle of water in the car for you. Perfect for weary sightseers!
No need to wait outside in the cold, heat, or rain for a taxi — the app sends you a notification when your driver is getting close, and again when they have arrived. You can add a credit card or Paypal account to your Uber account, so you never to worry about paying the driver. It's all done through the app — no money exchanges hands. You get in the car, the driver takes you to your location, and you get out. No fumbling with paying, you can just get out and leave! Tip is even included. It says so on their webpage that it's built into the price of the service. Uber is seriously the fastest, best, and safest way to get around in Sydney!
Use this link to sign up with Uber to get your first ride free!
---
Hungry For More?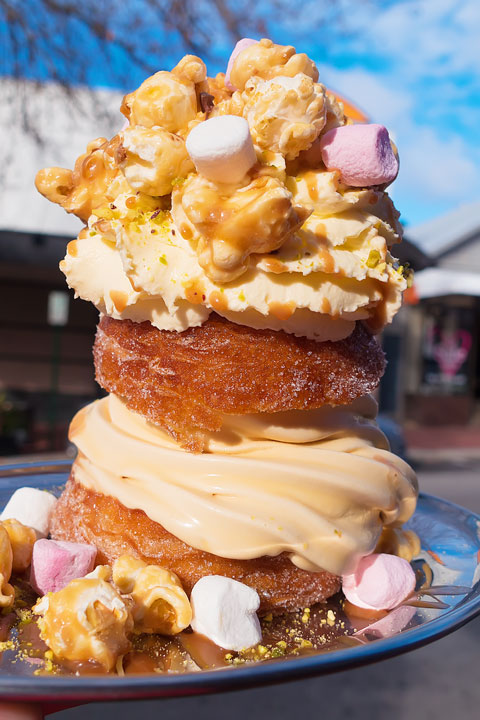 Check out what we found on the other side of the country in our Ultimate Perth Food Guide!
Also check out these Where To Take The Best Photos In Sydney!
Thanks so much for reading!! :)