Visiting Eastern State Penitentiary
Visiting Eastern State Penitentiary is one of the most interesting things to do in Philadelphia. Here's what it's really like to visit this infamous haunted prison!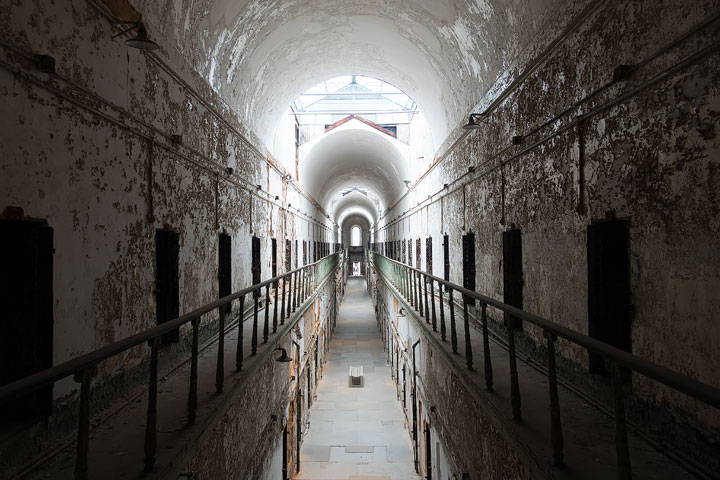 Eastern State Penitentiary
Eastern State Penitentiary is a former prison in Philadelphia.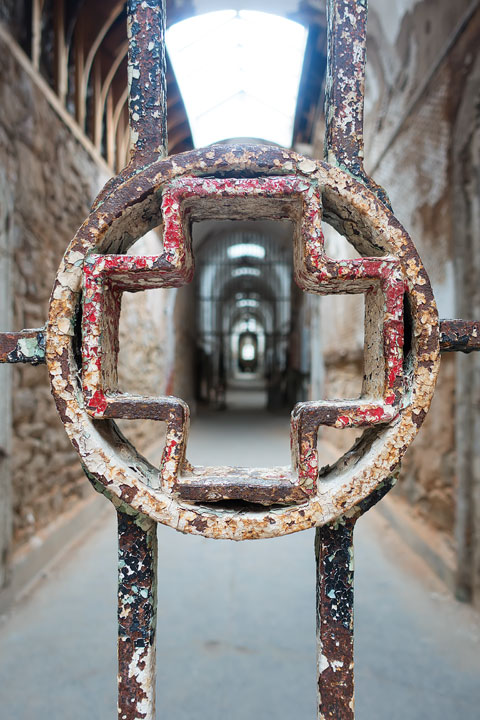 Notorious criminals such as Al Capone were once imprisoned here.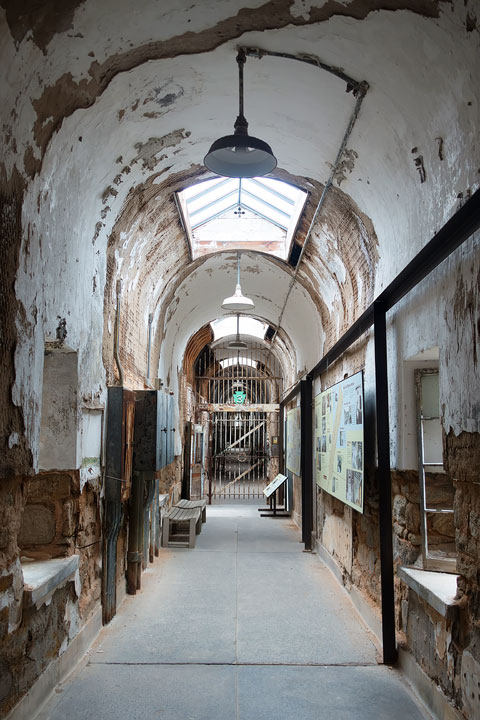 If you have 1-2 free hours in Philadelphia, I highly recommend visiting. It's centrally located and very easy to get to. It's open 7 days a week from 10 am to 5 pm. The audio tour takes around 45 minutes and is narrated by Steve Buscemi.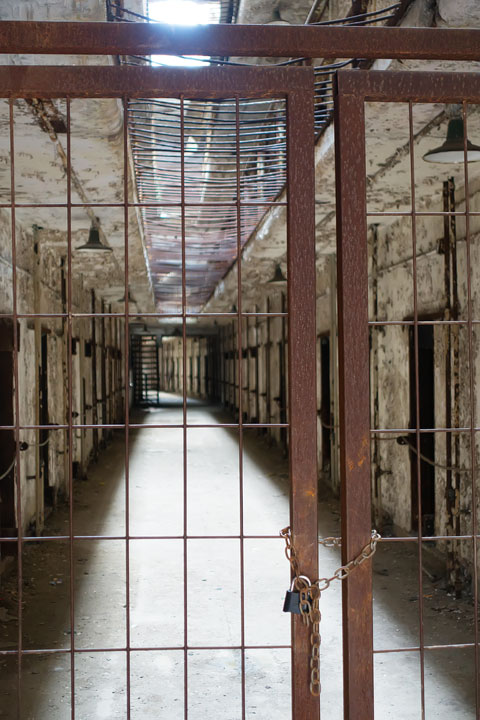 About Eastern State Penitentiary
Eastern State Penitentiary was operational from 1829 until 1971. At the time, the penitentiary had a brand-new revolutionary system of incarceration.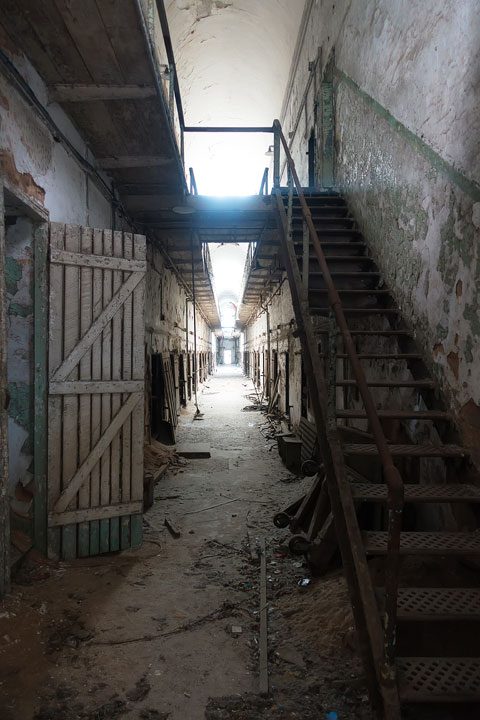 Previous incarceration facilities in America forced the prisoners to share cells, work together, and used physical punishment.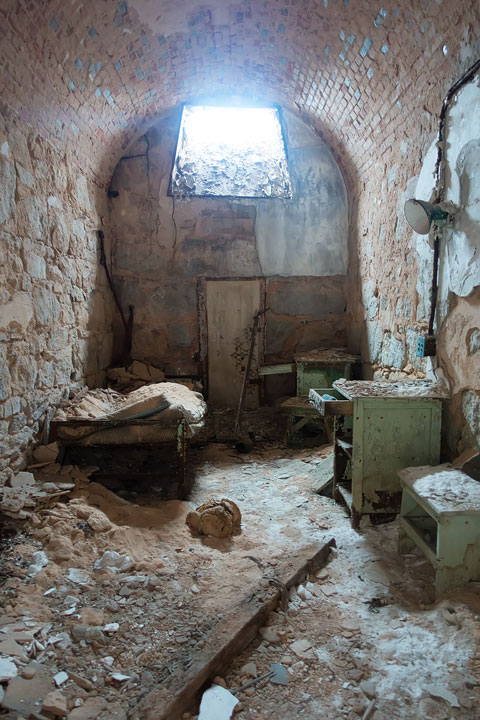 However the purpose of Eastern State Penitentiary was to create genuine regret and penitence in each prisoner. It emphasized spiritual reflection and reform rather than punishment. It was the world's first true penitentiary.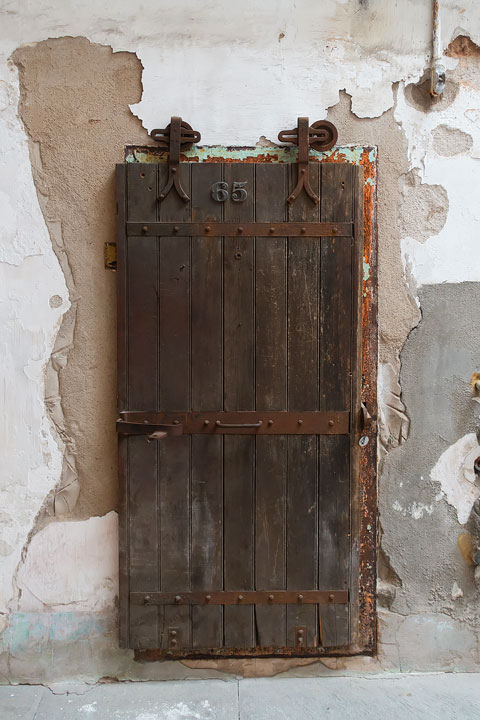 Prisoner Confinement at Eastern State Penitentiary
This new penitentiary system held each prisoner in solitary confinement. Each cell entrance had two doors: a short metal door, and a heavy wooden door to filter out noise, so the the prisoners couldn't communicate with each other. Some believe the small doors forced the prisoners to bow when entering their cell.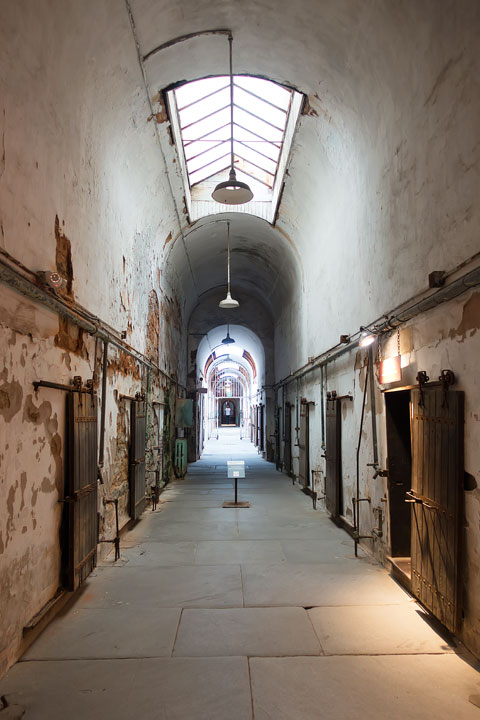 The penitentiary designed the halls of the cellblock to have the feel of a church.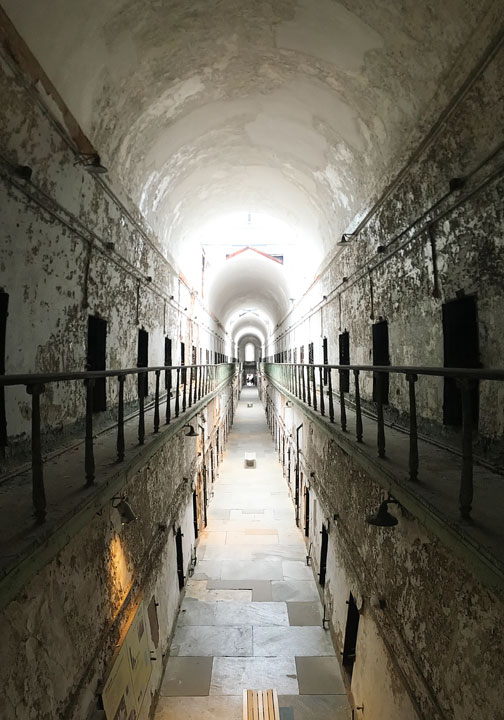 Anytime a prisoner left his cell, the guard wrapped a hood over his head to prevent distraction, knowledge of the building, or interaction with the guards.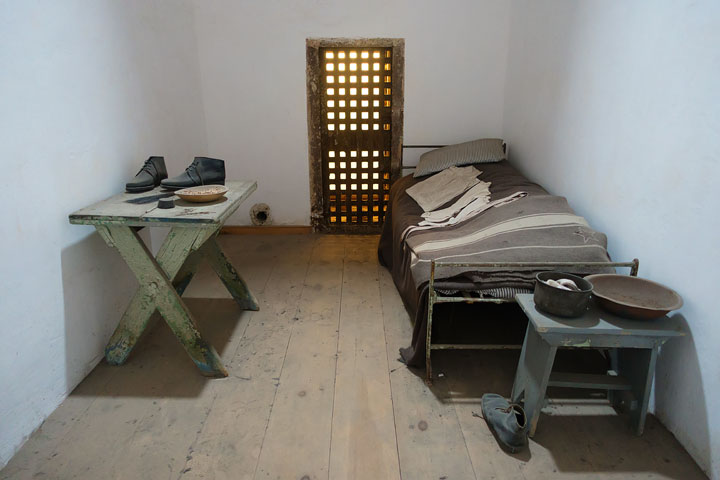 The Cells at Eastern State Penitentiary
Each cell had its own small, private exercise yard attached, enclosed by thick, 10-foot high walls so prisoners could not communicate with each other. The guards synchronized exercise time so that no two prisoners next to each other would be out at the same time. However, the penitentiary allowed prisoners to garden and even keep pets in their exercise yards.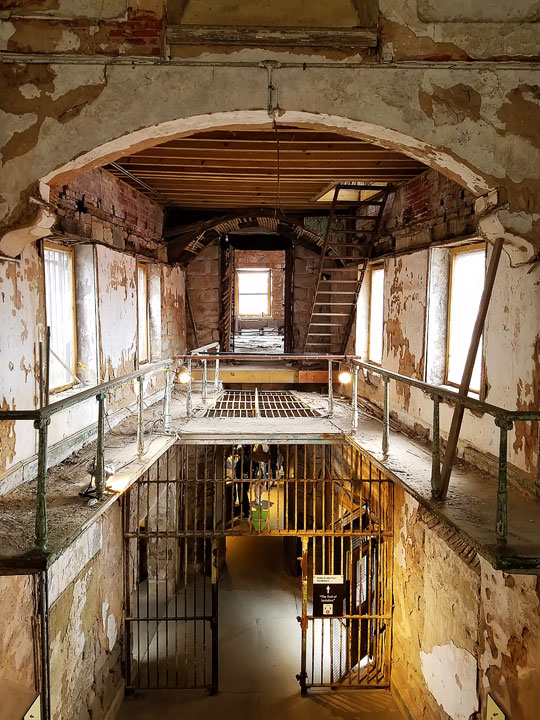 Cell accommodations were surprisingly advanced for their time. Eastern State Penitentiary's earliest cellblocks may actually be the first modern building in the United States.
The cells were centrally heated and equipped with running water, a flushable toilet, and a skylight.
This was during a time when the White House (and its current president, Andrew Jackson) had no running water and was heated with coal-burning stoves.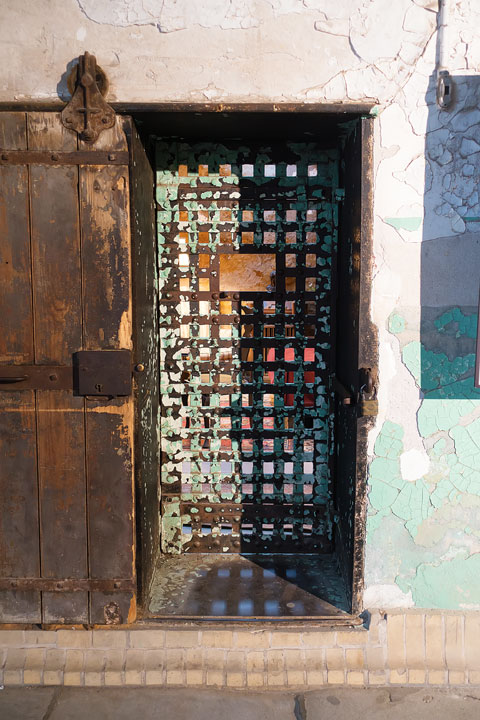 Al Capone's Cell
A notable inmate of Eastern State Penitentiary is infamous gangster Al Capone.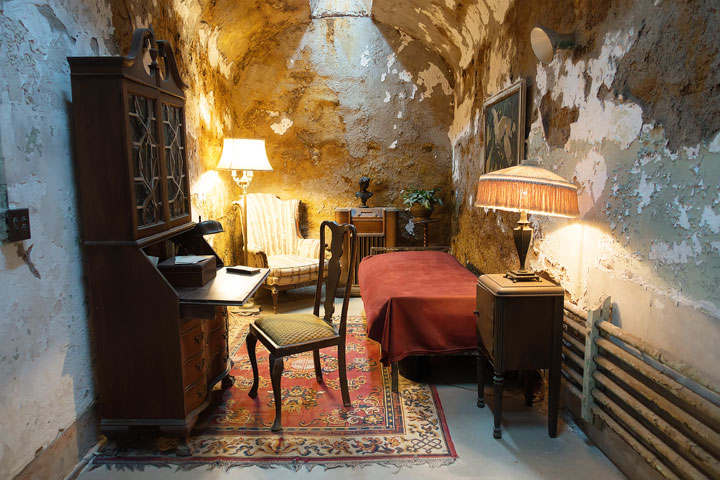 In 1929 he spent 8 months in this cell. The Philadelphia Daily Ledger reported that Capone enjoyed many luxuries during his stay.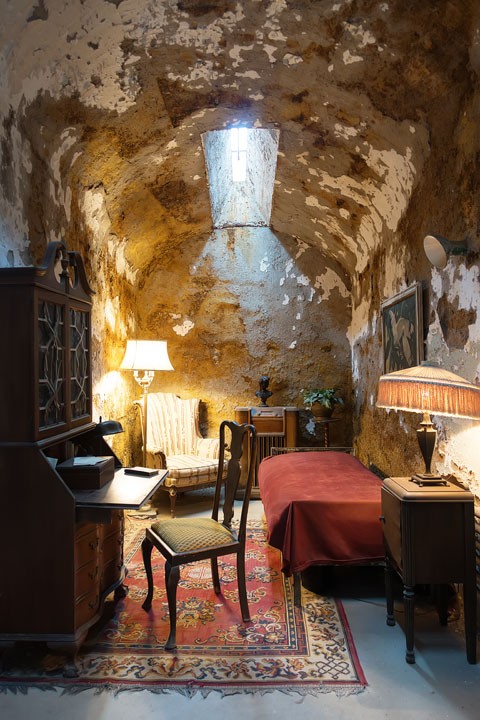 Reportedly his cell had large oriental rugs, oil paintings, and a radio.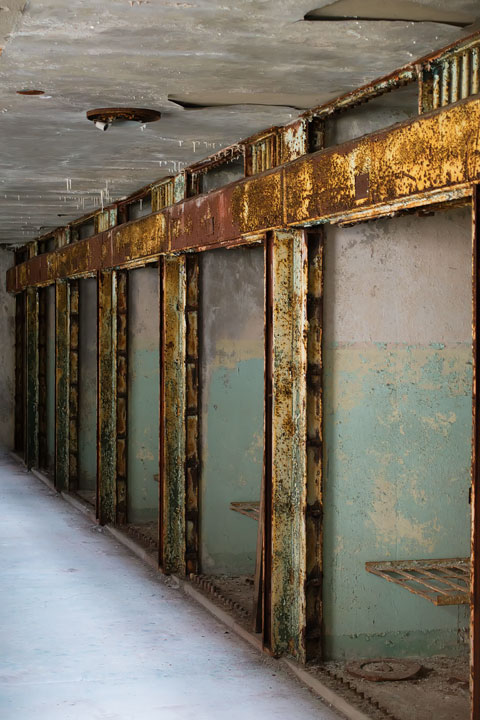 Death Row
In 1959 a new maximum security cellblock opened at Eastern State Penitentiary. It became known as "Death Row". A second set of bars in the center of the hall prevented contact between the inmates and guards.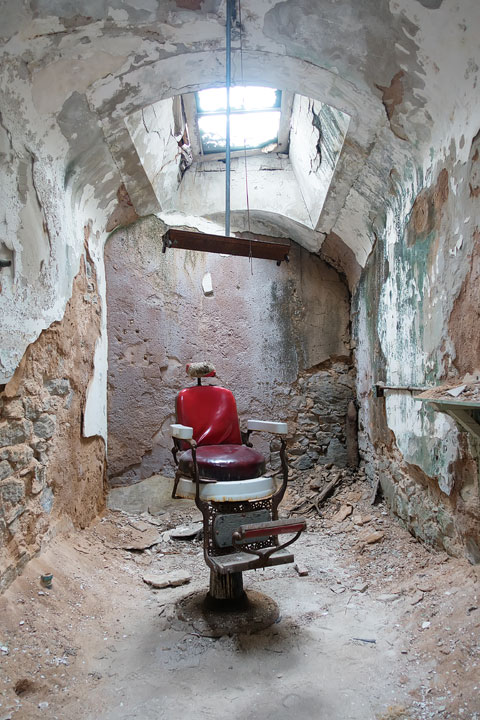 The Barber Shop
The remains of the barber shop. The barber shop had fluorescent lights, outlets, mirrors, and barber chairs. Inmates trained to be barbers and used straight razors for shaving the other prisoners. The guard on duty issued and signed out razors to the inmates.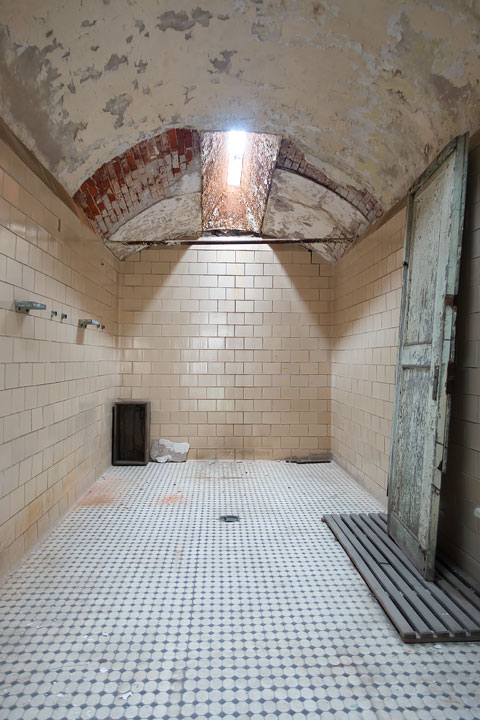 Shower Room
Above is the shower room at Eastern State Penitentiary. The prisoners shared one large shower.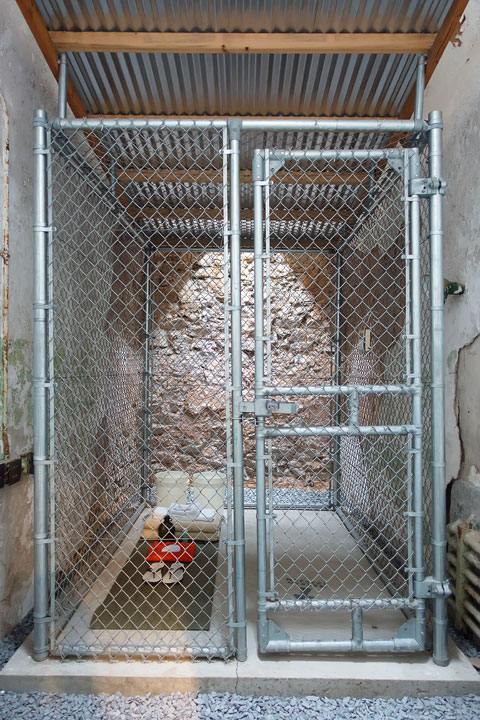 Guantanamo Bay
This summer there is an interesting new art installation inside one of the former cells at Eastern State Penitentiary. This metal cage is an exact recreation of a cell from Camp X-Ray, the former holding cells at Guantanamo Bay in Cuba.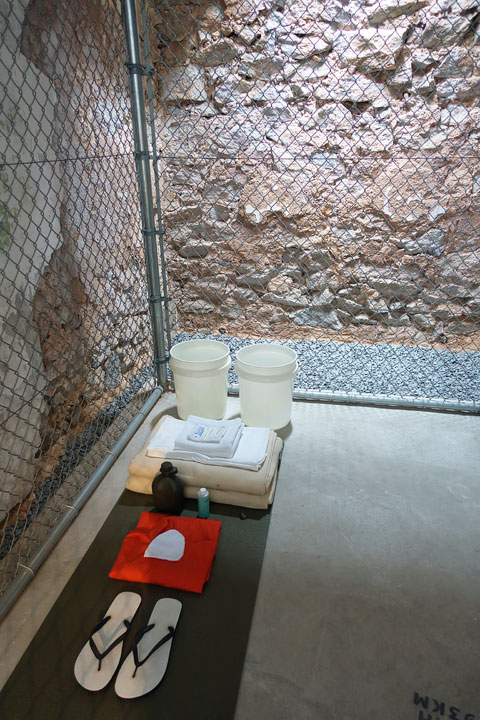 By placing the Guantanamo Bay cell inside an Eastern State Penitentiary cell, the artist William Cromar illustrates opposite means to a similar end. The Eastern State cells are larger, opaque, and stone, where the Guantanamo Bay cages are smaller and nearly transparent.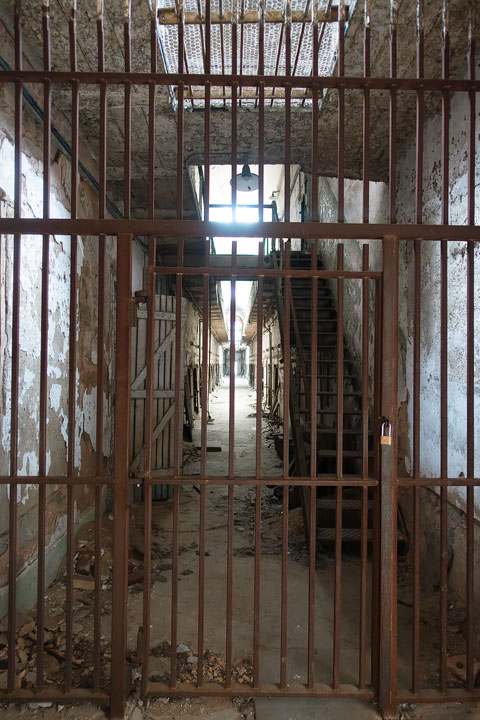 Eastern State Penitentiary is like Alcatraz… If you go to San Francisco, you have to go to Alcatraz. If you go to Philadelphia, you should definitely check out Eastern State!
---
Save it on Pinterest!