Planning a trip to Egypt? To help make your Egypt vacation as easy as possible, here is an ultimate 2-Week Egypt Travel Itinerary. Use this itinerary as a guide so you don't miss any of the best things to do in Egypt. If you are wondering "Is Egypt Safe?" keep reading for our thoughts below.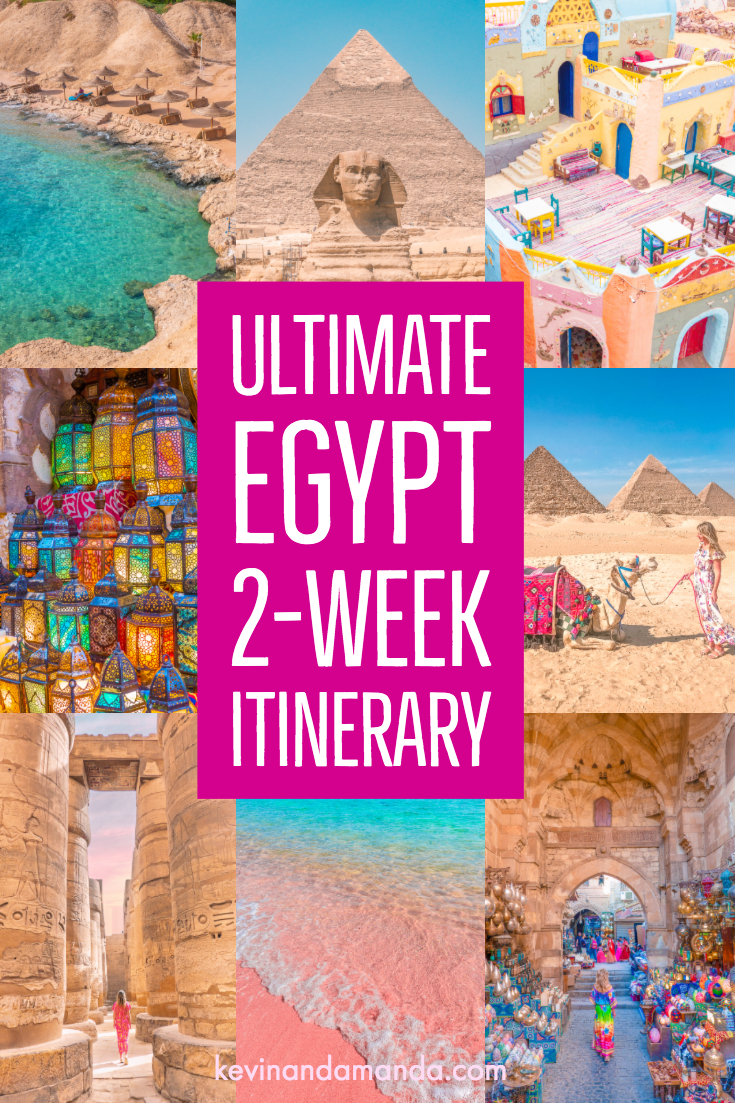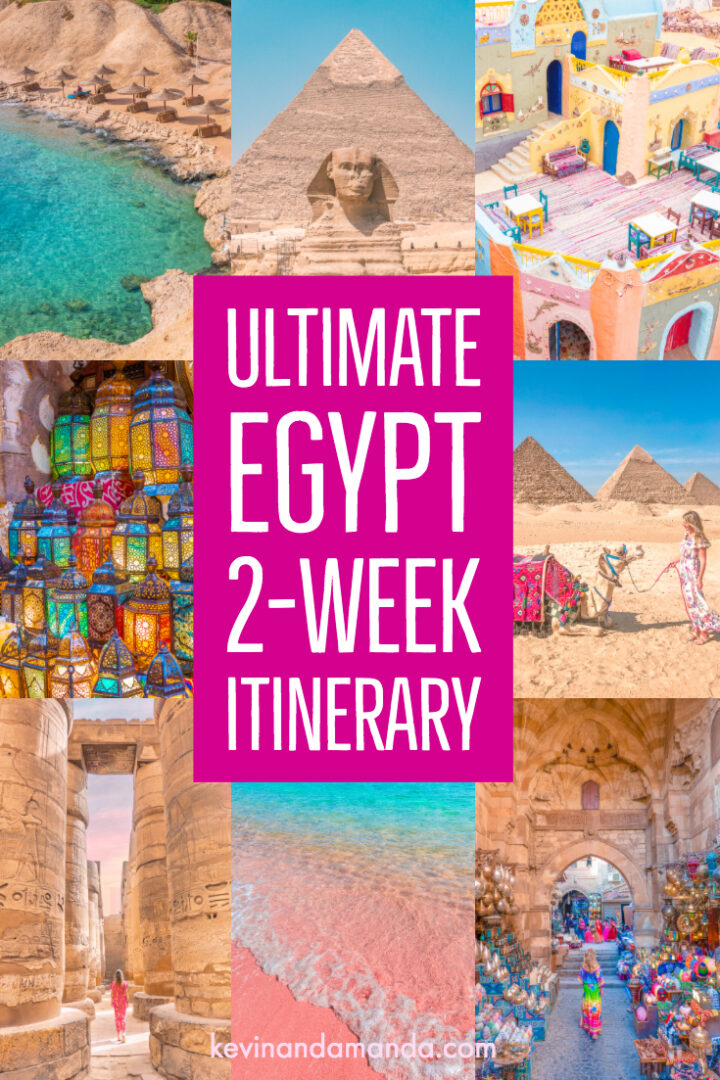 ---
Egypt Travel Day 1 – Arrive in Cairo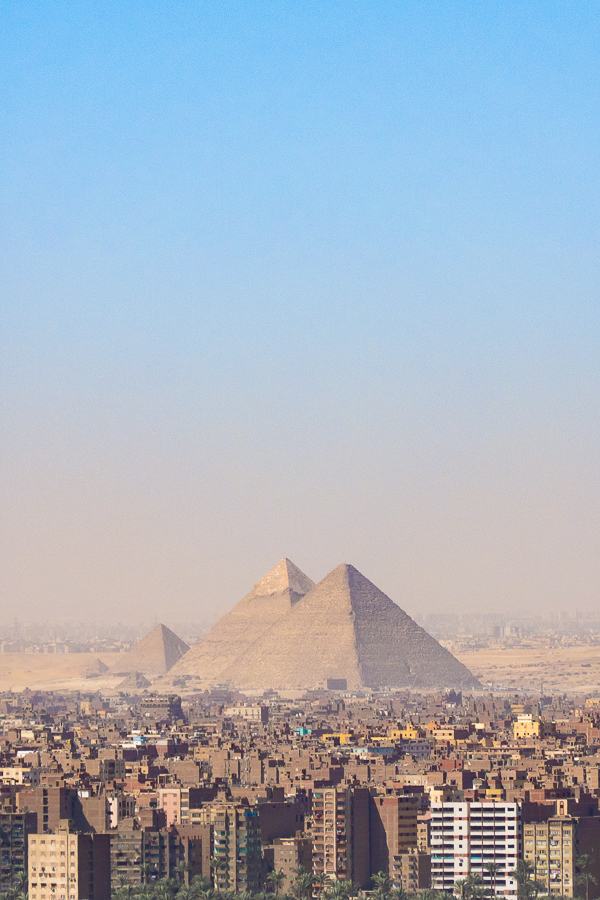 Welcome to Cairo! You will spend 3 nights in Cairo.
When you arrive at the airport, call an Uber instead of a taxi. Ubers are always easier and cheaper than taxis in Cairo. Uber in Egypt is safe and reliable. We used Uber whenever possible when we were in Egypt.
Check out the post below for our favorite places to eat in Cairo and local food you need to try!
---
Egypt Travel Day 2 – Pyramids of Giza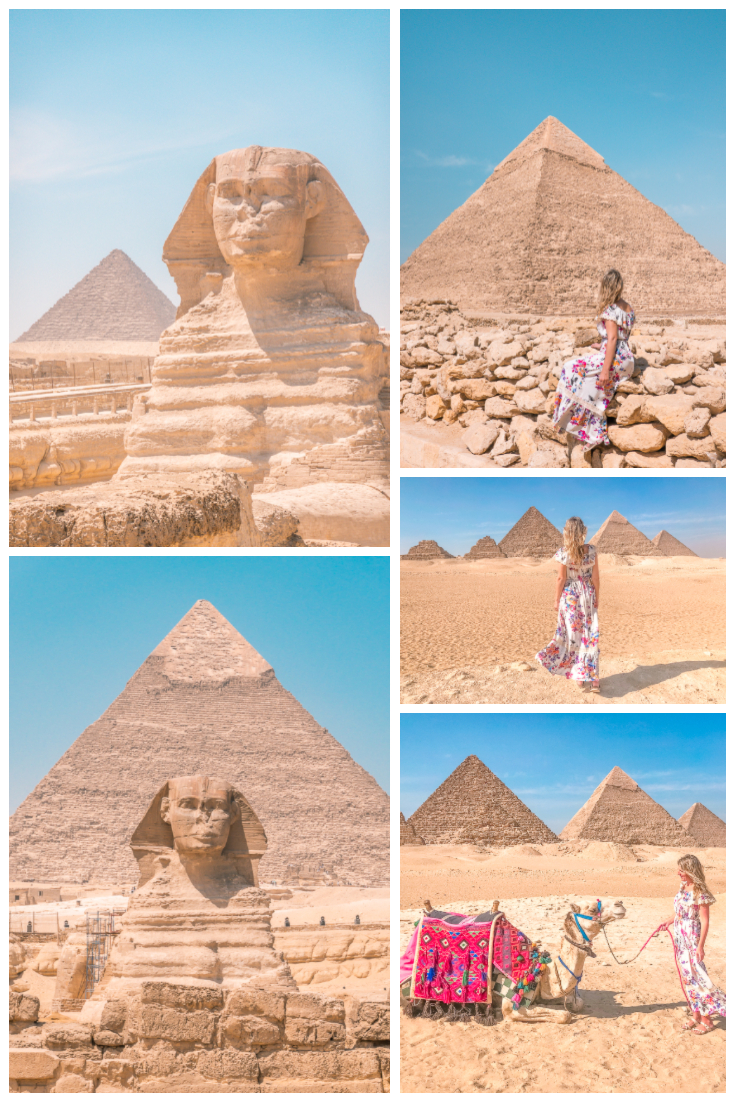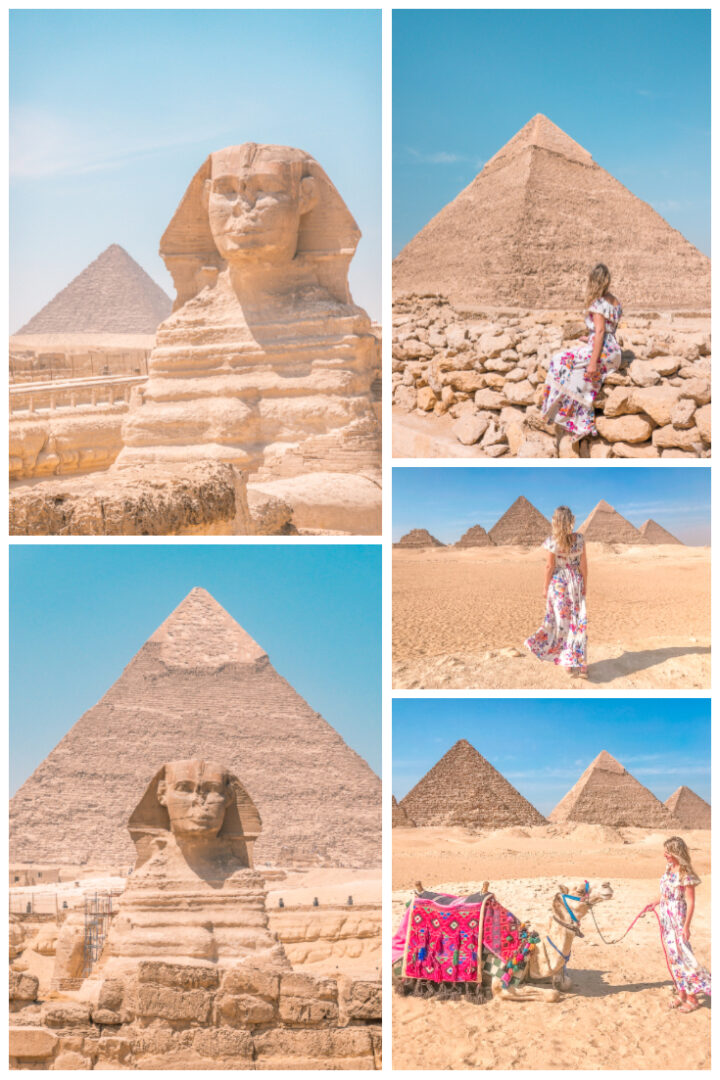 The first thing you want to do in Egypt is see the pyramids! Plan for at least half a day at the pyramids.
We spent almost all day there. Since it was our first day in Egypt we took a more relaxing morning to catch up on jetlag and enjoy breakfast at the hotel. We arrived at the pyramids around 10 AM and stayed until around 4 PM. We took our time wandering around all the pyramids, going to the solar boat museum, and even took a camel ride.
If you want to get to the pyramids super early in the morning and skip the camel ride (which takes about 45 mins) you could plan for half a day here.
Whatever you do, please read the post below before visiting the pyramids!!
---
Egypt Travel Day 3 – Cairo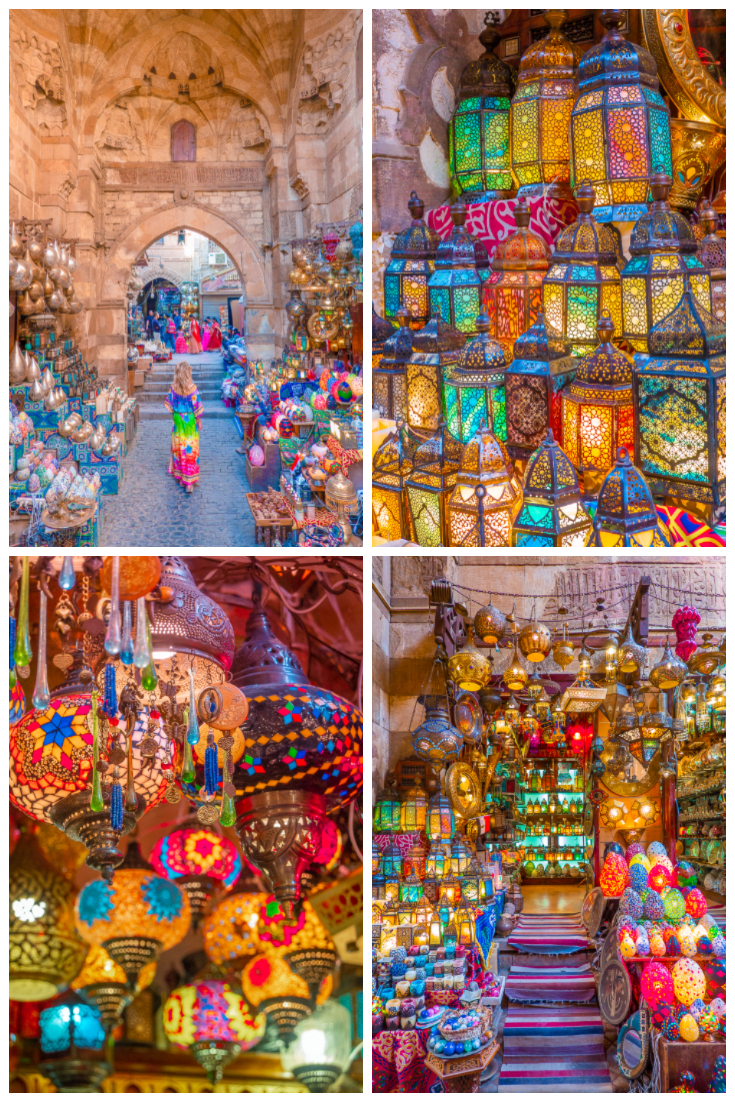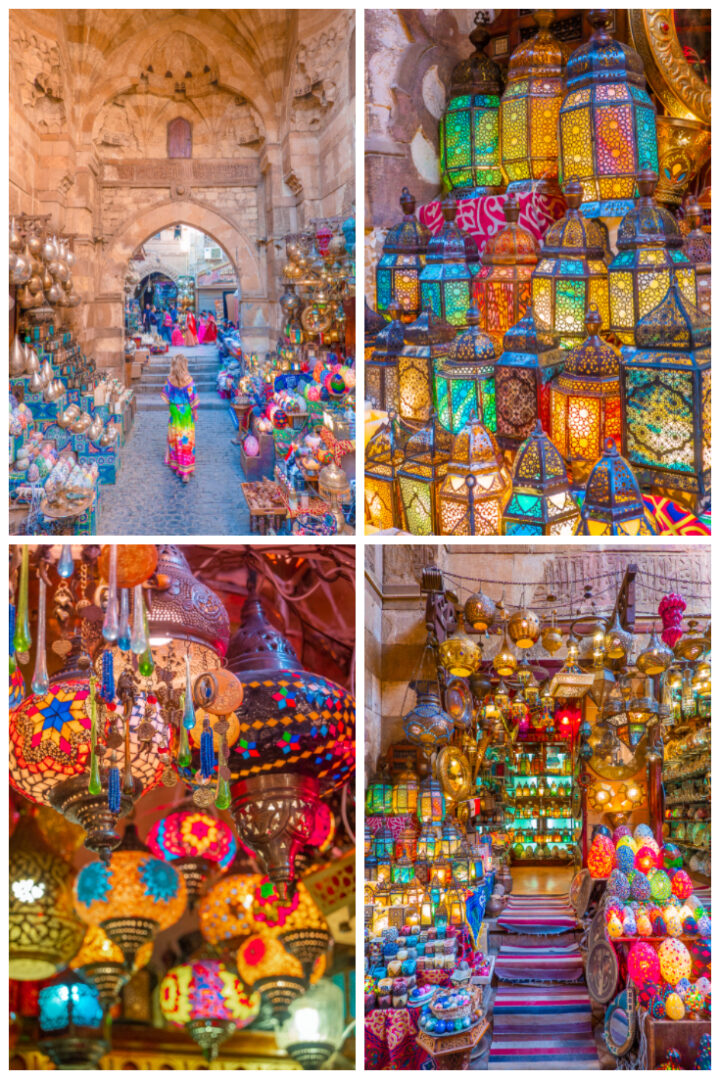 Full day to explore Cairo. In the morning, go to the Egyptian Museum. In the afternoon, explore the Khan El-Khalili Bazaar.
Read the post below for lunch and dinner recommendations!
---
Egypt Travel Day 4 – Travel to Aswan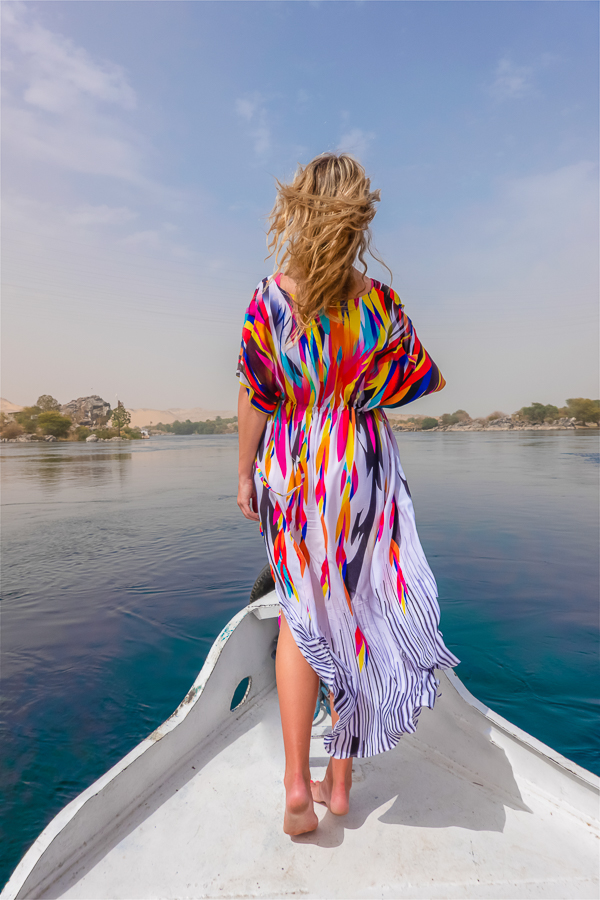 Take a relaxing morning in Cairo, then travel Aswan. You will spend 2 nights in Aswan.
A direct flight from Cairo to Aswan takes 1 hr 20 mins and costs around $50-150 USD.
You can also take an overnight sleeper train from Cairo to Aswan if you don't want to lose a day traveling.
---
Egypt Travel Day 5 – Abu Simbel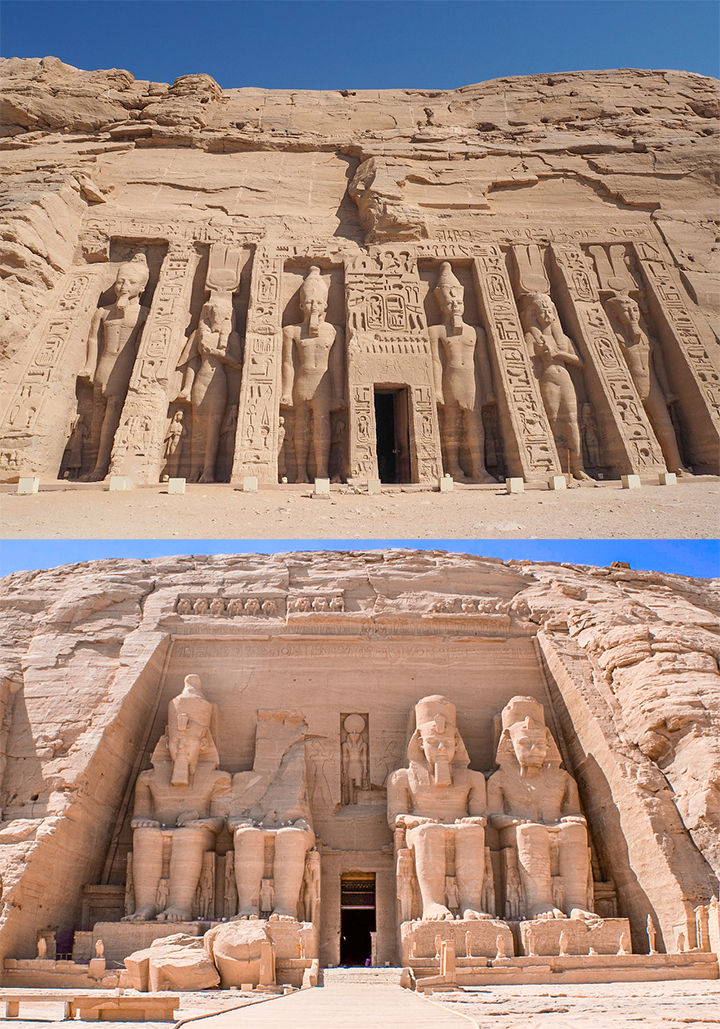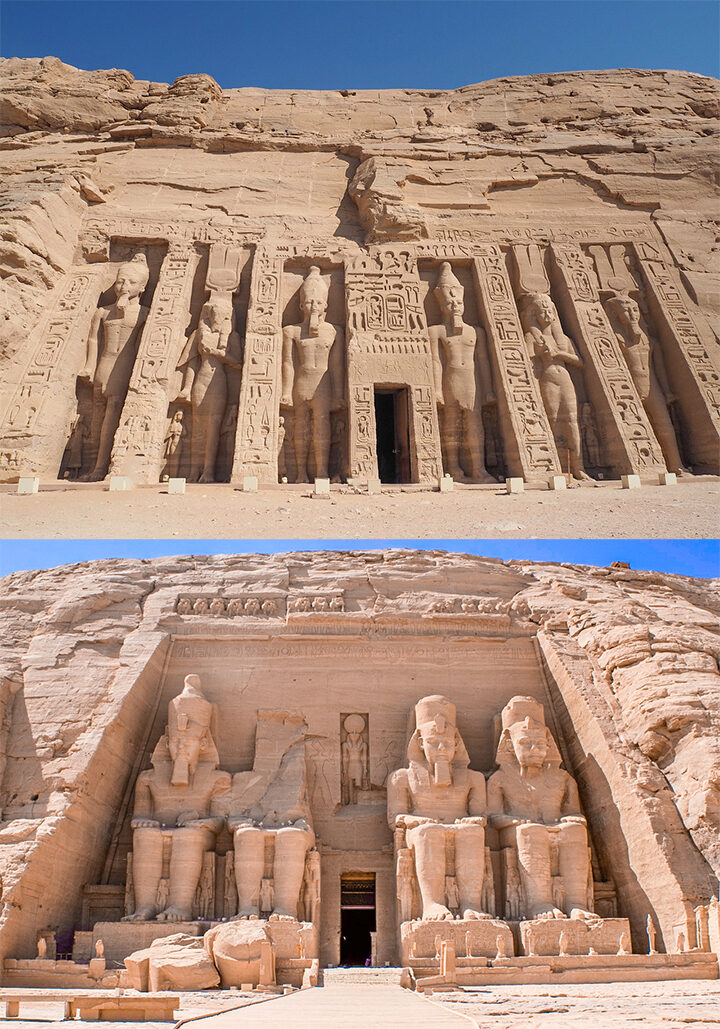 The Abu Simbel temple is the number one reason tourists go to Aswan. You need to book a tour at least a few days in advance. After you book your hotel, email the hotel and ask them to arrange a tour for you.
The tour to Abu Simbel leaves very early in the morning and will take all day.
---
Egypt Travel Day 6 – Nubia (The Colorful Nubian Village)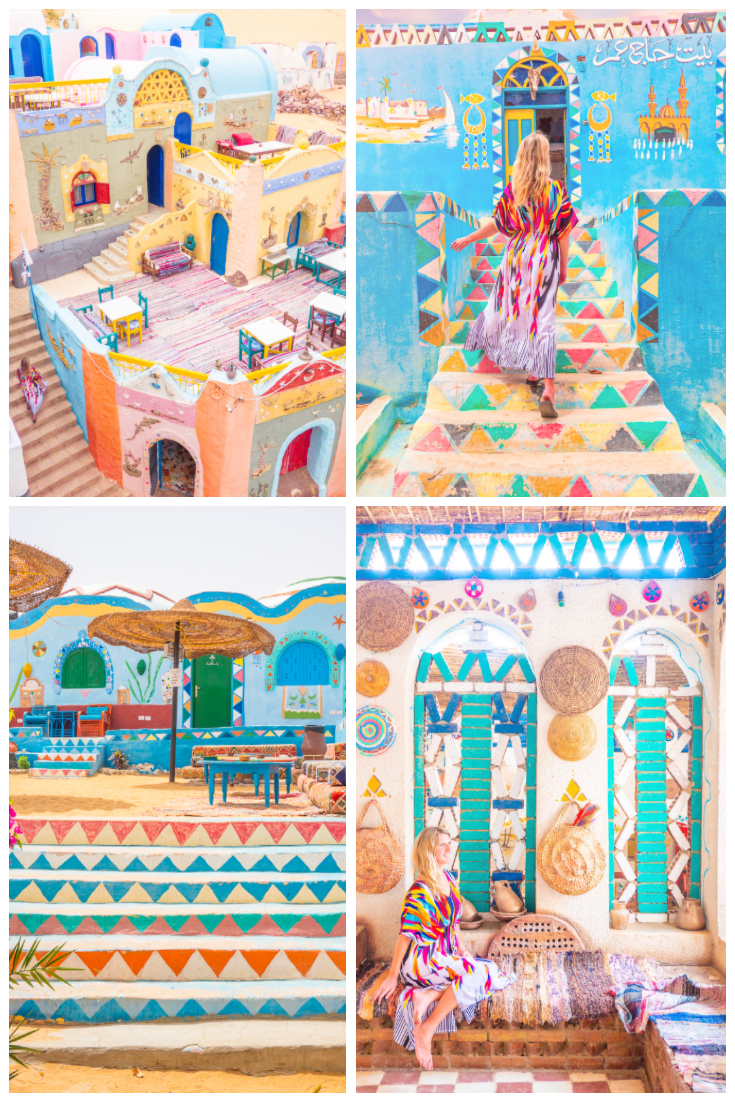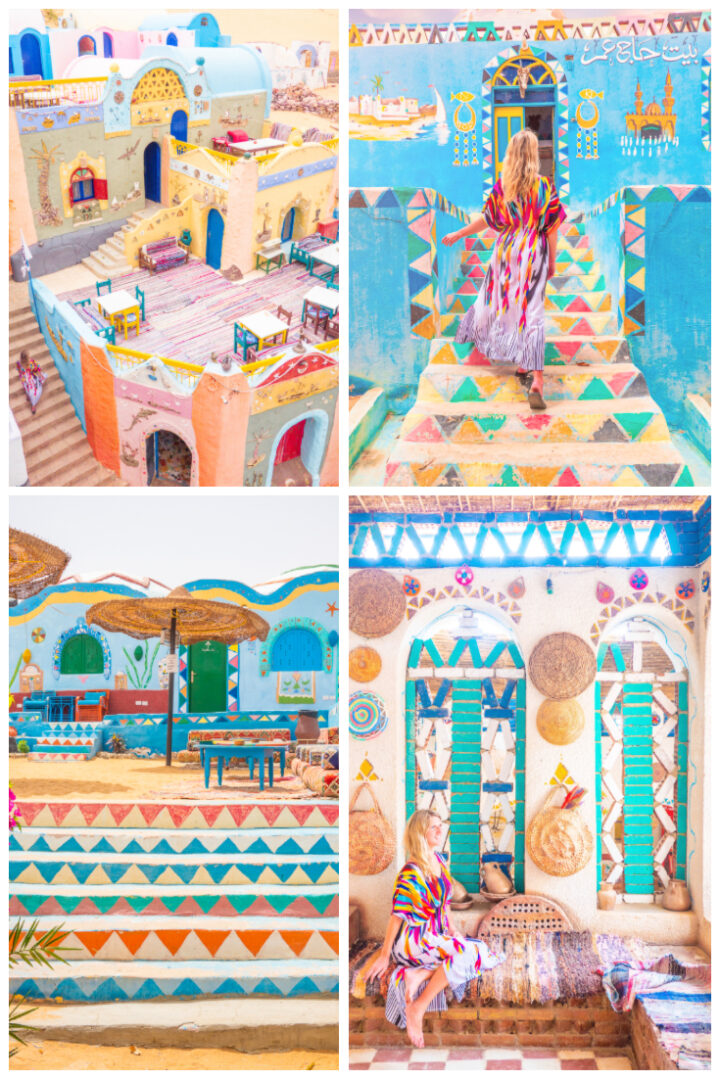 The next day, spend the morning exploring the most colorful village in Egypt! Read the post below for some very important information on how to get to the Nubian Village near Aswan.
In the afternoon / evening, take the train to Luxor. You can buy your ticket at the station the day you want to leave. Just get there early to give yourself plenty of time to wait in line to buy your ticket.
You will spend 2 or 3 nights in Luxor.
---
Egypt Travel Day 7 – Luxor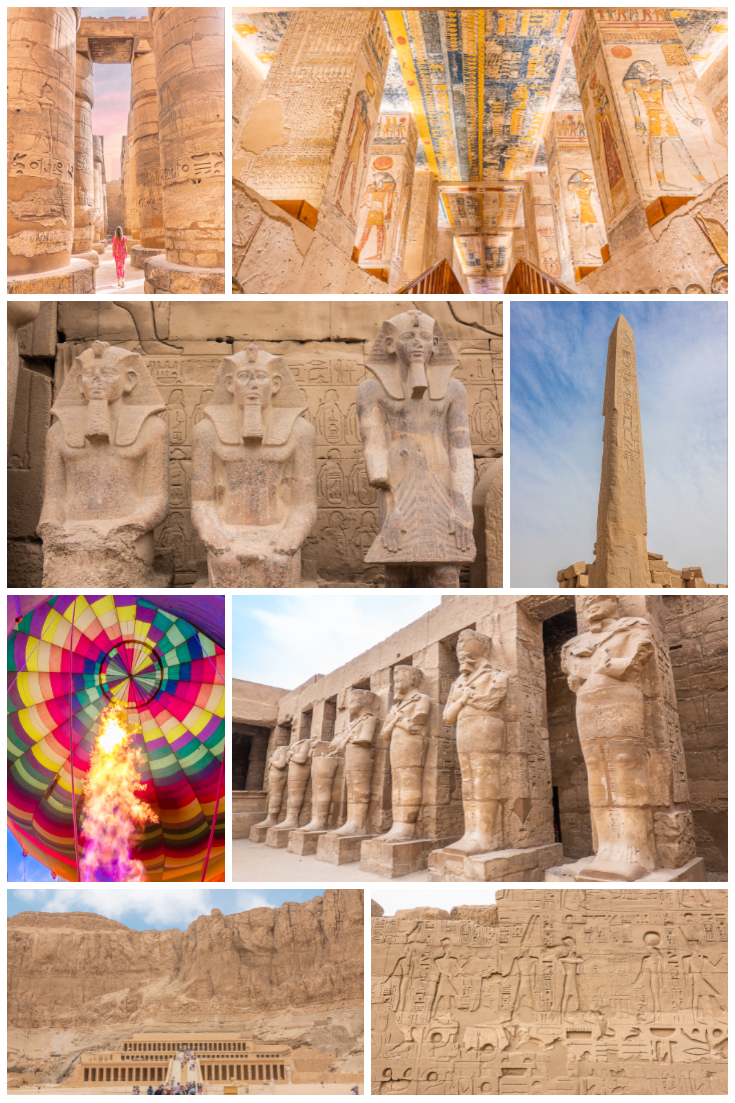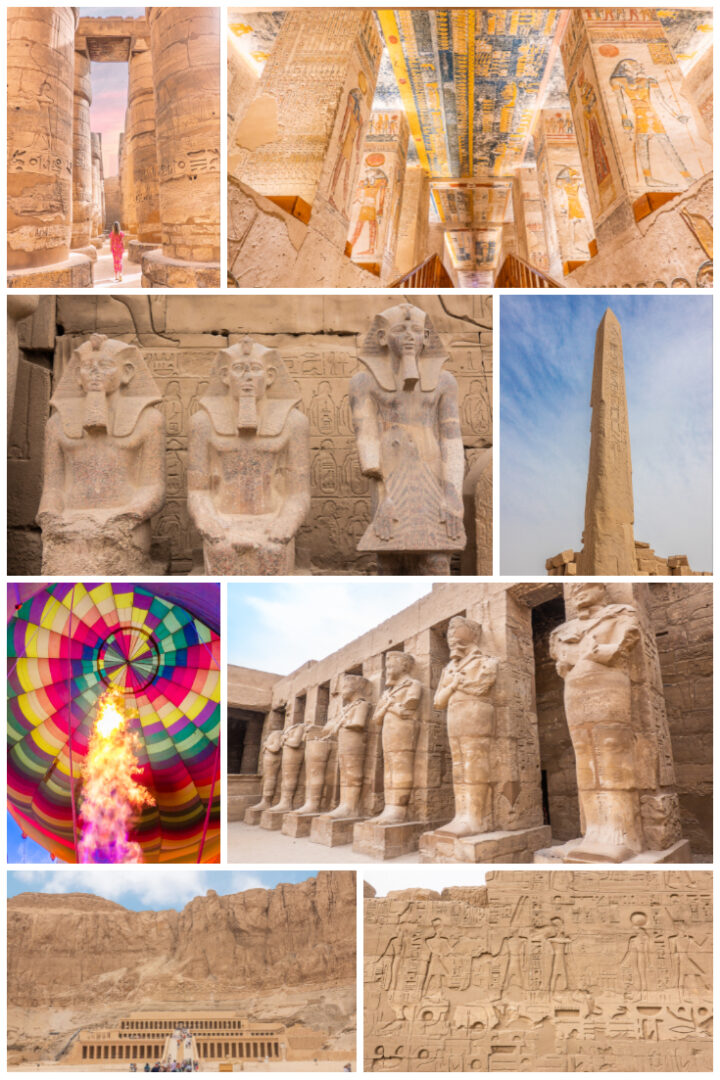 Today will be a very busy, long day!
We only spent 2 nights in Luxor, but I really wish we had spent 3.
If you only have one full day in Luxor, do this:
Day 1: Visit Valley of the Kings, Hatshepsut Temple, and Karnak Temple.
If you have an extra day, do this:
Day 2: Visit Luxor Temple and Medinet Habu
You can also take a sunrise hot air balloon ride in Luxor over the Valley of the Kings! Read the post below for more information on everything you will do and see in Luxor.
---
Egypt Travel Day 8 – Travel to Sharm El-Sheikh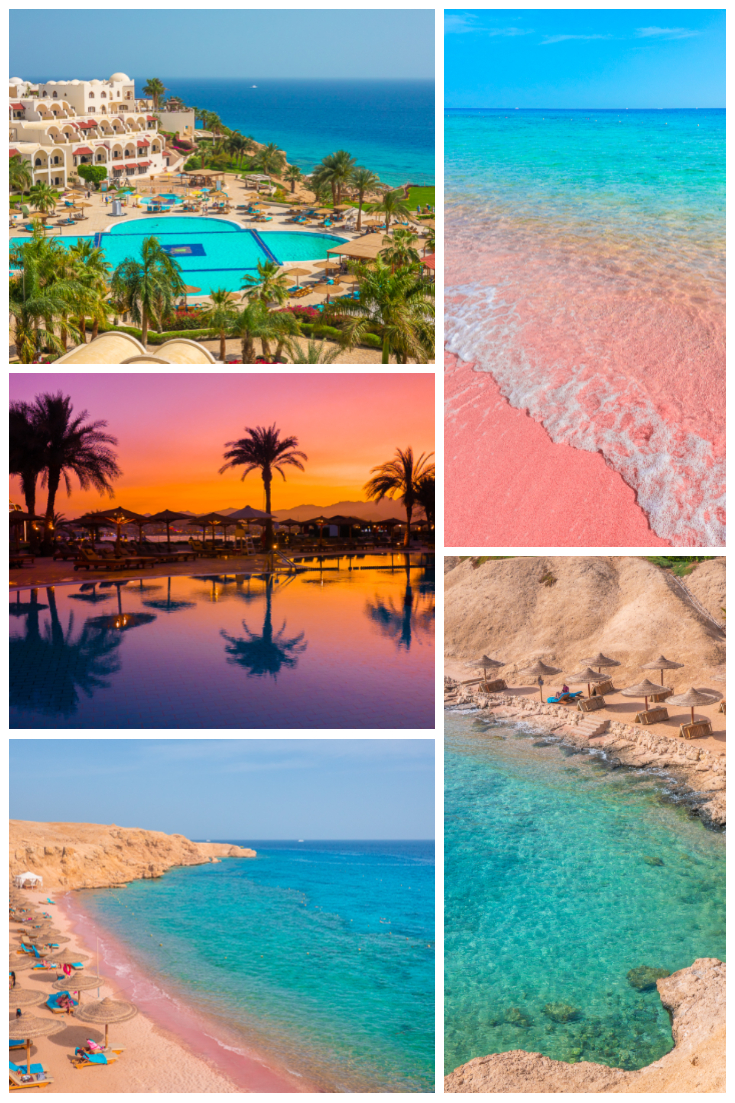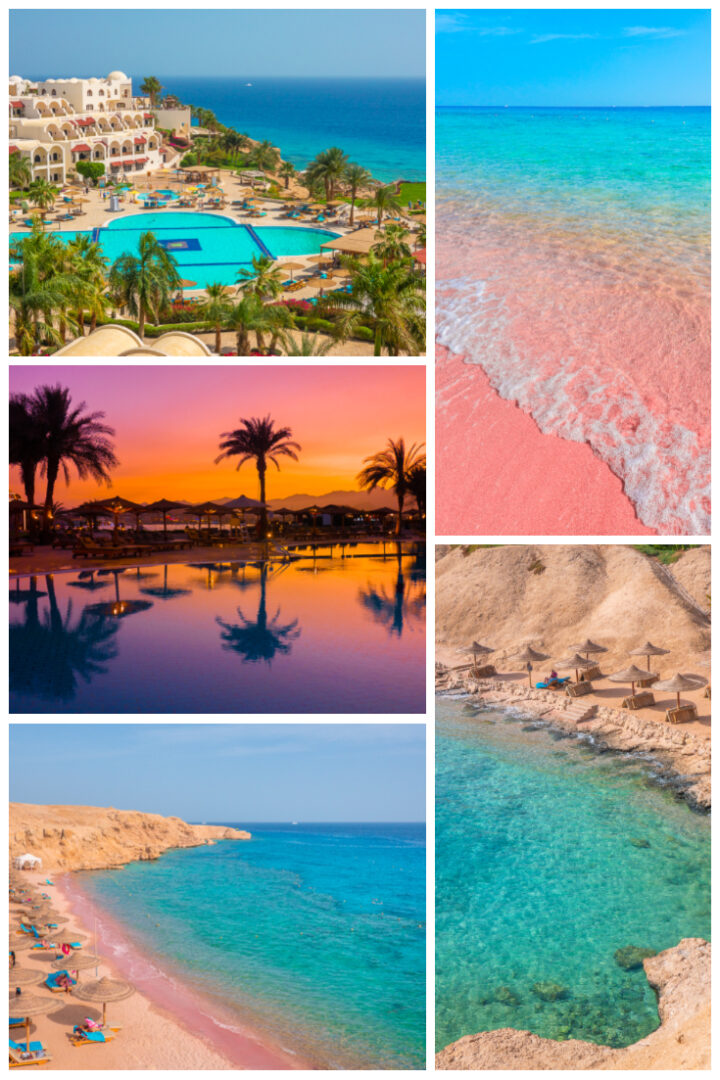 Take a morning flight from Luxor to Sharm el-Sheikh. You will spend 3 nights in Sharm el-Sheikh.
Welcome to the  Red Sea!!
Sharm el-Sheikh is a resort town on the Red Sea. Spend the day relaxing and enjoying your resort.
---
Egypt Travel Day 9 – Mount Sinai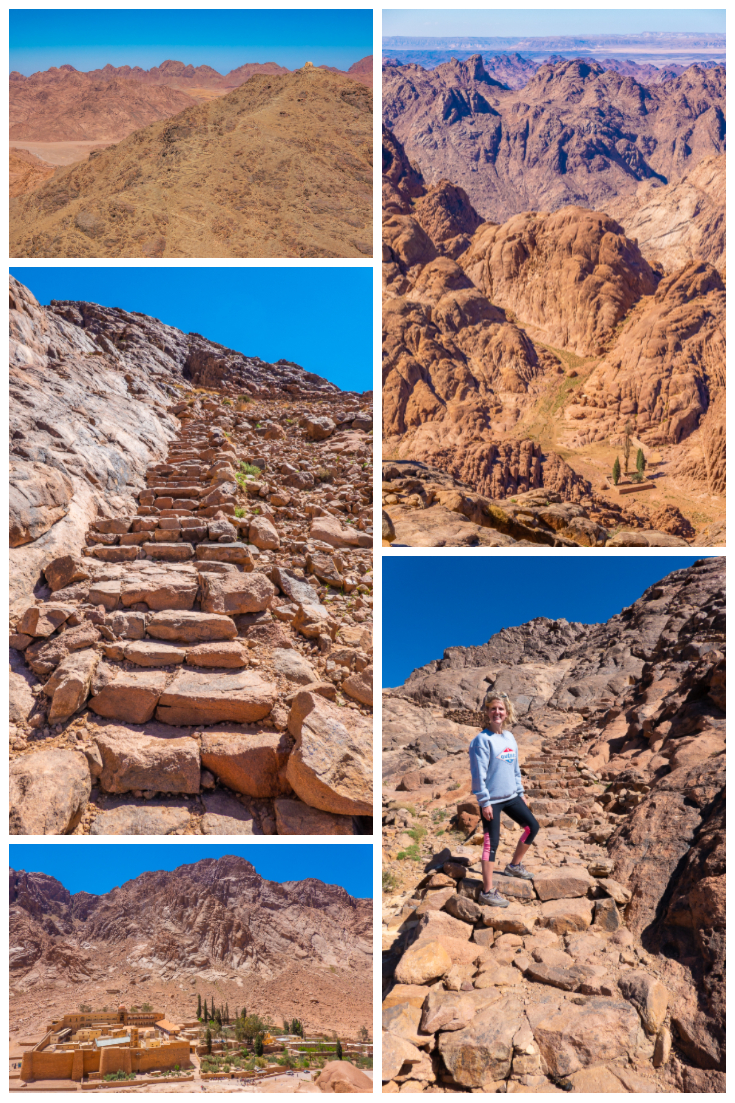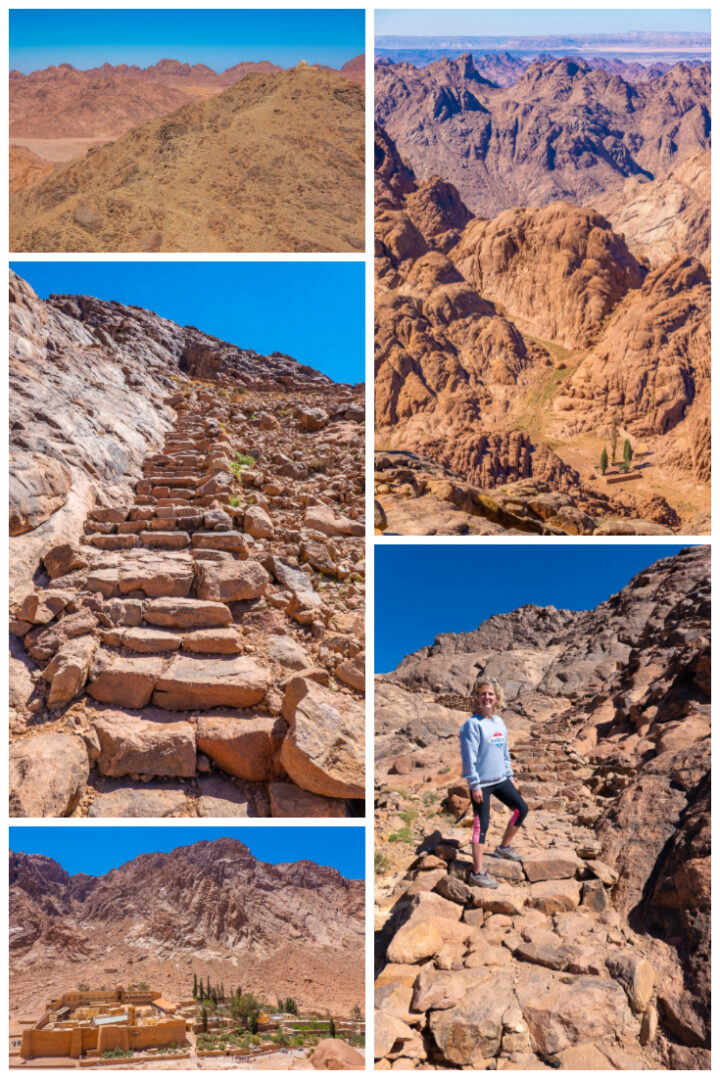 Take a day trip to Mount Sinai, where Moses received the Ten Commandments. You can even hike to the top of Mount Sinai just like Moses did.
Read the post below for everything you need to know about how to get there and hiking Mount Sinai.
---
Egypt Travel Day 10 – Snorkeling in the Red Sea
The Red Sea is one of the most popular destinations for scuba diving and snorkeling because of the warm, crystal clear water, vibrant coral reefs, abundant marine life, and excellent visibility.
If you stay at the Movenpick Resort Sharm El-Sheikh, there is no need to book an extra excursion to go snorkeling. There is a spectacular coral reef right in front of the hotel's private beach. You can snorkel on your own schedule, whenever you want.
---
Egypt Travel Day 11 – Travel to Alexandria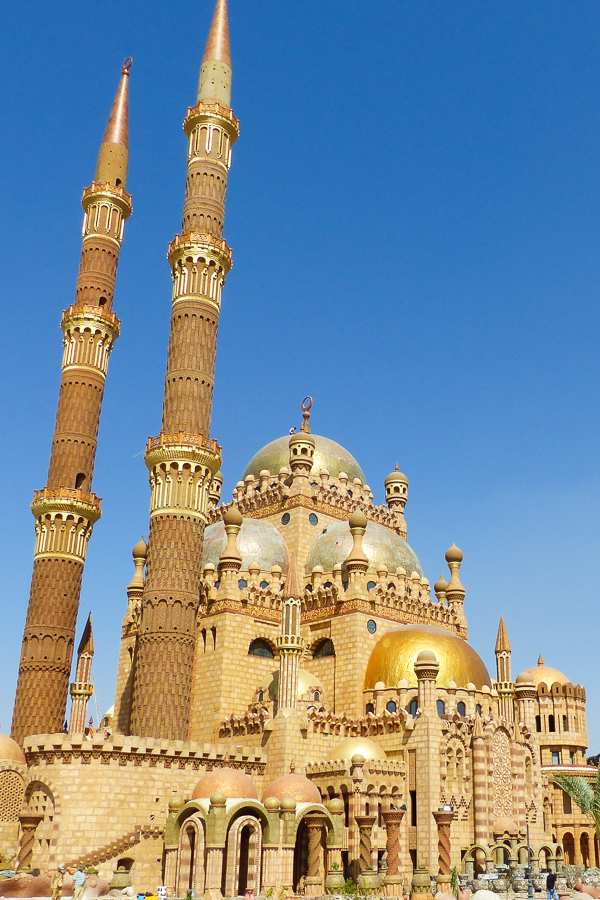 In the morning, visit downtown Sharm El-Sheikh. There is an extremely beautiful mosque that we were dying to see in person, but ran out of time. This picture does not do it justice. Definitely make time to visit the mosque and market in downtown Sharm El-Sheikh!
Book a late afternoon / evening flight to Alexandria.
---
Egypt Travel Day 12 – Alexandria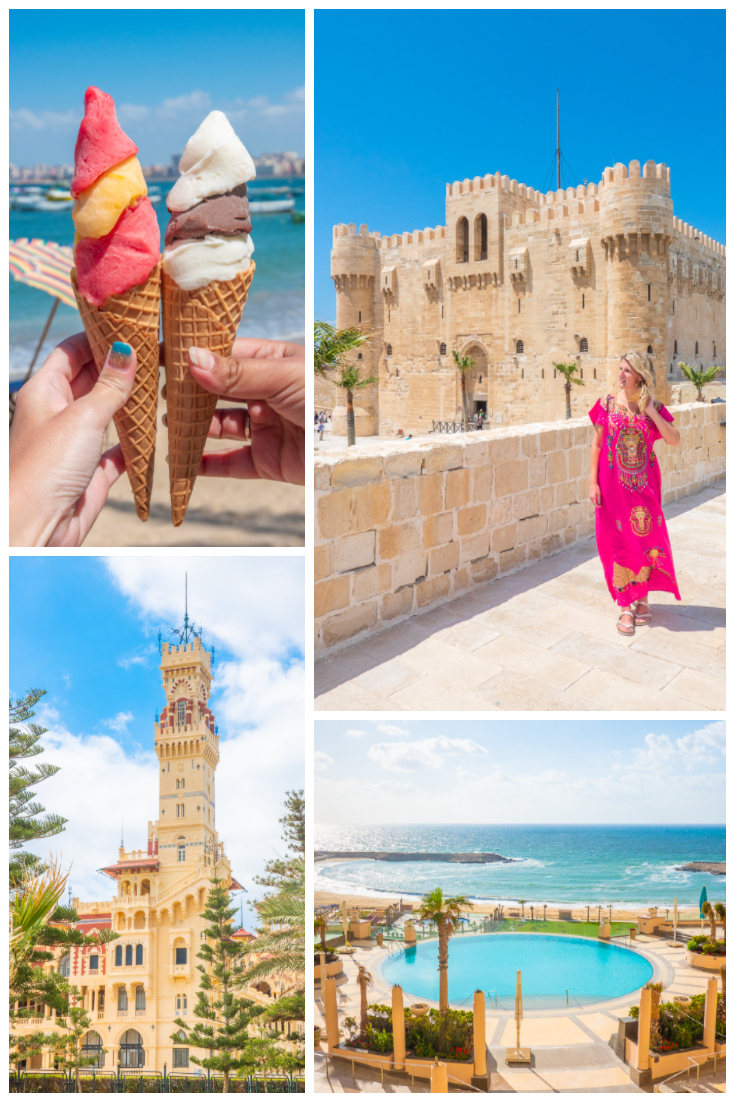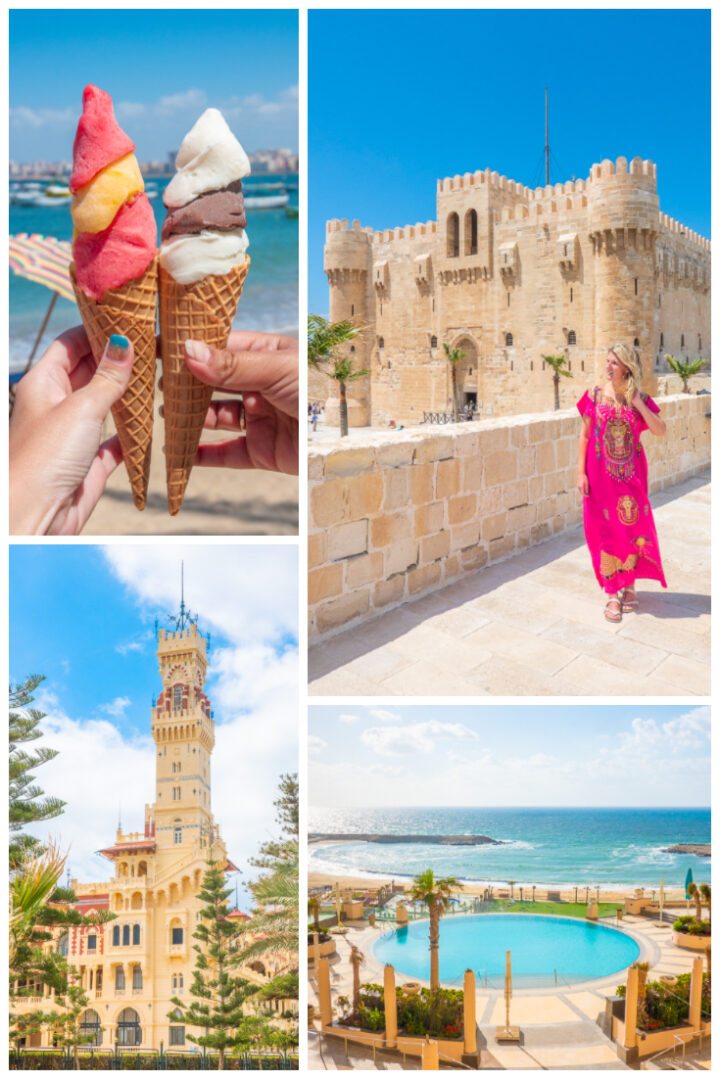 Welcome to the Mediterranean Sea! You will spend 2 nights in Alexandria.
Read the post below for all the best things to do in Alexandria.
---
Egypt Travel Day 13 – Depart Egypt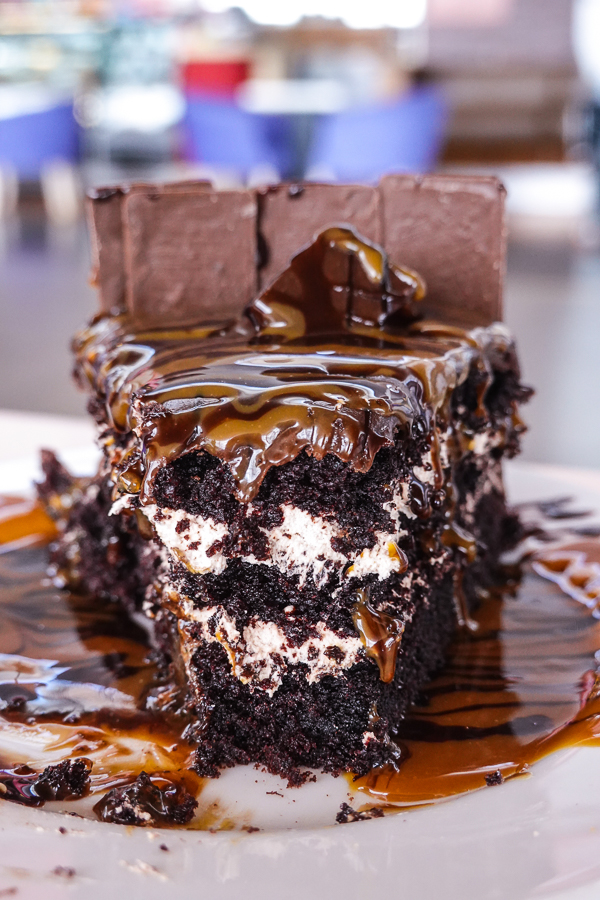 Today  you will depart Egypt. The airports in Egypt had some of the BEST cake I have ever had. Be sure to save room and try a piece at some point during your trip!!
---
Is Egypt Safe?
If you follow me on Instagram, you might have seen my posts from Egypt. So many of you asked "Is it safe to travel to Egypt?"
The answer to this question is complicated. For the most part, yes, I felt very safe in Egypt. Most Egyptians are good, happy, friendly people and are very willing to help. I did not feel threatened, unwanted, or unsafe. I didn't feel like anyone was going to attack or rob me.
All the hotels have metal detectors and X-ray your bags (just like at the airport) before you can enter. At the airport, you have to go through TSA-like security before you can even go inside the airport, and then you go through the real security again to get to your gate. I had to show my passport 4 times at 4 different security checks before I was even allowed inside the airport just to to check in for my flight.
But just like almost everywhere else I've been, there are some people who are just there to scam tourists. It was the worst at the Pyramids. I highly recommend a guide at the Pyramids for this reason — not to show you around or tell you about the history necessarily — but solely for bodyguard purposes to protect you from the scammers. It's such a shame that that's necessary. But even the official security guards at the pyramids ask if you want to bribe them so you can climb on the pyramids for pictures.
I didn't really have any problems with scammers anywhere else in Egypt, just people trying to WAY overcharge us for taxis, bottled water, etc, but that's normal, you have to haggle HARD in Egypt. But something needs to be done about the pyramids.
---
Like this post? Save it on Pinterest!