Planning a trip to see the Dolomites in Italy? Here is a one-week itinerary for the Dolomites that will make sure you see all the most beautiful mountains, lakes, villages, and hikes in the Italian Alps.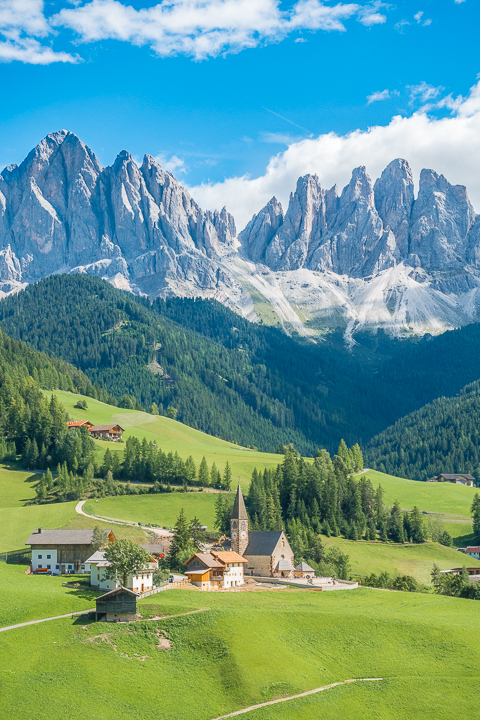 Best Places To Visit In The Dolomites Italy
The breathtaking region around the Dolomites of Italy is honestly one of the most beautiful places on earth. This picturesque countryside is full of rugged mountains, scenic hikes, beautiful lakes with brilliant turquoise waters, and charming, tiny villages straight out of a fairytale.
Here are our recommendations for the most beautiful, must-see places in the Dolomites and the best hikes with the most spectacular views.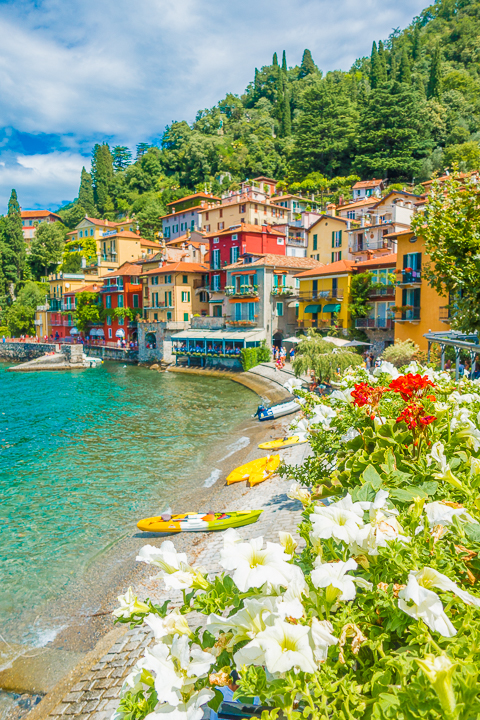 Dolomites Italy — One Week Itinerary
Our 6-night itinerary in the Dolomites of Italy includes 2 nights at Italy's famous Lake Como — a must-see in northern Italy! You could spend an entire week just visiting all the charming towns around Lake Como. But if you only have 2 nights, you want to pick the most beautiful, picturesque village on Lake Como: Varenna.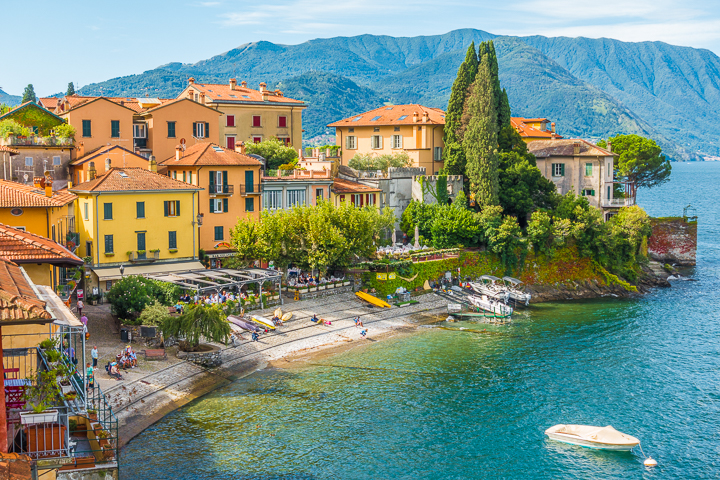 Day 1 — Lake Como
Arrive in Varenna. If you're arriving by plane, the closest airport is Milan. For this itinerary you need a car, so you can rent one here. Milan isn't that big of a city, so don't be too worried about driving there. Spend the afternoon and evening exploring Varenna.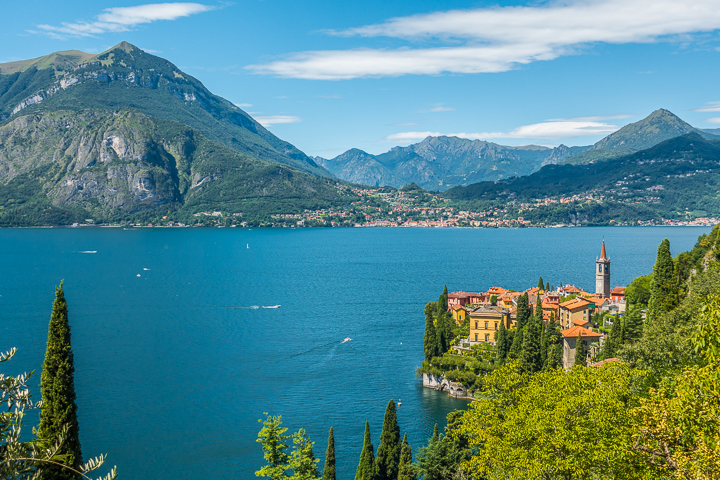 Where to Stay in Varenna:
Albergo Milano — This charming hotel has lakefront rooms with balconies overlooking Lake Como. Book 2 nights here.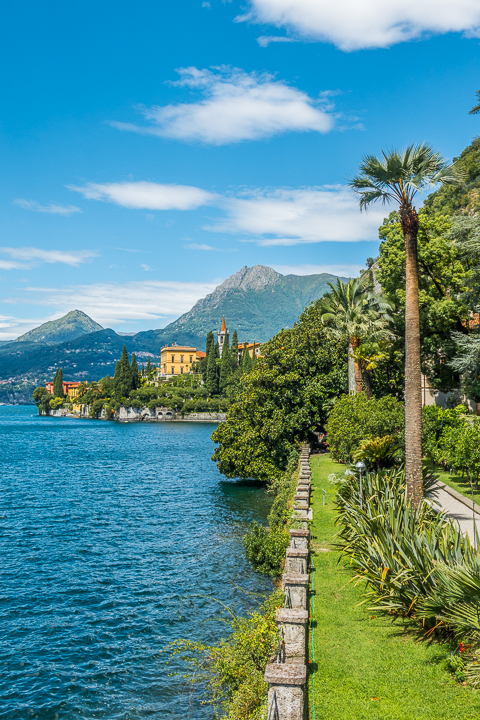 Day 2 — Lake Como
Full day at Lake Como. Hike to Castello di Vezio for a panoramic overlook of the lake and walk along the lake through the terraced gardens of the Villa Monastero. You can also take the ferry to Bellagio, another popular town on Lake Como.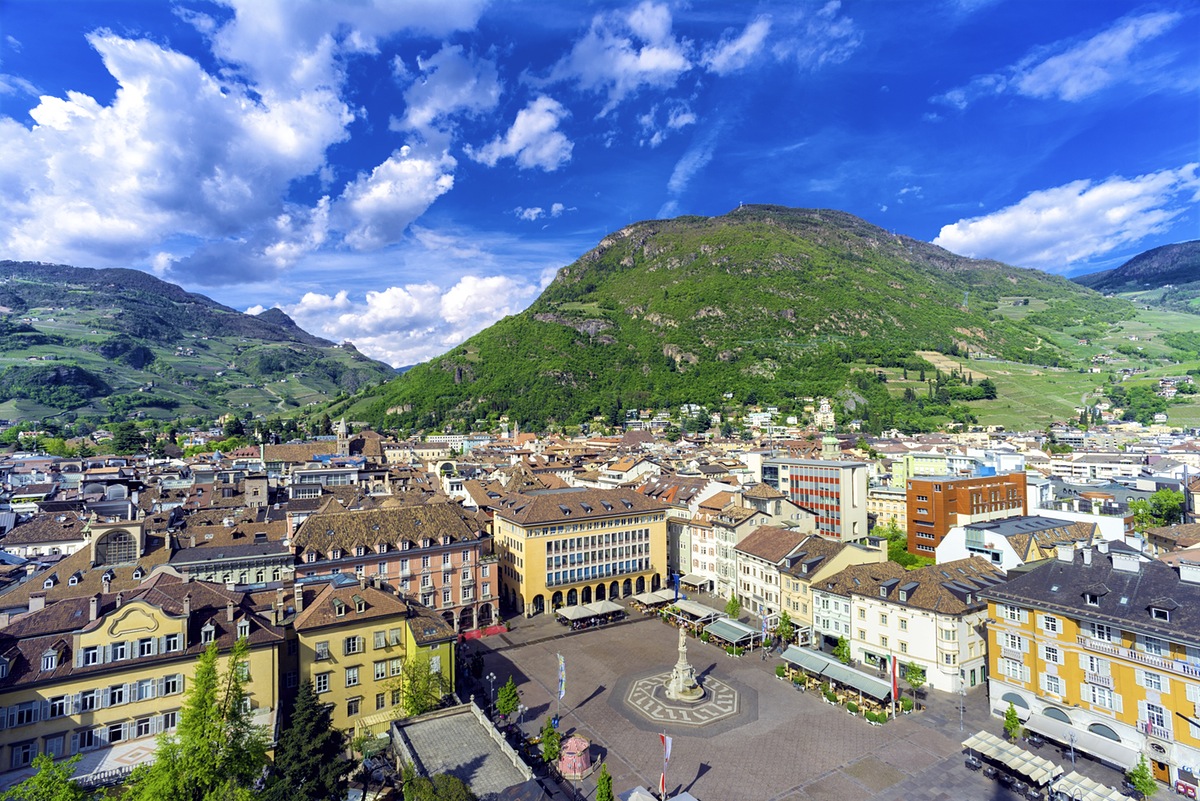 via
Day 3 — Bolzano
Have a relaxing breakfast overlooking Lake Como on the terrace of your hotel in Varenna, then travel to Bolzano, about 4 hours by car. Bolzano is the biggest city near the Dolomites of Italy. Spend the afternoon exploring the town. You'll be spending the next 2 nights in Bolzano. Try to book a hotel or Airbnb near the main square, Piazza Walther.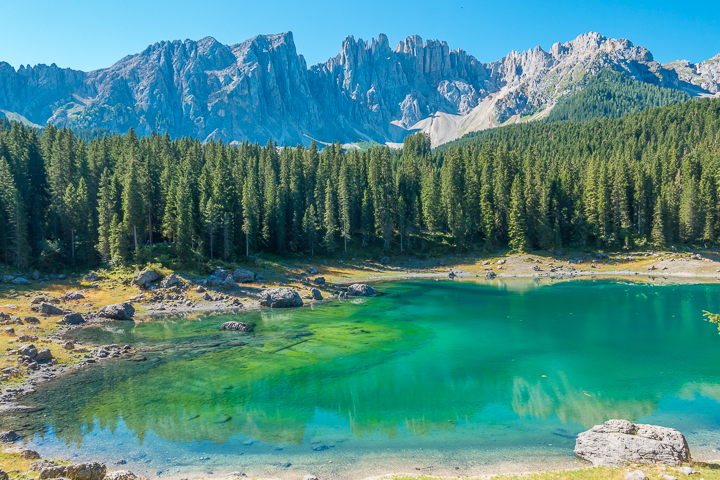 Day 4 Morning– Lake Karersee
Spend the morning at Lake Karersee. This is a beautiful lake with brilliant turquoise green water and the dramatic rugged Dolomites of Italy in the background. There is a big parking lot across the street and an overlook for the lake. There is also a walking trail around the lake which takes around 20-30 minutes.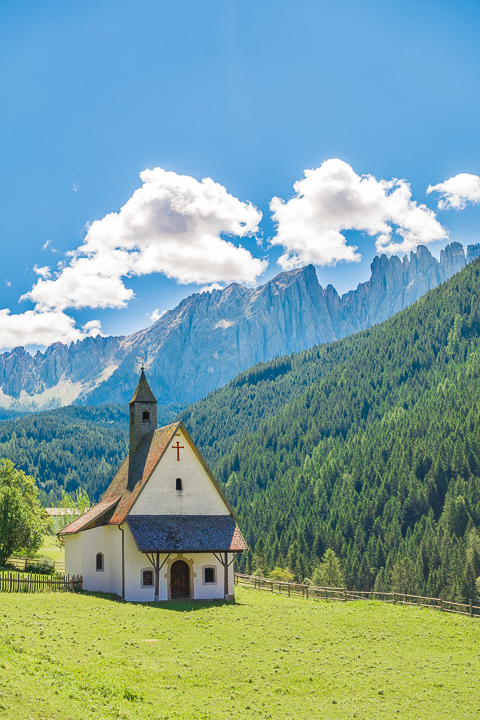 We passed this cute little church on the way from Bolzano to Lake Karersee! How beautiful are the Dolomites of Italy in the background?? The entire drive is charming countryside like this.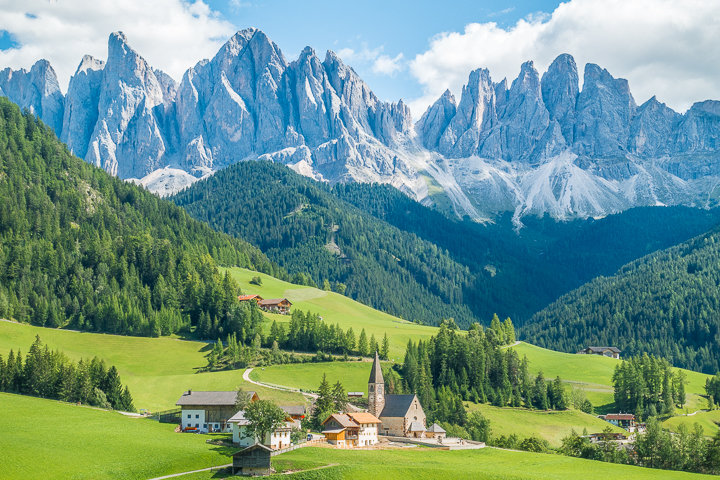 Day 4 Afternoon — Santa Maddalena
In the afternoon you'll visit one of the most beautiful villages in the Dolomites of Italy. Santa Maddalena is honestly one of the most beautiful places I have ever seen in my entire life. I was so giddy the entire time I was here, I felt like I could start twirling around and singing. I could not believe this is a real place!!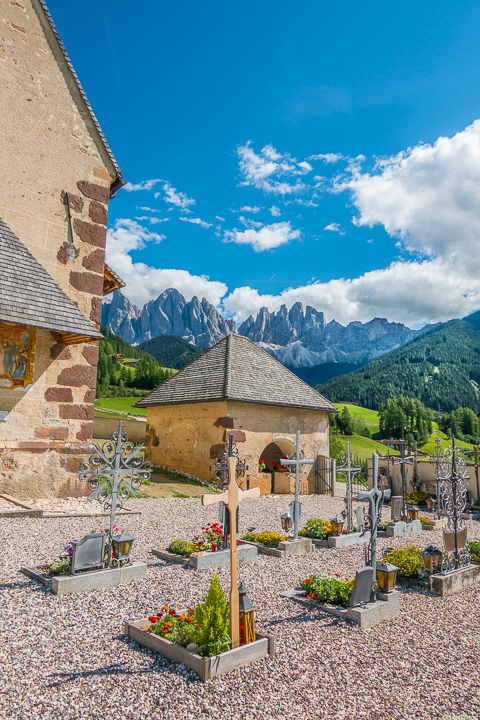 Santa Maddalena is a teeny, tiny quiet little village in the Dolomites of Italy. You will pass several beautiful little villages like this as you drive through the Italian countryside on the way here. One thing I loved about Santa Maddalena was it felt like we had the whole village to ourselves.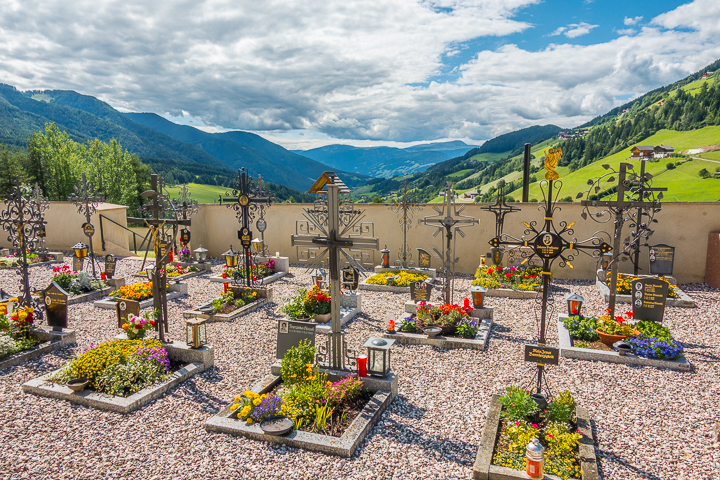 It was so quiet and peaceful here. All we heard were the faint jingling of bells from the cows grazing in the distance. We hardly saw anyone else here! It was so incredible to have such a magical place all to ourselves.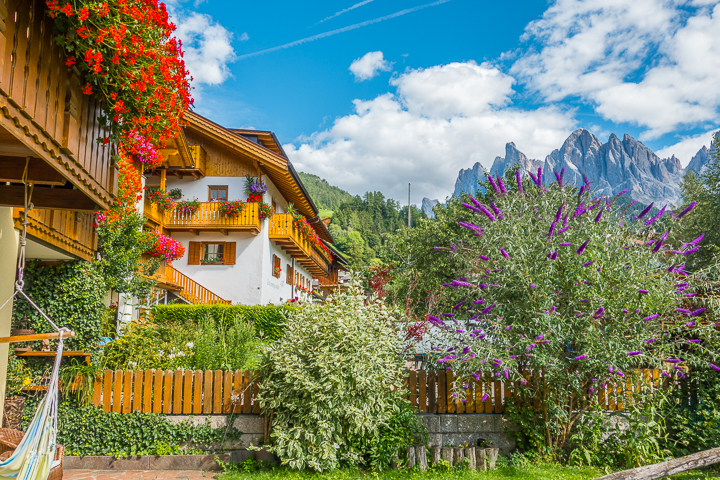 There are two small hotels in Santa Maddalena where you can have lunch outside on a terrace. Or wouldn't this be the PERFECT place to bring a picnic lunch with the breathtaking Dolomites of Italy in the background?? Honestly, can you imagine a more spectacular lunch view?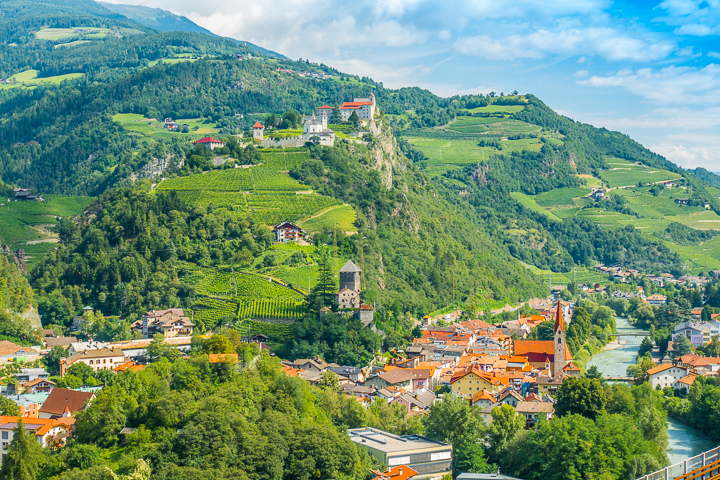 Day 4 Evening — Chiusa Klausen
After lunch and an afternoon in Santa Maddalena, stop by Chiusa Klausen on the way back to Bolzano. You can drive up to the Kloster Säben for beautiful, panoramic overlooks of the area and the Dolomites of Italy. Spend the late afternoon and early evening exploring Chiusa Klausen.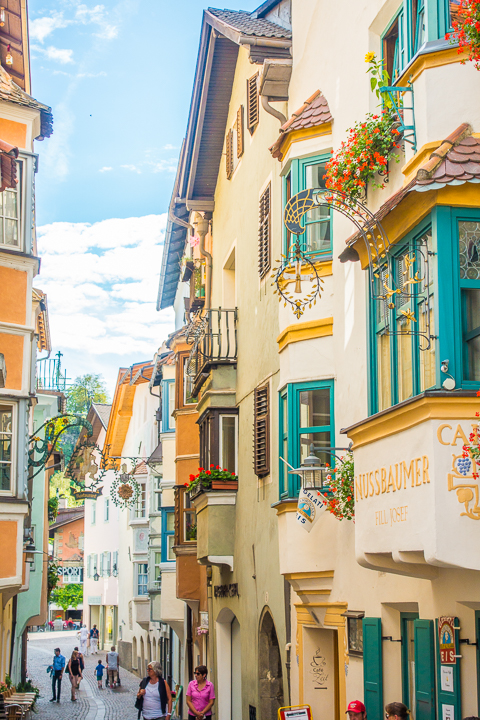 Where to Eat in Chiusa Klausen
We had dinner at Parkhotel Post, and this was one of my favorite meals of the trip. I just had a simple spinach ravioli with butter and parmesan, but it was perfect.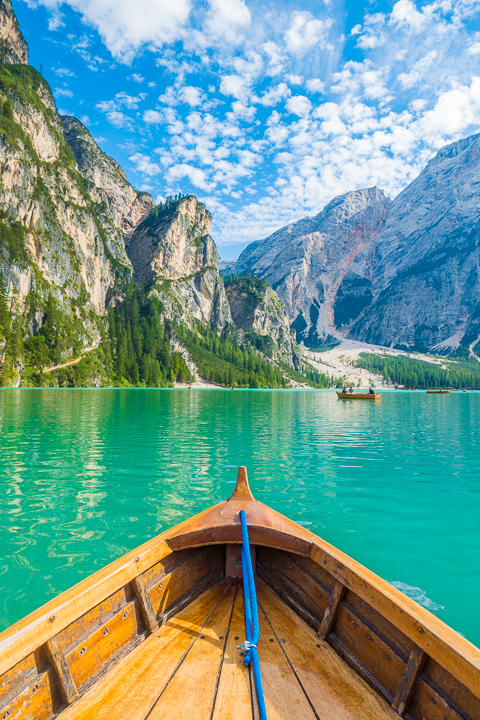 Day 5 — Pragser Wildsee
The next morning you'll leave Bolzano and make your way to Pragser Wildsee, one of the most gorgeous lakes in the Dolomites of Italy.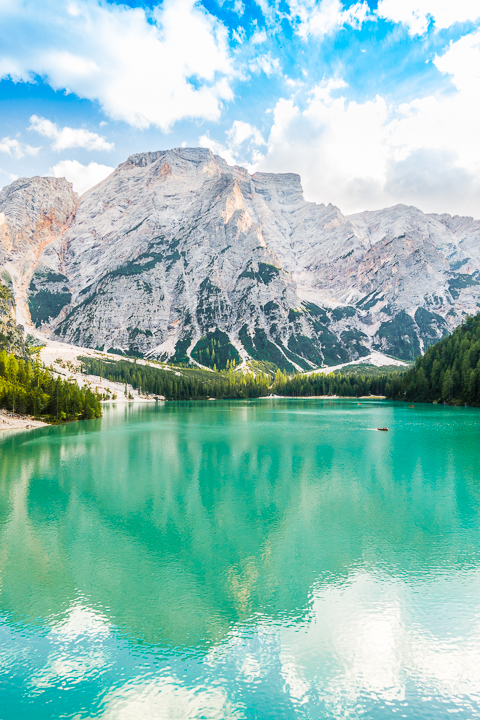 Pragser Wildsee is a stunning glacier lake with vibrant turquoise blue water and the towering Dolomites of Italy in the background.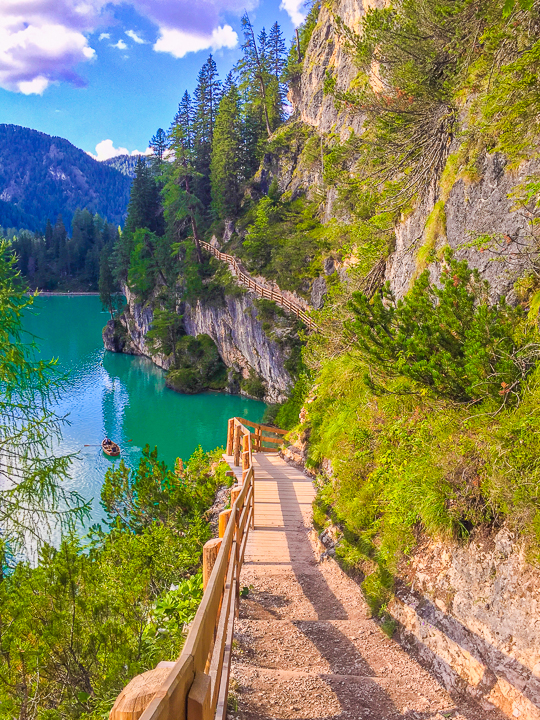 There is an easy hiking trail all the way around the lake that takes about 1 hour.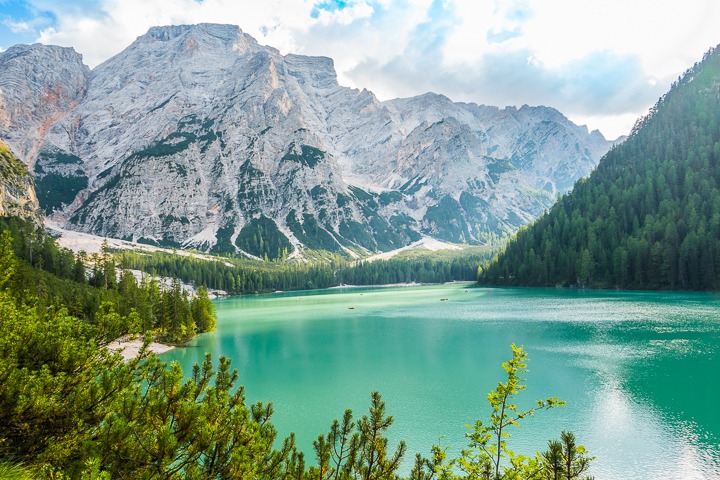 There are beautiful views of the lake and the Dolomites of Italy all along the trail. The color of this water is not photoshopped!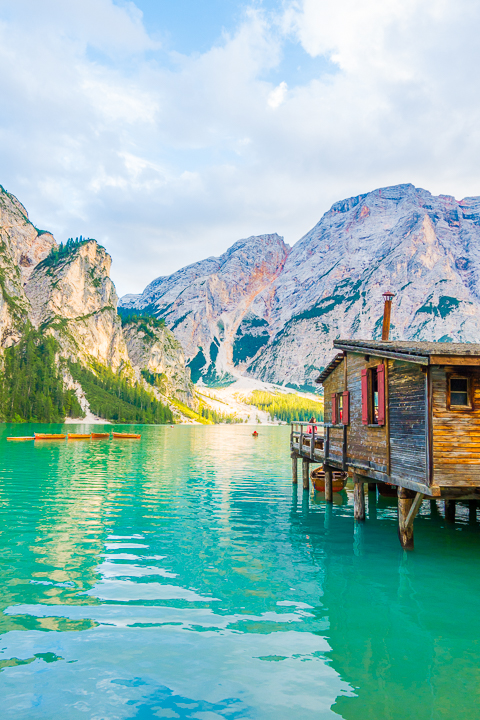 You can also rent a wooden boat by the hour and paddle around the lake at the foot of the mountains of the Dolomites of Italy.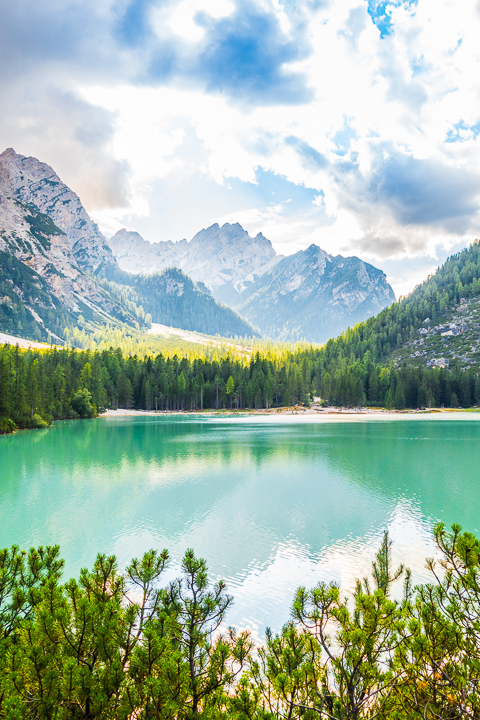 There are a few places to buy food near the lake, so grab something to go and have a picnic lunch with a view of the lake and the Dolomites of Italy.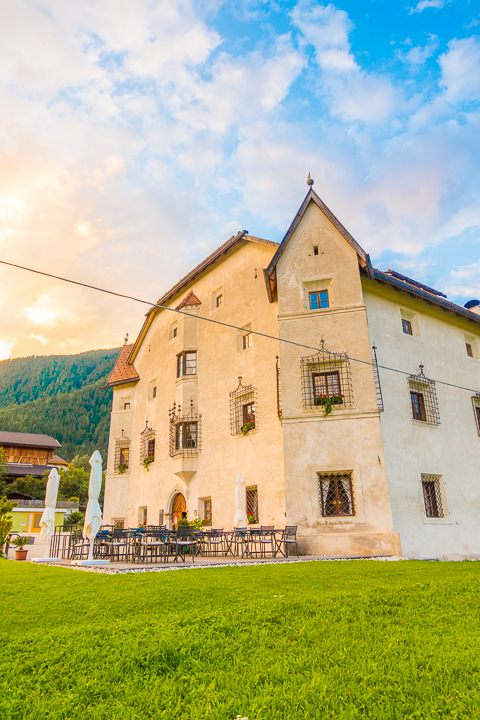 Where to Stay in the Dolomites of Italy — Option 1
For our last two nights in the Dolomites of Italy we stayed in a tiny village north of Bolzano at the Ansitz Heufler. It's an actual castle, and the views of the mountains and tiny village around the castle are incredible. The rooms are super nice, and the service is even better. If you're celebrating a special occasion, I highly recommend upgrading to the tower suite. It's very affordable and totally worth it. The restaurant is also very good, so definitely have dinner here one night.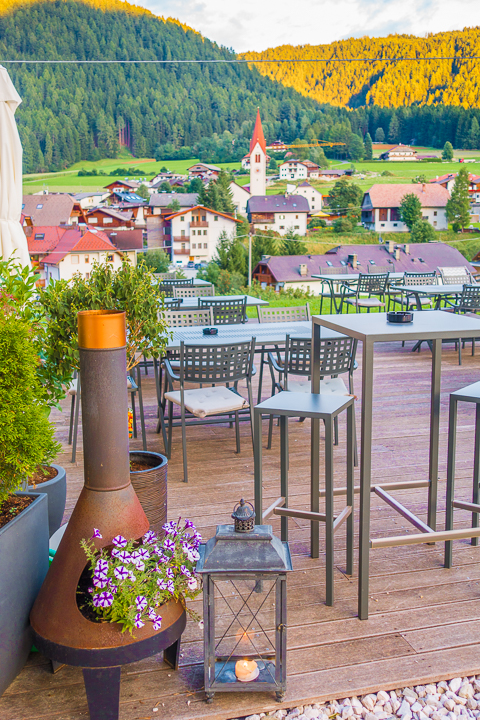 We stayed here because it is a bit closer to Pragser Wildsee and the next hike, Tre Cime di Lavaredo. Although from here, you are still about a 1-hour drive to Tre Cime di Lavaredo.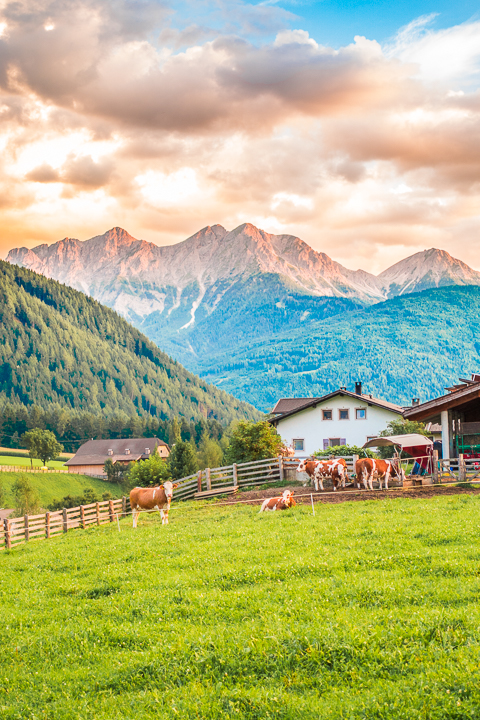 Where to Stay in the Dolomites of Italy — Option 2
If you want to be even closer to the next hike, another nice place to stay in the Dolomites of Italy would be Cortina d'Ampezzo, a beautiful ski resort town.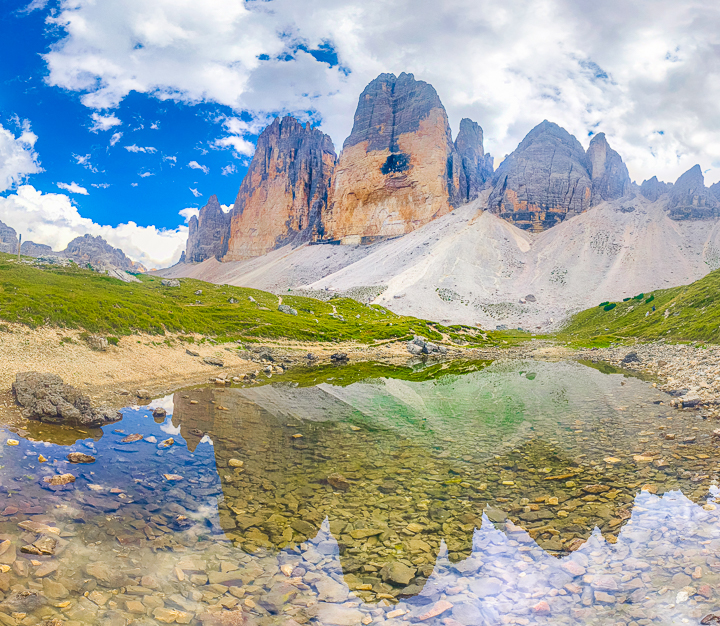 Day 6 — Tre Cime di Lavaredo
Tre Cime di Lavaredo is one of the most beautiful hikes with the most amazing views in the Dolomites of Italy.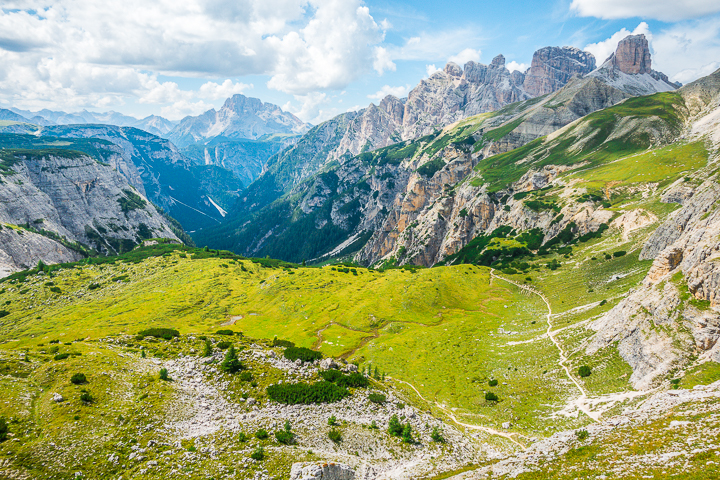 This is honestly one of my favorite hikes I have ever done.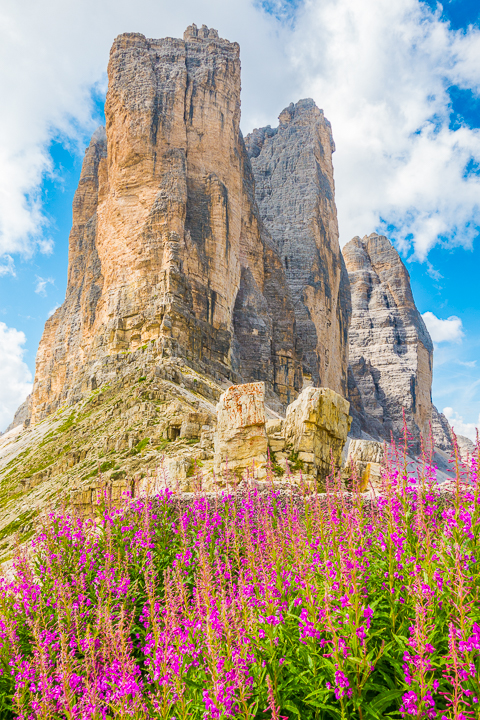 There are just unbelievably magnificent views of the Dolomites of Italy the entire hike.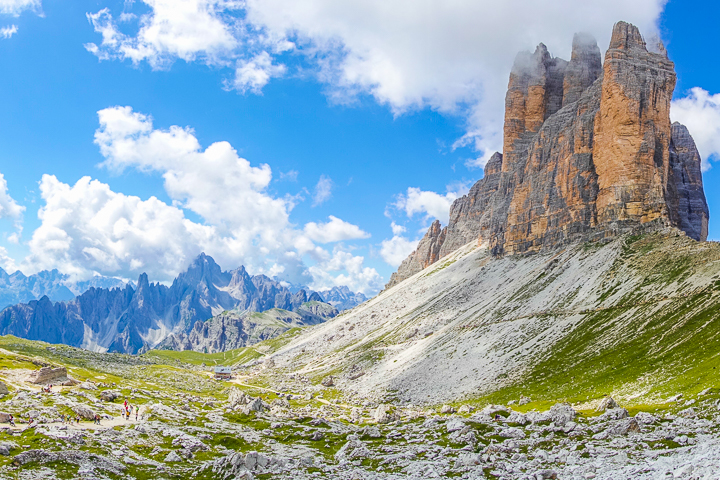 How To Get to Tre Cime di Lavaredo
Get there early and park at Rigufio Auronzo. There is a very large parking lot here.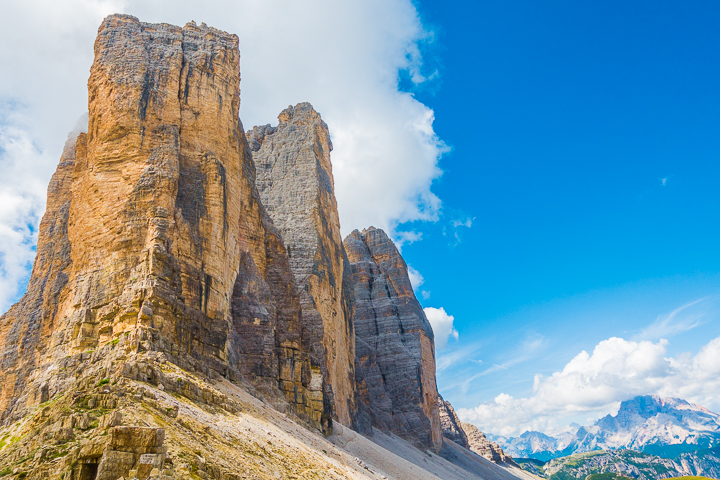 Trail Distance
The full trail loop is about 6 miles. I wore these waterproof hiking shoes.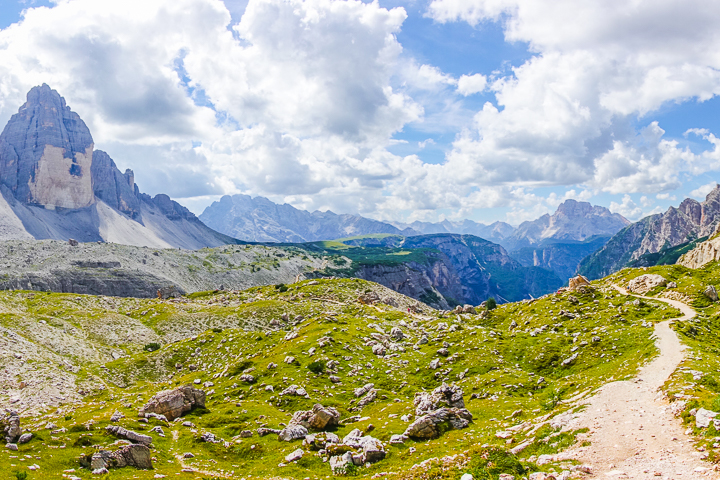 Time:
Plan 3-4 hours for just hiking, but give yourself plenty of extra time for taking photos!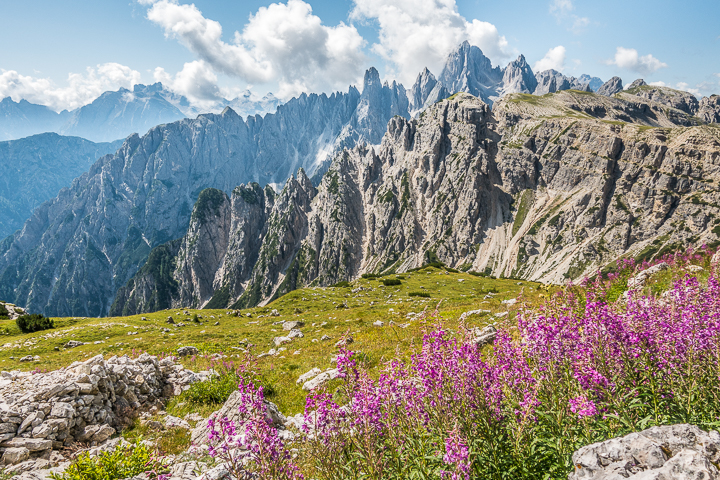 Don't forget water and snacks!
You'll definitely also want to stop and have lunch somewhere along the trail.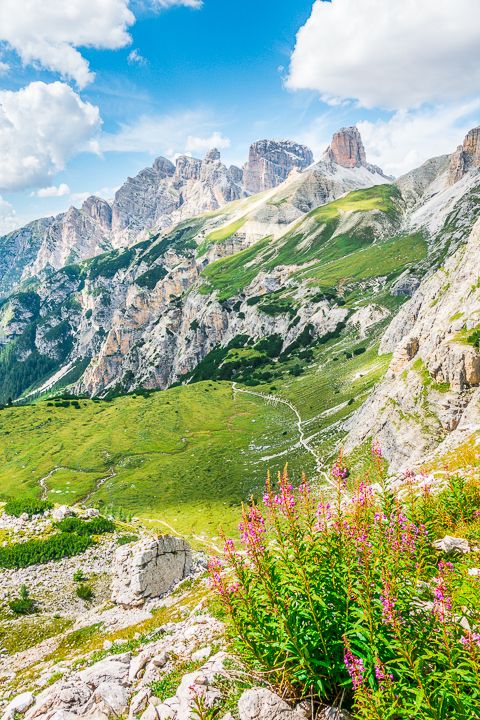 You can bring a picnic lunch with you, or about halfway through the hike you will reach Rifugio Lavaredo where you can buy lunch and drinks.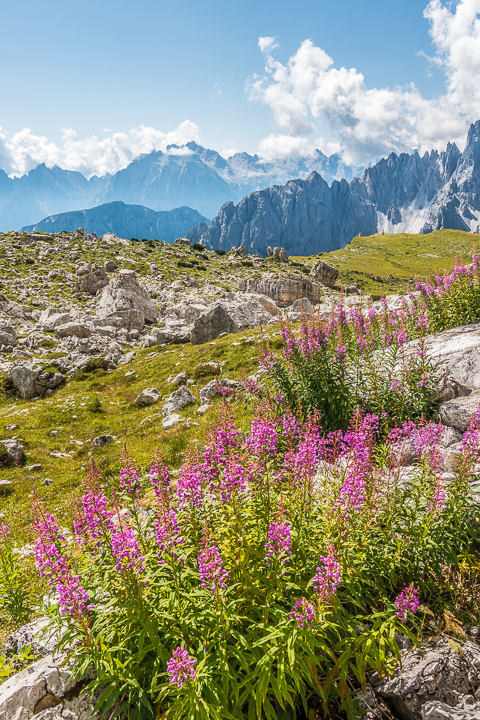 Day 6 Evening — Cortina d'Ampezzo
In the late afternoon after your hike, you will have time to explore one of the villages nearby. I recommend Cortina d'Ampezzo, it's one of the most charming ski resort towns in the Dolomites of Italy. Have dinner here and spend your last night at Ansitz Heufler.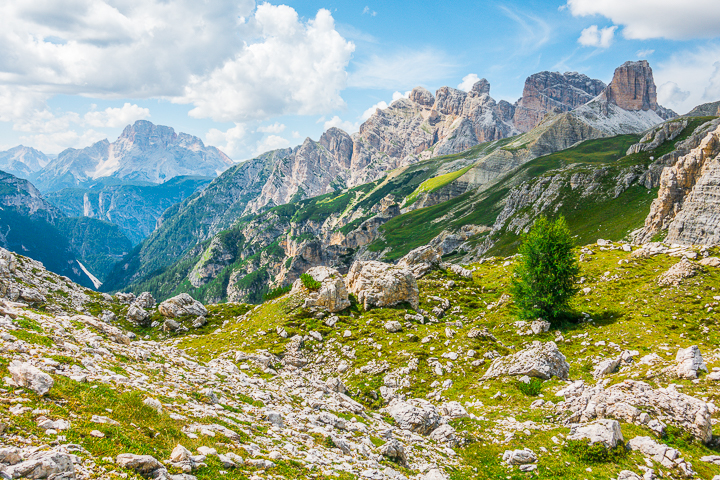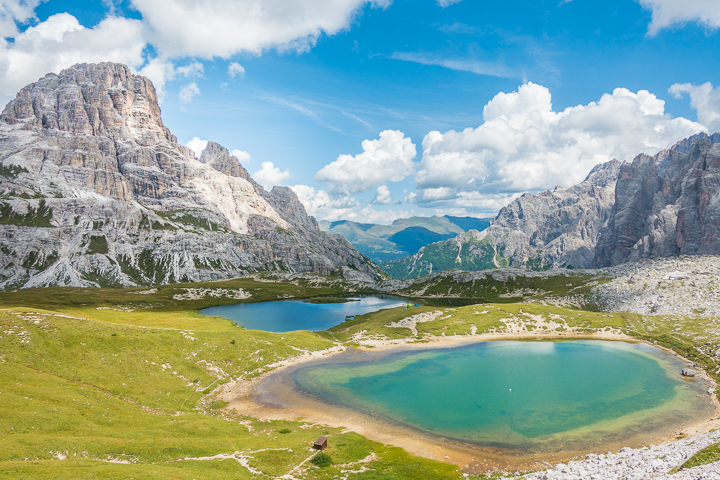 Optional Day 7 — Lago di Sorapis
If we had one more day in the Dolomites of Italy, I really, really wanted to do the Lago di Sorapis hike. Look up Lago di Sorapis on Pinterest and read this article for some very helpful information on this hike: Hiking to Lago di Sorapiss.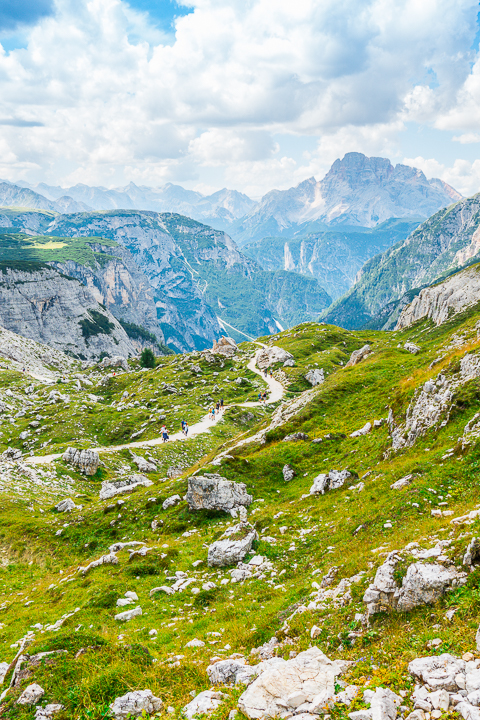 Where to go after visiting the Dolomites Italy?
After an incredible week in Lake Como and the Dolomites of Italy, if you want to extend your trip you have so many great options. Click on the links below for more pictures, sample itineraries, and information:
3 nights in Venice — Be sure to do the day trip to Burano!
1-2 nights in Verona — The third largest colosseum in the world is in Verona and is still used for concerts and operas today. It's also famous for being the town where Romeo and Juliet takes place.
2-3 nights Cinque Terre — 5 beautiful villages on the Italian coast. There are hiking trails between each village with fabulous views of the Mediterranean Sea!
2-3 nights Florence — Be sure to do a day trip to Pisa!
2-3 nights Siena — Use Siena as a base to take a road trip through Tuscany.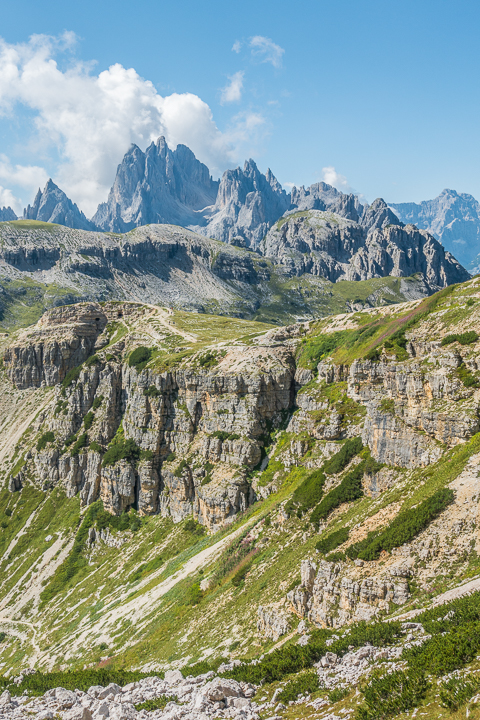 Best Time To Visit the Dolomites Italy
We were there in mid-August. This is a super, super, SUPER busy time of year in Italy. I would avoid July/August at all costs if possible — it will be much less crowded in May or September (and even June) and the weather will still be nice.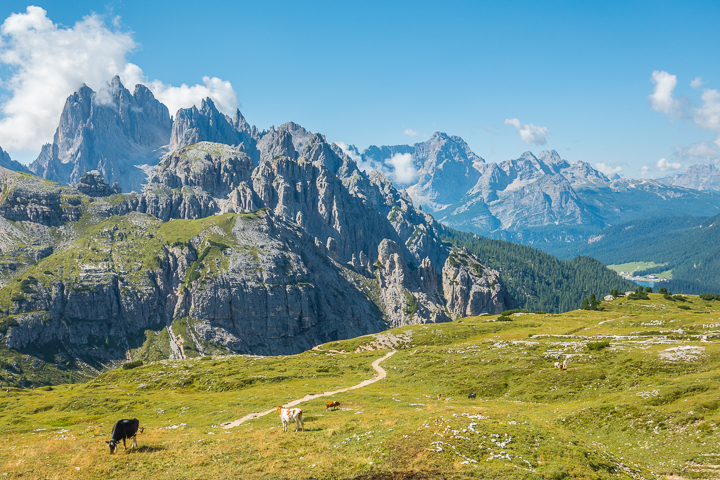 Any questions about hiking the Dolomites in Italy?
Thanks so much for reading! Here are a few more pictures from our Tre Cime di Lavaredo. If you have any questions about this itinerary please let me know in the comments!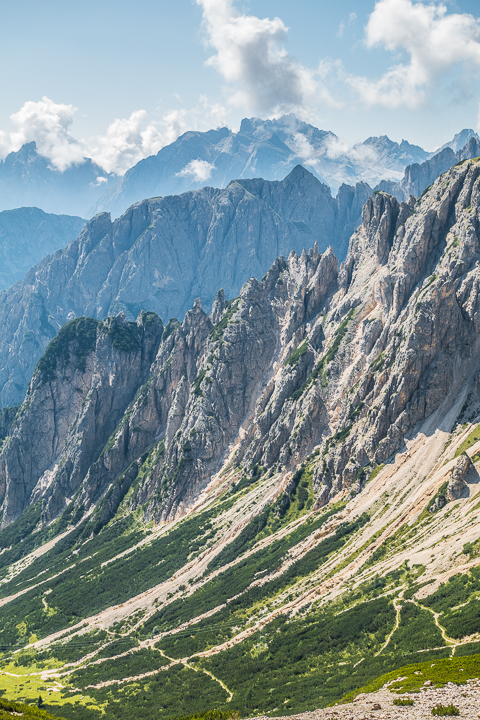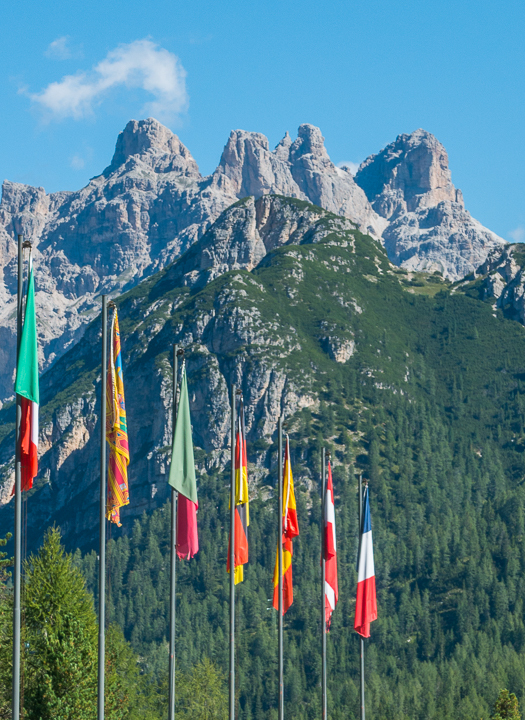 ---
Like this post? Save it on Pinterest!