Iguazu Falls is one of the best things to do while visiting Brazil or Argentina! It's the largest waterfall in the world and one of the seven natural wonders of the world. You can hike to the falls, take in the views from multiple overlooks, and even take a boat ride underneath the falls! Keep reading for everything you need to know before visiting Iguazu Falls.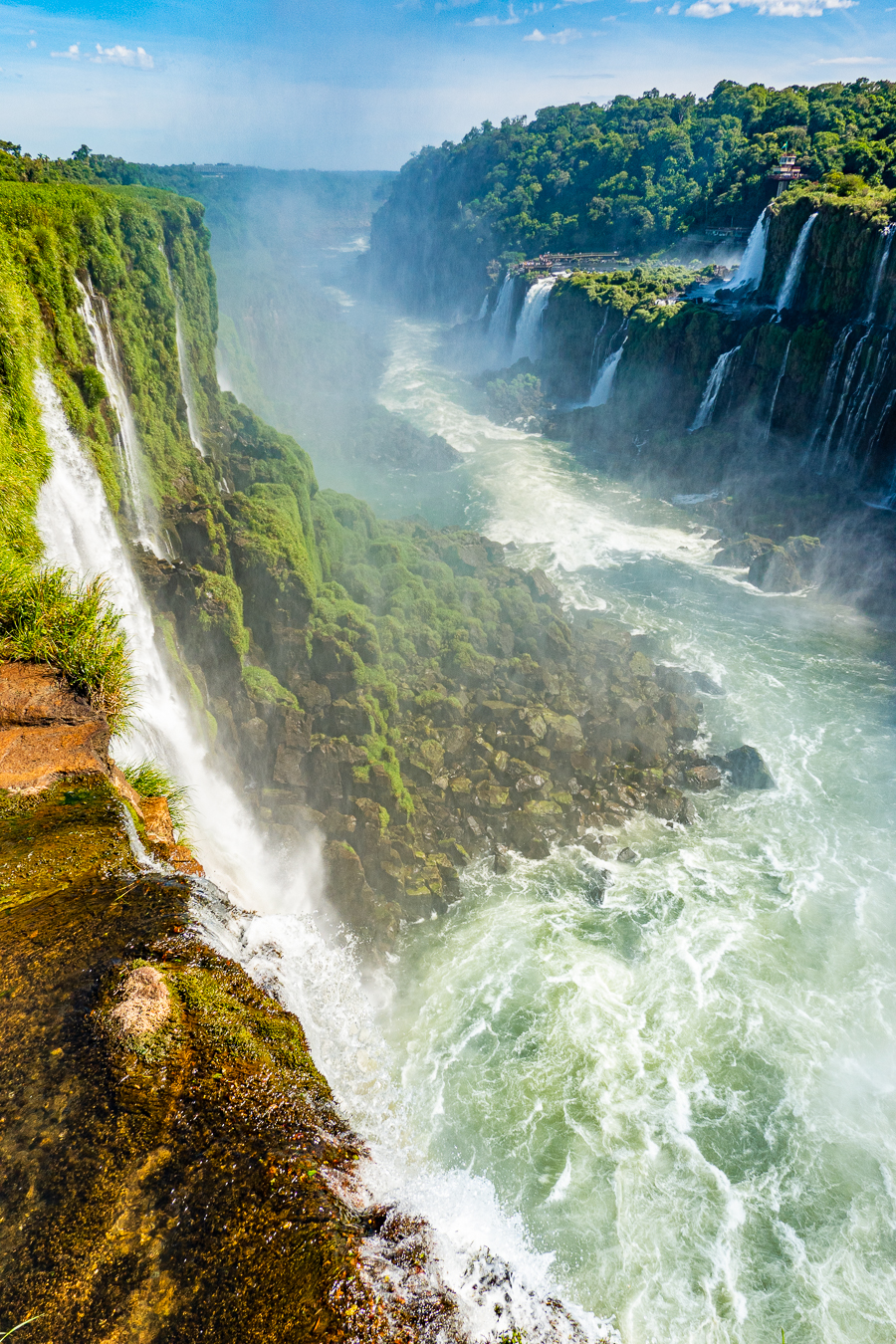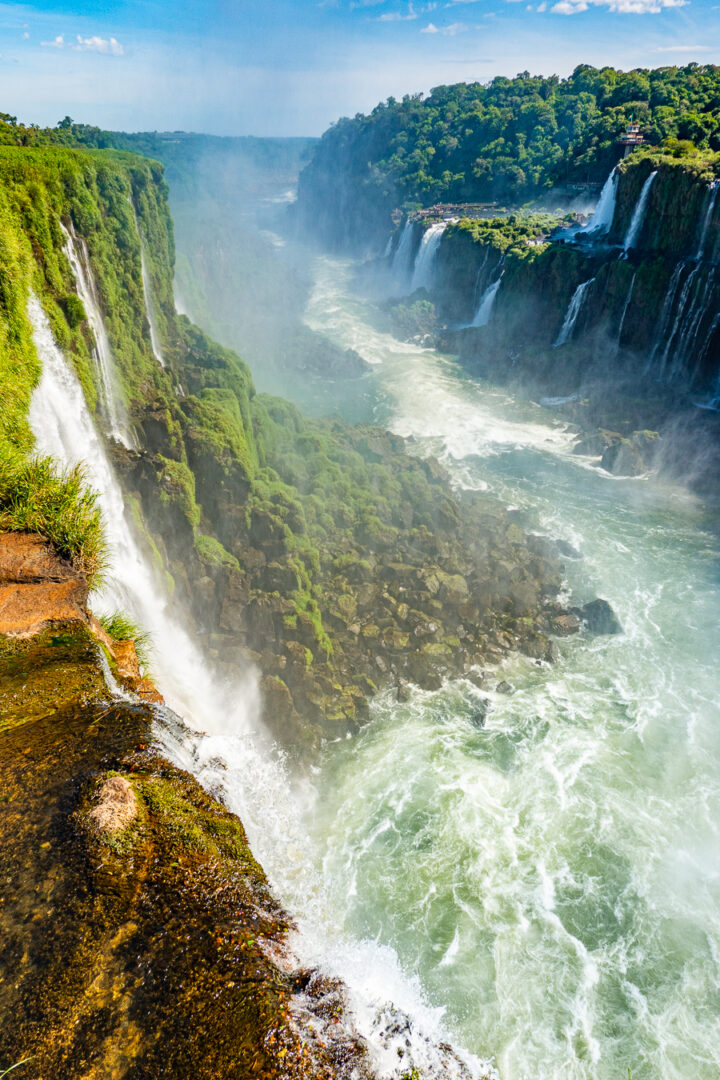 Where is Iguazu Falls?
Iguazu Falls is located in South America. Iguazu Falls is so big (the largest waterfall in the world, to be exact!) that it's actually in two different countries!
The falls form a border between Brazil and Argentina. They are located in southern Brazil and North Eastern Argentina. If you're traveling to Iguazu Falls, you'll be able to access the falls from either the Brazialian side in the city of Foz do Iguaçu or the Argentinian side at Puerto Iguazú.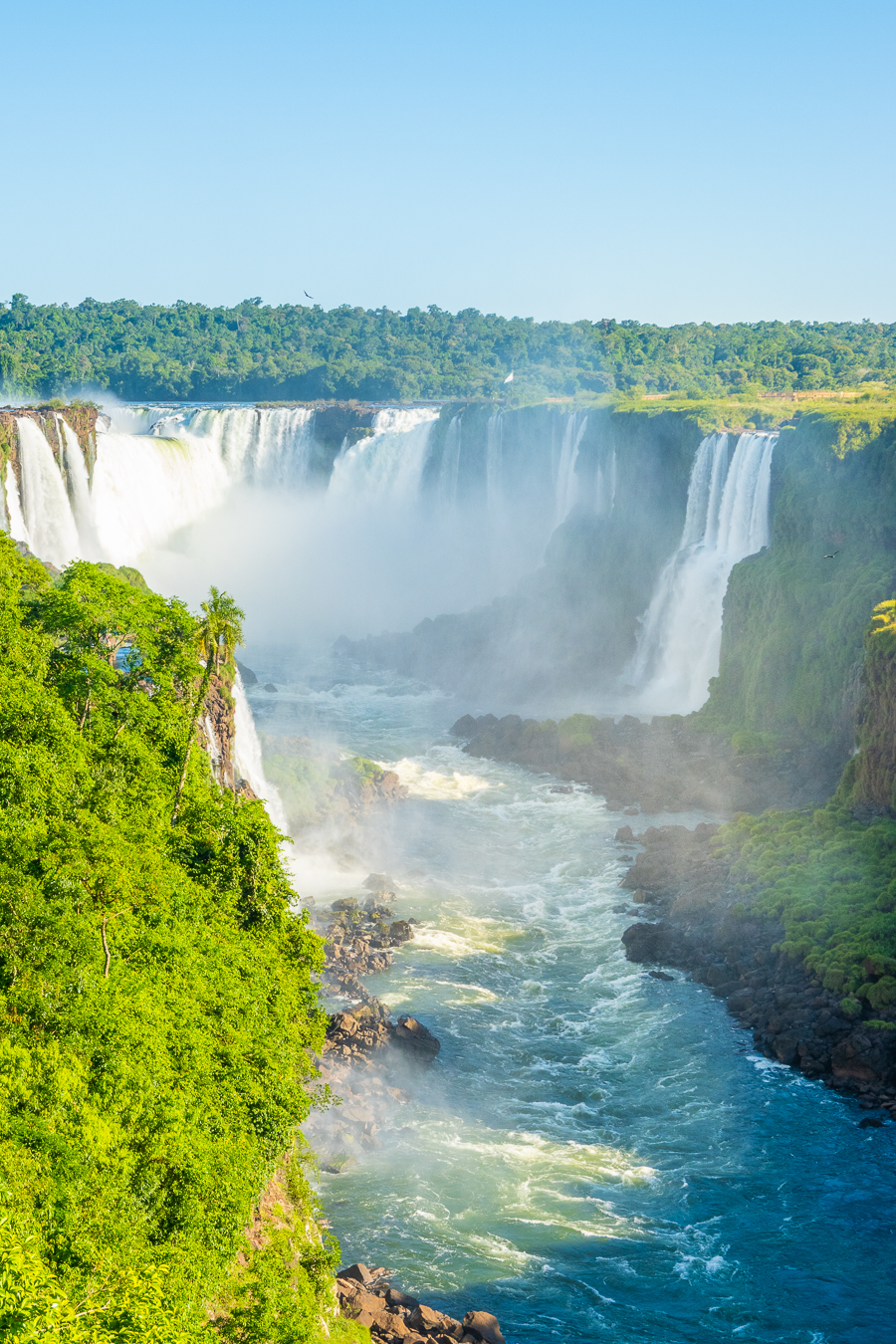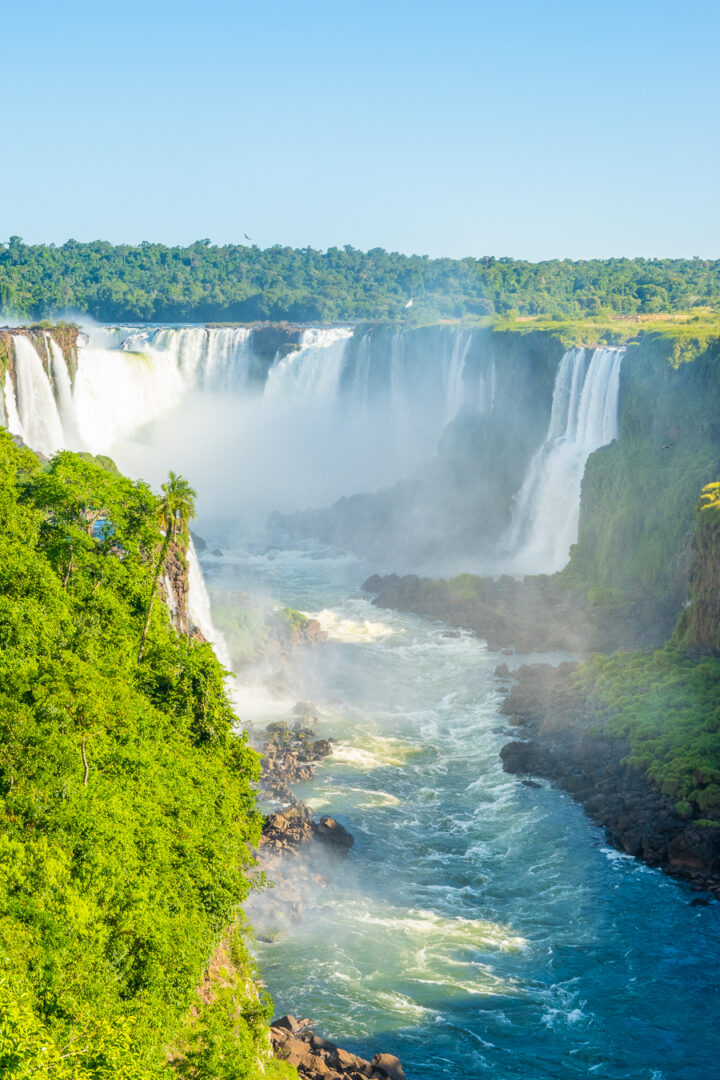 The History of Iguazu Falls
Iguazu translates from native languages to mean "big water". And, oh boy, is that true! The first written accounts of the majesty of the falls come from a Spanish explorer in around 1541.
In the mid to late 1930's, the areas on both the Argentina and Brazil sides were declared National Parks. In 1984, Iguazu Falls was designated a UNESCO World Heritage Site.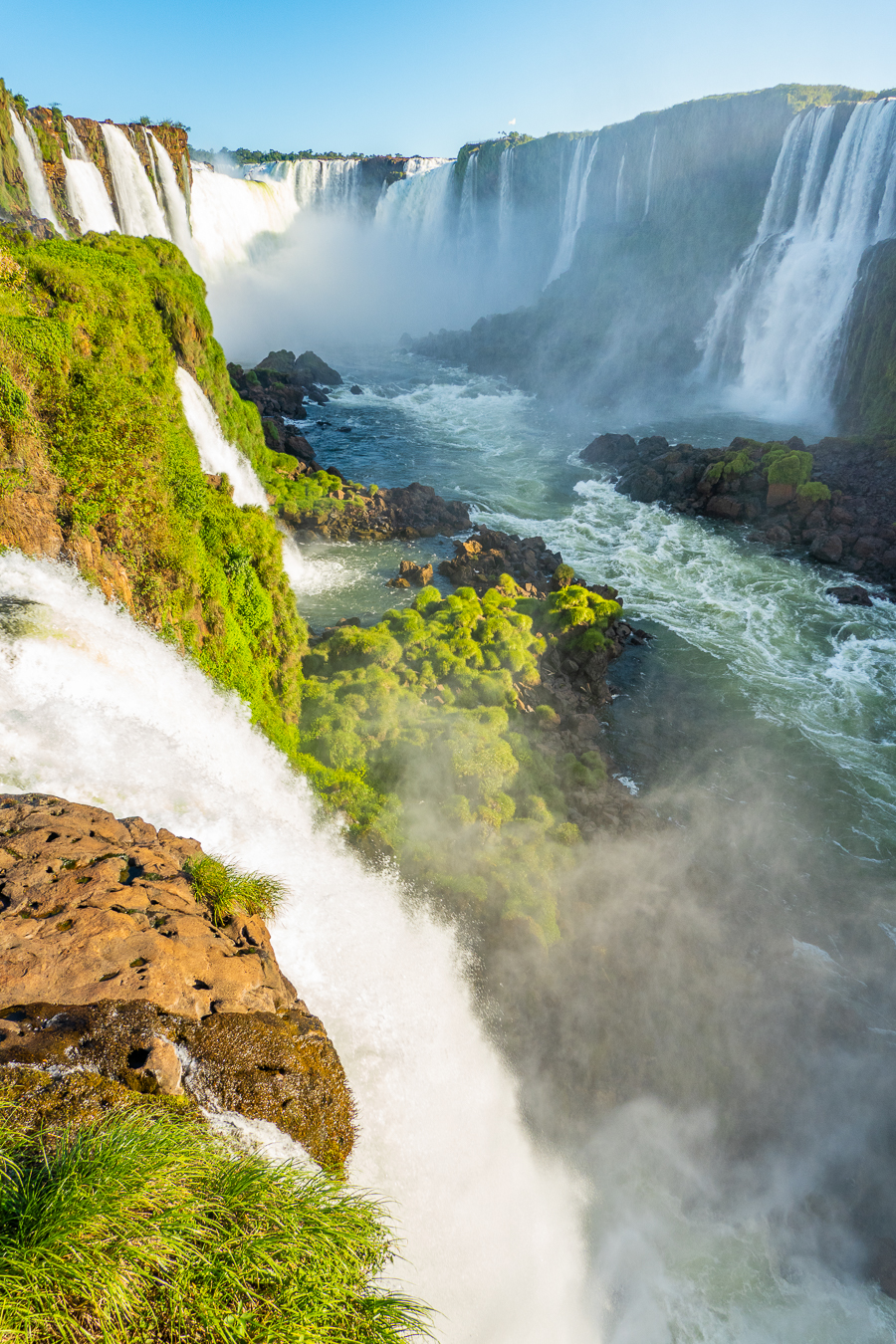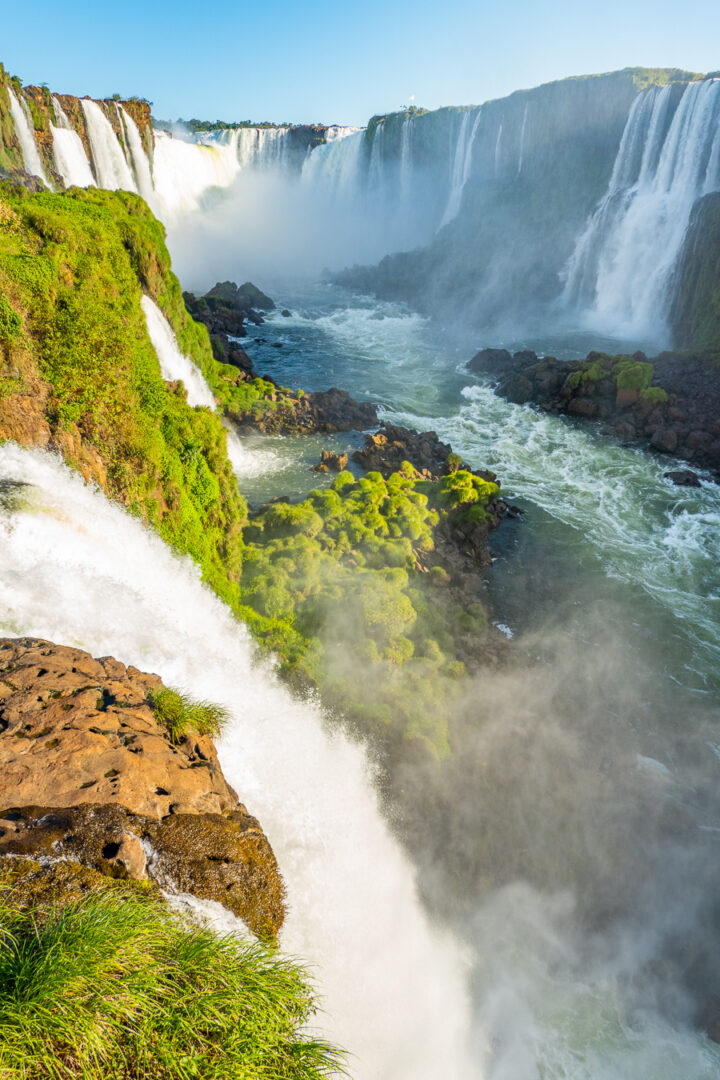 How Does Iguazu Falls Compare to Niagara Falls?
Like Niagara Falls, Iguazu Falls creates a border between two countries and you can view it from both sides. Niagara falls you can view it from the Canada side or the US side, Iguazu Falls you can view it from Argentina side or Brazil side.
Aside from that, they are very different. Iguazu Falls is 269 meters high and 2,700 meters wide while Niagara is only 54 meters high and 945 meters wide. Additionally, Iguazu has a remarkable 275 drops compared to Niagara's 4 drops.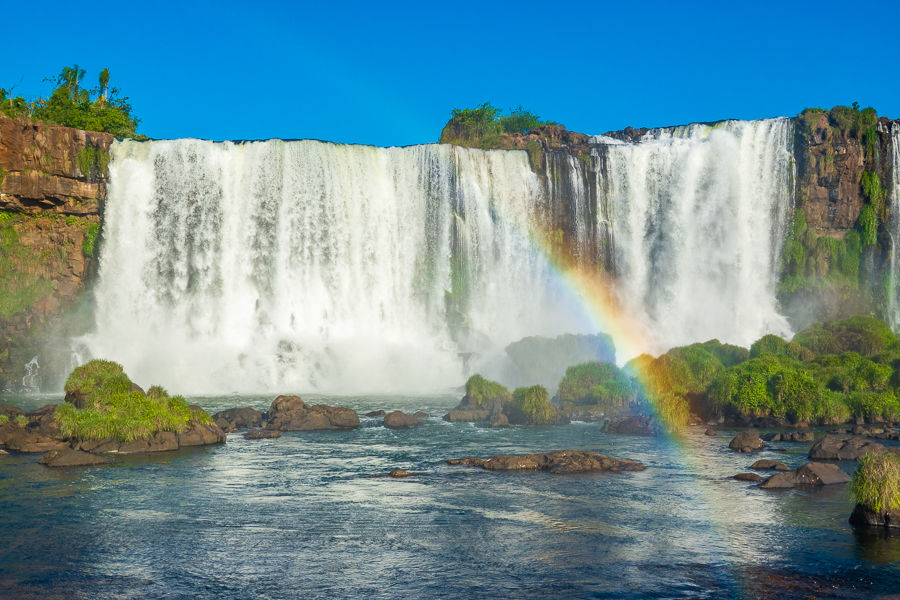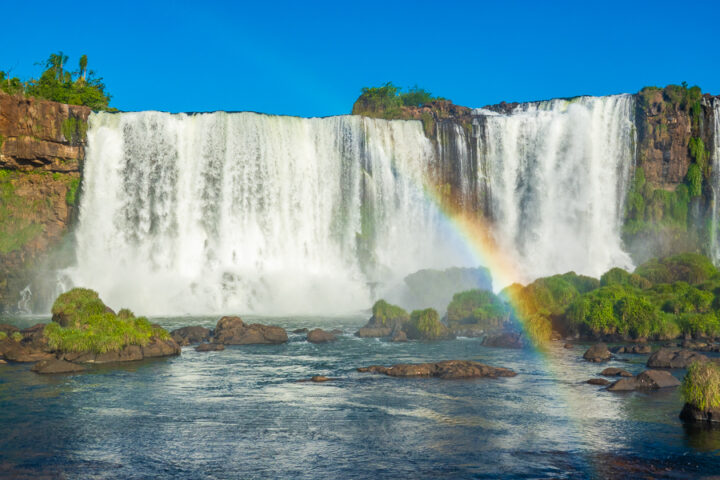 How Does Iguazu Falls Compare to Victoria Falls?
When comparing Iguazu to Victoria Falls in southern Africa, you'll find that Victoria has a greater height (108 meters vs. 82 meters), but Iguazu has a greater width (2,700 meters vs 1,700 meters). Iguazu also has a higher water flow rate than Victoria Falls and is visited by more tourists each year.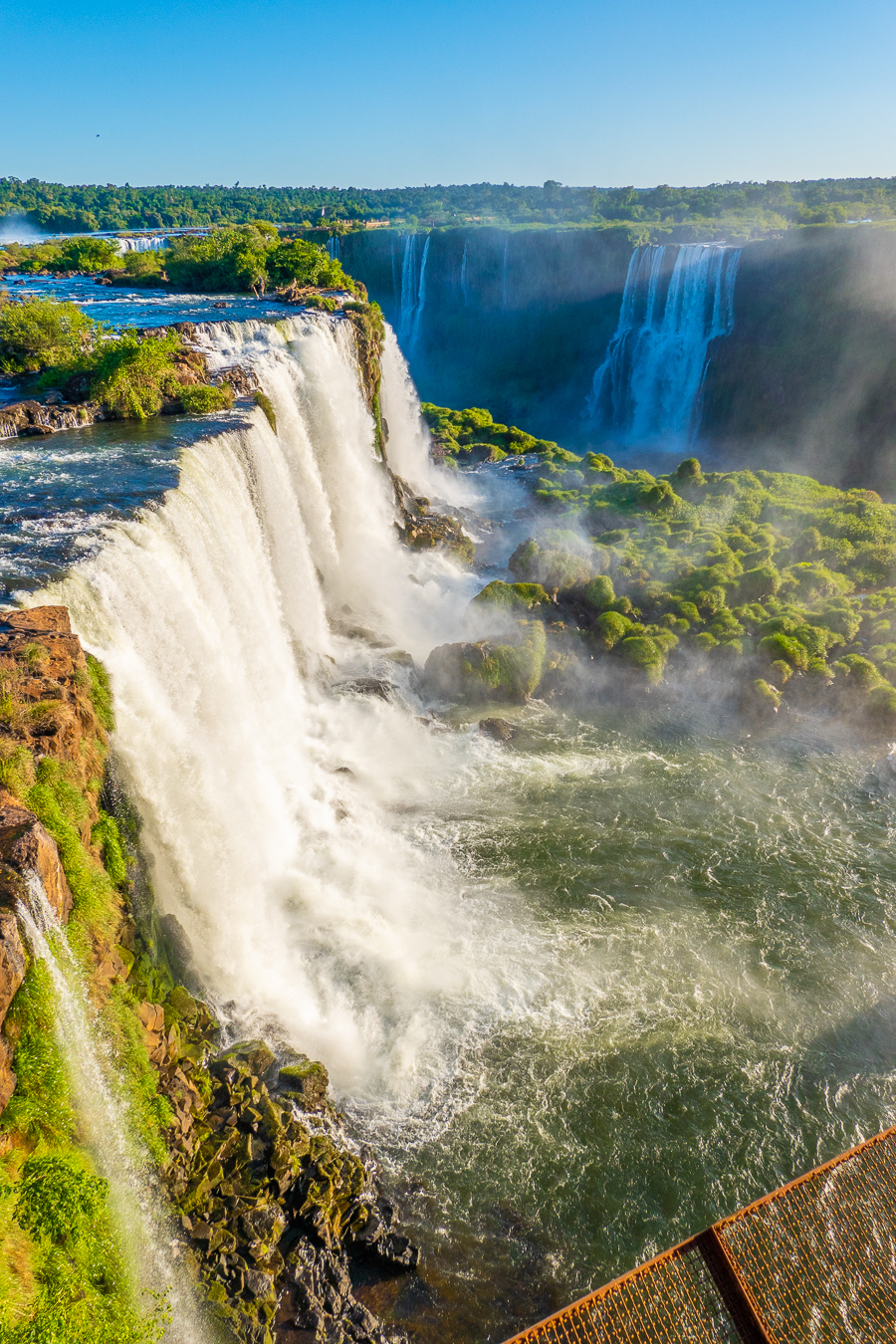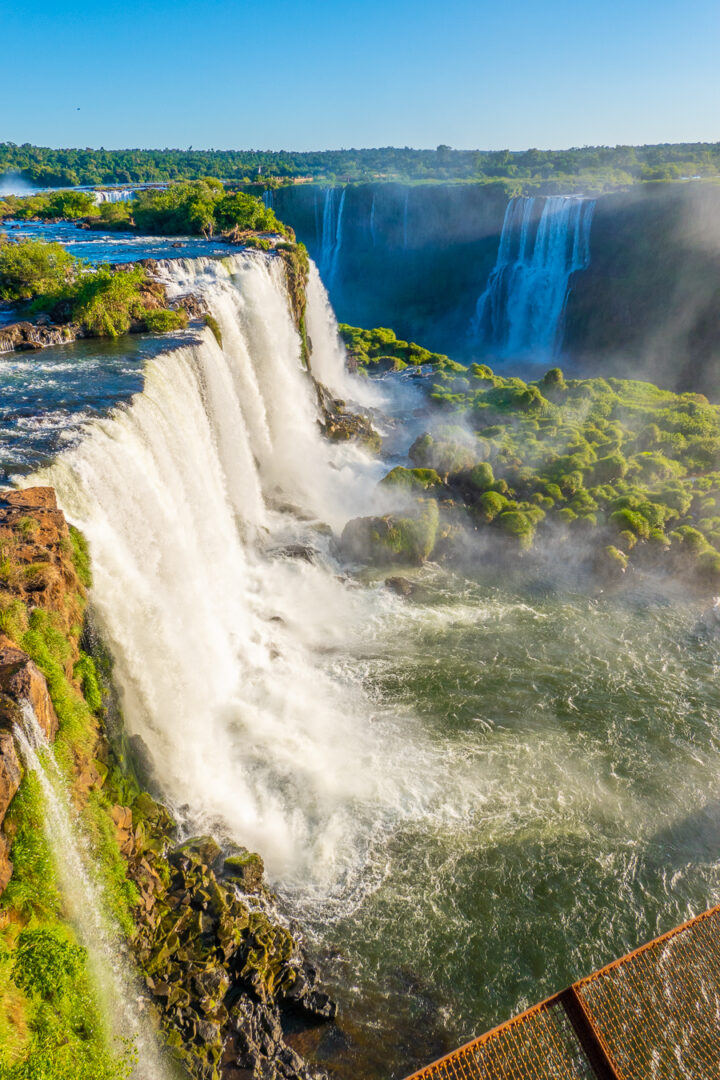 Is it Worth Visiting Iguazu Falls?
Absolutely! Visiting Iguazu Falls was a completely breathtaking experience. The power of the falls can actually be felt in your body!
If you are planning to visit Iguazu Falls, I can't recommend enough that you book a tour with Say Hueque (pronounced like Sigh Way-Kay). It is the absolute best way to see all the best views at Iguazu Falls.
If you opt for a private tour with Say Hueque, it will include:
local flights
airport transfers
2 nights hotel with breakfast
see everything on both sides
Private English speaking guide
Private driver
They will also work with you to customize your experience specifically for you and your party. They will send you your guide's name and number before the trip so you can text and ask any questions about what to pack before you even leave home! How cool is that?! There really isn't an easier or better way to take in the beauty of Igazu Falls.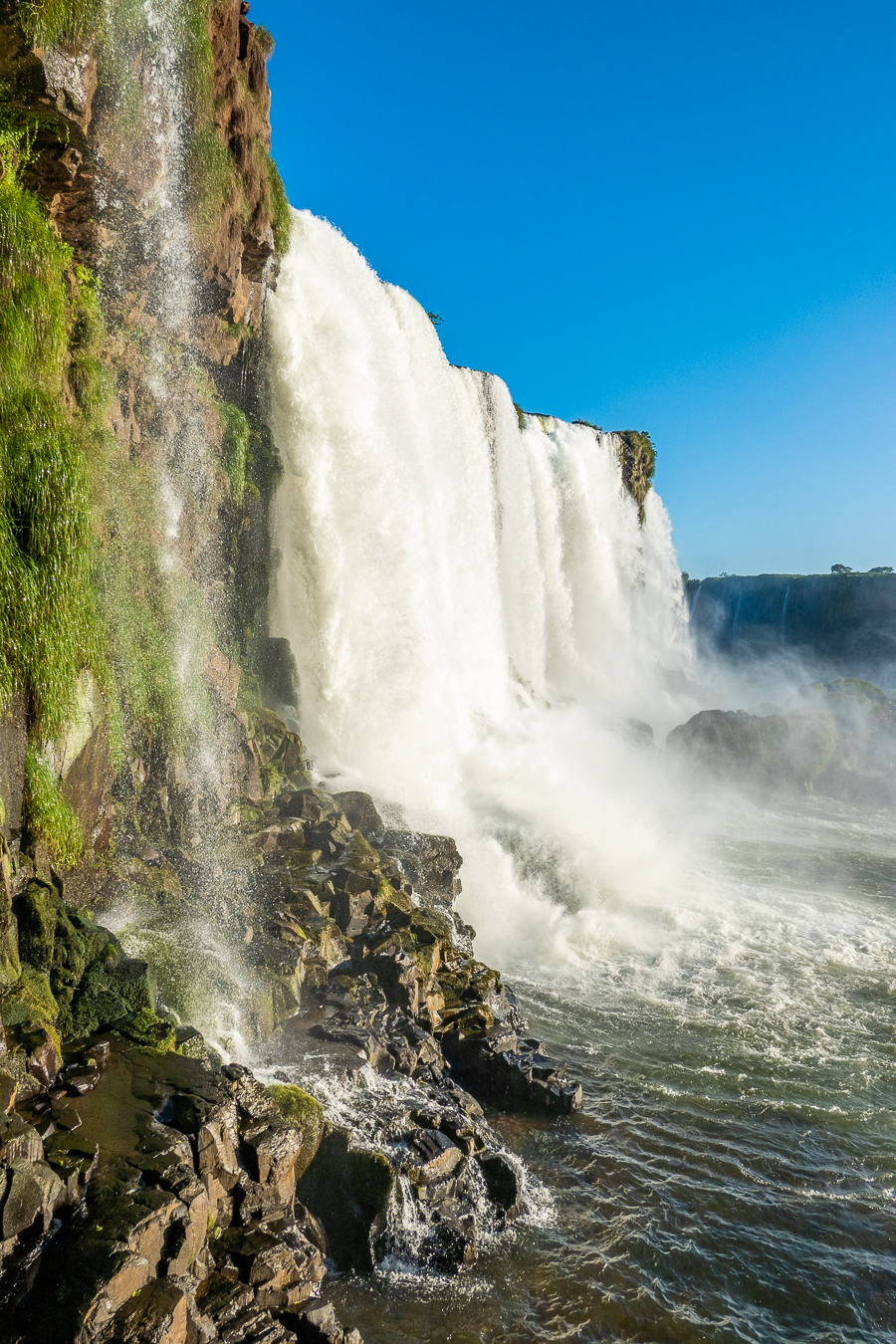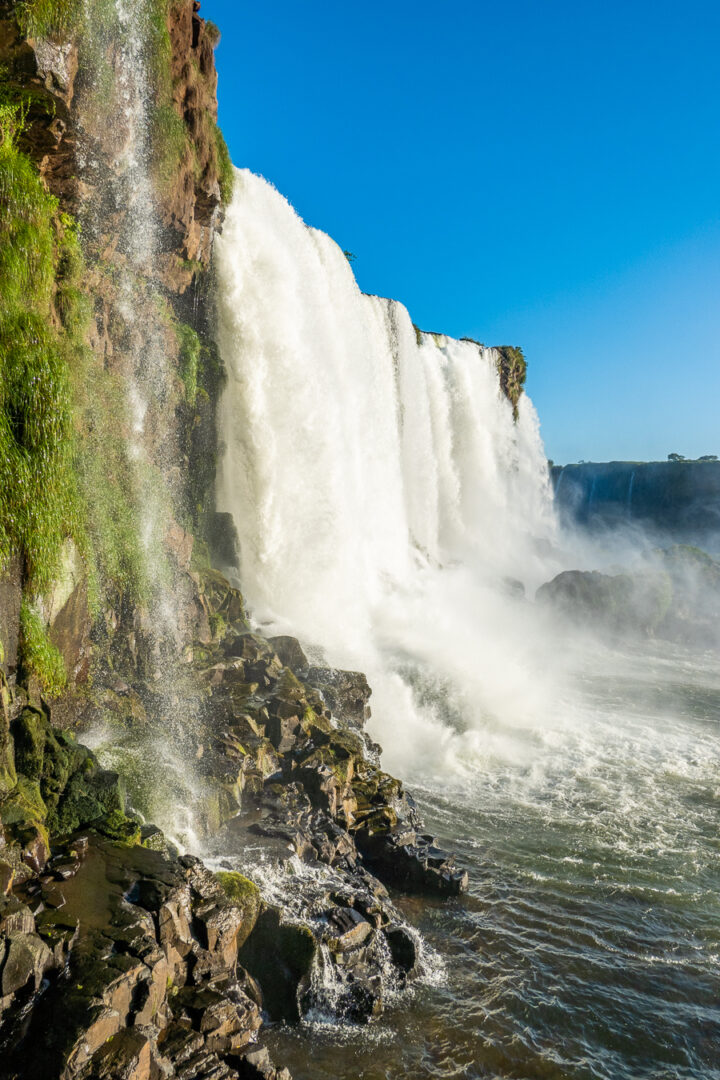 What to Wear for Your Visit
When visiting Iguazu Falls, you are going to want to dress for a long hike in the jungle. I'd suggest breathable workout attire and a hat or visor.
Comfortable walking shoes are also a must. Keep in mind, though, that they may get a bit wet. They won't get soaked, but might get sprayed from the mist of the waterfall. If you want to take a boat ride where you go under the falls, you can take your shoes off and leave them at the dock so they don't get soaked.
When choosing clothing and shoes to wear, just be sure to choose something comfortable enough for walking 5-6 miles.
Here are some other things you don't want to forget:
Sunscreen — This is important because you'll be under direct sun all day.
Bug spray — As I mentioned, you'll be in the jungle. You'll definitely want to protect yourself with bug spray!
Waterproof camera (like a Go Pro) — You'll definitely need a waterproof camera if you want to take pictures of videos underneath the falls. Trust me, you are going to want to get pictures of this experience!
Waterproof Bag for Phone — If you'd rather just use your phone camera, be sure to bring a Ziploc bag or waterproof bag. You may want to have this on your phone for your entire visit to the falls just in case the mist is extra strong when you visit.
Bottled water — You'll be walking 6 miles under the sun, so, it will be super important that you stay hydrated. You can buy water in the park but it's very expensive. If you can, I'd suggest bringing your own.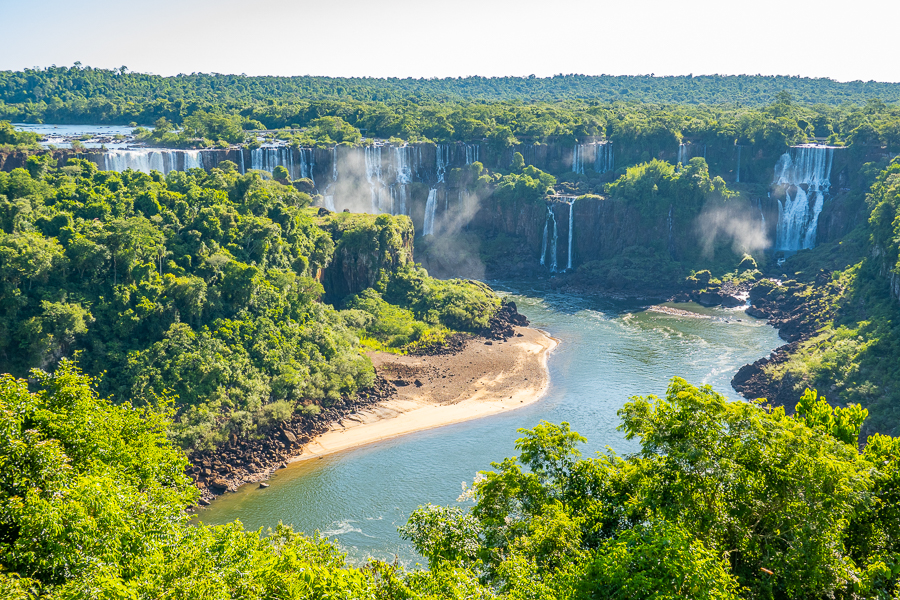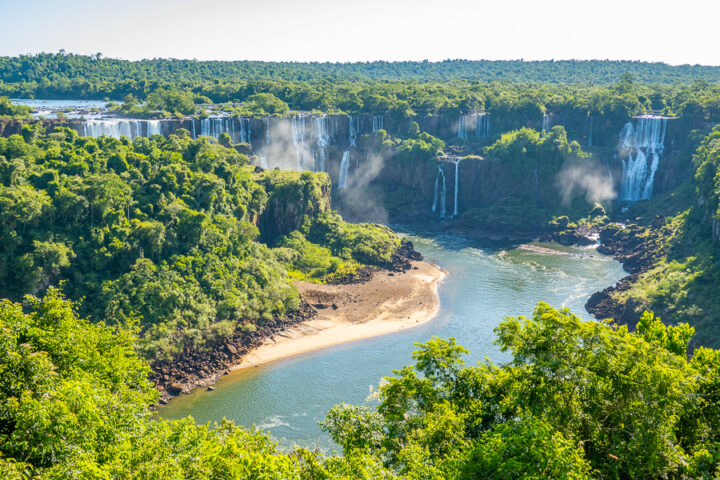 Things to Know When Visiting Iguazu Falls
Aside from hiking to and viewing the falls, one of the most popular things to do at Iguazu Falls is to take a boat ride underneath the waterfalls! You have the option to do this on both sides.
If you choose the Argentina side, you'll get a closer view of the bigger and more impressive falls, but this boat tour sells out quickly and you'll need to be there first thing in the morning to reserve your place. Even if you're there first thing in the morning there's no guarantee you'll get a spot. It's also important to note that passengers must be 12-years or older to board the boat ride from the Argentina side.
The boat ride from the Brazil side is perfect if you've got small kids in tow. It's easier to get a ticket and anyone can ride. You still get to go underneath the falls, it's just slightly smaller and a little bit less impressive.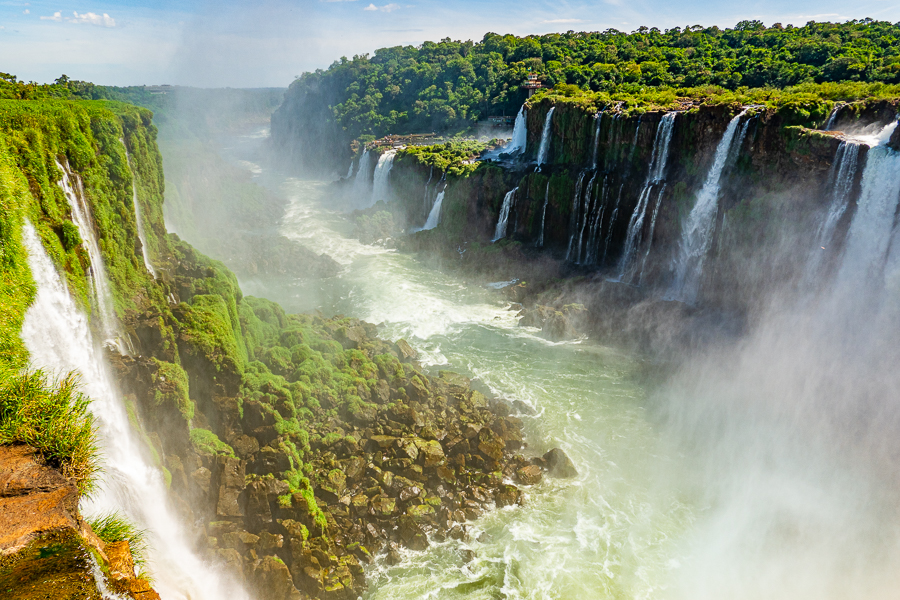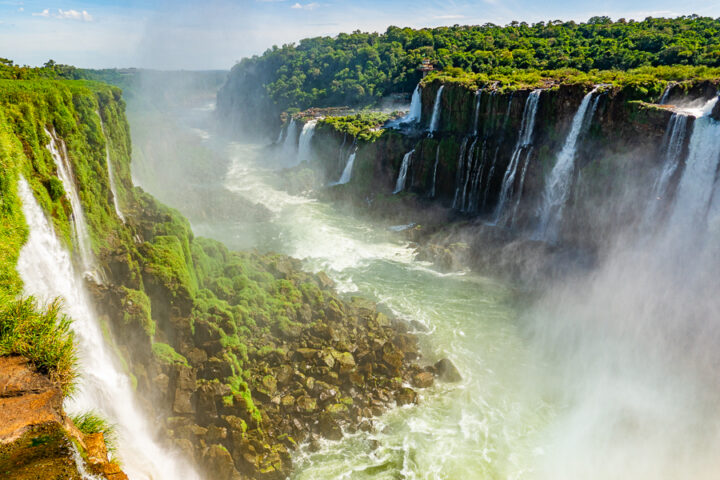 Is there a Difference Between the Brazil Side and the Argentina Side?
Yes, there is. Both sides have pros and cons, but both sides are absolutely worth seeing!
The Brazil Side
The Brazil side is better for families with small children and people with mobility issues because there's less walking and less stairs. However, this side is smaller than the Argentina side. There is only one mile of walking trail. You can even go directly to the overlook with no walking/hiking, if you want.
You can see the entire Brazil side in just a few hours.
The Argentina Side
By comparison, the Argentina side is much bigger. You'll need 1 full day there if you want to see everything. If you are looking to hike all of the trails and check out each overlook, you'll be in for 6 miles of walking.
To get to the main overlook you have to take a 25 min train ride and then walk 15 mins to the overlook, which is called Devil's Throat.
You'll need to arrive at the Argentina side first thing in the morning to get a train ticket. The train is free but you are assigned a time and it fills up quickly. If you get there late you might be waiting an hour or more for your turn on the train.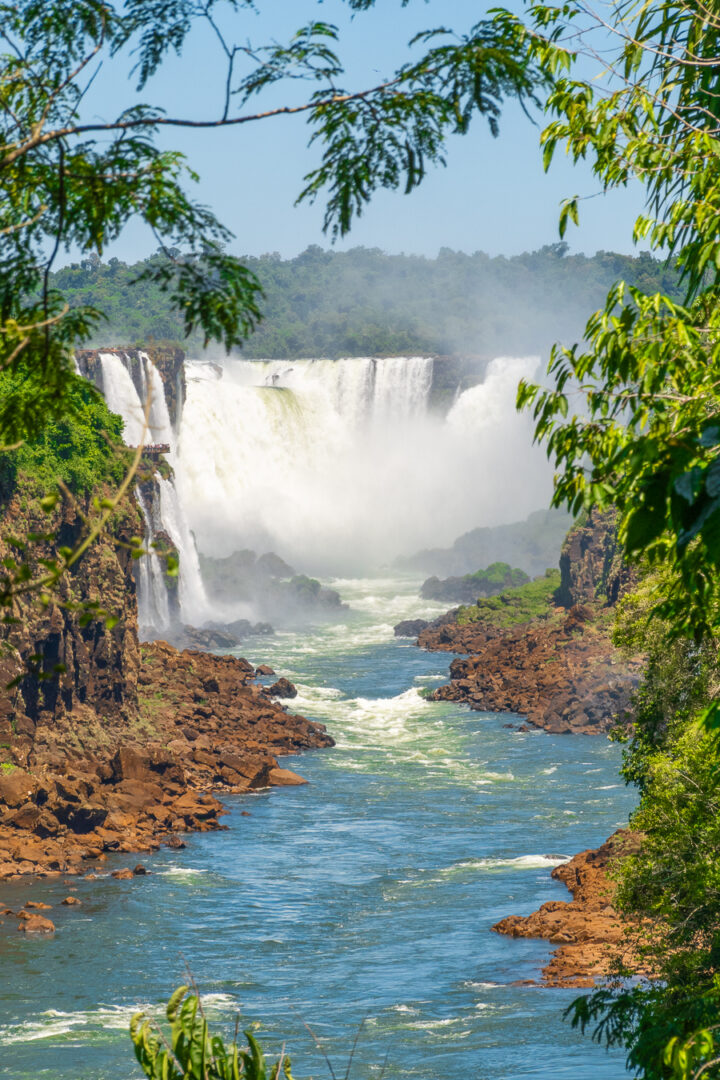 How Many Days Should You Set Aside to Visit Iguazu Falls?
Two nights is the perfect amount of time to stay at Iguazu Falls. You'll need one full day to see everything on the Argentine side and about a half day for the Brazil side.
The falls is located quite close to the local airport on either side so you can fly in and out quite easily.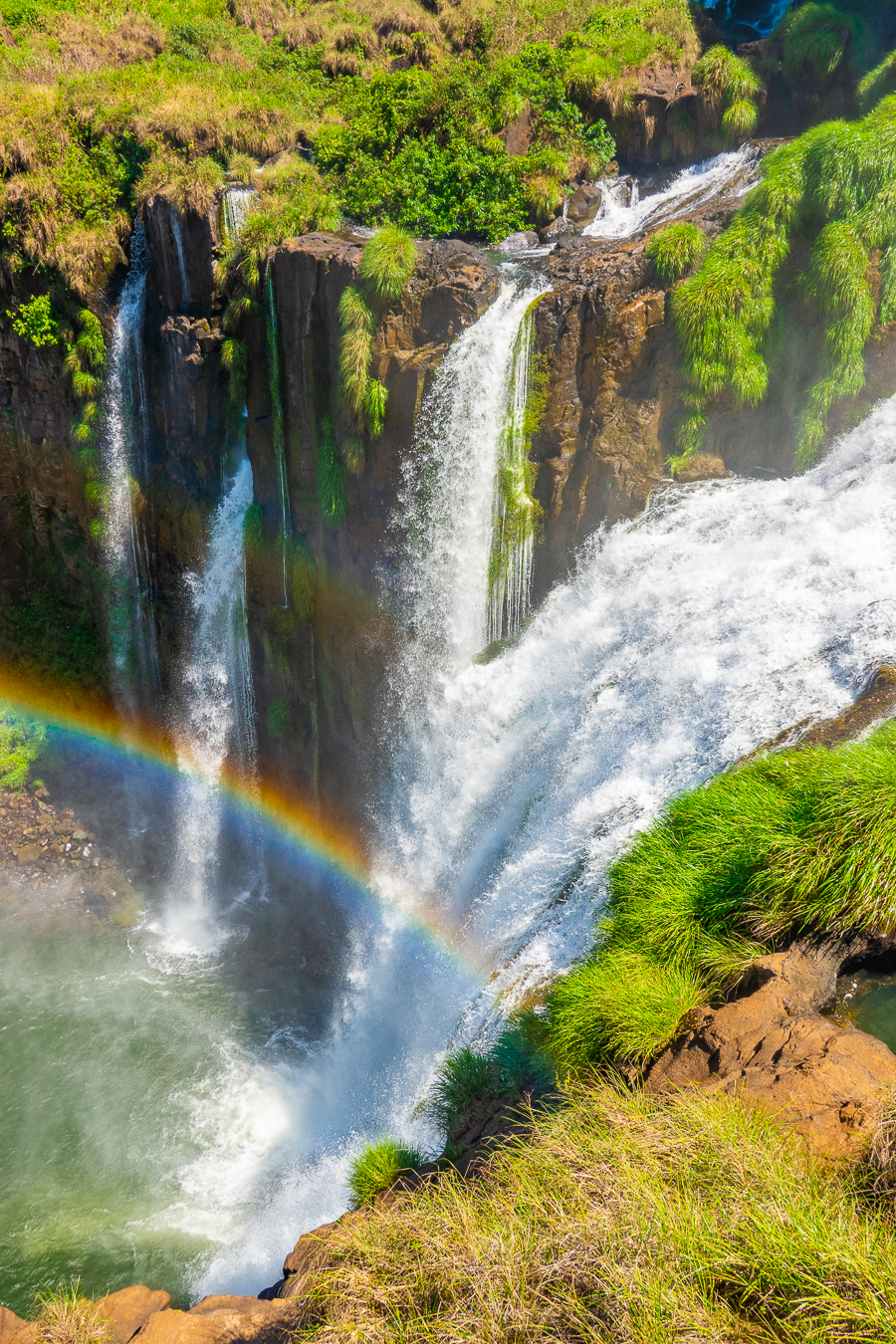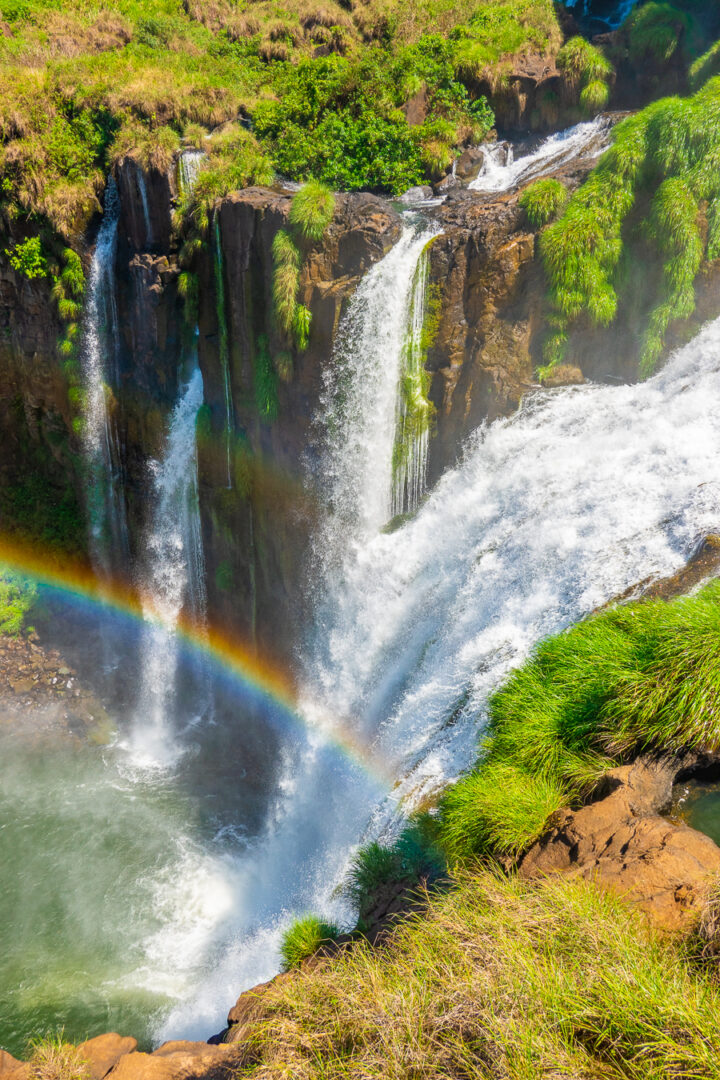 The Best Hotels Near Iguazu Falls
Merit Iguazu Hotel is the most budget friendly option. It is located in the town of Puerto Iguazú, Argentina, and it's within walking distance to shops and very good restaurants. The neighborhood is very safe and you'll feel comfortable walking around even after dark.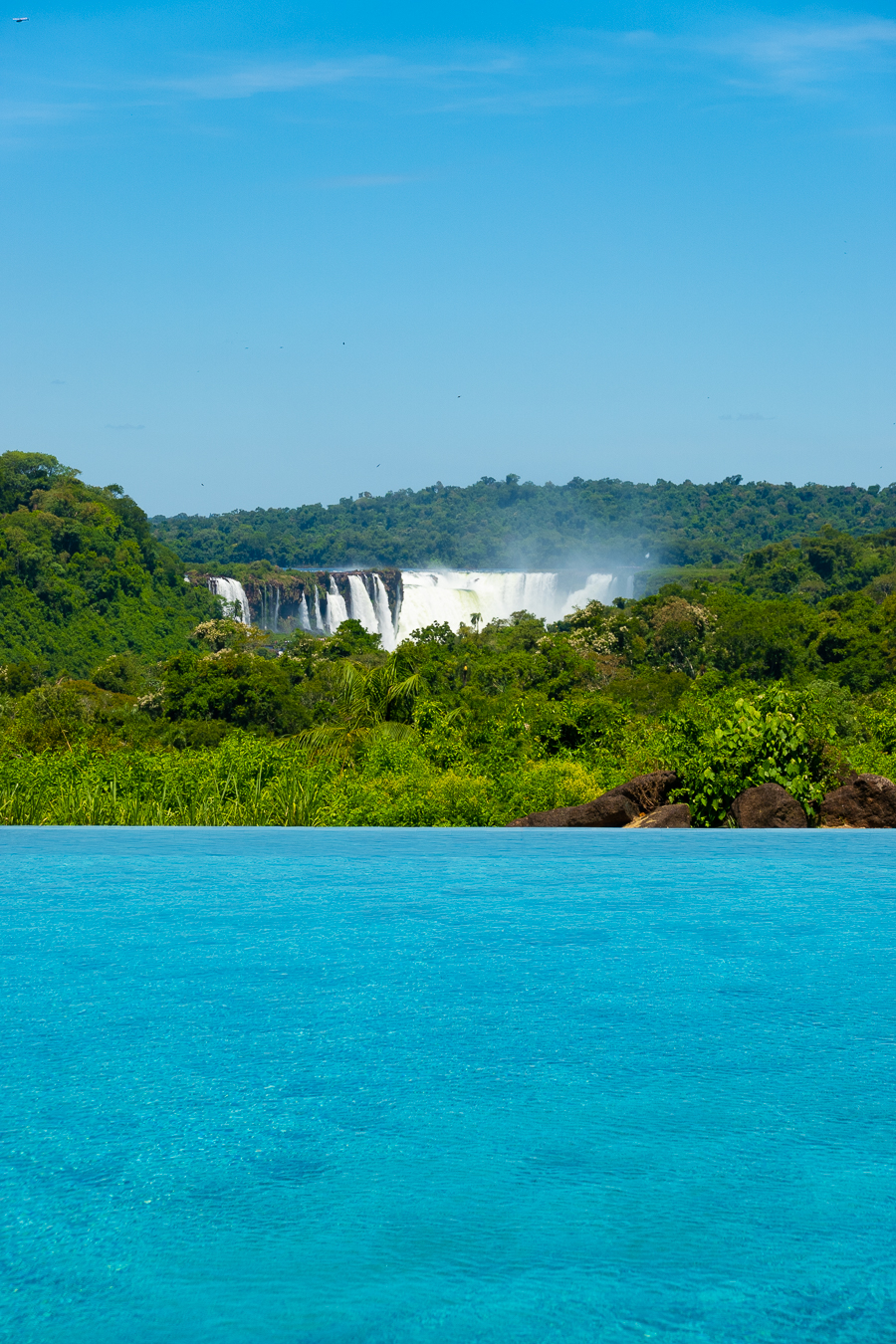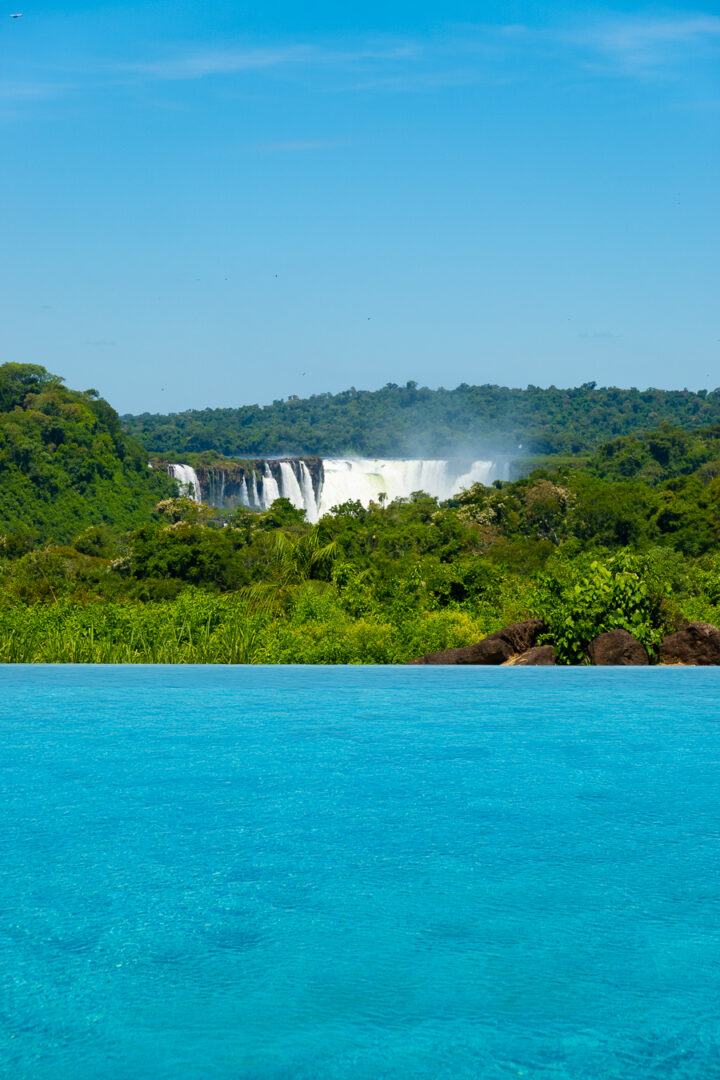 Gran Melia Iguazu is the best luxury option. The rooms have views of the falls, (the view above is from the infinity pool) and staying at this hotel includes your entrance fee to the falls. They also have a private back entrance to falls.
The only drawback is that the hotel is not in town or close to anything else to do, like shops or restaurants. If you don't stay here we highly recommend at least coming here for lunch on your Argentina day (full day) at the falls. It's a beautiful, quiet, relaxing place to cool down and enjoy an amazing meal. Seriously, I had some of the BEST pasta I have ever had in my entire life. There's a large Italian community in Argentina so they know their pasta!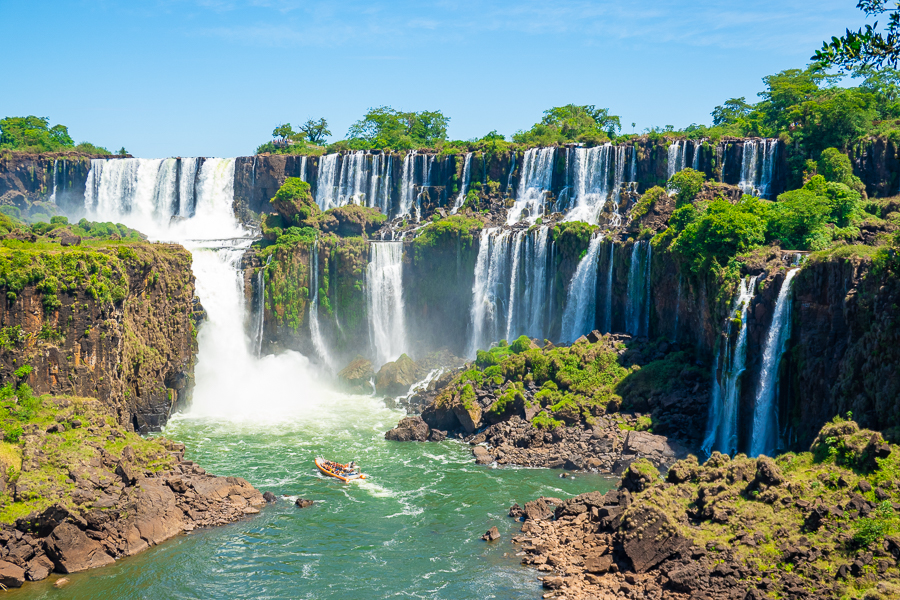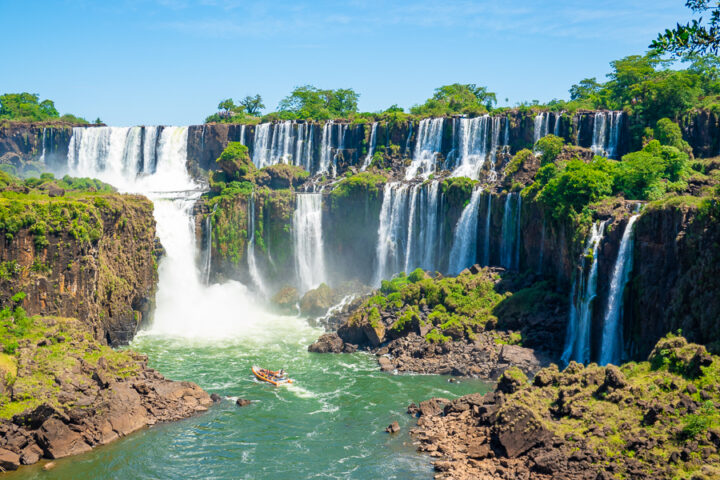 Do you have any questions about visiting Iguazu Falls Falls?
If you have any questions about visiting Iguazu Falls, please leave me a comment below. I'd be happy to help in any way. If you haven't visited Iguazu Falls definitely put it on your bucket list! You won't regret taking the time to see this breathtaking natural wonder.
---
Like this post? Save it on Pinterest!