Looking for the best places to eat in Philadelphia? If you've only got a few days in Philadelphia, you definitely want to make sure every meal is amazing! Here are the best Philadelphia restaurants for breakfast, brunch, lunch, dinner, dessert and more!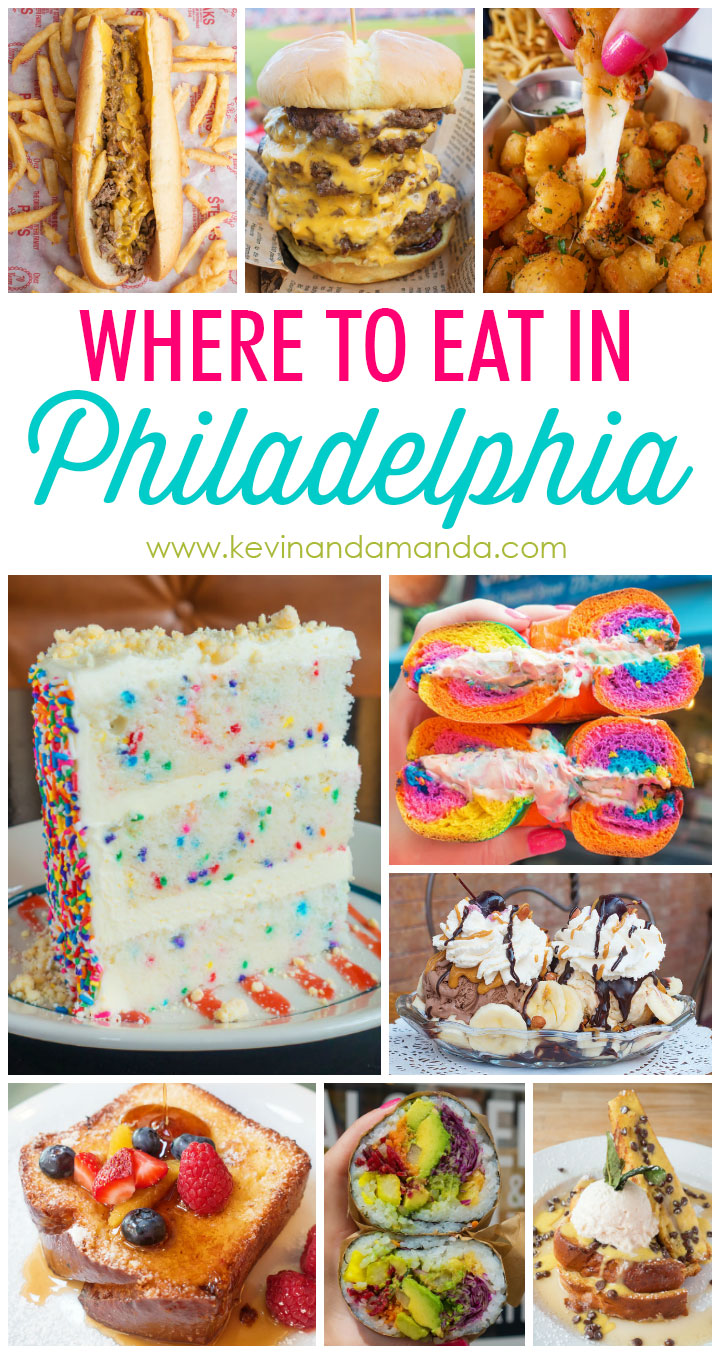 Our Favorite Philadelphia Restaurants
I could've easily stayed in Philadelphia for an entire month just eating my way through the city. In one week we scoured the city for the best breakfast cafes, amazing lunch and dinner restaurants, and of course decadent desserts. We tried the best Philly has to offer and put everything in one time-saving list just for you. If you are looking for the best Philadelphia restaurants, here is our ultimate guide:
Best Philadelphia Restaurants for Breakfast & Brunch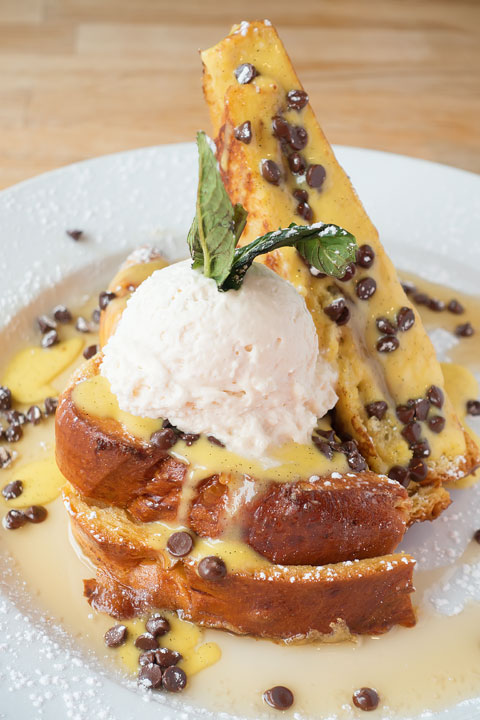 #1 — Green Eggs Cafe
Green Eggs Cafe is known for their decadent, over-the-top French Toast and Pancakes! Just look at this Cookie Dough French Toast. Real chocolate chip cookie dough is stuffed between two slices of challah bread French toast and topped with vanilla cream, chocolate chips, and brown sugar.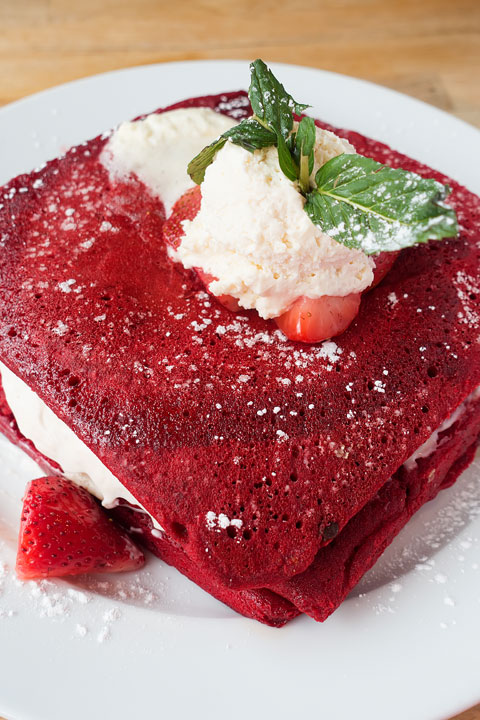 Another extremely popular menu item is the Red Velvet Pancakes. The pancakes are stuffed with chocolate chips and layered with strawberry mascarpone. They're topped with whipped cream and fresh strawberries.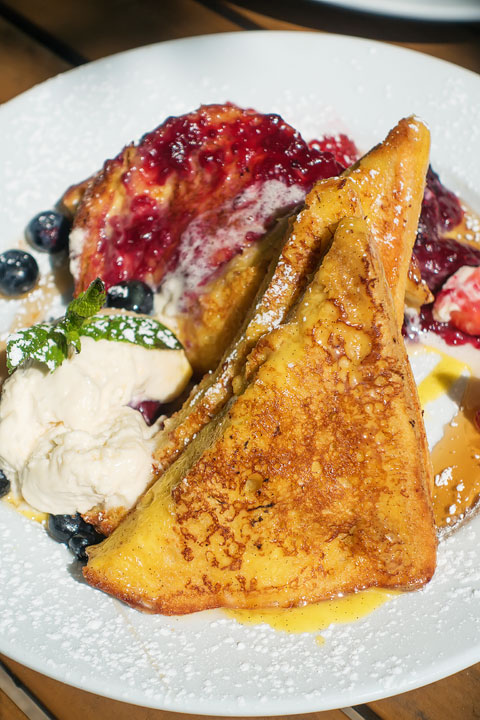 I think my favorite was the Creme Brulee French Toast. Thick, decadent challah bread is battered in vanilla bean custard, griddled, then topped with fresh cream and berries.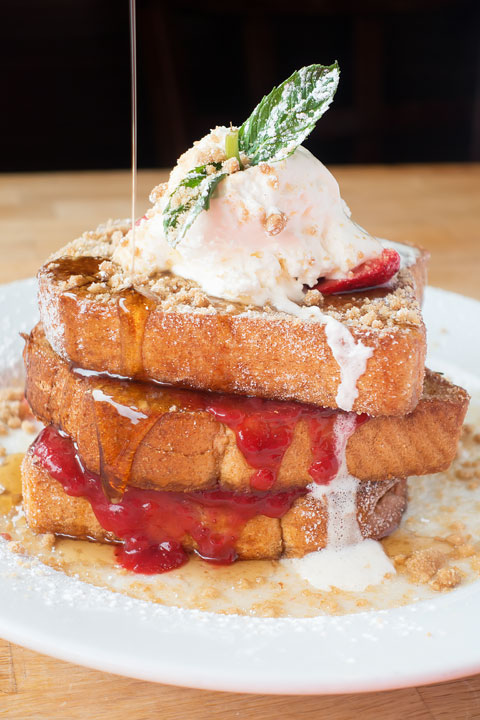 And just look at this Strawberry Shortcake French Toast! Would you believe it's 100% Vegan? You would never, ever know.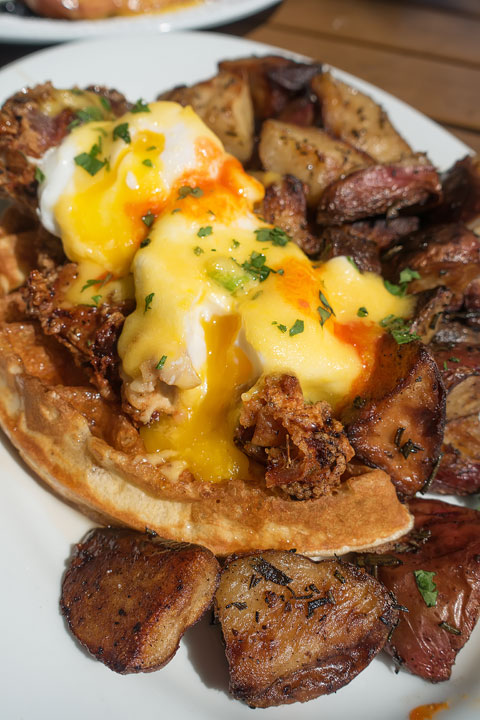 Green Eggs Cafe also has a wide range of savory options as well. We had to try the Chicken & Waffles Eggs Benedict. Southern fried chicken topped with two poached eggs on a crispy buttermilk waffle with maple syrup and hot sauce hollandaise.
Every single thing we had at Green Eggs Cafe knocked it out of the park. This is one of our favorite Philadelphia restaurants for breakfast and brunch!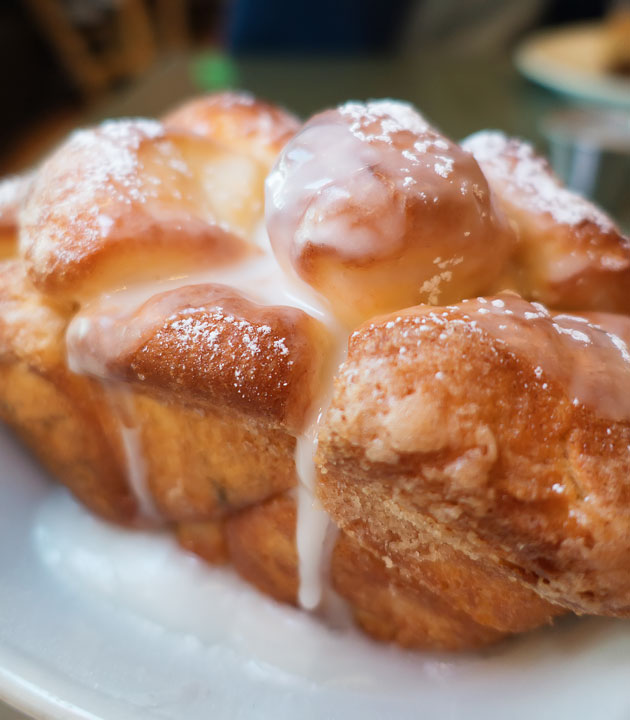 #2 — Jones
Jones is another fun restaurant in Philly. They are open for lunch and dinner during the week and serve brunch on the weekends. We went for brunch. When we saw Monkey Bread on the menu as an appetizer, I knew we had to try it. It tastes just like what you'd make at home, and even comes with a sweet glaze dipping sauce. A must if you go for brunch!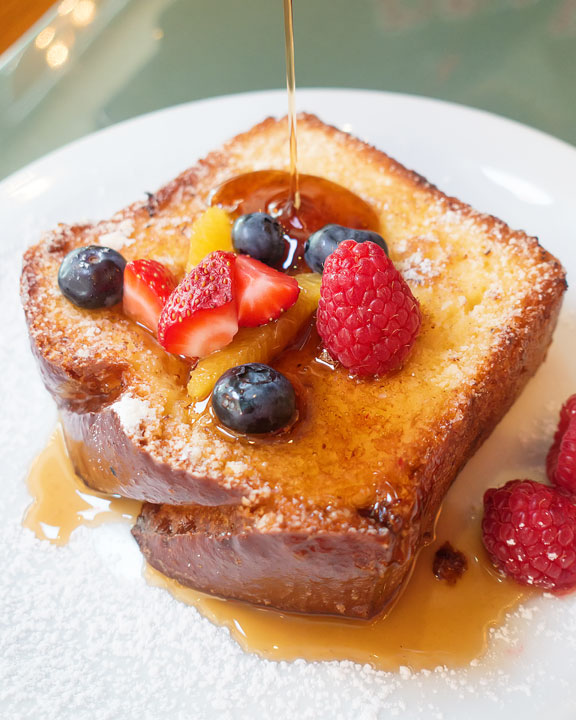 Of course I got the Fat & Fluffy French Toast. So good! This is such a fun restaurant in Philly. The inside looks like the Brady Bunch living room.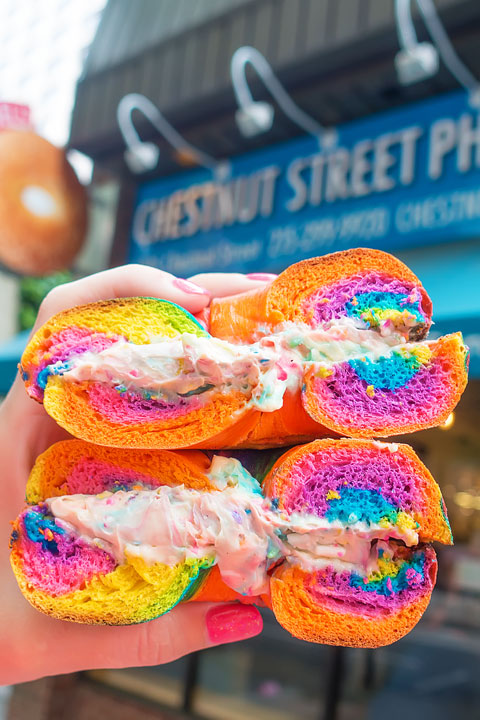 #3 — Chestnut Street Philly Bagels
Chestnut Street Philly Bagels has the famous rainbow bagel and funfetti cream cheese!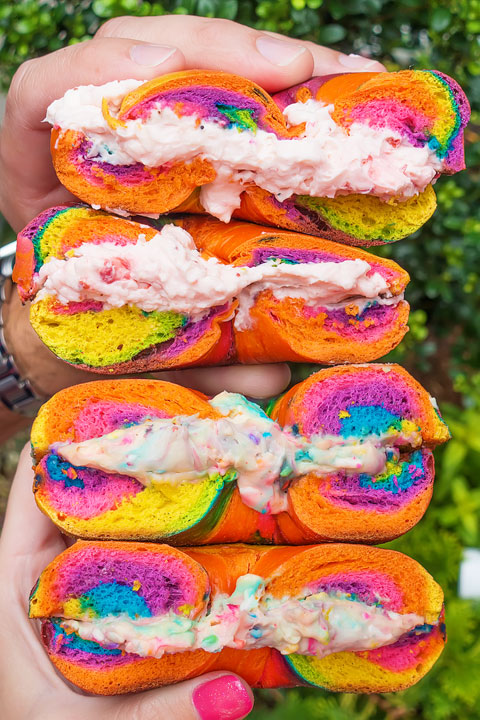 It's also good with the strawberry cream cheese. If you want to try the rainbow bagel without the lines and waiting, or just need a quick breakfast to go, Chestnut Street Philly Bagels is the place to be!
---
Best Philadelphia Restaurants for Lunch & Dinner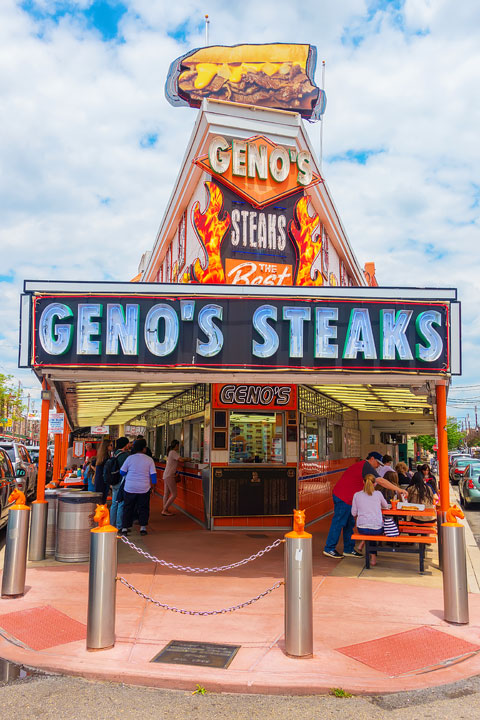 #1 – It's a Tie: Geno's Steaks and Pat's King of Steaks
You can't go to Philly without having a cheesesteak! We tried the two most popular Philadelphia restaurants for cheesesteaks: Geno's Steaks and Pat's King of Steaks.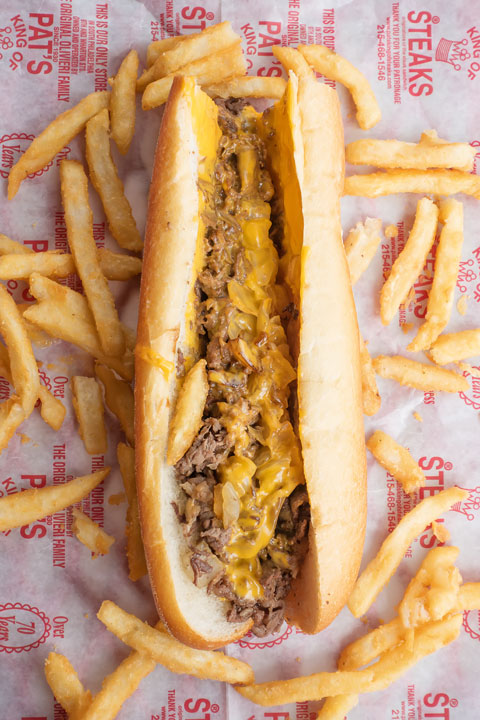 They are across the street from each other and usually have lines down the block.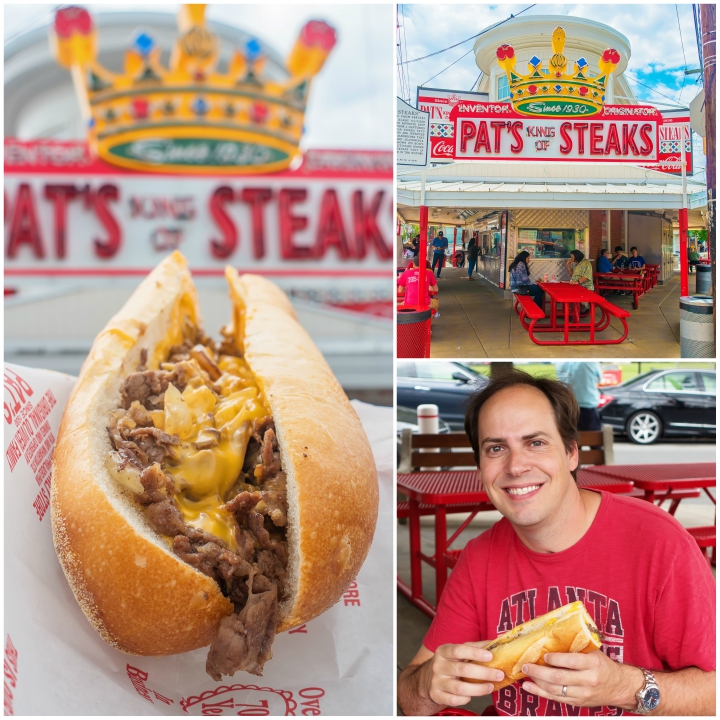 Out of the two, Pat's was our favorite but we actually tried two other cheesesteaks that we liked even better than Geno's or Pat's. Most people we talked to in Philly agreed that Geno's and Pat's were for the tourists, so we tried two other cheesesteak shops that the locals recommended. And you know what? They were right! Keep reading to find out what they were!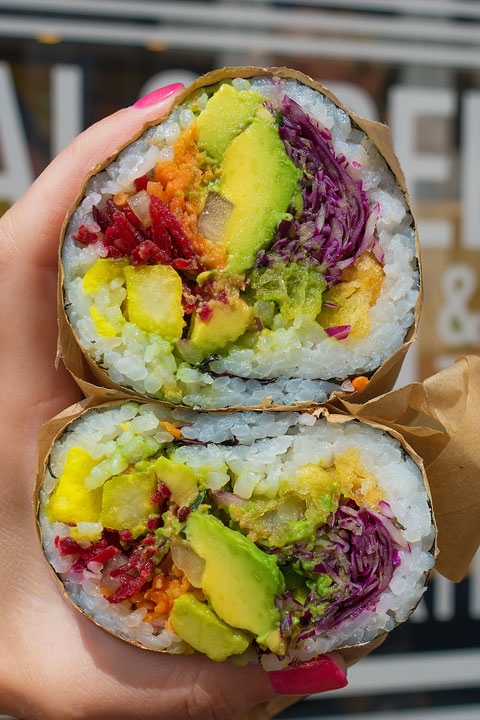 #2 — Hai Street Kitchen
Have you seen the Sushi Burrito??! At Hai Street Kitchen you can create your own Sushi Burrito. You can choose your sushi protein (chicken, shrimp, salmon, etc) and all your veggies (avocado, cucumber, carrots, beets) and they'll make it to order and wrap it up in one hand-held burrito for you. You can even take it to the next level and have the whole thing DEEP FRIED. Highly recommend.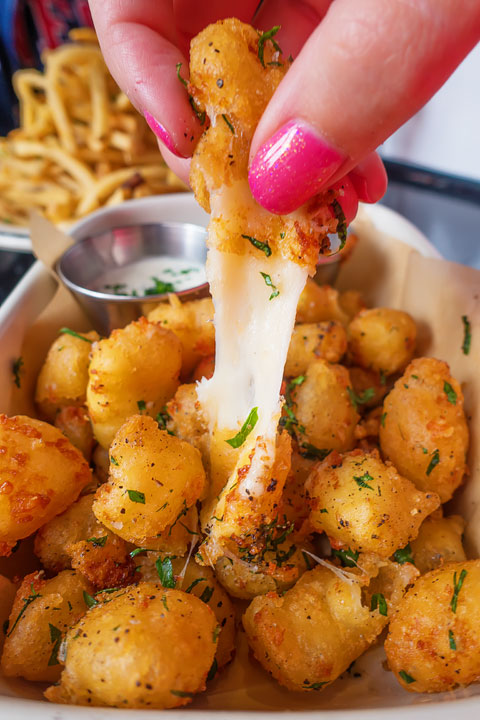 #3 — Bud & Marilyn's
Bud & Marilyn's was one of our favorite Philadelphia restaurants!!! Before I go on, let me just say right now if you go to Philadelphia and don't get the Fried Cheese Curds from Bud & Marilyn's it would be a MASSIVE shame. They were TO DIE FOR. I've had cheese curds before, so I knew they'd be amazing, but these are out of this world. The herbs and seasonings put them over the top. I am still dreaming about them! I am seriously ready to hop back on a plane for these cheese curds! Put them at the top of your list!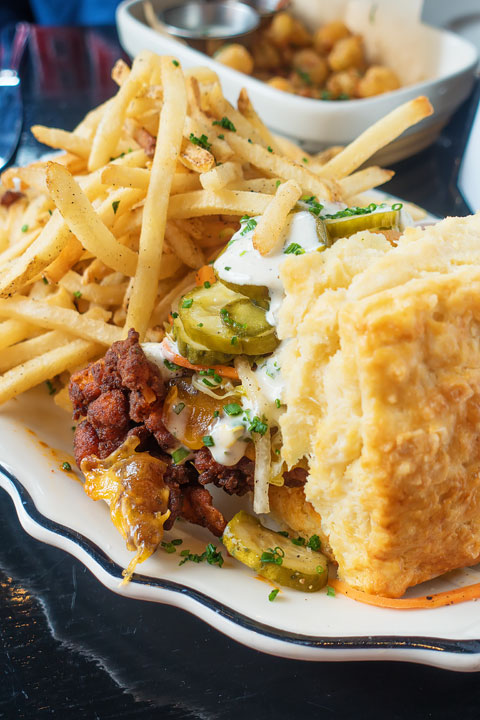 We were also here for brunch. We split the Nashville Hot Chicken Biscuit!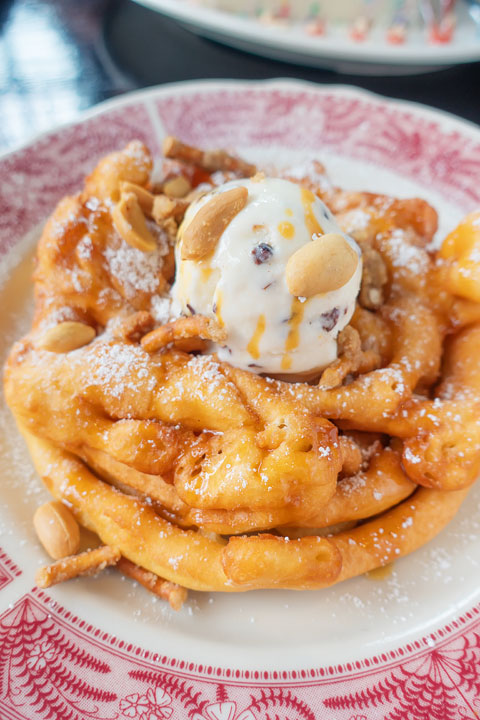 Bud & Marilyn's has super fun desserts has well. How fun is it that you can get a funnel cake for dessert??! All funnel cakes should be topped with ice cream!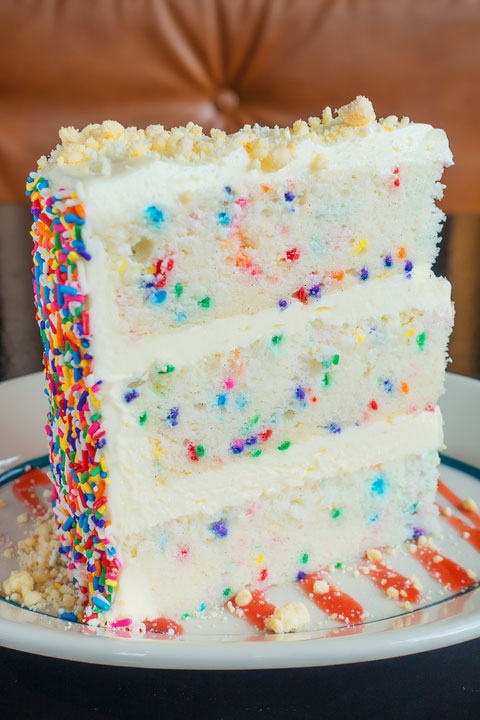 And this giant Funfetti Cake with cream cheese frosting is spectacular.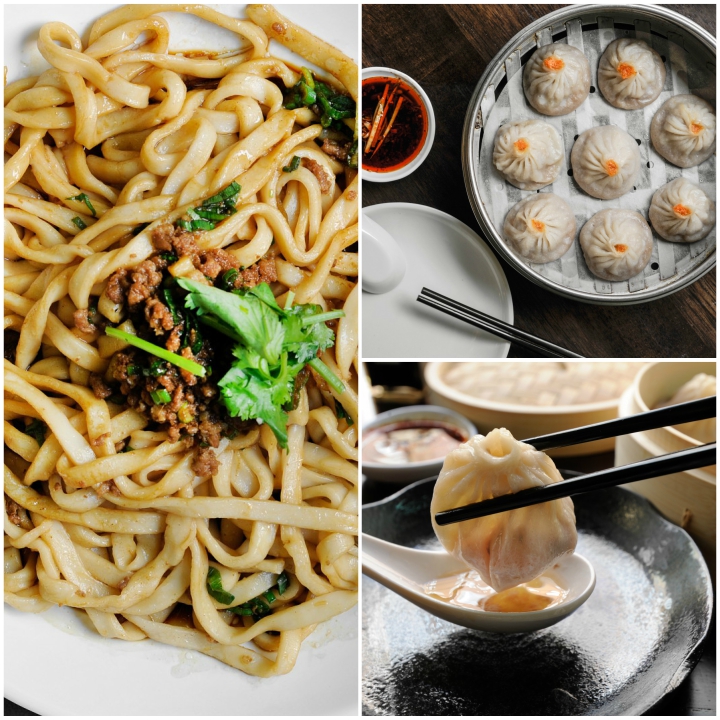 #4 — Dim Sum Garden
Dim Sum Garden in Chinatown is another one of our favorite Philadelphia restaurants. Definitely get the Pork Noodles and the Pork Soup Dumplings. We tried both the steamed and pan fried dumplings and ended up liking the pan fried better. Here's how you eat a pork soup dumpling: poke a hole in it with your chopstick, drink out the soup, then eat the dumpling. Both the noodles and the dumplings were life changing. I would for sure go here again!
---
Best Philadelphia Restaurants for Dessert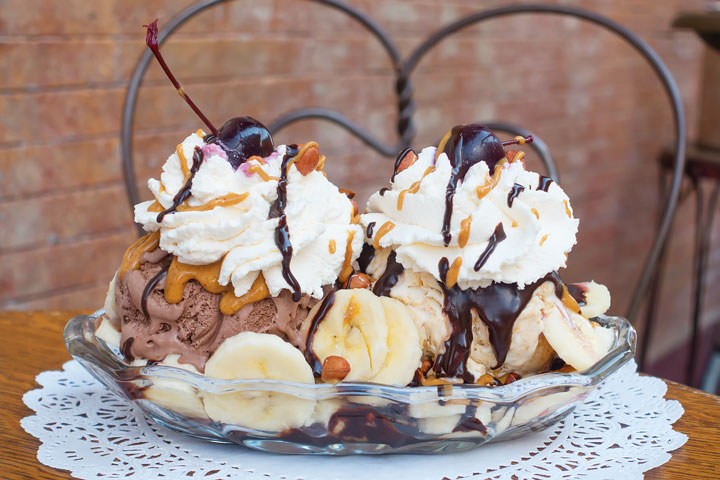 #1 — Franklin Fountain
Franklin Fountain is legendary for their homemade ice cream, giant sundaes, and banana splits. It's the perfect treat after a long day of sight seeing. There were so many amazing options on the menu that I wanted to come back here every day, but unfortunately we only got to go once. We ended up getting the "Banana Split for My Baby" with chocolate and peanut butter ice cream, hot fudge, peanut butter sauce, and whipped cream.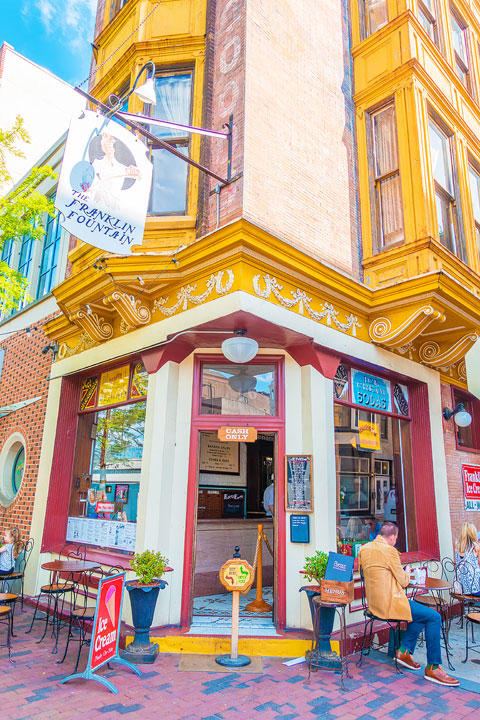 I will definitely go back the next time I'm in Philly!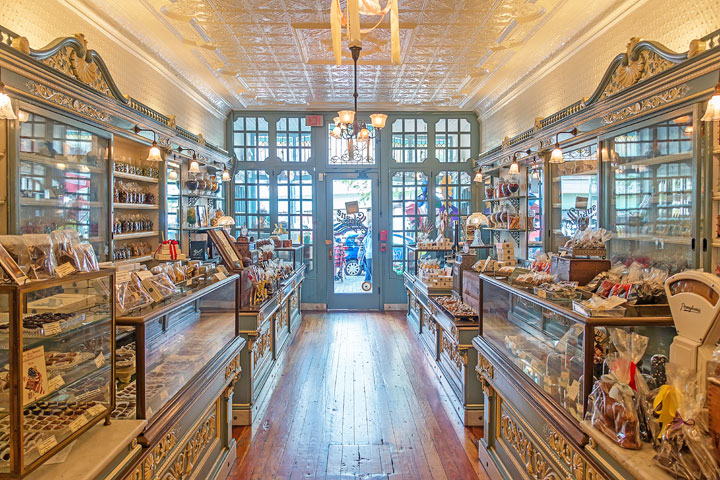 Plus right next door is a cute candy shop, Shane Confectionery. They have chocolate-shaped Liberty Bells. Perfect for souvenirs!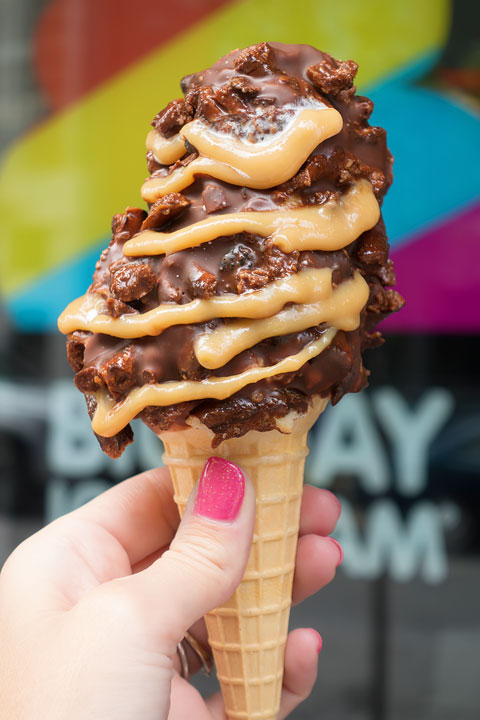 #2 — Big Gay Ice Cream
Big Gay Ice Cream — I love dip cones, and I love that these are OVER THE TOP!! Vanilla ice cream is sprinkled with sea salt, drizzled with caramel, rolled in pretzels, THEN dunked in chocolate and drizzled with even MORE caramel!! So so good!!
---
Philadelphia Restaurants at Citizens Bank Park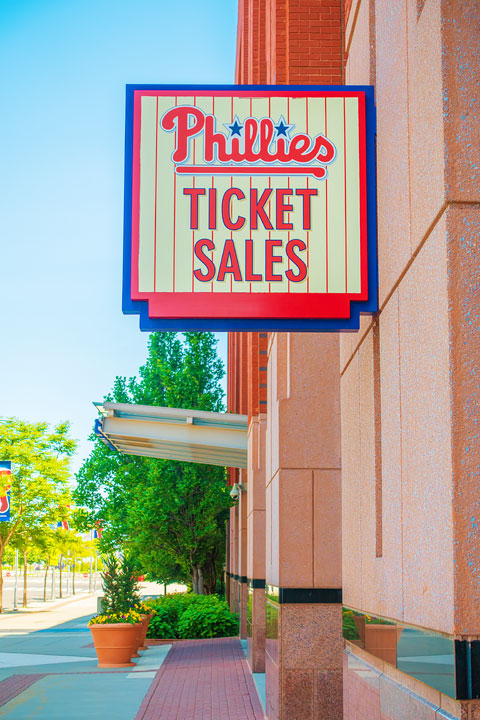 Believe it or not, some of the best food we had in Philly was at a Phillies game!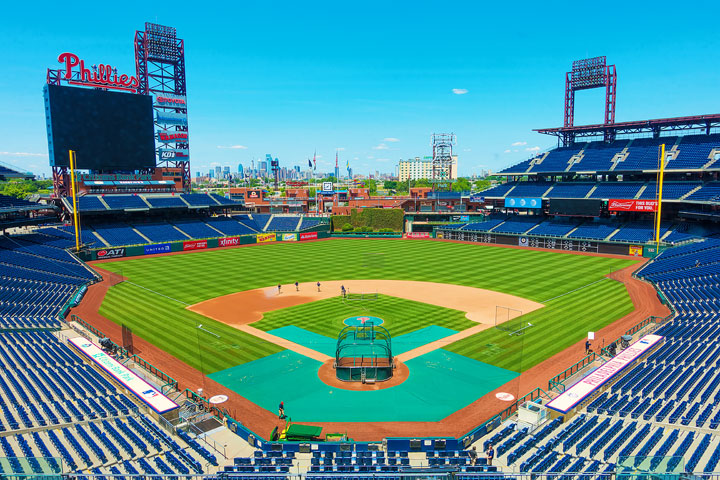 Citizen Bank Park takes ballpark concessions to a whole new level with a huge variety of exciting options. They were voted "best ballpark eats" by Food Network and number 1 for vegetarians three years in a row.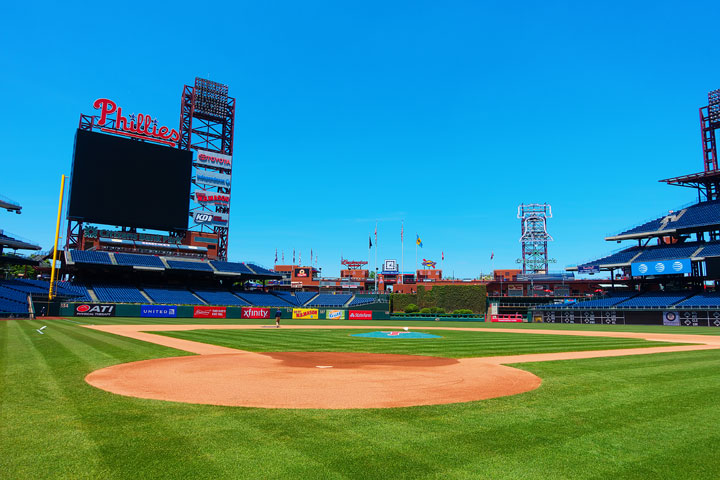 We took a "behind the scenes" tour, which I highly recommend if you are even remotely a baseball fan.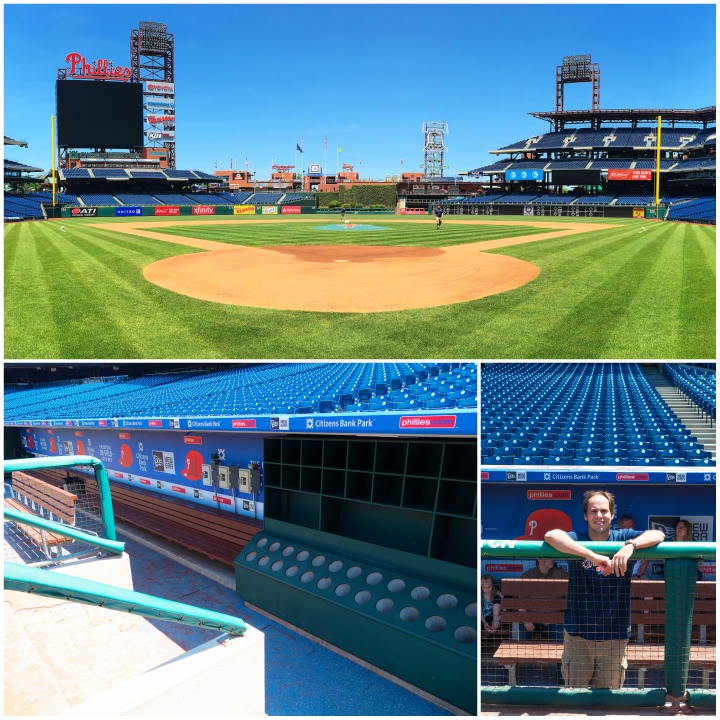 You get to go down right on the field, in the dugout, in the press box and more.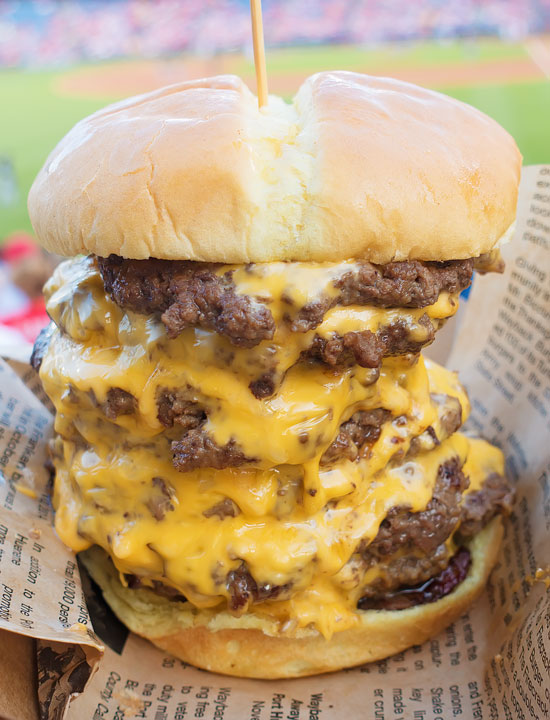 Best Philadelphia Restaurants at Citizens Bank Park #1 — Wayback Burgers
Of course my favorite thing about the game was the FOOD!! Oh my gosh, I was DYING over this "Triple Triple" burger from Wayback Burgers! It wasn't just incredible to look at, it also tasted amazing!!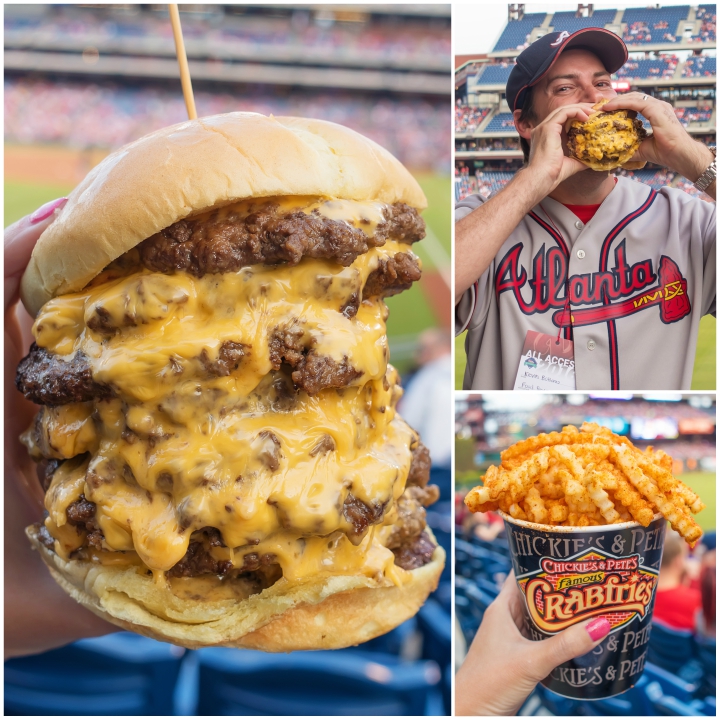 Best Philadelphia Restaurants at Citizens Bank Park #2 — Chickie & Pete's
Another "must get" at Citizens Bank Park are Chickie & Pete's Crabfries! You can have a burger without fries. ;)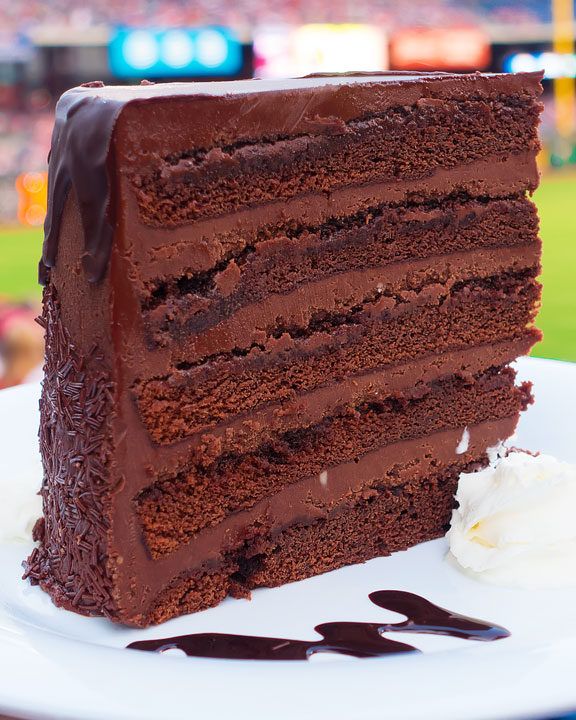 Best Philadelphia Restaurants at Citizens Bank Park #3 — Harry the K's
For dessert, I highly recommend this decadent 5-layer chocolate cake from Harry the K's, which is made fresh in house every single day. Never frozen or shipped in!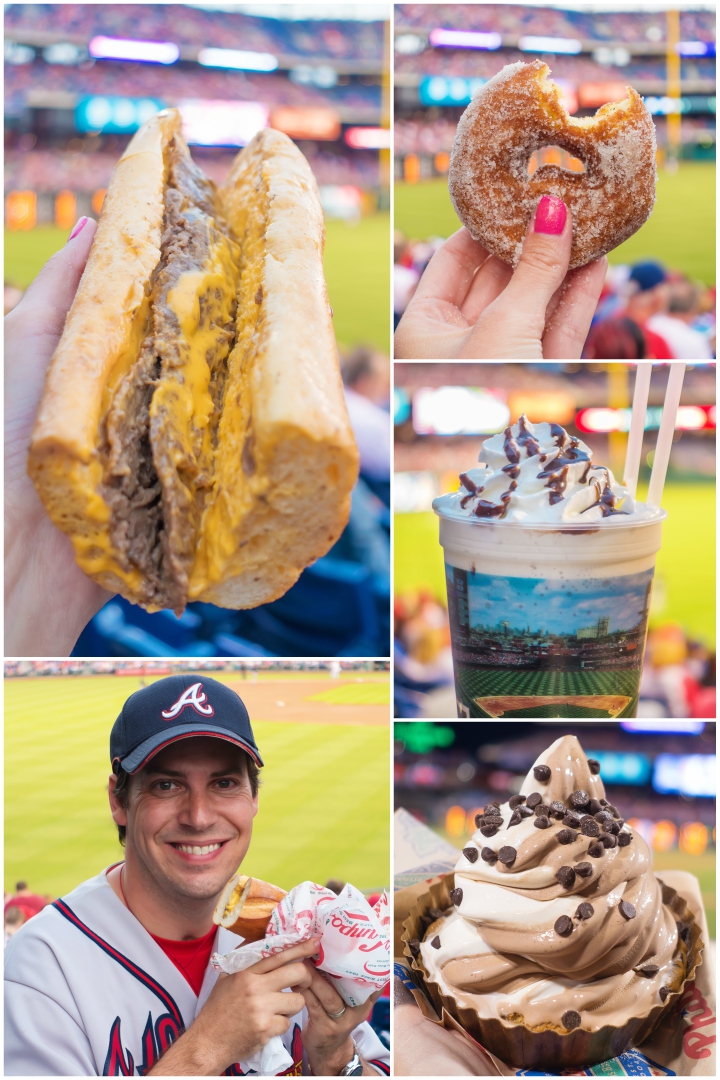 Here we tried two other Philly cheesesteak legends: Tony Luke's and Campos. Our favorite cheesesteak out of the four we tried was Campos, hands down. We preferred the shredded steak and the soft bun from Campos.
Philly's favorite chicken and donut shop, Federal Donuts, is also available at Citizens Bank Park. The donuts are made hot and fresh to order and dunked in sugar. To die for.
Harry the K's also has a gourmet milkshake — the flavor changes every night!
If you happen to be sitting in the Diamond Club, definitely get the Chocolate Chip Cookie Ice Cream Sundae from the Diamond Lounge.
Such a fun night at the game! If you are in Philly I highly recommend a game — if just for the food alone!
---
Like this post? Save it on Pinterest!