Ho Chi Minh City, formerly known as Saigon, is a bustling city that you should absolutely visit while traveling in Vietnam. There are so many beautiful temples, enlightening museums, delicious local dishes and a vibrant nightlife to experience… You'll love our guide to the Best Things to Do while visiting Ho Chi Minh City for discovering the must-see sites of Saigon!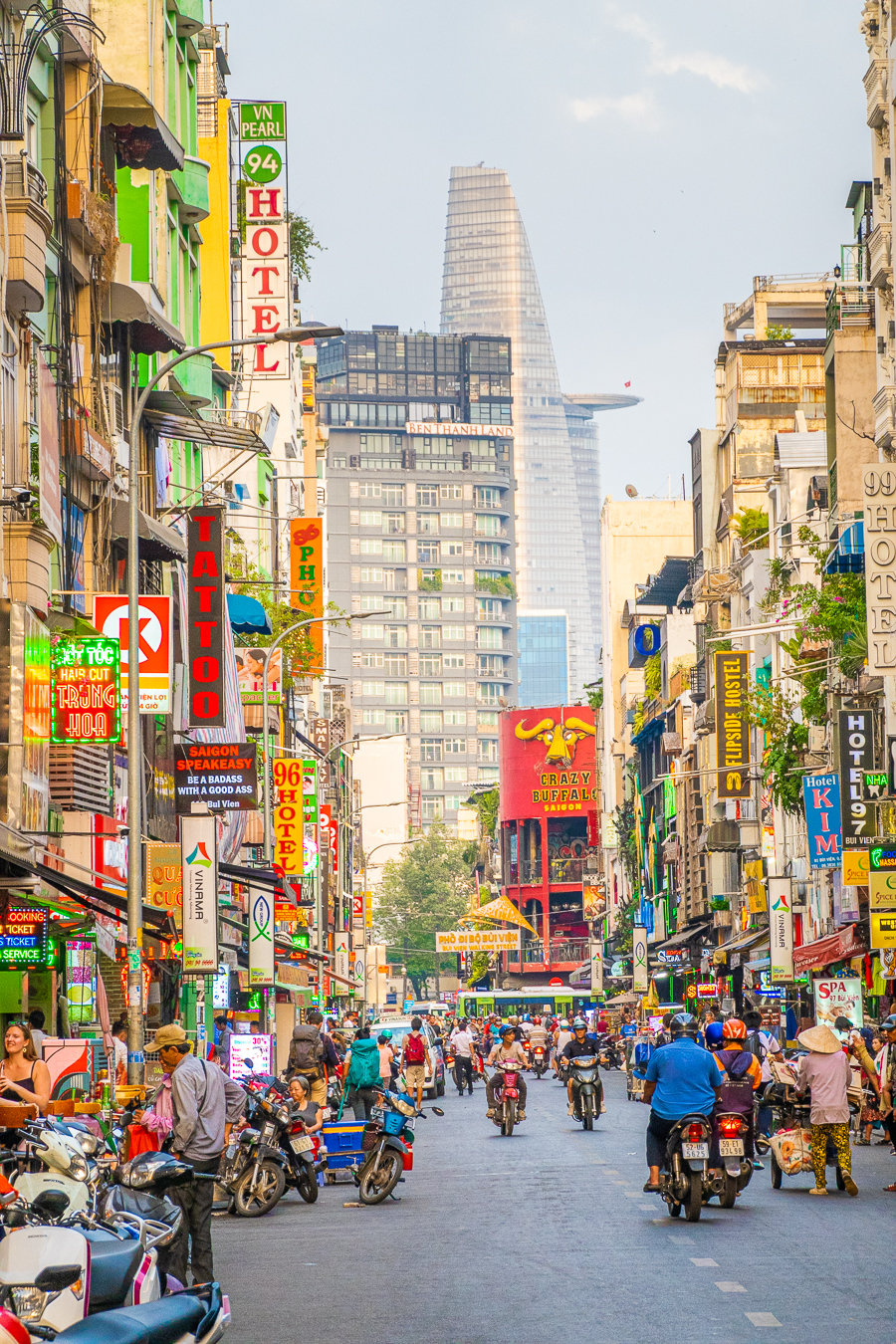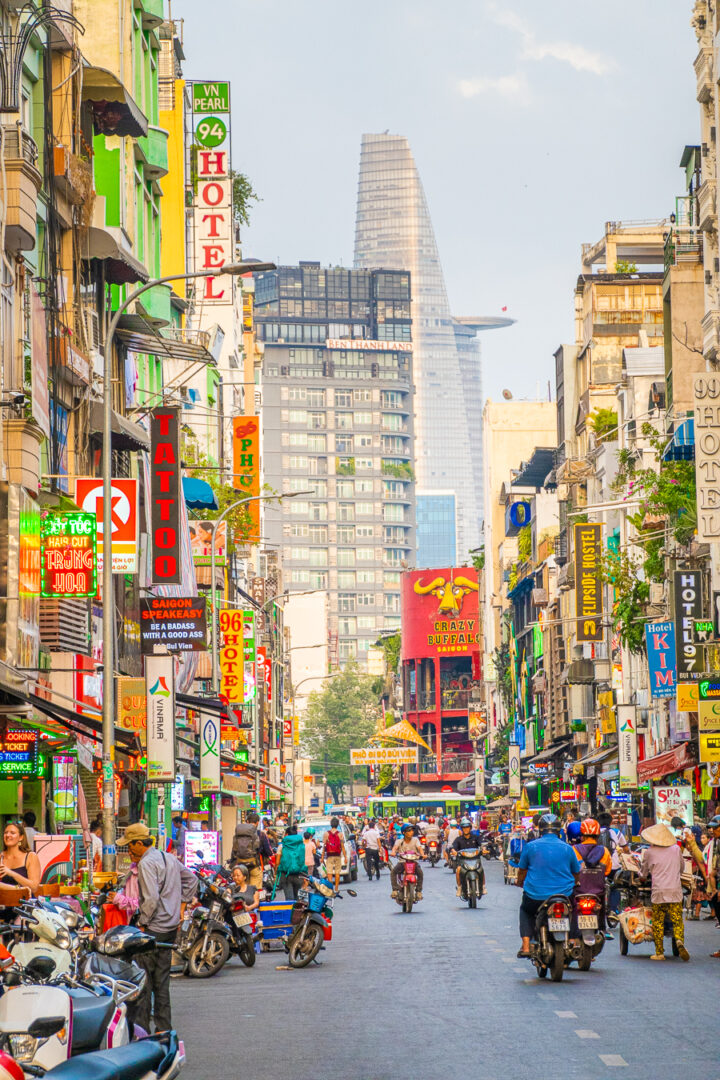 Where is Ho Chi Minh City?
Formerly known as Saigon, Ho Chi Minh City is the largest city in Vietnam. It's located in south Vietnam near the border of Cambodia.
Before the Vietnam War, the two countries were divided into North and South Vietnam. Saigon was the capital of South Vietnam, while Hanoi was the capital of North Vietnam. The name was changed from Saigon to Ho Chi Minh City after the north won the war and took over the south.
Hanoi is now the capital of the unified country of Vietnam, but Ho Chi Minh City remains a popular tourist destination in Southeast Asia.
Traveling to Saigon
In fact, the largest airport in Vietnam is in Ho Chi Minh City. There are many international flights to and from here, and so it's a a great location to start your tour of Southeast Asia.
If you're wondering how many days to spend in Ho Chi Minh City, you should plan to spend 2 full days to give yourself time to see all of the best things to do in Saigon.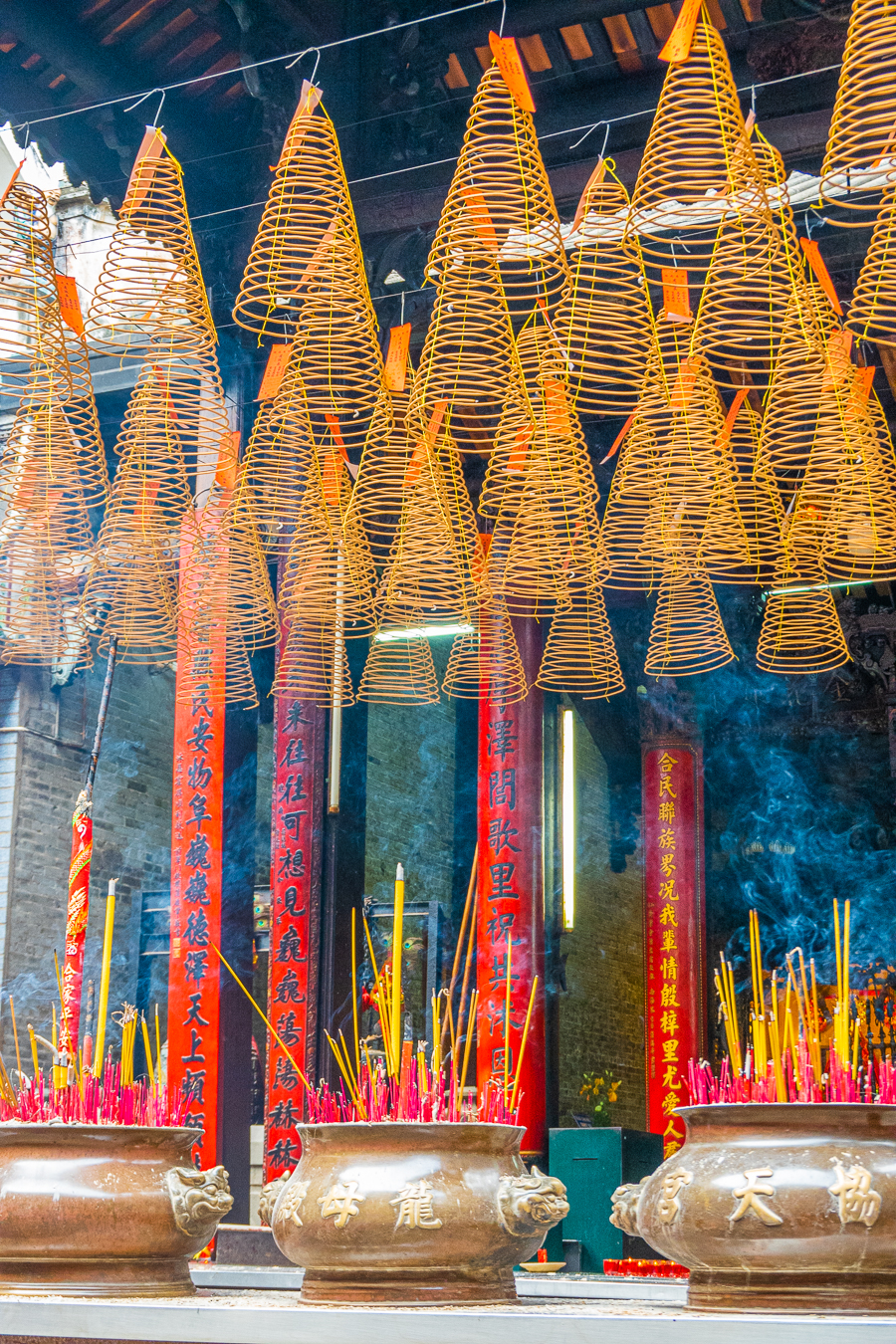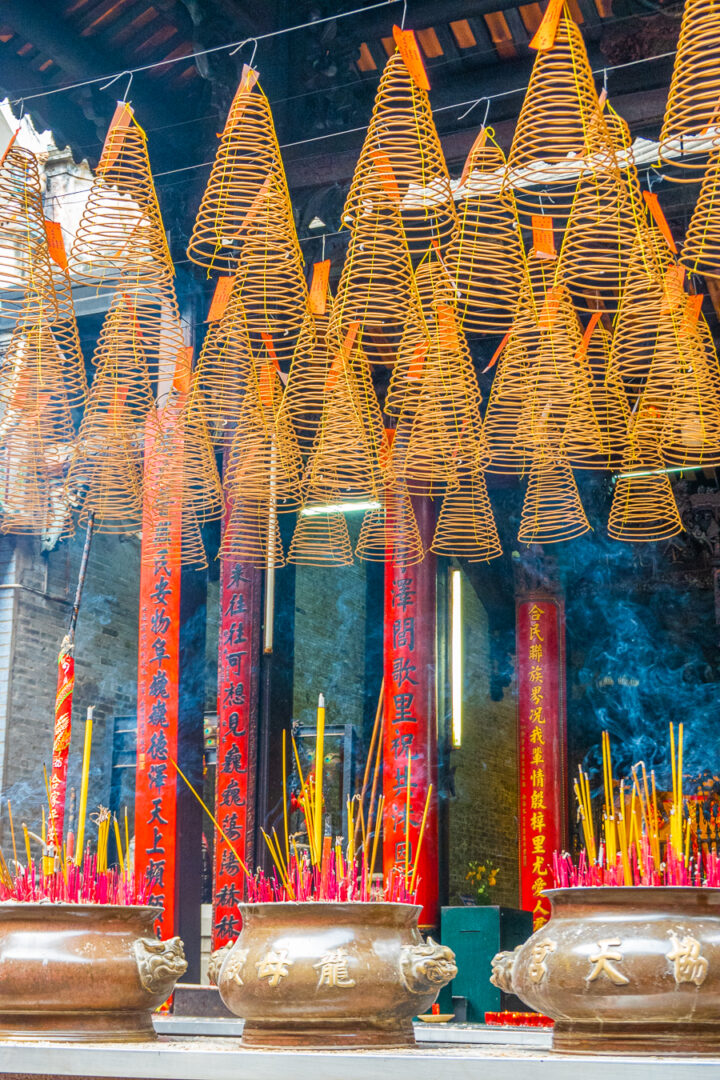 Do you need a tour guide in Saigon?
If you want a super easy and stress-free trip, I highly recommend booking a tour with Indochina Voyages. They offer sample itineraries for your visit to Vietnam, but they are also happy to customize a tour specifically to your desires.
When you book a tour with Indochina Voyages, your hotels and entry fees are included, so when you add it all up it's really not that much more expensive to have a private driver and guide in Vietnam when you consider all of the taxis, hotels, tickets, etc you'll have to book yourself. Plus, your trip will be so much easier and more enjoyable knowing that there is someone to make all of the detailed arrangements for you.
Indochina Voyages is a locally-owned family business thats loves sharing their country with foreign visitors. Their team will pick you up at the airport, and you will have your own private guide and driver with you for your entire trip. You're not just another client to them — you are a new friend! They will make sure you see all the best things to do in Vietnam because they are excited to share it with you.
President Jimmy Carter even chose Indochina Voyages to be his guide while traveling to Vietnam in 2009!
Tell Tuan Kevin and Amanda sent you!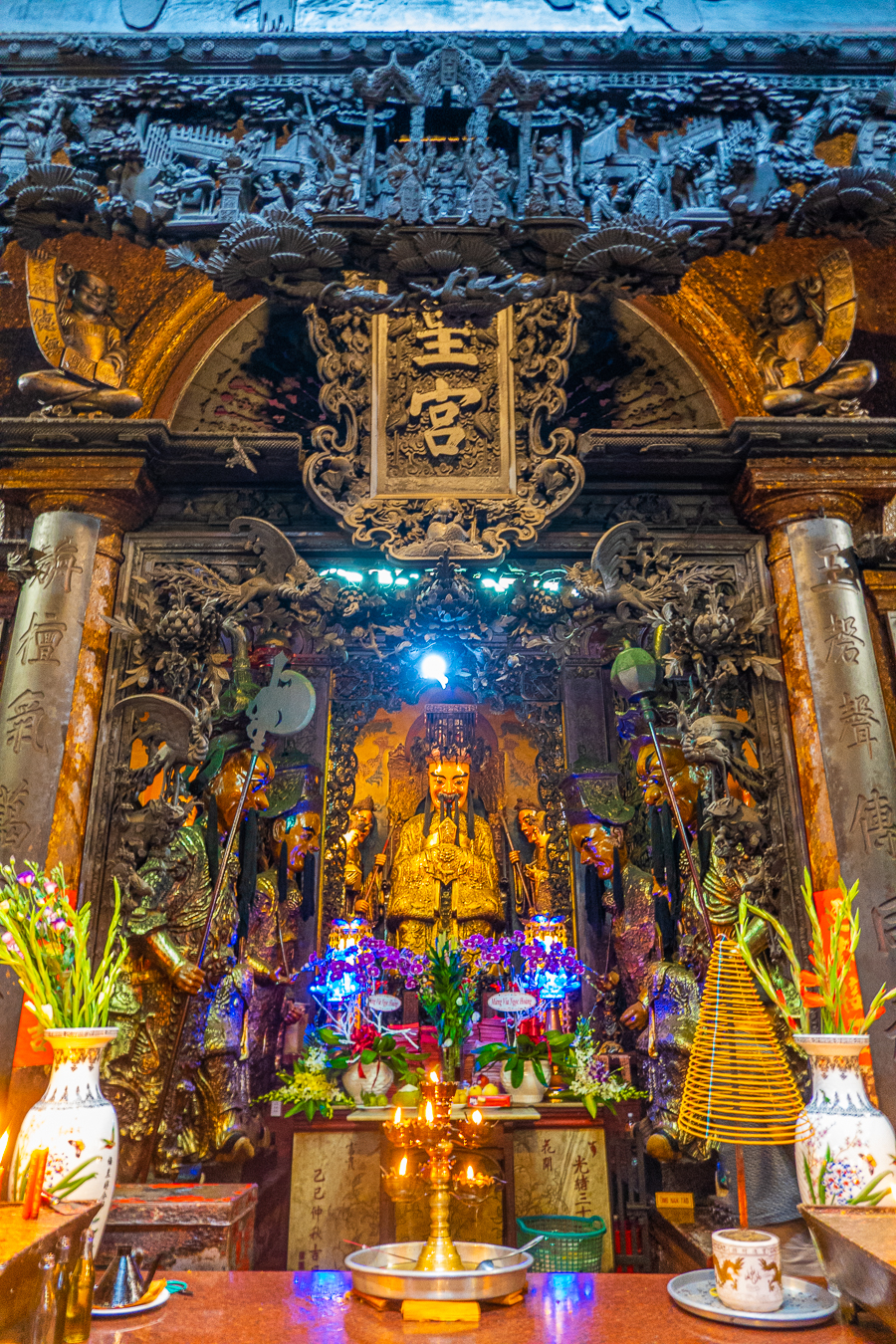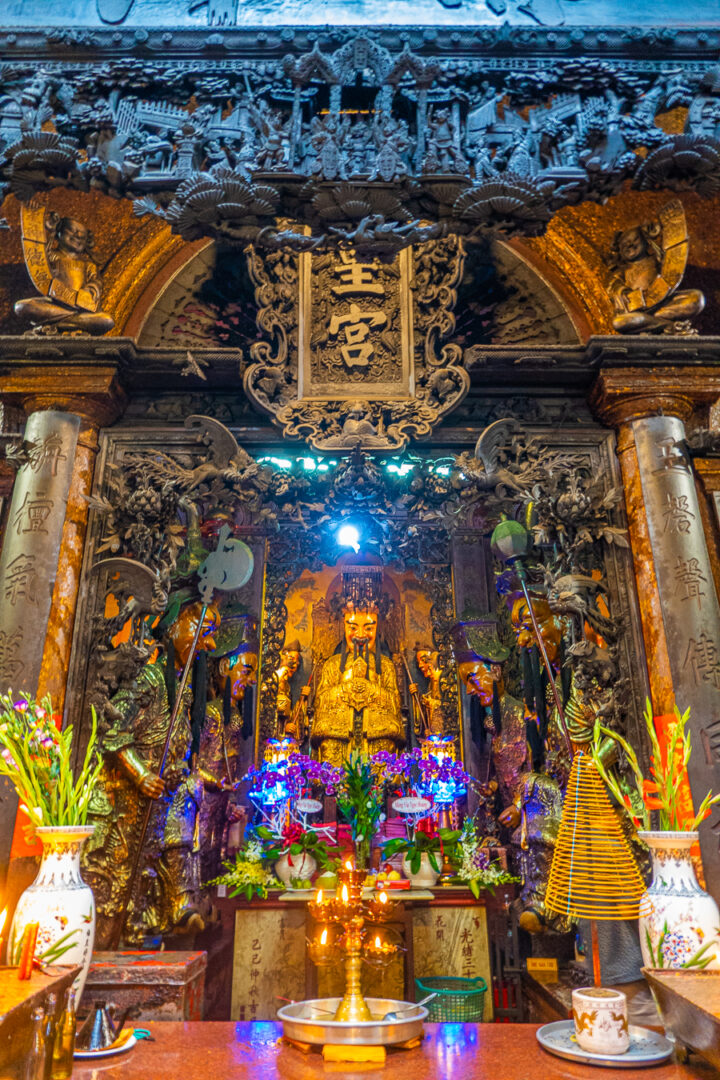 Here are the most important things that you absolutely don't want to miss during your visit to Ho Chi Minh City! We'll show you so you some hidden gems you won't see on a regular tour.
Best Things To Do in Saigon, Ho Chi Minh City: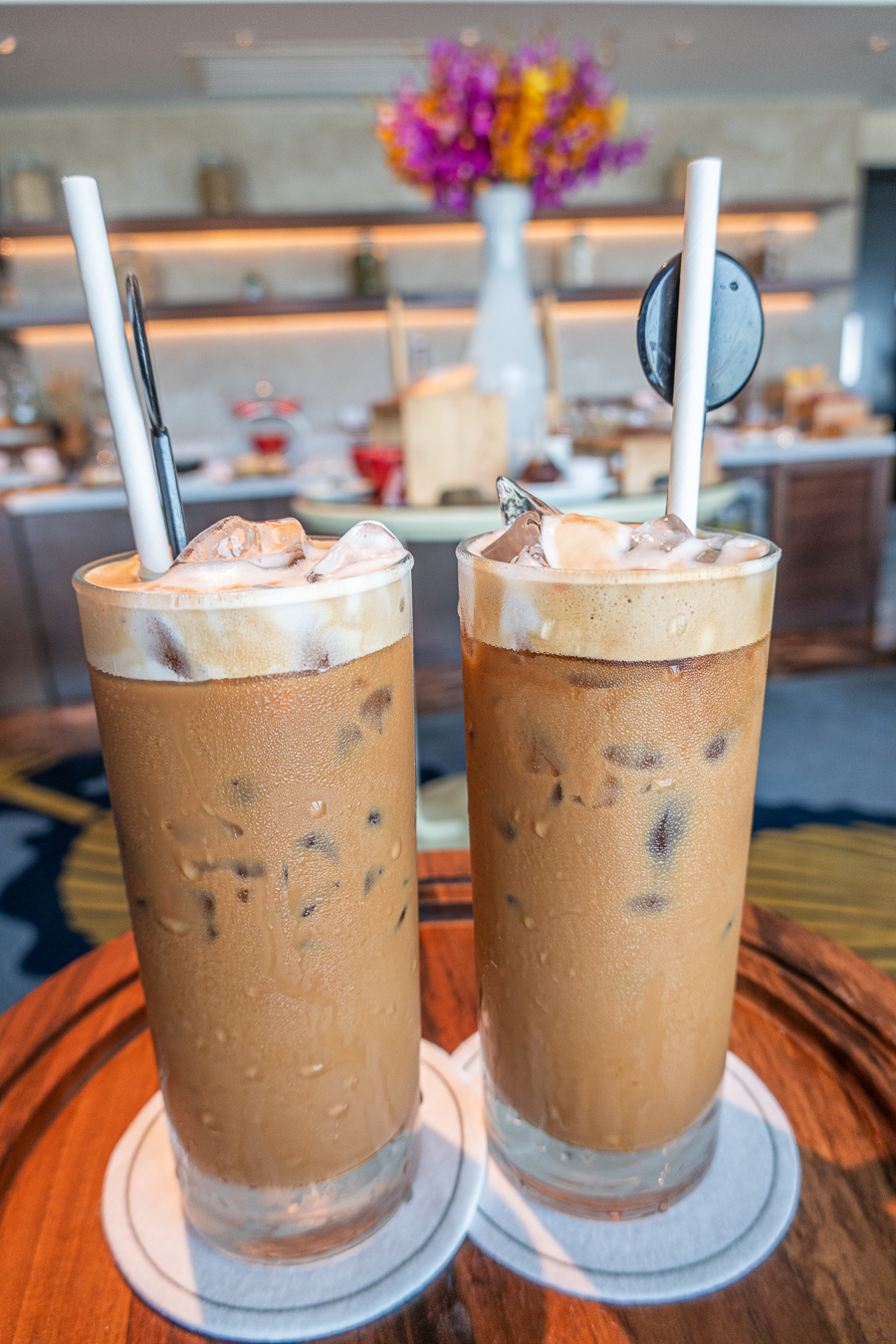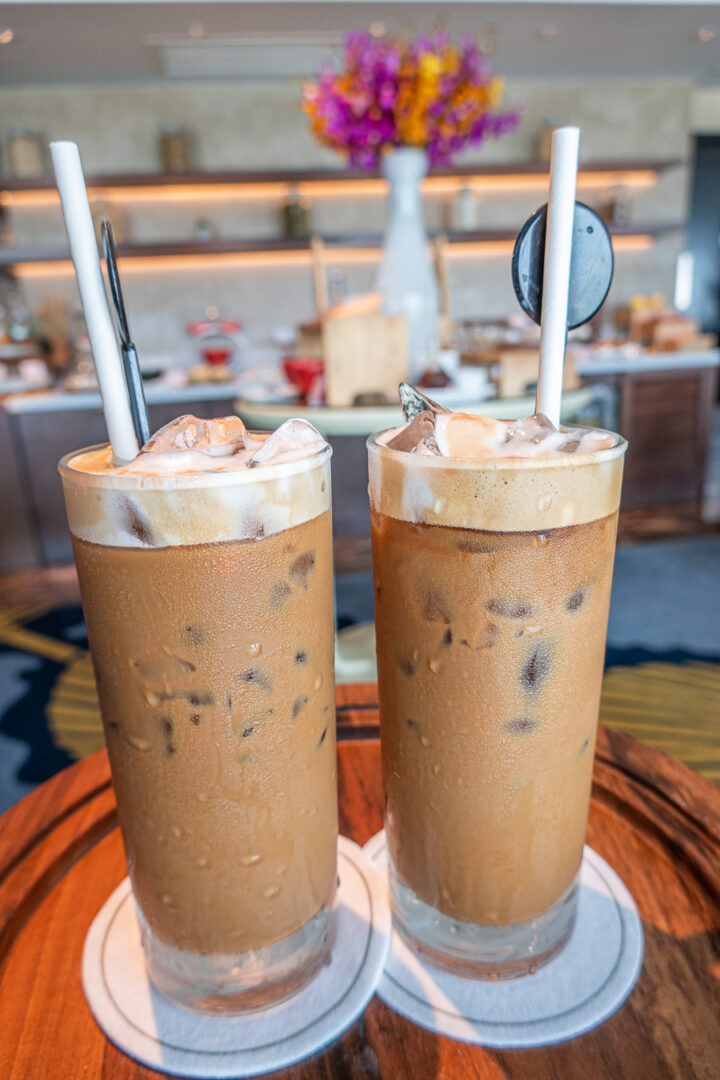 Start Your Day With Vietnamese Coffee
Wonderfully strong and sweet, we loved starting each day with a Vietnamese Iced Coffee. You can find this cold, creamy drink everywhere in Ho Chi Minh City! We were obsessed with the delicious version offered at our hotel for breakfast.
Have you had Thai coffee before? Vietnamese coffee is similar in that both are brewed to produce a strong coffee flavor. Like Thai coffee, traditional Vietnamese coffee includes a generous addition of sweetened condensed milk. This creates a rich, creamy, and deliciously sweet drink.
Served over a glassful of ice, Vietnamese coffee is a perfectly perky and refreshing way to get going exploring Ho Chi Minh City!
Explore the Cu Chi Tunnels
The Cu Chi Tunnels of Vietnam are an unbelievably expansive system of underground tunnels that run below much of Ho Chi Minh City.
This area was once a base during the Vietnam War, and everything needed by the soldiers was located underground. In the photos above you can see an underground kitchen and hospital. They are covered with a thatch roof now (for easier viewing by tourists), but during the war they were completely underground.
These tunnels were so difficult to find because of the complex system of "trap doors" (pictured above). Some lead to the tunnels while others led to spiked traps! Also, American soldiers were usually too big to crawl through the tiny tunnels even if they found the correct entrance.
You can now explore portions of the actual Cu Chi Tunnels (and try to crawl through them yourself!) while learning more about the history of the war.
For a more hands-on experience, you have the opportunity to shoot a real AK-47 rifle from the war. You can do this even if you've never shot a gun before. Of course, this is an optional part of the tour!
Visit a Rubber Tree Plantation
Did you know rubber bands grow on trees?? Stop by a rubber tree plantation on the way back from the Chu Chi Tunnels and see for yourself!
Plantations throughout South Vietnam produce latex and rubber used in products from tires to medical instruments. It's pretty amazing to see the raw form of this precious material we use in so many of our daily items.
That rubber thing I'm pulling in the picture looks and feels just like a rubber band!
Tour the Saigon Independence Palace
Now known as the Reunification Palace, the Independence Palace was formerly the home and workplace of the President of South Vietnam during the Vietnam War. It was also the famous site of the end of the Vietnam War, when a North Vietnamese army tank crashed through the gates.
The building was renamed Reunification Palace after negotiations between North and South Vietnam were completed in 1975. Much of the decor has been kept the same, so taking a tour of the national monument today feels like a surreal step back in time.
And the War Remnants Museum
Located just a few minutes away from Reunification Palace in Ho Chi Minh City is the War Remnants Museum.
Here you'll see military equipment, photos, and exhibitions all relating to the Indochina and Vietnam wars. There are both indoor and outdoor exhibits at the museum. Exhibits include items like a UH-1 "Huey" helicopter and "tiger cages" that were used to house prisoners. There are also many international photojournalism collections from the wars on display.
While these monuments and museums are not necessarily "fun" sites to visit while traveling in Vietnam, they are crucial locations for understanding and appreciating the rich, complex history of Saigon and modern day Vietnam.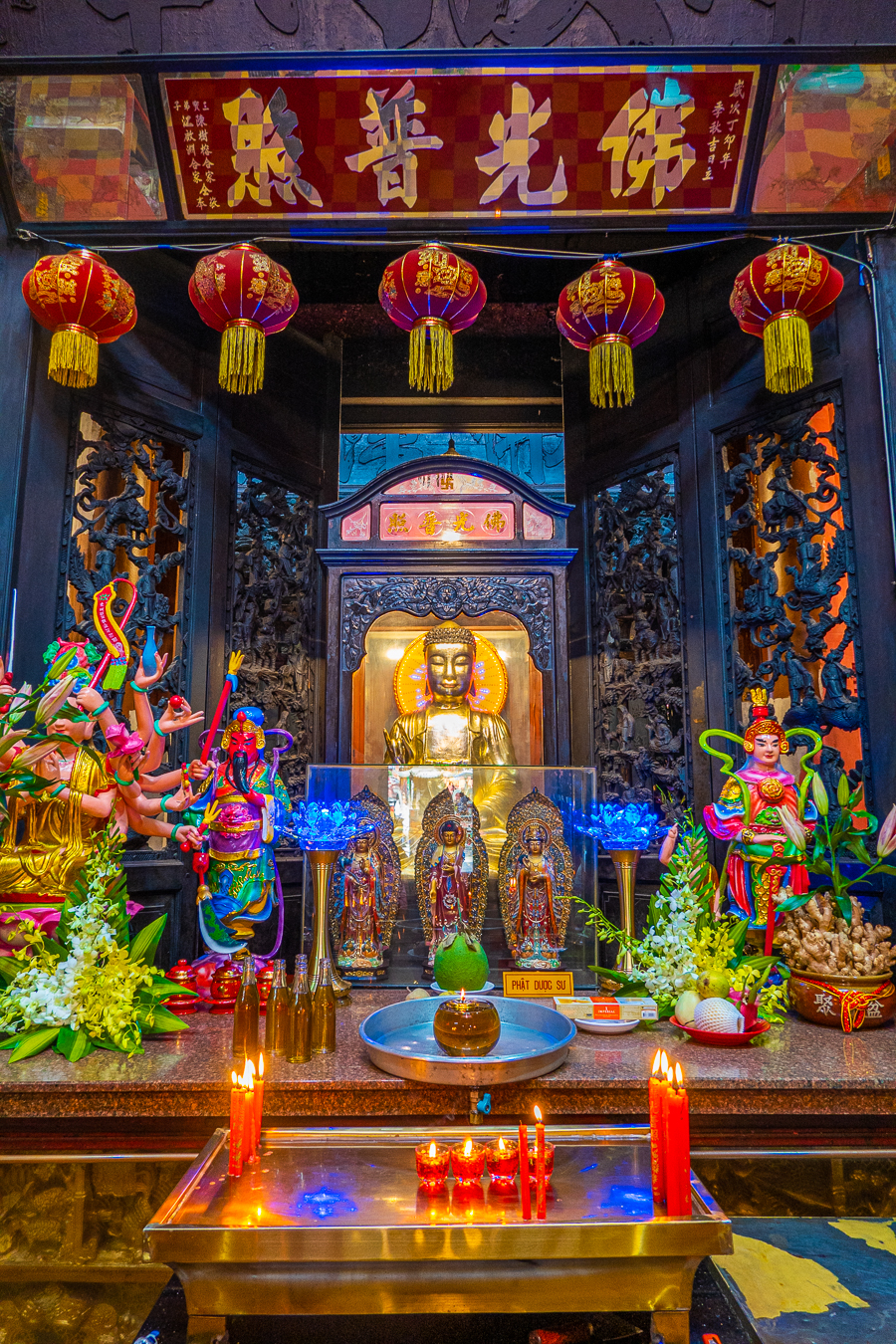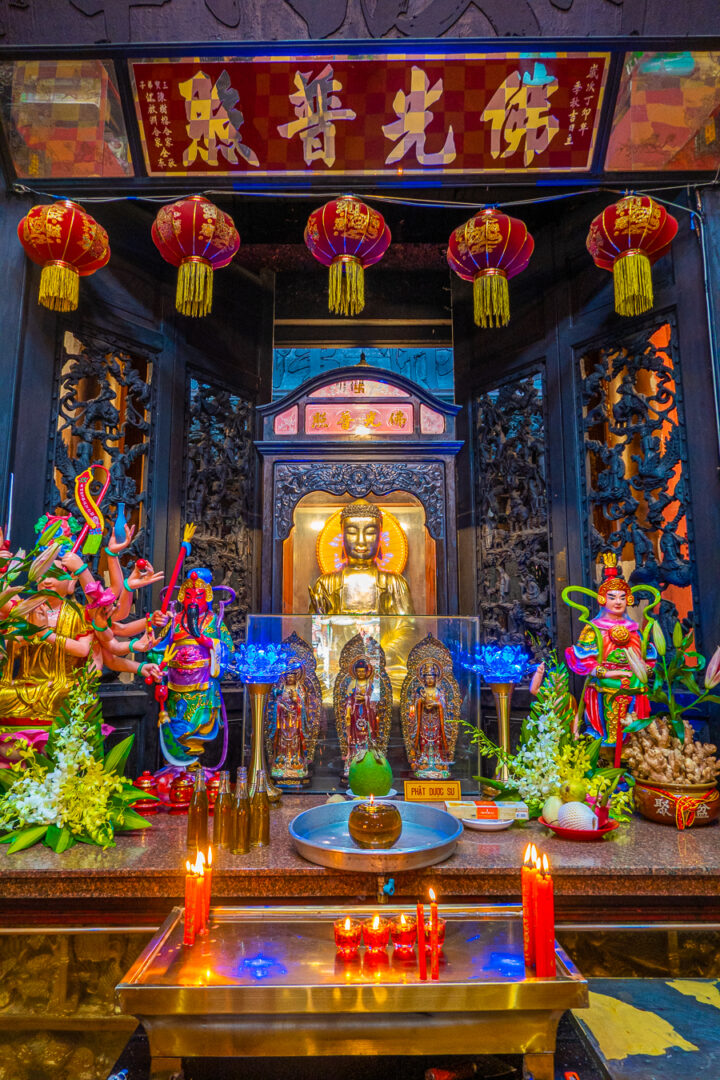 Visit the Jade Emperor Pagoda (Ngoc Hoang Pagoda)
After learning about the historical side of the region, now it's time to see more of the beauty and culture of the city.
Pictured above is a colorful Taoist pagoda known as the Jade Emperor Pagoda, also called the Tortoise Pagoda. It was built by the Chinese community in 1909, and remains a popular religious site and tourist destination today.
It is noteworthy that President Barack Obama visited this temple while traveling in Vietnam in 2016.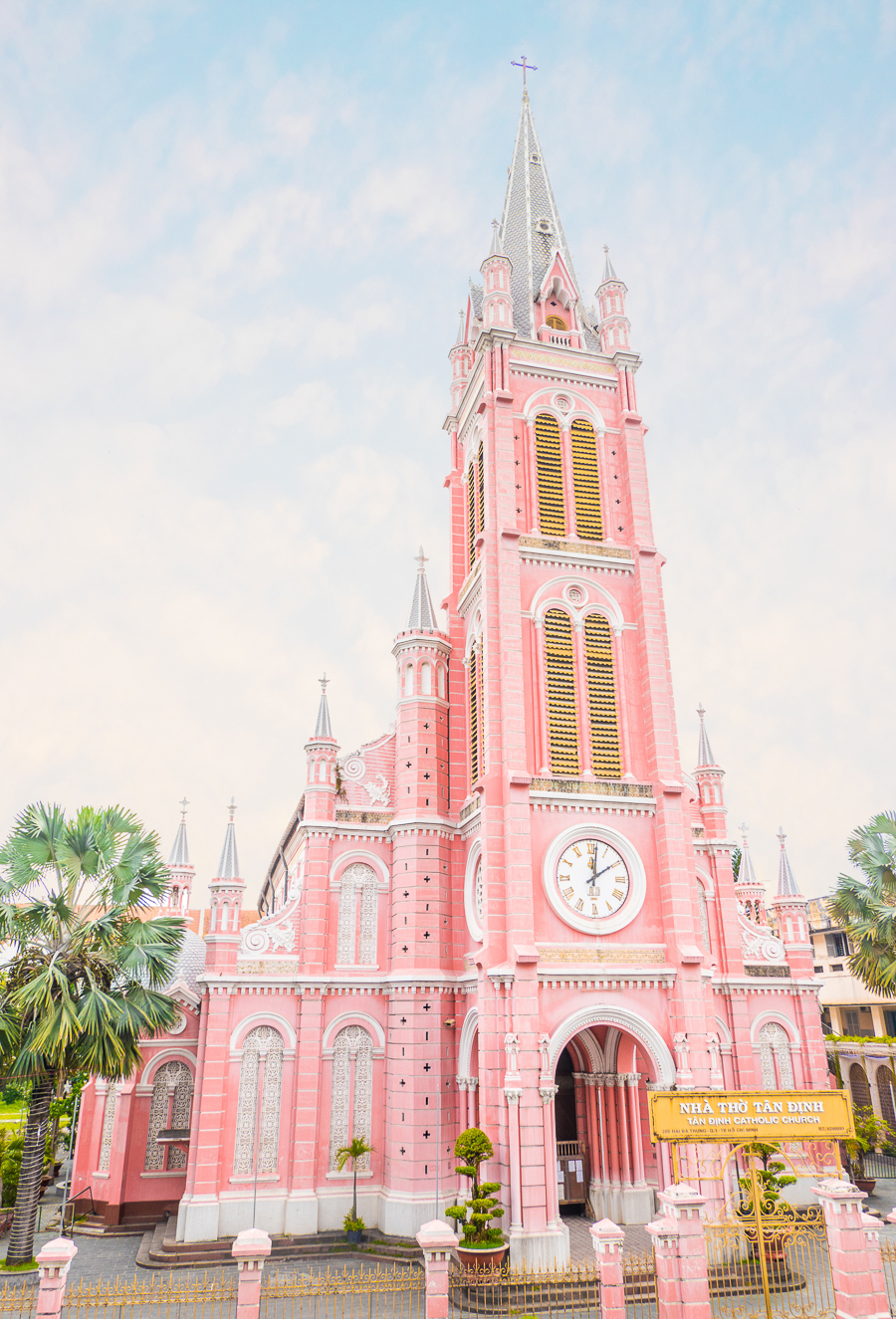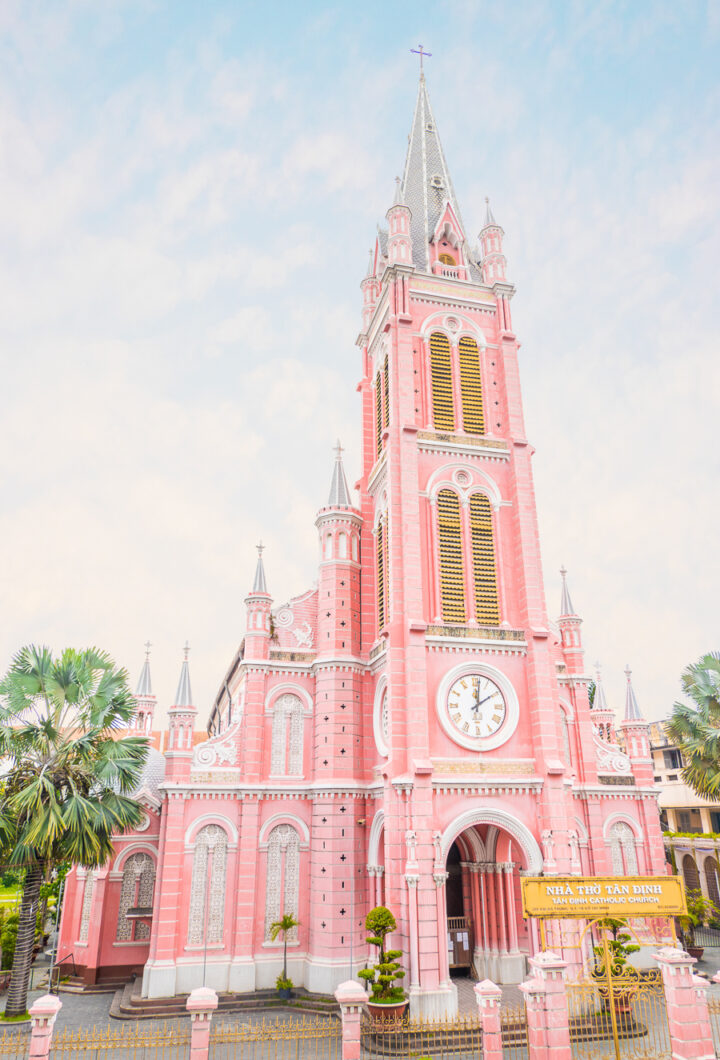 See the Pink Church in Saigon (Tan Dinh Church)
Another strikingly beautiful religious monument in Ho Chi Minh City is the Pink Church, known as Tan Dinh. A bright, bold pink color saturates the entire exterior of the church.
This Roman Catholic church was built in the 1800s, and is the second largest church in the city.
Visit the Pink Moment Cafe directly across the street for the best view of the church. They have super delicious smoothies and spring rolls, plus some gorgeous photo op spots. It's a great place to take a break during your day of touring Ho Chi Minh City!
Visit the Ba Thien Hau Pagoda
Another well-known Chinese-style Buddhist temple to visit in Ho Chi Minh City is the Ba Thien Hau Pagoda. This colorful temple is dedicated to the Chinese sea goddess, Mazu, also known as the "Empress of Heaven."
The temple was originally constructed in the 1700s by the Cantonese community living in Saigon, and continues to be an active place of worship today.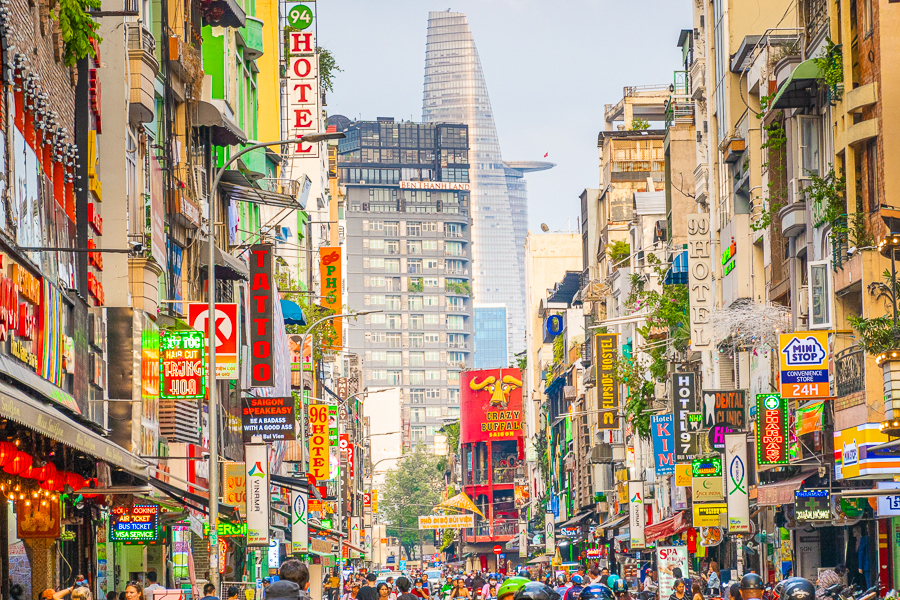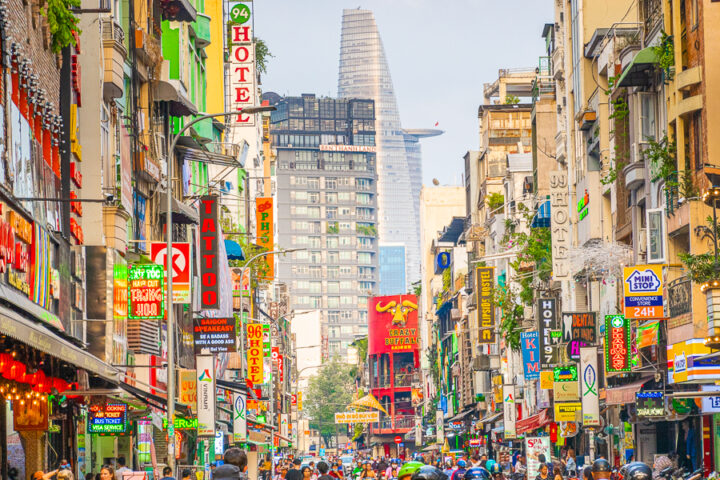 Stroll Backpacker Street (Bui Vien Walking Street)
Bui Vien, also known as Backpacker Street of Ho Chi Minh City, is a long street lined with bars, restaurants, cafes, small shops, and souvenirs.
It is called "Backpacker Street" because of the great number of hostels and cheaper hotels in the area. And since it's where backpackers like to travel while visiting Ho Chi Minh City, most of the restaurants and shops tend to be on the inexpensive side.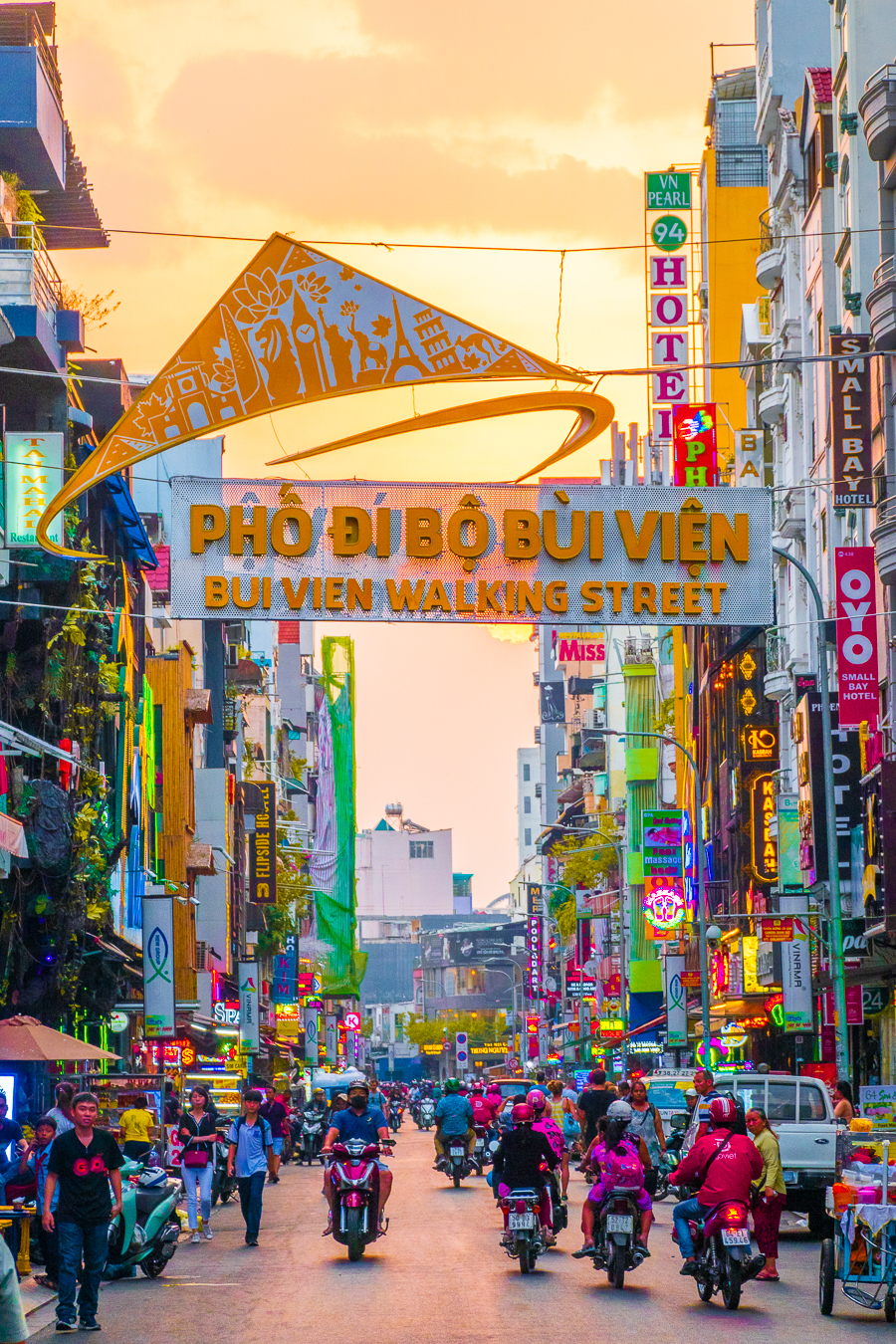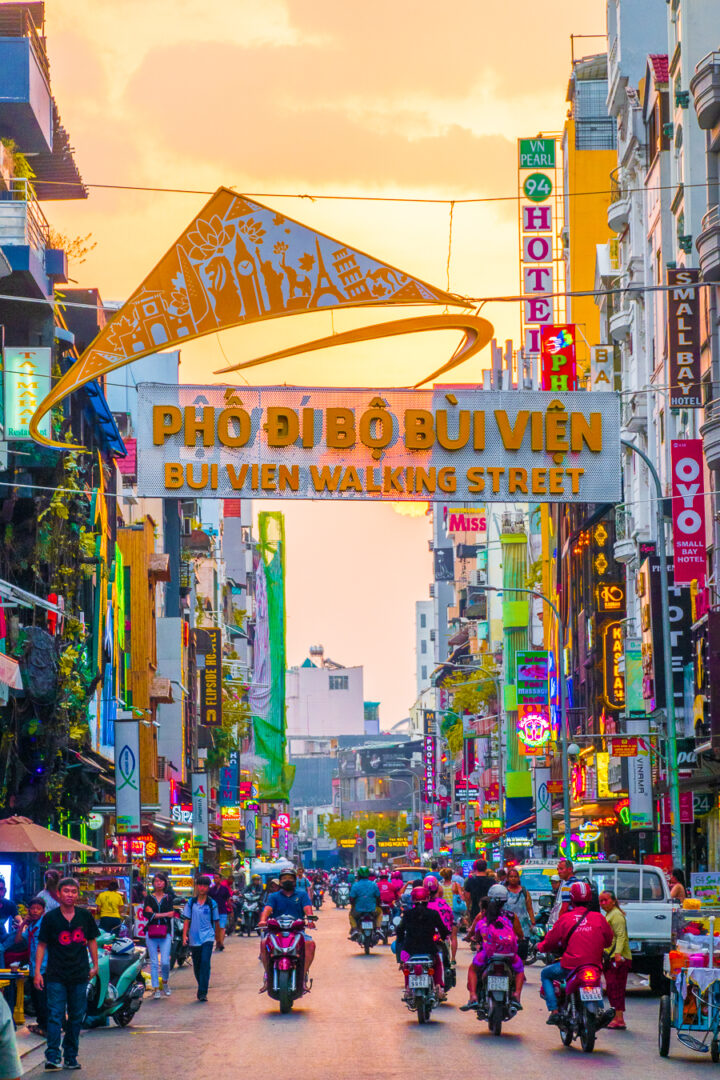 At night Bui Vien comes alive with loud music, bright neon lights, dancing, street vendors and entertainers. This popular destination for both locals and tourists is a great place to enjoy some interesting people-watching along with your dinner and drinks!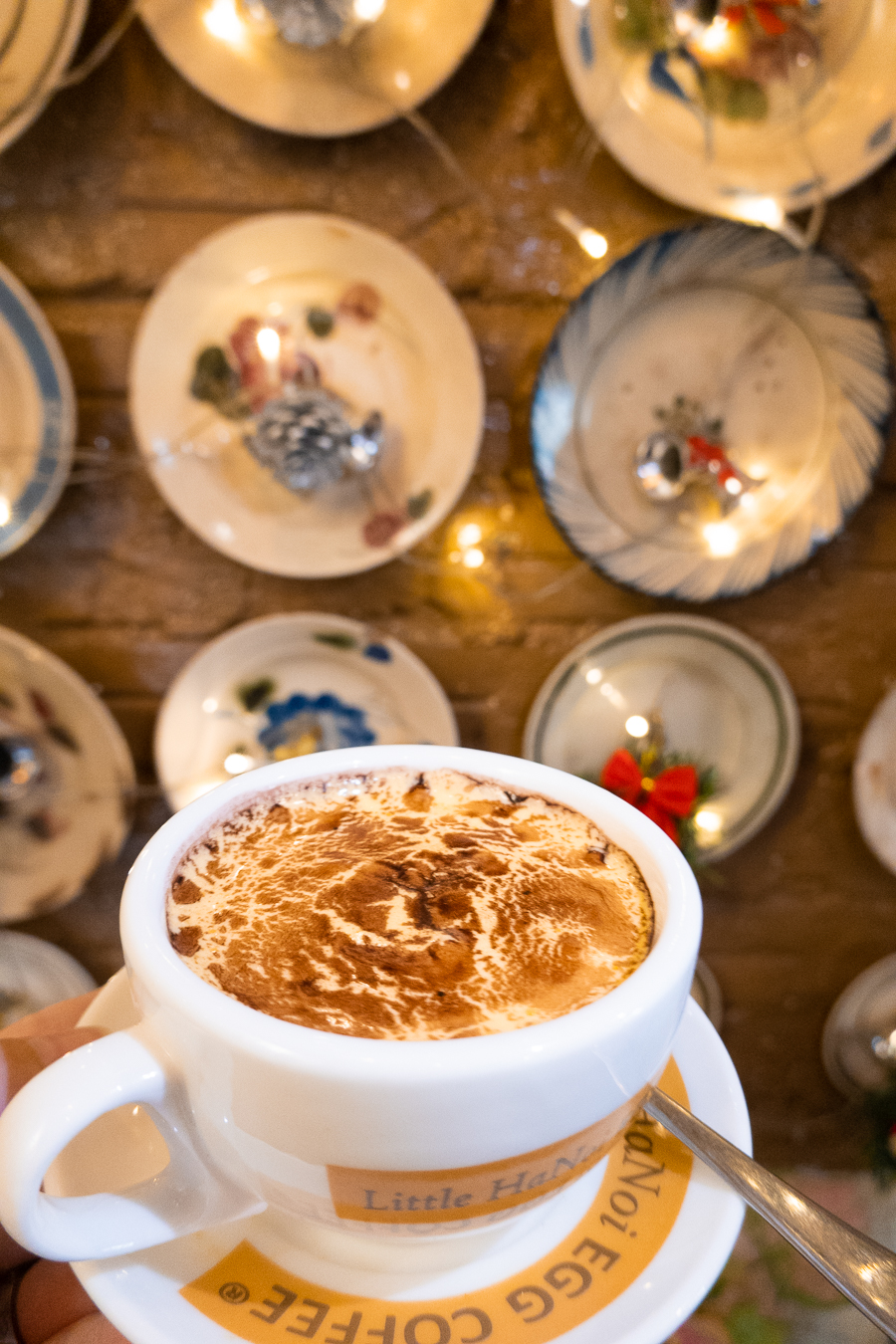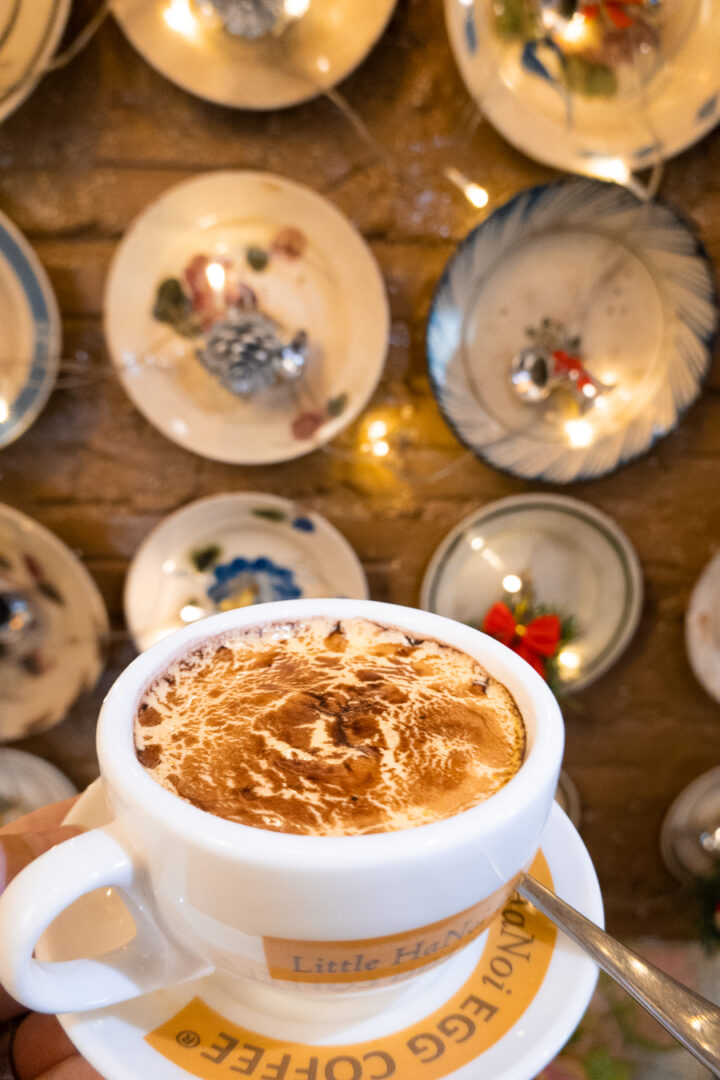 Try Vietnamese Egg Coffee
While you're visiting Backpacker Street, be sure to try an authentic Vietnamese Egg Coffee. Little HaNoi Egg Coffee is a super cute cafe that we love. It is a super charming place to stop and get your second wind for the evening.
Similar to Vietnamese Iced Coffee, egg coffee is sweetened with a generous helping of sweetened condensed milk. It is whipped with egg yolk and poured into strong, hot coffee to create an incredibly rich and creamy latte-like drink.
Egg coffee is more famous in Hanoi, where it originated, but is still quite popular in Ho Chi Minh City. It's totally unique to the country and you'll only find it when you travel to Vietnam!
Stop by the Saigon Central Post Office
The Ho Chi Minh City Post Office, also known as the Saigon Central Post Office, was constructed when Vietnam was a French colony in the 1800s. The massive building is a striking example of French, Renaissance, and Gothic architecture, and is still beautifully preserved.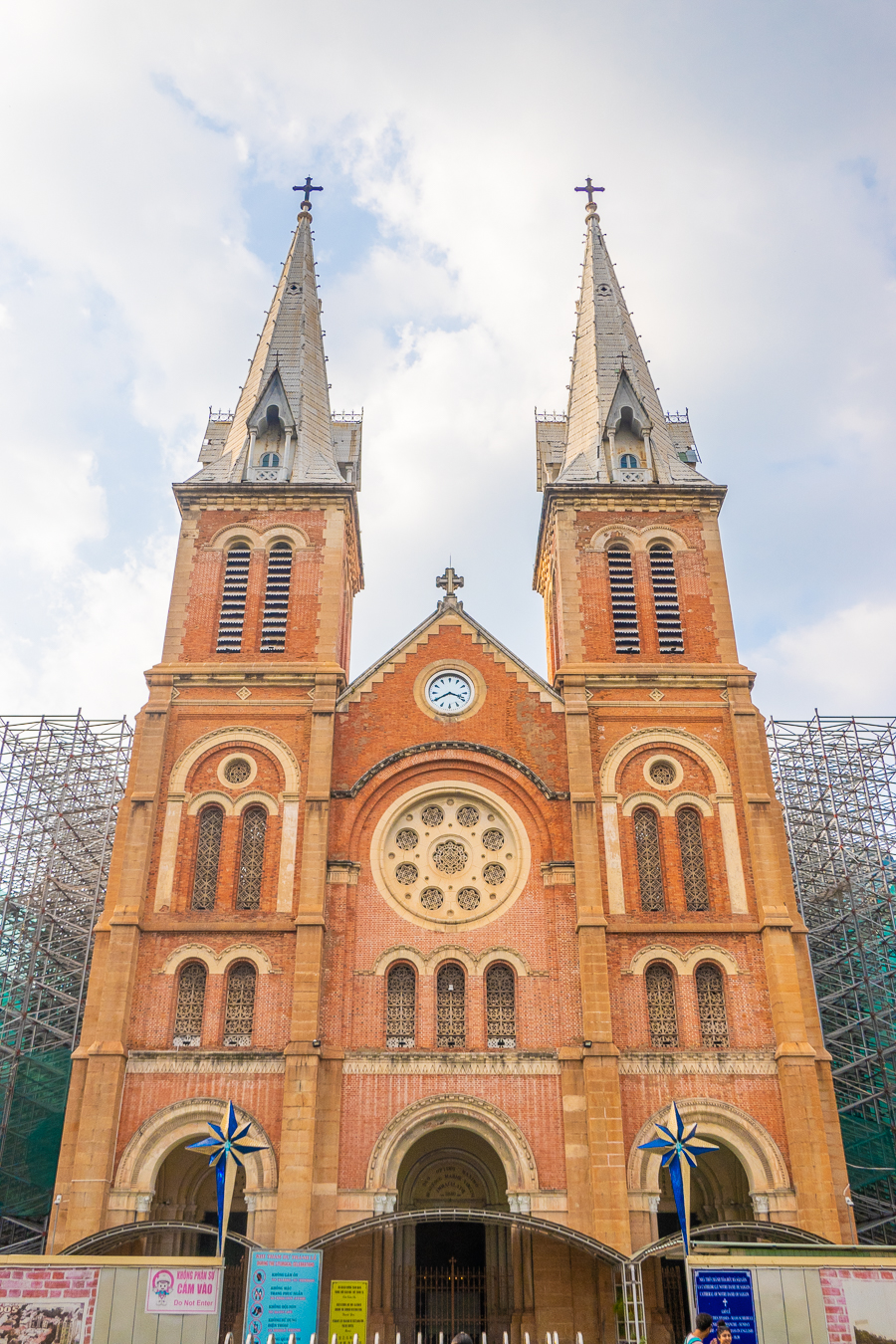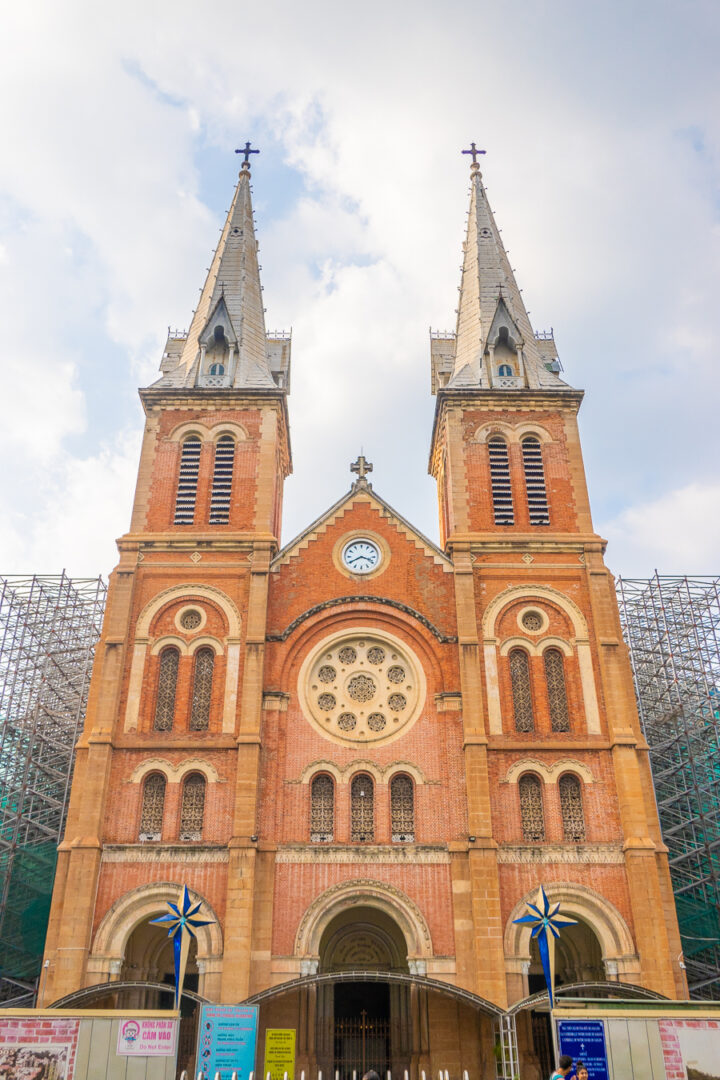 And the Notre Dame Cathedral
Located right next door to the Central Post Office is the Notre Dame Cathedral of Vietnam. This is another French colonial landmark and popular tourist destination. It is made entirely of materials imported from France in the 1800s. The beautiful building is a wonder to see for yourself!
Shop at the Ben Thanh Market
One of the first and most iconic buildings still standing from the former capital of Saigon is the Ben Thanh Market. It's undergone many renovations, but has continued to operate for over 100 years.
The indoor/outdoor market includes over a thousand vendors and runs both day and night. You'll find everything for sale from food items and clothes to furniture and household goods.
But a heads up: Don't plan to buy your souvenirs here while visiting Ho Chi Minh City. Everything is overpriced for tourists! However, if you are wanting to practice your haggling skills, this is the place to do it.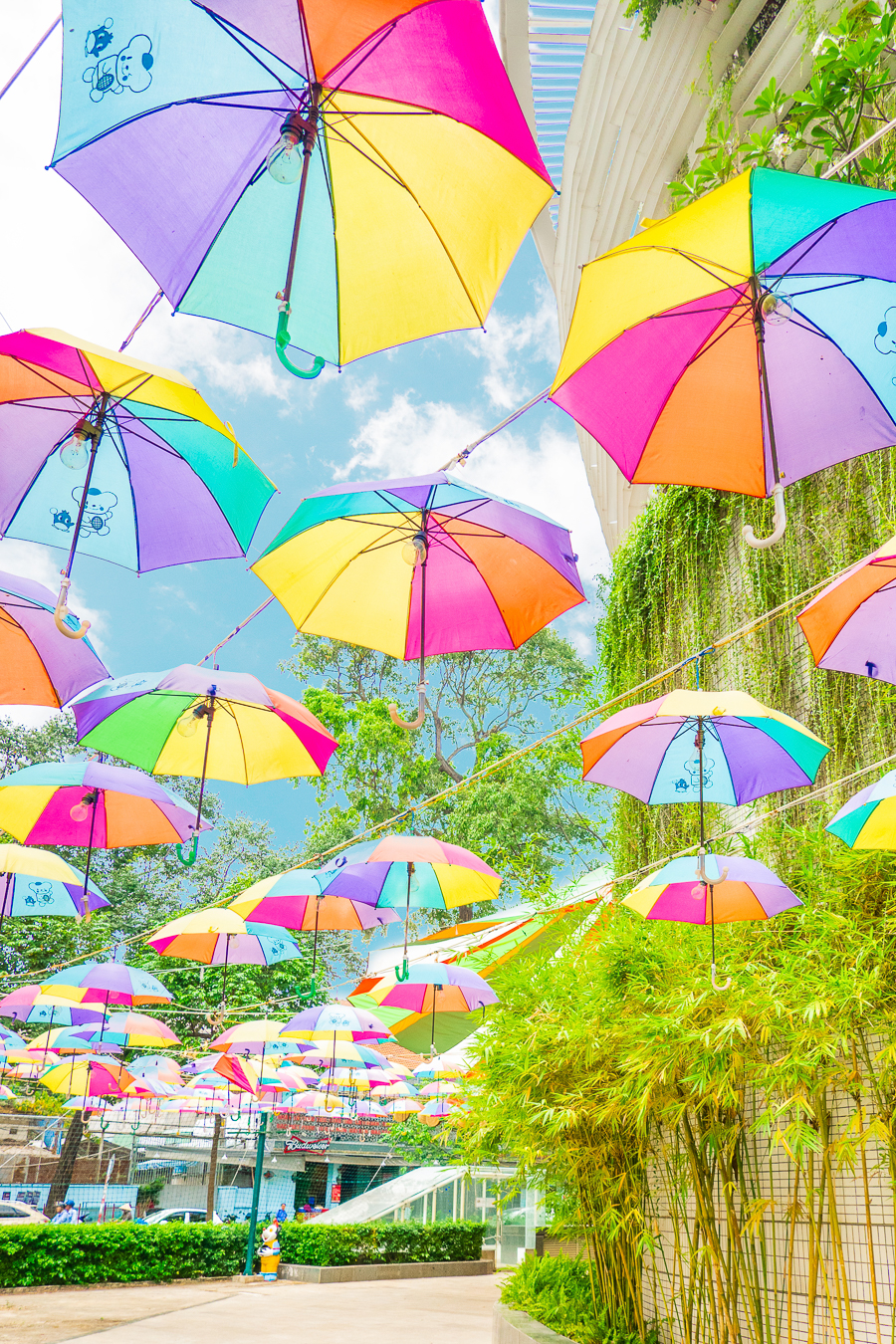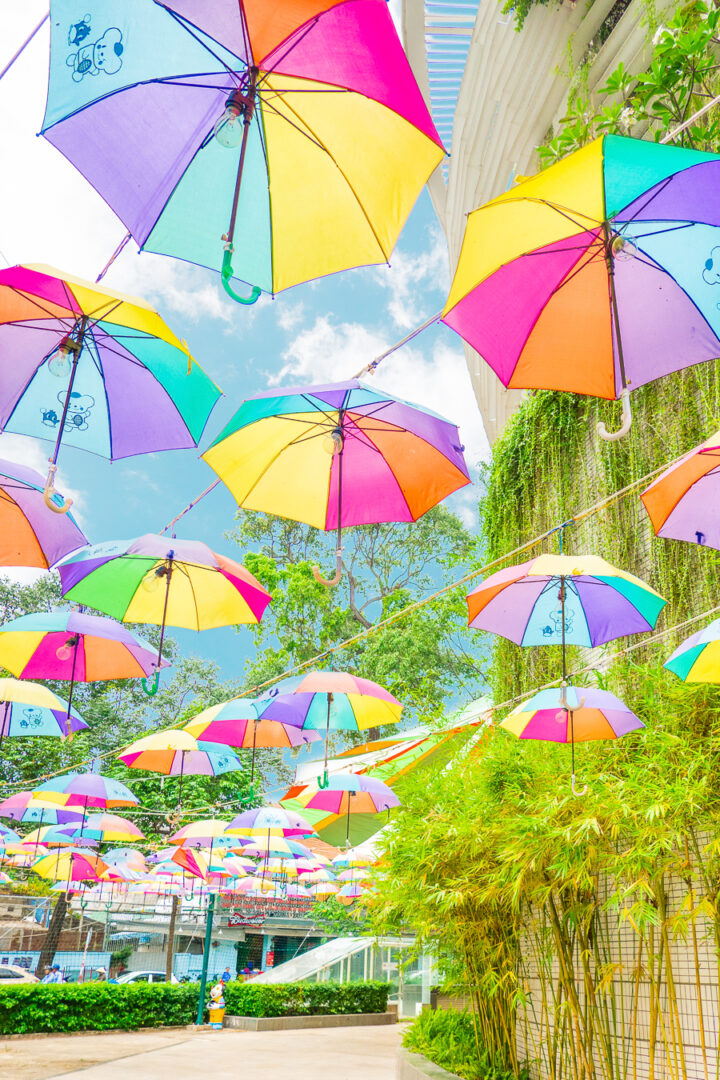 Snap Some Pics at Saigon's Umbrella Street
The Umbrella Street of Ho Chi Minh City is a popular spot for taking photographs. Dozens of bright, colorful umbrellas hang high in the air along strings of lights to create this modern art installation. Stop by and take a few pictures for Instagram during your visit to Saigon!
Here's the exact location of the umbrellas on Google Maps.
Where to Stay in Ho Chi Minh City
We highly recommend that you stay at the Sofitel Saigon Plaza while visiting Ho Chi Minh City. There are so many lavish amenities that staying here is like taking a vacation within a vacation!
The hotel is located in the heart of the city, conveniently near many of the best attractions. Rooms here are modern and comfortable, and have the best views of downtown Saigon.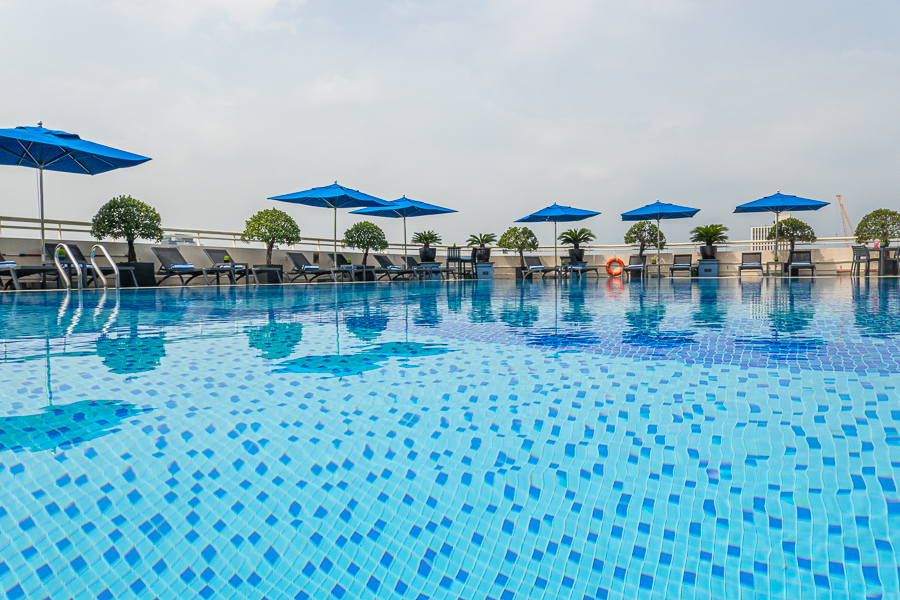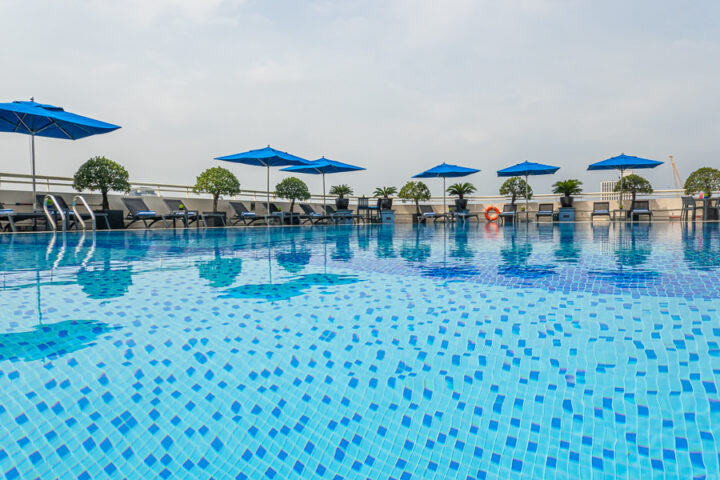 The rooftop pool is a piece of paradise, and is where you'll want to spend all of your free time. From here you can see all of downtown Saigon.
Just look at that amazing sunset view from the rooftop pool! This is a great place to have a sunset drink as you unwind each night.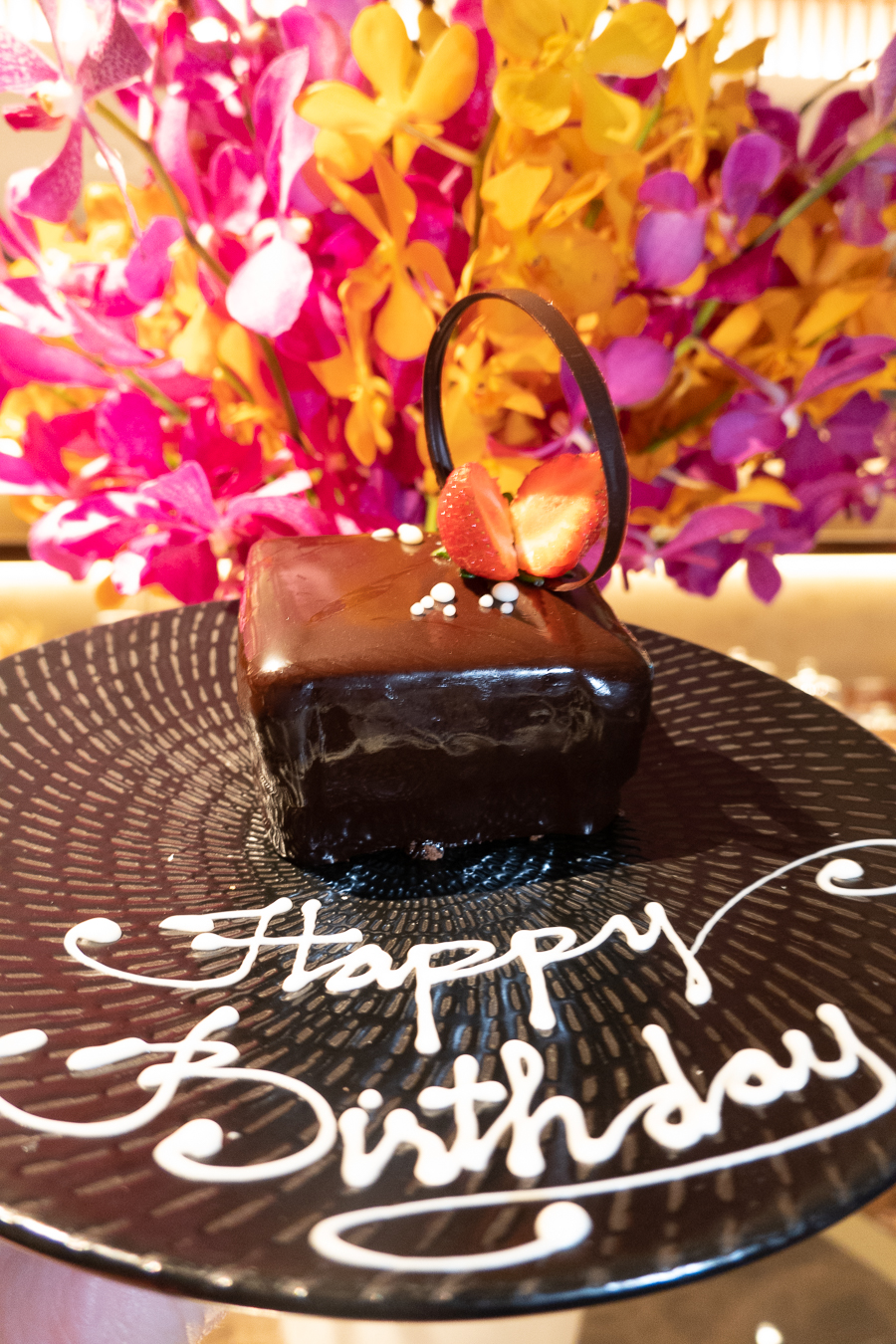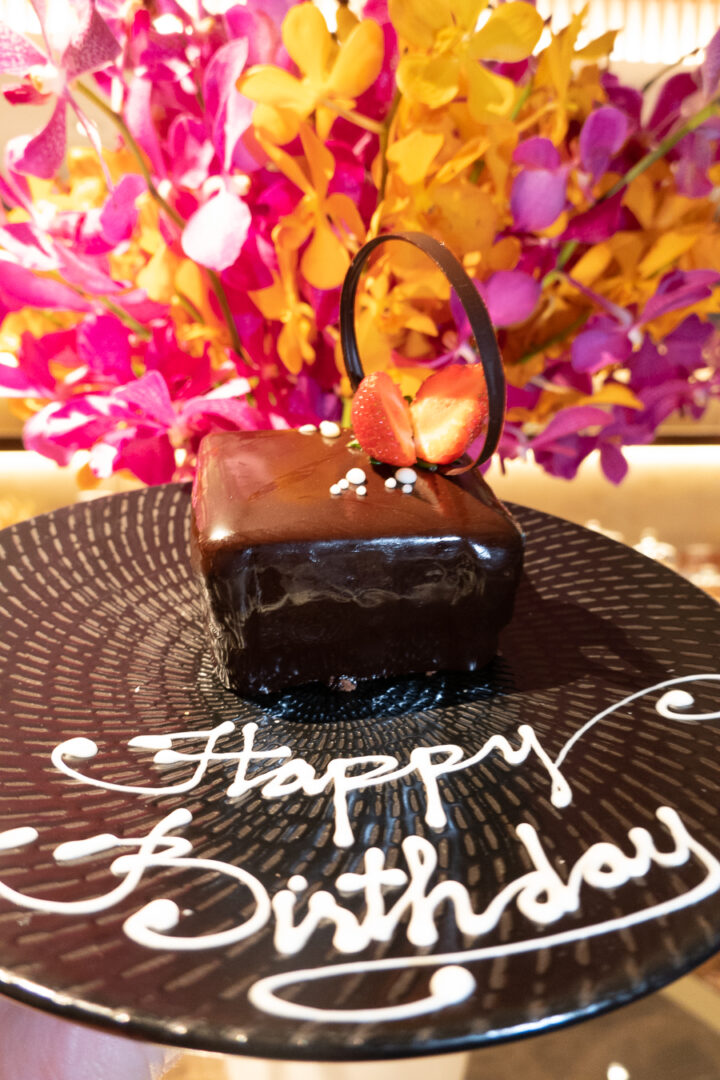 Not only is the Sofitel Saigon Plaza luxurious and relaxing, the hotel and staff are so attentive and thoughtful. We were traveling in Vietnam on my birthday, and I found this sweet treat waiting for me in the room when we got back after a long day of touring Saigon.
You are sure to enjoy a wonderfully memorable trip to Ho Chi Minh City when you treat yourself to a stay here!
---
Questions about Saigon / Ho Chi Minh City?
Do you have any questions about traveling to Saigon? Let me know in the comments! We want to make your trip as easy as possible, so we'll do our best to help.
---
Like this post? Save it on Pinterest!