Gaspesie is one of the most beautiful regions in Quebec. We've put together the ultimate 2-week road trip itinerary highlighting all the best places this breathtaking region has to offer. We'll show you exactly where to go, what to do, where to stay, and most importantly, where to eat!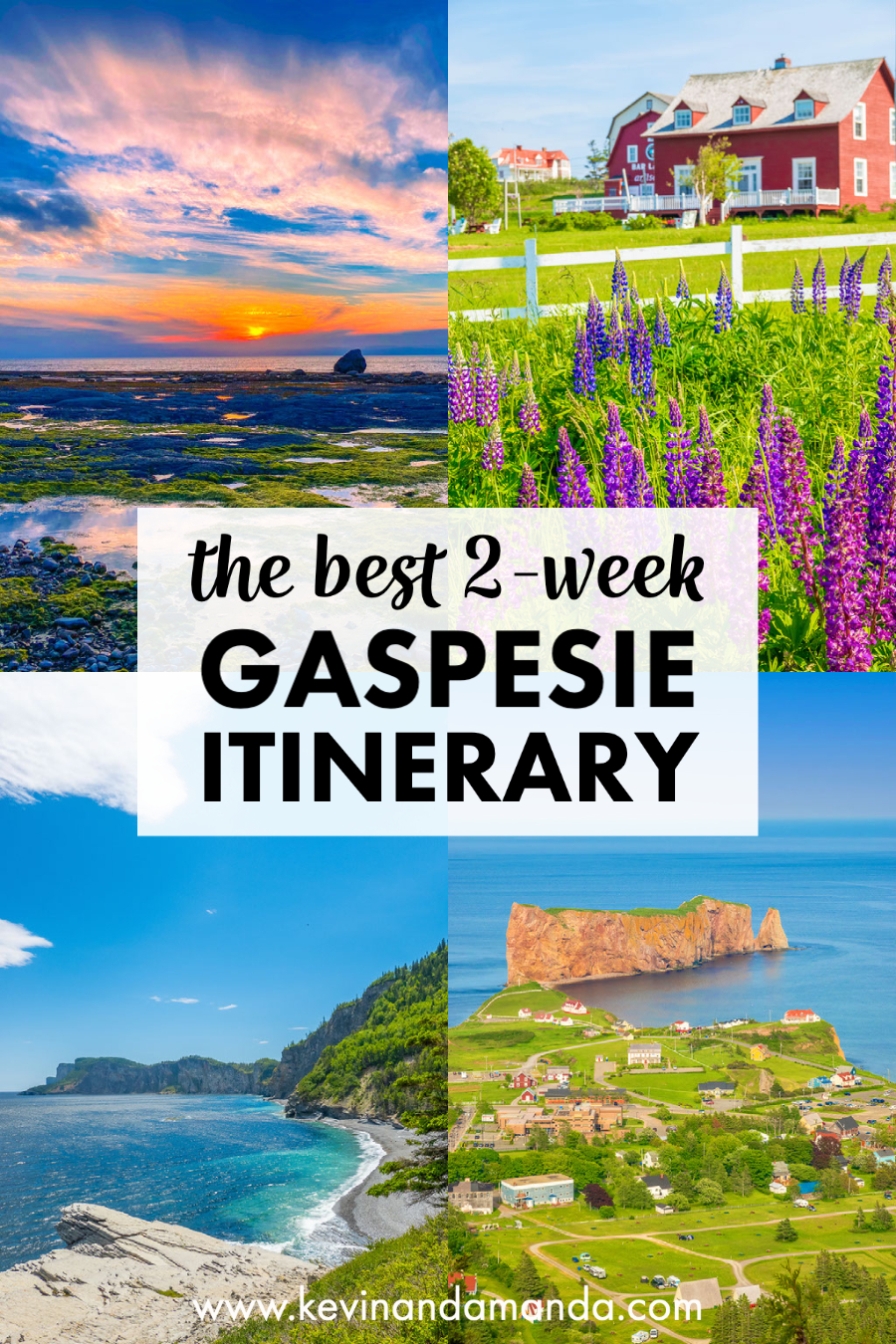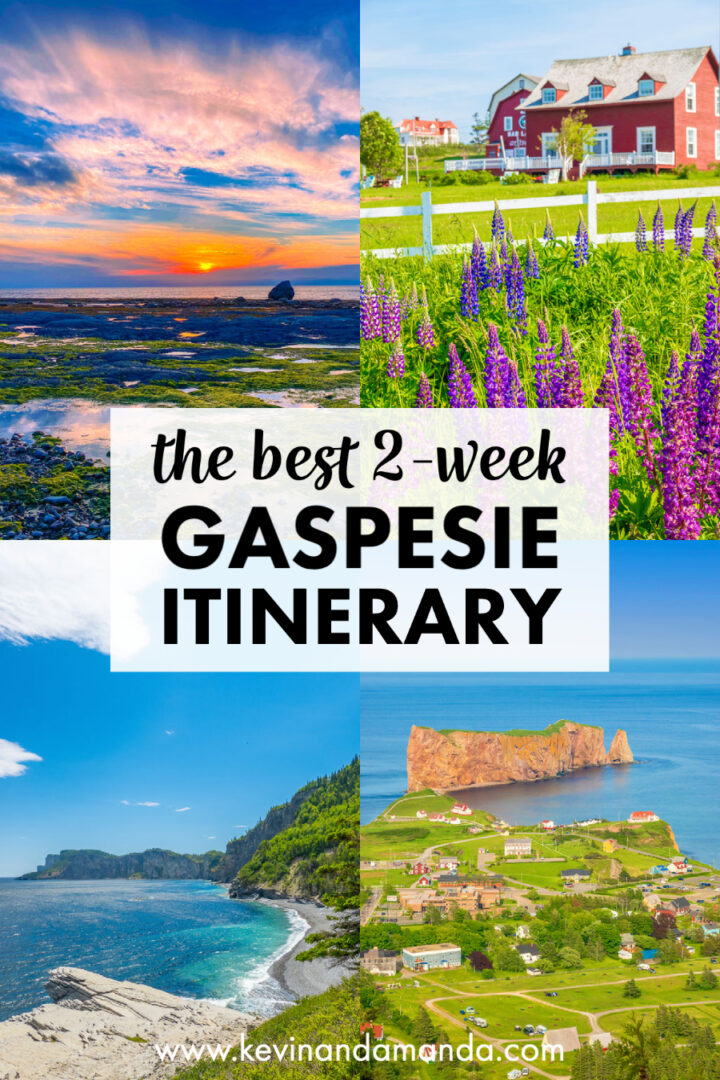 When is the best time to go to Gaspesie?
The best time to go to Gaspesie is from the end of June to early September. July and August have the best weather but will also be the most crowded and expensive time to go.
If you go in the summer (especially July/August), be sure to make your hotel reservations EARLY. There are not that many hotels in this region and they book up fast. Book your hotel as soon as you know your dates!
What is the weather like in Gaspesie?
Definitely check the weather before you go, and be prepared for anything! We went in late June and most days I wanted a sweatshirt and some days a windbreaker on top of that. But some days I was in a tank top! In July and August the weather might be warmer. But definitely bring a rain jacket!
Do I need to speak French in Gaspesie?
The official language in Quebec in French, and for almost everyone living in Quebec, French is their first language. In the big cities (like Montreal and Quebec City) most people are fully bilingual, but in the smaller regions like Gaspesie, English is less common. However, these are touristy places, so pretty much everyone will be able to speak enough English to help you / serve you. Don't be afraid to call to make reservations in English. But I do like to greet everyone first with a Bonjour and say thank you with Merci.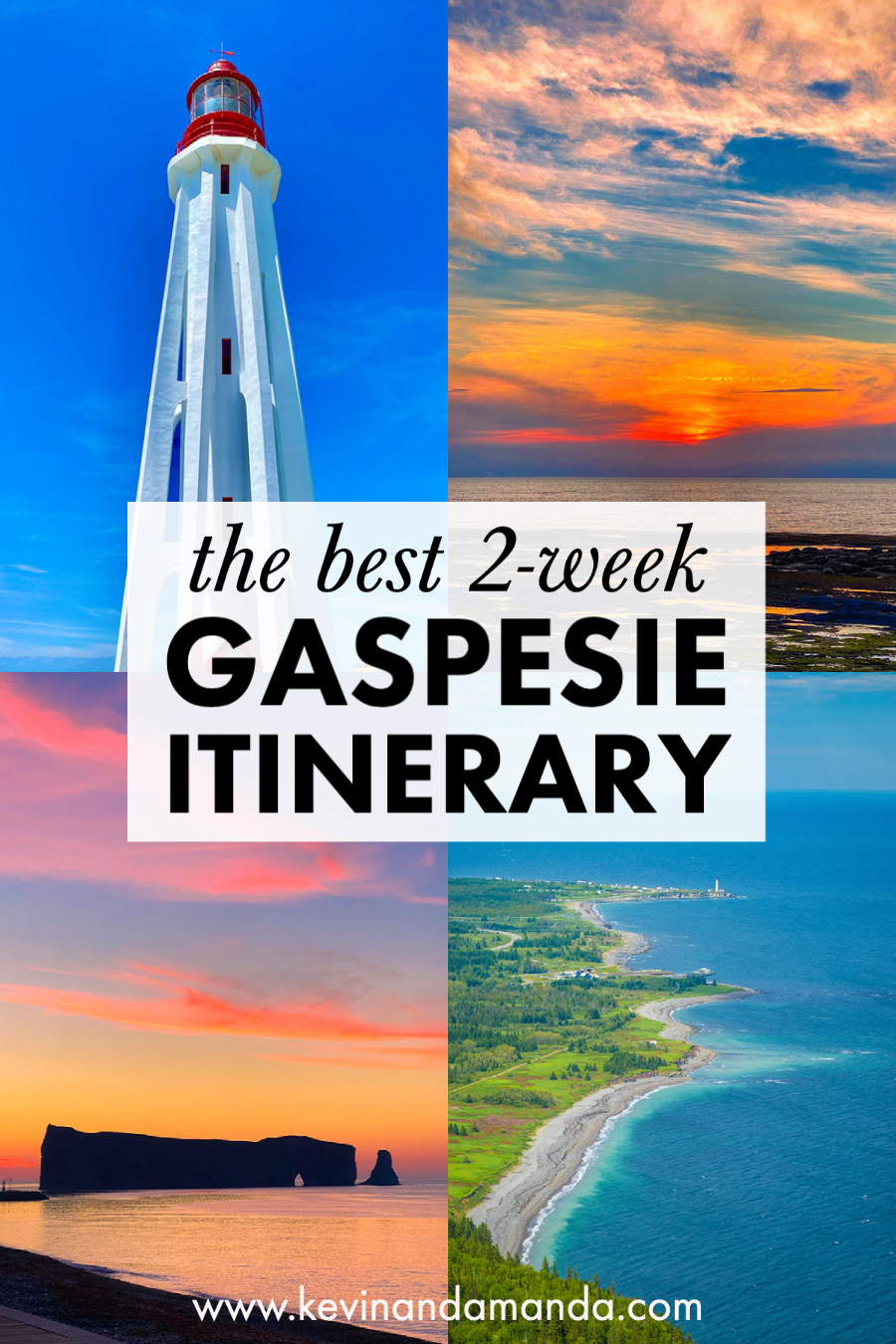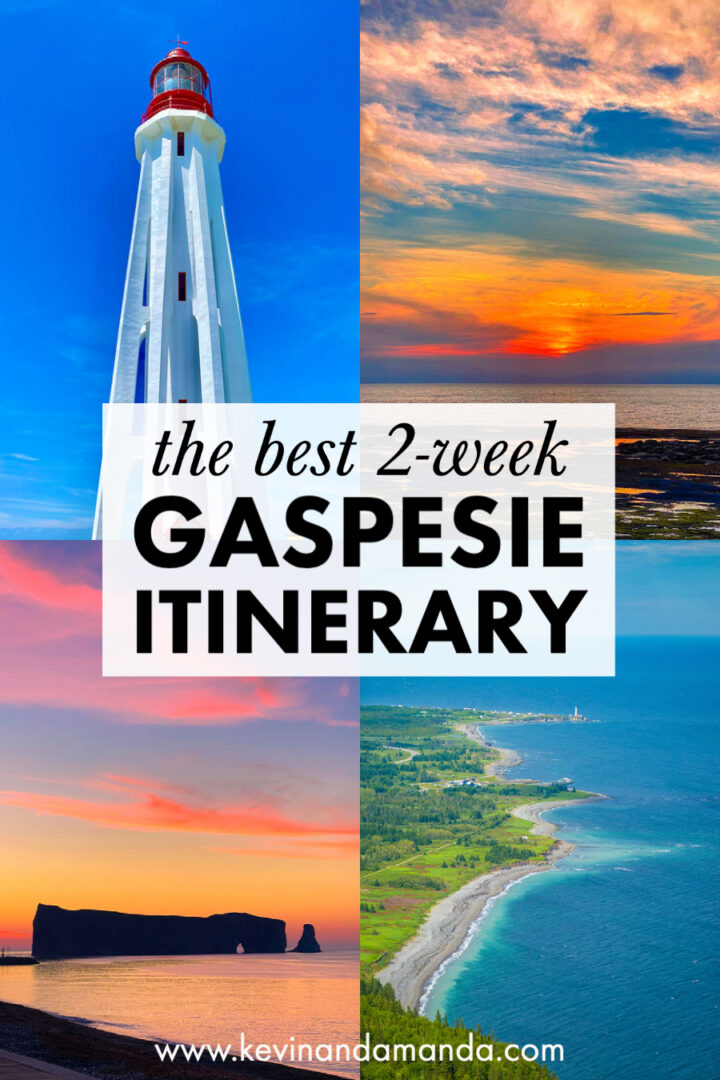 Gaspesie Itinerary Overview
You can start this road trip itinerary from Montreal or Quebec City.
We did Montreal > Sainte-Luce > Gaspé > Percé > Sainte-Luce > Montreal. We went to Sainte-Luce twice because the drive from Percé to Quebec City or Montreal is over 8 hours and we didn't want to drive that far in one day. If you don't mind being in the car all day, you can definitely make it back to Quebec City or Montreal in one day. However Sainte-Luce was so nice, we didn't mind going twice!
Also, if you are starting from Montreal, feel free to add a few days in Quebec City between Montreal and Sainte-Luce.
6 Days in Sainte-Luce
Sainte-Luce is sometimes called the Door to Gaspesie. It's a quiet, artsy seaside village with a unique colorful beach. We stayed in Sainte-Luce twice, once at the beginning of our tour, and once at the end. It's the perfect halfway point to break up the drive.
We recommend staying in Sainte-Luce twice — 3 nights at the beginning of your trip and 3 nights at the end.
Things To Do in Sainte-Luce
Walk on the beach
If you like taking long walks on the beach, Sainte-Luce is the perfect place! You can walk a little over 6 miles one way from one end of the beach to the other. The beach is wide, sandy, and flat in some places, and rugged with striking rainbow rock formations in others. It's so interesting to see all the different layers of the earth that have been pushed up onto the beach. This will definitely be one of the most unique beaches you've ever walked on!
Because of the rocky terrain in many places, you'll probably want shoes to walk on this beach. Some waterproof sandals so you can go in the water would be perfect!
Explore the village
Sainte-Luce itself is a tiny village with one church, one restaurant, and one boutique! There's a nice boardwalk in front of the bay with benches and picnic tables. If you walk along the boardwalk you'll find many informative signs to read as well as several tall, whimsical wooden sculptures carved by local artists. In the middle of the boardwalk there are bathroom facilities and a little snack bar / ice cream shop. On weekends, there's a little outdoor market near the church. Near the church there's a long pier with great views looking back at the colorful houses of Sainte-Luce.
Be sure to visit the Celtic cross memorial next to the graveyard behind the church. Looking out into the sea just beyond the memorial is the site of worst shipwreck in Canadian history. Over 1,000 people died in 1914 while crossing the Atlantic on the Empress of Ireland.
If you're looking for more shops, things to do, or need a larger grocery, Rimouski is a bigger town just 20 minutes away and will have everything.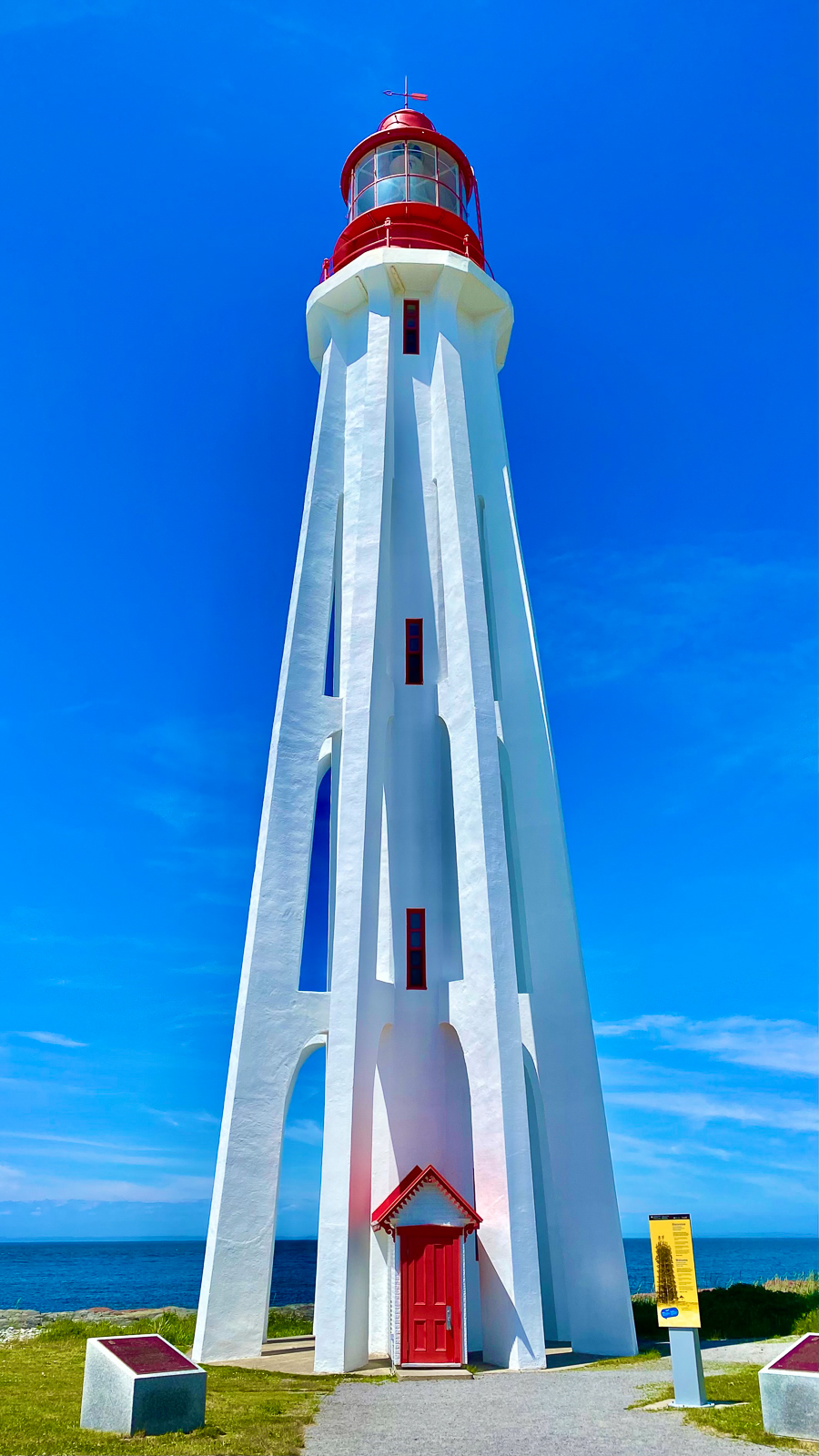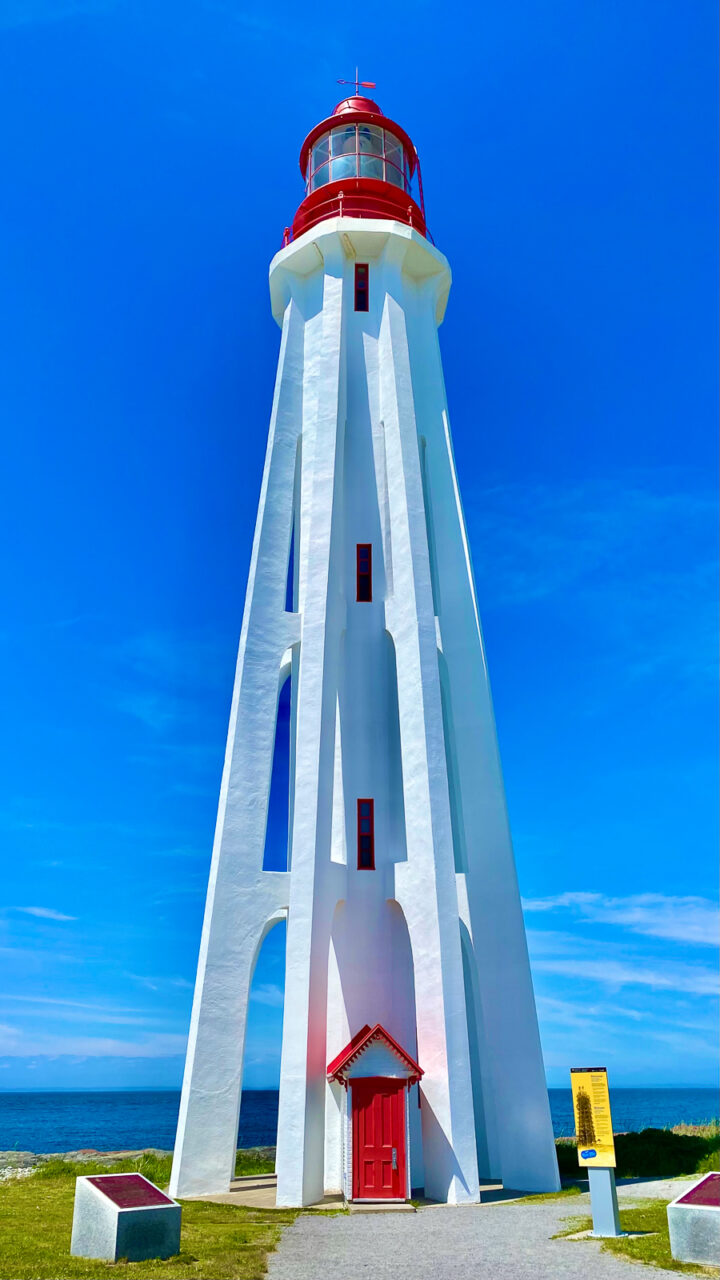 Visit the Lighthouse
If you're up for a big adventure, you can actually walk all the way down the beach from Sainte-Luce to the lighthouse at Pointe-au-Père. It's about 5 miles one way from the church in Sainte-Luce, and took us around 1 hour 45 minutes walking on the beach. On the way back we stopped for lunch at our favorite restaurant in Sainte-Luce, Resto de le Mer, and then continued walking and rewarded ourselves with an ice cream from Bar Laitier Ashini.
If you have a rainy day in Gaspesie you can also drive there and visit the maritime museum which has exhibits on the Empress of Ireland shipwreck and a submarine.
Spend the day at Bic National Park
Start your day with the most popular hike at Bic National Park — Pic Champlain. It's short, easy, suitable for kids and dog-friendly! You'll be rewarded at the top with a stunning panoramic view. The trail is 3.5 miles long (round-trip) and will take around 1.5-2 hours to complete.
Tickets for Bic National Park: You can buy your day pass for Bic National Park online here. We recommend buying at least one day in advance because on busy weekends they do sell out! Be sure to select Bic for the National Park section.
After a morning hike, spend the afternoon exploring the beautiful beaches you saw from way up high on the Pic Champlain trail. The one with the most interesting landscape is the Îlet au Flacon. Park here at the picnic area, then walk down to the beach and explore the rocky shore to the left.
You'll see layers of colorful rainbow rocks, mini mountains made from all the layers of earth that have been pushed up out of the ground, and tiny tide pools that look like mini lakes among the mini mountains.
Portes de l'Enfer Canyon
Another nearby hike that looks really fun is Portes de l'Enfer Canyon. We didn't have time to do this one, but it's definitely on our list next time in Gaspesie. It has a long suspension bridge over a deep canyon. This hike is not in Bic National Park, but there is an entry fee. There's no option to buy tickets in advance, but they don't limit the number of entries, so you can buy when you get there.
Make a bonfire on the beach
After a beautiful day in Sainte-Luce, the perfect way to end the night is a bonfire on the beach! Don't forget the s'mores! You'll have a spectacular view of sunset from the beach as you sit by the fire. You are allowed to make a bonfire directly on the beach, and you can even walk on the beach and collect your own firewood. Firewood is also available for sale at most gas stations. The little market in Sainte-Luce sells a small box of fire starter that we found very useful because it is quite windy on the beach!
Where to Eat in Sainte-Luce
Resto de le Mer — This was our FAVORITE restaurant near Sainte-Luce! We went back 3 times!! All the seafood here is fresh and local. The nordic shrimp roll is AMAZING. Of course they have lobster rolls too, but I prefer shrimp! On the menu the rolls will be called guedille in French. We also loved the shrimp and lobster club sandwiches. You can get everything with fries or poutine, which is fries with gravy and cheese curds!
They also have fast food type options (hamburgers, hot dogs, chicken fingers, etc) if you have someone in your group who doesn't like seafood. If you're a fan of fish and chips, just a heads up — when I think of fish and chips, I think of really thick, beer battered fish. I've noticed it's not like that in Gaspesie, it's more like the batter you'd get on chicken fingers.
This resto is nothing fancy, just a little roadside restaurant with picnic tables outside. You can walk across the street to the motel for beachfront picnic tables, but be careful crossing because the road is busy and the cars go fast!
Café Bistro – l'Anse aux Coques — If you're looking for a nice sit-down restaurant, Café Bistro l'Anse aux Coques is the only restaurant in Sainte-Luce! But fortunately it's really good! It has a covered terrace right in front of the water. I had the nordic shrimp croissant and it was very good!
Ice cream in Sainte-Luce
Bar Laitier Ashini — You gotta have ice cream at the beach! If you're up for a little adventure, you can walk on the beach all the way here. From the Sainte-Luce boardwalk, it's about a 30 minute walk one way. You can also drive, there is plenty of parking. They have everything you could want — soft serve ice cream, dip cones, slushes, homemade gelato, milkshakes, and more!
If you're looking for more restaurants, Rimouski and Sainte-Flavie are just a short drive away. We had good luck relying on Google for reviews!
Where to Stay in Sainte-Luce
Where ever you stay, be sure to book early!! There are no hotels in Sainte-Luce, just a few motels and small cabin rentals. Places in Gaspesie tend to book MONTHS in advance, especially during July/August. We got super lucky and booked just a few days in advance for the end of June.
Airbnb Option #1
We stayed in an Airbnb both times in Sainte-Luce. We absolutely LOVED the second place we stayed. It had a huge backyard, right on the beach, with picnic tables and fire pit. I would spend a week every year here. Here is the link on Airbnb, it's called Le Bonaparte in Sainte-Luce. It's a historic house that's been fully renovated and converted into three private apartments, two downstairs, one upstairs.
We stayed in one of the downstairs apartments, but if you're looking for a 2 bedroom place, you can rent the upstairs unit, and have the entire upstairs to yourself. Here is the link on Airbnb, it's called Marie-Louise.
Just to note, it's an older home, and if you stay downstairs, you'll definitely hear both your next door and upstairs neighbors. You'll also be sharing the backyard with the other two apartments, but we made friends with our neighbors and had a big bonfire together every night. The noise didn't bother us, but if you think it might be an issue, you might want to rent the upstairs unit or find another place.
Airbnb Option #2
The first Airbnb we stayed at was a bit smaller, and located across the street from the beach. You can access the beach from staircase at the motel across the street. It also had a fire pit and picnic table in the front yard. You do share a wall with one neighbor, but we never heard them. I really liked the beach on this side of Sainte-Luce, it was wide, sandy, and flat. I would stay here again if the other Airbnb with beach access wasn't available! Search for "Chalets Corail de Mer Sainte-Luce" on Airbnb, there are two apartments available to rent. Here is a link to the first and the second.
Other options to stay in Sainte-Luce
If neither of these places are available, check out the Google map above. Anywhere between Chalets Corail de Mer and the the Pointe-au-Père lighthouse would be a great area to stay in Sainte-Luce. It's indicated by the purple line on the map.
If you zoom in you can see a small, pink line on the map. That is the boardwalk of Sainte-Luce, and where the restaurant, boutique, and church are. I've also marked our favorite restaurants and ice cream shop!
If you're looking for bigger hotels, there are plenty of options in Rimouski, but I would prefer to stay on the beach.
3 Days in Gaspé / Forillon National Park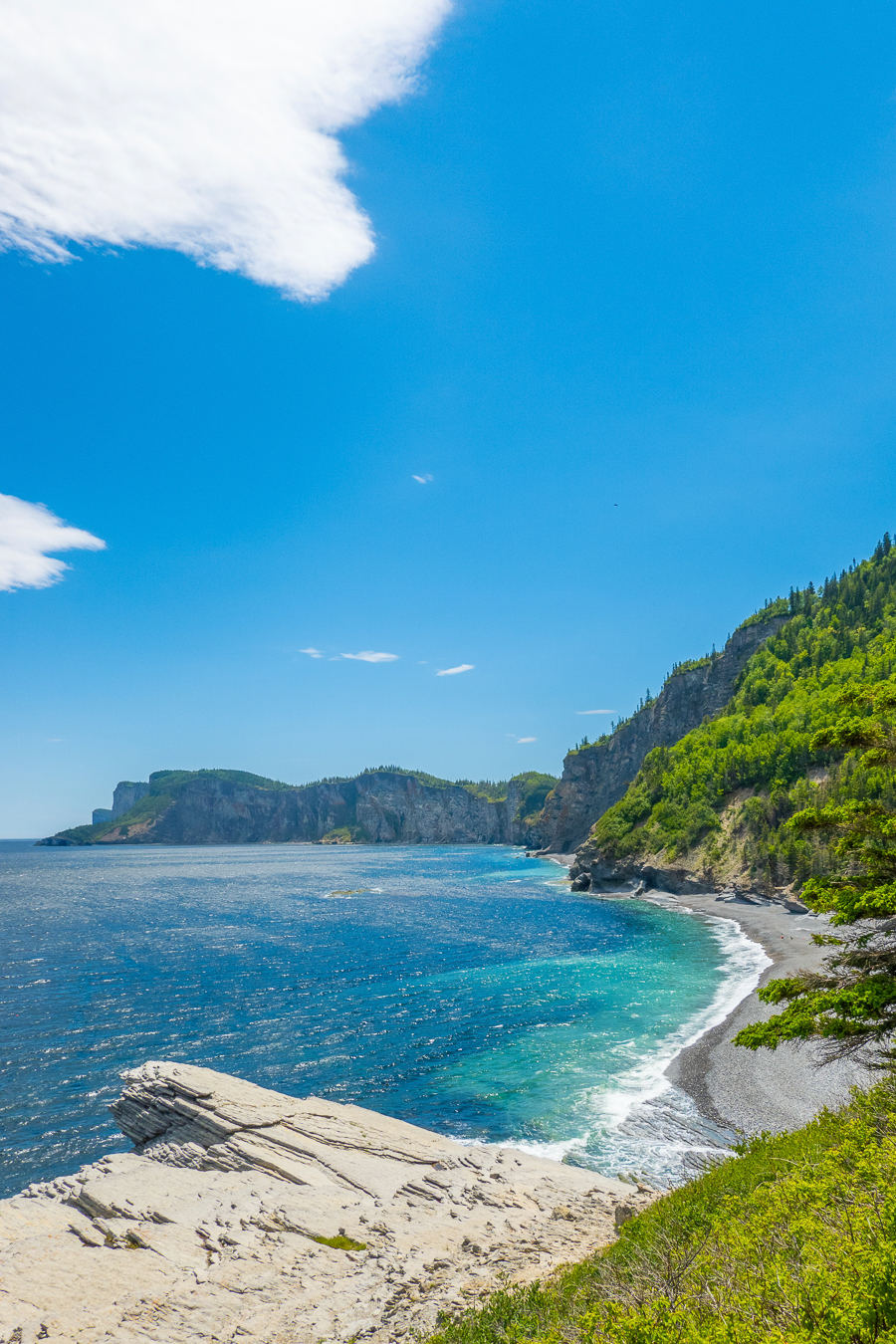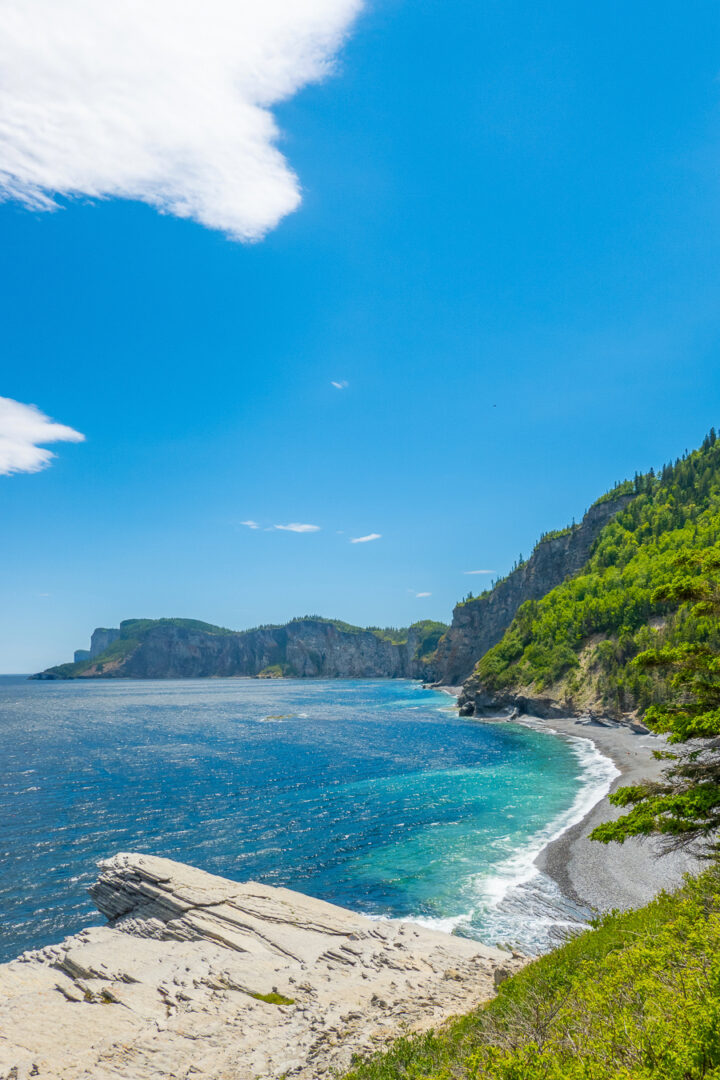 Wow, oh WOW is Forillon National Park amazing!! It's honestly one of the highlights of Gaspesie. Breathtaking hikes, beautiful beaches, turquoise water, whale watching, and more! Gaspé is the closest city to this stunning national park, and the biggest city in Gaspesie.
We recommend spending at LEAST 2 full days here, 3 if you have time!
Tickets for Forillon National Park — You can buy tickets at the gate when you arrive. We went to the park three days in a row so we bought a pass. That way you didn't have to wait in line to buy a day pass every day. The people at the gate will help you decide which ticket option is best for you.
Things To Do in Gaspé / Forillon National Park
Cap Bon Ami
Cape Bon Ami is one of the crown jewels in Forillon National Park. There's a large parking lot and picnic area here with fabulous views of the cliffs and turquoise waters. Park and walk down to the vantage point for even better views! Then you can take the staircase down onto the actual beach. The beach is rocky so you will need shoes. But it's so amazing to hear the rocks being dragged back into the water as the waves crash onto the shore! Walk all the way down to the end of the beach to find a natural rock staircase leading into the water.
Hike to the BEST view of Gaspesie!
Take the trail that starts from the Cap Bon Ami parking lot to the Mount Alban observation tower. It's a little bit steep, but it's short and the reward at the top is 100000% worth it!! It is honestly one of the most spectacular, full 360-degree panoramic views I have seen in a LONG time.
You can do this hike as a full loop, but I recommend just going to the observation tower, then there's one more viewpoint after the tower, instead of continuing on the loop, just turn around and come back. There are no more views after that, just walking through the forest. It's a nice hike with wildflowers, but I would've preferred to be more by the sea! Near the beginning of the trail, when you see the staircase on your right, take the staircase (instead of continuing straight) and at the top you'll find the iconic Canadian Parks red chairs. Then continue up the trail to the tower.
Fun fact! You can actually see the Percé Rock from the observation tower! See if you can spot it!
This hike is suitable for kids and pets, as long as they're not afraid of heights! The tower is less than 1.5 miles from the parking lot.
Summit Mount Alban Hike on AllTrails
Walk along the cliff and watch for whales!
This is a really gorgeous walk along the cliff with stunning views of the sea the entire way. And it's one of the best places in Gaspesie to see whales! We saw SO MANY WHALES on this hike. Keep your eyes peeled the entire time! Keep an ear out too — sometimes we would hear their water spouts first, then look up and see them!
When you reach the lighthouse at the end of the cape, you'll be at the farthest point in Forillon National Park. But the hike doesn't end here! You can continue a short path down to an observation deck with even more incredible views. You'll be closer to the water for whale watching, and maybe even seals surfing on the waves!
Whale Watching in Gaspesie Video
Here's a short video of just a few of the whales we saw on this hike! We saw so many more, but in this video you can see two humpback whales jump out of the water!
Visit a Waterfall in Gaspesie
If you have some extra time, one last thing to see in the park is a small waterfall. It's a short loop trail, less than 1 mile, and is suitable for kids and pets.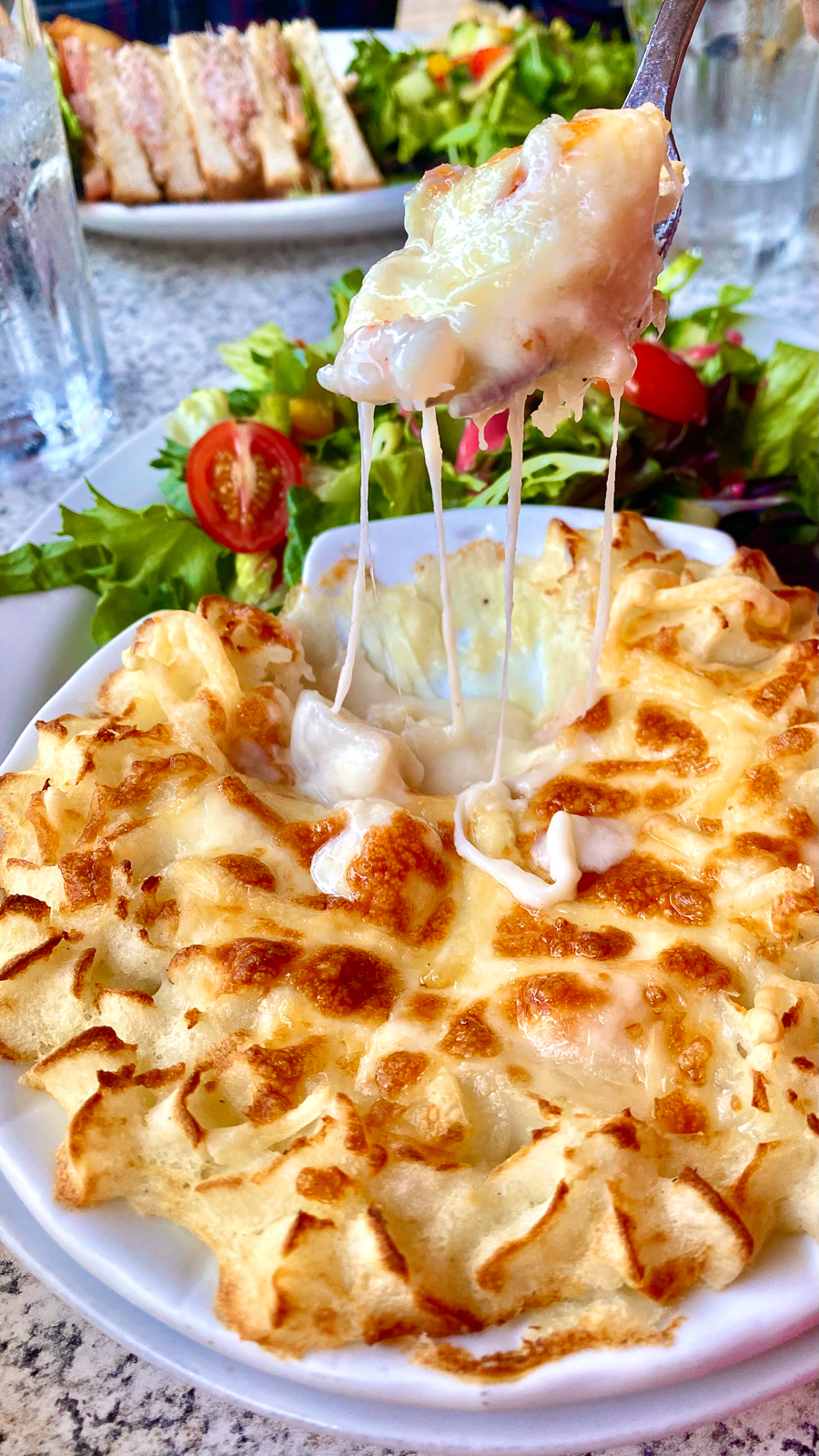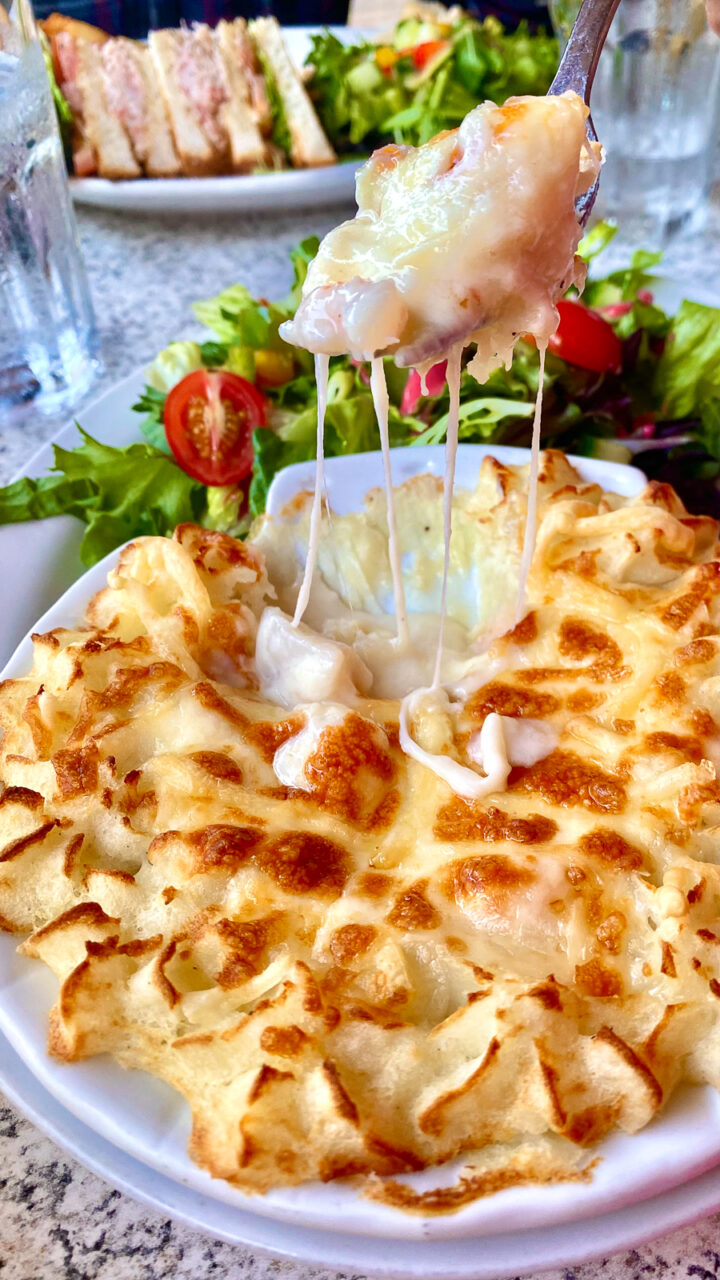 Where to Eat in Gaspé
Bistro-Bar Brise Bise — Casual, sit-down restaurant with local seafood and a terrace overlooking the water. You should definitely make a reservation in advance, and ask for a table on the back terrace overlooking the water.
What to order — "Coquille aux fruits de mer" or "Seafood Coquille". If you've never had coquille, it's an absolute classic of French cuisine and very traditional in this area. The one at Brise Bise is made with local nordic shrimp and scallops in a creamy sauce topped with fluffy mashed potatoes, loads of Gruyere cheese, and broiled until golden and bubbly. If you've never had it before it's a must-try in Gaspesie!
Other restaurant options in Gaspé
Like most places in Gaspesie, Gaspé is a small town with only a handful of restaurant options. We tried TÉTÛ Taverne Gaspésienne in our hotel, but the food was just okay and the service was not very friendly. Otherwise there are many nearby "casse-croute" options — small shacks where you order at the window and then take your food and sit at a picnic table. They also have fresh, local seafood and we found it to be just as good (if not better!) than the sit-down restaurants.
Ice cream in Gaspé
Bar Laitier La Banquise — After a long hike in the national park, treat yourself to an ice cream! This was one of my favorite ice cream places of our whole trip. They have 24 flavors of soft serve ice cream and milkshakes. I loved the pistachio milkshake!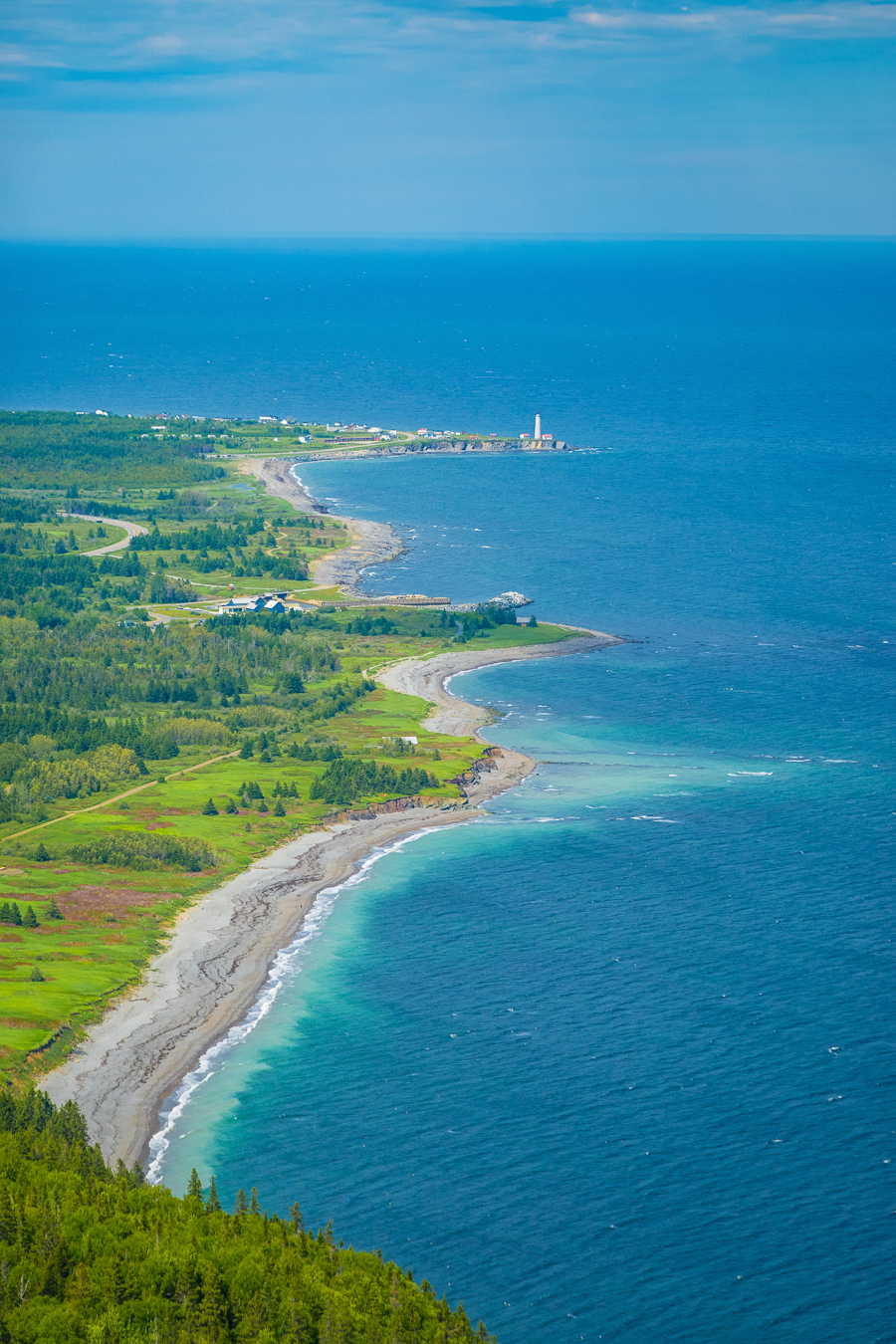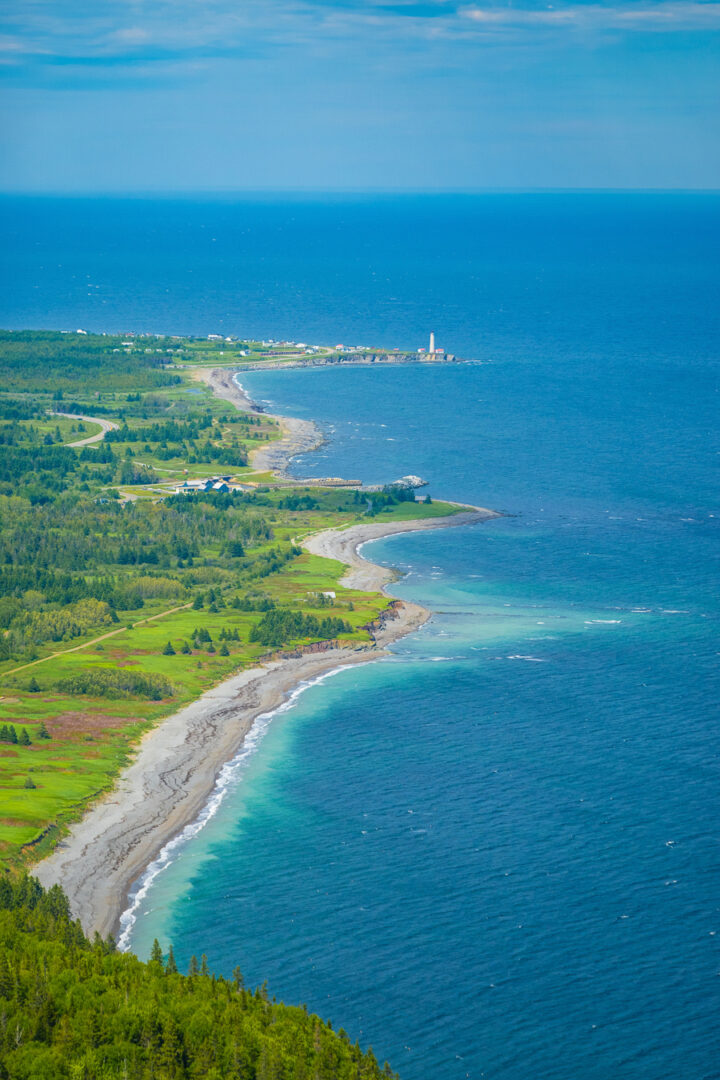 Where to Stay in Gaspé
We stayed at the Hotel Baker in Gaspé. It was fine, however next time I would stay in a motel in Forillon National Park. The city of Gaspé is not particularly cute or charming, and I would've preferred to be by the beach in the park.
Next time we will check out Motel Du Haut Phare or something in this area. There's a long beach with a lighthouse right across the street from the motel. You can actually see the lighthouse in the picture above!
3 Days in Percé — The Landmark of Gaspesie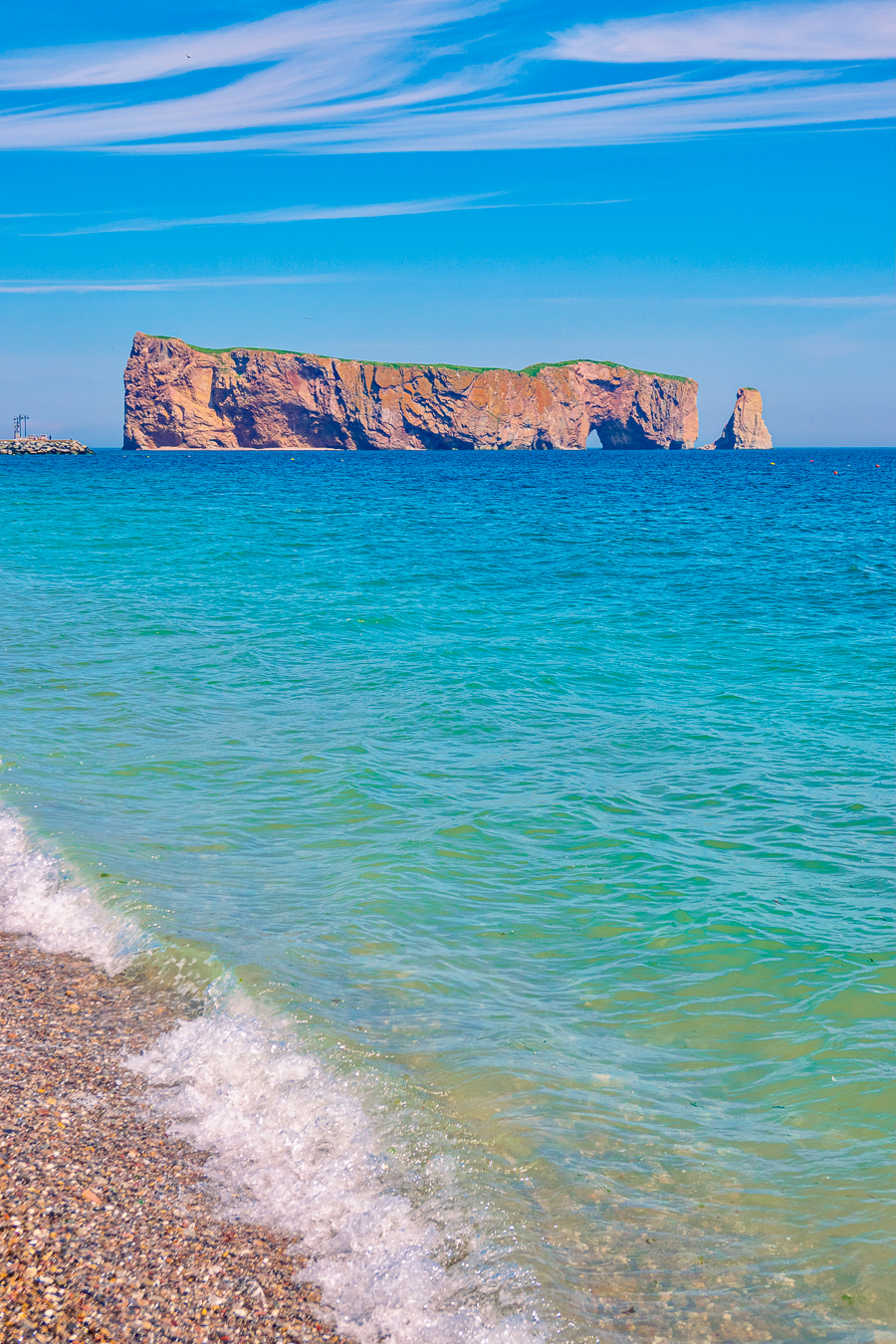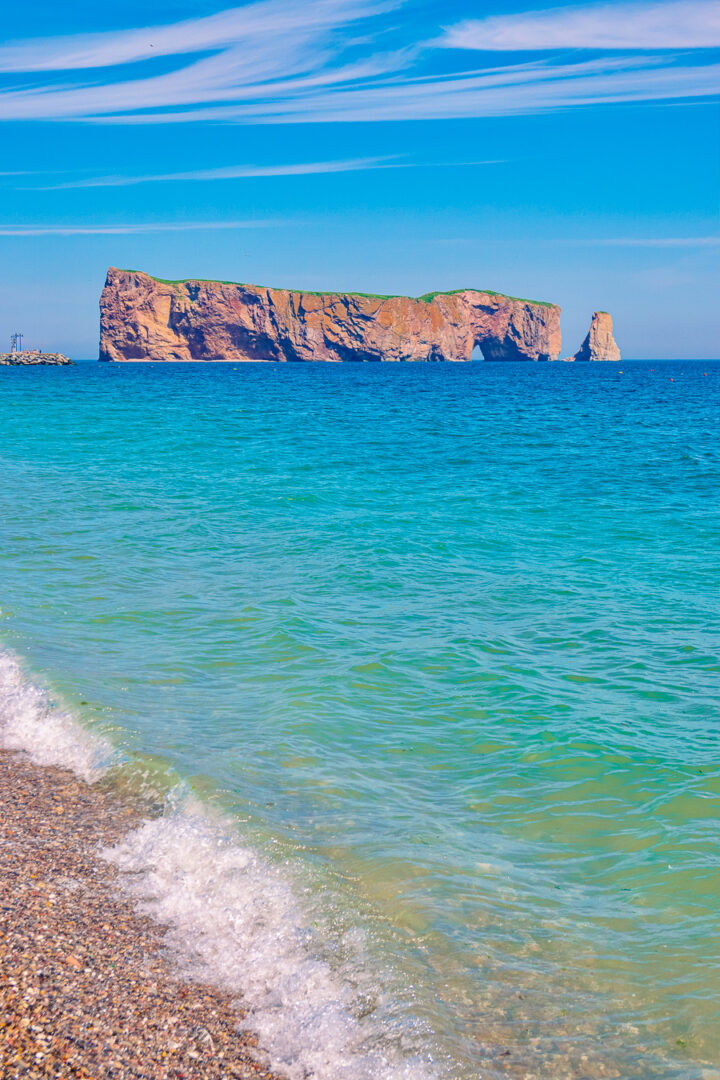 Percé is an ultra-charming, touristy beach town with historic buildings, artsy boutiques and a massive, iconic rock. Just like the Eiffel Tower is to Paris, and the Statue of Liberty is to New York City, this rock is the landmark of Gaspesie!
We recommend at least 3 full days (4 nights) in Percé.
Things to Do in Percé
Explore the Village
Percé is such a beautiful, charming village. Most of the buildings here were built in in the 1800s. Taking a stroll along the boardwalk is like stepping back in time! After the boardwalk ends, continue walking on the street to at least the "Aux glaces de l'Anse" ice cream shop for even more picturesque countryside views.
Boat Cruise to Percé Rock and Bonaventure Island
A boat cruise is definitely one of the most popular things to do in Percé. First you'll get a close-up view of the rock, then the cruise will drop you off at Bonaventure Island. Here you can do hikes around the island and see all the unique seabirds and marine mammals native to Gaspesie. You'll definitely see the largest northern gannet colony in North America, and you might see whales, seals, turtles, sharks and maybe even puffins!
You can't buy tickets in advance, you just have to show up at the ticket office the day you want to go. There are multiple departures and returns per day. We recommend going in the morning because the shortest hike around the island takes 2 hours. You can stay on the island as long as you want and catch any of the return boats. However sometimes the last return boat is in the afternoon, so that's why it's better to go in the morning so you have more time on the island.
More information on their website
Ticket office location on Google Maps
Browse through Art Galleries and Boutiques
The main street of Percé is literally lined with adorable, artsy boutiques. If you want to buy any souvenirs on your Gaspesie tour, this is definitely the place to do it. You could spend all morning or afternoon just wandering through all the unique art galleries and trendy boutiques.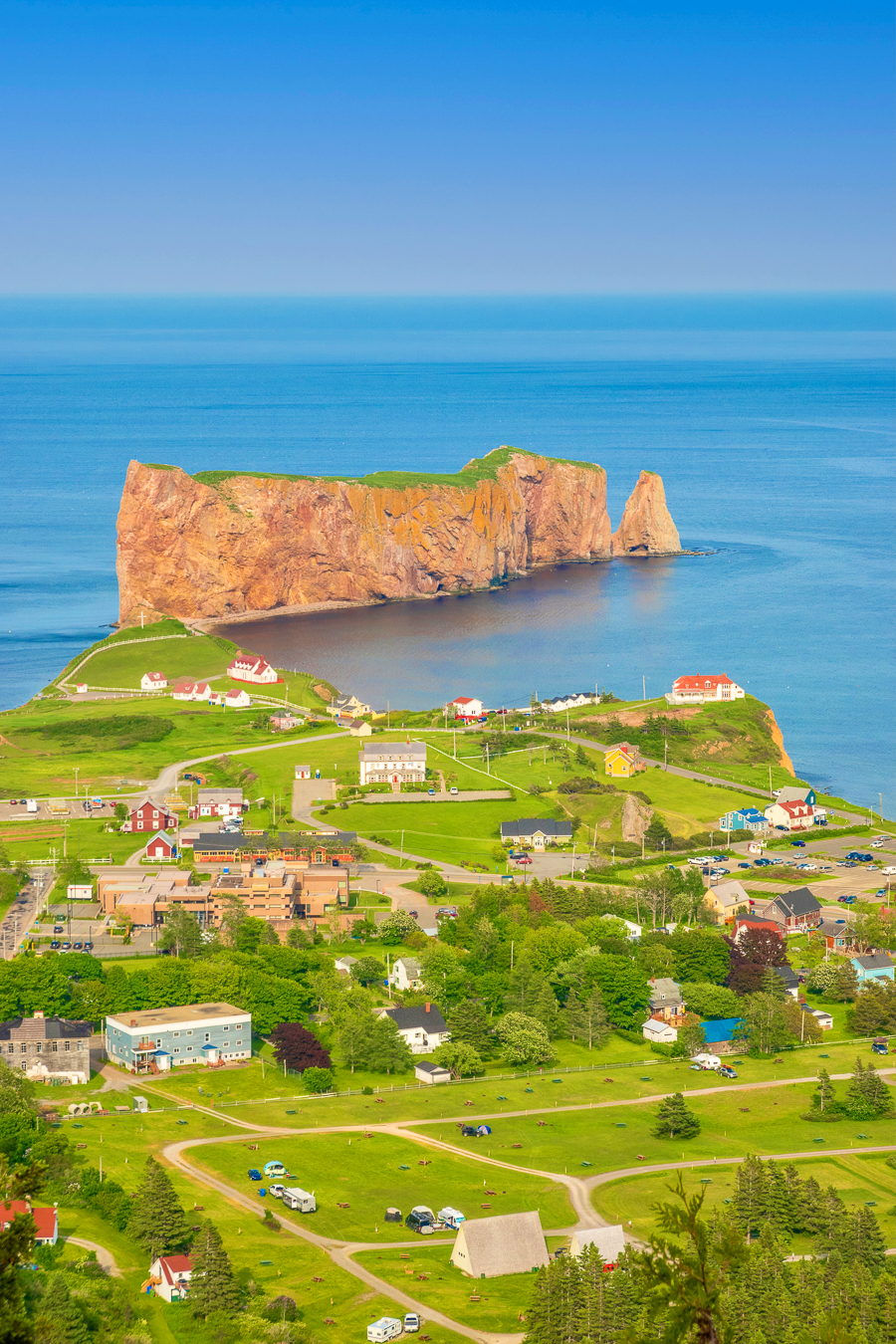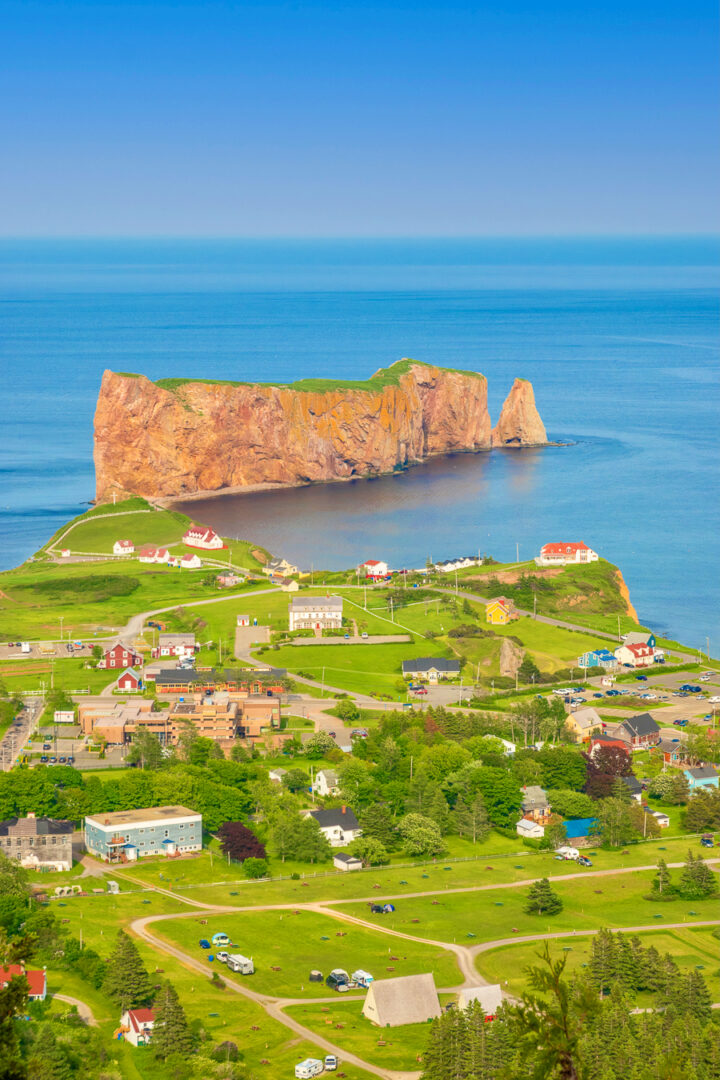 Hike to the Best View of Percé
This is such a fun hike with incredible views of the scenic countryside village and the famous Percé rock along the way. You don't even need to drive to get here, you can start the hike right from the village.
The hike is 4.4 miles roundtrip, takes around 3 hours, and offers many panoramic viewpoints along the way. Highly recommend this hike for the amazing views!
Mont Sainte-Anne Hike on AllTrails
Visit a Brewery & Distillery in Gaspesie
Brasserie Auval — Some call this the BEST beer in Quebec. But it's actually very, very rare to find in stores! You can buy it at the brewery and visit the farm where they grow their own ingredients like wheat and honey. Be prepared to drive on a rocky dirty road out in the middle of nowhere!
Distillerie la Société secrète (The Secret Society Distillery) — If you like gin, this is an amazing distillery located in an old Anglican church from 1875 overlooking the sea. Definitely worth a stop by the boutique!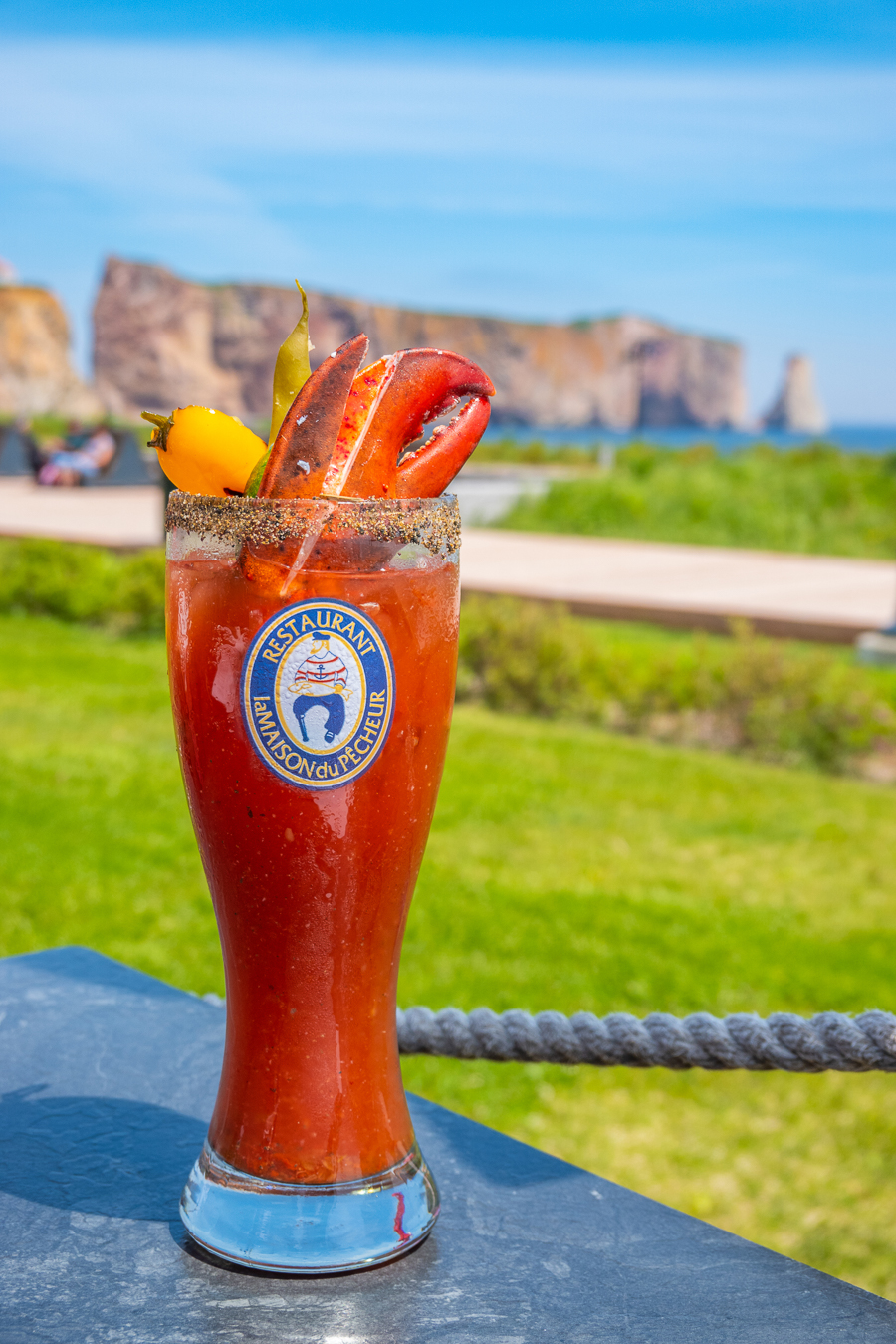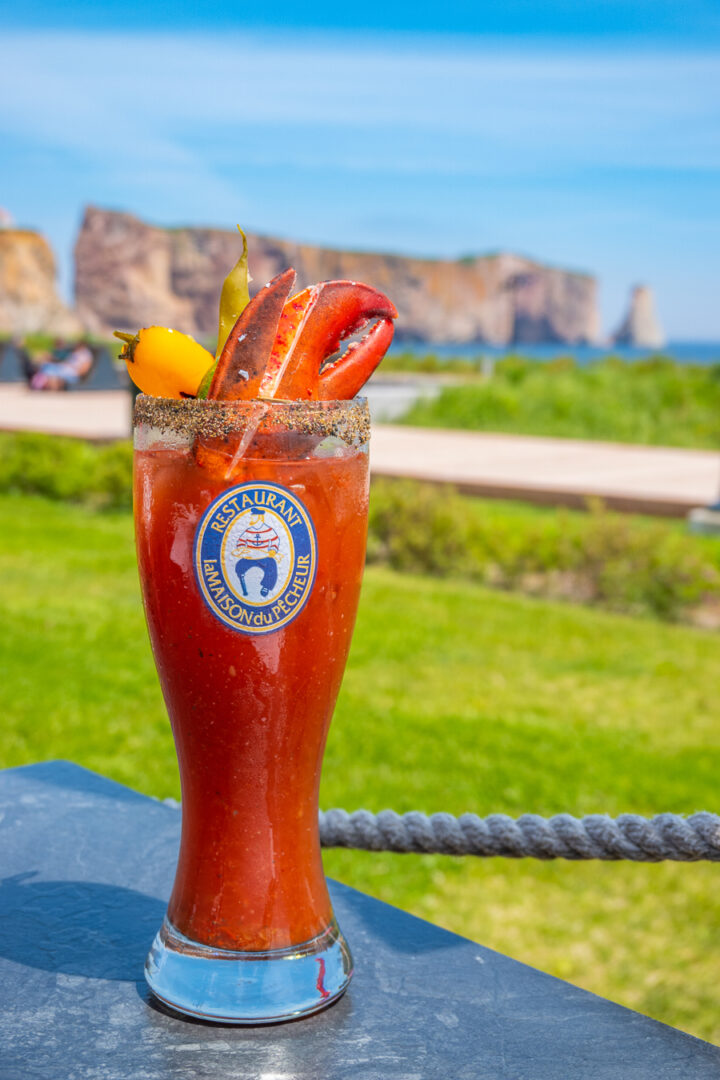 Where to Eat in Percé
La Maison du Pêcheur — Hands down this is the best, most popular restaurant in Percé and probably all of Gaspesie! Great location, right on the water, with a view of the rock. You definitely need reservations, so call to make a reservation (don't do it online) and ask for a table by the window with a view, or on the terrace if it's open. The terrace wasn't open at night when we were there because it was too cold. They are also open for lunch, but if you only go once I recommend going at night. The menu is much more extensive for dinner. It's "The Fisherman's House" so definitely order the fish! But they have non-seafood options as well.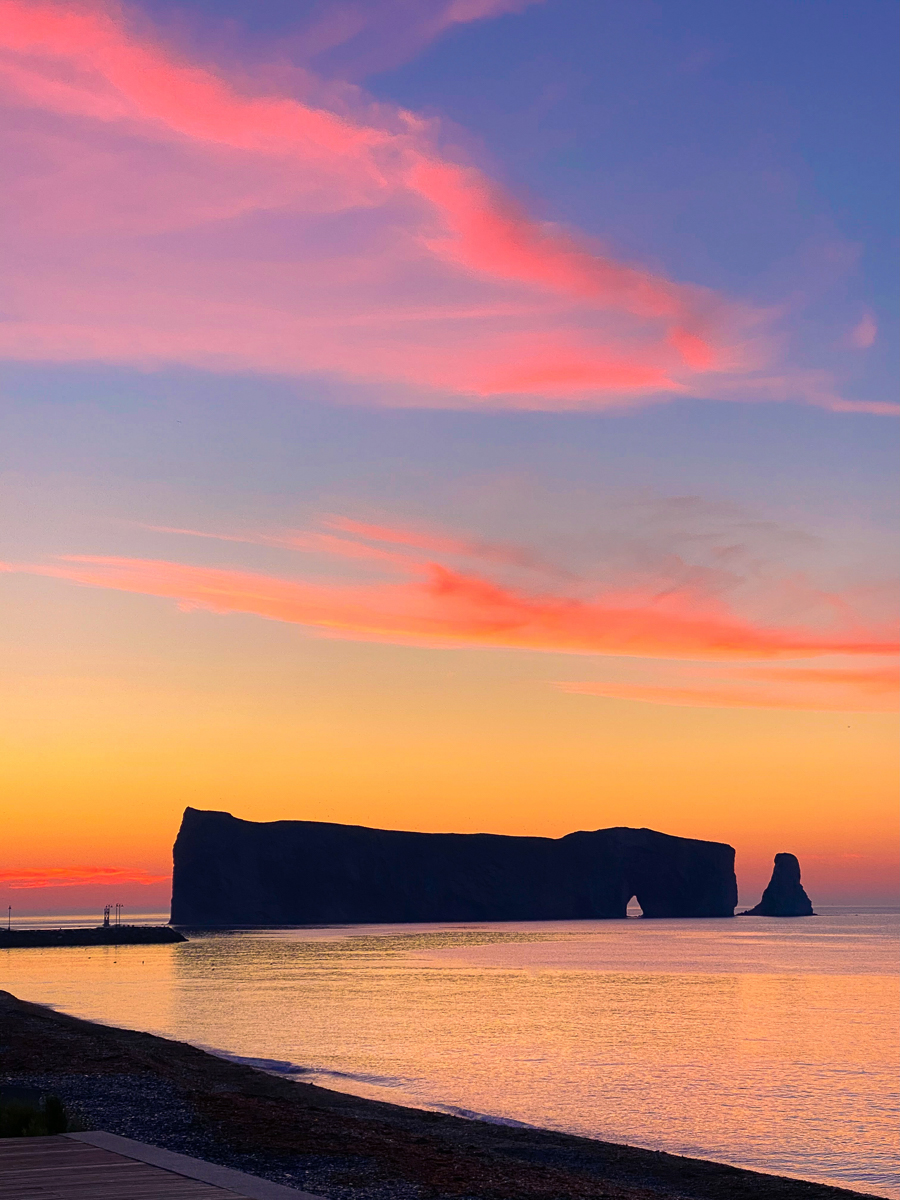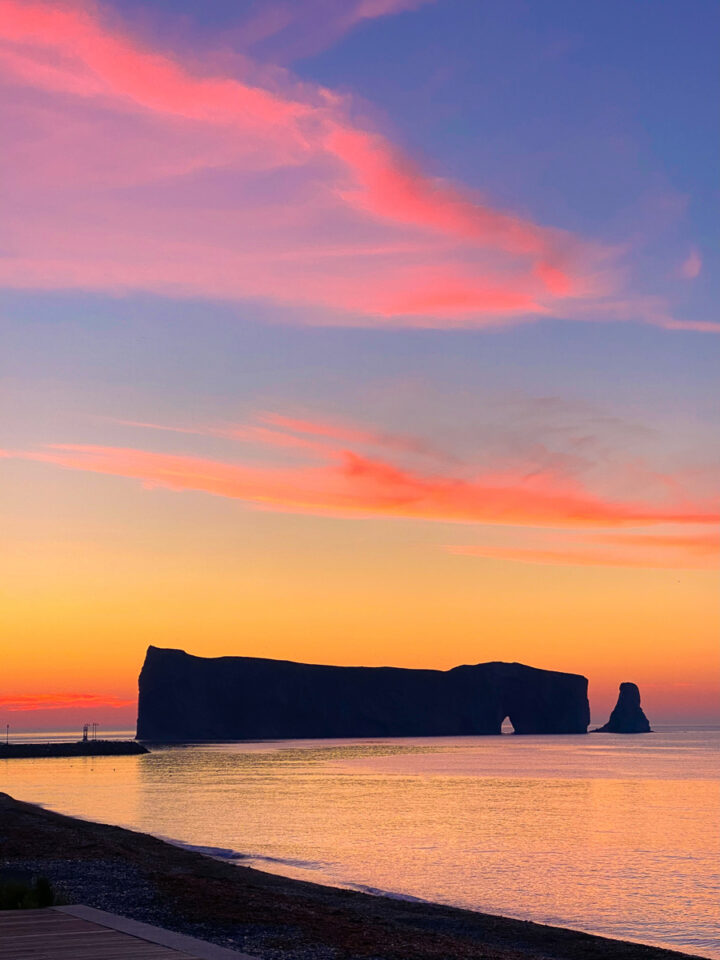 Where to Stay in Percé
We stayed at the Hotel Motel Fleur De Lys. It is definitely a budget motel, but honestly it was perfectly fine. It had all white linens and plenty of hot water. It's in a great location, right at the end of the boardwalk, so you can start from you room and walk all the way from one end of the boardwalk to the other. I would definitely stay here again. Ask for a room near the water with a view of the rock!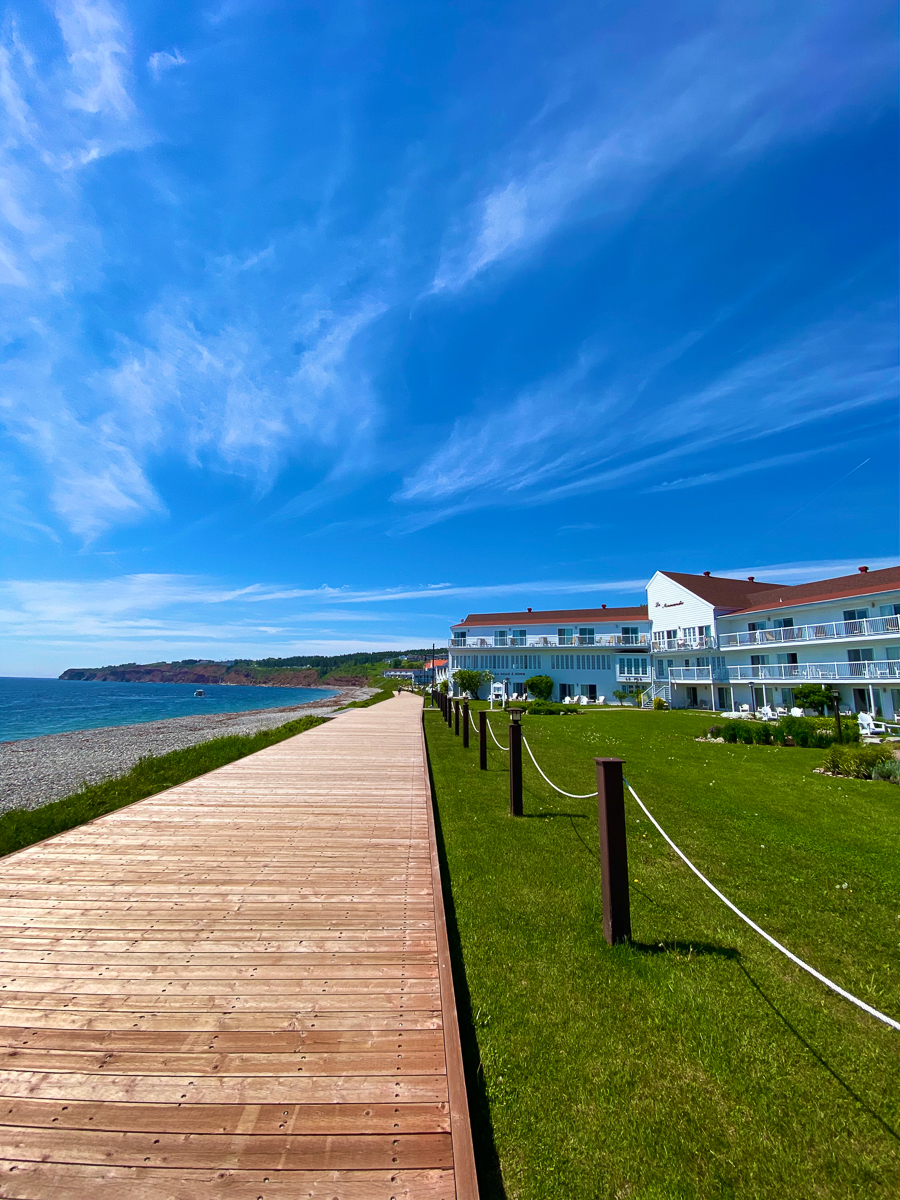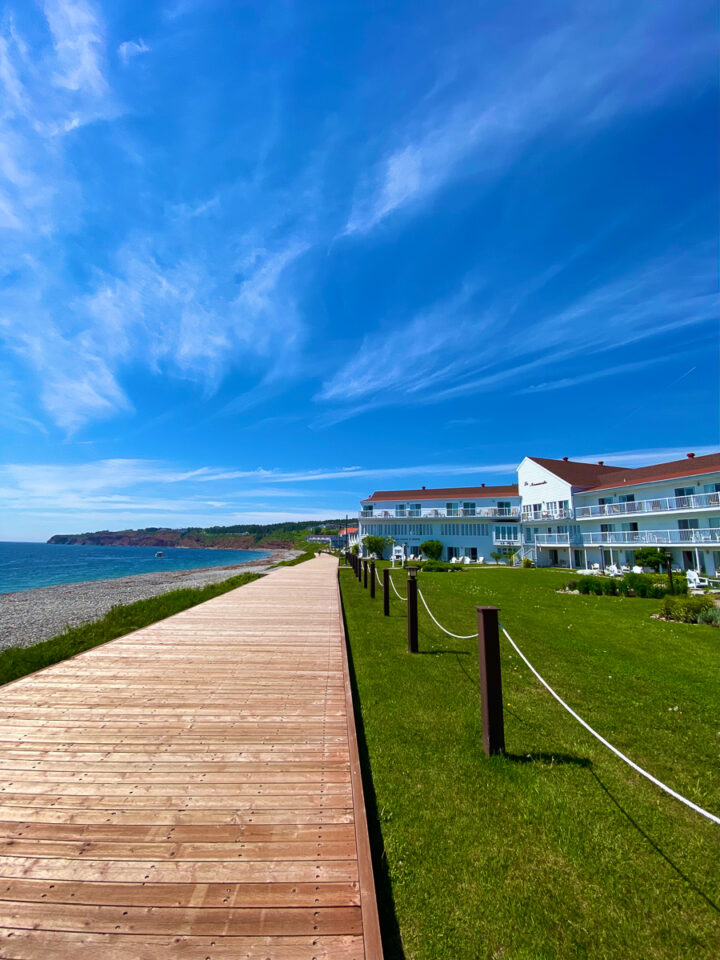 If you are looking for a more luxury option, the Hôtel la Normandie is a beautiful hotel right on the boardwalk, with private balconies and views of the rock.
Questions about Gaspesie?
If you have any questions about this itinerary or visiting Gaspesie, please leave a comment below! We are happy to help in any way, and want to make your trip as easy as possible.
---
Like this post? Save it on Pinterest!