Plan the perfect trip to Hue, Vietnam with our guide to the must-see sites! This ancient city is a delight to experience, and we've got details on the top attractions you've got to visit during the ultimate day trip — including what not to miss in the Imperial City and the best temples and tombs to explore!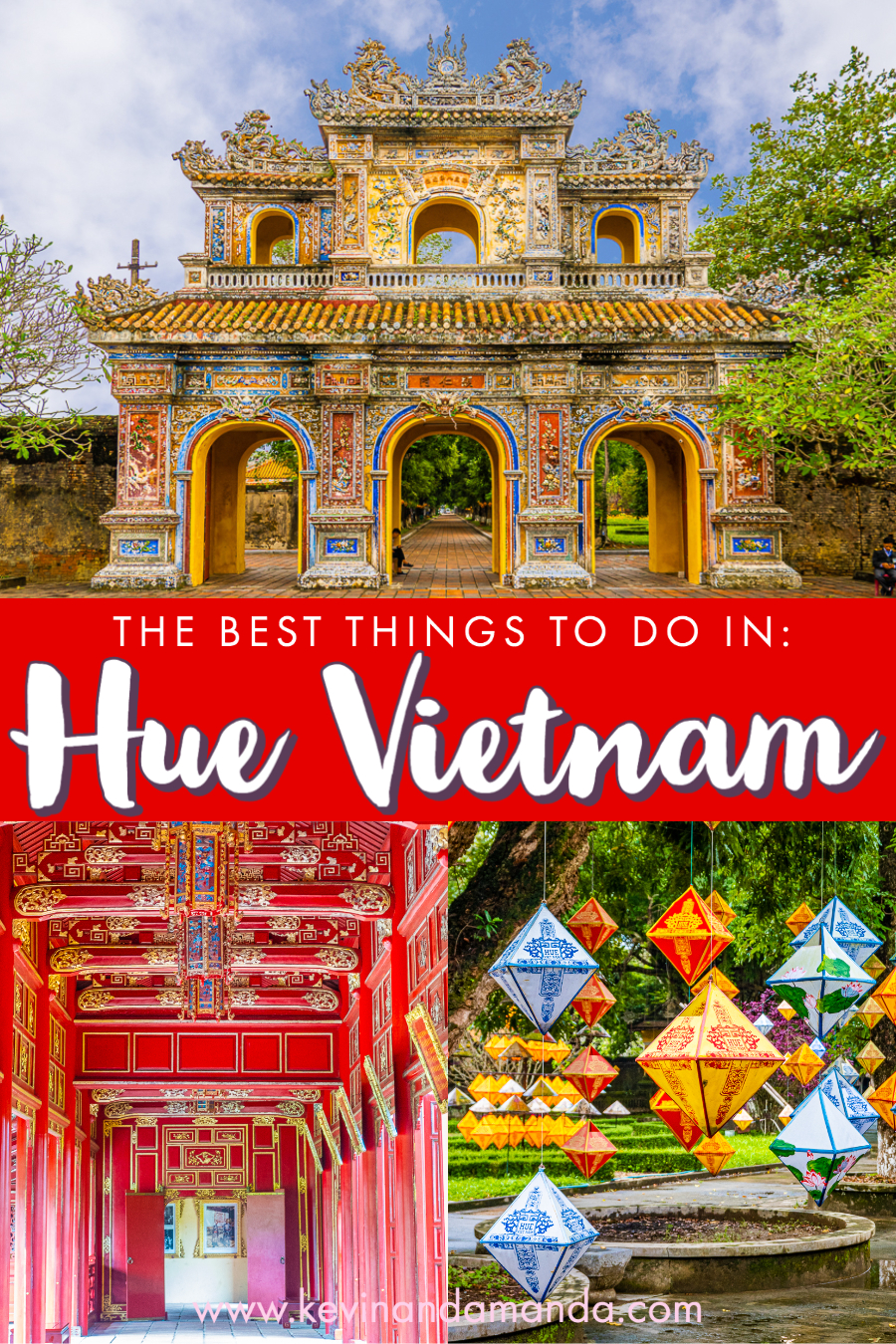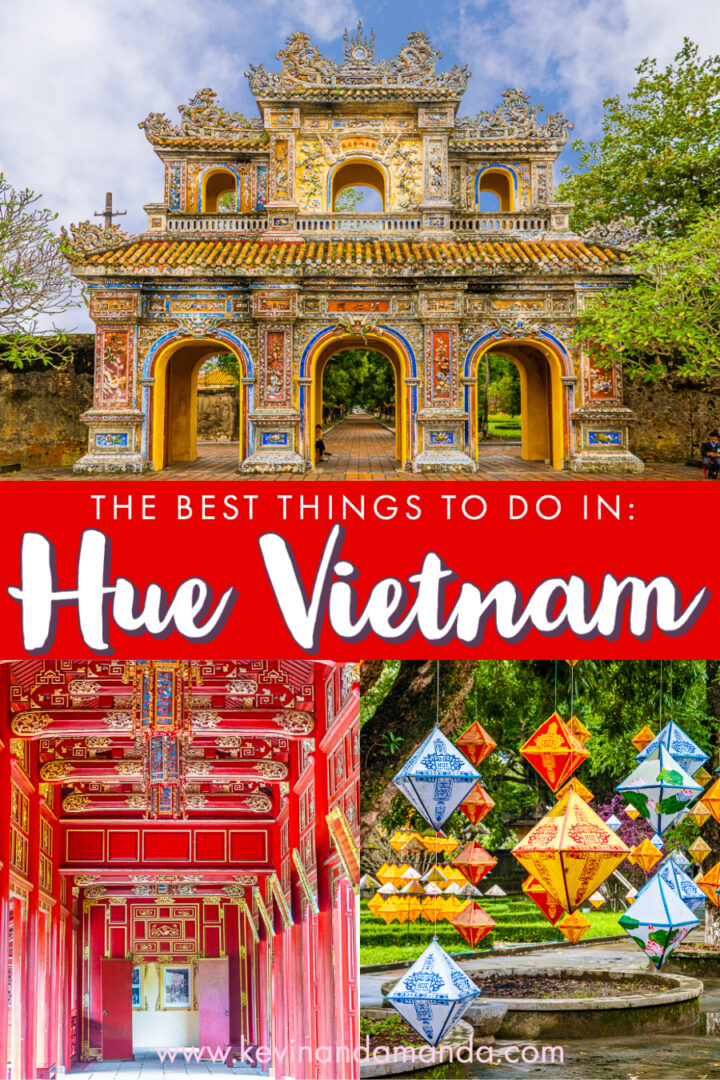 There is nowhere else on earth like the vibrant, colorful city of Hue, Vietnam!
Rich with history and filled with fascinating ancient sites at every turn, this is every history buff's perfect vacation spot. There are cities within cities to explore, and unbelievable artwork and architecture you just have to see for yourself.
Our Best Things To Do in Hue tips will make sure you experience all of the top attractions Hue has to offer.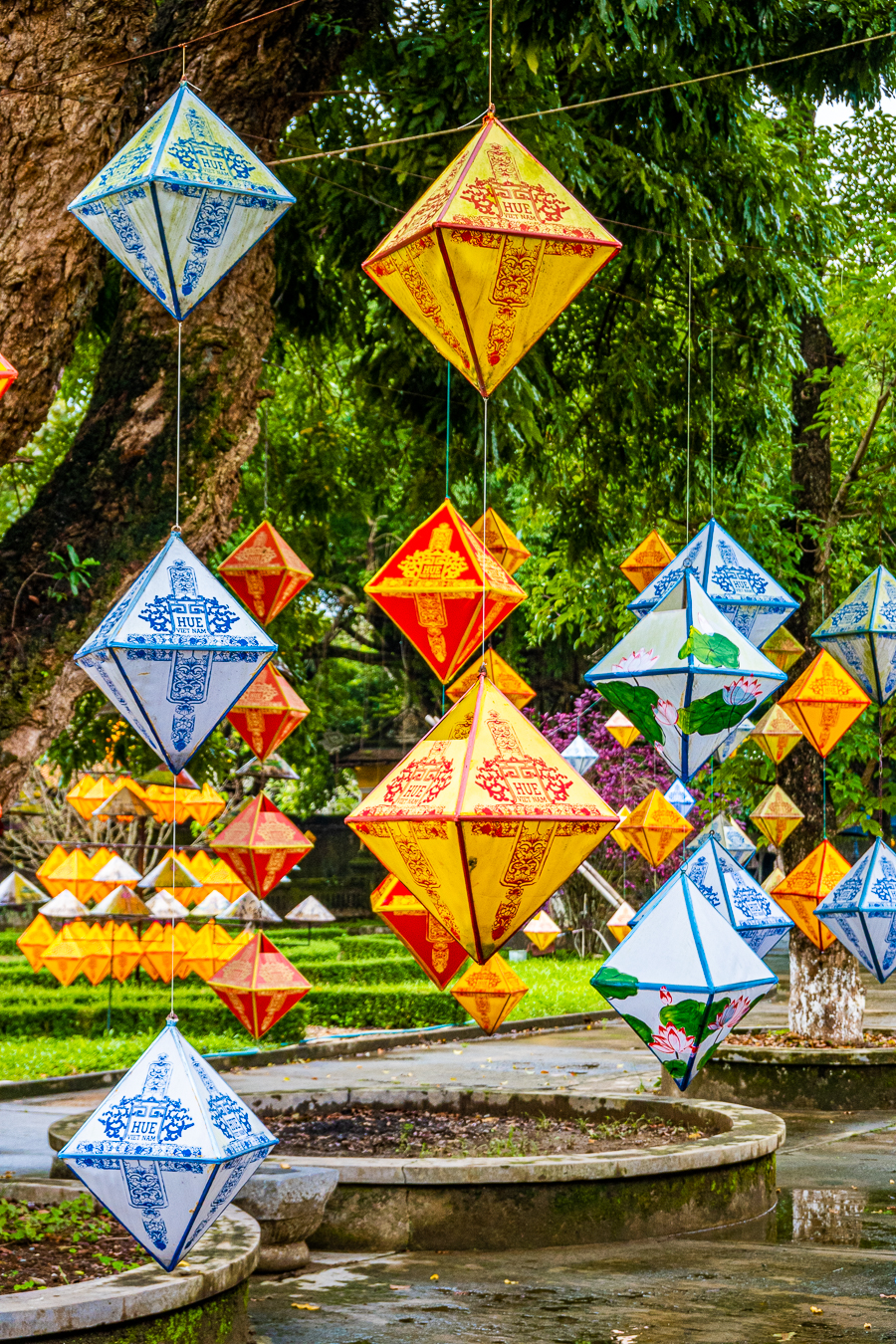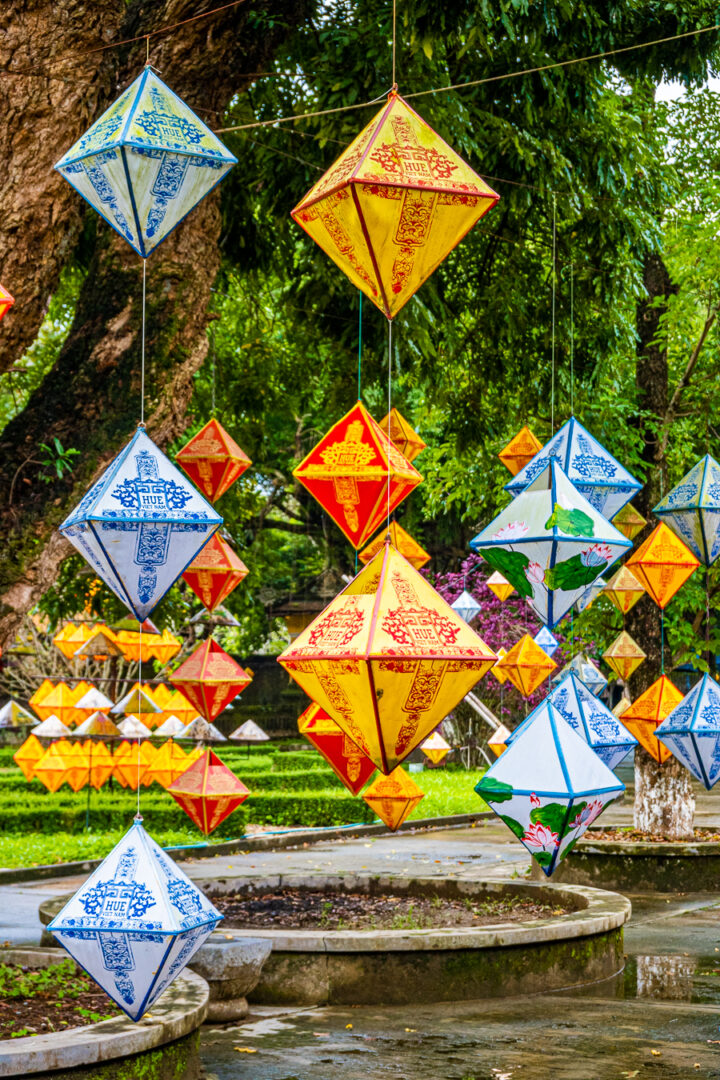 Get to Know Hue, Vietnam
Located in central Vietnam, the city of Hue – pronounced whey – sits on the beautiful Perfume River.
It is about halfway in between Hanoi and Ho Chi Minh City, and is a great destination for stopping during your travels through Vietnam.
Hue was once the country's capitol. Its history as a city is long and winding, with many highs and lows. The Vietnamese people constructed countless elaborate royal buildings during times of great wealth. Many still stand today and are open to tourists. The architecture from these times of success is simply incredible!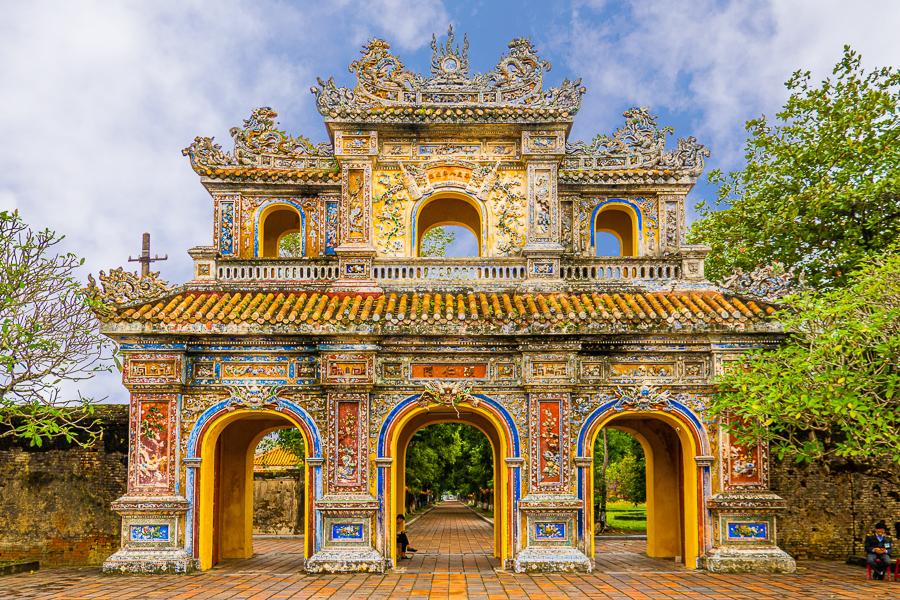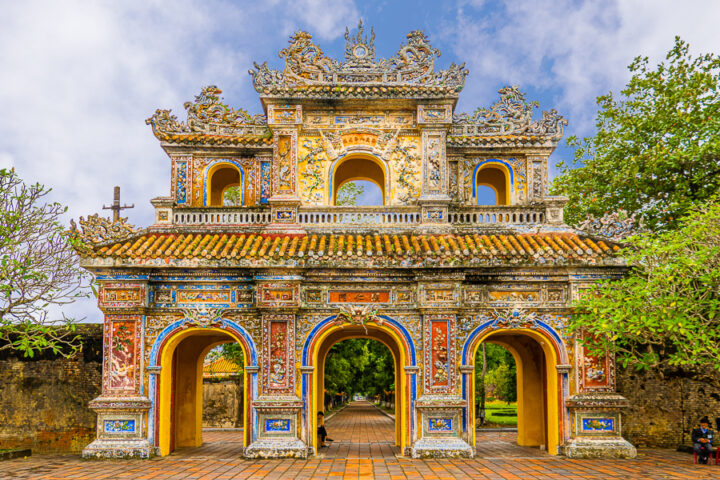 Hue — The Ultimate 1-Day Itinerary
Pack your comfortable walking shoes and camera! You can experience all of the must-see sites of Hue in one fun-filled day, if you know where to go.
Our "Best Things to Do in Hue" guide below will help you plan the perfect day trip!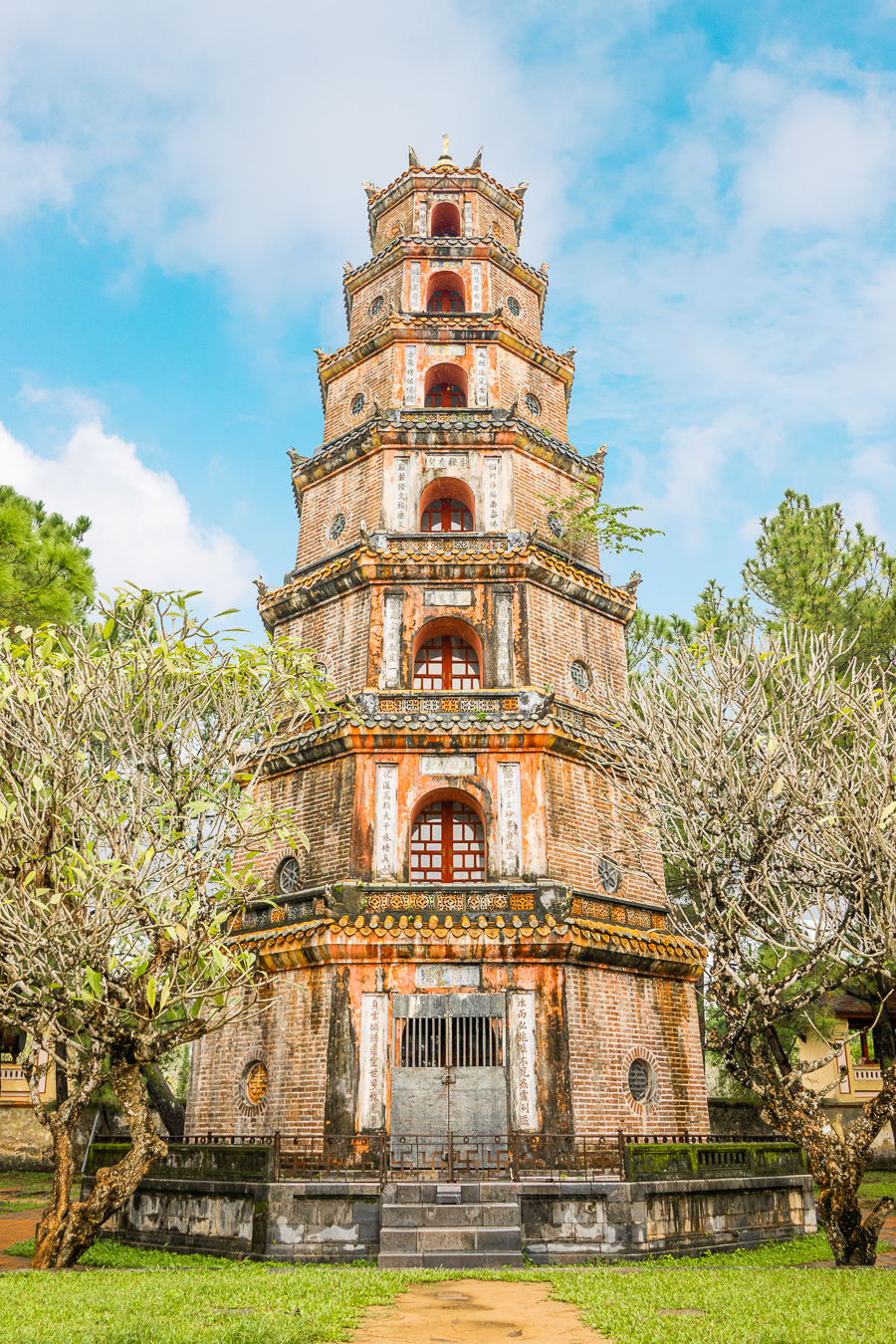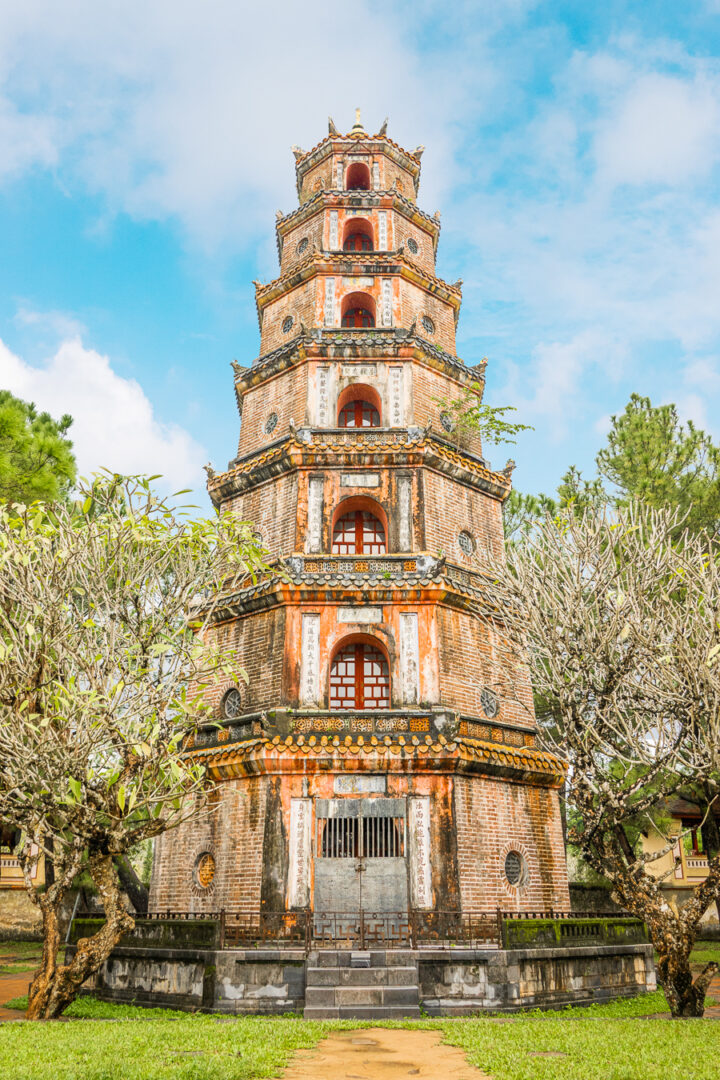 Take a Dragon Boat to Thien Mu Pagoda
Absolutely a do-not-miss Hue experience is riding a Dragon Boat on the Perfume River!
Why is it called the Perfume River? Orchards that were once upstream over a century ago used to drop flowers into the river every fall, causing it to have a strong floral smell for a several weeks each year. The name has stuck… and while today there aren't the same orchards, there is still an abundance of gorgeous flowers and trees up and down the river.
Boats with fantastically colorful carved dragons (see pictures above!) will take you for a relaxing ride down the Perfume River to the famous Thien Mu Pagoda. You'll love the journey itself, and exploring the awe-inspiring temple at the end will get you hungry for more architectural adventures in Hue.
Thien Mu Pagoda is also known as the Pagoda of the Celestial Lady. This is personally one of my favorite pagoda names. The incredible seven-story temple stands as the tallest religious monument in the country. It is regarded by locals as the symbol of the city. A trip to Hue wouldn't be complete without a visit to this iconic site!
Be sure to try a sugar can drink during your trip to Hue! They are sweet and bright with citrus, like a super bold lemonade.
Plan to spend about 40 minutes on the dragon boat ride, and then another 30 minutes exploring the Thien Mu Pagoda.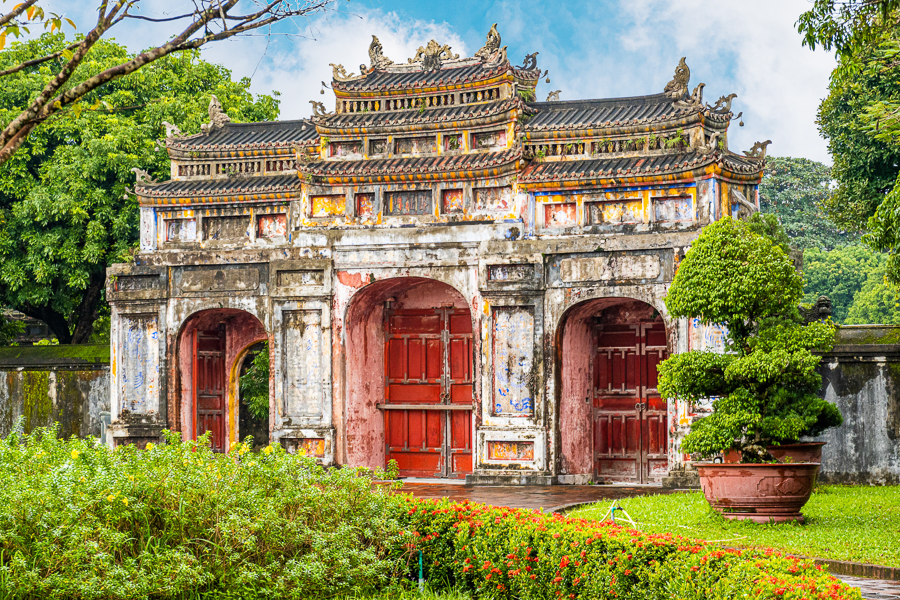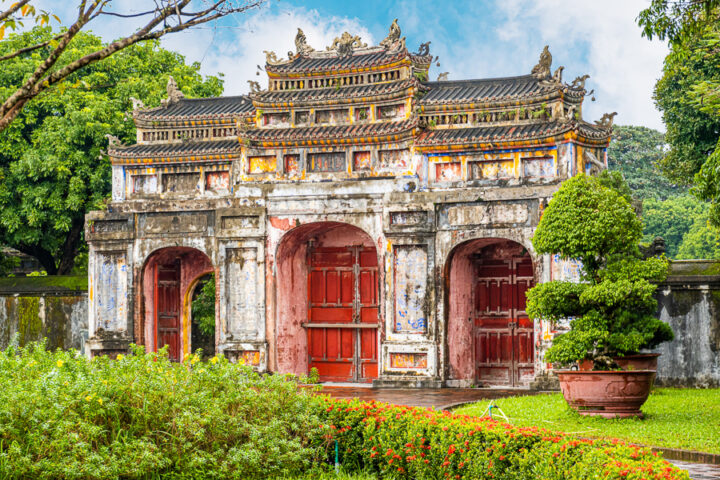 Explore the Imperial City
Vietnam's Imperial City is an ancient city that is surrounded by massive walls and even a moat.
This was the capital of Vietnam from the 1800s through mid-1900s, and is also known as The Citadel. Here is where the emperors of Vietnam lived while they were in power. Although much of the palace grounds have been damaged during battles over the years, there remain an impressive number of palaces, temples, gardens and courtyards. These are still impeccably maintained and many have been restored, so a visit to the Imperial City is like taking a step back in time.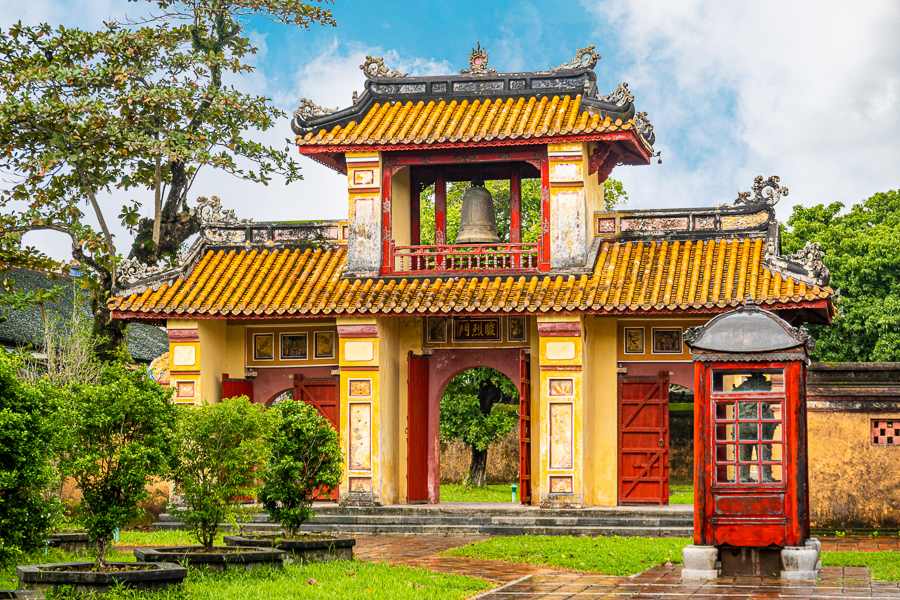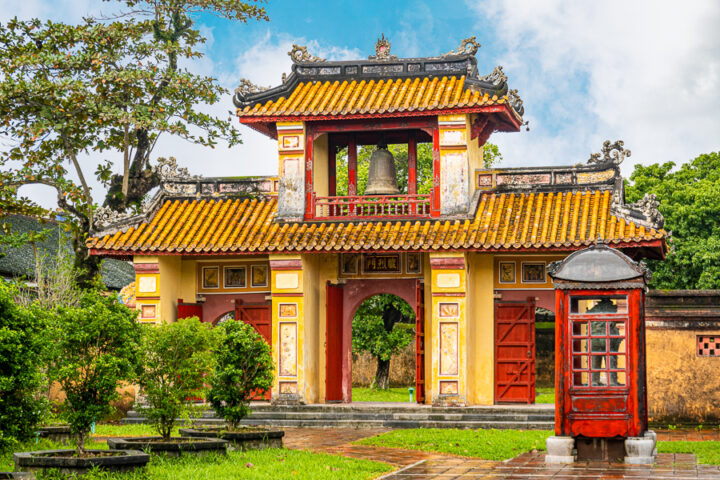 As you walk around the Imperial City you'll notice that the colors red and yellow are very popular. Yellow and red are the colors of royalty in Hue. Anywhere you see this color combination — like on the elaborate palace gates — you know you're on royal property.
These beautifully designed gates lead the way to royal courtyards, gardens, and pavilions. You'll want to get up close to see the amazing detail!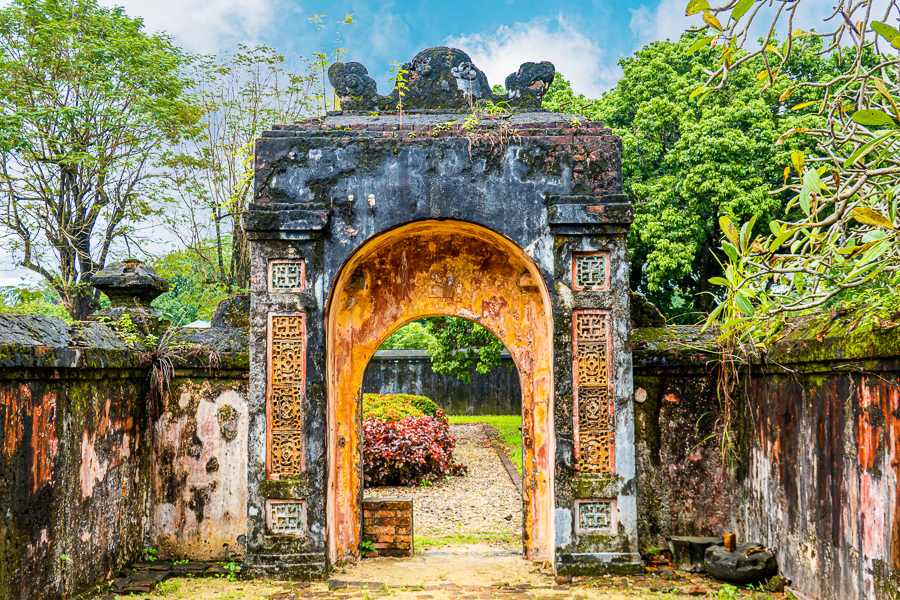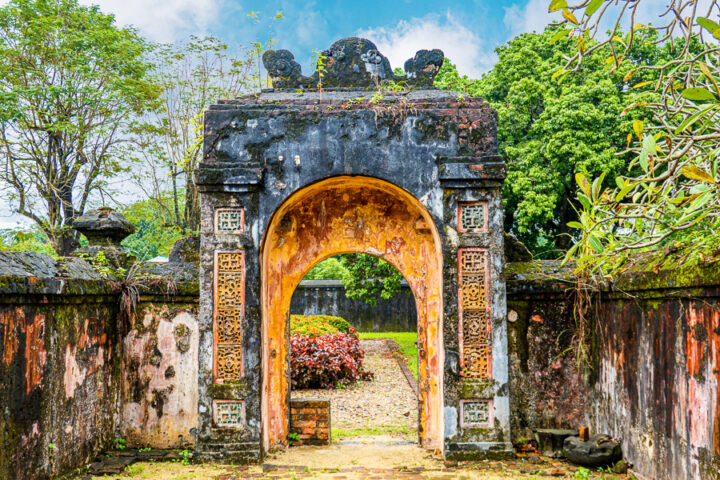 Keep your eyes peeled for windows with Chinese characters cut into them for decoration.
You'll also notice glass pieces worked into a lot of architecture. Mosaic art is very traditional in Vietnam, and is often on walls and doors throughout the Imperial City. Like much of the artwork and buildings on the palace grounds, you'll see vibrant bits of royal red featured in the mosaics.
And check out the dragon stair rails above. They are like what we saw in Phnom Penh!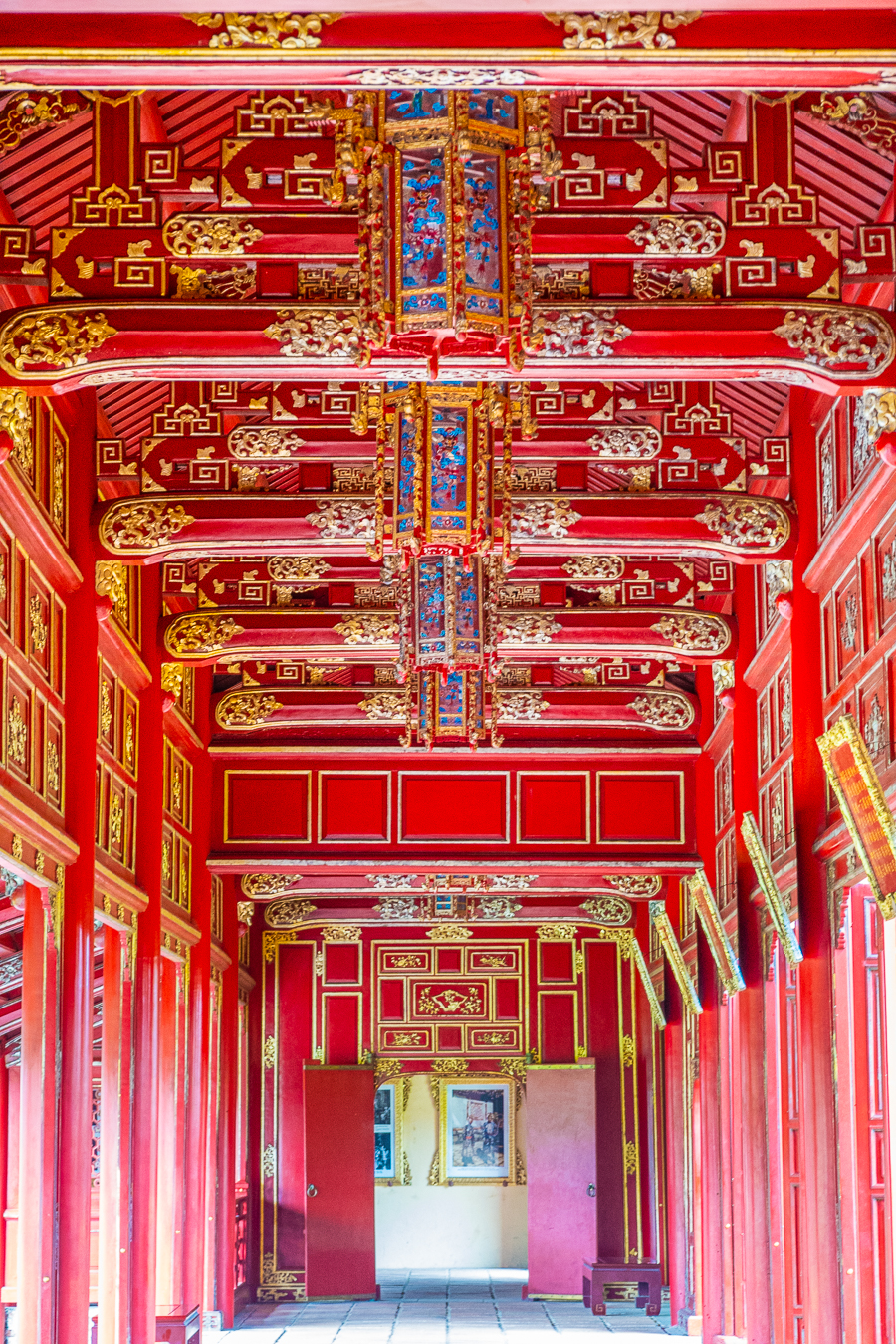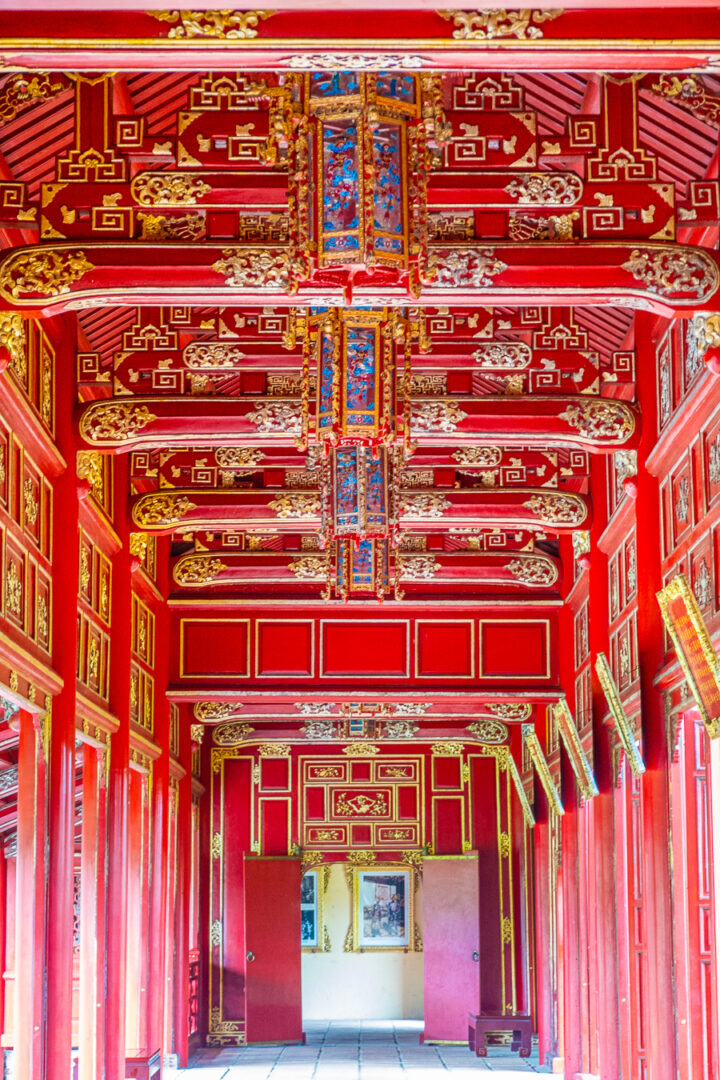 Forbidden City
Walled within the Imperial City is the even more exclusive Forbidden City. This was the ancient home to Vietnamese royals, and access was granted strictly to the imperial family and staff. It is exciting to tour it today and imagine what life was like back then.
The Forbidden City once contained at least 160 buildings, some with hundreds of rooms inside. However, in the violent "Battle of Hue" during the Vietnam War, most of the ancient complexes were destroyed. Only 10 buildings still stand, and you can even see bullet holes in the walls of some of these.
Inside the Forbidden City is a great location to stop and take in the successes and tragedies of history, and gain a new appreciation for the region. No trip to Hue would be complete without a visit here!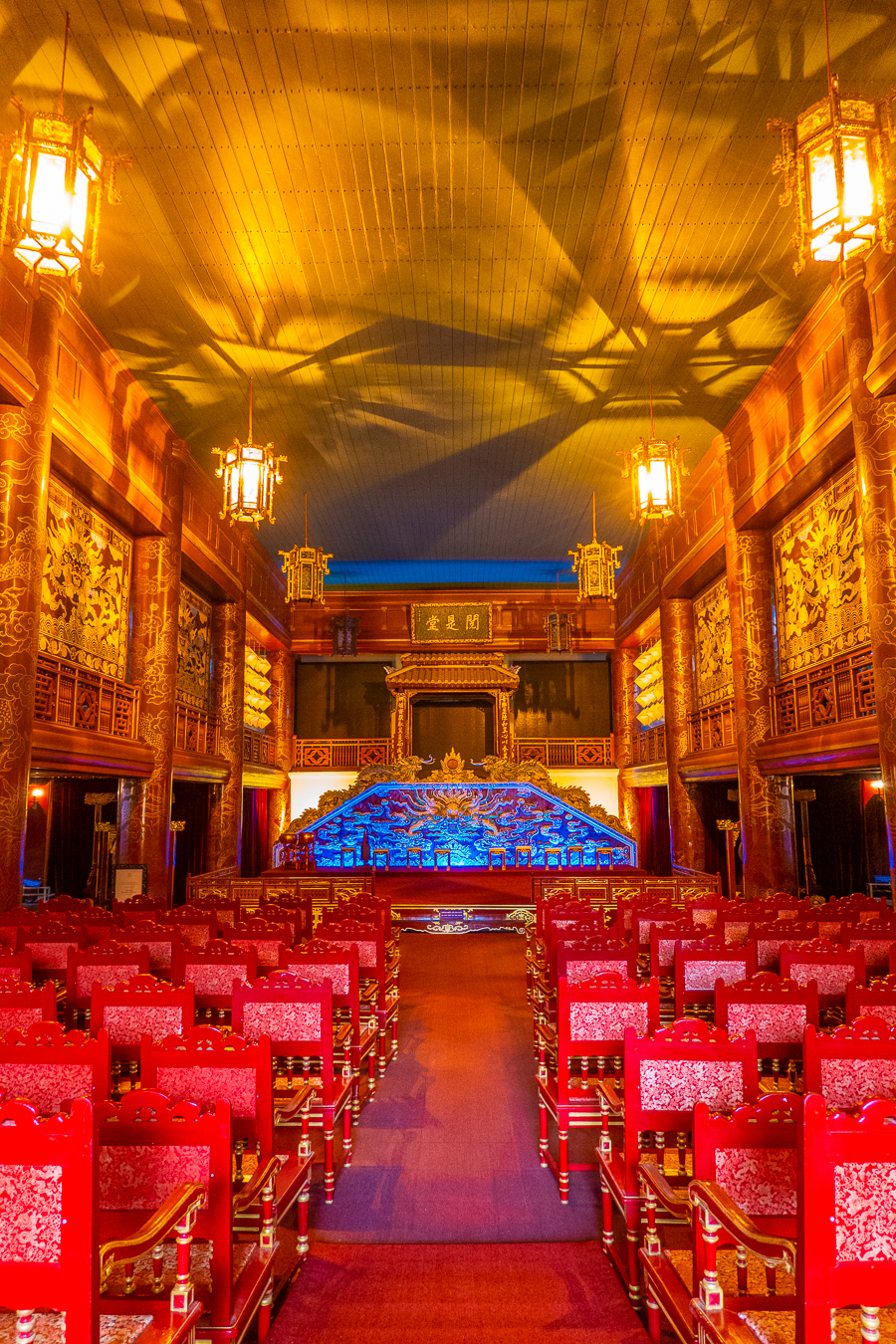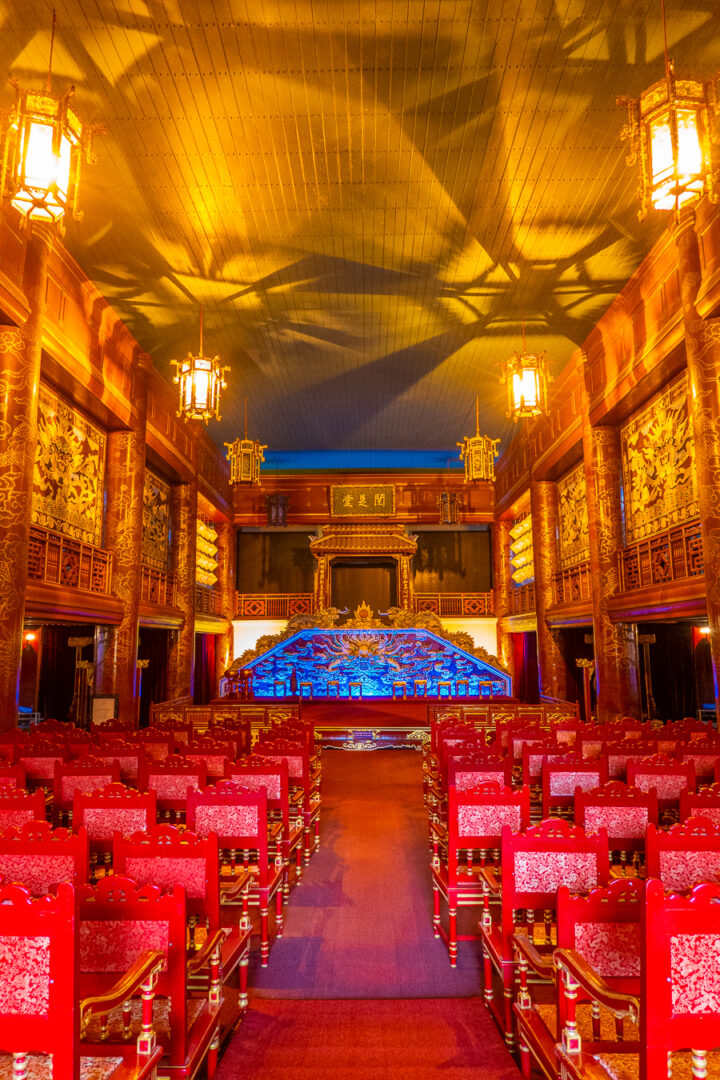 Royal Theatre
One building in the Imperial City that still remains in excellent condition is the Royal Theatre. It was constructed in the early 1800s, and is still a working theatre today!
Take a break from walking around and watch a live performance of traditional Vietnamese dance and music. Or, just pop in for a quick stop during your visit. There is a fantastic exhibit with local musical instruments and masks on display that you don't want to miss!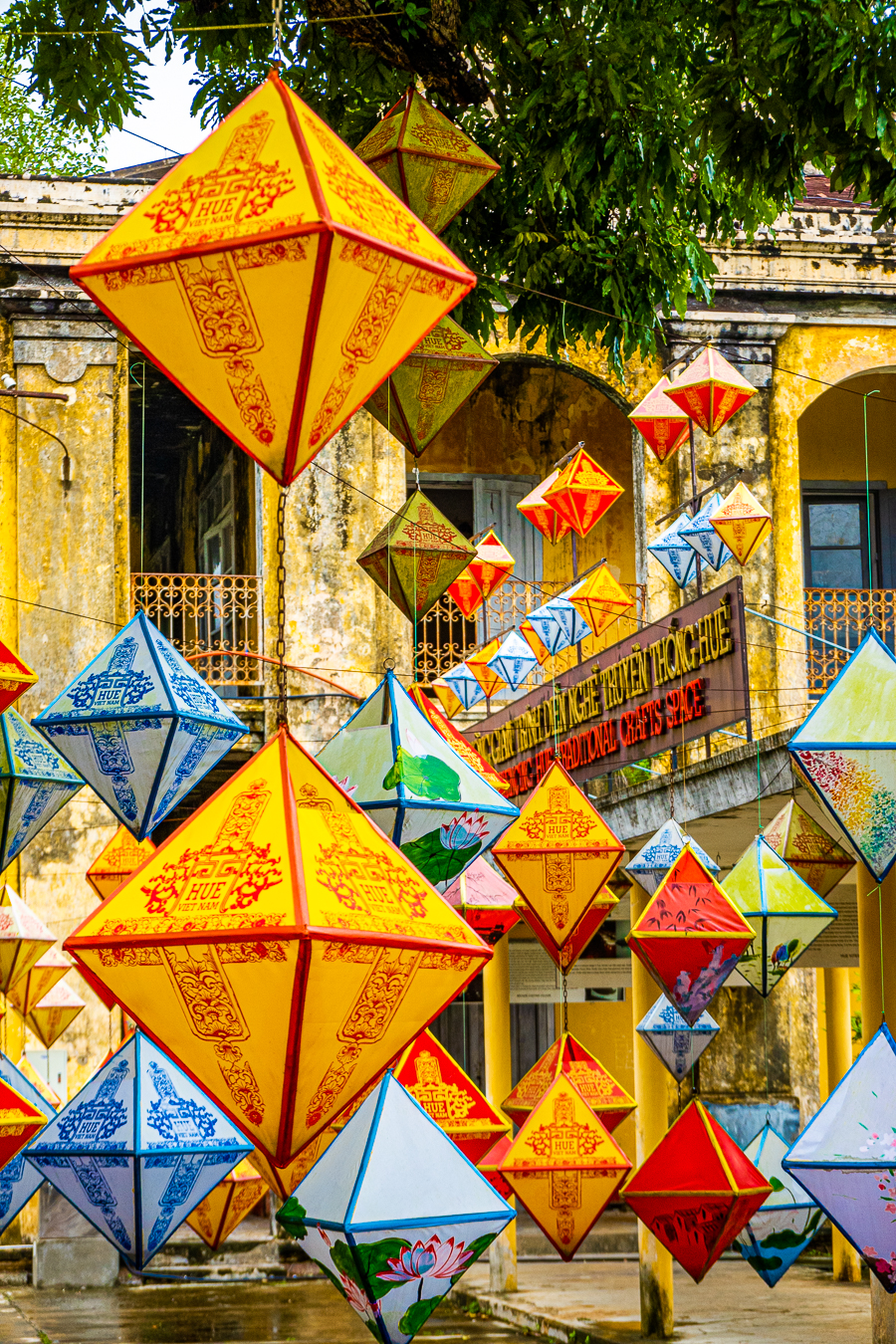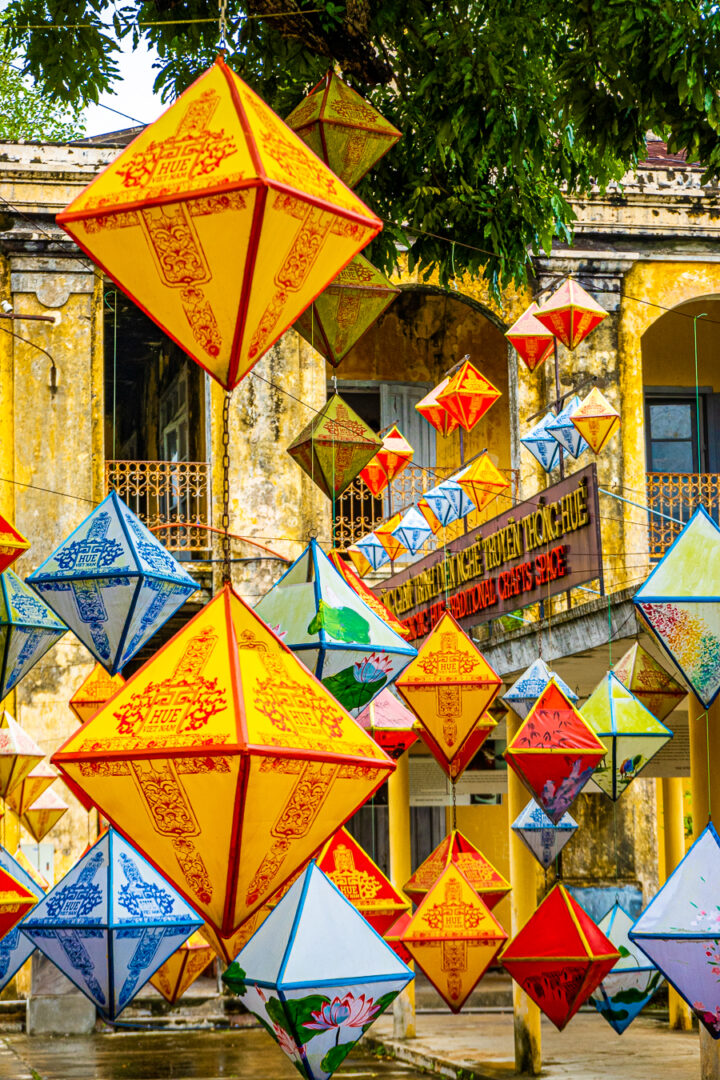 You will enter the Imperial City through the main gate, also known as the south gate.
We suggest you exit through the east gate once you're done exploring. Here you'll find a courtyard that is filled with literally hundreds of colorful lanterns. This is a great preview of the lanterns you'll see in Hoi An!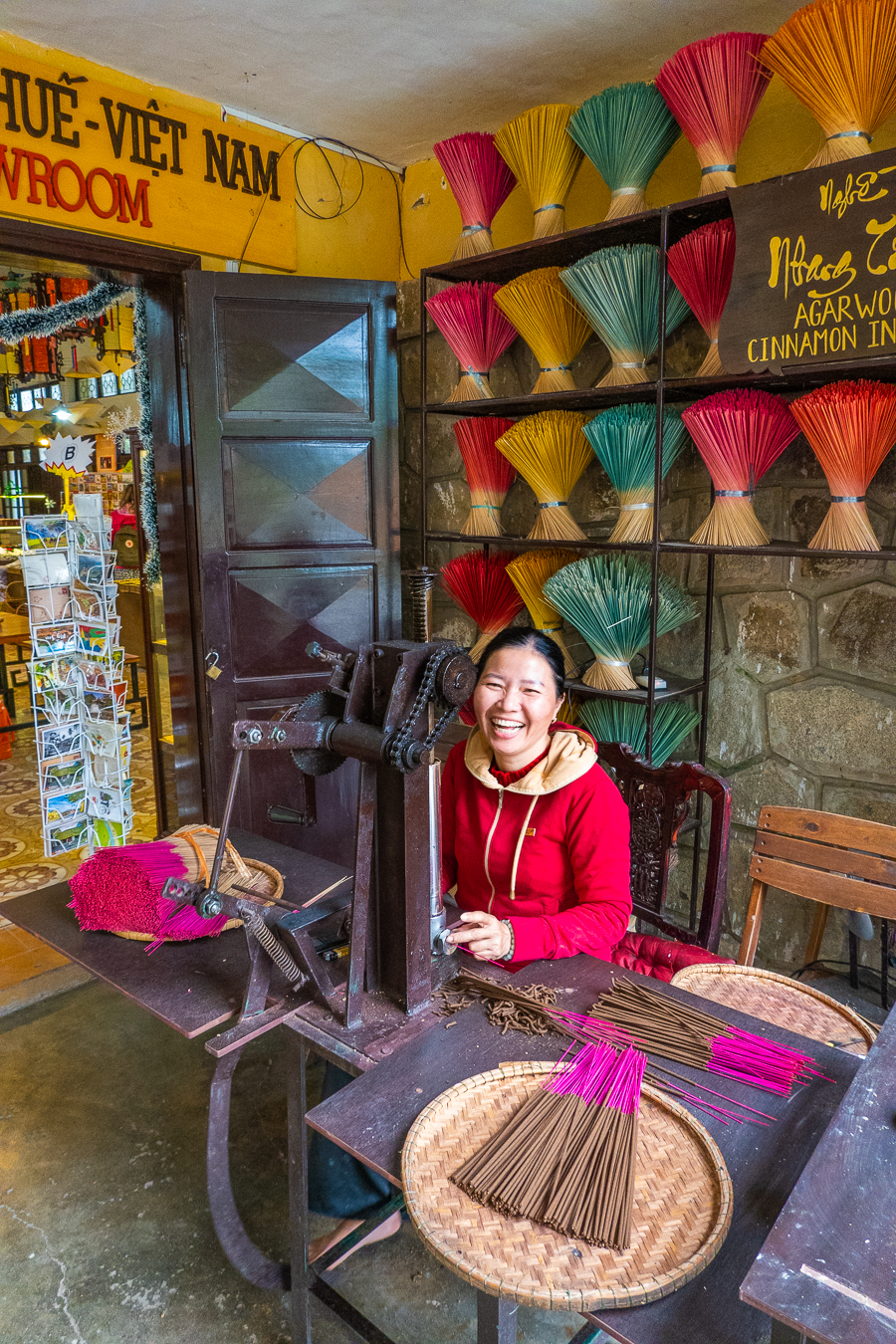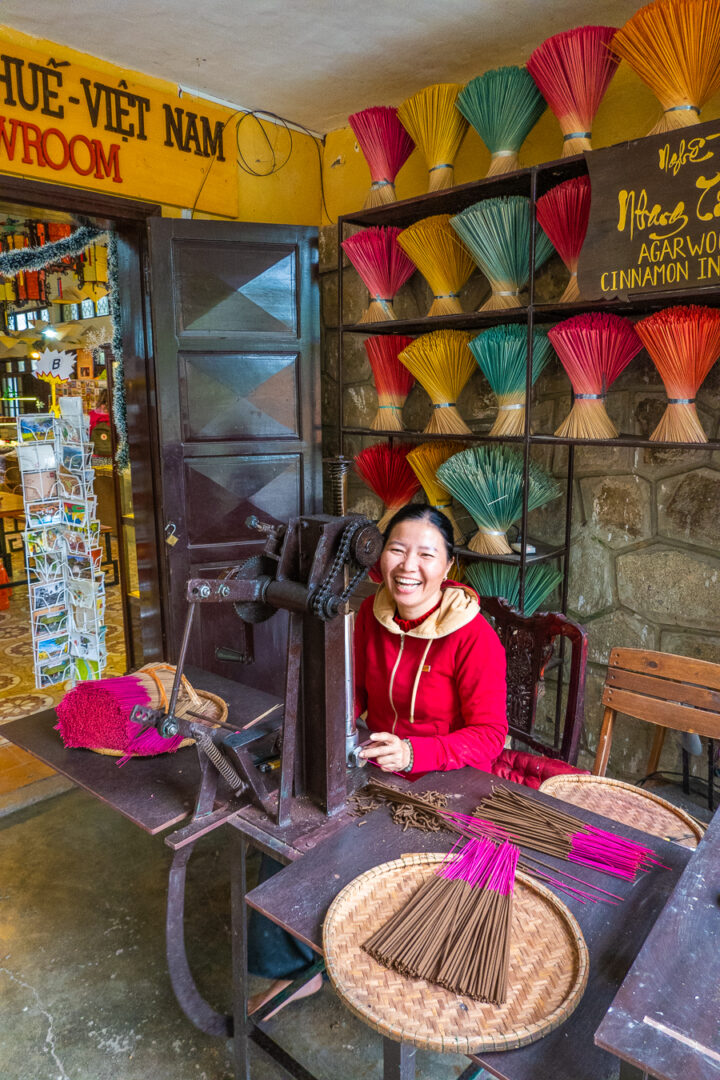 Through this east gate is also a gift shop that you'll want to stop at. There are the usual fun cheap touristy items, like magnets and shot glasses… but most of these are made in China. Purchase the cinnamon incense that are handmade right there in the shop (pictured above) for unqiue, locally-made souvenirs. You won't believe how good they smell! And your friends will be grateful for a gift they can actually use and enjoy *wink*.
You should plan to spend at least 3 hours exploring the Imperial City during your trip to Hue.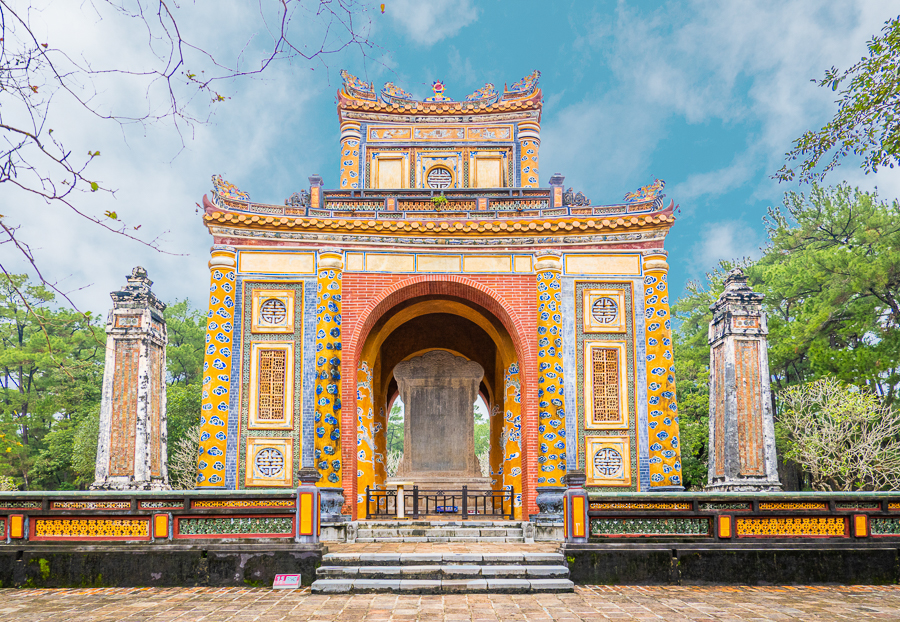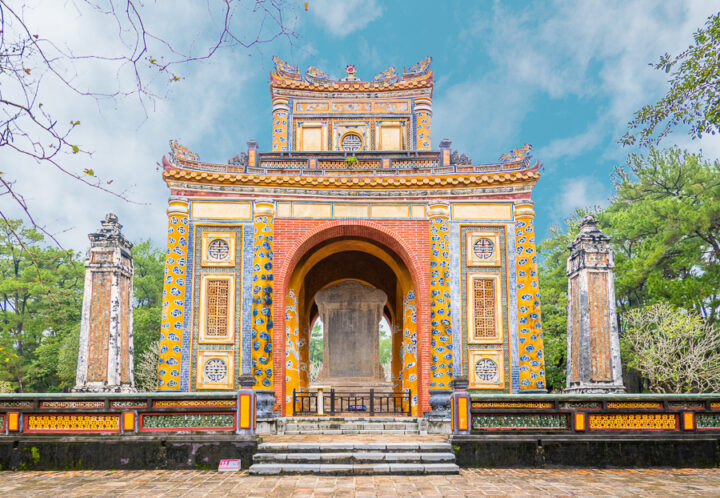 Tomb of Emperor Tu Duc
After touring the Imperial City, you should next explore the royal tombs of Hue.
Now, these are not just singular vaults where royals were laid to rest. Ancient kings of Vietnam were buried in unbelievably grand tombs that are part of huge complexes, complete with gardens, pagodas, and more. They were built to reflect the luxurious lifestyles and personalities of royalty, and often were designed by the king himself while he was still alive.
A great example of this is the Tomb of Emperor Tu Duc. It is by far the largest and most elaborate royal tomb in Hue, which is fitting for an emperor known for living a life of decadence and carnal excess. (He had at least 104 wives and countless concubines!)
He had the gardens and tomb constructed in the late 1800s, and spent almost two decades enjoying the grounds before he died.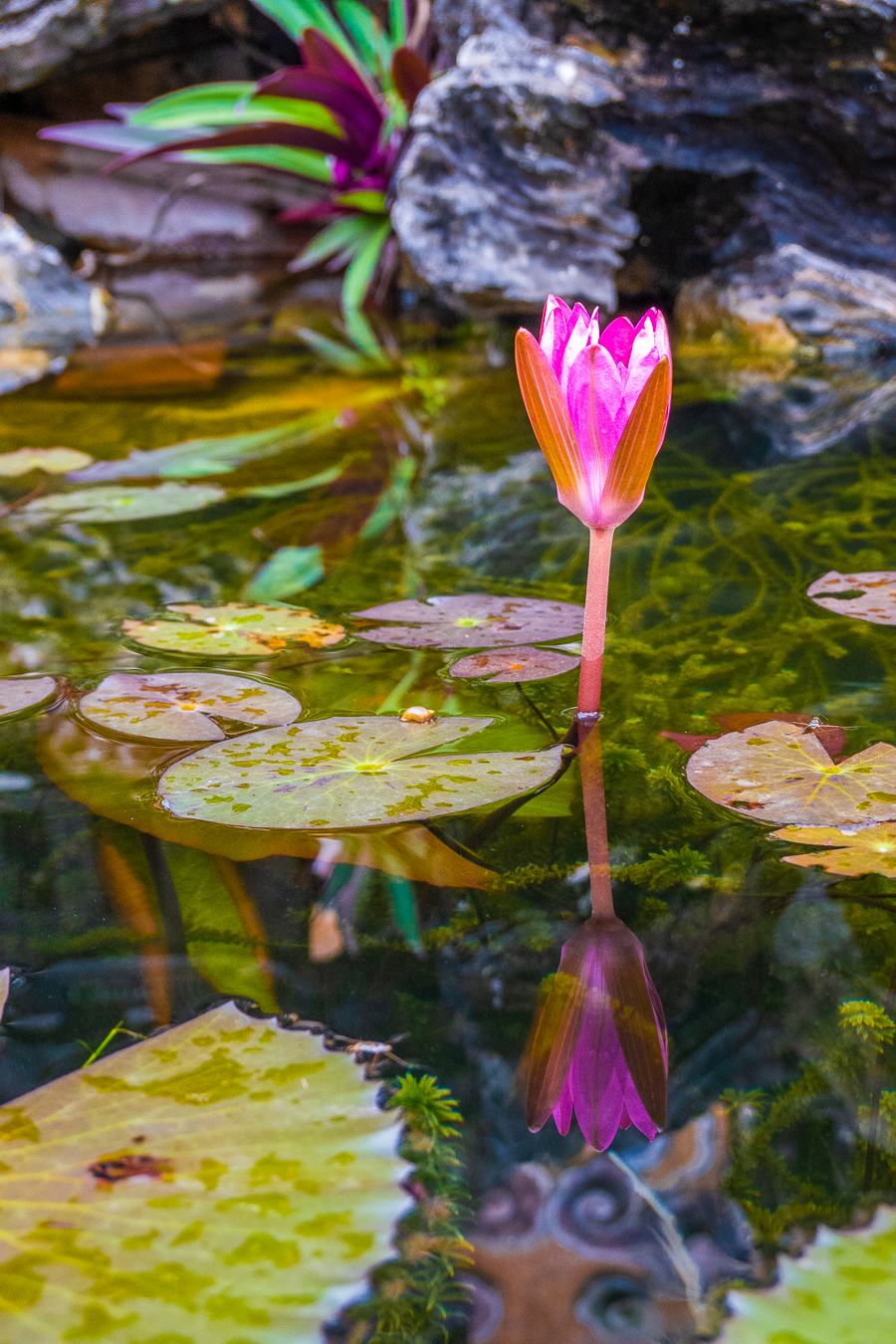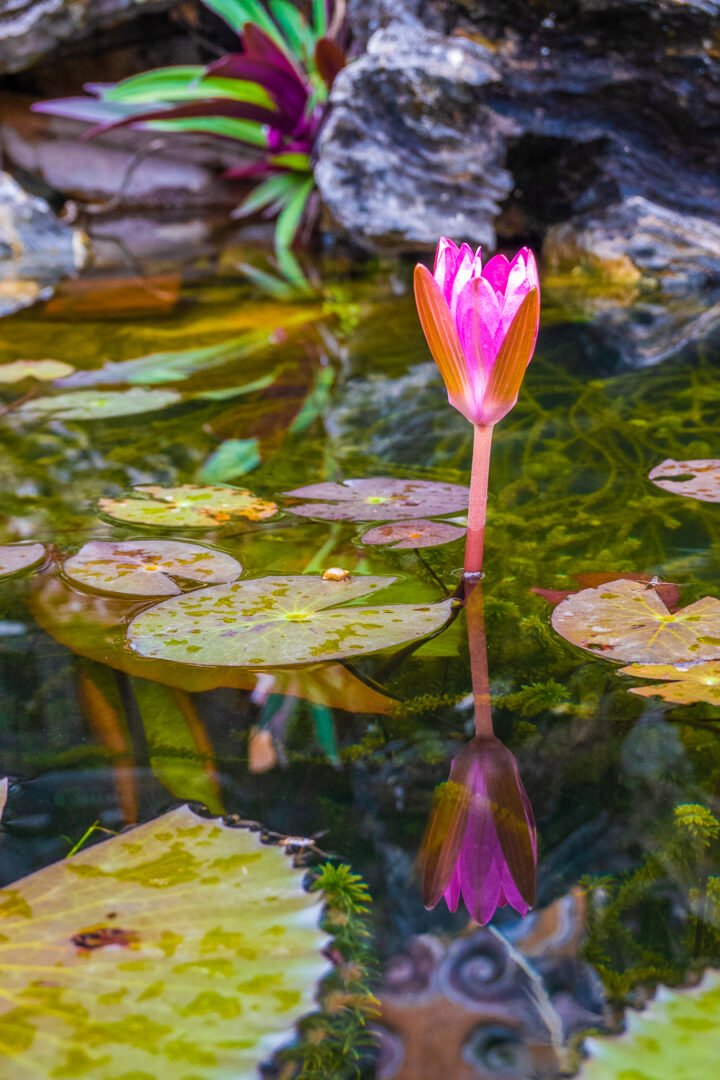 The landscaping at the Tomb of Emperor Tu Duc is beyond lovely. It is so relaxing here in the gardens! Everything was designed to work in harmony together, and you'll really feel this peaceful balance between nature and man-man architecture as you wander the grounds.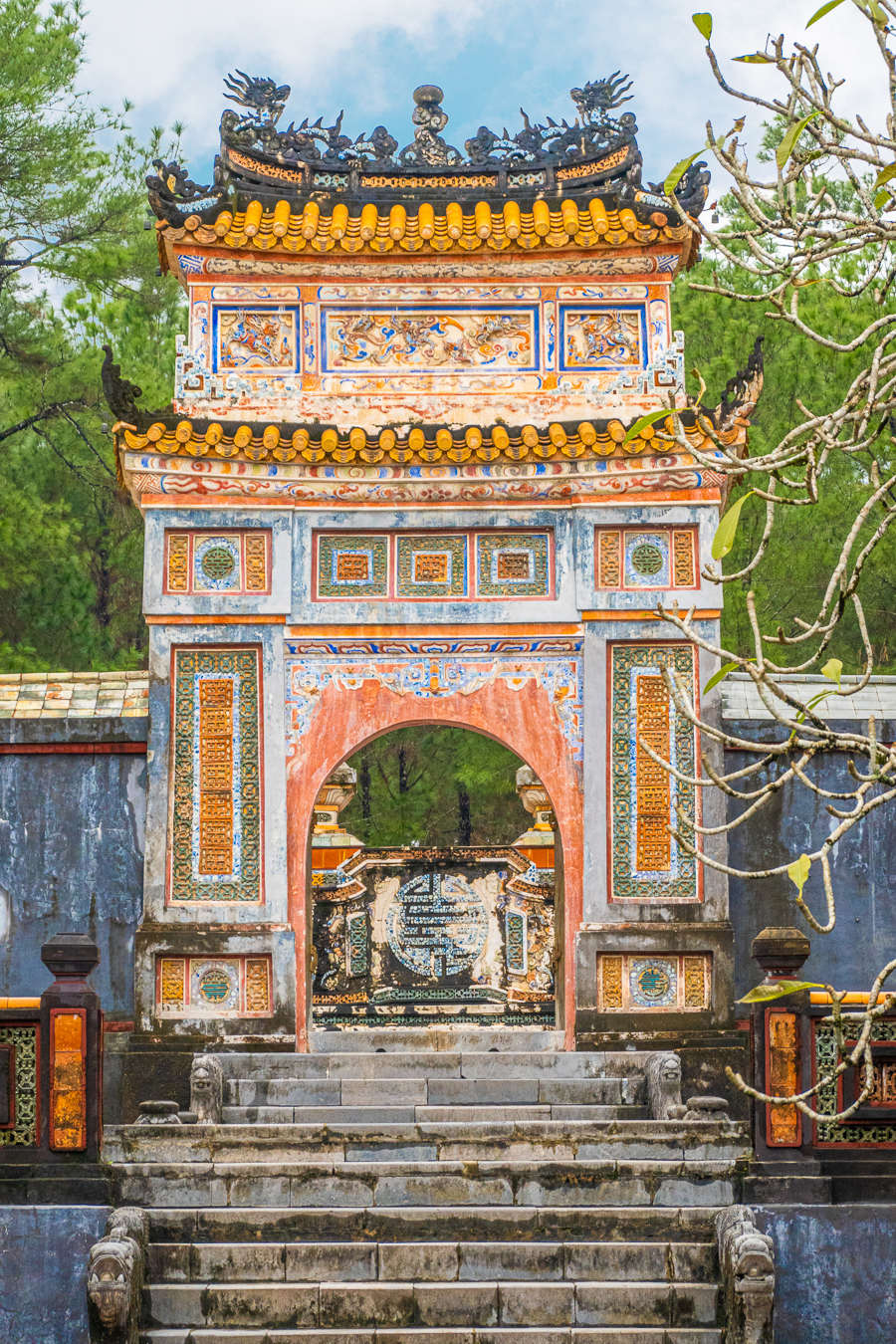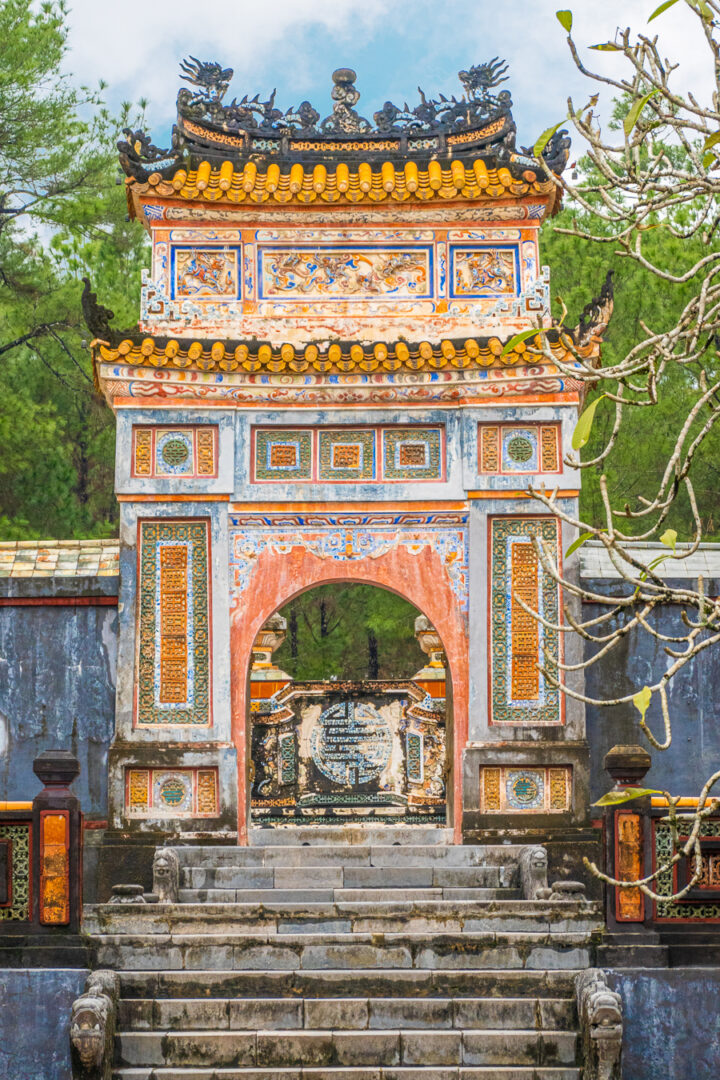 There are fabulous artistic details on nearly every manmade surface of the tomb grounds. Give yourself at least 2 hours to here to really take your time exploring.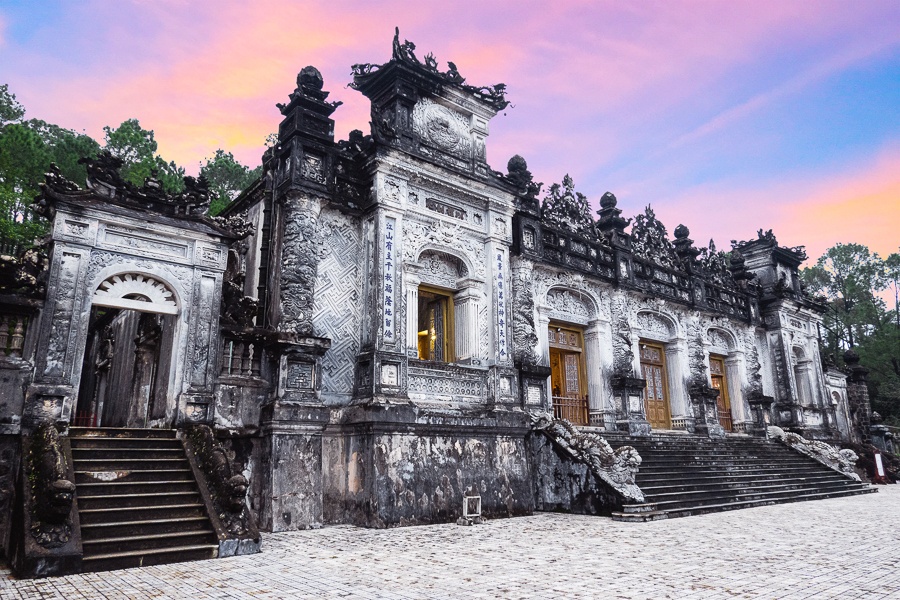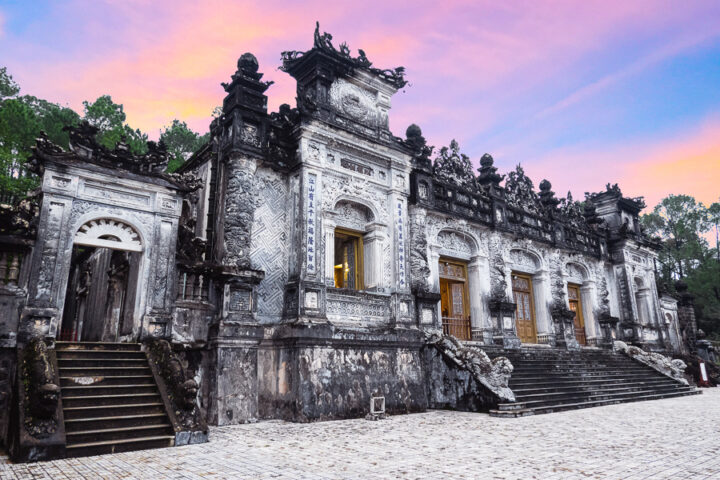 Tomb of Emperor Khai Dinh
Finally you'll want to visit the unique Tomb of Emperor Khai Dinh. Constructed in the early 1900s, this is the most modern of the Ancient Tombs. It also tends to be one of the most popular tourist attractions in Hue.
What makes this tomb so different from others is its Western-influenced architecture. Emperor Khai Dinh was a fan of French design, and so he had the tomb constructed in a blend of Asian and European styles.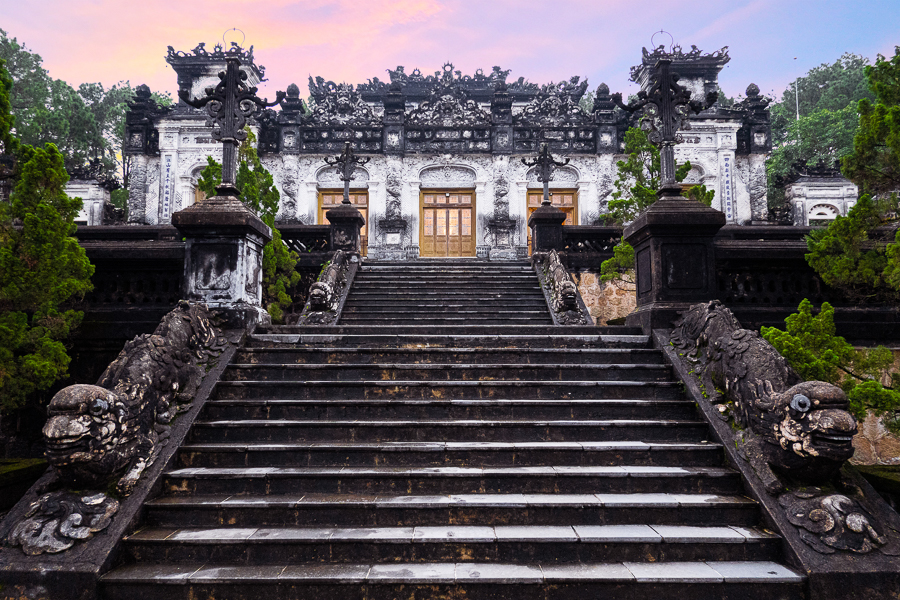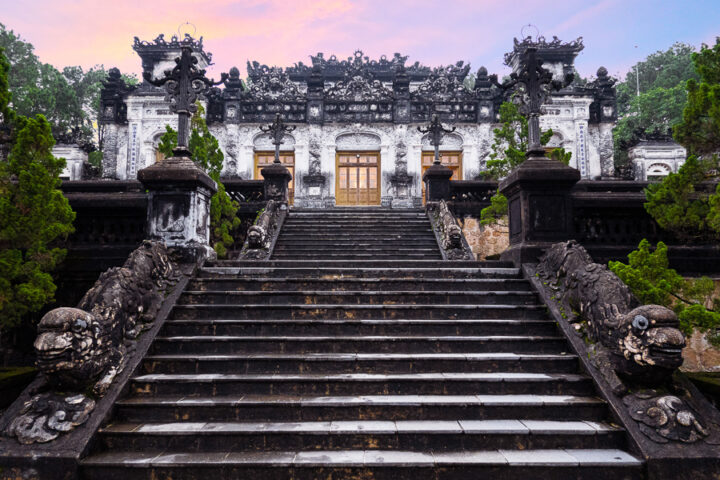 There is an impressive staircase leading up to the temple. The 127-step climb is totally worth it. Not only will you get to see the impressive, ornately-detailed Tomb of Emperor Khai Dinh, but from the summit you'll see one of the most incredible views in Hue.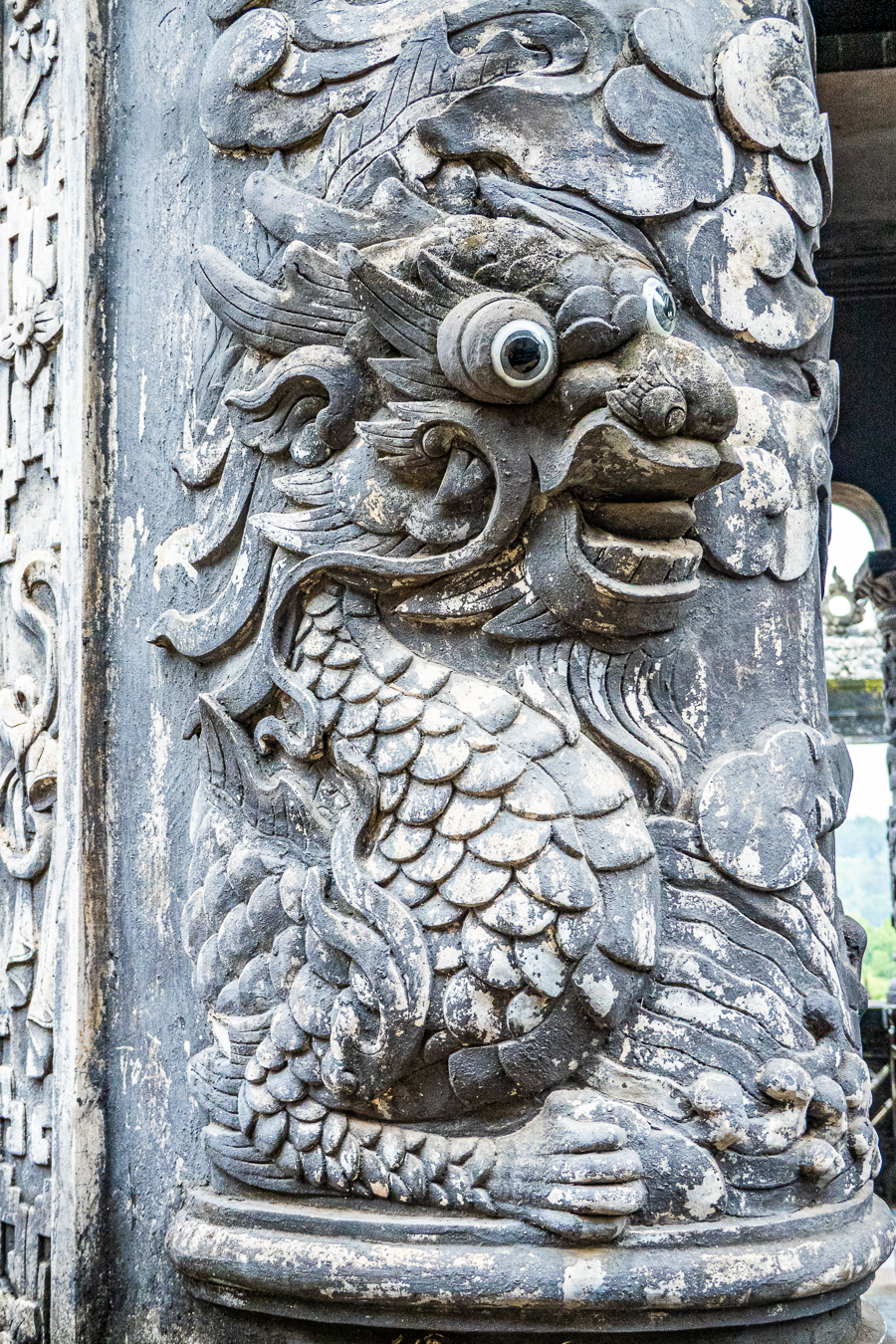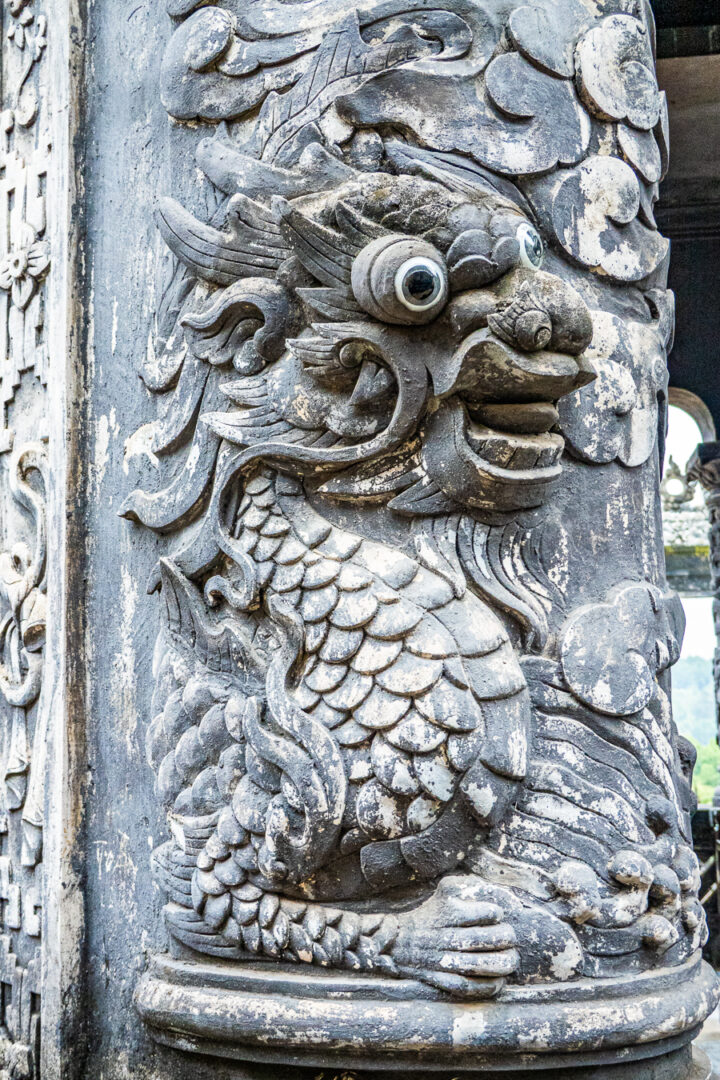 There are fascinating little artistic details all around the temple. See the funny dragon carved into the columns above?
While the outside of the tomb is a modest stone gray, inside is a dazzling experience unlike any other in the world.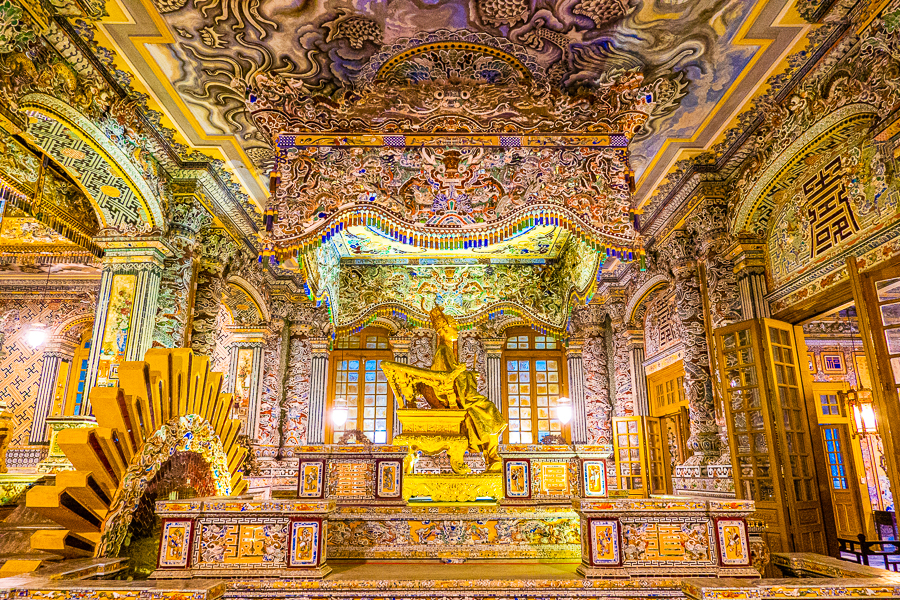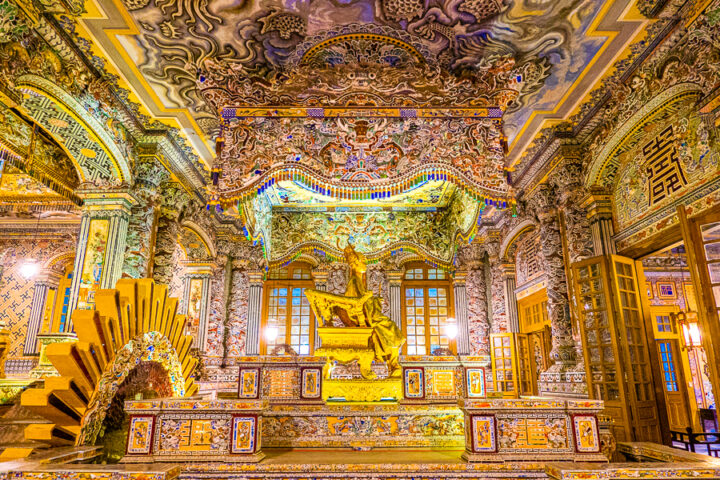 There are simply no words to properly describe how utterly fabulous the inside of the temple is.
A life-size bronze statue of Emperor Khai Dinh sits under a colorful canopy, welcoming you to enjoy this majestic space. Vibrant pieces of ceramic and glass were painstakingly pieced together to create gorgeous mosaics on nearly every surface.
Photos can't capture how jaw-dropping it is in here!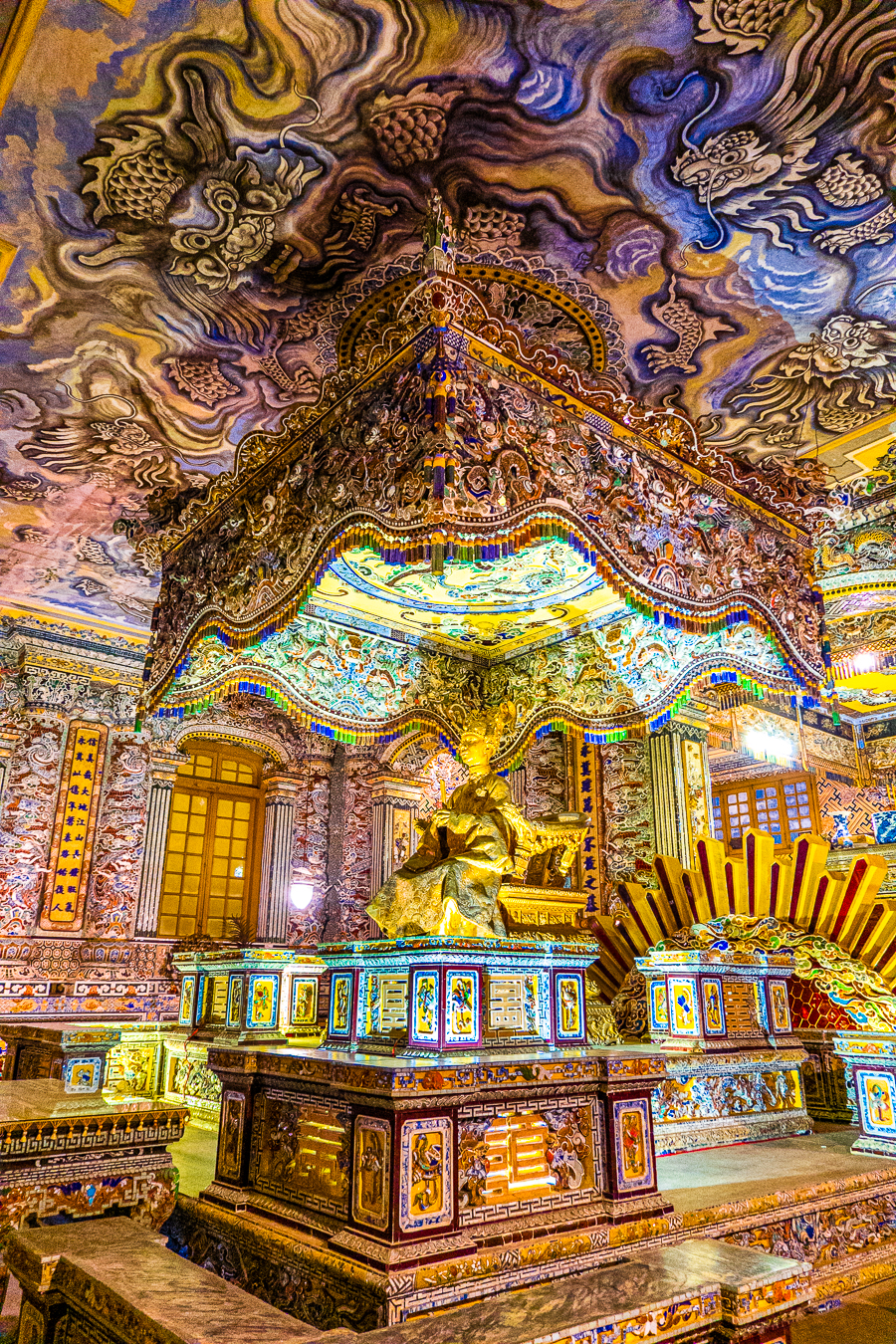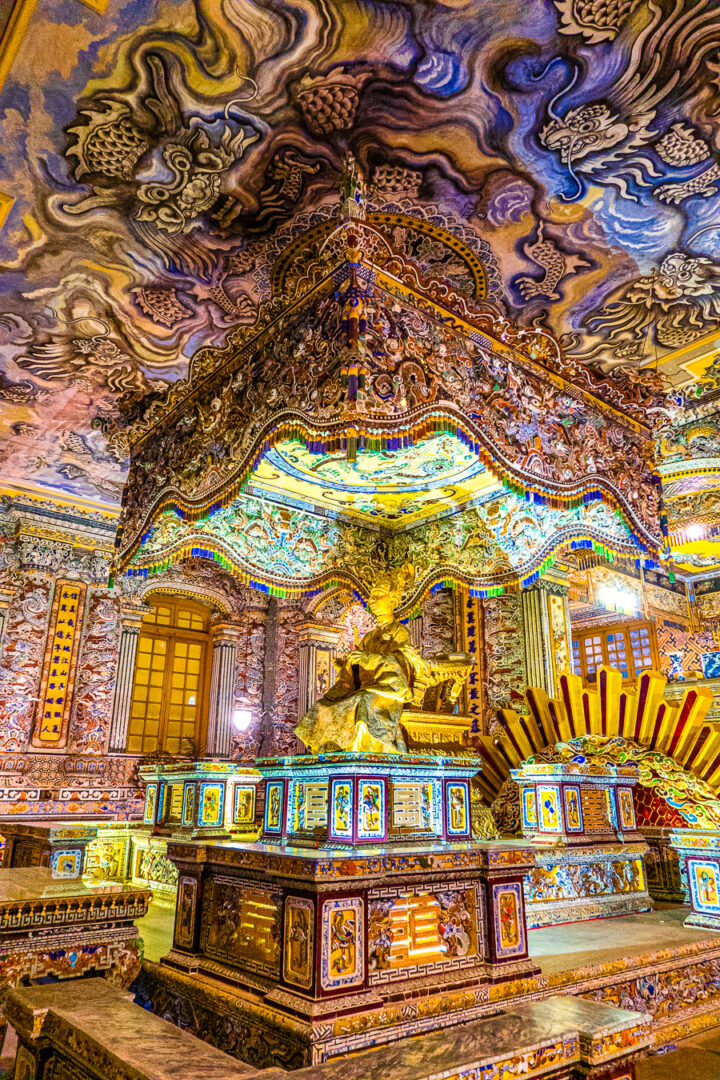 Look up and see nine flying dragons painted on the ceiling. These beautiful beasts are often found in Vietnamese artwork as symbols of power and longevity.
If you look closely, you'll find lots of dragons worked into the designs of the tomb.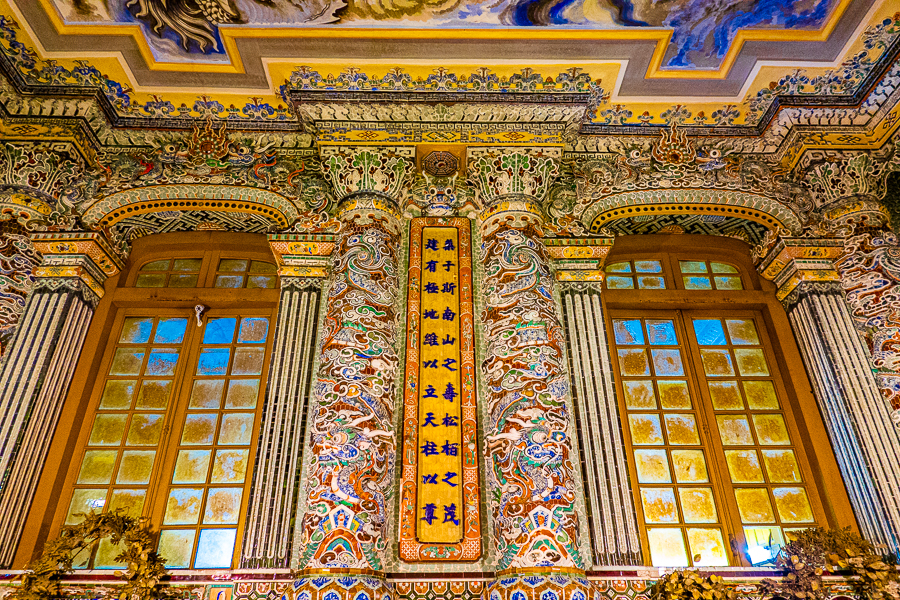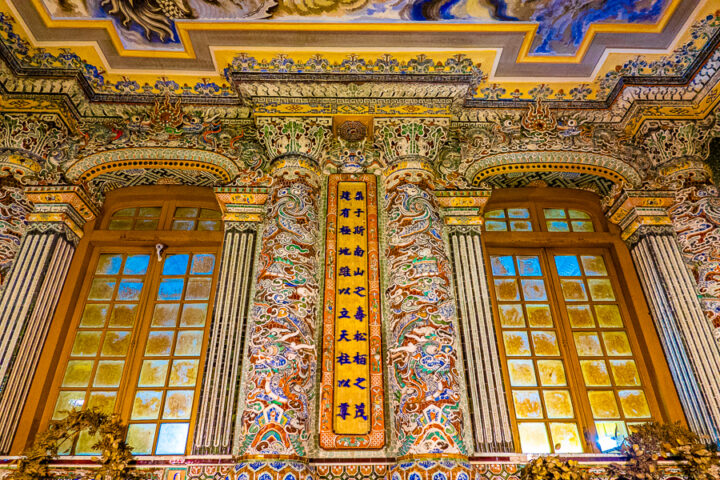 Plan to spend 30-45 minutes exploring the Tomb of Emperor Khai Dinh. Or more if you're really into mosaic work!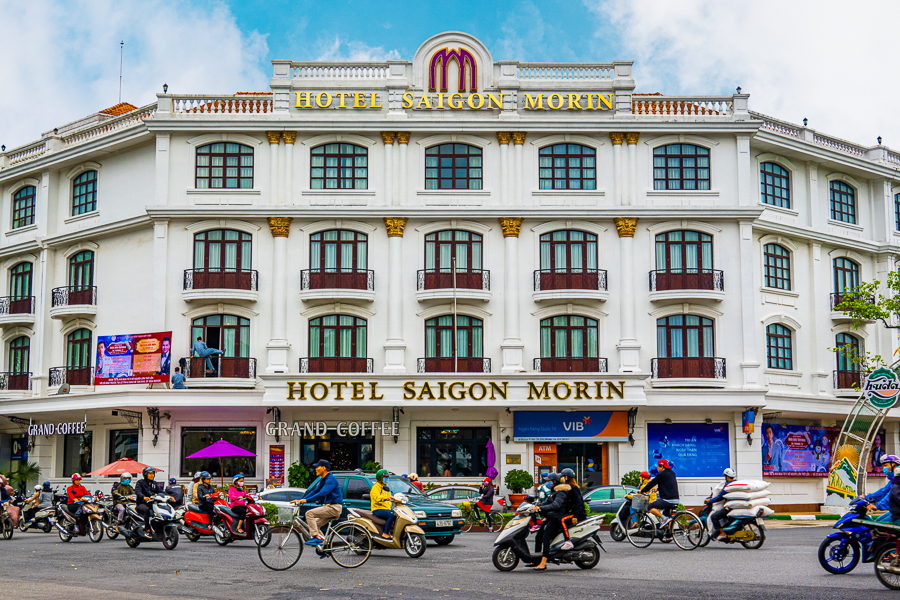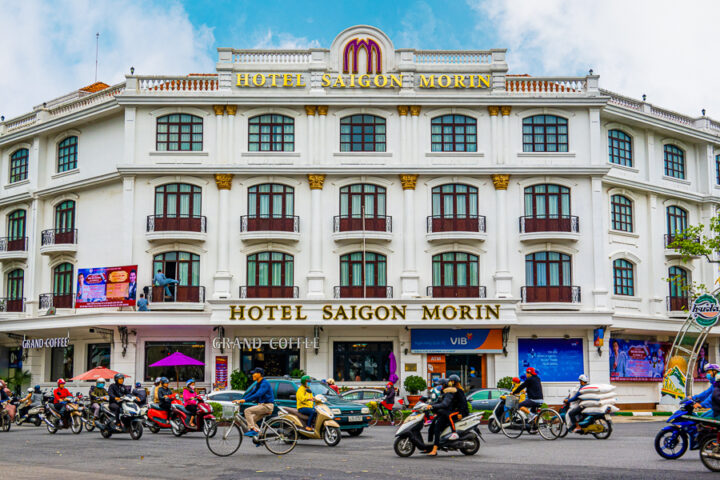 Best Hotels in Hue, Vietnam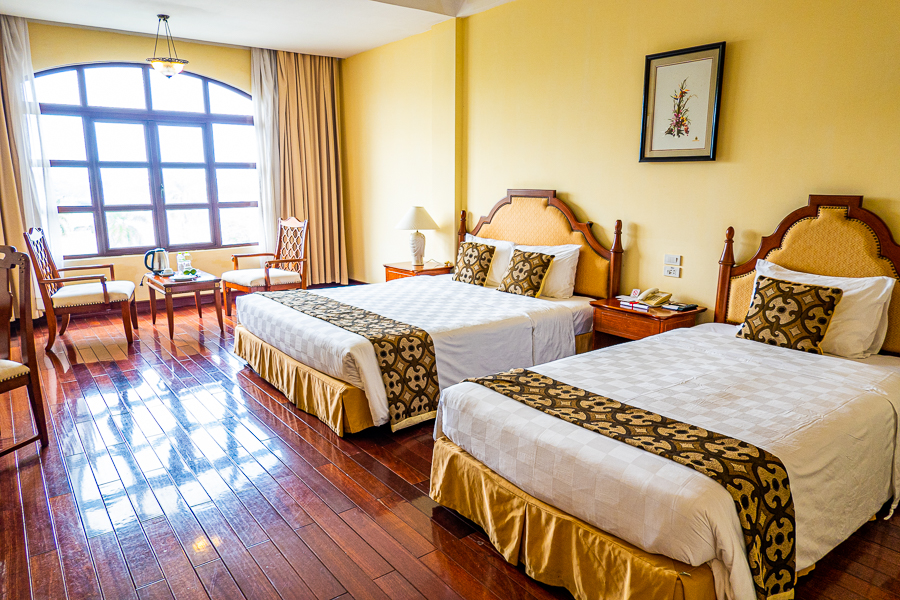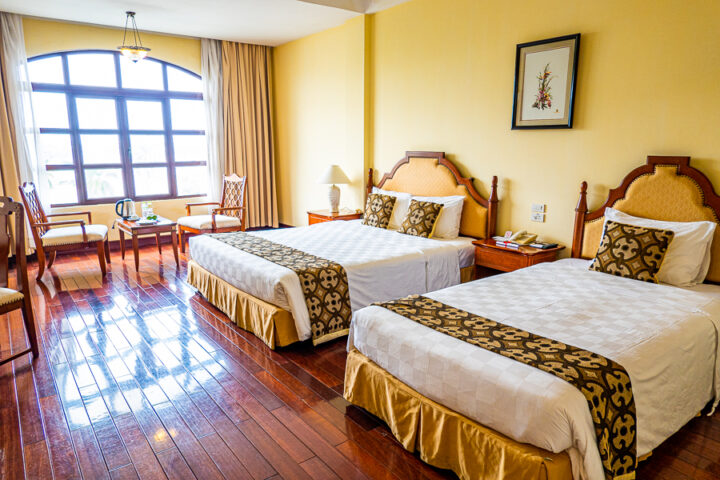 Our favorite hotel in the city of Hue is the Hotel Saigon Morin. This is definitely where you want to stay during your visit!
It is located right on the Perfume River, with access to a waterfront promenade that's perfect for taking a stroll as you wind-down from your day of exploration.
You feel like you are in the heart of the city but with all of the amenities of home!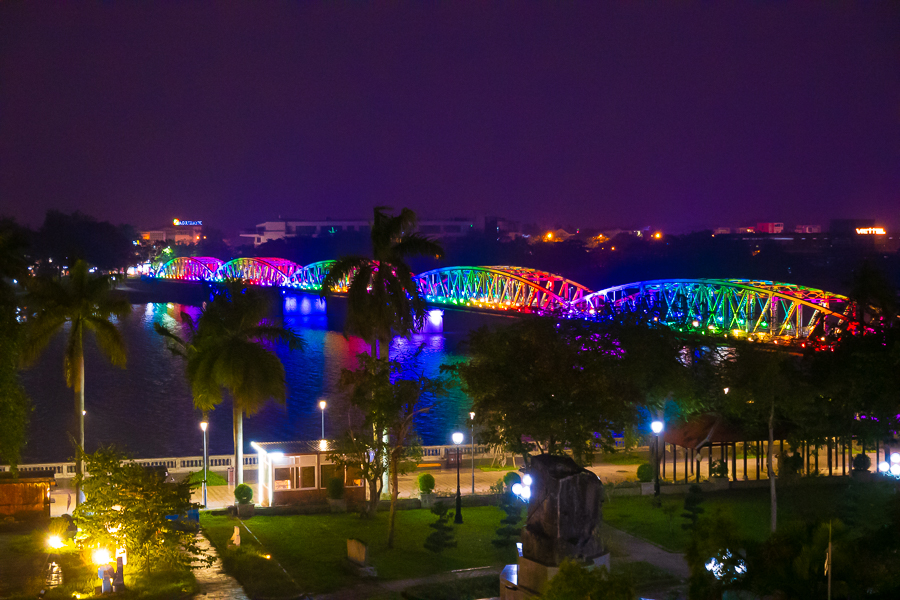 Many rooms have spectacular views of the river. Above is the view from our room! Each evening the bridge lights up in rainbow colors and puts on a brilliant light show. It feels like a special occasion every night!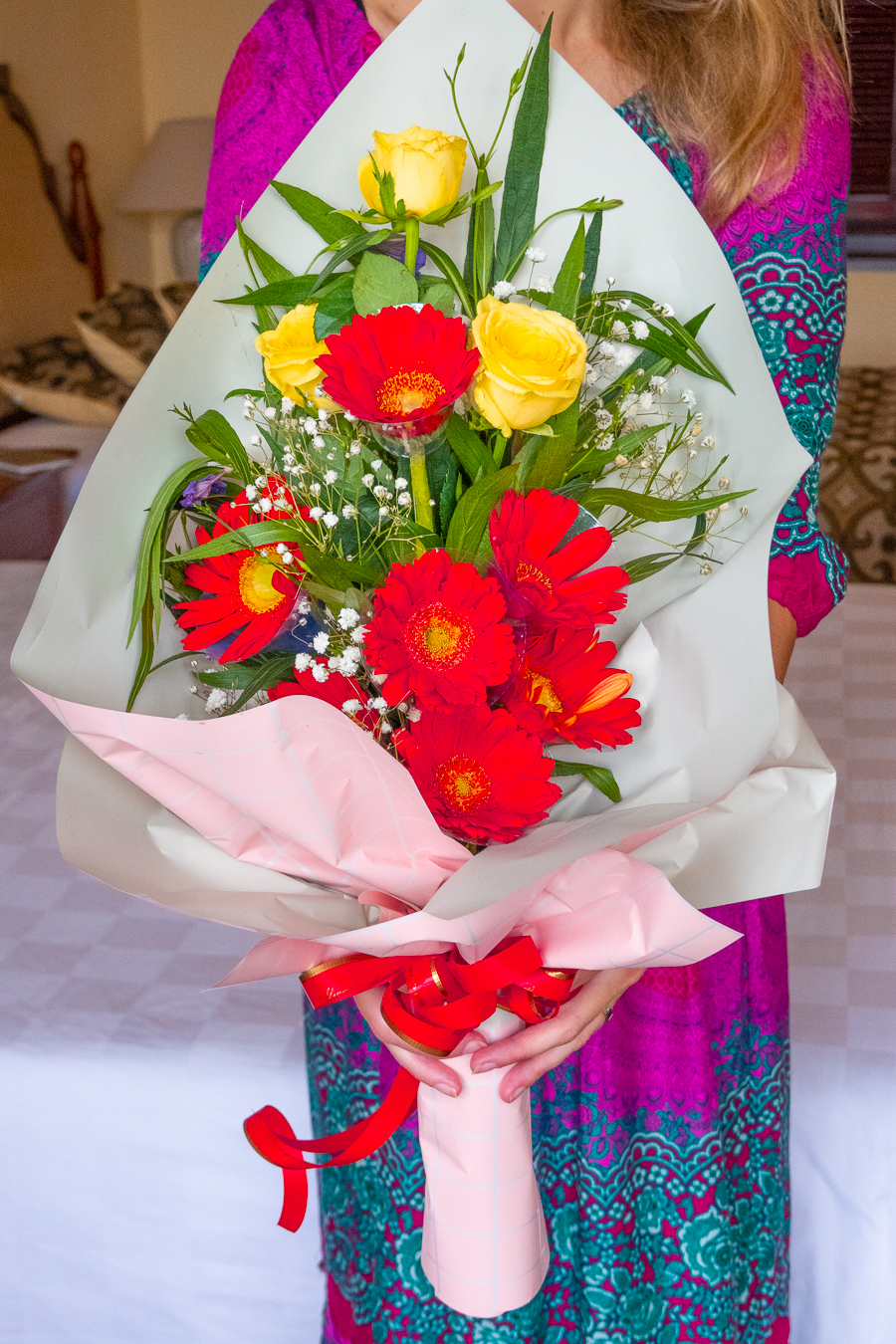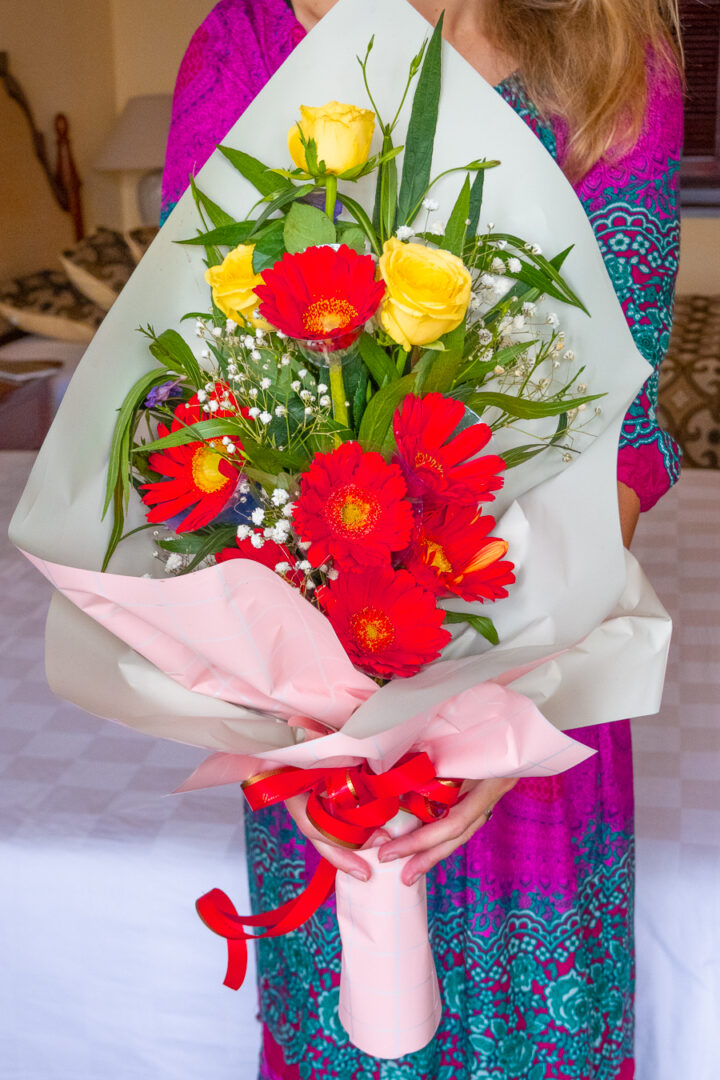 Speaking of special occasions, I was here visiting Hue on my birthday and the hotel left a beautiful bouquet of flowers in our room. As red and yellow are the color of royalty, you can tell they really want you to feel like a welcomed guest!
Transportation in Hue
In my years of traveling, I've found that when I only have 1-2 days in a city, the best way to see the most attractions is to book a tour. The best private tour in Hue is offered by Indochina Voyages. With a local, English-speaking guide and private driver, they will take you to all the best sites in Hue. You'll see and do everything mentioned in this post. The tour isn't too expensive when you consider the entry fees and taxi fees to visit all of the places would add up quickly if you do it by yourself.
Book your Vietnam vacation with them today, and tell them Kevin and Amanda sent you!
Do you have any questions about Hue, Vietnam?
If you're planning a trip to Hue and have any questions, please leave a comment below! We'll do our best to help you plan the perfect trip.
---
Are you on Pinterest? Pin these!