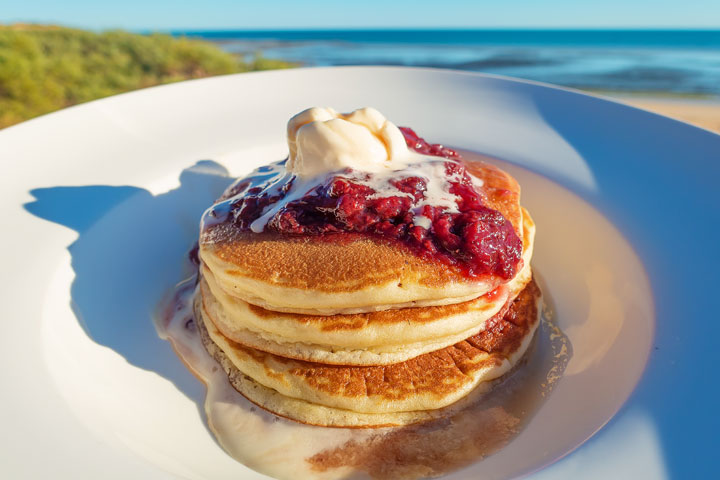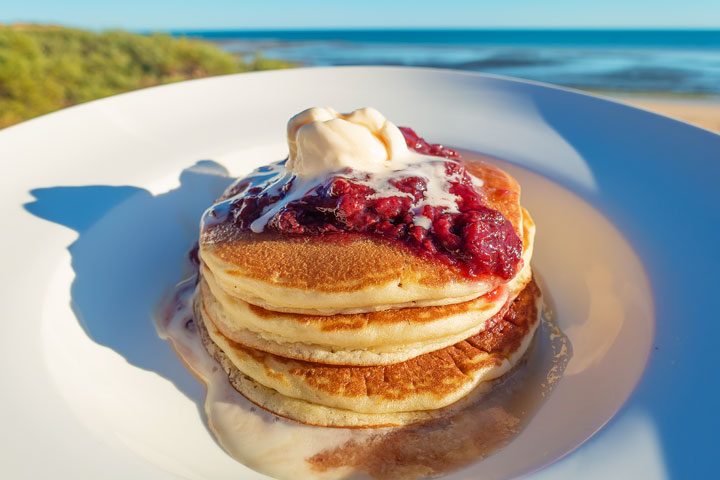 Good morning from Australia! :) I started my third day in Western Australia on a secluded beach with a fluffy stack of blueberry pancakes. We had a big day ahead of us! If you missed my first post from Australia, be sure to check it out here.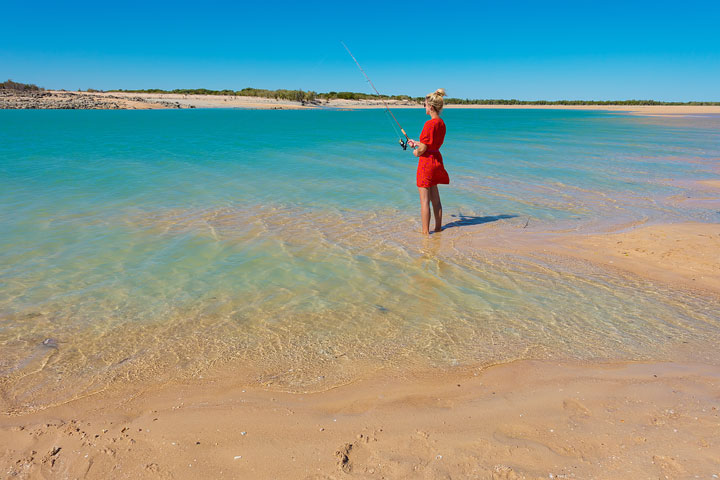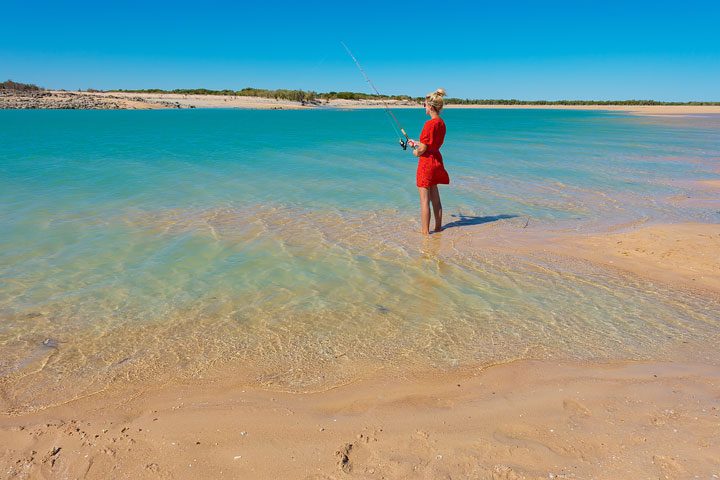 After breakfast we hopped in a four-wheel drive jeep and drove through the sand along the coast to Jack's Creek, a strikingly blue fishing spot where we would try to catch our lunch.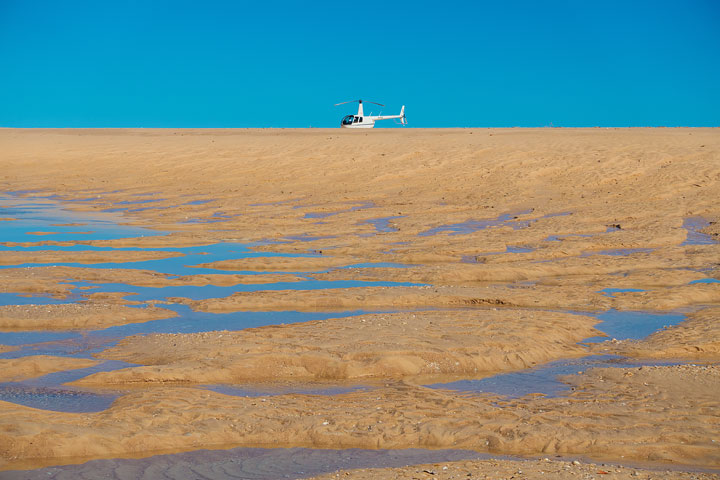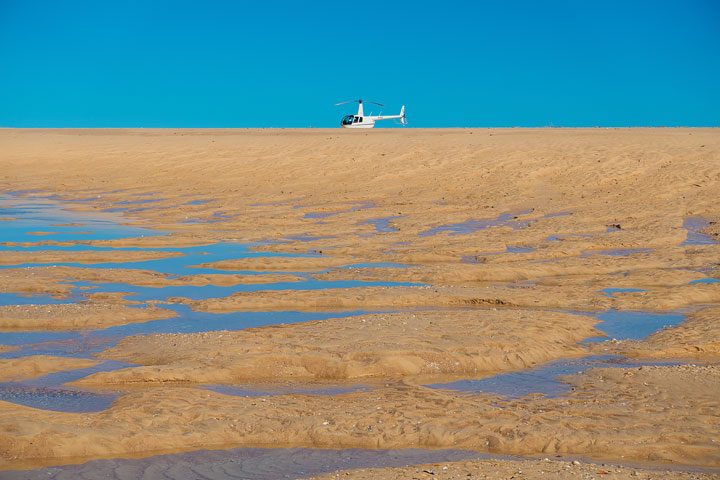 You can reach secluded fishing holes from Eco Beach by jeep or helicopter. The helicopter takes you to even MORE remote fishing spots!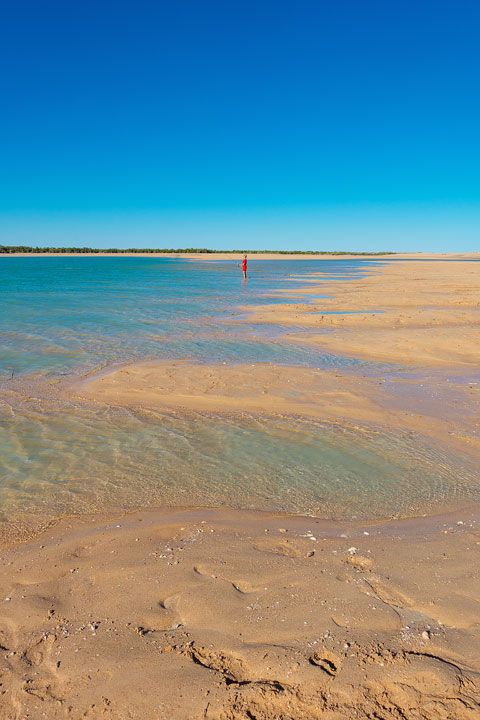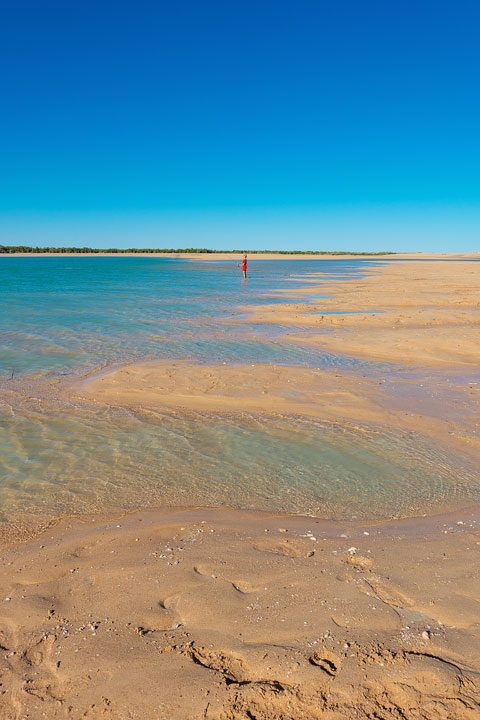 The waters off Eco Beach are abundant with Australia's tropical fish.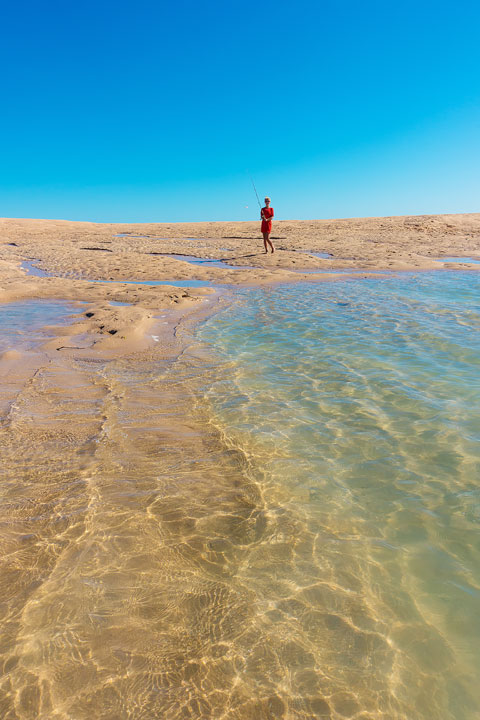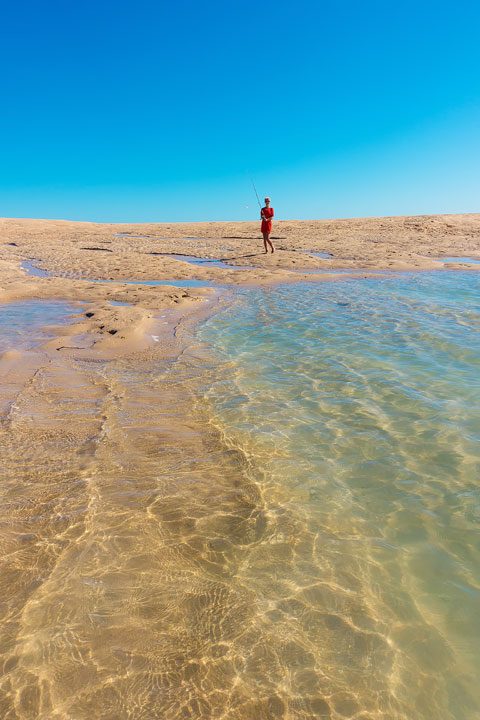 Common catches are Mangrove Jack, Threadfin salmon, Cod and Queenfish.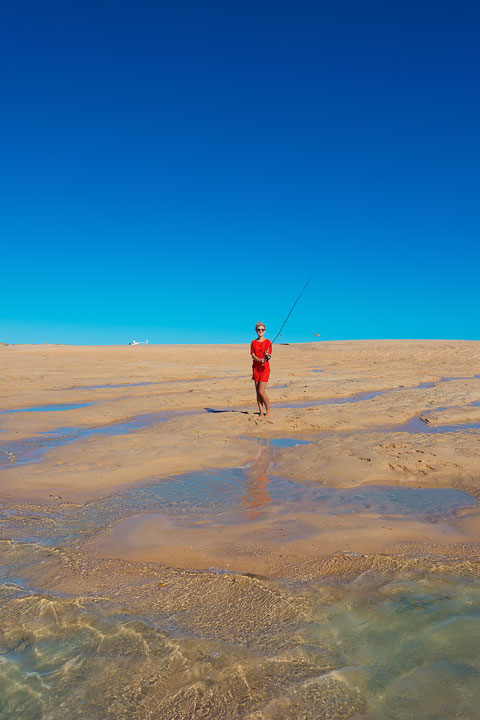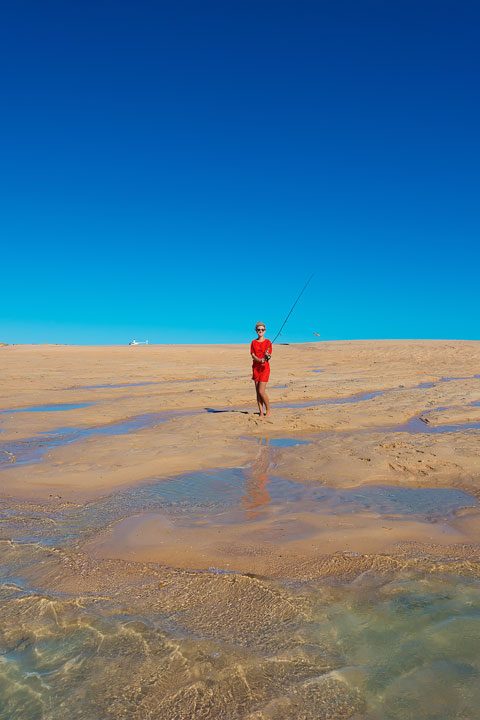 However the catch that everyone hopes to land is the elusive Barramundi! :)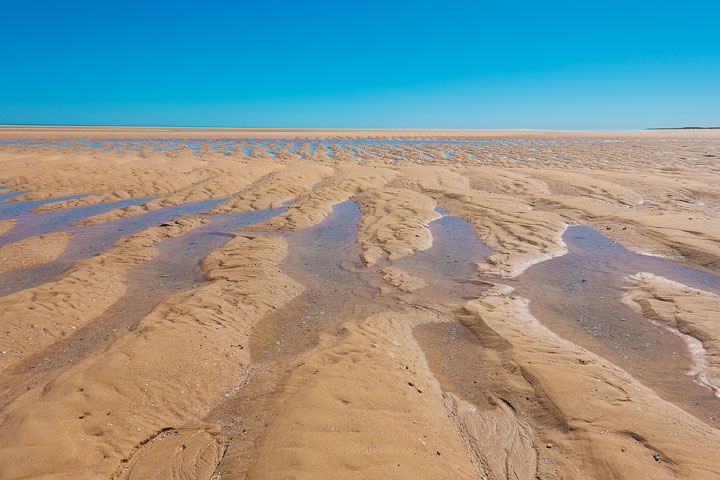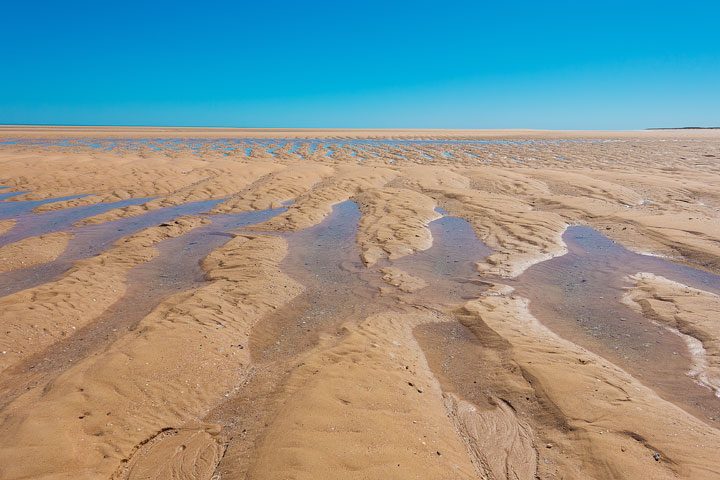 The landscape around Jack's Creek was breathtaking.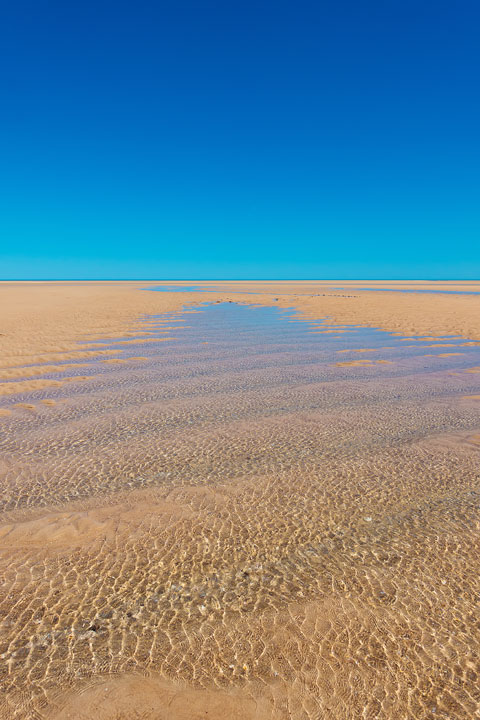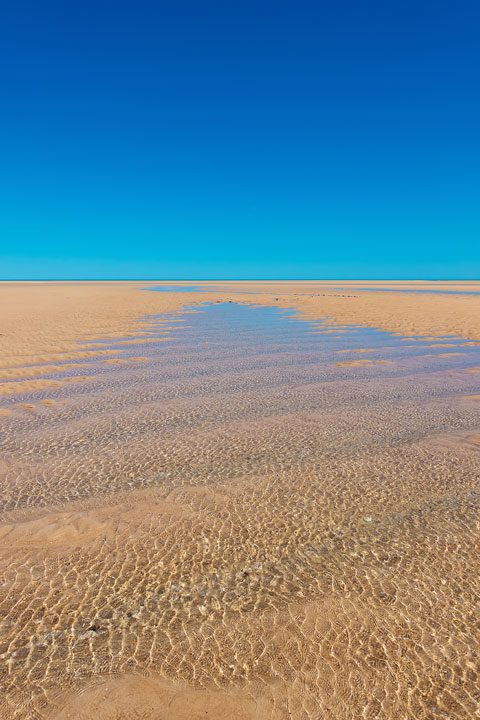 Probably because is where the Giant Tides come in — when these 33-feet tides comes in this entire area is covered in water!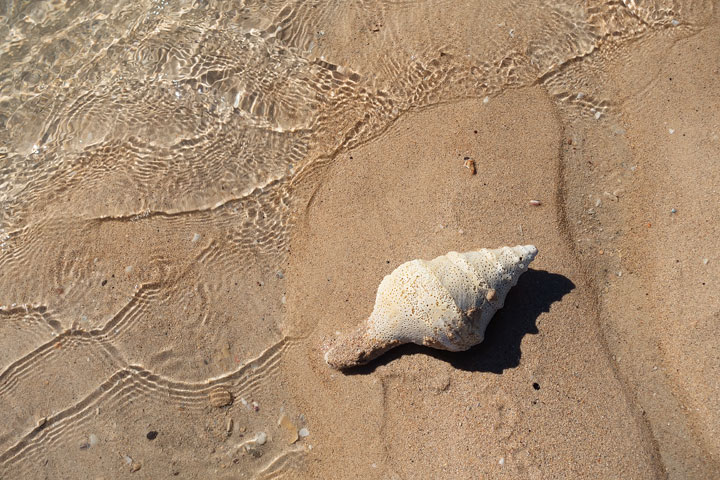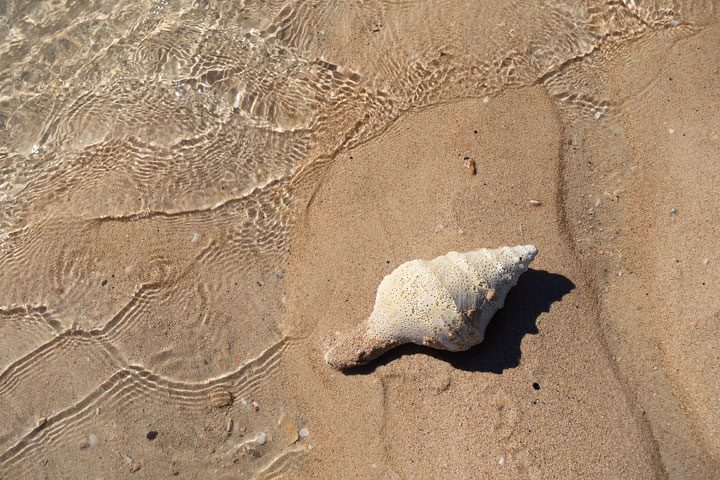 The seashells and tide pools were pristine and diverse.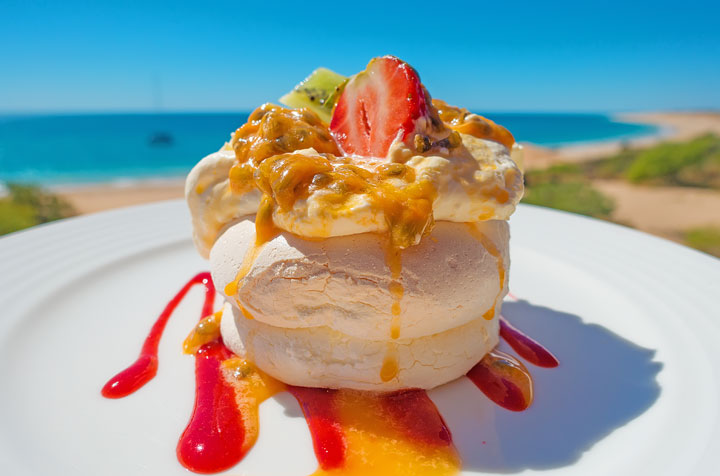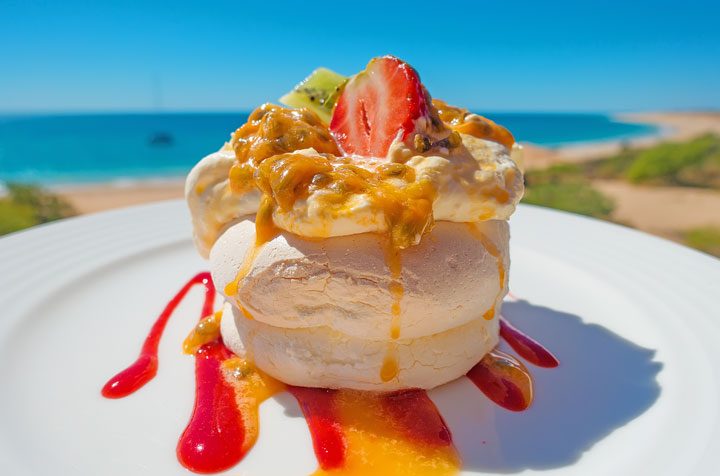 I didn't have much success fishing (probably because I couldn't stop taking pictures! ;)) but nevertheless we were treated to a fabulous lunch at Eco Beach Resort. This pavlova with strawberries, passion fruit, and kiwi is a traditional Australian dessert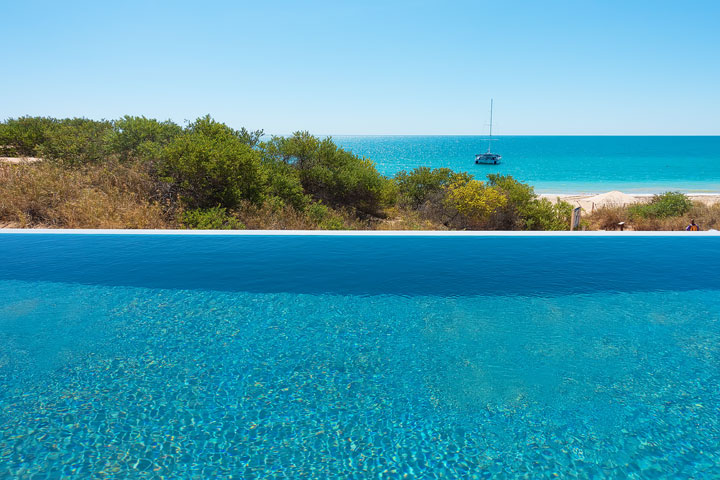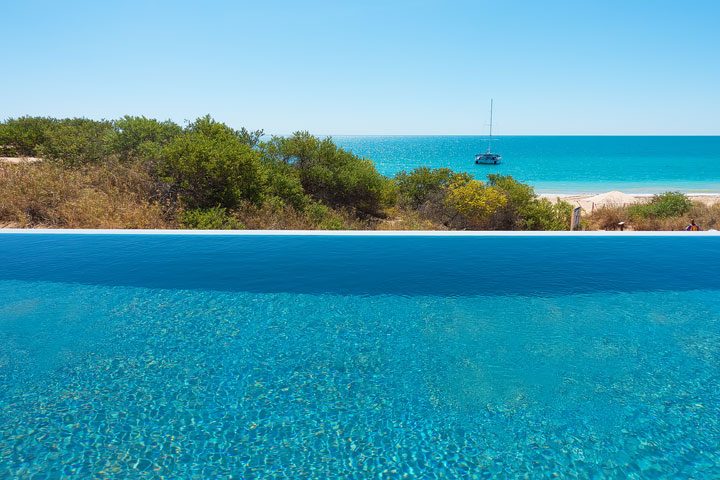 The restaurant faces the ocean and sits beside a stunning infinity pool. I could stay here all day!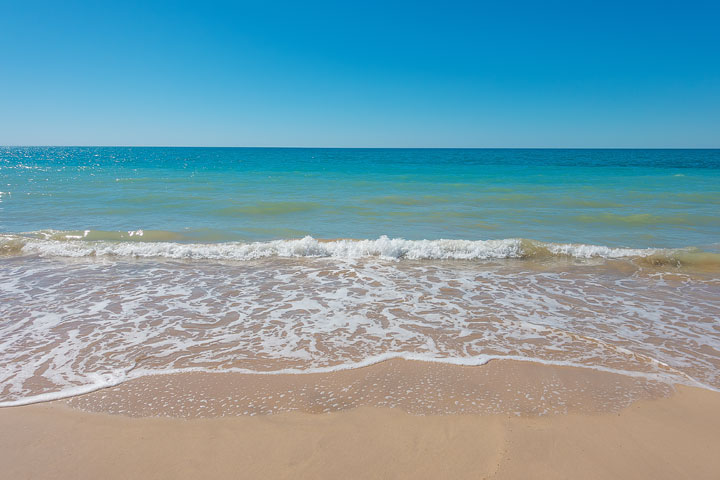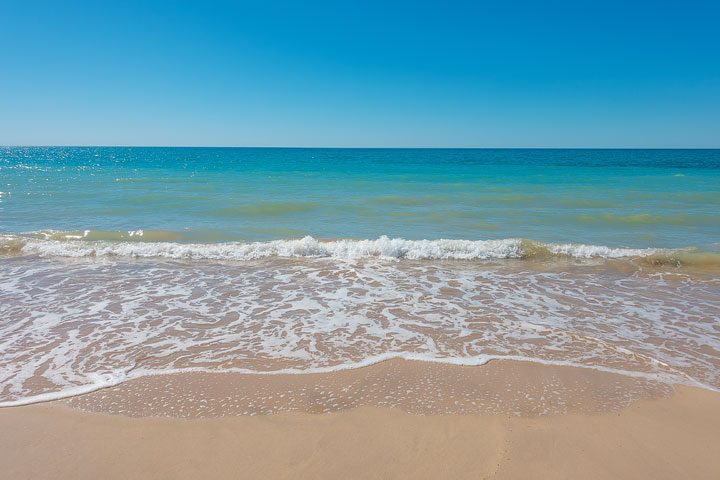 After lunch we walked on the beach and dipped our toes in the Indian Ocean.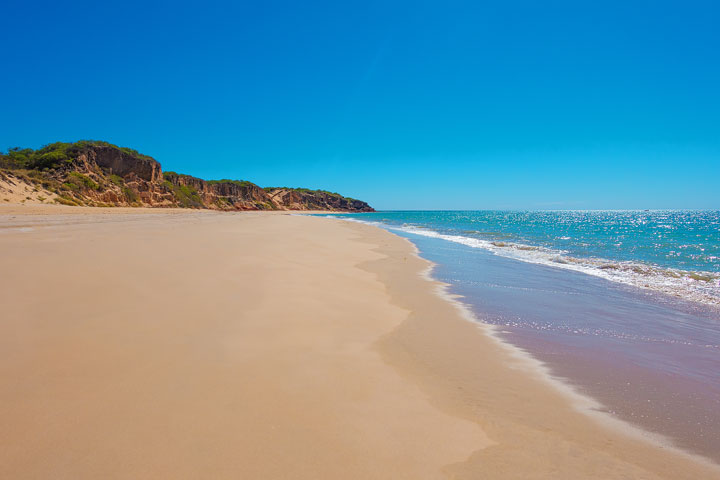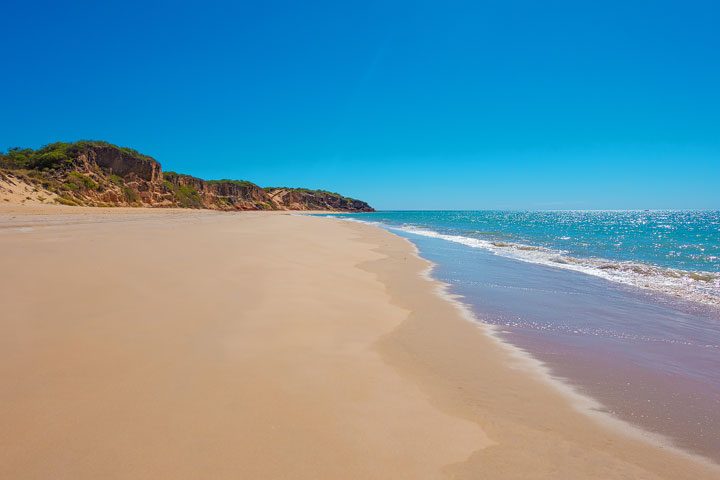 Eco Beach is pristine, quiet, and private. The perfect spot to unplug, unwind, and relax! This vibrant landscape is very, very secluded — but they have everything you need at the resort. They offer a wide range of activities to suit any level of adventure: complimentary yoga, a full-service spa, scenic helicopter flights, whale watching tours, deep sea fishing, kayaking cave tours and more.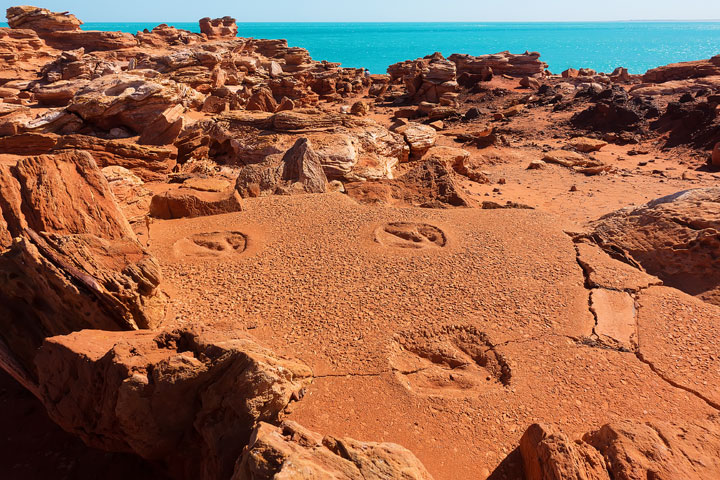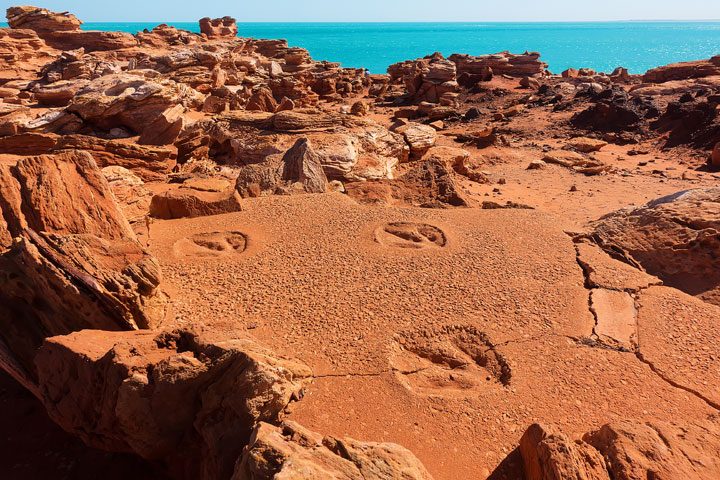 That afternoon we headed back to Broome and ventured out to Gantheaume Point. Here you can see actual dinosaur footprints and plant fossils preserved in the reef rock jutting out into the ocean. The footprints are only visible at low tide, however if the tide is high you can view plaster casts of the dinosaur tracks embedded at the top of the cliff.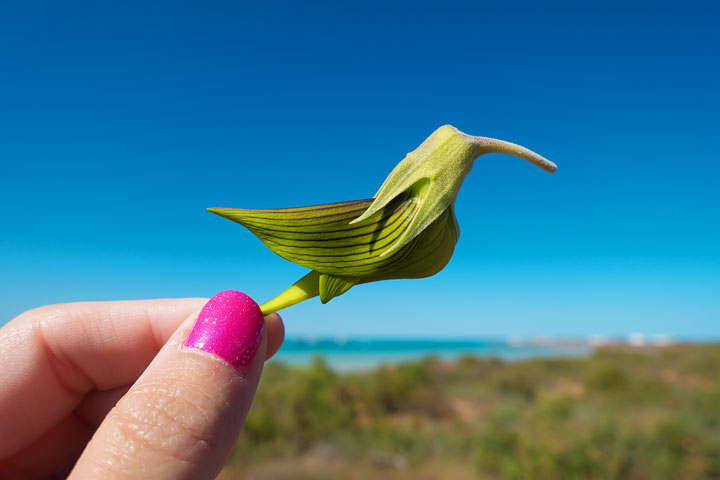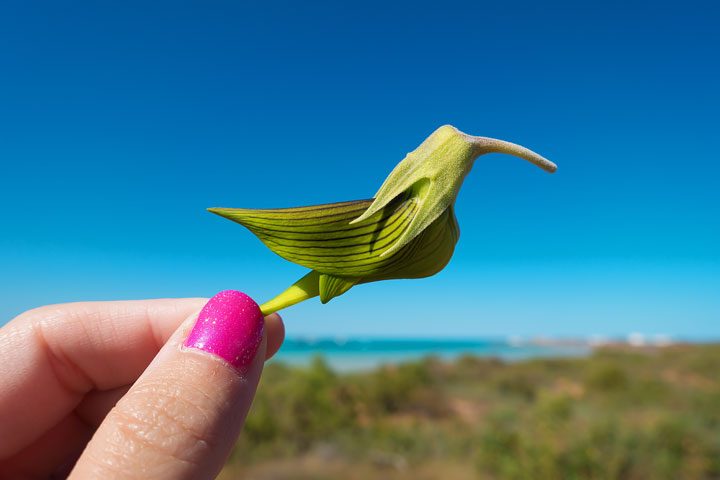 Here you can also find the Regal Birdflower — it's like a honeysuckle but it looks like a humming bird!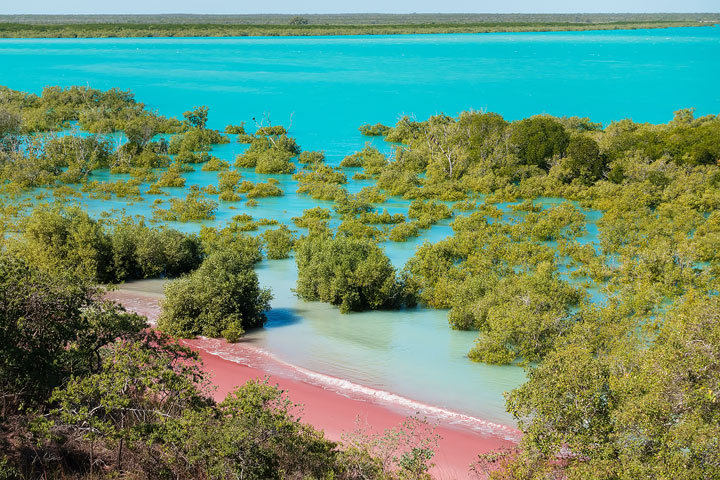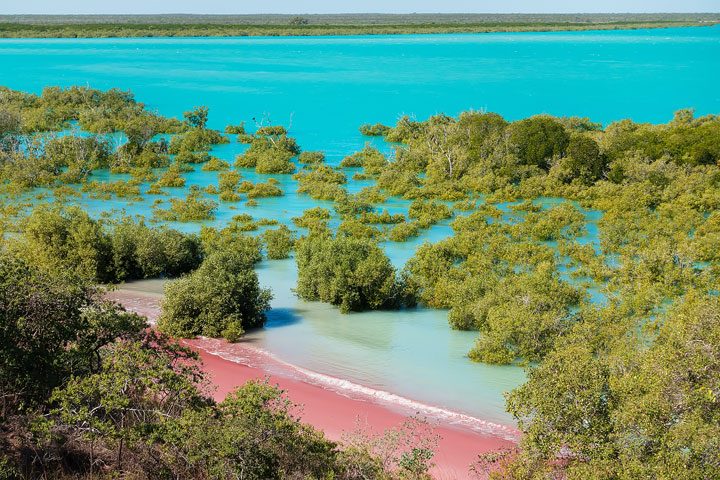 Remember how I was telling you about the red Pindan Cliffs and how it made the iconic red sand in the Kimberley region of Western Australia?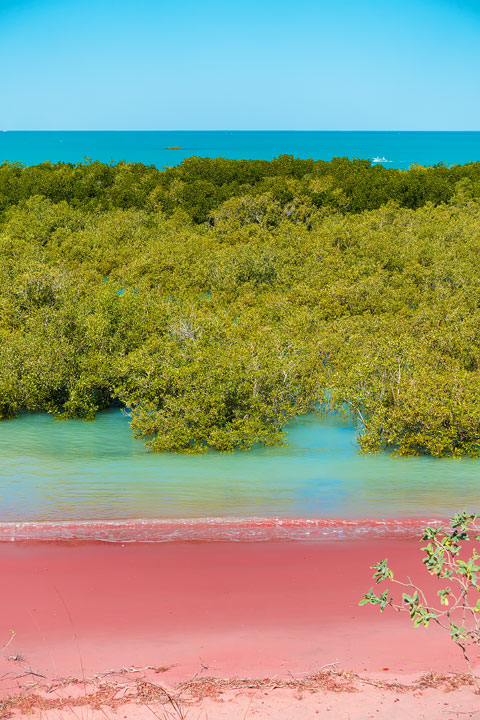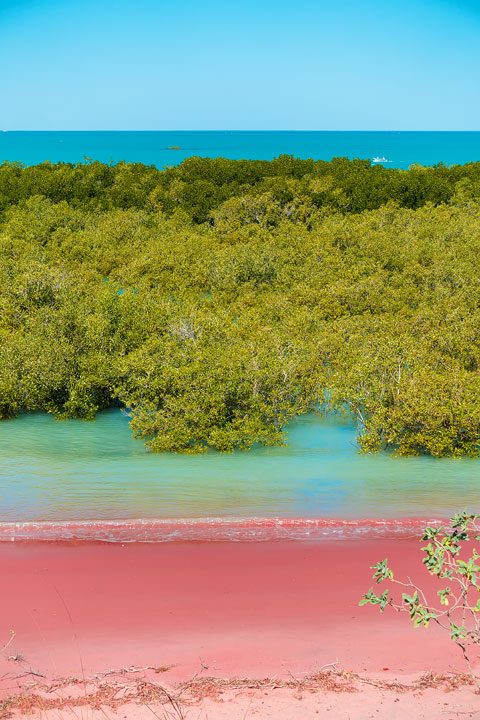 Normally the water bleaches the red out of the sand, but here in the mangroves the sand turns PINK.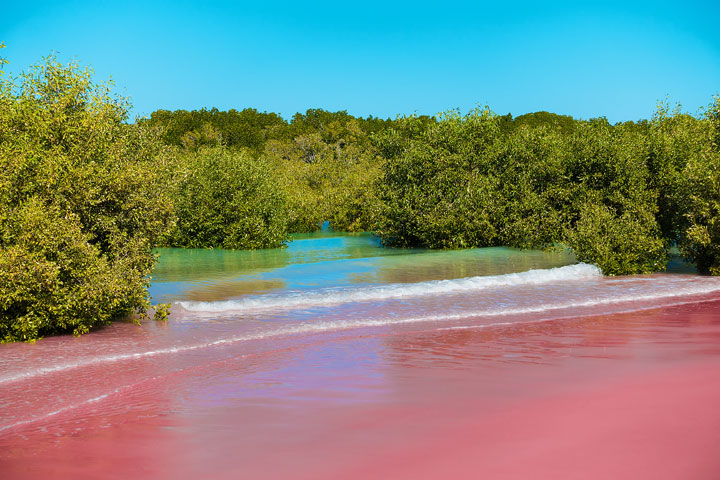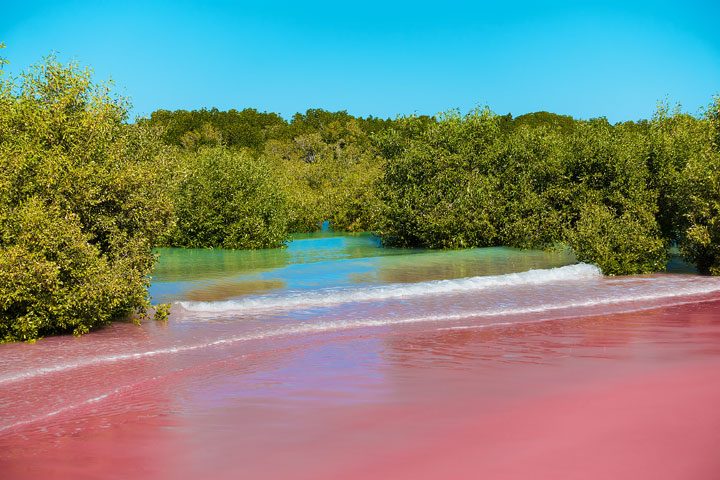 I could not get over this pink sand! I seriously had way too much fun running barefoot on this soft pink sand. I wanted to take some home with me!! I kept trying to show off this picture to everyone I met in Australia, and they were just like, "Oh yeah" like PINK SAND was a totally normal, everyday occurrence.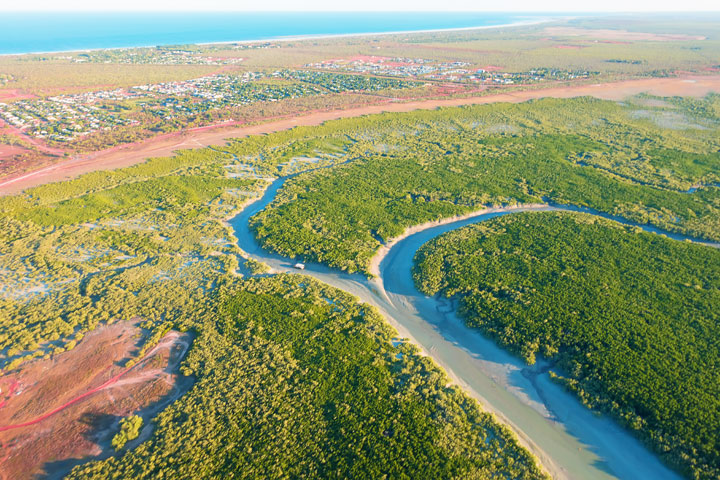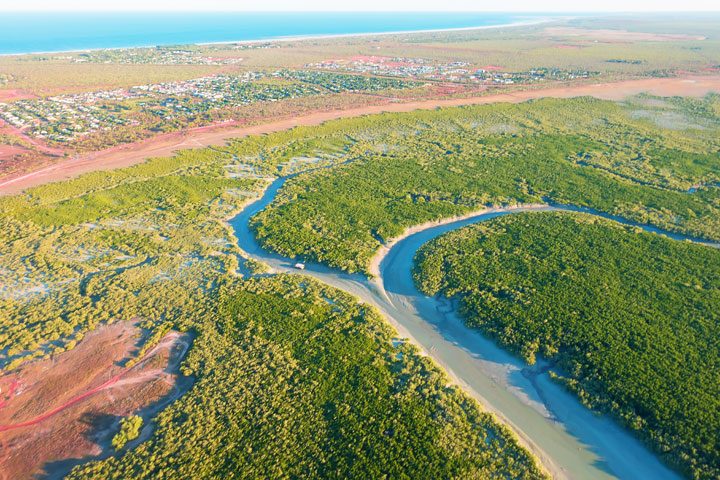 This is a picture of the mangroves from above, from when we took our air safari. The tide was out, so there's no water there now. That big creek bed is where the tide comes in!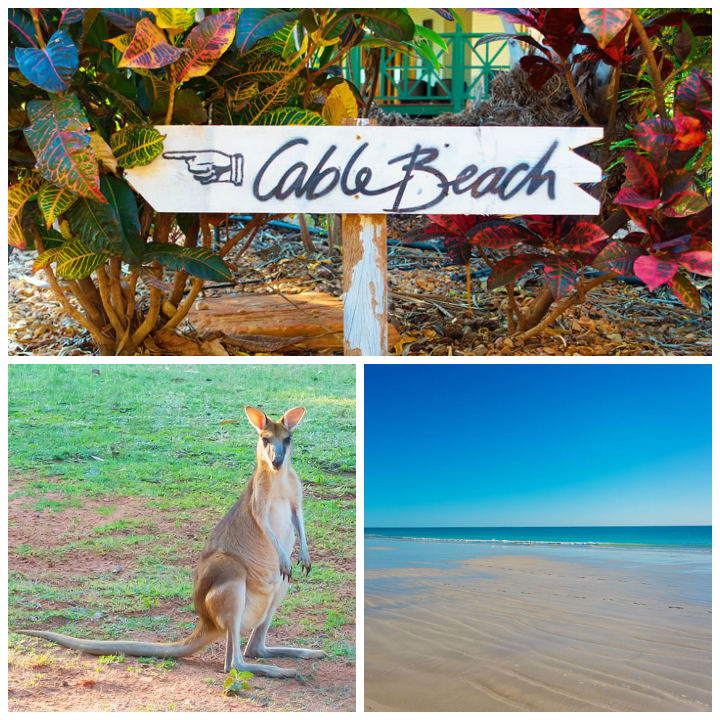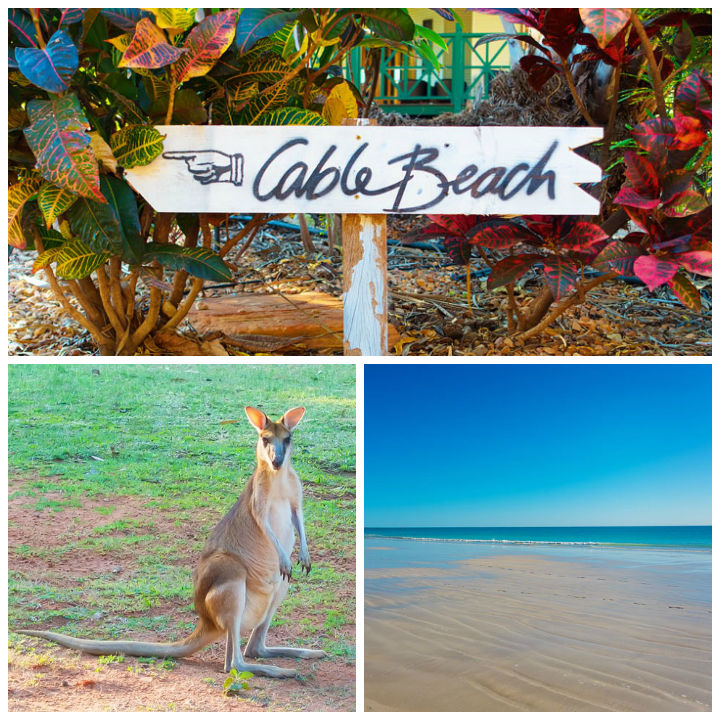 Late that afternoon we checked into the Cable Beach Resort. Cable Beach is famous for their sunsets. Also, wallabies (which are just small kangaroos) are as common as deer or squirrels, and can be seen happily hopping and munching all over the resort. By the way, did you know there are NO squirrels in Australia??!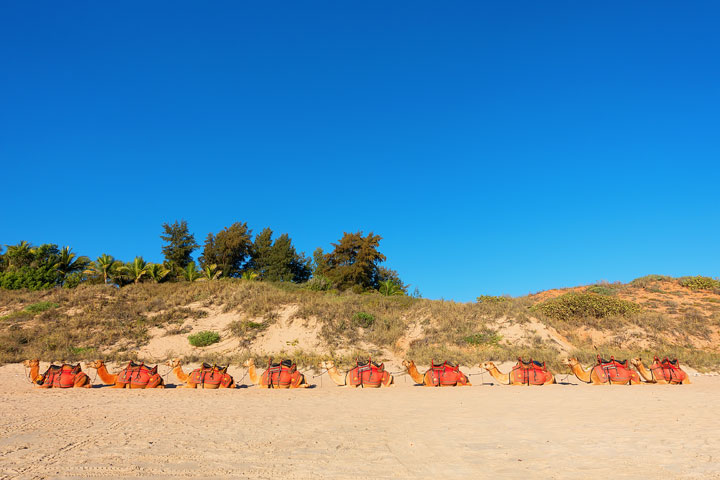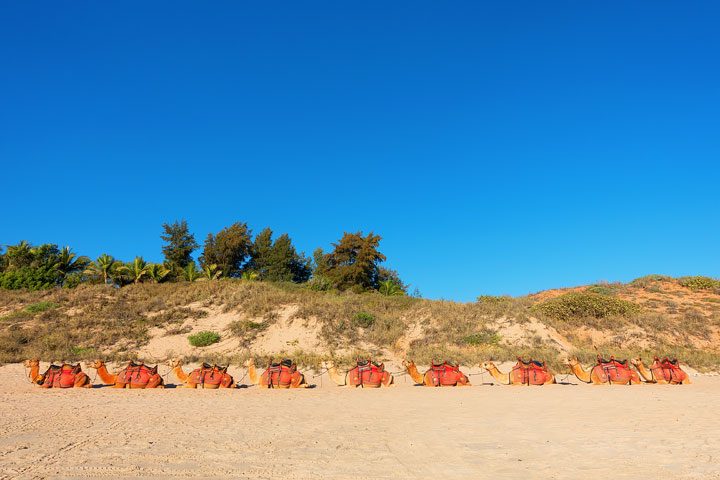 After we checked in, we headed down to the beach for an unforgettable sunset camel ride.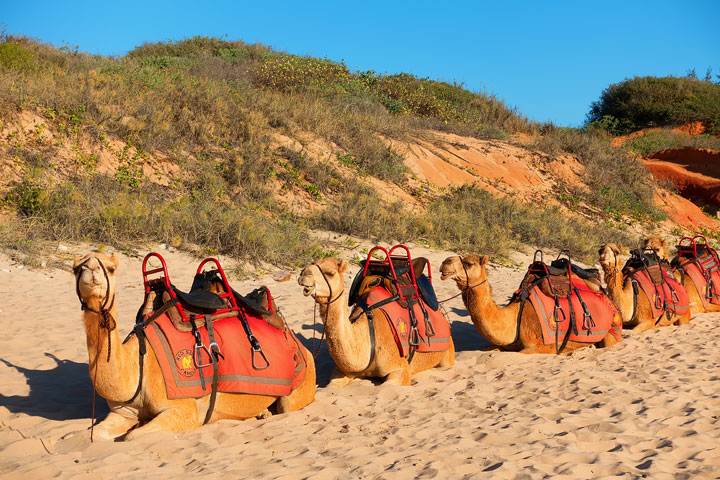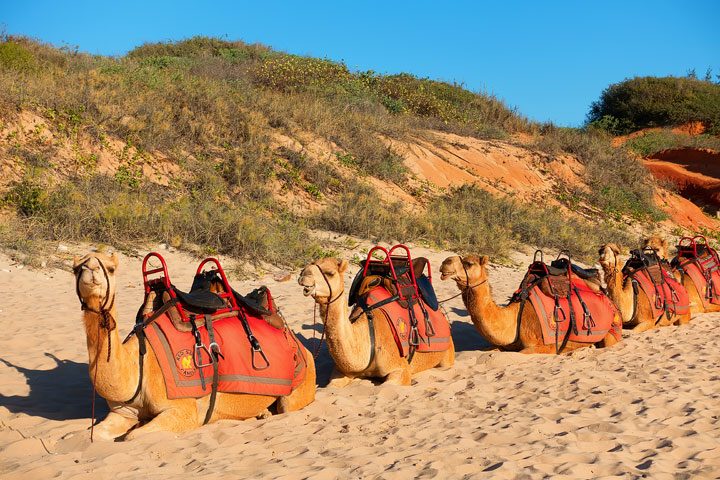 And in case you're wondering what camels are doing in Australia, did you know that Saudi Arabia imports sand and camels from Australia?? I had no idea.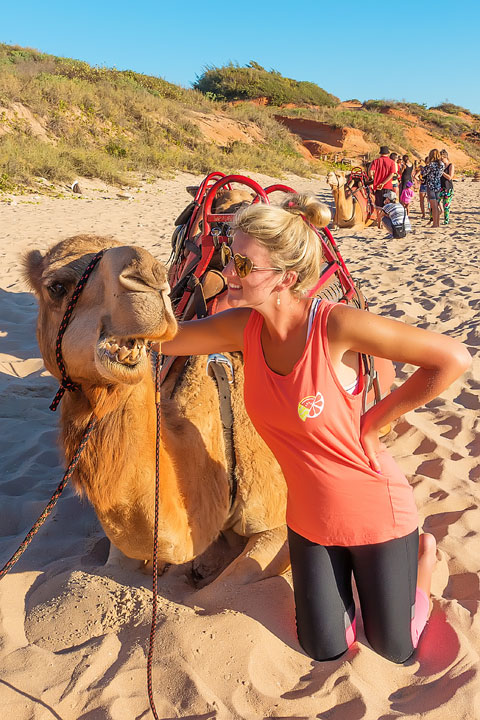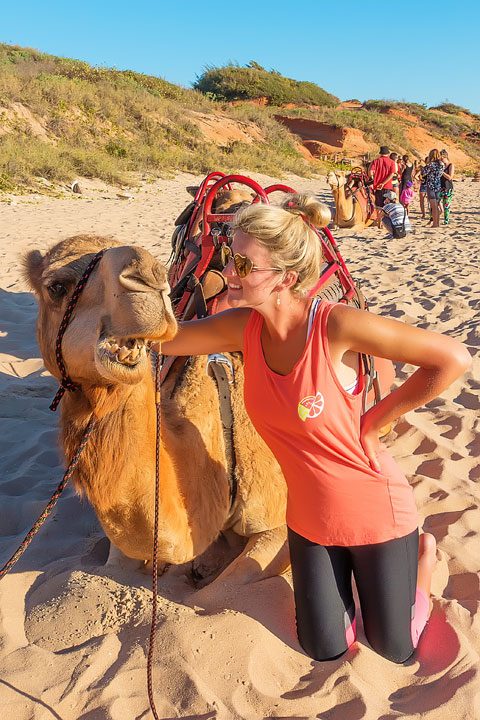 Meeting my camel!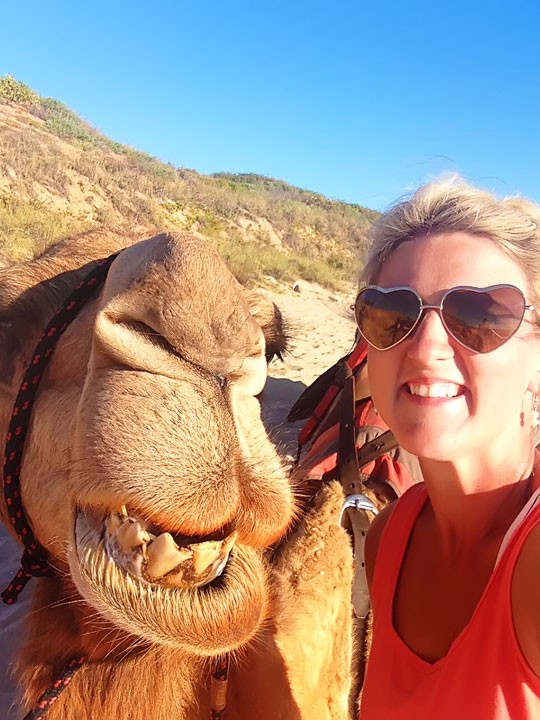 Camel selfie!! ;)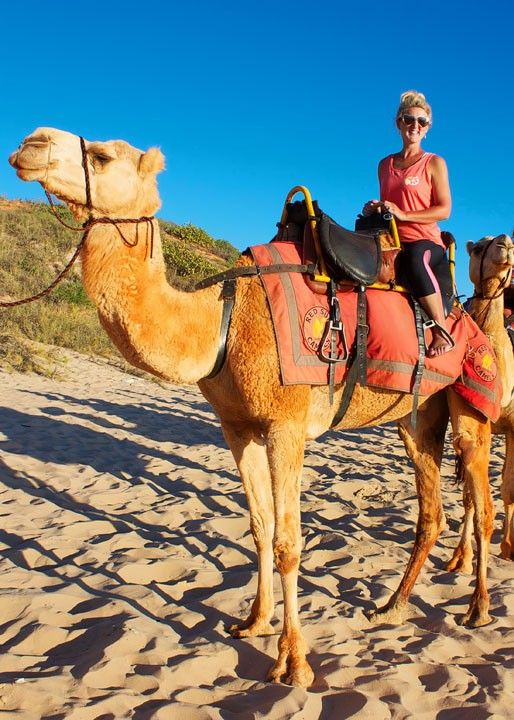 My camel is looking proud and majestic. ;)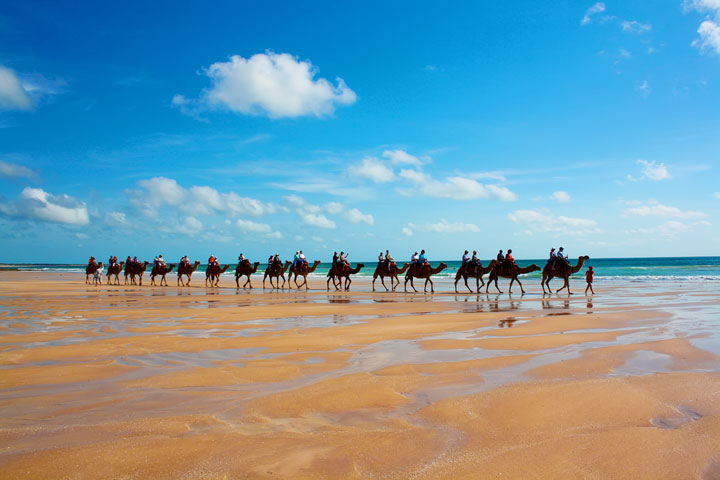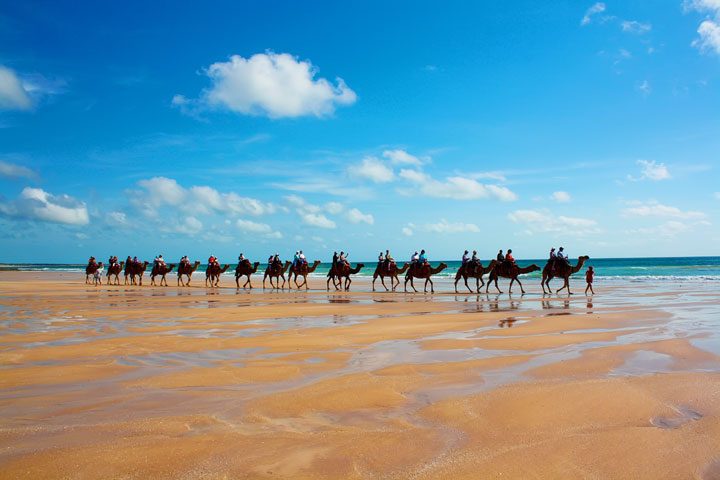 Red Sun Camels offers daily camel rides on Cable Beach, multiple times a day.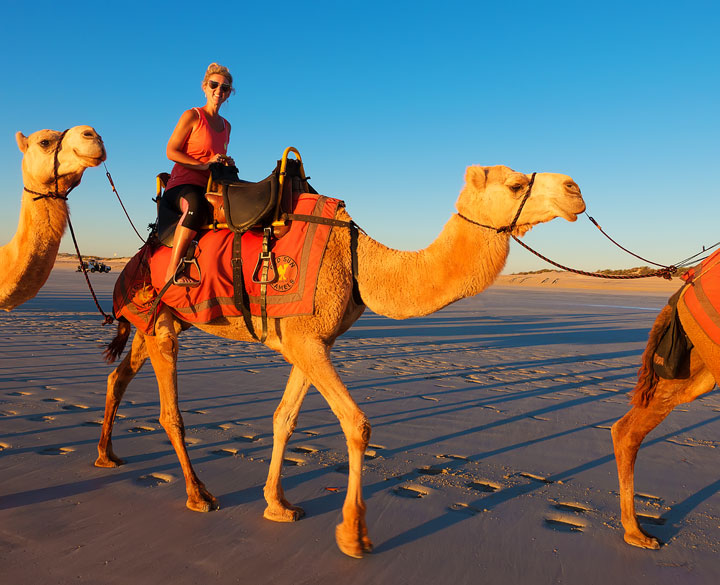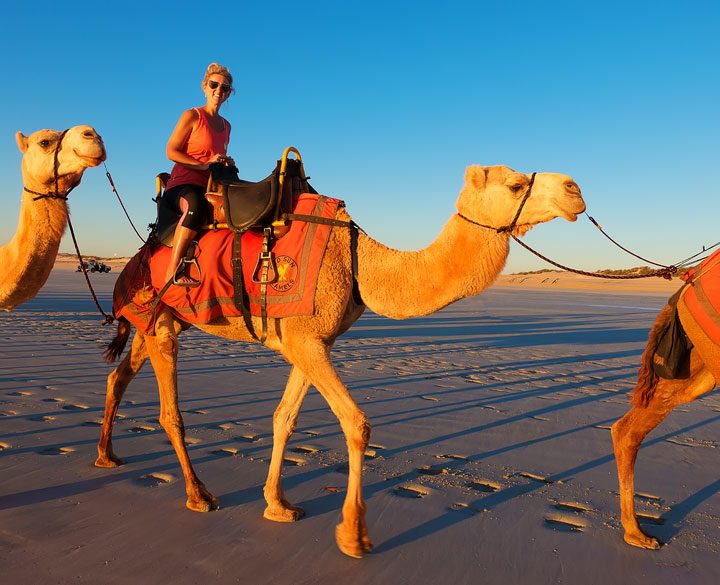 During our leisurely one-hour sunset ride, a personal guide came around and told us all about our camel's unique story and personality traits, answering any questions we had.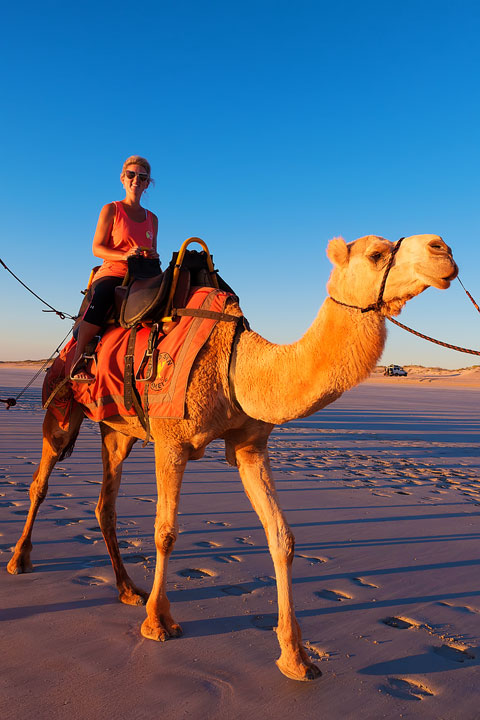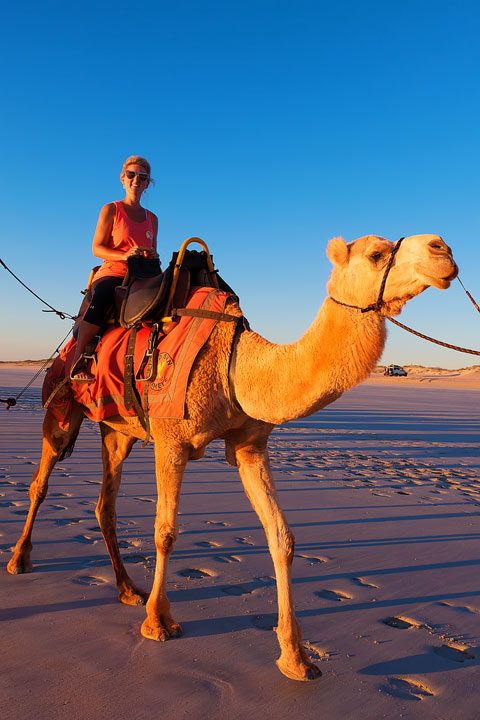 Don't forget to bring a camera, they are more than happy to take photos for you!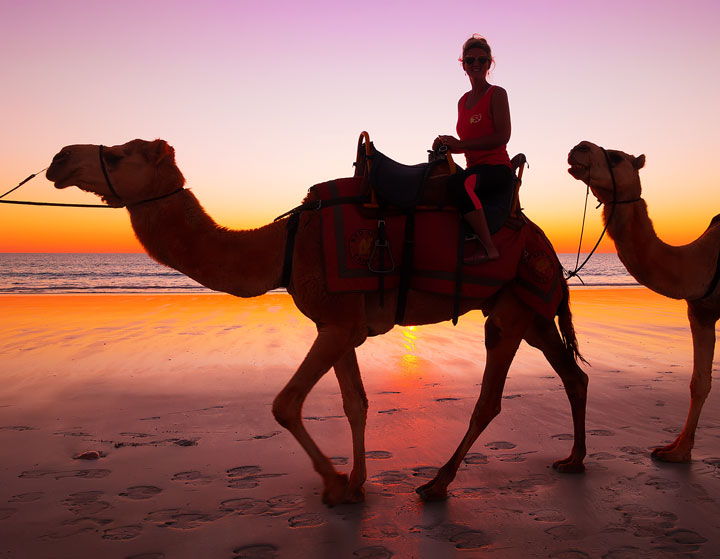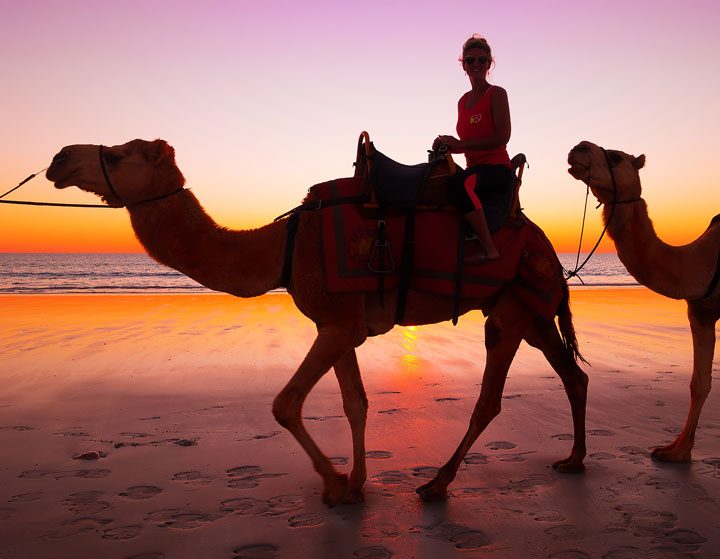 Professional photos and a wide range of camel souvenirs are also available.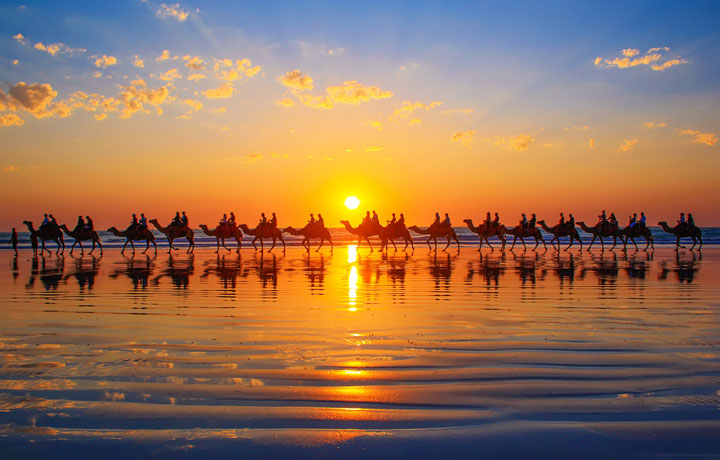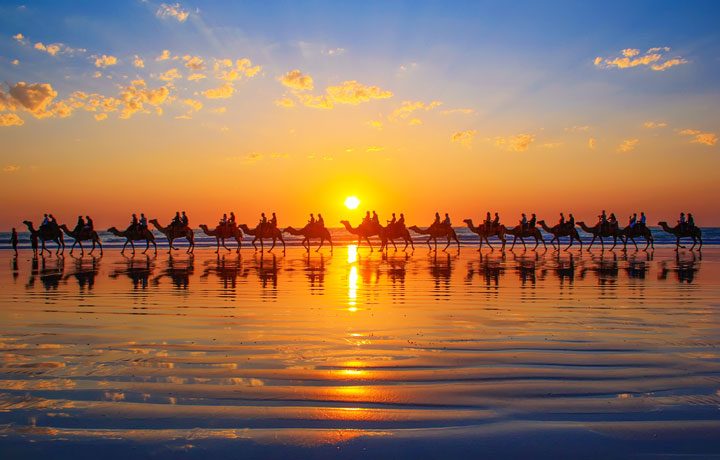 The world-renowned Cable Beach creates a perfect back drop to make this experience truly unforgettable.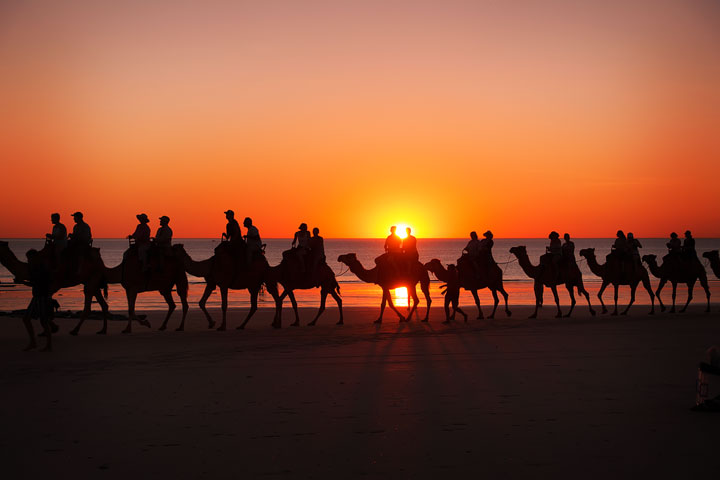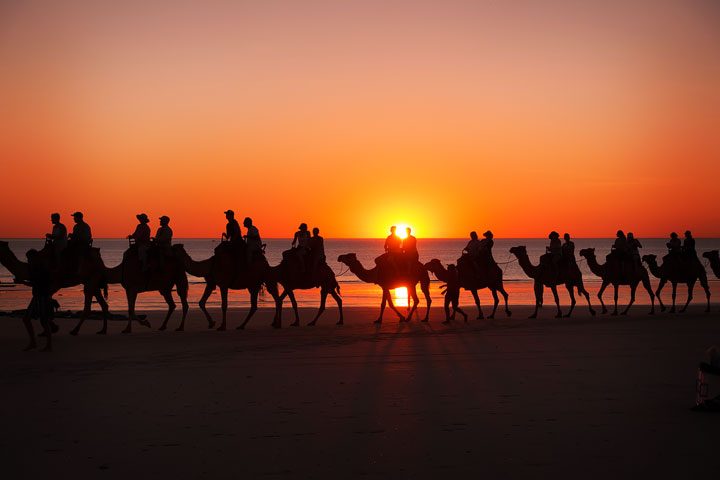 Definitely a once-in-a-lifetime experience for a special occasion!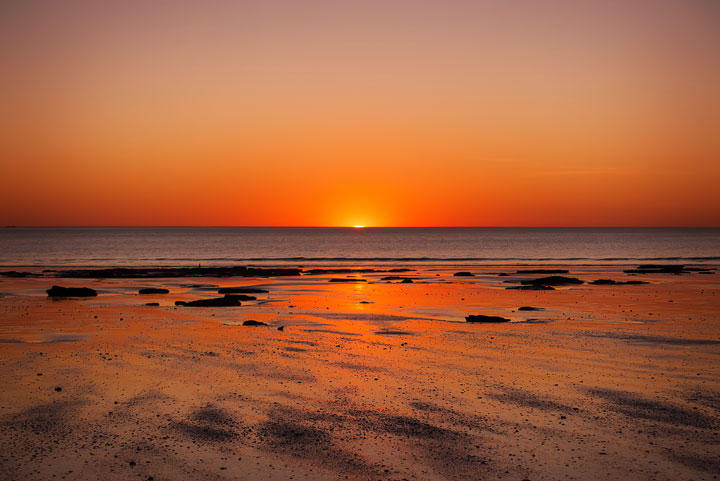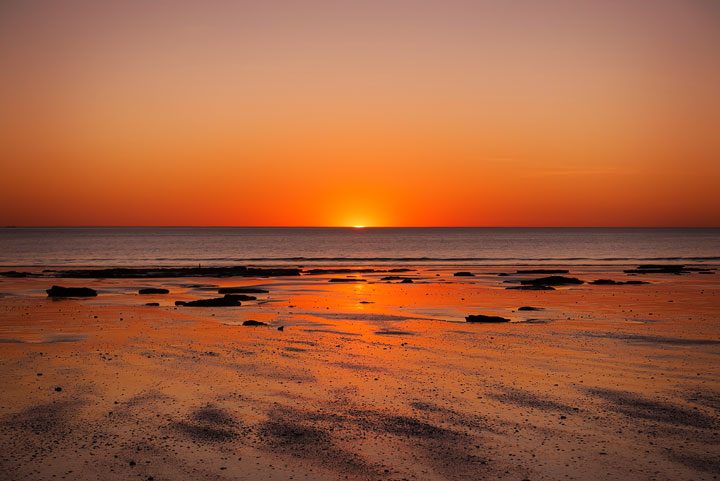 Final slivers of sunlight…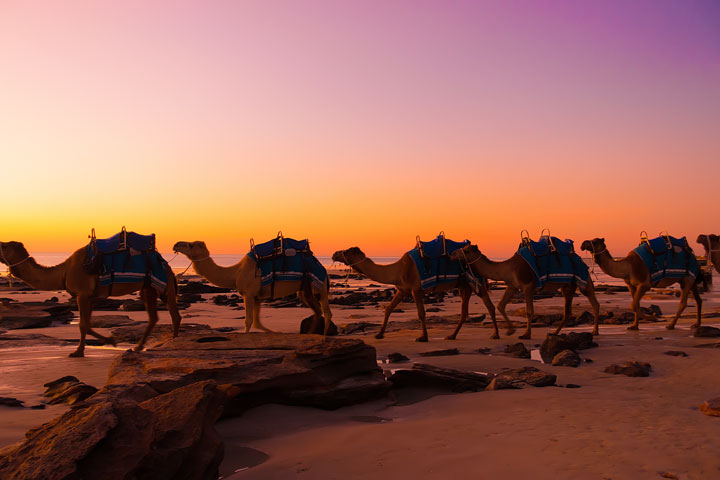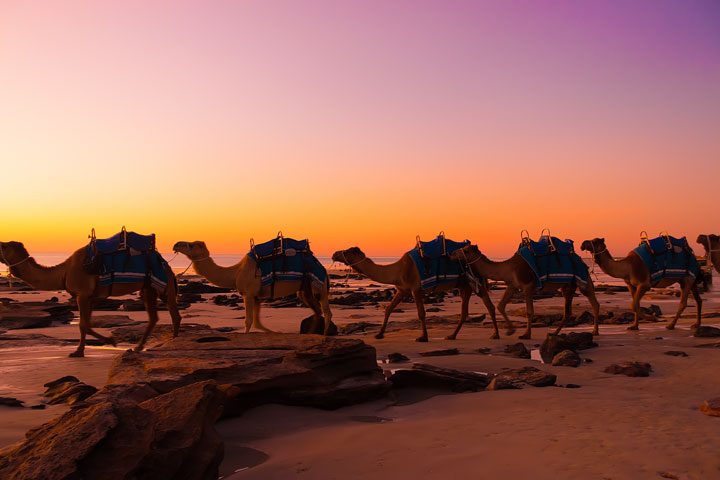 This is definitely something I will never forget.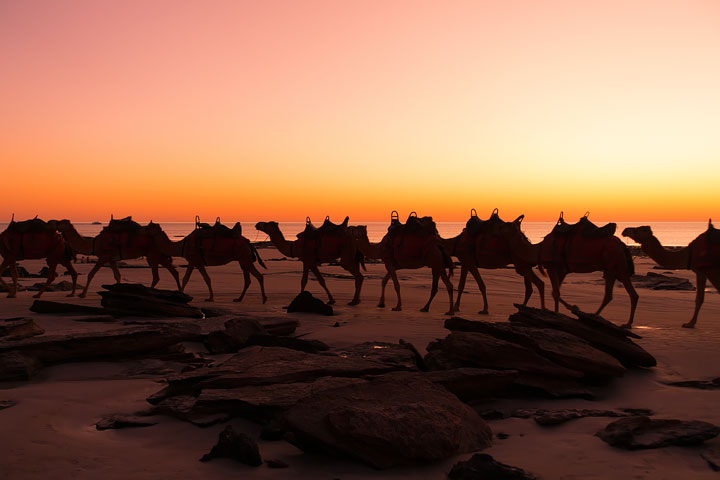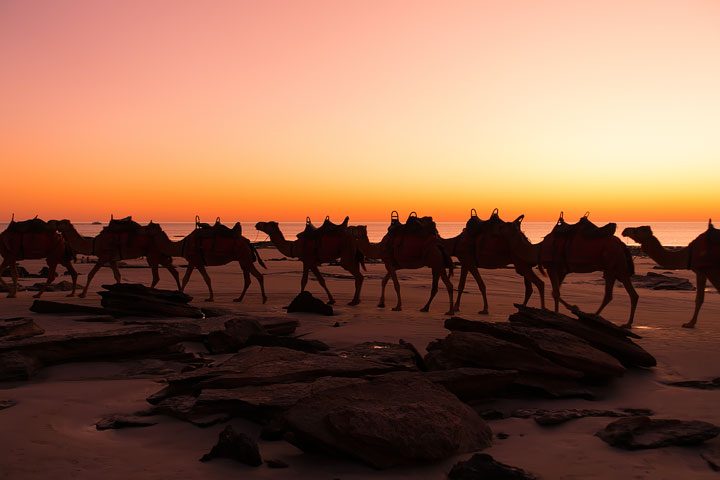 Goodnight little camels!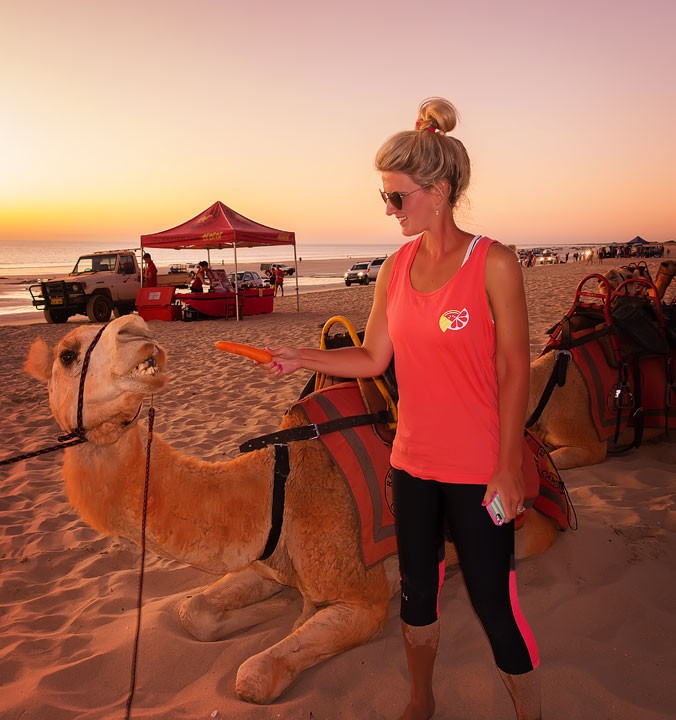 After the ride you even get to feed your camel a carrot as a treat.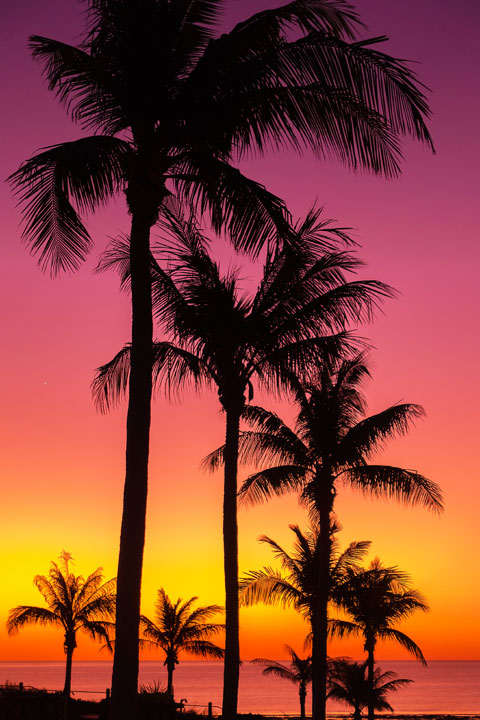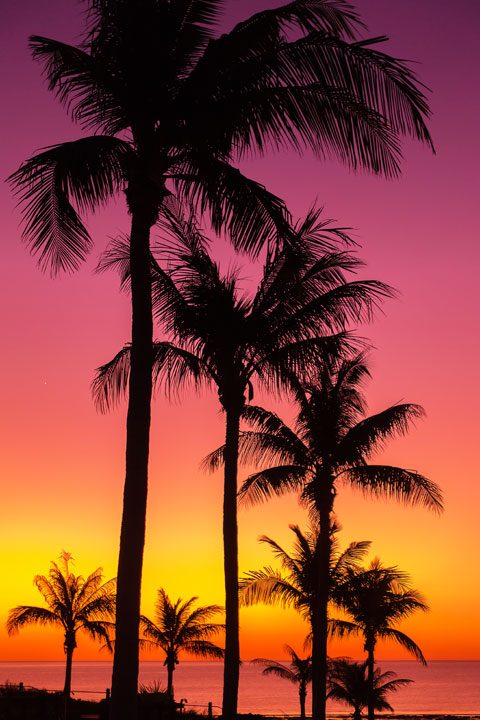 A beautiful ending to an unforgettable day.
See you next time!! xoxo