Planning a trip to Vancouver Canada? Make sure you don't miss anything! We've created the ultimate one-day itinerary where you'll see all the highlights of Vancouver in one action-packed day. Let us help take the stress and hassle out of planning so you can enjoy your day and rest assured knowing you've seen all the best things to do in Vancouver BC!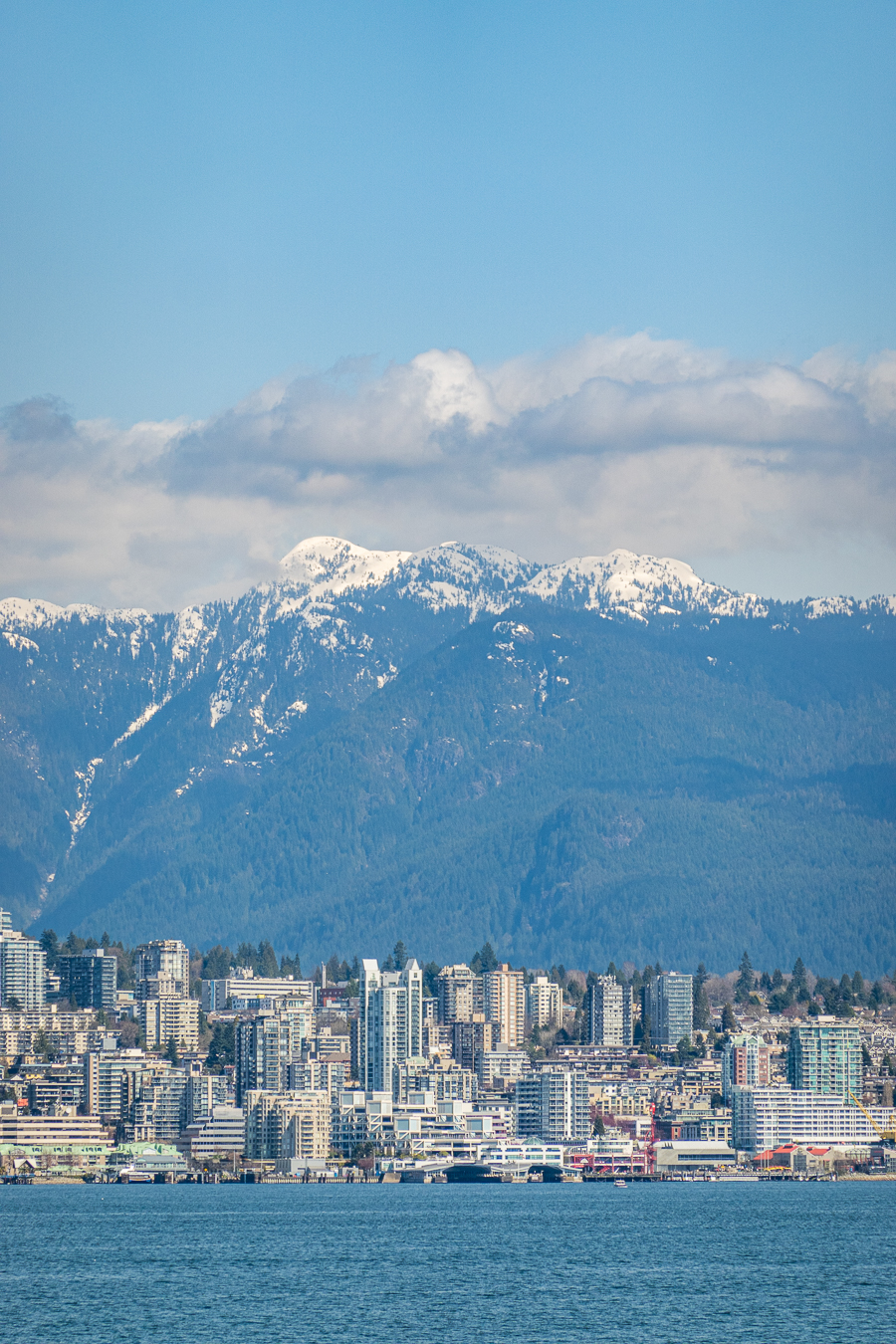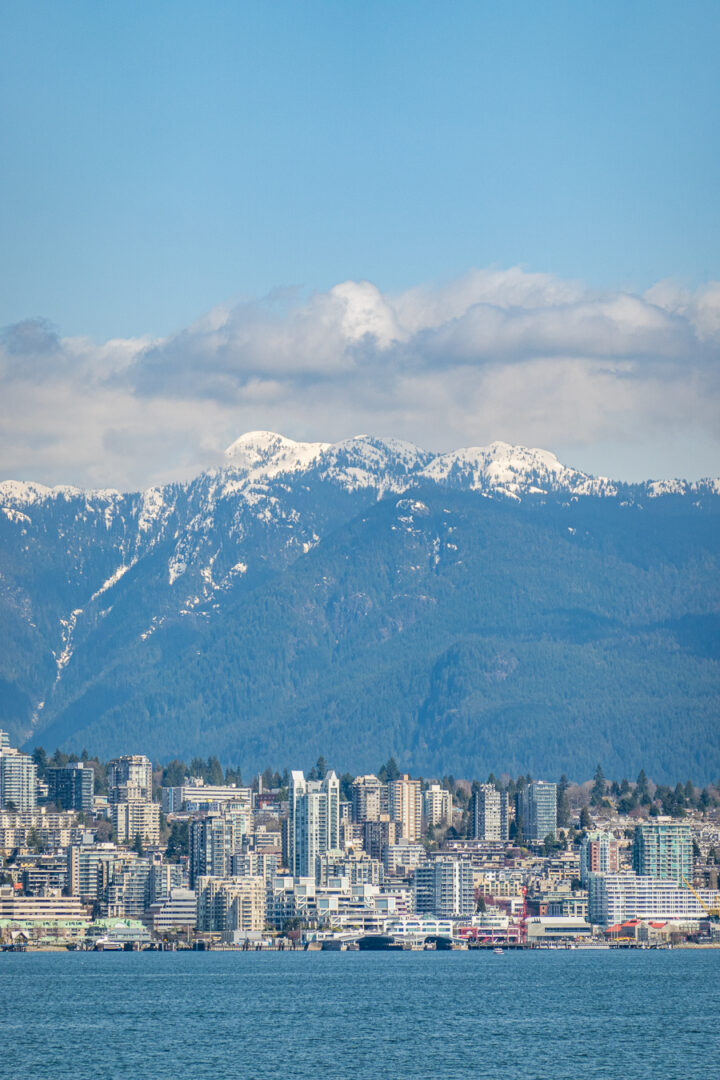 Your Self-Guided Walking Tour of Vancouver Canada
This one-day itinerary is designed to be your self-guided walking tour of Vancouver.
We'll take you all over the city, from breakfast to dinner and everything you shouldn't miss in between. The city is very flat and walkable, so you can easily walk everywhere on this list. If you follow our exact itinerary, you'll walk about 9-10 miles in one day.
We've also included a bonus second day itinerary if you have a two days to spend in Vancouver!
Let's get started!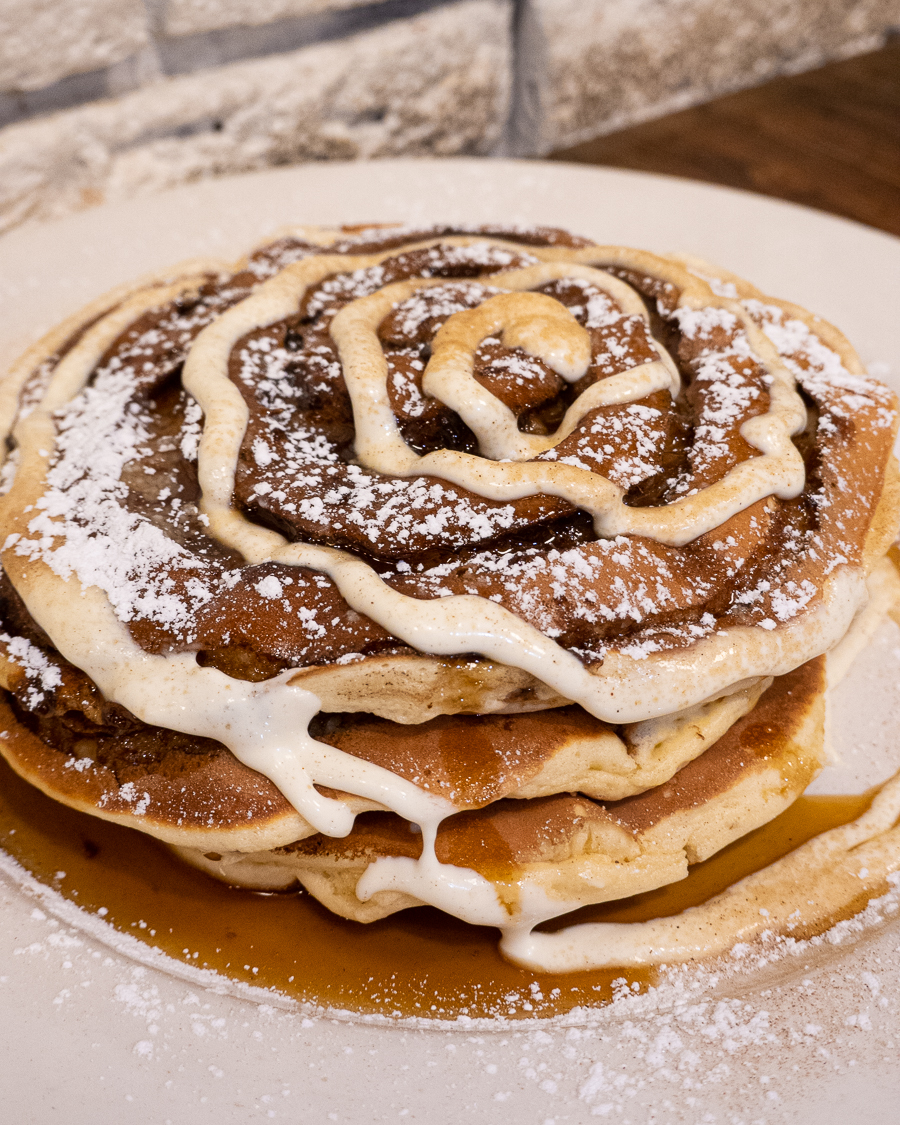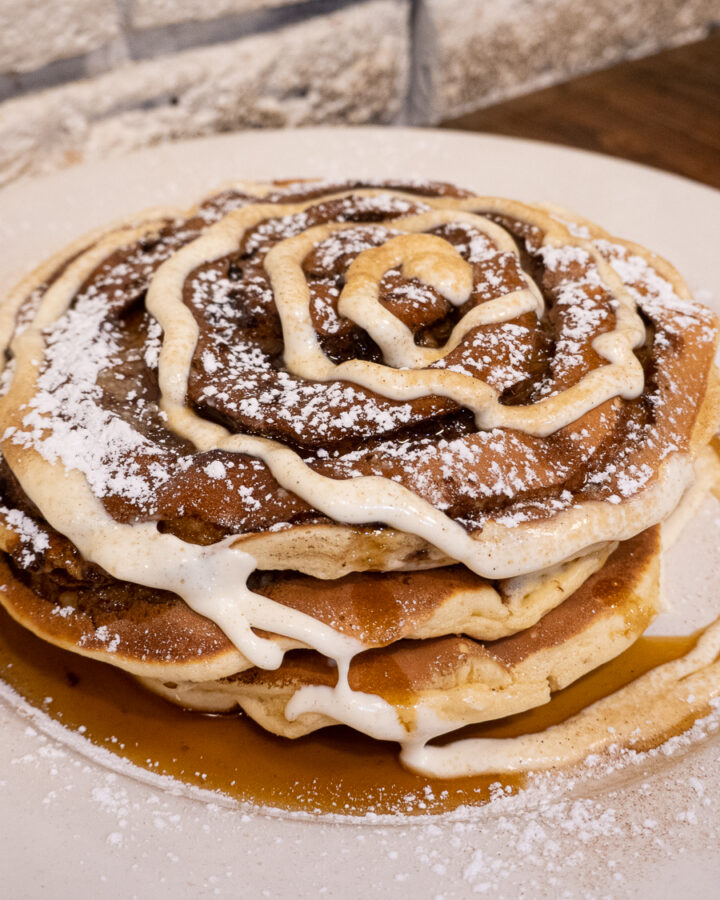 Start with breakfast at Jam Cafe
Jam Cafe is one of the most popular breakfast / brunch hotspots in Vancouver. There's always a line out the door! There are tons of creative waffles, french toasts, pancakes, and benedicts on the menu. We loved the cinnamon bun pancakes and the buttermilk fried chicken french toast!
We recommend to start your day early at this iconic breakfast restaurant so you don't have to wait in line too long. If you're coming from the east coast, your body will want to wake up early anyway, so take advantage of that jet lag!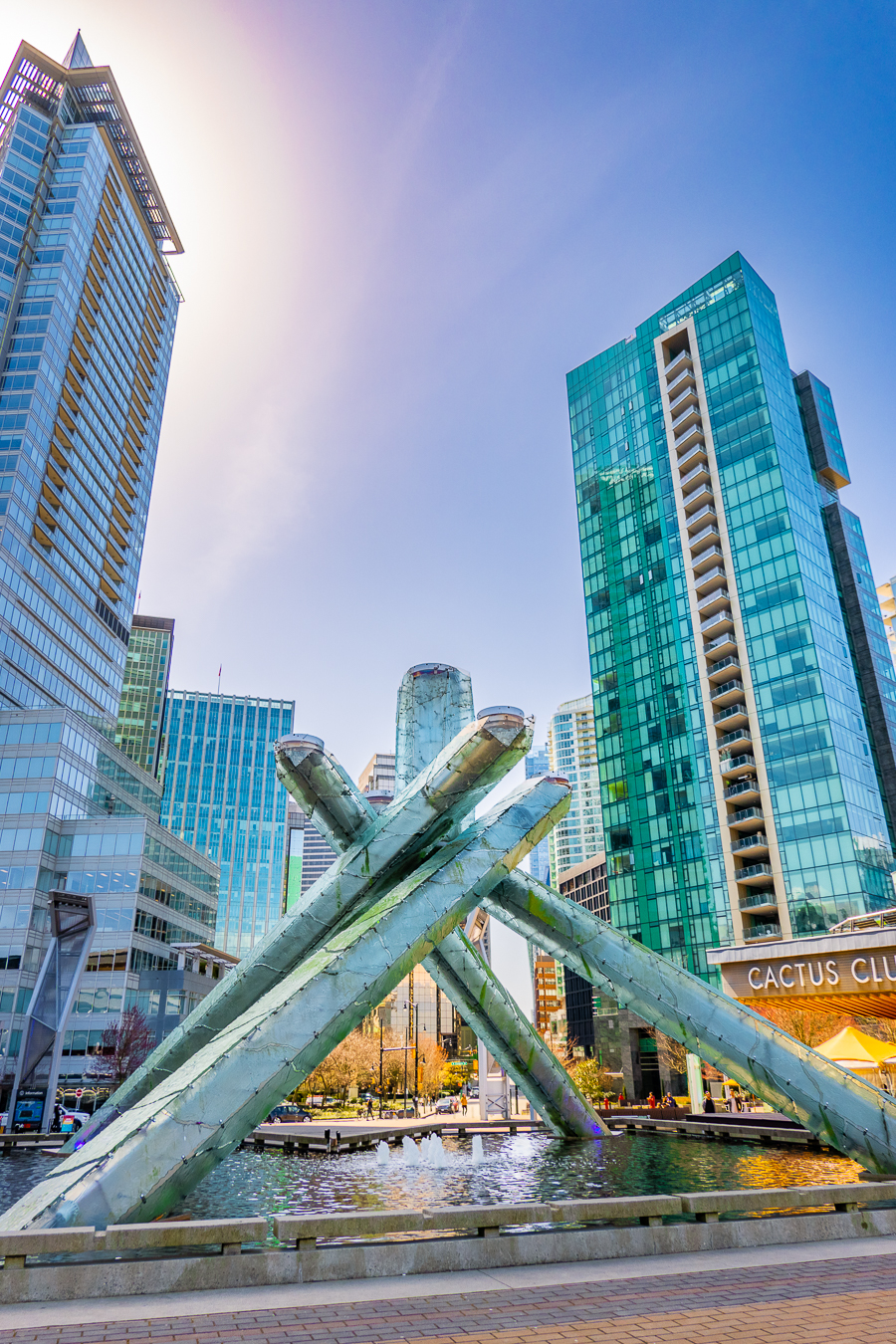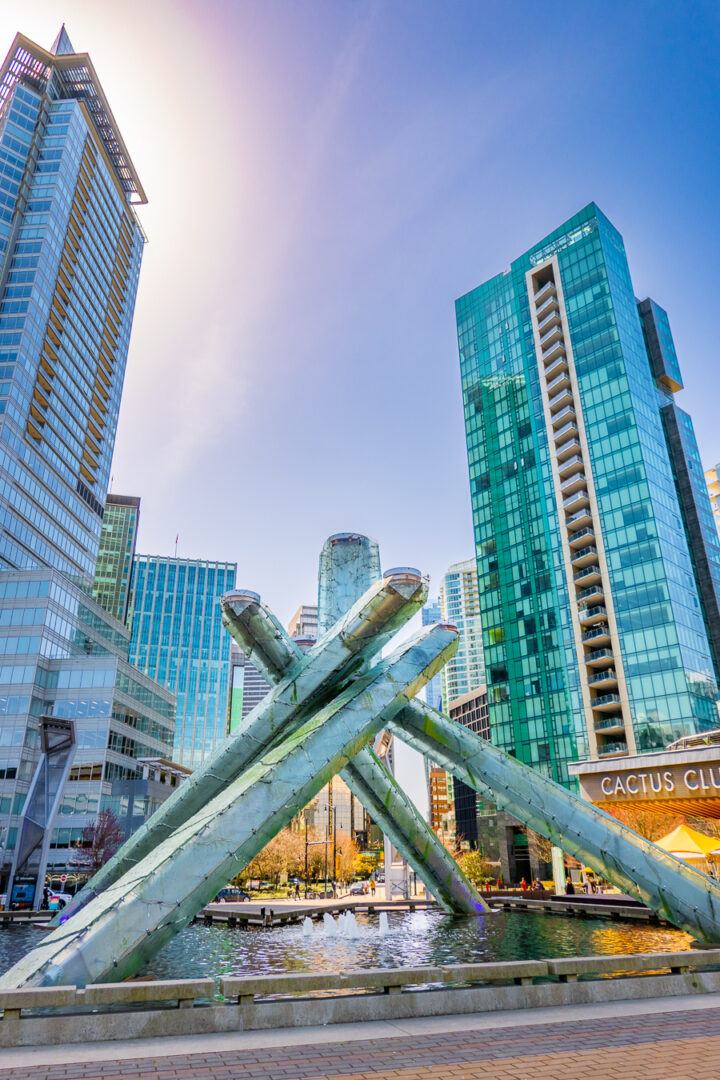 Olympic Cauldron
After breakfast, walk about a 15-20 minutes towards the Vancouver waterfront. The first stop on our Vancouver itinerary is the giant Olympic torch built for the 2010 Winter Games. We don't see it here, but the flame is occasionally lit for special events.
Digital Orca
Right next to the Olympic torch is the Digital Orca, a unique pixel-art sculpture created in 2009 of a breaching killer whale. It's a very popular spot for selfies and pictures!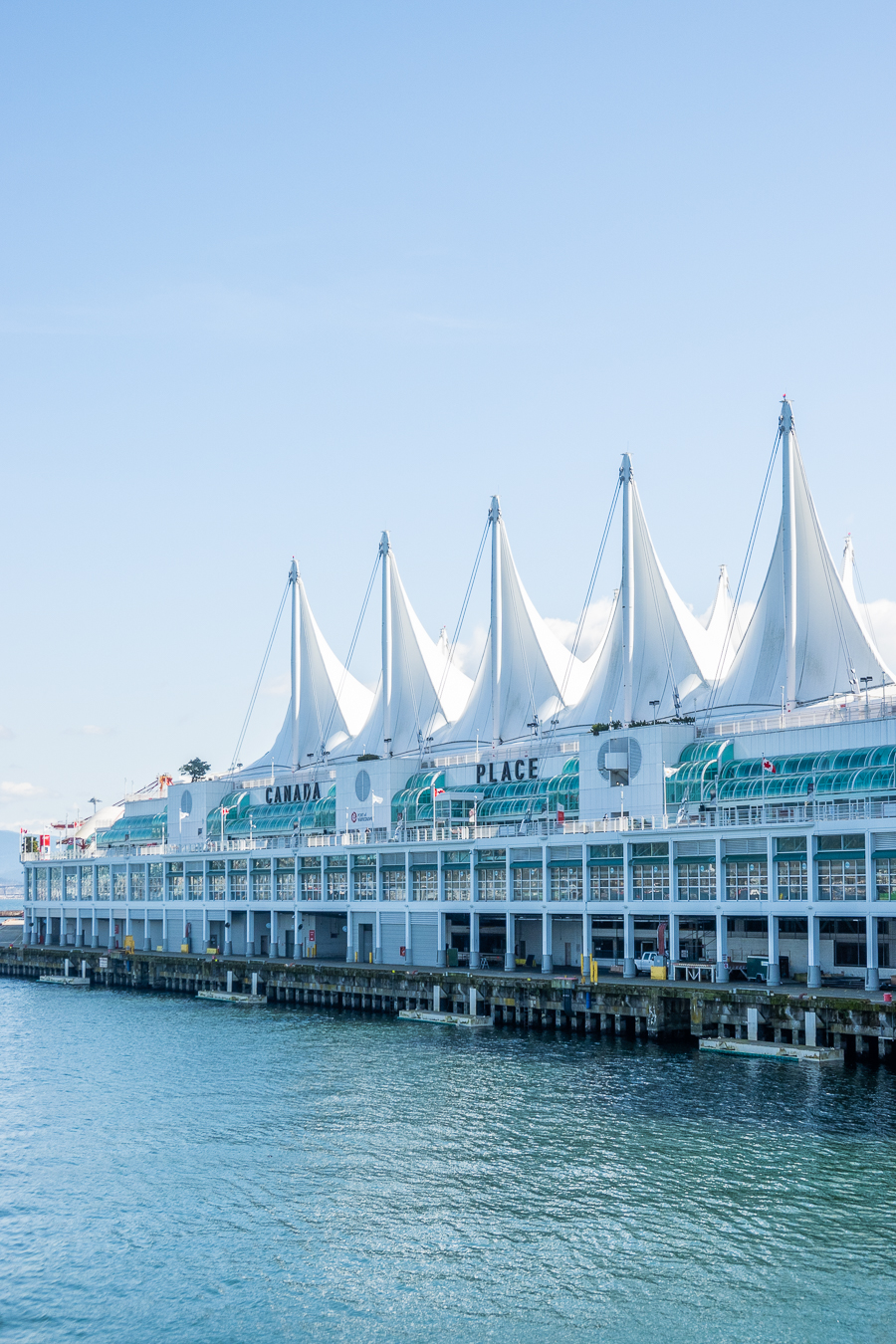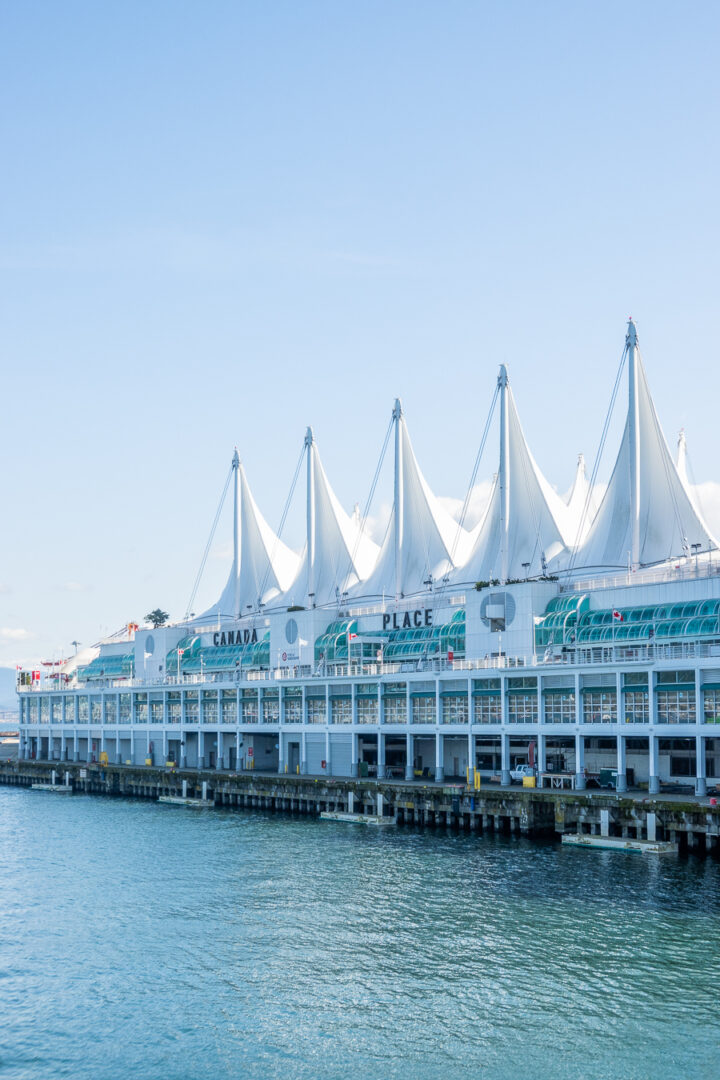 Canada Place
Walk a little further along the waterfront and you'll reach Canada Place, one of the most iconic landmarks in Vancouver's skyline. Built with white sails to look like a ship, inside this unique building is the Vancouver Convention Centre, the Pan Pacific Hotel, and Vancouver's main cruise ship terminal.
Along the walk there are plaques you can read with fun facts about Vancouver, British Columbia, and the history of the city.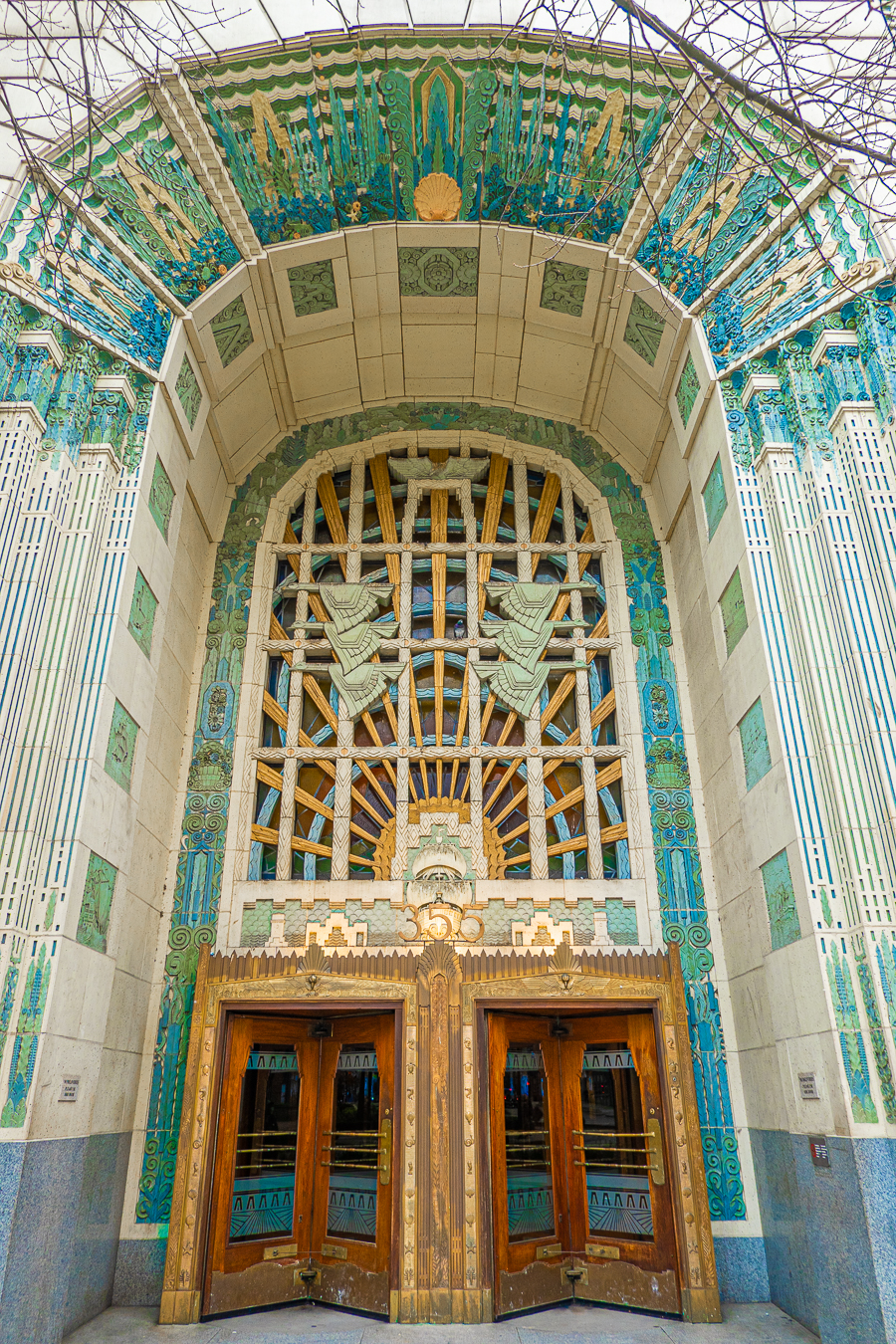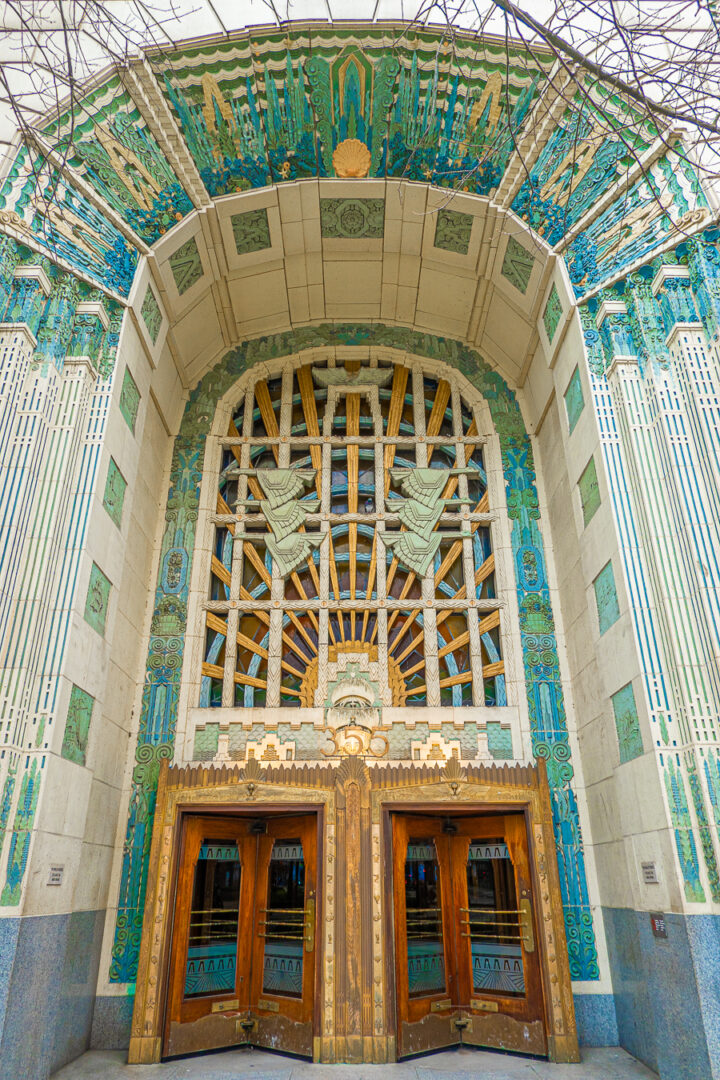 Marine Building
After Canada Place we'll take a short 10-minute walk to Gastown, one of Vancouver's most charming districts.
But first, on the way, you might want to make a tiny detour to see the dramatic entrance to the Marine Building. This building is significant because it was once the tallest building in the British Empire. The brass revolving doors are surrounded by a huge, colorful archway with terra cotta artwork depicting sea creatures and sea exploration.
You can also wander into the lobby to check out the ceilings and elevators, which are just as impressively decorated with intricate marine-themed designs.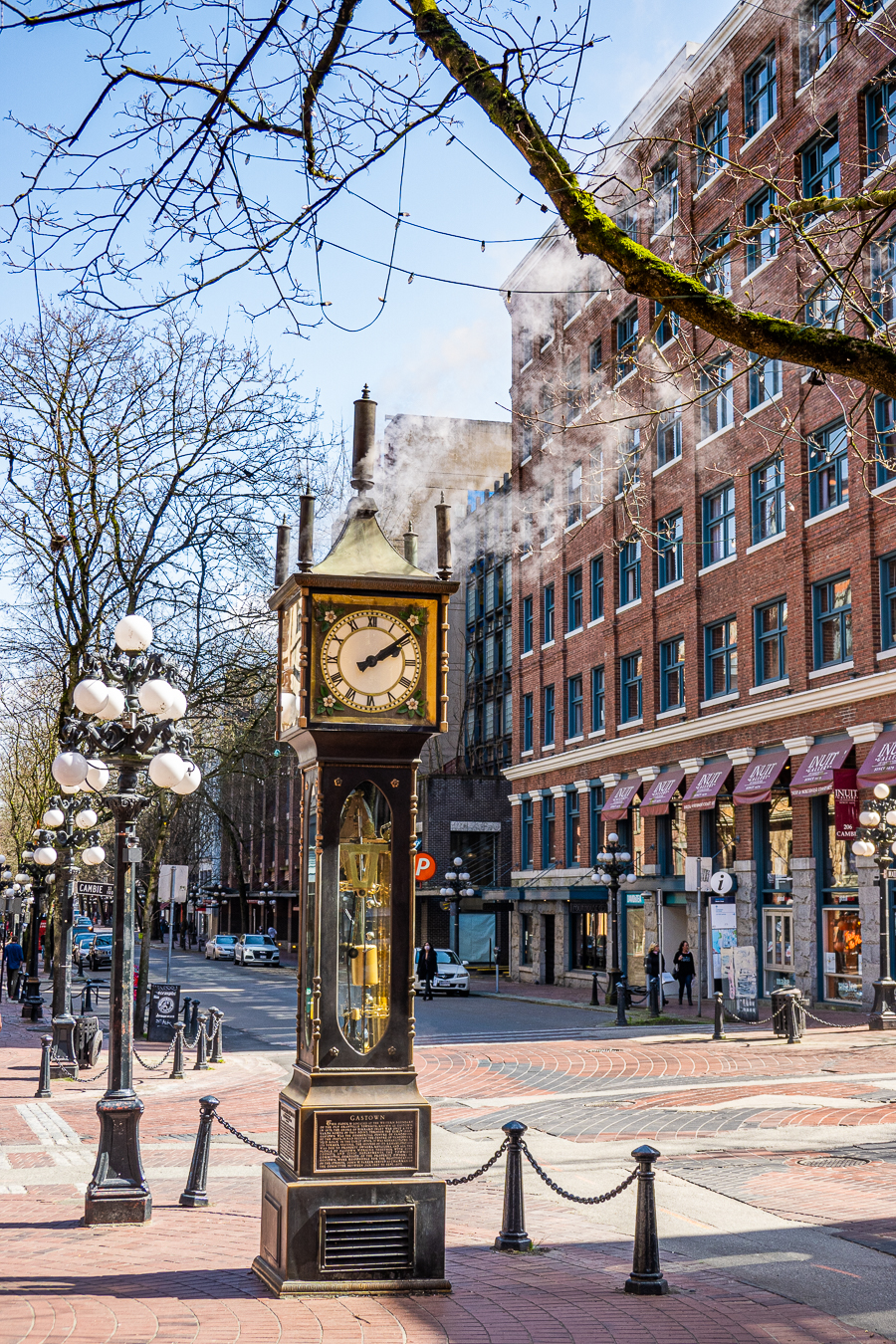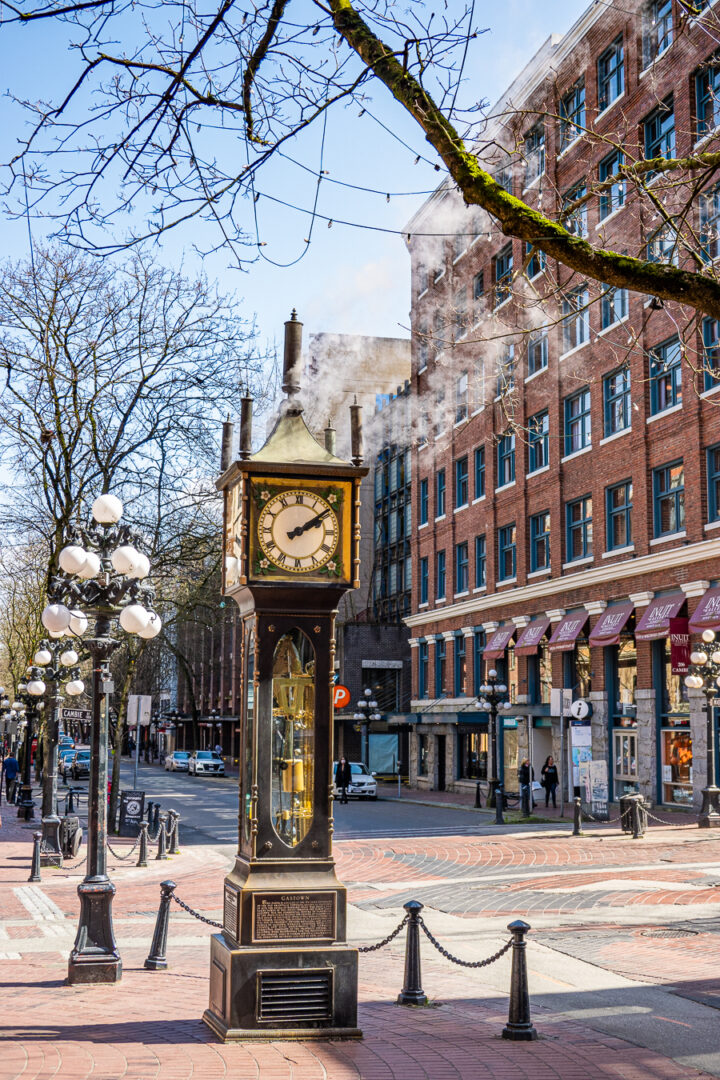 Gastown Steam Clock
Now onto Gastown! A single tavern founded in 1867 turned into Vancouver's very first neighborhood. Visiting this historic district is definitely one of the best things to do in Vancouver. Here you'll find great restaurants, souvenir shops, cute boutiques, art galleries, and more.
The one thing you absolutely cannot miss in Gastown is the Gastown Steam Clock. This antique-style clock is powered by steam and whistles every 15 minutes. Try to be there at the top of the hour (or quarter hour) so you can see it whistle and shoot steam!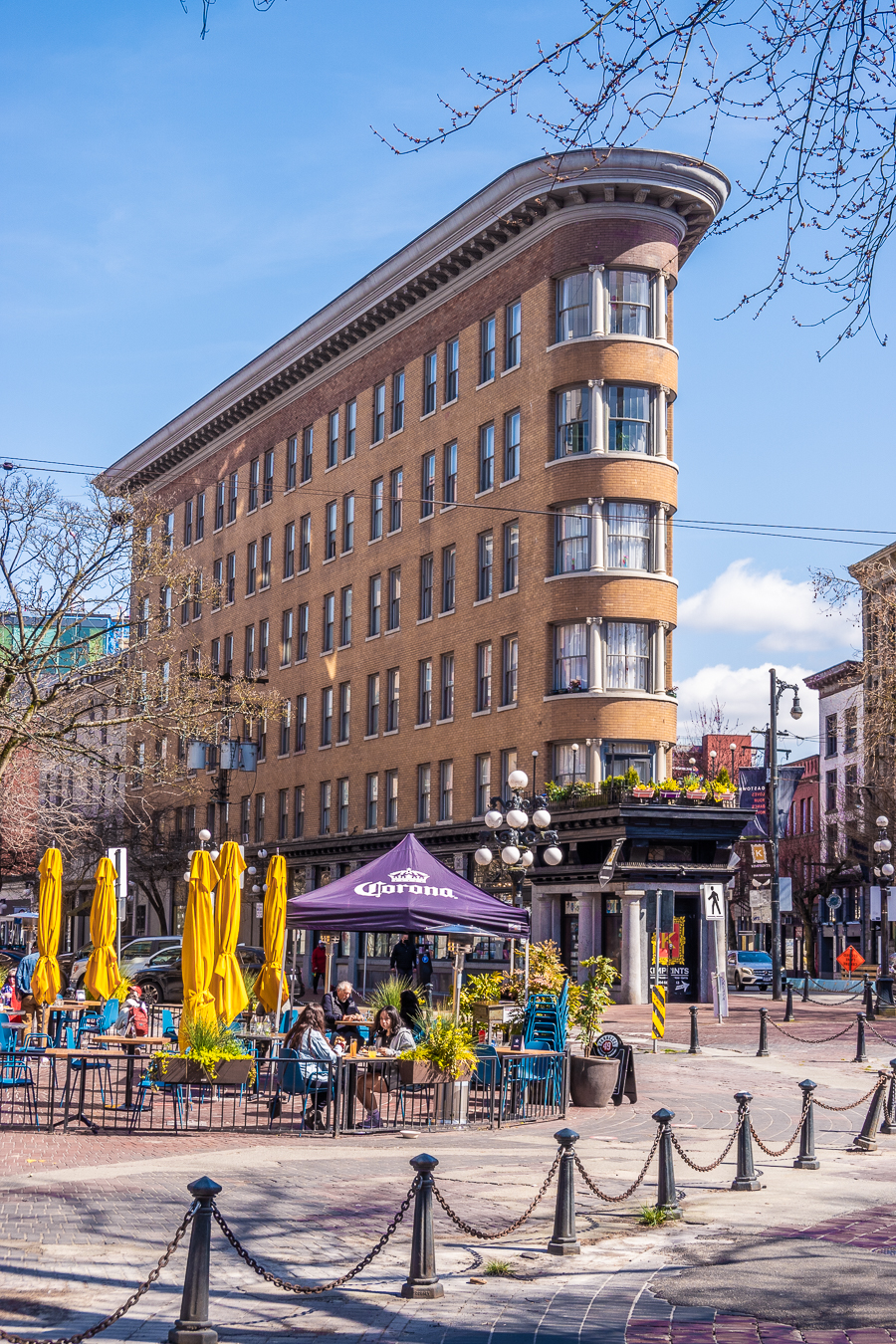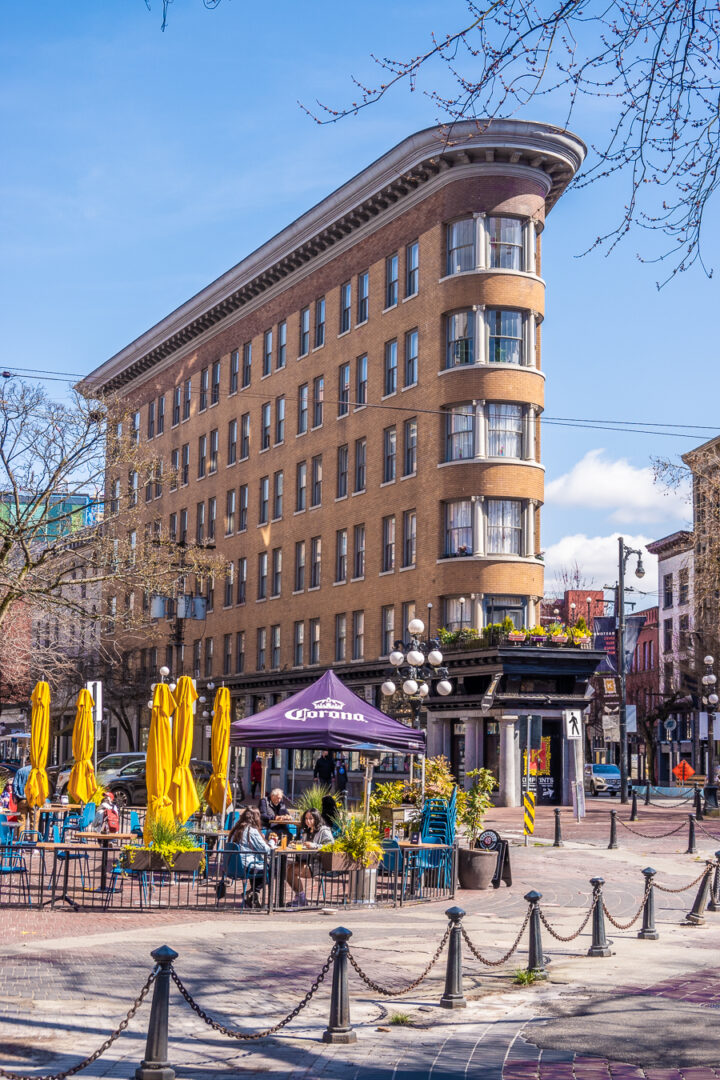 Hotel Europe (Vancouver's Flatiron Building)
Another fun building to see in Gastown is Hotel Europe. It bears a remarkable resemblance to New York's famous Flatiron Building. Hotel Europe was once known as the best hotel in the city. It is now used for government-subsidized housing, and is one of the most-photographed locations in Vancouver.
Right across from Hotel Europe is the "Gassy Jack" statue, a tribute to the man who founded the tavern back in 1867 that started Gastown's original settlement.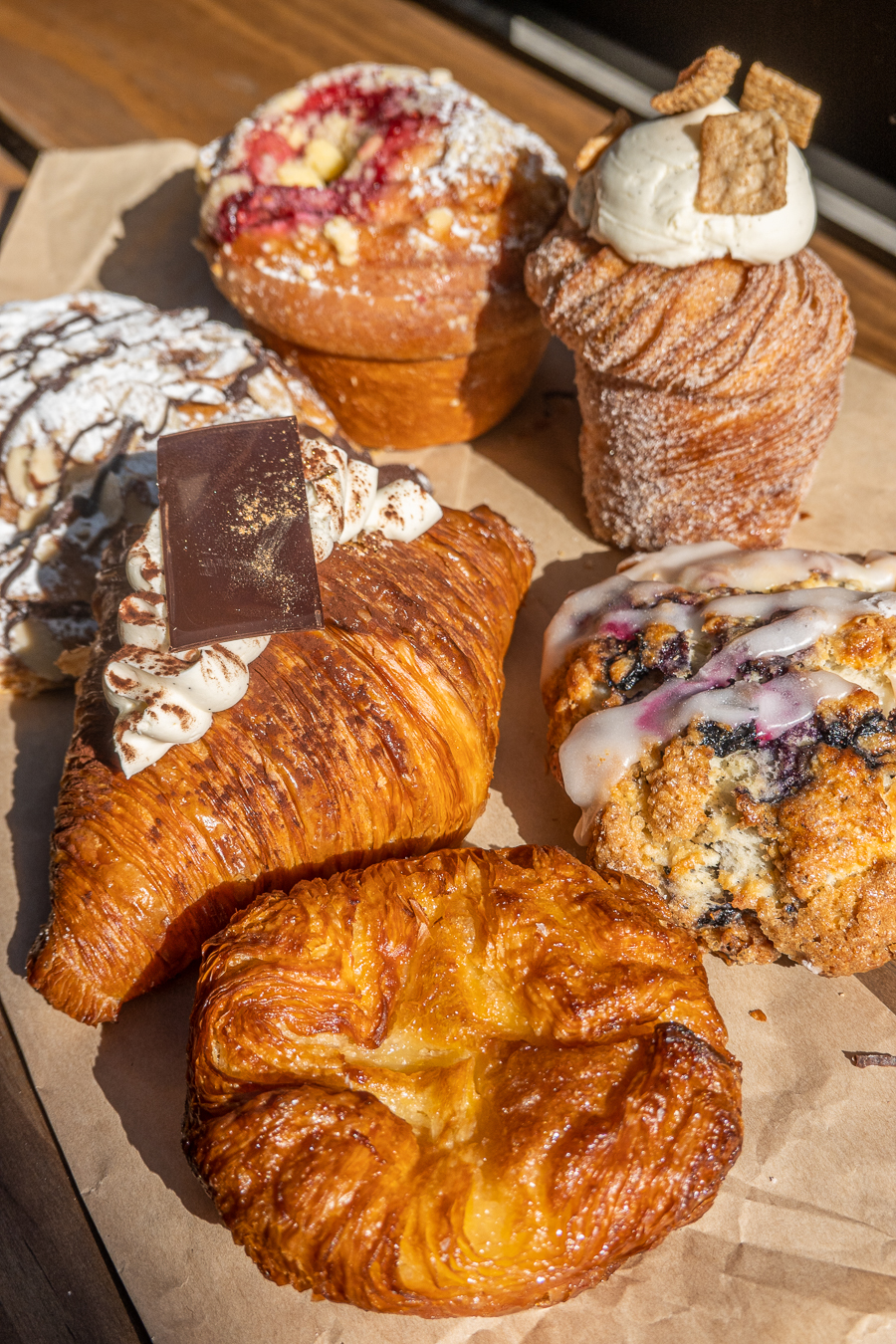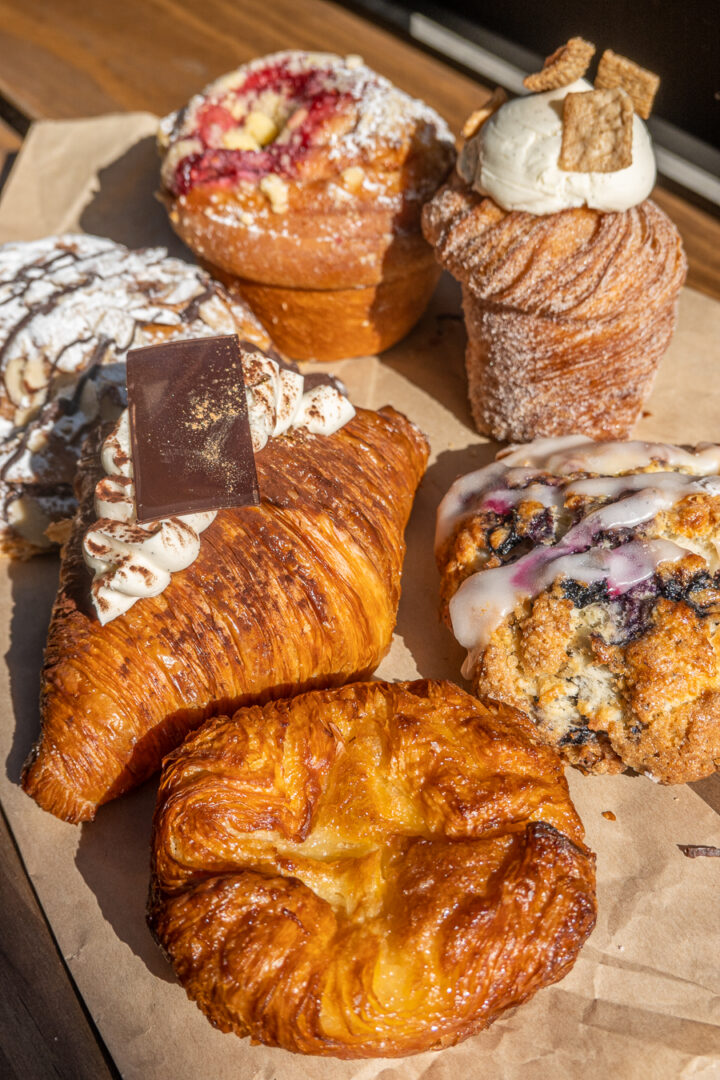 Nemesis Coffee
After all that walking, are you in the mood for a pastry?? I highly, highly recommend stopping by Nemesis Coffee before you leave Gastown. The cinnamon "cruffin" (croissant muffin), the tiramisu croissant, and the kouign amman were to DIE for. We went back twice they were so good! This is also a great option if you just want a quick breakfast before starting your day and don't want to wait in line for Jam Cafe. They have delicious breakfast sandwiches here too.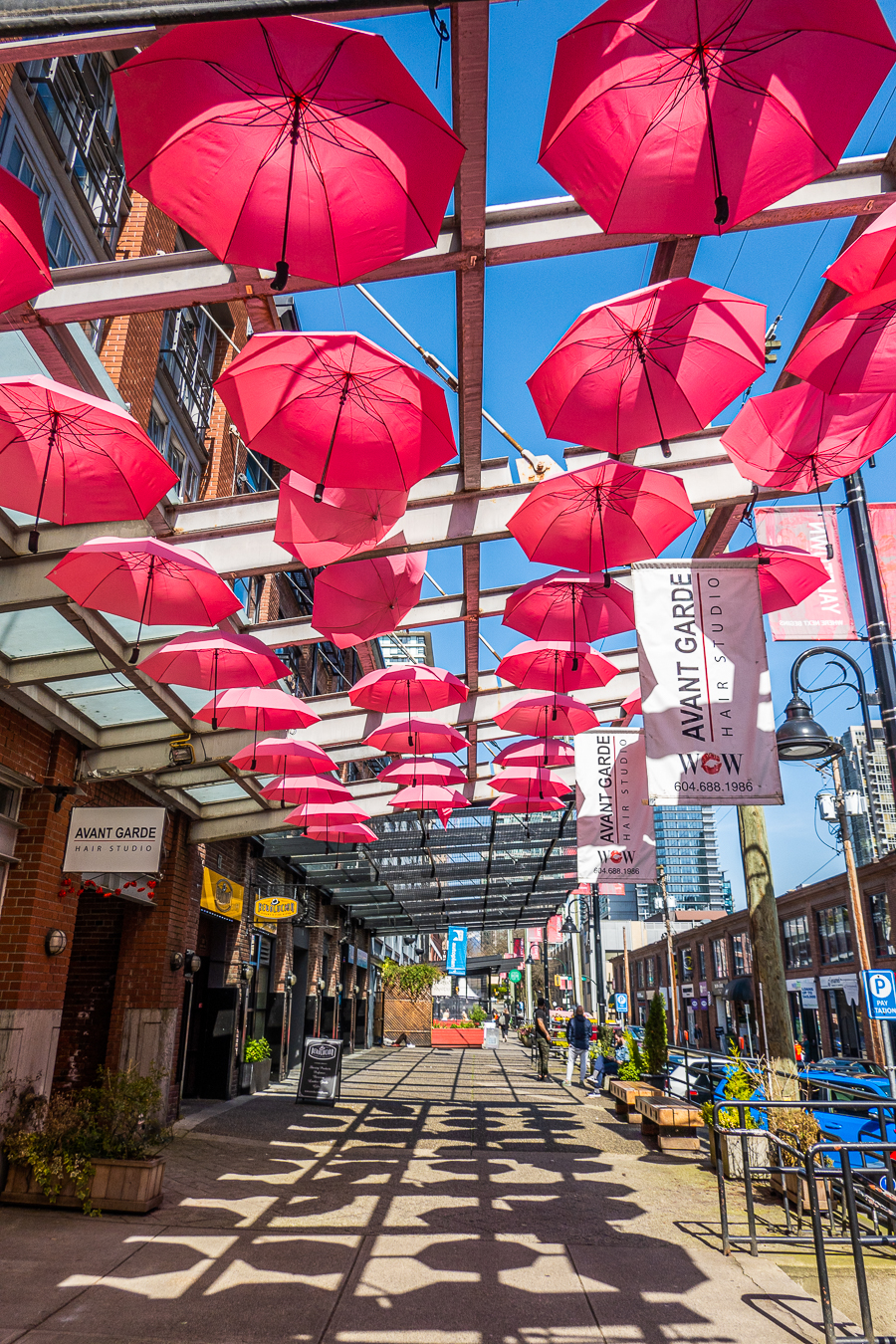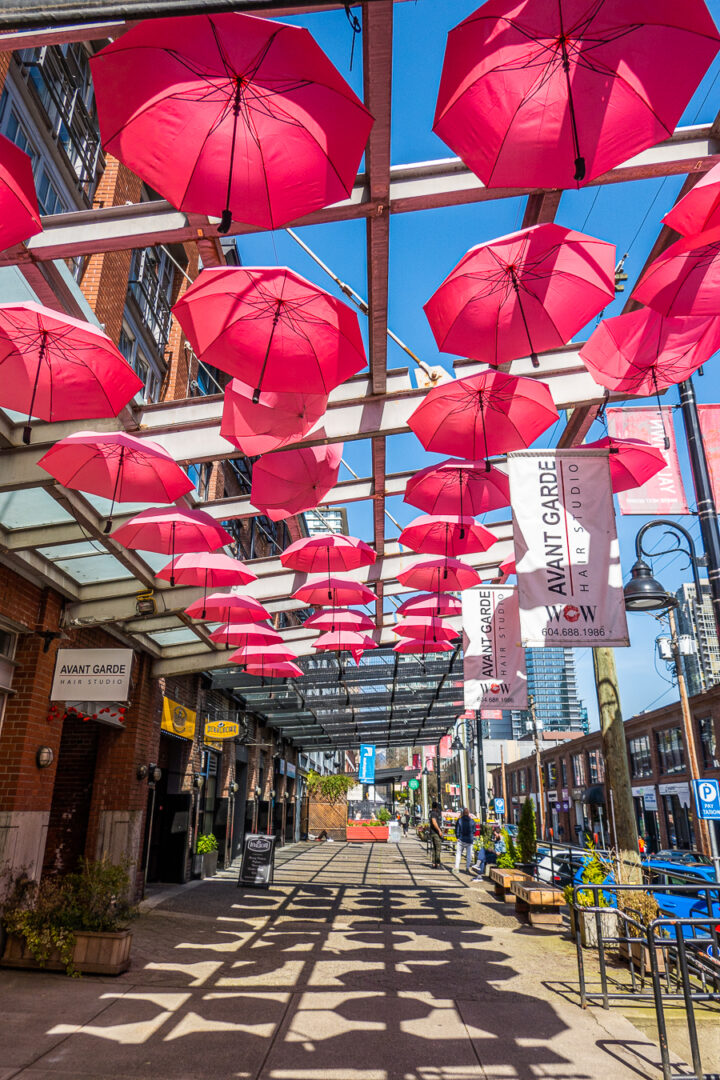 Yaletown
After Gastown, we'll take about a 20-minute walk to the next stop on our "best things to do in Vancouver" tour. Our next destination is Yaletown, a trendy neighborhood known for its old warehouse buildings turned into lively restaurants with large outdoor terraces. If you want to eat outside in Vancouver, this is one of the best areas to do it!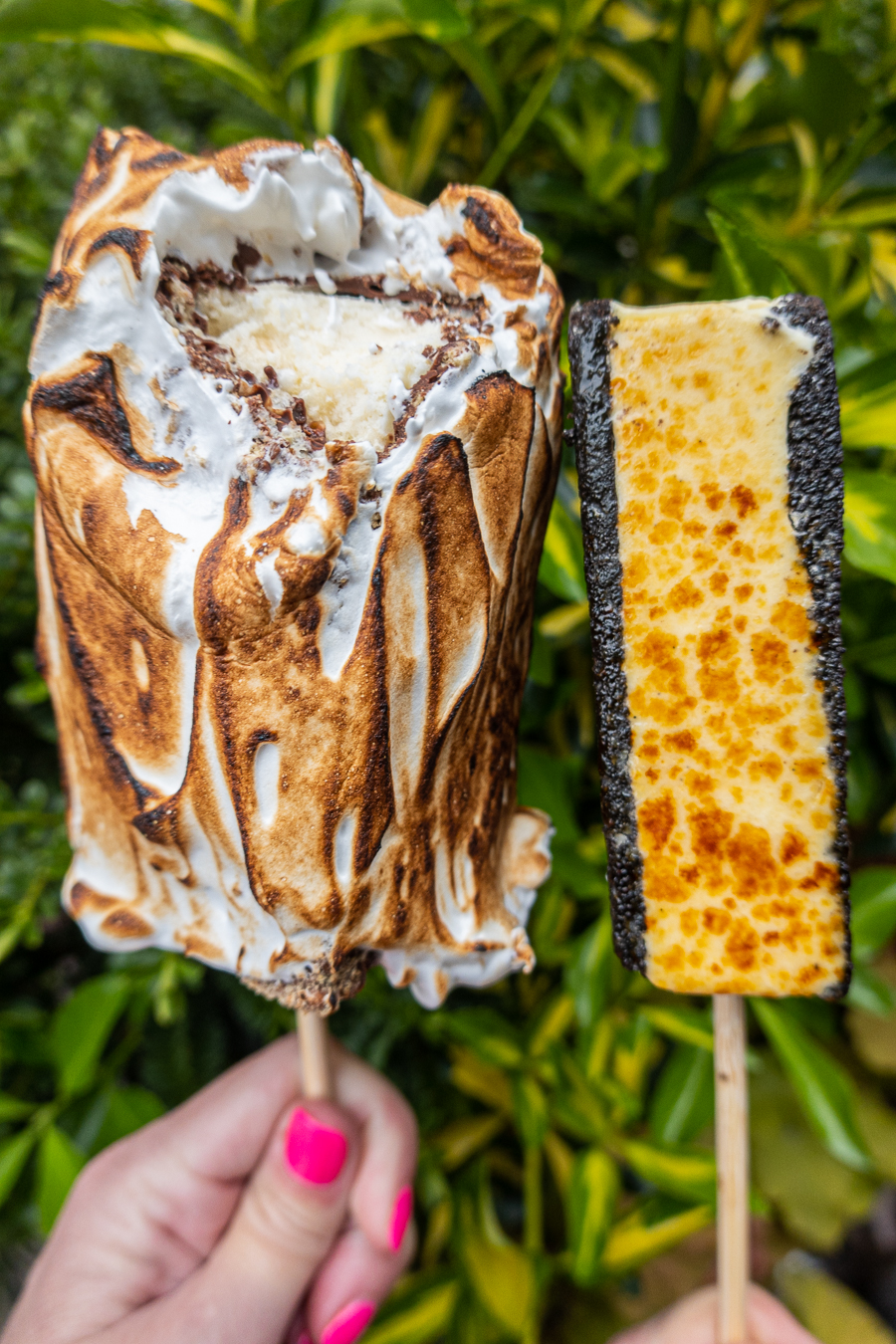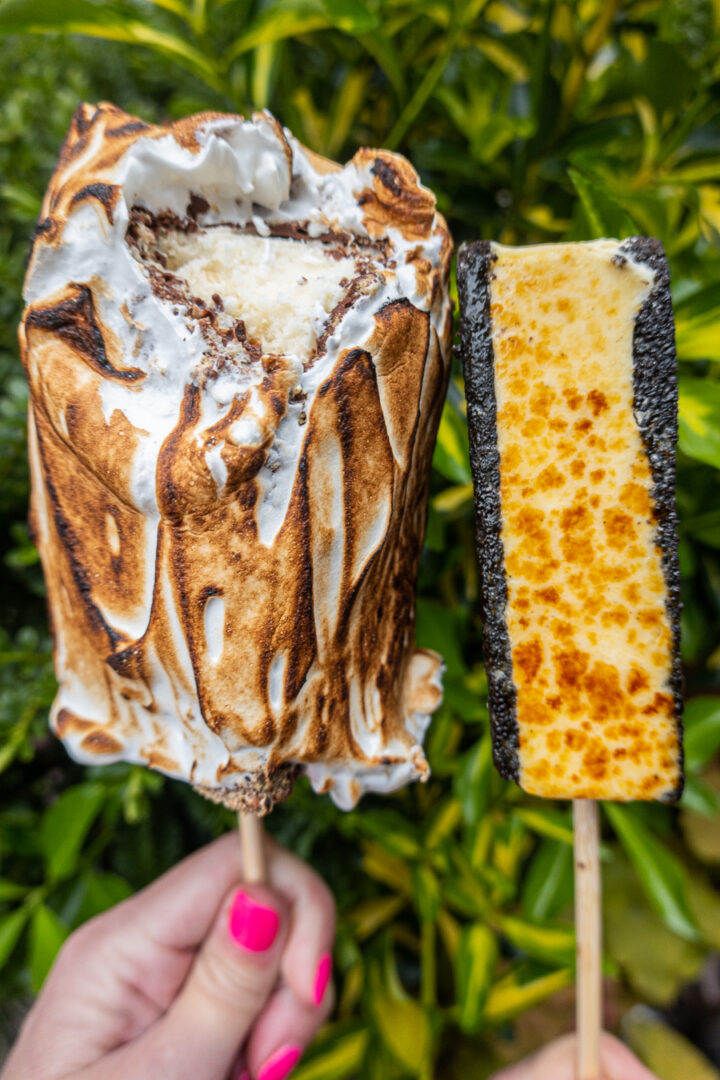 Mister Artisan Ice Cream
If you're ready for a little ice cream (after all that walking, you deserve it!) Mister Artisan Ice Cream is a very popular spot in Yaletown. Because they're so popular, there's usually a line, but it doesn't take too long. Mister is known for their s'mores and creme brulee ice cream sandwiches.
On the left is a Rice Krispy Treat ice cream sandwich dipped in chocolate, then dipped in marshmallow fluff and toasted. It was incredible. On the right is a creme brulee ice cream sandwich. They actually dip it in sugar and torch the sugar! So crispy and fun! Highly recommend these unique ice cream treats!
Umbrellas at Bill Curtis Square
One of the most recognizable sites in Yaletown is the colorful canopy of umbrellas at Bill Curtis Square. The umbrellas change periodically — as of April 2021 they were pink and white polka dot to celebrate spring and cherry blossom season. If you want to know what color they will be before you go, just do a quick Instagram search for Bill Curtis Square to see what people have posted recently.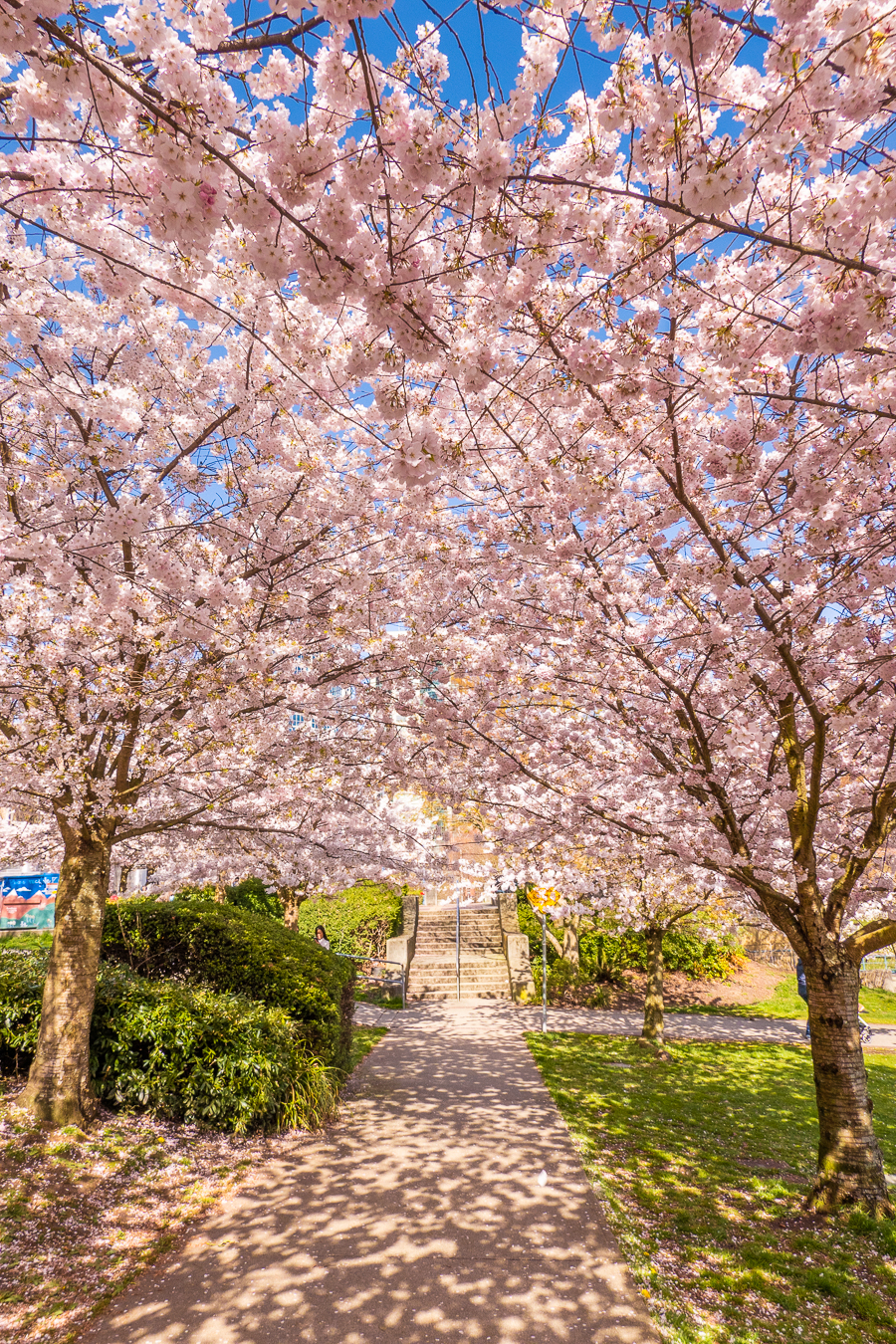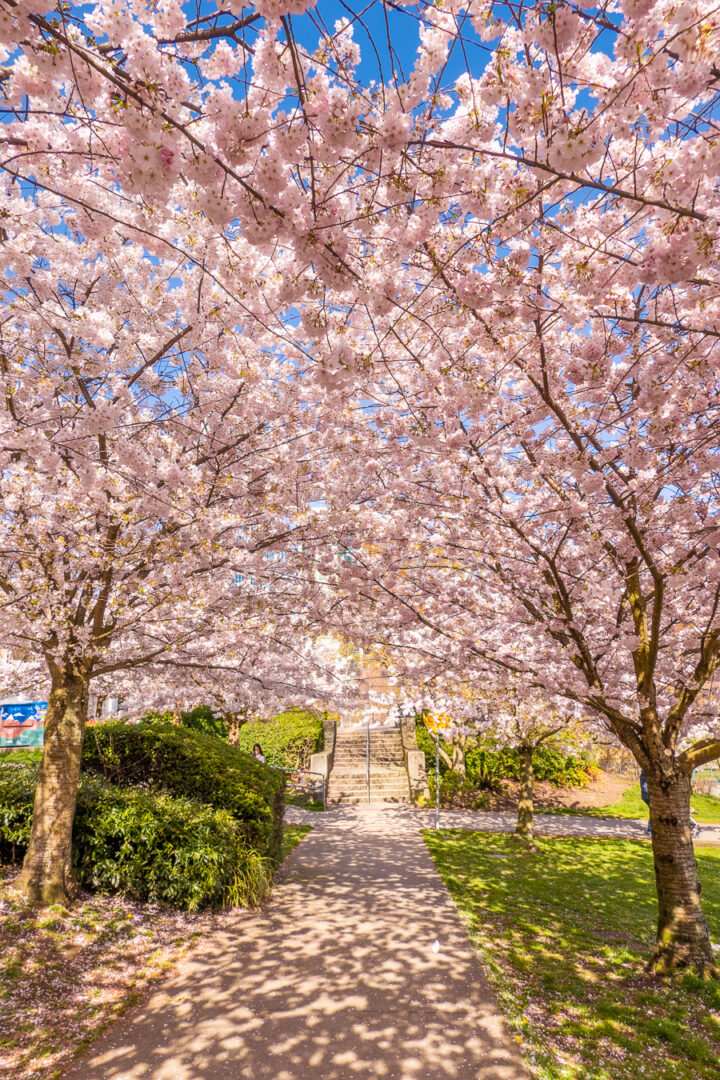 David Lam Park
If you're in Vancouver during the spring for cherry blossom season (late March / early April) be sure to swing by David Lam Park after your visit to Yaletown. It is absolutely covered in cherry blossom trees!! I could've taken a million pictures here. We saw several professional photographers taking family photos and wedding portraits.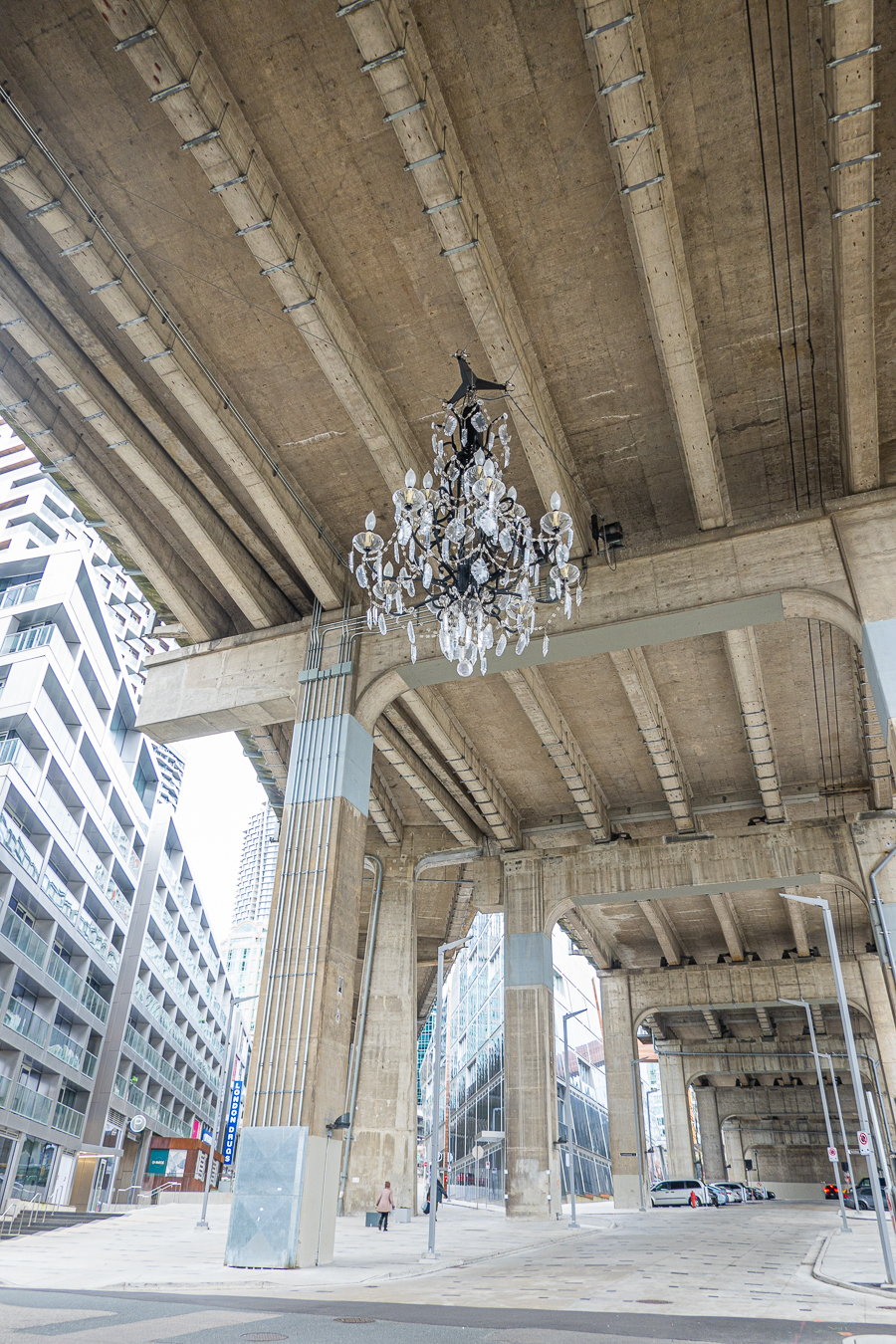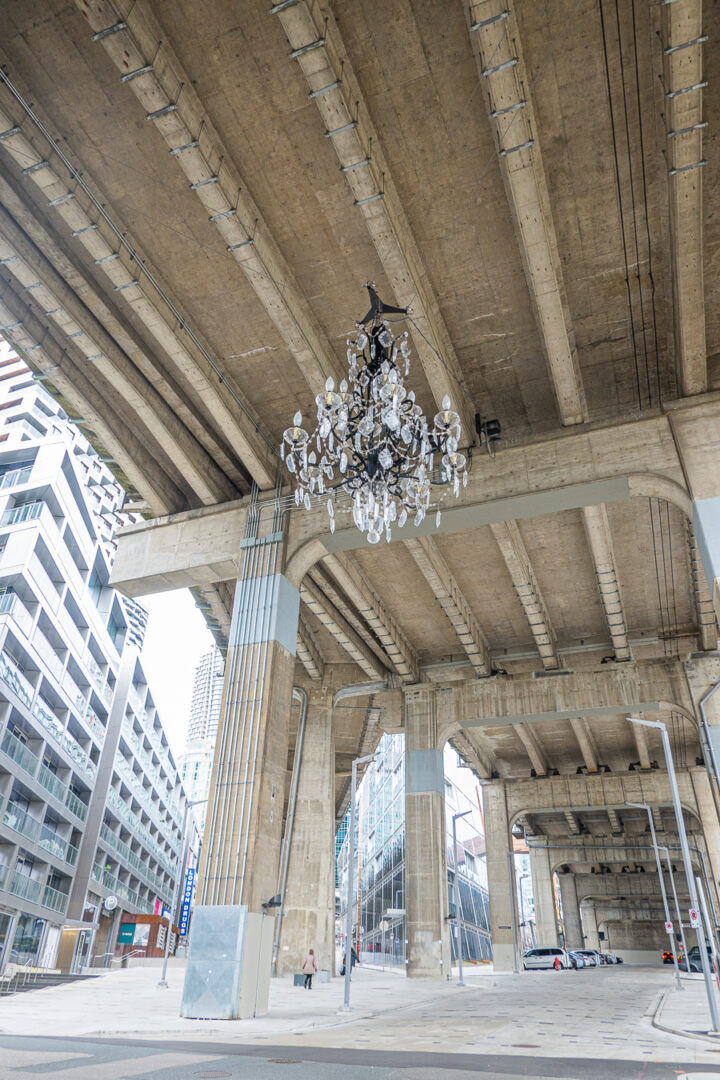 Spinning Chandelier
After Yaletown, we're going to make our way to Granville Island. On the way we'll stop by to see a rather unconventional sculpture. Hanging underneath the Granville Street Bridge is Vancouver's Spinning Chandelier. Every day the chandelier spins at noon, 4 pm, and 9 pm. It's worth timing your day around to see. After dark it is even illuminated until 11 pm.
If you're following this itinerary, you'll probably be there around the 4pm show. Or if you're a bit early, you can come back after Granville Island.
The community has some mixed feelings about the chandelier. It's definitely interesting and unique, but it's also regarded as a questionable use of money towards gentrification.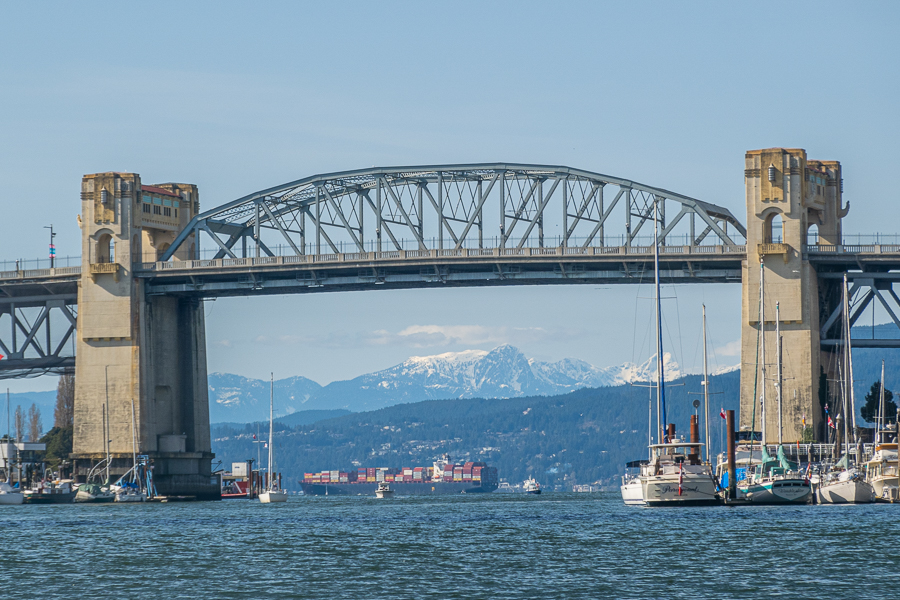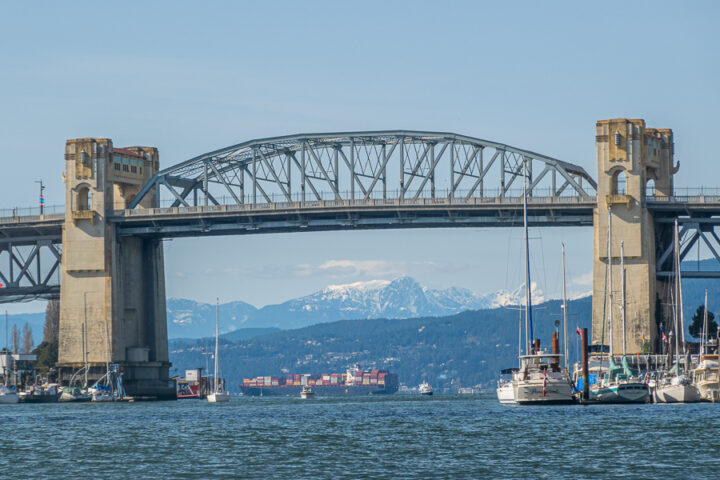 Take an Aquabus to Granville Island
After watching the Spinning Chandelier, walk about 5 minutes to the Hornby Street Ferry Dock. You'll see some signs guiding the way.
Once you get there, buy a round-trip ticket to Granville Island. You'll want to buy the return ticket also because we'll be coming back. You don't need to buy your ticket in advance, you can just show up and buy it on the boat. They take cash or credit. The boats to Granville Island leave about every 5 minutes, so you shouldn't have to wait too long. Taking an Aquabus is definitely one of the must-do things to do in Vancouver!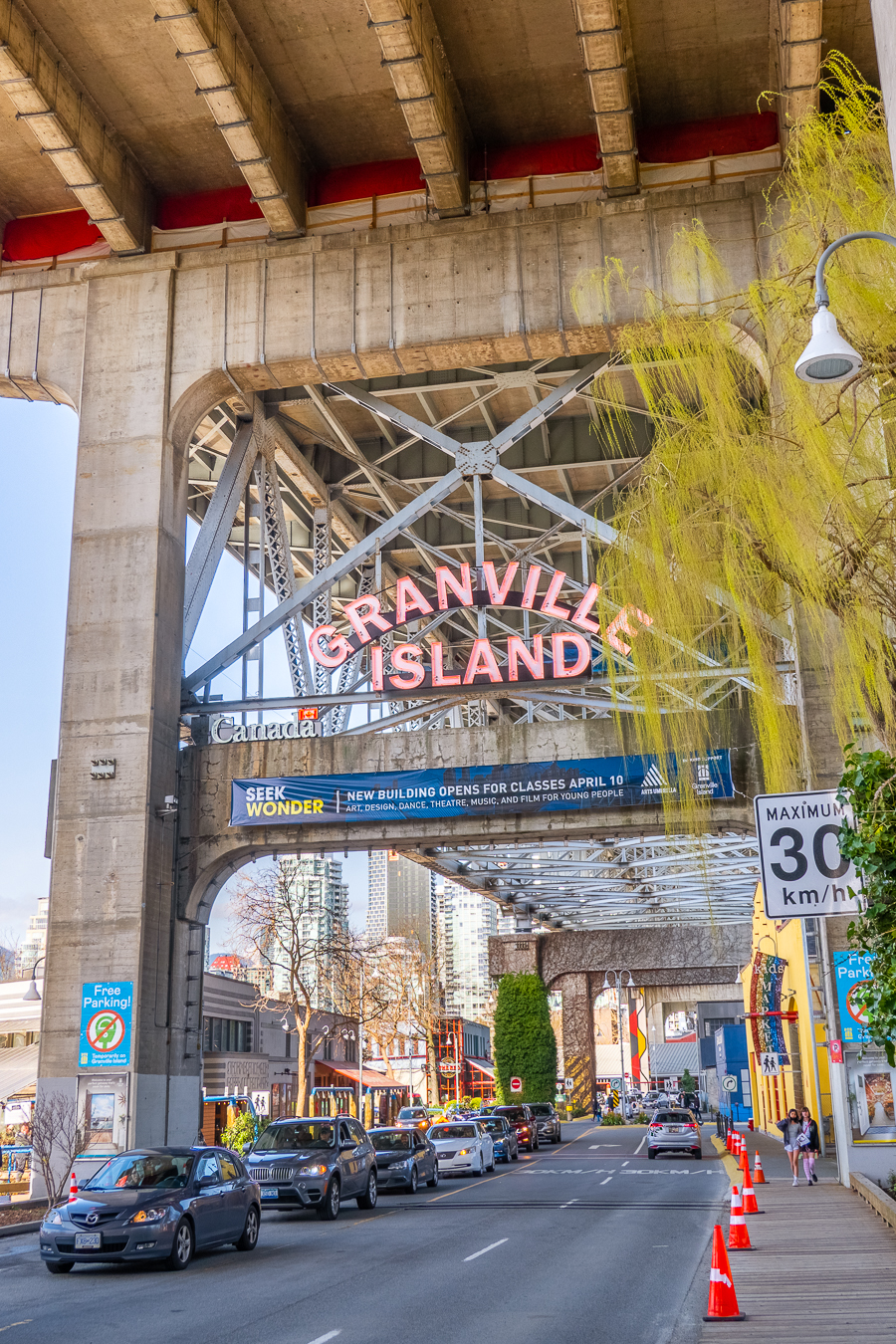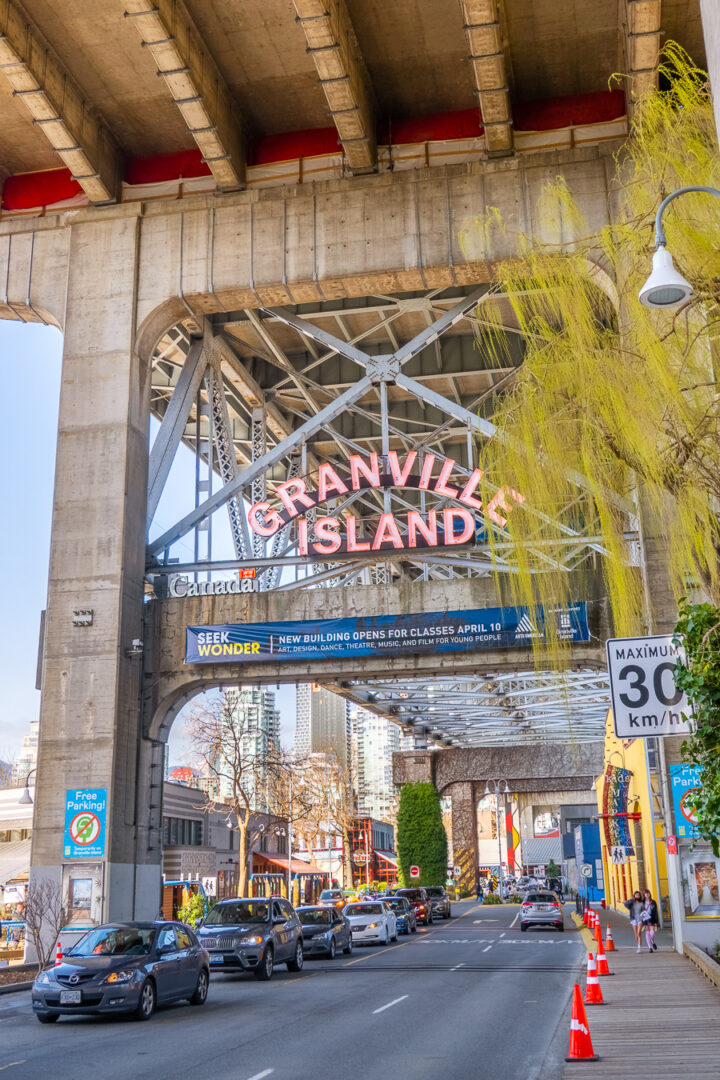 Granville Island is one of the most popular things to do in Vancouver for locals and tourists alike. The biggest attraction on Granville Island is the public market. With endless rows fresh fruits and vegetables, gourmet delicacies, and delicious baked goods, the public market is a food lover's paradise!
Outside of the market you'll find tons of shopping. There are unique craft boutiques, skilled artisan studios with glassblowers, potters, and jewelers, and even deluxe gourmet food stores. It's the perfect place to pick up any souvenirs to take back home.
The public market closes at 6pm, and some of the stores outside the market start closing at 5pm, so if you're going later in the day we recommend visiting the stores first and the market after.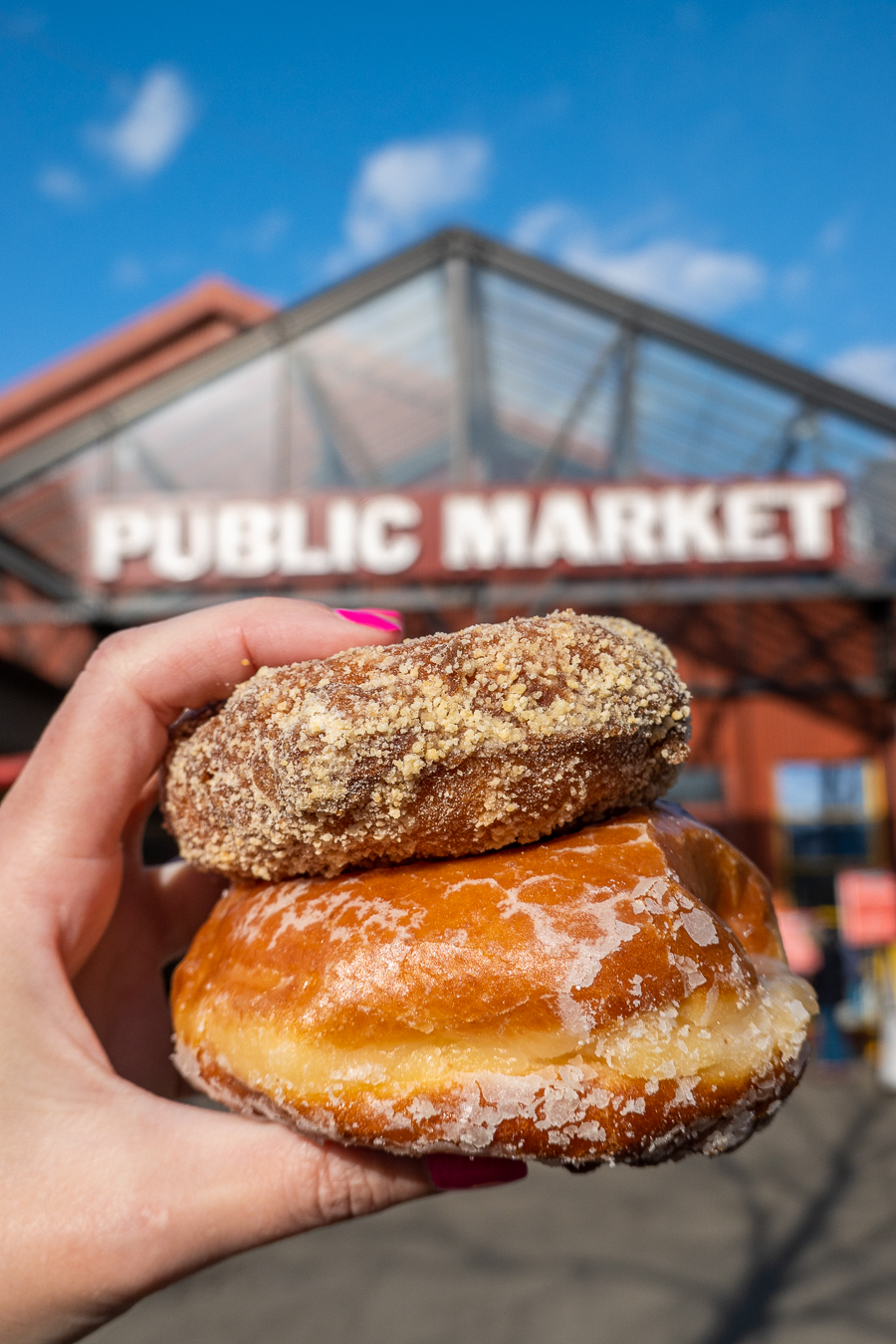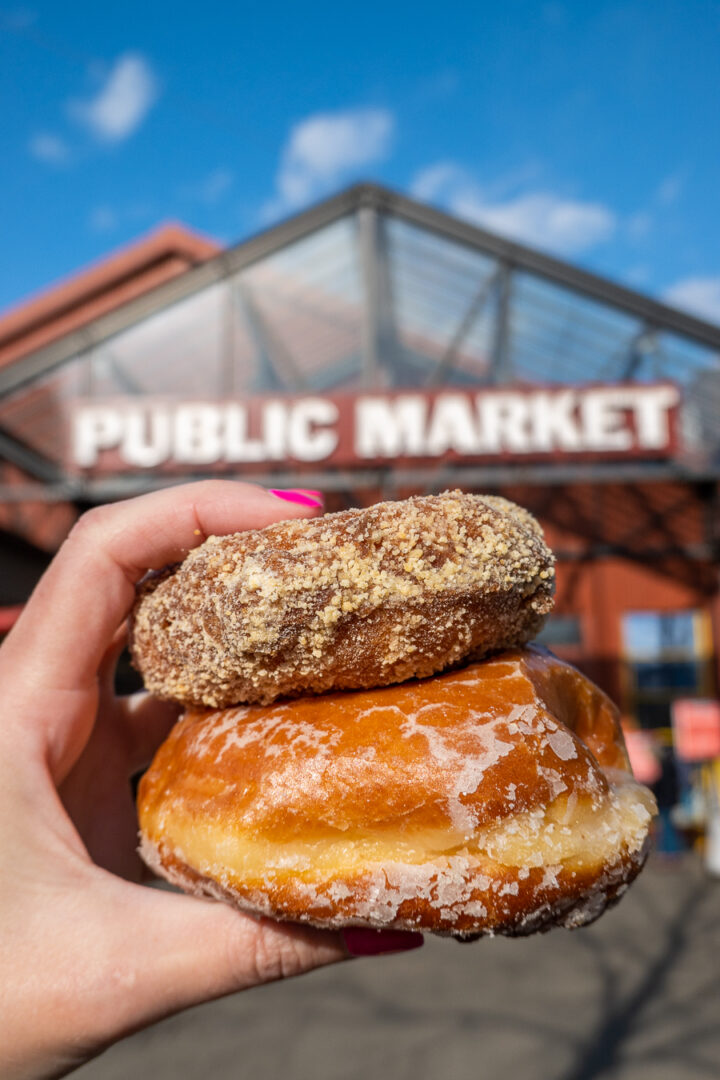 Granville Island Public Market
Lee's Donuts is a longtime staple of the Granville Public Market. They have a wide variety of freshly baked donuts. The first time we went was on a weekend, and there was a huge line. We watched the line for awhile and estimated people were waiting at least 45 minutes to 1 hour. We decided to pass, but when we went back on a weekday afternoon and there was hardly any line at all, we definitely had to try them.
The donuts are pretty good, but I wouldn't say they were life-changing. If there's not a long line, then I would definitely give them a try. However I'm not sure they are worth waiting an hour for, unless you're really craving donuts!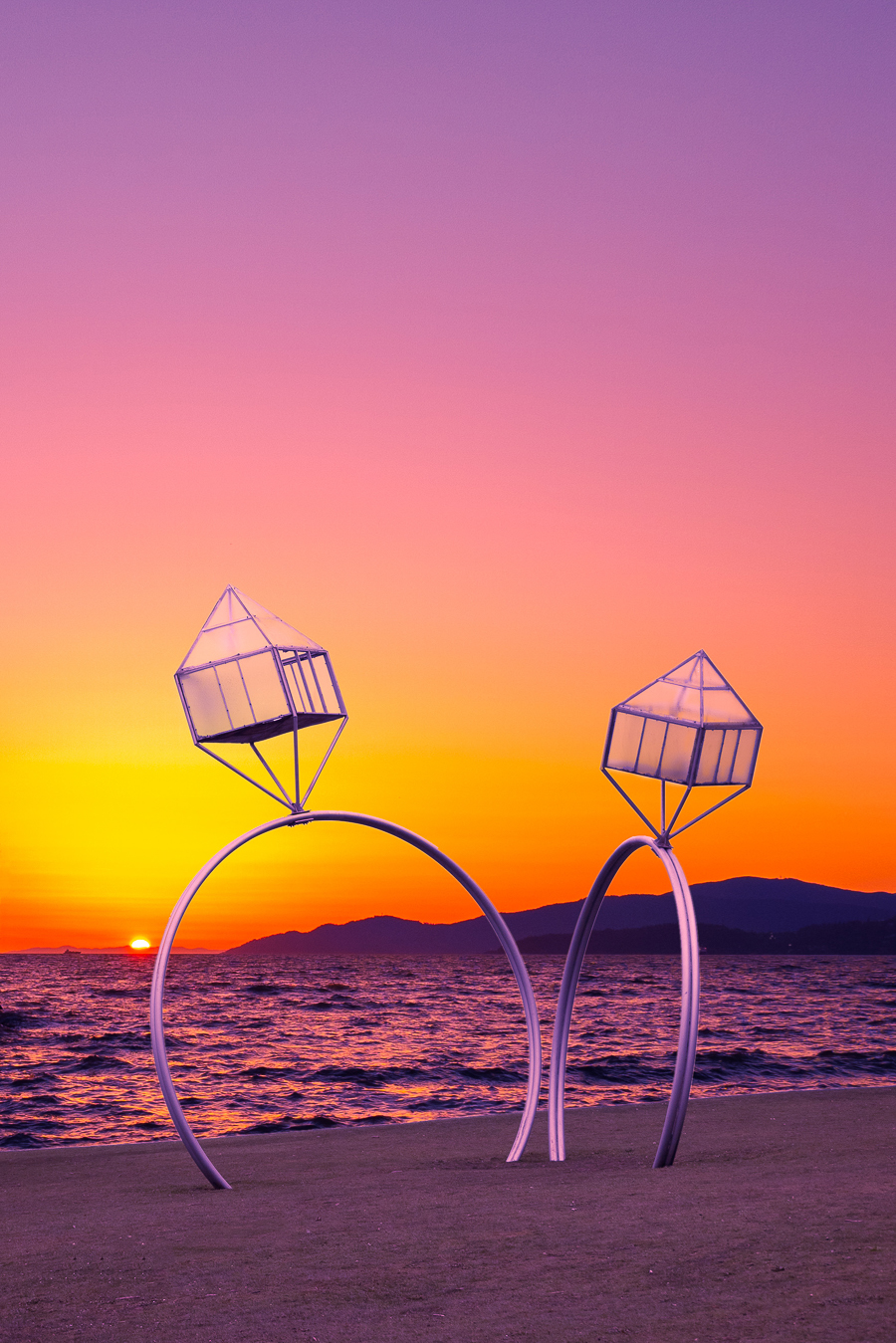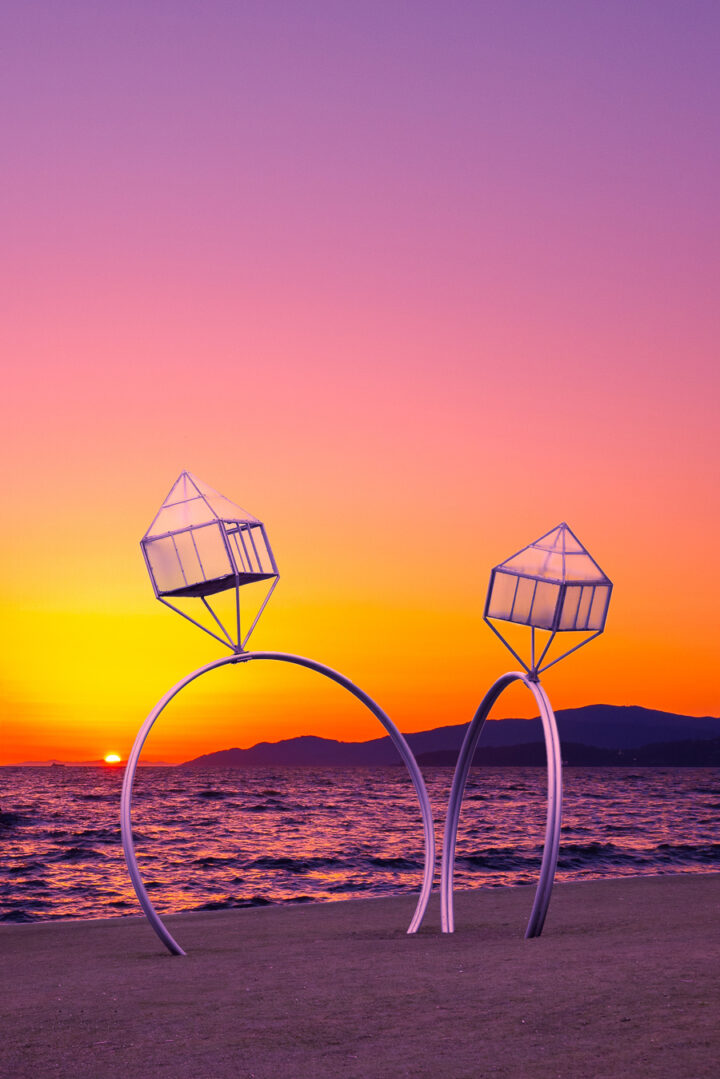 Engagement Rings
After shopping and eating your way around Granville Island, hop on the Aquabus back to the Hornby Street Ferry Dock.
Next, walk along the boardwalk right in front of the water towards Sunset Beach. In about 15 minutes, you'll reach this giant sculpture of engagement rings.
Like the name of the beach suggests, this is the perfect spot for sunset! Would you propose here? ;)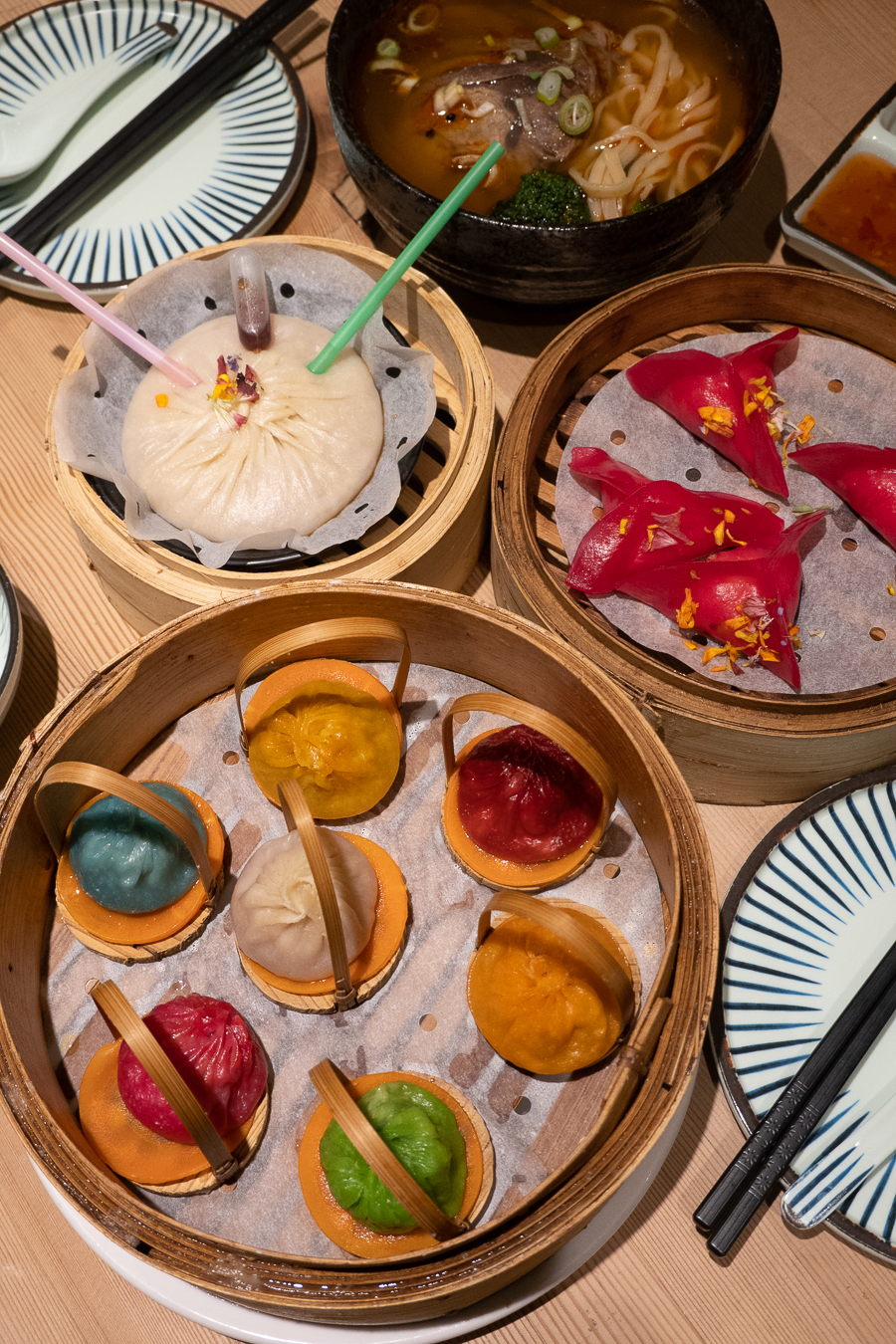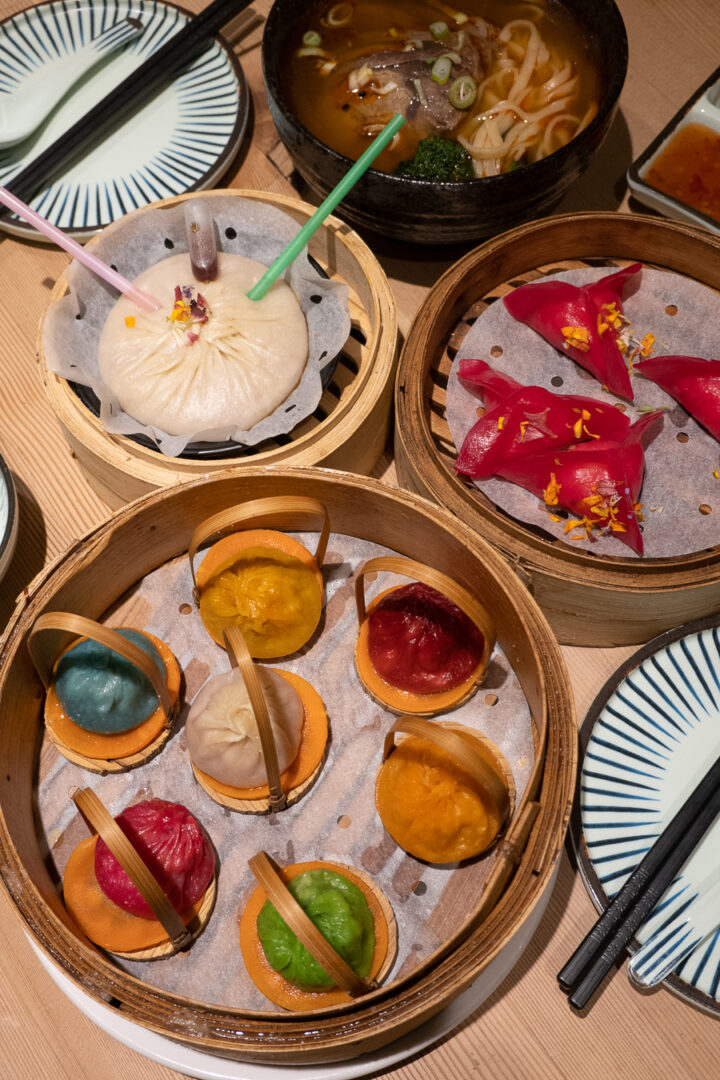 Dinner at Jingle Bao
Vancouver is known for it's Asian cuisine, so if you're looking for a super fun Asian-fusion restaurant, we absolutely loved Jingle Bao. How fun are these colorful bao?? And that giant soup dumpling with STRAWS?? If you get the supersize Xiao Long Bao, I highly recommend the spicy version. It's not too spicy! This is such a fun way to end your perfect day in Vancouver.
My only little warning would be about the noodle soup pictured above. It's made with nettle leaf which causes a "stinging" or numb feeling in the mouth. It's one of those "love it or hate it" things and we didn't love it!
Bonus Day 2 Itinerary!
Brunch at Honey Salt
If you have a second day in Vancouver, I highly recommend spending the next morning walking all the way around Stanley Park. It's such a beautiful walk and there's so many things to see along the way! Walking around the seawall in Stanley Park is for sure one of the best things to do in Vancouver.
But first, you'll be walking a lot so start with an amazing brunch at Honey Salt. You'll definitely want to order the Monkey Bread, buttermilk fried chicken sandwich, and the Nutella Stuffed French Toast!
They only serve brunch on the weekends (starting from 10 AM) and this place is definitely one of Vancouver's hotspots so be sure to make reservations!
Walk along the Vancouver Seawall at Stanley Park
After brunch it's time to start walking!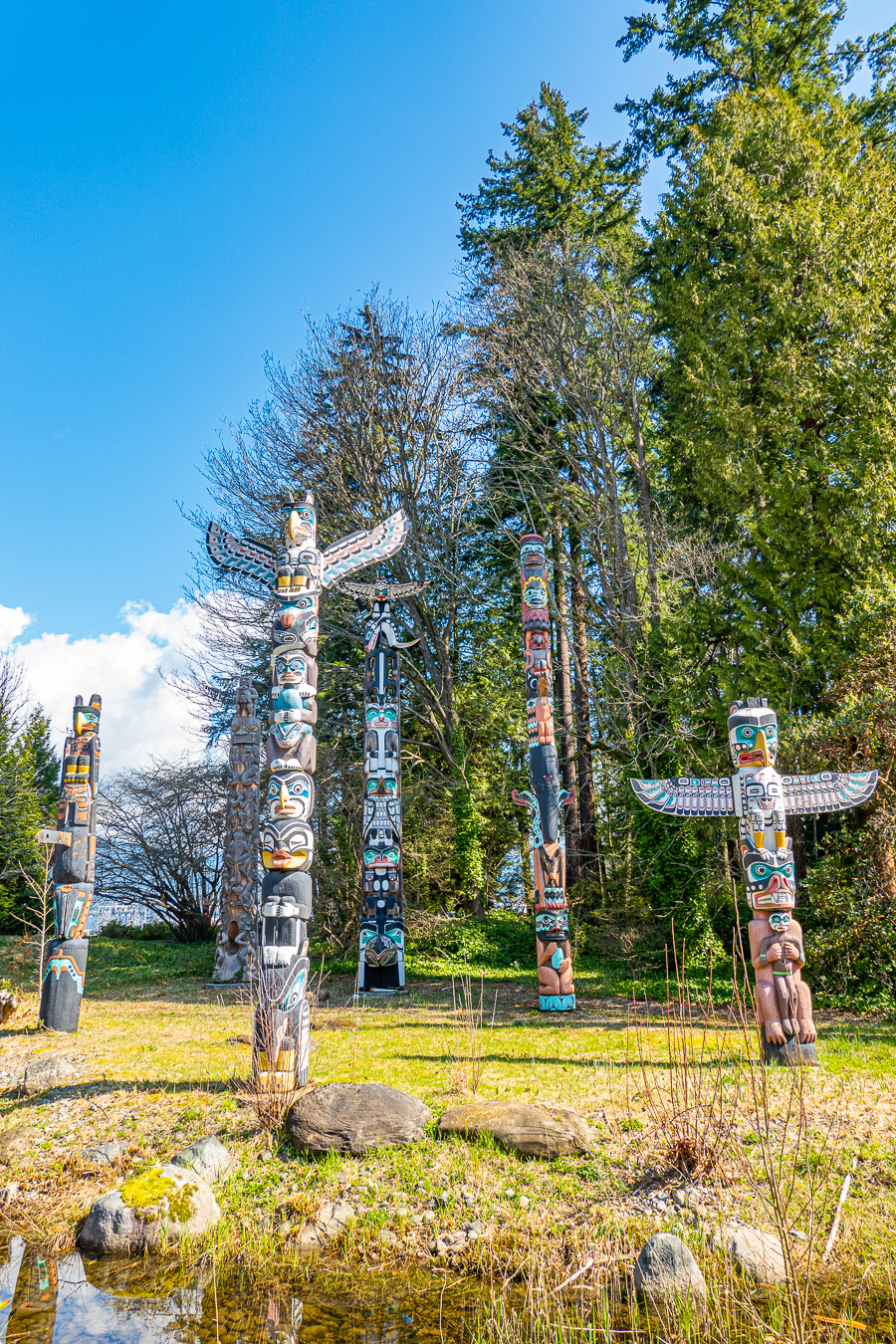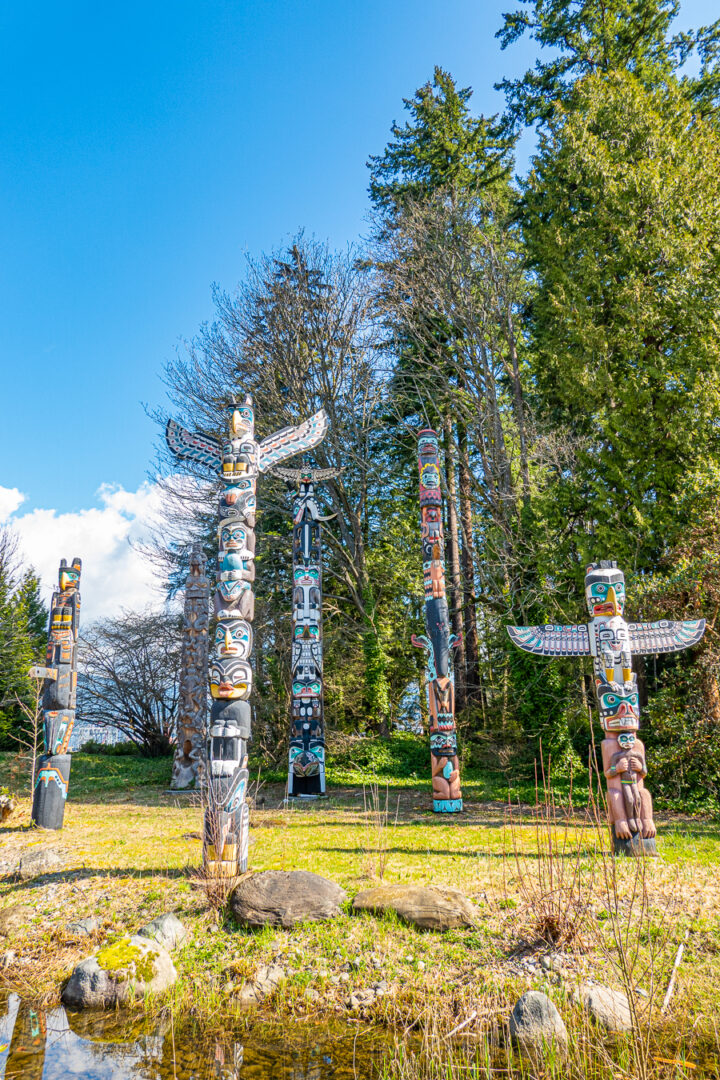 Totem Poles
Let's start at the totem poles! The totem poles are one of the most recognizable sites in Stanley Park. There are nine totem poles brought in from remote areas in British Columbia.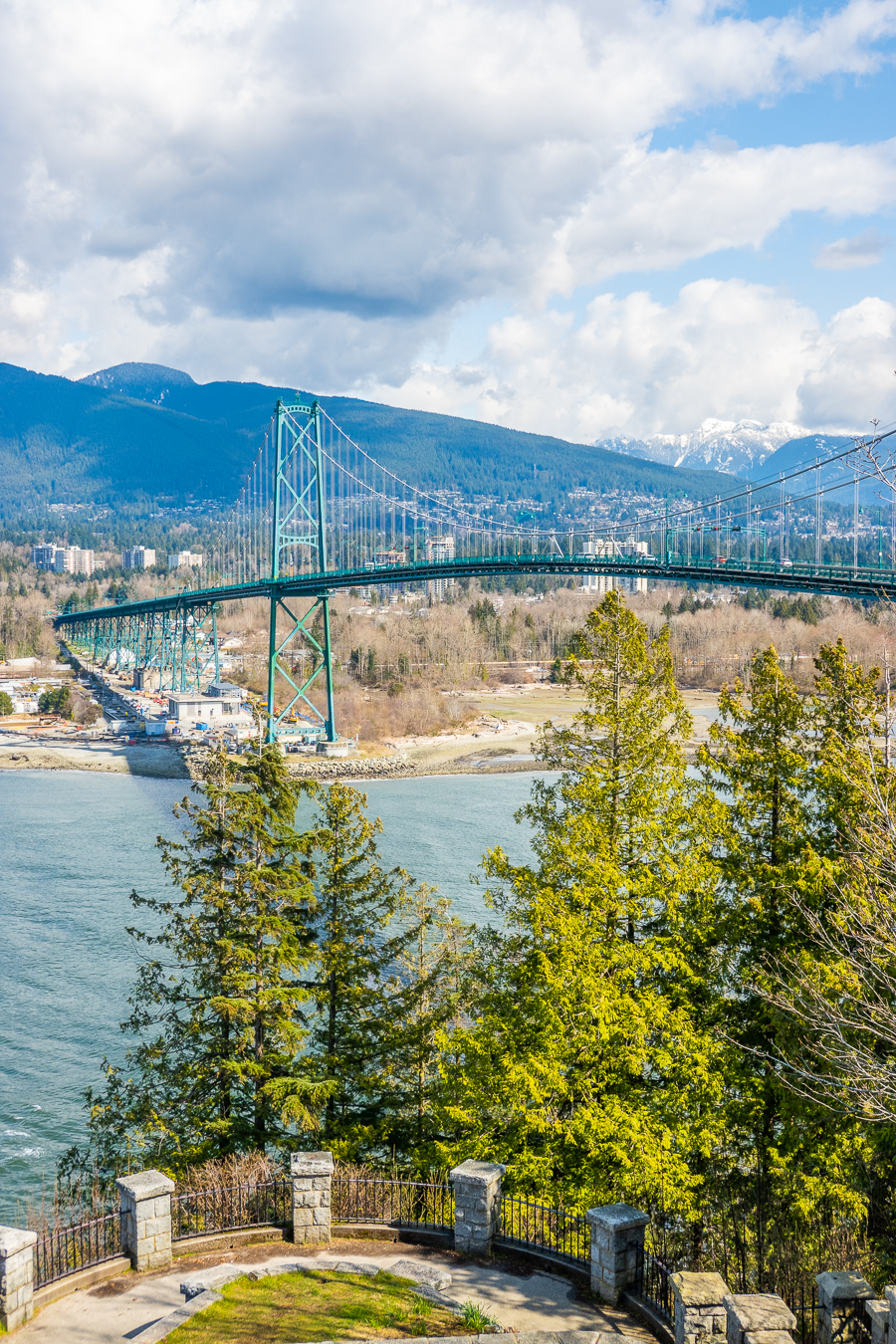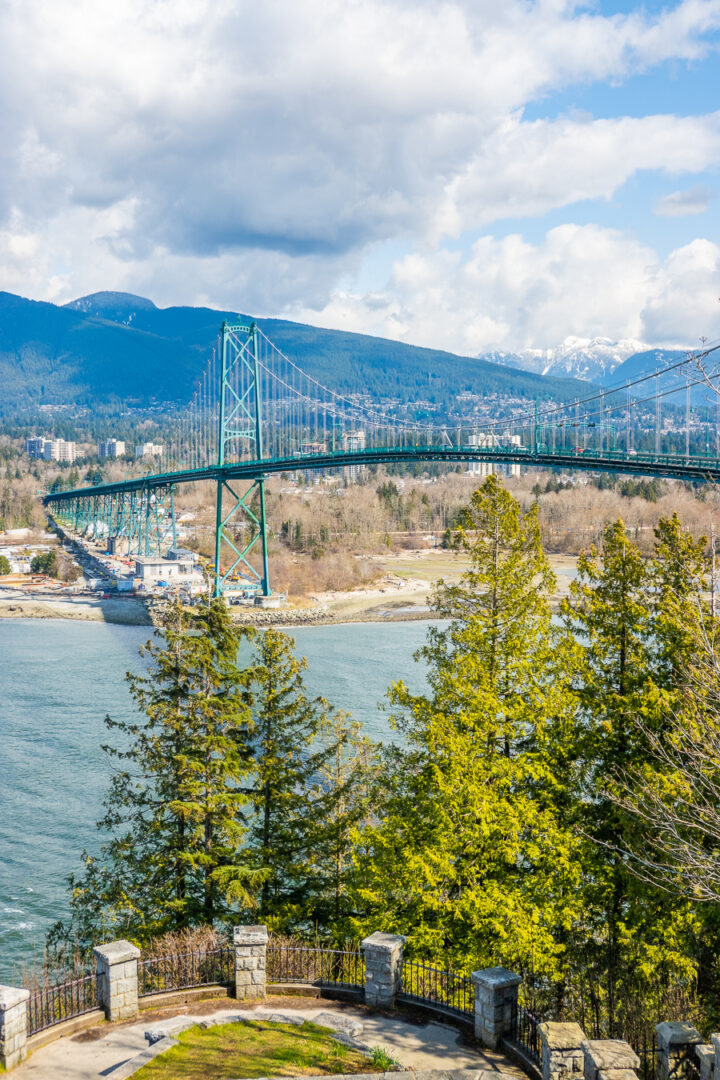 Prospect Point Lookout
Next you'll walk along the seawall with beautiful views of the mountains for about 35 minutes to the Prospect Point Lookout. Here you'll have a panoramic view of the mountains, water, and Lions Gate Bridge.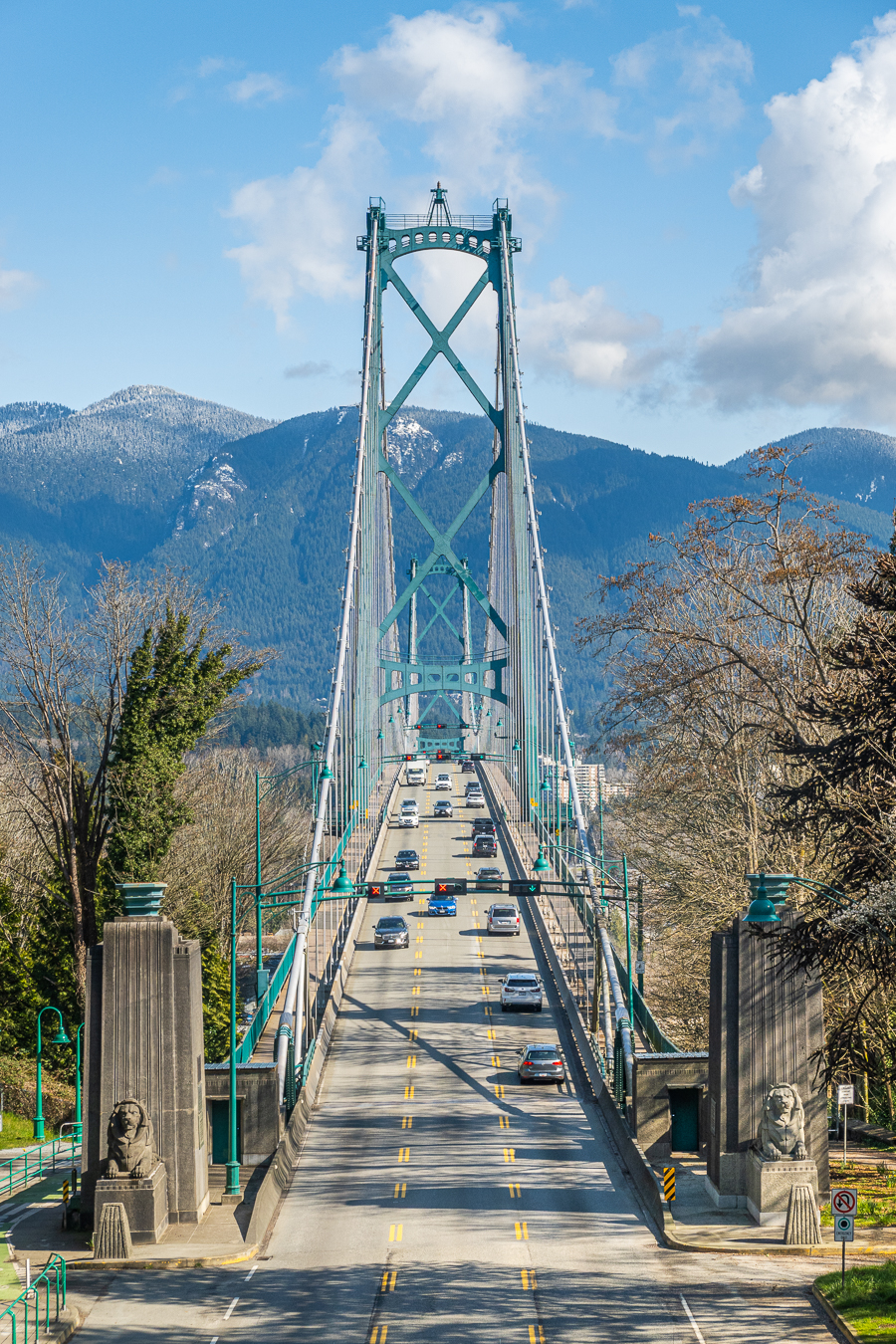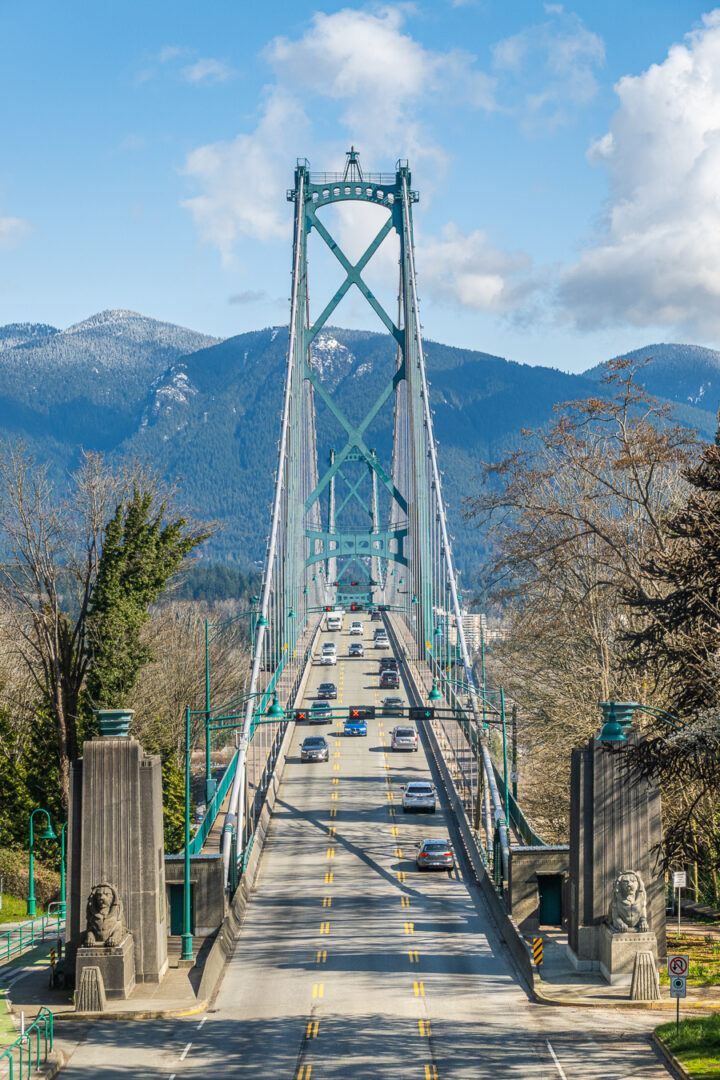 Lions Gate Bridge View
Afterwards, be sure to pop over to get this iconic straight-on view of the Lions Gate Bridge.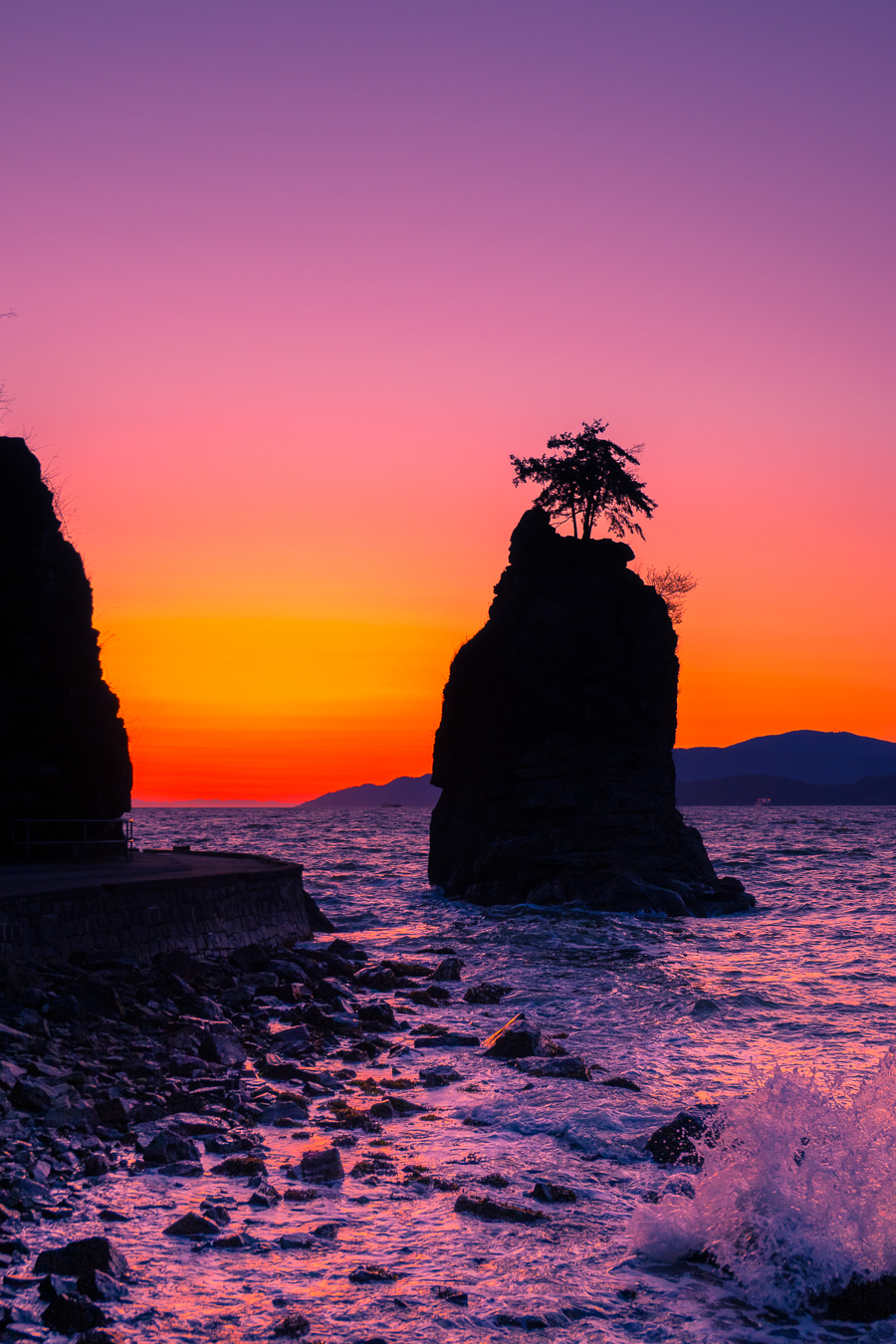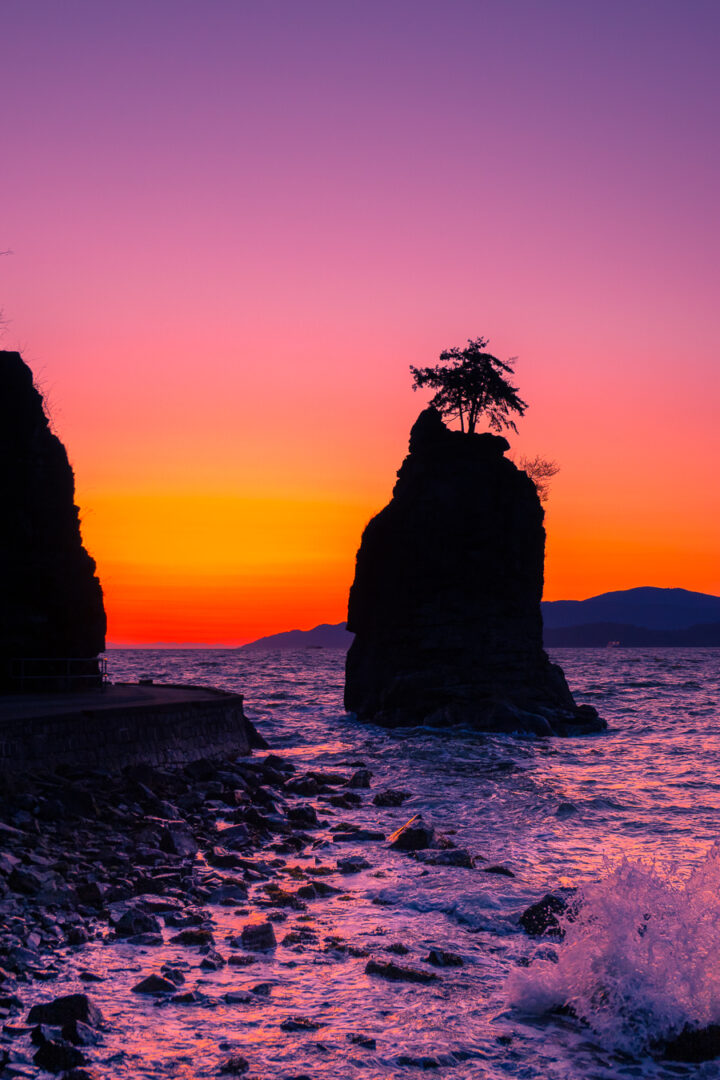 Siwash Rock or Pineapple Rock
From the Prospect Point Lookout you'll then turn inside the park and walk about 25 minutes on Stanley Park Drive, past the Hollow Tree, to Third Beach. At the beach you'll end up back on the seawall where you can walk about 5 minutes until you reach this unique rock formation. People say it looks like a pineapple! What do you think?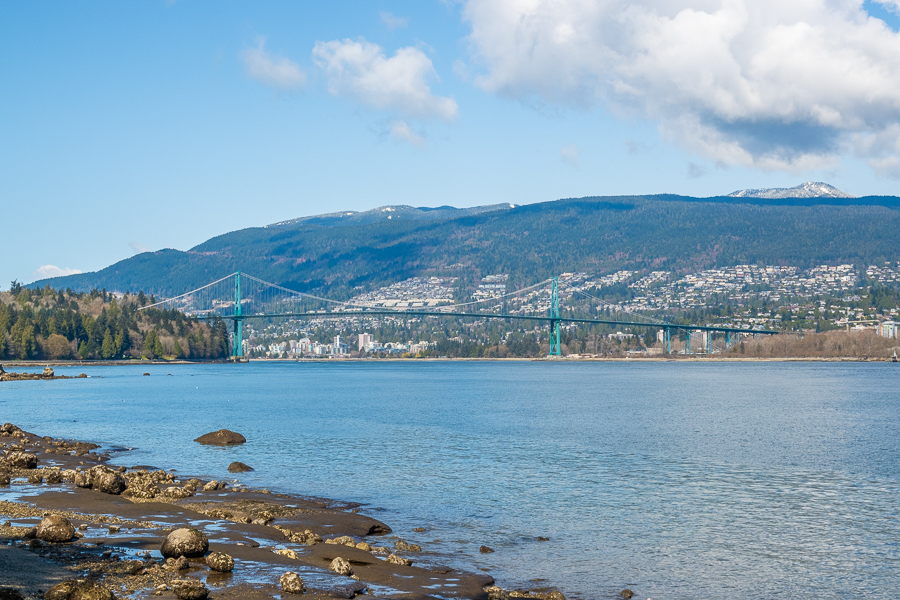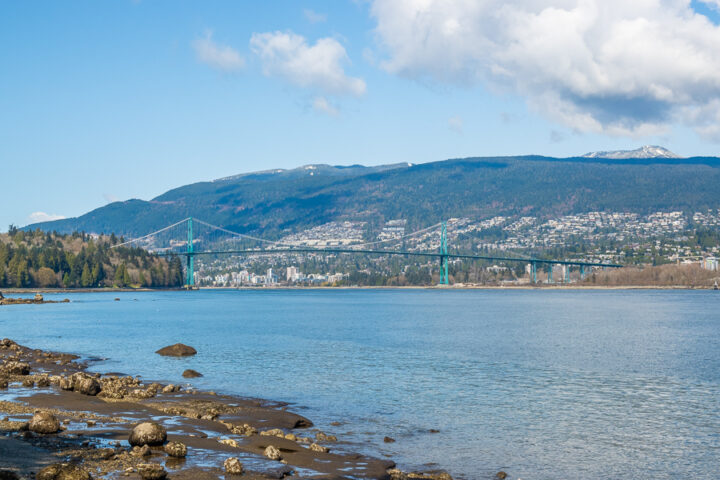 From Siwash Rock, keep walking for another 30 minutes or so, past Third Beach, past Second Beach, and finally you'll have made it all the way around!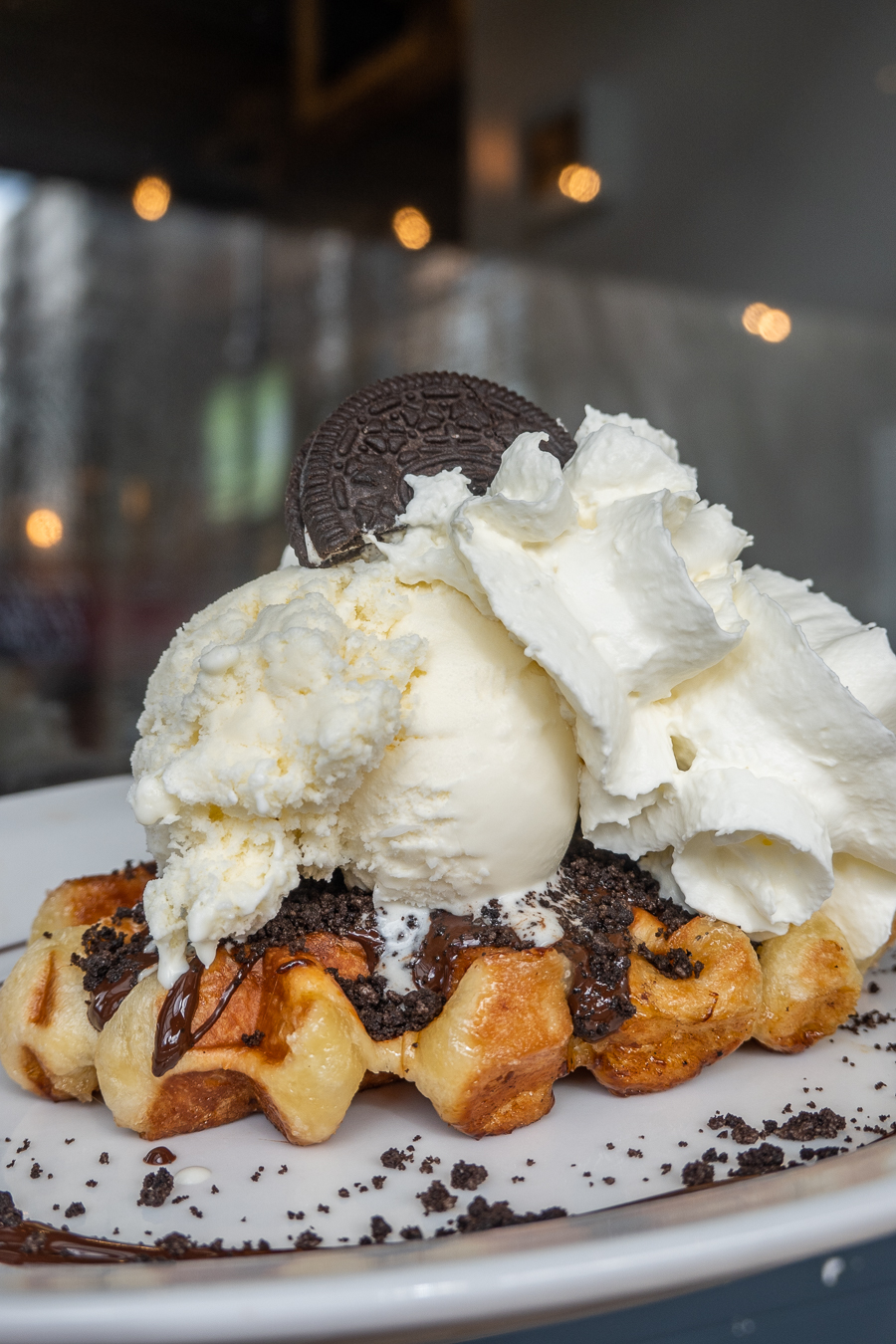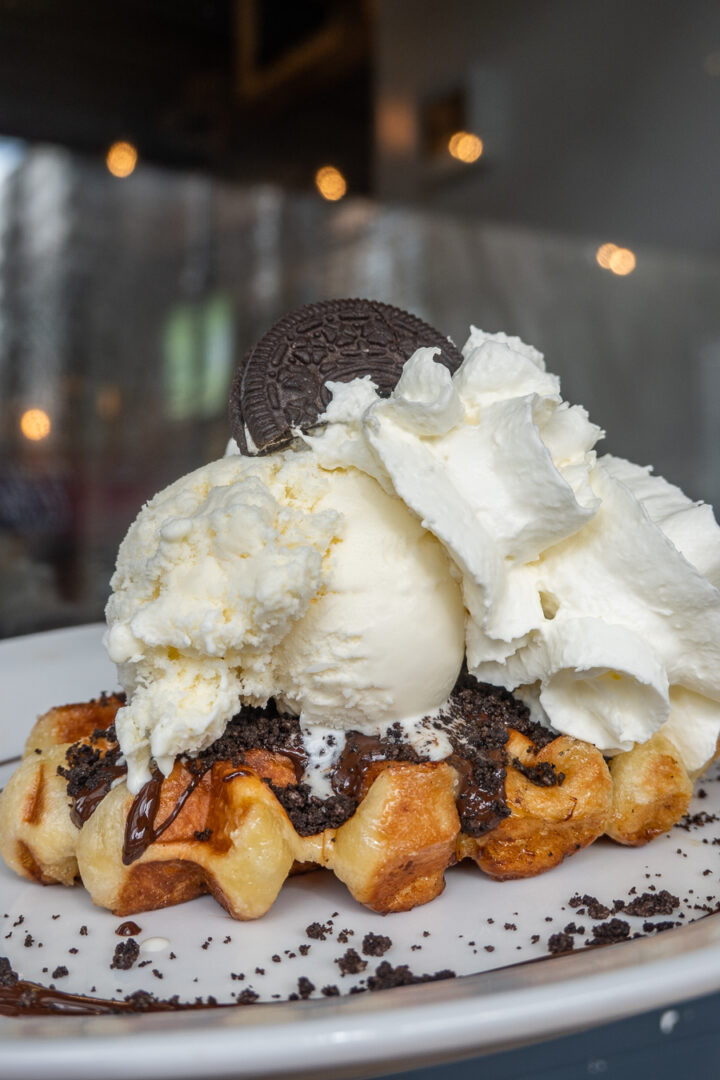 Nero Waffles on Robson Street
If you love Liege waffles you should definitely celebrate your Stanley Park accomplishment with with a Liege waffle from Nero Waffles! If you've never had a Liege waffle before, they're made with large chunks of sugar in the waffle batter that caramelize when cooked. It's fun to bite into the warm, soft waffle and get a little pocket of cripsy sugar!
Liege waffles are also made with yeast so they have a slightly different taste and texture from your regular run-of-the-mill waffles. They're SO good! Honestly if you've never had one before, they're a must try! You can get them plain, dipped in chocolate, or with tons of fun toppings, like the ice cream and whipped cream pictured above.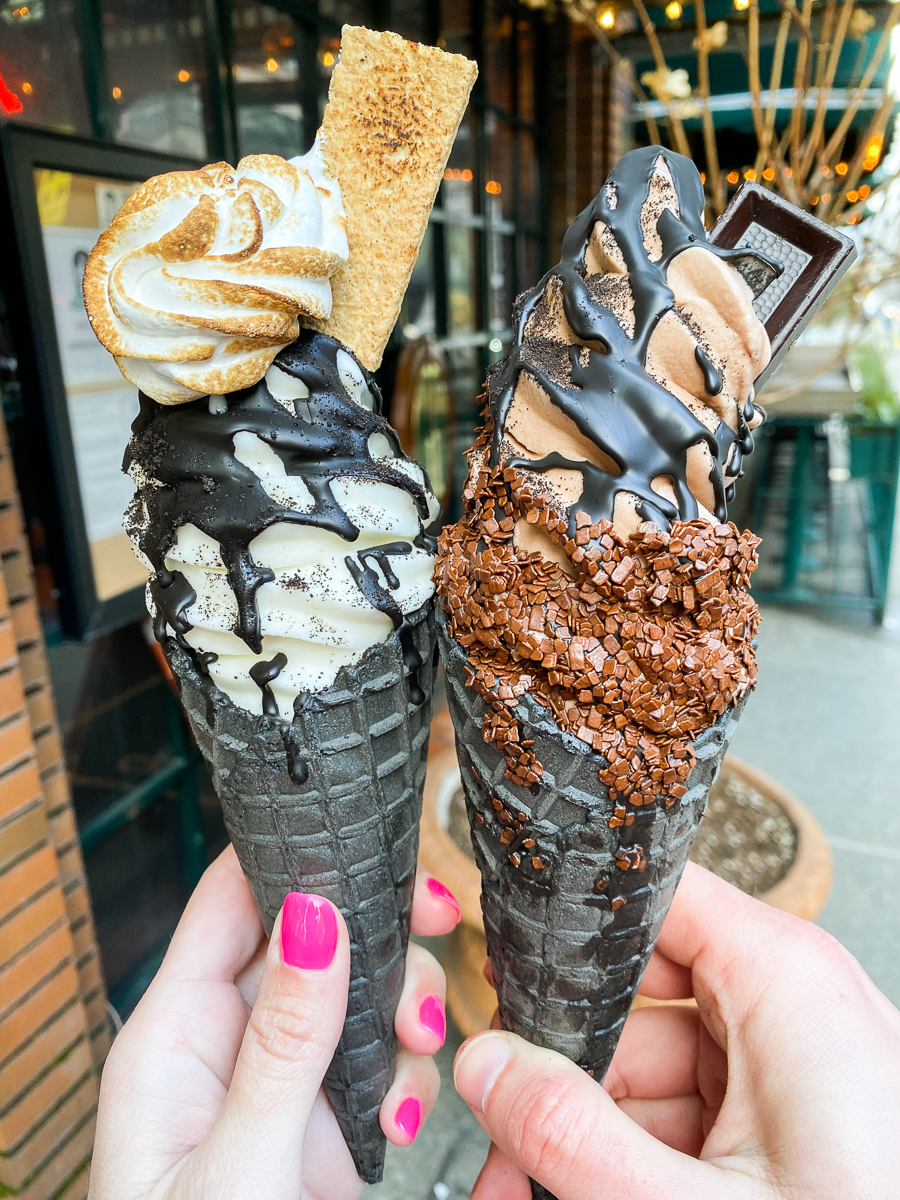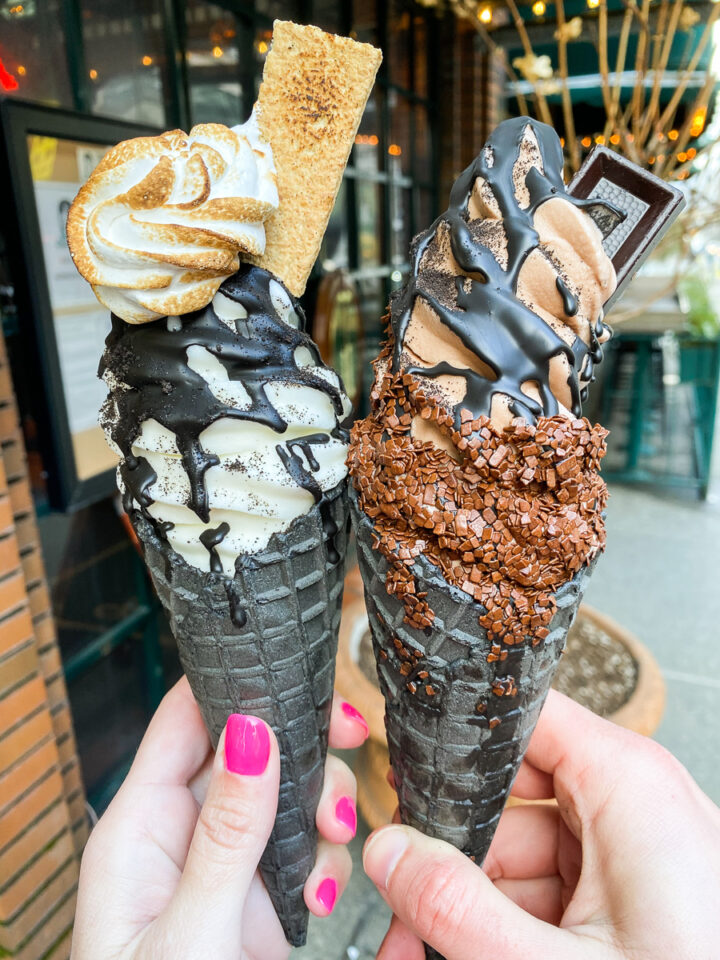 Perverted Ice Cream
If you're more in the mood for ice cream, just down the street is Perverted Ice Cream, one of Vancouver's iconic ice cream shops.
Robson Street is a super fun shopping street with tons of fun stores, cafes, and restaurants with outdoor terraces. It's the perfect place to relax after your long walk in Stanley Park!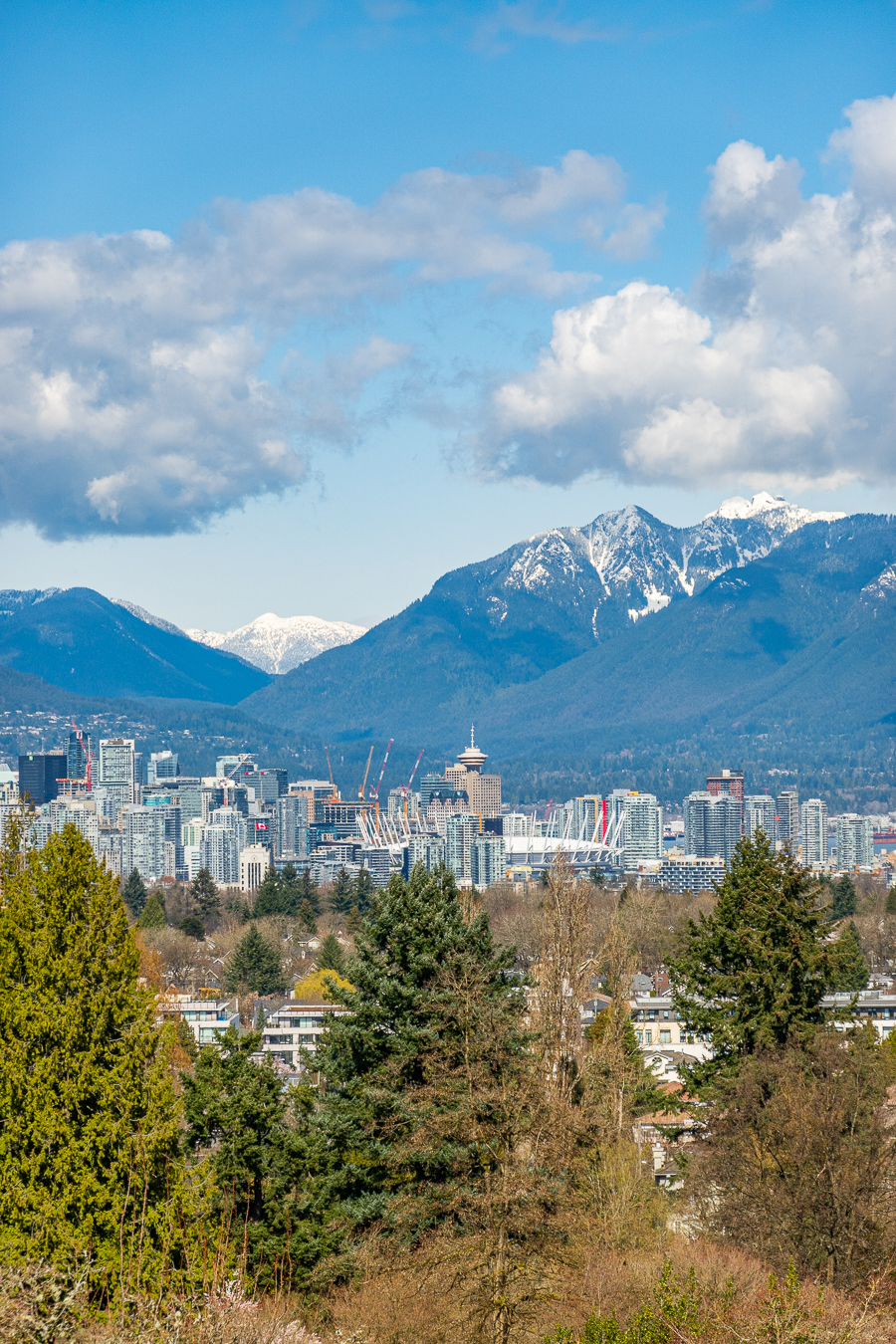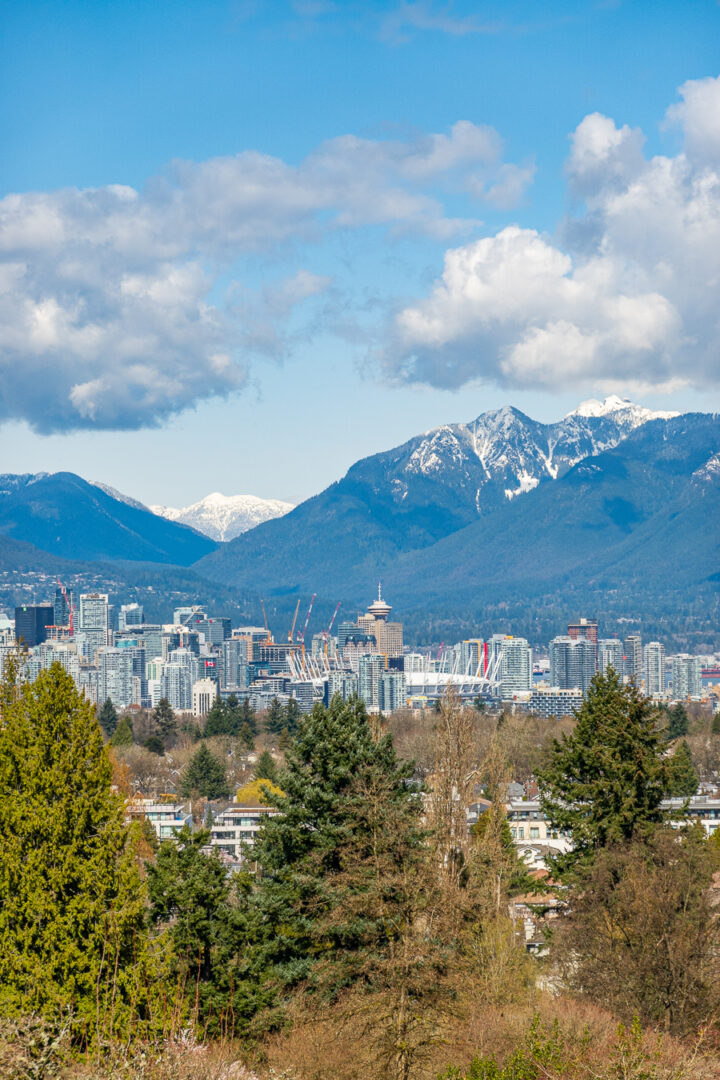 Queen Elizabeth Park
In the afternoon, make your way to Queen Elizabeth Park for this breathtaking panoramic view of Vancouver with the snowcapped mountains in the background. Head to The Photo Session for this exact view.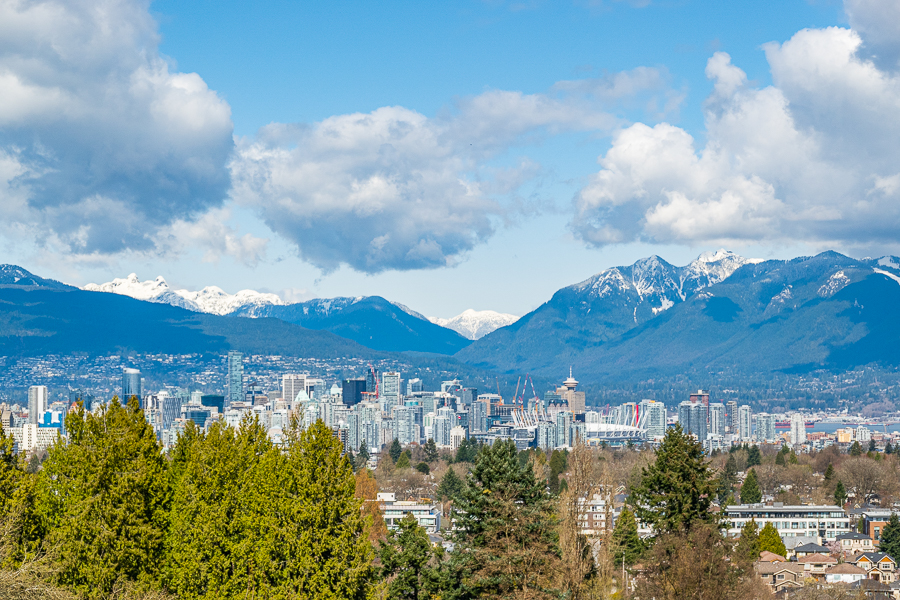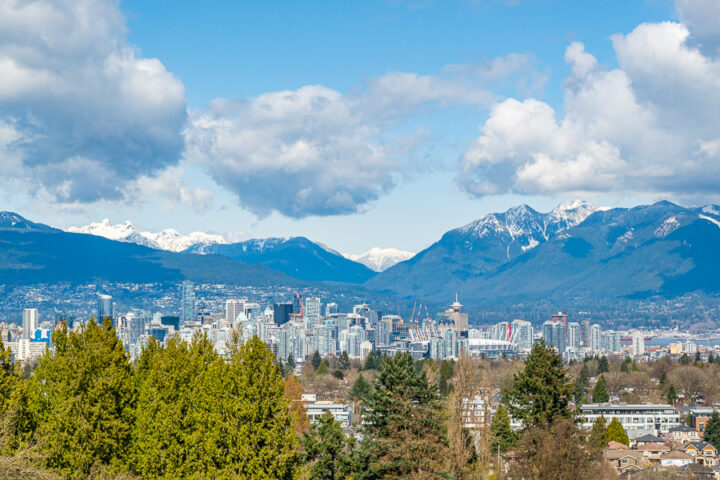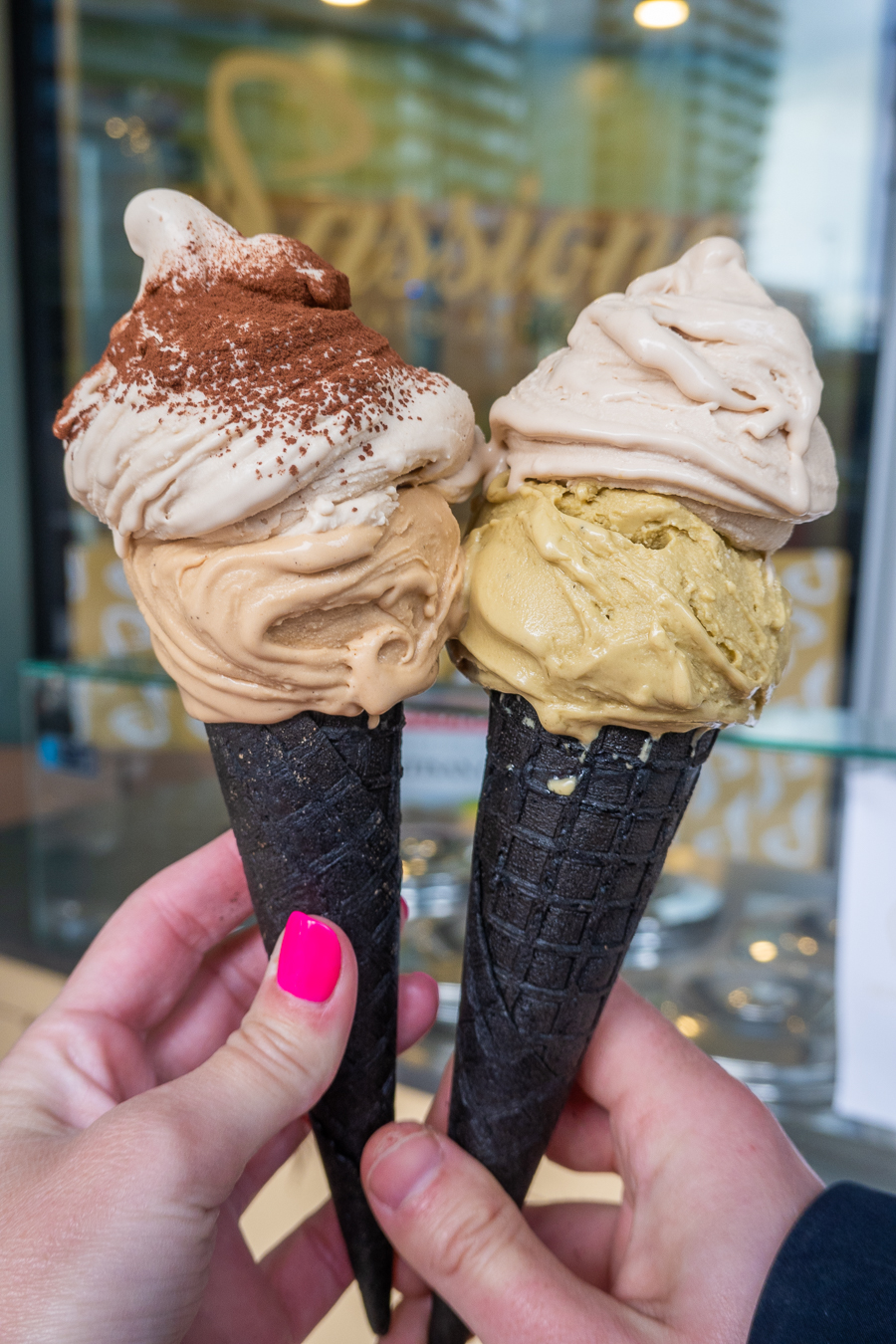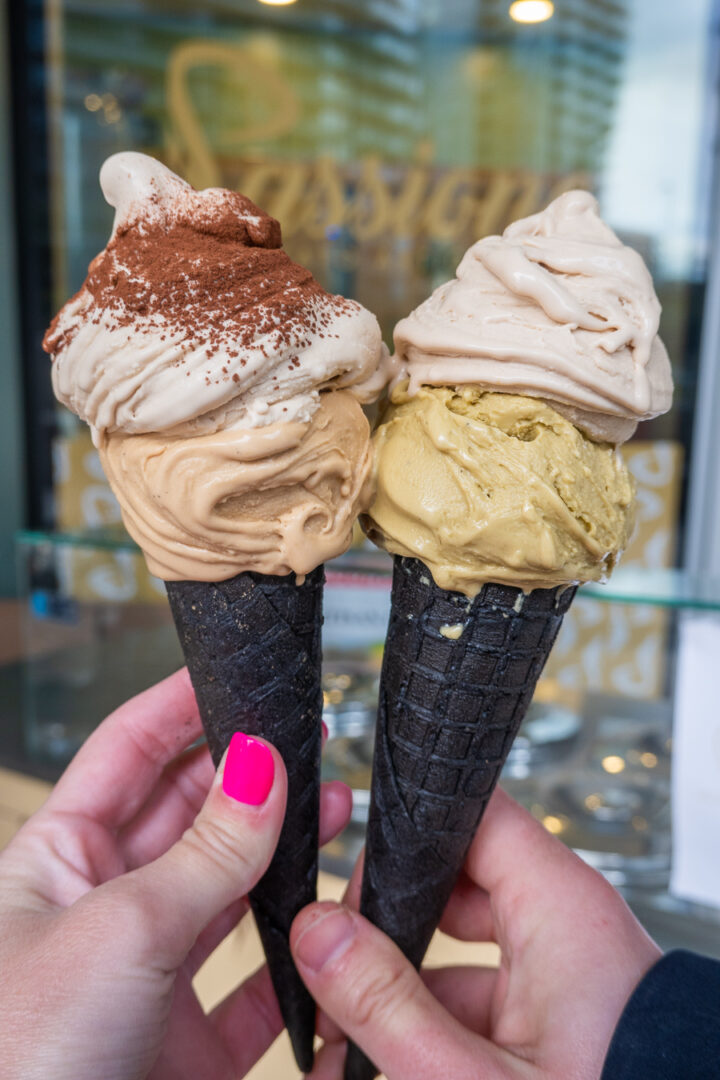 Passione Gelato
End your day with the absolute best gelato in Vancouver. This is authentic Italian gelato. The owner is Italian and he imports his ingredients directly from Italy. It's honestly some of the best gelato I've had outside of Italy! We got tiramisu, caramel, hazelnut and pistachio. All of them were SO good!! They also have from fresh fruit sorbets (like mango!) if that's more your style.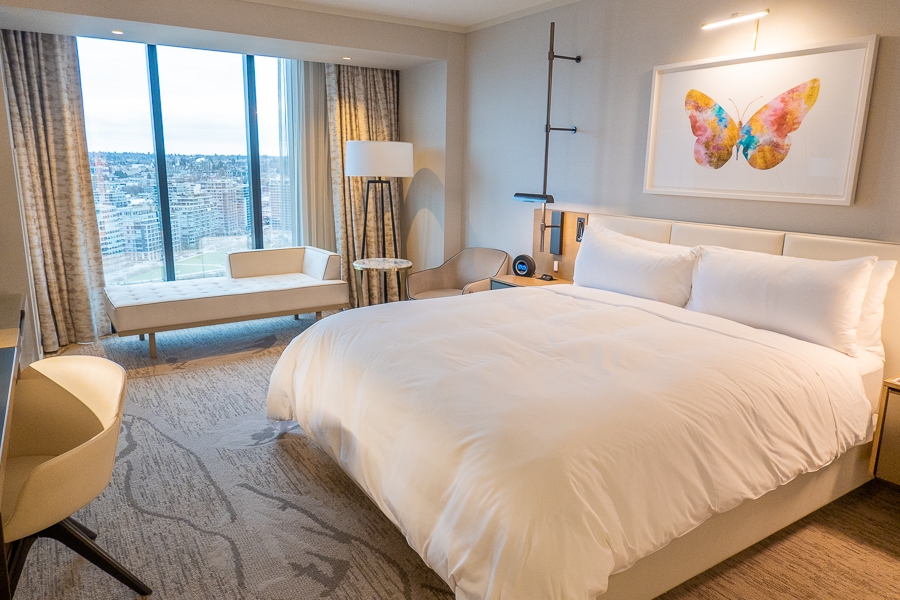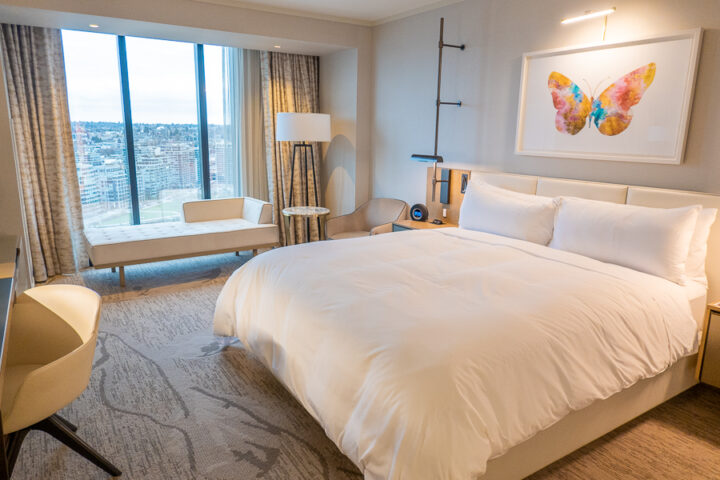 Best Vancouver Hotels
If you're looking for the absolute best place to stay in Vancouver, we highly recommend the JW Parq Marriott Vancouver.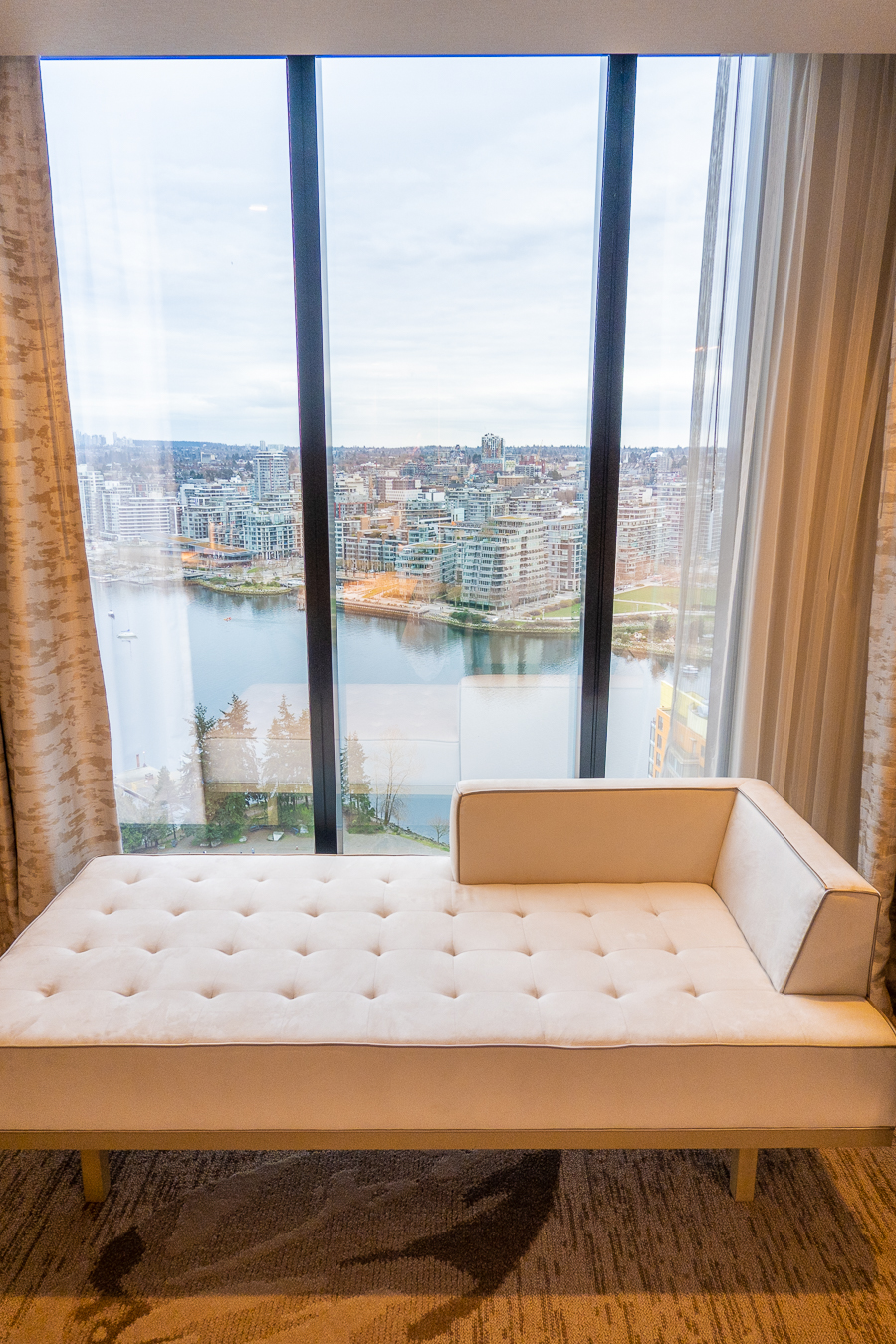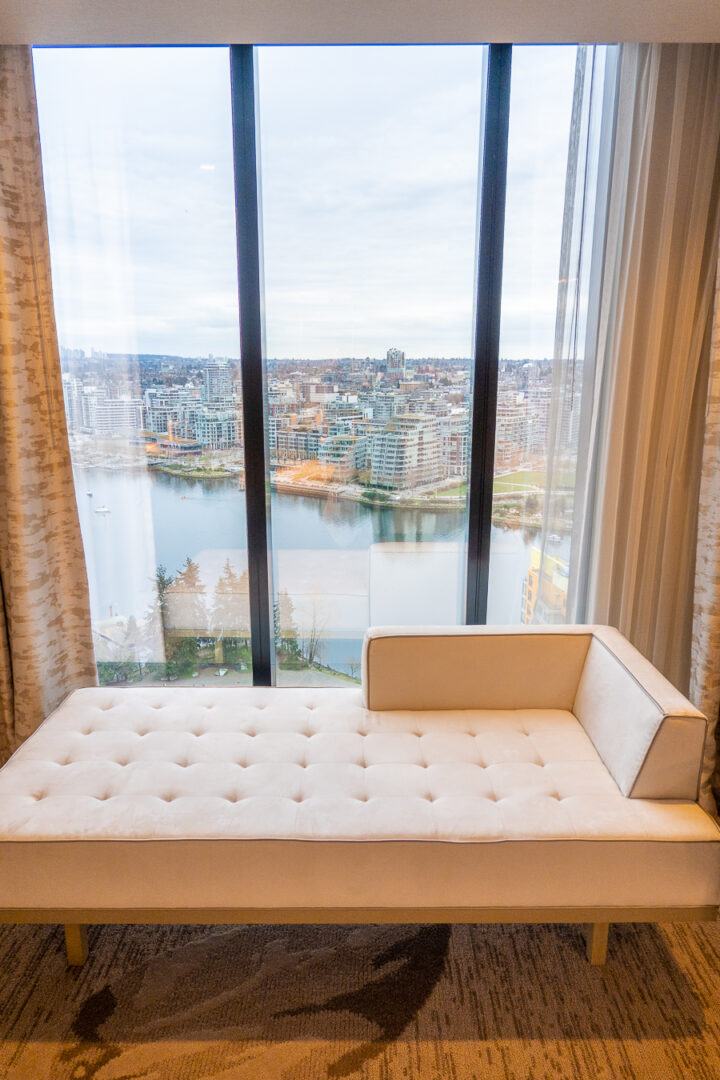 It's so well located, you're literally right in front of the seawall with incredible views from the floor-to-ceiling windows. And it's right in front of an Aquabus station, so it's super convenient for hopping right on!
The JW Parq Marriott Vancouver is a short 15-minute walk from Gastown, 10 minutes from Yaletown, and you can take the Aquabus straight to Granville Island!
The toiletries are super high quality and smelled SO good. I'm really regretting not buying some from the spa and taking some home with me! Loved the huge marble shower and tons of counter space.
Do you have any questions about Vancouver?
Do you have any questions about the best things to do in Vancouver? Let me know in the comments! We want to make your trip as easy as possible, so we'll do our best to help with any questions you might have!
---
Like this post? Save it on Pinterest!