Planning a trip to Quebec City and want to go skiing? Everyone told us Le Massif de Charlevoix is the best ski resort near Quebec City. Here's what makes Le Massif so unique, and all the fun things you can do there. It's so much more than skiing!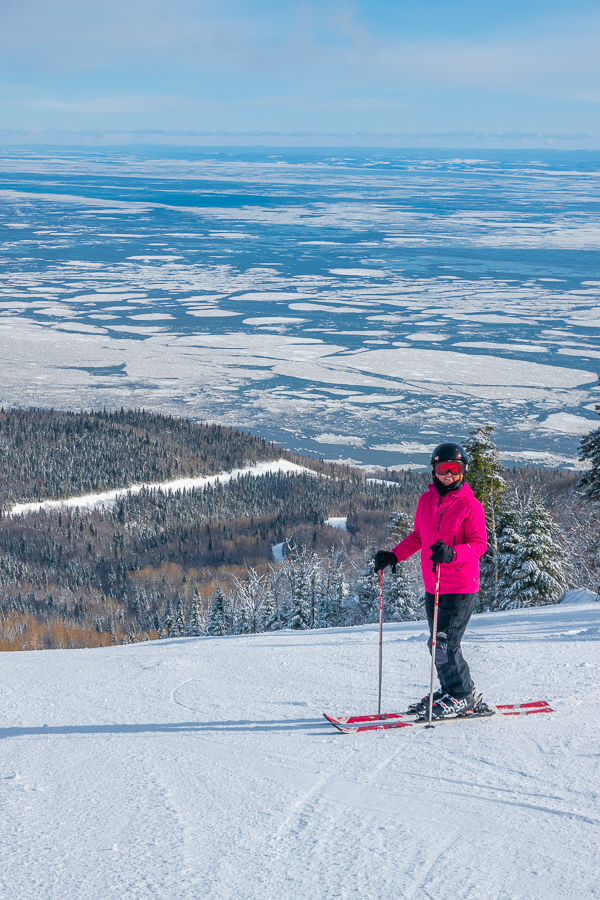 Big Mountain Skiing With Spectacular Views
Just 1 hour 20 minutes from downtown Quebec City, Le Massif de Charlevoix is the biggest mountain (most vertical drop) east of the Rockies and offers breathtaking views of the icy Saint Lawrence river below.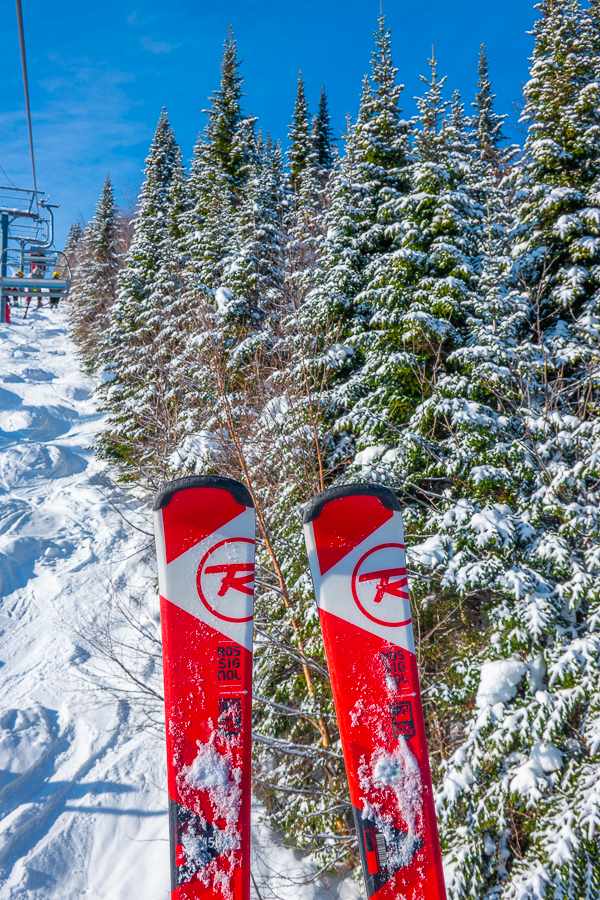 Variety of Trails for Every Ability
There are over 50 trails for every level of skier. Half the mountain is beginner / intermediate and the other half is advanced / expert. So no matter what your ability is, you'll find plenty of trails to enjoy!
There's also nearly 100 acres of off-trail, backcountry skiing if you want to ski in fresh powder zipping through the trees. And there's plenty of powder because Le Massif receives an average of 212 inches of natural snow every year!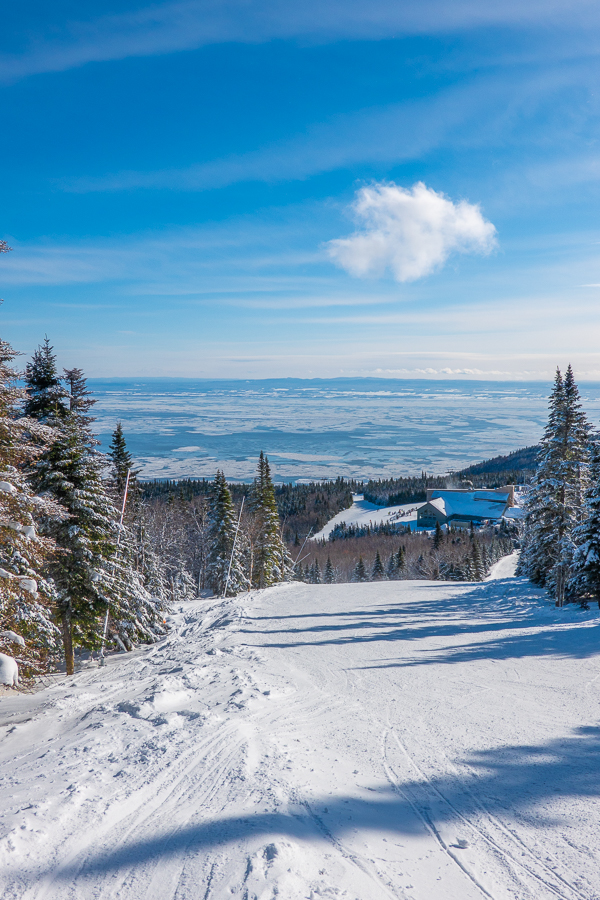 Fast Modern Lifts
Le Massif is equipped with fast, modern lifts, including 2 high-speed quads and a high-speed gondola. I loved taking the gondola because you can get warm on the way up, instead of getting cold like a regular lift!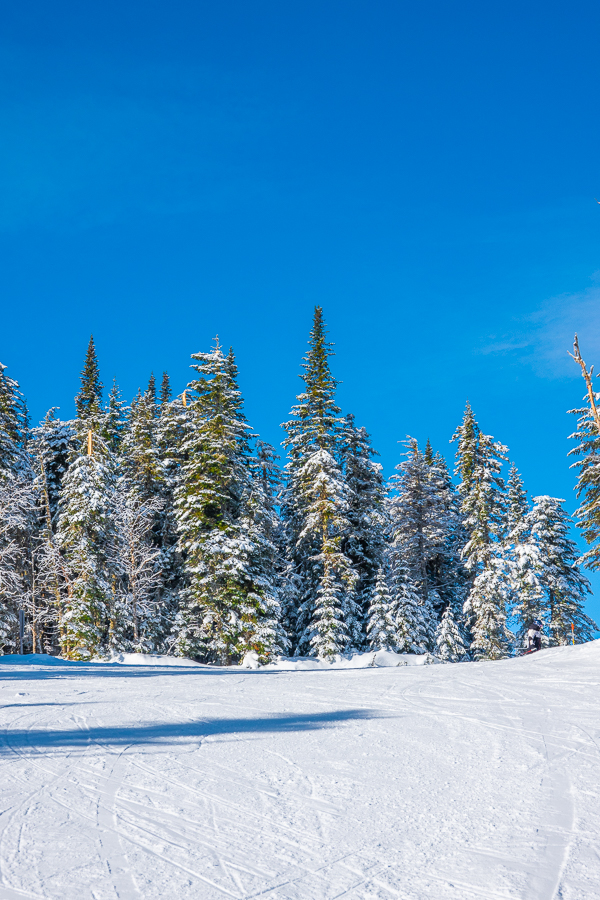 Helpful Guides
If you're not sure which trails are the best, most fun, or at your ability, at the top of the mountain there's a big trail map with guides who can help select the best trail for you.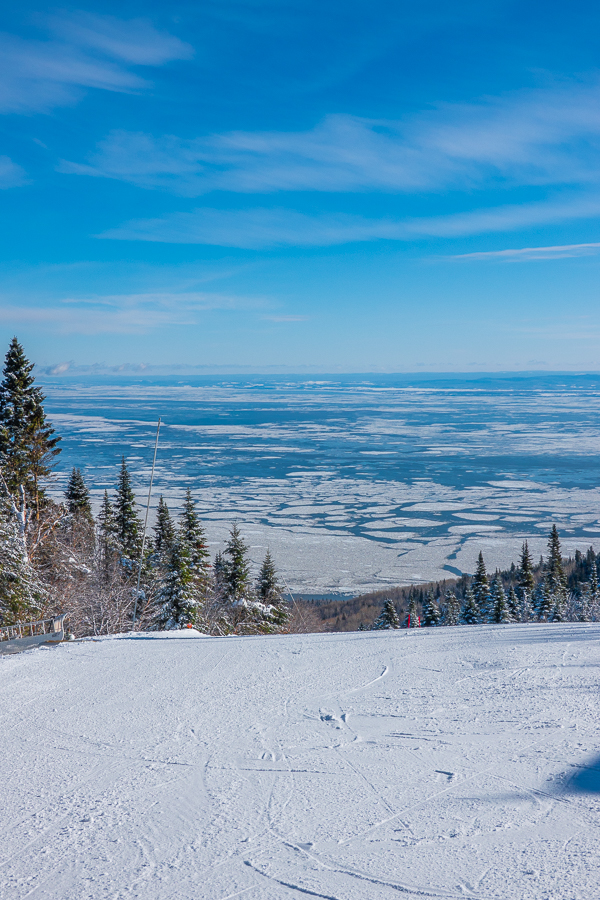 Gourmet Dining
At the top of the mountain is the Summit Cafeteria serving breakfast and lunch. This is not your ordinary cafeteria. The Summit Cafeteria offers a wide variety of freshly prepared menu options with affordable prices and generous serving sizes to keep you fueled for a full day of skiing. You won't find any greasy fried foods to weigh you down at the cafeteria! Instead you'll find fresh pastas, pizza, sandwiches, hot soups, salads, vegetarian options, chicken and beef, and even rabbit or duck! Be sure to save room for the delicious desserts!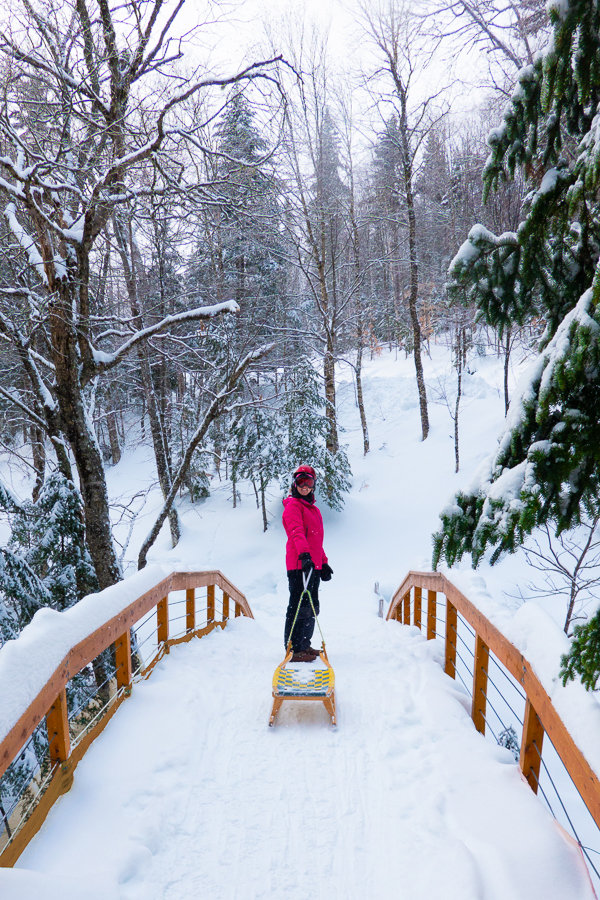 Sledding
For an unforgettable winter experience, Le Massif de Charlevoix's sled run offers a unique chance to enjoy the slopes from a completely different perspective. You can sled from the very top of the mountain all the way to the bottom on a nearly 5 mile sled run with fun twists and turns and incredible views along the way. The experience is about 2 hours and you stop halfway down the mountain at a chalet in the woods where you can warm up by the fire with hot chocolate.
This is such a fun, classic winter activity! Watch the video above for a preview!
Be sure to book in advance because spots fill up fast!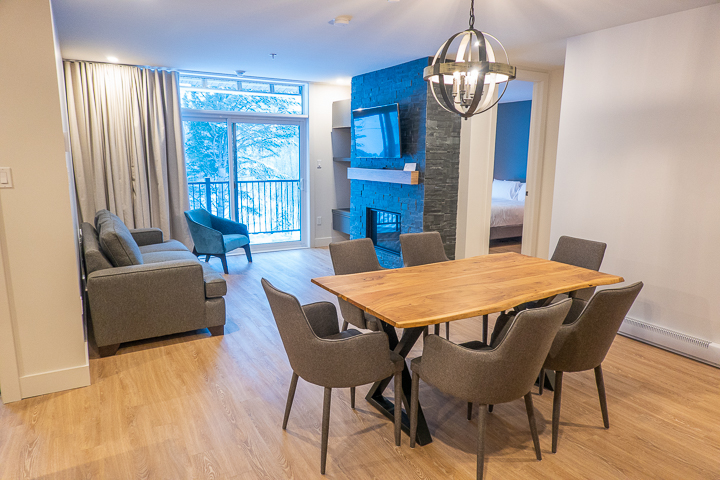 Luxury Accommodations
If you're looking for the perfect place to stay at Le Massif, Les Caches de la Grande Pointe is a brand new condominium complex with ski-in / ski-out access at the base of the mountain.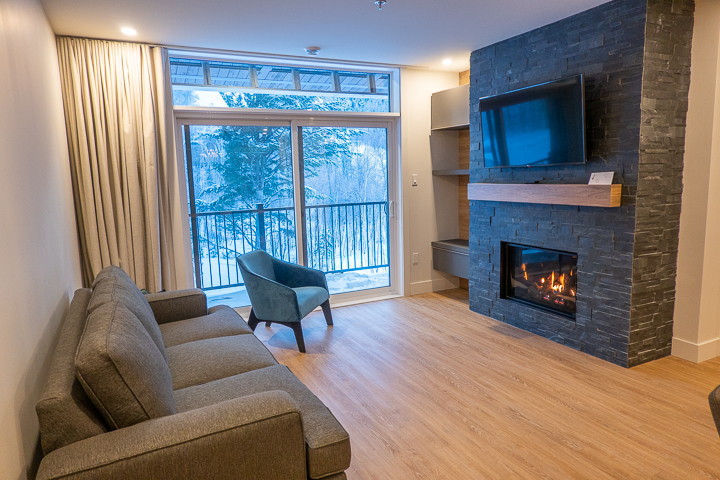 Les Caches de la Grande Pointe offers modern 1, 2, and 3 bedroom units to rent with gorgeous mountain or river views.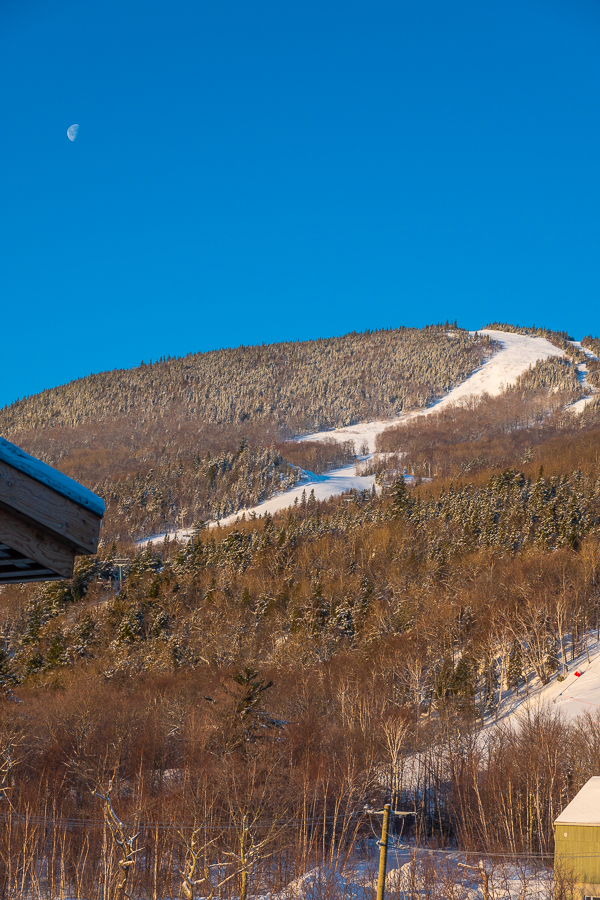 This was our view of the mountain!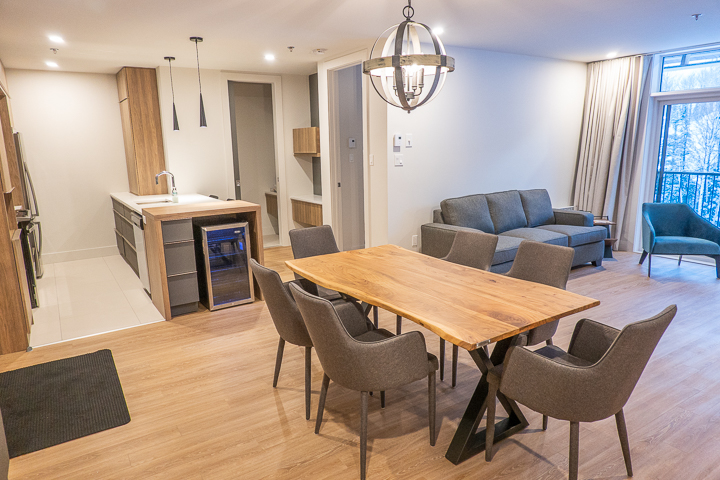 We stayed in a 2 bedroom unit. It had a fully equipped kitchen, dining table with 6 chairs, living room with fireplace, 1 1/2 baths, private balcony, and a large laundry room.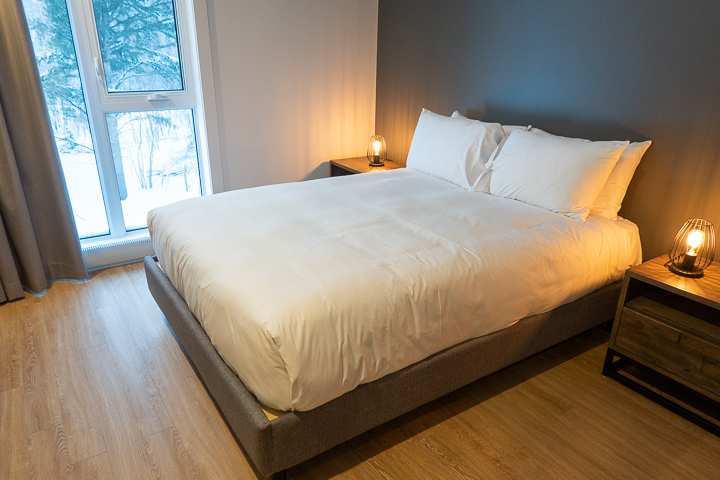 This was the master bedroom with a queen bed.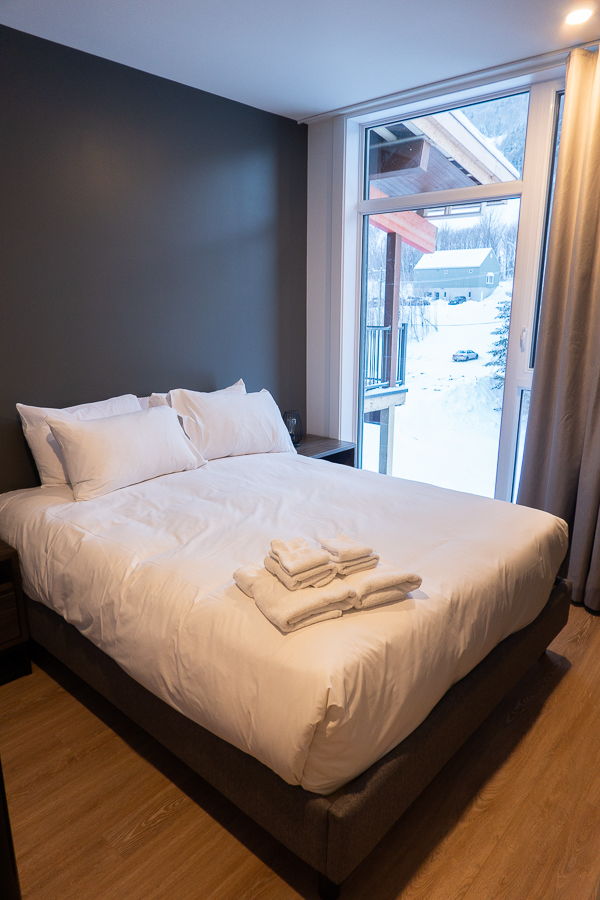 The second bedroom had another queen bed plus a set of bunkbeds! (They are just to the left in this picture). This would be great for a family with kids.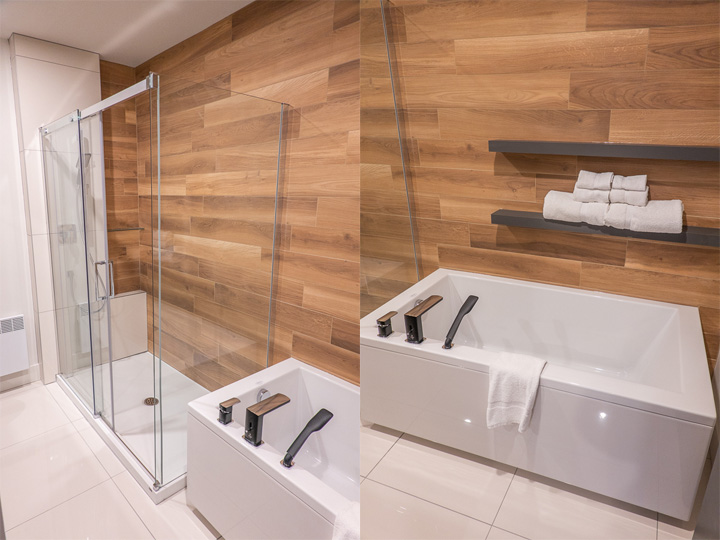 The large bathtub was perfect for a hot bath after a long day of skiing!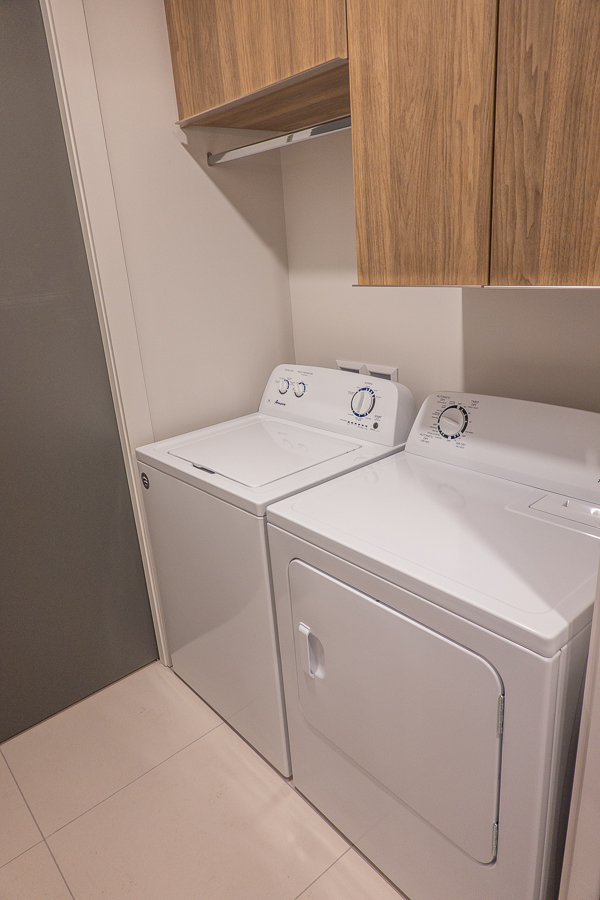 The laundry room is so convenient if you need to dry any of your ski clothes!
Here's a link to the exact condo we stayed in.
If you are looking for an amazing place to ski for an unforgettable winter vacation near Quebec, I highly recommend Le Massif de Charlevoix!
---
Like this post? Save it on Pinterest!