Our vacation in Sydney, Australia was a dream come true! From meeting a koala to swimming with sharks, check out the Best Things to Do in Sydney, Australia!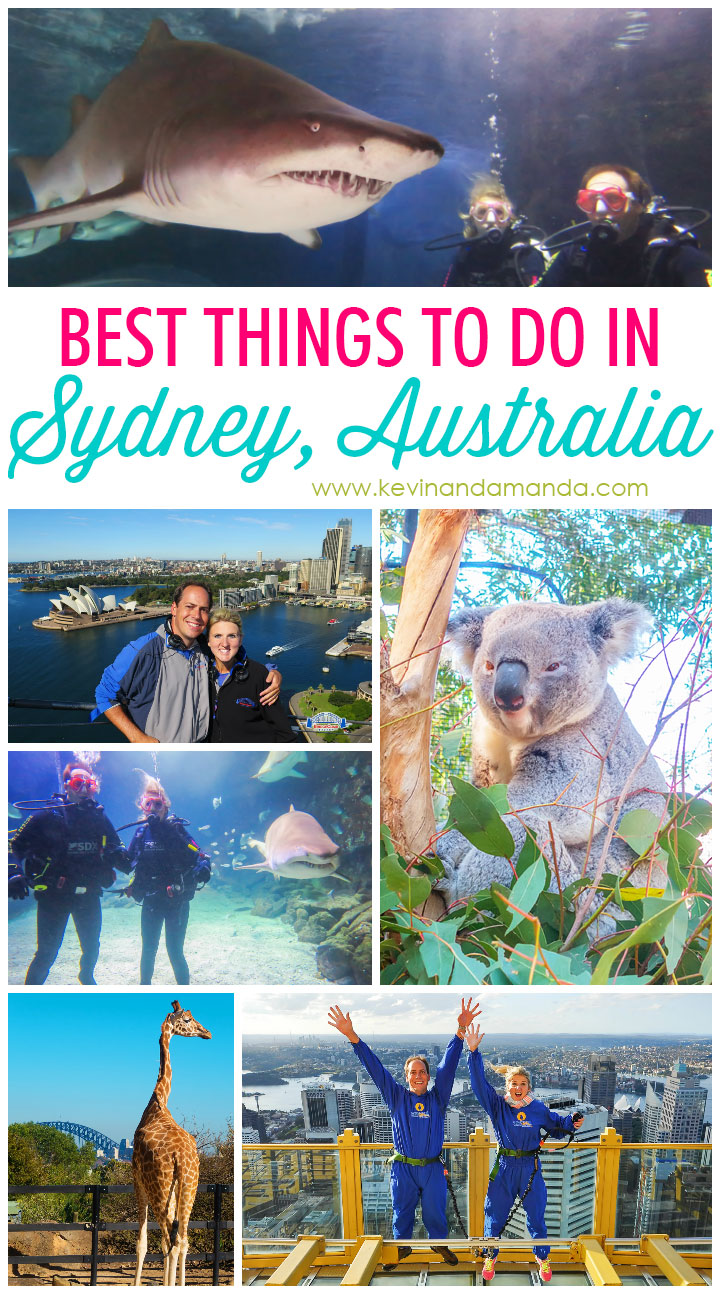 What to Do in Sydney, Australia
If you've ever considering planning a trip to Sydney, Australia, I highly, highly recommend it. I had no idea how much I'd fall in love with Sydney. It is such a unique, beautiful city. There is so much to do, so much to see, and the food is incredible! We spent a week here and packed in as much as we could do. We hit all the highlights — met a koala, climbed the bridge, and swam with sharks! For the ultimate Sydney experience, read the post below for our Top 5 Favorite Things To Do In Sydney.
1. Meet a Koala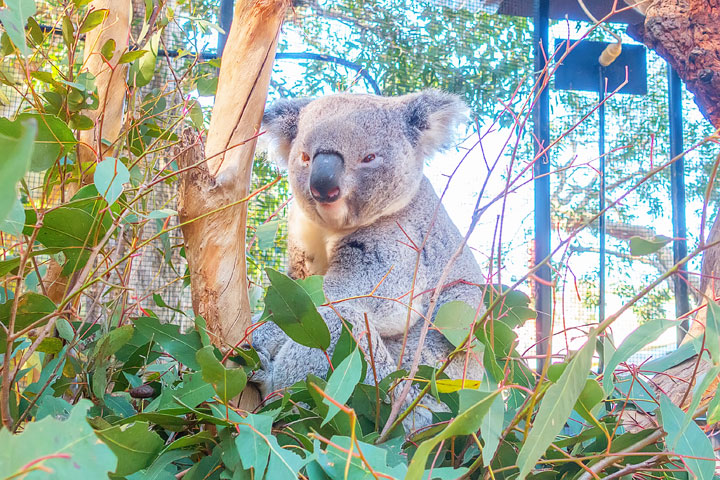 Australia is definitely known for its exotic animals, so it's easy to see why Taronga Zoo is one of Sydney's most popular attractions. Taronga Zoo is a leading zoological garden and habitat to nearly 2,500 animals including many exotic, rare, and endangered species. It's the best place in Sydney to get an up-close and personal experience with Australia's unique wildlife.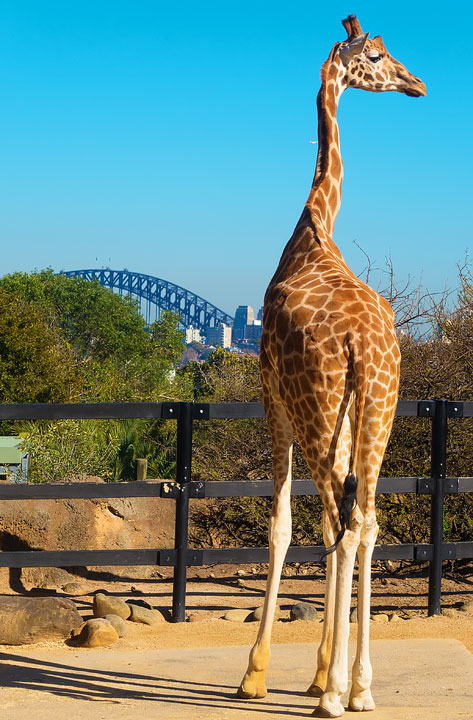 Taronga Zoo is located on the shores of Sydney Harbor, and the animals are said to have the best views in all of Sydney.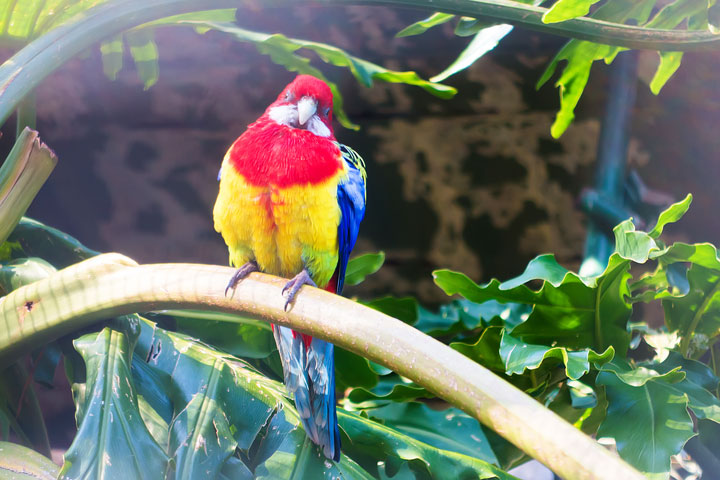 To get to zoo you take a relaxing ferry ride across the harbor with stunning views along the way.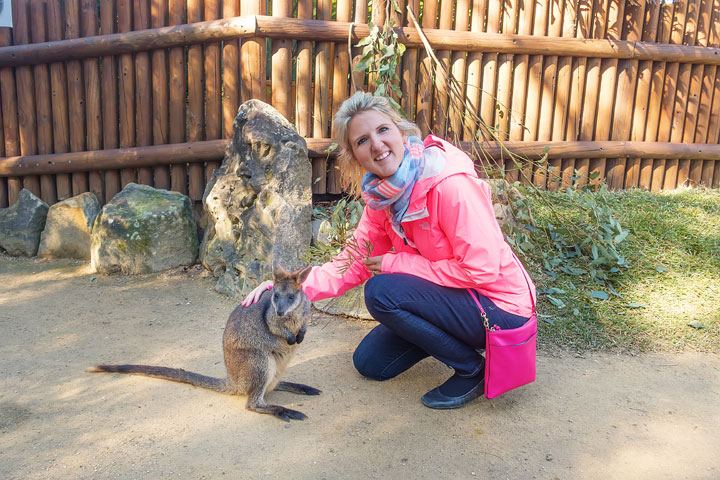 If meeting an exotic animal is something you've always dreamed of, you'll definitely want to check out Taronga Zoo's animal encounters. How sweet is my new wallaby friend?? :) Wallabies are basically mini-kangaroos. :)
And for a true once-in-a-lifetime opportunity that will allow you to get really close to some of Taronga Zoo's most popular animals, check out their Keeper for a Day experience. This little quokka was so hungry!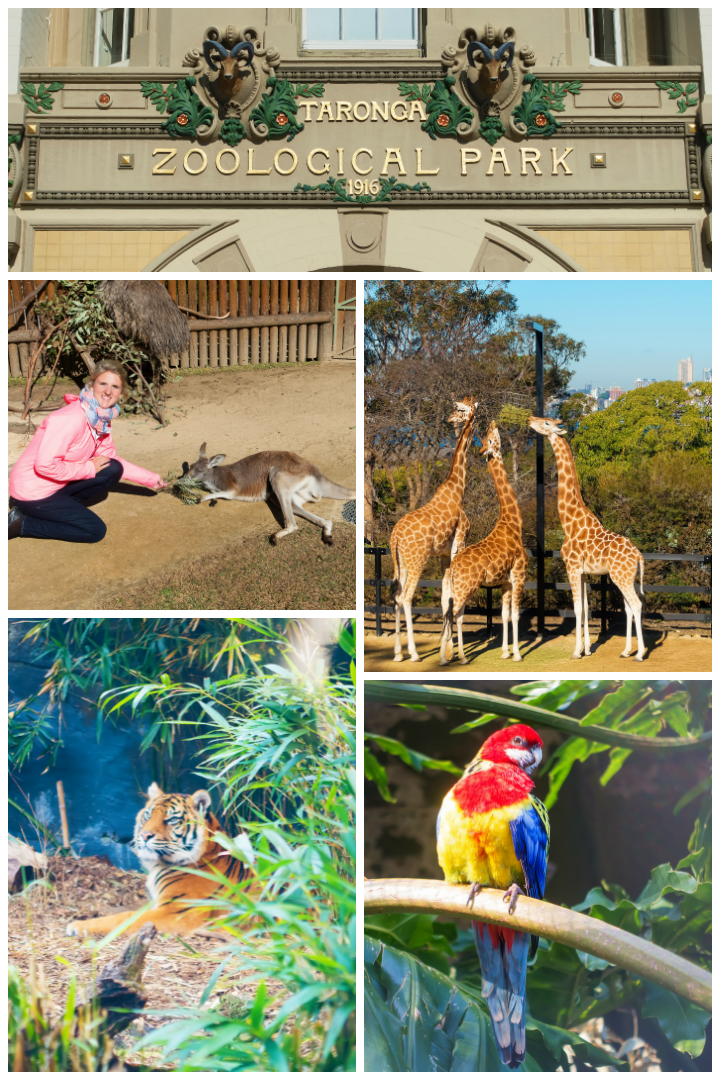 There are shows, tours, and animal encounters with extremely knowledgeable and helpful zoo volunteers everywhere throughout the day. We heard the bird show was amazing and not to be missed, so be sure to check the calendar when planning your visit! :)
2. Climb the Sydney Harbour Bridge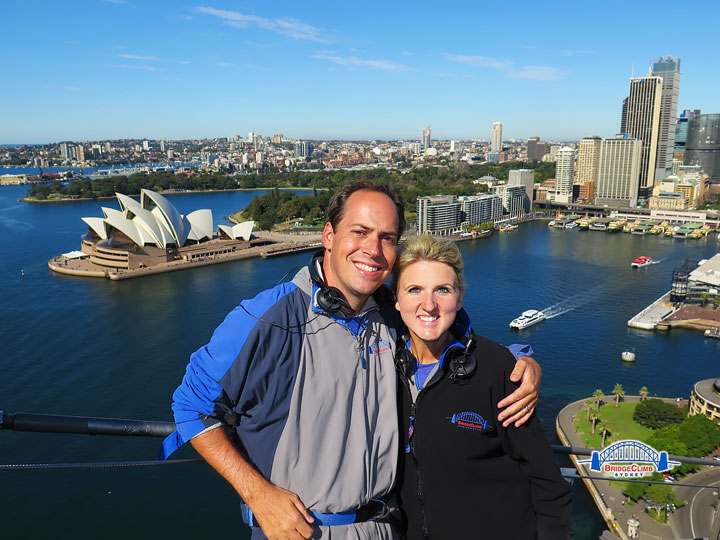 For a truly unforgettable experience with unrivaled views from an iconic Australian landmark, you'll definitely want to add climbing the Sydney Harbour Bridge to your bucket list.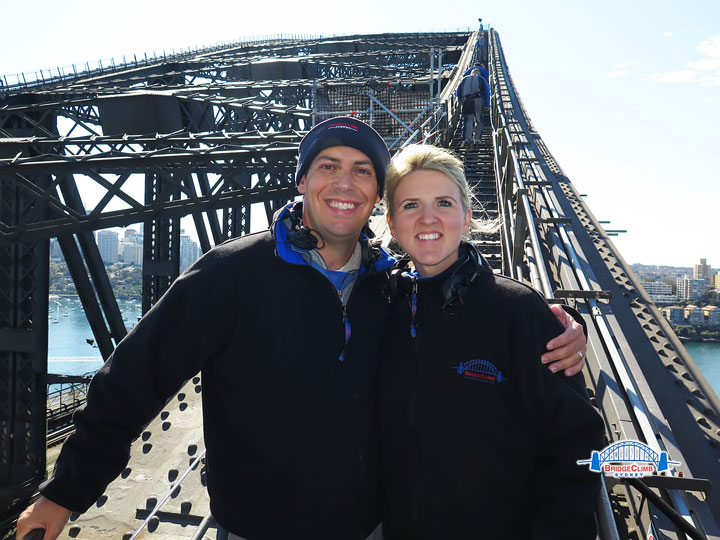 Each climb has a limited number of participants to ensure personalized attention with an experienced guide. We climbed to highest point of the steel arch which is 440 feet above Sydney Harbour.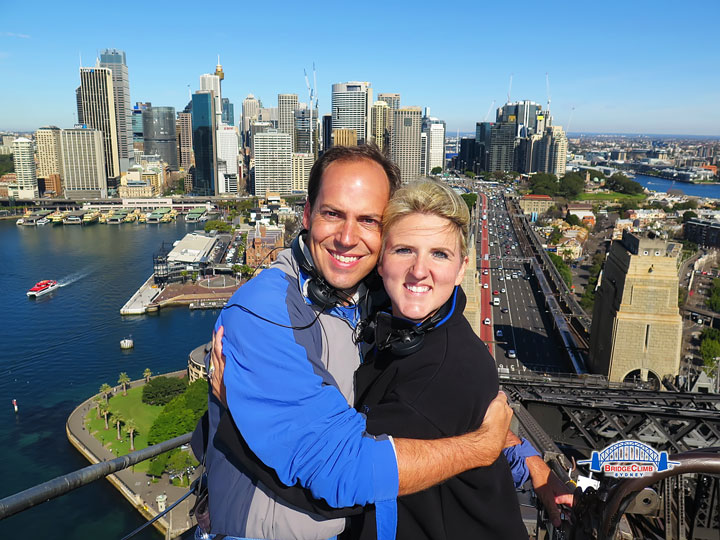 Our guide was extremely knowledgeable and the tour was entertaining as well as informative. I loved learning all about the history of the bridge. Check out BridgeClimb Sydney for tour options and times.
3. Swim with Sharks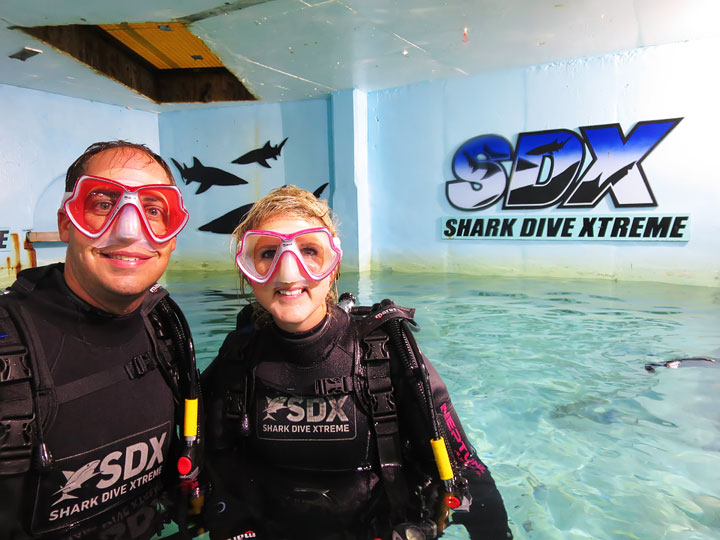 Manly Sea Life Sanctuary is a small aquarium located across Sydney Harbour on Manly Beach. The sanctuary is home to sharks, giant stingrays, sea turtles, penguins and more. The folks at Manly Sea Life Sanctuary are extremely passionate about about rescue, rehabilitation, and releasing healthy animals back into the wild to help safeguard the future of some of Australia's most endangered species.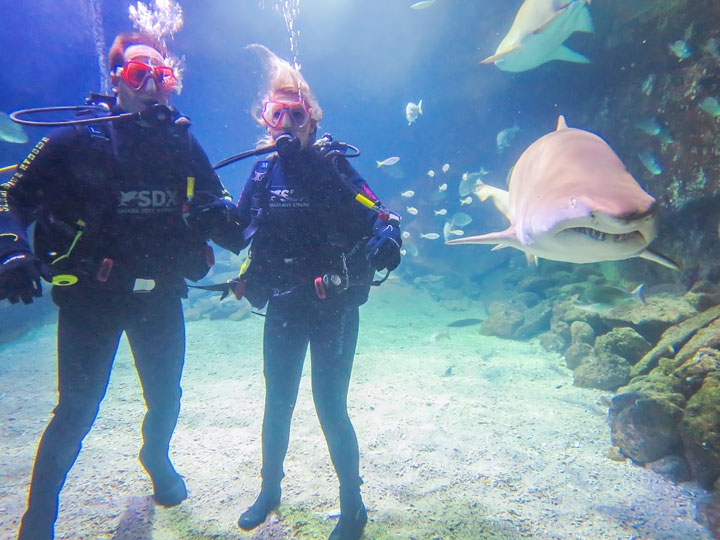 One of the unique experiences at Manly Sea Life Sanctuary is Shark Dive Xtreme. It is one of the few places worldwide where you are guaranteed an underwater encounter with sharks — no cage, no glass, real teeth, real sharks!!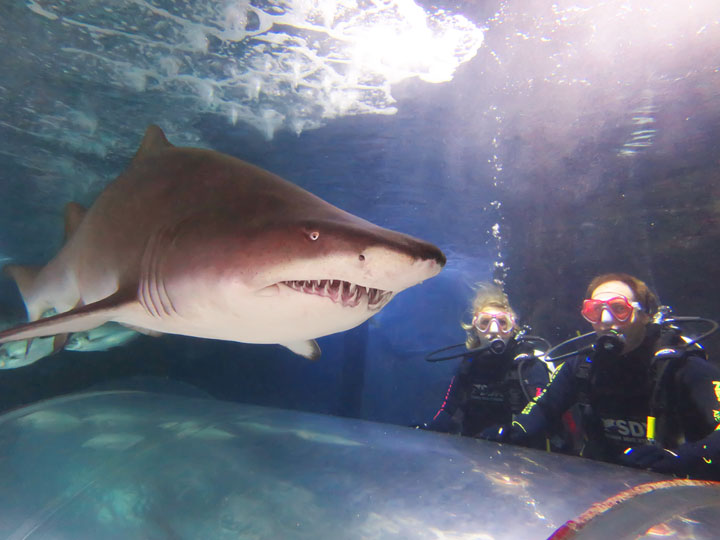 The great thing about Shark Dive Xtreme is there is no previous diving experience required.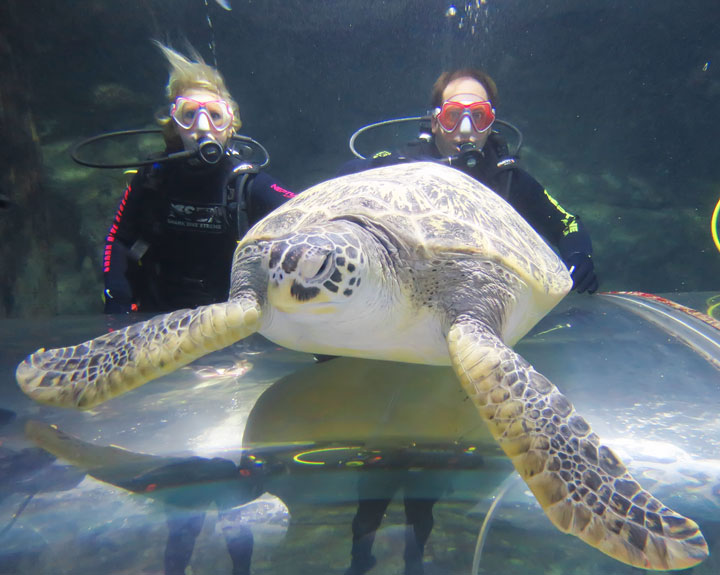 Not only will you swim with sharks, but we also got to meet (and pet) giant sea turtles, massive stingrays, and hundreds of other amazing sea creatures. There were stingrays the size of a queen-size mattress that were close enough to reach out and pet as they swam by.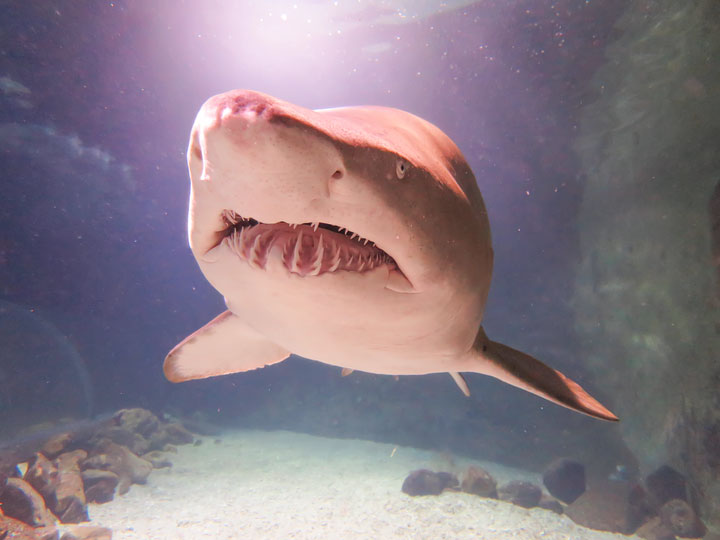 For the most unique experience that Sydney has to offer, Shark Dive Xtreme at Manly Sea Life Sanctuary cannot be missed!
4. Walk On Air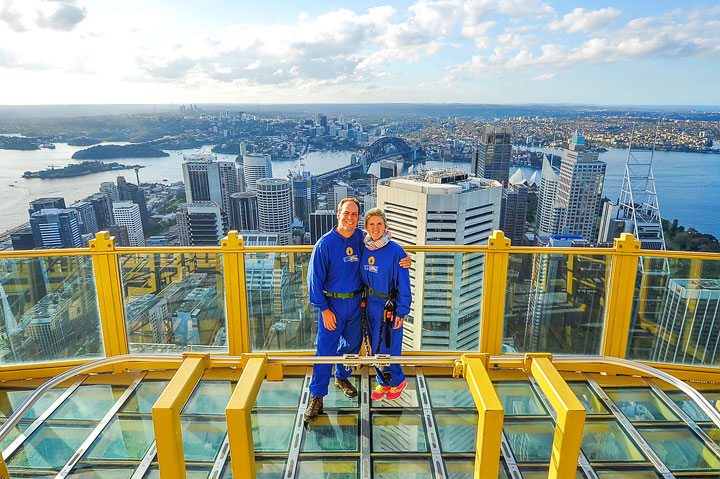 The Skywalk at Sydney Tower Eye is the highest point in Sydney with the most breathtaking 360-degree views in town.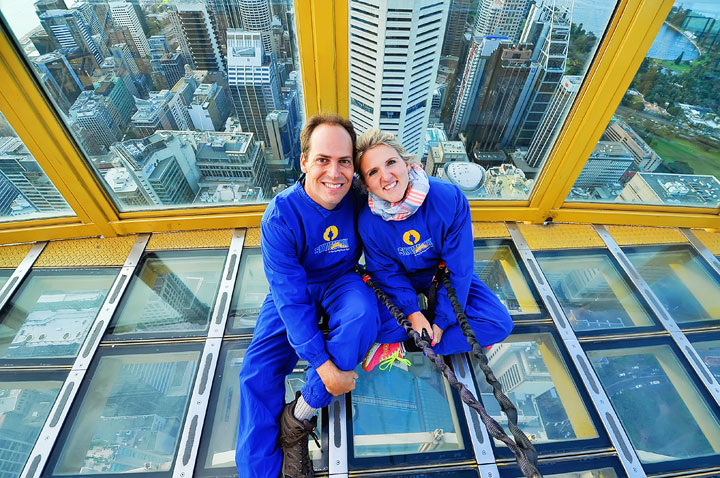 You'll "walk on air" nearly 880 feet above Sydney with only the glass-floor viewing platform between you and the city below.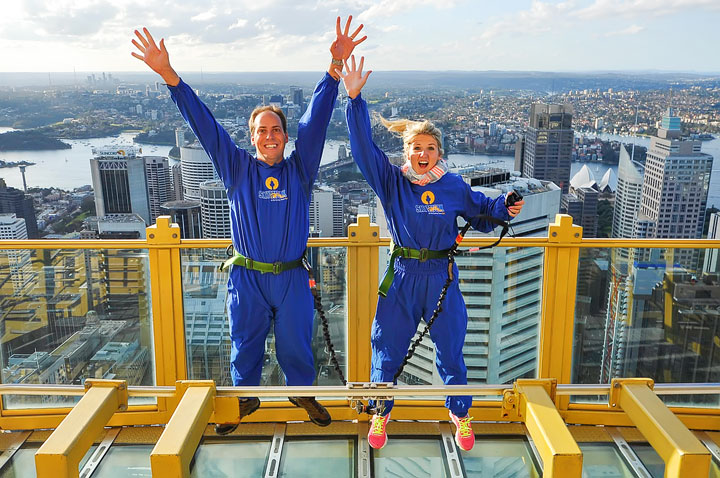 This is a great way to familiarize yourself with Sydney as the guide describes the fascinating history of the landmarks that lay before you, so it's great to plan for your first day in Sydney.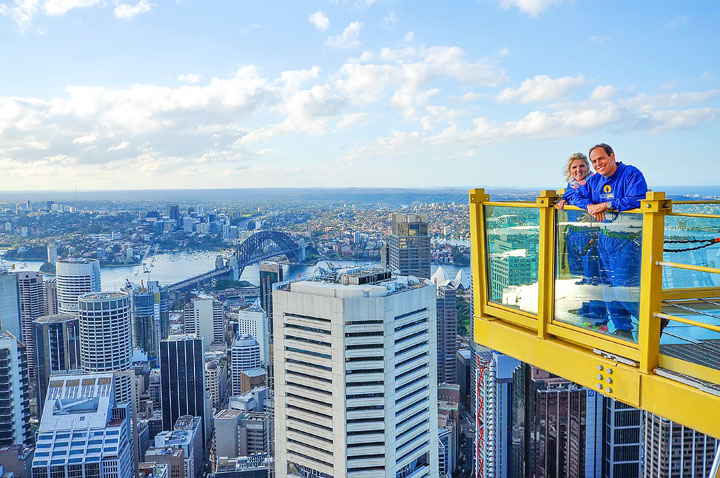 Up here you can see the Sydney Harbour Bridge, the Opera House, all the major Sydney landmarks, and beaches…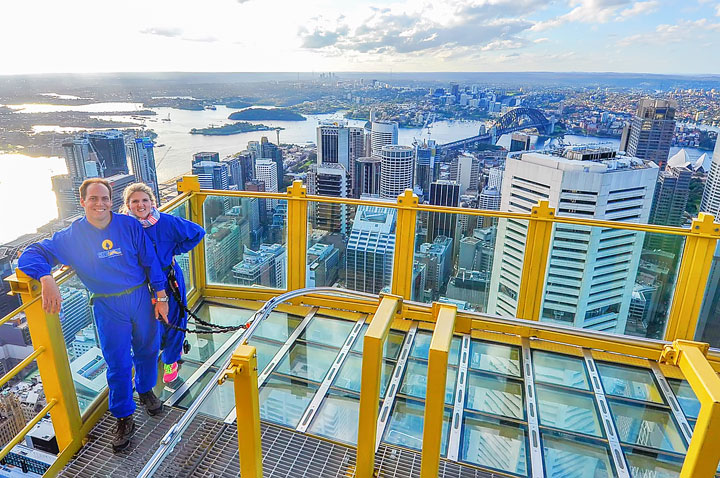 Even all the way the Blue Mountains.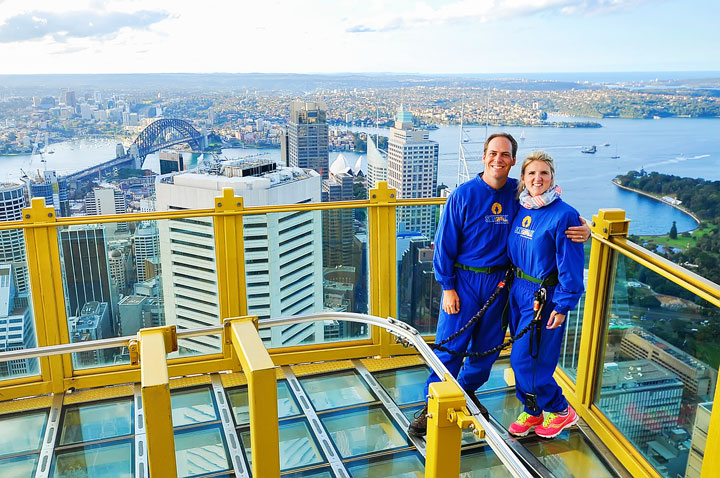 The deck goes all the way around the tower for 360-degree views of Sydney.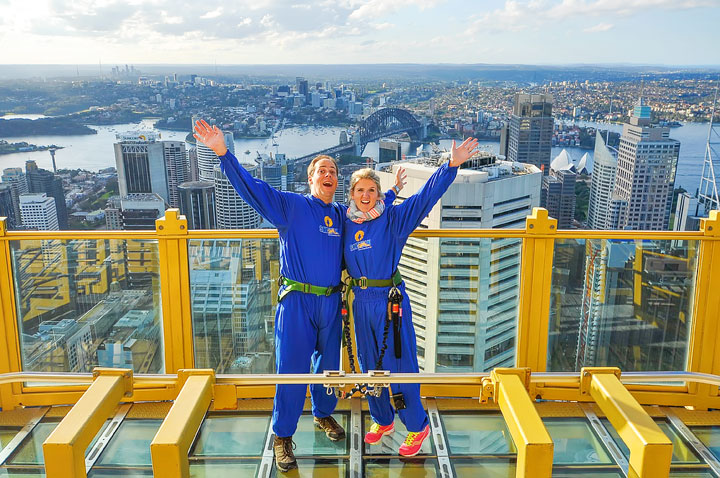 It is truly a bird's eye view of Sydney and an unforgettable experience.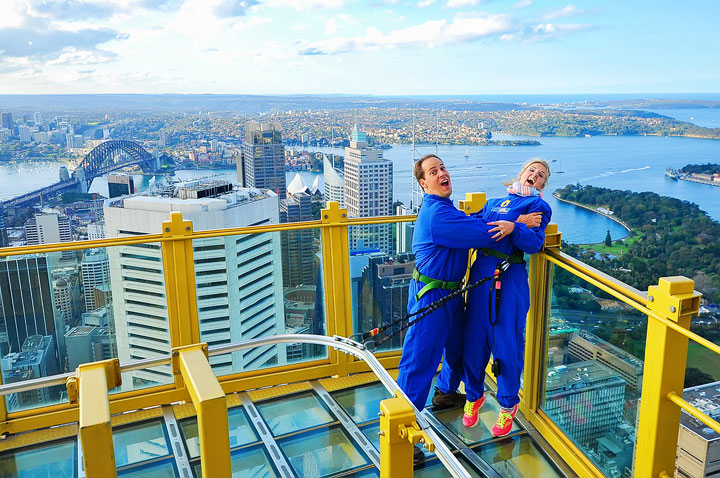 Here are just a few of the magnificent views from the tower: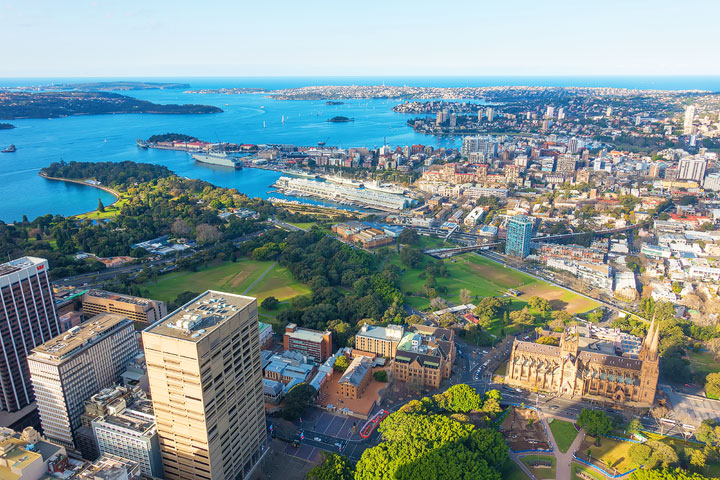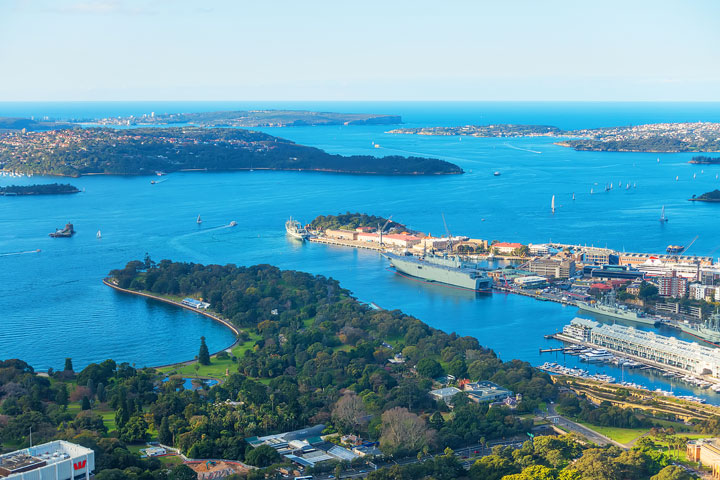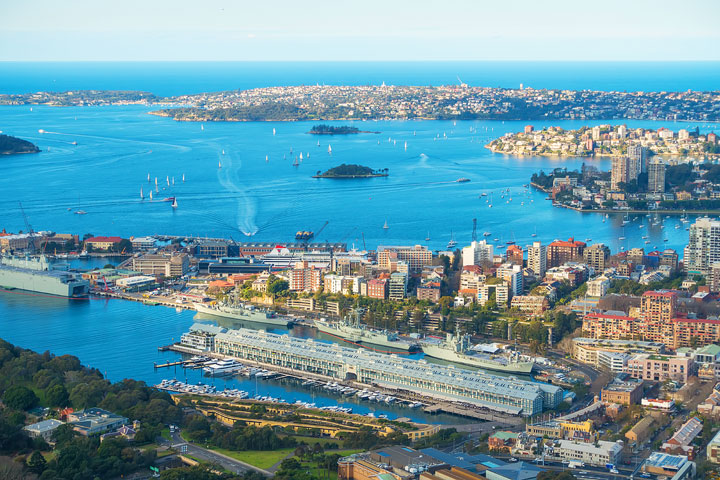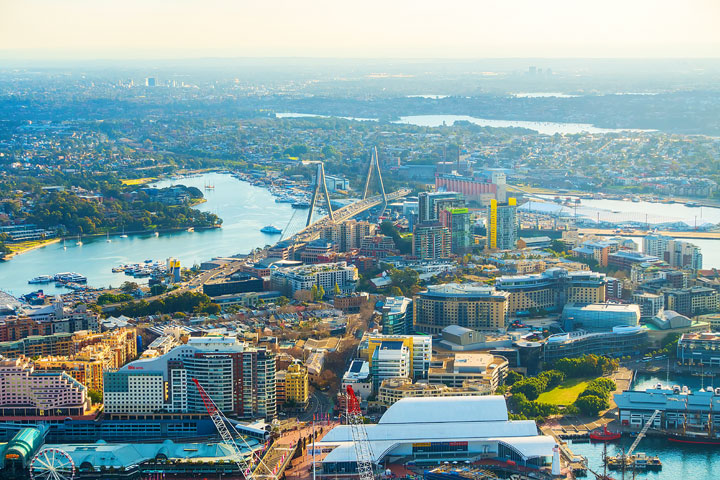 Check out the Skywalk at Sydney Tower Eye to plan your visit! :)
5. See a Show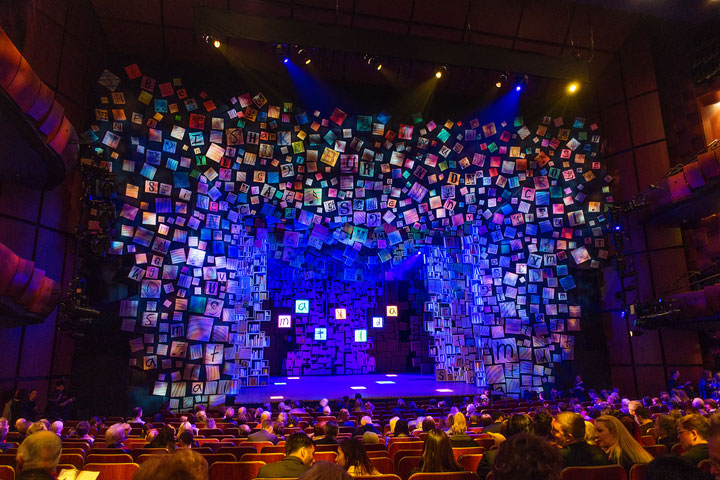 We had the amazing opportunity to see Matilda the Musical on opening night at Sydney Lyric Theatre.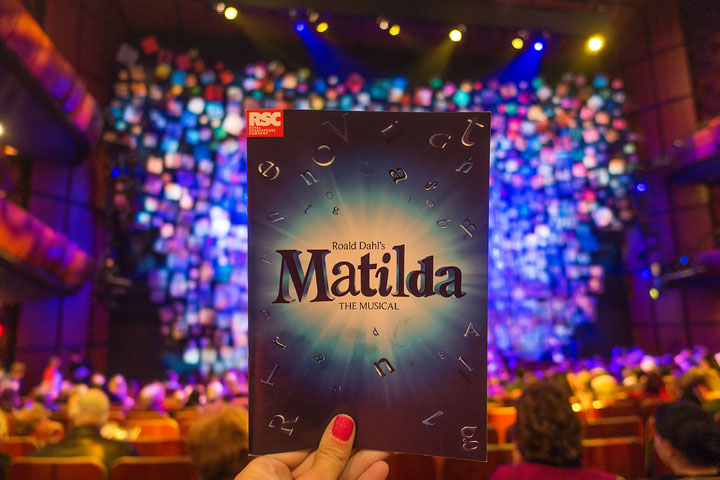 This was one of my favorite things about Sydney. Sydney has so, so much to offer. An amazing food culture — you won't find anything like it anywhere else, and it has started many, many trends in the US. Breathtaking beaches that are more like tropical islands. But then there's also the shopping, lights, landmarks, architecture and culture of a big city. Whenever we go to New York we always try to see a show, so it was such a neat experience to be able to do that in Sydney as well. Sydney truly has it all!
Getting Around in Sydney
We loved walking all over Sydney everywhere we could, but sometimes you just need a taxi. I was so glad to learn Uber is in Sydney! Have you heard of Uber?? It's your own personal, private car service and it's cheaper than a taxi. All you do is download the Uber app, and it will show you where drivers are near you, and tell you how long it will take for a car to get to you. Uber is available in most cities worldwide. Usually a car can be there in less than 5 minutes. Just click Set Pick Up Location and your private car is on it's way. You even set your destination so you don't have to worry about your driver not speaking English and not knowing where to take you. It's all done through the app. They also usually will have a bottle of water in the car for you. Perfect for weary sightseers!
No need to wait outside in the cold, heat, or rain for a taxi — the app sends you a notification when your driver is getting close, and again when they have arrived. You can add a credit card or Paypal account to your Uber account, so you never to worry about paying the driver. It's all done through the app — no money exchanges hands. You get in the car, the driver takes you to your location, and you get out. No fumbling with paying, you can just get out and leave! Tip is even included. It says so on their webpage that it's built into the price of the service. Uber is seriously the fastest, best, and safest way to get around in Sydney!
Use this link to sign up with Uber to get your first ride free!
More Things to Do in Sydney
Where To Eat In Sydney
Must-See Sights In Sydney
What Western Australian Food Looks Like
Thanks so much for reading!! Until next time. xoxo