Some of you have noticed (and thank you so much for your sweet comments! :)) that Kevin and I have lost some weight recently…
I have been putting off writing this post because I don't want to seem like I'm bragging or fishing for compliments… But I wanted to share my story, because before all this, I really wanted to lose weight and I just didn't think I could do it. But now that I know I can and know how to do it, if sharing how I did it helps just one person, it'll totally make it worth putting it all out there! :)
I had been wanting to lose some weight recently- these past couple of years I put on a few "happily married" pounds! :) But I just honestly had no clue how to really lose weight.
I had always heard platitudes of simply "Diet and exercise!" – but it just seemed so overwhelming without the details, especially since I'd never done it before!
See, I tried dieting, but I really wasn't good at anything too restrictive. I hated feeling like I was depriving myself. I knew I wouldn't stick with something like that. Two years ago, I really got serious. I did the Couch to 5K program. I went from completely sedentary to walking and then eventually running a 5K 3-4 days a week. I cut back my calories (although apparently not enough, because I didn't really know how much to cut) and cut back on sweets, too. I was really, really good for the full program- 8 weeks.
And I didn't lose a single pound.
I didn't lose any inches either, for what it's worth.
After that, I pretty much gave up. I figured if I couldn't lose weight by "diet and exercise!" – then I felt like I just couldn't do it on my own!
Recently I was talking with a couple of my friends and they were having success with Nutrisystem and Jenny Craig type diets- the kind where they send you the food. Both of them saw results on the scale the very first week! And I would read updates on their blogs and they were consistently losing weight every week.
After my previous experience of trying it on my own and not losing a single pound- even after 8 weeks, I really thought the only way I could lose weight was through a program that sent you food.
I wasn't quite ready to do something like that though. Mostly because they were so expensive! I didn't want to spend that kind of money. But also because I had Kevin to think about- I didn't want to leave him to fend for himself while I was dieting, but I also didn't want to cook dinner for him and not be able to eat it either! :) And also I was a little worried about the taste- and could I really eat boxed food only for that long?? And how would I survive in the "real world" with real food? Would I really learn anything?
Then someone said something about the Nutrisystem diet that really stuck with me.
She said the Nutrisystem diet was a "1200 calories per day diet. Nothing more to see here." Nothing more to see here – that really stuck with me. I don't know, did I really think the boxed diet foods they sent you were super specially formulated to help you lose weight?? :laugh: Or something?? lol. I'm not sure. :)
About this time the new Healthy Choice commercials (with Julia Louis Dreyfus) were airing *all the time*. So I thought, hey, if I really wanted to give one of these type diets a try, I could do it myself with Healthy Choice, Lean Cuisine foods, etc. Just to see if it would really work. This is something I can do- I could try it for one week. I can keep track of my calories. I didn't know if I had the discipline to count/track my calories, but having the frozen meals would help and it would only be for a week. I can do this. It will be worth it if actually works!
So the first week, here's what I did…
Breakfast – 200 calories – I had my regular cereal that I always ate for breakfast, Oat Cluster Cheerios Crunch. (Won't be giving that up any time soon! ;)) But this time I used a measuring scoop for the cereal and milk (3/4 cup of cereal and 3/4 cup 2% milk) so I knew exactly how many calories I was getting.
Lunch – 300-400 calories – For lunch I would have a frozen "diet" meal, like Healthy Choice, Lean Cuisine, or Smart Ones. There were a ton of Smart Ones meals that I really liked! :) I also really like the Lean Cuisine Pepperoni Pizza. Or sometimes I would just have another bowl of cereal and a piece of fruit. If it was one of those days. ;)
Dinner – 400-600 calories – Dinner would be harder, I thought. I still wanted to be able to cook dinner for us at night- but what a PAIN it would be to figure out the calories in every single ingredient I used, add them all up, divide it by the number of servings the dish made, BLAH! I would never have the patience to do all that!! But then I found a tool called Recipe Analysis at CalorieCount.com. All I had to do was copy and paste my recipe into the site, put in the number of servings it makes and it calculates everything! It told me exactly how many calories were in a serving- and having to put in the number of servings helped me know how much to put on my plate!
Dessert/Snacks – 200 calories – I often had extra calories left over for dessert or an afternoon snack. There are a whole range of *delicious* single-serving sized desserts and treats out there that I had *no* clue about!! :) I hate to even call these desserts "low calorie" or "diet" because they do *not* taste that way. At all. They are delicious. My absolutely favorite? Weight Watcher's Fudge Brownie Ice Cream. Oh my- It comes in a single serving 6oz cup- and it is *extremely* decadent and filling. And guess what. Only 140 calories. Oh yeah. Other favorites are Skinny Cow Ice Cream sandwiches (BIG sandwich for only 140 calories), Weight Watcher's Giant Latte Bars (huge ice cream bar, tastes better than anything at Starbucks, and only 90 calories), and Weight Watcher's Giant Cookies & Cream Bar (kinda like a Nestle Crunch Bar, 140 calories). And best of all, I could find it all at my regular grocery store (Kroger or Publix).
So now I could pretty easily figure out exactly how many calories I was eating for breakfast, lunch, dinner, and desserts/snacks.
For a week I stuck to the whole 1200 calories a day thing. I tracked my calories on SparkPeople.net so I wouldn't lose count during the day.
At the end of the first week I had lost 2.2 lbs.
I had *never* seen results like that before with anything else I'd tried. Seeing those results on the scale at the end of the week was enough encouragement for me to stick with it!
After 11 weeks, I had lost 20 lbs. And to date, I have lost a total 30 pounds.
I went from a size 10/12 to a size 4/6.
It's been about 5.5 months since I started- Kevin joined in about 9 weeks ago and eats 1500-1600 calories a day. He's lost 23 lbs so far! :) It's really nice to have a calorie counting partner, and I'm so proud of the healthy choices he's making- he's started running at the gym at work during his lunch hour and ordering vegetables as side items instead of fries when he eats lunch at the cafeteria.
Some other things I did that I think helped make a difference?
The first, and probably most important thing- I switched to drinking only water. Since June 1st, I have had nothing to drink but water. Honestly, this was probably the hardest thing I did. I mean really, does anyone really ENJOY drinking tons of water?? I know I didn't. It took probably 6-8 weeks before I didn't reach over for my glass of water and wish it was something else! But now I can honestly say that I don't miss it at all- and I actually crave water now! I feel healthier now that I'm drinking more water, and I have gotten several compliments on my skin lately- I didn't really put two and two together until someone mentioned that it might be because of all the water I'm drinking now. But maybe so!
Another thing- and I don't think this has anything to do with my weight loss, but it certainly has made me feel tons better- I started taking a multi-vitamin. Now I absolutely hate, hate, hate taking pills. Especially those giant horse pills they call multi-vitamins. And especially every day! Won't do it. So what's a girl to do? I found One-A-Day Vita Craves! :) They're like fruit snacks!! Now the name is deceiving because you actually get to eat 2 of them a day (yes, I said *get* :)). And I have to say… They're delicious! :blush: They taste like the sweet, chewy fruit snacks of my youth. :) My favorite is the sour gummies. I just keep the bottle on the table and take them after dinner so I don't forget. But I wouldn't forget because I actually really look forward to taking them every day! lol! It's like a little sour fruit snack! lol! And I can definitely tell- they have made a huge difference. Everyone has noticed how much more *energy* I have now!
And one other thing I changed- and this one my doctor got on me about doing- I started eating *more* during the day and *less* at night. I used to be really bad about getting busy during the day and forgetting to eat- and then eating all my calories at night. "Running on empty all day, then filling the tank up before putting it in the garage at night" as my doctor put it. It was hard at first because I am usually not hungry *at all* first thing in the morning. But now I try to balance my calories throughout the day and not eat anything within 4 hours of going to bed- and I've noticed that now I am hungry first thing in the morning and it's easier to get more calories in during the day now! :)
What's been so great about doing it this way is that it's something I can do myself- and anyone can do it. And it's FREE! :) It doesn't cost a thing. And I still get to eat all the foods I enjoy. We spent a week at the beach this summer and I ate what I wanted. It was indulgent and delicious, and I thoroughly enjoyed myself. The difference this time was that the "free for all" eating ended when I got home- and the next day I was right back on track. I am counting calories, but I'm still happy and able to enjoy myself without feeling deprived. I give myself one "cheat" meal a week- if Kevin and I want to go out to a new restaurant, or have dinner with friends, or have company over and make all those ridiculously sinful desserts you've been seeing me post about… :) It's okay- I don't stress out about it, or worry about the calories. All those things I've posted, I've been able have! It's definitely not an every day or even an every week thing- but after counting calories and not cheating all week, it's okay (and even good!) to give yourself a little reward. ;)
Now here are the obligatory before & after pics. ;)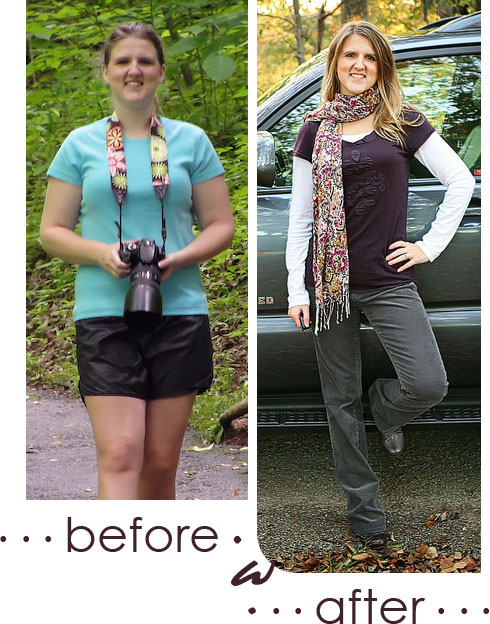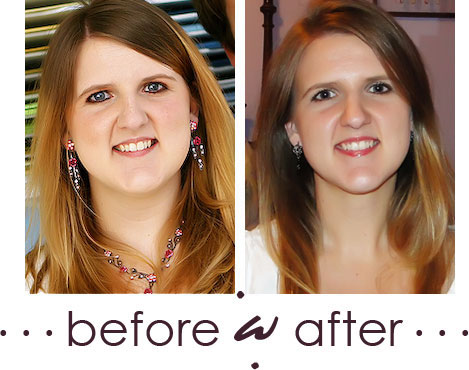 If you have any questions about what I did, please don't hesitate to ask- I'd love to help in any way I can. :)
Edited to Add: Check out comments #23 and #117 for some of my answers to your questions! :)
Thanks so much for looking!