Get ready to step back in time and explore the historic city of Hoi An during your visit to Vietnam. From iconic landmarks to modern amenities, our list of the Best Things to Do features all of the top must-see spots for planning the perfect trip to Hoi An!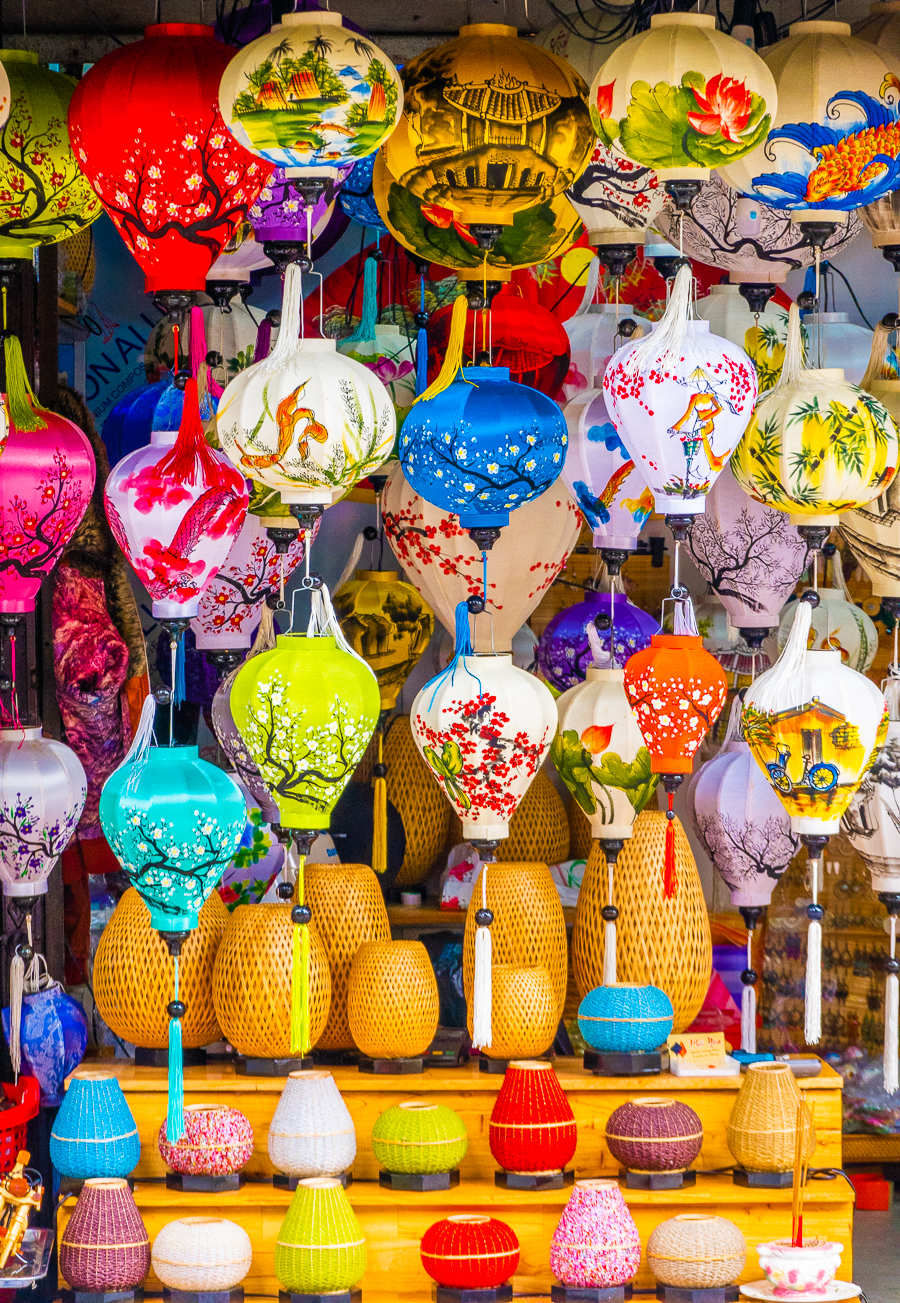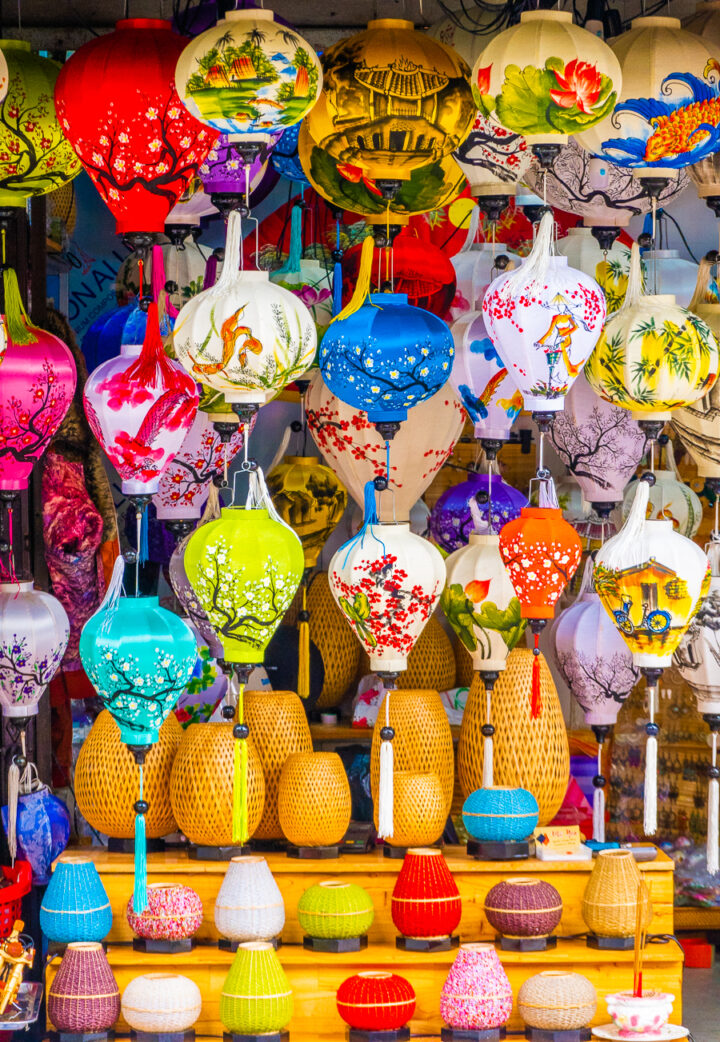 About Hoi An, Vietnam
Hoi An is located in central Vietnam, about halfway between Hanoi and Ho Chi Minh City. Because of its convenient position the coast of the South China Sea, Hoi An was once a major trading port.
Now filled with colorful restaurants along the river, bustling markets, ancient architecture, and loads of sightseeing opportunities, Hoi An continues to be one of the most popular tourists destinations in all of Vietnam. You will definitely want to include a visit to this charming, colorful city in your Vietnam itinerary!
How many days to spend in Hoi An?
To make sure you see everything, we recommend that you spend at least one full day in Hoi An. But if you have extra time and don't want to feel rushed, you could easily spend two full days here. On your second day you could rent bikes and go to the beach, get a massage, or just explore more of the Old Town.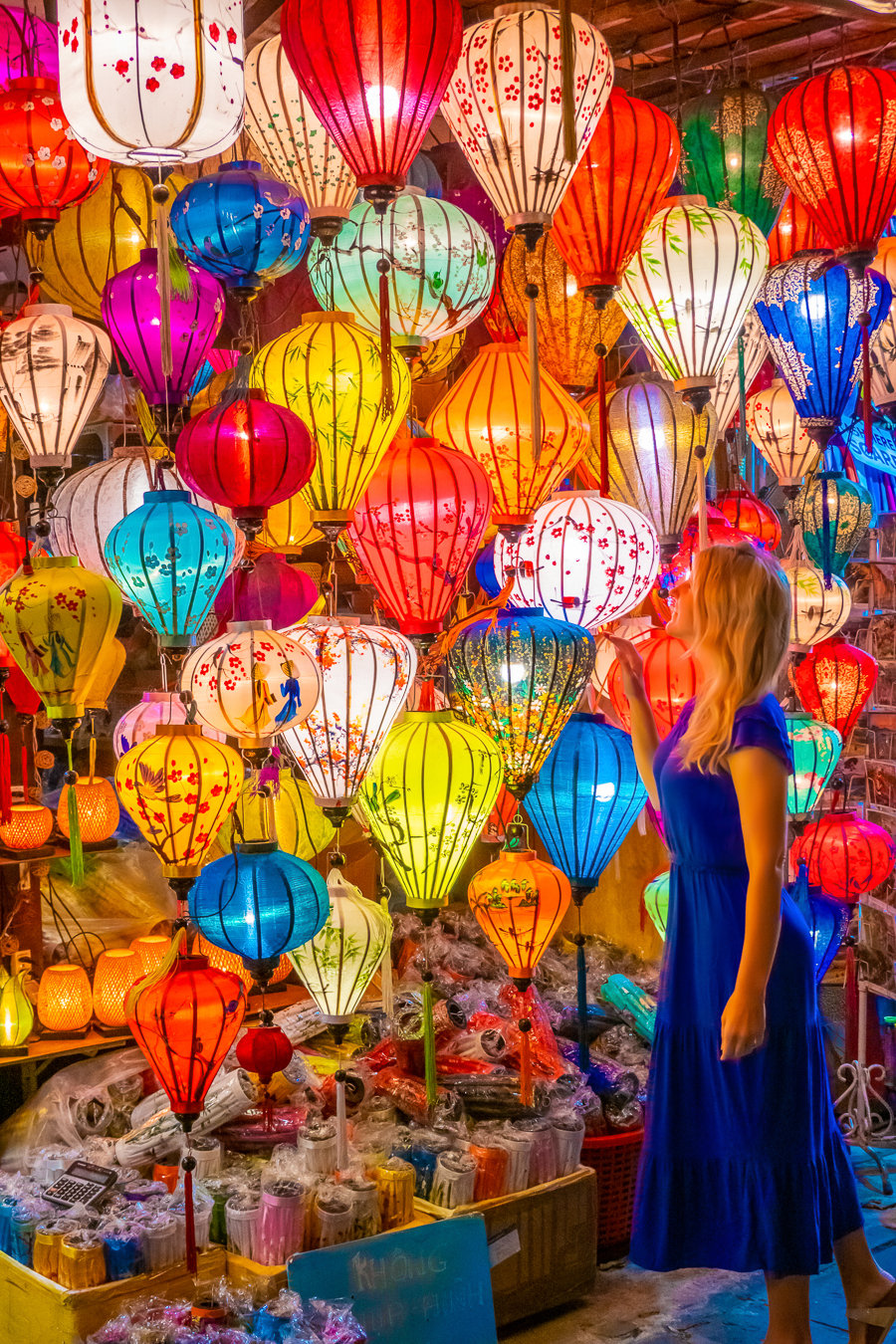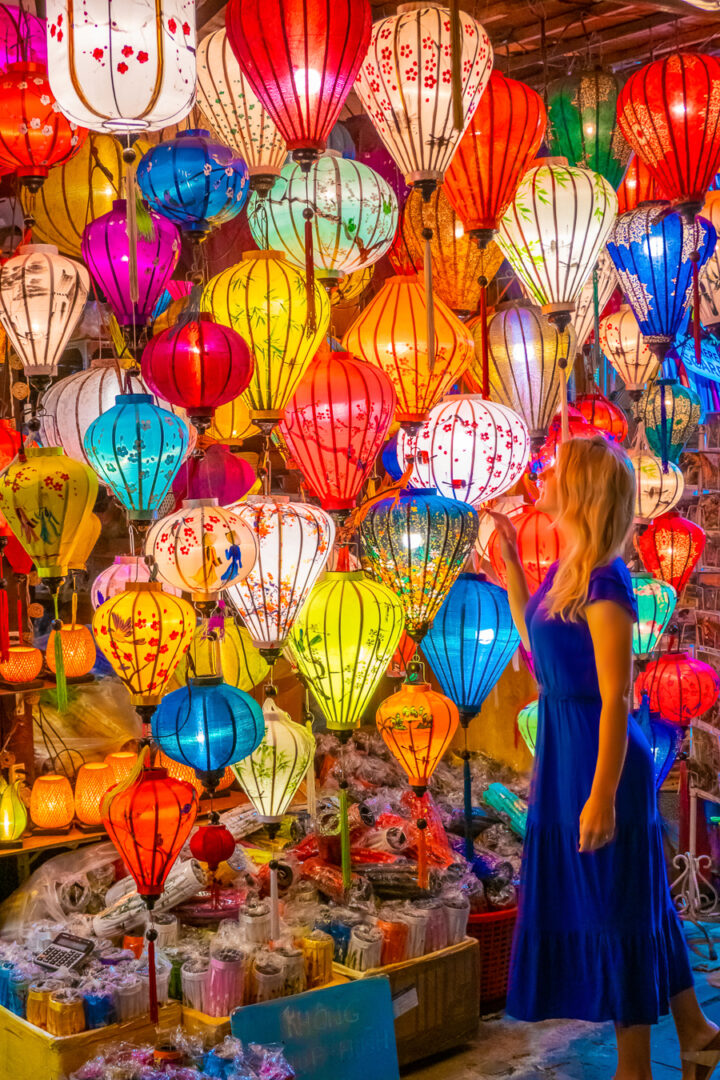 Top 10 Best Things To Do in Hoi An, Vietnam
Below are the top 10 things you definitely won't want to miss in Hoi An. Use this guide to help plan your trip so you don't miss any of the best things to do in Hoi An!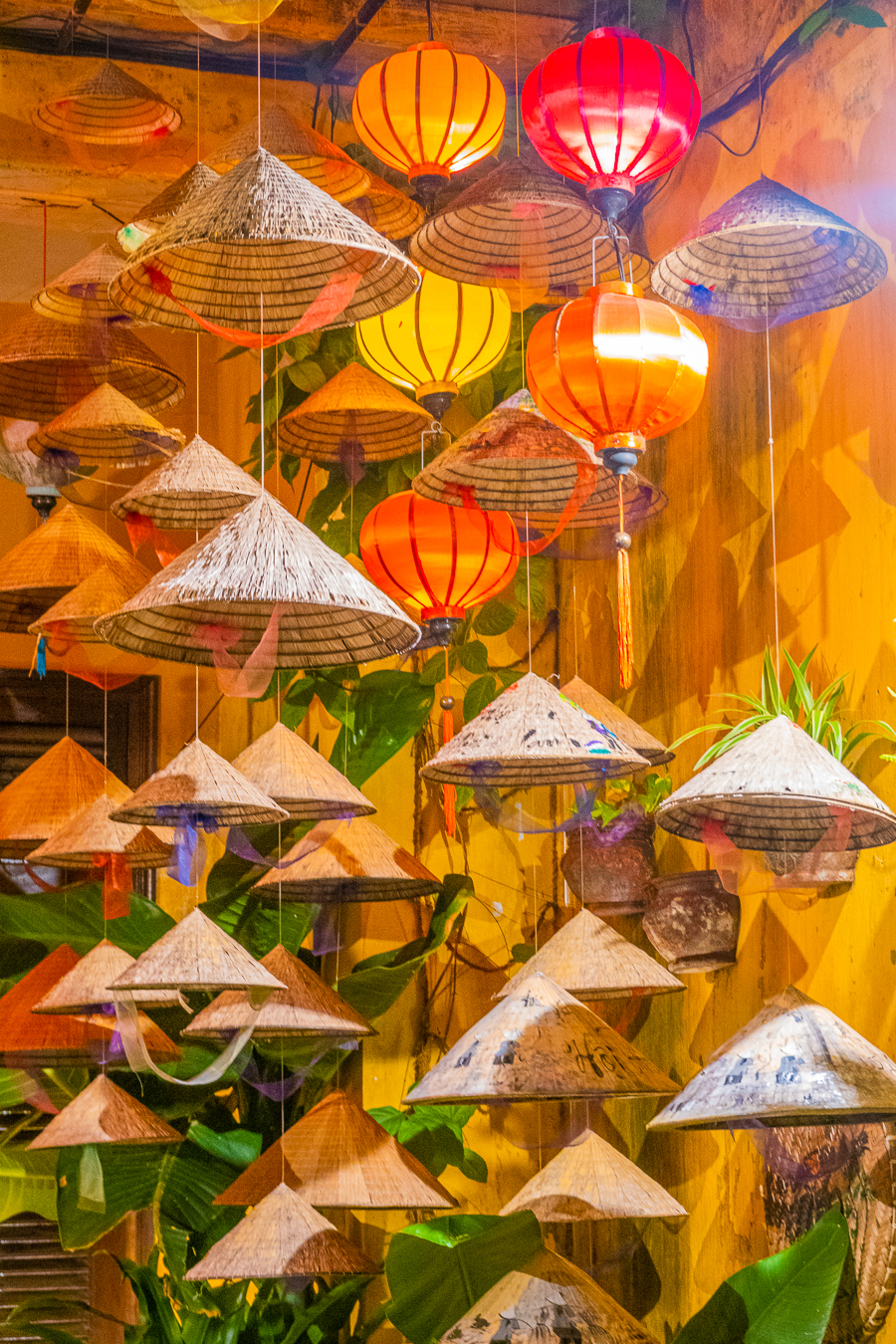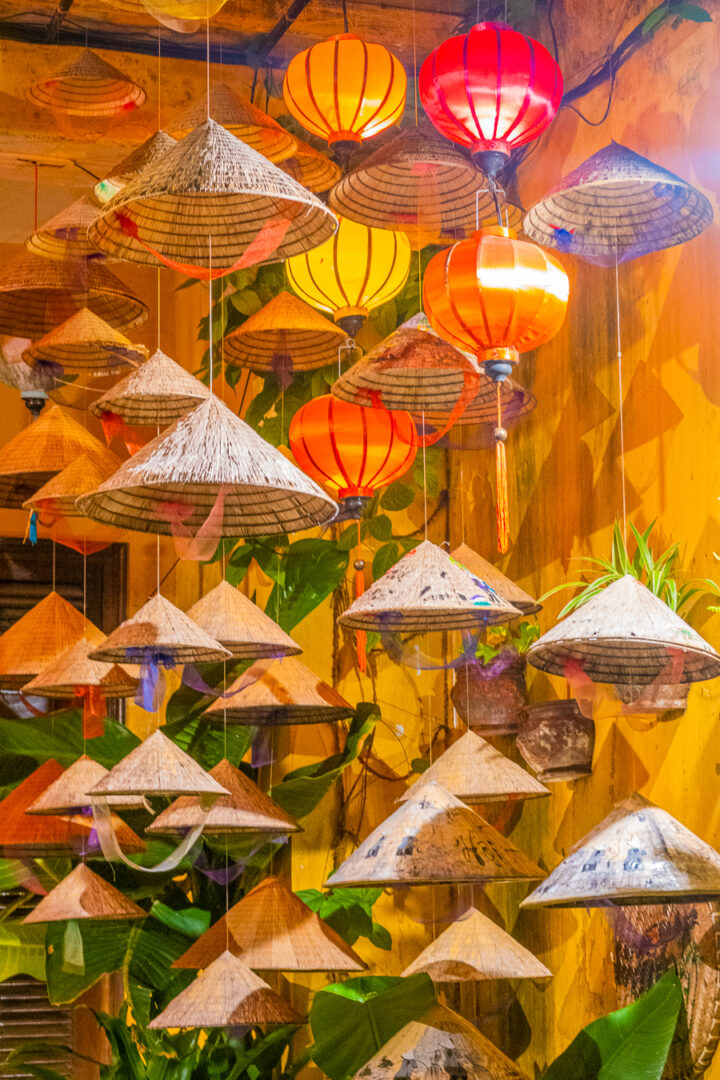 1. Hoi An Old Town
Nearly all of the main attractions you'll want to see are in the charming area of Hoi An known as Old Town. Also called Ancient Town, this part of the city is considered a UNESCO World Heritage Site because so many buildings are in near-original condition.
The area is open to pedestrian traffic only. It's so peaceful to stroll through the streets and take in all of the history without having to worry about cars flying by! Here you will see historic houses and buildings from the 1700s, colorful lanterns, religious shrines, and much more.
A ticket is required to walk around Old Town, but they are only about $5 US each (120,000 Vietnamese dong). There are several yellow huts around the outskirts of Old Town where you can conveniently purchase a ticket that covers entry to the main tourist sites inside.
Read More: The Ultimate 2-Week Vietnam Itinerary
Travel Tip: Keep your ticket with you at all times while walking in the pedestrian areas. Tickets are mandatory for accessing the streets, and you can be stopped at any time. We never saw or experienced this during our visit to Hoi An, but better to be safe than sorry! However worst case you'll just have to purchase a new ticket.
A Hoi An Old Town ticket grants you access to several monuments and your choice of five sites, known as "sightseeing places." To visit more than five places you'll need to buy additional individual tickets to each site.
Below are our 3 favorite must-see sites of Ancient Town: the Japanese Covered Bridge, Old House of Tan Ky, and Assembly Hall Of Fujian Chinese.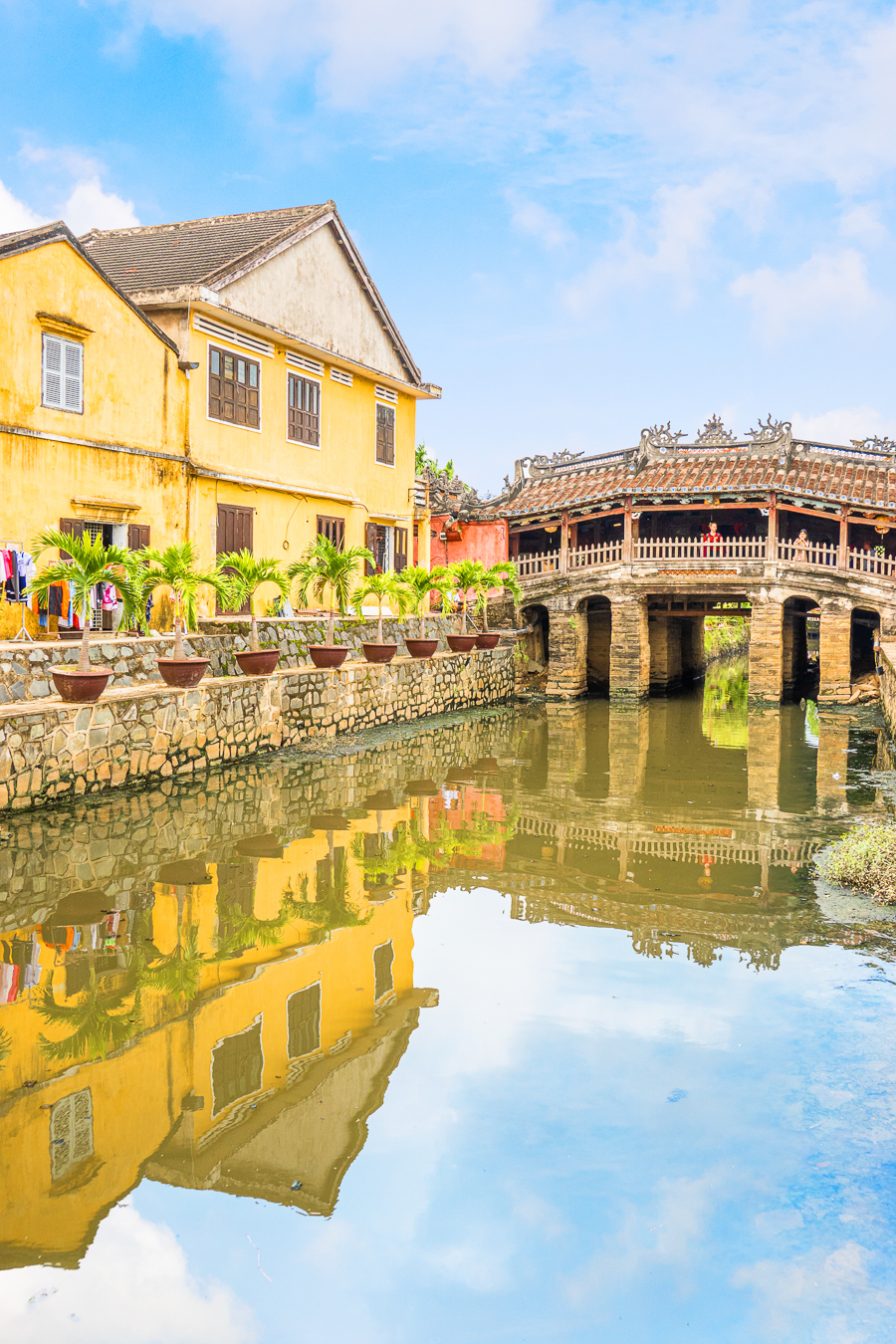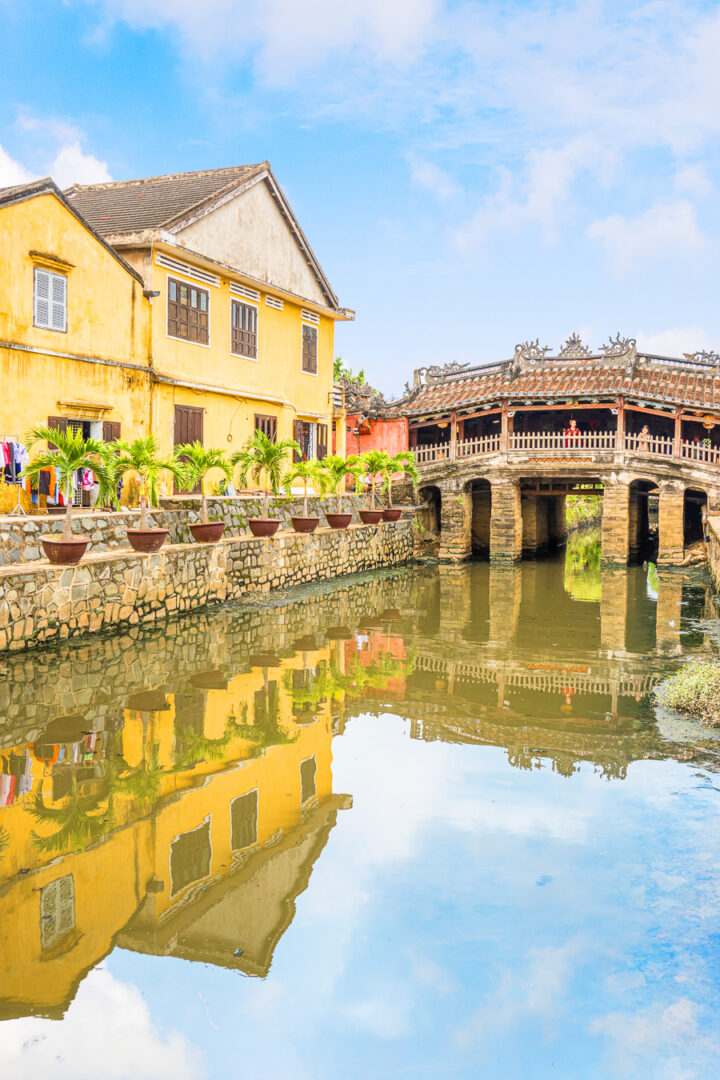 2. Japanese Covered Bridge
The Japanese Covered Bridge is the first not-to-be-missed spot on our Best Things to Do in Hoi An list, and is the most famous and popular attraction. In other words, you have to see this iconic bridge during your trip to Hoi An!
This landmark bridge was built in the late 1500s, but has been renovated several times and is kept in pristine condition. It features detailed carvings and sculptures, and the bridge itself is a lovely pinkish color. You'll want to take lots of pictures here!
The bridge stretches over 60 feet long across a small canal. On the north side is a shrine dedicated to Tran Vo Bac De, the Taoist god of weather. This beautiful temple was used by sailors and merchants to pray for good weather, and locals still use it as a place of worship for protection from natural disasters.
It originally was constructed as a way to connect what was then the Japanese area of the city with the Chinese quarter of Hoi An.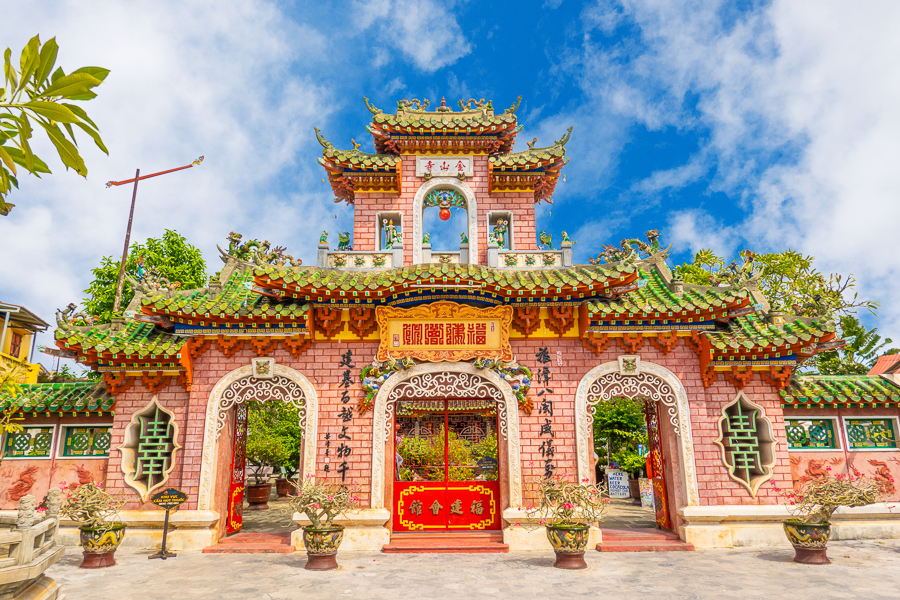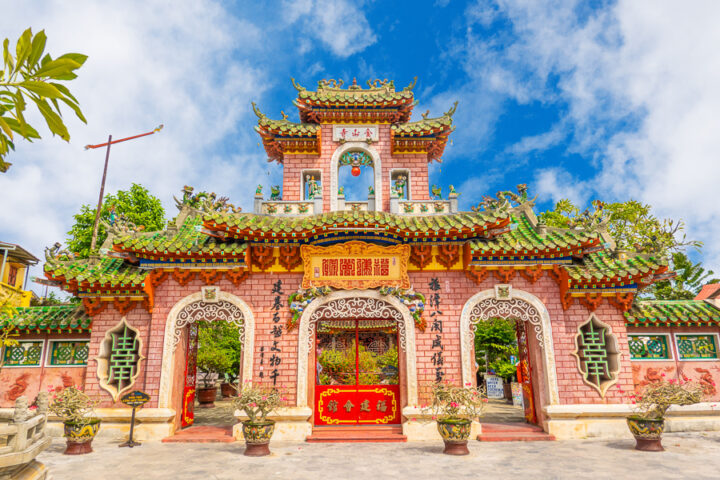 3. Assembly Hall Of Fujian Chinese
Assembly Halls were once used as a gathering place for Chinese living in Hoi An, Vietnam.
The Assembly Hall of Fujian Chinese is by far the grandest and most ornate of the four assembly halls in Hoi An. It was constructed in the 1700s, and has been extremely well-maintained to preserve the original building materials.
Many years later the grand hall was turned into a shrine to Thien Hua, Fujian goddess of the sea.
Today, the Assembly Hall is popular tourist site still kept as an homage to Chinese traditions and architecture. Here you'll find beautiful architecture, artwork, and sculpted gardens.
Your Hoi An Old Town ticket will grant you access to any of the four assembly halls. While they are all fascinating, the Assembly Hall of Fujisan Chinese is the most impressive to visit. If you are short on time and can only choose one to stop at during your trip to Hoi An, this is the place to pick!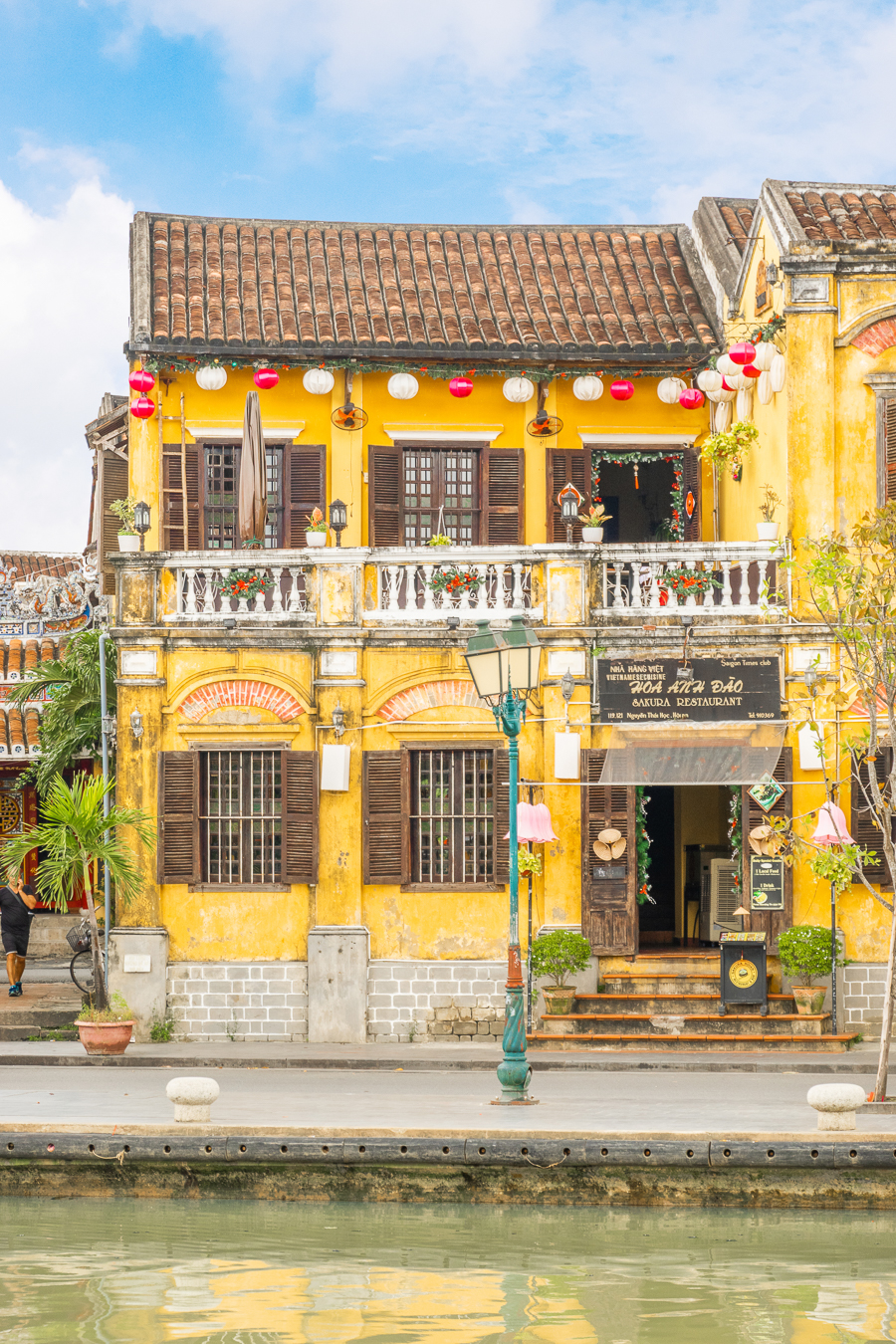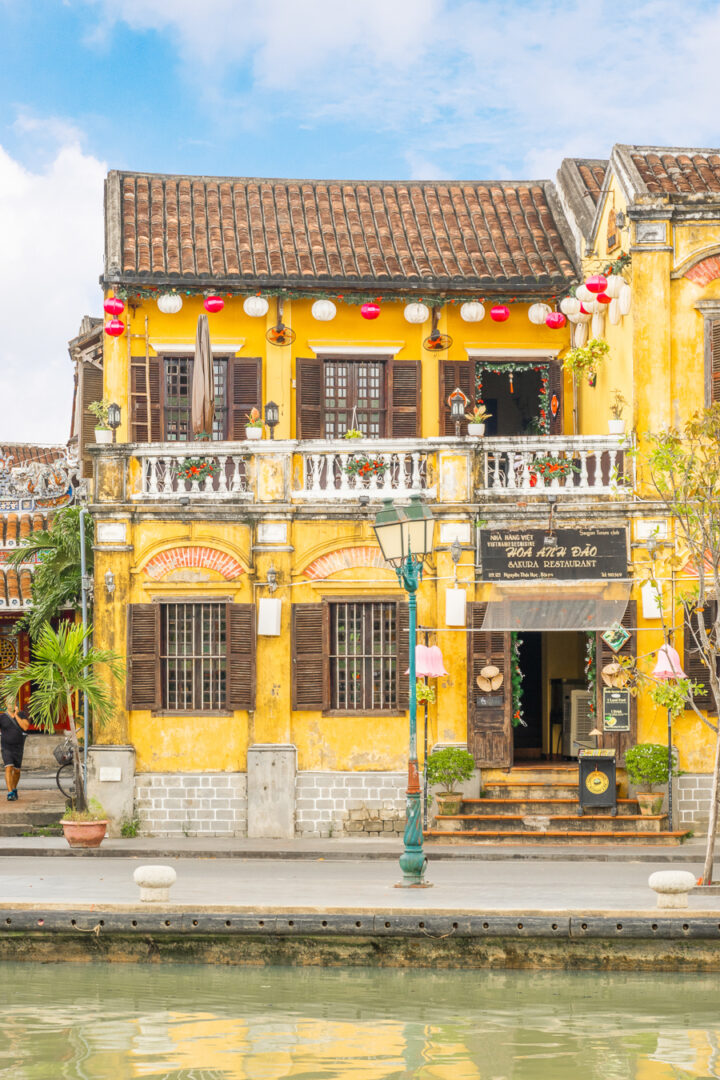 4. Old House of Tan Ky
Many old buildings in Hoi An have been very well-preserved over centuries and are now open to tourists. One of the most famous is the Old House of Tan Ky, a merchant's home that was built in the 1700s.
This lovely little house was constructed in a mix of Japanese, Chinese, and Vietnamese architectural styles. It is among the first and oldest buildings in the city to be certified as a national heritage site. You can walk through the house and traditional courtyard to see lots of antique pieces of furniture and artwork up close. You will feel like you've stepped back in time during your visit to Hoi An!
What makes the Old House of Tan Ky even more special is that a family is still living full-time in the house to maintain the home. When you visit their home, you can even order a local Hoi An speciality, White Rose Dumplings, and the family will make them for you right in their kitchen!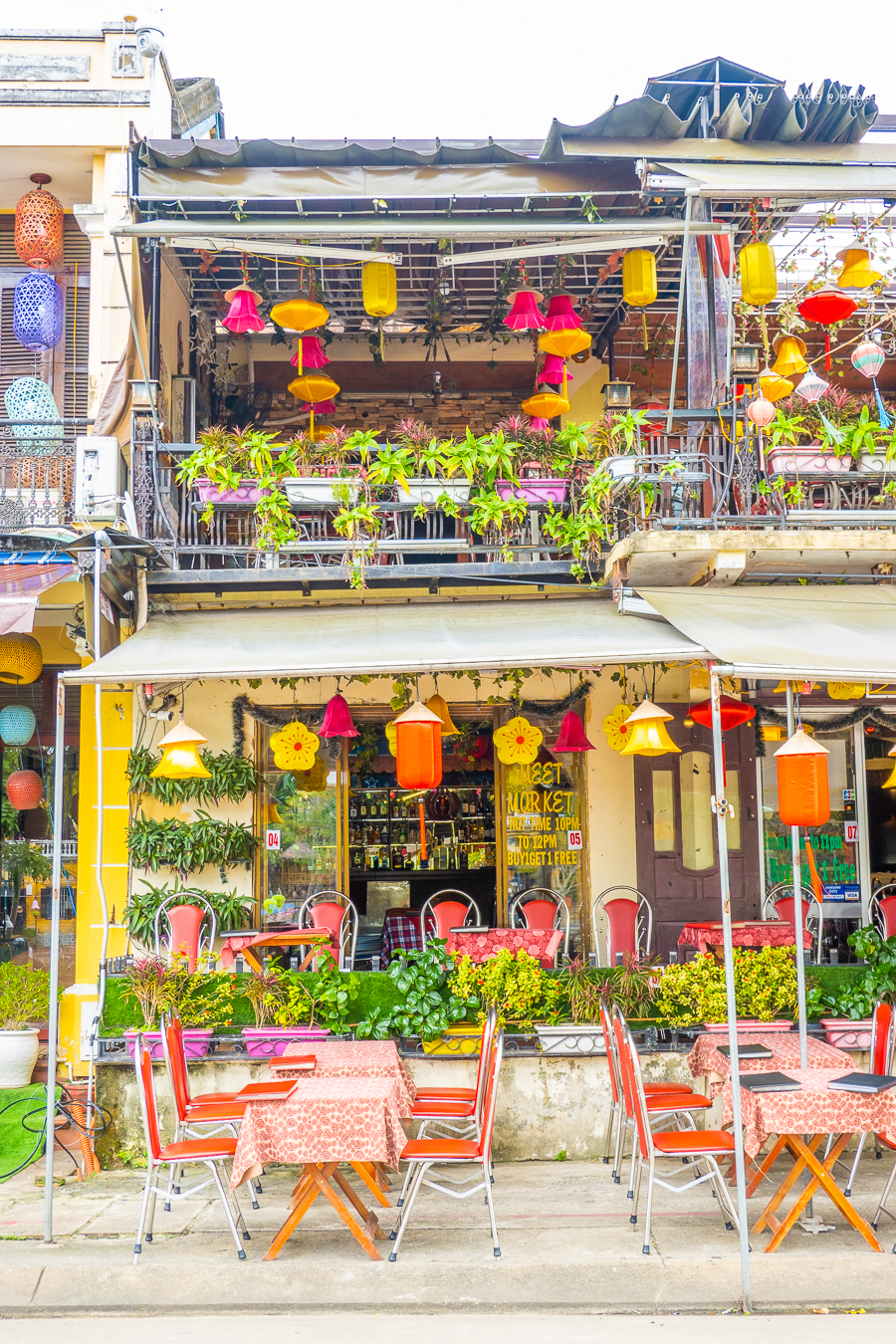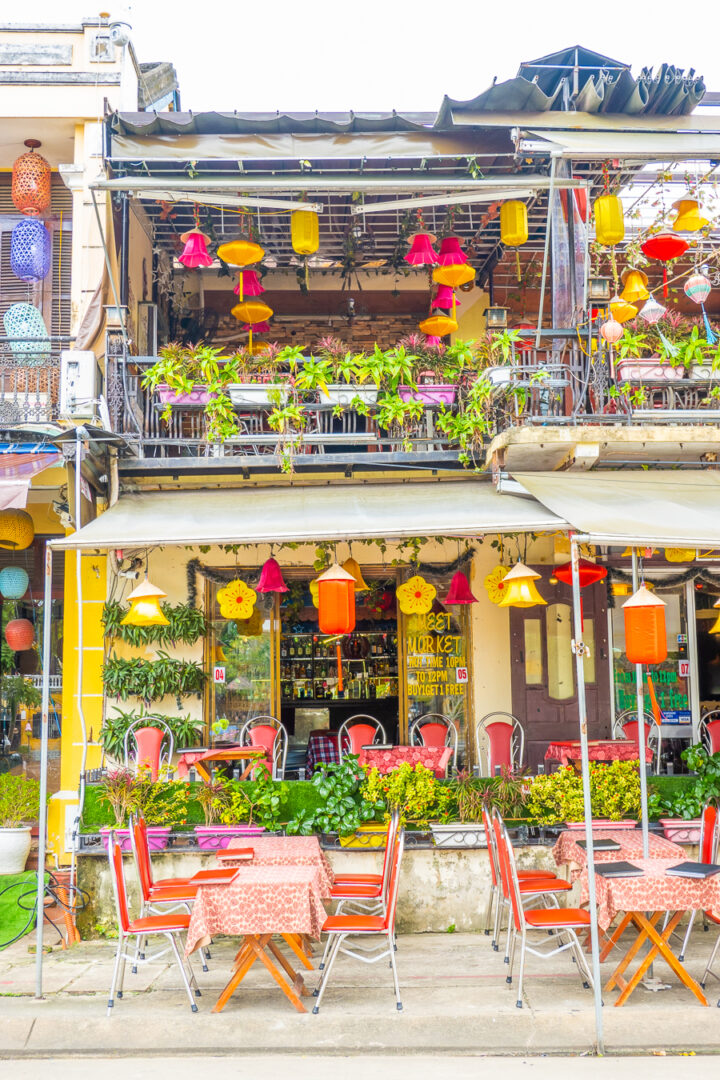 5. Enjoy a Riverside Drink at Sunset
After an exciting day of sightseeing in Hoi An, stop to have a relaxing dinner at a riverside restaurant. Sunset is by far the best time to sit back on a balcony with a cocktail and take in the gorgeous river view.
You'll see paper lanterns everywhere on buildings and bridges up and down the Thu Bon River. It is magical watching them light up as the sun goes down!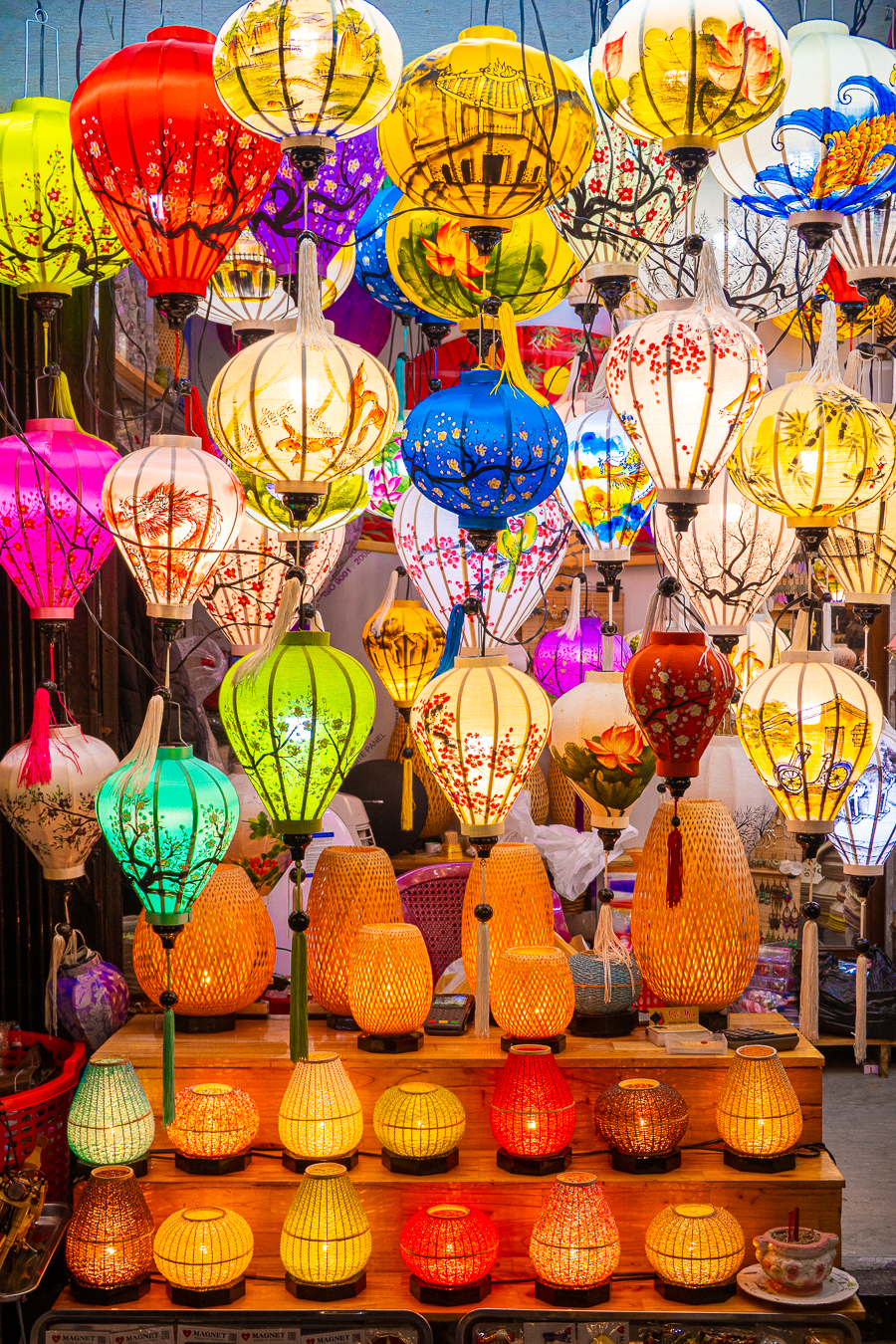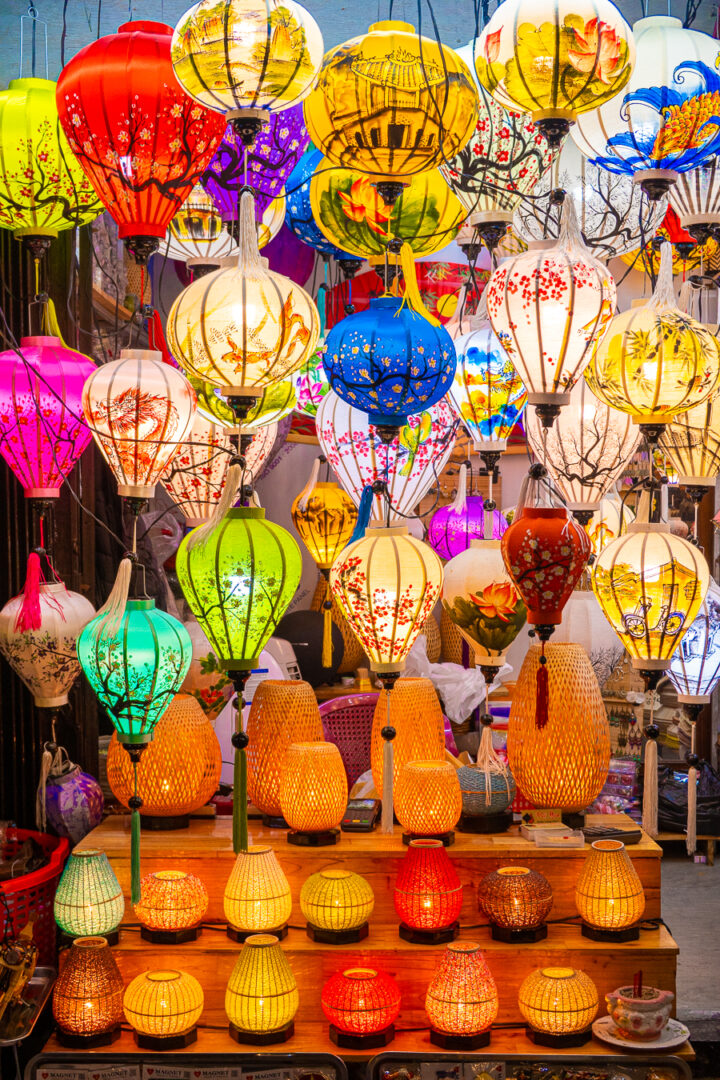 6. Experience Old Town Hoi An at Night
Every night the city is illuminated by thousands of colorful lanterns hanging from buildings, restaurants, bridges, and boats. Floating paper candles meant to grant wishes and bring good luck are lit and released on the river. You can purchase and release your own floating candles during your visit to Hoi An.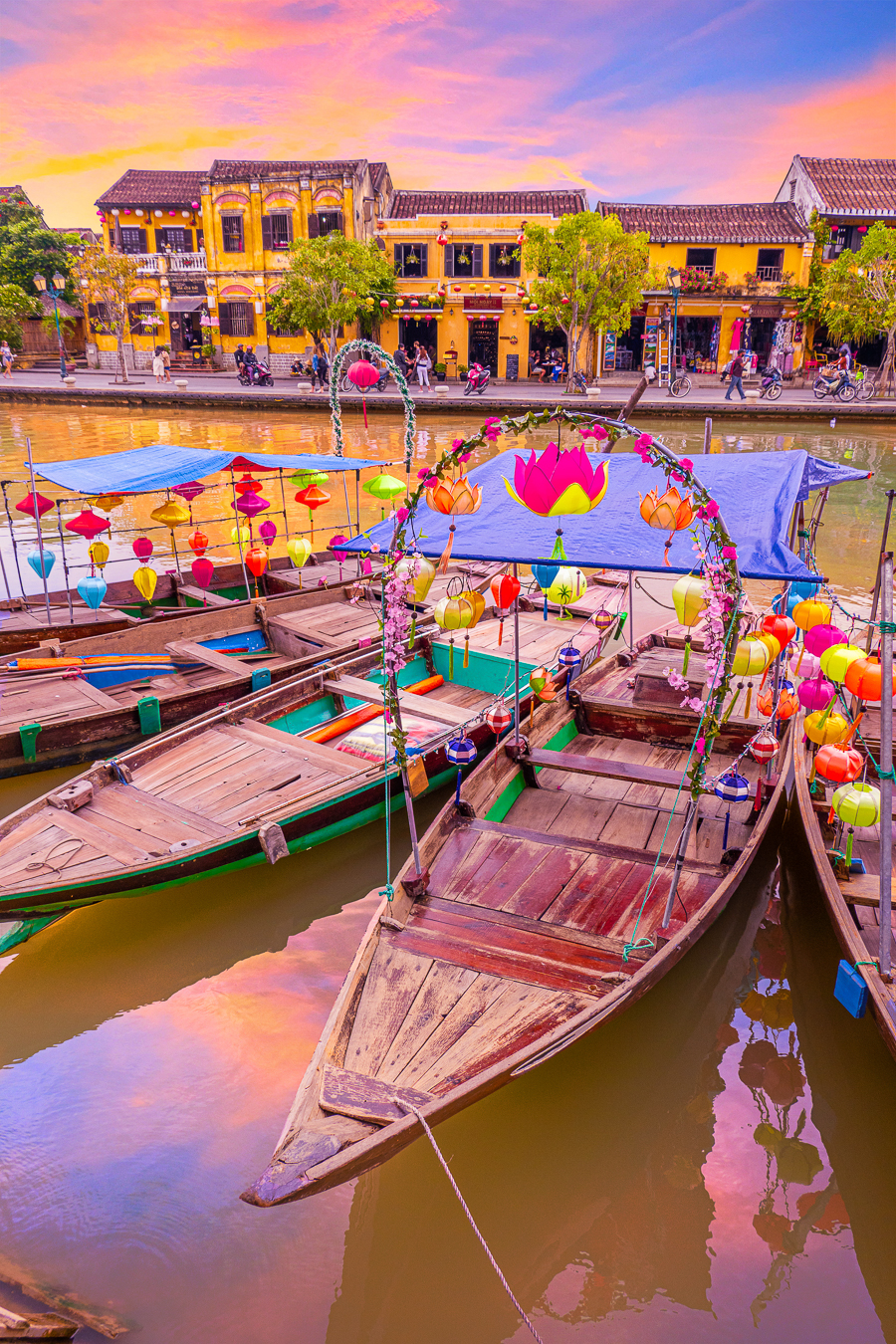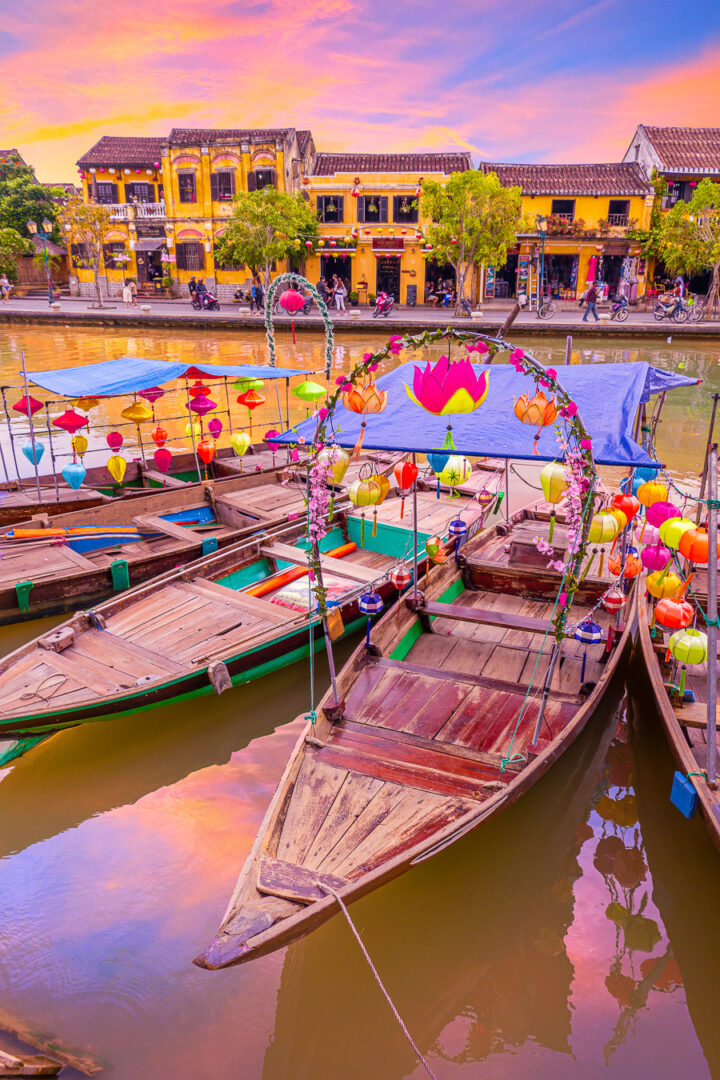 7. Take a Romantic Lantern Boat Ride
Venice is known as a popular destination for its famous gondola rides. Similarly, Hoi An's lantern boat rides are a truly magical experience. The boats are covered in colorful miniature lanterns and twinkling lights. It is so unbelievably beautiful how the decorated boats illuminate the river at night as you glide along. This is the perfect romantic way to end the day!
You can take a boat ride for less than $5 USD per person, if you haggle well.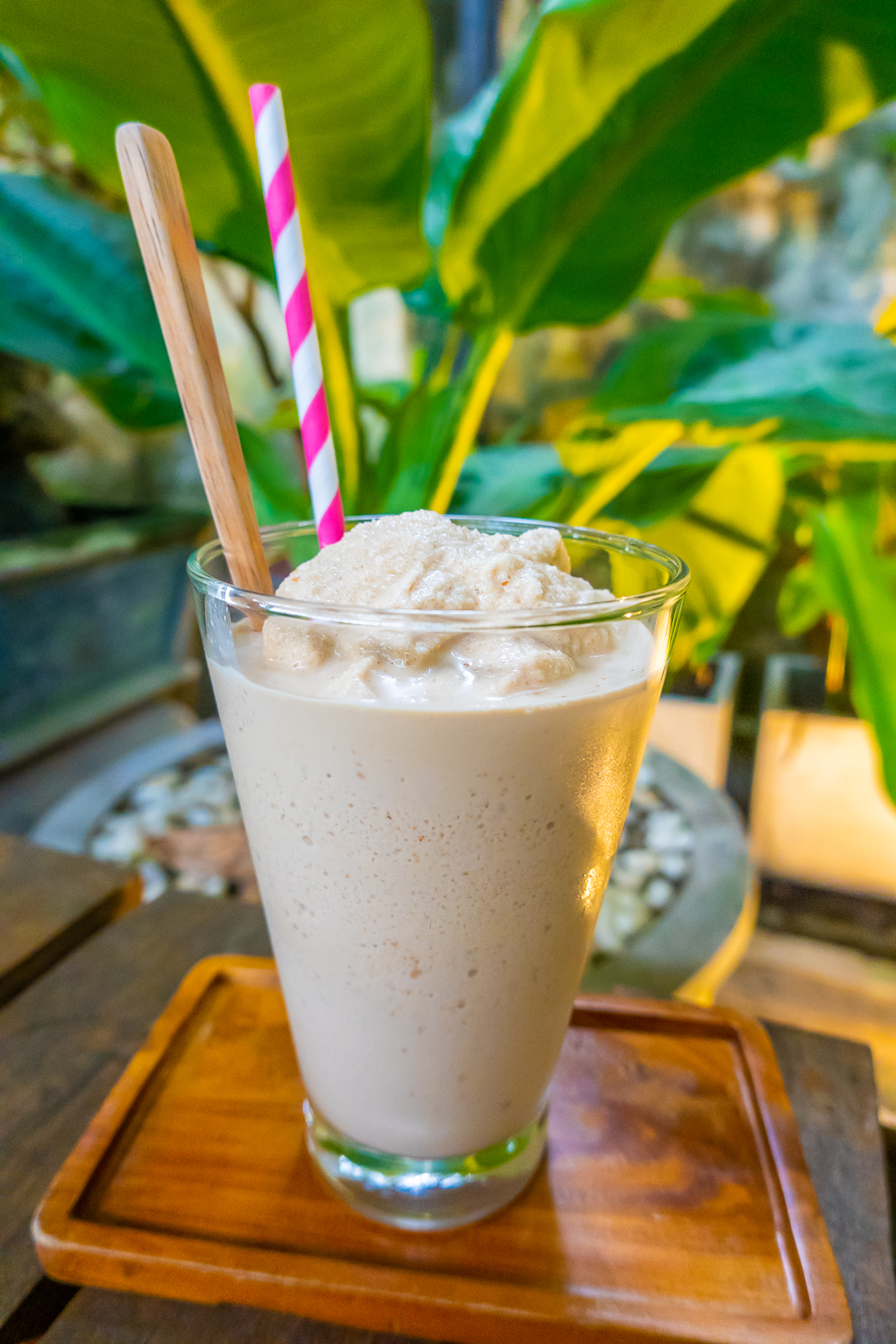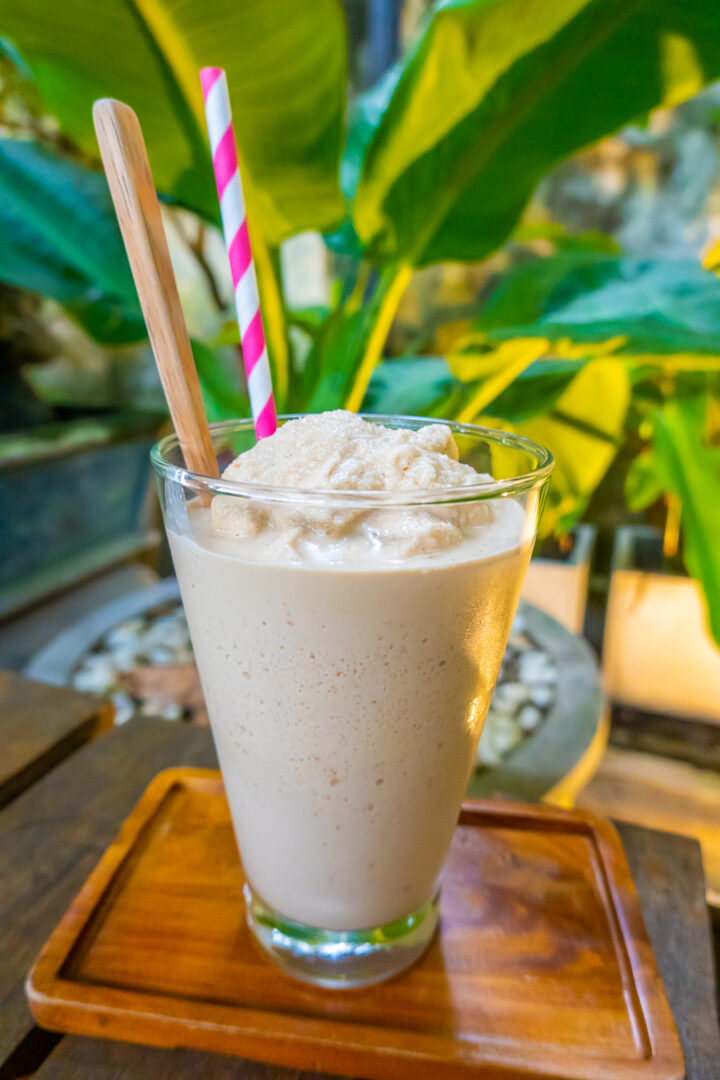 8. Try Vietnamese Iced Coffee
After an exciting evening on the river, start the next morning off right with a Vietnamese iced coffee.
If you've never had Vietnamese iced coffee before, you are in for a real treat. Similar to Thai coffee, iced coffee in Vietnam is quite strong and is made with sweetened condensed milk. It's very creamy and rich, and is served over ice for a cold, refreshing drink.
You can find Vietnamese iced coffee nearly everywhere in Hoi An. Practically every cafe and bar has their own "famous" version. But don't worry, we've saved you the trouble of trying to taste-test each location for yourself!
Here are our two favorite coffee shops that you should visit during your trip to Hoi An:
Phin Coffee
Phin Coffee is a very popular coffee shop with the locals in the city.
It has a lush open courtyard surrounded by beautiful tropical plants. Sit on one of the little wooden benches and it will feel like you're enjoying your coffee in the middle of a secret garden. You'll definitely be taking lots of Instagram pictures here!
Phin Coffee's inventive iced blended drinks, like coconut coffee and peanut butter coffee, are unique and delicious.
Hoi An Roastery
Hoi An Roastery is a local coffee shop chain that has a total of seven locations. You'll find these cafes mostly in Old Town, usually in renovated historical buildings. Each location is different but all have consistently great coffee.
They offer lots of hot and cold drink options, including Vietnamese iced coffee and Italian-style espresso.
We fell in love the Coconut Ice Cream Coffee at Hoi An Roastery. This treat is a traditional Vietnamese iced coffee that's sweetened with condensed milk and served with a generous scoop of real coconut ice cream. You've got to give it a try during your visit to Hoi An!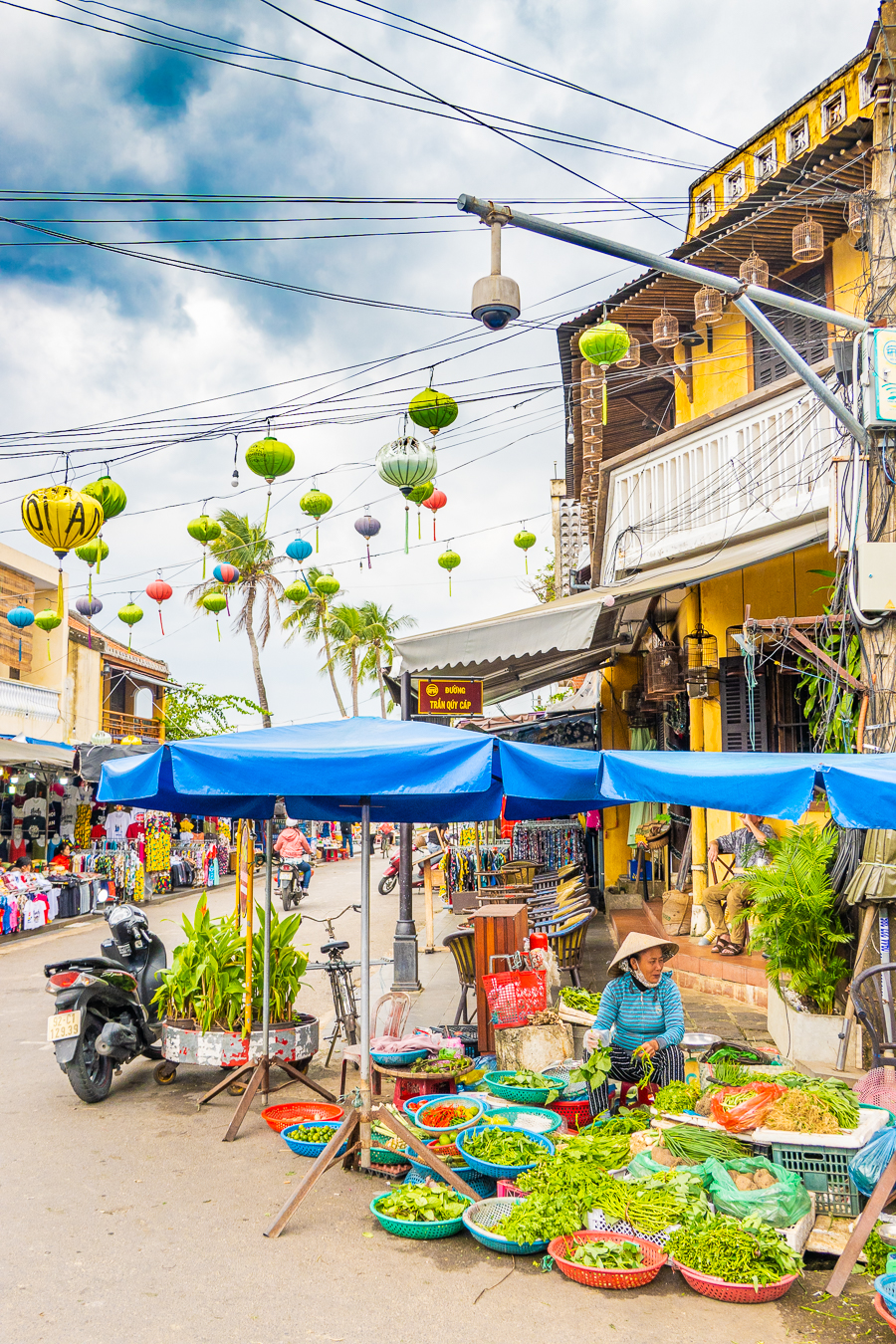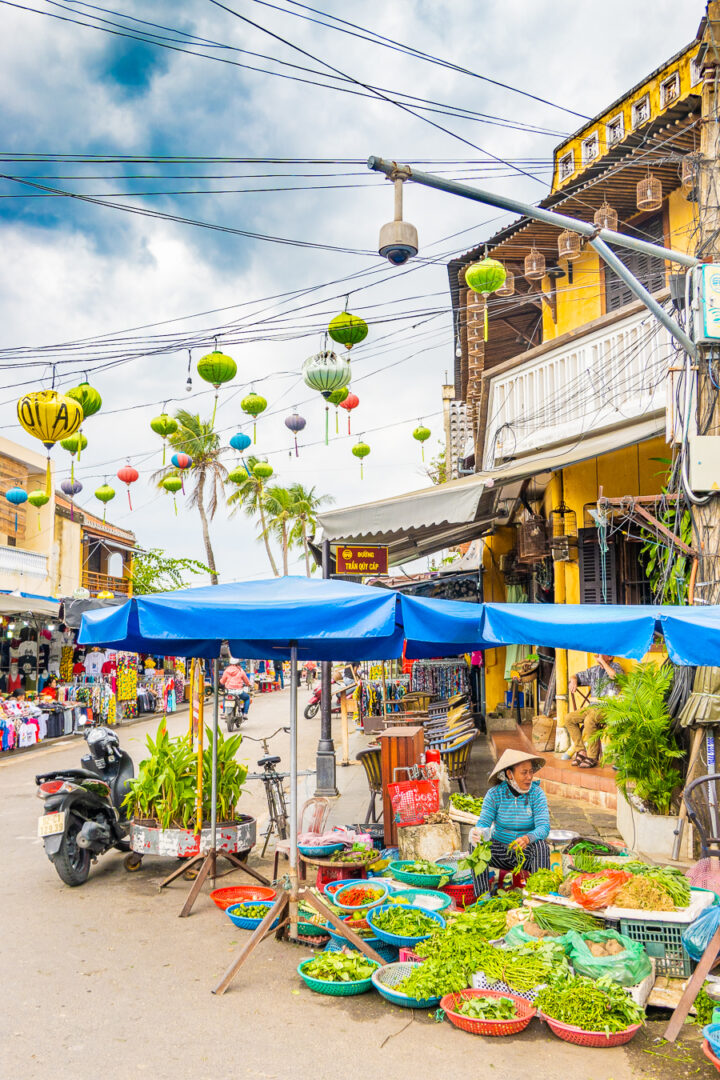 9. Hoi An Market
No trip to Hoi An would be complete without a visit to the local market. Once you've had your iced coffee, head over to the Hoi An Fresh Market on the river. Mornings are particularly active with pedestrian and scooter traffic. It's exciting to see how a typical day in Vietnam starts!
This bustling market is packed with booths selling all sorts of wares. Here you can find fresh local produce and lots of souvenir items. Expect to negotiate prices and work on your haggling skills.
10. Eat Like A Local
When you're ready for lunch, here's where to find the best, local, traditional dishes in Hoi An!
Cau Lau
Every region in Vietnam has their own unique noodle dish. If you love to try the local cuisine you'll definitely want to try Cao Lau when you're in Hoi An! The thick, chewy rice noodles have a distinct texture unlike any other Vietnamese noodle dish. Our guide (the owner of one of the most successful tour companies in Vietnam, who has a house in Hoi An) recommend Quan Cao Lau Thanh for the best Cao Lau in Hoi An!
White Rose Dumplings
White Rose Dumplings are a local specialty in Hoi An, Vietnam. A thin, almost translucent rice dough is stuffed with pork or shrimp and folded together to create a delicate flower shape. The dumplings are then topped with crispy shallots and served with a savory broth for dipping.
Vietnam Tours
When I only have 1-2 days in a city, I have found the best way to see and do the most things is to book a tour. Indochina Voyages took us on an amazing one-day tour of Hoi An to see all of the best sites.
Our tour with Indochina Voyages included exploring Hoi An's Old Town, the Japanese Covered Bridge, Assembly Hall Of Fujian Chinese, Old House of Tan Ky, and a guided tour through the Hoi An Market.
The tour really isn't too expensive once you add up all the entry fees and taxi fees if you were to visit these places on your own! Plus you will have your own private driver and guide with you the entire time.
Fun fact: President Jimmy Carter even booked with Indochina Voyages when he went to Vietnam in 2009!
Questions about Visiting Hoi An?
Do you have any questions about visiting Hoi An? Let me know in the comments below! We'll try our best to help you!
---
Are you on Pinterest? Pin these!