Planning a trip to Philadelphia? Use this guide to make sure you don't miss any of the best things to do in Philadelphia! Here's what you'll definitely want to see and do: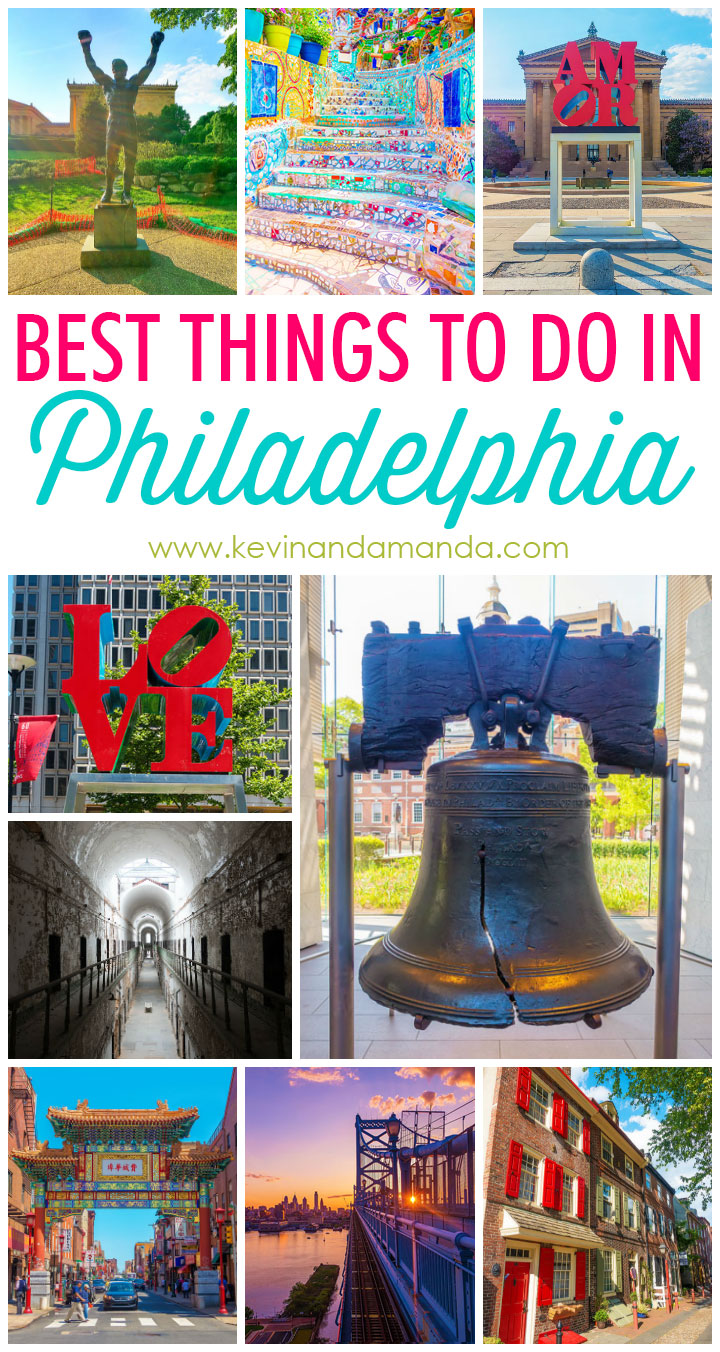 A few weeks ago Kevin and I spent a weekend in Philadelphia to celebrate our anniversary. We had such a blast in this fun city. Philadelphia is fascinating — there is so much beauty and history here. It almost feels like stepping back in time, or traveling across the ocean and vacationing in a romantic European city with all the historic buildings, architecture, and streets.
Where else can you walk on the oldest street in America? Or mail a letter from the very first United States Post Office? I highly recommend everyone visit Philly at least once. It is especially great for kids learning about our nation's history and founding fathers.
Best Things to Do In Philadelphia
If you're wondering what to do in Philadelphia, we researched all the most popular things to do in Philadelphia and put them all in this one convenient list. Here are the best things to do in Philadelphia: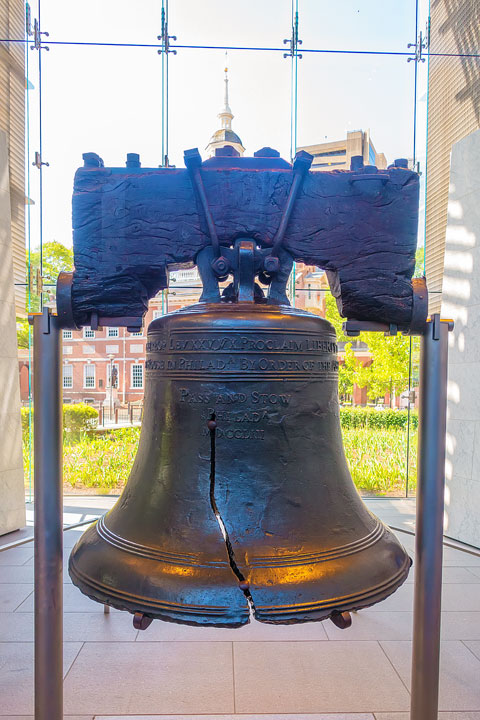 The Liberty Bell
Of course, one of the most popular things to do in Philadelphia is see the Liberty Bell!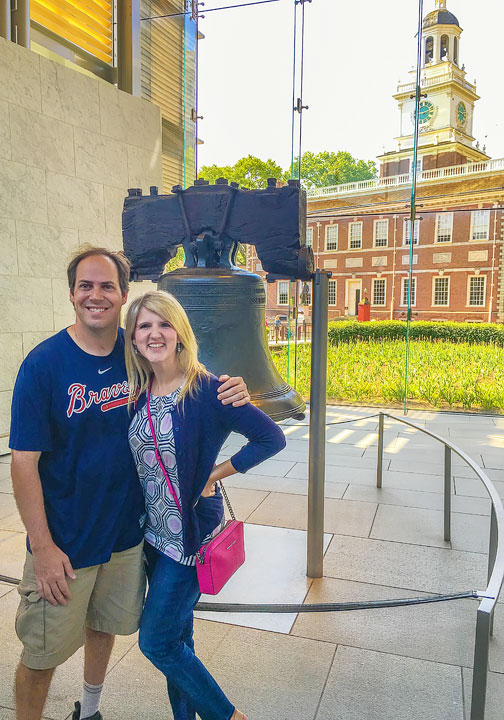 Entrance to the Liberty Bell is free, and opens daily at 9am. You don't need a ticket, and if you get there right at 9am or a few minutes before, you can be the first to get in and see the Liberty Bell without the crowds or waiting in line.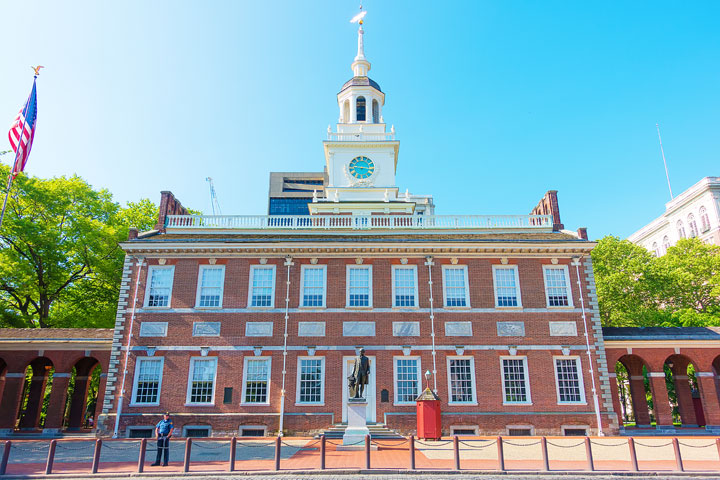 Independence Hall
Across from the Liberty Bell is Independence Hall, where the Liberty Bell once hung, and where the Declaration of Independence was drafted and signed by Thomas Jefferson, John Adams, Benjamin Franklin, and John Hancock, to name a few.
Entrance to Independence Hall is free, but you do need a ticket. A free ticket can be obtained at the Independence Visitor Center near the Liberty Bell. The visitor center opens daily at 8:30am, so grab a ticket before or after seeing the Liberty Bell, then head over to Independence Hall.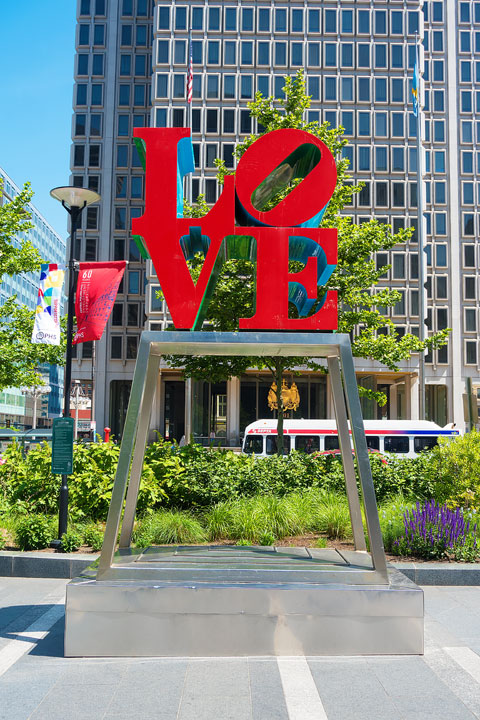 Philadelphia Love Sign
The City of Brotherly Love's best-known landmark is LOVE itself!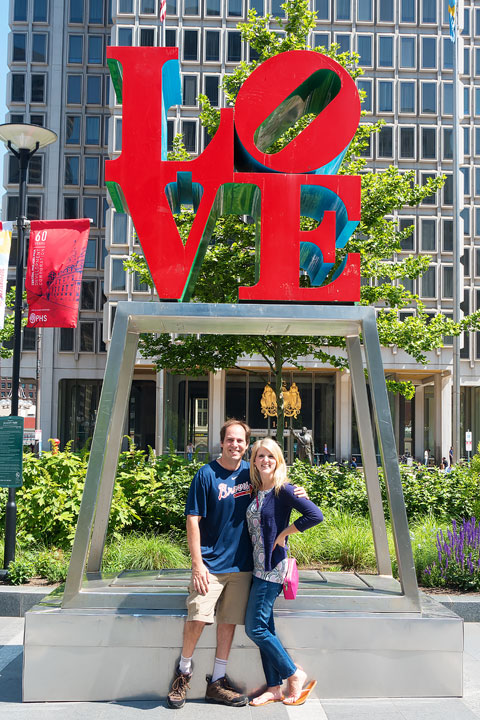 The iconic LOVE Statue has been a symbol of Philadelphia since it was installed in Philadelphia's Love Park in 1976. Taking a picture in front of the Love Sign is one of the most iconic things to do in Philadelphia!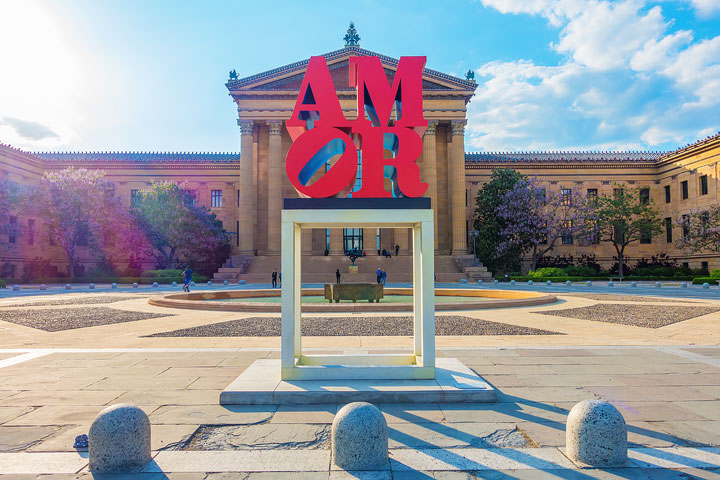 Philadelphia Museum Of Art
If you are a fan of Rocky, you know this view! The Philadelphia Museum of Art (also know as the "Rocky Steps") is where Rocky Balboa ran up the now-famous 72 stone steps.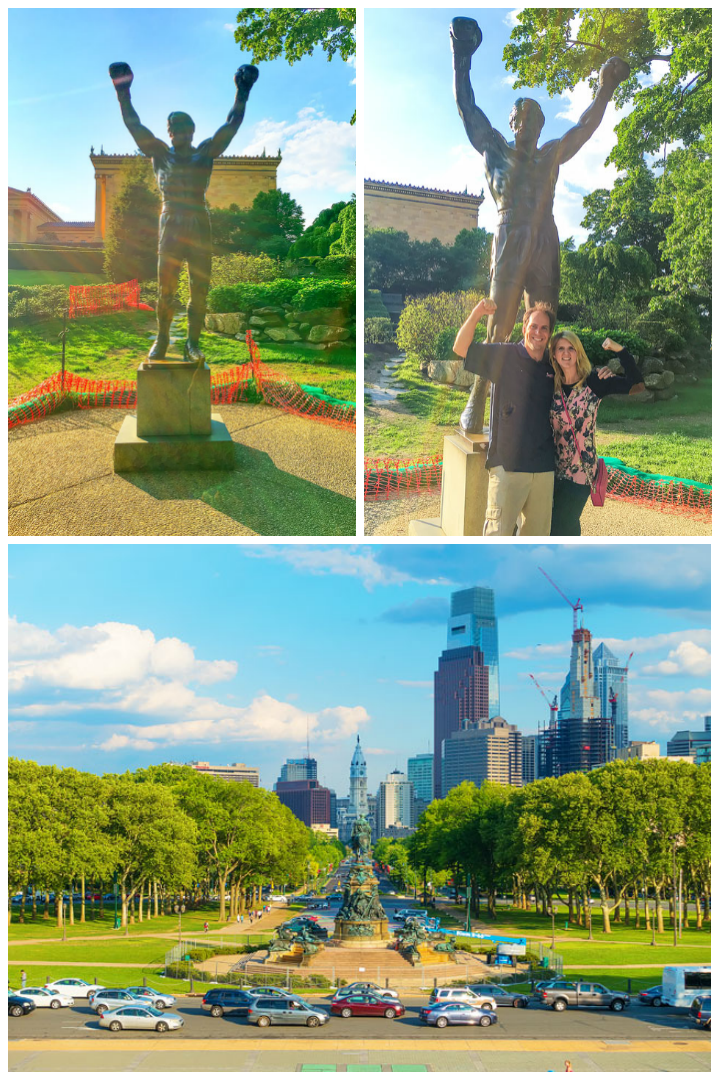 This is a view from the top! You'll find the Rocky Statue at the bottom of the steps on the right. Running up the Rocky Steps was definitely on Kevin's "things to do in Philadelphia" list!!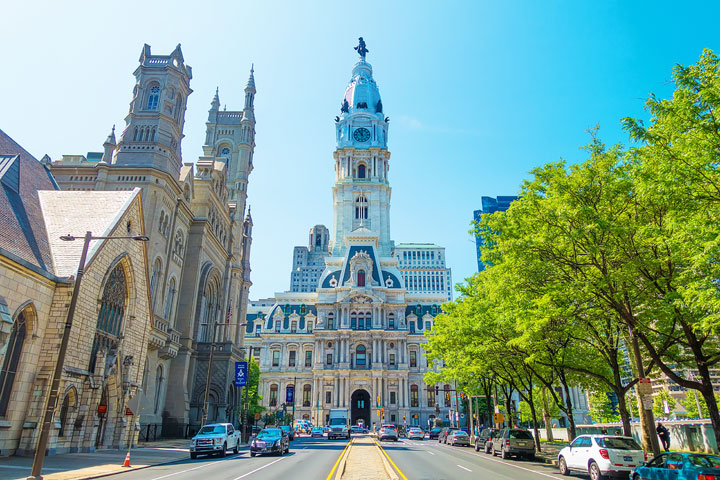 Philadelphia City Hall
Philadelphia City Hall is the largest municipal building in the United States. It's located right by the Love Sculpture and Reading Terminal Market. There's a tower and observation deck inside, but even if you don't go in it's definitely worth walking past and seeing.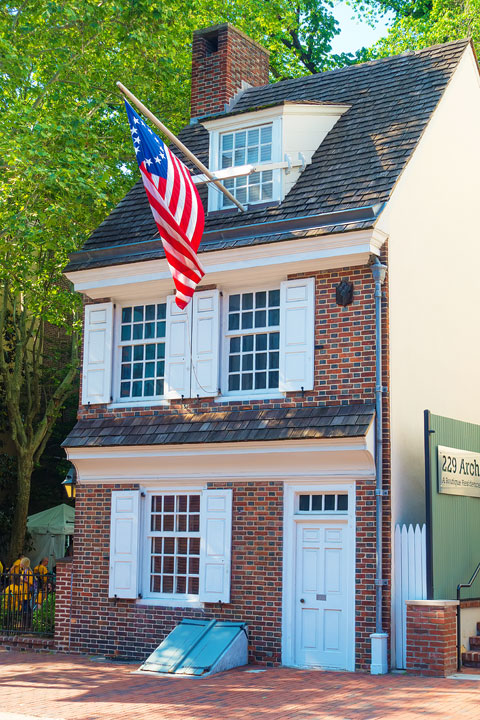 Betsy Ross House
The Betsy Ross House is a landmark in Philadelphia where the seamstress and flag-maker Betsy Ross lived when she sewed the first American Flag.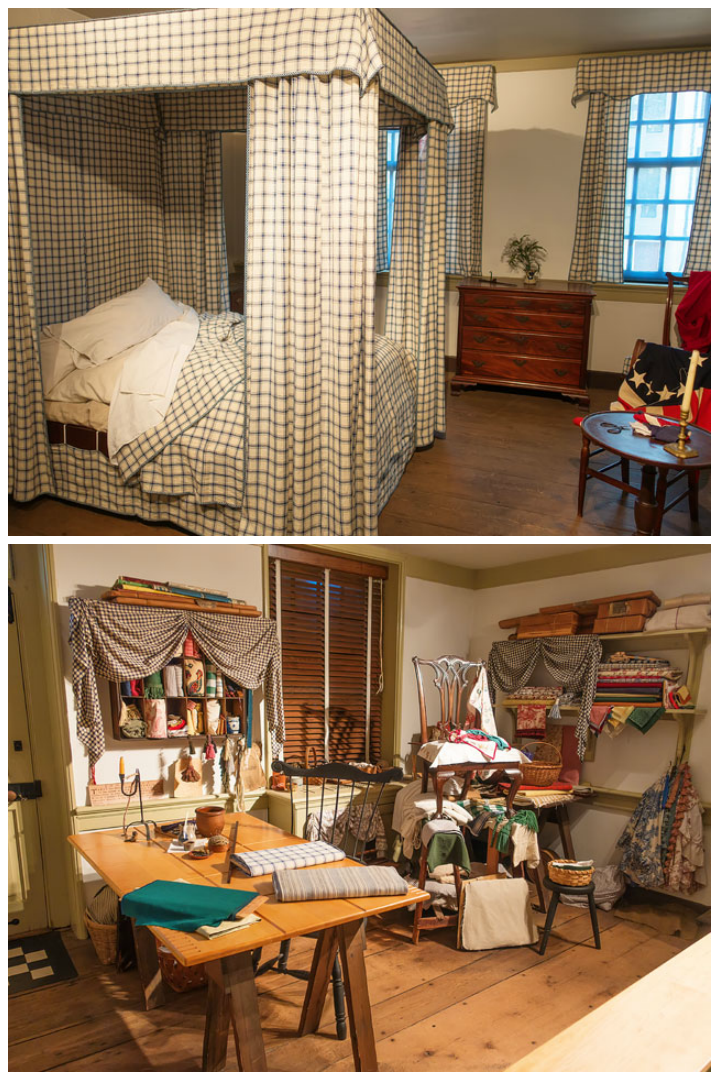 We had originally planned to just walk by and see the outside, but for a small fee you can also go inside and see what the home would've looked like in the 1700s. It was actually very cool to see inside. So many small, winding staircases!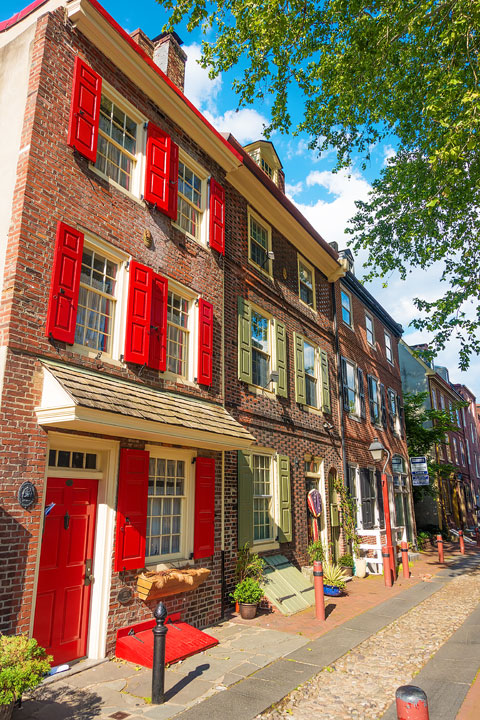 Elfreth's Alley
Elfreth's Alley is the oldest residential street in America.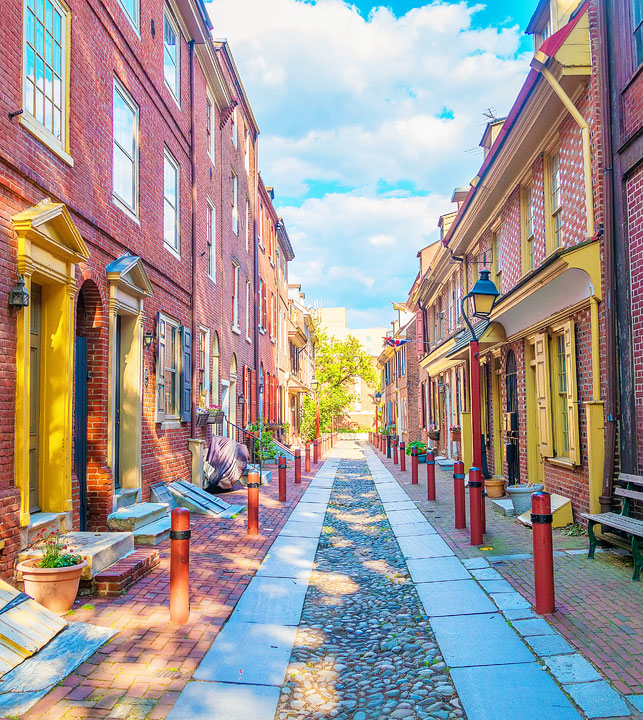 There are 32 houses on the street, which were built between 1728 and 1836.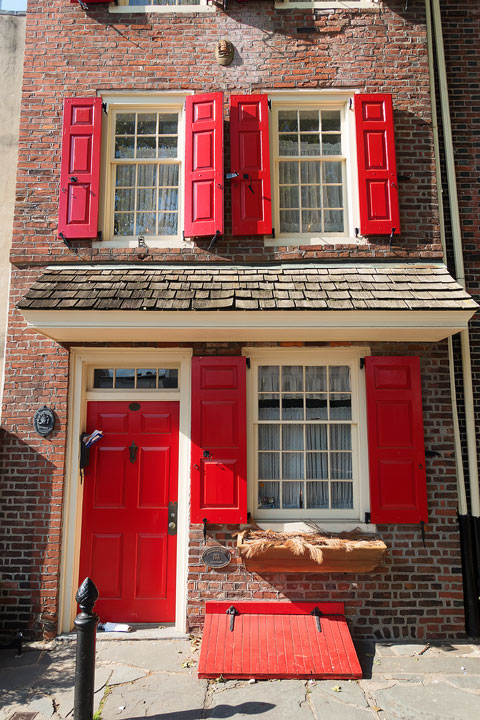 These houses have been continuously inhabited for nearly 300 years.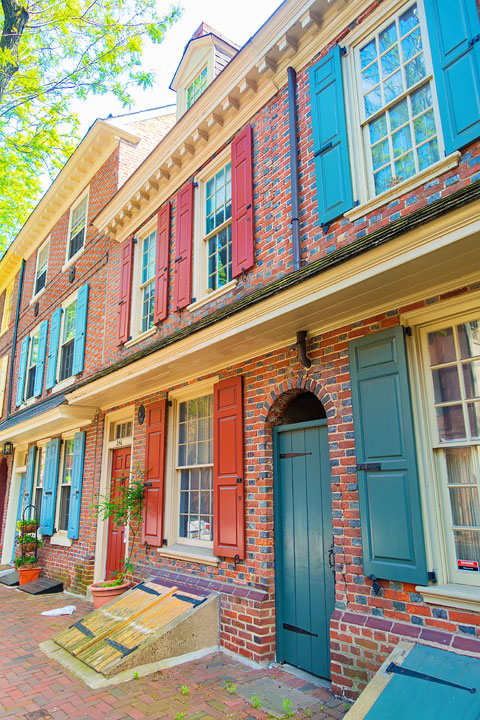 If you're looking for things to do in Philadelphia, I would highly recommend walking up and down this cobblestone street!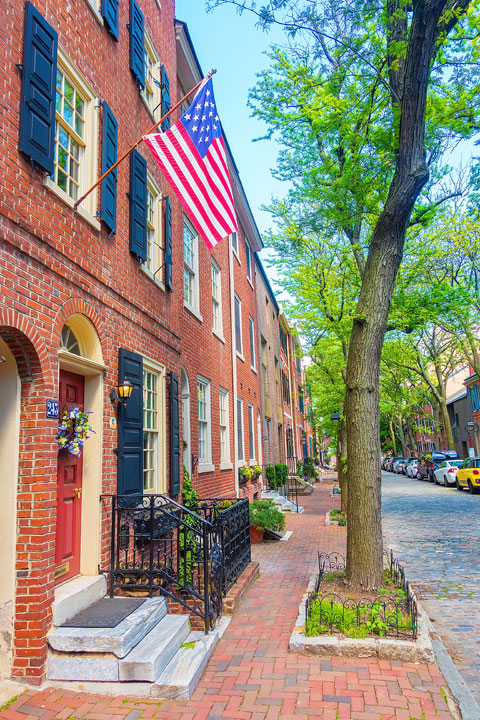 There were beautiful streets and homes everywhere we turned in Philly!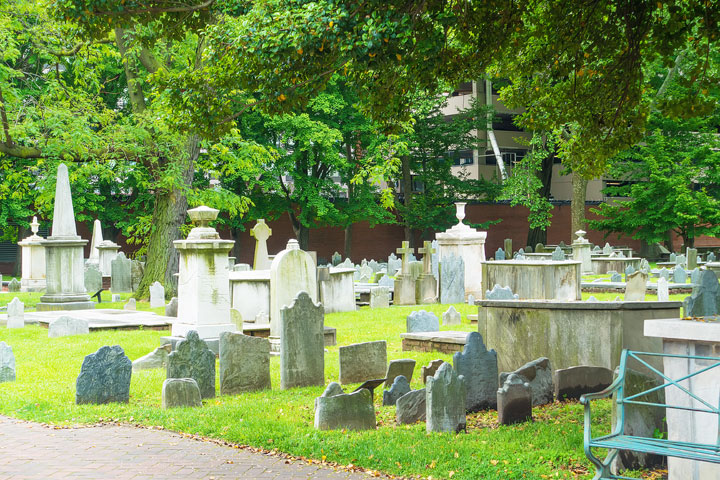 Ben Franklin's Grave
Although he wasn't born here, at age 17 Benjamin Franklin ran away to Philadelphia to start a new life, and lived most of his life here until he died in 1790.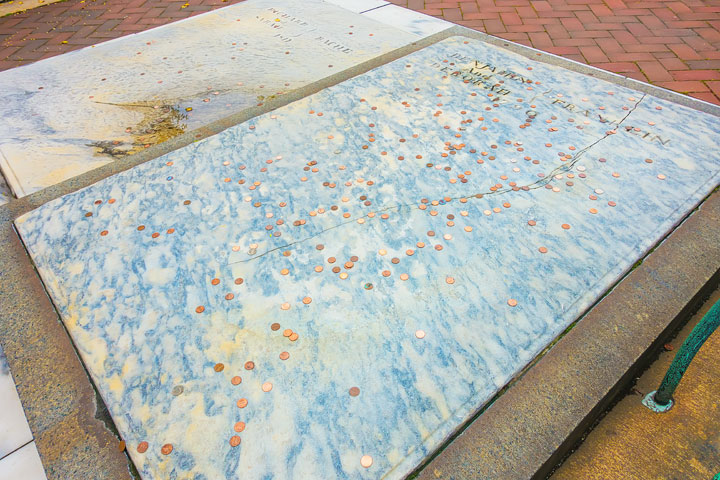 You can see where Ben and his wife Deborah were buried at the Christ Church Burial Ground in Philadelphia. There is a small fee to get in the cemetery, but you can see the grave from the outside. We didn't go in, both of these pictures were taken from the outside. You can also place a penny on his grave.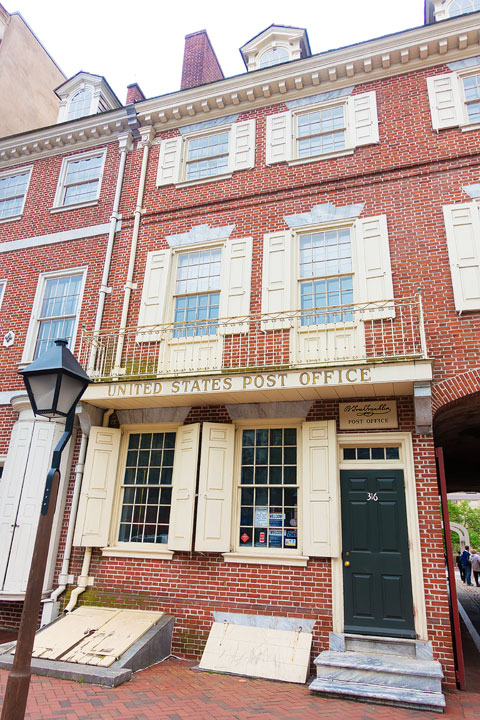 The First Post Office in the United States
Only in Philadelphia can you visit the very first Post Office in the United States. The postal workers here wear colonial-style clothing and use a quill and inkwell to write — a living portrayal of a bygone Colonial lifestyle. People come from all over to mail letters here, because letters mailed from this post office are hand-canceled with an exclusive postmark. Definitely send yourself a post card from here as a memento of your trip! One of the most popular things to do in Philadelphia is have your wedding invitations mailed from this post office!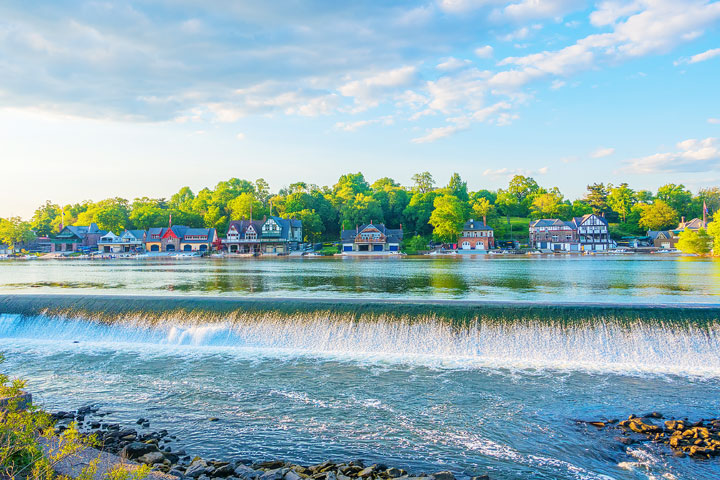 Boathouse Row
Boathouse Row is another unique historic site in Philadelphia.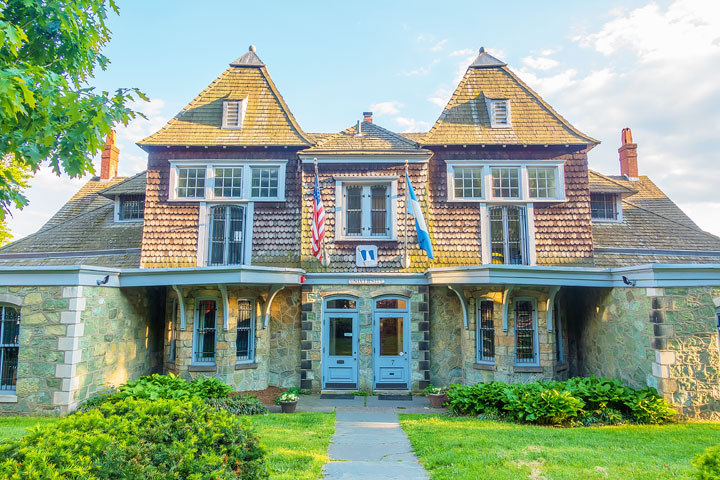 Located just west of the Philadelphia Museum of Art you'll find a row of 15 boathouses built in the 19th-century which house a variety of social and rowing clubs along the Schuylkill River. If you're looking for things to do in Philadelphia, this spot is perfect for an afternoon stroll!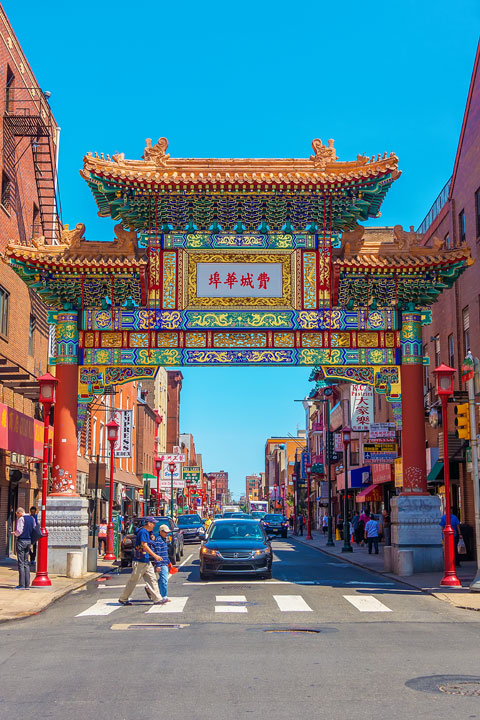 Chinatown
At the entrance to Philadelphia's Chinatown neighborhood stands the colorful 40-foot Friendship Gate. This international neighborhood features unique shops and the best Chinese, Korean, Vietnamese, and Thai food in the city!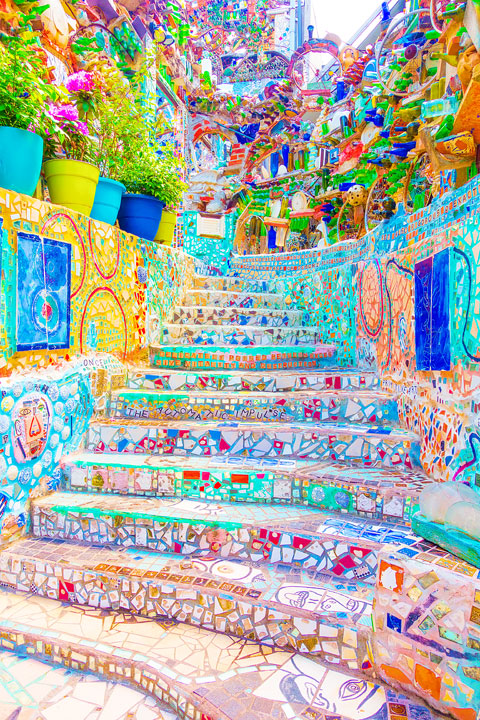 Philadelphia Magic Gardens
Another highlight of the trip was visiting the Philadelphia Magic Gardens. This is one of our favorite things to do in Philadelphia!!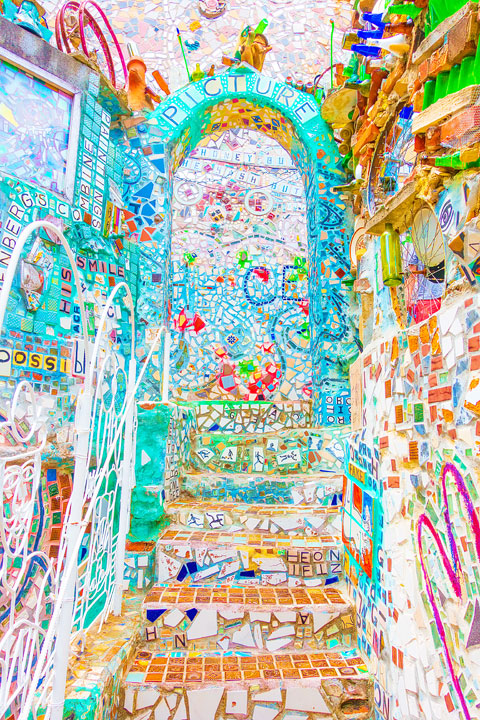 The Magic Gardens are a unique, vibrantly embellished outdoor art installation.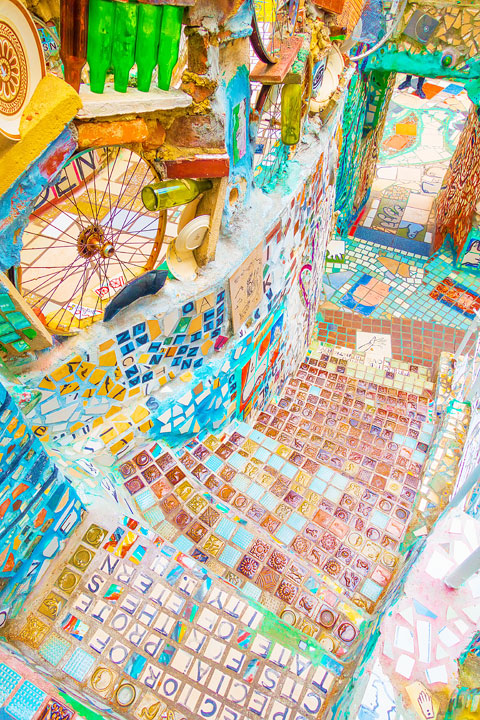 This labyrinth of colorful tiles spans three city lots which are completely covered in mosaic art.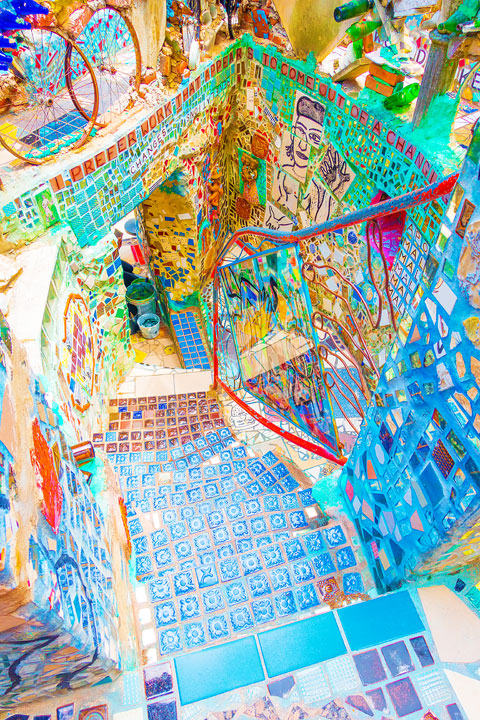 The man behind the mosacis is Isaiah Zagar, a local artist who began tiling Philadelphia's infamous South Street in the 1960s and never stopped.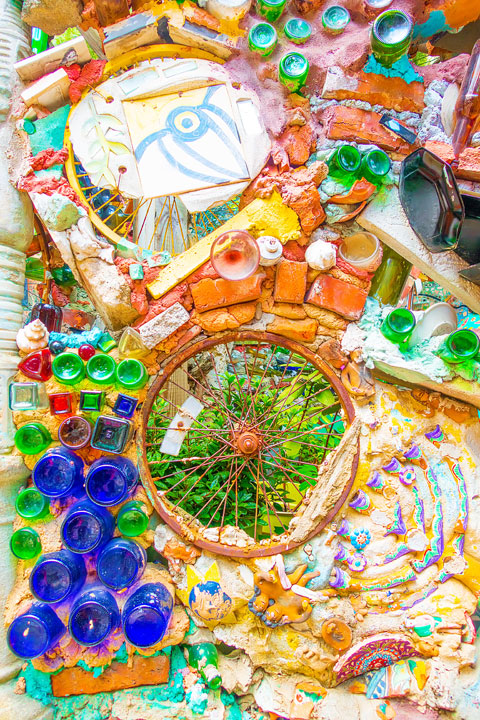 He constructed the space out of glass tiles, bicycle spokes, wine bottles, ceramic and other artistic knick-knacks.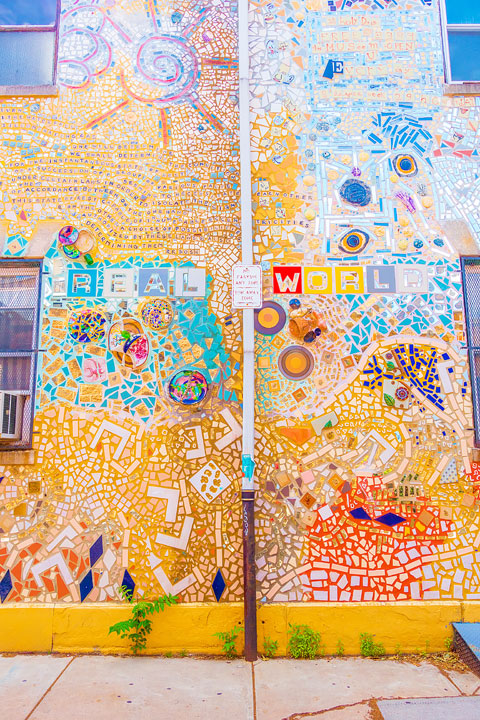 There is a small fee to enter the gardens, but you can see a lot of them from the outside, and even the walls around the garden are decorated as well!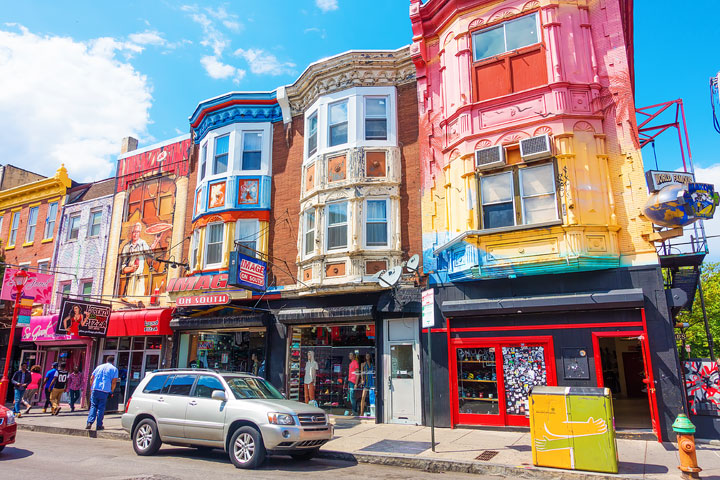 South Street
South Street is one of Philadelphia's most eclectic and lively neighborhoods. Known as the edgiest street in Philadelphia, South Street is a melting pot of groups and cultures. It's got personality & charm all its own with over 300 diverse shops and more than 60 restaurants, cafes and bars.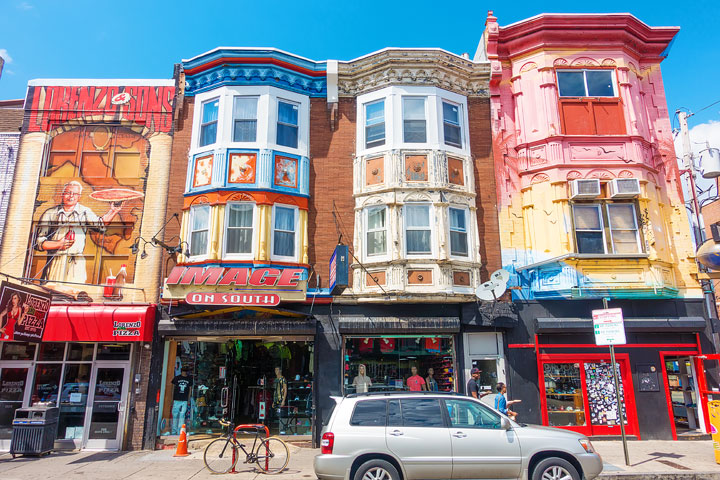 South Street is perfect for people watching — it's always buzzing with hip visitors and locals no matter if you visit on a Tuesday afternoon or a Friday night!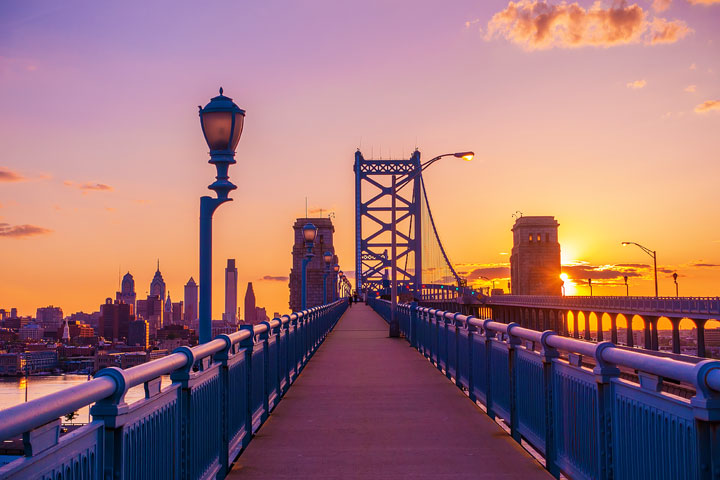 Ben Franklin Bridge
One of our favorite things to do in Philadelphia is walk across the Ben Franklin Bridge at sunset.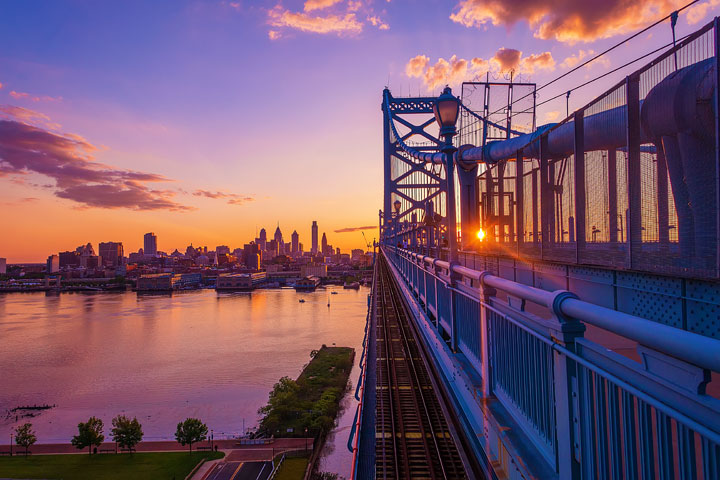 On one side of the bridge is Philadelphia, and the other side is New Jersey. We took an Uber across the bridge to New Jersey and walked back to Philadelphia to work up an appetite for dinner. Stunning views of the river and Philadelphia skyline at sunset!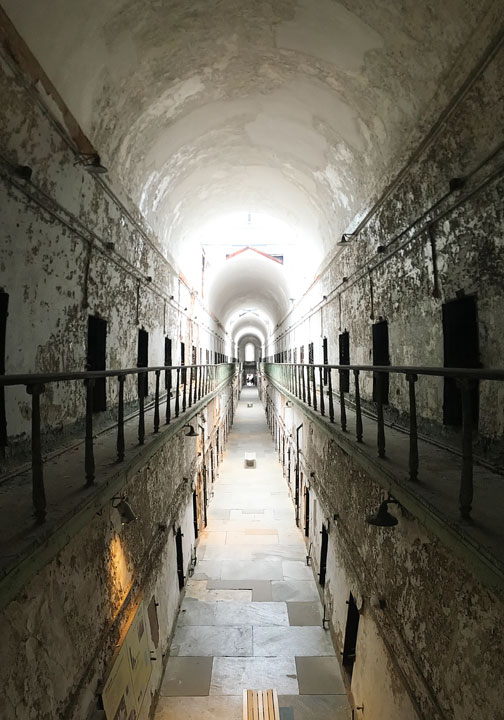 Eastern State Penitentiary
This is one my favorite things to do in Philadelphia! The audio tour takes around 45 minutes and is narrated by Steve Buscemi.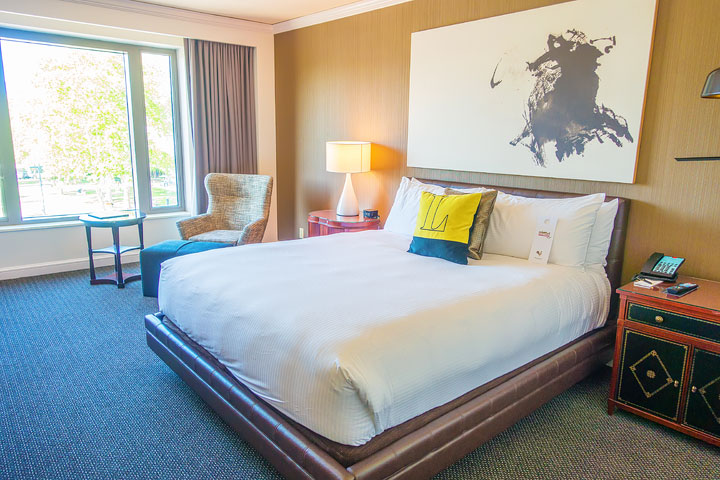 Philadephia Hotels
Looking for the best place to stay in Philadelphia? Check out our review of The Logan Hotel in Philadelphia.
---
Getting Around in Philadelphia
We loved walking all over Philadelphia everywhere we could, but sometimes you just need a taxi. Thank goodness for Uber! Have you heard of Uber?? It's your own personal, private car service and it's cheaper than a taxi. All you do is download the Uber app, and it will show you where drivers are near you, and tell you how long it will take for a car to get to you.
Uber is available in most cities worldwide and usually a car can be there in less than 5 minutes. You even set your destination through the app so you don't have to worry about your driver not speaking English or not knowing where to take you.
No need to wait outside in the cold, heat, or rain for a taxi — the app sends you a notification when your driver is getting close, and another notification when they have arrived.
You can add a credit card or Paypal account to your Uber account, so you never to worry about paying the driver. It's all done through the app — no money exchanges hands. You get in the car, the driver takes you to your location, and you get out. No fumbling with paying, you can just get out and leave!
Tip is even included. It says so on their webpage that it's built into the price of the service. So much easier than a taxi! Uber is seriously the fastest, best, and safest way to get around in Philadelphia!
---
Like this post? Save it on Pinterest!