If you're thinking about paragliding in Turkey, be sure to read this first! Here's what to expect and tips you should know before you go.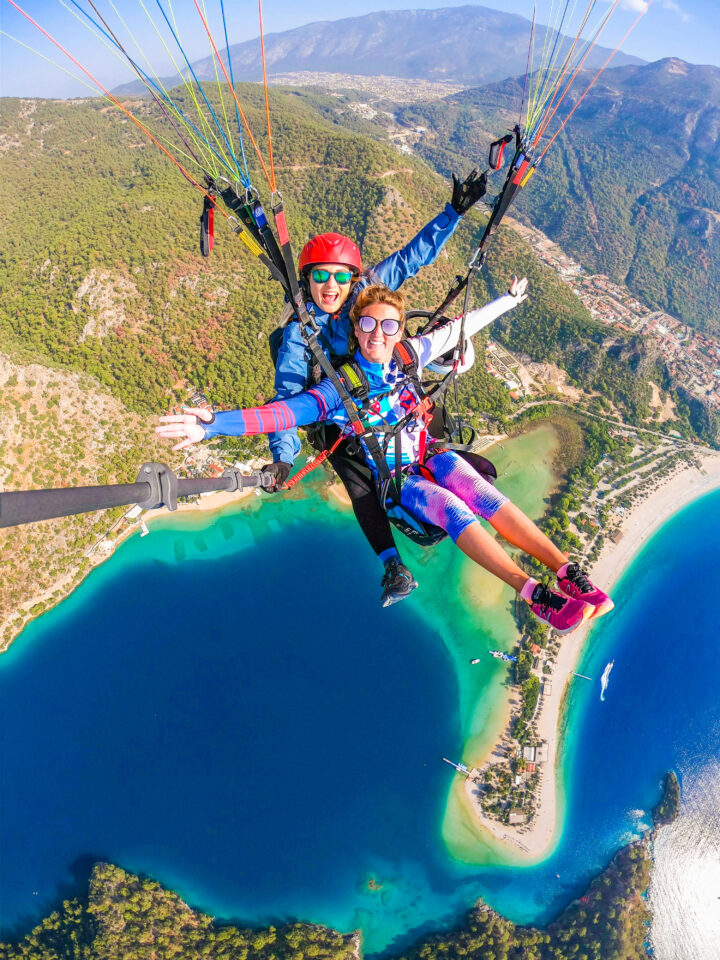 Oludeniz Paragliding
If you want an unforgettable a paragliding adventure, it's no exaggeration to say Oludeniz Beach near Fethiye, Turkey is one of the BEST places in the word for paragliding. First of all, Babadag Mountain is one of the highest commercial launch sites in the world for paragliding. Not only is it high, but you'll have breathtaking panoramic views as you soar over one of the most beautiful beaches in Turkey, the spectacular blue and turquoise Oludeniz Beach. And finally, a mild climate and stable weather conditions in southern Turkey mean less cancellations due to bad weather.
Is paragliding in Oludeniz safe?
If you book with a reputable company, like YinYang Travel, paragliding in Turkey is perfectly safe. There are no freefall drops, just gentle floating in the air. Likewise, landing on the Oludeniz Beach is as easy as taking off from Babadag Mountain. There is no rapid delcine, just a gentle touchdown. You will also be provided with a helmet for take-off and landing.
Experienced Pilots in Turkey
All pilots at YinYang Travel are professionals with years of paragliding experience from Babadag Mountain to Oludeniz Beach, so a tandem flight with these professional pilots is completely safe. In high season they are flying up to 5 times per day!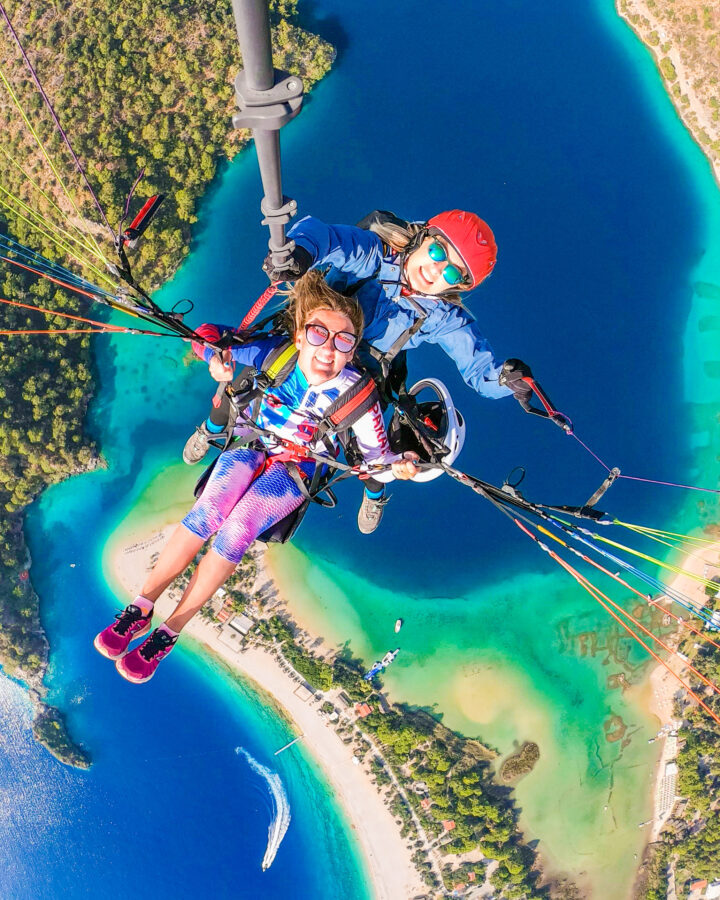 How much does a tandem paragliding flight cost in Turkey?
You can expect to pay around $80 USD for paragliding at Oludeniz Beach in Turkey. This should include your photos and videos, shuttle to the launch site on Babadag Mountain, full insurance, an experienced pilot, and helmet. If you book in person when you arrive in Oludeniz, be prepared to negotiate the price, and make sure it includes the photos! The time of year and even the time of day will determine how much you can negotiate. Mid-morning and early afternoon departure times will be cheaper than sunset flights. Summer will be busier and more expensive than fall and spring.
How high is the mountain in Oludeniz?
Babadag Mountain is one of the highest commercial launch sites in the world for paragliding! The take-off site for paragliding over Oludeniz Beach starts at a height of about 6,500 feet (1,960 meters)!! But don't worry, you don't have to jump from a height of nearly 1.25 miles, you simply run a few steps and you'll start to gently float in the sky. Likewise, landing on the Oludeniz Beach is as easy as taking off from Babadag Mountain. There is no rapid delcine, just a gentle descent and landing.
How long will I be in the air?
Total airborne time for paragliding at Oludeniz Beach is about 25-30 minutes. During this time you'll soar gently over the famous Blue Lagoon with breathtaking views of the surrounding landscape. If you want more excitement, your experienced pilot can thrill you with exciting 360 degree spins. Your pilot might even let you use the controls ALL BY YOURSELF to make spins and turns! It is a truly unforgettable tandem paragliding experience!
What do I need to wear?
For your comfort and safety, here's what you should wear when paragliding in Turkey:
Comfortable clothing
Sturdy and comfortable shoes (sneakers or hiking boots)
Sunglasses
Even during the summer it's cooler up in the air, so dress a little warmer than you would on the ground. I went in November and wore leggings, a long sleeve t-shirt, a light jacket, and running shoes.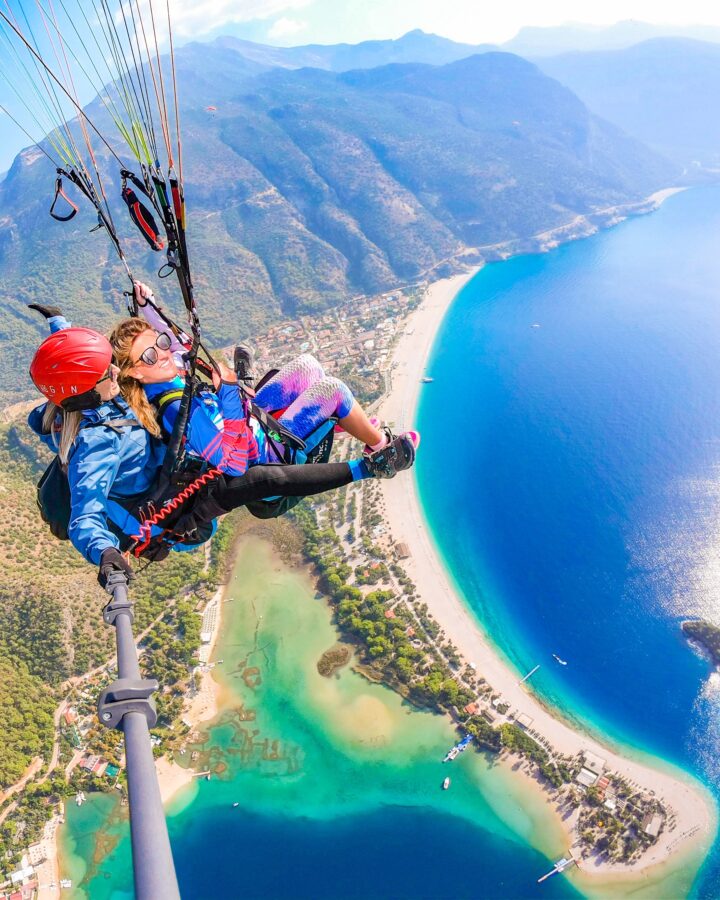 What do I need to take with me?
Don't forget to bring sunglasses! Other than that, you don't need to bring anything with you. The experienced pilots will take all your photos and videos for you. They will bring a professional GoPro camera and take pictures from all the best angles. They will even let you hold the camera and take your own pictures if you want!
Do I need any training or experience to fly?
Absolutely no experience is required for tandem paragliding, everything is under the control of a professional and experienced pilot.
Which Is The Best Paragliding Company In Oludeniz?
There are many paragliding companies in Oludeniz Turkey, but you definitely want to make sure you choose a reputable one. We had a great experience with YinYang Travel. The pilots were friendly, professional, English-speaking, and took amazing photos. We felt very safe and in good hands with them from start to finish. You can check out their website for online booking.
Oludeniz Paragliding Video
Watch this short video to see what paragliding at Oludeniz Beach is really like!!
(If you can't see the video, you might need to temporarily disable ad blockers)
Questions about paragliding in Turkey?
If you have any questions, please let us know in the comment section below! We are happy to help in any way.
Like this post? Save it on Pinterest!