If you're planning a trip to Quebec City and want to experience the ultimate winter vacation, here are 10 snowy winter activities you can do that will make your trip totally unforgettable!!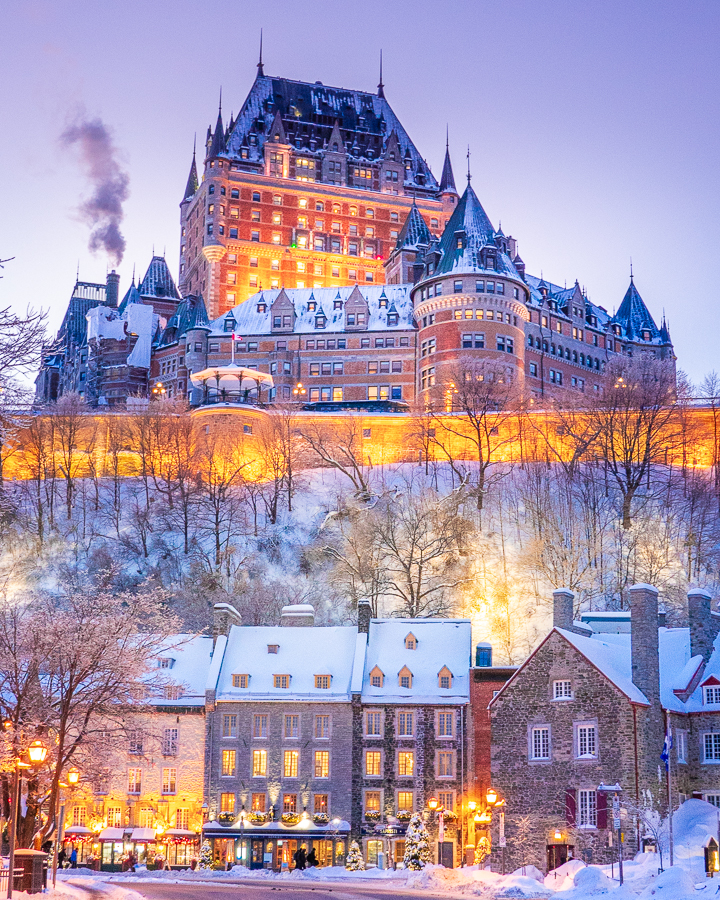 Keep reading below for all the best things to do in Quebec City in the winter!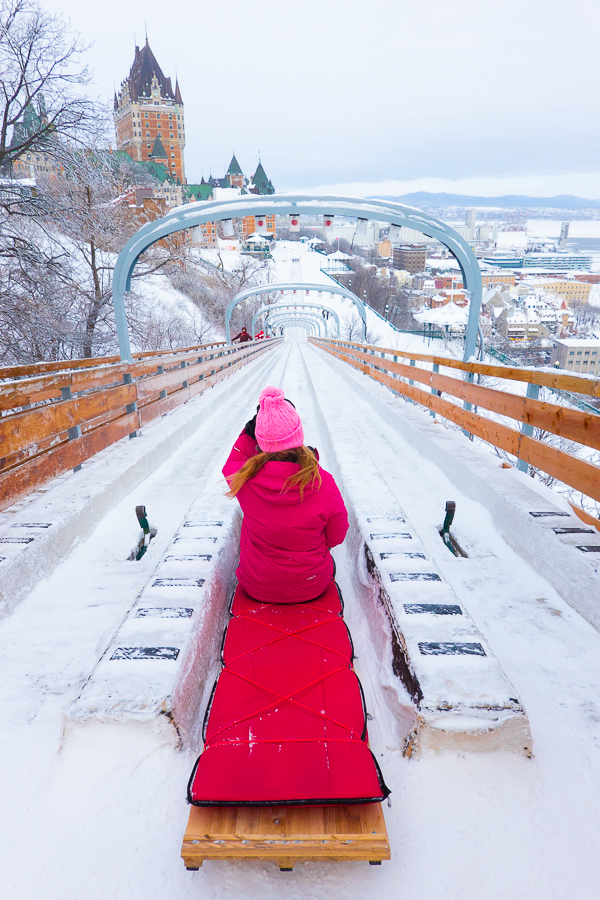 1. Go Sledding in Quebec City
This traditional toboggan slide is one of the oldest attractions in Quebec City! It started in 1884, so it's even older than the Chateau Frontenac! Flying down the ice, you can reach speeds over 40 mph! You can ride up to 4 people per toboggan, or you can go separately and race each other! But the more weight you have, the faster you'll go ;)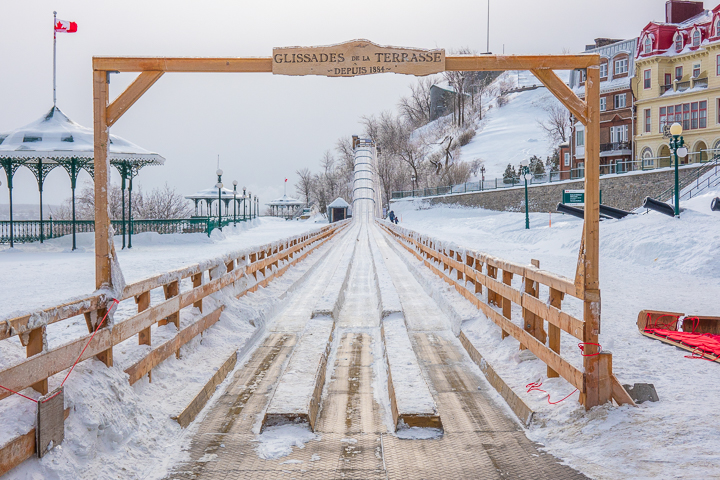 It's located on the terrace right in front of the Chateau Frontenac.
Check out their official website for more information: Au 1884 Toboggan Slide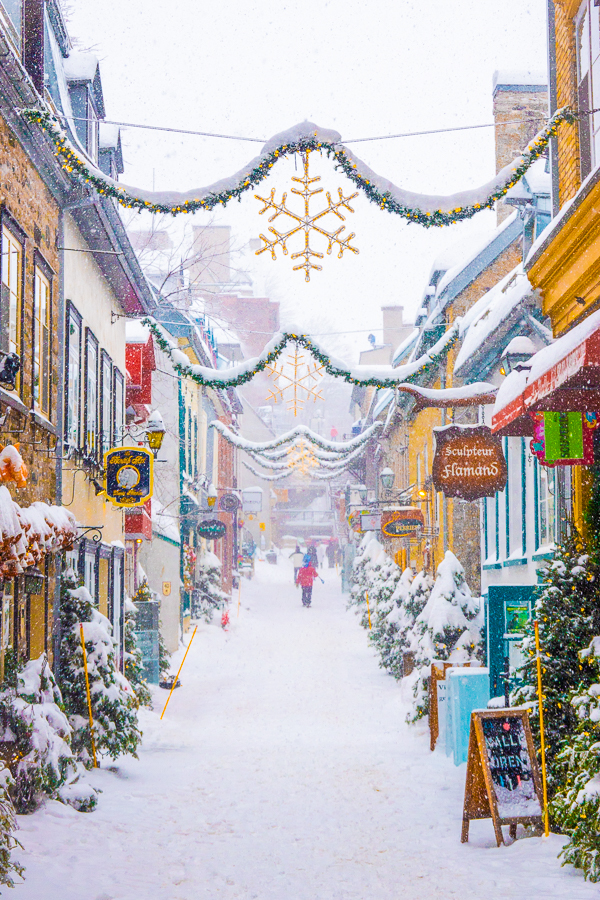 2. Wander the Charming Streets of the Petit Champlain
Beneath the Chateau Frontenac, along the river is a picture-perfect neighborhood that looks like something straight out of a fairytale.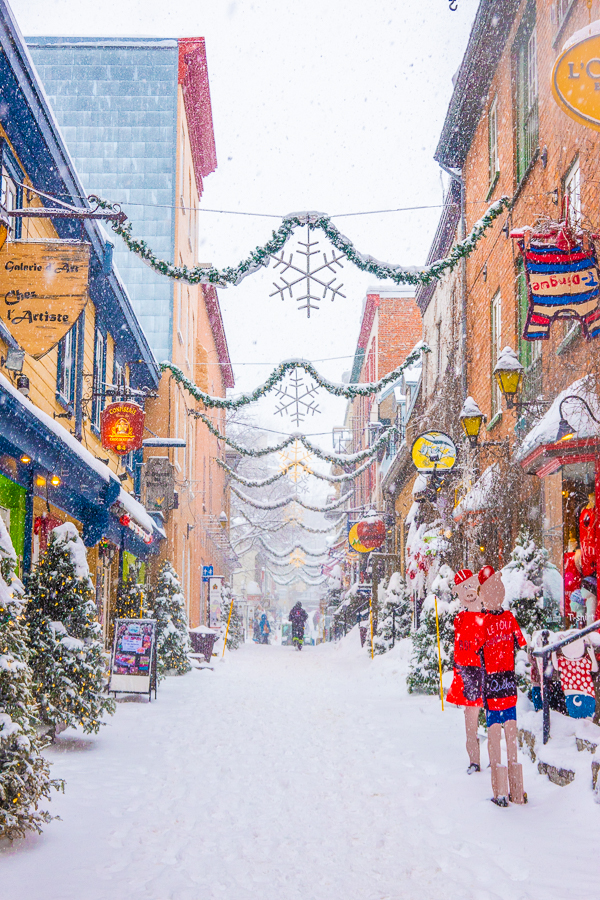 The colorful, historic streets lined with twinkling lights, cute boutiques, and cozy bistros. It's the perfect place to wander and get lost. If you visit during Winter Carnival, all the shops have intricate ice sculptures out in front!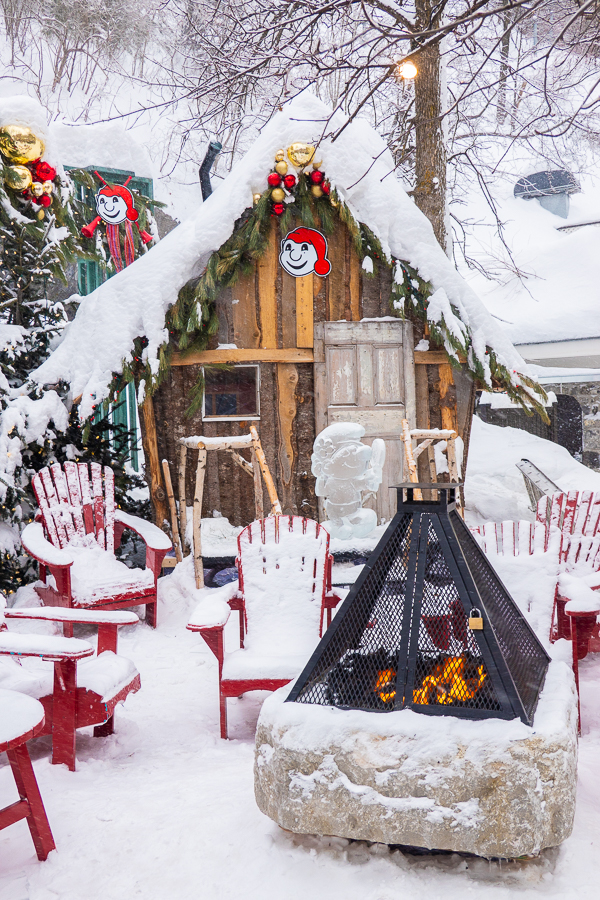 There are even little areas to cozy up by the fire.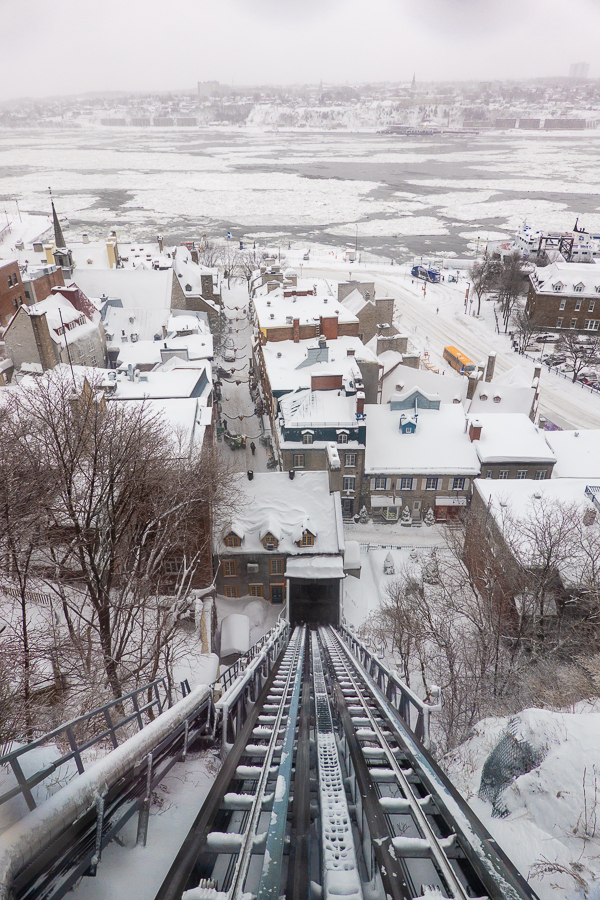 You can take the funicular from right in front of the Chateau Frontenac straight to the heart of the Petit Champlain neighborhood.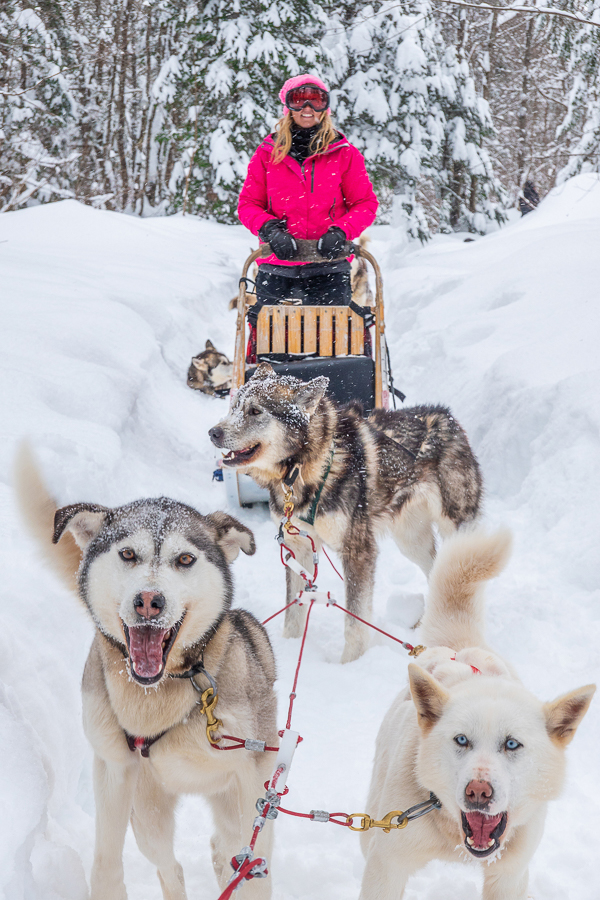 3. Experience Dog Sledding in Quebec City
Dog sledding through the snowy forest in a magical winter wonderland was one of our favorite experiences in Quebec City!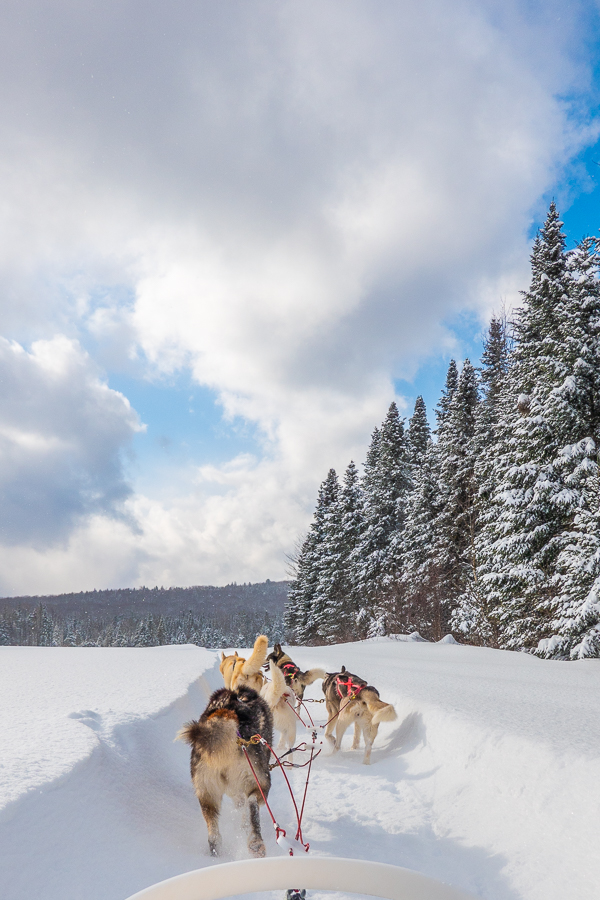 At Au Chalet En Bois Rond, you get a 1 hr 30 minutes dog sledding ride, with a photo break, puppy meet and greet, and hot chocolate waiting for you when you return!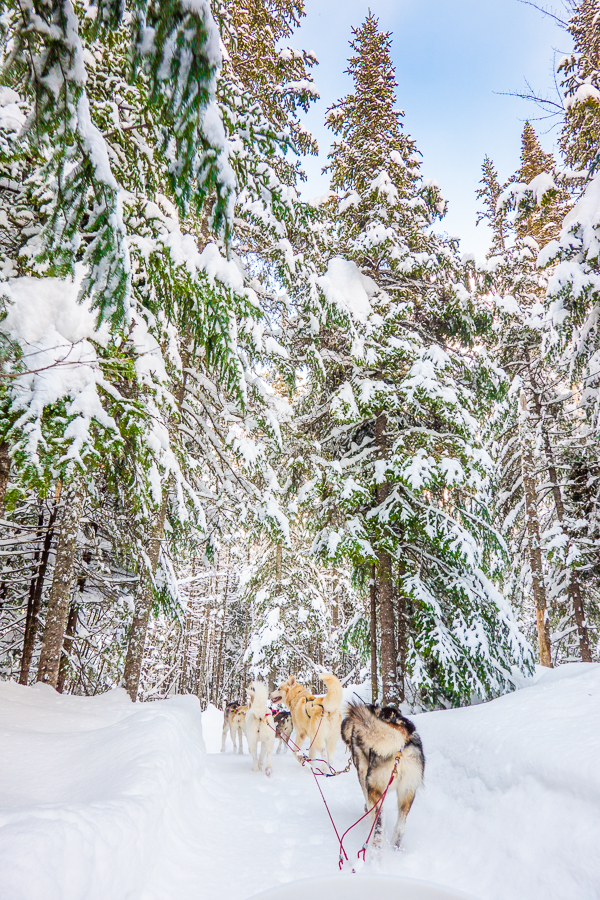 You even get to drive your own dog sled!! There are 2 people per sled, and you can be the driver or the rider.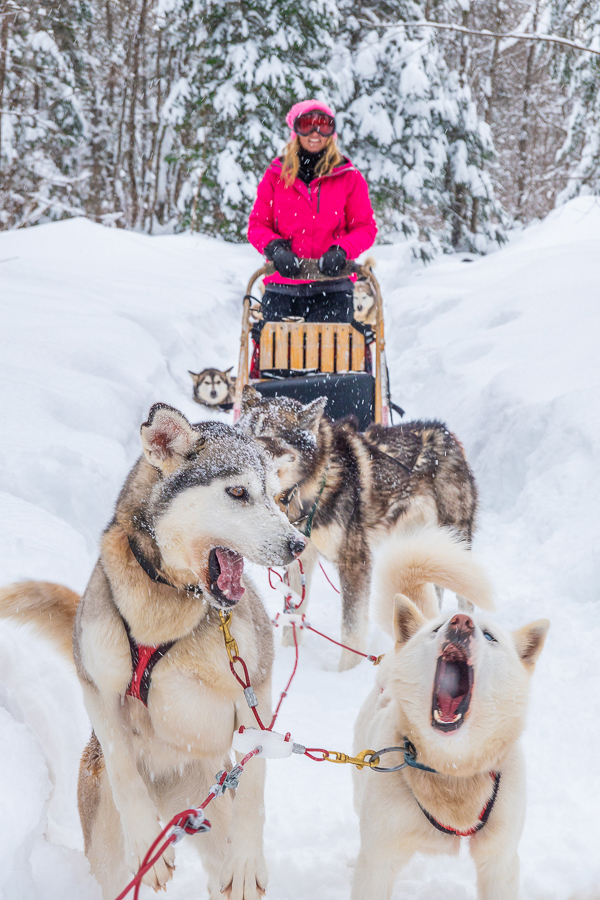 You could tell the doggies were having SO much fun! Before we left they were jumping and barking like, "Let's go!!!!" They were so excited to run!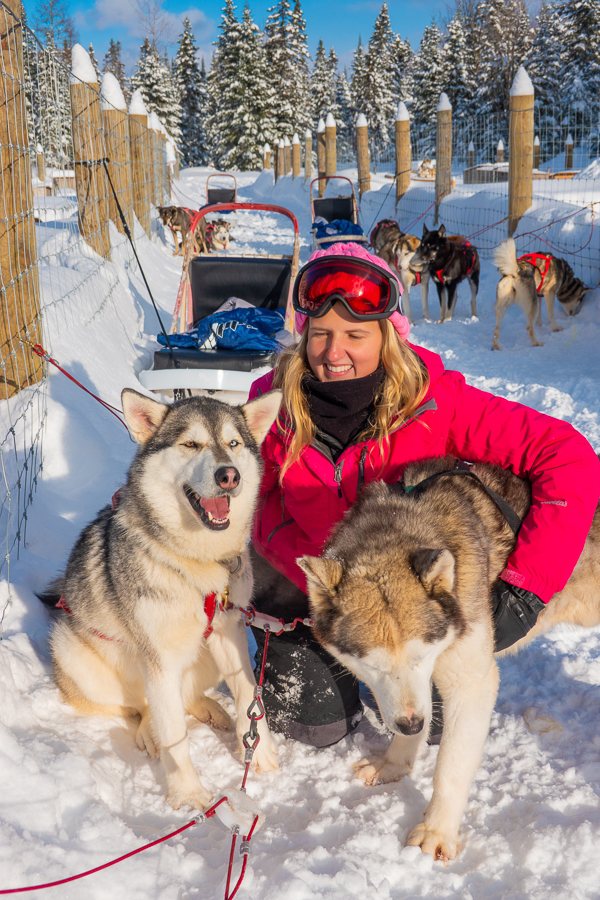 How sweet are these handsome puppies??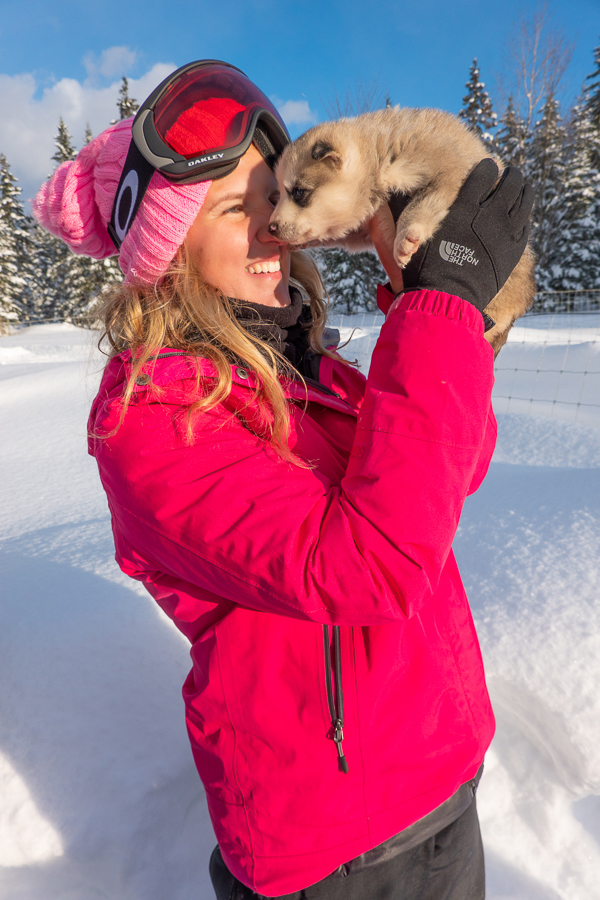 I even got to meet a precious tiny 2-week old baby husky puppy! I was so in love with this little miracle pup! His name is Lazarus because when he was born the guides didn't think he was going to make it… He was blue and not moving… But they performed CPR on his tiny little body and he came back to life! He is thriving now!! He is such a a sweet, cuddly little puppy!
To reserve your spot, visit their website for more information! Au Chalet En Bois Rond Dog Sledding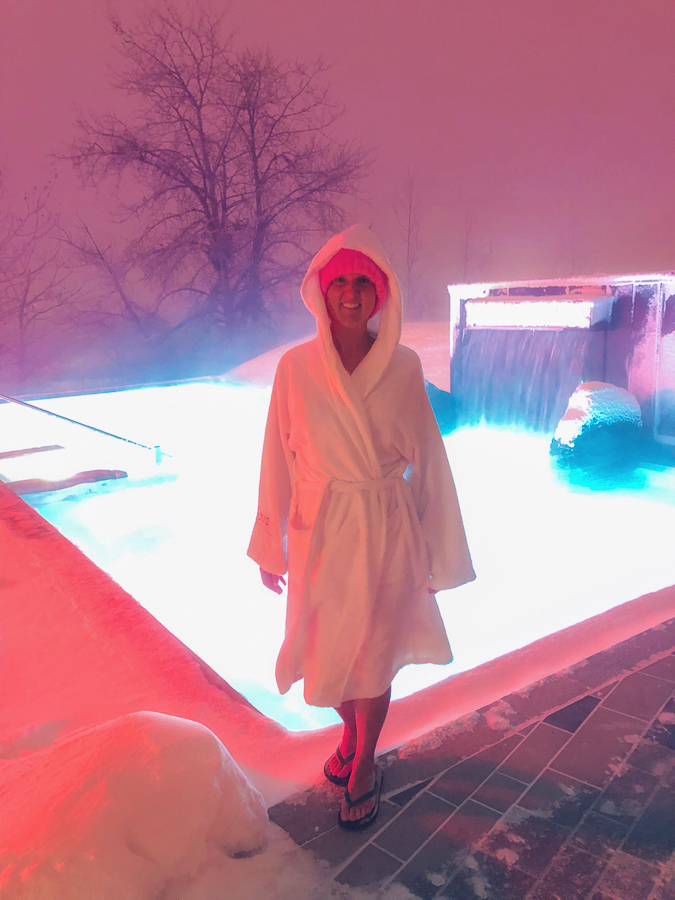 4. Warm up at a Nordic Spa
Have you heard of a Nordic Spa? Traditional Nordic hydrotherapy is a centuries-old Scandinavian relaxation method that is just now starting to become extremely popular in North America. Quebec is known for its incredible spa facilities and is a top-rated destination for Nordic spas. If you're visiting Quebec City and have never tried a Nordic Spa, this is definitely the place to do it!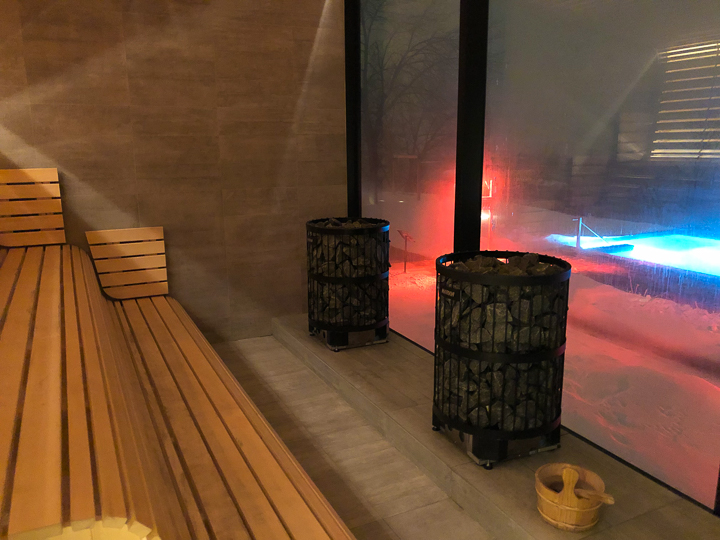 A typical Nordic spa will offer wood-heated saunas, hot tubs, steam rooms, cool pools, relaxation rooms, and more. The idea is to go from hot to cold — from a hot steamy sauna to a cool pool. For me, just stepping out in the fresh winter air was cool enough for me! This unique thermal therapy is said to help relax the muscles, improve sleep quality, and stimulate the immune system.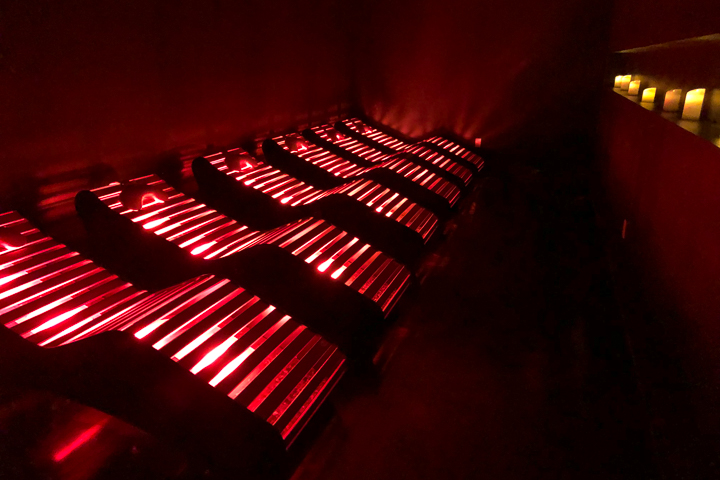 Here is an example of one of the treatment rooms. Just 20 minutes relaxing on these infrared therapy beds is said to stimulate the metabolism, reduce cellulite, and and firm the skin!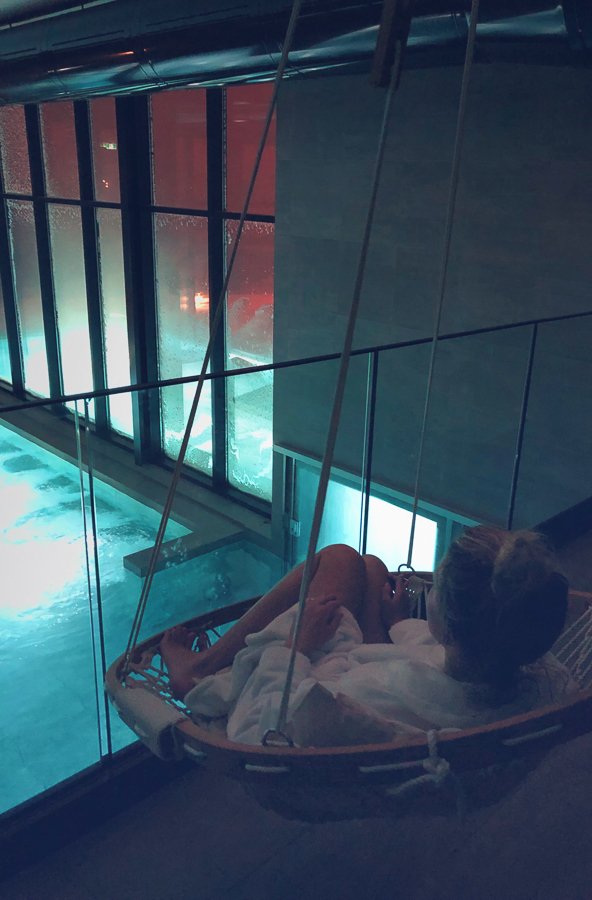 We did the Thermal Experience at Strom Spa in downtown Quebec City. It was the perfect way to relax and warm up after a full day of sight-seeing in the cold!
Visit their website for more information: Strom Spa Quebec City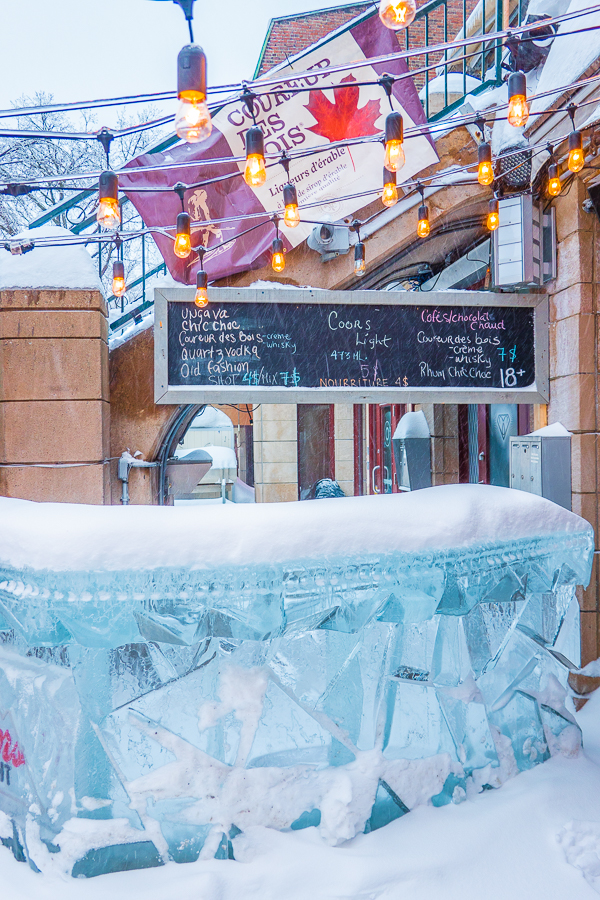 5. Have a Drink at an Ice Bar
The Grande Allée is one of the most popular streets in Quebec City. It's lined with sidewalk restaurants, cafés, and beautiful architecture. It's very well known for its nightlife and is a popular spot to go out for dinner.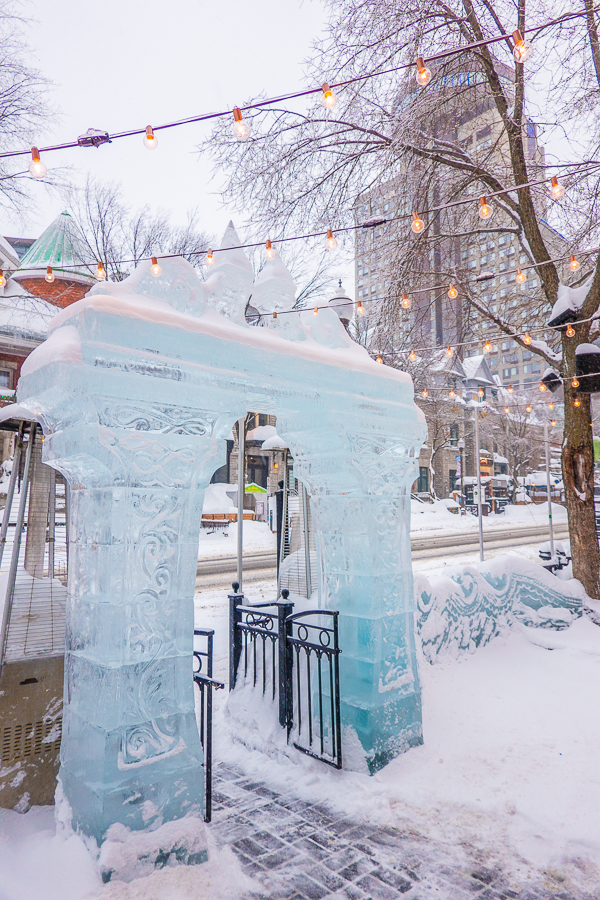 In the winter (especially during Winter Carnival) many of the restaurants have outdoor ice bars!!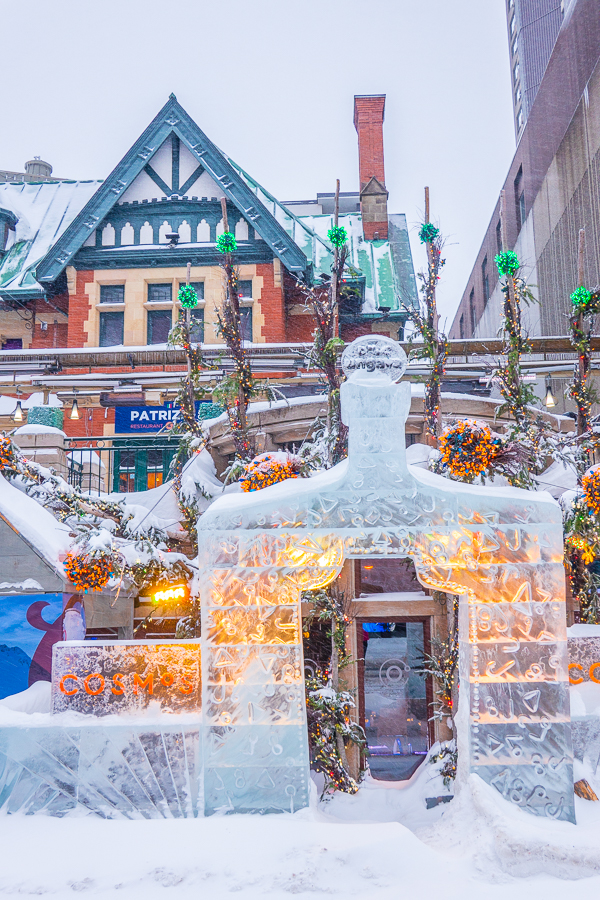 How fun would it be to have a drink in an outdoor ice bar?? Definitely a unique Quebec experience!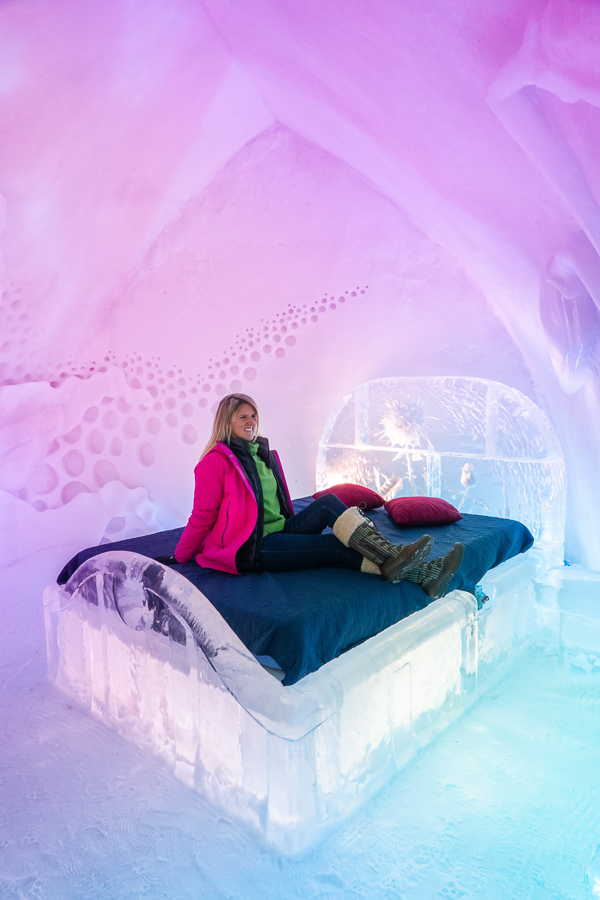 6. Spend the Night at an Ice Hotel!
Did you know there is a hotel in Quebec made completely out of ice??! If you're looking for a unique, once-in-a-lifetime experience, you have to visit the Ice Hotel! It's like something out of a fairytale!!
See this post for more info: Spending A Night At The Ice Hotel In Canada!
7. Turn water into snow!
Did you know that when it gets cold enough you can throw boiling water into the air and it will turn immediately into snow??! Yes, it seriously works!!! Watch the video above!!
I was so excited to try this in Quebec City… It never gets cold enough where I live!! It was around 10-14 degrees F when I tried this. If you're not sure if it's cold enough, don't throw the water over your head at first!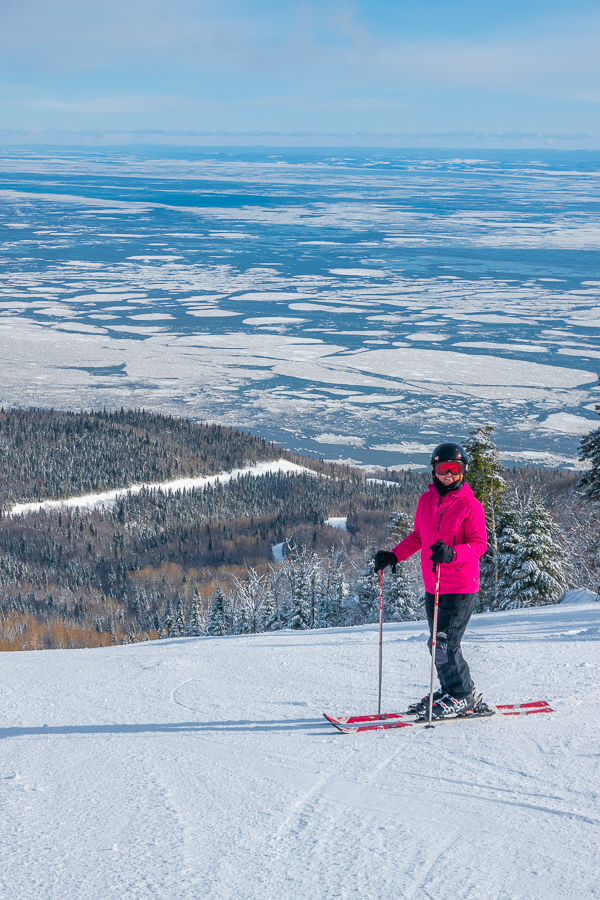 8. Go Skiing at the Best Ski Resort Near Quebec City
If you're headed to Quebec City and want to go skiing, everyone told us Le Massif de Charlevoix is the best ski resort near Quebec City. And there's so much more to do there than just skiing! If you want to ski in Quebec City, definitely check them out!
Visit their site for more info: Le Massif de Charlevoix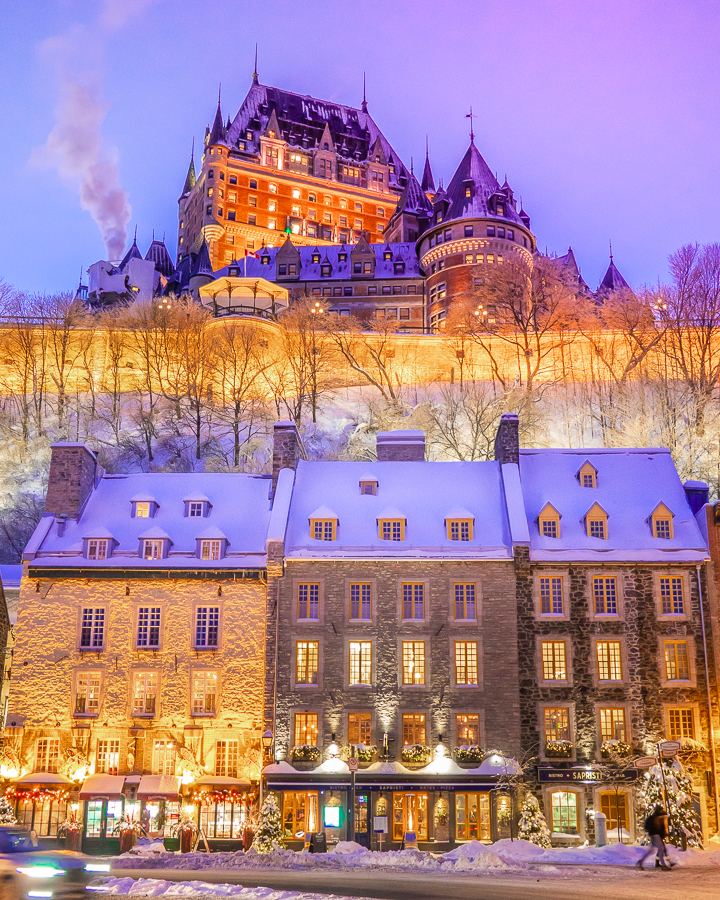 9. Stay at the Iconic Chateau Frontenac
The Fairmont Le Château Frontenac is the most famous landmark in Quebec City. This historic hotel looks like a fairytale castle. It opened in 1893, and the design was inspired by the medieval castles found throughout the Loire Valley in France. The Château Frontenac is the most photographed hotel in the world.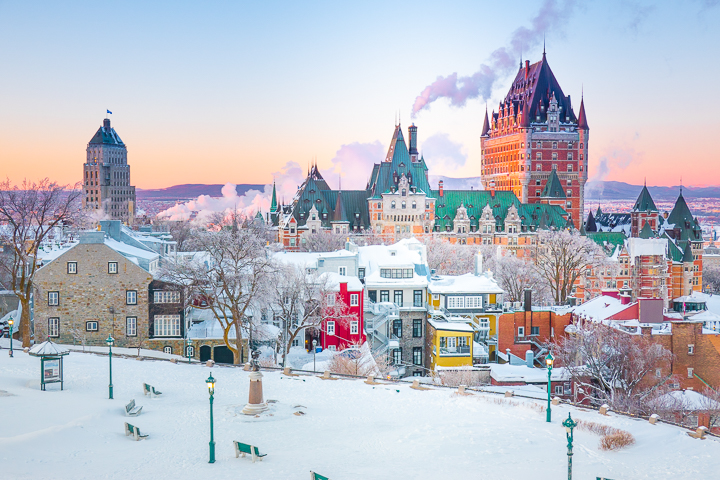 Head up to the terrance in front of the Citadel for the best sunset view of Quebec City with the Chateau Frontenac and Saint Lawrence River in the background.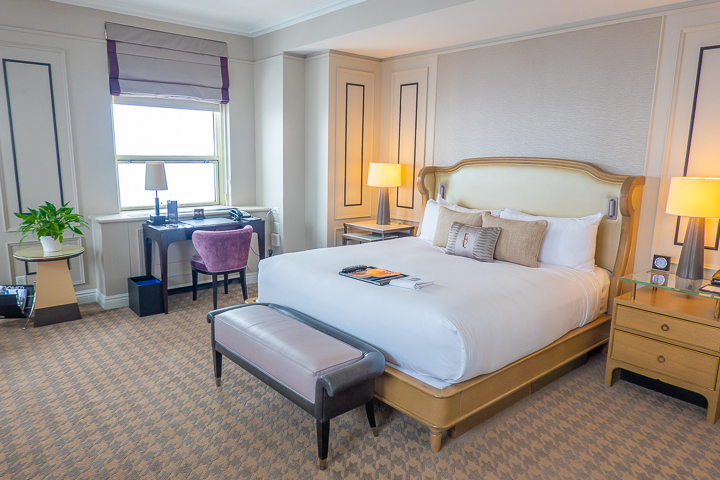 There are 18 floors and 611 guest rooms and suites in this legendary castle. Here's a peek at the Grace Kelly suite!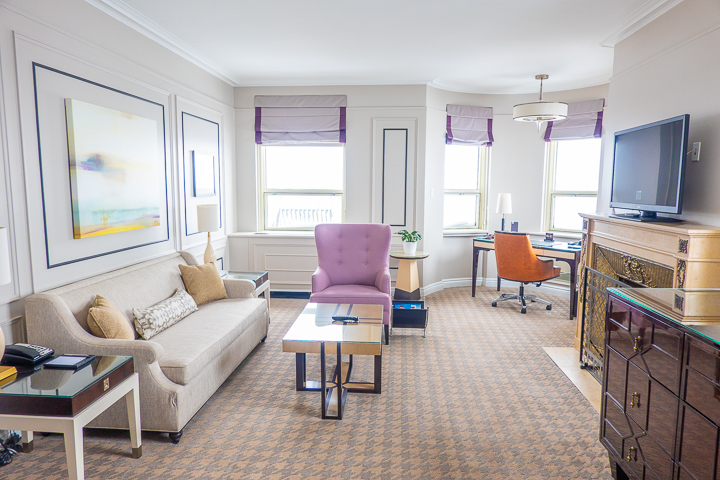 The Chateau Frontenac is extremely well located. All the best things to do in Quebec City and all the best places to eat are centered around the Chateau!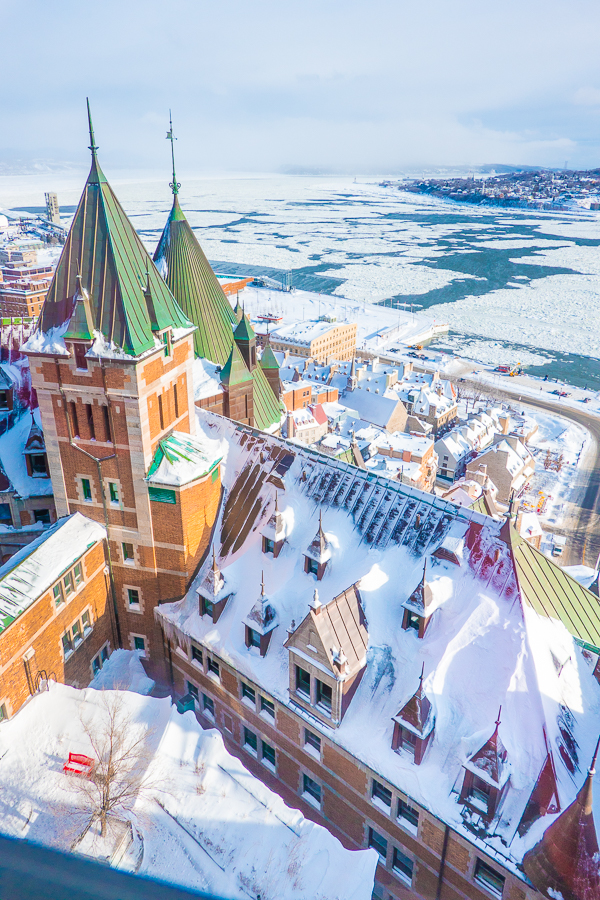 The view from our room over the snowy castle and frozen Saint Lawrence river was amazing!!! We had a massive snowstorm one night and I could've sat there all night watching the snow silently fall.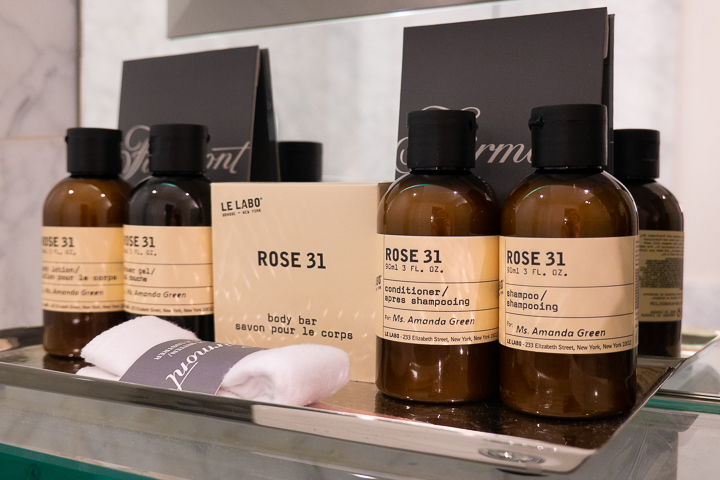 And how fun is this?? The toiletries in the bathroom were personalized with my name!!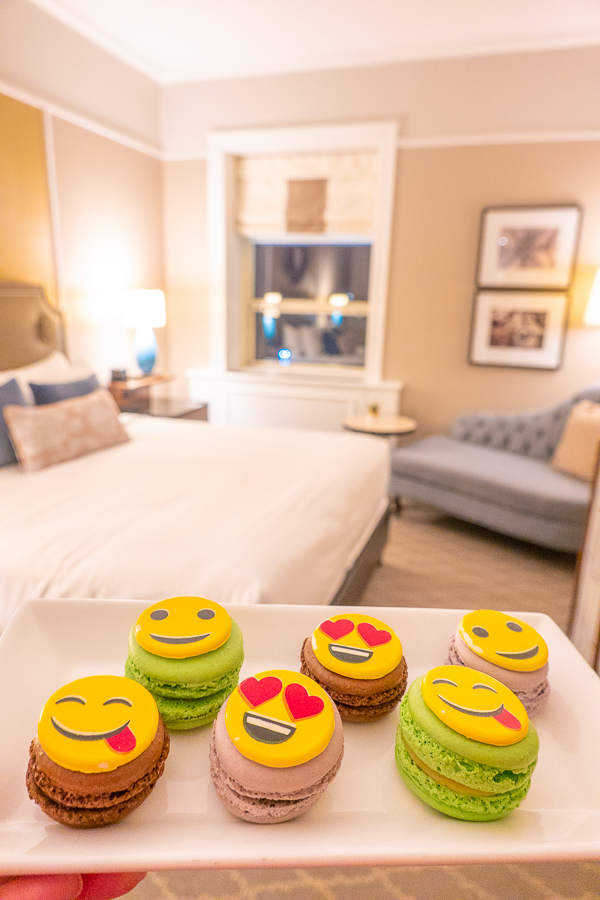 LOVED these emoji macarons!!!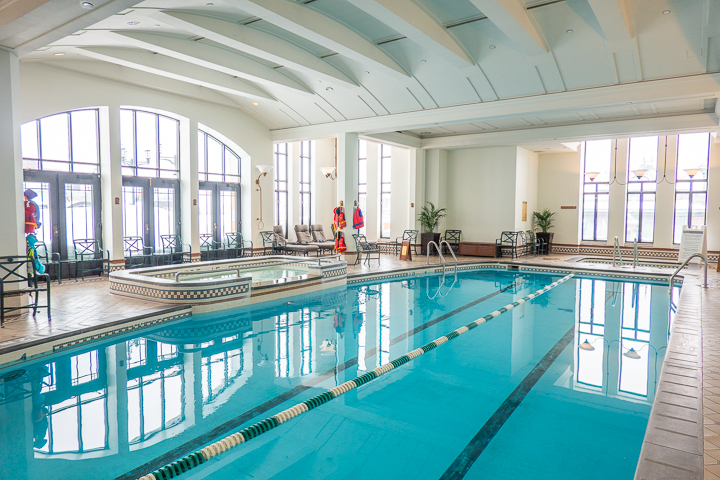 After a cold winter's day sight-seeing in the city, you can relax in the hotel's beautiful pool and hot tub.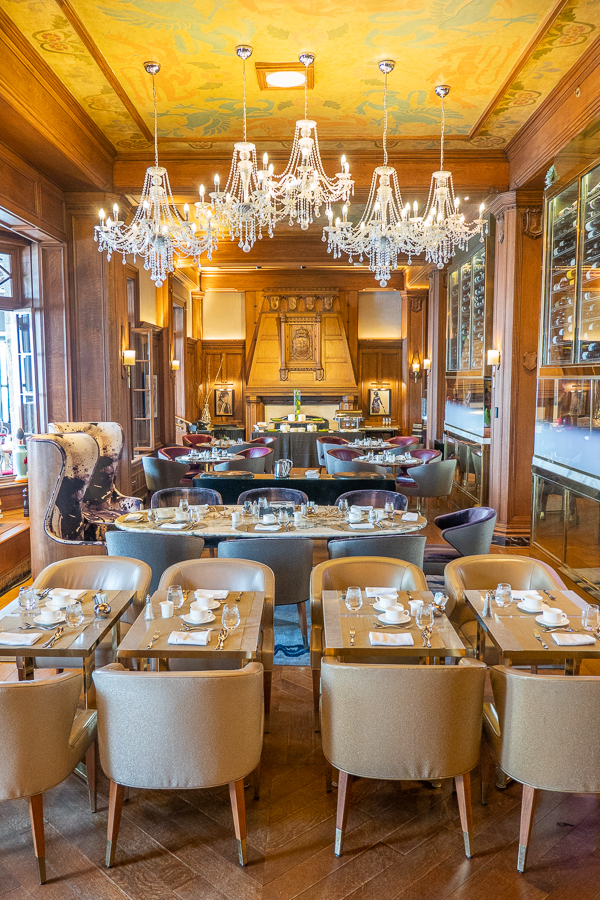 Or dine in one of the hotel's four top rated restaurants.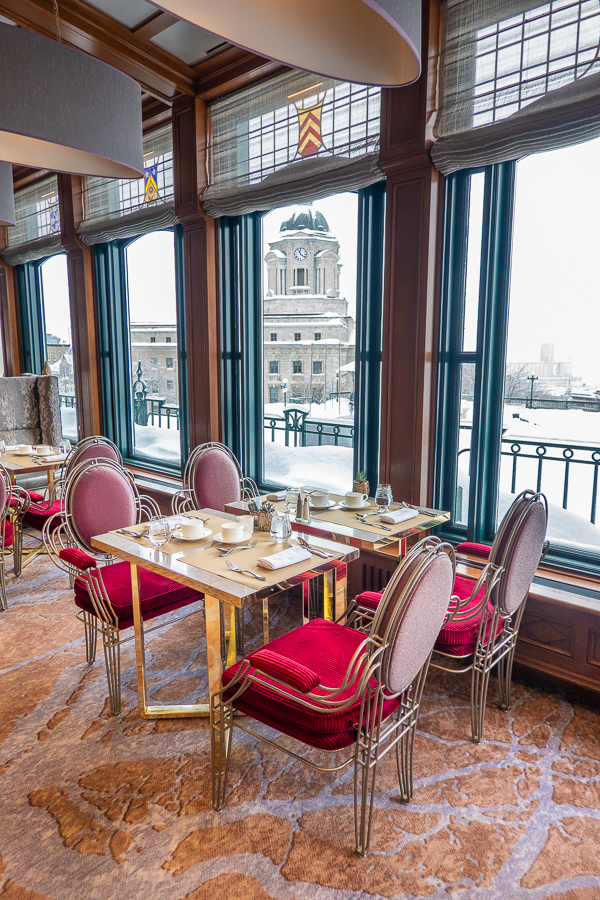 All of the restaurants have breathtaking views of the Saint Lawrence River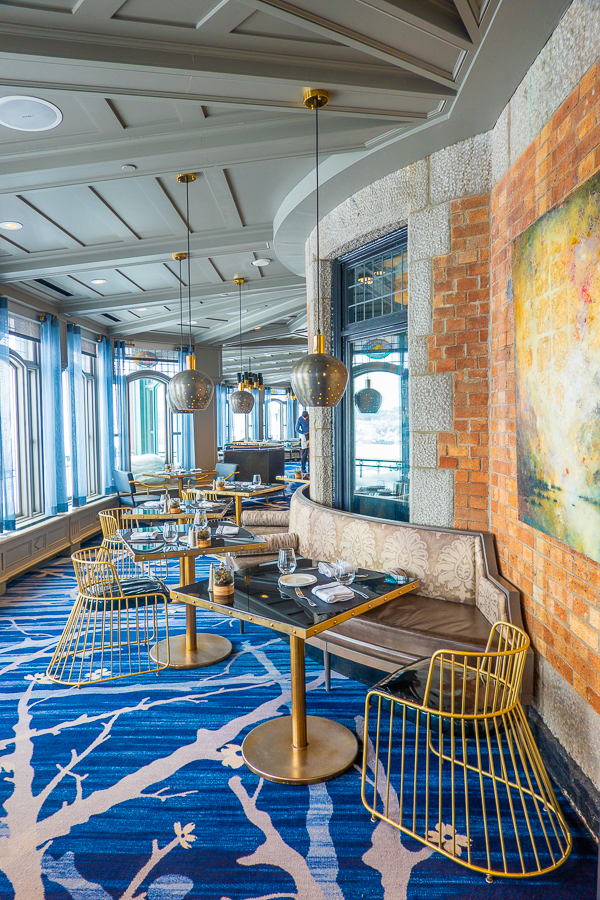 And incredible architecture!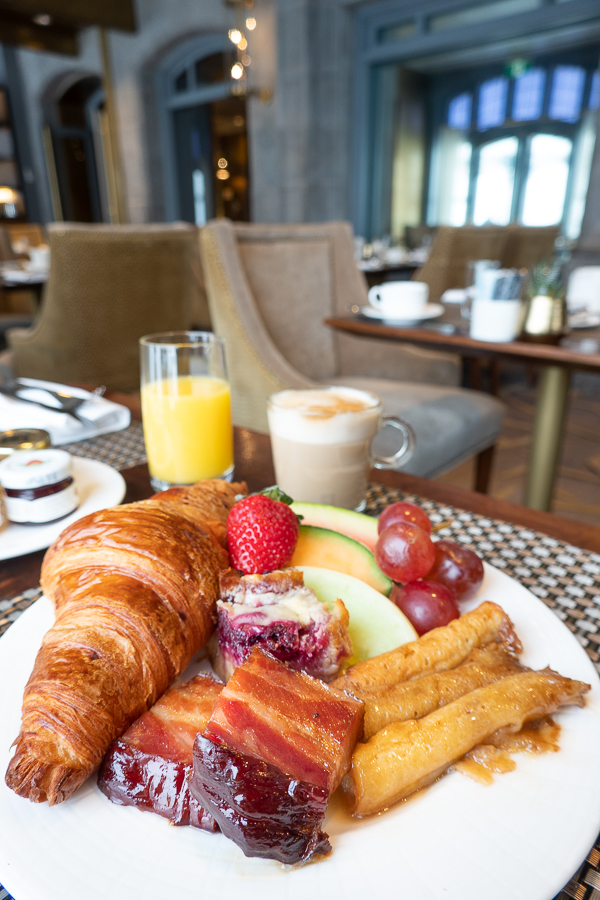 Breakfast at the Chateau Frontenac was one of my favorite parts of the day! One morning we were there a sweet man at the table next to us was celebrating his 100th birthday with his 5 children. What a gorgeous place to celebrate such a special occasion!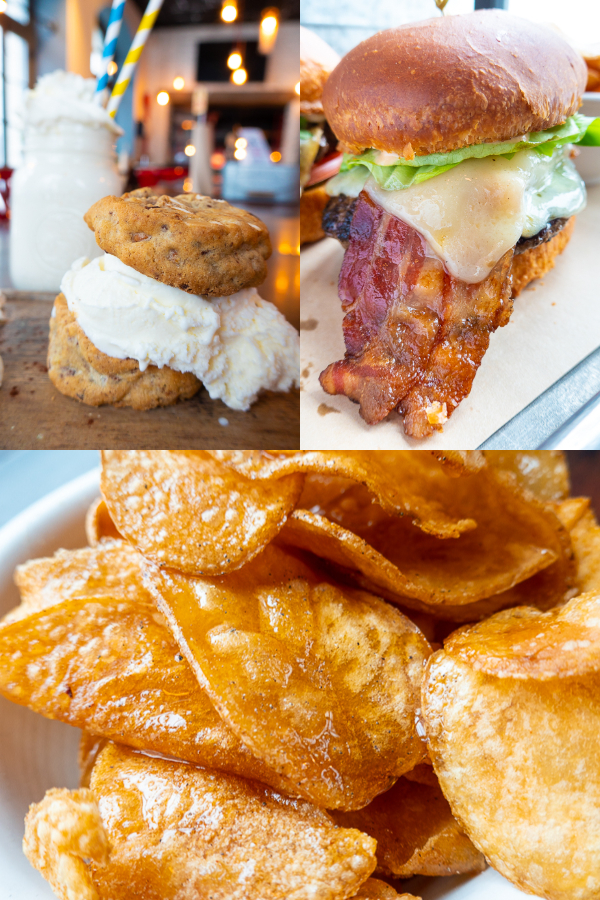 10. Eat Maple Syrup Everything!
Maple syrup is an essential staple of traditional Quebec cuisine! Canada produces 85 percent of the world's maple syrup, and Quebec is one of the foremost maple syrup producing regions.
You can get maple syrup everything in Quebec, from cookies, to ice cream, caramel and spreads, candies, fudge, and SO much more!
One of the BEST THINGS I have ever eaten were the Maple & Pepper homemade chips from Le Chic Shack!
We also tried the burger with maple bacon and a Salted Caramel Maple Milkshake!!! I would seriously go back to Quebec City in a heartbeat just for those maple chips!! SO good!! Don't miss them if you're in Quebec City! Le Chic Shack is right by the Chateau Frontenac.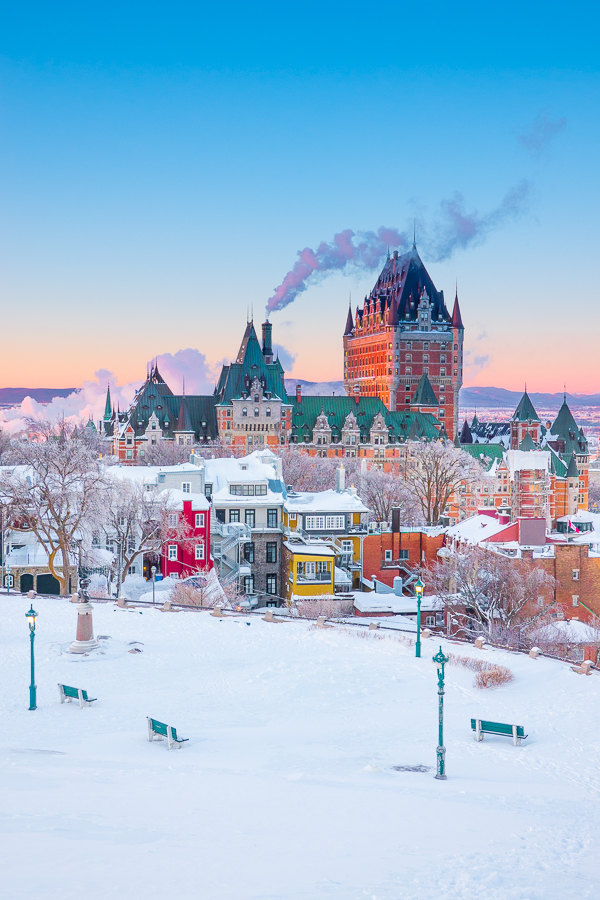 How To Dress for Quebec City Weather?
I'm from somewhere very warm where it hardly ever even snows, so I had no idea how to dress for a snowy Quebec winter! To stay warm and dry in extreme temperatures, you want to follow the three layer rule:
First Layer
The first layer needs to be warm, but also able to wick moisture away from your body. Here's what I wore:
Fleece lined yoga pants
100% merino wool base layer shirt
100% wool socks
Second Layer
The second layer needs to insulate you and keep you warm. I wore:
Jeans
wool sweater
Fleece turtleneck long sleeve shirt (on top of the sweater)
Third Layer
The third layer is to keep out the wind, rain, and snow. I wore:
Northface down jacket
Gore-Tex rain jacket on top of that (because the down jacket wasn't water/wind proof)
Insulated ski pants for outdoor activities (like skiing, dog sledding, tubing, etc)
Accessories
Don't forget accessories! Your extremities will get cold fast, so it's important to have high quality accessories to keep your hands, feet, and head warm! Here's what I wore:
waterproof fur-lined boots
SUPER WARM gloves or mittens! I had to buy mine there because the ones I had weren't cutting it!
Fleece neck gaiter or a wool or fleece scarf
Wool hat (preferably fleece lined) that covers the ears
Sunglasses or ski goggles
The most important thing to remember is do not wear anything cotton!
For more guidance on what to wear, check out How to Dress for Winter Fun on the Quebec City Tourism website.
And for more tips to make the best of your winter visit, check out these articles on the Quebec City Tourism website.
---
Like This Post? Save It On Pinterest!