Ganache Stuffed Banana Pudding Cookie Muffins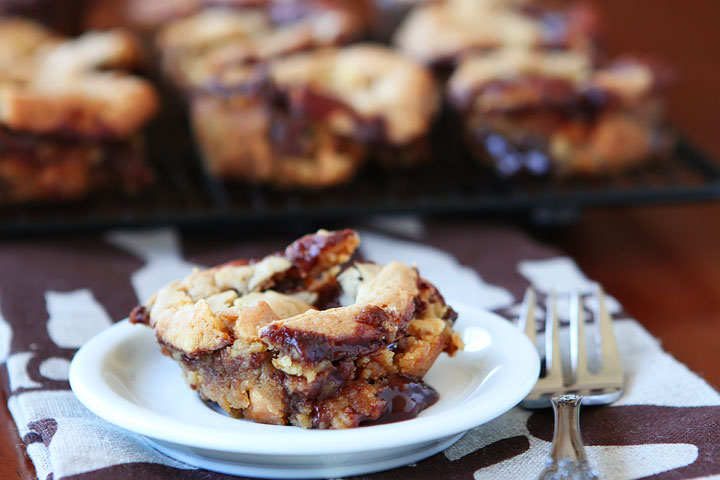 A couple of weeks ago I teased you guys with an Instagram of these Ganache-Stuffed Banana Pudding Cookie Muffins. Oh my word, I have never gotten such great feedback — or more requests for a recipe! — from just one photo! :) I am so, so sorry it took me so long, but I am thrilled to share the recipe for these bad boys with you today! It's incredibly decadent, ultra swoon-worthy, and you can even use up leftovers to make it. Plus it's got peanut butter, banana, and chocolate, which are Kev's all-time three favorite ingredients. But you can totally customize these cookies to have YOUR favorite ingredients! Keep reading to see. Hope you love these as much as we do!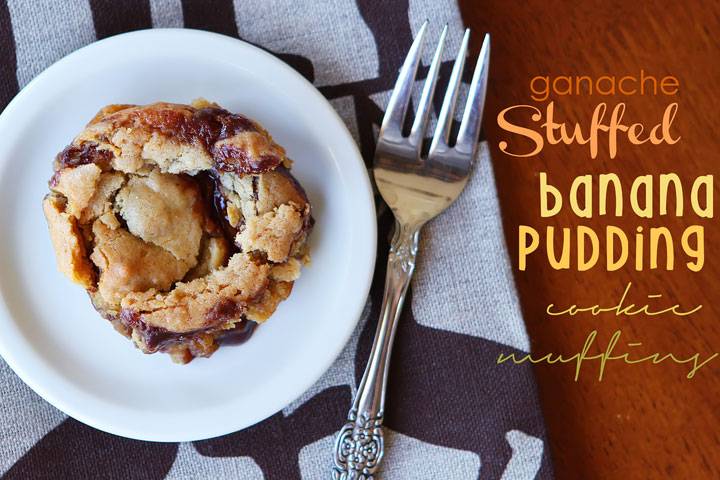 When I saw these Vanilla Pudding Cookies from Maria, I knew I absolutely had to make them. The secret ingredient in these ultra chewy cookies is a box of vanilla Jello pudding. You just dump it right in the mix for a totally unique and delicious flavor that leaves everyone wondering what your secret ingredient is. For Kevin's birthday last month, he requested a variety of Peanut Butter, Banana, and Chocolate themed treats. Cookies are his favorite, and while browsing my Pinterest board of all the Treats I Want to Try I came across Maria's pudding cookies. It suddenly hit me to use banana pudding instead of vanilla pudding to make him Banana Pudding Cookies! But I couldn't stop there…
Let's make these, shall we? :)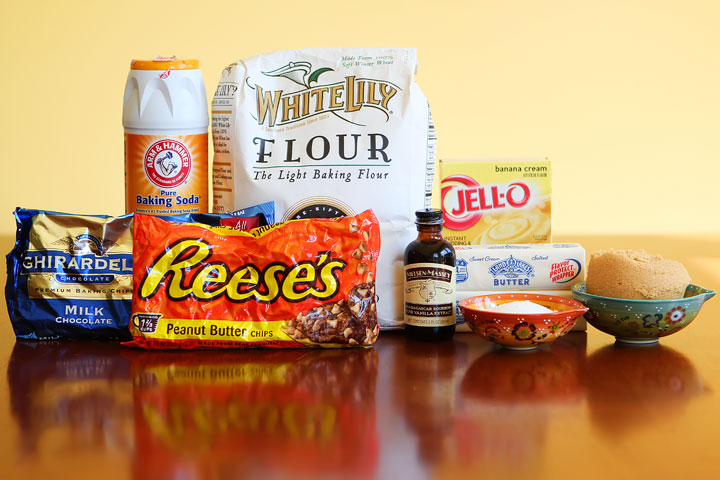 Here's what you'll need. Your basic cookie ingredients: Flour, butter, sugar, vanilla, and baking soda, plus your secret ingredient box of Jello pudding (in the flavor of your choice) and 2 cups of chocolate chips or mix-ins in the flavor of your choice — I used a combination of milk chocolate chips and peanut butter chips here. Last time I used chopped up Reese's Cups.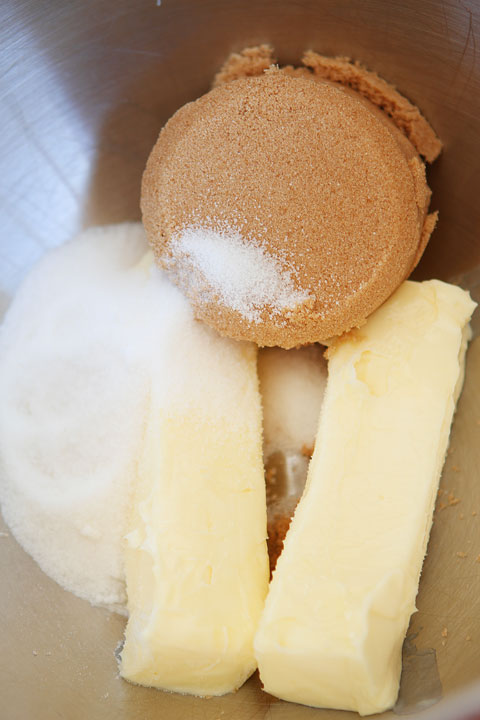 With a mixer, cream together your butter and sugars for 3-5 minutes until light and fluffy.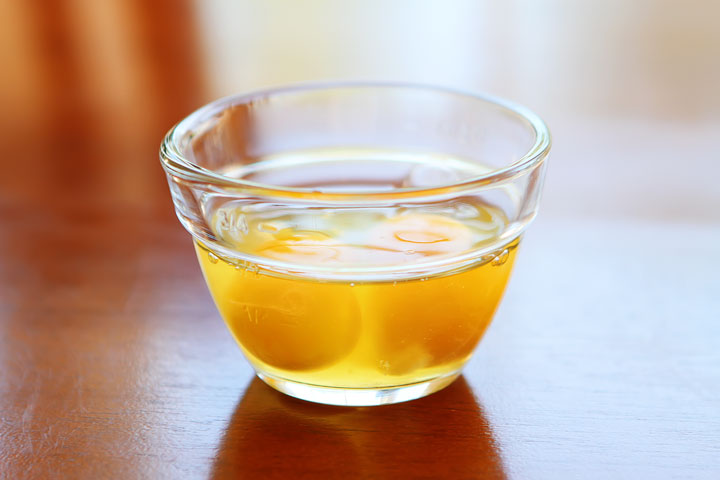 While the mixer is running, crack open 2 eggs…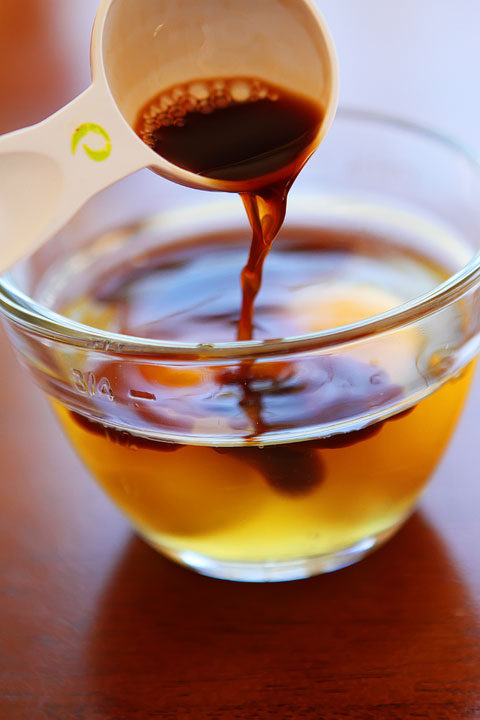 And add a whole tablespoon of vanilla extract.
Ready your Jello pudding, and by this time, your butter and sugar should be fluffy and lighter in color.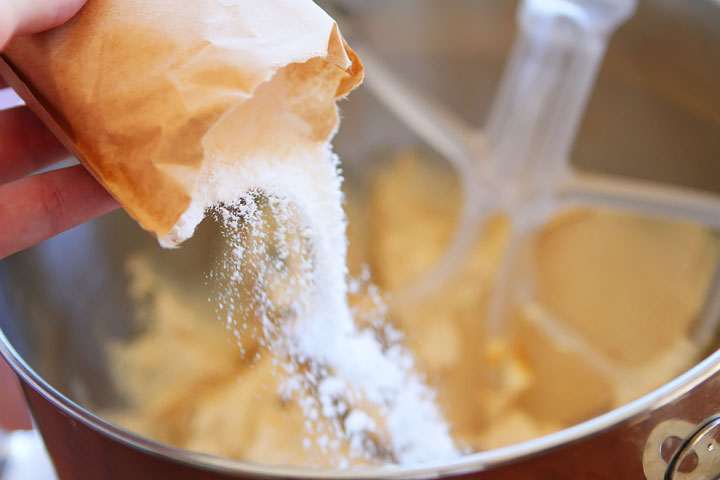 Dump the eggs, vanilla, and dry Jello pudding mix right on in, and beat on medium speed until ultra smooth and silky, about 2 minutes.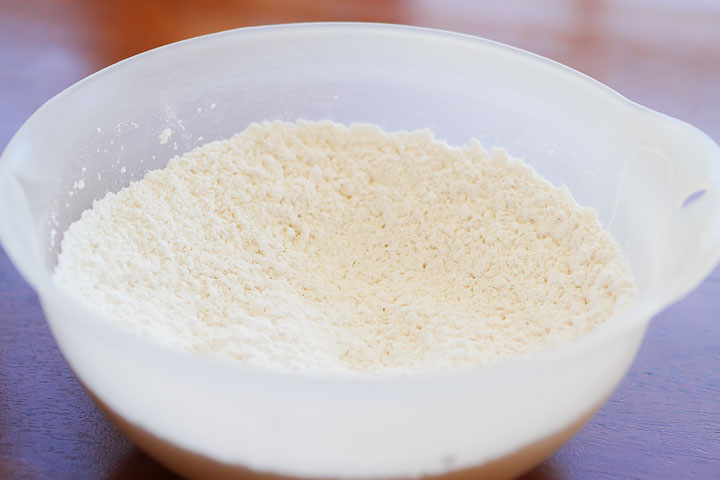 While that's going, whisk together the flour, baking soda, and salt until thoroughly combined and it has the texture of sifted flour. Add the dry ingredients to the wet ingredients, and mix on low speed until just combined.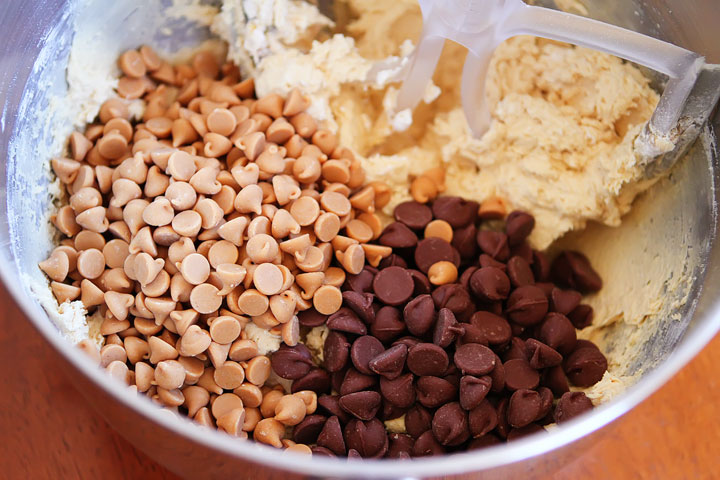 Now it's time for your chips! Stir in two cups total of whatever flavor suits your fancy. I used one cup of peanut butter chips and one cup of milk chocolate chips. Look how massive these Ghirardelli chocolate chips are compared to the peanut butter chips!!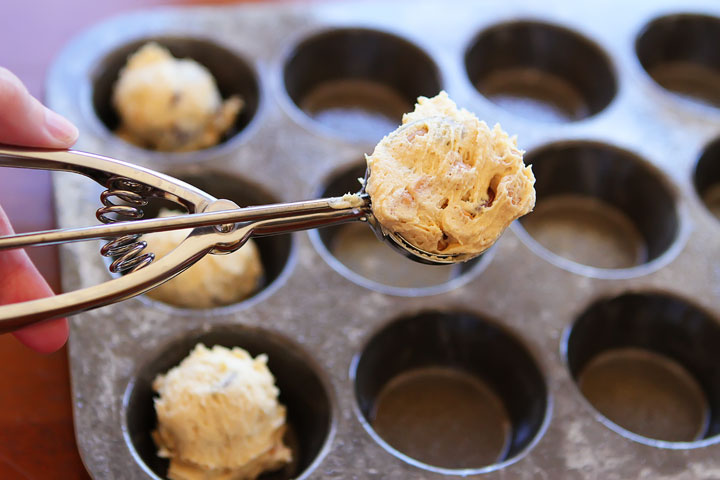 Now we're about to turn these bad boys into cookie muffins. Using a medium cookie scoop or a spoon, drop about 1.5 tablespoons of cookie dough into a well-greased standard-sized muffin tin.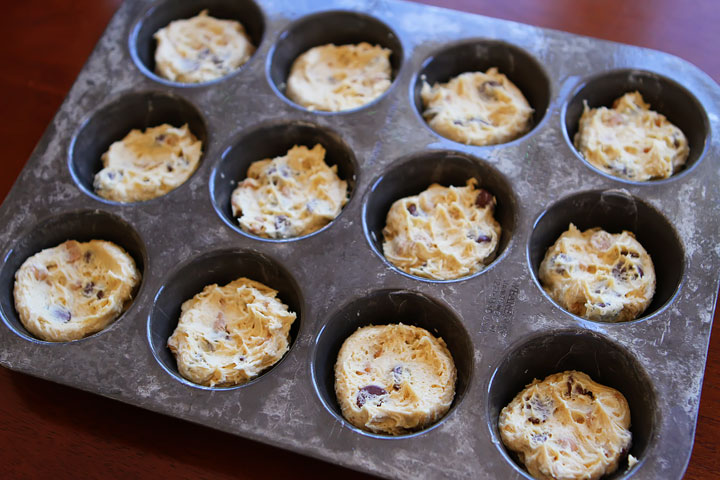 Using the back of a spoon, or clean hands, gently press the cookie dough flat into the pan. This dough is a little sticky, so if you have time to chill the dough in the fridge first (you can even make it the night before) it'll be a little easier to work with. But if you don't have time (seriously, who can wait that long when cookie dough is involved?!) don't worry about it at all — it still works fine. I didn't chill my dough here. I did find it a little easier to press it down with my hands instead of a spoon though! :)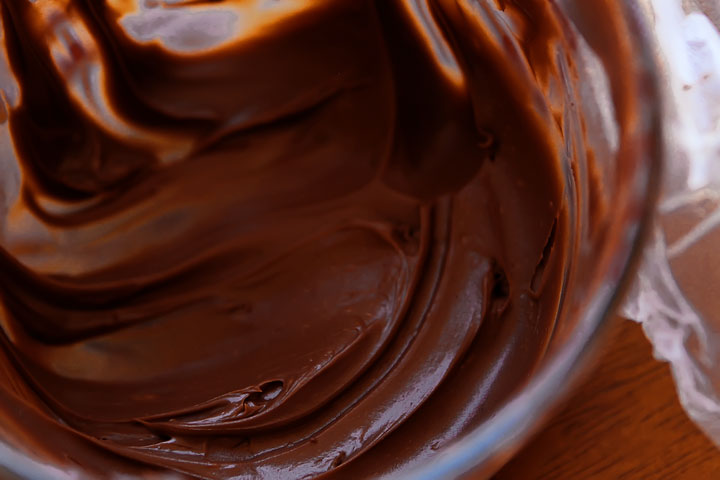 Now here's where the magic happens. I just so happened to have leftover milk chocolate ganache in my fridge from another one of Kevin's birthday treats. My Sweet Milk Chocolate Ganache is my go-to recipe for a basic chocolate frosting for cakes and cupcakes. I made a half batch of chocolate cupcakes for Kevin's birthday, but I forgot to halve the ganache, so I had plenty leftover. I stuck it in the fridge hoping to figure out something to do with it later! (Besides sneaking spoonfuls of it every time I walked past the fridge!)
I've always wanted to make my Chocolate Chip Lava Cookies with ganache in the middle, and since I had this in the fridge, I knew I had to try it with these Banana Pudding Cookies!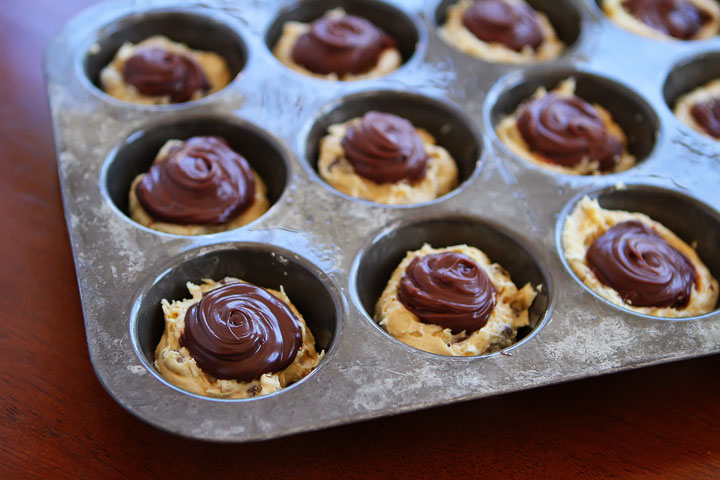 Swirl a spoonful of ganache on top of each cookie. Now, let me tell you, with the ganache, these turned out super chocolaty and gooey, but if you don't have leftover ganache, and you don't want to make ganache (it's super easy though) you can use anything here. You could simply use melted chocolate chips, hot fudge topping, chocolate syrup, or if you wanted to be extra sinful… even Nutella! :)
And while we're on the subject of semi-homemade, you can even use store-bought cookie dough here to make this the easiest most decadent dessert you've ever made! :)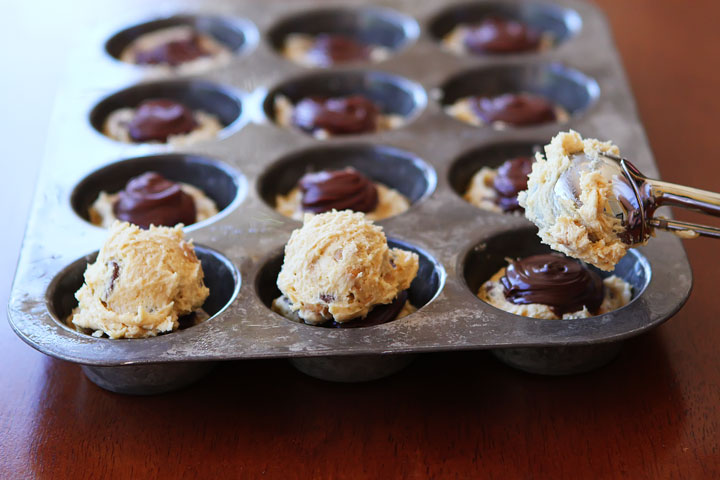 Top with another spoonful of cookie dough onto each muffin tin.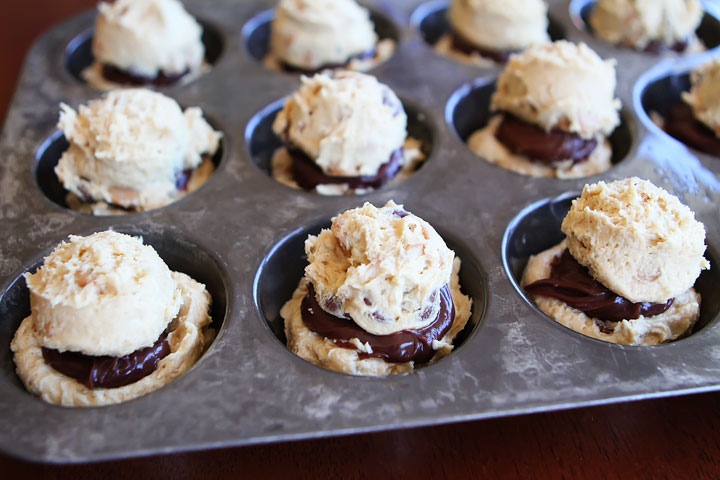 You don't even have to press these down.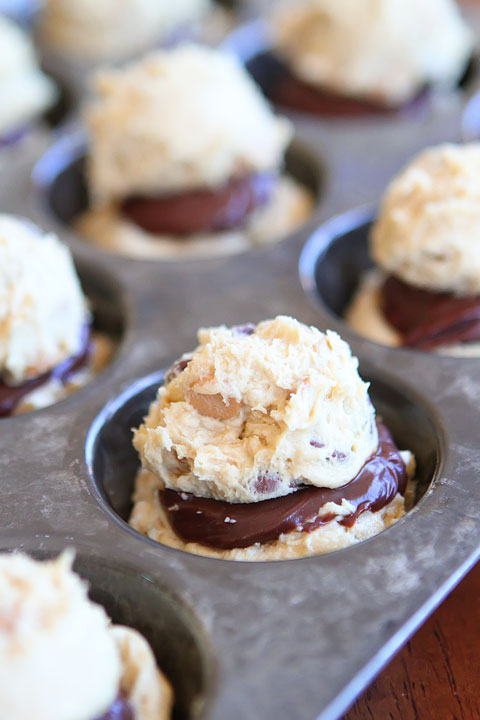 Oh my gosh, how crazy are these going to be?!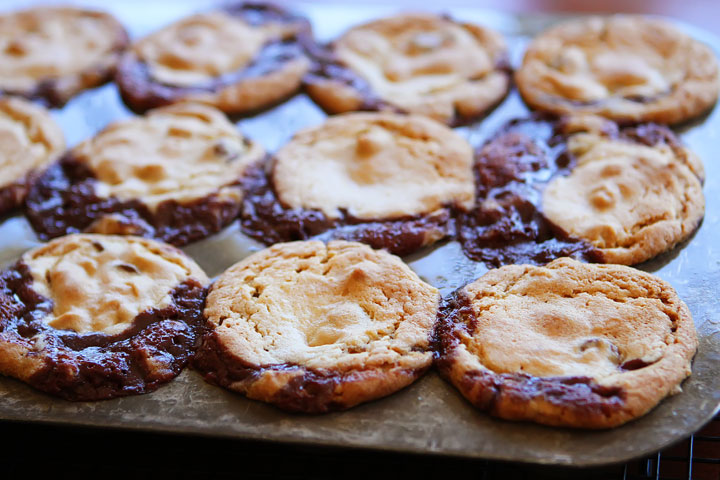 Bake at 350 degrees for 18-20 minutes and you have this ooey, gooey, bursting with chocolate, fabulously delicious mess. As soon as they come out of the oven, run a knife around the edges to make for easy removing later. If your cookies are a little overflowing like mine, just gently press the warm, soft cookie back into its tin.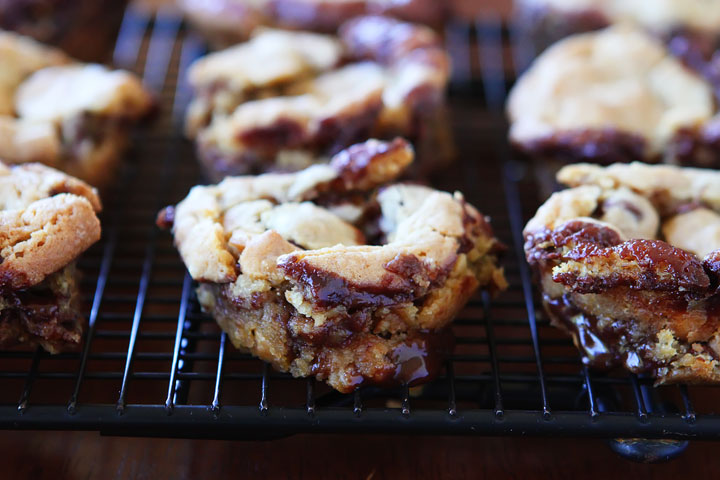 When the cookies are thoroughly cooled and have set up (you can stick them in the fridge to speed up the process, but it'll probably take at least an hour), run the knife around the edges again and gently remove the cookie muffins from the tin. If you can't wait that long, don't worry! You can still eat 'em. You'll just have to use a spoon and dive right into the pan. ;)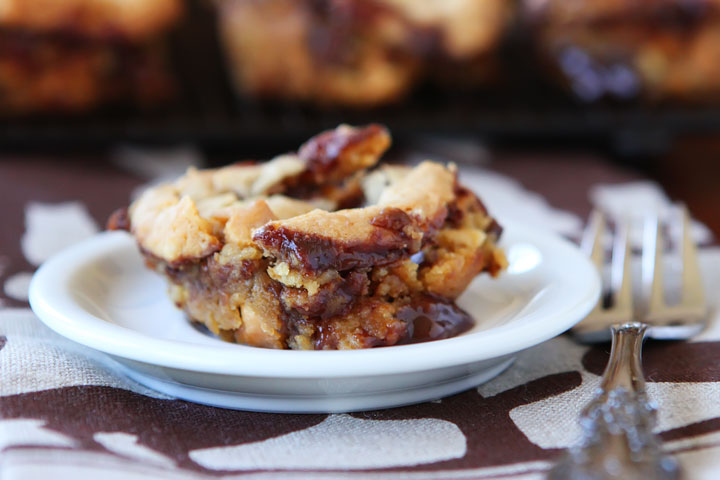 You'll be rewarded with this ultra gooey, decadently soft cookie that's absolutely exploding with peanut butter and melty chocolate.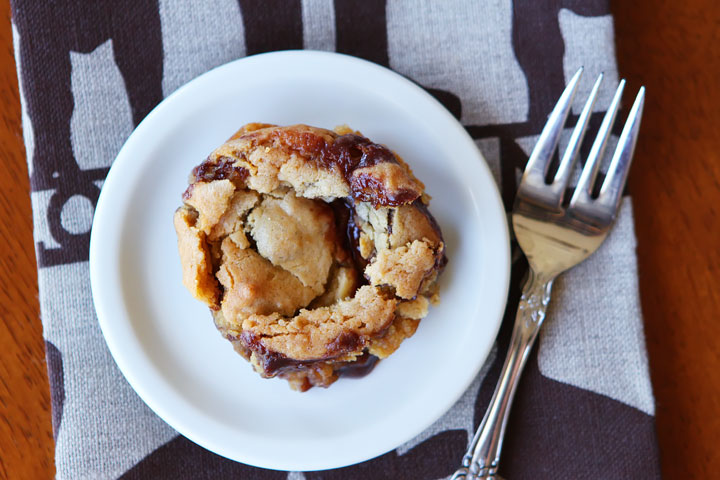 It's hiding right under the surface, just waiting to be discovered.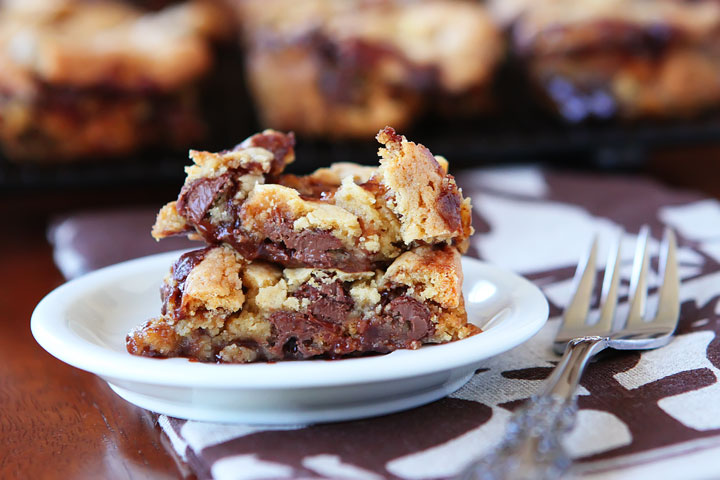 When you open it up the chocolate overload is revealed!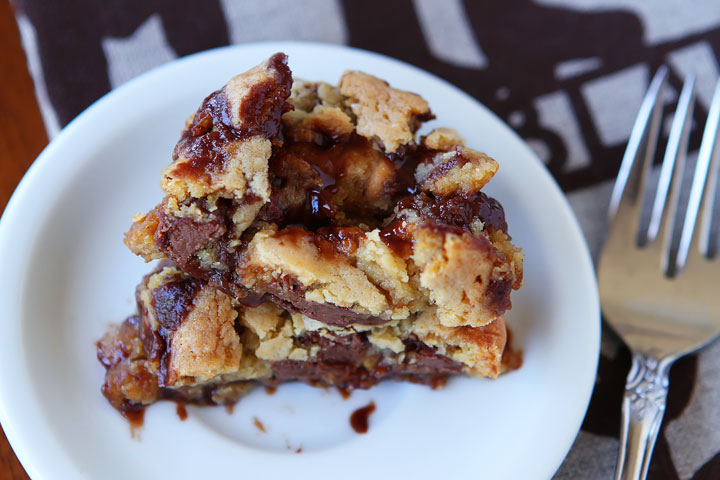 To make it extra melty, warm the cookie muffin in the microwave for about 20 seconds before serving.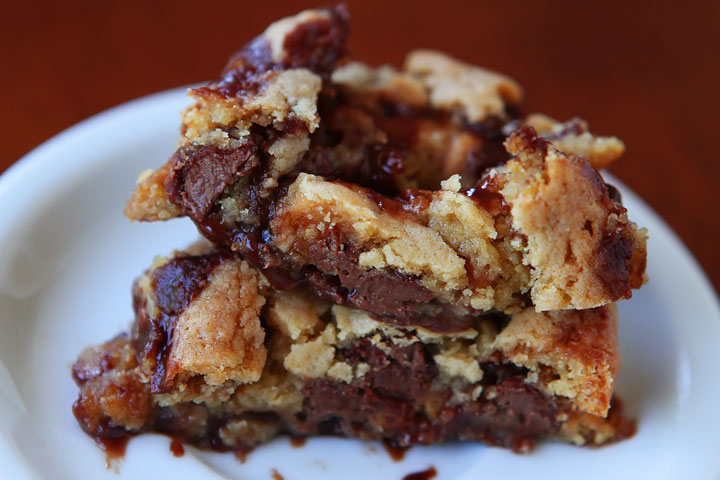 So ridiculously good.
I even made a Nutella one! Here's what it looks like on the inside. You have to try these!!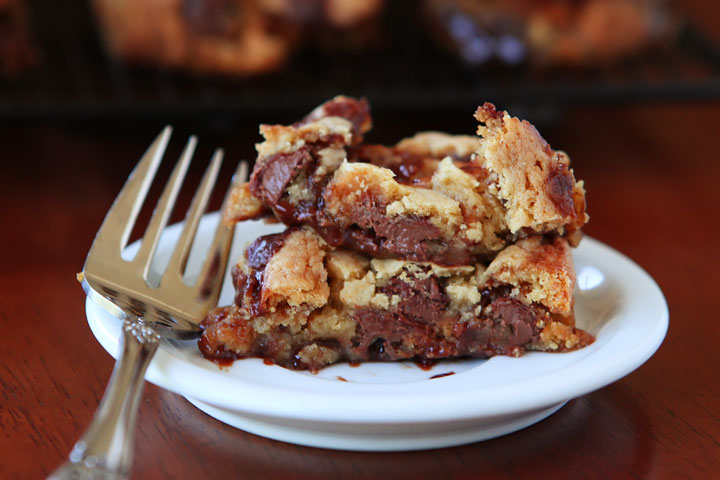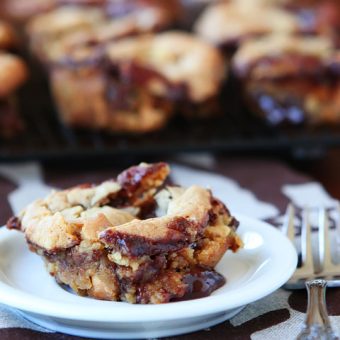 Ganache Stuffed Banana Pudding Cookie Muffins
Yield: 20 cookie muffins.
Ingredients:
1 cup (2 sticks) butter, at room temperature
3/4 cup brown sugar
1/4 cup granulated sugar
3.4 oz package Banana-flavored instant Jello pudding mix
2 large eggs
1 tablespoon vanilla extract
2 1/4 cups all-purpose flour
1 teaspoon baking soda
1/2 teaspoon salt
1 cup milk chocolate chips
1 cup peanut butter chips
Sweet Milk Chocolate Ganache
3/4 cup milk chocolate chips
1/2 cup heavy cream
1 tsp vanilla extract
2 tablespoons powdered sugar
Directions:
Preheat oven to 350 degrees F. Thoroughly coat a standard-sized muffin tin with cooking spray.
With a mixer, beat together butter and sugars on medium speed until light and fluffy, about 3-5 minutes. Add in dry pudding mix, eggs, and vanilla extract, and beat on medium speed for an additional 2 minutes until silky and smooth. Meanwhile, whisk together the flour, baking soda, and salt. Add the dry ingredients to the wet ingredients and mix until just combined. Stir in the chocolate and peanut butter chips.
Using a medium cookie scoop, drop about 1.5 tablespoons of cookie dough into the bottom of the muffin tin, and press down to flatten. Top with a tablespoon of chocolate ganache (recipe follows) and then top with another scoop of cookie dough. Bake for 18-20 minutes, until the edges are just browned. As soon as they come out of the oven, run a knife around the edges to make for easy removing later. Cool completely before removing from the muffin tin, using a knife around the edges to help loosen.
For the Sweet Milk Chocolate Ganache
Place chocolate chips in a glass or heat-proof bowl. In a medium saucepan, whisk the heavy cream, vanilla, and sugar and bring to a simmer. Pour over the chocolate chips, let sit for 5 minutes, then whisk until completely smooth. Chill in the fridge for 1 hour or until the ganache sets up and reaches a thick, frosting consistency.