Going to Bruges? If you've only got a short time to see this beautiful city, use the guide below to make sure you don't miss any of the best things to do in Bruges Belgium! Here's what you'll definitely want to see: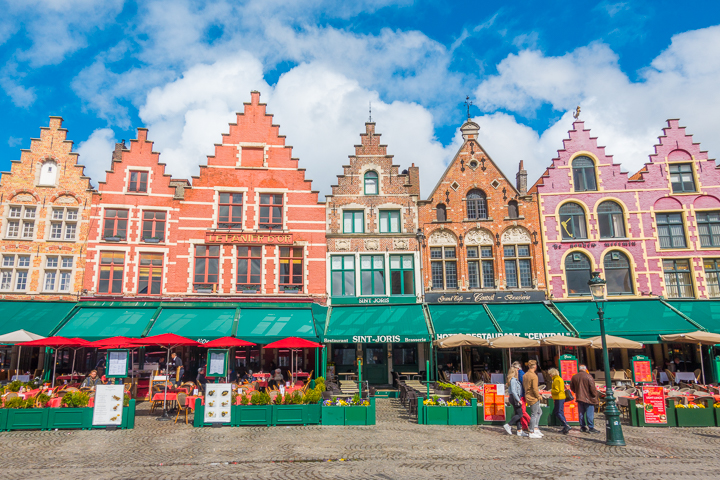 We visited Belgium at the end of April and spent 10 days traveling all over the country.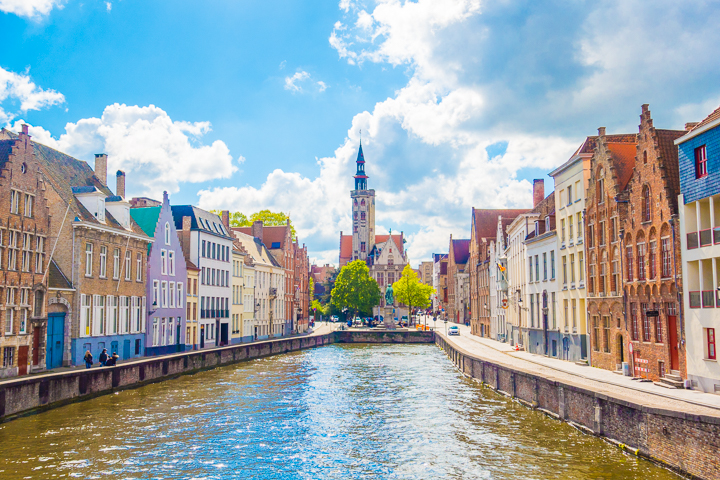 How To Get There — Brussels To Bruges By Train
We flew in and out of Brussels, but used a Eurail Global Pass from ACP Rail to travel everywhere in Belgium. We went to Bruges, Ghent, Brussels, Leuven, and Dinant.
Traveling by train is THE way to go in Belgium! The trains are fast, reliable, modern, extremely easy to use, and go they everywhere, from major cities to small scenic villages.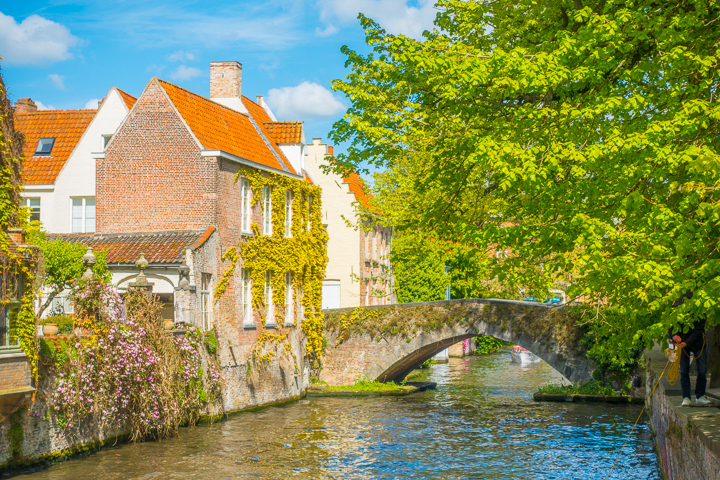 There's even a train station right in the Brussels airport, so you can get off the plane and right onto the train for your first destination.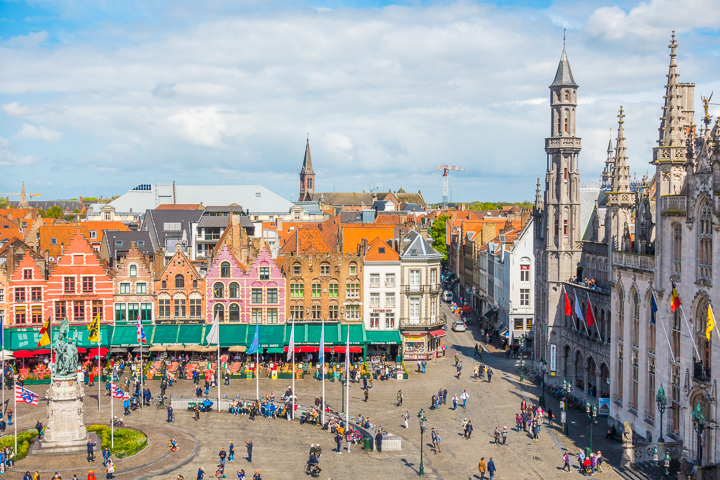 For traveling in Belgium I highly recommend checking out all the different rail pass options from ACP Rail! There is definitely one to fit your itinerary, whether you're staying in one country for a week or traveling all over Europe for a few months!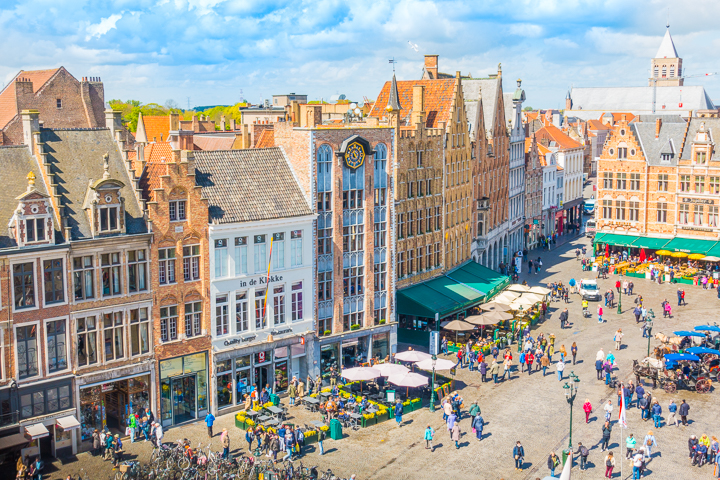 How Many Days To Spend in Bruges?
Bruges is a great city for a day trip or a relaxing weekend getaway because it's only about 1 hour by train from Brussels. You can definitely see most of the highlights in a day, but if you want to do a little more, like a boat ride on the canal and climb the belfry for amazing views, you might want to stay at least one night. You can definitely see it all in two days!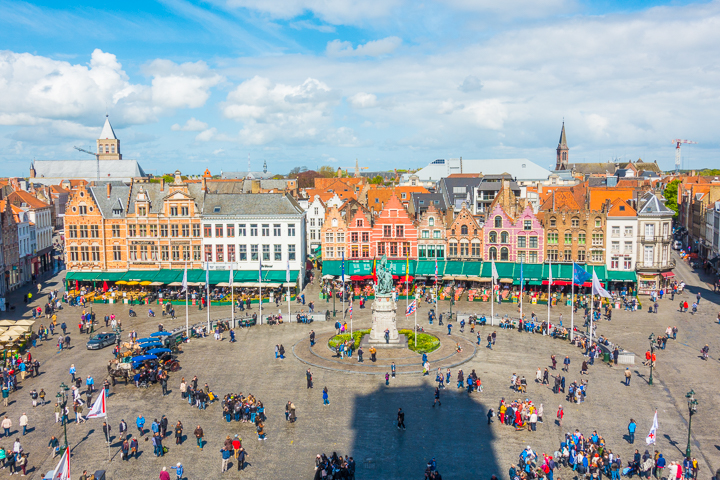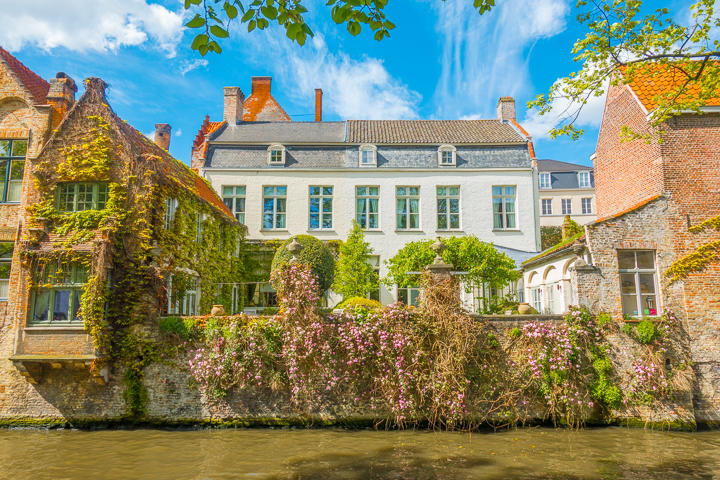 Best Things To Do in Bruges
If you've only got a short amount of time to visit this fairytale city, here are the best things to do in Bruges: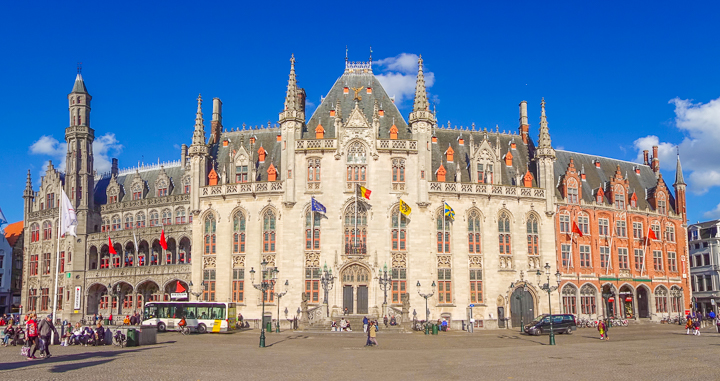 Markt Square
Markt Square is the main square of the city featuring many historic buildings, shops, and restaurants.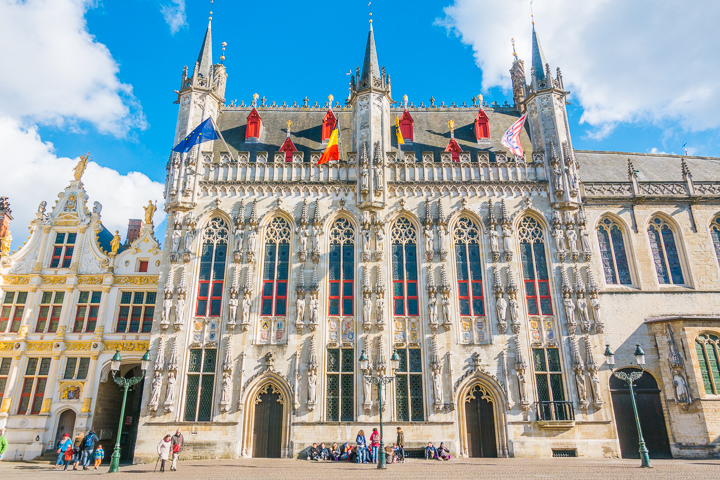 Burg Square
And right around the corner is Burg Square where you'll find the grand city hall built in 1376.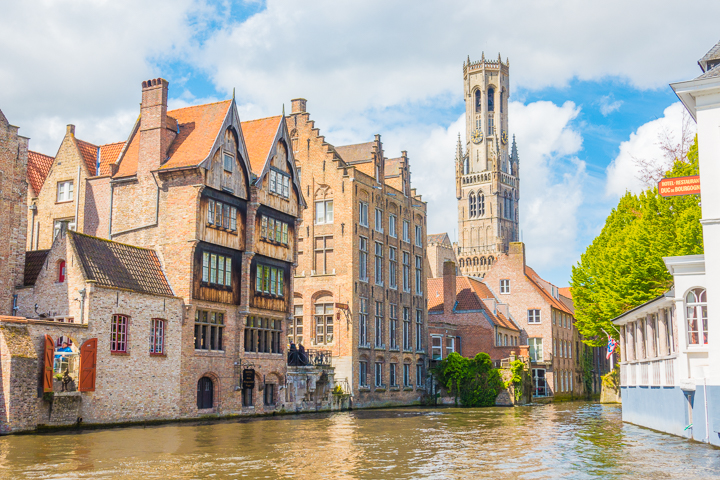 Rozenhoedkaai
Head to Rozenhoedkaai for this typical postcard view of Bruges.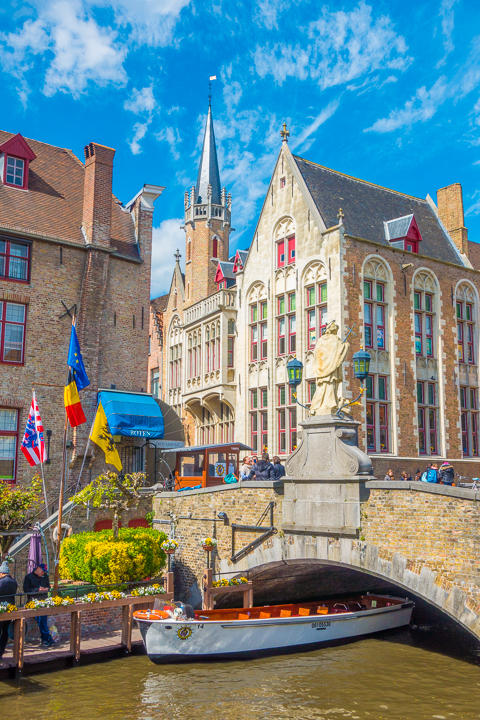 Bruges Canal Tour
From here you can hop on a boat to take a scenic float through the canals of Bruges. It's a fun way to learn a little history of the city!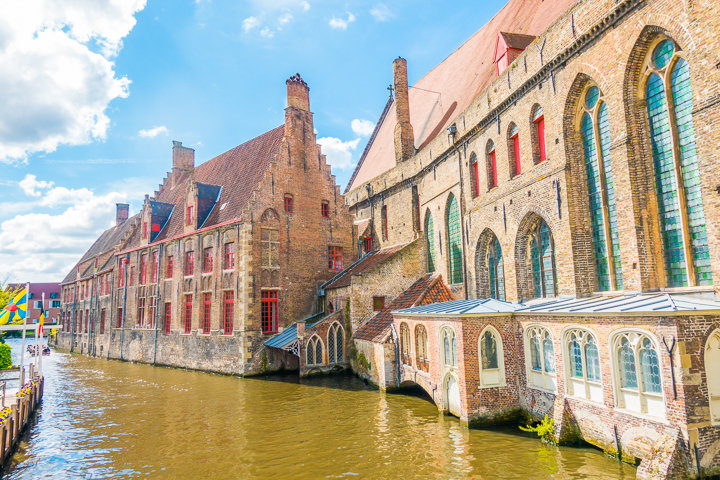 This is the old hospital building. People used to arrive to the emergency room by boat!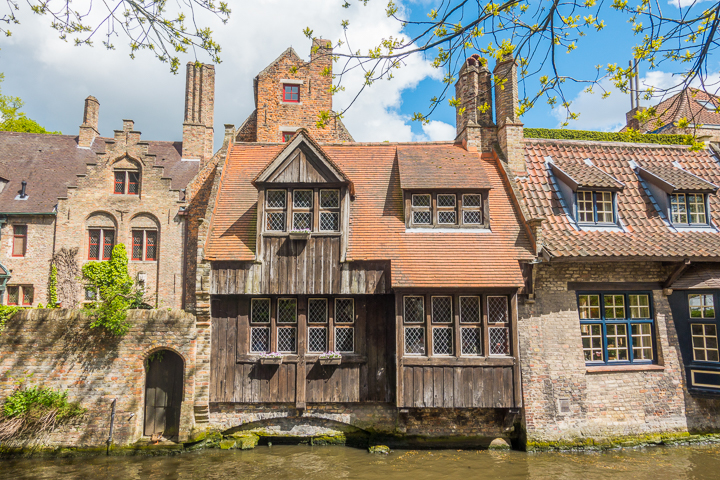 It's also a great way to get a unique view of the beautiful houses and architecture along the canal.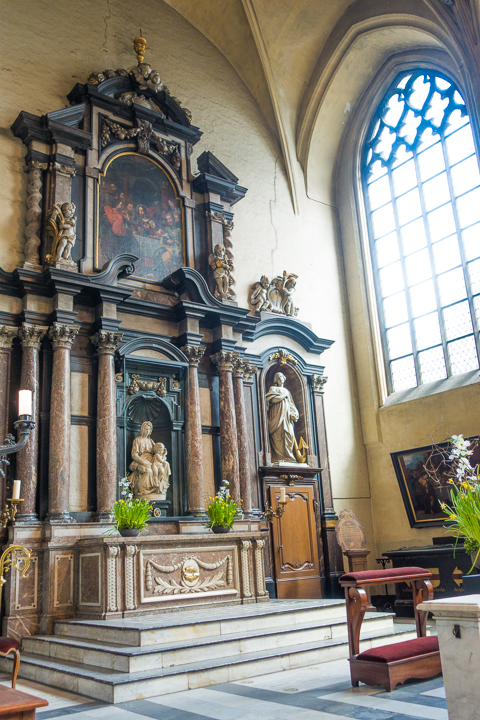 Church of Our Lady
Next check out the Church of Our Lady.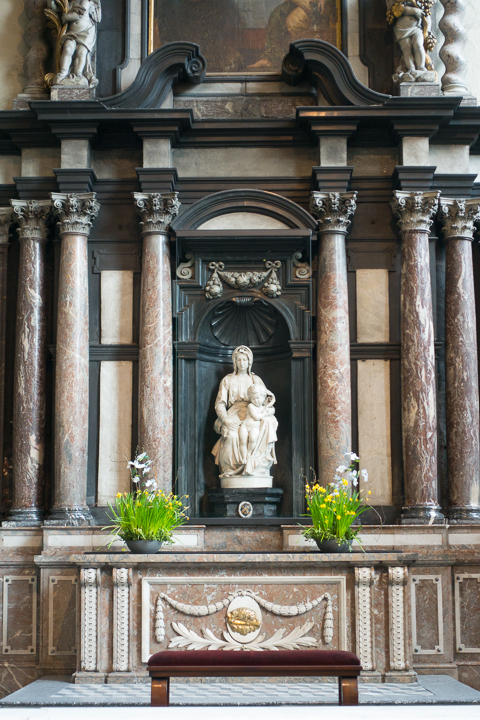 Here you'll find a white marble statue of the Madonna and Child by Michelangelo around 1504. It was the only sculpture by Michelangelo to leave Italy during his lifetime.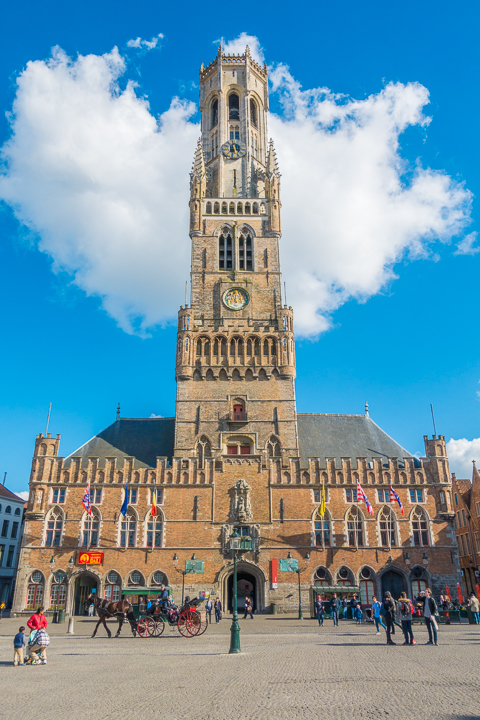 Belfry of Bruges
If you want the most breathtaking views of the city, head to the Belfry of Bruges and climb the tower to the top. The belfry offers 360 degree, panoramic views of Bruges. Check out the views below: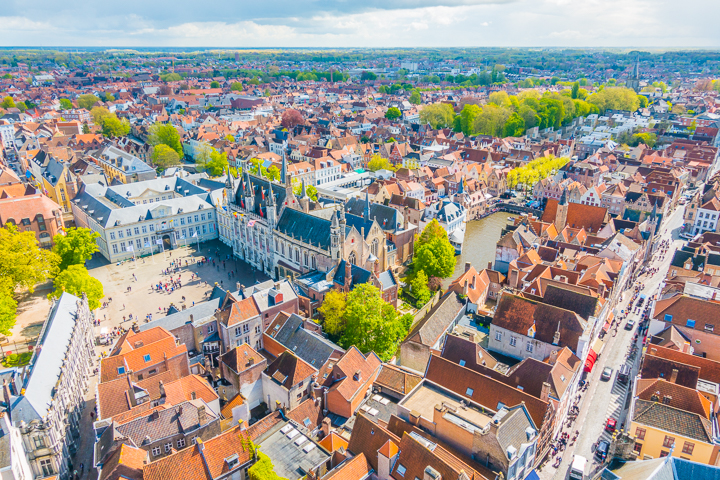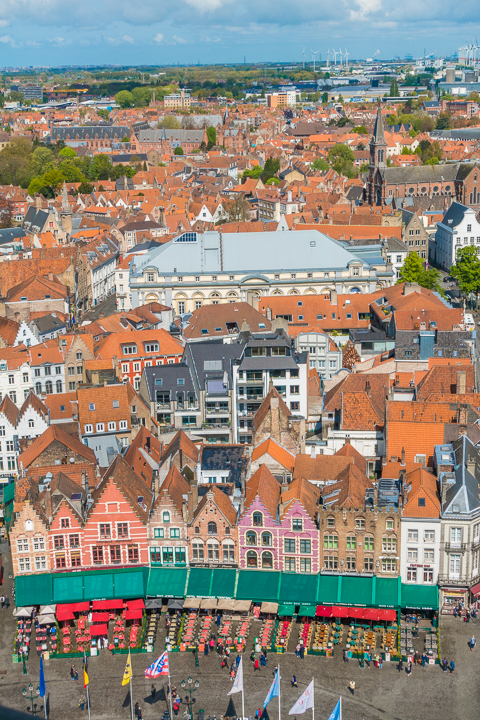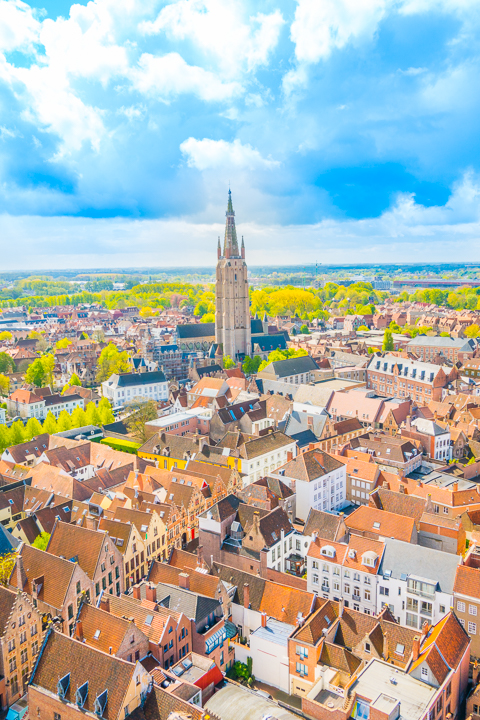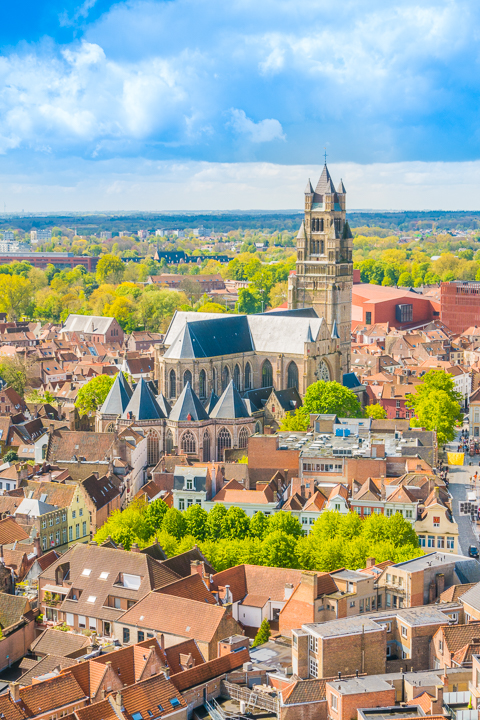 ---
Where to Eat in Bruges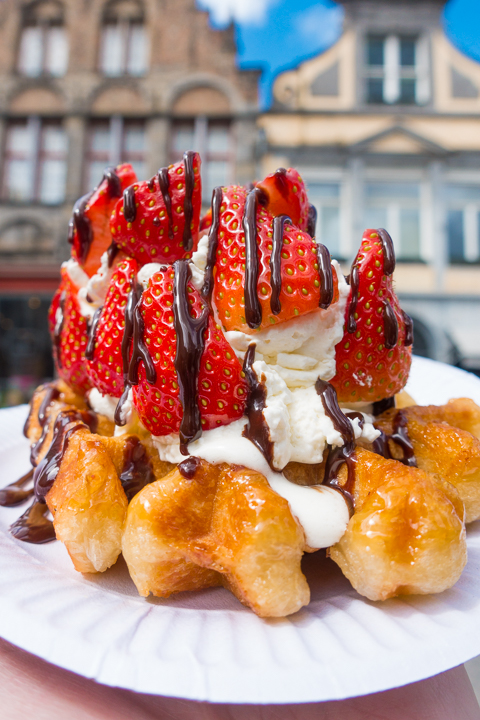 Bruges Waffles
When in Belgium you obviously have to eat waffles!! There are two different types of waffles in Belgium — the Brussels waffle and the Liege waffle. The Liege waffles are the best! What's the difference between these two types of waffles? Check out the post below for more info!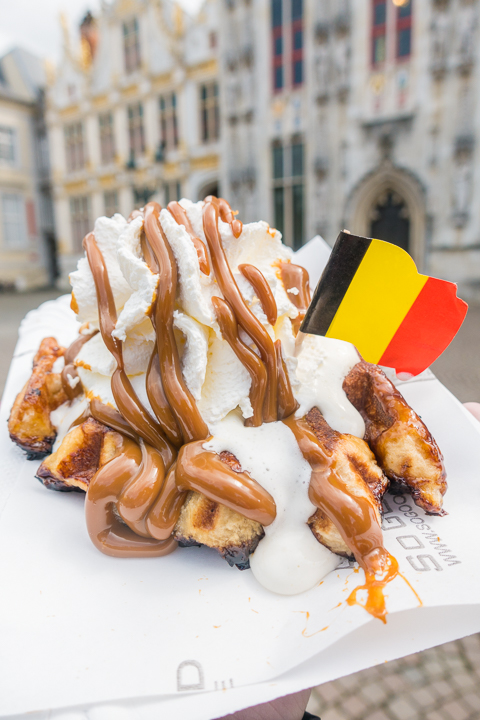 Burg Square Waffle Truck
We tried waffles from three popular waffle shops in Bruges: Chez Albert, Fred's, and the waffle truck in Burg Square.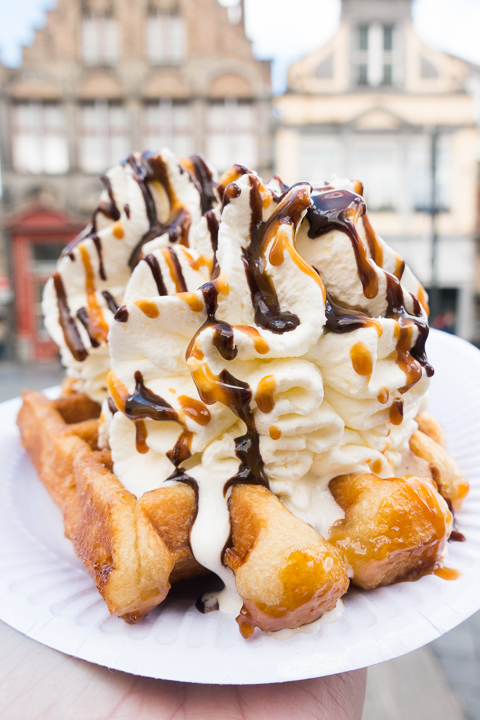 Fred's Belgian Waffles
Fred's was hands down our favorite! If you only get one waffle in Bruges, definitely get it from Fred's. I highly recommend at least one waffle a day. But twice a day is definitely acceptable.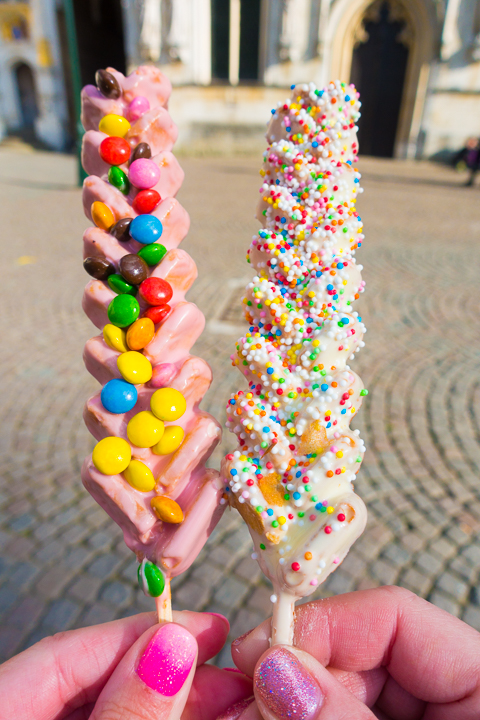 Go.fre Brugge
You can also get these fun waffles on a stick from Go.fre. They will dip them fresh in your choice of chocolate and topping. They are pretty but the Liege waffles definitely taste the best!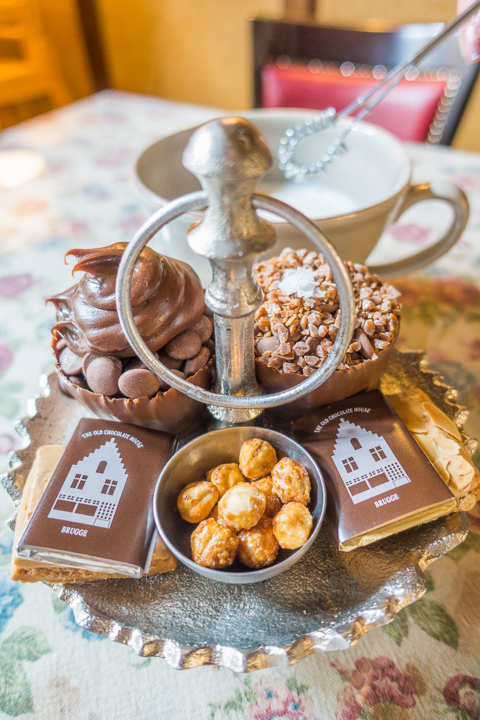 The Old Chocolate House
Of course you can't go to Belgium without trying Belgian chocolate! It was a little chilly when we went in April, so we stopped by The Old Chocolate House to warm up with some hot chocolate. When you order the hot chocolate it comes out with on this fun tray with mug of steaming milk. You can make it as chocolaty as you want by adding as much or as little chocolate as you want. Of course I added the entire thing! :)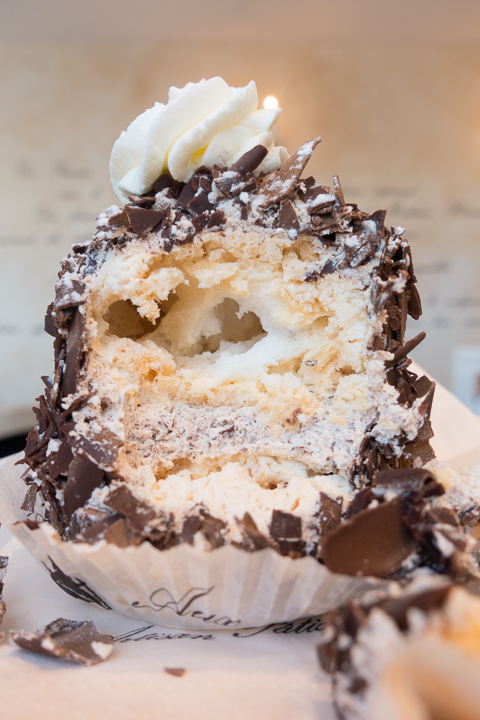 Aux Merveilleux de Fred
One of my favorite pastry shops in Paris has a location in Bruges! Check out Aux Merveilleux de Fred for their famous pastry, the Merveilleux. True story — I was once carrying a bag from Aux Merveilleux de Fred through the Paris airport when I was suddenly swarmed by four, seriously four Air France employees. I thought I was about to be hauled off for interrogation, but they all started gushing over my bag from Aux Merveilleux de Fred. "Oh my gosh, you went to Aux Merveilleux de Fred!! What did you get?? Did you love it?? Isn't the Merveilleux the best??!" Then they told me the story of how when the pastry shop originally opened, the Merveilleux was the only thing they sold.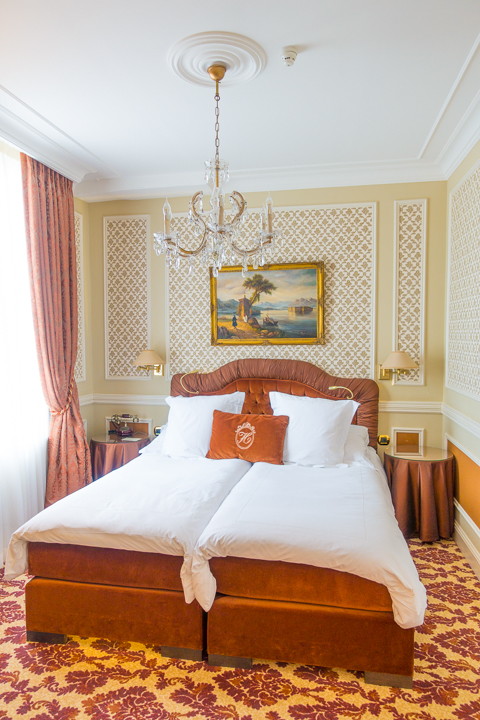 Bruges Hotels
If you are looking for the BEST place to stay in Bruges, I highly recommend the Hotel Heritage.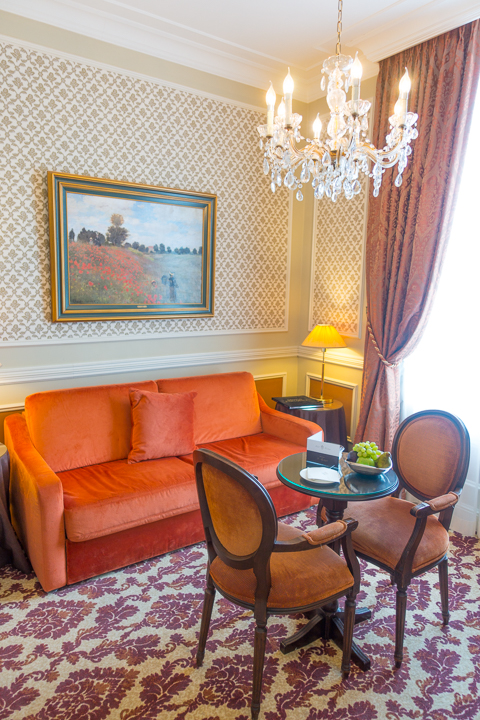 It's beautiful, quiet, and right off the Markt Square so you're within walking distance to everything. They even placed a chocolate on our pillow every night.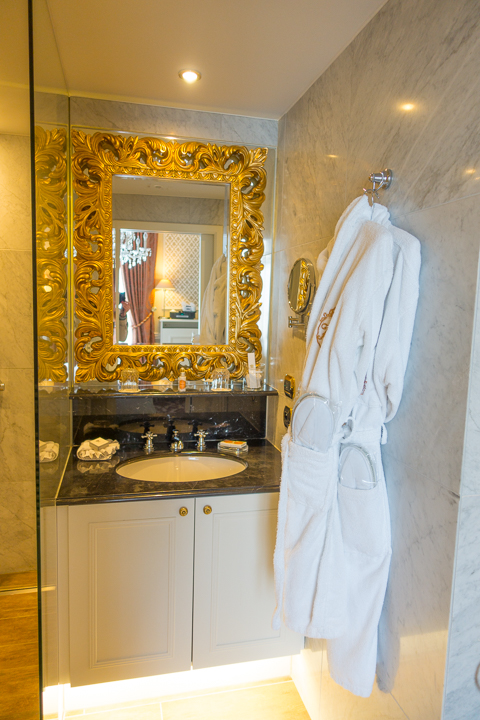 How fun is this bathroom??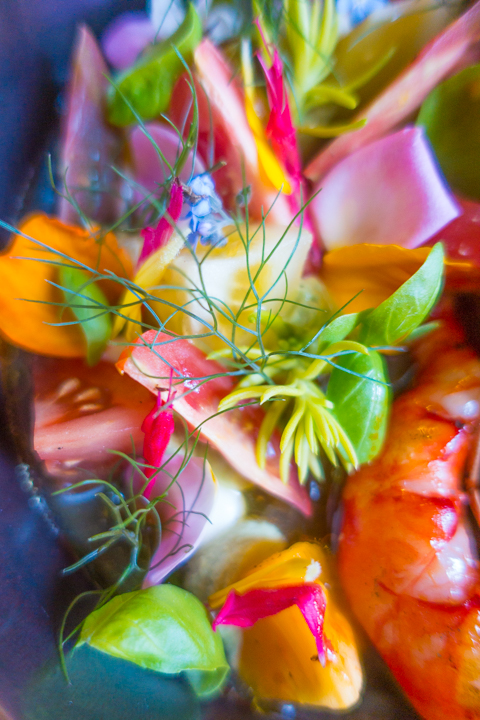 Le Mystique
The hotel has an incredible restaurant,
Le Mystique
. It was hands down one of the best meals of my life.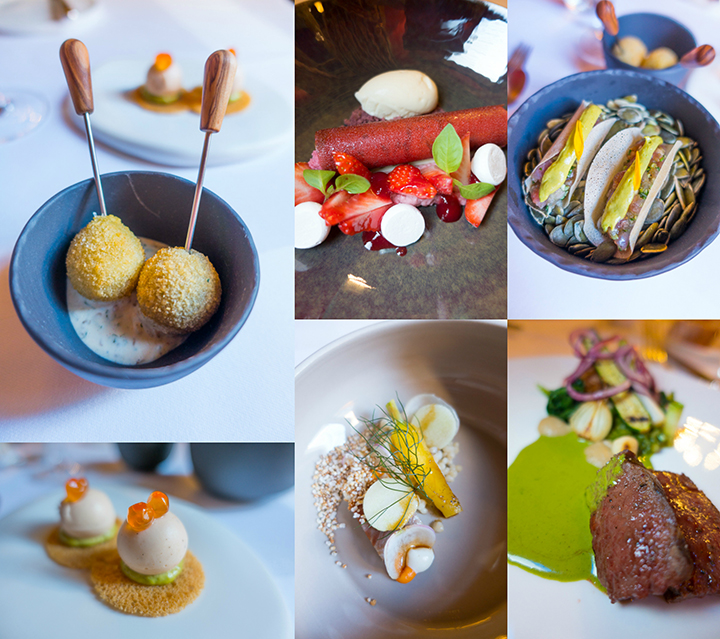 So delicious! I highly recommend dinner here.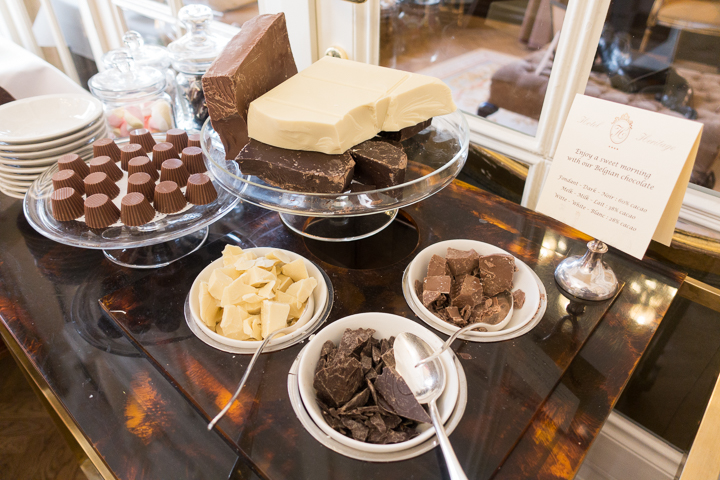 Also, there's an entire chocolate buffet bar for breakfast! How totally fun is that??
---
Like this post? Save it on Pinterest!