Kevin and I had an absolute blast in Cape San Blas, Florida! If you've been wanting to go on a Florida getaway, this is definitely the place to do it!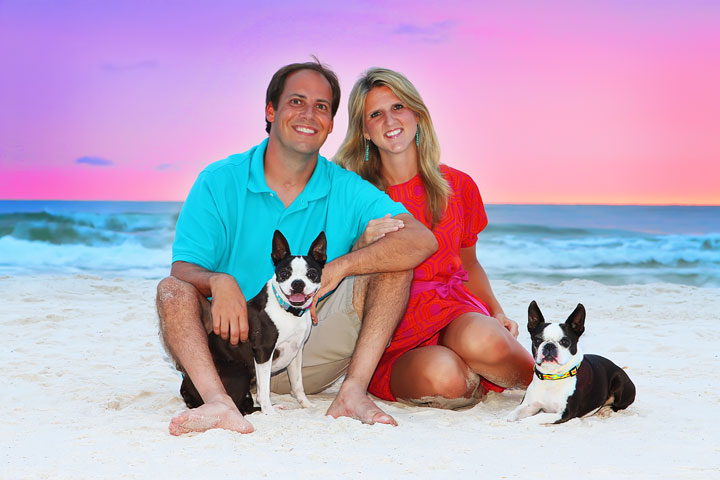 For Kevin's birthday this year we took a little getaway to Cape San Blas, Florida. It was our first time to visit that part of Florida and we absolutely fell in love! Not only were the beaches gorgeous and secluded, but it was also PET-FRIENDLY!!! Miley and Howie could go!! And they could run on the beach and play with us! :)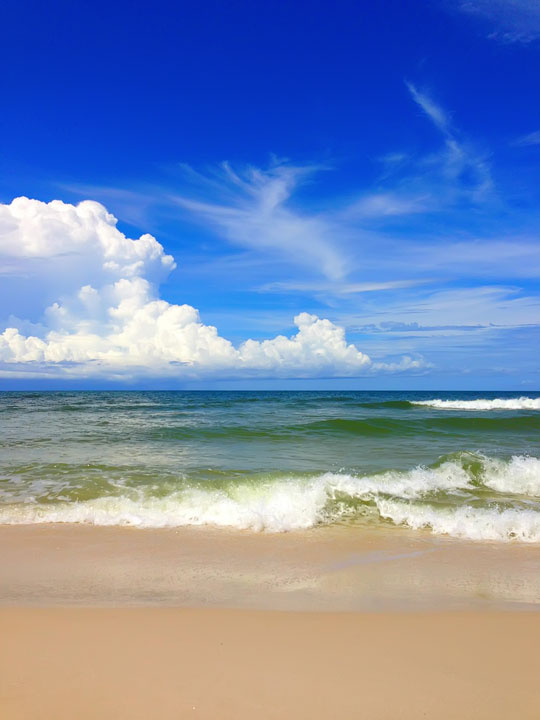 How gorgeous is this beach? It had sugar white sands, a beautiful blue ocean, and clean, clear waters. The water temperature was perfect! It truly felt like a tropical paradise.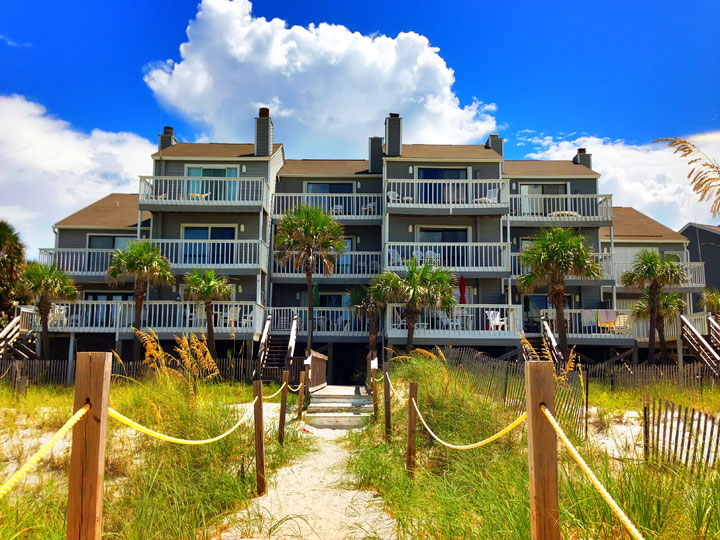 We stayed at Barrier Dunes in the Pelican View condo. I'll be sharing more about where we stayed in another post. Our condo was the fourth from the left, the one that's jutted out further than the two beside it, and has a red umbrella on the bottom balcony. Each unit is 4 floors, so we had all three beachfront balconies in that unit! :)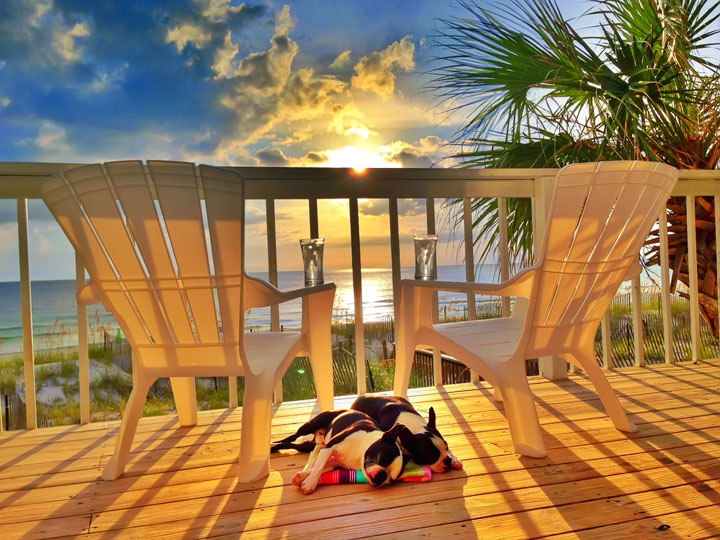 Here was our view from the balcony. We could watch the sunset right from our condo.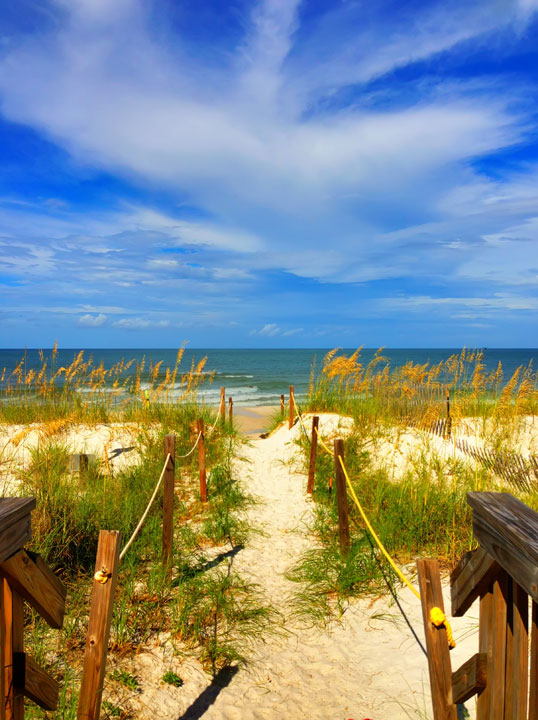 From our balcony, we could walk down the stairs to the boardwalk leading to the beach. This was our daily view!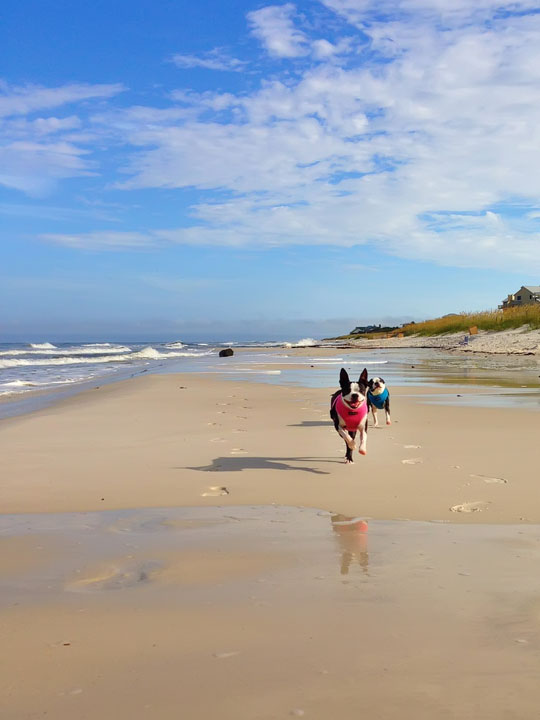 A Long Walk on the Beach
Oh my gosh you guys. Miley and Howie FREAKED! :) They LOVED the beach!! It was so funny seeing them go so crazy running in the sand!!! They were so-so-so excited every day for their morning walk on the beach.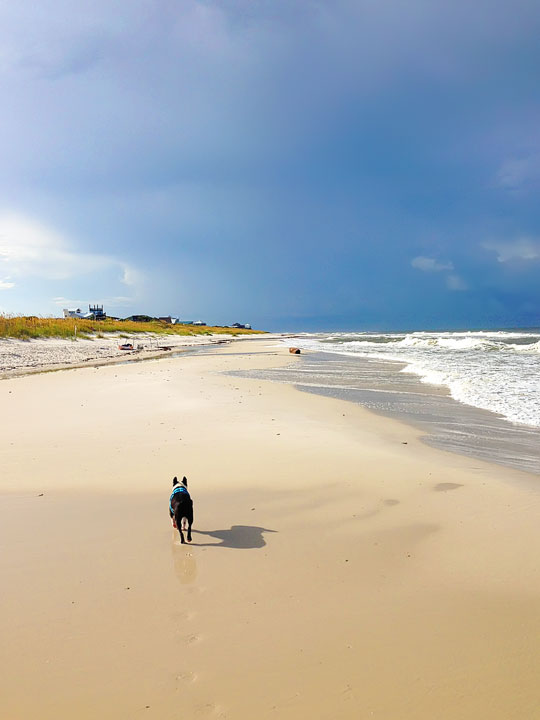 We had the whole place to ourselves!! We would normally take our walk between 9 and 10 am and we could be out for an hour and never see a single soul. As you can see on the left, there were no huge hotels or condominiums packed with people. Just single-family beach houses and cabins. Barrier Dunes (where we stayed) was the largest complex we saw on the beach.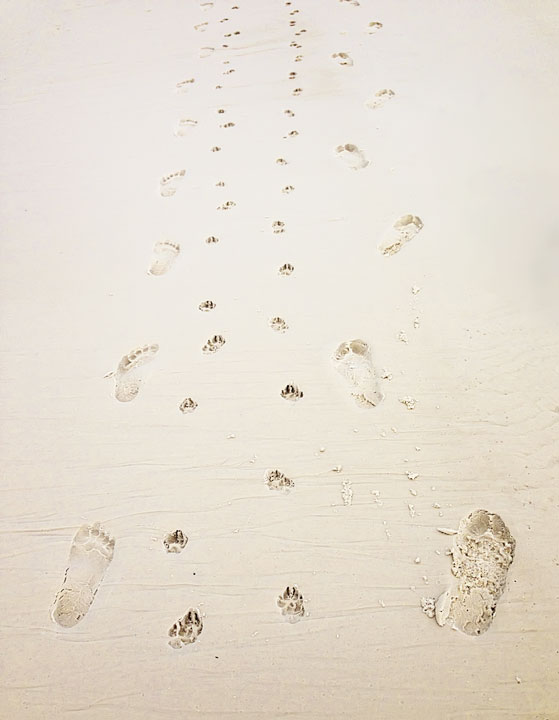 I couldn't get over Miley and Howie's cute little footprints in the sand as we'd walk on the beach. Little munchkins!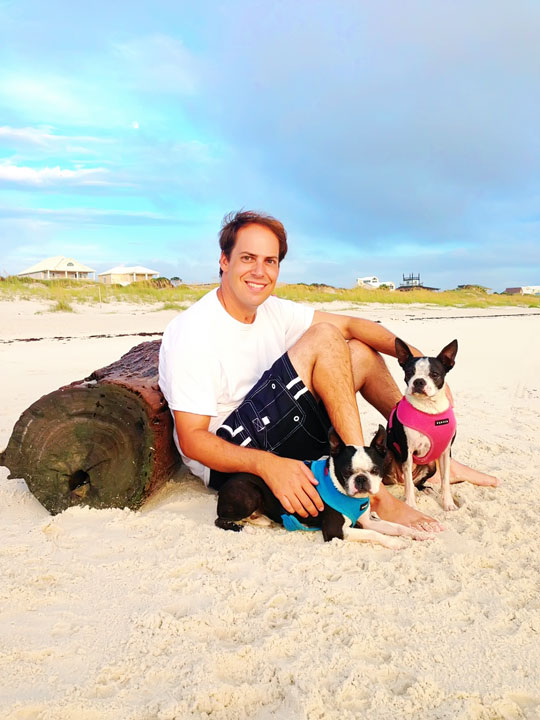 At night we'd sit out on the beach and watch the sunset.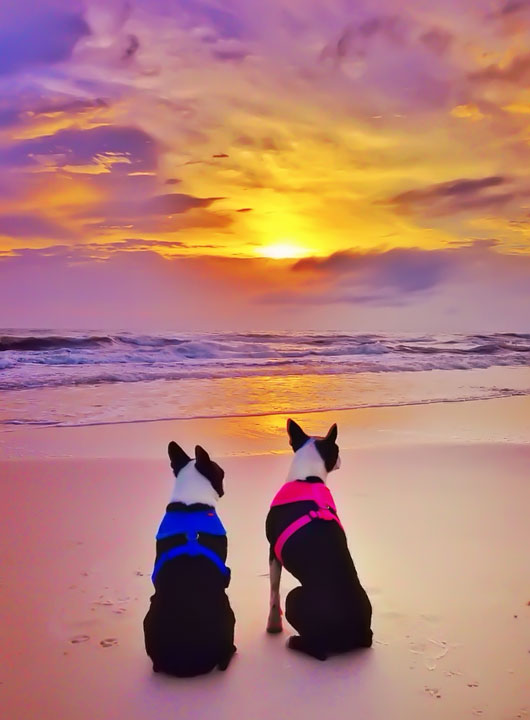 The beaches of Cape San Blas face west, so the sun sets over the water every night. A rare view from the Florida panhandle!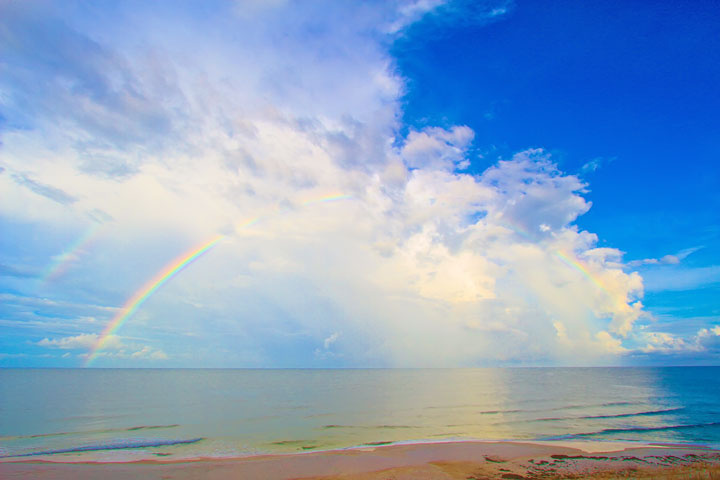 On our first morning at the beach, we woke up to this stunning double rainbow right outside our window stretching over the ocean. What a perfect way to start the week!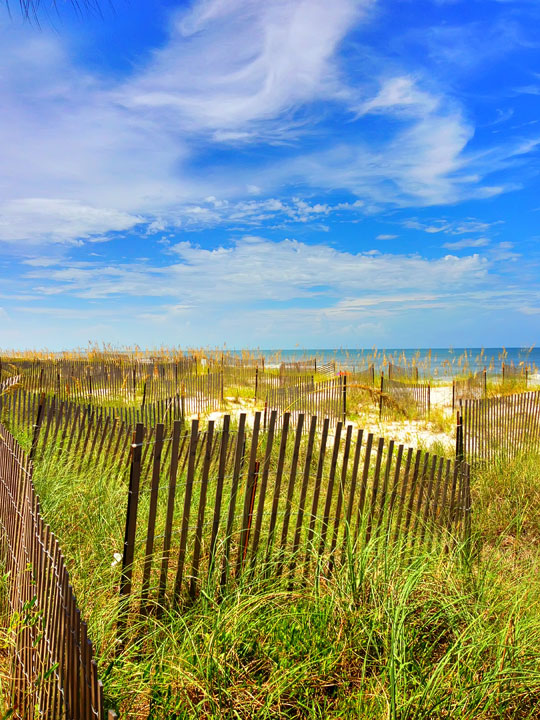 We'd head out every morning for our daily walk on the beach.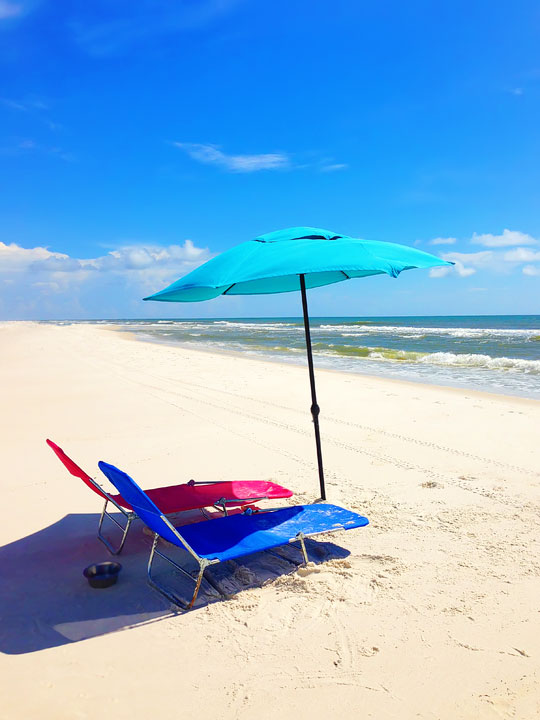 And when we'd get back, we'd set up camp and relax! :)
Here's a preview of what our morning playtime was like with Miley and Howie:

Click the Play button above to watch the video and be sure to turn on the sound so you can hear the relaxing waves :)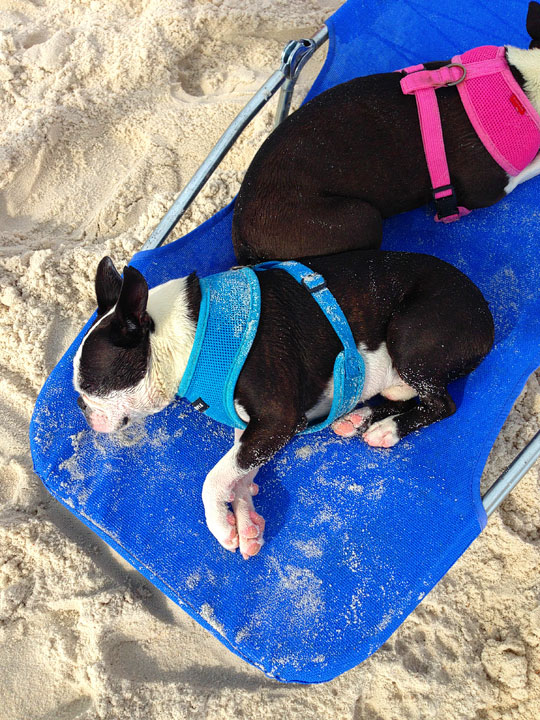 Then they'd nap hard on the beach in the afternoon! :)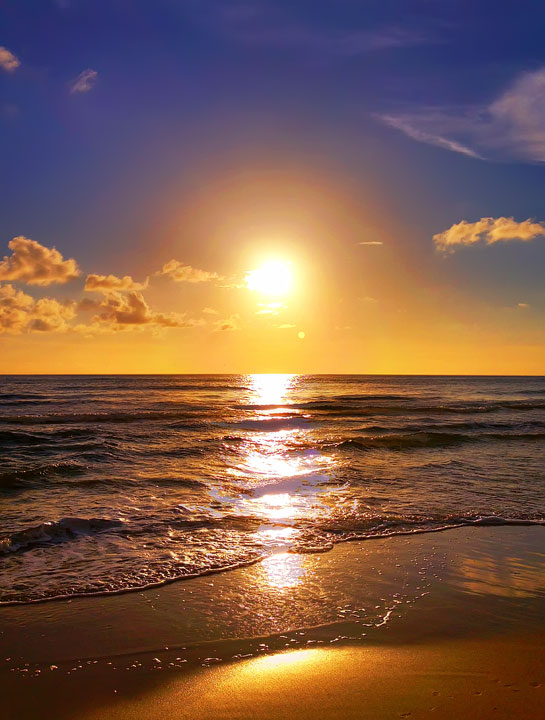 We'd come back out again just in time for sunset.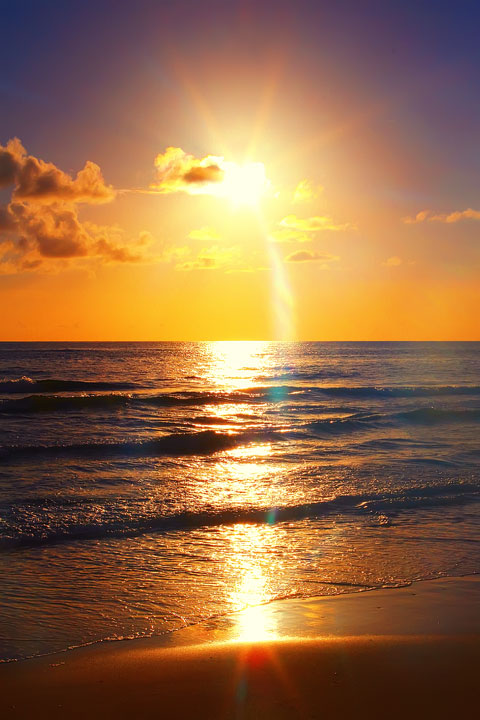 You guys know how much I love sunsets, and we seriously saw some of the most stunning, memorable sunsets ever at Cape San Blas.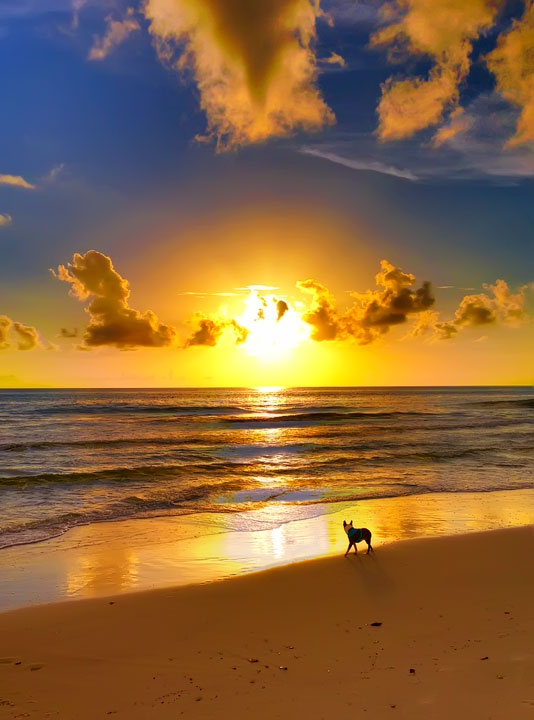 Loved sitting out on the beach every night, watching Miley and Howie play at sunset.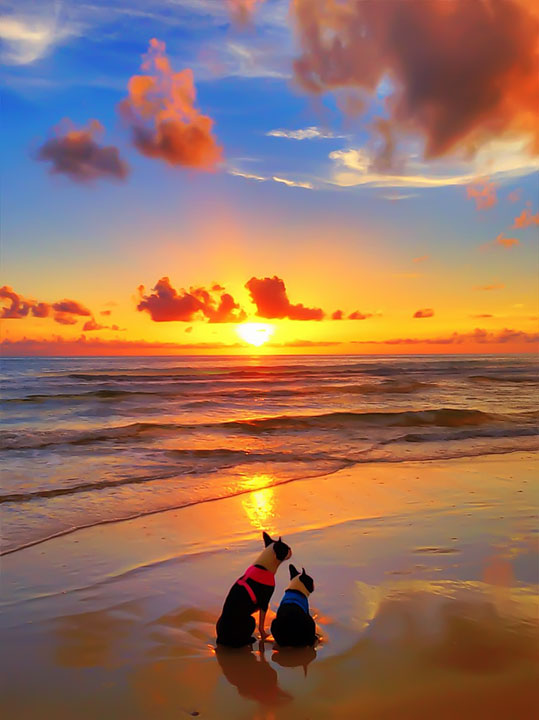 Can I transport back here right now??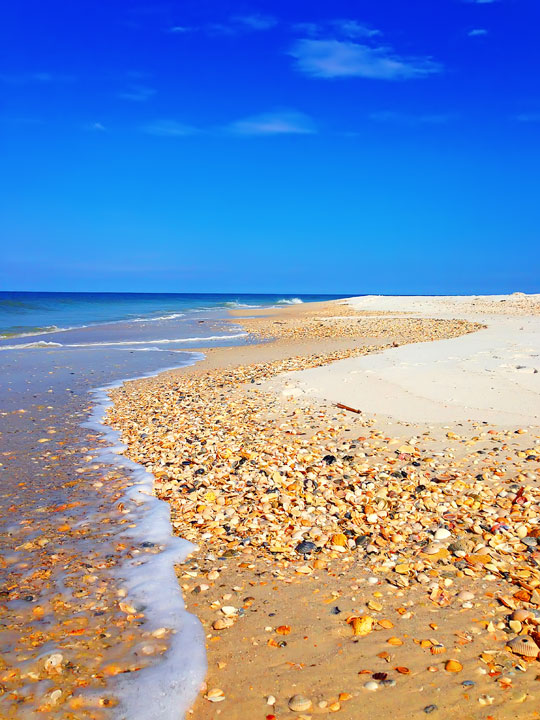 One morning we woke up and there so many shells on the beach during our walk!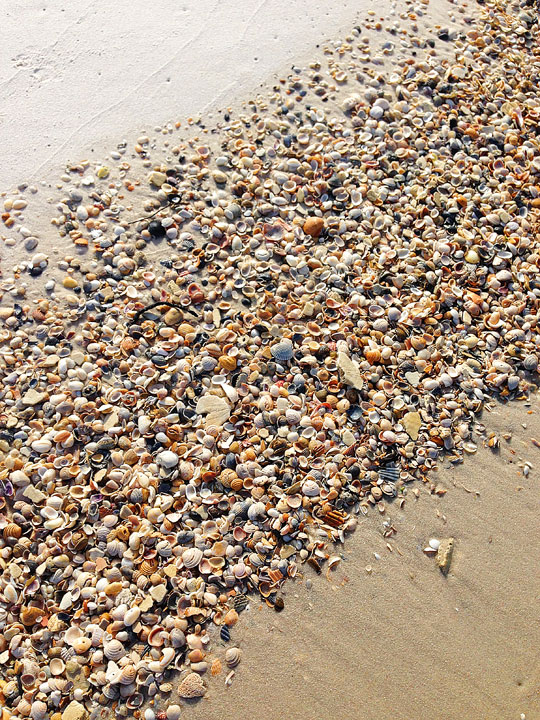 I have seriously never seen anything like it.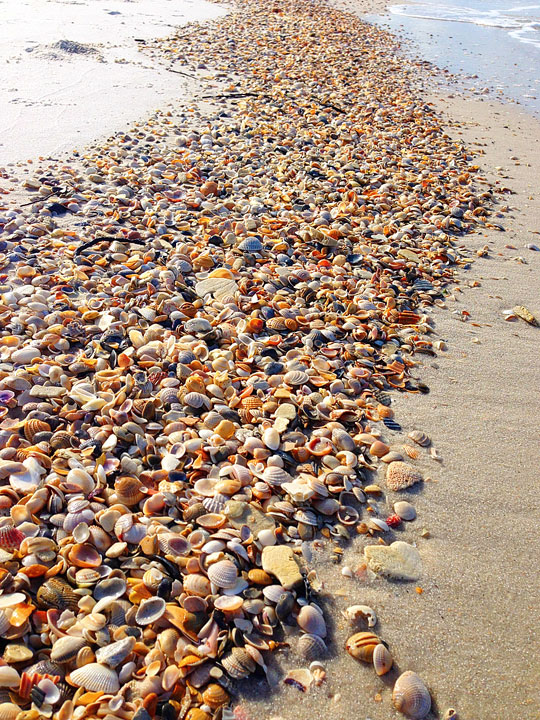 We had so much fun collecting a few of the big, unbroken ones as souvenirs! :)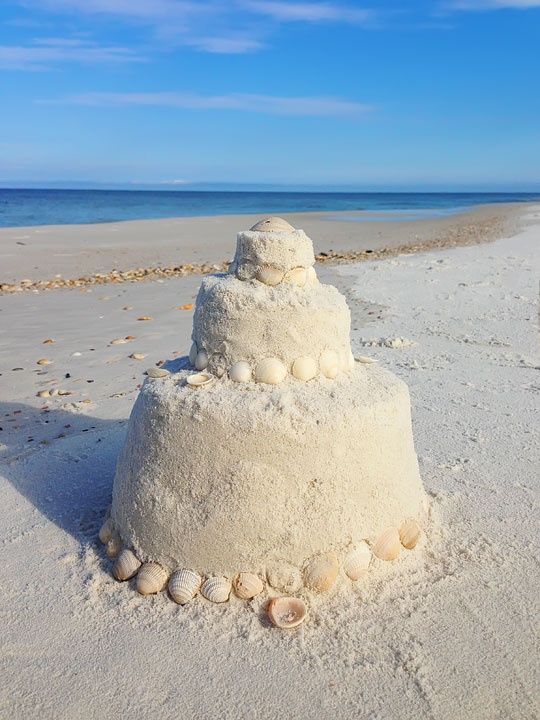 Someone had even made this cute beach shell wedding cake. :)
Another video! :) It was so hilarious watching Miley and Howie play in the waves! They were not afraid at all. They loved splashing and eating the waves! :)
Play the video above and watch where Miley catches the frisbee at the end. She totally hams it up and looks right at the camera after she catches it, lol!! She's like "Did you see that Mom?? Did you get it??" Lol!
She is such a ham. When there were people on the beach in the afternoon, Miley would catch the frisbee and do a "victory lap" looking around to see who all was watching her (they all were!) :) If anyone was cheering she'd promptly take the frisbee and drop it right at their feet for them. Of course they would all throw it again for her, lol! :)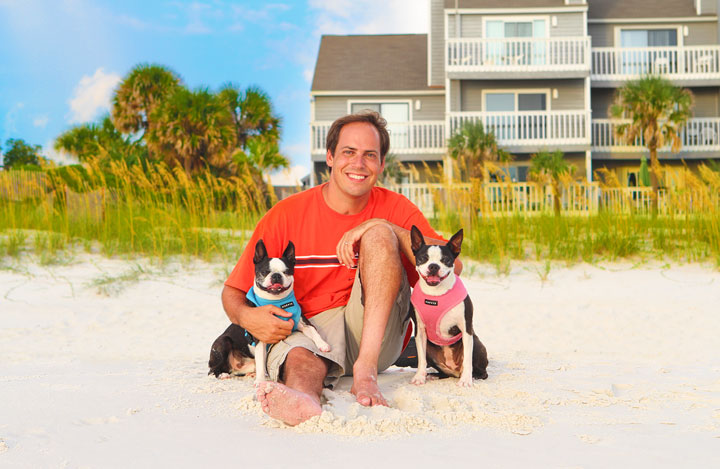 We'd come back out to the beach every night just in time for sunset.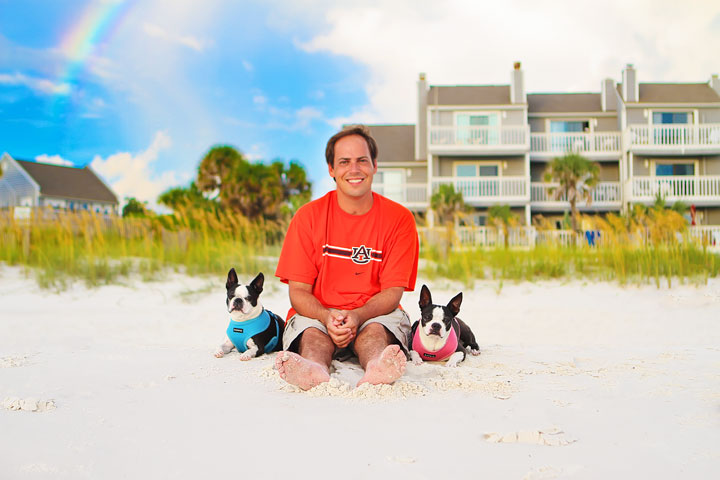 We even saw another rainbow on the beach! Wish I could Photoshop myself into this photo!! :)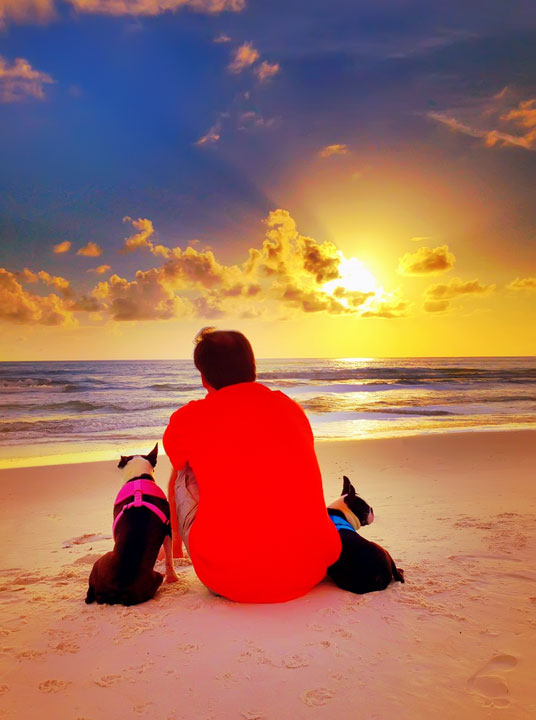 And this one. :)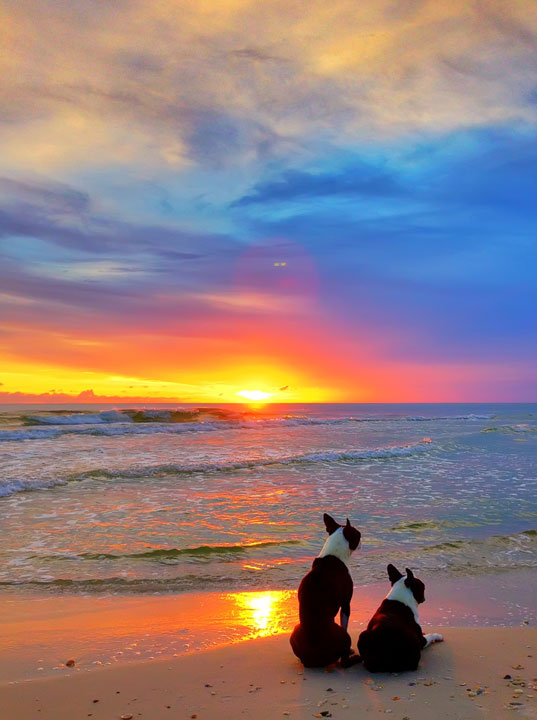 Shells, sunsets, and my two little stinkers.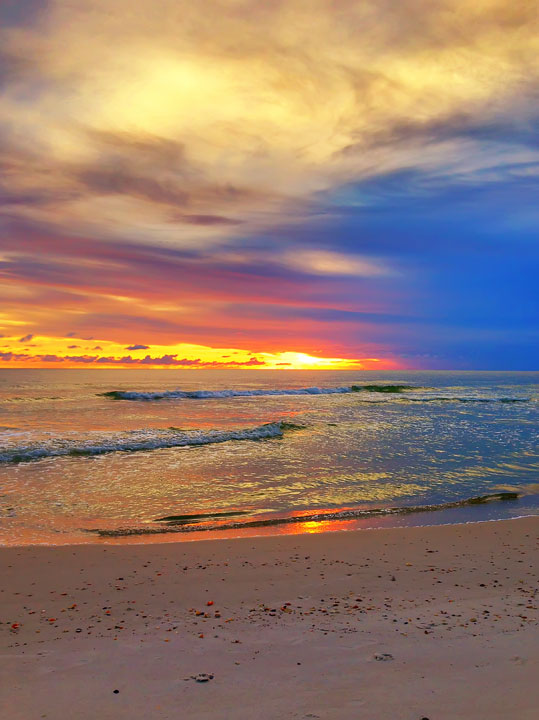 Kevin and I would snuggle on the beach and watch this every night.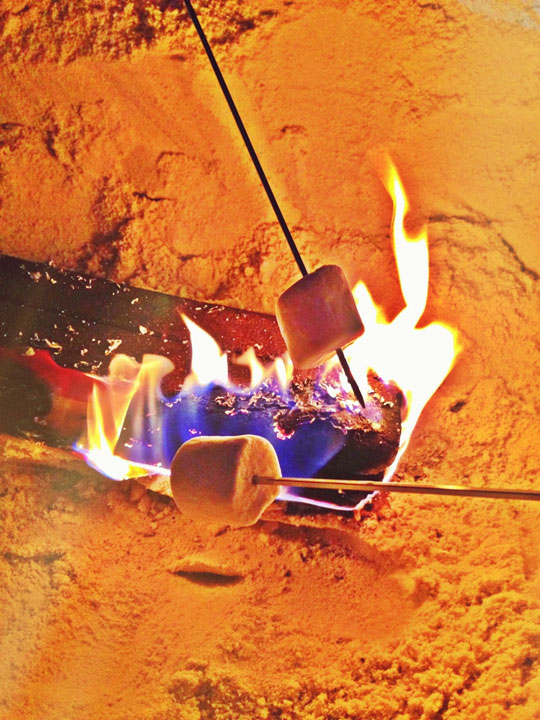 Making S'mores
You know what else is awesome about Cape San Blas?? You can have beach bonfires!! :)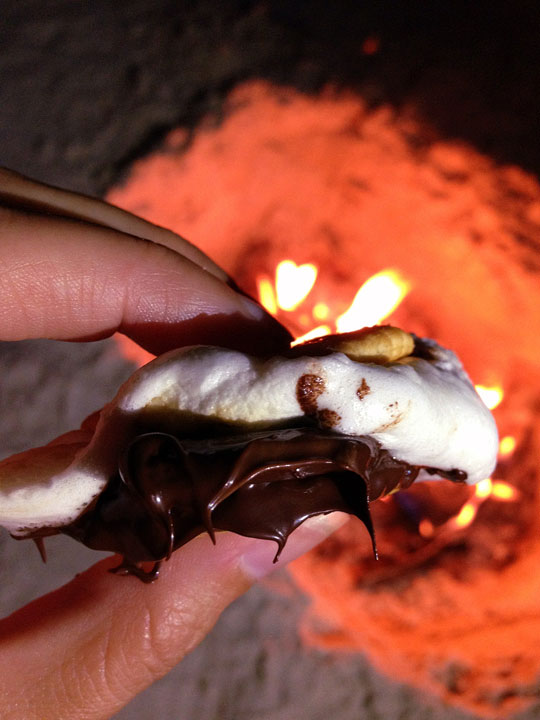 That's right… That means BEACH S'MORES!! :) We loved this tradition each night. We couldn't resist sitting out on the beach, watching the dolphins, listening to the waves crash, and warming up by the fire.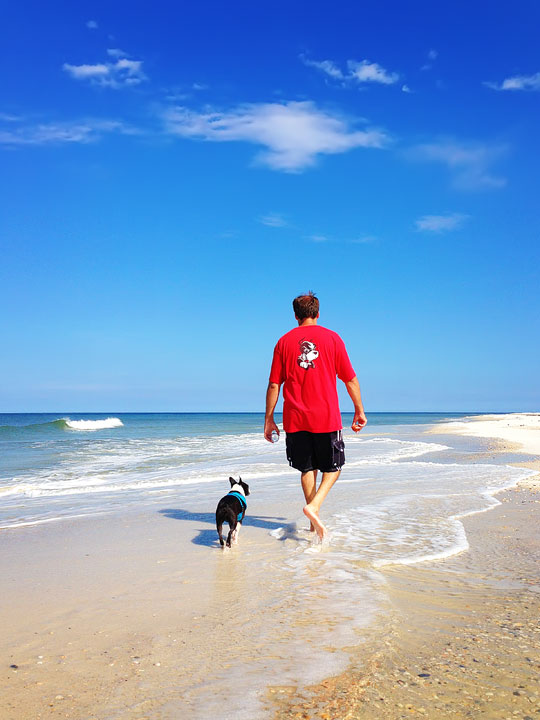 We would walk off all the calories the next day during our morning walk ;)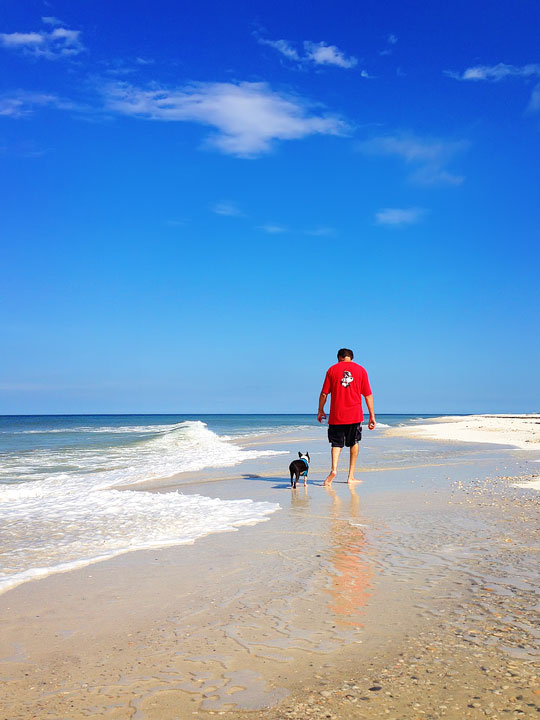 We would also see the dolphins on our morning walk.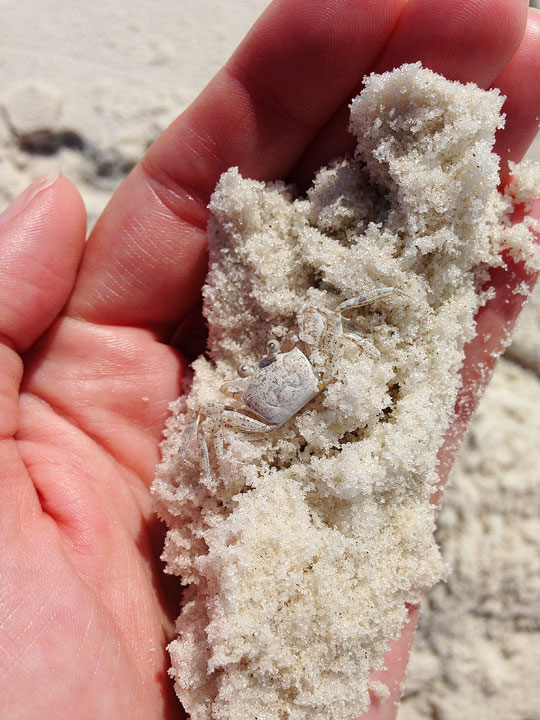 We saw tons of these little guys digging holes all over the beach! :)

One night there was a storm rolling in (on the left side of the screen) right at sunset and the sky was seriously the most crazy, incredible sky I have ever seen.
By the end of the week, Miley and Howie had the waves all figured out! :) They loved diving into the waves and "surfing" them back. The water was really shallow so they could run really far out and still be able to touch. This is my favorite video of the week, love how Howie just dives right into the waves, lol! :)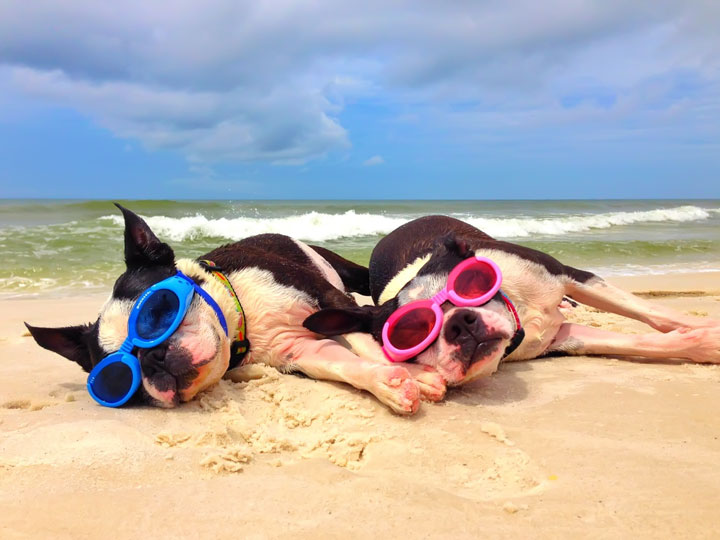 Miley and Howie are too cool for the beach! ;) They played hard and they napped hard. :)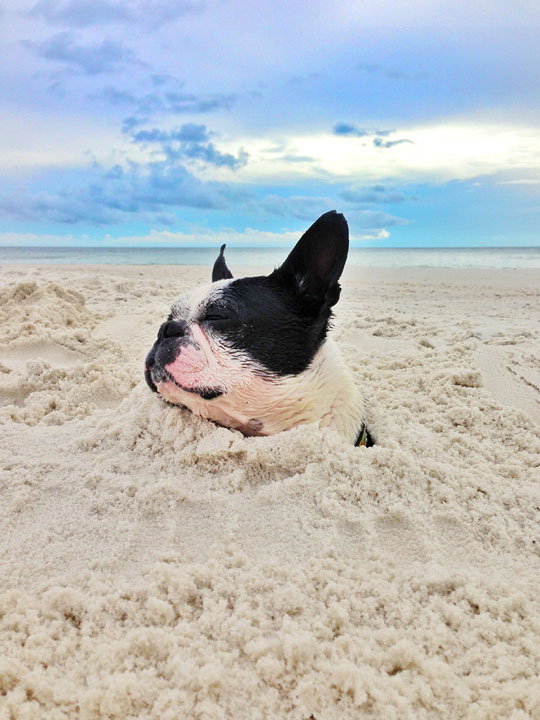 Howie had a grand time digging in the sand and rolling around in it, so on the last day — after a big day of running on the beach and playing in the waves — we dug him a big hole and he climbed right in, lol! Of course we were mean and couldn't help but bury him. ;) He is such a good boy though. He didn't seem to mind one bit. He was in no hurry to get out, lol! :)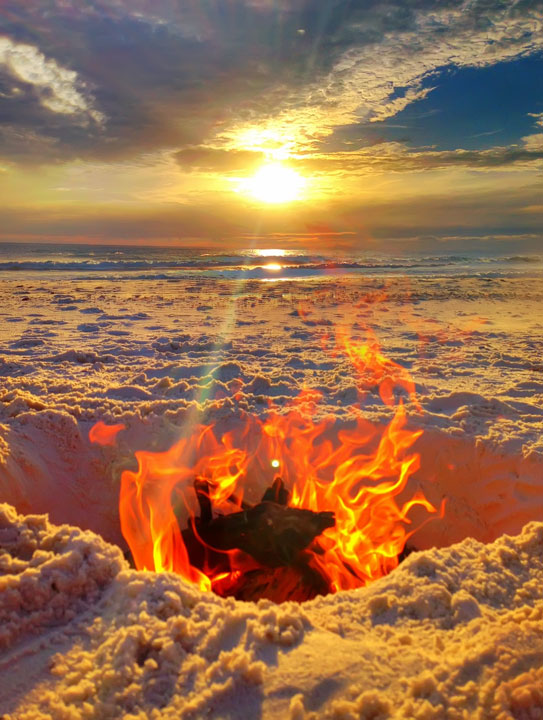 Our final bonfire on the beach, at sunset.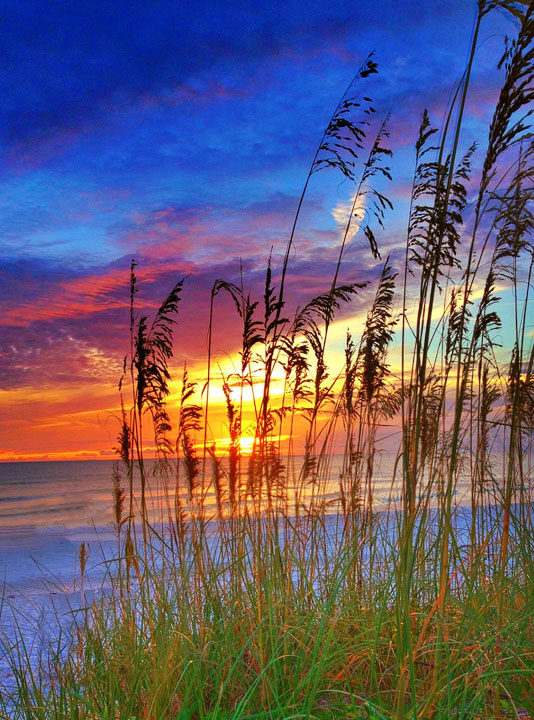 I will never forget the sunsets at Cape San Blas!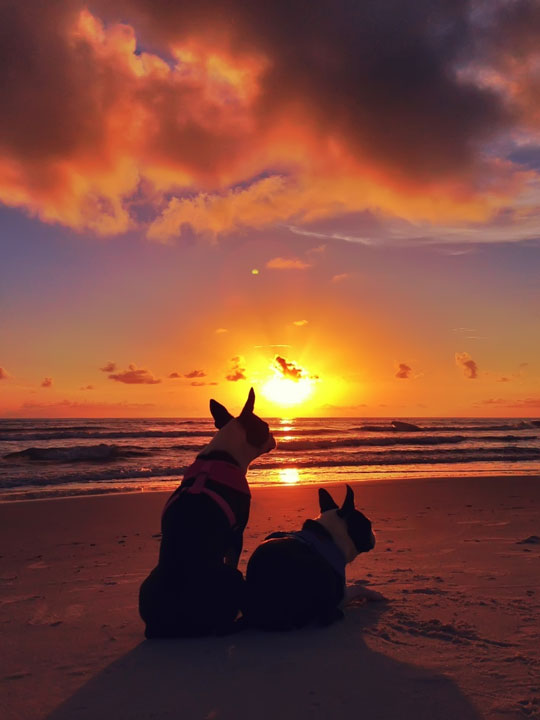 Loved sitting on the beach with Kevin and watching them with Miley and Howie every night.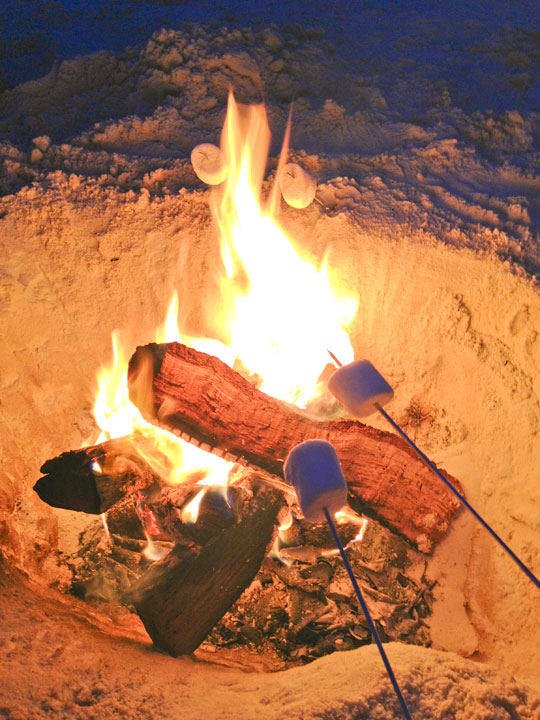 On the last night we invited our neighbors who we'd gotten to know over the week to join us for beach s'mores.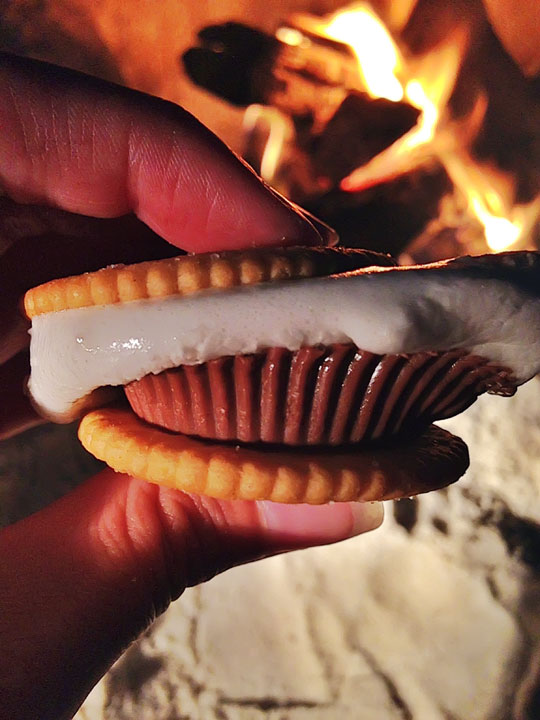 We totally converted them to the Ritz Peanut Butter Cup S'more!! They are new fans!! :)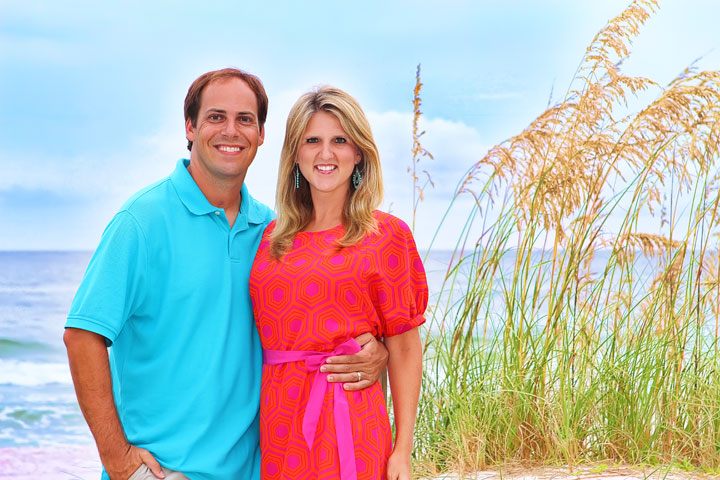 Thanks so much for looking!! :) If you're thinking about planning a trip to Cape San Blas, I've got a few more posts coming up about where to stay and where to eat. :) Stay tuned!! :)
Have a great Wednesday!! :)
See more posts from our week in Cape San Blas:
Where to Stay in Cape San Blas
Miley and Howie on the Beach
---
Like this post? Save it on Pinterest!