If you're planning a trip to Paris, you'll definitely want to stay somewhere with views of the Eiffel Tower! We loved our trip and had a very enjoyable stay at this beautiful furnished apartment. We could see the Eiffel Tower right from our window!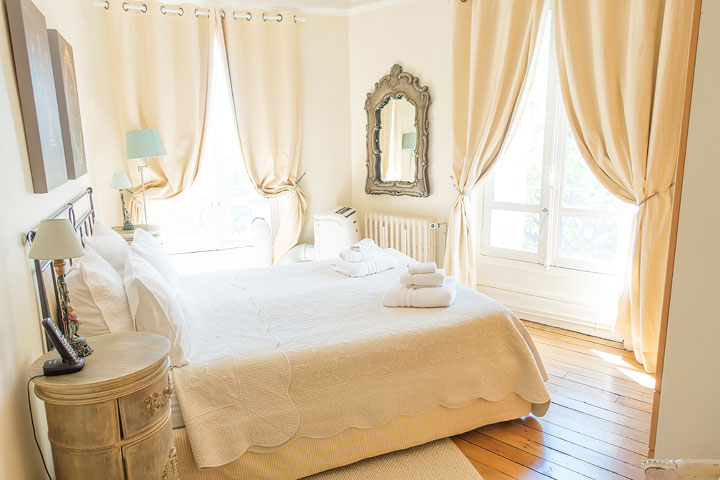 Where To Stay In Paris To Have Views Of The Eiffel Tower
I'm going a little bit out of order again, because I've gotten so many emails about where we stayed in Paris this summer! I wanted to share really quickly before the holidays in case anyone is looking for the most perfect, cozy, one-bedroom apartment in Paris with a view of the Eiffel Tower.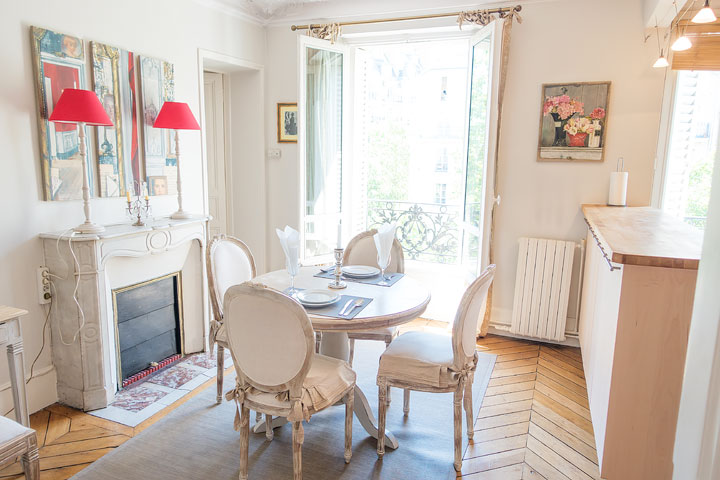 We rented a gorgeous apartment right in the heart of Paris from Paris Perfect Apartment Rentals.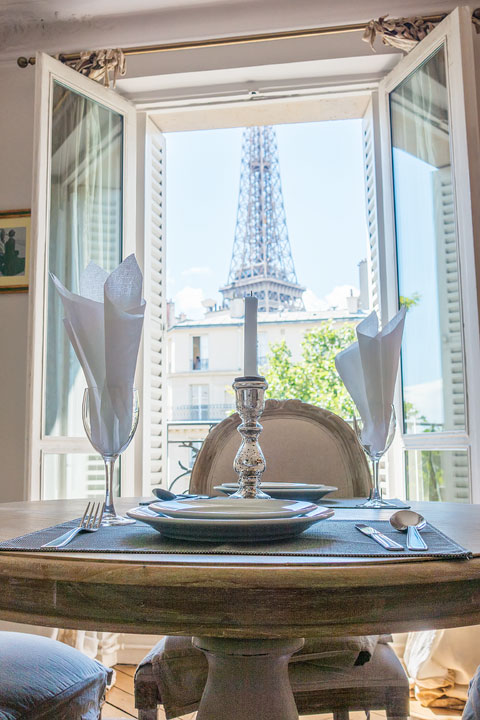 Every room has a view of the Eiffel Tower!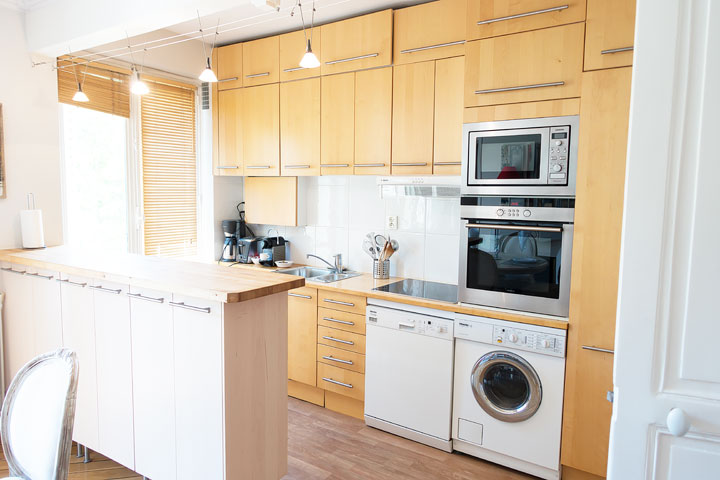 The kitchen is fully stocked, and there's an amazing patisserie and grocery store right across the street. We had croissants and sandwiches from the patisserie every morning for breakfast and lunch.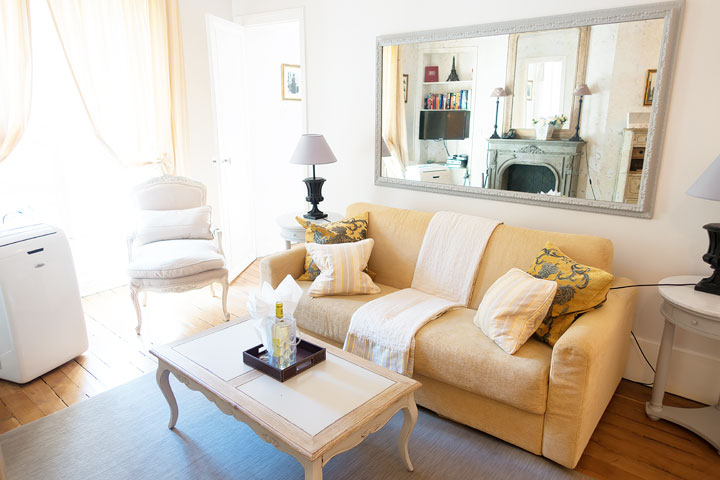 Our apartment was massive for its location… Tons of space! Perfect whether you're staying a few days or a few weeks.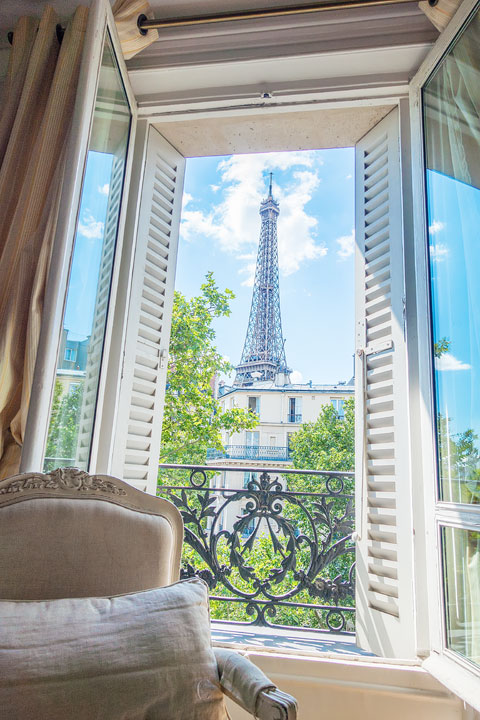 This Is One Of The Best Areas To Stay In While In Paris
I would highly, highly recommend the location we stayed in. It's one of my favorite neighborhoods in Paris. Again, right across the street you can find some of the most amazing croissants in Paris, and right down street is one of my favorite new pastries in Paris, Aux Merveilleux de Fred. So, so dangerous. I would eat one of these every single day!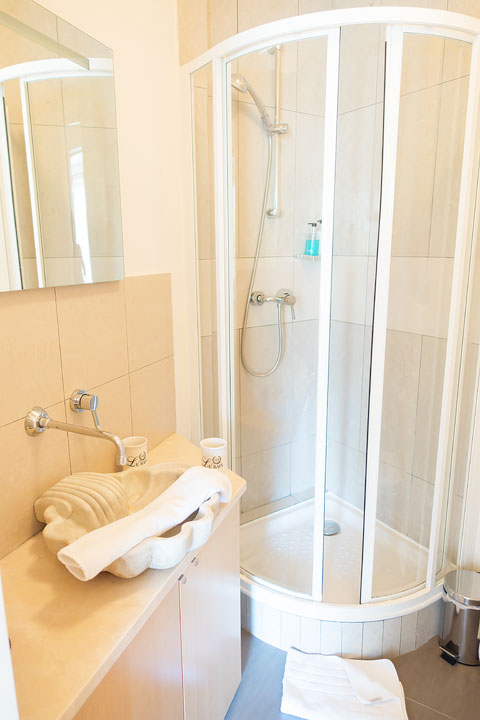 Here is a link to the exact apartment we stayed in.
Spacious, fully stocked, all amenities, including AC, right in the heart of Paris within walking distance to the Eiffel Tower. Seriously could not ask for a better place to stay!
If you're planning a trip to Paris, be sure to check out our other posts from Paris:
And if you're thinking Paris for the holidays, check out these specials from Paris Perfect Apartment Rentals:
You Can Have A Perfect Thanksgiving While In Paris
Paris Perfect – a curated collection of luxury vacation apartments and concierge services – is offering the perfect way for guests to fully enjoy Thanksgiving while abroad. Guests staying for at least five nights within the dates of November 19 – 27 at a Paris Perfect apartment will receive a discount of up to 30% on their stay, in addition to a Thanksgiving Day feast, either delivered or prepared in the apartment by a local chef, or out at a local restaurant serving a special Thanksgiving meal. Guests will receive a welcome bottle of 2016 Beaujolais Nouveau wine and a box of madeleines to kick off the holiday season. Find more information about the offer here: https://www.parisperfect.com/offers/thanksgiving-sale.php.
Paris Is Also Perfect To Visit Around The Holidays
Paris Perfect Apartment Rentals is offering discounts of up to 30% off stays at select apartments. The holiday package, valid from December 20, 2016 to January 4, 2017 for stays of 5-nights or more, includes the following:
Gourmet holiday gift basket, including a bottle of red wine along with mulling spices, and a traditional Buche de Noel
Up to three complimentary exclusive restaurant reservations
Reservations for local experiences, such as the Christmas Illuminations Sightseeing Tour
Access to a personal shopping concierge to help you buy your holiday presents
Each child staying on Christmas/the first night of Chanukah will receive a gift
The five-night packages in Paris start at $1,970. Find more details here: http://www.parisperfect.com/offers/save-30-christmas-newyear-stays-2016.php
***
Thanks so much for reading! Until next time! xoxo