Disney World is full of magic and tons of fun! But more importanly, there are so many amazing places to get Food in Disney World! You won't want to miss out!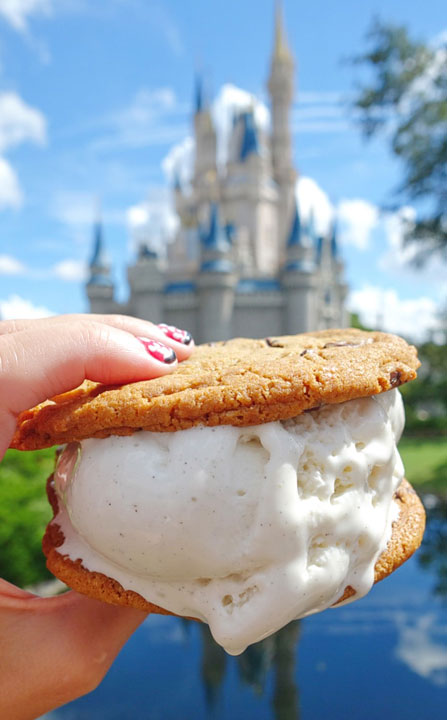 Where to Eat at Disney World
I just got back from a once-in-a-lifetime experience at Walt Disney World in Florida with 7 of my favorite food blogging friends. We were there for Epcot's highly anticipated annual International Food & Wine Festival.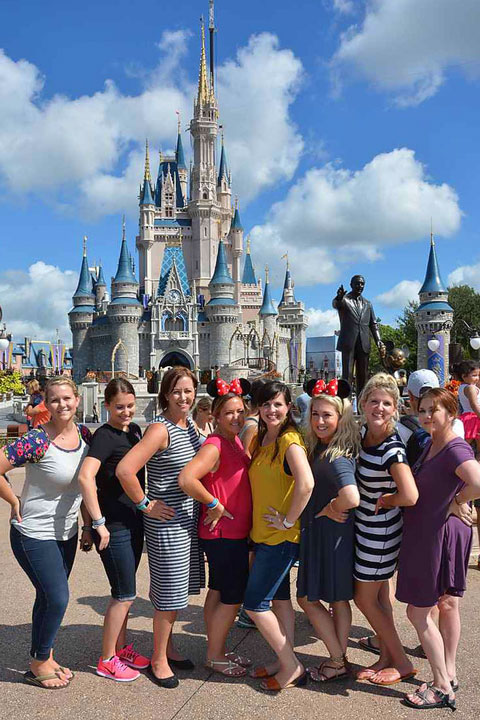 Left to Right: Shawn, Jamielyn, Kristen, Shelly, Kristyn, Jenny, Amanda, Kristan
With 8 food bloggers running loose we definitely ate our way through every single park and had some of the most amazing and memorable meals of our lives. No matter how old you are, Disney is always magical.
If you are planning a trip to Disney, here were some of our favorite, can't-miss eats and treats at Disney World that you'll definitely want to put on your foodie bucket list!
Magic Kingdom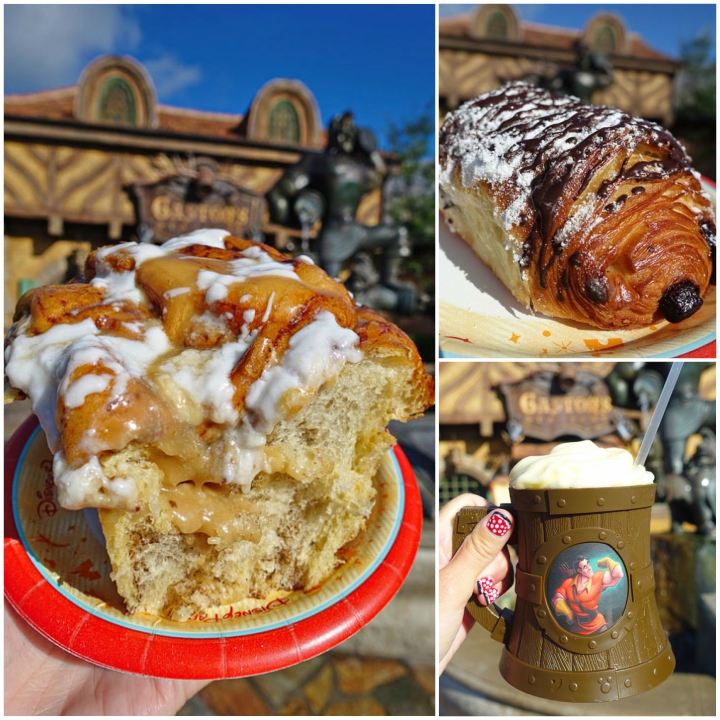 Here you can get a GIANT, deliciously warm, gooey cinammon roll, a decadent chocolate croissant, and "LeFou's Brew", a frozen apple juice smoothie with a hint of toasted marshmallow and topped with passion fruit / mango foam. So good!!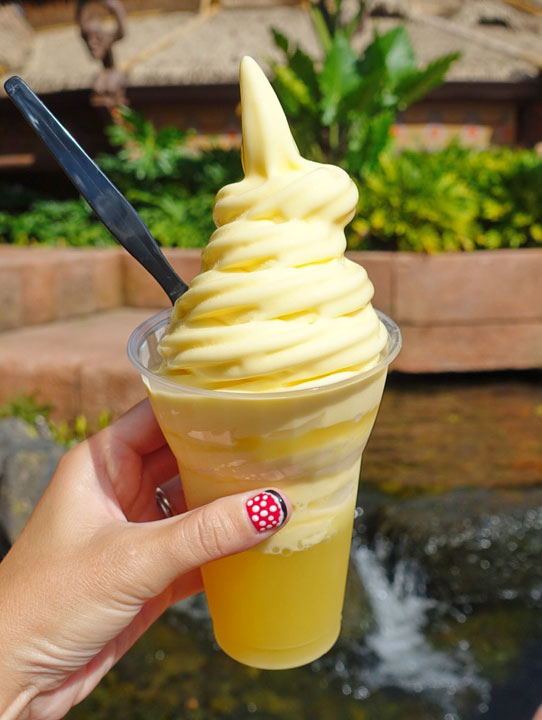 The famous Dole Whip Float is a MUST at Magic Kingdom! You can get Disney's famous pineapple soft-serve ice cream by itself, but I prefer it as a float with fresh pineapple juice at the bottom. The best is when you get to the end and mix and ice cream and pineapple juice together for a frozen, slushy, ice cream treat!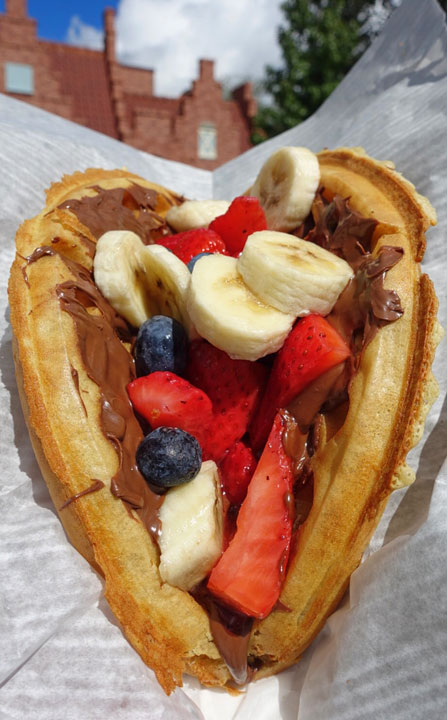 This Nutella and fresh fruit waffle sandwich with strawberries, bananas and blueberries is to die for! Here you can also find that giant ice cream cookie sandwich pictured in the first photo of this post. A fun stop for a quick snack at Magic Kingdom.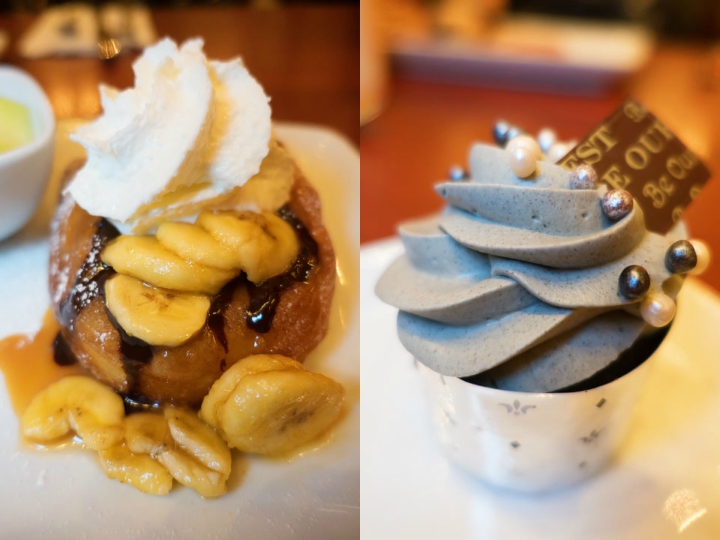 Be Our Guest is such a fun, magical restaurant in Fantasyland at Magic Kingdom. You really feel like you are walking into Beast's enchanted castle. Breakfast and lunch is served quick-service style. You walk up to a computer and order your meal on the touch-screen. Then you can find a table and sit anywhere you want. You server magically finds you and brings you your exact order.
If you come here for breakfast you can get this decadent Croissant Doughnut, a fried doughnut topped with banana-caramel sauce, pastry crème, and chocolate ganache served with fresh fruit and a selection of pastries.
Also, you HAVE to "try the Grey Stuff" — it's DELICIOUS! ;)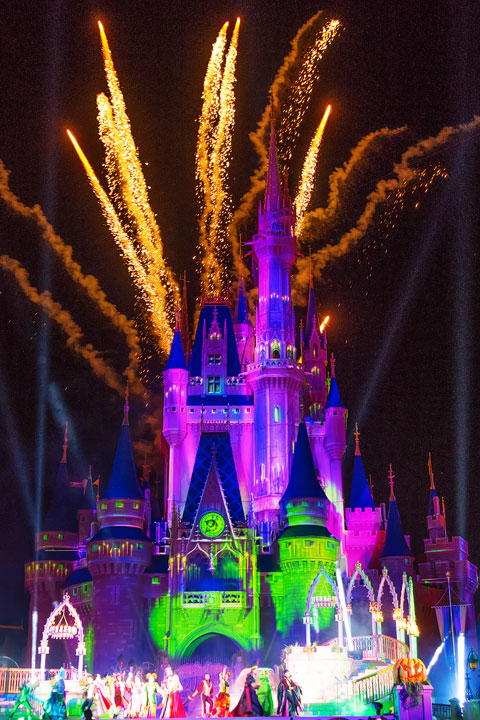 This is such a fun, special event that only happens around Halloween. Everyone dresses up and you can trick or treat throughout the park! They even have allergy-free options for candy.
You might even see some of your favorite Disney characters in their own special Halloween costumes!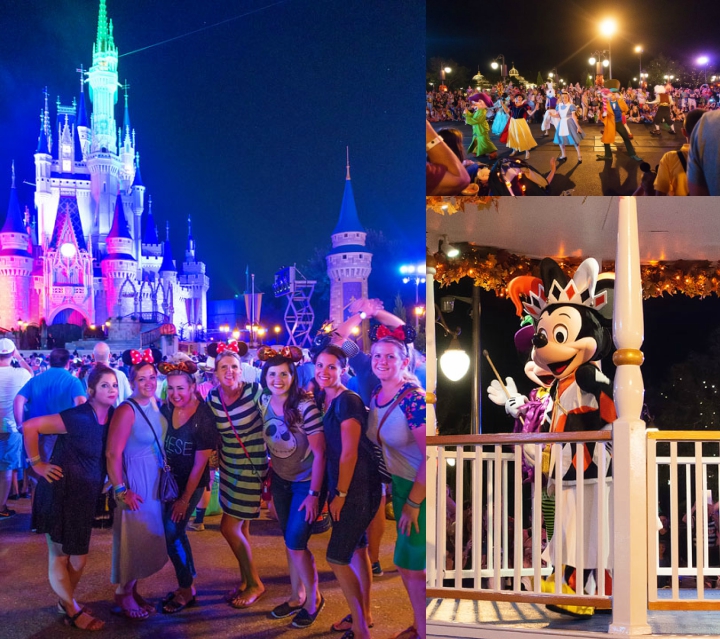 There are exclusive events like the special Boo-to-You Halloween Parade, the Happy HalloWishes Fireworks Show, and all the famous Disney villains get together and perform in the Hocus Pocus Villain Spelltacular.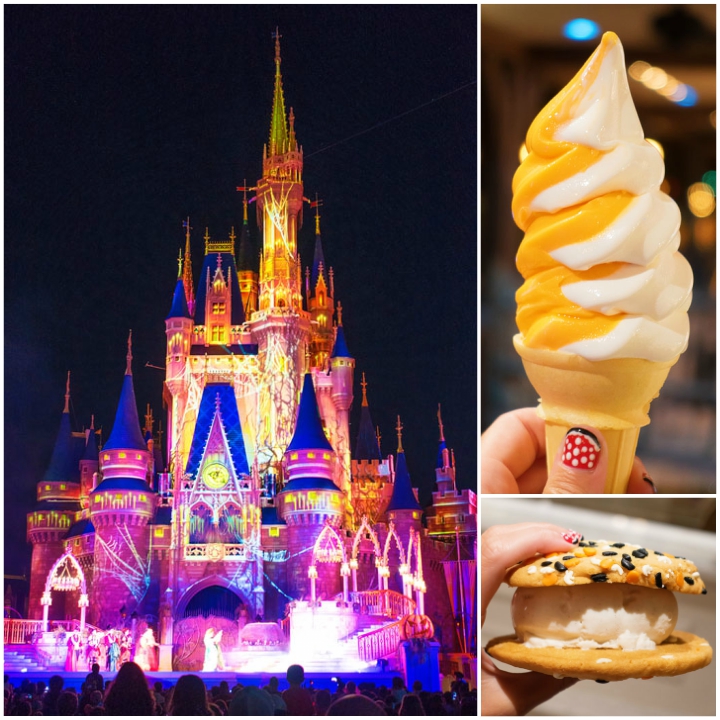 All of that PLUS, there are also special treats throughout the park that are only available during the Halloween Party!!
My favorite was the Candy Corn Soft Serve at Storybook Treats and the Creepy Cookie Ice Cream Sandwich from Plaza Ice Cream Parlor.
Mickey's Not So Scary Halloween Party is such a fun event if you'll be at Disney in the fall. Check it out and see!
---
Hollywood Studios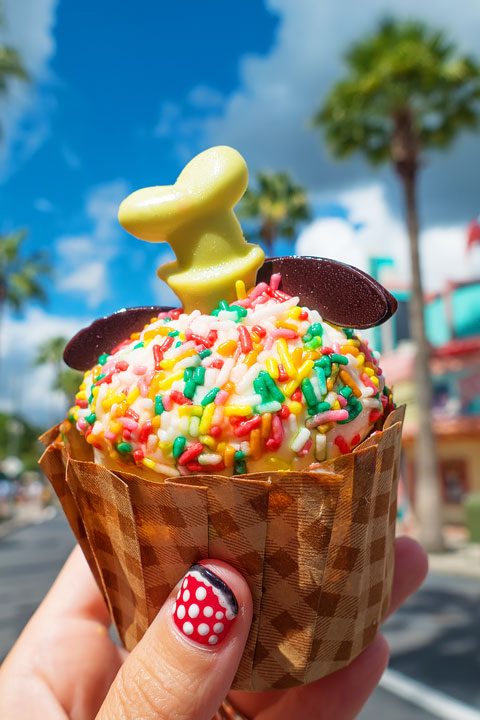 Whenever I'm at Hollywood Studios, I always have to pop by Starring Rolls Cafe to see what fun cupcakes they have! How cute is this Funfetti Goofy Cupcake??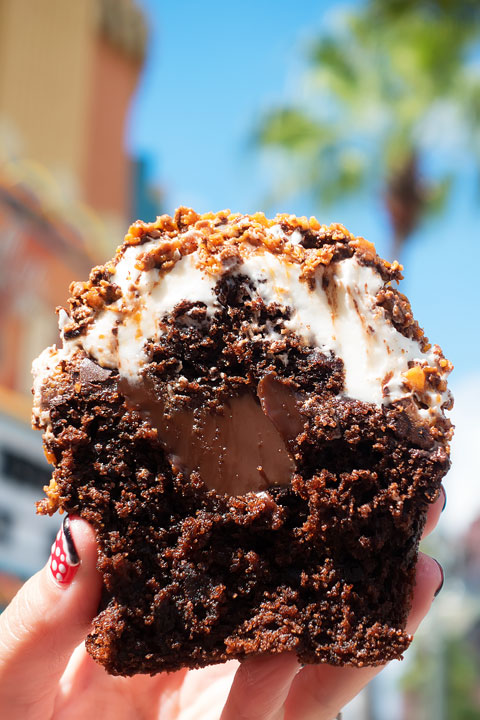 The Butterfinger Cupcake is always a favorite!!! If you only try one, pick this one!
---
Animal Kingdom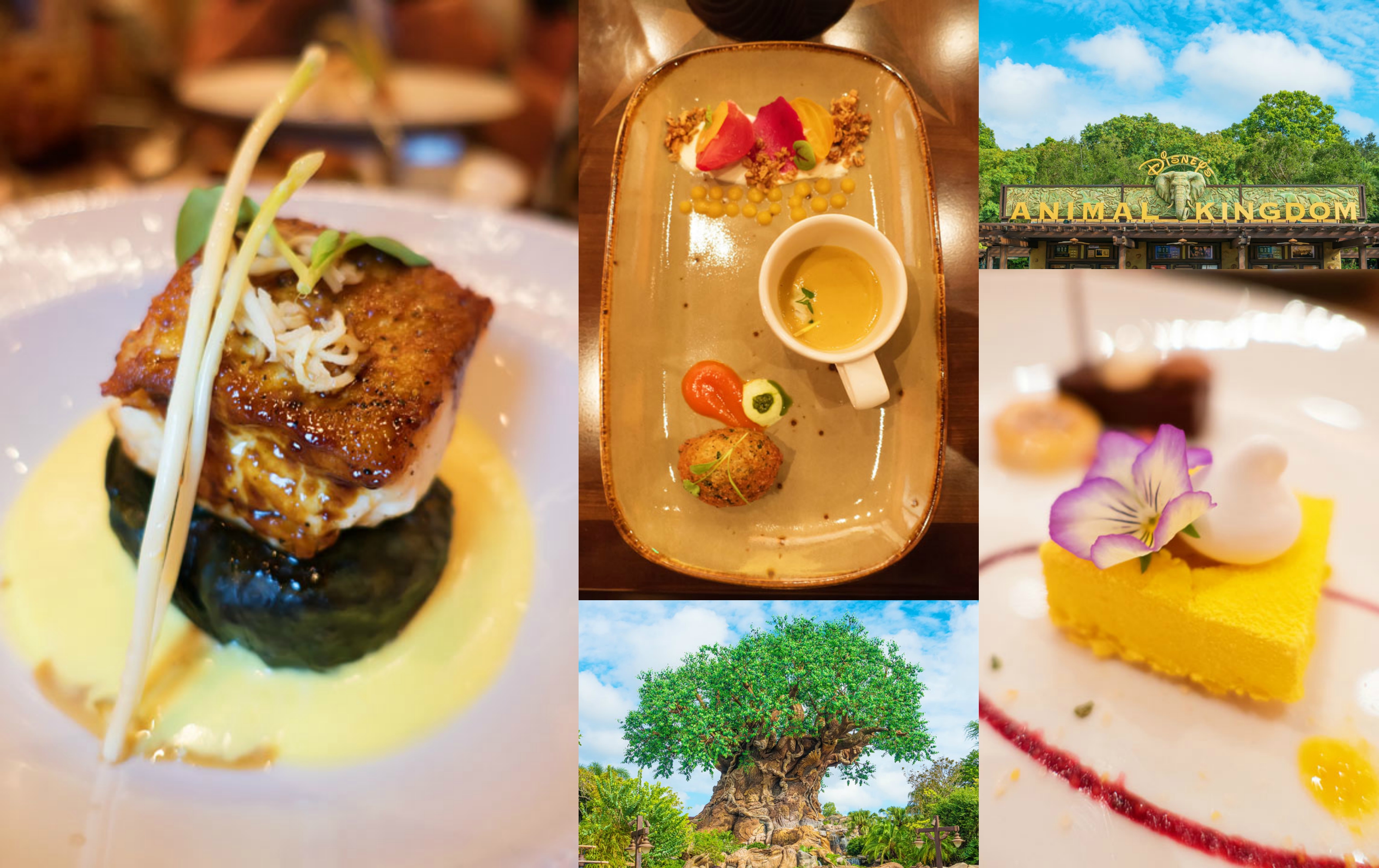 We had dinner at Tiffins one evening and it was such an incredible experience. Tiffins held a special place in my heart because this restaurant was inspired by travel and adventure. Each room is decorated with photos, artifacts, and souvenirs from around the globe.
Everything we had here was phenomenal. I highly recommend the curry soup (appetizer) and the glazed halibut (entree).
Epcot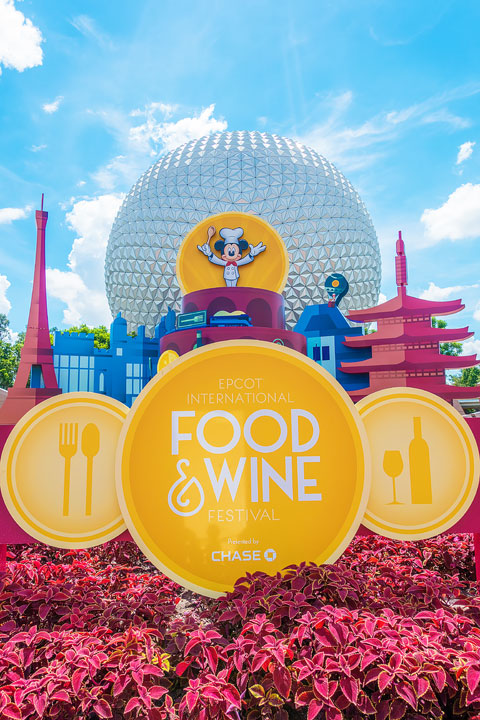 Now for the main event! We were so excited for the Food & Wine Festival at Epcot. This was my first time attending this amazing culinary showcase.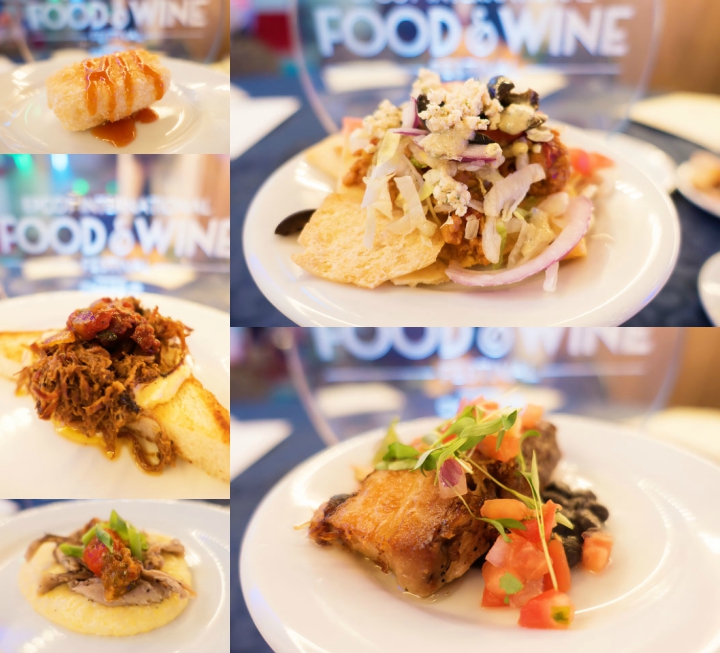 If you are a foodie, plan to spend a day eating your way through the Epcot World Showcase. There are 30 unique kiosks featuring international specialties from all over the globe. Grab a quick bite to share then move on to the next! :)
Some of the Amazing Dishes we Got to Try
Brazil
Pork Belly with Black Beans and Tomato
Africa
Butter Chicken with Steamed Rice and Naan Bread
Greece
Loaded Greek Nachos
Island of the Caribbean
Quesito – Puff Pastry with Sweetened Cream Cheese and Guava Sauce
Village Farms
Duck Confit with Creamy Polenta and Fire Roasted Salsa
Chocolate Studio
Liquid Nitro Chocolate Almond Truffle with Warm Whiskey Caramel
Wine & Dine Studio
Seared Scallop with Truffled Celery Root Puree, Brussel Sprouts and Wild Mushrooms
Hops & Barley
Smoked Beef Brisket and Pimento Cheese on Griddled Garlic Toast
Disney's BoardWalk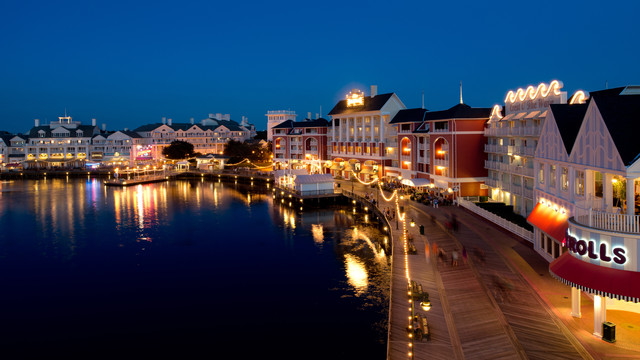 We stayed at Disney's BoardWalk Inn, and I am so glad we did because it is such an awesome location. It's so close to Epcot you can walk! Plus there are so many amazing restaurants and shops right out your front door. It really feels like you are walking down a charming, turn-of-the-century Atlantic City boardwalk.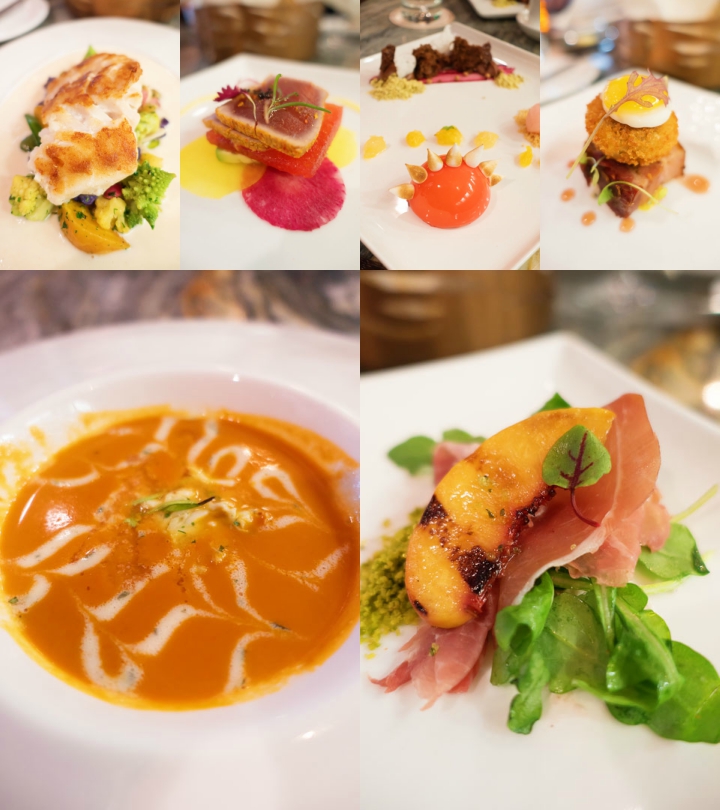 Flying Fish was another one of my favorite meals at Disney. Everything we tried knocked my socks off. I highly, highly recommend the Ocean's Bounty Sustainable Fish with a savory potato beurre blanc. Seriously life changing.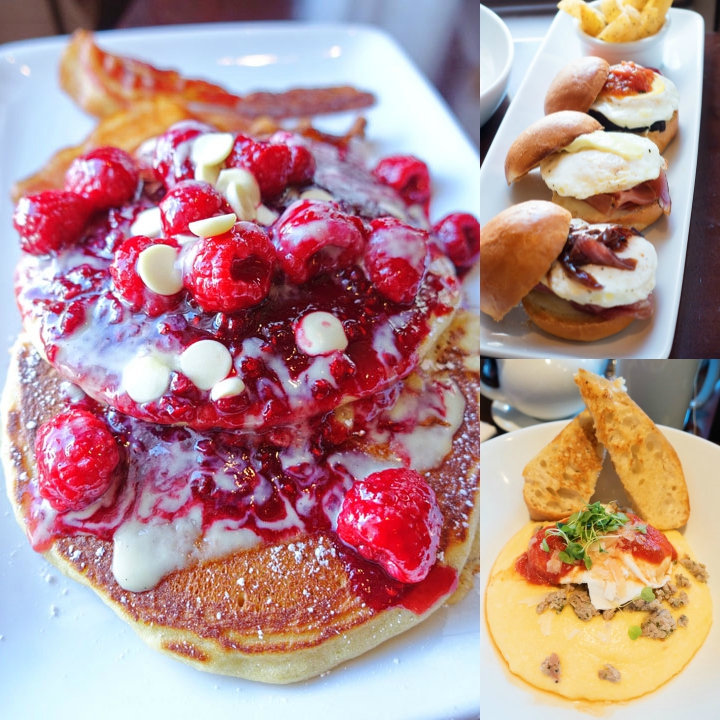 Oh my gosh, I was in breakfast HEAVEN at Trattoria al Forno!! The sweet and savory options were all to die for. This is the great thing about dining with 8 food bloggers. You get to order everything on the menu and try it all!!!
Here Were our Favorites
Poached Eggs
With sausage and tomato gravy served over soft, cheesy polenta
Berries and Cream Pancakes
Fluffy pancakes with seasonal berry compote, white chocolate drizzle, and whipped cream.
Breakfast Sandwiches
Three-styles of Italian pork with eggs and cheese on mini brioche bun
Still dreaming about those FRIES with the Breakfast Sandwiches!!! I wish I'd gotten a better picture of them for you. Those may have been the BEST fries I have ever had in my entire life. Seriously, if you are anywhere near Disney's BoardWalk, RUN to Trattoria al Forno and order those fries immediately!!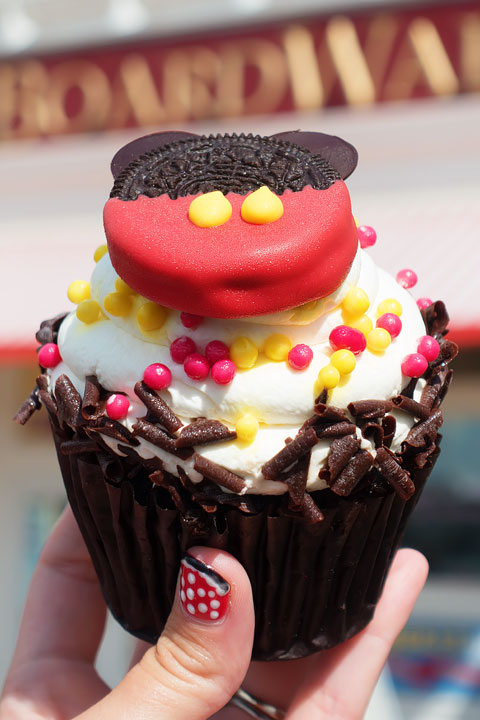 Definitely pop in here for an afternoon cupcake! How cute is this Mickey Oreo Cupcake??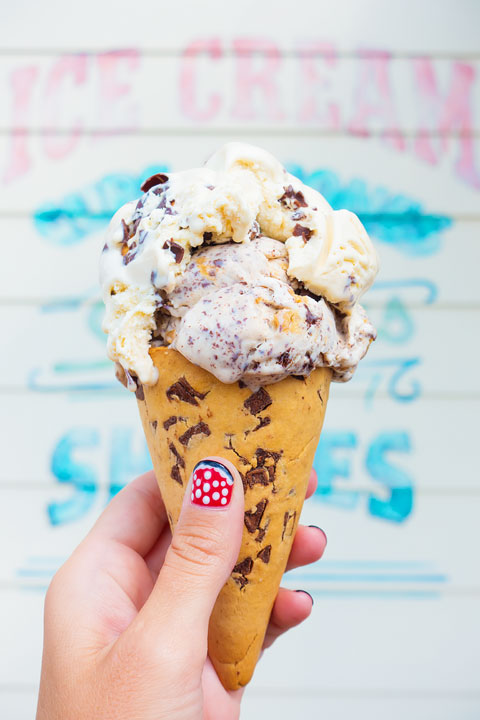 Nothing is more perfect on a summer day than a delicious ice cream cone!! The ice cream at Ample Hills is seriously amazing. They have tons of decadent, outrageous flavors!!! I wanted to come back every day and try them all. And who needs a waffle cone when you can have a chocolate chip cookie cone???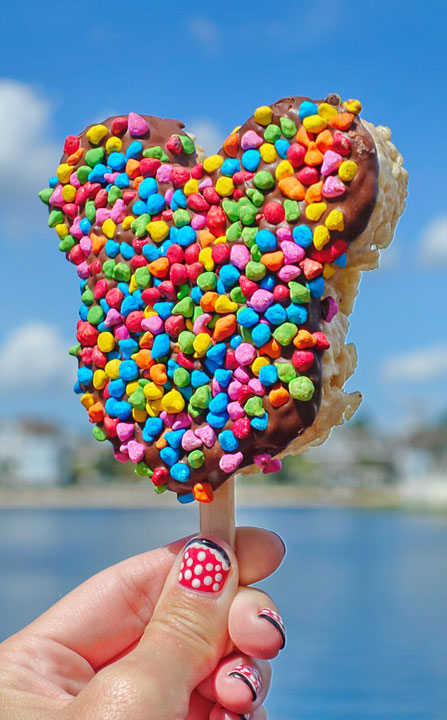 Screen Door General Store
I bought this Mickey ears chocolate covered Rice Krispy Treat on a whim on our last day at Disney to bring back to Kevin because RKTs are his favorite. I am so glad I did because this darn thing was SO good! Seriously wish I'd gotten 2 now!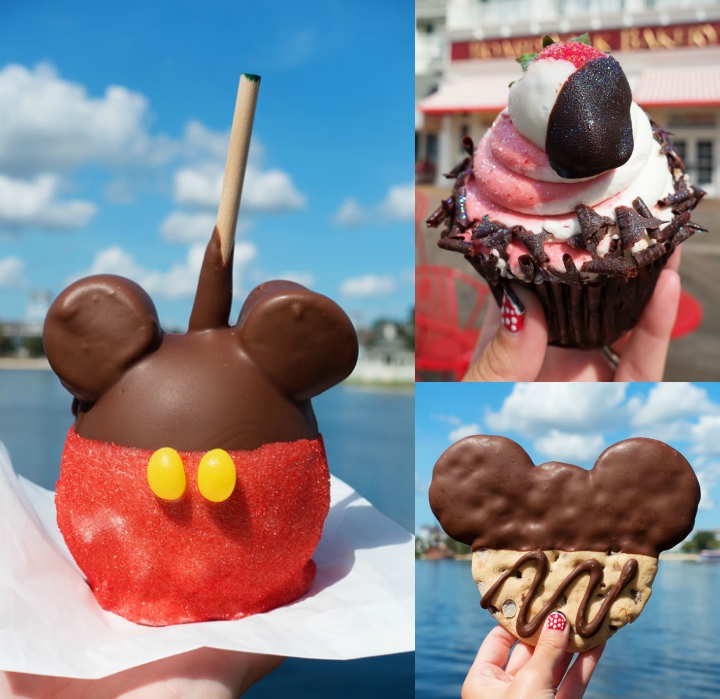 I also had to bring Kevin this fun Mickey caramel apple! So good!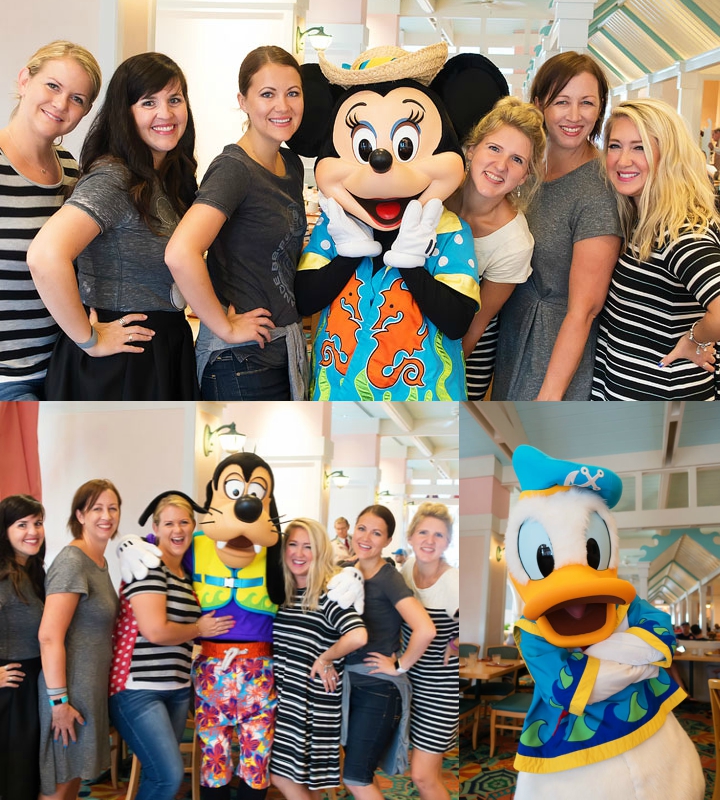 Have breakfast with Minnie, Donald, and Goofy in a fun, New England-style, beachside setting! The breakfast buffet was fabulous, unlimited Mickey Waffles!!!
Disney Springs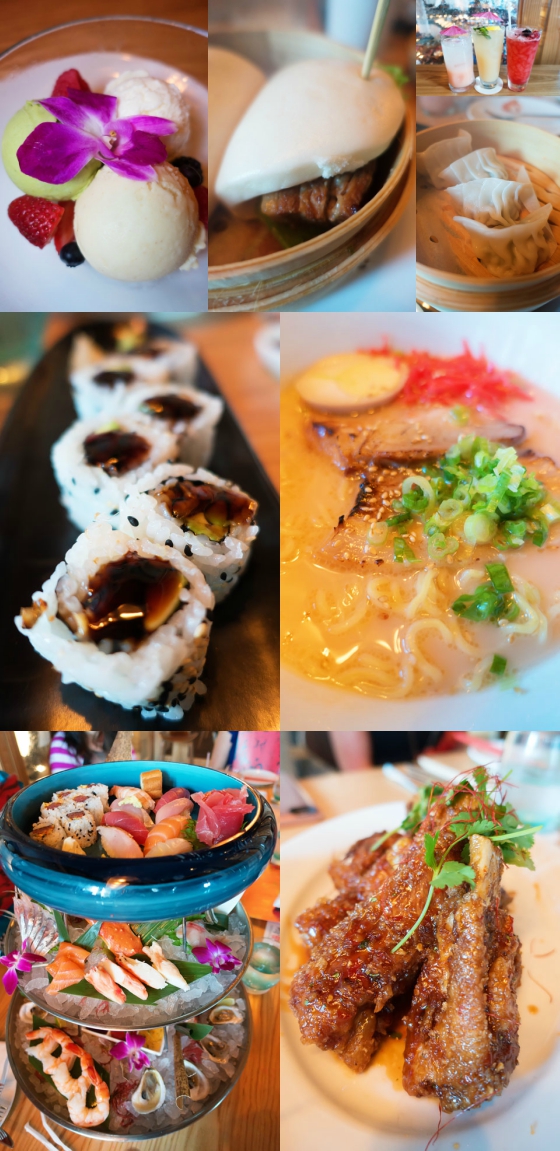 I cannot say enough wonderful things about Morimoto Asia!! I was so glad we were there with such a large group because there is absolutely NO way I could've picked just one thing off this menu!!! Pork buns, sushi, ramen, dumplings… OMG. I think my absolute favorite was the Morimoto Spare Ribs. The next time I am in Orlando we will definitely be going back here and definitely getting those spare ribs!! Highly, highly recommend Morimoto Asia!!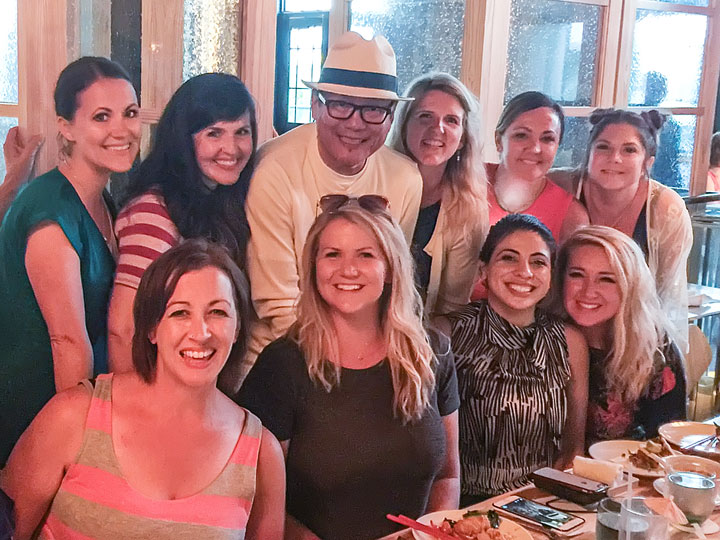 And how fun is this?? Chef Morimoto was actually at the restaurant that night and stopped by to say hi!!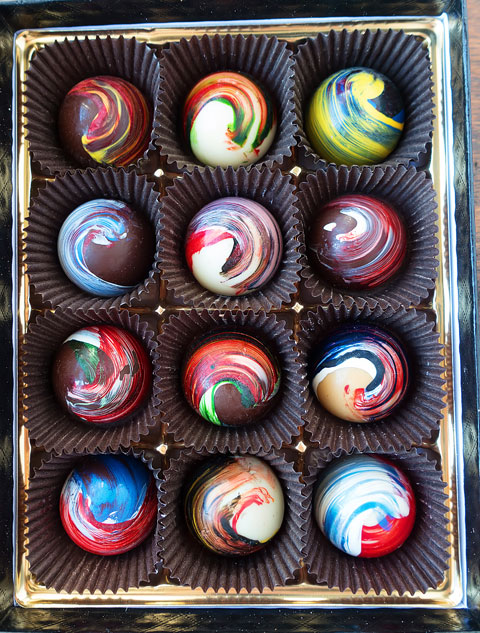 We had such a magical, whirlwind weekend at Disney. The sweet folks at Disney left us one of the most special parting gifts I have ever received. They got the chefs at Epcot to create this special box of chocolates just for us. The colors on the chocolates represent flags of countries from around the world, and the chocolates have special flavors that reflect the culinary specialties of that country. Such an unforgettable gift.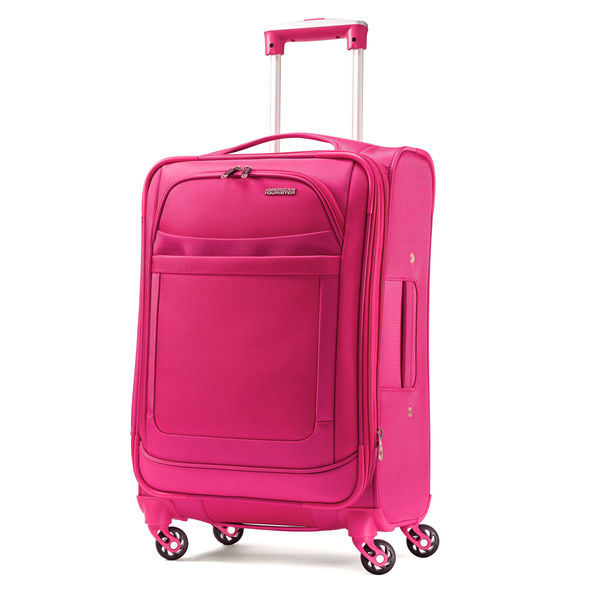 Good thing I brought my American Tourister iLite Max Spinner suitcase to bring home all my souvenirs! I love how light it is so I can pack more and buy more! ;)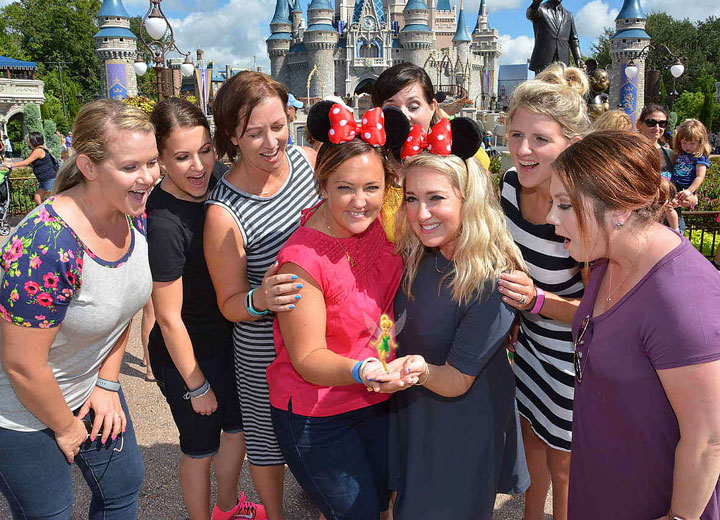 No matter how old you are, Disney is always magical. This is a weekend I will never forget.
Until next time! xoxo