If you're planning a trip to Paris and want to try all the best restaurants in Paris, here is our guide to the best Paris restaurants, cafes, bistros, bakeries, and more!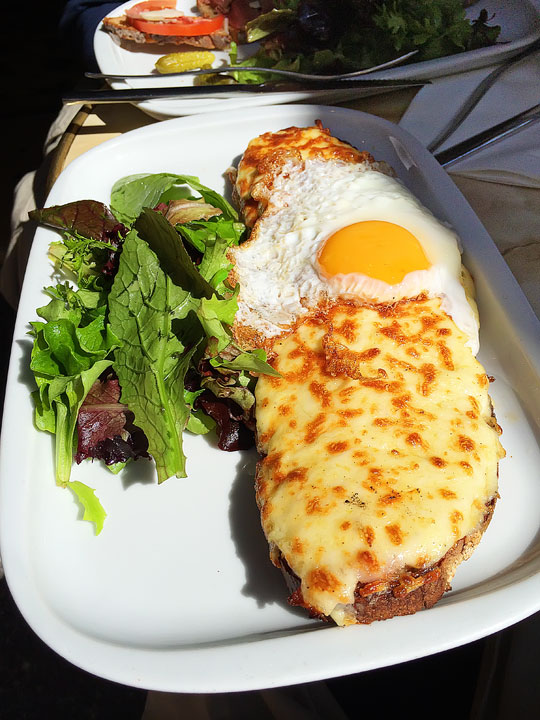 Le Petit Cler
This traditional French bistro a great spot for lunch near the Eiffel Tower. It's located on a fun pedestrian shopping street. Try the Croque Madame!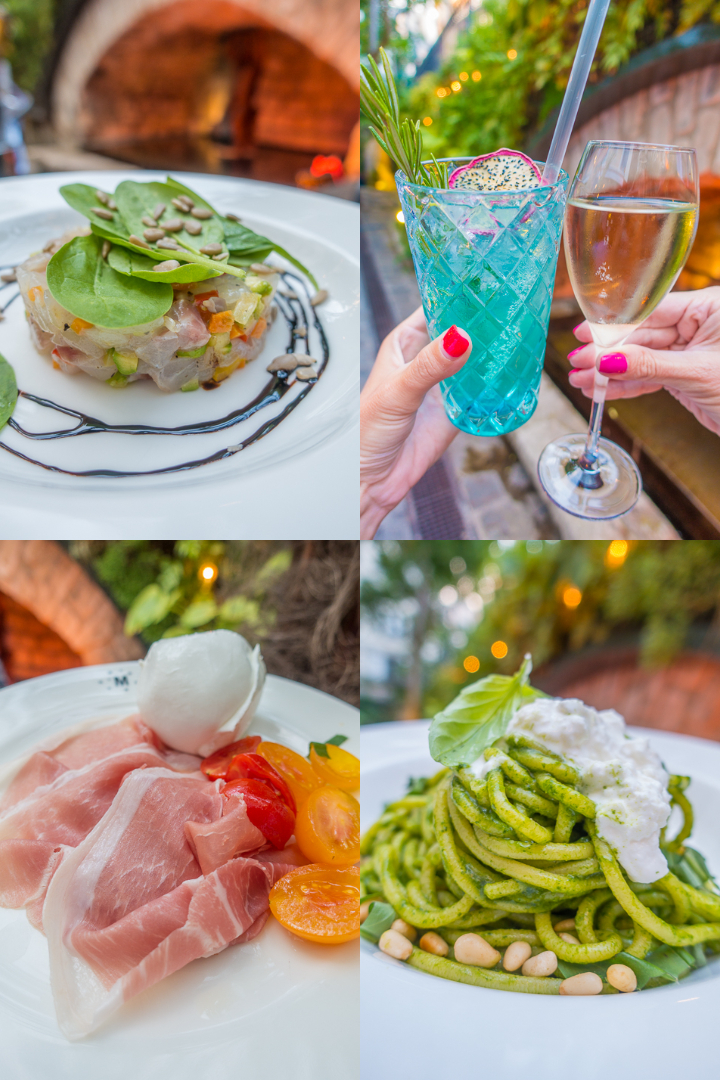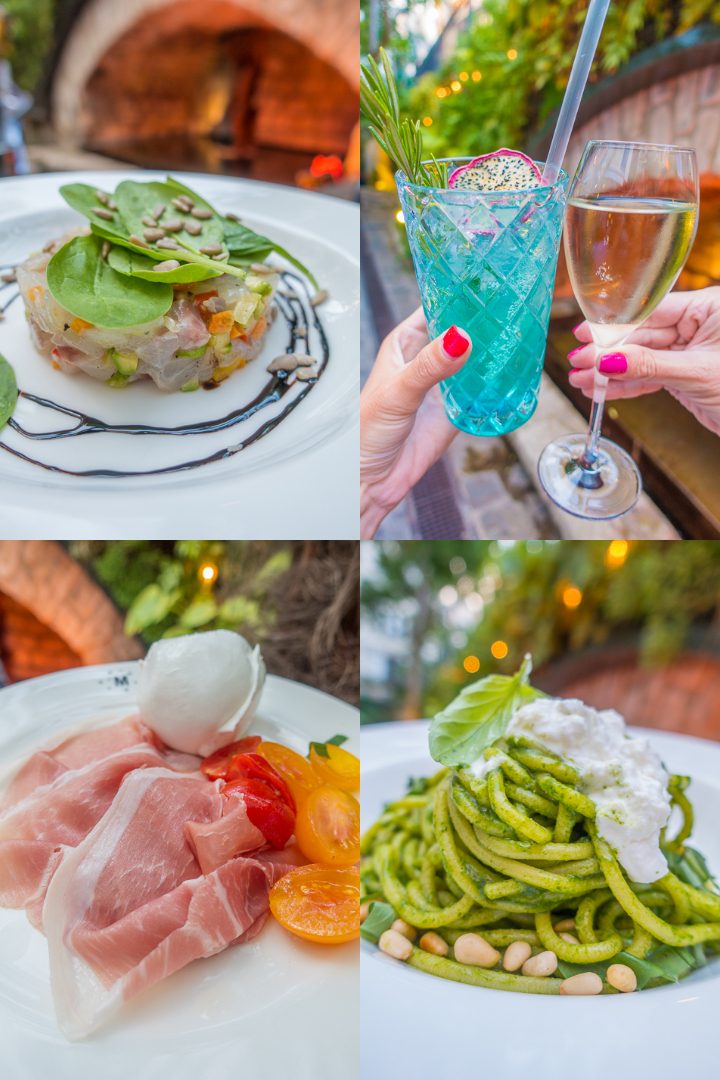 Marcello
Marcello is a beautiful Italian restaurant in the ultra hip Saint-Germain-des-Prés neighborhood of Paris. There's a large outdoor terrace that's perfect for sitting outside on a warm summer night. Marcello is open from 8 AM until midnight, and their entire menu (breakfast, lunch, and dinner) is served all day. That means you can have homemade Italian pasta, ravioli, gnocchi, or burrata any time of the day, or if you feel like sleeping in, you can have french toast, a croissant, and freshly pressed juices in the afternoon.
Many restaurants in Paris are only open during lunch and dinner hours, and close during the middle of the day. Marcello is the perfect spot if you get hungry outside of normal hours, which can easily happen when you're sightseeing in Paris all day! I highly recommend getting the burrata as an appetizer and the pesto tagliolini with burrata for pasta!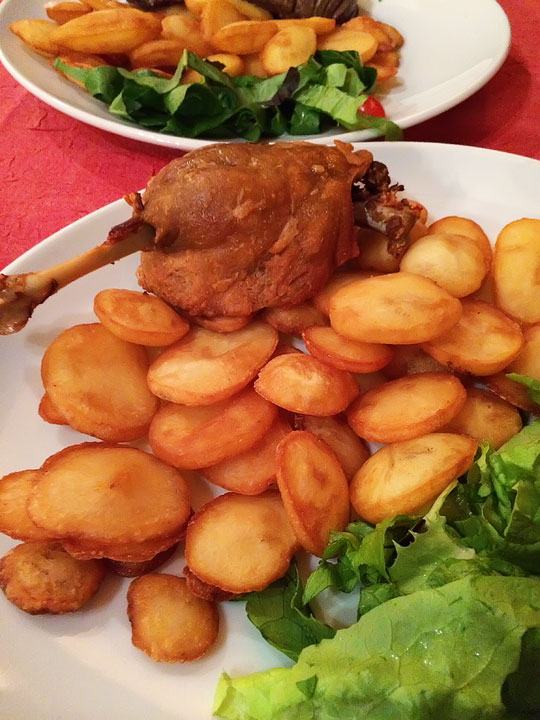 Au Petit Sud Ouest
A small traditional French restaurant near the Eiffel Tower. Perfect for a quiet dinner. These potato medallions were totally amazing. I got the duck leg and Kevin got the duck breast. I prefer Kevin's!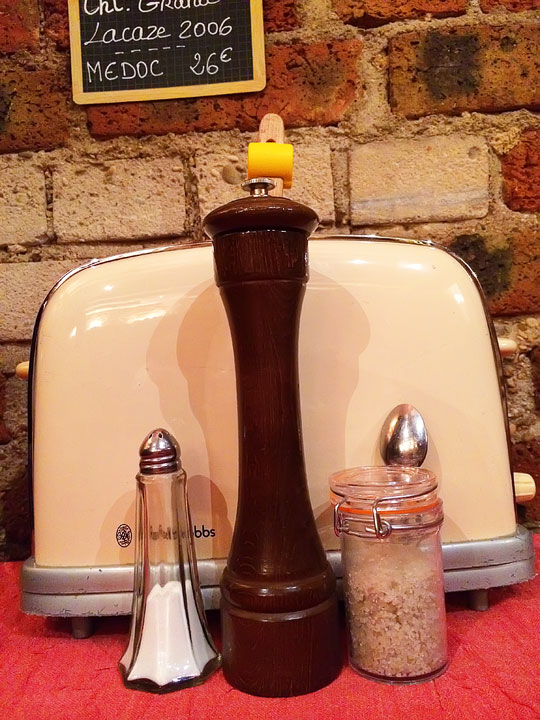 Each table even had it's own personal toaster for the bread!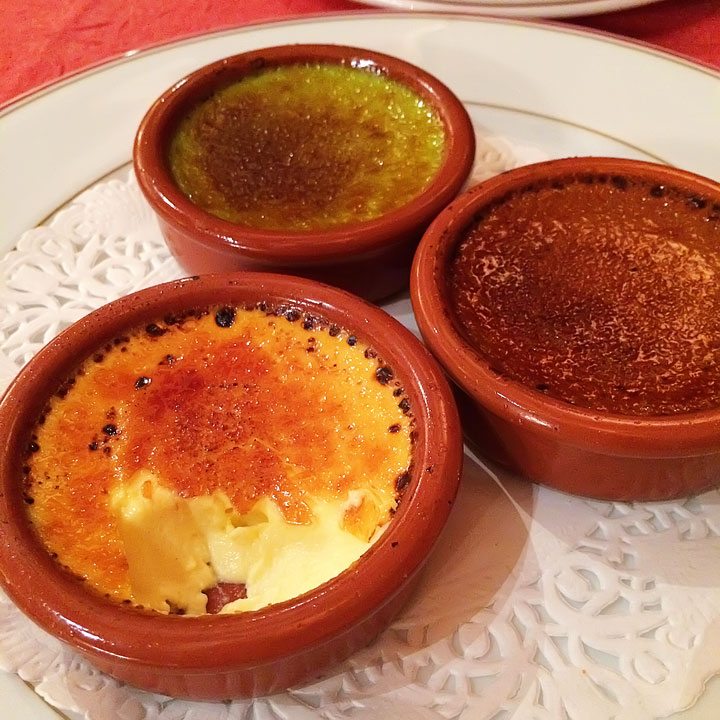 For dessert we went with the creme brulee sampler: vanilla, chocolate, and pistachio. Delicious!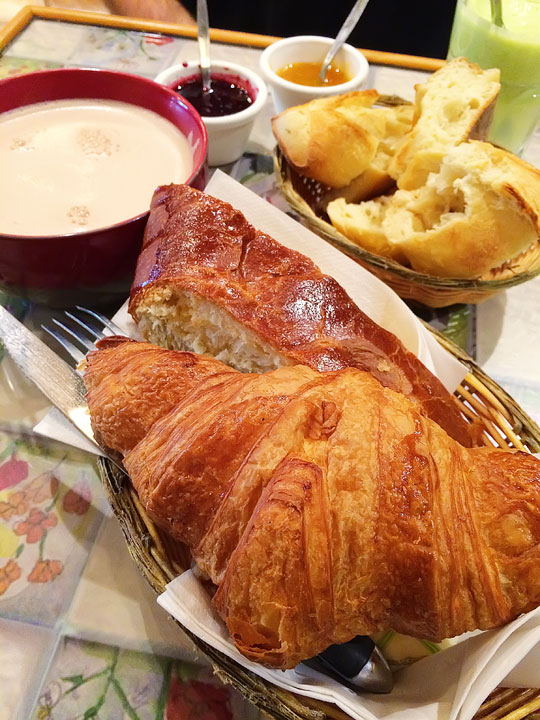 Coquelicot
Coquelicot is a traditional French bakery and a great cafe for breakfast in Montmartre. There was a long line for the bakery when we went, but you can go in the door to the right and sit down at one of the tables downstairs or upstairs for table service, and we were seated immediately. In summer there is a terrace outside.
I had a croissant, brioche and french bread with butter and jams, and a comically giant bowl of hot chocolate (or coffee, if you'd prefer.)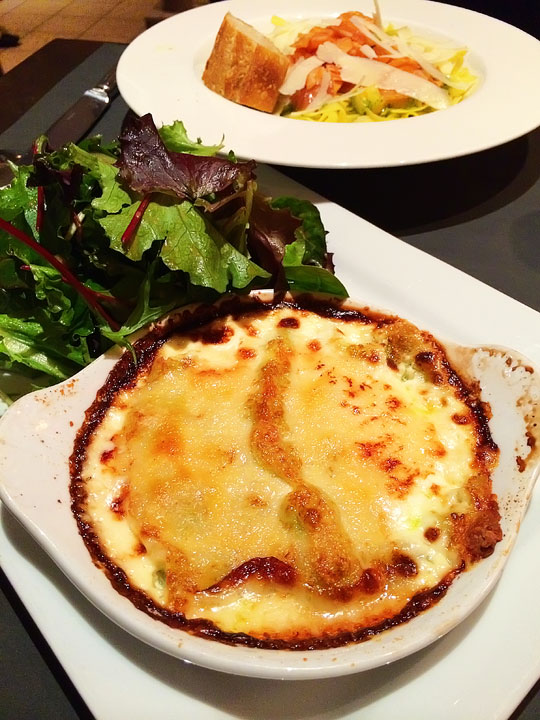 Le Bosquet
Okay, hands down, this was my favorite meal in Paris. I know it doesn't look like much, but this is the Ravioli Gratin, and it was completely and totally life changing. It was unbelievably rich and decadent and I was nearly dying with every single bite. I wanted to go back here for dinner every single night. A perfect choice for a dinner restaurant near the Eiffel Tower. It is definitely one of my favorite Paris restaurants!
If you're planning a trip to Paris put this on your MUST TRY list!!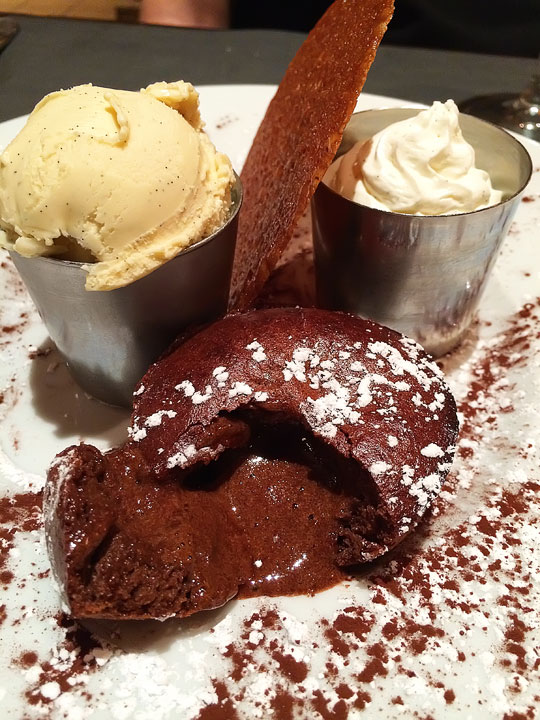 For dessert a molten lava cake with ice cream.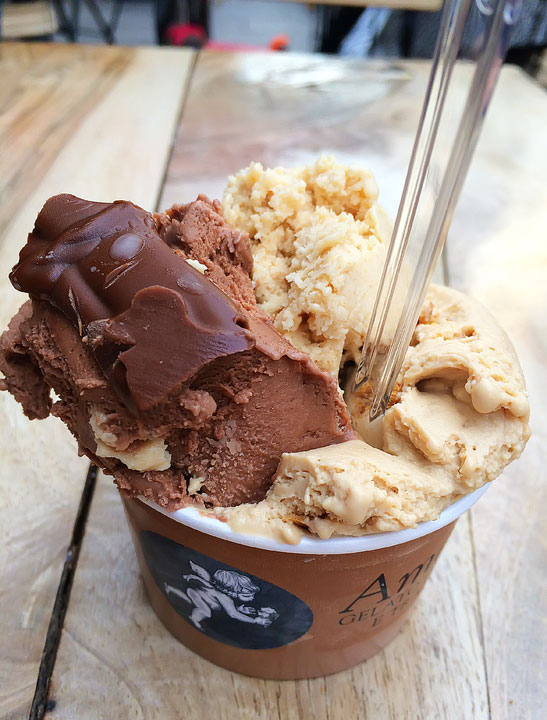 Amorino
I am obsessed with Amorino gelato in Paris. They have locations all over Paris. We went multiple times. My three favorite flavors are: speculoos (Biscoff), Nutella, and hazelnut flavors.
Their sorbets are amazing too. The mango, raspberry, strawberry are to die for. If you're going  to Amorino for the first time, be sure to get your ice cream in a cone!! They shape it so it looks like a rose. So beautiful!
Amorino is one of the most popular Paris restaurants for gelato!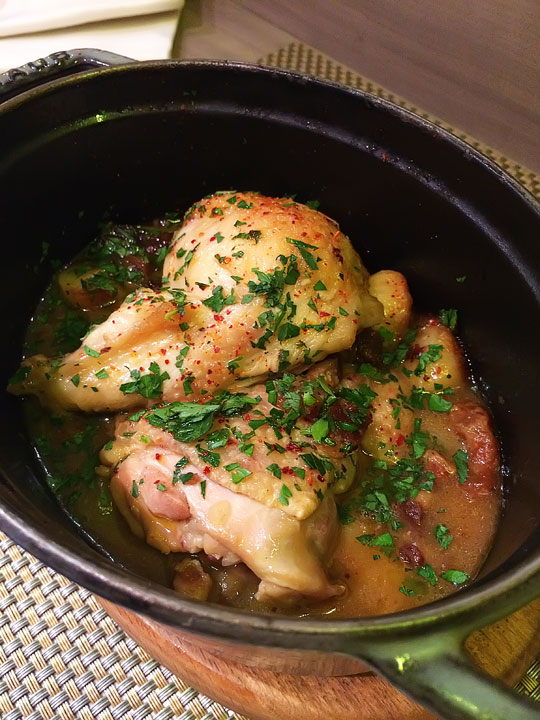 Les Cocottes

Another very good restaurant near the Eiffel Tower. This place was super busy and we didn't have a reservation, but we were seated pretty quickly at the bar on the back wall. Everything came in these cute little cast iron pots.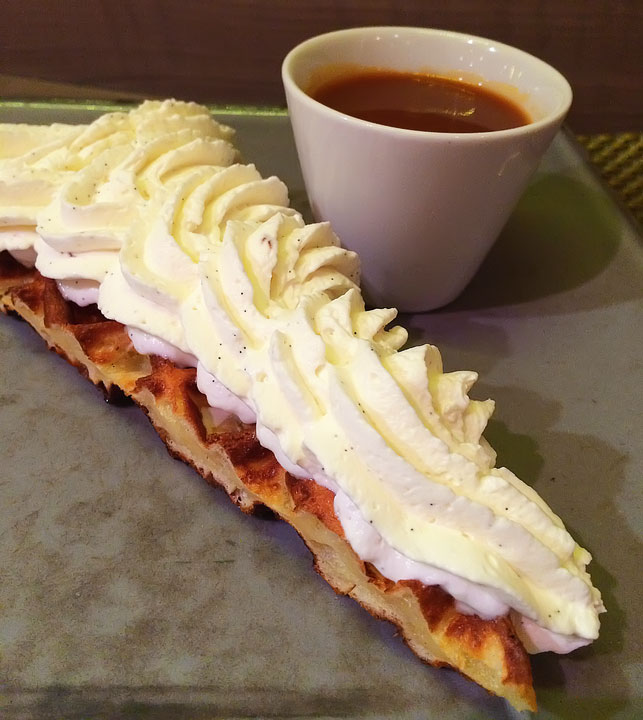 For dessert, I got the waffle with whipped cream and salted caramel sauce.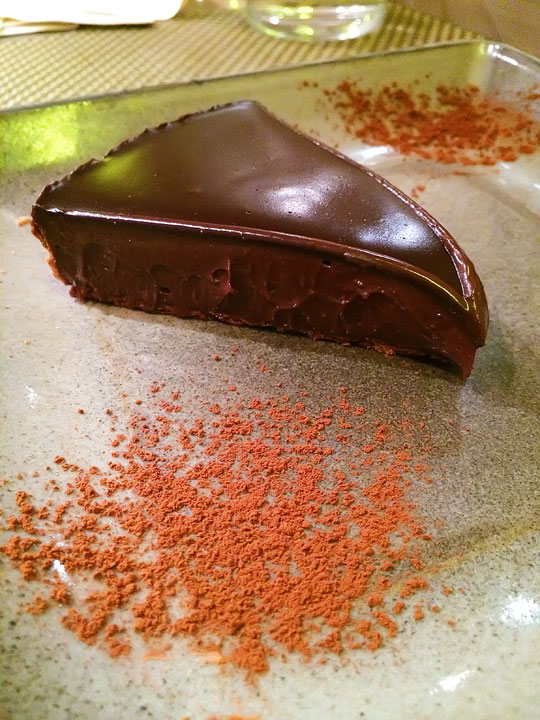 Kevin got this chocolate tart for dessert. Good restaurants near the Eiffel Tower can be hard to find, but this restaurant is a hidden gem!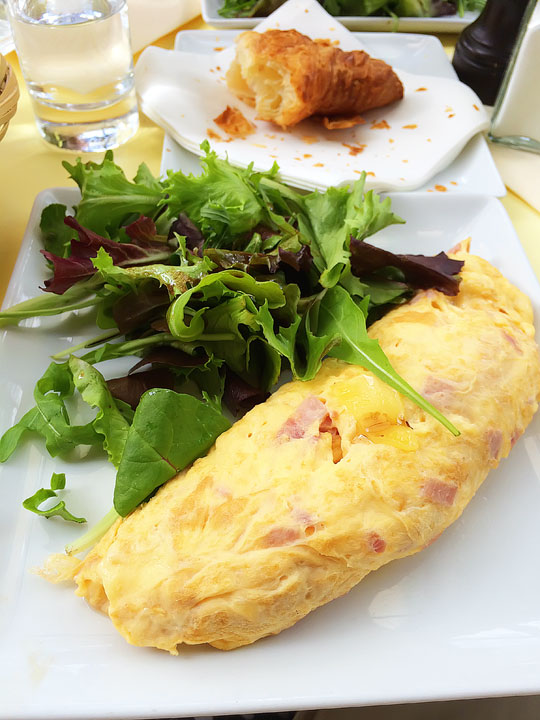 Les Deux Magots
Our last breakfast in Paris was in the Saint Germain neighborhood of Paris. The ham and cheese omelette and croissant were AMAZING. The perfect last breakfast in Paris. This is honestly one of the best Paris restaurants for breakfast!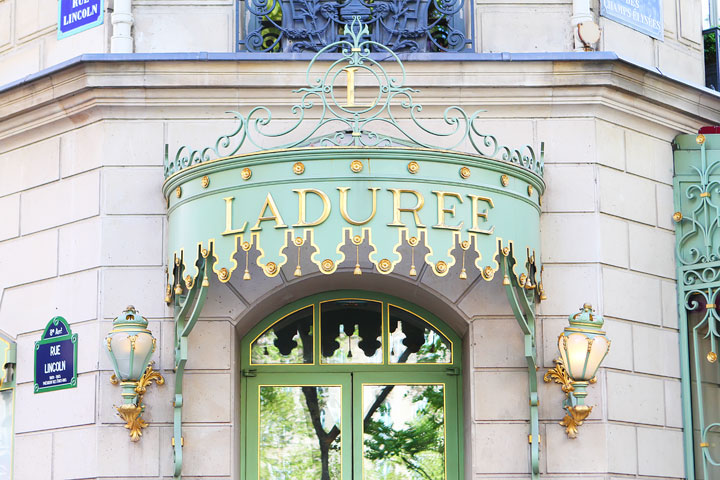 Laduree
Laduree has some of the best macarons in Paris. If you want to go to the Laduree on the Champs Elysees, don't be surprised if there's a line out the door!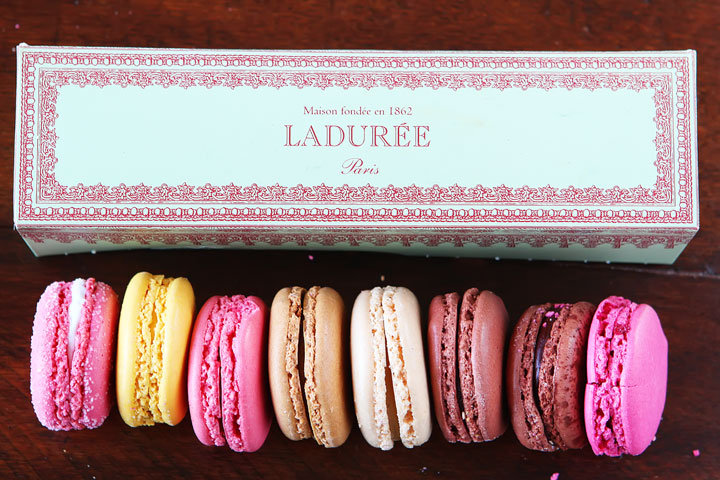 There's also a Laduree at the Charles de Gaulle airport that has the exact same macarons and there's usually no line — or only 1 or 2 people in line!
If you only get 4 macarons from Laduree, be sure to get these flavors: vanilla, chocolate, strawberry marshmallow, and salted caramel.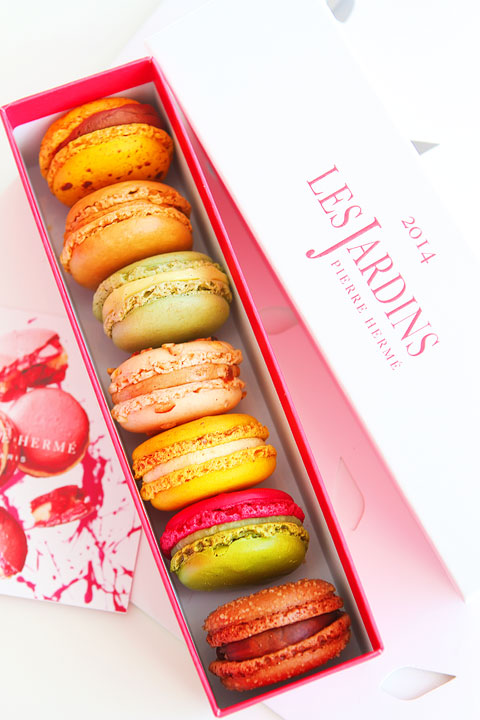 Pierre Herme
Pierre Herme macarons are probably the second most famous macarons in Paris. Both Laduree and Pierre Herme have die hard fans, and the debate can get quite heated!
There are a fewPierre Herme locations in Paris (some with really long lines) but we got ours from Galeries Lafayette. There was no line here, and the macarons were amazing.
If you've had both Laduree and Pierre Herme, which one is your favorite?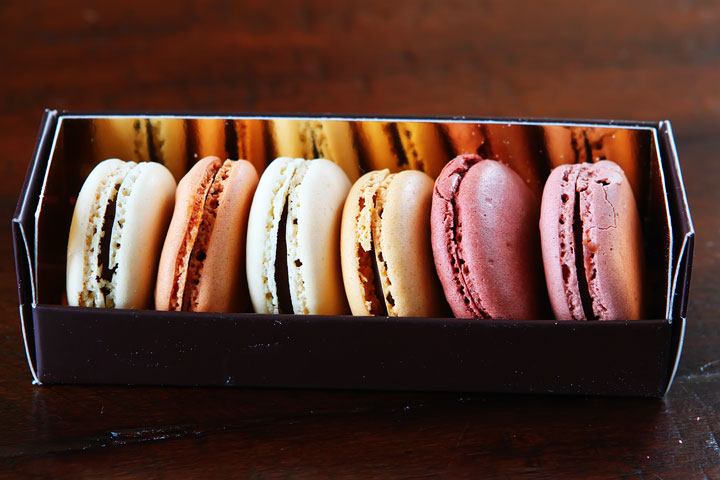 La Maison du Chocolat
It's hard to say if the macarons from La Maison du Chocolat were our favorites because they were all so incredible, but I think they were definitely my favorite chocolate macarons. They were so good. And so rich. And soooo chocolaty.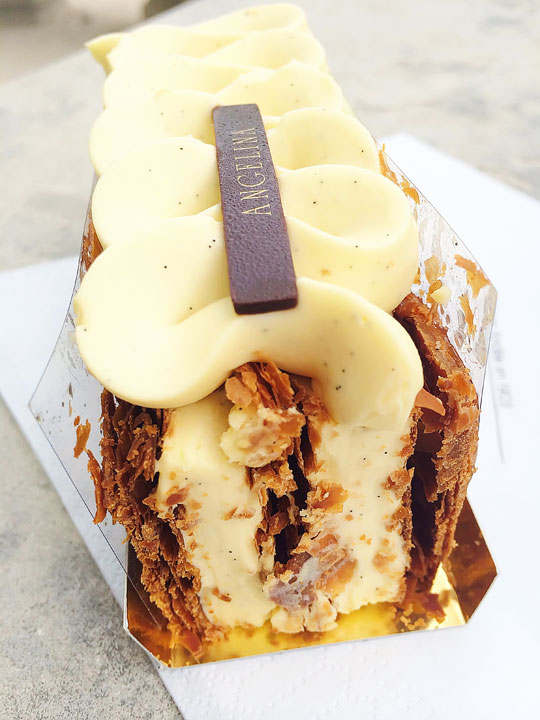 Angelina
Angelina is a beautiful, traditional French patisserie in Paris. They are famous for their hot chocolate.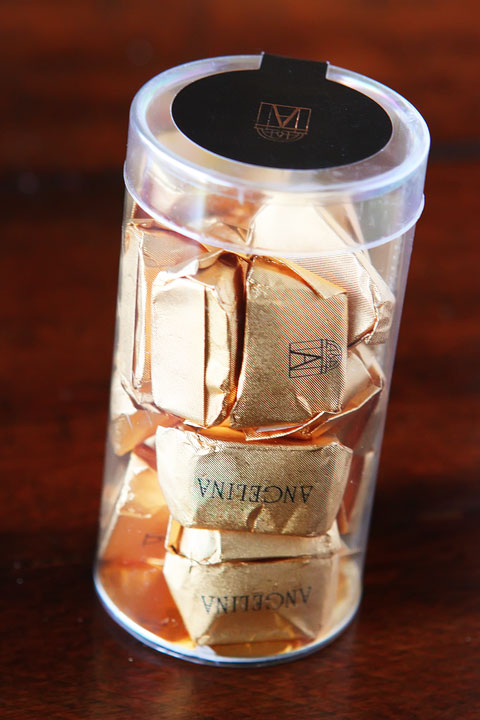 The hot chocolate was very creamy and thick, but I wanted it to be a bit sweeter.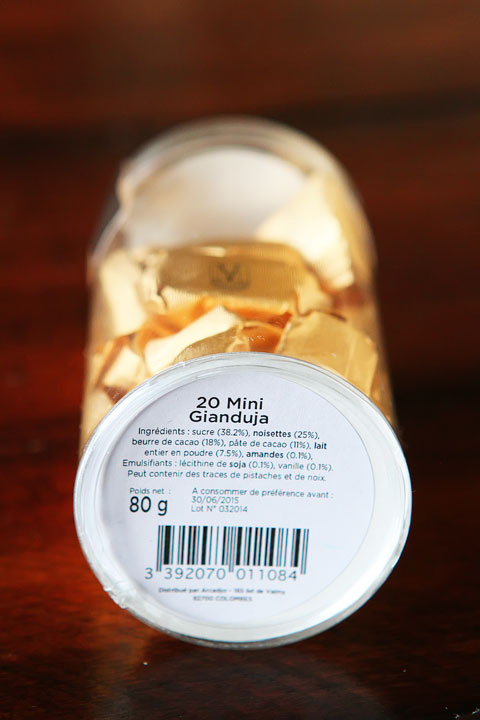 But these were absolutely amazing! If you are anywhere near Angelina in Paris (there is one at Versailles too!) you have to get these!!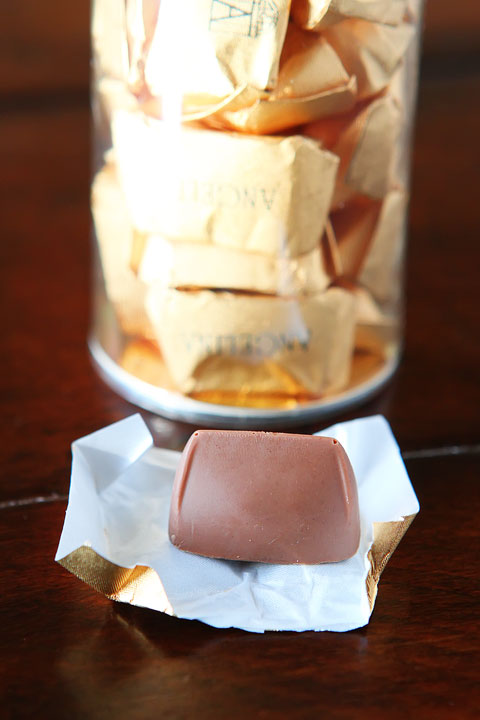 They are like little bites of Nutella!! They are SO good and perfect for souvenirs!! I could seriously eat these all day.
---
Did I miss any of your favorite Paris restaurants?
Let me know in the comments!