This last time I was in Paris I had some of the BEST food of my entire life. Seriously, every meal went straight to the top of my Best Thing I Ever Ate list. Usually on these trips I'm lucky to come away with one meal that leaves me raving and unable to stop thinking about it. This time it was several.
If you're planning a trip to Paris and looking for some of the BEST food the city has to offer, you'll definitely want to check these out. I've listed our favorites for every meal of the day: breakfast, lunch, dinner, and dessert! :)
Also, be sure to check out this post for more Paris Restaurant Recommendations! :) (You can see which ones we went back to a second time! ;))
Dessert
Let's start with dessert because it's the most fun! ;)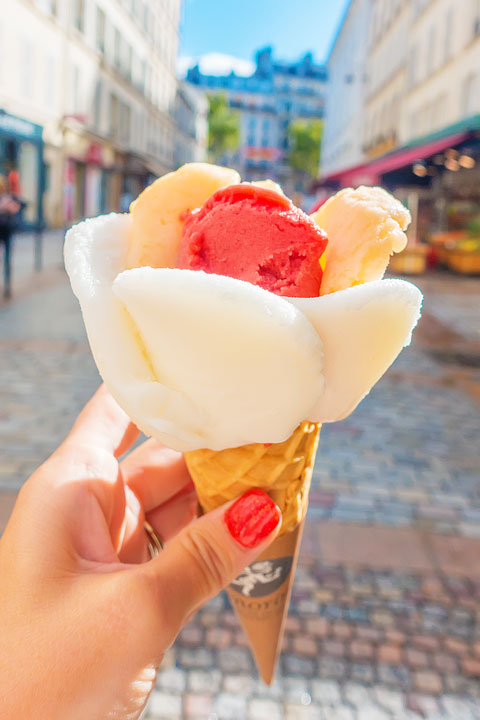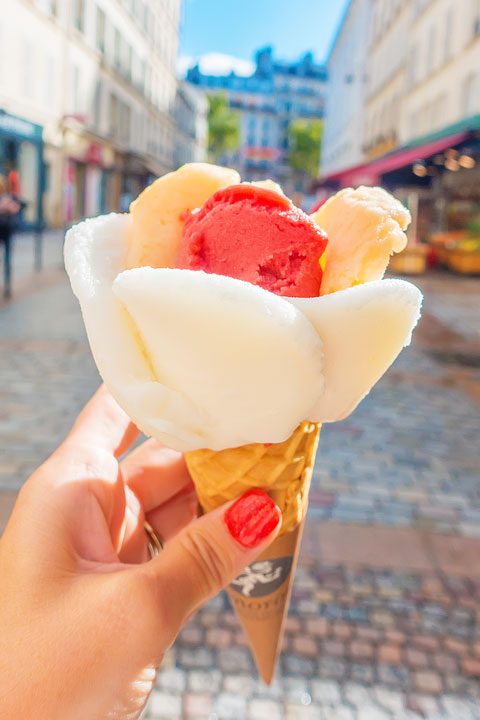 Amorino
Various locations
amorino.com
Amorino has the famous rose petal ice cream in Paris! It's gorgeous, plus their ice cream is delicious! I'm a longtime fan of Amorino. My favorite flavors are hazelnut, Nutella, and Speculoos (like Biscoff!). Reminds me of the rose petal ice cream we found in Budapest! :)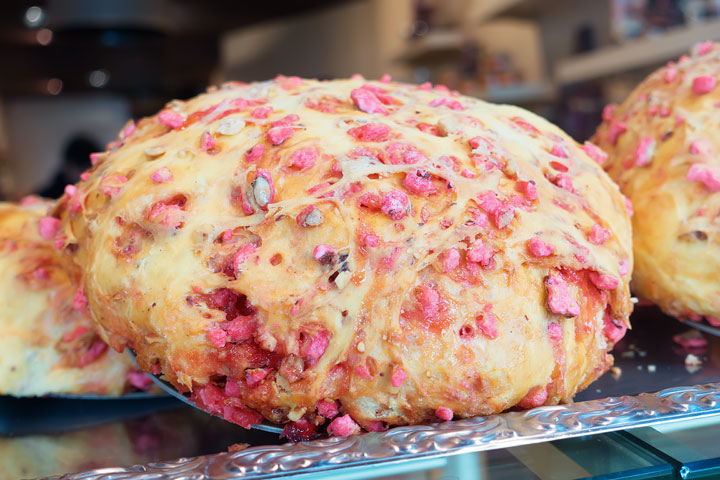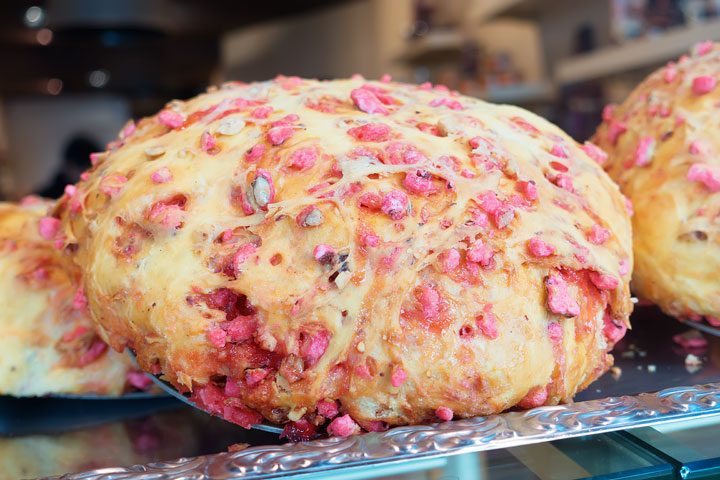 François Pralus
44 Rue Cler
75007 Paris, France
chocolats-pralus.com
We stumbled upon François Pralus and their famous La Praluline (pictured above) on Rue Cler, one of my favorite shopping streets, just a few blocks away from the Eiffel Tower. Oh my gosh you guys. This pastry is AMAZING. One of the best things we had all week. Like a sweet, nutty brioche. I don't like nuts in bread (like banana bread with nuts in it) but this pastry is the best of both worlds. The buttery, nutty flavor of almonds and hazelnuts without the hard crunch. It was the perfect texture. We were all DYING over it!! Put it at the top of your list for sure!!!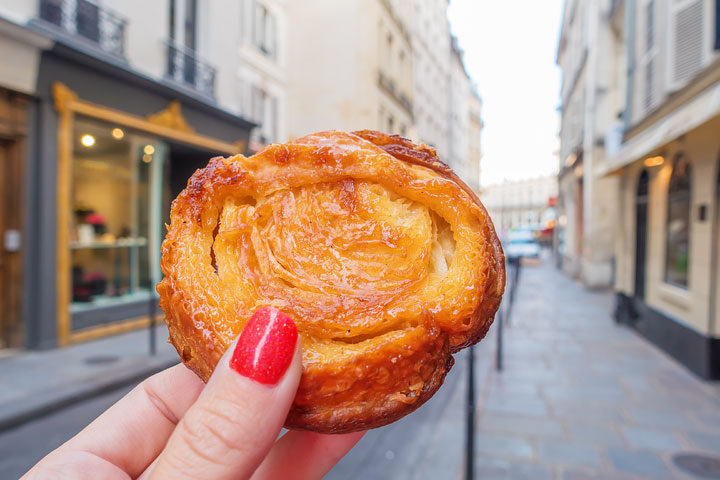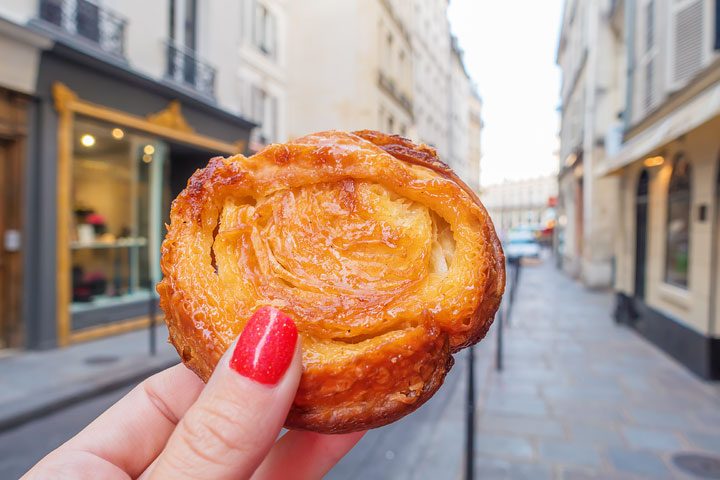 Maison Georges Larnicol
132 Boulevard Saint-Germain
75006 Paris, France
chocolaterielarnicol.fr
Kouign Amann is one of my favorite French pastries on the planet. My life was changed after I first discovered it on my very first trip as a food blogger (all the way back in 2010) to Los Angeles.
Anyway, kouign aman is like a buttery, flaky croissant, but with sugar sprinkled in between the layers. When it bakes, the sugar caramelizes. The inside is soft and gooey, like caramel, and the outside is sweet, crackly and flaky. TO DIE FOR. You can find kouign aman in just about any bakery, but Maison Georges Larnicol has mini kouign aman with fun flavors to try. Fun for taste-testing!
My friend Sommer who was with me in Paris went home and recreated a "quick and easy" version of Kouign Aman you can make at home. I will DEFINITELY be trying this ASAP!!! :) Get her recipe here: Kouign Aman Recipe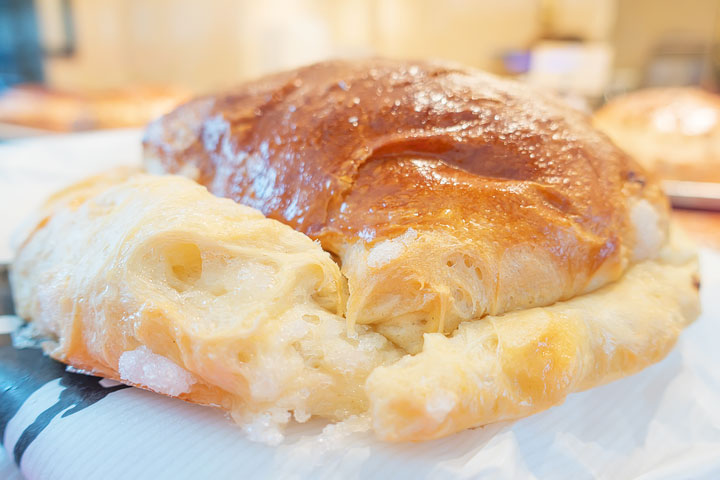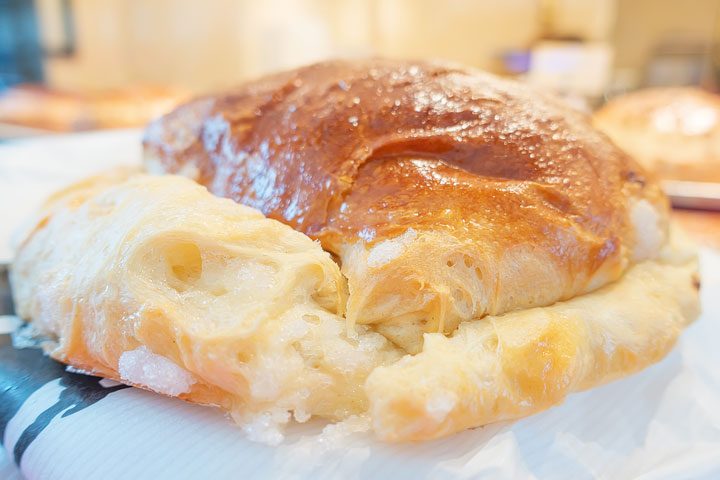 Aux Merveilleux de Fred
Various locations
auxmerveilleux.com
You. Guys. This pastry was a new discovery this trip. We just happened to be walking by this bakery, looked in the window, and saw this "cramique." It looked like a warm, soft, fluffy bread with caramelized sugar oozing out of it. We knew we had to try it right then and there. We weren't even hungry — we had been pastry-hopping all day and were STUFFED. But you guys. We DEVOURED this cramique. There was not a crumb left. It was SO good. I am still dreaming about it. If you ever find yourself in Paris and are a fan of carbs, be sure you try this!!!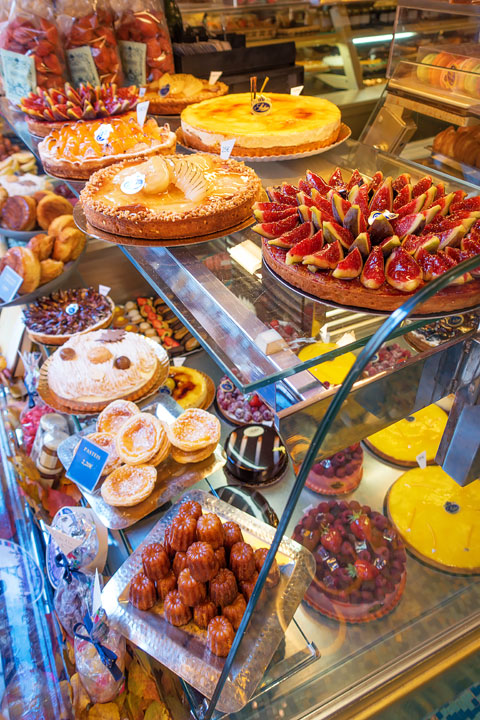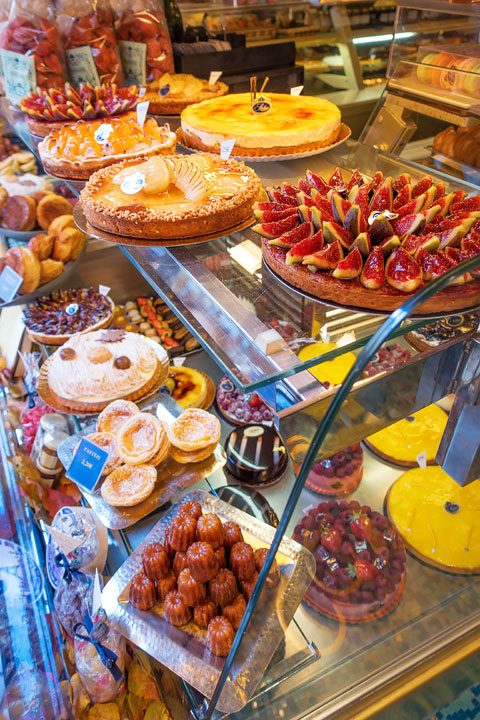 Stohrer
51 Rue Montorgueil
75002 Paris, France
stohrer.fr
If you're in Paris and are a fan of pastries, you'll definitely want to check out Stohrer, the oldest pastry shop in Paris. They have lots of fun, traditional pastries. You can get kouign aman here! Plus Rue Montorgueil is one of my favorite shopping streets in Paris. Definitely fun to just walk and wander on this street!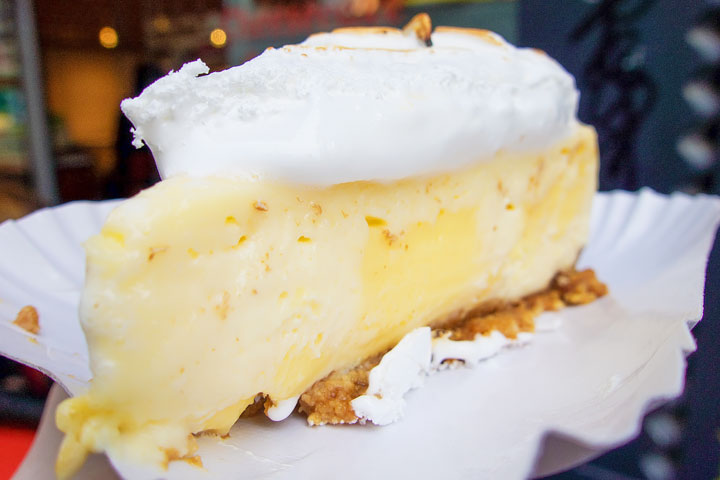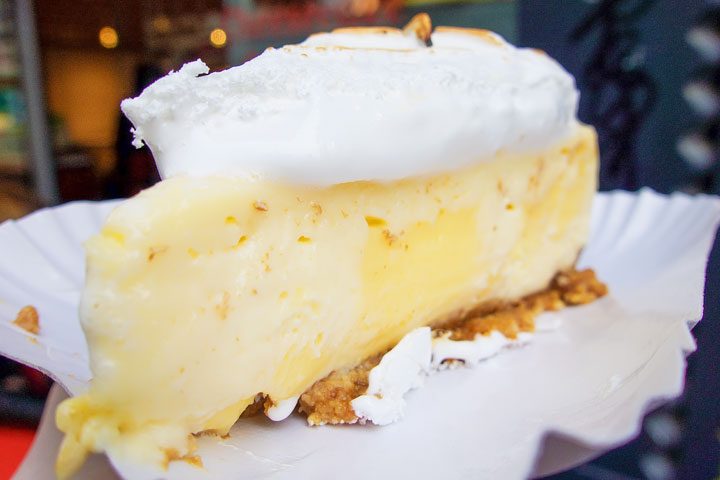 Berko
Various locations
berko.fr
YOU. GUYS. Okay, I know I can't start every description like this, but seriouslyyyyyy. Each and every thing we had in Paris was just SO amazing! Every meal was as mind-blowing as the next.
Let me start off by saying that I am not particularly a huge fan of cheesecake, nor am I a huge fan of meringue or marshmallow fluff. But this Lemon Meringue Cheesecake from Berko was LIFE. CHANGING. To DIE for!!!! It was unlike any other cheesecake or meringue I've ever had, that's for sure.
If you are a fan of cheesecake, you're gonna want to book a ticket right now. If cheesecake isn't your thing, but you happen to be in Paris… Go ahead and take a chance. I think you'll be pleasantly surprised. I will fly back to Paris tonight for this cheesecake!!!
Thanks so much to Stephanie for the photo of cheesecake. I was too busy moaning in ecstasy to even remember that I owned a camera. Be sure to check out Stephanie's favorite foods from Paris for more recommendations! :)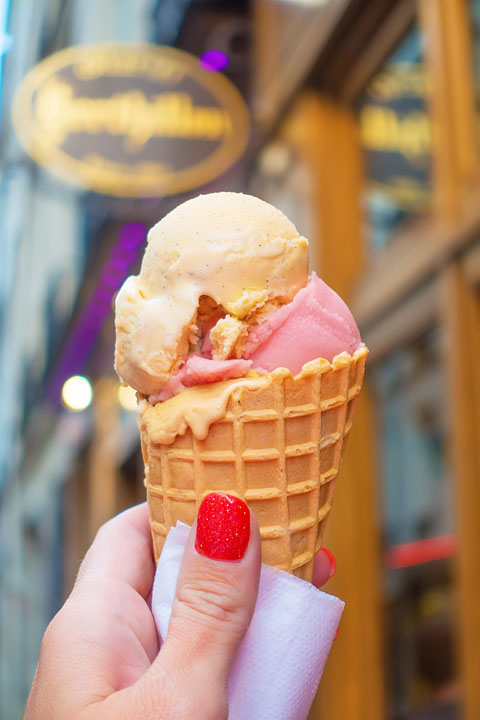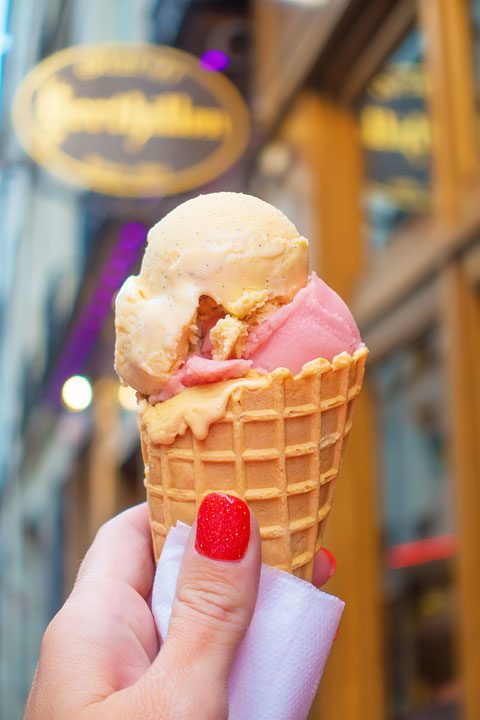 Berthillon
31 Rue Saint-Louis en l'Île
75004 Paris, France
Berthillon is without a doubt this most famous ice cream shop in Paris. And their ice cream is delicious! Even in cold weather there is usually a line out the door that wraps around the street. If you are in Paris, Berthillon is a must-try. But if you get there and the line is long, just look around on the Île Saint-Louis. Berthillon is located on a small Island in Paris, the Île Saint-Louis. There are ice cream shops on every corner, and they all sell the famous Berthillon ice cream. They have all the same flavors for the same price for no wait. Just be sure to bring cash! None of the shops take credit cards.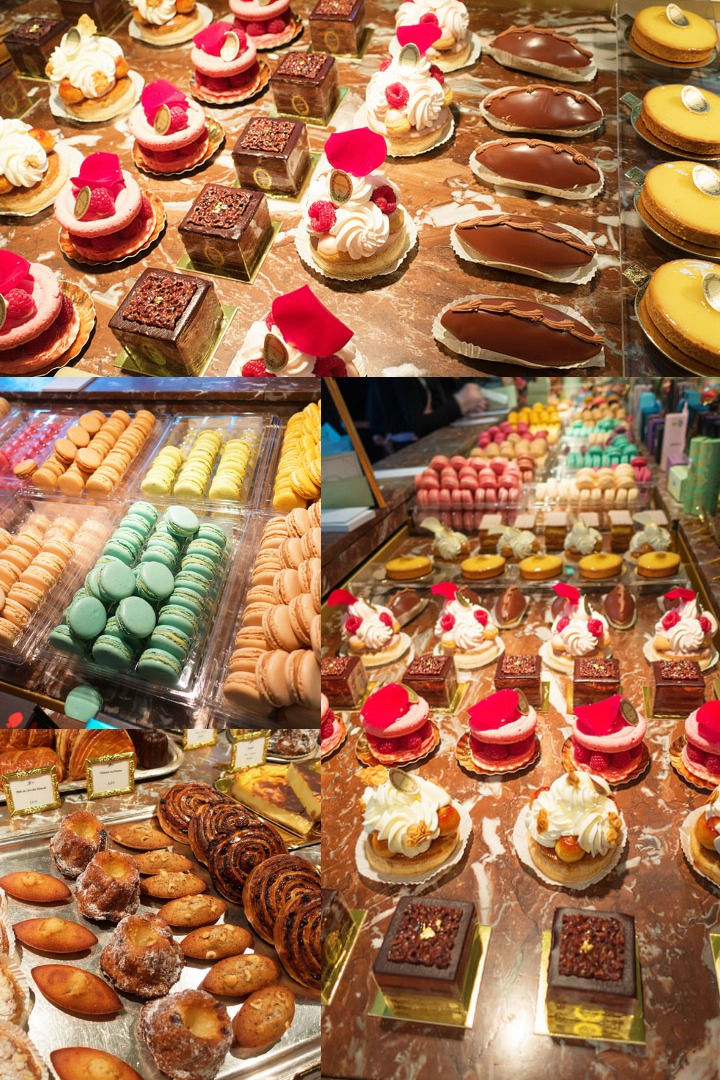 Ladurée
Av. des Champs-Élysées
75008 Paris, France
laduree.com
Ladurée is a gorgeous pastry shop in Paris, world-renowned for their legendary macarons.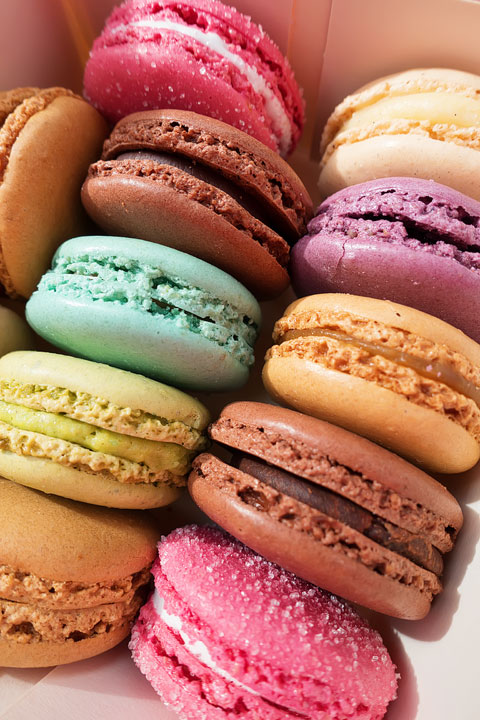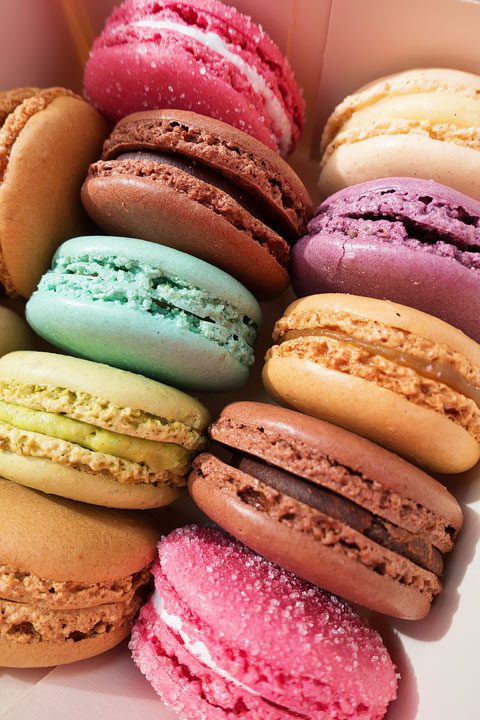 Everyone has their "favorite macaron in Paris" and Ladurée tops many lists. My favorite macarons from Ladurée are the vanilla, chocolate, caramel, and strawberry candy.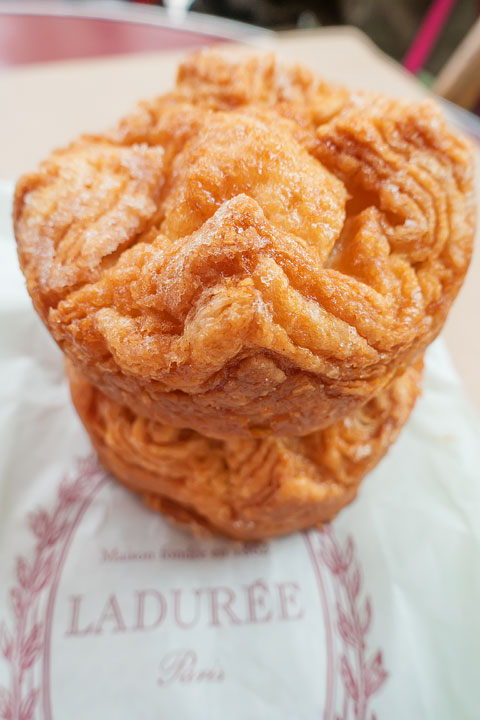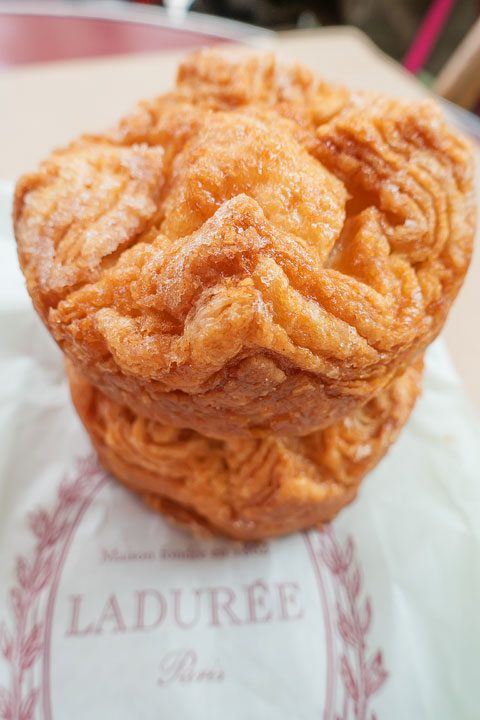 They also have kouign aman! I have to get it everywhere. ;)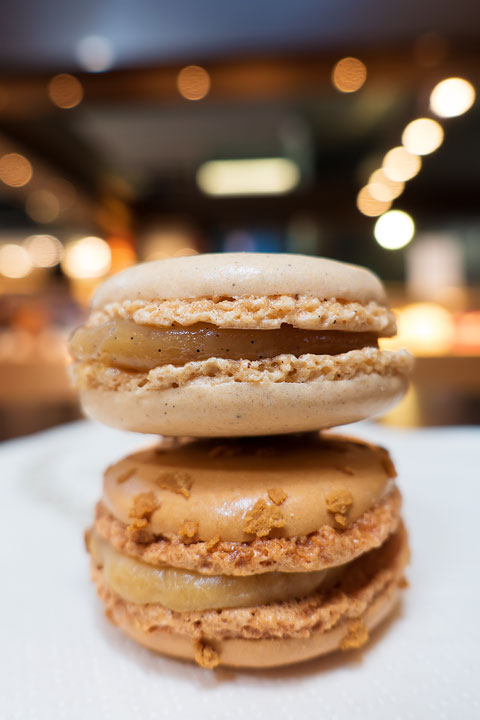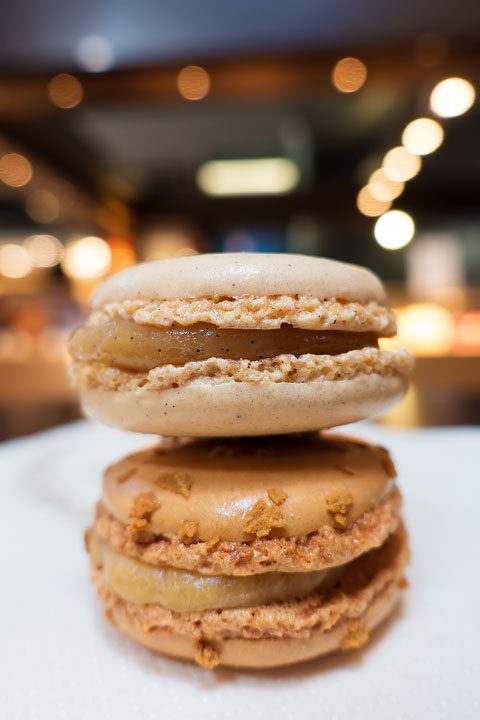 There are several locations around Paris, but if you go to the one on the Champs-Élysées, I recommend you go early. It gets busy and there can be an hour-long  line out the door just to get up to the counter to order.  There's also a Ladurée at the Charles de Gaulle Airport that's got all the same macaron flavors as the Champs-Élysées shop, so if you don't make it there, you can always check it out at the airport.
This time when I was in Paris they had two new seasonal macaron flavors I had to try: vanilla pecan and chestnut. Fabulous!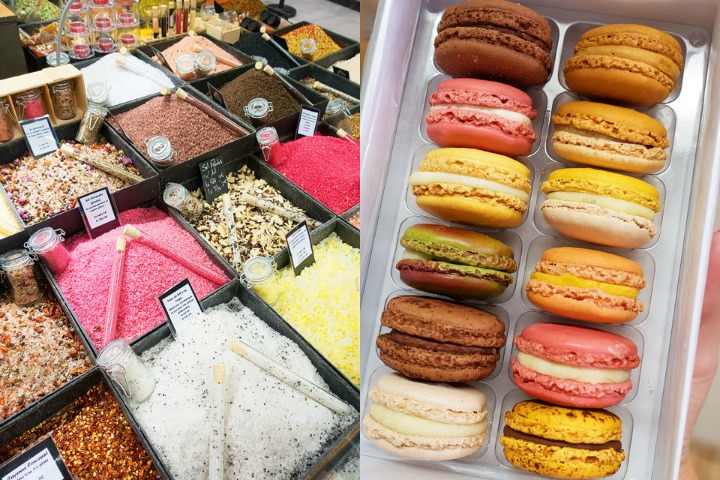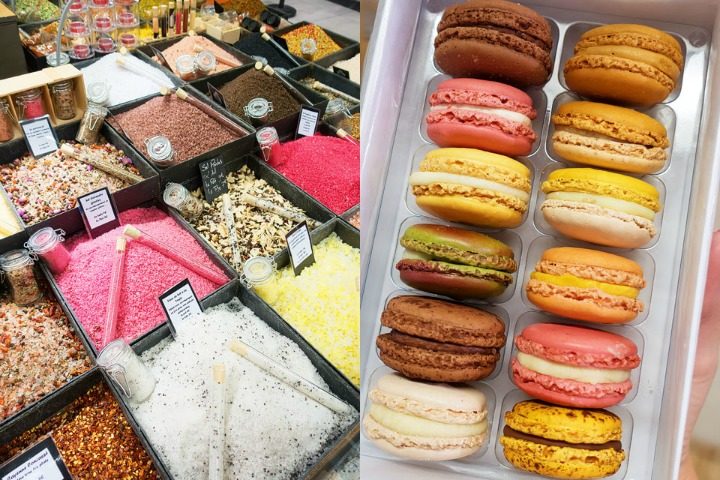 Pierre Hermé at Galeries Lafayette Gourmet Food Hall
35 Boulevard Haussmann
75009 Paris, France
pierreherme.com
Pierre Hermé is another favorite macaron in Paris. Everyone always debates over who has the best macarons in Paris: Ladurée or Pierre Hermé. But to me they are like comparing apples to oranges. Ladurée has your basic, everyday flavors like vanilla, chocolate, strawberry, caramel, etc. Pierre Hermé has more gourmet, adventurous flavors like rose, jasmine, olive oil, green tea, etc. They're both excellent macarons, it just depends on what flavor you're in the mood for. If you like macarons, definitely try them both! :)
We went to the Pierre Hermé located  in the Galeries Lafayette food hall. If you are a foodie, this place is a MUST! Galeries Lafayette across the street is also a Parisian landmark worth seeing. Just walk in and look up at the ceiling!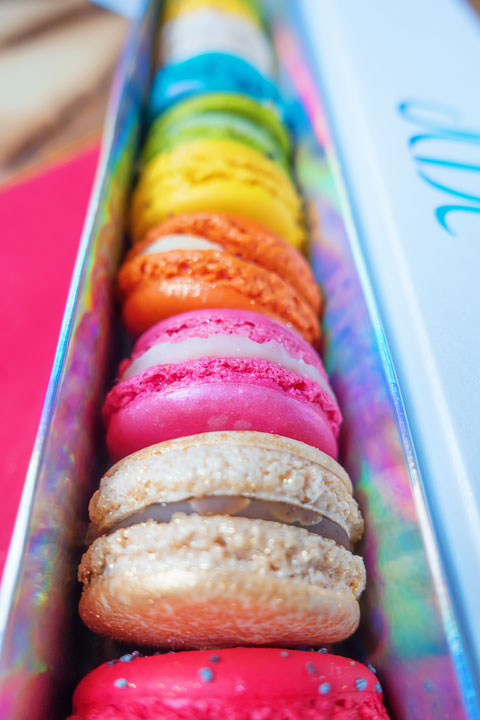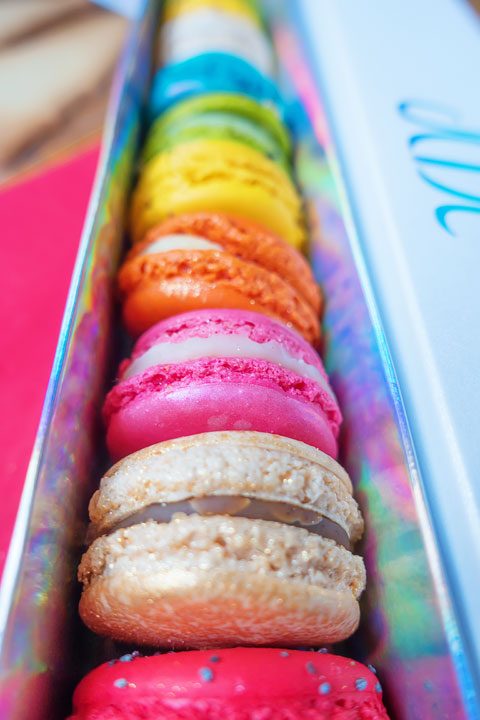 Acide Macaron
24 Rue des Moines
75017 Paris, France
acidemacaron.com
Acide is a new macaron shop we tried this time in Paris. Acide is a small macaron boutique, not big and commercialized like Ladurée and Pierre Hermé. Each macaron at Acide is made by hand — they're not making thousands and thousands of them a day for multiple locations across Paris. They have a wide range of brightly colored macarons in many fun flavors — classic as well as more innovative. If you are in the area, give them a try!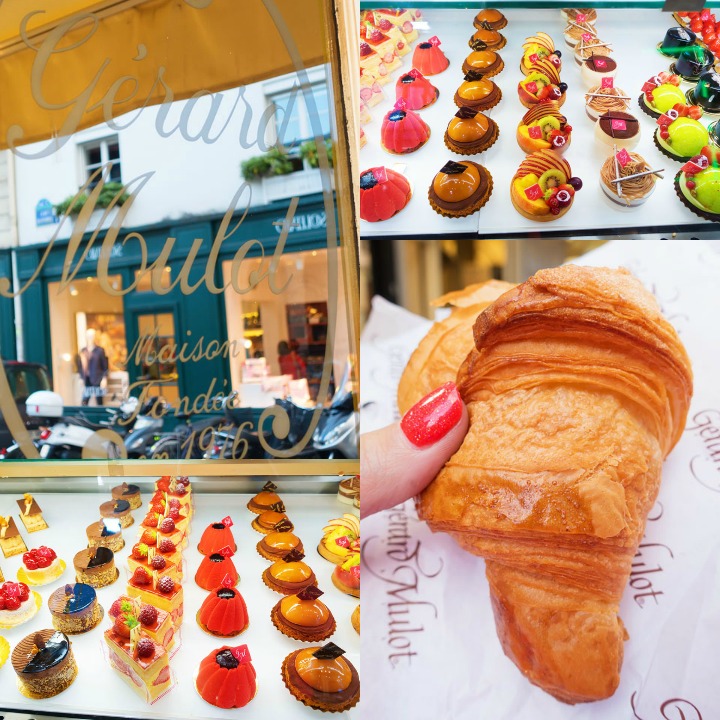 Gérard Mulot  
76 Rue de Seine
75006 Paris, France
gerard-mulot.com
Everywhere in Paris has AMAZING croissants, unlike anything I've ever had back home. They're good everywhere you get them, so don't stress about finding the BEST croissant in Paris,  but one of my favorite bakeries in Paris is Gerard Mulot. So if you happen to be in the area, definitely drop in and try a croissant! :)
Breakfast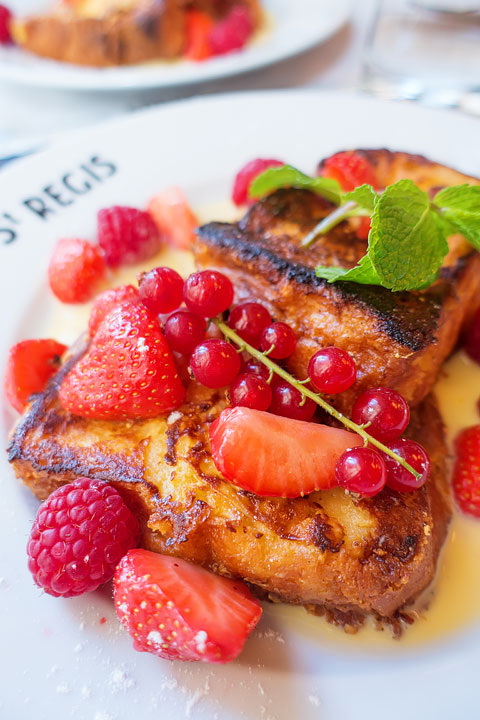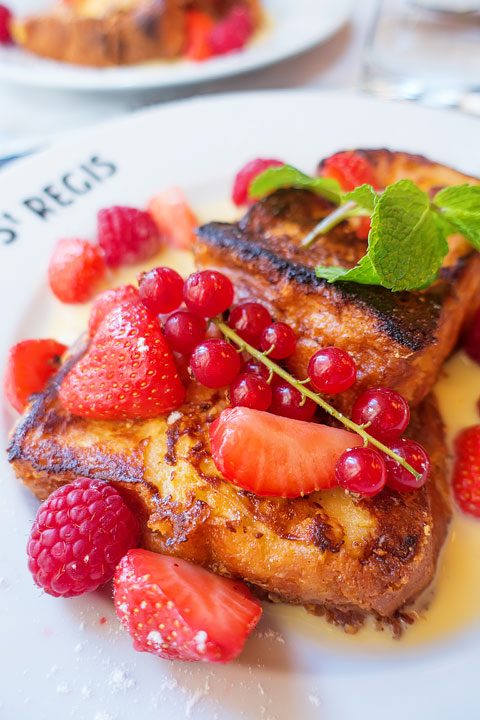 Le Saint Régis  
6 Rue Jean du Bellay
75004 Paris, France
cafesaintregisparis.com
While my friends and I were in Paris, we stayed in a gorgeous apartment right in the heart of Paris on the Île Saint-Louis. Our apartment on a beautiful street with tons of fun shops, right across from Berthillon and just down the street from a charming cafe, the Saint Régis.  Le Saint Régis does a fabulous brunch starting at 10 am on Sundays. The best part is they have French Toast! I love French Toast and it's always fun to try in France. :)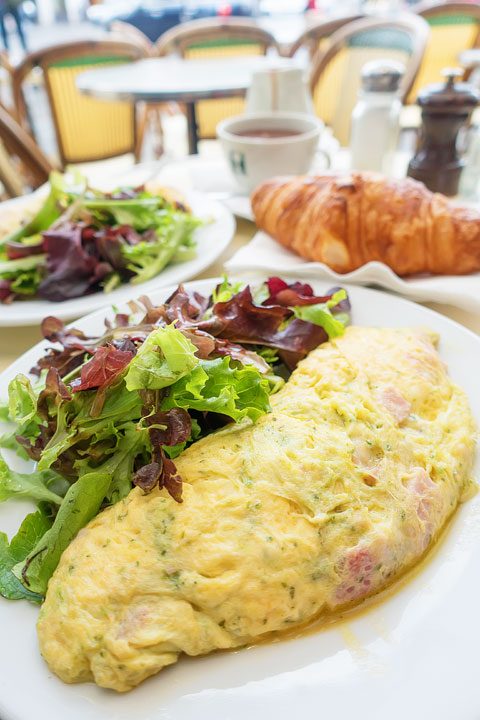 Les Deux Magots  
6 Place Saint-Germain des Prés
75006 Paris, France
lesdeuxmagots.fr
Les Deux Magots is a classic Parisian cafe. If you want an omelet, coffee, hot chocolate, croissants, and to people watch, this is the place to go!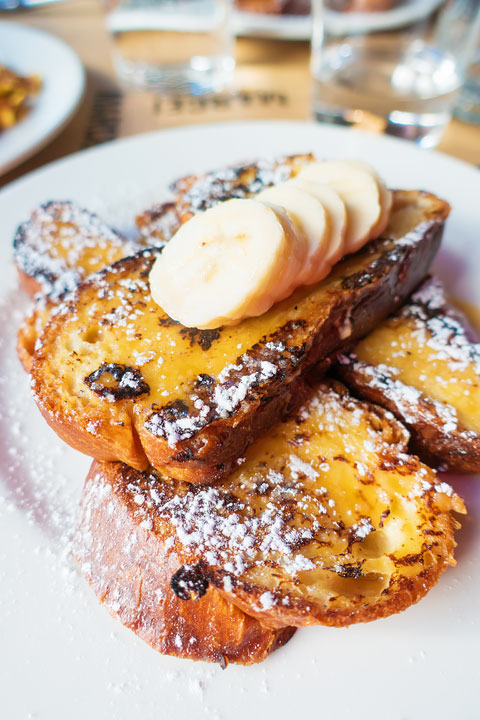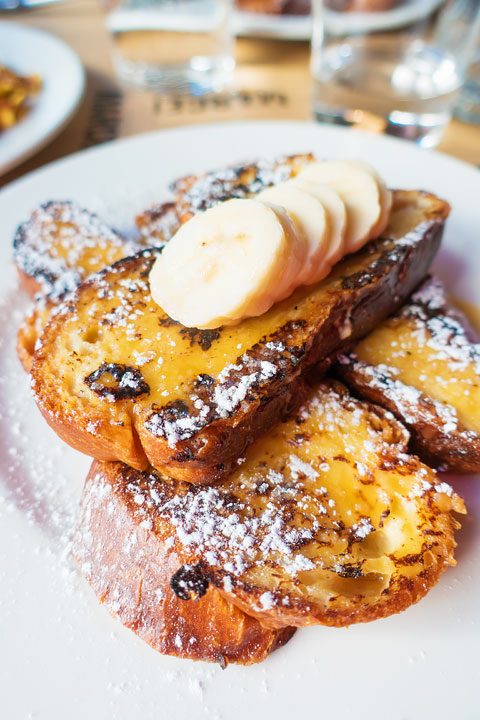 Marcel
1 Villa Léandre
75018 Paris, France
restaurantmarcel.fr
Marcel was one of my favorite breakfast spots we went to. I had their French toast as well. Amazing!! I think if I had to choose between Saint Regis and Marcel, this one was the better of the two.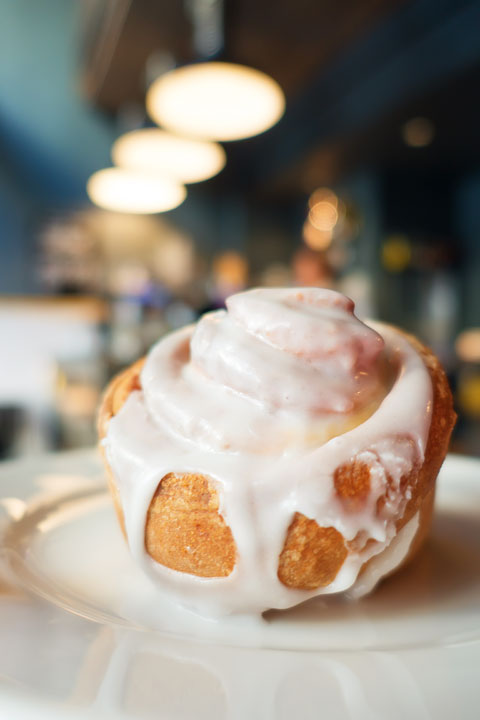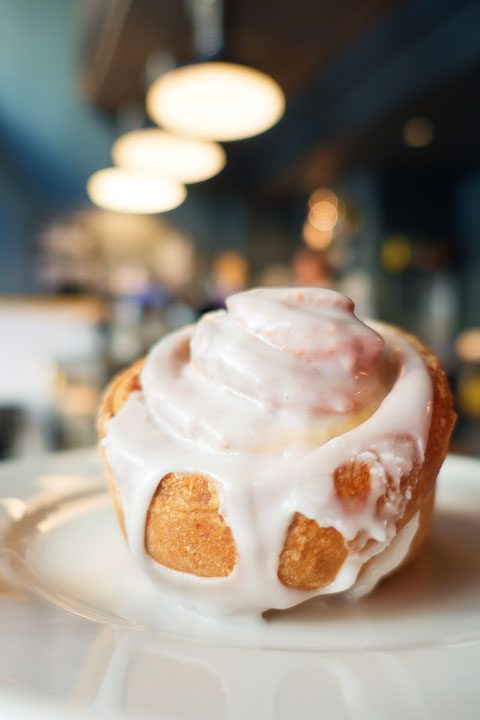 They also had cinnamon buns! Delicious!
Lunch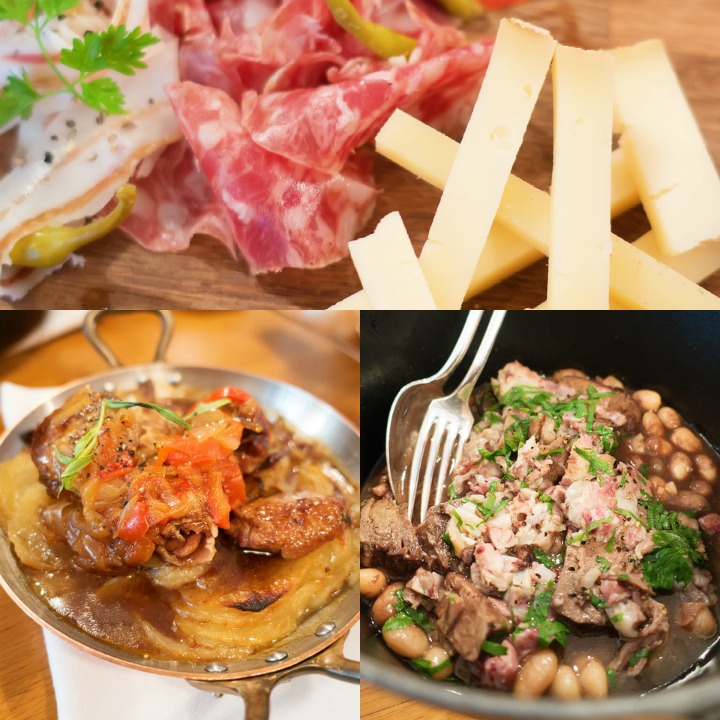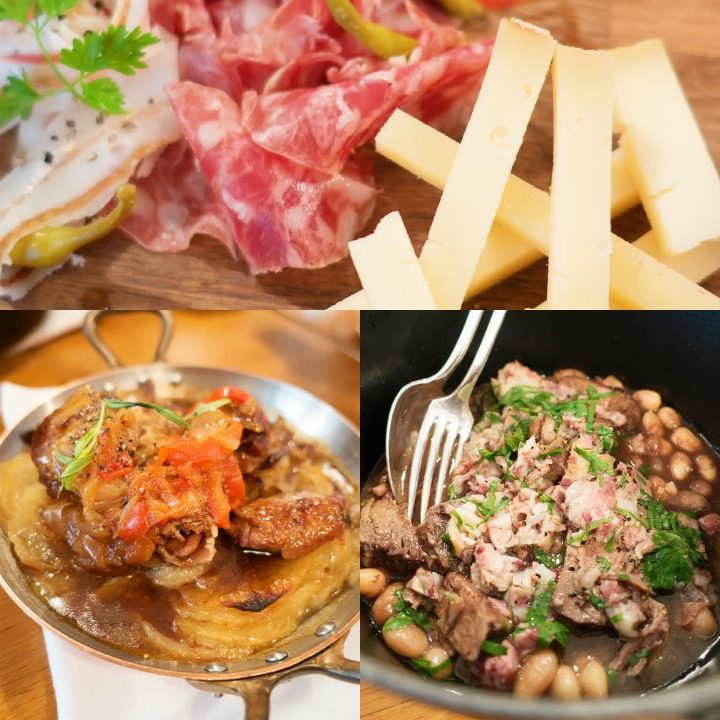 Bistrot Belhara
23 Rue Duvivier
75007 Paris, France
bistrotbelhara.com
If you're near the Eiffel Tower and want an amazing meal while avoiding the more touristy spots, Bistrot Belhara is the place to go. Quiet, off the beaten path, filled with locals, classic French food with daily specials. The staff is friendly and extremely knowledgeable of the menu. If you're unsure of what to order, let them guide you! You will not be disappointed.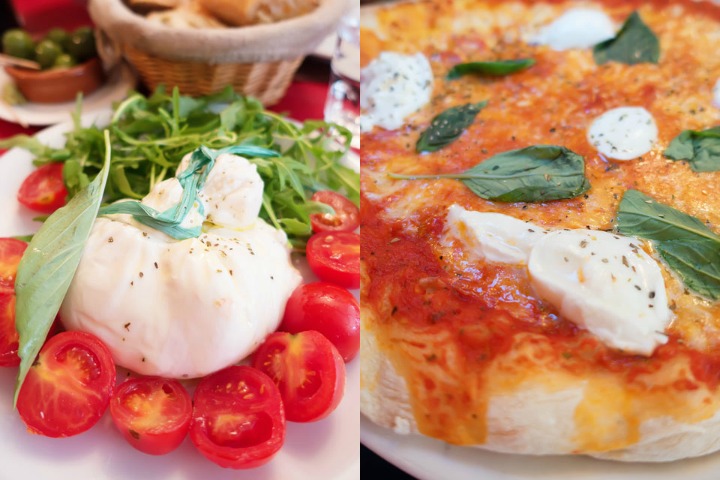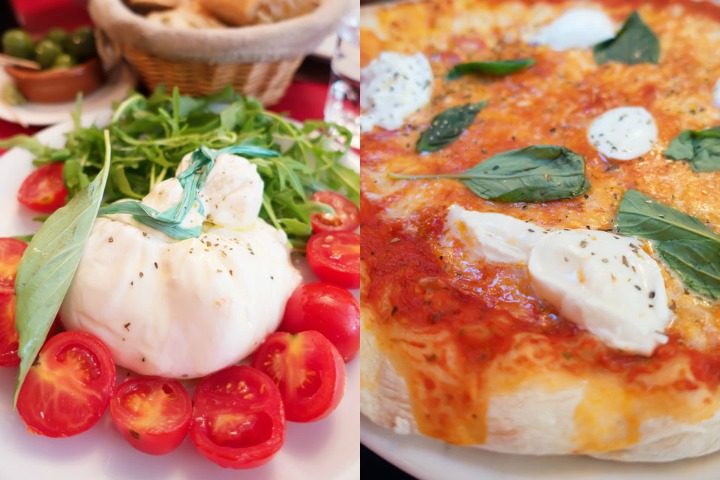 La Briciola
64 Rue Charlot
75003 Paris, France
When you're in Paris for 8 days, sometimes you gotta take a break from French food and just have pizza! :) This is definitely a local's place (non-touristy). No one spoke English! We managed to order the burrata and a caprese pizza which were a HUGE triumph. The burrata was some of the best I have ever had. I'm still dreaming about it! The caprese pizza with mozzarella di bufala was divine. If you need pizza while in Paris, definitely give La Briciola a try!
Dinner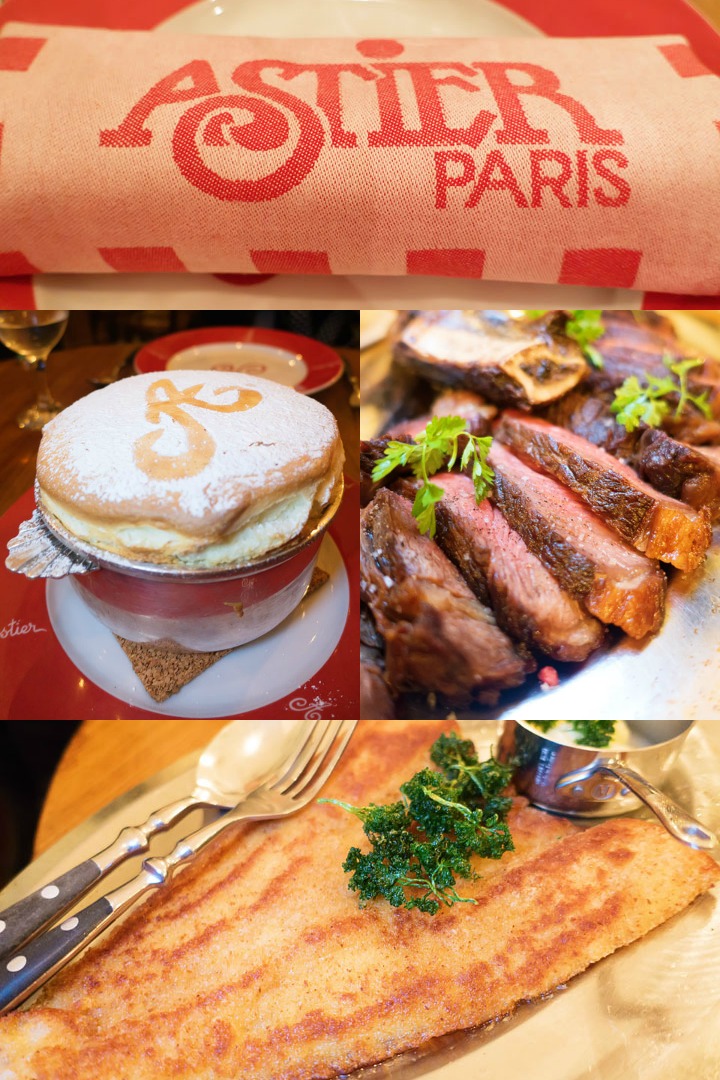 Astier
44 Rue Jean-Pierre Timbaud
75011 Paris, France
restaurant-astier.com
This was such a fun meal! Classic French food and off the beaten path. The staff here was absolutely delightful. The lamb chops were AMAZING. I am not normally a huge fan of lamb, but these were incredible. The next time I'm in Paris I would definitely go back so I could order them again!
For a special occasion, call ahead and order their famous soufflé! They only make TWO per night. If you want to try soufflé in Paris, Astier is the place to go! :)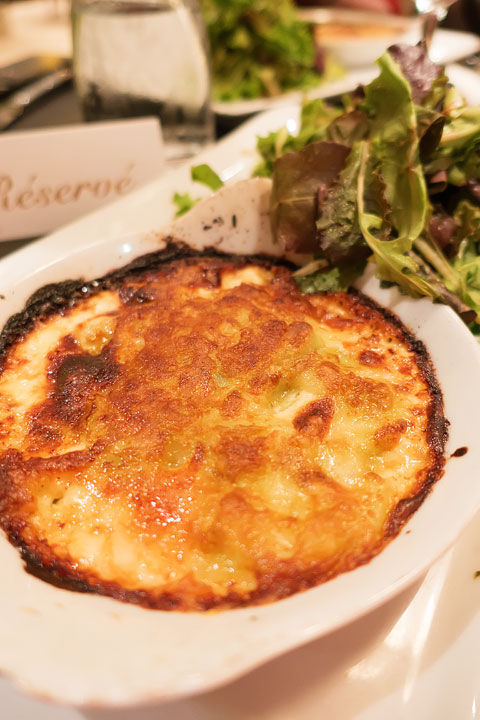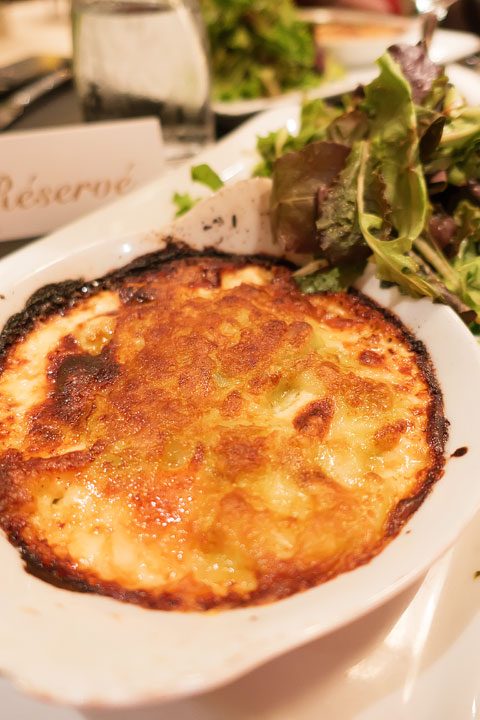 Le Bosquet
46 Avenue Bosquet
75007 Paris, France ‎
bosquetparis.com
Le Bosquet is another gem near the Eiffel Tower. Kevin and I happened upon Le Bosquet last year when we were in Paris, and it was one of my favorite meals of the entire trip. When I went back this year with my friends, I HAD to take them there. The ravioli gratin is to die for!!! Gooey, cheesy, melty, perfect!!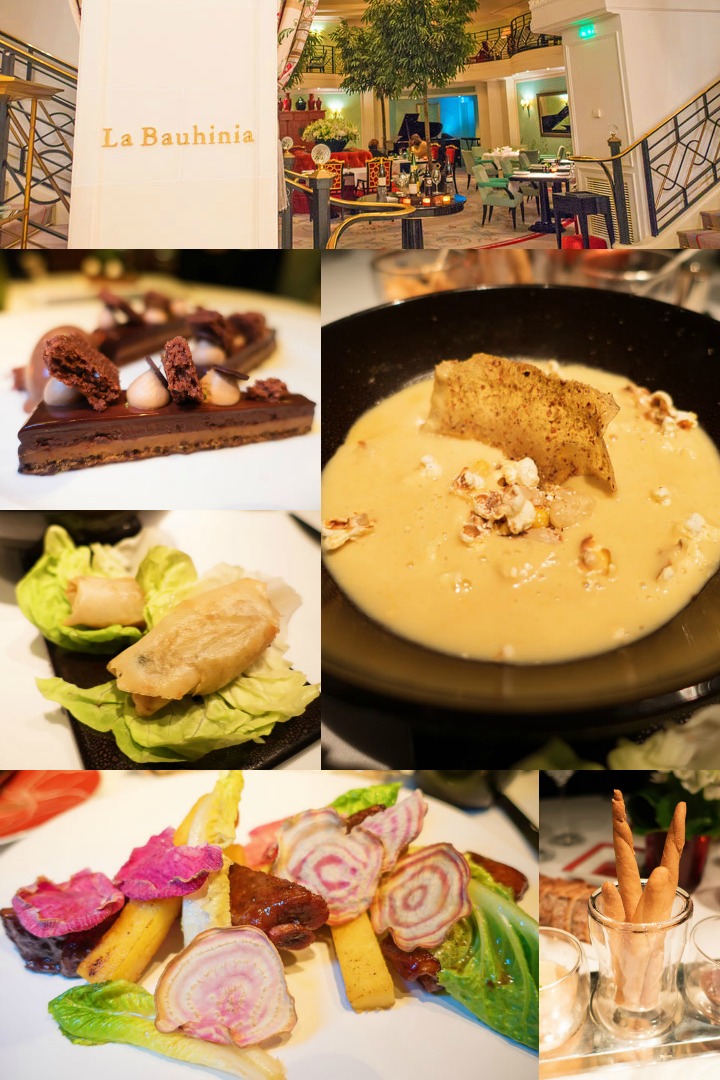 La Bauhinia at Shangri-La Hotel Paris
10 Avenue d'Iéna
75116 Paris, France
shangri-la.com
I think one of our favorite dining experiences was at La Bauhinia at the Shangri-La Hotel. The Shangri-La is the former home of Napoleon Bonaparte's grandnephew, Prince Roland Bonaparte. Many of the features are original, from the gold crowns in the stair railing to the prominently engraved Bs in the fireplaces. Get there early so you can take a look around!
The food we had was just amazing. Be sure to get the Spicy Corn Soup — it comes with popcorn it it! — and it also comes with a side of crispy tofu rolls. Before I tried these I would've said I am not a fan of tofu. But these crispy tofu rolls made me a believer! The perfect spot for a special night out.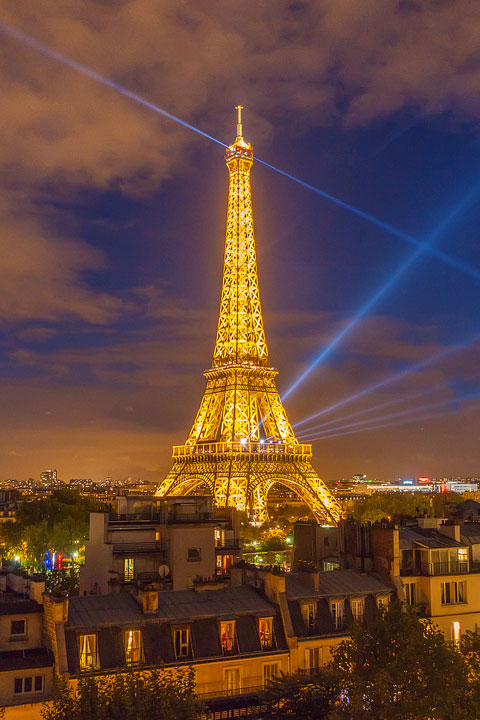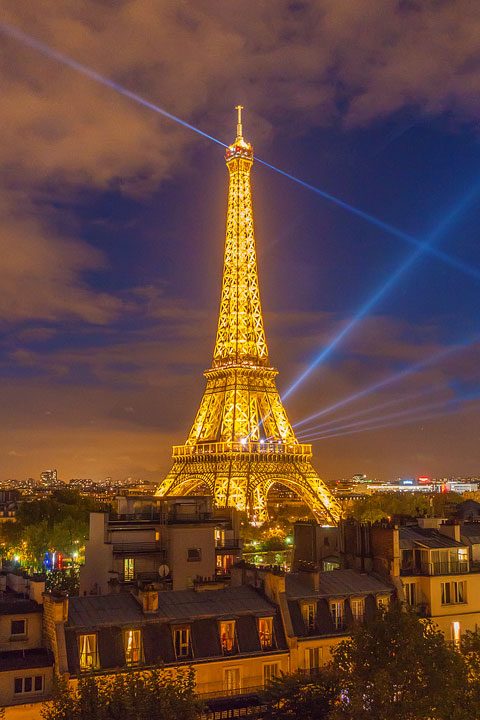 And if you stay at the Shangri-La Hotel, you'll have this as your view! How gorgeous!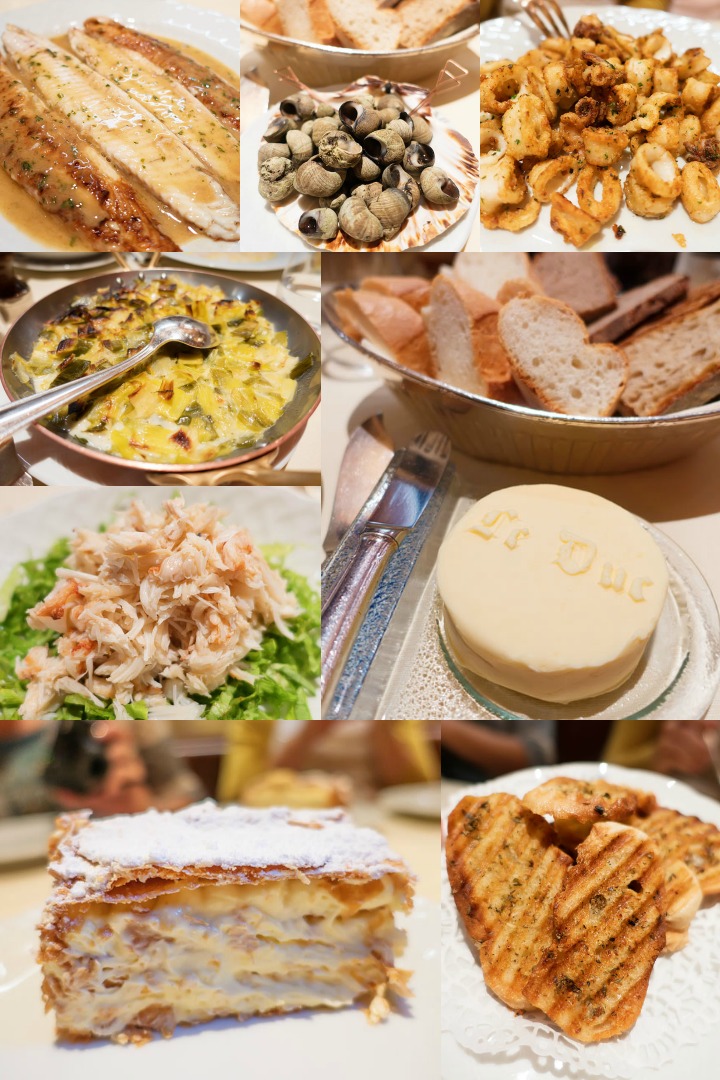 Restaurant Le Duc
243 Boulevard Raspail
75014 Paris, France
restaurantleduc.com
This might have been my favorite meal of the entire trip. Everything we had here was just so amazing. I was blown away. We could not stop eating. I mean, when the butter comes out with the name of the restaurant engraved on it, you know it's gotta be good.
Le Duc is a seafood-only restaurant with classic French preparation. So if seafood is not your thing, this may not be the place for you. Unless you just go for dessert. Which would be totally worth it. But more on that in a minute. I got the sole meunière, which was fabulous. Tender, mild, white fish in the world's most decadently dreamy buttery sauce. Sommer got the seabass with ginger sauce and it was LIFE CHANGING. I kept sneaking bites off her plate!! The ginger was very, very mild but SO GOOD. The next time I'm in Paris I will DEFINITELY go back here and order the seabass with ginger!!
After this meal we were throughly stuffed and were 100% set on skipping dessert. Until they brought out the dessert cart. We declined at first, until the waiter said, "Not even the mille-feuille? To share?" It was so tiny, and came so highly recommended, and splitting it between the four of us would be basically one bite each so we thought, "Well, all right" and gave in.
And oh. my. gosh. I am SO glad we did, because hands down, this is one of the best things we had all week. This is one of the best things I've ever had in my entire life!! That perfectly flaky crust with divine layers of vanilla custard. To DIE for. It reminded me of the Ruszwurm Cream Cake we had in Budapest.  If you are ever in Paris, TRUST ME, go to Le Duc, order the seabass with ginger and the mille-feuille. The next time I am there that is exactly what I'll be doing!
Reservations made well in advance are highly recommended. 100% totally worth it!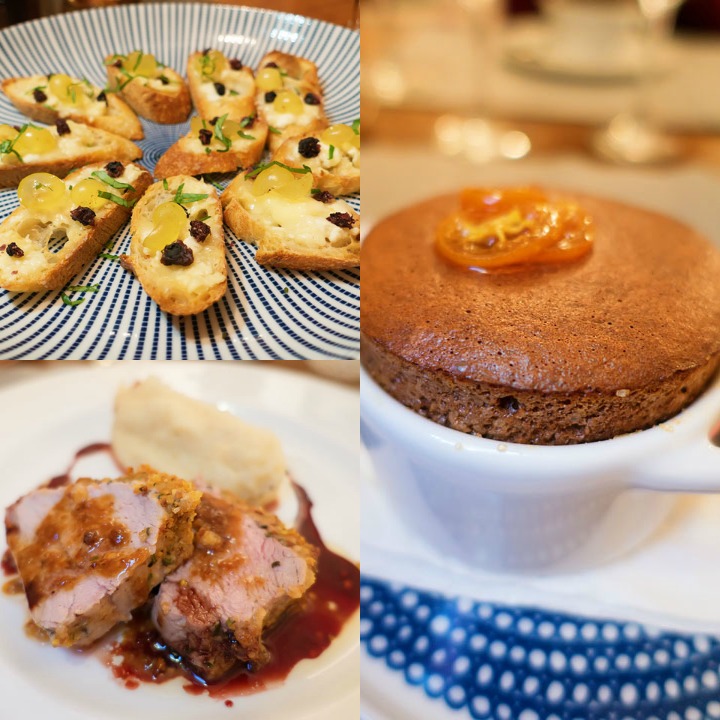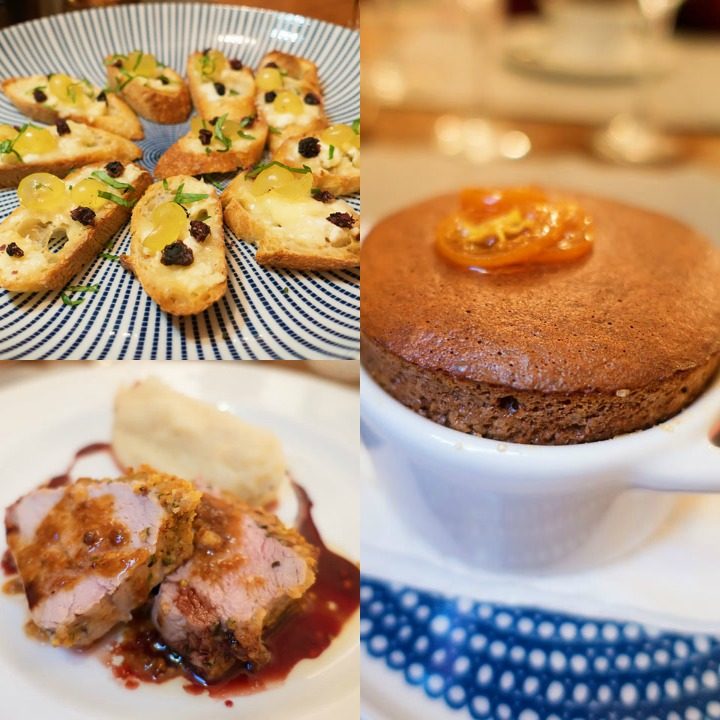 Private Dinner with Chef Brian DeFehr
briandefehr.com
A typical Parisian dinner at a restaurant can easily last 2-3 hours. As an American, I'm definitely not used to sitting in a restaurant for 3 hours. If you're not feeling up to going out one night, and are renting an apartment, you can hire private Chef Brian DeFehr to come prepare a fabulous meal created just for you right in your own home. Take it easy, lounge in your PJs, and be in the comfort of your own home while a gourmet meal is prepared just for you in Paris.
This was one of the highlights of our trip. Everything from the lamb to the chocolate soufflé was perfectly prepared. Such a wonderful, relaxing meal at home! Highly recommend Chef Brian!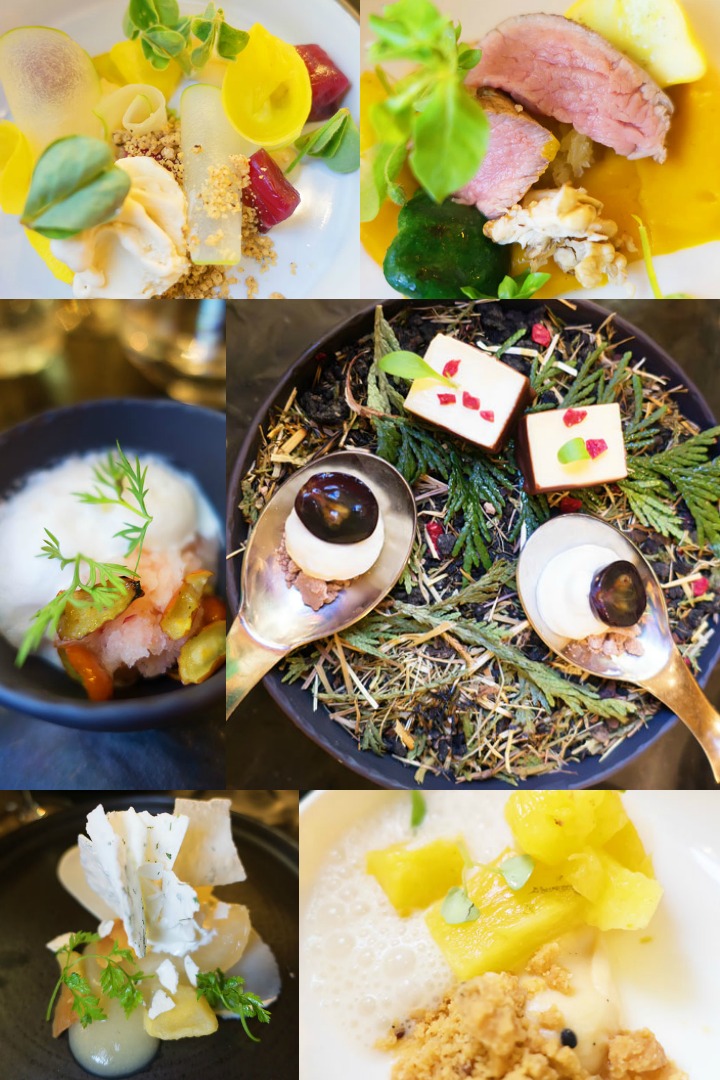 Dessance
74 Rue des Archives
75003 Paris, France
philippebaranes.com
Dessance is a unique concept restaurant in Paris with a pre-fix menu that highlights the natural sweetness of fruits and vegetables. The food (and experience) is creative, gorgeous, unique, and unforgettable. Although the menu is pre-fix, they are very happy to work around food allergies and preferences. Just tell them what you like and don't like, and they will create a meal just for you! Definitely a must-try if you are a foodie!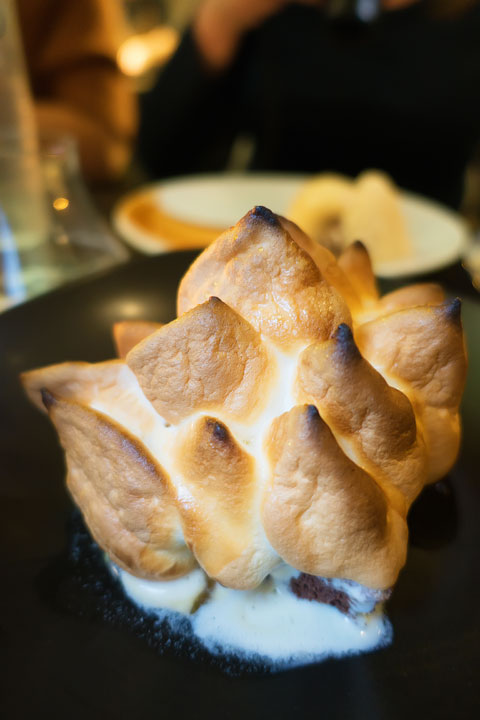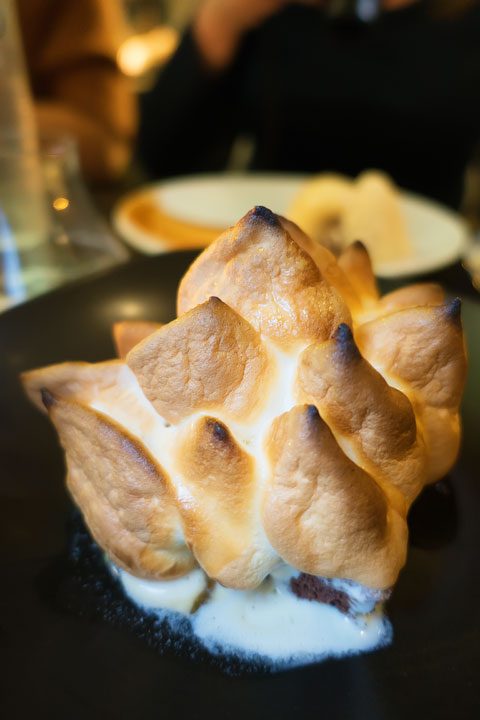 Most of the tables have a view of the kitchen, so you can see each masterpiece as it's created. We saw these unique meringues being created all night, and were so excited when they finally arrived at our table! :)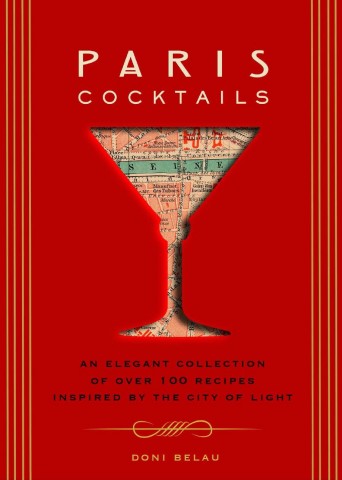 If you're into cocktails, Girls Guide to Paris just came out with a new guide to Paris cocktails, guiding you to 100 of the best French bars in Paris. You can check it out here.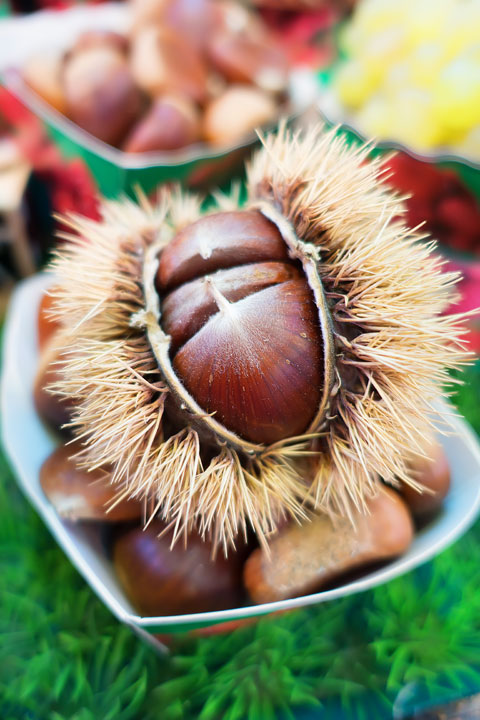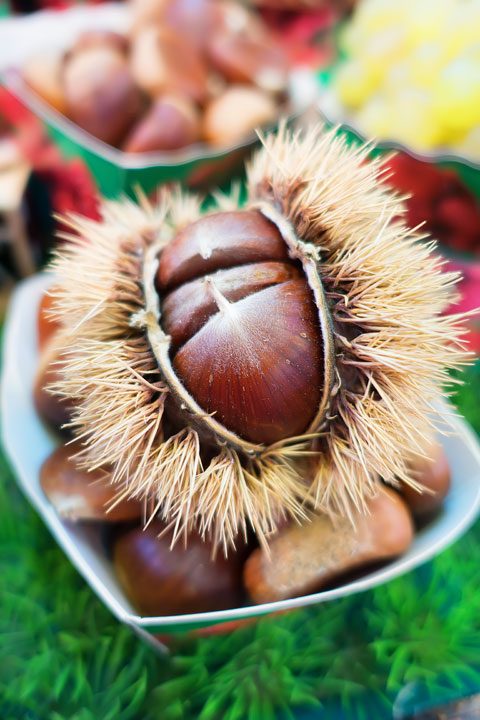 Succulent Paris Walking Tour
succulent-paris.com
And one final favorite foodie thing we did in Paris was a foodie walking tour with Succulent Paris. They're the ones who introduced us to Acide Macarons and took us on a fun tour of the 17th Arrondissement. We sampled pastries, chocolates, caramels, spices, honey, and olive oils. I bought some of the best balsamic vinegar I've ever had in my entire life and brought it home as a souvenir. If you're a foodie and love walking tours, definitely check out Succulent Paris!
Any guesses as to what's in the picture above?? ;)
More posts from Paris.
More city restaurant guides.
Until next time!! xoxo