Dreaming of Morocco travel? If you are planning a trip to Morocco, here are the best things to do in Essaouira Morocco!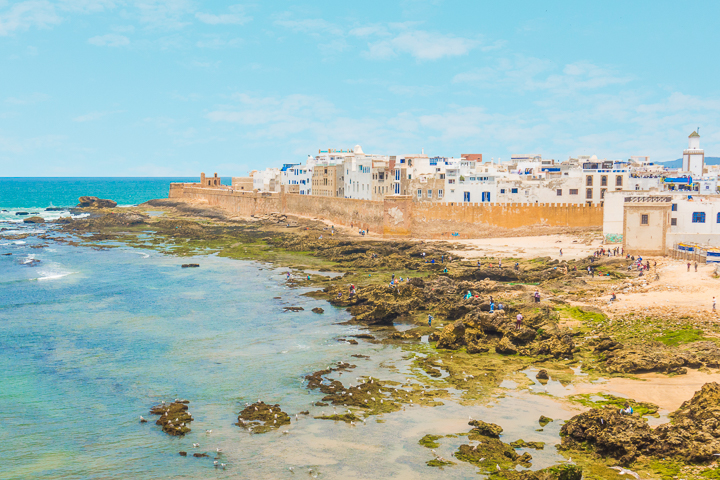 This summer I spent 2 weeks in Morocco. It was my first time in Africa, and I was so excited to finally cross it off my bucket list. We traveled all over the country. I wanted to see as much of Morocco as possible in our 2 short weeks!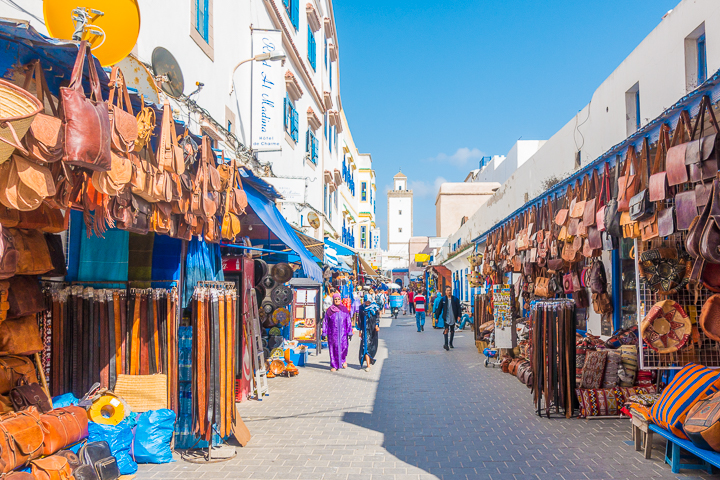 I obsessed over the itinerary. Which cities were worth visiting and how long should I spend there? Is one day enough? Is two days too many?? Will we get bored? Will I wish we had moved on?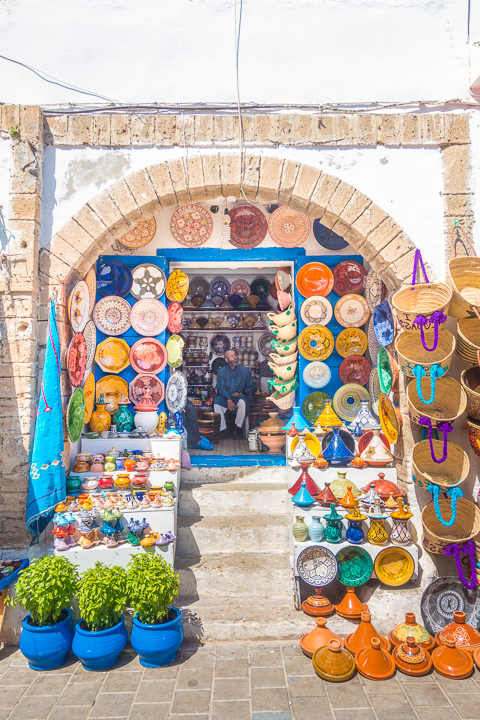 Out of everywhere we went in Morocco, one of my absolute favorite places was the colorful seaside town of Essaouira (Essa-we-rah).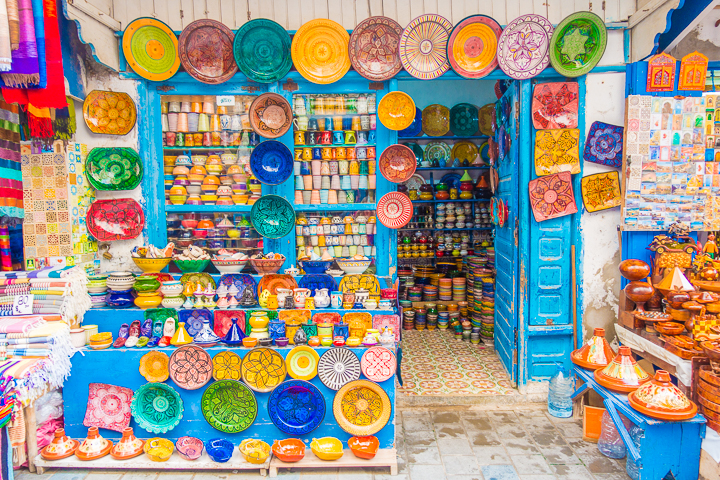 Marrakech To Essaouira — How To Get There
It's very easy to get to from Marrakech to Essaouira. There are two bus companies, CTM and Supratours, that run several times a day between Marrakesh and Essaouira. These buses are luxury coaches with comfortable, reclining seats and air conditioning. The bus takes 3 hours and includes a 20-minute stop halfway for bathroom and snacks.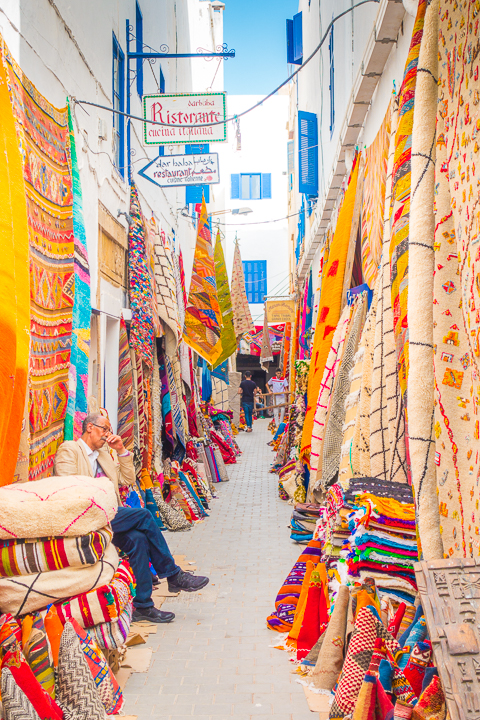 The best way to get from Marrakech To Essaouira is the Supratours bus, because it drops you off closer to the city center (medina) in Essaouira. The CTM bus drops you off further outside the city, and you then have to take a taxi to the city center.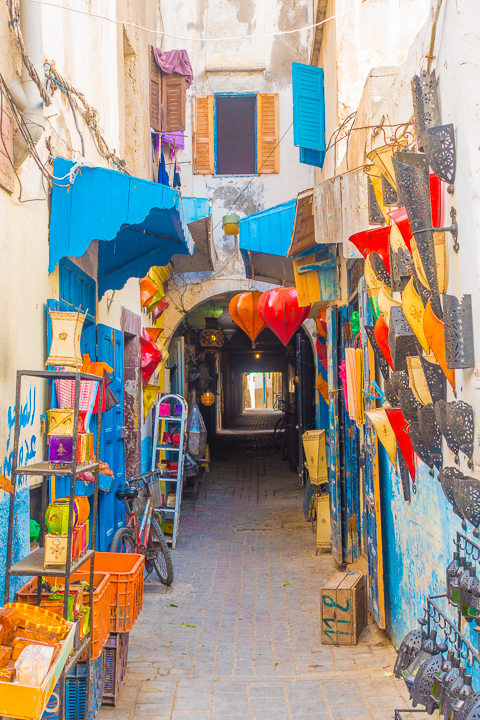 Unfortunately you can't buy bus tickets online, you can only buy them in person from the bus station. It's better to purchase your tickets at least one day in advance.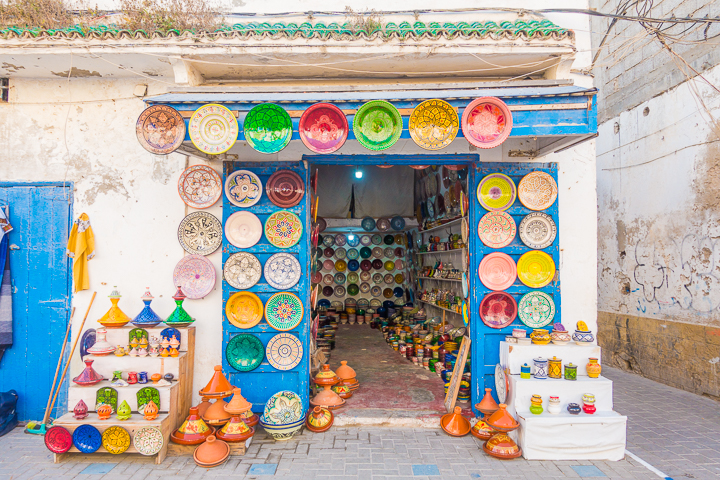 It's kind of inconvenient, having to go all the way to the bus station the day before just to buy your ticket. However our riad in Marrakesh was able to send someone to get our tickets to Essaouira, so check with your hotel to see if they offer that service.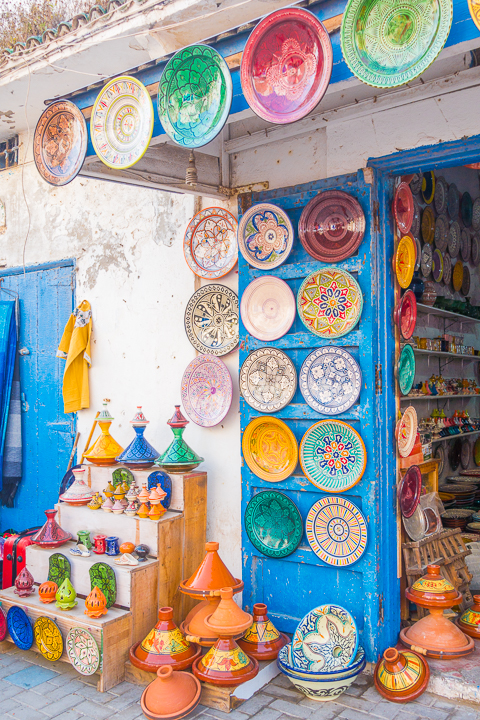 Once you're in Essaouira, you can buy your return tickets right when you arrive, or since bus station is right in the city center, it's not too far out of the way to go back another time to buy them.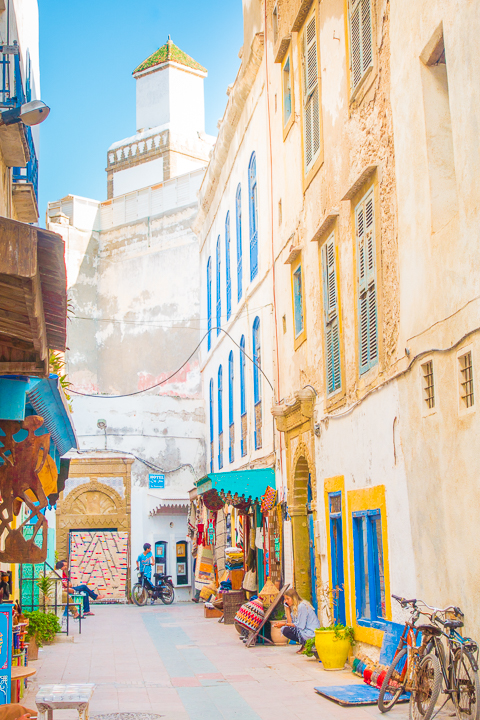 Be sure to get to the bus station at least 30 minutes early. If you have a suitcase (even a carry-on size) you have to check your bag. You stand in line just like at the airport. It cost 50 cents per bag for us to check a bag.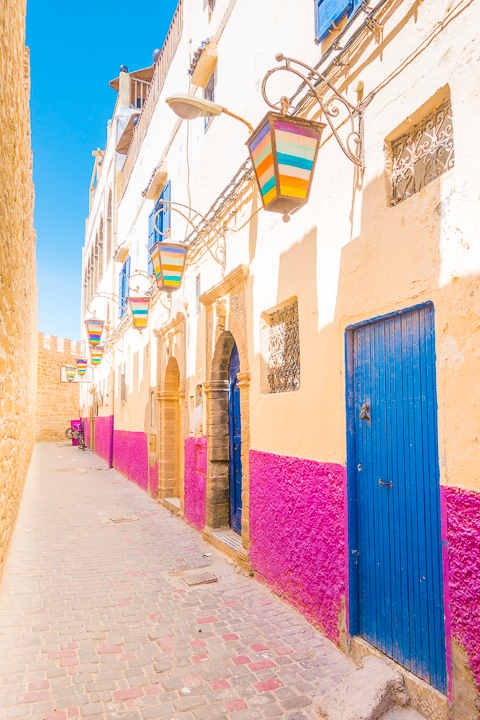 How Many Days To Spend In Essaouira Morocco?
If you're wondering how many days to spend in Essaouira, we spent two nights and I think it was the perfect amount.
I would not recommend a day trip to Essaouira from Marrakech. It's too much travel. At least spend one night there. There's definitely enough to see and do for 1-2 days.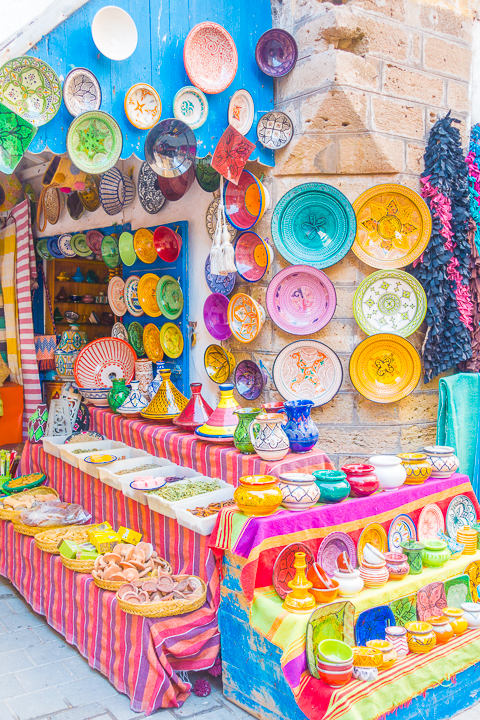 Essaouira Weather
Essaouira is a beach town on the coast of Morocco. We were in Morocco at the end of June, and it was HOT everywhere else in Morocco! The temperature was around 90-100 degrees F in the cities. But the coastal towns in Morocco are known to be MUCH cooler and more pleasant, normally around 70-80 degrees F. The cooler temperatures in Essaouira were a welcome relief for us!!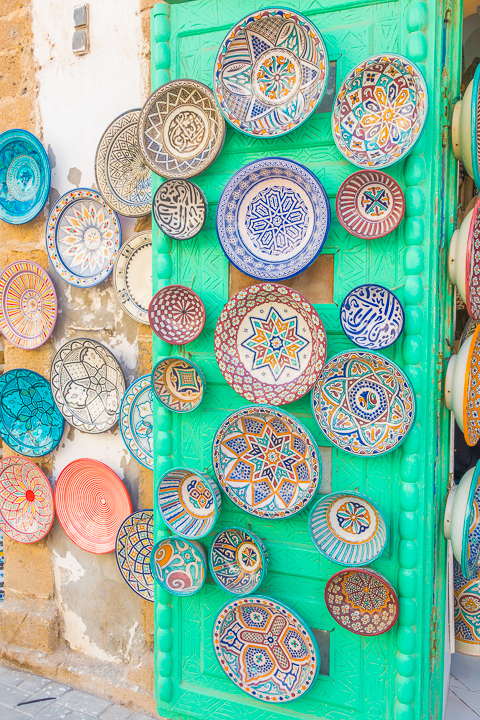 Essaouira is also known to be very windy. I've heard people say it can be so windy it's unpleasant to walk on the beach because sand is flying everywhere. However we must have been very lucky when we were there. It was not windy at all, just normal, sunny beach weather.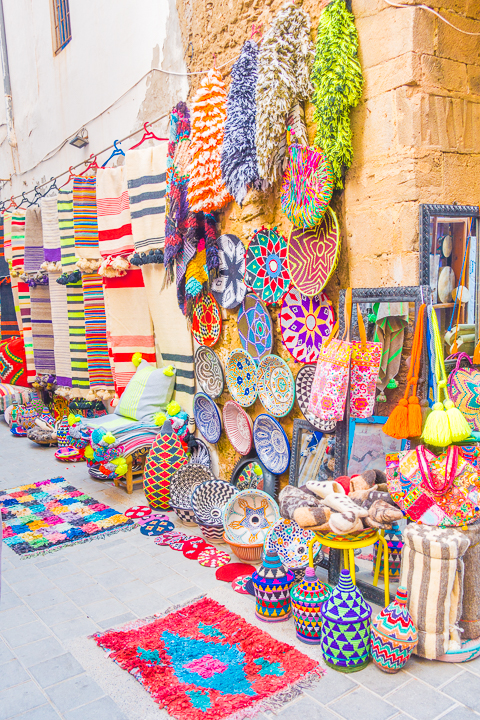 Best Things To Do in Essaouira Morocco
Explore the medina! All the above pictures in this post I took in the medina. You could spend hours wandering through the narrow streets lined with colorful pottery, handmade textiles, and leather goods. The medina in Essaouira was my favorite medina out of all the cities we visited.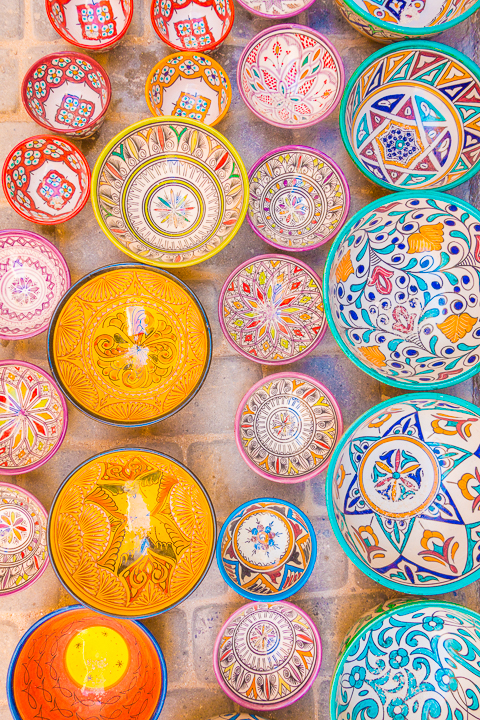 What Is A Medina?
Every town in Morocco has a medina. It's the "main square" of the city. A typical medina is surrounded by old fortification walls and has many narrow and maze-like streets inside. The medina is full of shops and restaurants.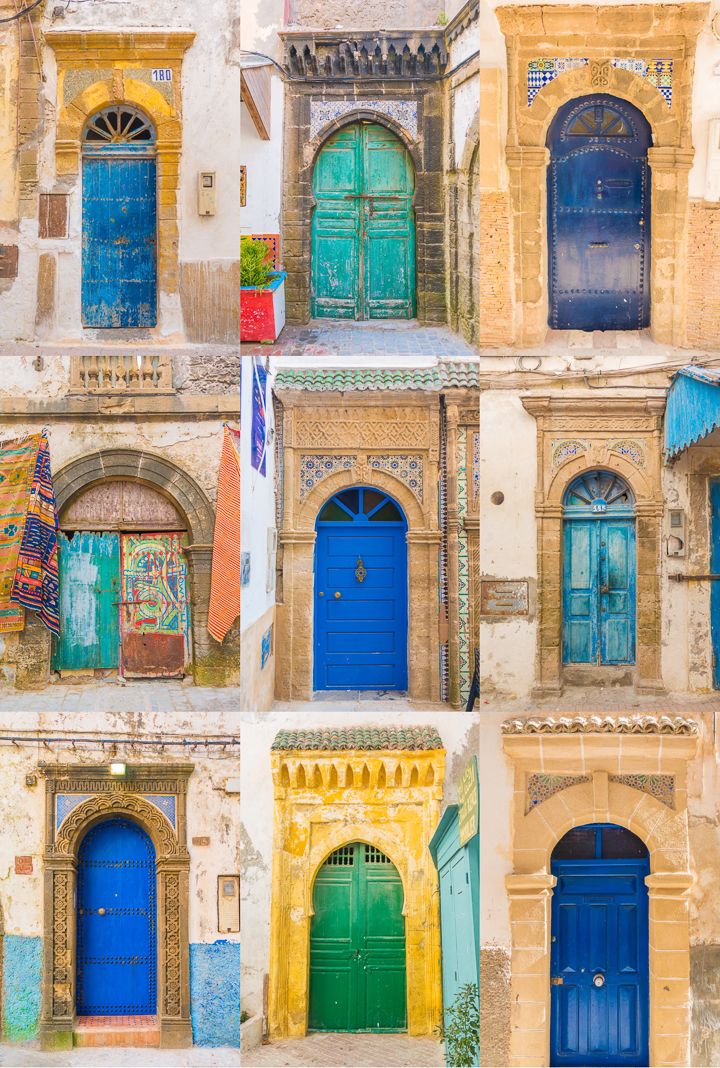 Seriously love all the colorful doors in the medina!!!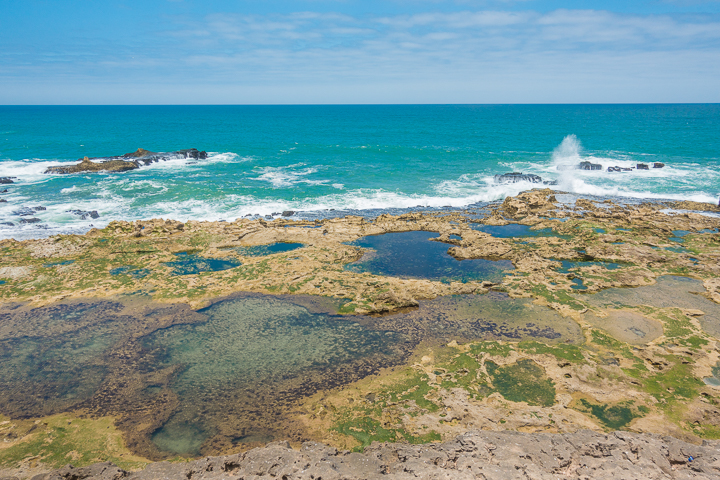 City Walls
Go up to the City Walls for this panoramic view of the Atlantic Ocean.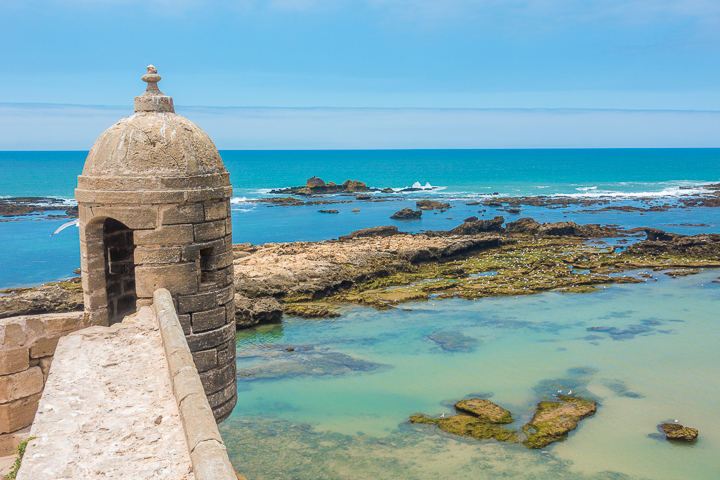 Skala du Port
For another great view, the best view in Essaouira is from the Skala du Port.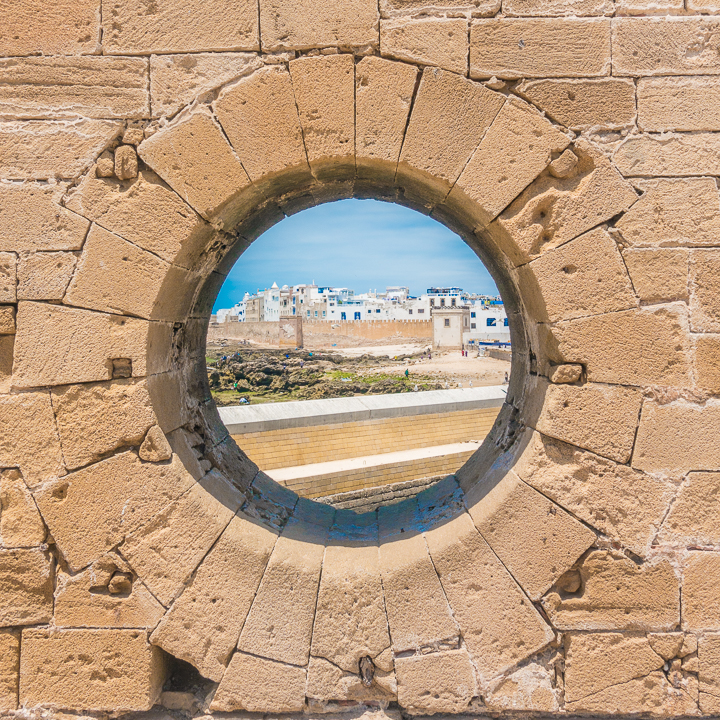 This is where you'll get a view of the city by the ocean, like the first picture in this post.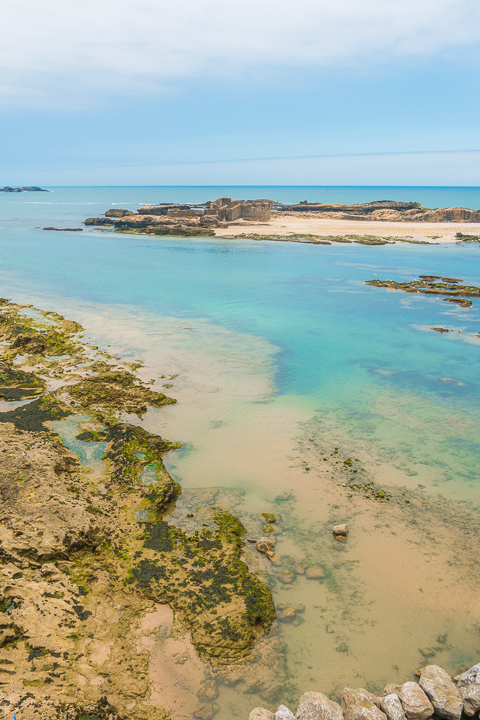 You can also see this small island with the remains of a historic fort.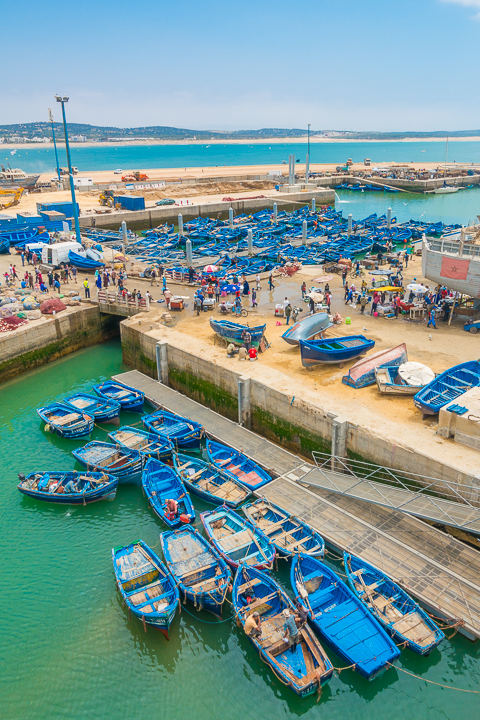 Cannot get over how blue this water is!!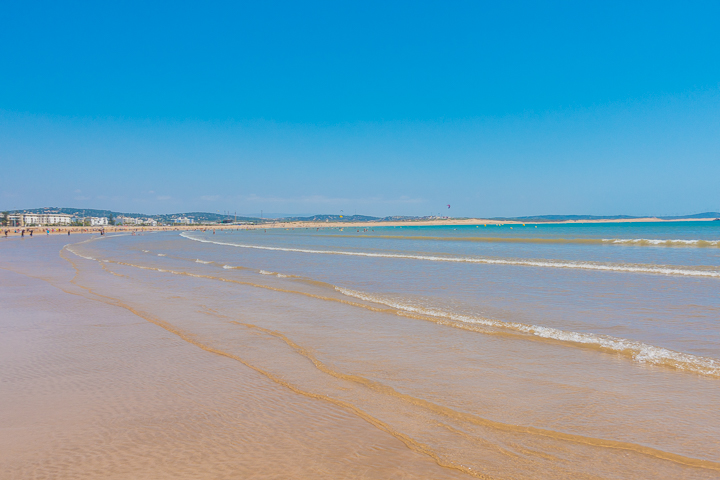 Essaouira Beach
Take a walk on the beach! If it's not too windy, the Essaouira beach long and flat — perfect for a morning or evening walk!!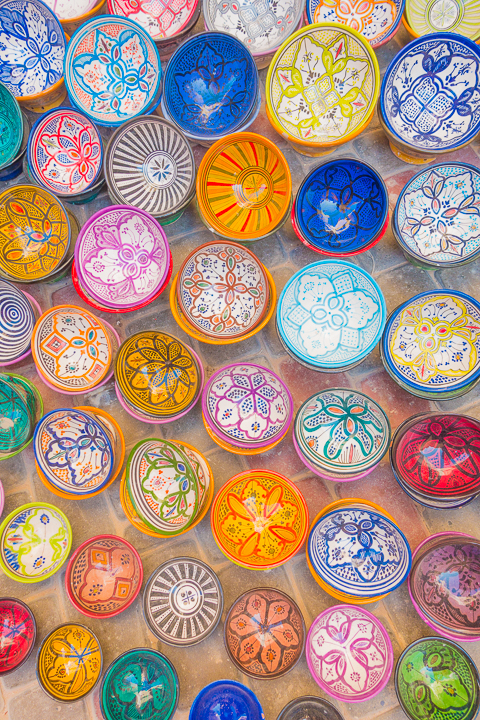 Best Restaurants in Essaouira Morocco
La Table by Madada — We were at the beach, so we definitely wanted to eat seafood! After consulting TripAdvisor, Google, and our hotel, we learned that the best restaurant in Essaouira for seafood was La Table by Madada. Highly recommend! Definitely save room for the pastilla dessert!!!
Le Sirocco — the best restaurant in Essaouira for local, traditional food is Le Sirocco. The chicken pastilla was incredible!!!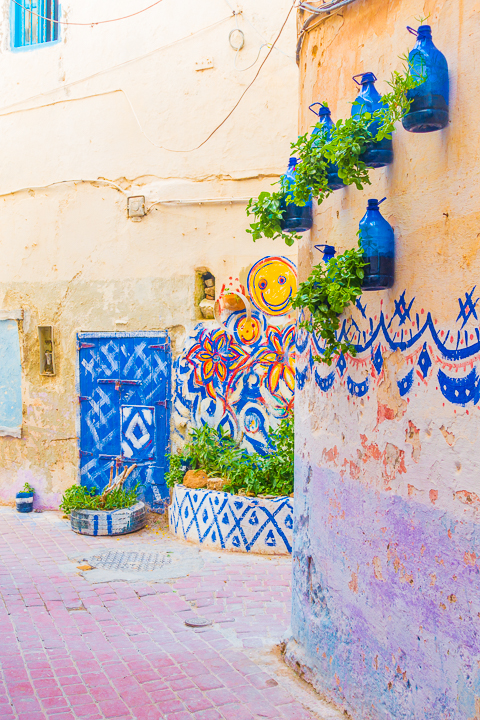 Essaouira Or Mogador?
The town of Essaouira was formerly known as Mogador.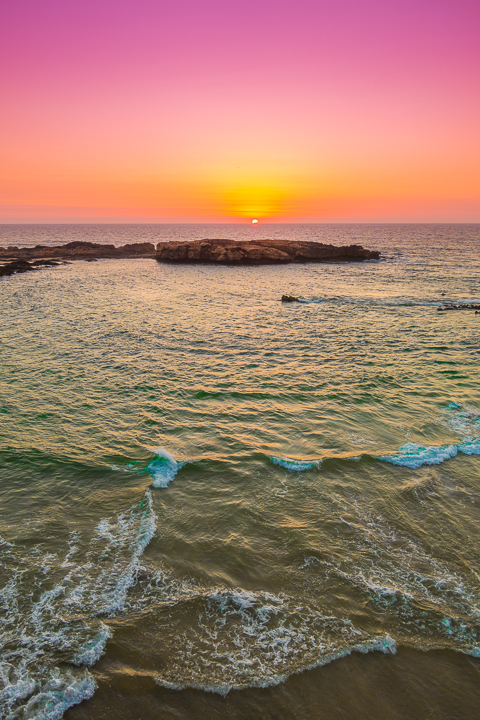 Essaouira Hotels
I highly recommend staying inside the medina. That's where we spent most of our time. Everything is very close. It's only a 10-minute walk from the medina to the beach.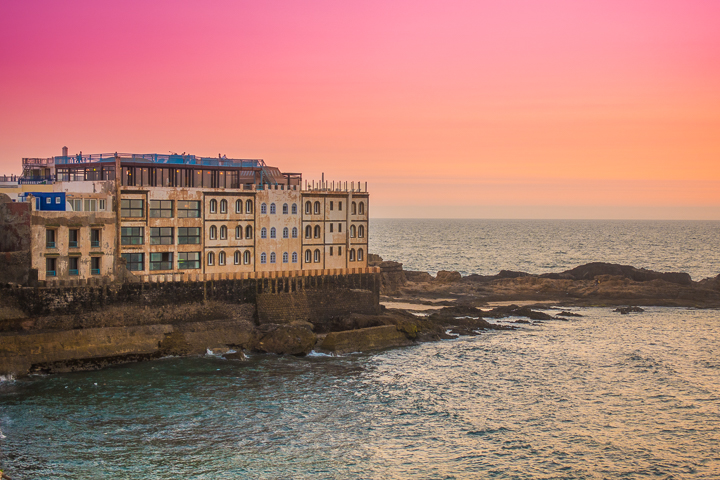 We stayed at the Riad Perle D'Eau. WiFI and breakfast are included. I seriously loved our hotel because it has an amazing rooftop terrace with a view of the ocean. Breakfast is served overlooking the sea every morning. The freshly squeezed orange juice was incredible!! Be sure to go up in the evening to watch the sunset!! The two sunset pictures above were taken from the rooftop terrace at our riad.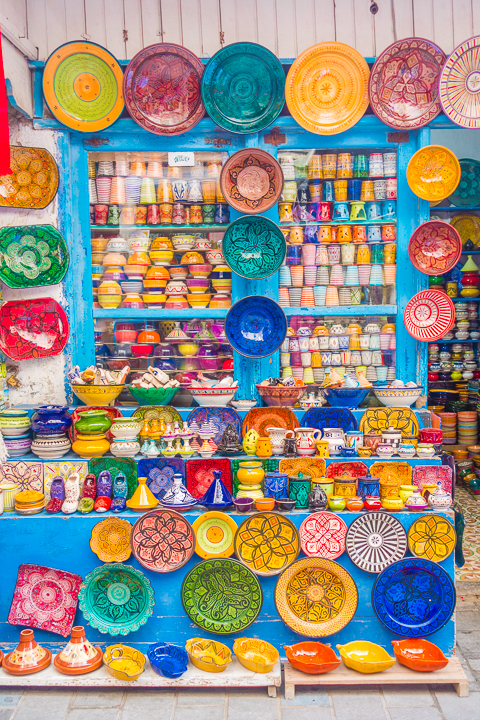 Morocco Travel — See more posts from Morocco!
---
Like this post? Save it on Pinterest!