Planning a trip to Fez Morocco? Here's a guide to the best things to do in Fez Morocco so you don't miss any of the highlights! Keep reading below for the 10 best things to do in Fez, including how to visit the famous leather tanneries without getting scammed!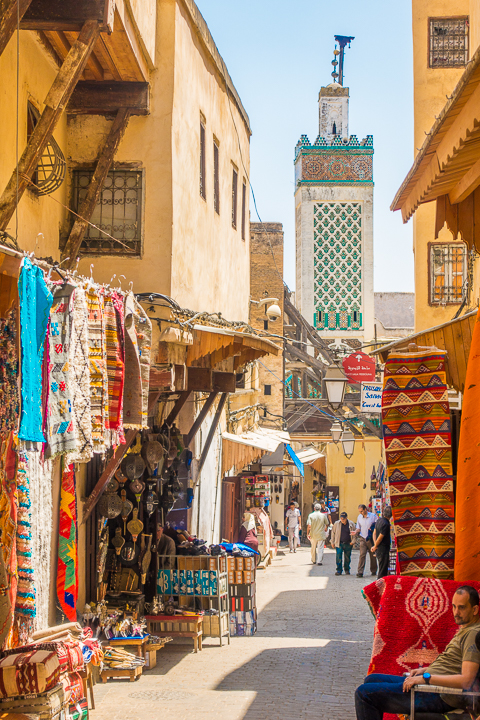 How Many Days to Spend in Fez Morocco?
One day is enough to explore the medina and see the main sites, and you may want to stay one extra day to take a day trip to the ancient Roman city at Volubilis.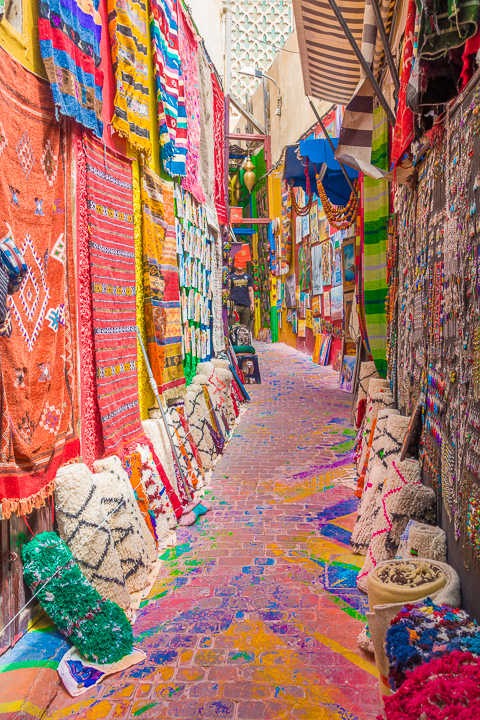 1. Explore the Fez Medina
The medina is the ancient, medieval city of Fez. It's surrounded by high stone walls and large entry gates. Inside is a narrow, winding, labyrinth of alleyways lined with stall after stall of local artisans purveying their colorful pottery, carpets, leather goods (for which the city is famous!) and more.
You could easily spend 1-2 hours exploring the medina — or even more if you want to shop!
Here's the exact GPS location for the Rainbow Street in Fez.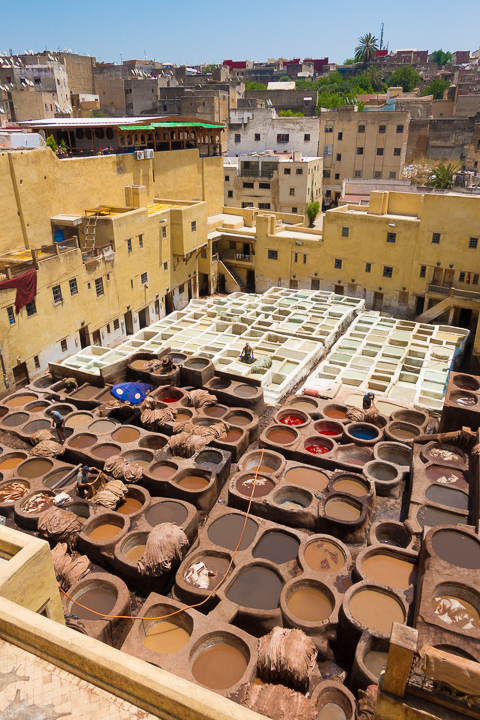 2. Visit the famous leather tanneries in Fez Morocco
Fez Morocco is famous for its leather tannery, and it's one of the main tourist attractions in Fez. To get this view overlooking the tannery, you have to enter one of the many leather shops surrounding the tannery. The shops have large balconies and viewing platforms over the tannery. However, there are a few things you should know first.
On your way to the leather shops, you may encounter several persistent locals who will offer to guide you to the tannery or give you a tour. But they will want a very hefty tip for their services. You don't need a guide or a tour to visit the shops, so just tell them "no thank you" and keep walking.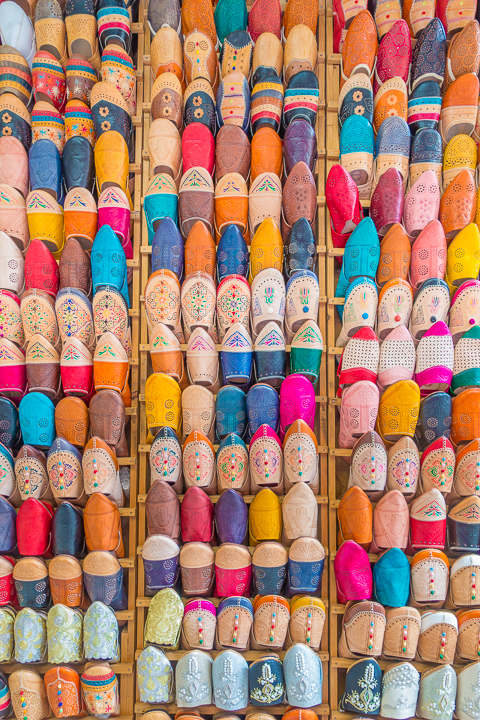 Here is the exact GPS location of the shop we visited. You can find it using Google Maps or Maps.me. Both can be used offline. The tanneries have a strong smell, so the shopkeepers offered us mint sprigs to hold under our noses. They took us straight to the viewing platform and left us alone while we took all the pictures we wanted.
On our way out, they did encourage us to shop, but I never felt pressured. You get used to saying "no thank you" a lot in Morocco. The shopkeepers were very kind and polite with us. They never asked for a tip. I had read horror stories before visiting the tanneries about all the ways people had been scammed, so I was definitely on edge, but we had a great experience.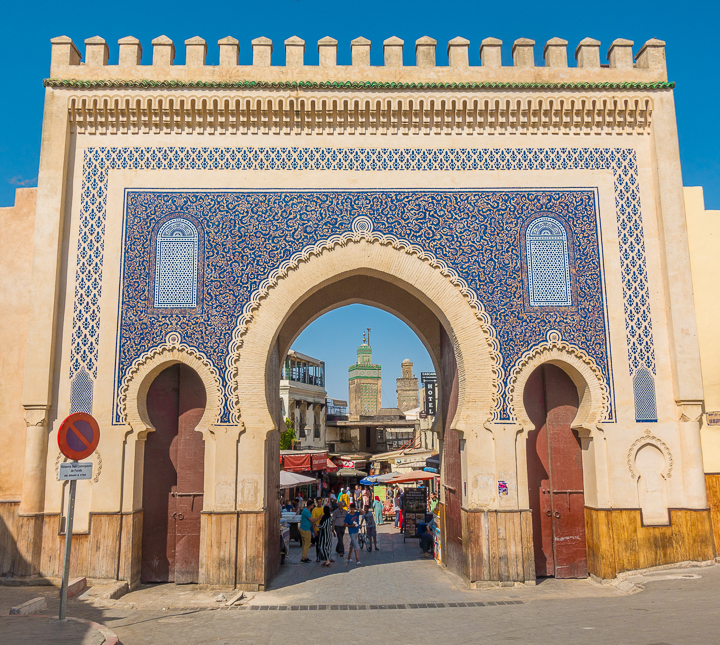 3. Walk through the Blue Gate
The medina of Fez Morocco is surrounded by large stone fortification walls, which once protected the city. One of the main entrances to the medina is an ornate mosaic-tiled blue gate.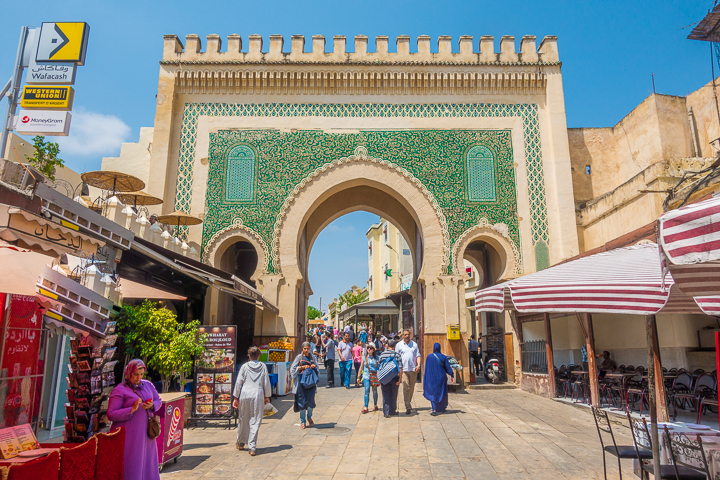 When you pass through the blue gate and enter the medina, the other side of the gate is green, which represents the color of Islam.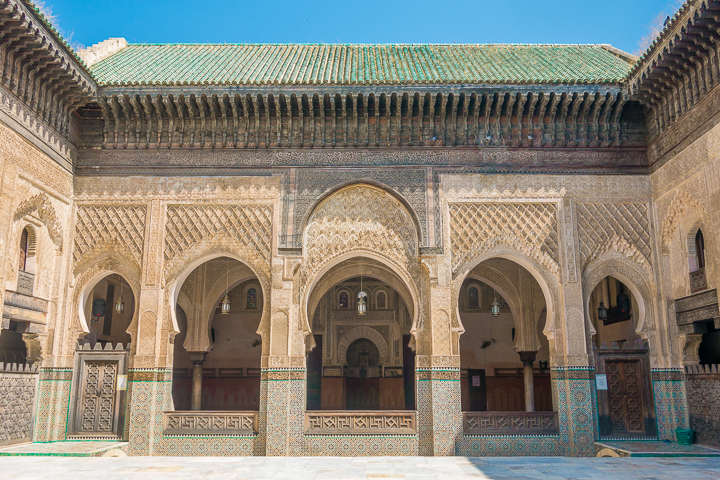 4. Visit Bou Inania Madrasa
Bou Inania is a madrasa (school) founded in the 1300s. It is an excellent example of the architecture from this time. You have to pay a fee (around 2€) and as a non-muslim you can only enter this small courtyard.
I also wanted to visit the Al Attarine Madrasa, but it was closed when we were there. I also really wanted to visit the Karaouiyne University, the oldest university in the world, and UNESCO world heritage site, but unfortunately, it is not open to non-muslims.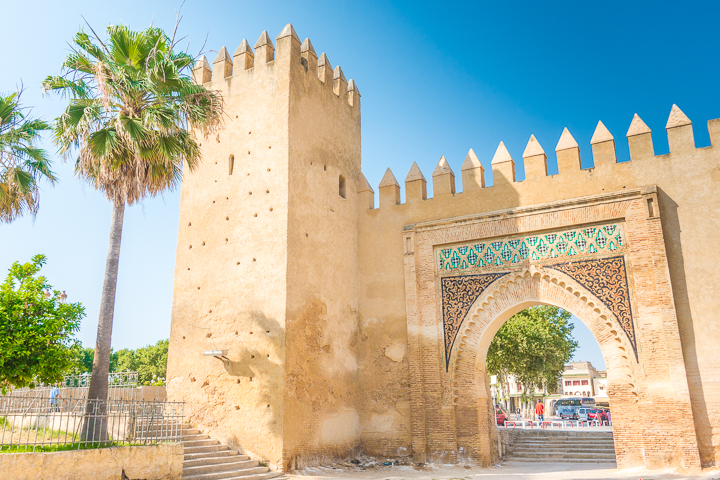 5. Walk to the Bab Al Amer Gate
Bab Al Amer is another one of the large ornate entrance gates to Fez, founded in 1276. It's about a 20-30 minute walk from the medina of Fez, and you'll also pass through the Semmarin Medina Gate.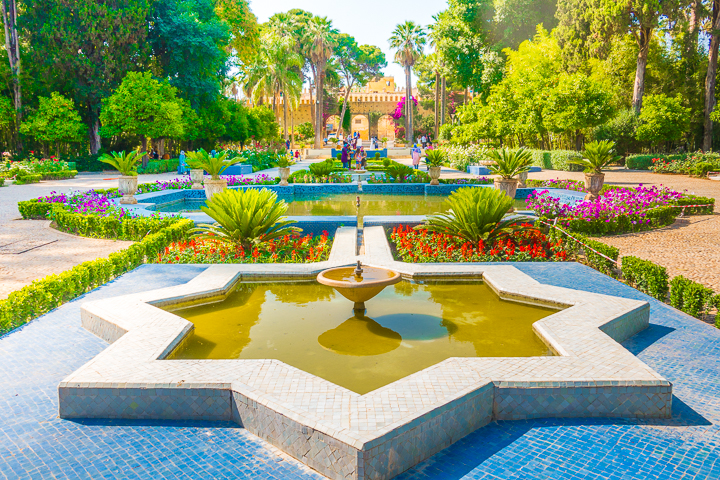 6. Stroll through the Jnan sbil Gardens
Just outside the medina, about a 10 minute walk from the Blue Gate is the beautiful, lush Jnan sbil Gardens with a river, pond, and fountains. You could spend 30 minutes to an hour just wandering around the garden, or longer if you want to relax on one of the benches or have a picnic!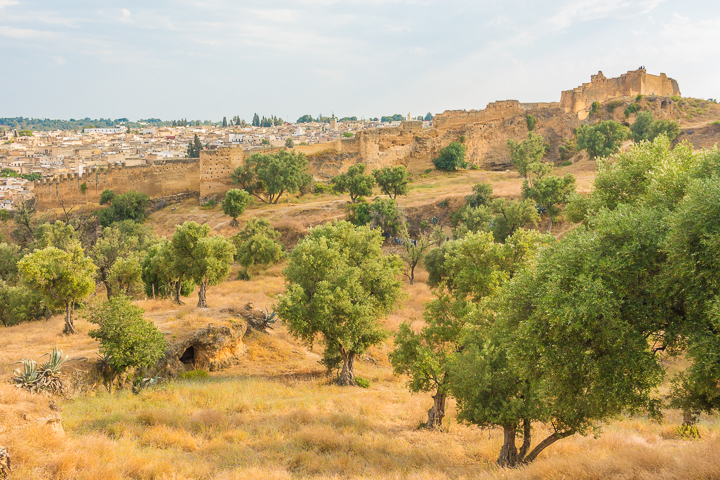 7. Get a panoramic overlook of Fez Morocco
Just outside the city are two ancient military forts with towers and viewing platforms that offer sweeping overlooks of the city. There is a South Tower and a North Tower. Above is the view from the North Tower.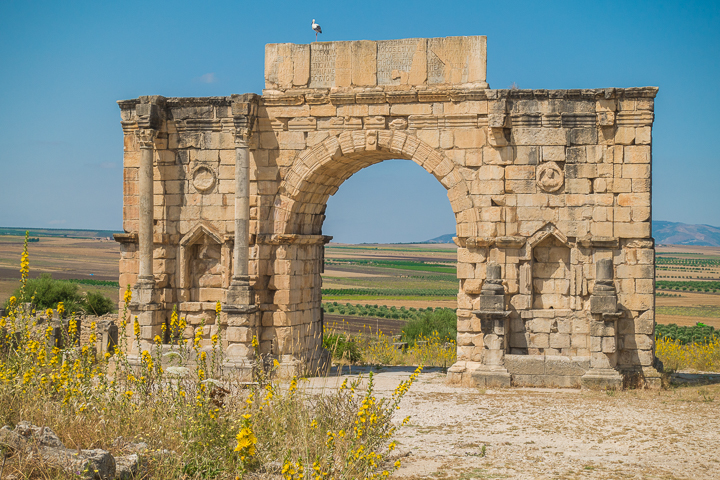 8. Take a day trip to the ancient Roman city of Volubilis
Did you know the Roman empire reached all the way to Morocco?? Volubilis (Vol-you-bill-liss) is an ancient Roman city built around 2,300 years ago.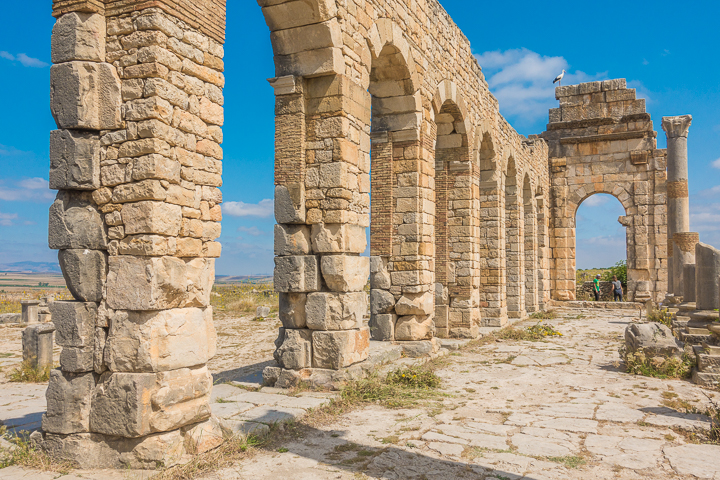 Volubilis is an extremely well preserved example of a large Roman colonial town, and was awarded UNESCO World Heritage status.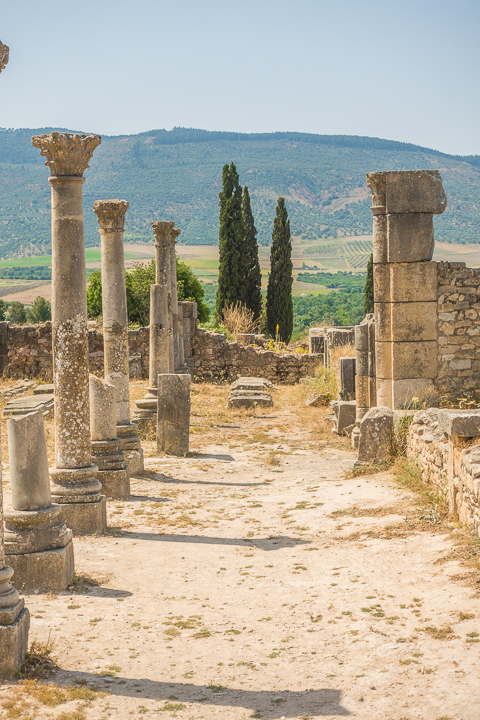 Among the ruined city you can see the remains of a basilica, temple, triumphal arch, bath houses, an olive oil press, and large mosaic floors from the mansions of the cities wealthy inhabitants.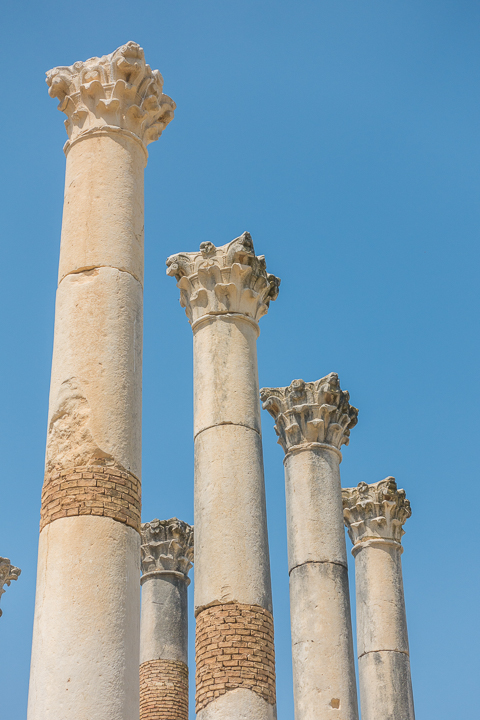 How long to spend at Volubilis?
Plan to spend 1-2 hours exploring the ruins. At the entrance there will be guides offering their services if you want to hire one to give you a tour.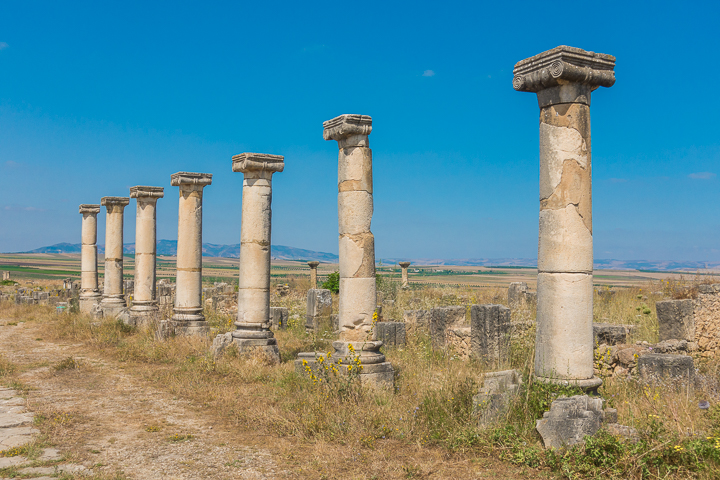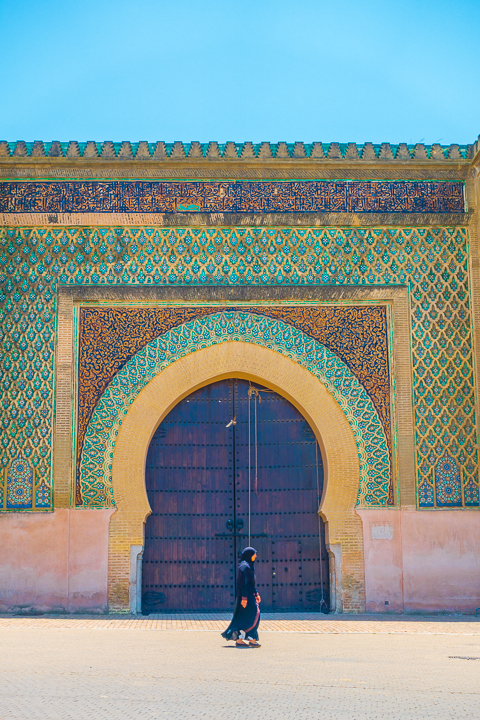 To get to Volubilis, you take a train from Fez to Meknes (Mek-nez), then hire a taxi from Meknes to take you to Volubilis. They will wait for you at Volubilis, then take you back to Meknes, where you can catch the train back to Fez.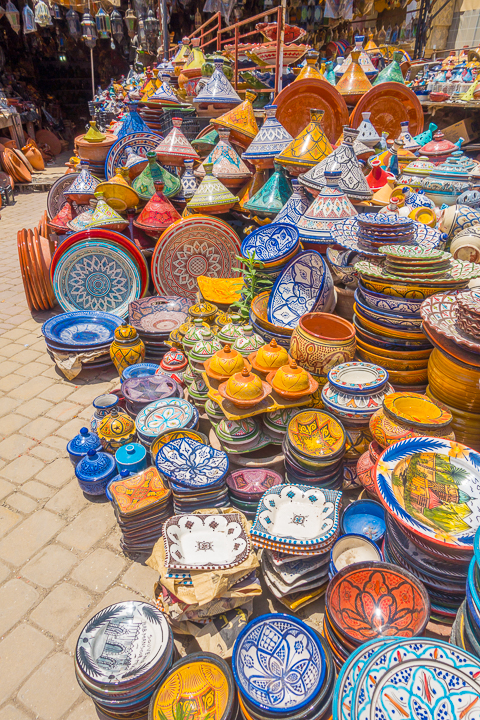 You can also hire a private driver who will pick you up from your hotel in Fez Morocco and take you directly to Volubilis. Afterwards they will take you to visit Meknes where you can have lunch. We had such a great experience with Top Desert during our luxury camping in the Sahara Desert, and they also offer day trips from Fez to Volubilis and Meknes. If you don't want to deal with trains and taxis, this is a much easier option!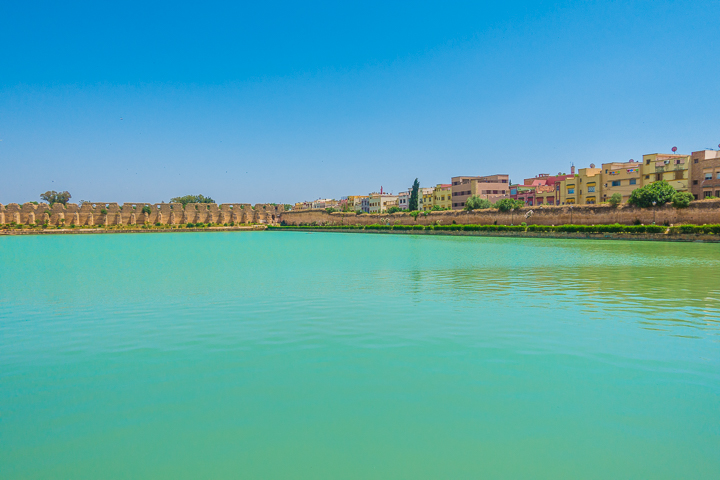 I enjoyed Volubilis, but to be honest, I wasn't super impressed with Meknes. But our driver from Top Desert made sure we saw all the best places in Meknes.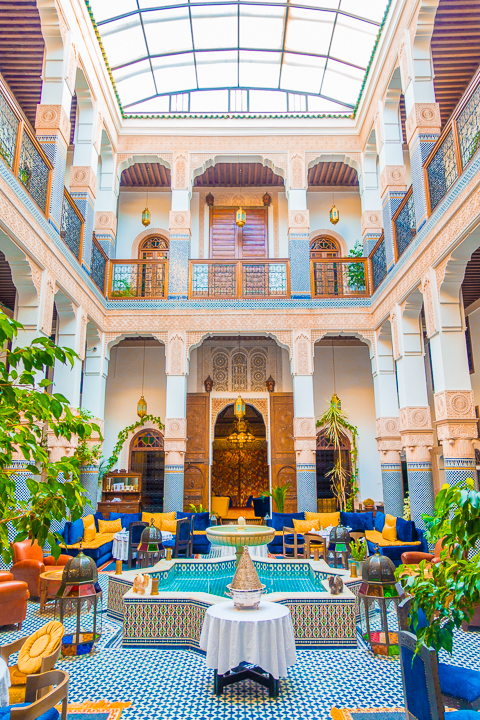 9. Enjoy your Riad in Fez
Honestly one of my favorite things about Morocco (and definitely one of my favorite things about Fez!) were the riads!! A riad is a traditional Moroccan home with a fountain and courtyard that is open to the sky in the middle of the home. Some of the larger riads have now been converted into luxury hotels.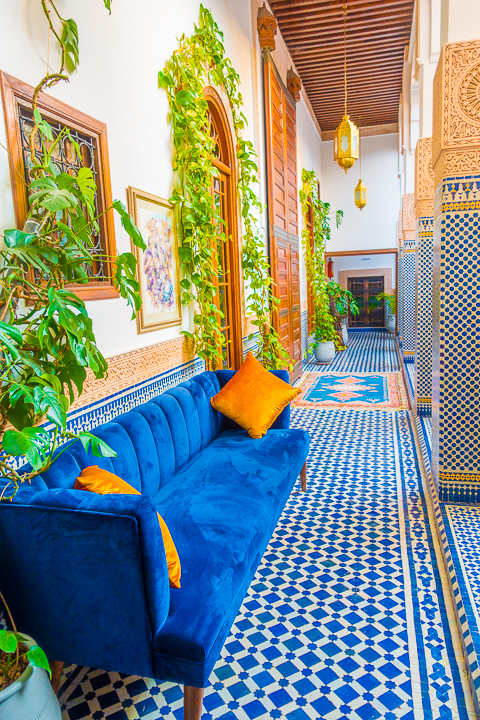 One of my absolute favorite places we stayed in Morocco was Riad Myra in Fez. Riad Myra was so cozy, charming, and beautiful. It was unlike anywhere else I have ever stayed! It felt like staying in someone's beautiful, private home.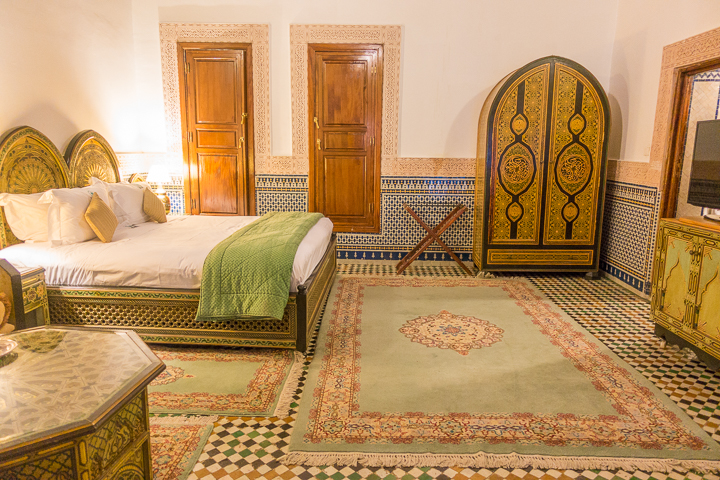 Riad Myra had the BEST mint tea in all of Morocco!! It was like spearmint gum. So good! The bed here was SO soft and comfortable. Most of the beds in Morocco were super firm, but this one was so comfy and luxurious.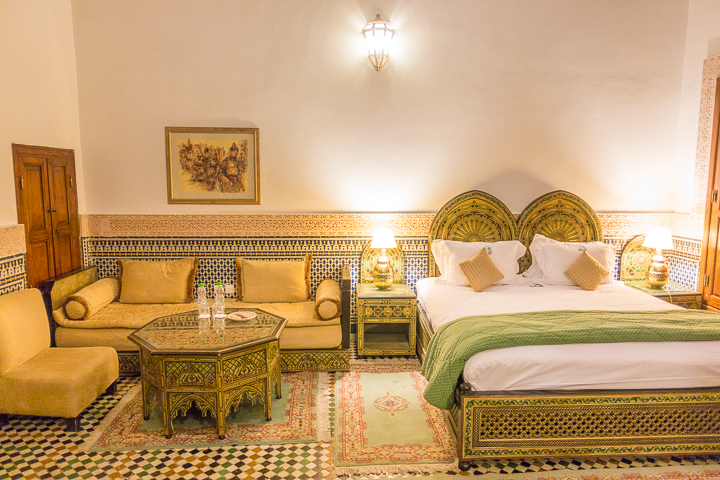 Here's a peek at our beautiful room at Riad Myra. Look at the carpets, the tiled floors!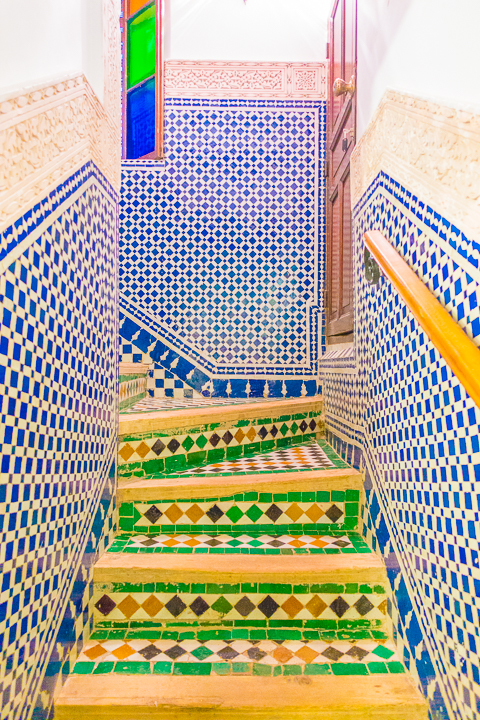 This was the colorful mosaic tiled staircase leading up to our room.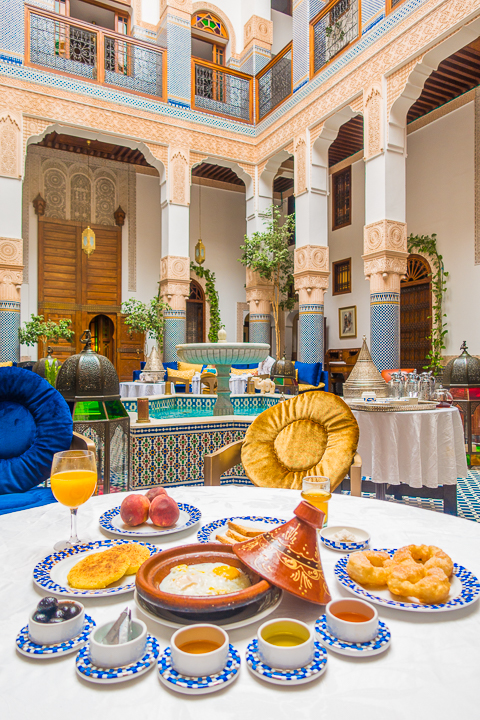 Breakfast is included and served in the courtyard. This was hands down one of my favorite breakfasts in Morocco. They had the best freshly squeezed orange juice out of everywhere we stayed, and the BEST homemade French-style vanilla yogurt EVER. I want to go back to Morocco just to stay here again!! They also served Moroccan crepes, French crepes, American pancakes, eggs, toast, pastries, fresh fruit, and more. The peaches were out of this world!! Such an incredible breakfast. We did not go hungry!
Be sure to have dinner at your riad one night. The vegetable pastilla at Riad Myra was incredible and one of the best things I ate in Morocco.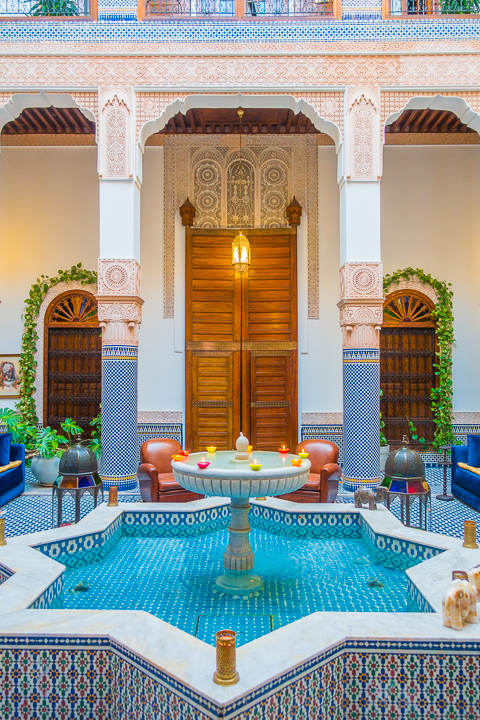 10. Experience A Traditional Hammam Spa
For a traditional Moroccan spa experience, you can visit a local hammam or book a private hamman experience at your hotel or riad. A traditional hamman experience usually includes a full body scrub, hot and cold water treatments, and a full body massage. Riad Myra has a spa and offers private hamman treatments.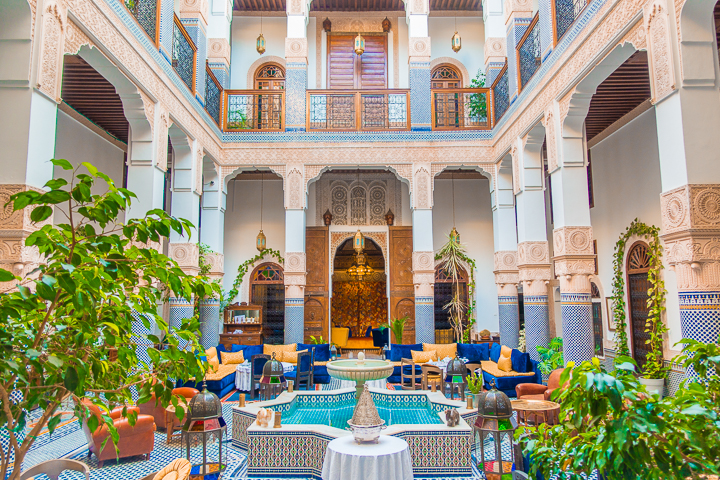 See more posts from Morocco!
---
Like this post? Save it on Pinterest!