Planning a trip to Marrakech Morocco? Use this guide to help plan your itinerary so you don't miss any of the best things to do in Marrakech — including how to visit the stunning waterfall pictured below!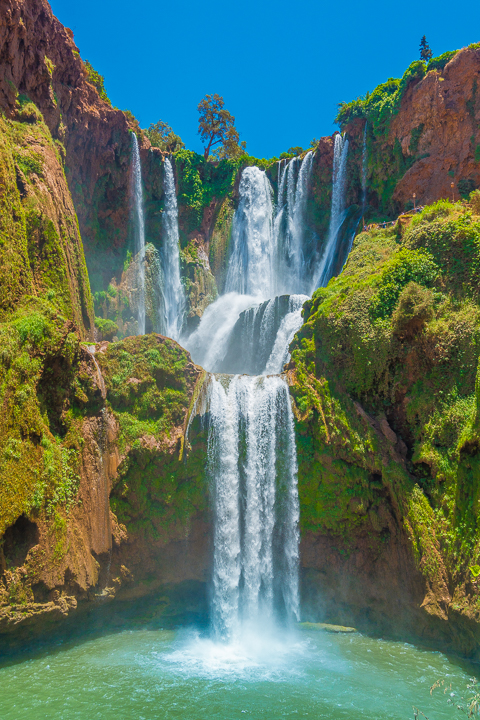 How many days to spend in Marrakech Morocco?
If you're wondering how many days to spend in Marrakech, 3-4 days should be plenty of time to explore Marrakech, see all the main attractions, and even take a day trip to a beautiful waterfall with rainbows galore!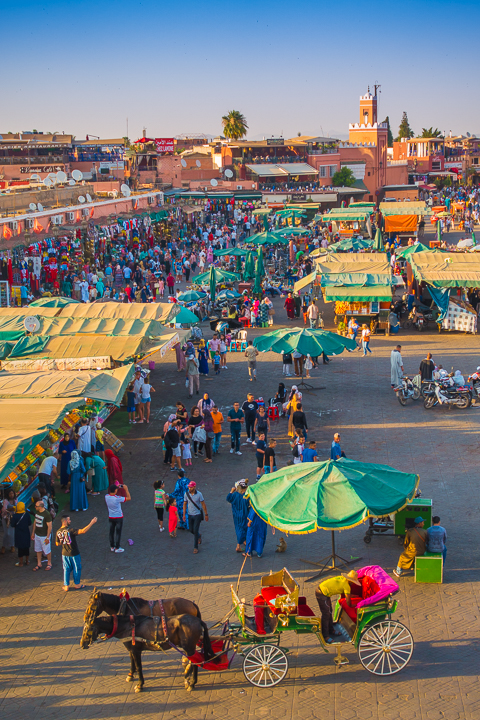 Things To Do in Marrakech Morocco #1 — Sunset in Jemaa el-Fna Square
Jemaa el-Fna is the main square in the medina of Marrakech Morocco.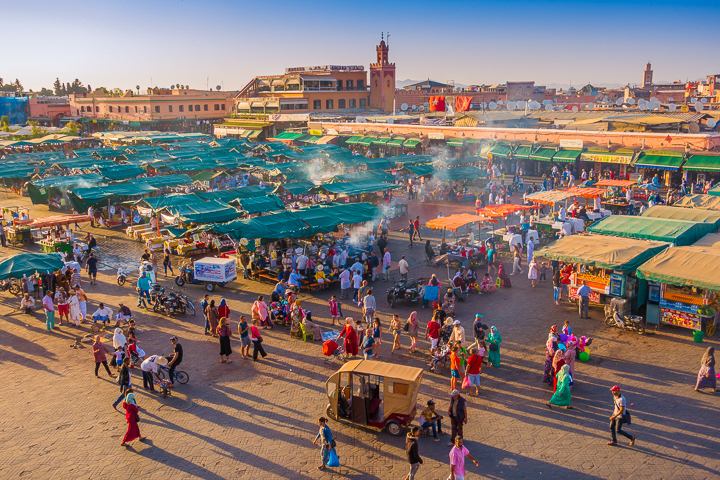 In the evenings, restaurants set up tents in the middle of the square. The restaurant hawkers were pretty aggressive. It was much more pleasant to watch the bustling market from one of the rooftop cafes above.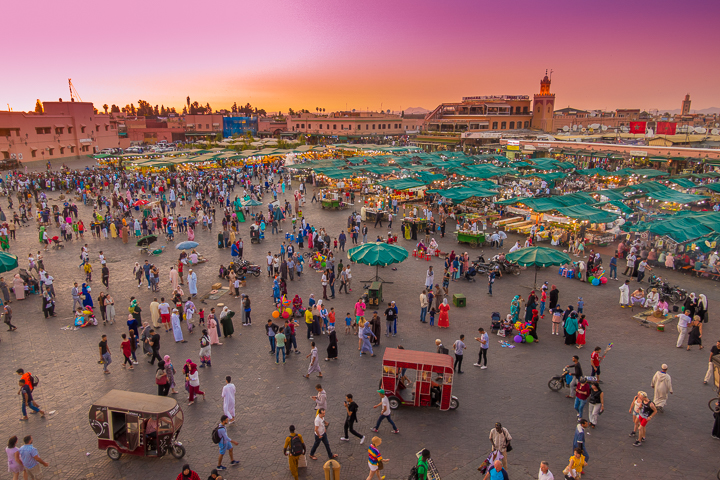 Where is the best sunset view of Jemaa el-Fna Square?
The best sunset view of Jemaa el-Fna is from Le Grand Balcon du Café Glacier. Be sure to get there a bit early so you get a table along the wall with a view!!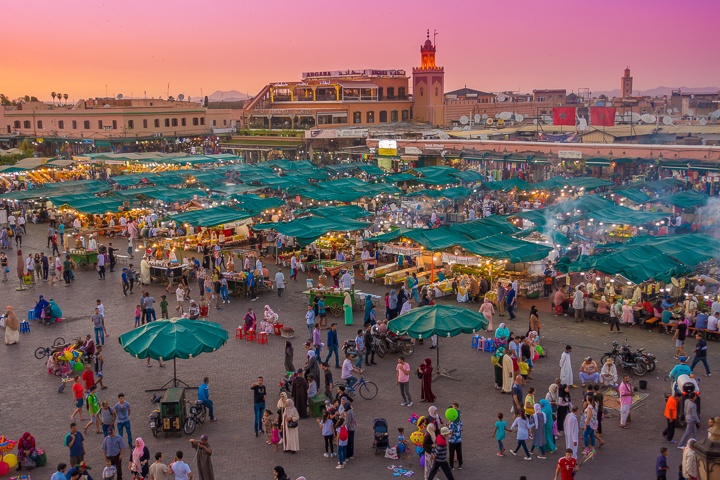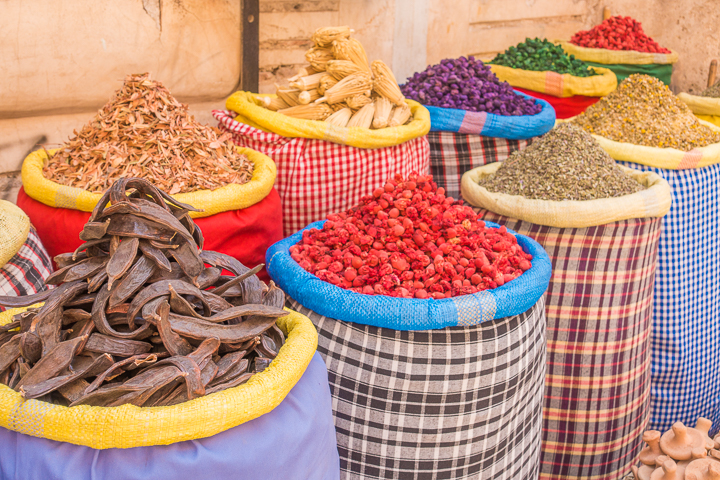 Things To Do in Marrakech Morocco #2 — Explore the Souks in the Medina
A souk is a traditional Arabic bazaar with rows and rows of colorful clothes, textiles, leather, antiques, food, spices, and more.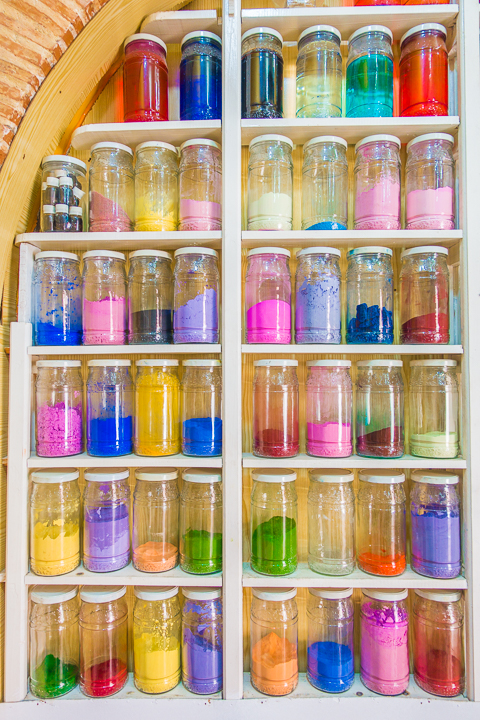 The most famous souk in Marrakech is Souk Semmarine. Definitely plan to spend a morning or afternoon in Marrakech exploring the souks!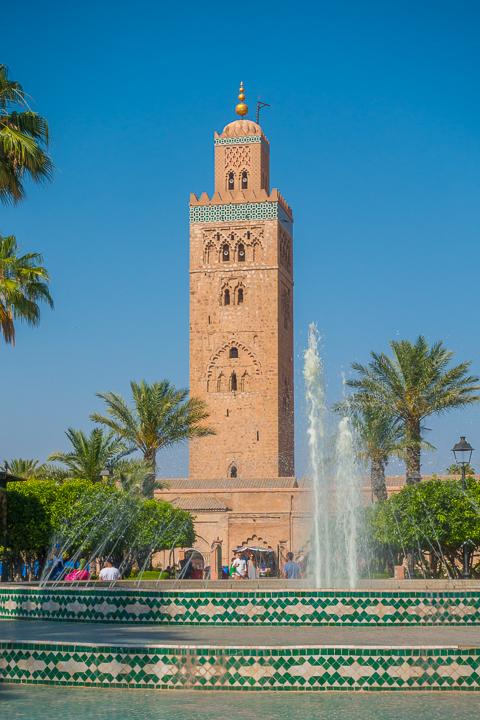 Things To Do in Marrakech Morocco #3 — Koutoubia Mosque
This mosque from the 1100s might be the most iconic view in Marrakech Morocco. You can see the tower from all over the city. If you ever watch a movie or TV show set in Marrakech Morocco, they will definitely show this tower!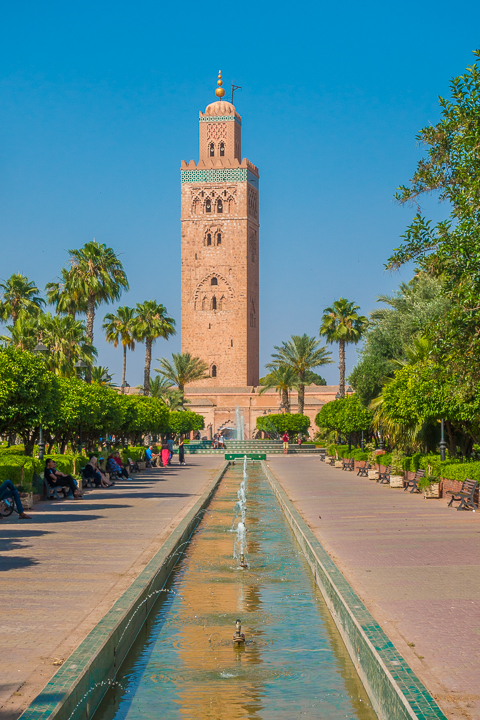 In front of the tower is a garden with fountains.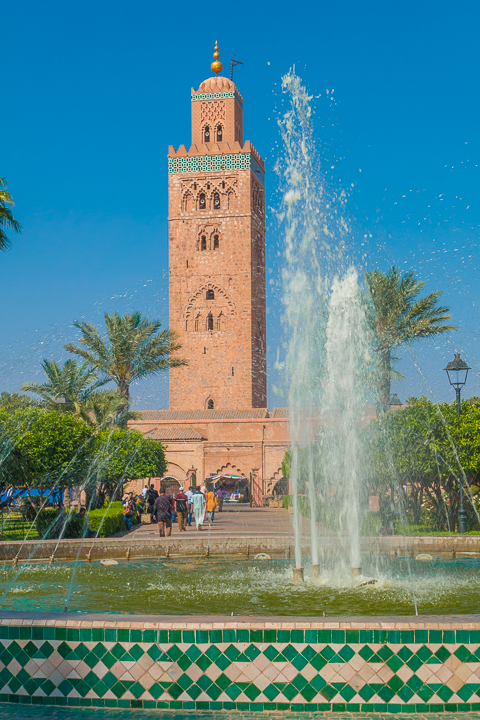 Non-muslims are not allowed to enter the mosque. The only mosque in Morocco that non-muslims can visit is the Hassan II Mosque in Casablanca.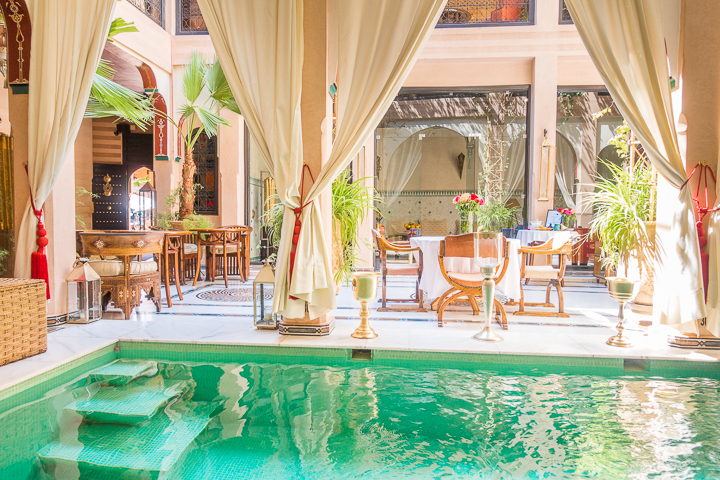 Things To Do in Marrakech Morocco #4 — Enjoy Your Riad
When you're in Morocco, you'll definitely want to stay in a riad. A riad is a traditional Moroccan home with two main features: an interior courtyard that is open to the sky and a central fountain.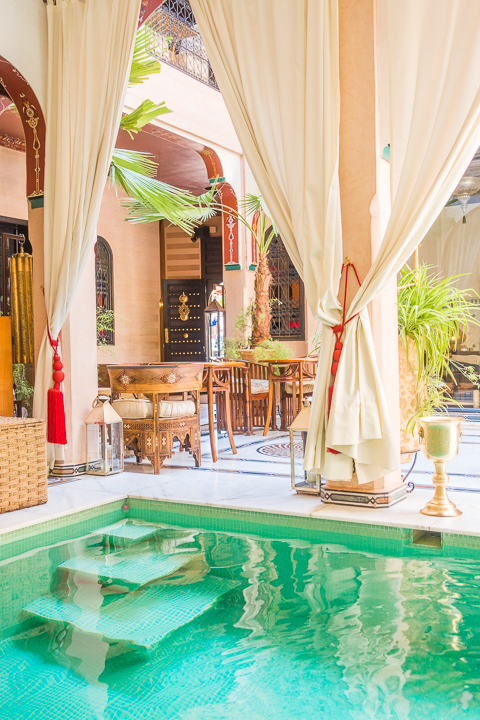 We stayed at the Dar Anika riad in Marrakech Morocco. It was unlike anything else I have ever experienced. The Dar Anika has all the comforts of a hotel, but it's much more intimate. It felt like staying in a private palace.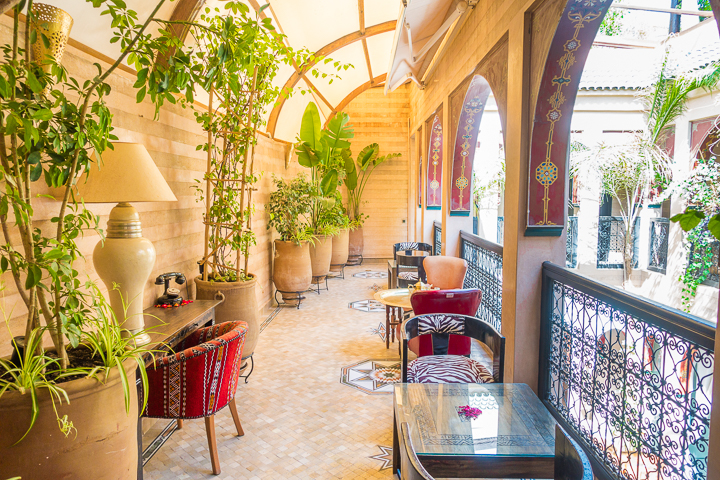 It was so cozy, beautiful, and charming.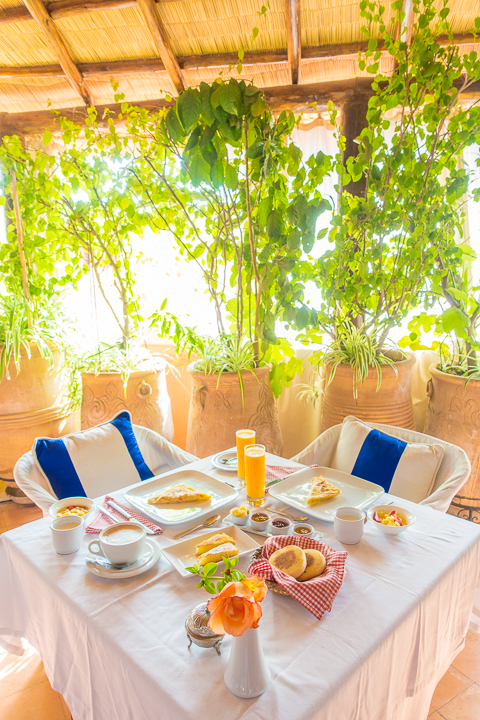 Breakfast was always included at every riad we stayed at in Morocco. I fell in love with Moroccan breakfast!! But I think my absolute favorite breakfast we had in Morocco was at the Dar Anika.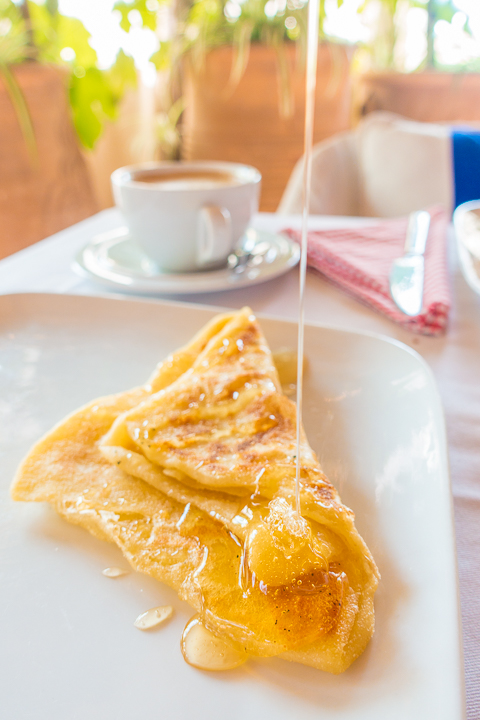 Breakfast is served every morning on a beautiful, sunny rooftop terrace. The freshly squeezed orange juice was incredible. The homemade French-style yogurt was amazing!!! They also served Moroccan crepes with honey and jam. The crepes are made to order on a griddle right in front of you. It was all so good! I never wanted to leave!!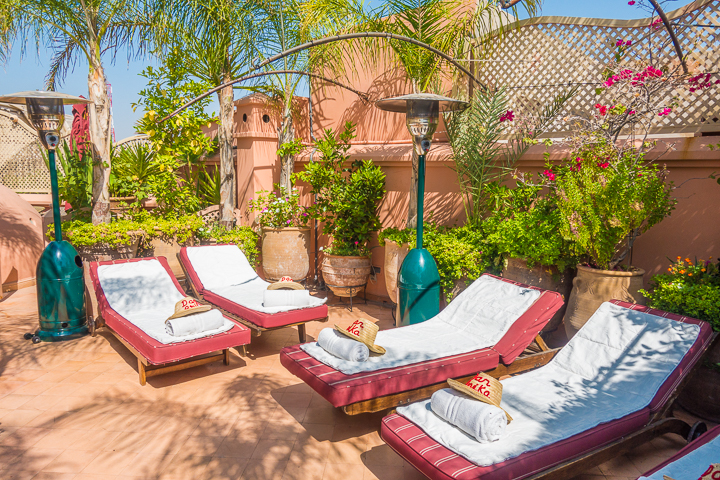 You can swim in the pool, enjoy the rooftop terrace, relax in the lounge chairs, or just explore the gardens in the riad.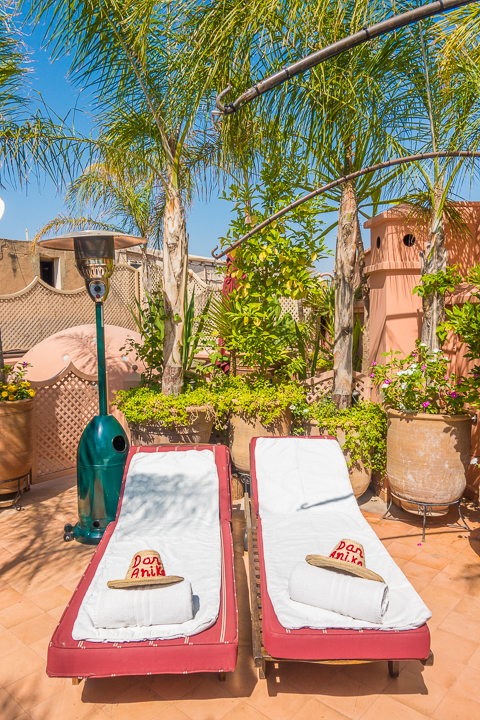 Dar Anika is very well located in the medina of Marrakech Morocco. It's less than a 10-minute walk from the Jemaa el-Fna square. But there is a main road right in front of the hotel, so it's very easy to get there by taxi from the airport. You won't have to drag your luggage through the narrow maze of the medina!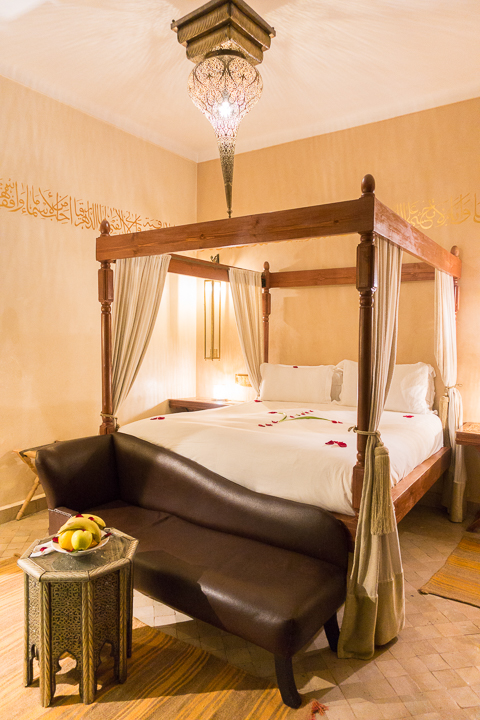 The bed and pillows were so comfortable! The room was very dark at night, perfect for relaxing and catching up on sleep after a long day exploring the city. The WiFi was very good and fast.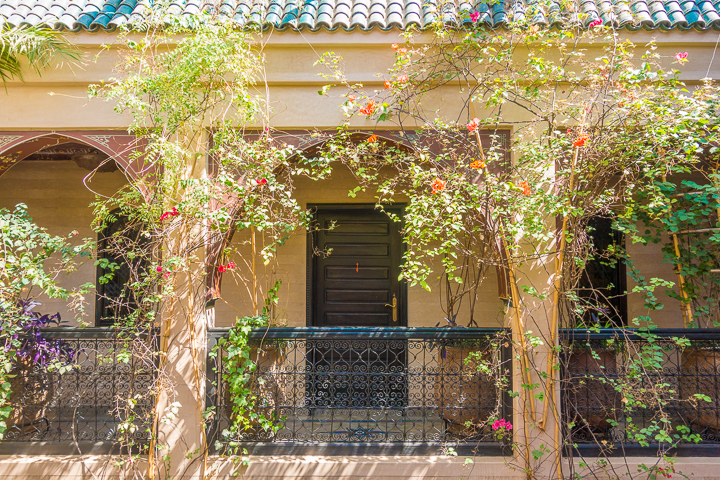 Things To Do in Marrakech Morocco #5 — Book a Traditional Hammam Spa Experience
For a traditional Moroccan spa experience, you can visit a local hammam or book a private hamman experience at your hotel or riad.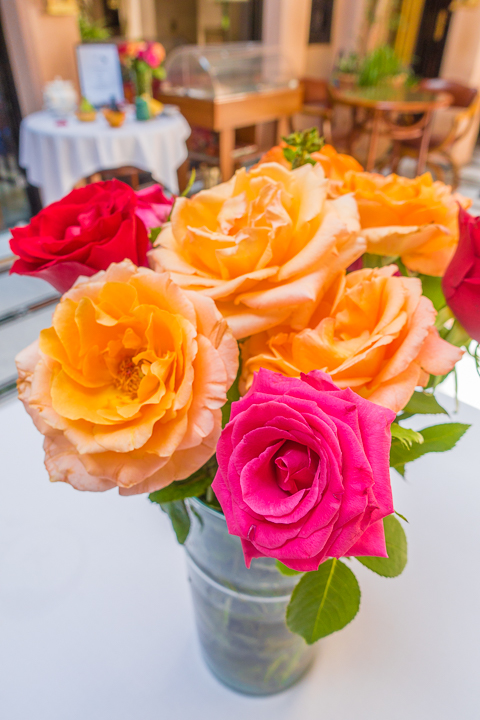 A traditional hamman experience usually includes a full body scrub, hot and cold water treatments, and a full body massage.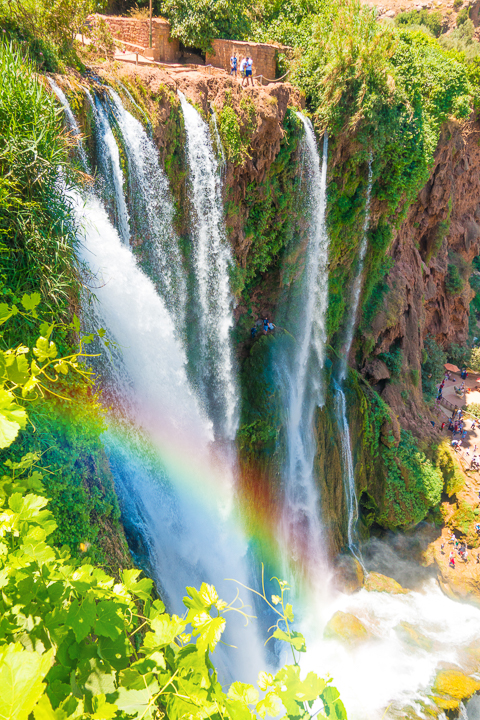 Day Trip from Marrakech Morocco — Ouzoud Falls
When I was planning our trip to Morocco this summer, I never imagined it looked like this!!! This gorgeous waterfall is located just outside Marrakech Morocco.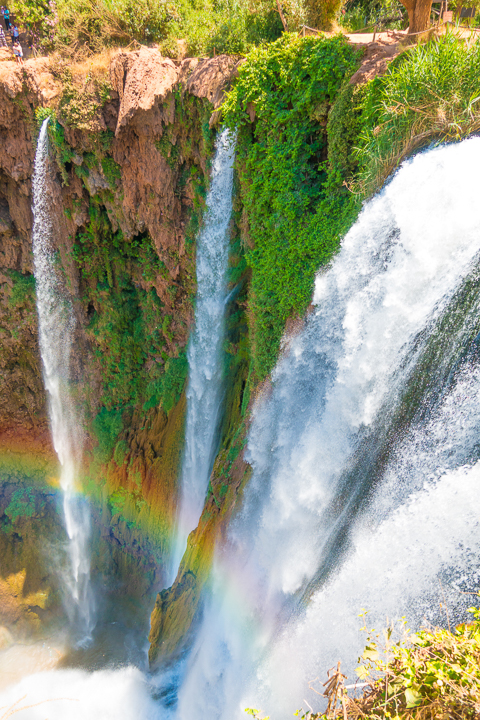 This spectacular waterfall is Ouzoud Falls. You can easily visit it as a day trip from Marrakech.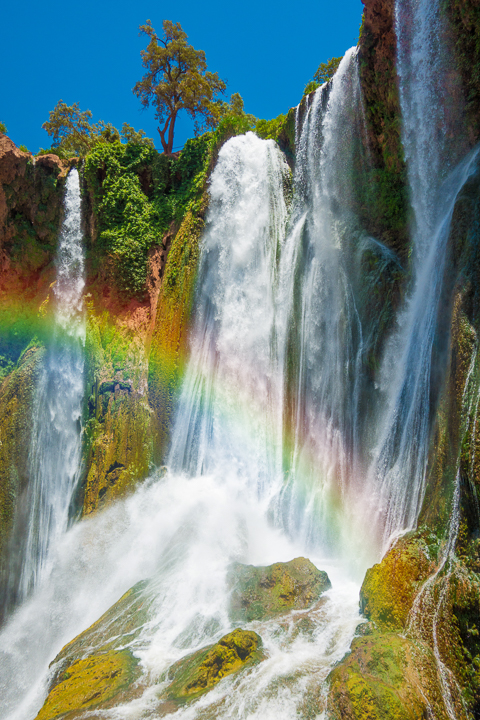 Tours from Marrakech Morocco to Ouzoud Falls
We booked a tour online with IgoMorocco. It was only €21 per person (about $24 USD). They provided transportation to the falls in a comfortable, air conditioned van. They were prompt and on time — we were told to meet in the main square of the medina in the morning and they were waiting for us when we got there.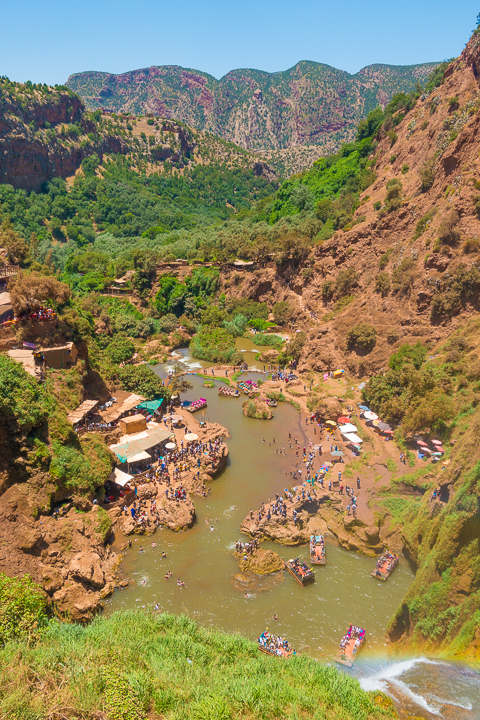 How long does it take to get to Ouzoud Falls from Marrakech Morocco?
It took three hours to get to the falls, and we had about 3 hours to explore the falls. We got to hike from the top of the waterfall down to the bottom. The guide was with us the entire time, so we didn't really have a chance to explore the falls on our own. We did have about 20 minutes of free time at the base of the falls for swimming, taking pictures, or riding one of the little boats.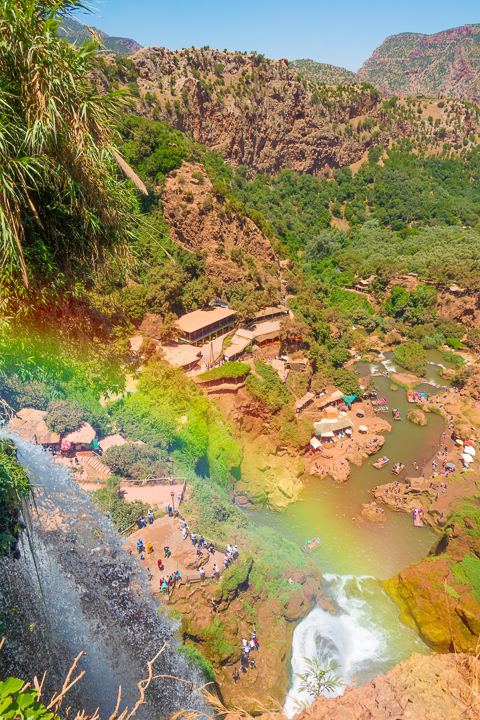 Overall I was happy with the tour and I think it was worth it for the price we paid. One thing to note, lunch is not included. I thought we would be able to choose from any of the restaurants at the falls, but we were taken to a specific restaurant with a fixed menu and a fixed price — €10 per person. It wasn't the best meal I had in Morocco, although the fries were very good — but I didn't go to Morocco to eat fries, lol!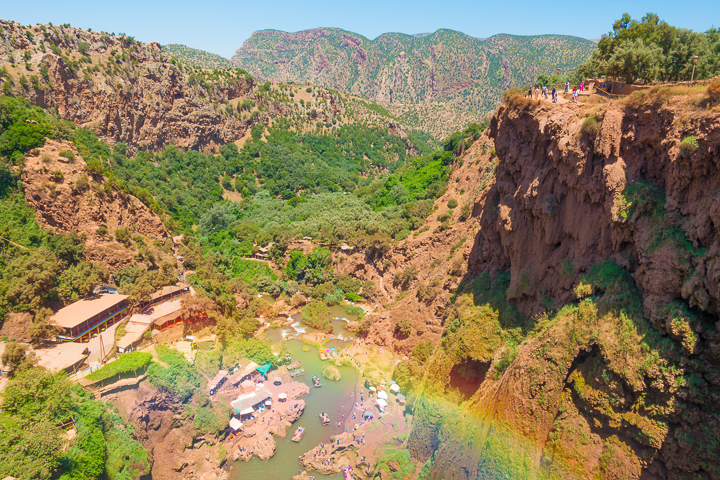 Driving to Ouzoud Falls from Marrakech Morocco
Instead of an organized tour, next time I would seriously consider renting a car for the day. You could leave a bit earlier, get there much faster, and you'd have a lot more time to explore the falls.
You can hike behind the falls and even jump from the cliffs into the water!! If you go with a tour you only have 15-20 minutes for swimming — not enough time for hiking behind the falls or jumping from the cliffs.
Note: You Do Not Need a Guide at Ouzoud Falls
If you go to the falls on your own you do not need a guide at the falls, although many will offer their services in exchange for a tip.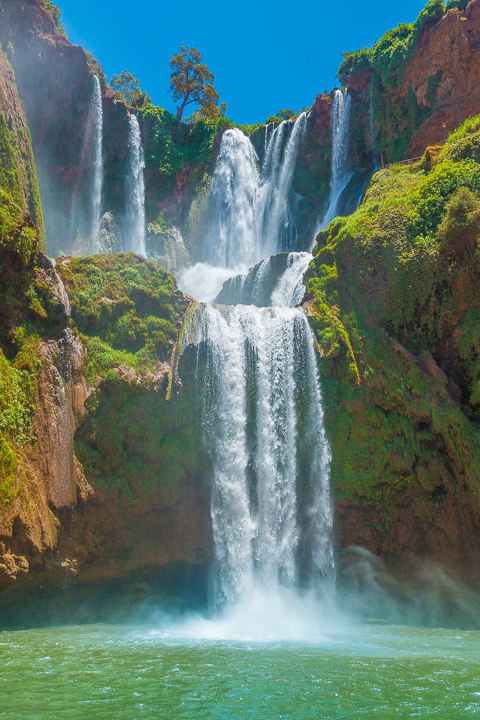 What to Bring to Ouzoud Falls
Be sure to bring sunscreen, water, and good walking shoes. The van will stop halfway for a bathroom and snack break, so you can buy water and snacks then. Tennis shoes are better because there is a little downhill hiking to get to the base of the waterfall, but you'll be fine in flip flops. Almost everyone was wearing flip flops — myself included!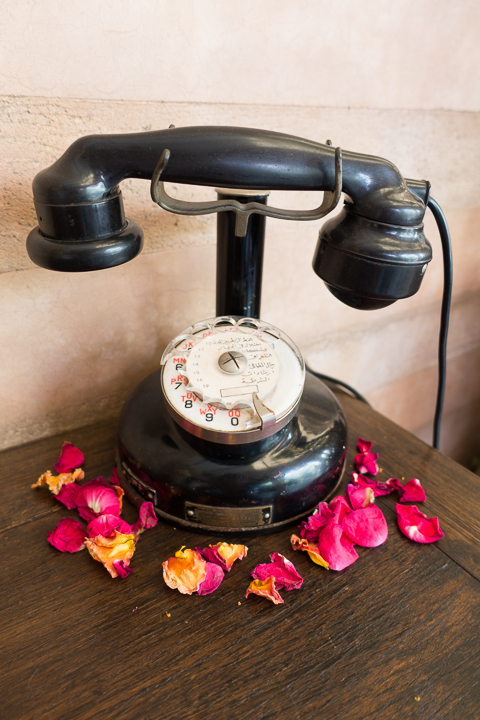 More Things To Do in Marrakech Morocco
You will have plenty of time to do everything mentioned above with 2 full days in Marrakech. If you have an extra day, here's what we recommend to do in Marrakech Morocco:
Majorelle Garden
A garden with exotic plants, fountains and a museum of traditional Moroccan Berber culture.
Bahia Palace
A giant, intricately designed palace from the 1800s with 160 rooms and large gardens. The name means "brilliance."
El Badii Palace
The ruins of a former palaces from the 1500s.
Saadiens Tombs
An ancient mausoleum surrounded by gardens. The graves are decorated with colorful tiles.
Ben Youssef Madrasa
A school from the 1500s with colorful courtyards and a prayer hall.
This was one of the places I was most looking forward to visiting in Marrakech Morocco. I did tons of research before my trip and nowhere did I read that it has been CLOSED for TWO YEARS for renovations!! Before you go all the way out there, ask your hotel if they know if it's open yet!!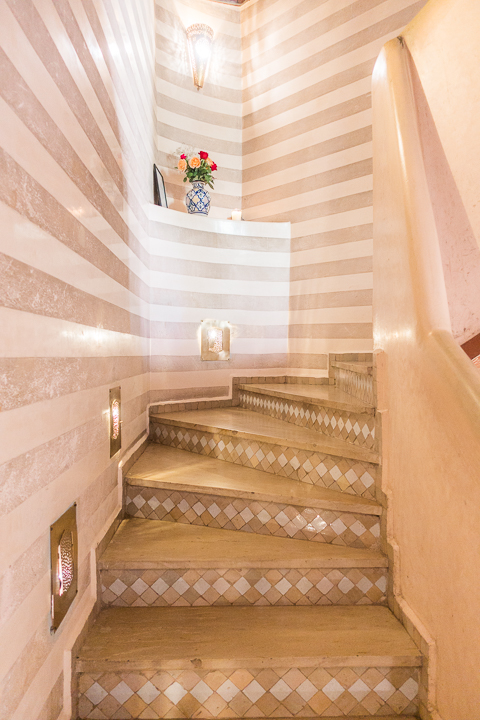 See more posts from Morocco!
---
Like this post? Save it on Pinterest!