Planning a trip to Phoenix, Arizona? You have to check out the Best Places to Eat in Phoenix! These tasty dishes will make you want to buy a plane ticket right now!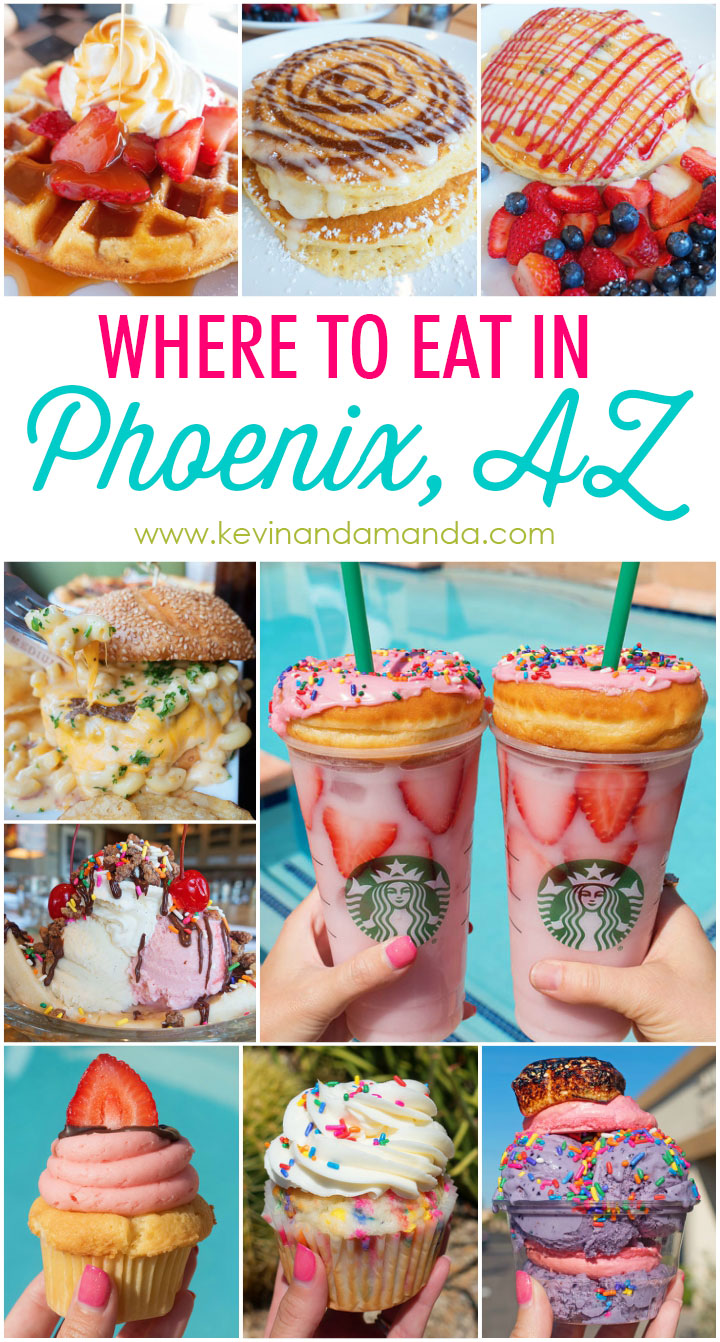 Where to Eat in Phoenix, Arizona
Just got back from the sweetest girls trip ever with my bestest blogging BFF Jenny!! Every year we try to take a fun trip together and find the most fun (and most decadent!) treats possible. We've been from New York to California. This year we ate our way through beautiful, sunny Phoenix, Arizona! If you're looking for gorgeous breakfasts, delicious lunch and dinner spots, and of course over-the-top desserts, you have come to the right place. Here's what we found!
---
Breakfast & Brunch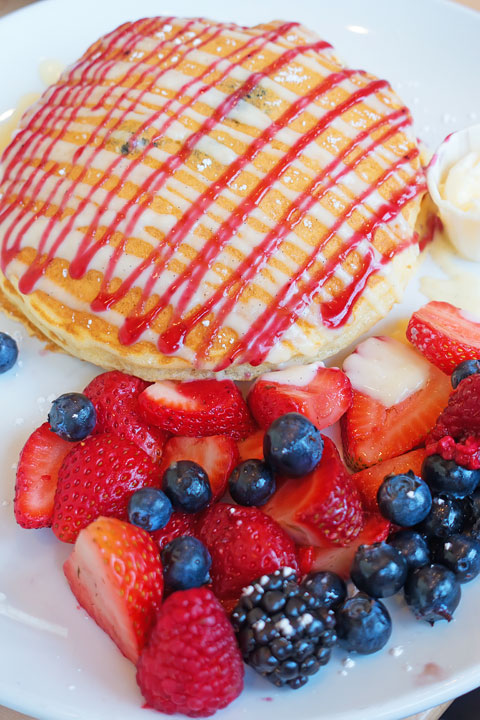 Butters Pancakes & Cafe is such a fun breakfast spot. They have so many fun gourmet pancakes! LOVED these Wildberry Pancakes stuffed with blueberries and layered with vanilla cream!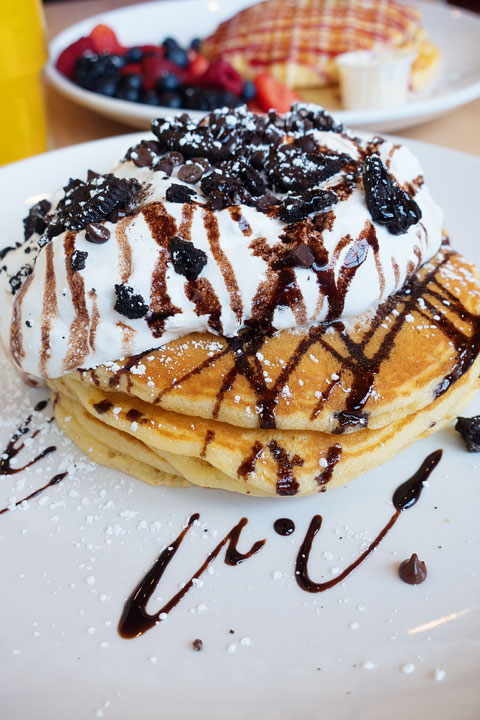 Can you even get over these Oreo S'mores pancakes??! They're S'moreo Pancakes!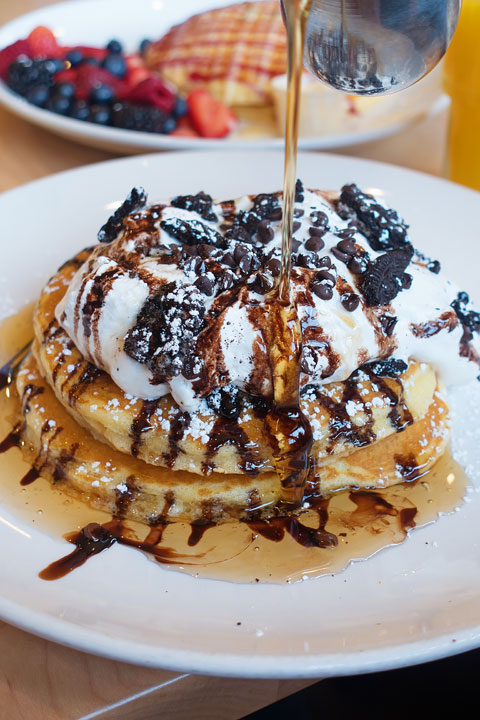 They're topped with a housemade marshmallow fluff, Oreos, chocolate chips, and a chocolate drizzle. Dangerously decadent.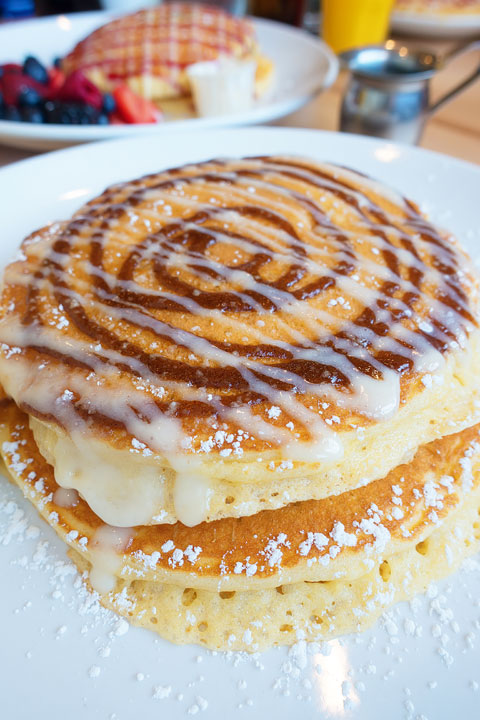 The Cinnamon Bun pancakes were also a huge hit!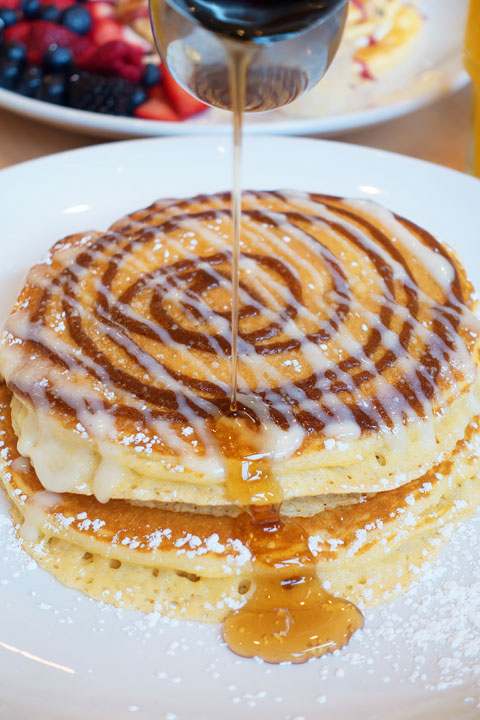 Whoever thought of combing a cinnamon bun with a pancake is my spirit animal.
Butters also has a wide selection of savory and egg options as well. Their cheese grits are a MUST!!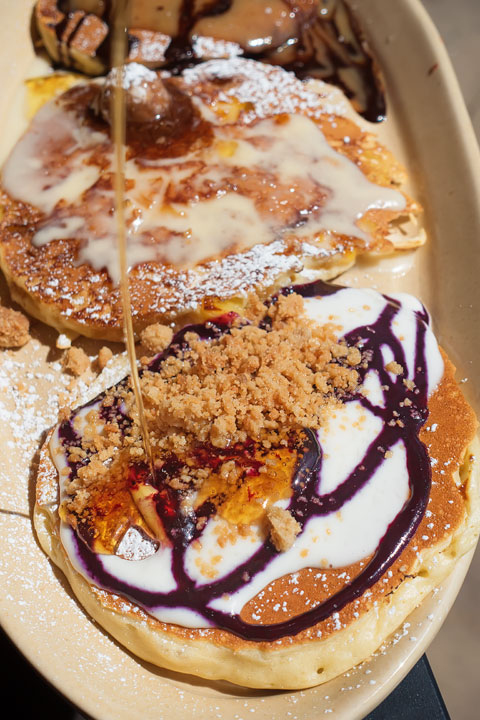 Snooze AM Eatery is another fun breakfast spot! They have tons of fun pancakes as well, and the great thing about Snooze is you can get a pancake sampler plate!! Order the Pancake Flight and choose any three of their fabulous pancake flavors to get the best of all worlds. I chose the Blueberry Danish Pancakes, Pineapple Upside Down Pancakes, and Peanut Butter Cup Pancakes. Phenomenal!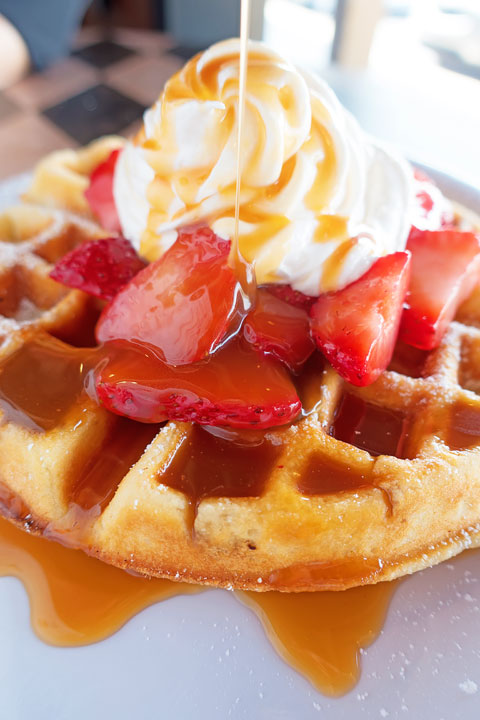 Sassy's Cafe & Bakery not only has a fabulous breakfast (they're famous for their gooey cinnamon rolls!) but they also a gorgeous bakery case filled decadent cupcakes, cookies, brownies and more! Their Belgian Waffle is the perfect vessel for their homemade buttermilk syrup. You have to try it! Honestly some of the best syrup I have ever had. So good! You can also make buttermilk syrup at home with Jenny's famous recipe in The Picky Palate Cookbook.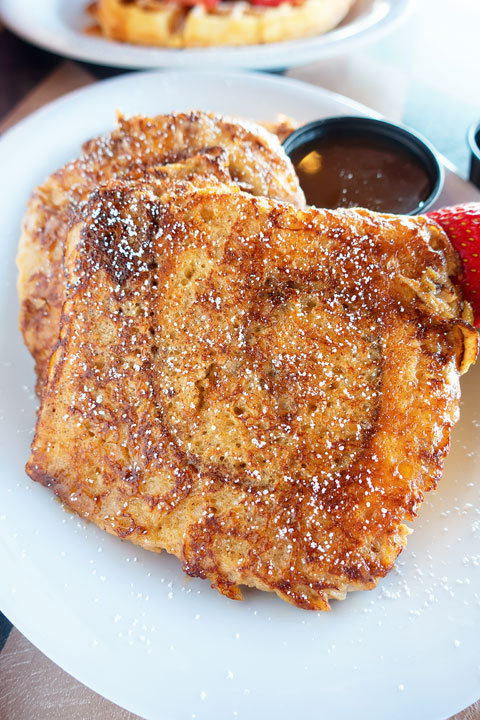 Remember those cinnamon rolls I was talking about? Well Sassy's Cinnamon Bun French Toast might be the BEST French Toast ever!! Their REAL cinnamon rolls are battered and pressed on the griddle. The icing and filling from the cinnamon roll caramelizes into gooey, sweet perfection. It's seriously JUST like eating the middle of a cinnamon roll – which we all know is the best part! Put this at the top of your foodie bucket list!!!! :)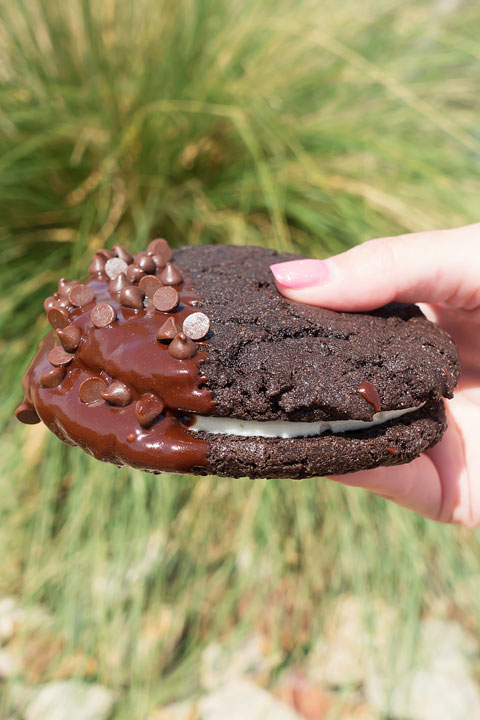 Of course we also had to try a few fun treats from Sassy's bakery case! This was the soft double chocolate chip cookie ever.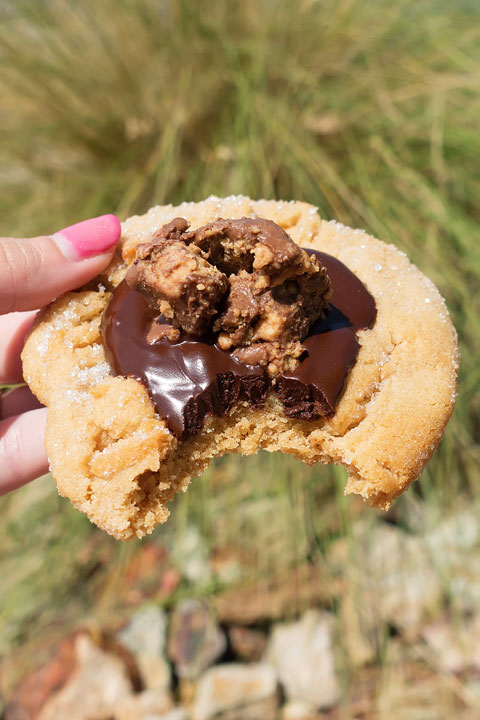 And how decadent does this Peanut Butter Cup cookie look??
---
Lunch & Dinner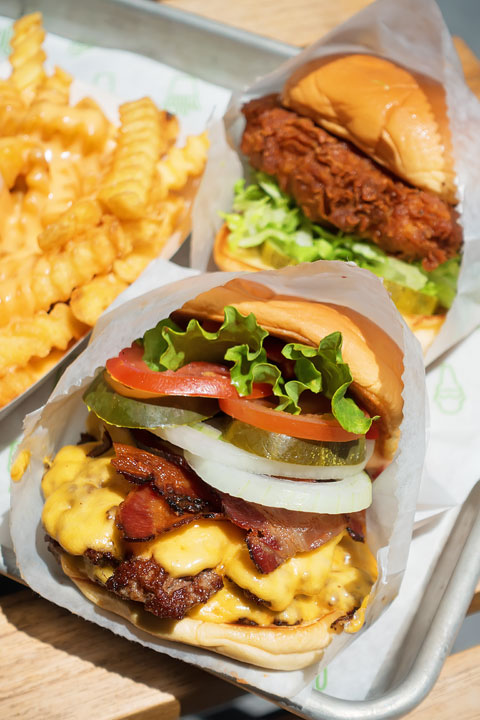 We don't have a Shake Shack near us, so I hadn't had a chance to go since they introduced their new chicken sandwich! And of course we had to get a burger as well. ;)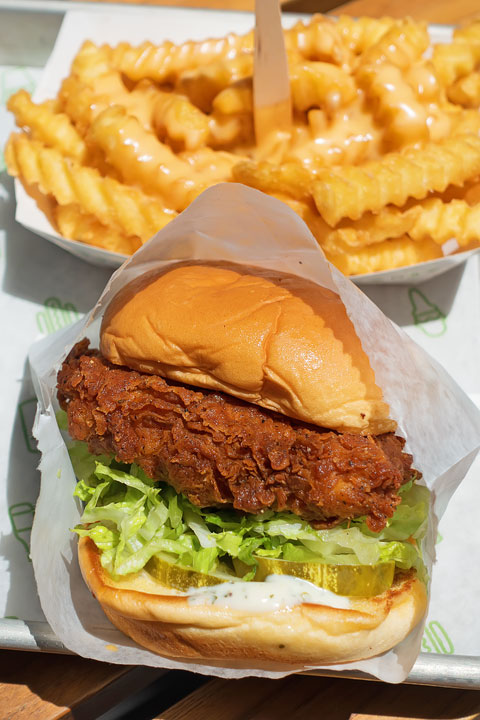 You guys. The chicken sandwich was OUT of the world!! So good! Easily my favorite fast food chicken sammy!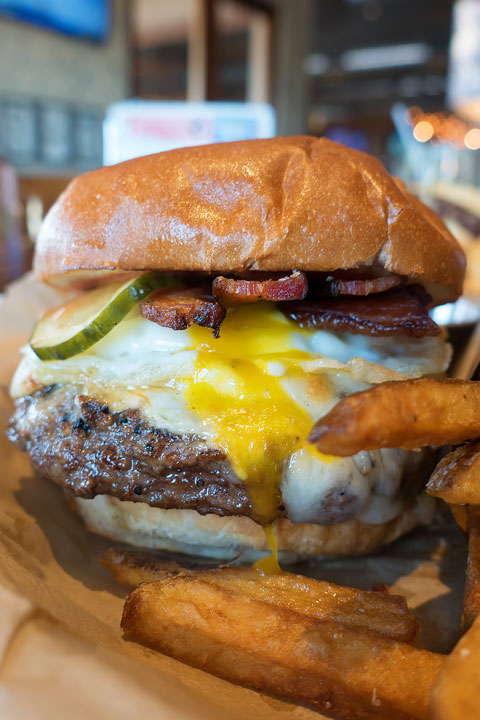 One of our favorite meals was lunch and a spa day at the Four Seasons Resort in Scottsdale. We had lunch at Proof Canteen and it was one of the best meals I've ever had. We loved the Proof Burger!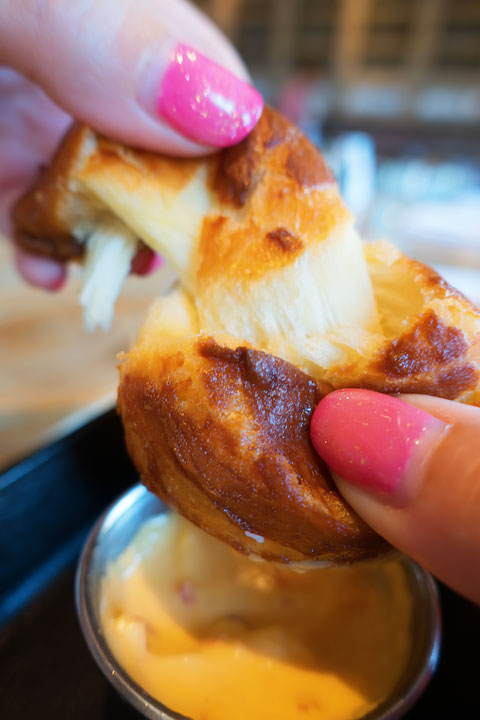 For an appetizer you HAVE to order the Pretzel Knots. These are a MUST! They are like little pretzel croissant bites. The inside is super buttery and flaky, while the outside is crisp and salty, just like a pretzel. We could not stop talking about these darn pretzel bites! We ate every single one.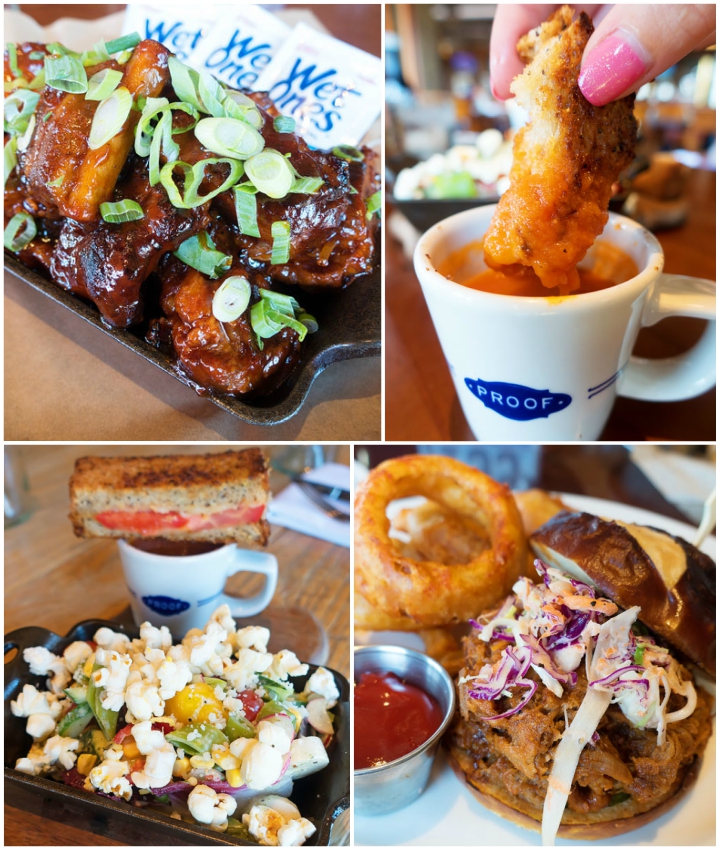 Another favorite was the BBQ Rib Bites. I would definitely order these again. The ribs were so tender they were falling off the bone! And how cute is the grilled cheese and tomato soup? Perfect for dipping! The Chop & Pop is a salad even I can get on board with. The croutons are popcorn! And I always love a good pulled pork sandwich with pretzel bun!!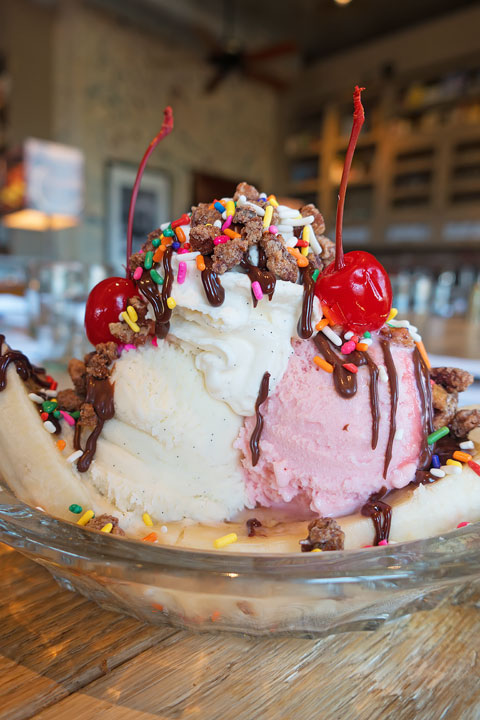 You can't go to Proof without trying their famous homemade ice cream! The Split Decision banana split is made with strawberry cake batter ice cream. I love strawberry ice cream, but strawberry cake batter??! Definitely yes!! Loved this one.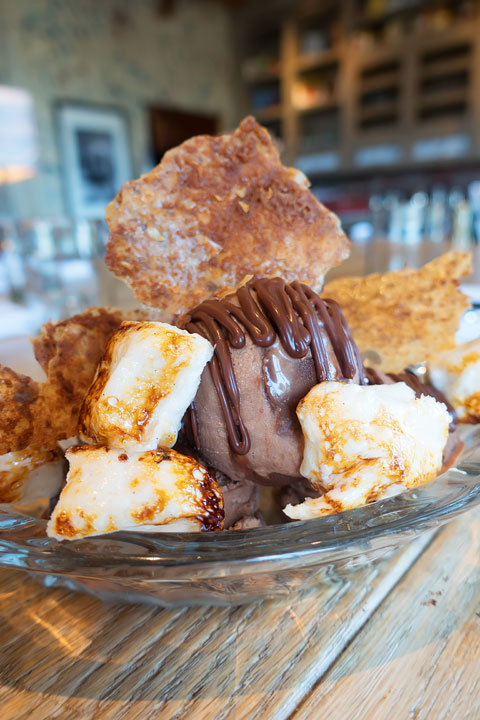 We couldn't pass up the S'mores Sundae... It was calling our name! Double chocolate fudge ice cream, homemade graham crisps, and homemade toasted marshmallows!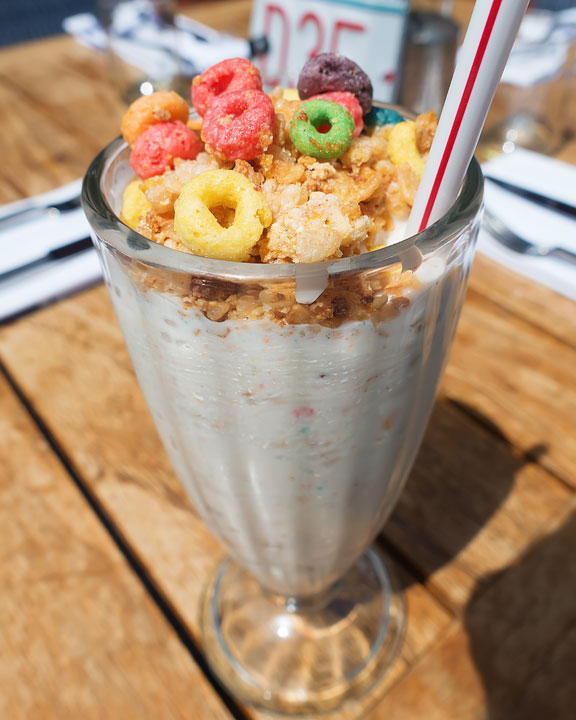 My favorite might have been the Cereal Milkshake!! It's made with Froot Loops, Rice Krispies, and Frosted Flakes… That means I can have one for breakfast right?? :)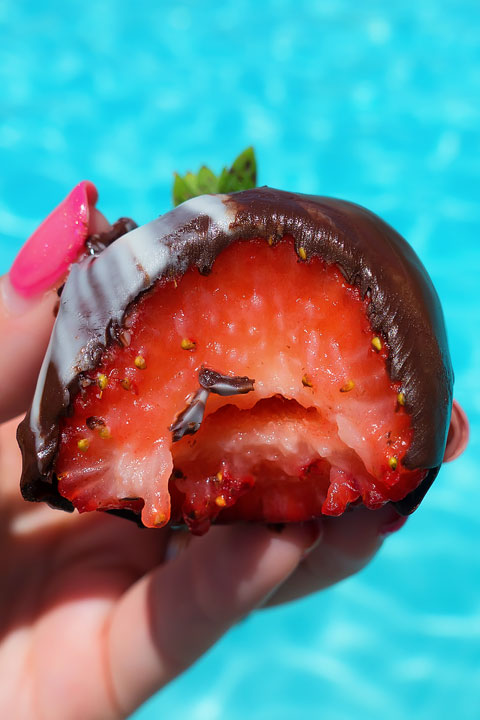 The highlight of the day was our spa treatment. We got the Four Seasons in One. It was incredible — and so unique. I've never had a spa treatment quite like this before. It started with a massage with vanilla and cocoa butter lotion for "summer." Then came a full body scrub with "fall grains" which represented the leaves falling off the trees in fall. The scrub was scented like pumpkin spice. Next was another scrub with winter ice — a refreshing wintergreen and pine scent. And finally a full body hot wrap for spring. During the wrap they rubbed cool stones on my face and finished with a head massage, scented with lavender.
At the end of the treatment you get a chocolate covered strawberry. Seriously could not get any better than that!!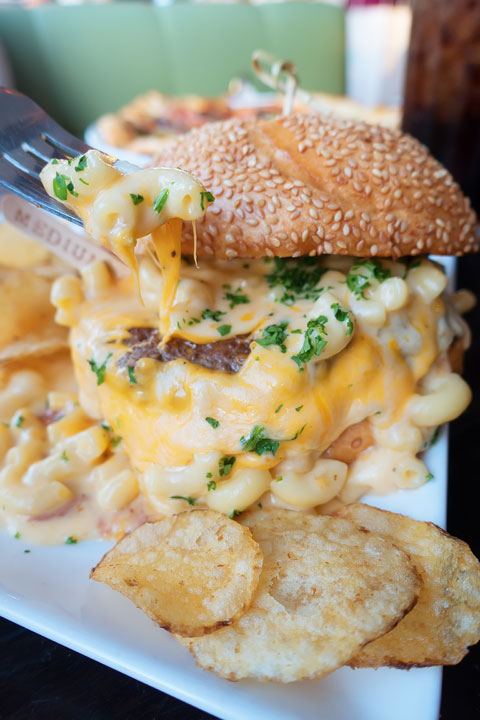 Oh my gosh, how amazing is this Mac & Cheeseburger from Liberty Market??! It was pretty incredible.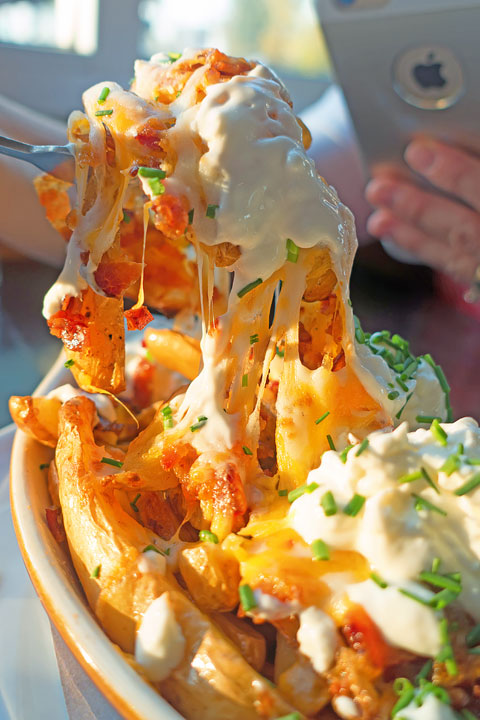 Liberty Market is another great restaurant for lunch or dinner. Loved the cheesy bacon potato wedges!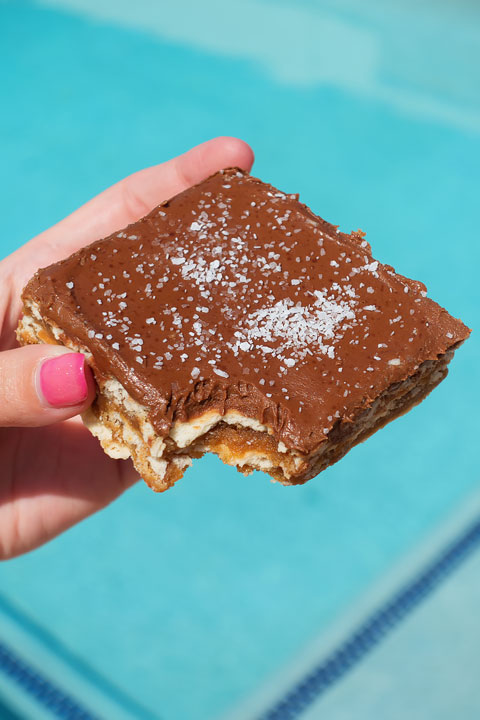 They also have a fun bakery case as well. The chocolate cake is fabulous. Be sure to order with ice cream!! Also, how fun is the giant chocolate saltine cracker toffee bar??  So good!!
---
Sweets & Treats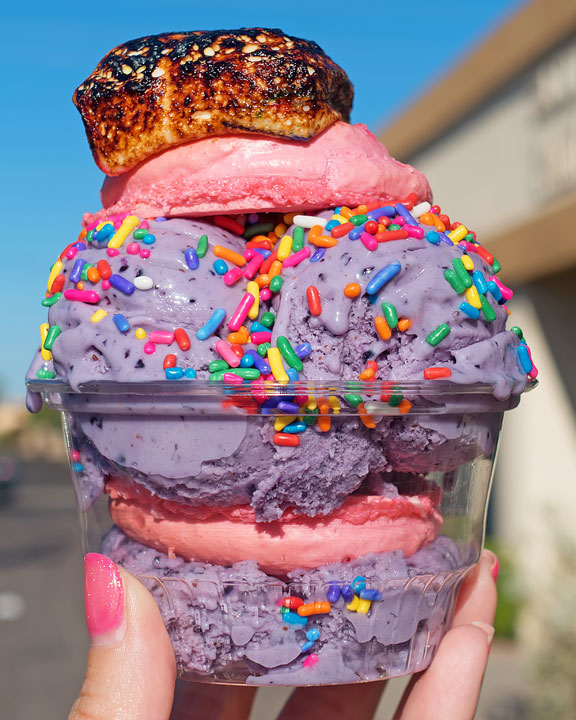 Jenny and I can't get together without finding the CRAZIEST desserts in the city!! :) Our first stop was Fatty Daddy's for their famous macaron ice cream sandwich. It's made to order and you can choose your macaron flavor, ice cream flavor, and toppings. I got a strawberry macaron with blueberry ice cream and a homemade toasted marshmallow. And rainbow sprinkles, because obviously. ;)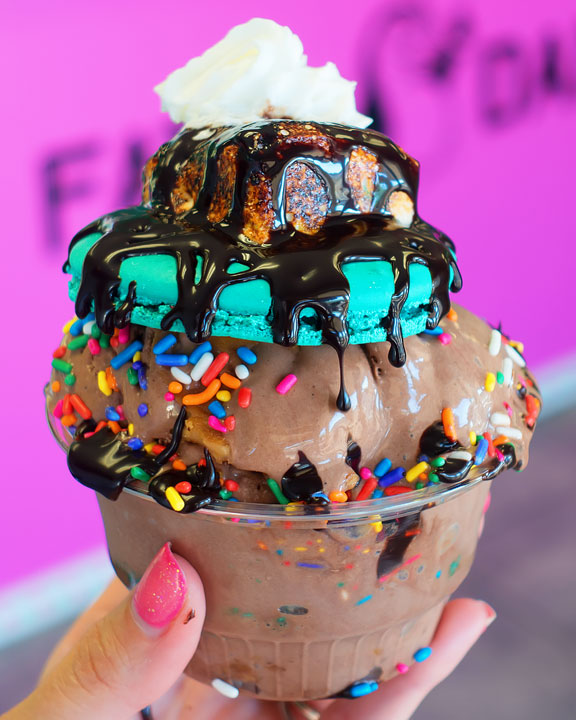 Jenny got a coconut macaron with Chocolate Peanut Butter Ice Cream, with toasted marshmallow, chocolate drizzle, whipping cream, AND sprinkles!! This is why Jenny is my spirit animal.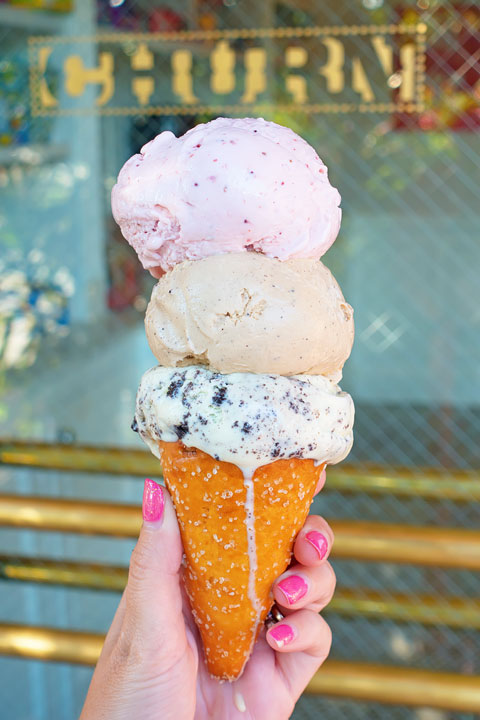 Churn was another favorite ice cream stop. How fun is the Pretzel Cone?? Also they have a cookies and mint ice cream that tastes JUST LIKE Thin Mint cookies. SO good! All their flavors were fabulous but I can't stop thinking about that cookies and mint! :)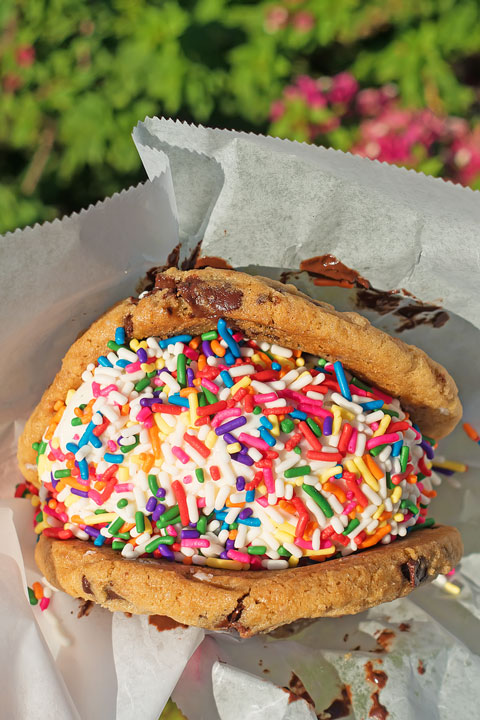 You guys. The salted chocolate chip cookie from Churn might be the BEST chocolate chip cookie I have ever had!! I feel like it's hard to find a good chocolate chip cookie from a bakery because a good homemade cookie is really hard to beat. But this cookie was warm, soft, had an incredible flavor, and the perfect hint of salt. I wish I had one right now! Did I mention you can get any of their cookies and ice cream as an ice cream sandwich?? :)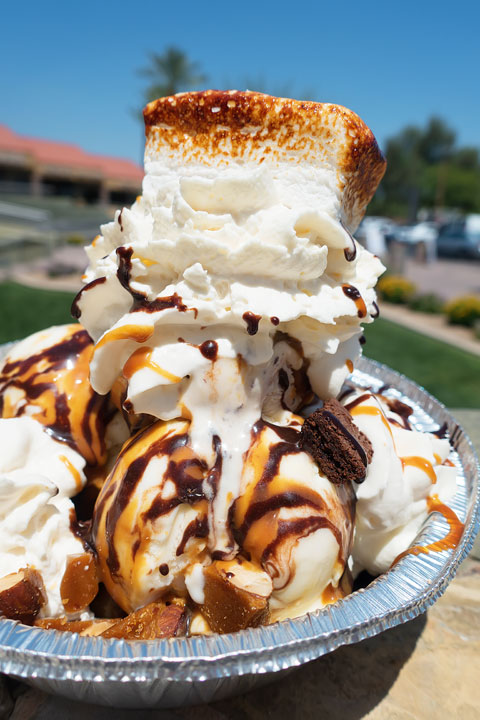 If you're looking for giant sundaes, banana splits, and over-the-top milkshakes made with artisan ice cream, Sweet Republic is the place to be!
The Ultimate Sweet R Sundae is four scoops of ice cream on a 1/4 lb chocolate chip cookie with brownie bites, hot fudge, salted caramel sauce, whipped cream, and a toasted homemade marshmallow. Unreal!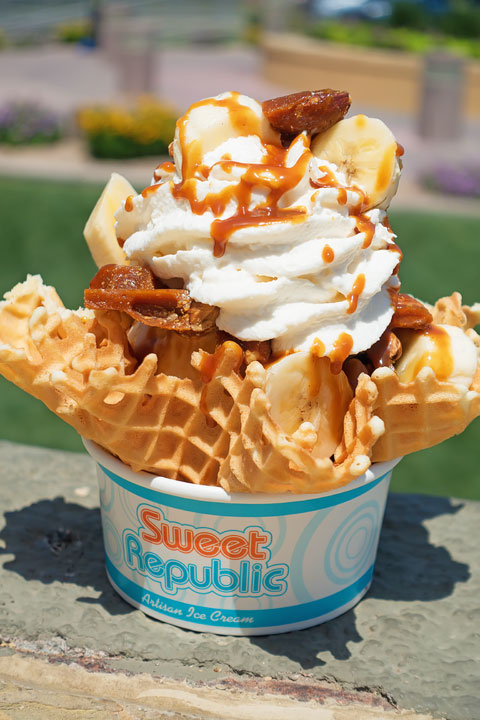 The Toffee Banofi is 2 scoops of ice cream with bananas, cool whip, and salted caramel sauce in a waffle bowl.
I highly recommend getting the salted caramel ice cream with this one! :)
Sweet Republic also had my favorite ice cream in the entire world… Lavender!!! If they have it when you're there, definitely give it a try!! :)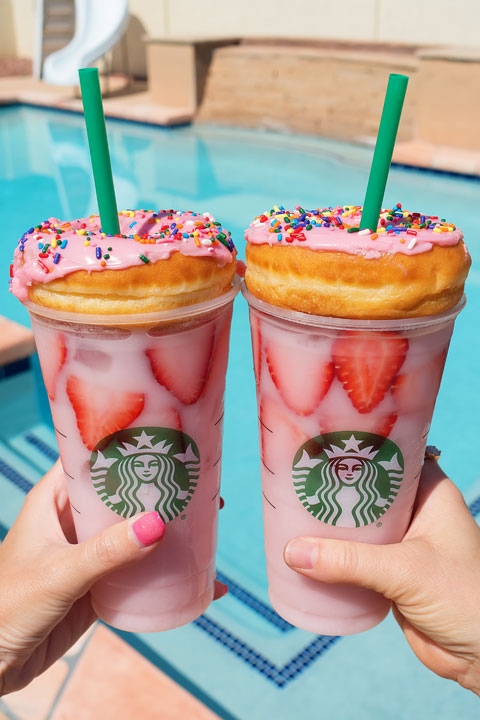 Have you heard of the secret "Pink Drink" from Starbucks? It's the Strawberry Acai Refresher but made with coconut milk instead of water. It's sweet, light, and fruity. The perfect summer drink. We took it one step further and added a pink sprinkle donut on top. ;)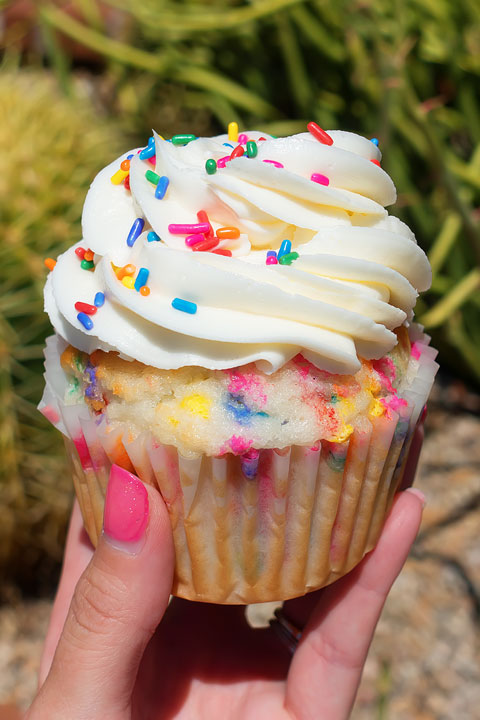 Caketini has some of the best cupcakes I've ever had!! This funfetti cupcake was incredible. The cupcake was decadently soft and the buttercream frosting was so fluffy and perfectly sweet! Could not stop eating this darn cupcake!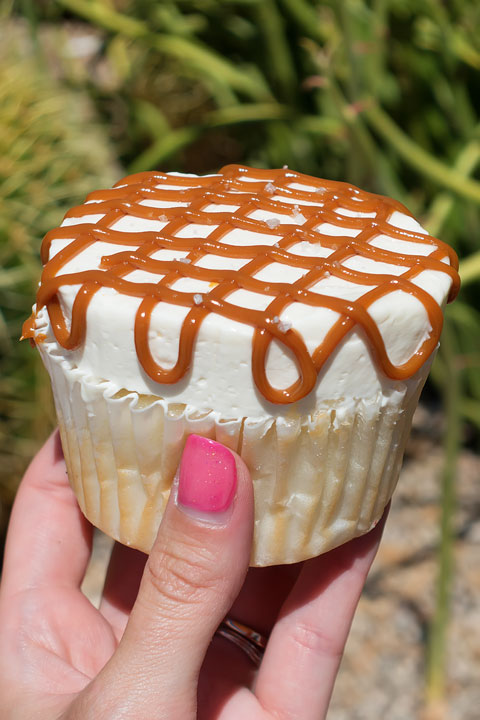 The Salted Caramel cupcake was also a favorite! The same soft cupcake and fluffy frosting but with a salted caramel drizzle on top. So good!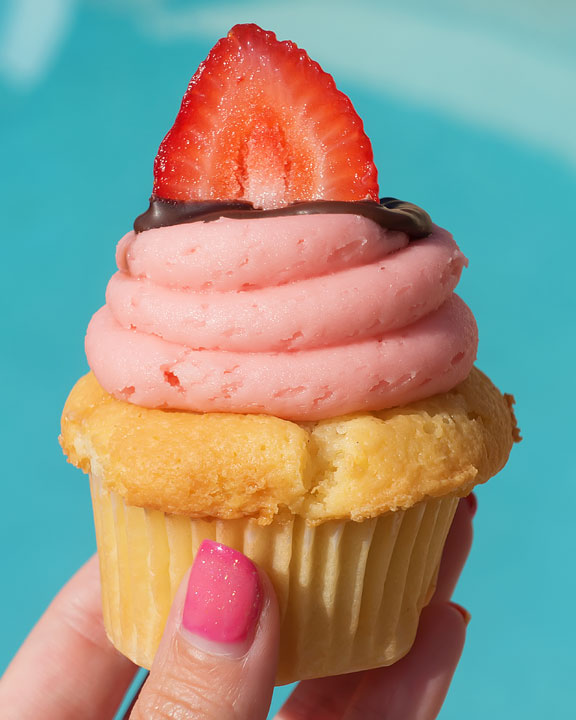 Sweet Tooth Fairy is another fun bakery in Arizona. You may remember when I went to the original one in Utah a few years ago.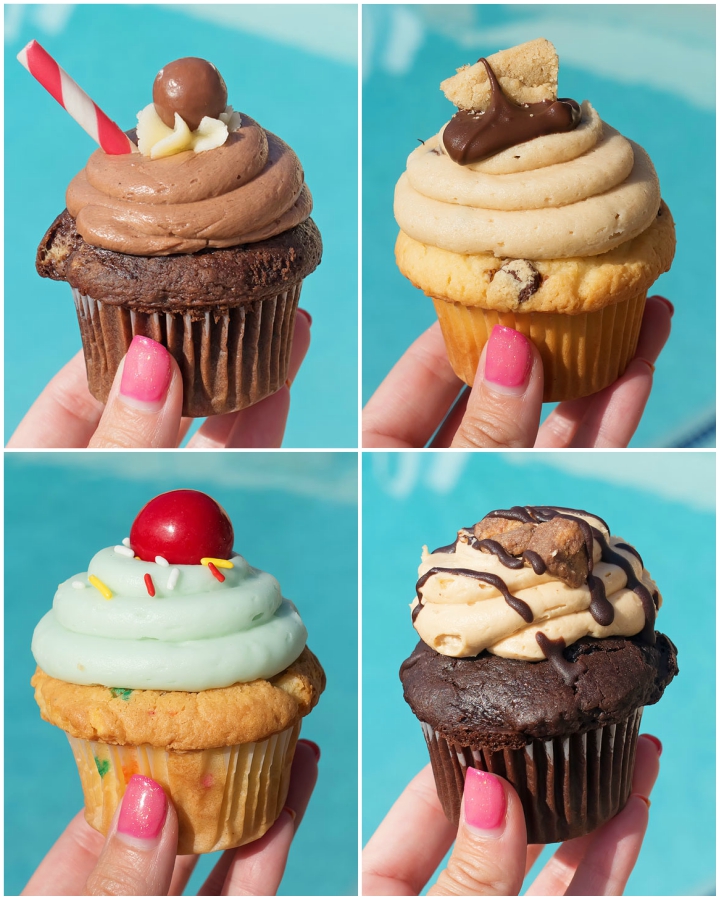 Their cupcakes and cookies are the cutest! So many fun flavors.
---
Other Ways to Discover Delicious Food
It was way, way too short of a trip, as it always is when Jenny and I get together! Be sure to check out Jenny's guide to the Best Places to Eat in Arizona for even more recommendations in the Phoenix / Scottsdale / Mesa area.
Also if you're planning a trip to Disneyland in California anytime soon, Jenny has reviewed every single restaurant at Disney and tells you where to find the best food in the park! If you're headed to Disneyland it's a must read! :)
Thanks so much for reading! Until next time!! xoxo