If you're looking for the best restaurants in Chicago, here are our favorite Chicago restaurants! If you're planning a trip to Chicago, these are the places you have to eat!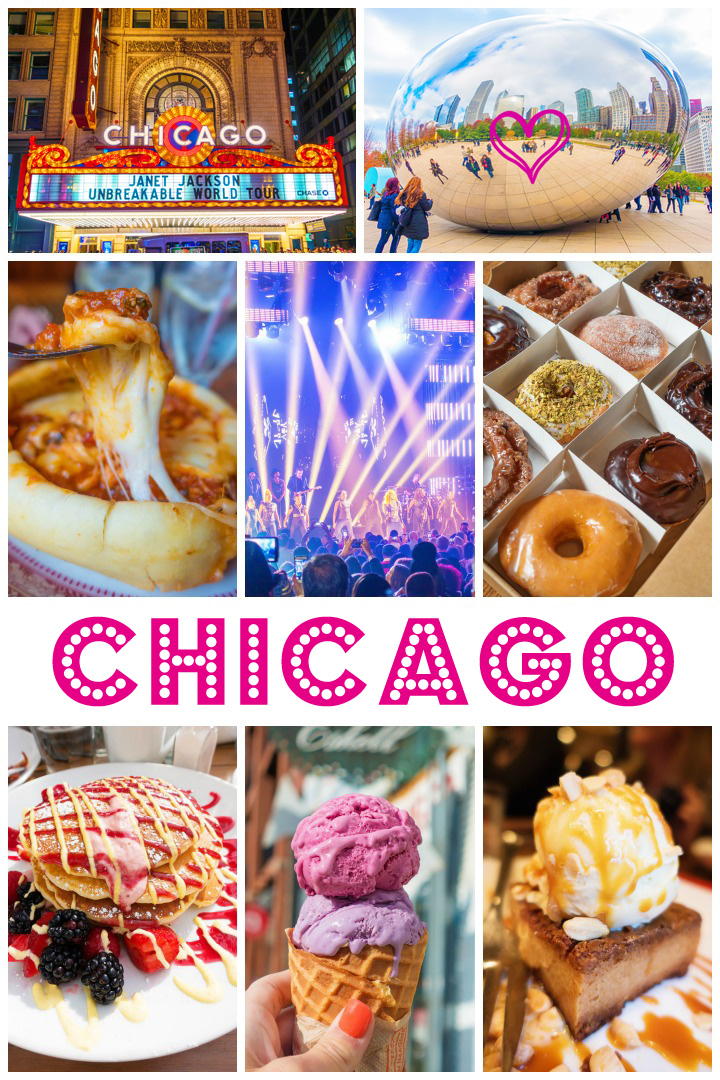 Back in November I met up with three of my favorite foodie friends for a fun girl's weekend in Chicago. As you do when you get a group of foodies together, we tried to find all the best places to eat in Chicago.
If you're planning a trip to Chicago, here are some of our favorite foods, Chicago restaurants, and things to eat in Chicago.
---
Breakfast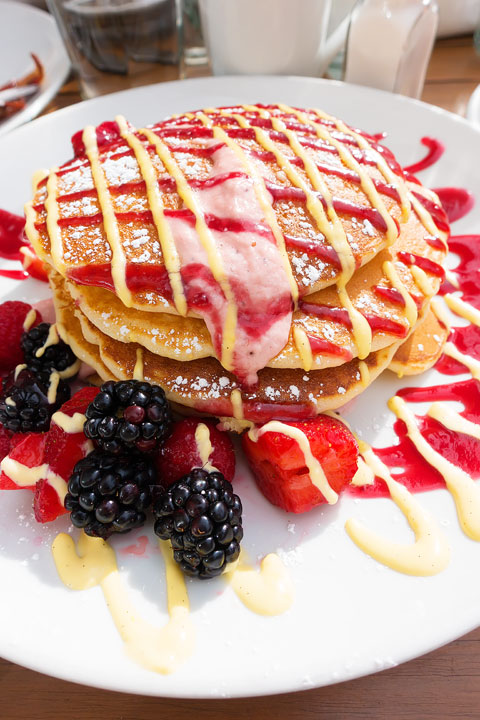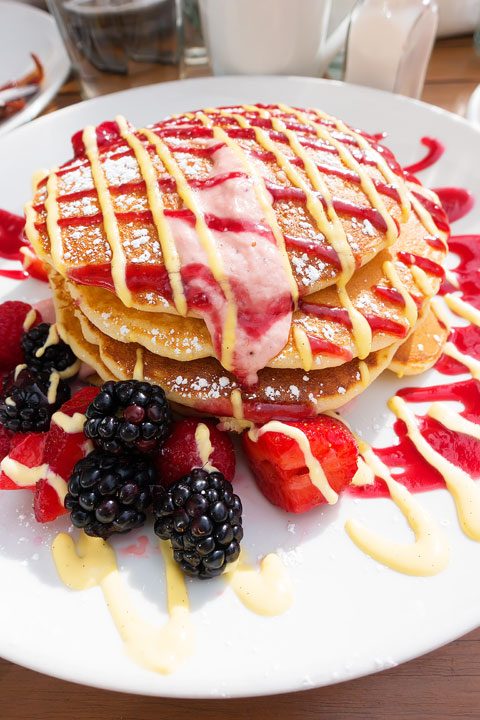 Wildberry Cafe
Come here hungry! Super fun breakfast/brunch spot with TONS of fun pancake and French toast options! Chocolate chip, Cinnamon Roll, Oreo S'more… Loved my signature "Wildberry" pancakes pictured above. Delicious savory options as well.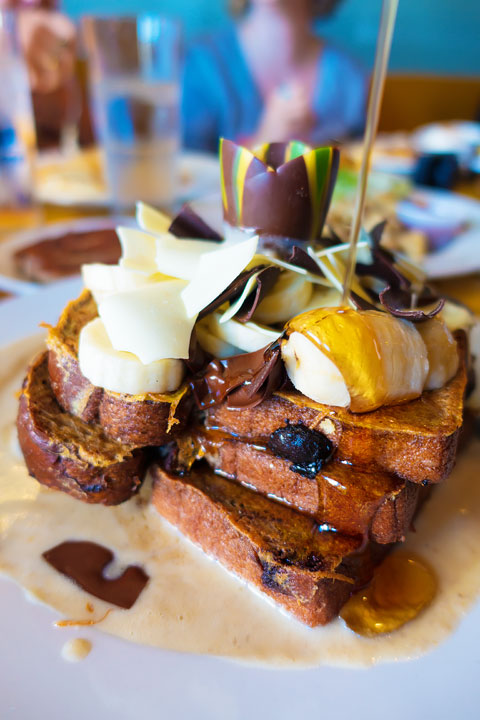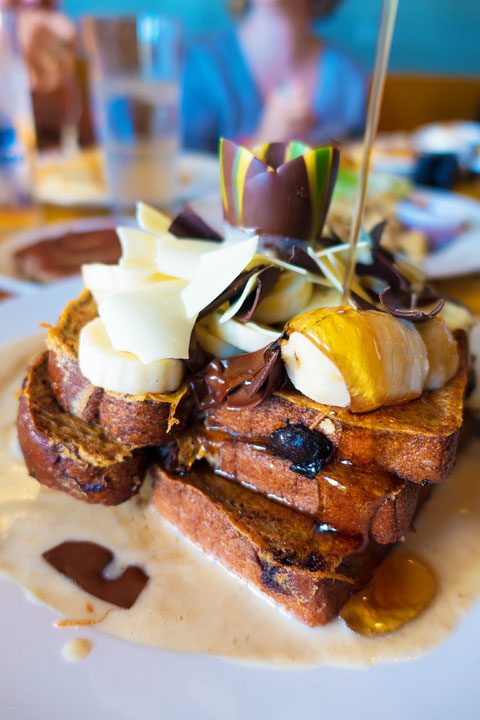 The Bongo Room
Honestly, what is more fun than a tower of Chocolate French Toast??! Perhaps their White Chocolate Pretzel Salted Caramel Pancakes??! The Bongo Room is fun breakfast/brunch spot with sinfully sweet and savory breakfast options.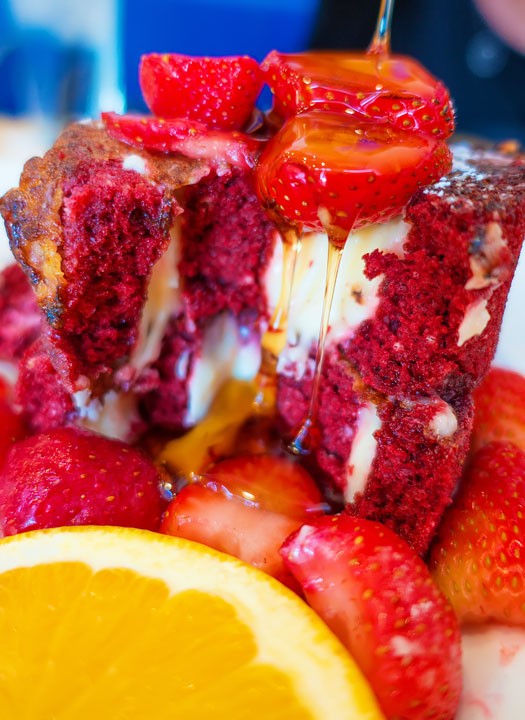 Yolk
Super popular breakfast and brunch joint in Chicago! Both times I've been to Yolk the line is always CRAZY and looks like you'll have to wait for hours… But I've never waited more than 20 minutes for a table, even on a busy weekend. One of my favorite things about Yolk is the French Toast tasting menu! You can try a small slice of all three of their famous French toasts.
---
Doughnuts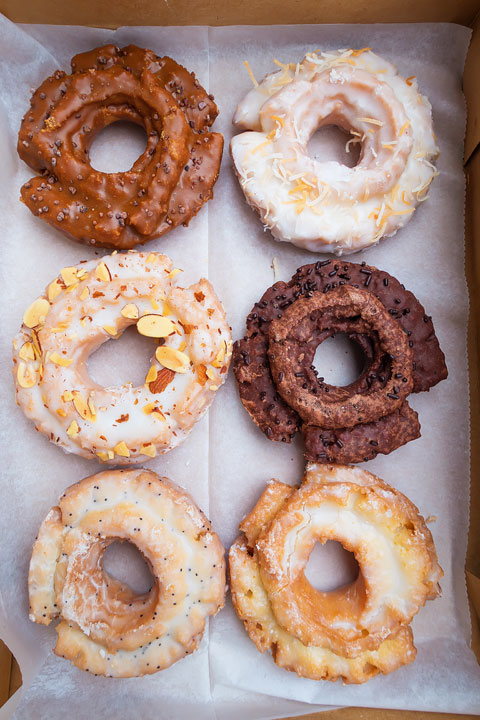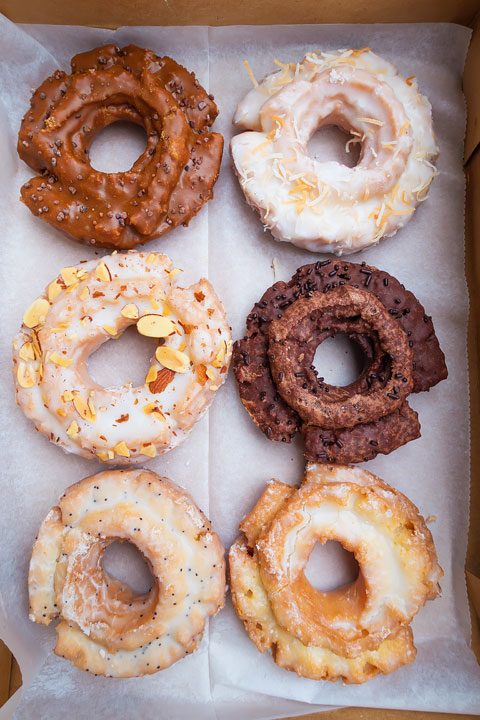 Doughnut Vault
We ended up doing a little mini doughnut taste-testing tour while we were in Chicago! We tried Doughnut Vault's famous old fashioned doughnuts.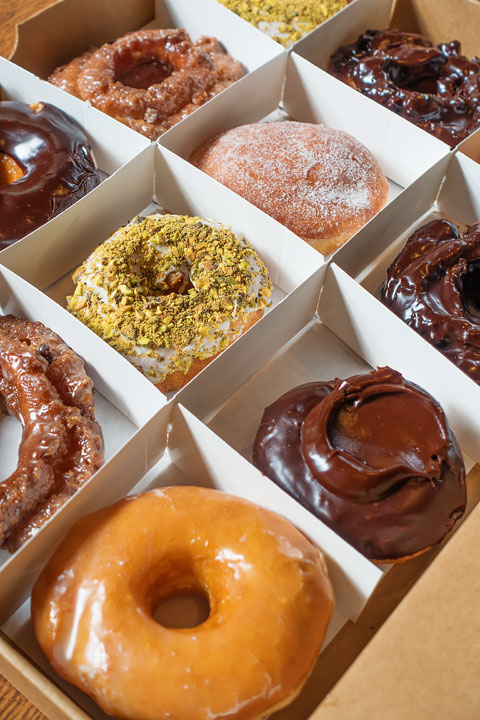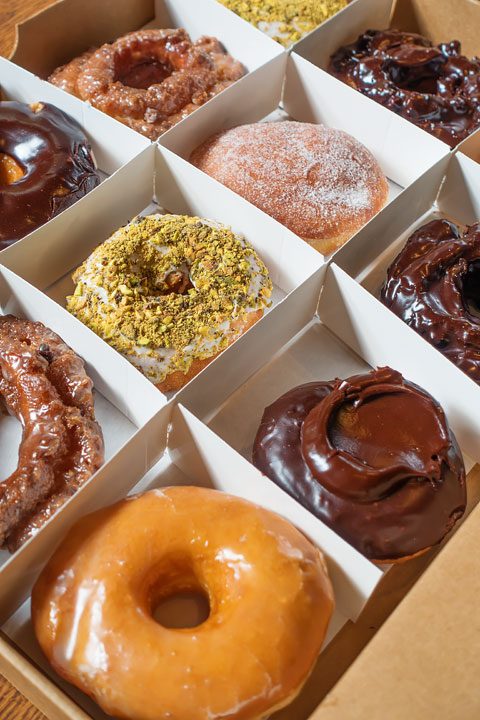 Do-Rite Donuts
And we also tried a selection of Do-Rite donuts. The old fashioned doughnut here was hands down the winner.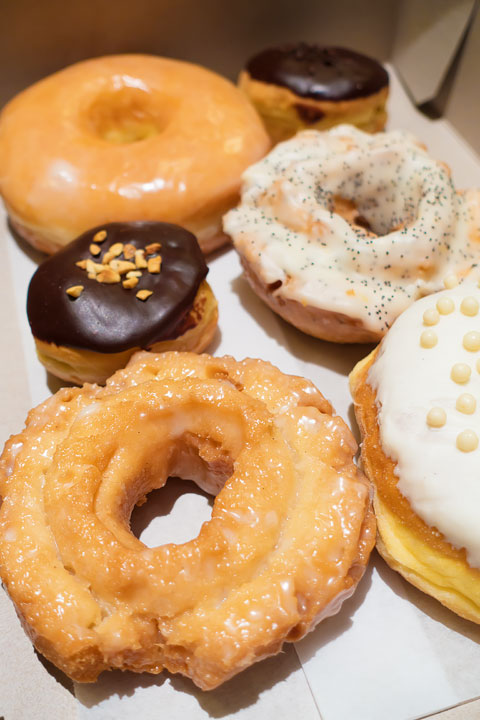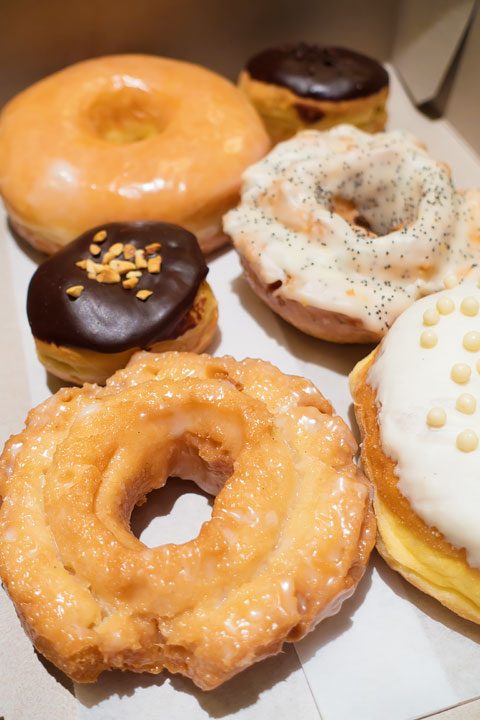 Firecakes
And finally, we had to try Firecakes because of their famous doughnut ice cream sandwich! We tried a selection from here as well, and they were delicious, but Do-Rite was ultimately our favorite!
Any other doughnut shops we missed??
---
Lunch / Dinner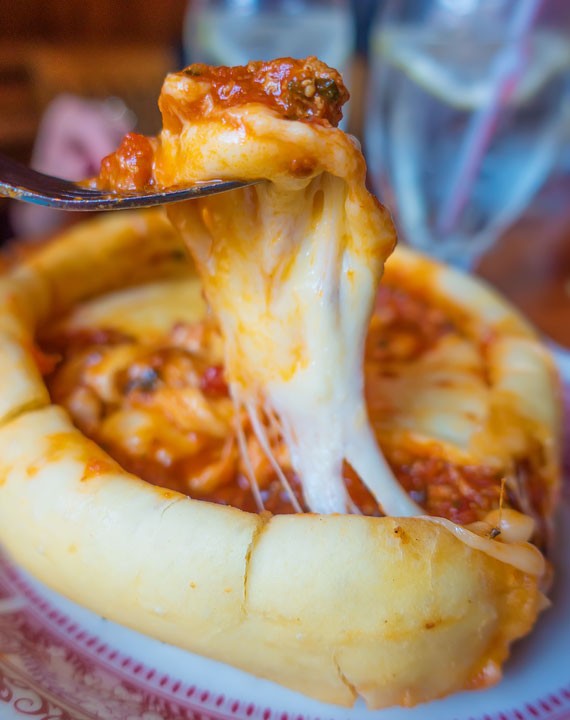 Chicago Pizza And Oven Grinder Co.
We'd heard about the legendary Pizza Pot Pie at Chicago Pizza And Oven Grinder Co. and had to try it for ourselves! And it was just as amazing as it looks. I would definitely go here again. Be sure to get the flatbread to start! This is such a fun and "old-school" dining experience. When you go in to get a table, they don't take your name at the hostess station, they just memorize your face and come find you when your table is ready. Definitely go early, this place stays busy. Also note that it's cash only. Highly recommend!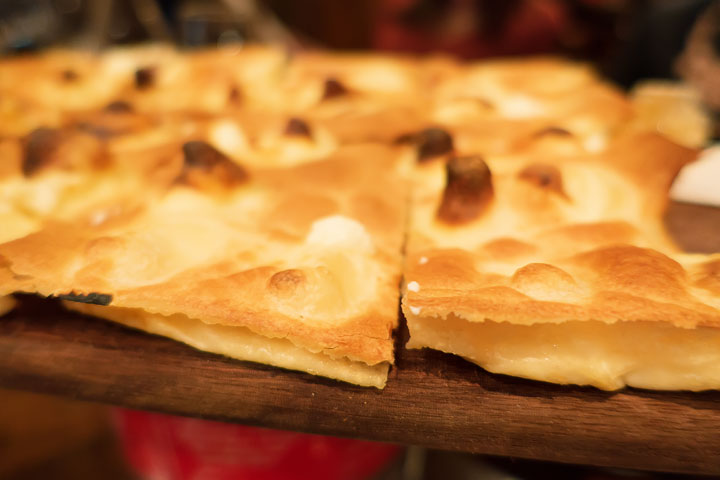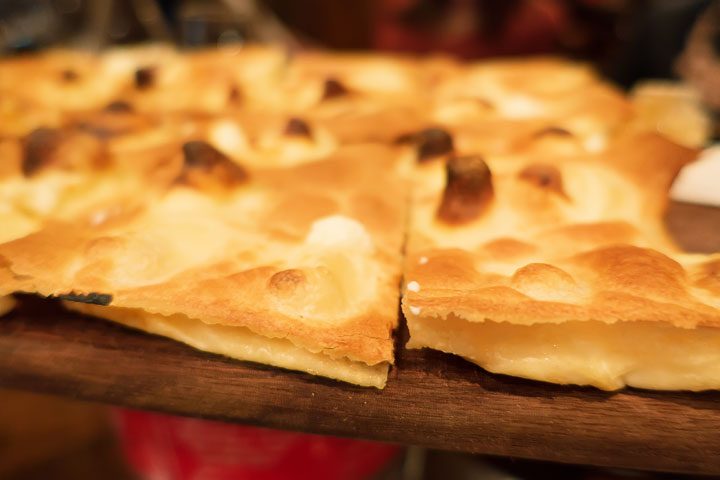 Davanti Enoteca
Oh my gosh, this is one of the best places to eat in Chicago!!! Authentic Italian menu with delicious pizza and pastas. You HAVE to get the focaccia to start!!! This bread has become a running joke in our group, we talk about it so much!! It is seriously unlike any other bread I have ever had. SO good!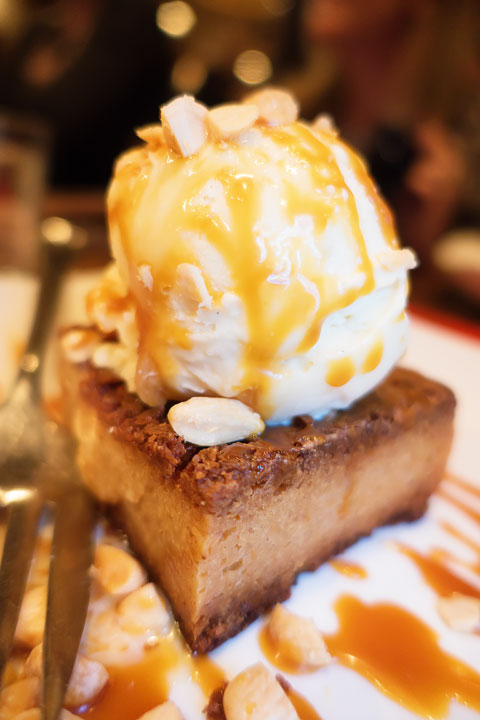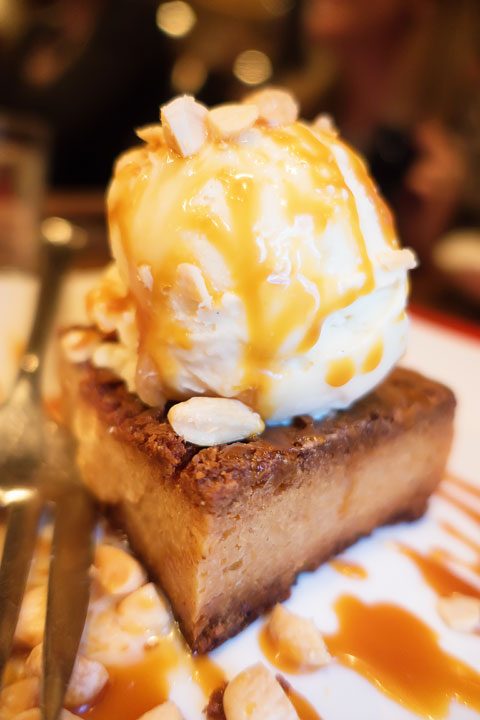 Also you HAVE to get the brown butter blondie for dessert!!! We were DYING over it!!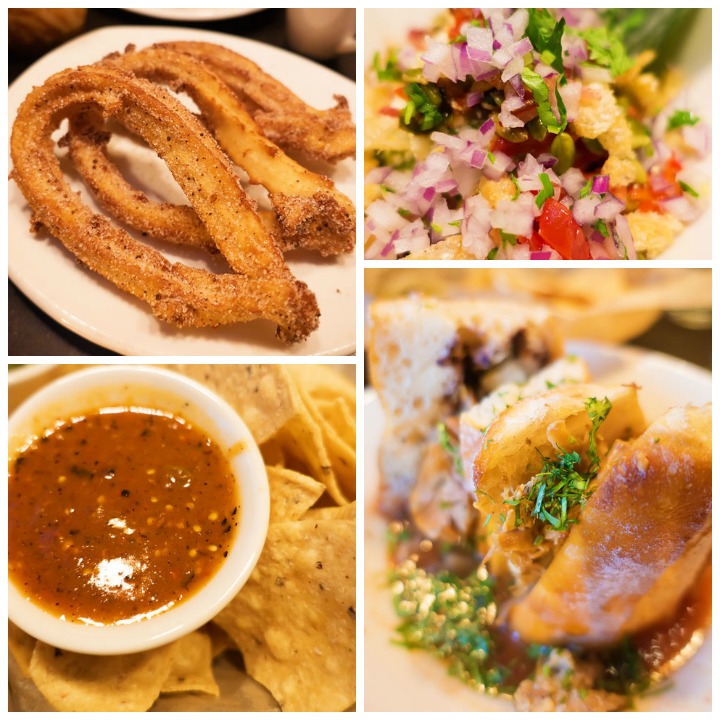 XOCO
Fun casual Mexican restaurant with chips, salsa, guacamole, sandwiches, tacos, and more. Loved the churros here!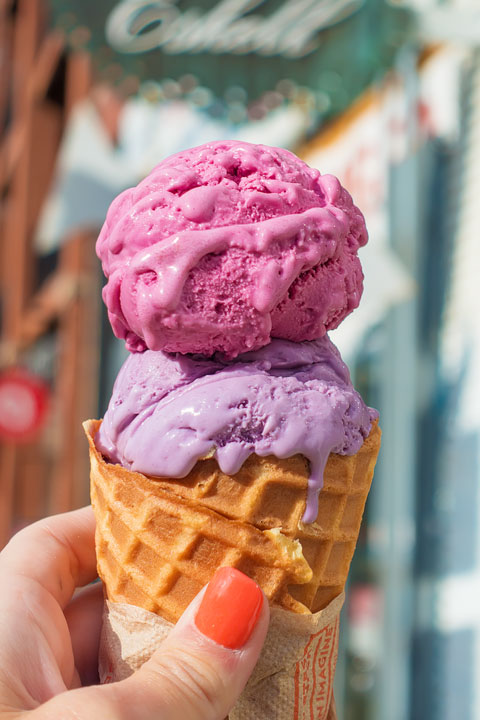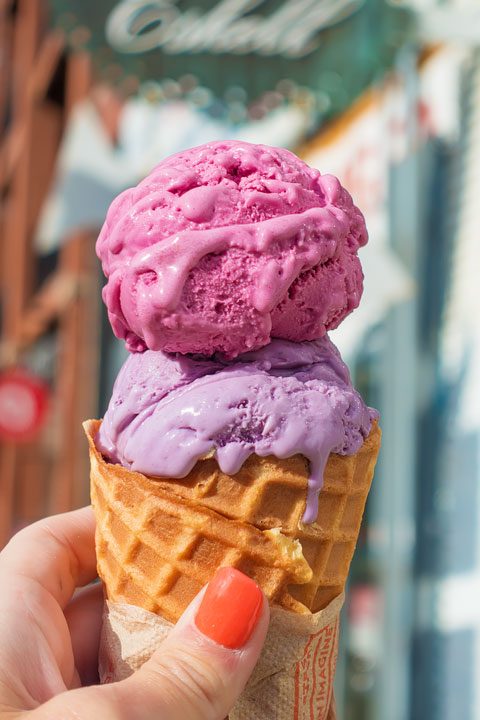 Jeni's Ice Cream
Of course anytime we see a Jeni's ice cream we have to stop! There are Jeni's all over, but if you've never been it's definitely worth checking out!
---
Shopping & Sightseeing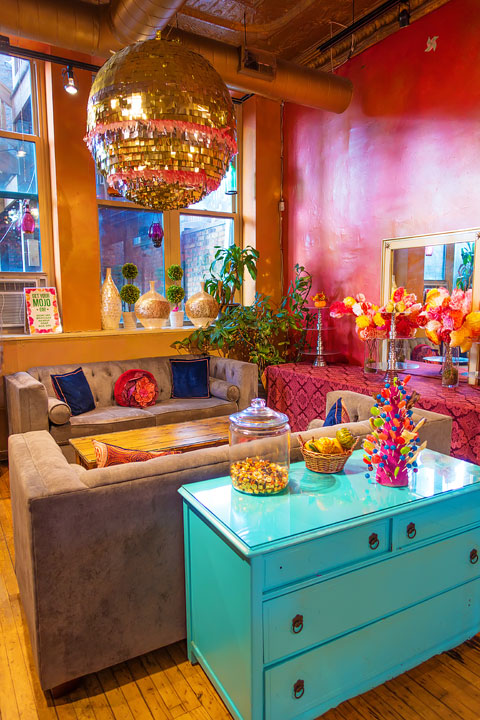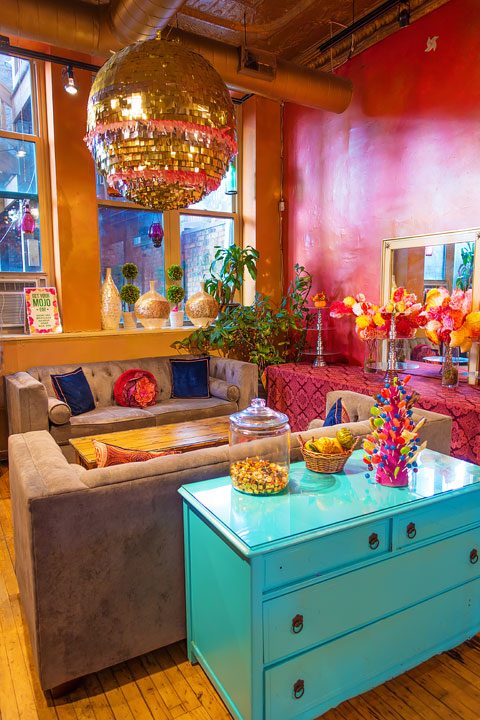 Wicker Park
We went to the Jeni's Ice Cream in Wicker Park — this is such a fun shopping area. It's also in the same location as The Bongo Room. I highly recommend going to the Bongo Room for breakfast one more and spending the morning wandering around Wicker Park!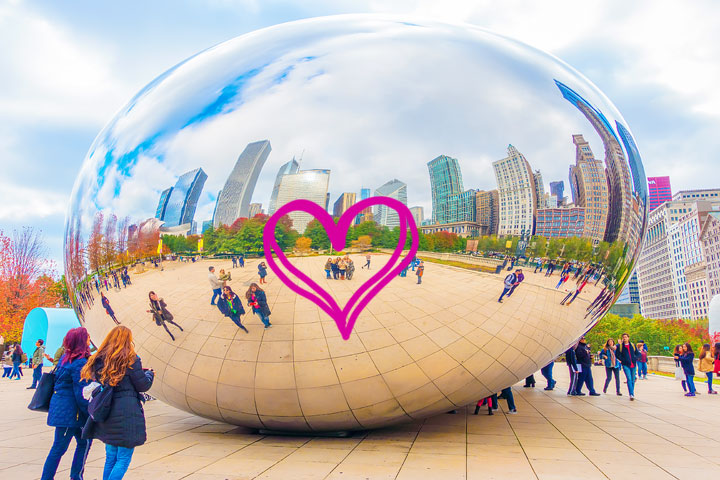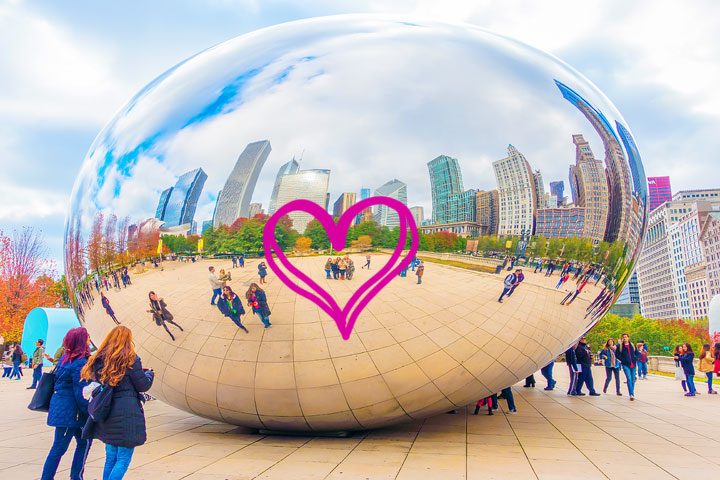 The Bean
Of course no trip to Chicago is complete without a visit to The Bean!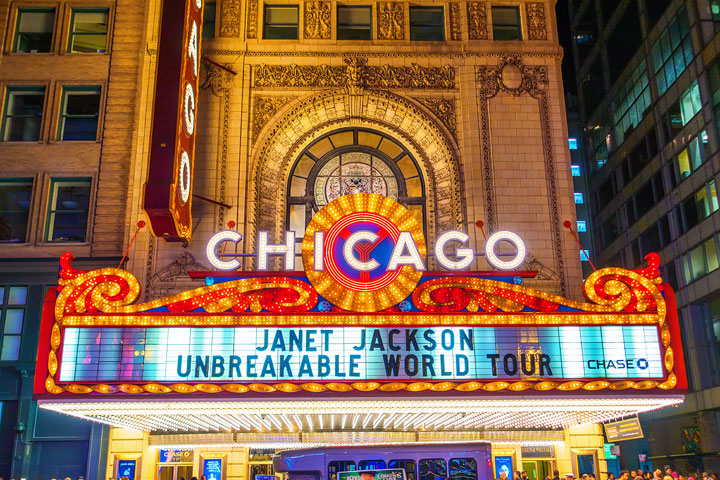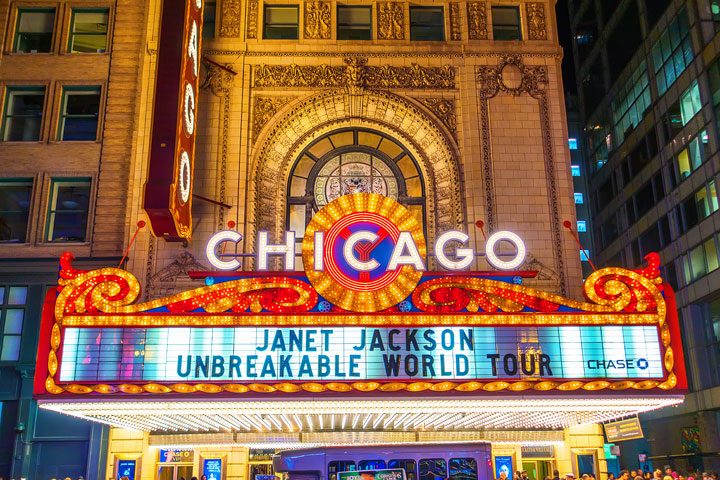 The Chicago Theatre
Oh my gosh you guys, one of my favorite memories from this trip is going to see Janet Jackson in concert!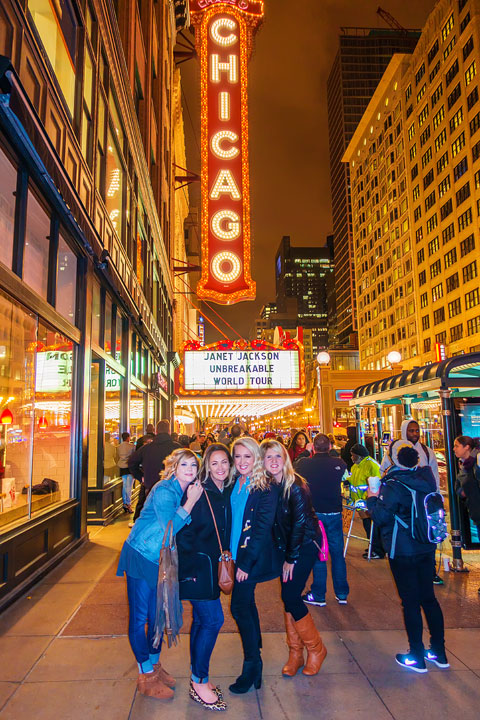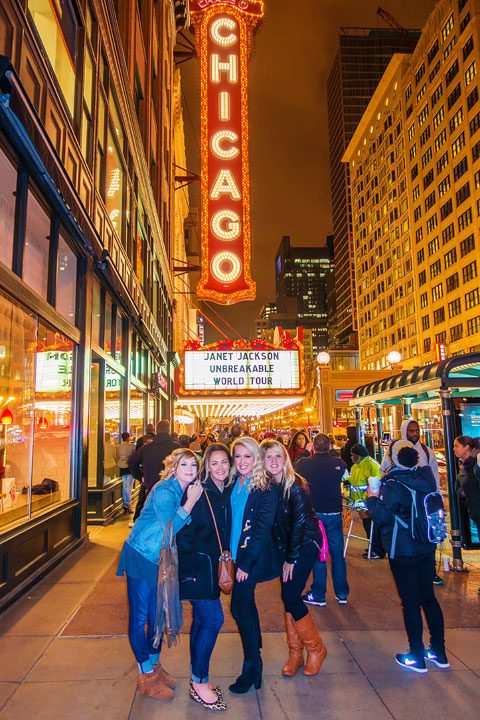 We had no idea she was going to be there, we just happened to see signs all over Chicago, had a free night, and found tickets on StubHub! It was such a spur of the moment thing.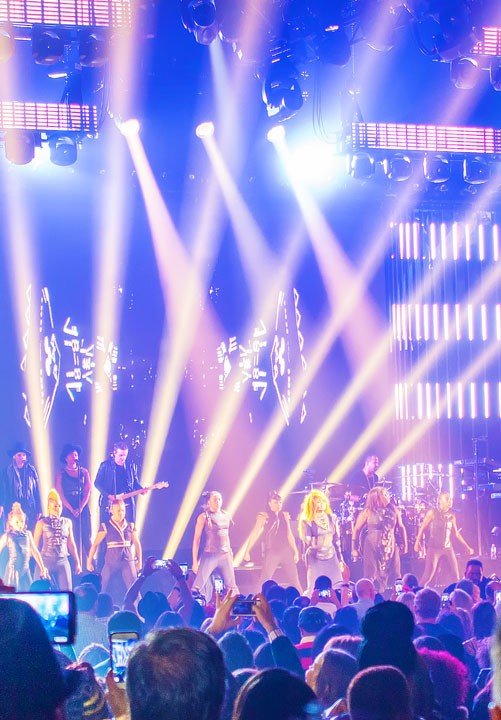 We sang and danced all night to all of her classic hits. Such a fun night!
---
Where to Stay in Chicago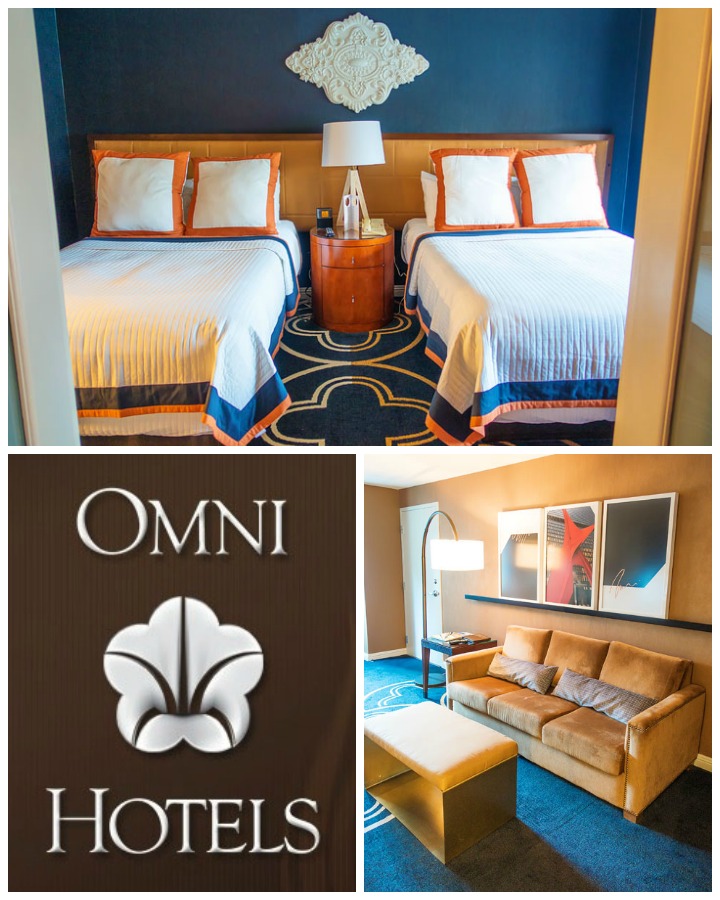 I always love staying in Omni Hotels, especially the Omni Chicago. The service at Omni is always top notch. We stayed in a beautiful suite on the 17th floor overlooking Michigan Ave. Right in the middle of all the fun shopping!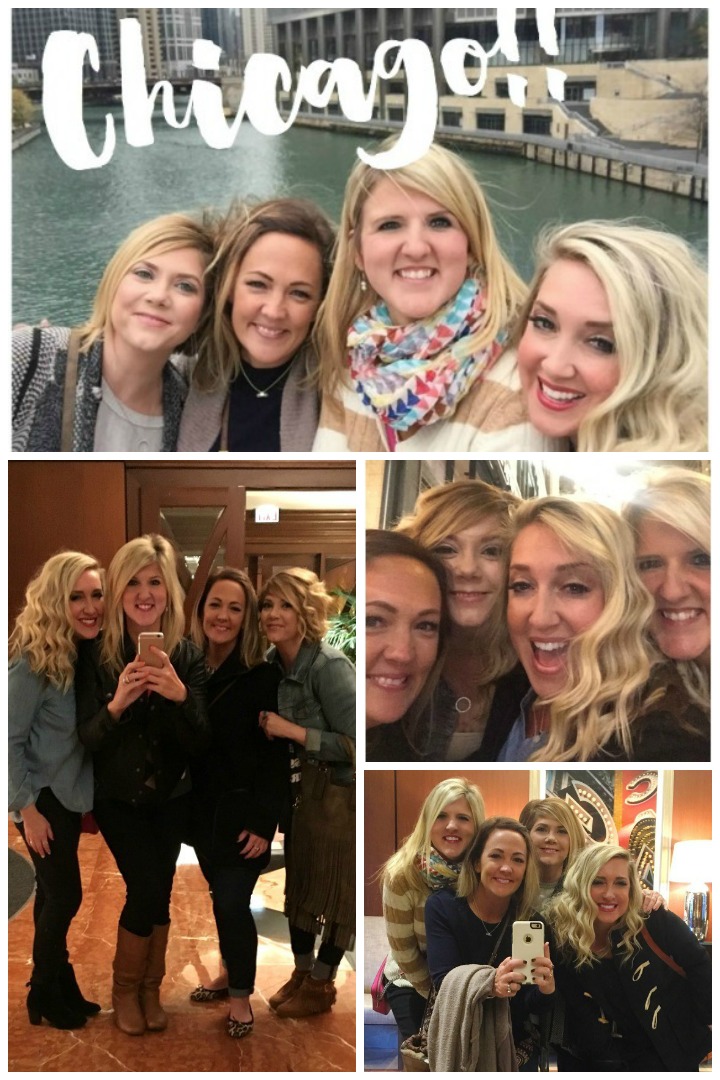 Did we miss any of your favorite Chicago restaurants, best places to eat in Chicago, or things to do in Chicago?
---
Be sure to check out the posts below for more fun photos from our weekend!!