I had a wonderful time exploring New York City with my friends last weekend! Find the best places to stay, eat and shop in New York City!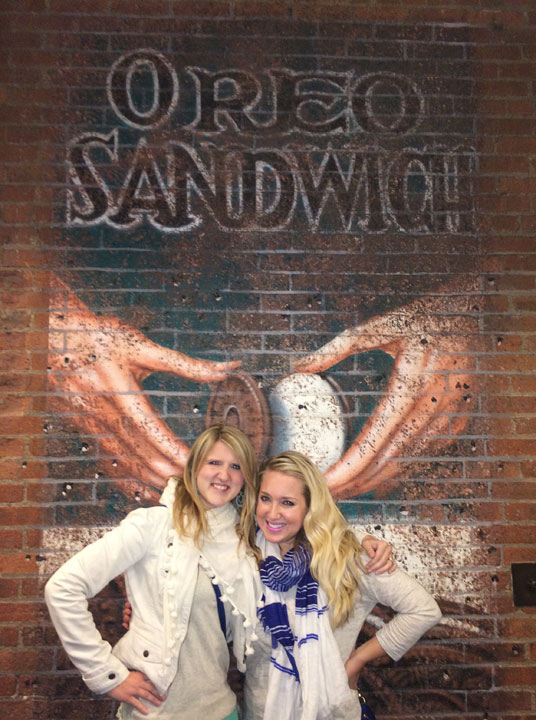 Weekend in New York City
Last weekend I was so excited to sneak away for a fun few days in NYC with one of my favorite friends, Jenny from Picky Palate. I always love it when we travel together, and we had been talking about going back to NYC for ages. I was so excited when the date finally came! We had seriously one of the best weekends ever shopping, sight-seeing, chit-chatting, and eating our way through the city.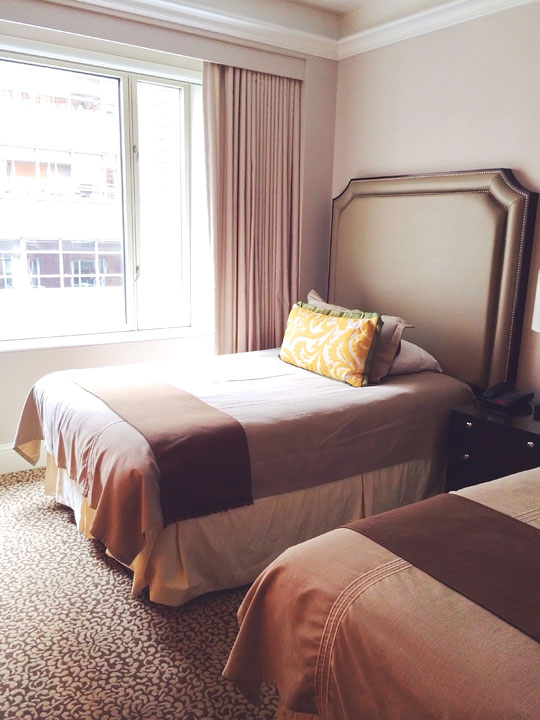 Where We Stayed
How cute was our room at the Omni Berkshire Place Hotel?? This was my third time at the Omni in NYC, and I seriously love staying here. It's in a great location — close to subways and walking distance to Times Square and Rockefeller Center. The service is amazing — I always feel like I'm royalty in a 5-star hotel. The rooms and bathrooms are nice and spacious. Oh, AND they have free WiFi. A great affordable hotel. If you are looking for a place to stay in NYC definitely check them out.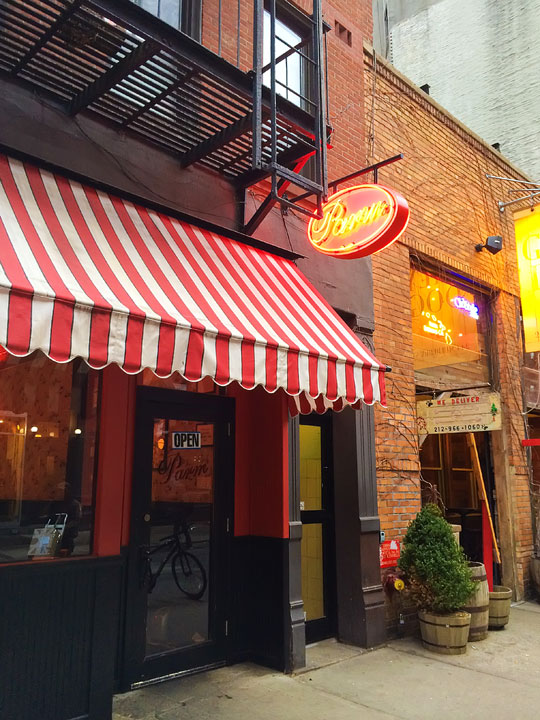 Dinner & Dessert
Our very first stop in NYC was Parm, a cute little restaurant in Little Italy. I love how they do their menu. You can order things like chicken parm, meatball parm, eggplant parm, etc and then you choose how you want it served: on a sweet roll or classic Italian bread as a sandwich, or as a pasta over housemade ziti with meat gravy. We got chicken parm over the pasta and it was fabulous!! Parm is tiny and can get busy on the weekends, so if you don't want to wait be sure to get here early.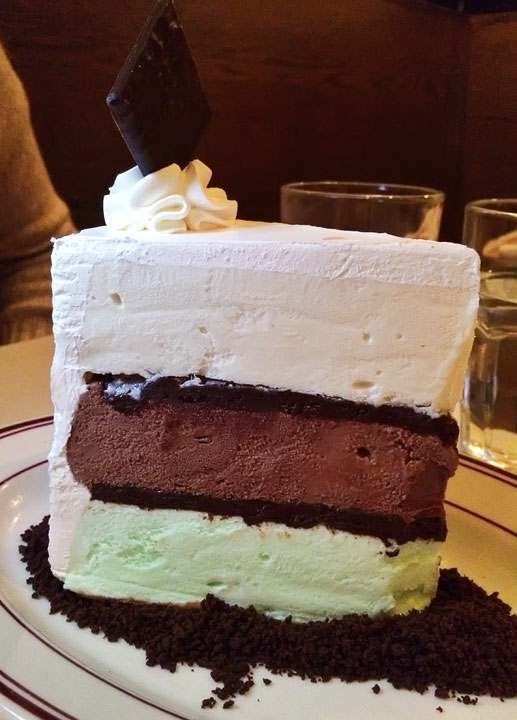 Parm is also famous for their giant ice cream cakes! They usually have their signature chocolate, pistachio, and strawberry cake, but this month they had a special "Thin Mint" cake with layers of vanilla, chocolate, and mint. We had to try. Loved it!! :)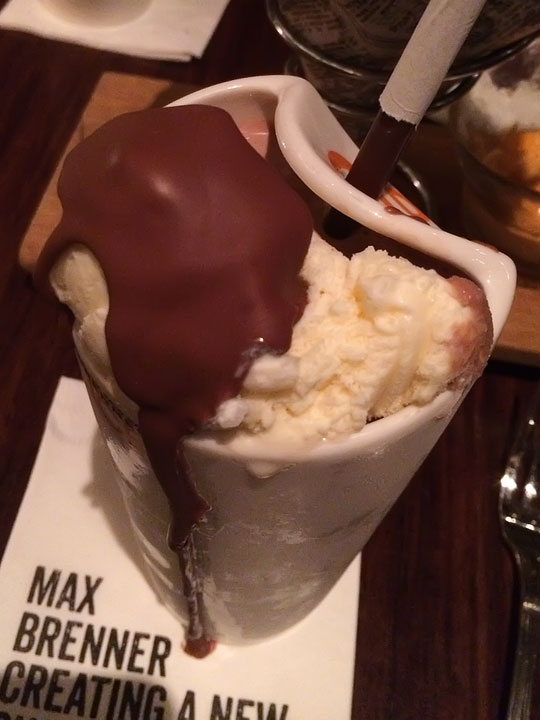 We had an early dinner at Parm, so afterwards we went shopping in Union Square, spotted Scott Foley at Eataly, (nearly fainted) and then headed to Max Brenner for a midnight snack. Max Brenner is one of my favorite restaurants for breakfast, brunch, lunch, dinner, or just desserts. If you are planning a trip to NYC, Max Brenner is a must. You can even make reservations online (which I recommend).
We ordered fries, milkshakes, and a waffle sundae. Seriously LOVE the fries and dipping sauce at Max Brenner! They are the perfect midnight snack. :) Definitely get the fries if you come here.
Pictured above is another one of my Max Brenner favorites — the 80's Milkshake. It's a chocolate milkshake with a scoop of vanilla ice cream topped with a chocolate shell. The key is to get a bit of all three in one bite — smooth, chocolaty milkshake, creamy ice cream, and crunchy chocolate shell. Perfection! We each got our own because we were not sharing. ;)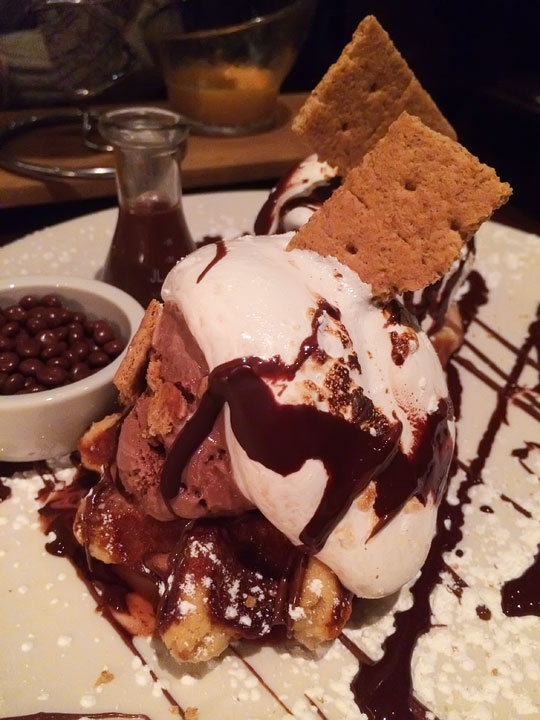 We did split this amazing S'mores Waffle Sundae though! This is actually not on the menu, but they have s'mores crepes and waffle sundaes, so we asked if they could combine the two for us. They were happy to! It's two sugar waffles topped with chocolate and peanut butter ice cream, chocolate chunks, graham crackers, hot fudge, and toasted marshmallows. Swoon!!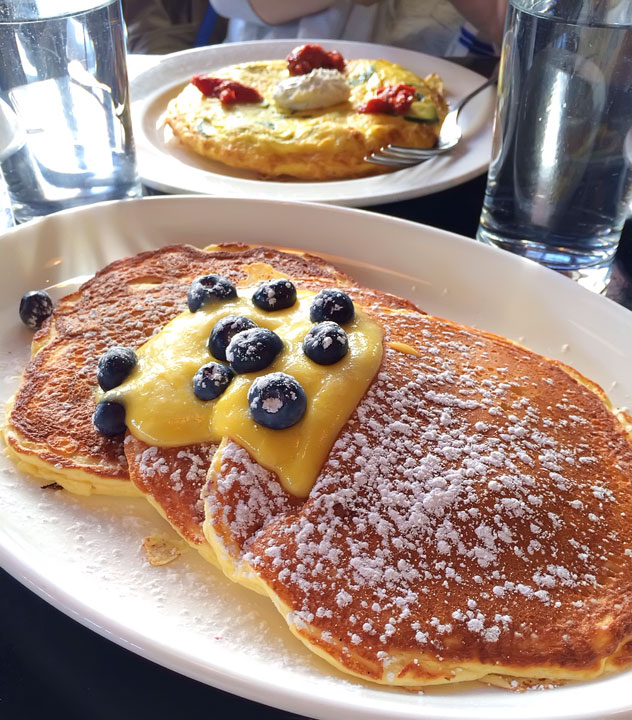 The next morning we were somehow hungry again, so we made our way down to Locanda Verde in TriBeCa. These Lemon Ricotta Blueberry pancakes were seriously the fluffiest pancakes I have ever had. A must-order if you love lemon and blueberry pancakes! Be sure to ask for butter and syrup because they don't bring it out with the pancakes.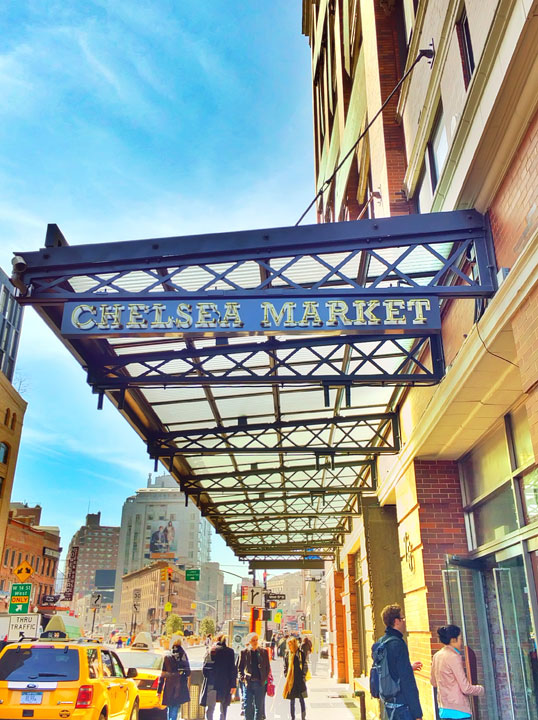 Shopping in New York City
Next we did a little Saturday morning shopping at Chelsea Market. This is such a cute place with lots of fun shops, bakeries, restaurants, food carts, gelato, and even a huge two-story Anthropologie. I always try to stop by Chelsea Market whenever I'm in the city.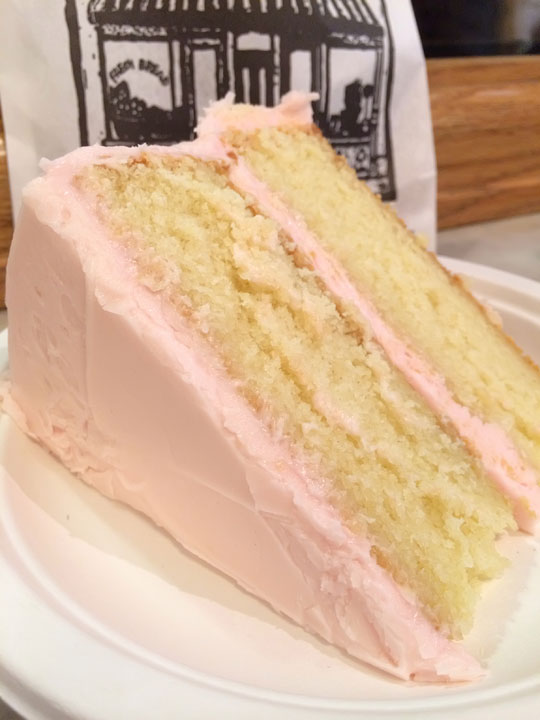 Best Thing I Ever Ate Alert! Oh my word, you guys. This vanilla cake from Amy's Bread in Chelsea Market was seriously the best cake I have ever had. I was not even remotely hungry after those pancakes, and vowed to only take one bite, but we devoured it. It was the richest, most decadent cake and frosting I have ever had. Still dreaming about it. If you are in the city for your birthday, get this cake!! :) And if it's not your birthday, get it anyway. I would never tell you it's not your birthday. ;)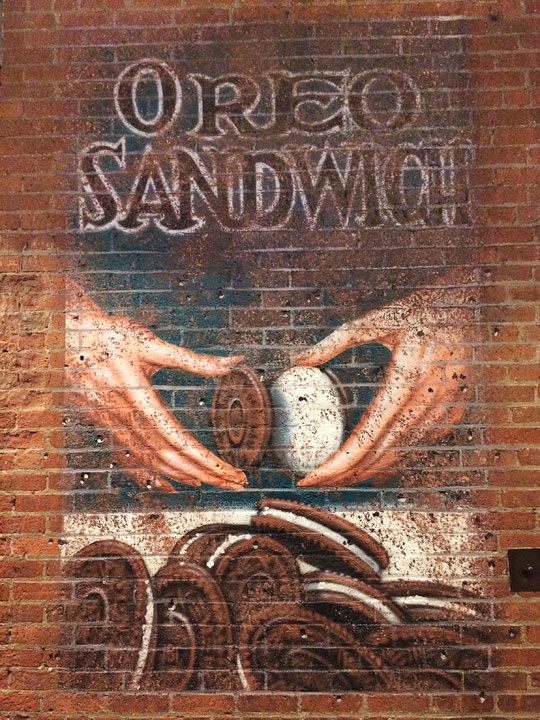 Chelsea Market is where we found this fun Oreo wall painting!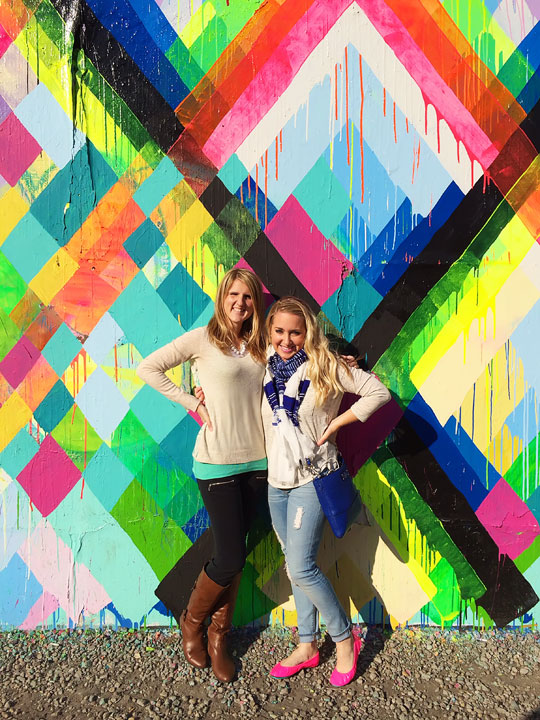 This colorful outdoor wall is the Bowery Mural and is painted at the corner of Bowery and E Houston Street. It is constantly changing, but when I saw how fun it was when we'd be there, I put it on our must-see list!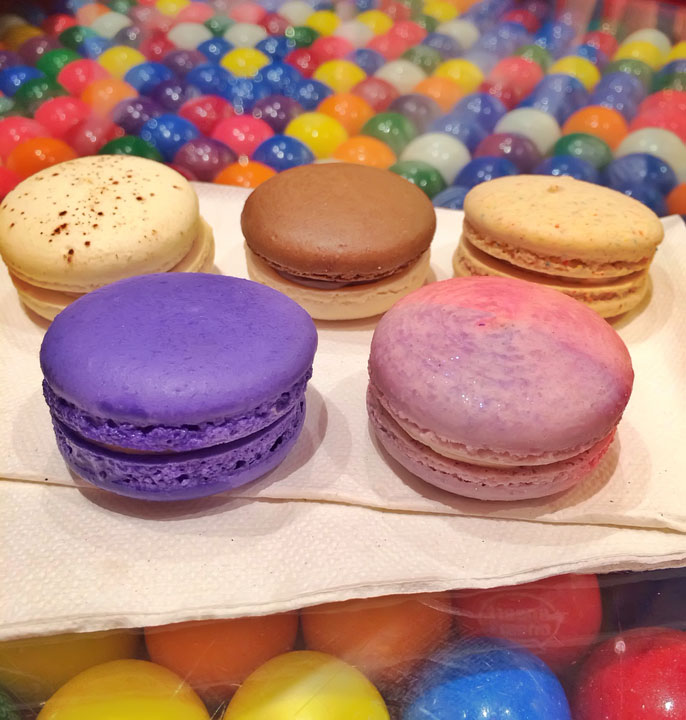 After an early dinner and a quick power-rest at the hotel, we were ready to head back out for a midnight snack. We put our names on the waiting list at Serendipity 3, then walked down to Dylan's Candy Bar for shopping and treats. We found these gorgeous macarons from Dana's Bakery and had to sample a few. We tried Cookie Dough, S'mores, Fruity Pebbles, Peanut Butter and Jelly, and Birthday Cake. LOVED them!! Maybe some of my favorite macarons in NYC.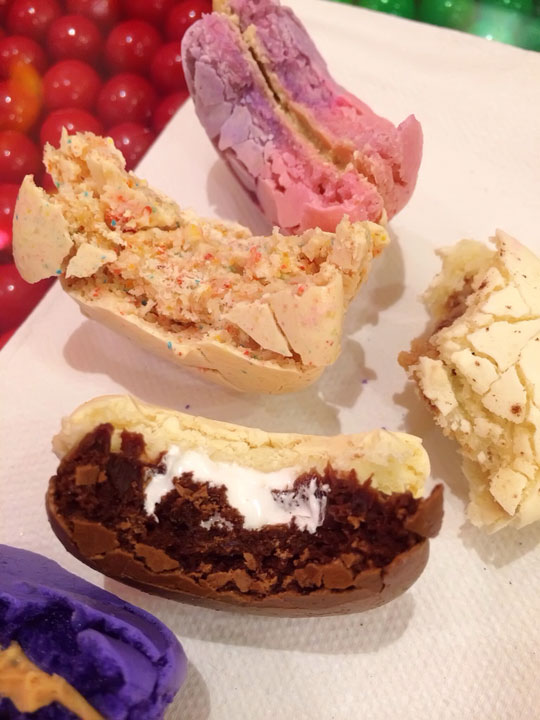 Fruity Pebble, S'mores, and Birthday Cake were the winners. Loved the cookie dough one too. The PB&J one was good, but if you want a good PB&J macaron, get the giant one from Bouchon. :)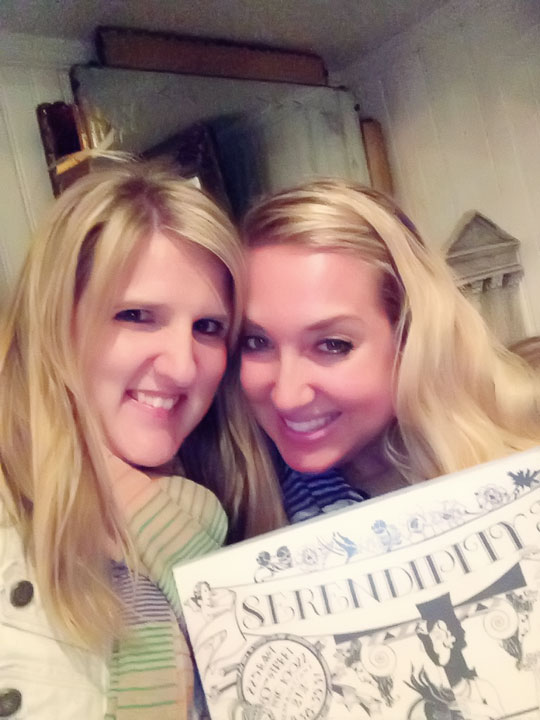 After about an hour of shopping, they finally called our name at Serendipity! :)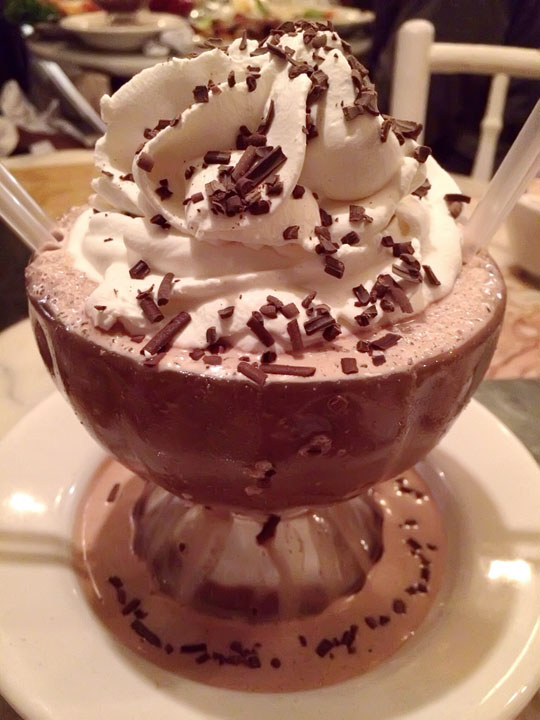 Their Frozen Peanut Butter Hot Chocolate is worth every single minute of the wait. We killed this thing. :)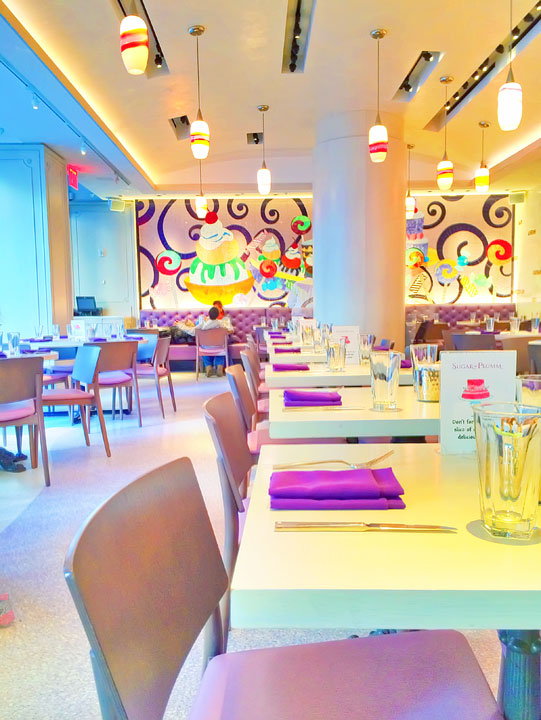 Sunday morning we had brunch reservations at Sugar and Plumm.  How cute is this place?? I came here back in September for their chocolate chunk cookie and creme brulee cookie thinking it was just a bakery, but when we got here and saw their cute restaurant and amazing-looking menu, I knew the next time I was in NYC we HAD to come here for brunch. They also have gorgeous macarons and seriously decadent-sounding milkshakes. Those are on the list for next time. :)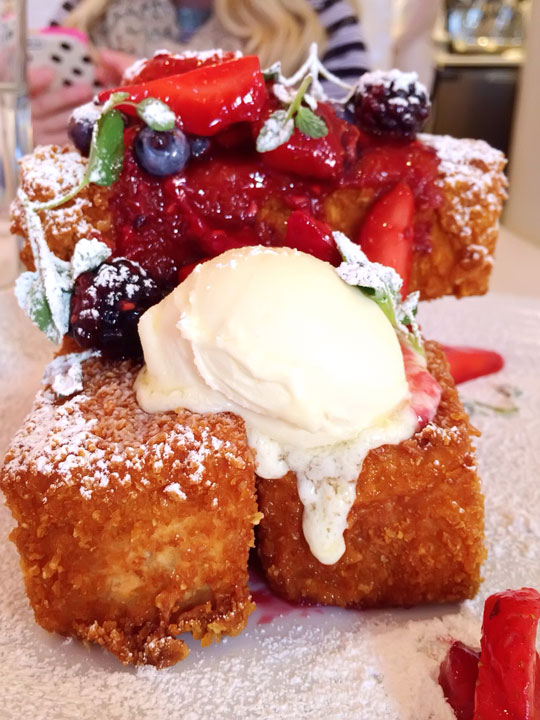 Oh my gosh you guys. This Berry Crunch Toast did not disappoint! It was almost like cake on the inside, it was so light and fluffy!! The crunchy shell was perfect with it.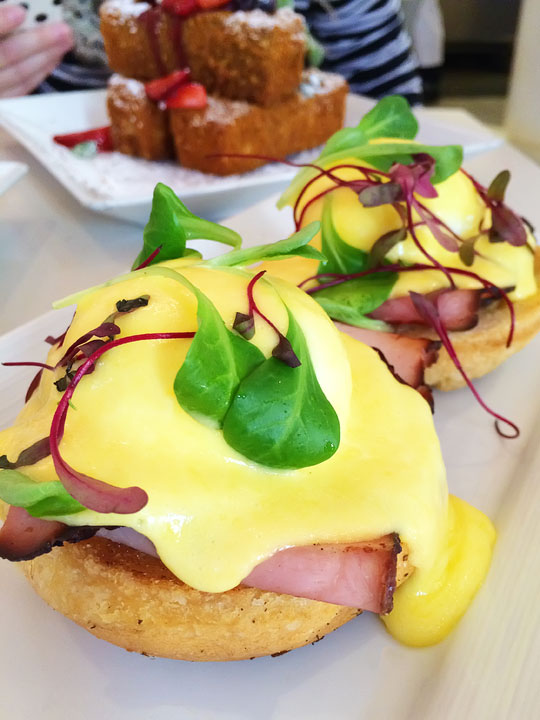 We also had to try their Eggs Benedict over Rosemary Focaccia toast. Incredible.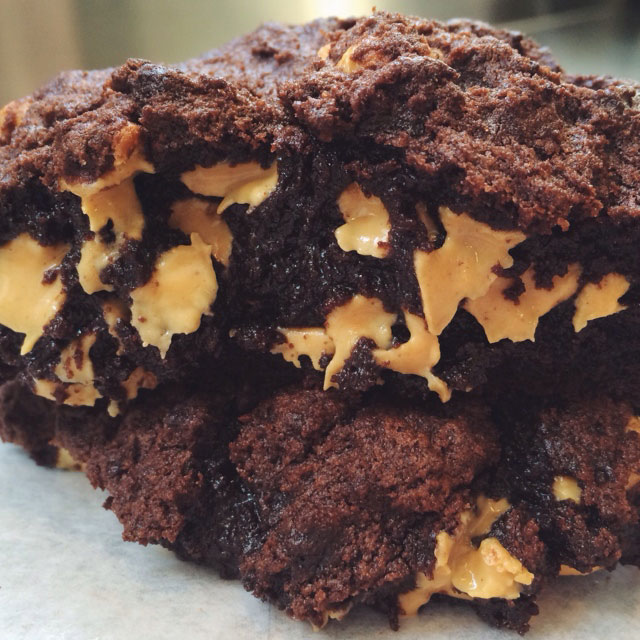 Since we were on the Upper East Side, a stop at Levain for their gooey, fudgy Chocolate Peanut Butter cookie was an absolute must. Be sure to ask for it warm! :)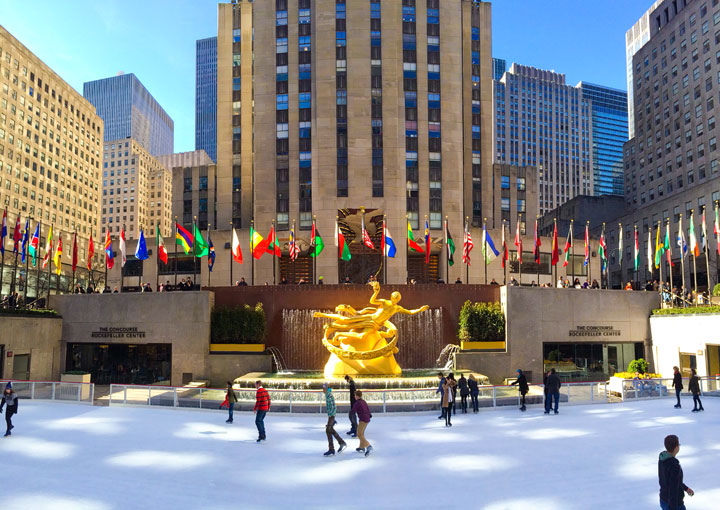 Sunday afternoon we did some shopping at Times Square and watched the skaters at Rockefeller Center.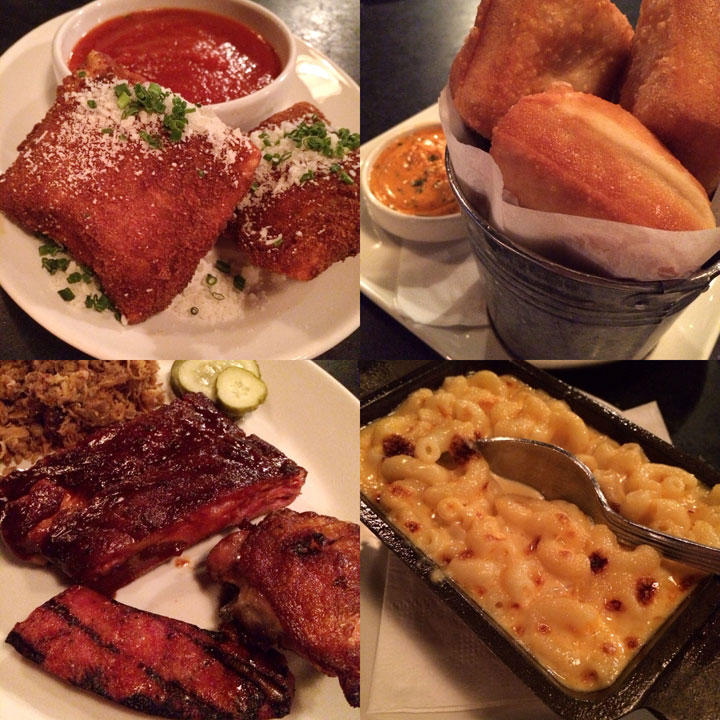 That night we had reservations at Blue Smoke. They are famous for their pulled pork, ribs, BBQ chicken, sausage and brisket.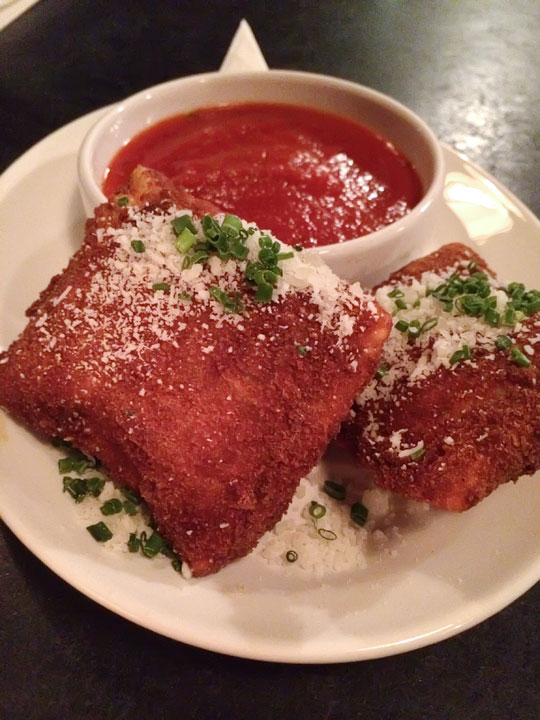 Absolutely loved the pulled pork ravioli!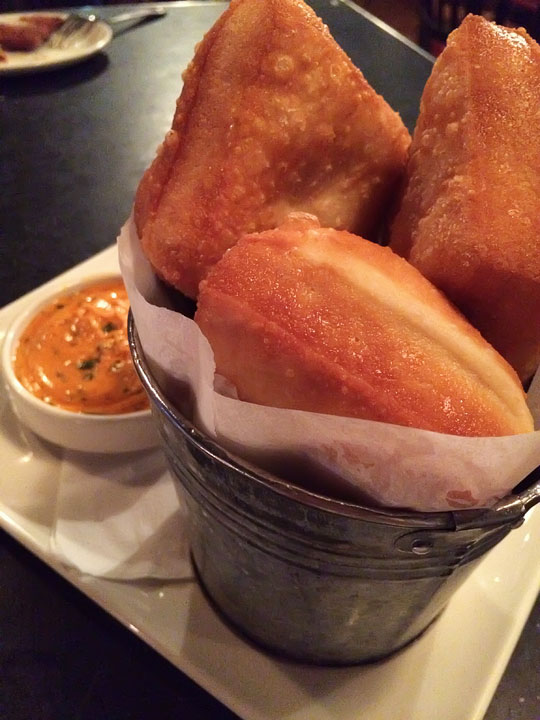 Still dreaming about the fry bread and chipotle butter.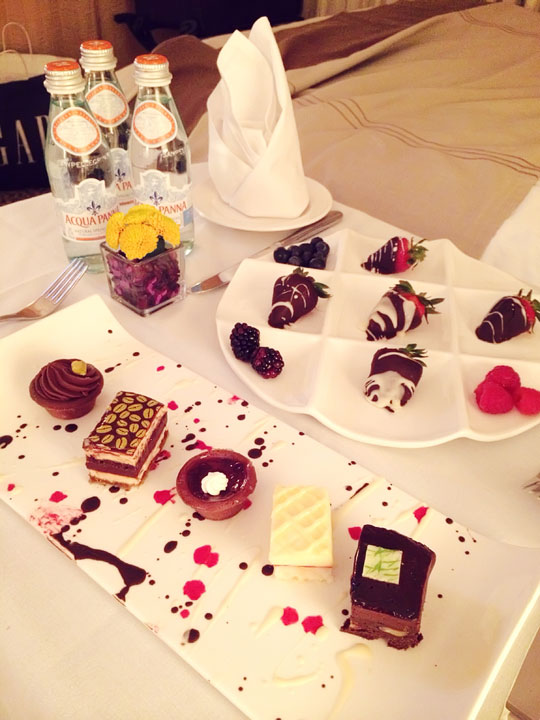 Why I Loved Our Hotel
On our last night in the city, we curled up in our PJs and the Omni had left us a sweet surprise in the room — tiny tasting cakes and chocolate covered strawberries. Chocolate, PJ party, and Netflix for the last night of our girlfriend getaway. :) Can't think of a better way to end the trip! Huge thanks to the Omni for hosting us. They went above and beyond to make sure we had everything we needed!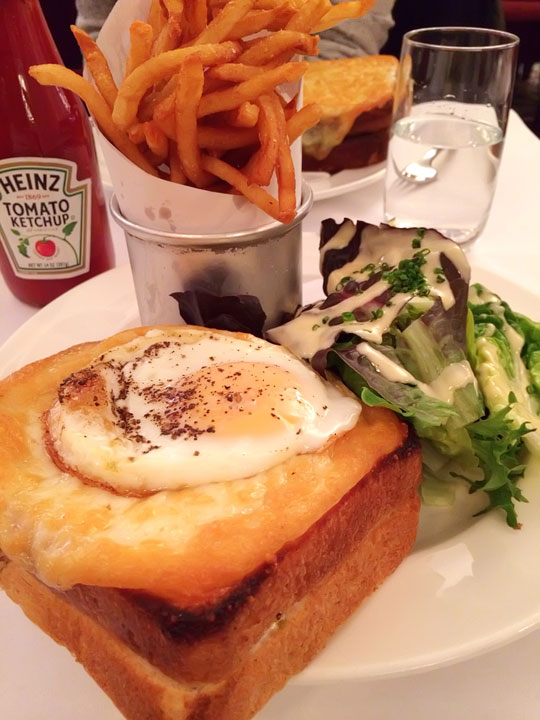 Monday morning Jenny had an early flight out, but my flight didn't leave until the afternoon, so for lunch I met up with my sweet friend from high school who now works in the city, in Rockefeller Center no less. Her office overlooks the skating rink! She is seriously living the dream. :) I had not seen her in probably 12 years, so it was so great to catch up. I always knew she was going places, even back then, and she is still just as sweet, sophisticated, and gorgeous as ever. I don't know how I somehow look 15 years older, and she looks exactly the same, lol!!
She took me to Brasserie Ruhlmann right in Rockefeller Plaza, and I had this seriously to-die-for Croque Madame. It's a ham and cheese sandwich on thick, buttery toast, topped with more cheese and a fried egg. I seriously just died. The fries were also phenomenal. I'd totally go back here. Perfect spot for lunch in a great location.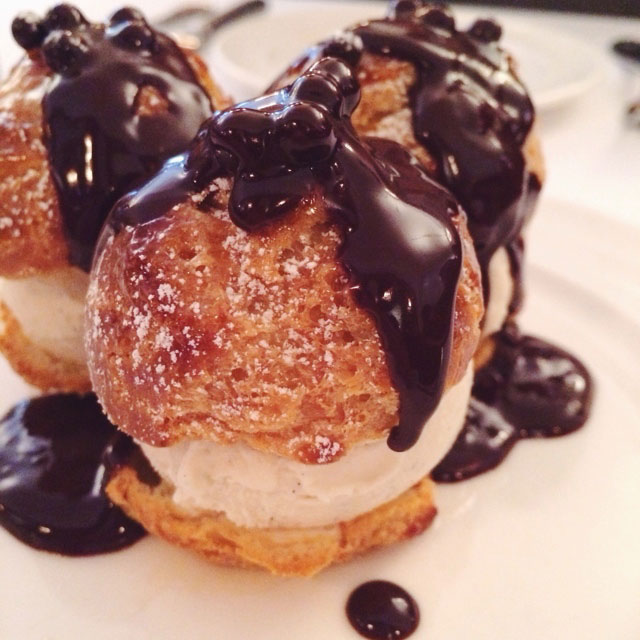 Had to get the vanilla bean profiteroles for dessert! :)
I am paying for this weekend on the treadmill this week. :)
Getting Around
To get around NYC, we took the subway or called a private car with the Uber app. Have you heard of Uber?? It's your own personal, private driver for the same price of a taxi. When you open the Uber app, it will show you where drivers are near you, and tell you how long it will take for a car to get to you. Just click Set Pick Up Location and your private car is on it's way. You can even watch it on the map as it gets closer to your location. It will send you an alert when your car gets close so you know when to go outside. No more waiting outside in the freezing cold or rain for a taxi! You add a credit card or Paypal account to your Uber account, and you never to worry about paying the driver. It's all done through the app. You get in the car,  the driver takes you to your location, and you get out. No fumbling with paying, you can just get out and leave! You don't even have to tip — it's built into the price of the service (which is still competitive with a taxi!).   It's seriously the fastest and best way to get where ever you need to go!
Use this link to sign up with Uber to get your first ride free!
Thanks so much for looking!! :) Be sure to check out Jenny's recap of our weekend. Have a great Monday!