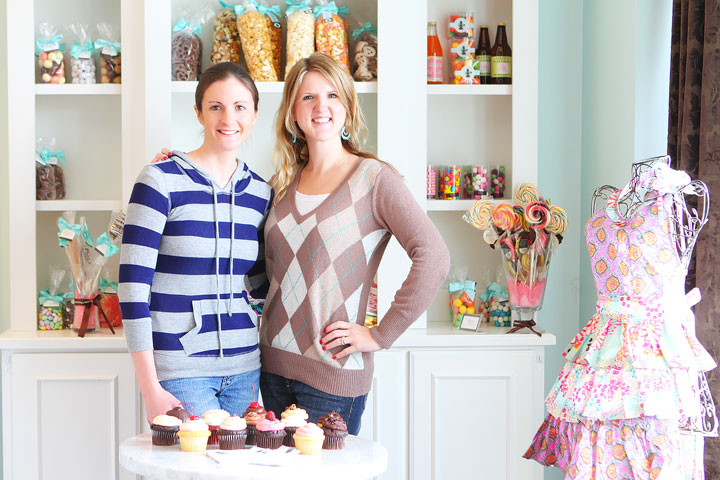 Maria and I met through our blogs almost three years ago at the BlogHer Food blogging conference. We instantly hit it off (perhaps it's our shared love of all things sweet!) and have kept in touch ever since. We talk almost every day now whether it's about blogging, husbands, life, or cookies. :) Ever since we first met, Maria has been convincing me that my next bakery tour needs to be in Salt Lake City. Filled with award-winning bakeries, world-renowned chocolate, and some of America's top pastry chefs, I knew I had to put Salt Lake City at the top of my list. I have been dying to make it happen! Maria knows her sweets and I knew she could take me to all the best places. :)
After my parents and Kevin went home from our ski trip to Deer Valley, I was so excited to be able to stay an extra week with my friend and let the sweet adventure begin.
We went to a new bakery every day, and this post is the first of several chronicling our sugar exploits. Now might be the time to break out the stretchy pants. You've been warned. ;)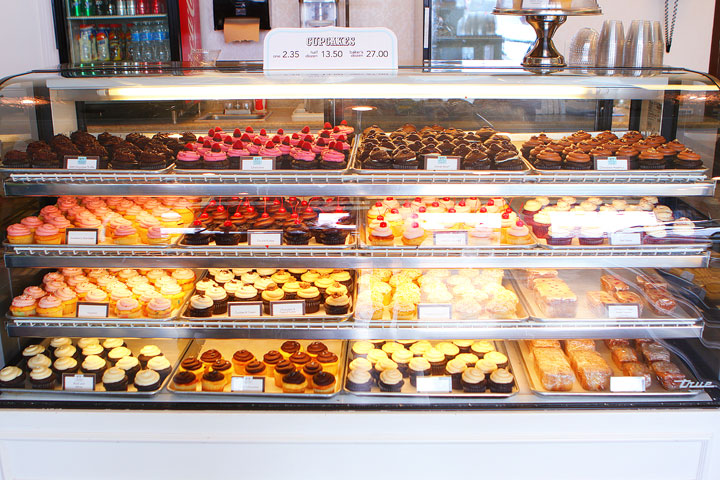 Our first stop was The Sweet Tooth Fairy gourmet bake shop. Featured on Rachael Ray, winner of Food Network's "Cupcake Wars", and acclaimed for her famous "Cakebites," we got to sit down with sweet owner and self-taught baker Megan Brown in one of the cutest bakeries I have ever visited.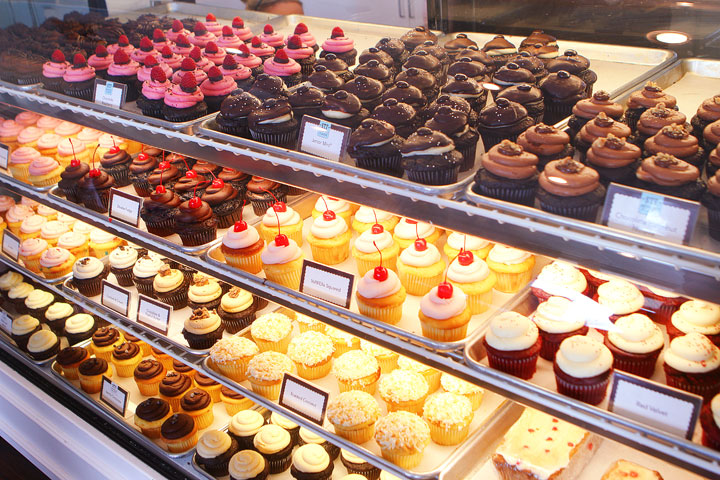 How fabulous does this cupcake case look?? :)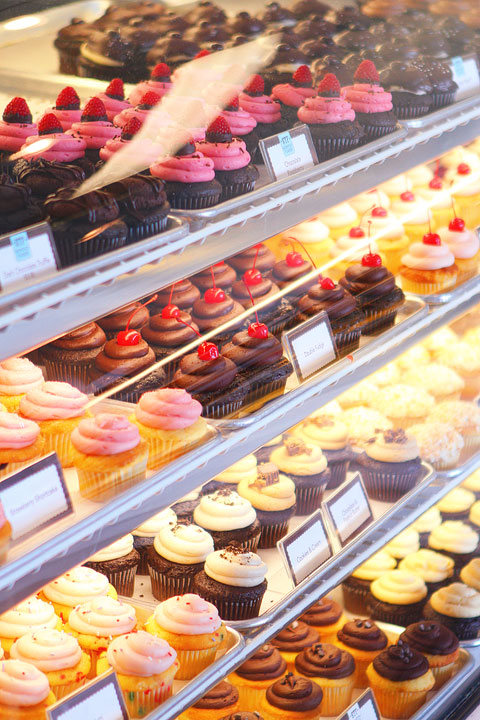 Megan dreams up fun cupcakes in flavor combinations she loves and makes them happen! Talk about a dream job. :)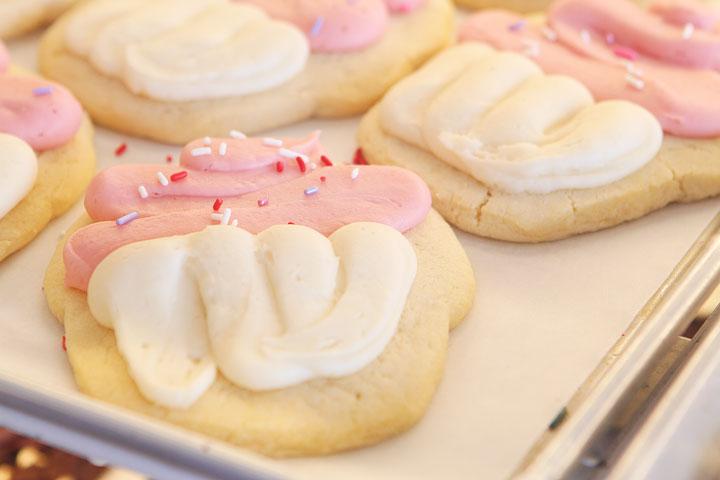 The Sweet Tooth Fairy is more than cupcakes. She's also got decadent brownies, bars, assorted sweets, her famous cakebites, and soft, chewy cookies topped with frosting. Loved these cute "cupcake" cookies!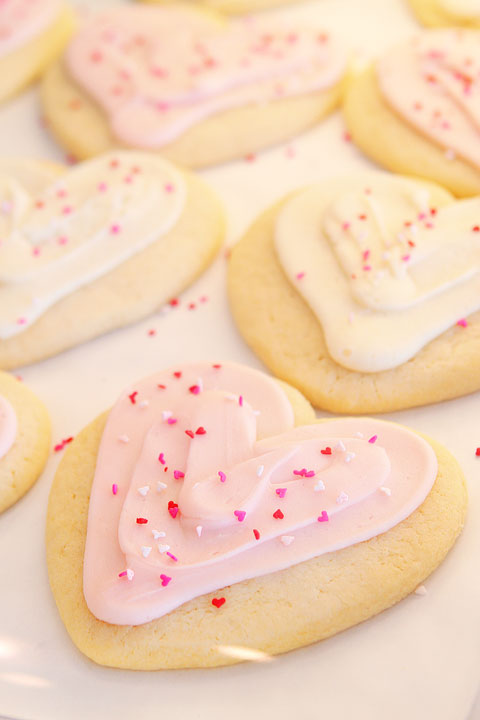 Perfectly sweet frosted hearts for Valentine's Day.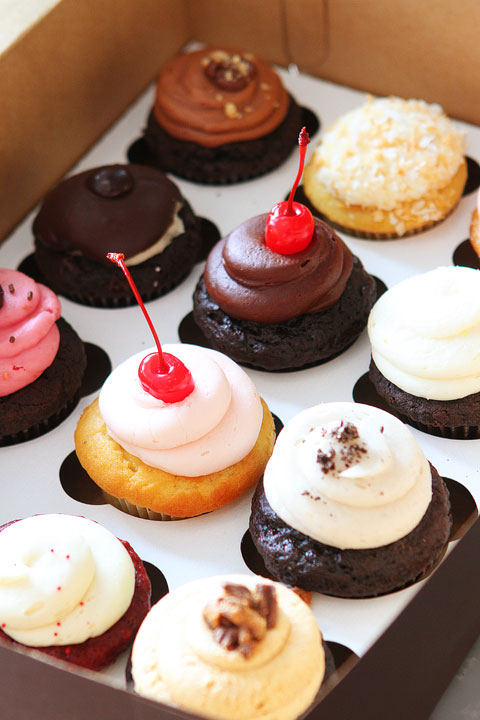 How fun would it be to open up a box and find these cupcakes inside?? :)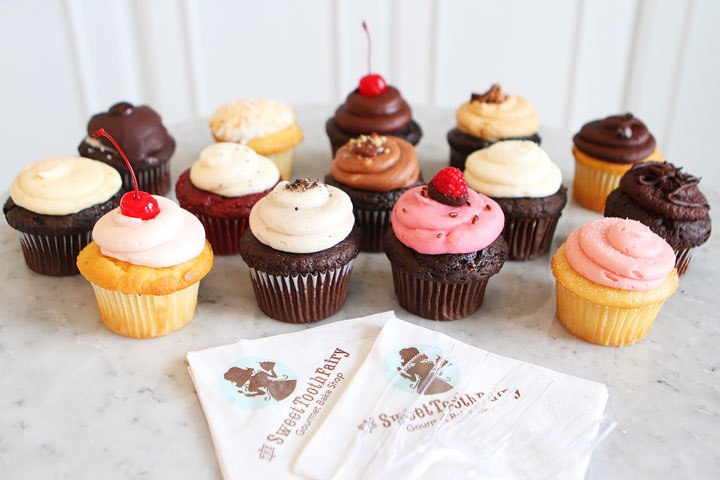 All the flavors sounded so delicious and unique. There was no way we could choose just one! :)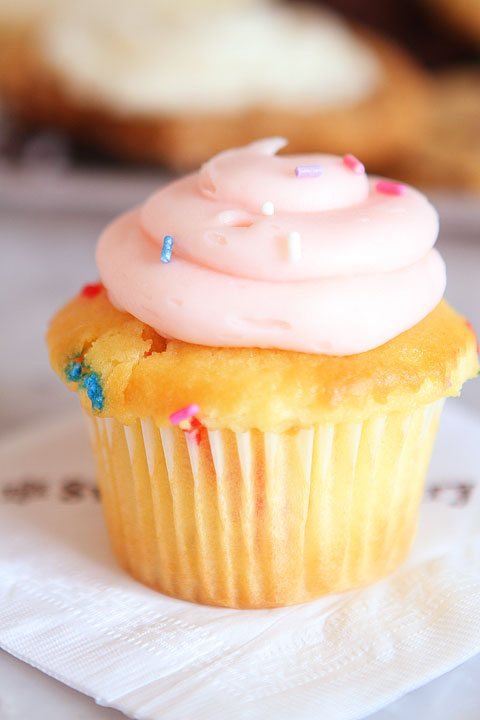 One of my favorites was the Strawberry Shortcake cupcake (bottom right). The frosting is flavored with real strawberries and it tastes like a strawberry milkshake! Yum! Also loved the Double Fudge cupcake (top right).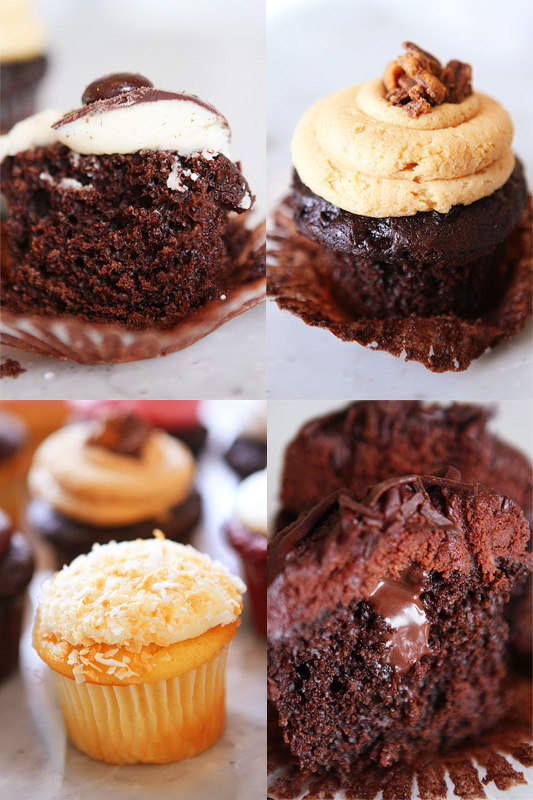 The Junior Mint cupcake (top left) was a special of the month. The frosting tasted just like the middle of a Junior Mint and was dipped in a hard chocolate shell like a dipped cone. Then it was all topped with a little Junior Mint on top. I LOVED the texture of the sweet, soft frosting paired with the crunch of a chocolate shell! All cupcakes need to be made like that. :) Another favorite was the toasted coconut cupcake (bottom left).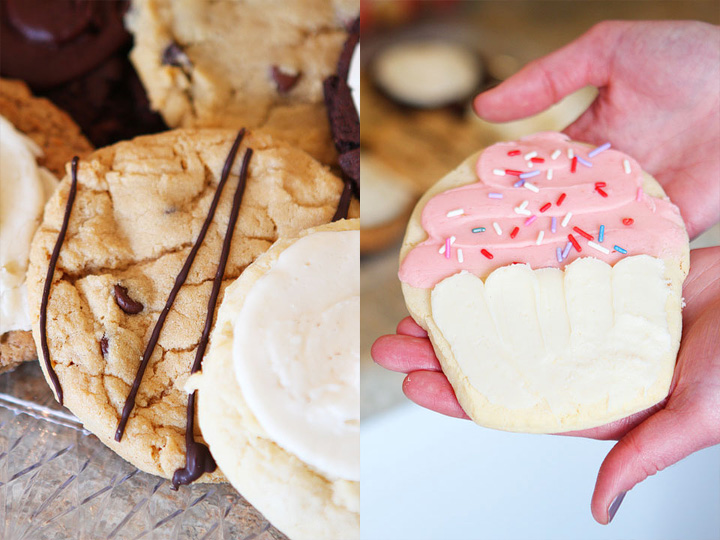 Look how massive their cookies are! They take two hands to hold them. :) Love that they are topped with frosting. :) This pink frosting on the cupcake is the strawberry frosting from the Strawberry Shortcake cupcake, and the white is an almond-flavored buttercream like on the vanilla frosted cupcakes.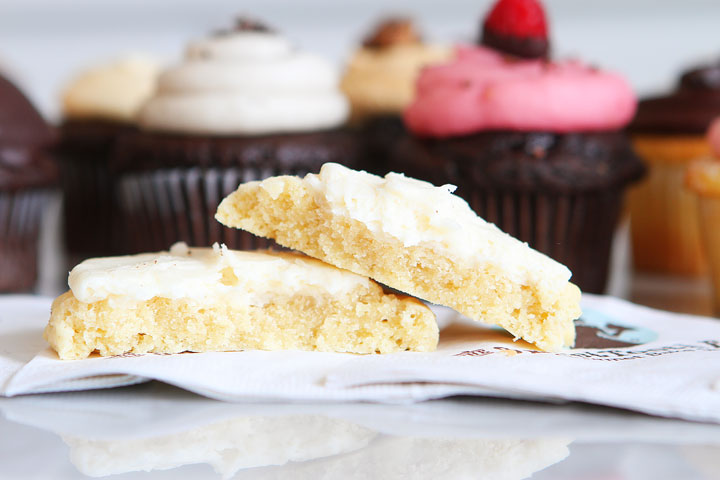 They are so soft and chewy on the inside!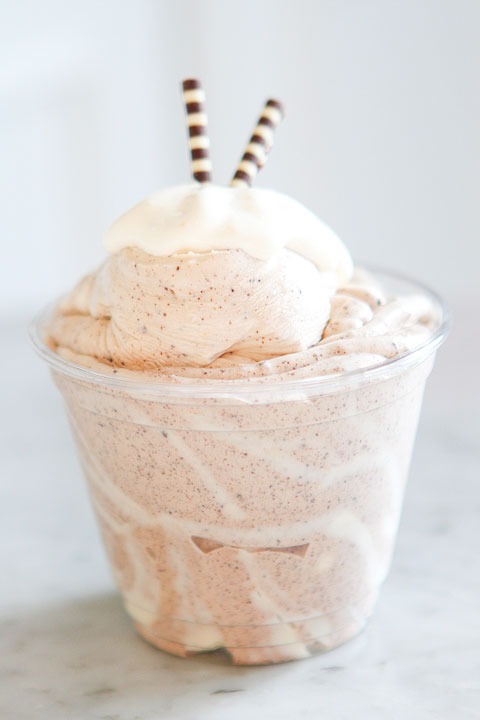 The Sweet Tooth Fairy also has the revolutionary "Cupshake" — a cupcake blended with a milkshake! You can pick any cupcake and they will mix it with ice cream to create a perfect cupshake. This decadent combo is a Chocolate Hazelnut Nutella cupcake blended with vanilla ice cream. Mamma mia!
I have now had My cupshake brings all the boys to the yard stuck in my head for over a week.
You're welcome.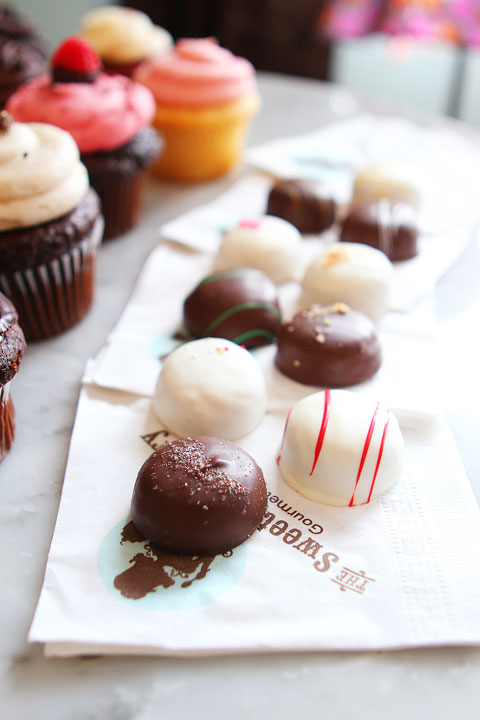 But my absolute favorite thing at Sweet Tooth Fairy was their Cakebites! It's no wonder that's what they're famous for! :)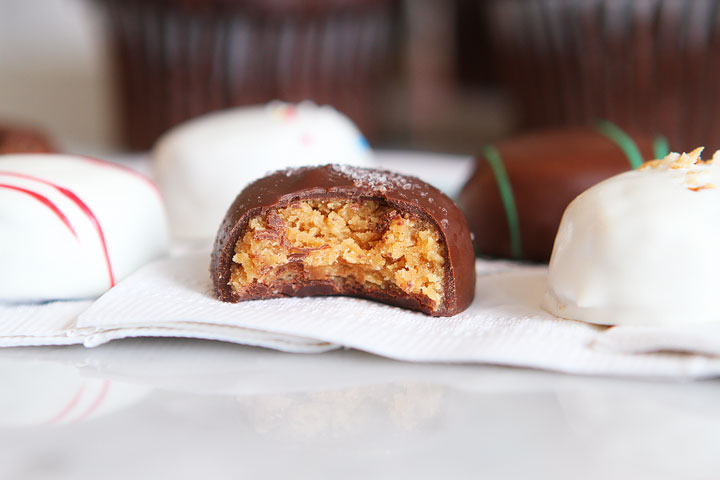 This Salted Caramel Cakebite was absolutely life-changing. Salty, chocolaty, caramely. Perfection. I could eat a whole box of these.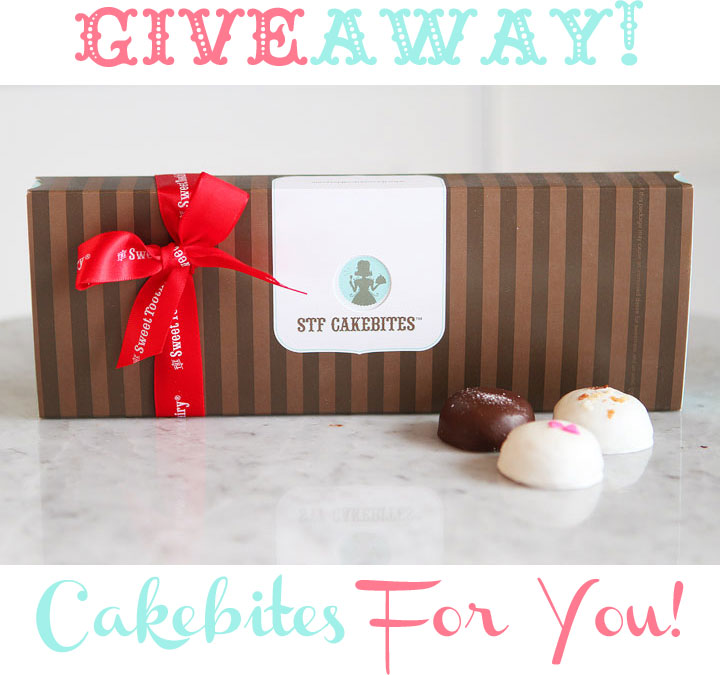 …which is totally what I recommend you do. ;)
Did you know you can order Sweet Tooth Fairy Cakebites online? Megan ships her cakebites daily anywhere in the continental United States. Since she knows you guys love sweet as much as I do (and it's totally unfair that you have to look at all these pictures and can't eat them too!), she's offering three Kevin and Amanda readers a dozen of her famous cakebites so you can have your own cakebite taste-testing party!! :) Yay! You can pick whatever flavors your heart desires. :) View flavors online here.
How to Enter
1. Three lucky winners will receive a gift box containing 12 cakebites in the flavor or flavors of your choice.
2. To enter, all you have to do is leave a comment this post. What's your favorite cupcake flavor combo? What's a flavor combo you'd LOVE to see in a cupcake?? :)
3. Contest ends Friday, March 8 at 11 pm CST. One entry per person, please. Winners must have a continental US mailing address. Winners will be chosen at random and notified by email. Giveaway provided by The Sweet Tooth Fairy.
4. Make sure you check out Maria's Sweet Tooth Fairy photos and recap of our day and enter her giveaway for another chance to win!
If you love cupcakes, Like us on Facebook! :)



Thanks so much for looking you guys!! Good luck!! :)
Time's Up!
The winners of the The Sweet Tooth Fairy Bakery Cakebites Giveaway are:
#168 candace: I had an ice cream cone the other day at Jeni's in Nashville with a scoop of salted caramel ice cream and a scoop of banana cajeta ice cream. The combo was amazing and it made me eager to mix those two flavors together soon when baking!!
#487 Debbie Armend: I am definitely going to have to schedule a trip to Salt Lake City. This bakery looks AMAZING!! Thanks so much for always sharing the sweet treats with us :) You can't go wrong with Dark Chocolate with Mocha frosting!
#762 Abby: That strawberry frosting sounds incredible!
Congrats winners! I've sent y'all an email! :)