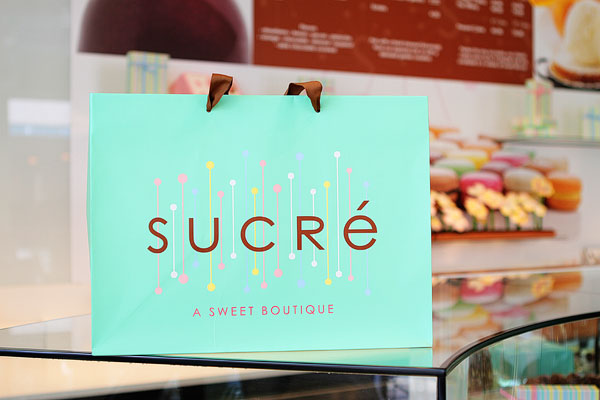 My first minute in New Orleans was just a touch frantic. My flight landed at 10:30 am, and I'd called ahead to the Bourbon Orleans to make sure I could check in early so I could shower before everyone else got there. I'd been up since 4 am you see, because would you believe there are no direct flights from my airport in Alabama to New Orleans? I thought for once — Yes! I will have a direct flight! No changing planes! No schlepping my bags all over the airport! No almost missing my second flight! Surely there had to be a direct flight, right? I mean I'm so close, I could almost drive there.
But sadly, it wasn't in the cards. No direct flights. I had to connect through — I'm still wondering about this one — Houston??! In case you hadn't guessed, I'm about twice as far away from Houston as I am New Orleans. Anyway. Oh, and the only flights I could find at all were at 6 am or 6 pm. I could get up and go to the airport at 4 in the morning, or I could arrive in New Orleans at midnight. For some reason, now unclear to me, I chose 4 am. But I certainly wasn't showering at that hour.
The first thing I did upon checking in (before showering, which I sorely needed) was reach in my camera bag to snap a few photos of the room. And the lovely counter space. And the delicious beds. And that's when I saw it. I'd left my beloved 24-70mm lens at home. After a minor freak out (and running a few circles around the room), I started calling every camera store in New Orleans, starting in the French Quarter and working my way out to see if anyone had a lens they could rent me for the week. About the 10th store I called put me on hold for what seemed like an eternity while I silently begged and pleaded for them to have my lens. Or not so silently. I was on hold, right?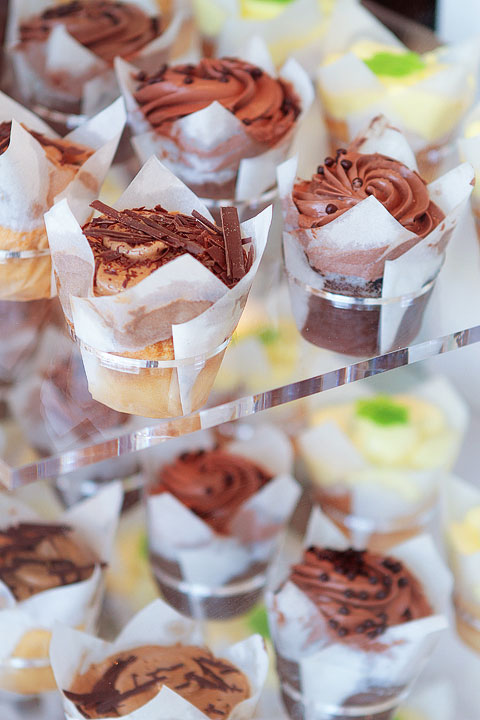 A $30 cab ride from Hades later, I had my lens for the week. All was well again. And there, right next to the camera store, (as luck would have it) shining like a mirage in the dessert was Sucré.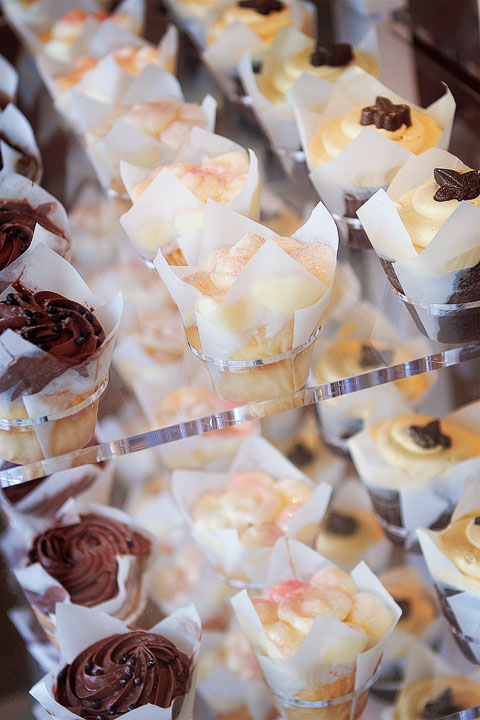 I'd heard about Sucré from a reader, Tara, who blogs at Three Guys on a Mission. I love the comment she left for me. She starts off, "Oh, and because I know you NEED to know where the good cupcakes are…" and goes on to mention a few bakeries and must-see restaurants in New Orleans. Oh Tara. A woman after my own heart. I knew I had to check out Sucré.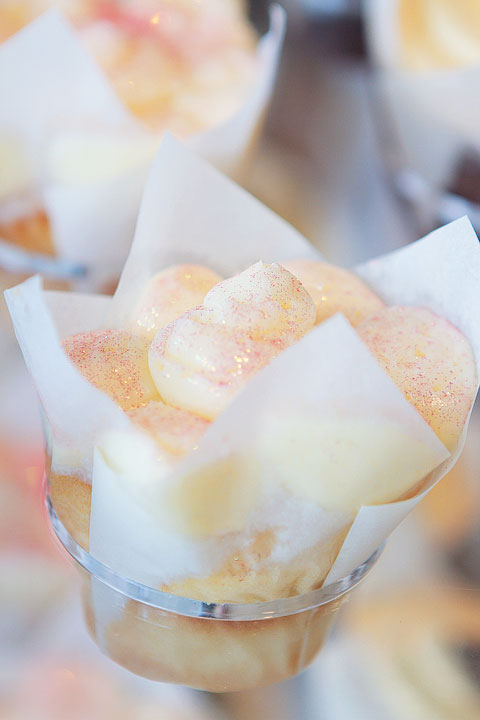 I was not disappointed.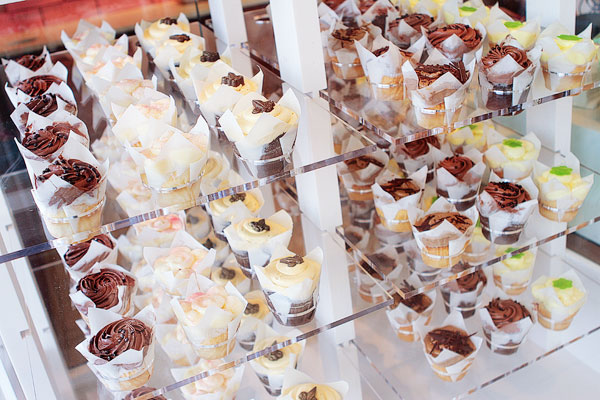 How darling are these cupcakes?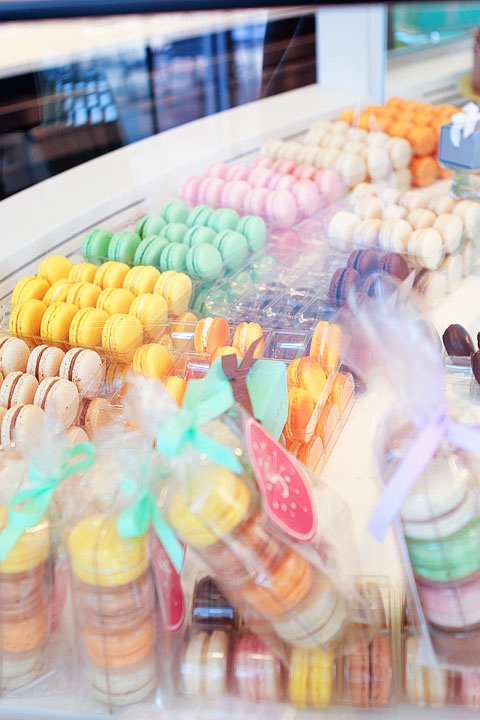 But that's not all… macarons!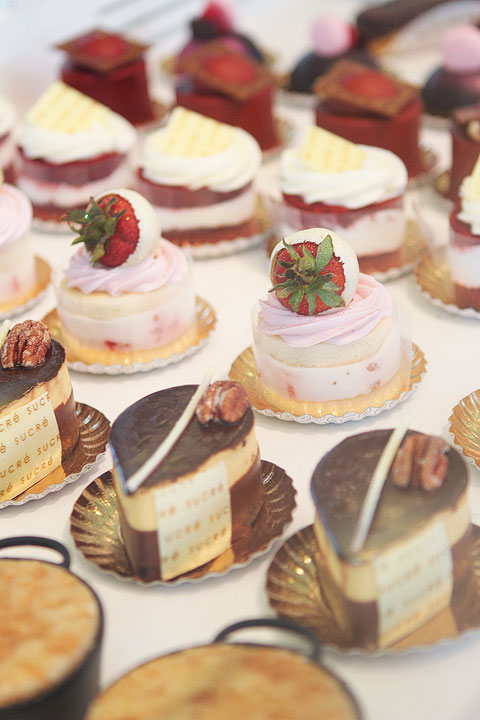 Adorable cakes!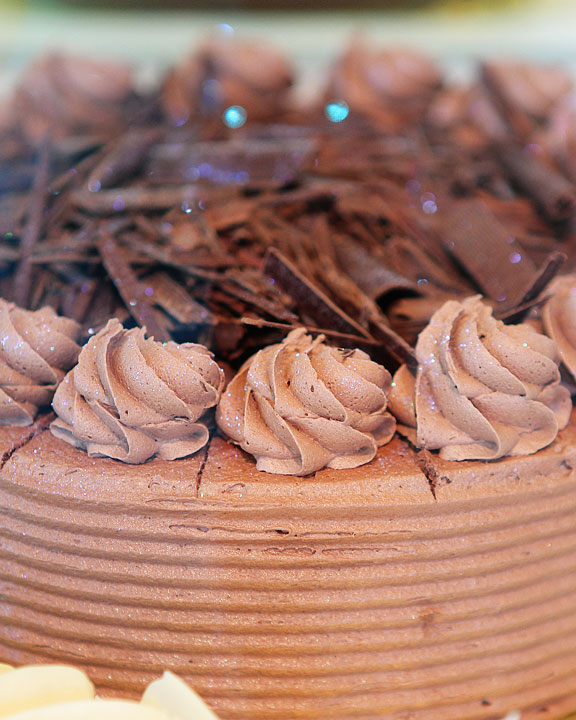 Decadent amounts of chocolate!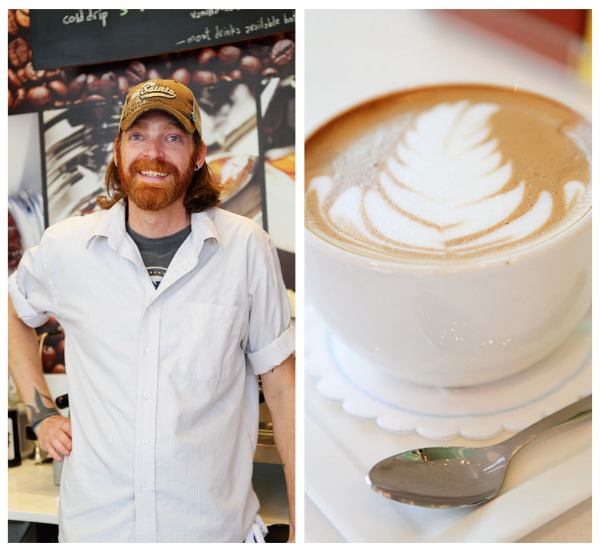 And even a coffee bar, with a barista specializing in coffee art. My latte was a masterpiece. I wanted to order ten.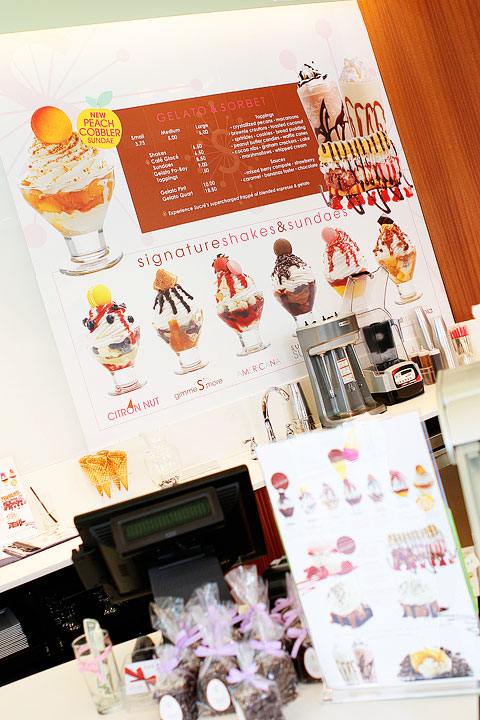 The even had these. Gelato. Sorbets. Shakes. Sundaes. Tons of flavors. I wish I'd had more time to spend in Sucré. I think I could live there, it has every food group: cupcakes, macarons, gelato and chocolate.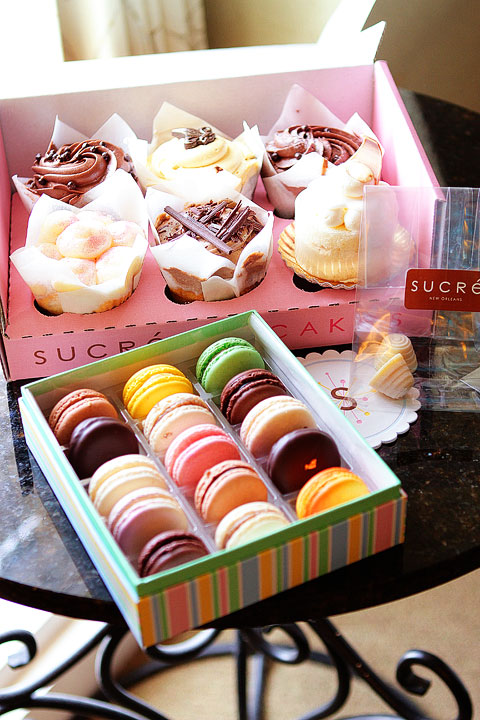 But I did take a giant bag of treats back to the hotel with me to share with Jenny and the other gals when they arrived. Somehow our room always ends up with treats!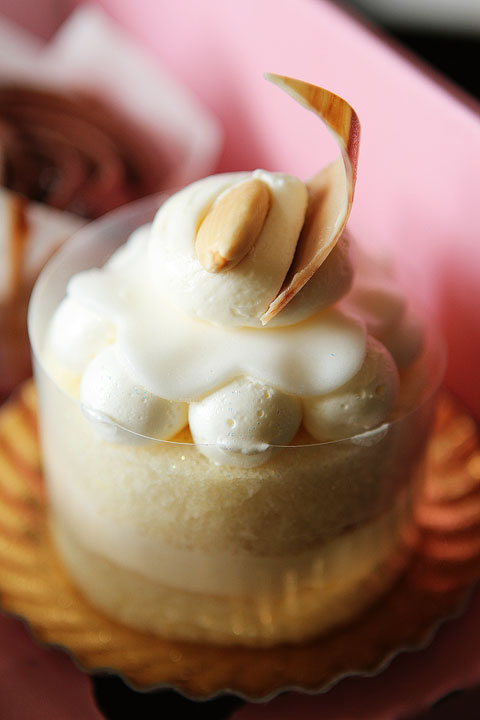 Like this beautiful mini vanilla cake with almond buttercream.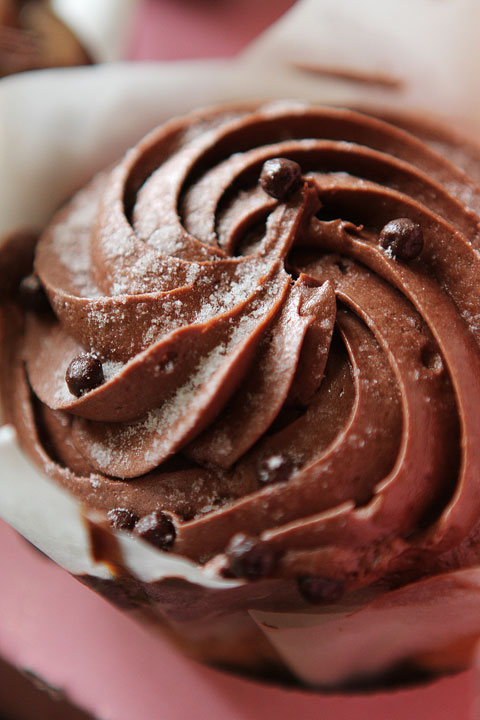 And this gorgeous chocolate cupcake. What is that delicious looking snow-like powder dusted on the frosting?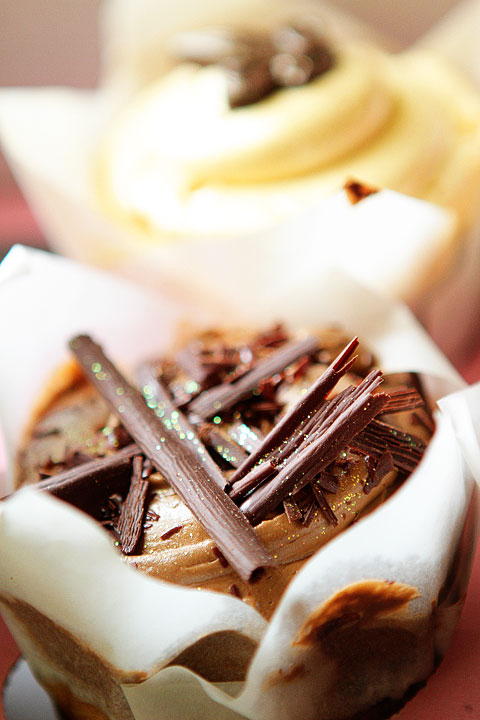 Glitter + Cupcakes = A thousand times yes.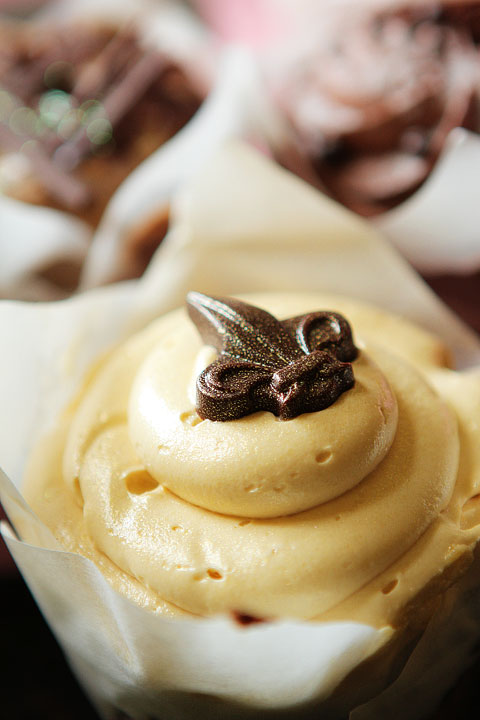 This hazelnut buttercream was the hands down winner.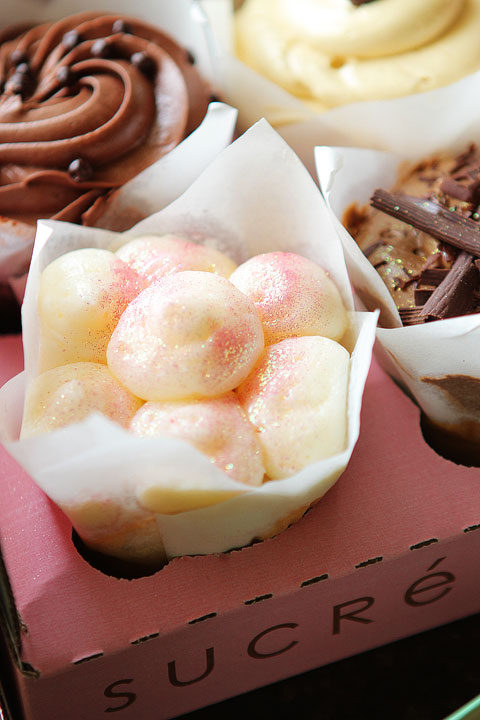 I'm not a huge fruit dessert person, but I couldn't pass up this pink strawberry cupcake.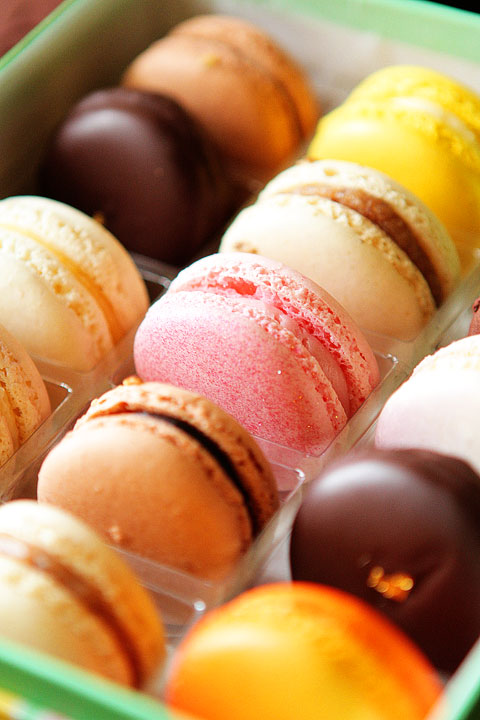 And oh, the macarons.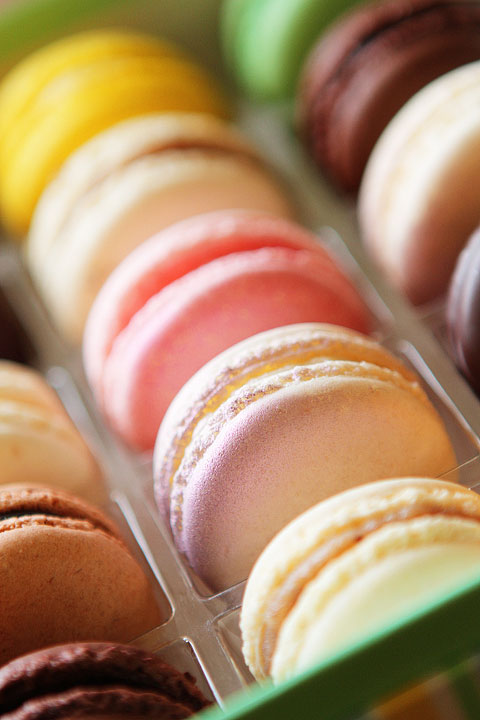 Hello gorgeous! This honey lavender macaron was my favorite.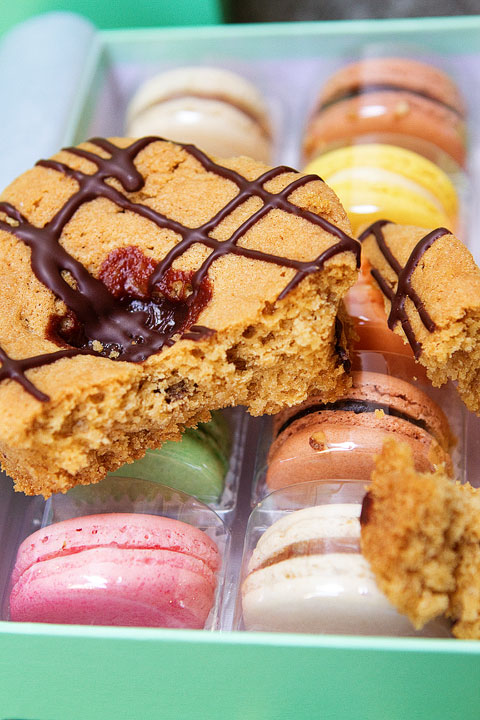 Photo via Marla Meridith
This Dark Chocolate Caramel Cookie was probably my favorite of all the treats. I can't even describe it. But you can order one.  Which I highly recommend.
Here's the link to see more from this delightful bakery: Shop Sucré