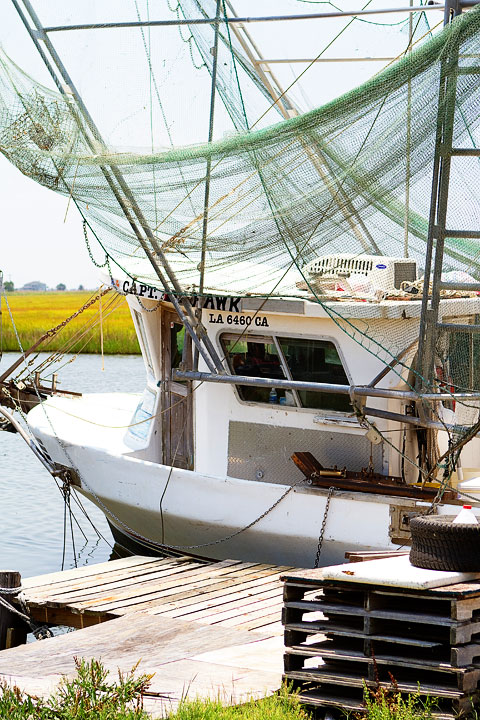 Photo via Marla Meridith
One of the first adventures on our 6-day seafood experience with the Louisiana Seafood Board was a trip to Pontchartrain Blue Crabs fisheries in Slidell, LA. We met with local fishermen and got a first-hand look at how much hard work and care goes into the jobs behind the Louisiana seafood industry. We also got a chance to sample some seriously delicious freshly caught gulf seafood!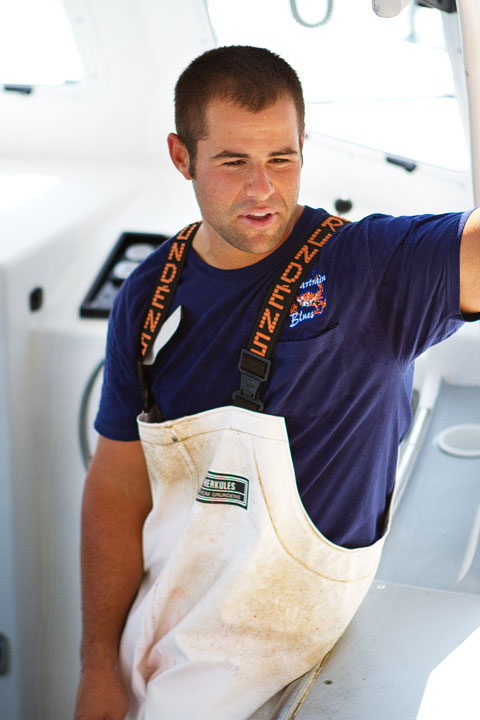 Photo via Marla Meridith
Here was our captain for the day. Did I mention he was also a fireman?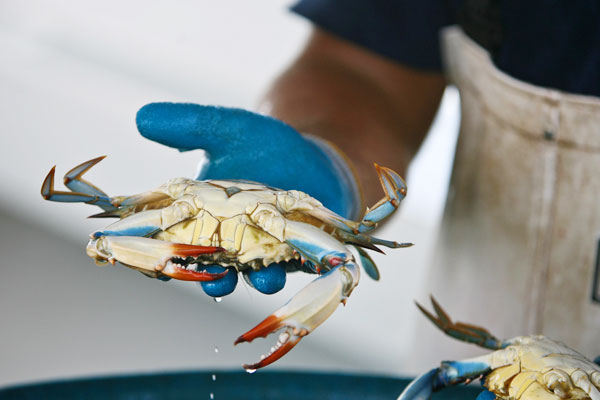 Photo via Kerry Maloney / Louisiana Seafood News
We took a ride on the boat around Lake Pontchartrain (an area hit hard by Hurricane Katrina) and collected baskets of fresh blue crab.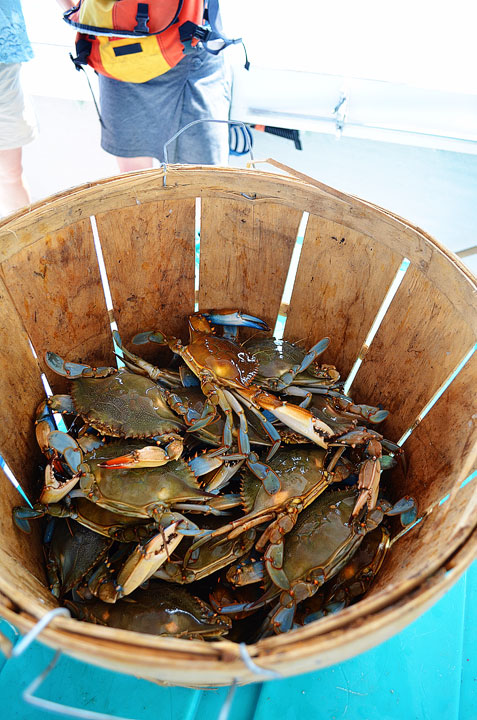 Photo via Maggy
Here's our catch!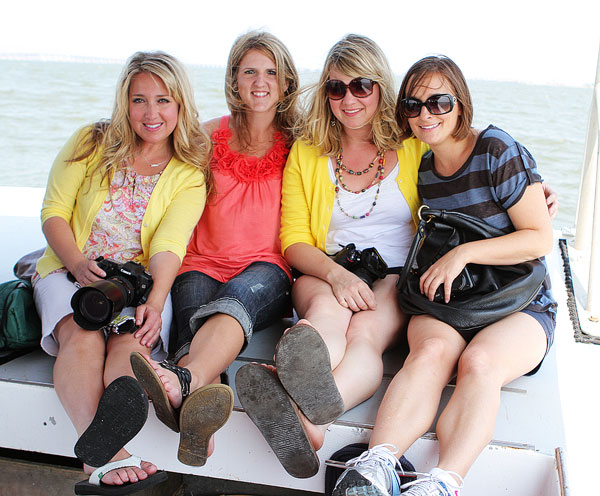 The experience was made so much sweeter by spending it with a great group of fellow food bloggers. Even though I was meeting some for the first time, the camaraderie between food bloggers is truly unique. They are so kind and open. I believe food really does bring people together.
I knew these cuties before.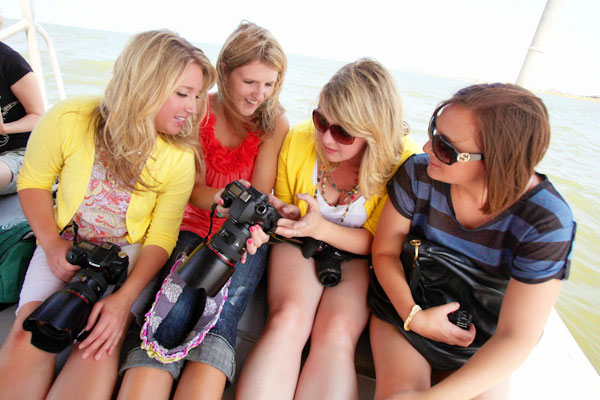 Photo via Kerry Maloney / Louisiana Seafood News
Definitely one of the best parts of the trip was chatting and sharing tips with my fellow blogging friends.  It wouldn't have been the same without them.
And sharing photos! Maggy, Jenny, Marla and I all swapped photos at the end of the trip. It was so much fun going through their photos when I got home and reliving the week through their lenses. I would've never thought to capture some of the angles these talented ladies got.
By the way, if you'd like to read a great summary of why we were in Louisiana, check out Brooke's recap of our trip. Seriously talented writer here.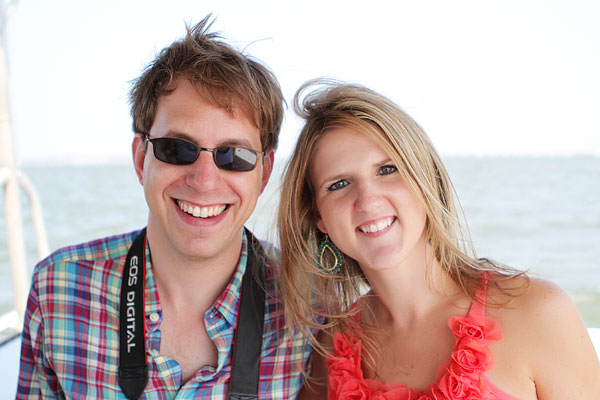 Orrr if you'd just like to skip to the embarrassing photos of moi, head on over to Adam's post at his blog, The Amateur Gourmet. Yes. That would be ChiChi and Pim laughing at me in the background. Oh dear.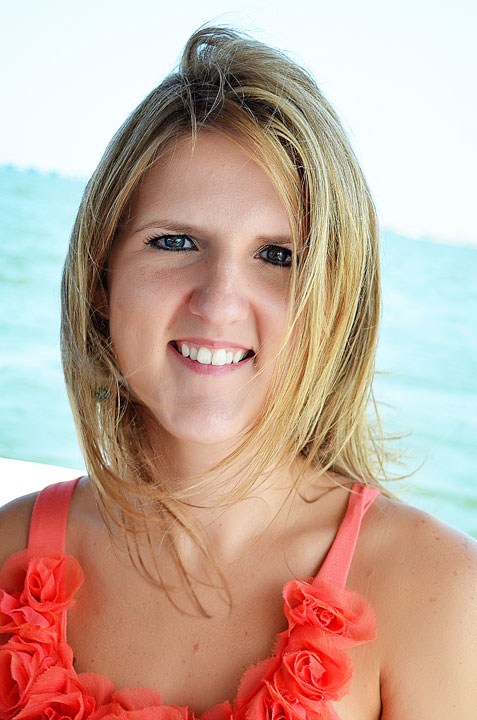 Photo via Maggy
Here's a photo Maggy snapped of yours truly. I had to post this one to get Adam's photo out of your head. This is what I look like all the time, okay? Tangled hair and all. Just so we're clear.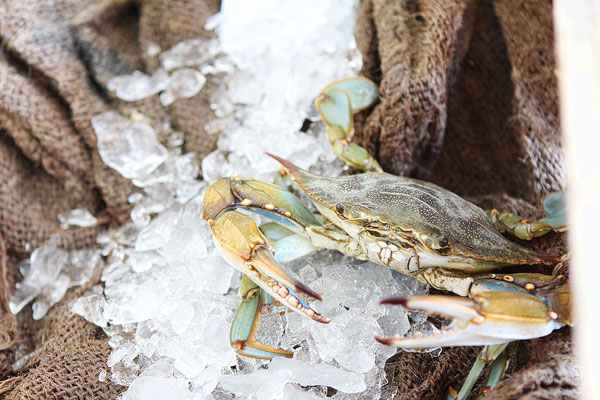 Photo via Jenny
But back to the seafood, here folks! This was one feisty little crab, wish I could've taken him home with me!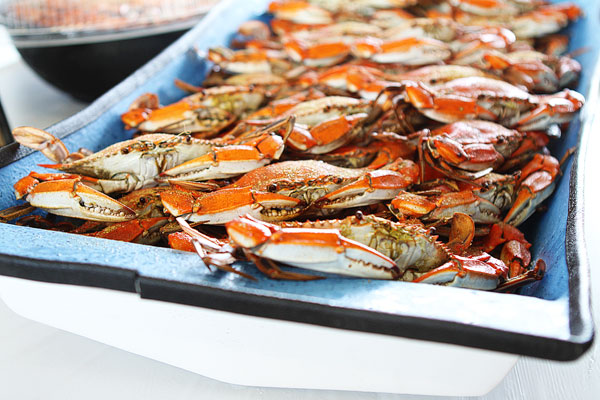 Photo via Jenny
When we got back from our morning on the boat, the kind folks at Pontchartrain Blue Crabs had prepared a giant feast for us. There were whole crabs, crab claws (Kev's favorite) and crab legs as far as the eye could see.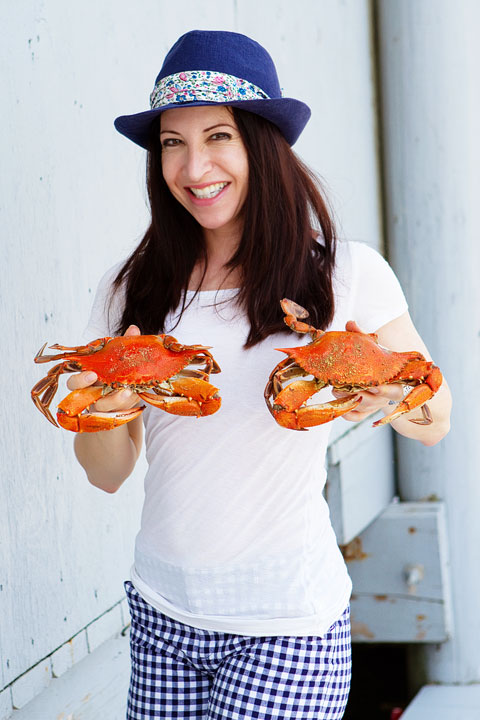 Photo via Marla Meridith
I love this cutie. This is Marla, the talented writer and photographer behind Family Fresh Cooking and also several of the brilliant photos you'll see in this post. I actually snapped this photo (since her hands were a little full at the time), but it was with Marla's camera, which happens to be the exact same setup as mine — same body, same lens. I fretted for days on how to credit that one.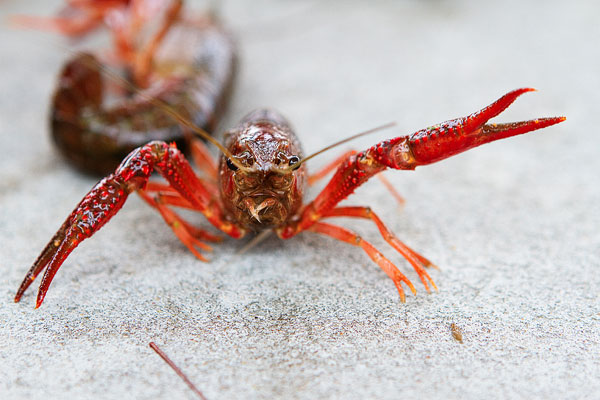 Photo via Marla Meridith
Hello Mr. Crawfish!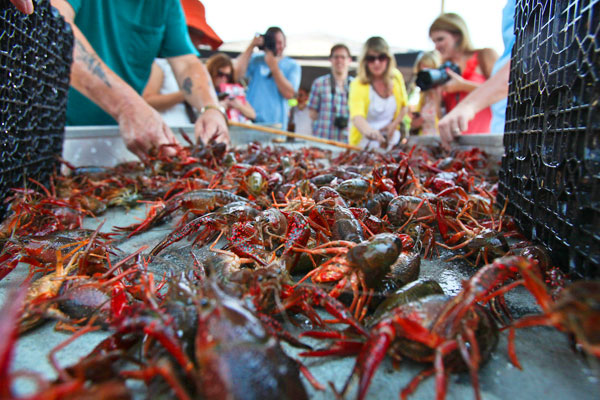 Photo via Kerry Maloney / Louisiana Seafood News
Our next excursion took us to an authentic Louisiana crawfish boil. What an incredible experience this was, I'm so glad Blake (our fabulous host for the trip) and the LA seafood board arranged it for us.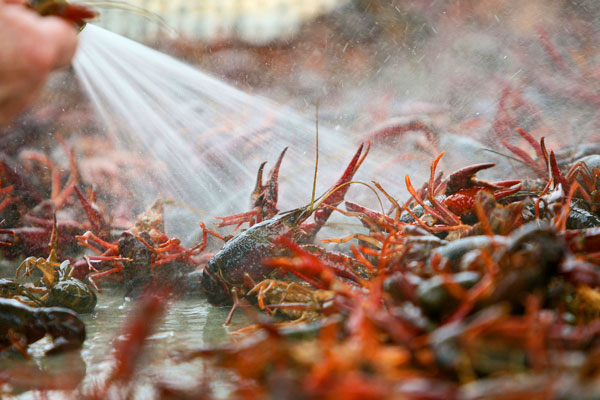 Photo via Kerry Maloney / Louisiana Seafood News
These guys are about to be our lunch! But first — a bath.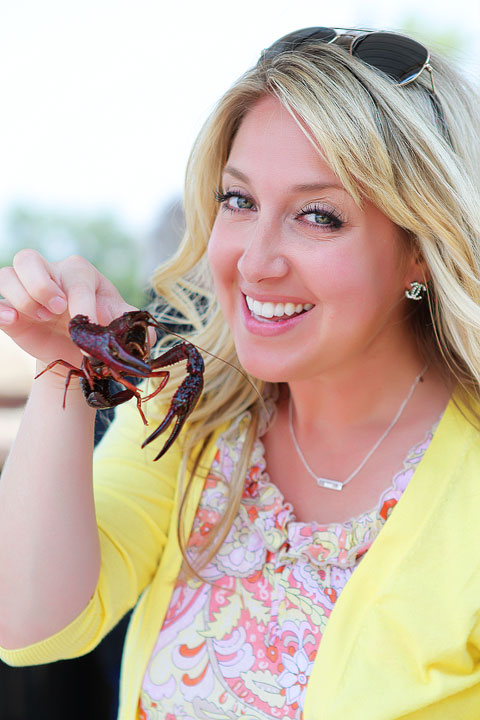 We got such a kick at these cute critters, who were still alive at this point…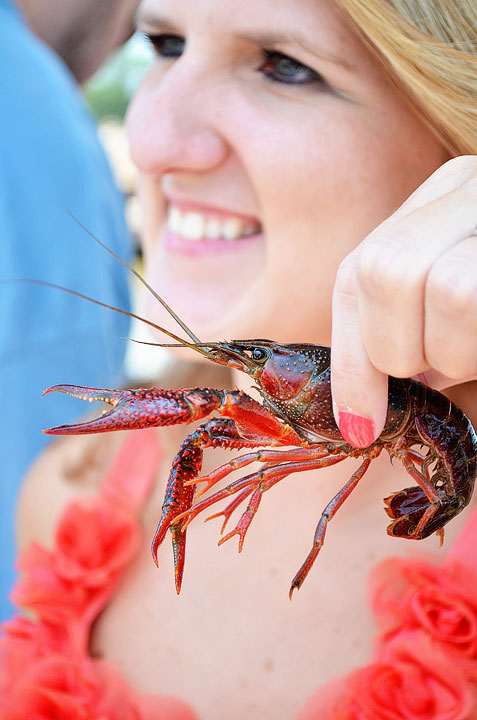 Photo via Maggy
Although I was unsure if I actually wanted to eat one!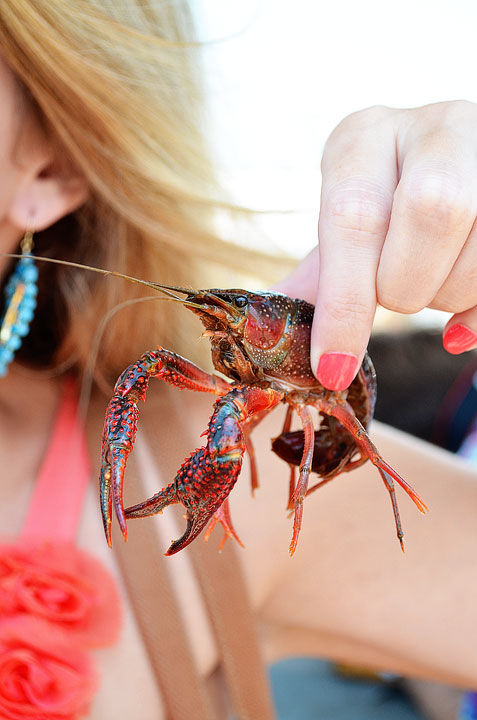 Photo via Maggy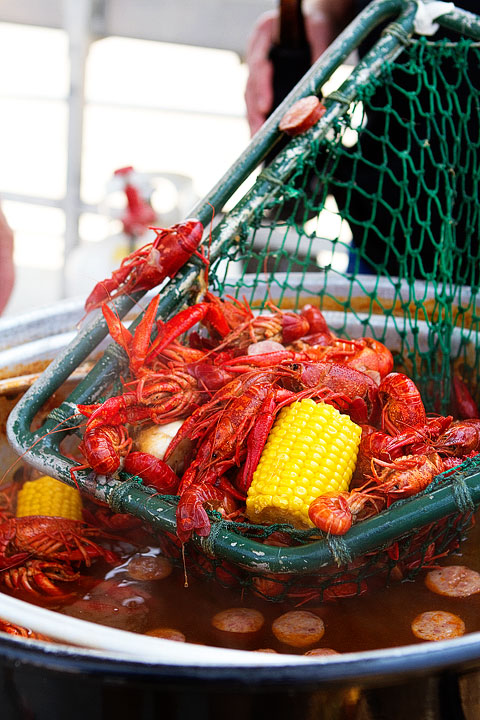 Photo via Marla Meridith
But after it was all said and done, this might have been one of my most memorable meals from the entire trip.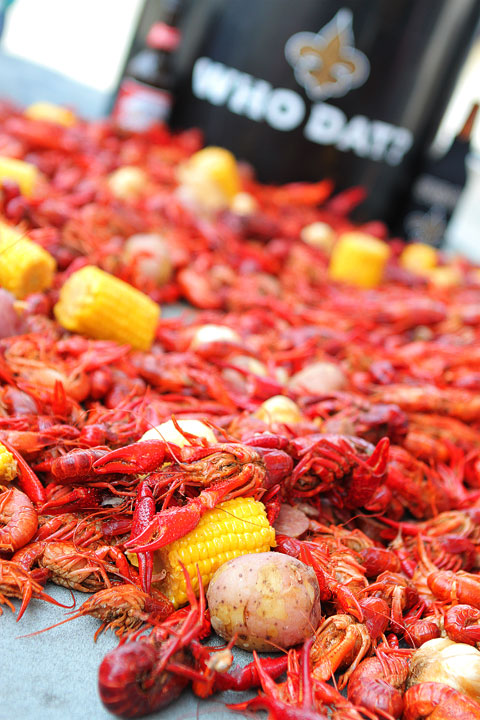 Corn on the cob and red bliss potatoes were boiled with the crawfish, along with full heads of garlic and tons of seasoning which left the entire dish exploding with spice and flavor. Oh, and did I mention there's andouille sausage in there too? Be still my heart.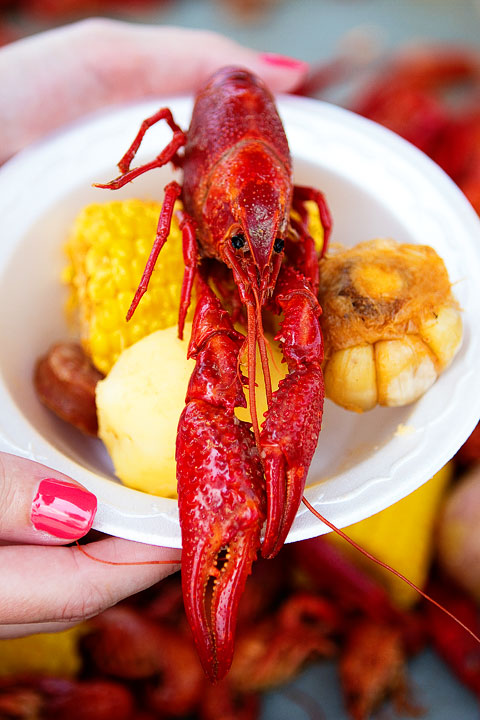 Photo via Marla Meridith
I even got a lesson on how to properly eat a crawfish. Pinch the tails, suck the heads. Guess which one of those I did not do.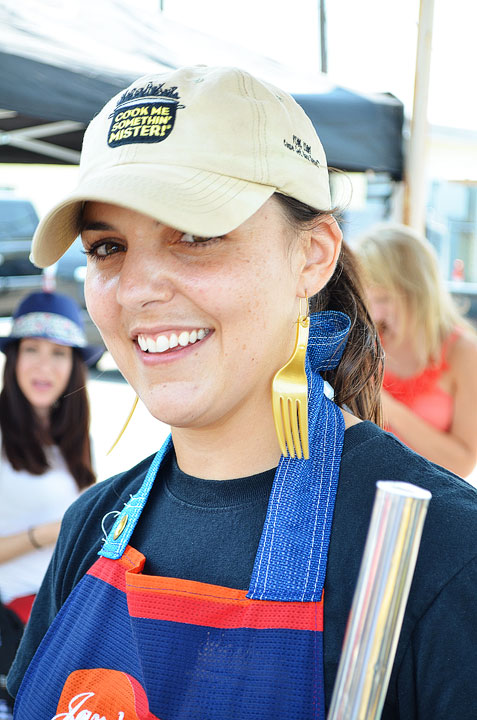 Photo via Maggy
We were also treated to family-style jambalaya, courtesy of local celebrity Kristen Preau, aka Jambalaya Girl. Loved her fork earrings!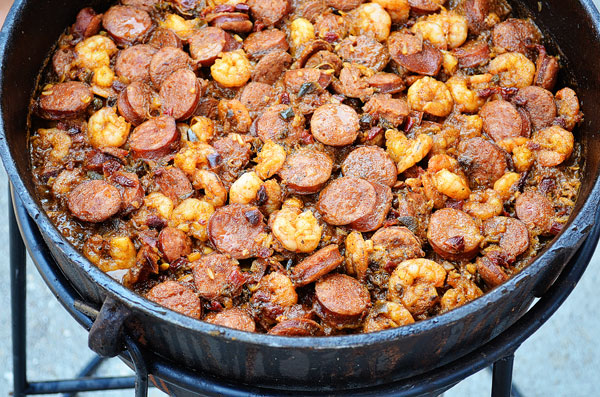 Photo via Maggy
Here was the huge cast iron pot of chicken, shrimp and sausage jambalaya Kristen made for us hungry bloggers with her signature jambalaya mix.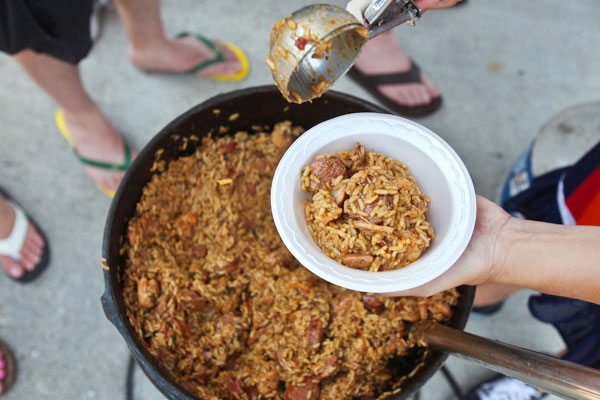 Photo via Kerry Maloney / Louisiana Seafood News
Another unforgettable experience! Jambalaya is one of my favorite meals and this did not disappoint.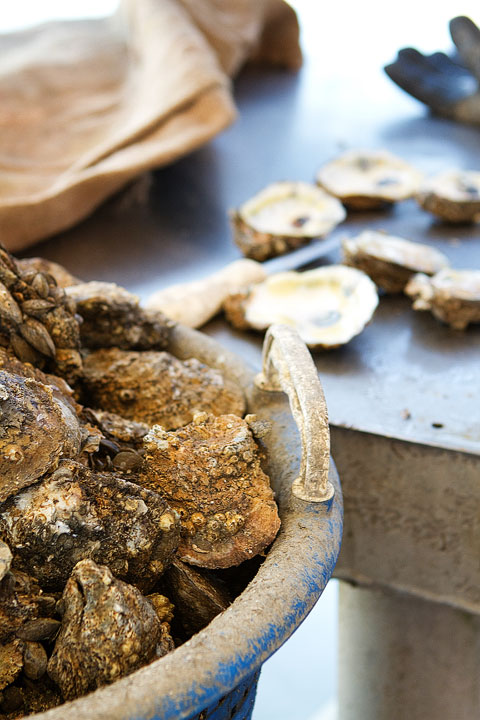 Photo via Marla Meridith
After our lunch of crawfish and jambalaya we took a quick trip to Hopedale, Louisiana to the docks off Delacroix Highway to meet a fourth-generation oysterman.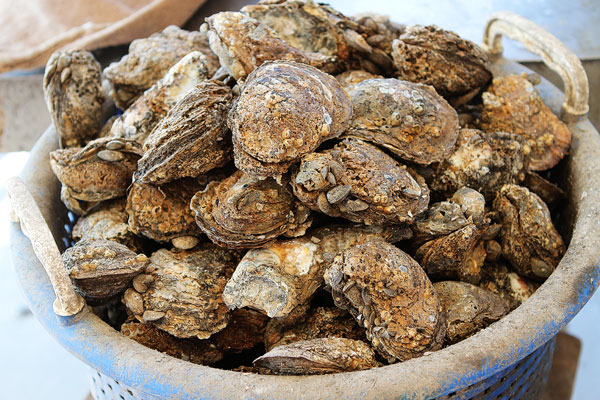 We stepped on the oyster boat and saw their bounty — sacks of oysters waiting to be unloaded.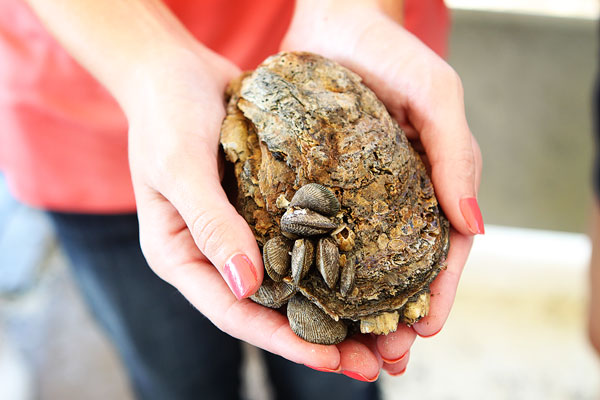 Photo via Jenny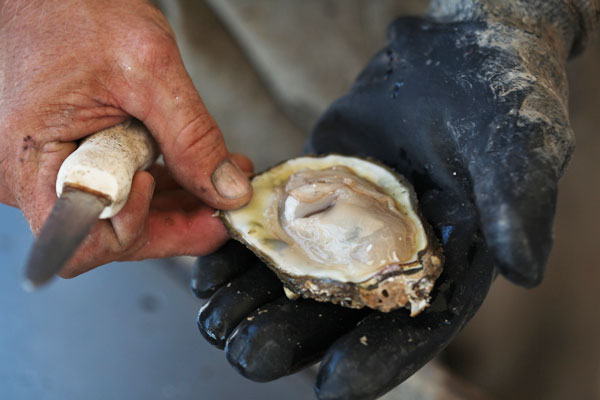 Photo via Kerry Maloney / Louisiana Seafood News
If you love raw oysters, these are as fresh as you can get 'em. This one was straight from the Louisiana bayous.
If you'd like to see the settings, cameras and lenses Jenny, Marla, Maggy, and I are using here, you can click on the photos above for all the details.
Lots of love!
Amanda