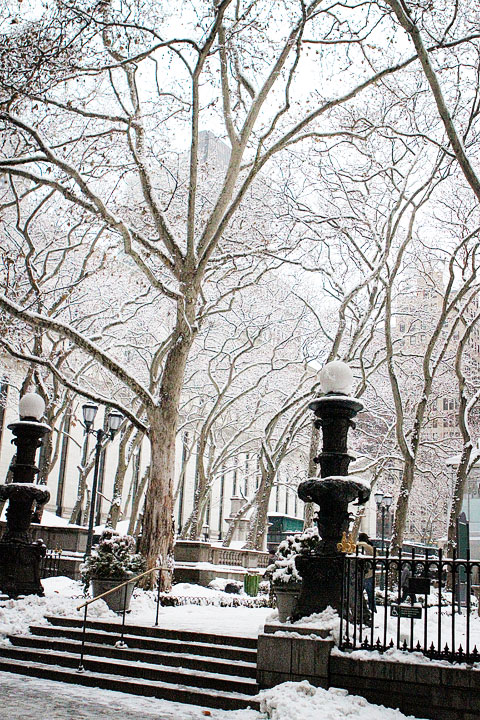 Break out the yoga pants my friends, because our last day in beautiful, blizzardy NYC is all about the cupcakes! From where to find the BEST cupcake in NYC to a fun quick trick for gorgeous NYC-style frosted  cupcakes, this post covers it all.
Be prepared, the following photos come with a warning label… majorly decadent, extremely indulgent sugar overload ahead! No less than 7.36 units of virtual poundage will ensue.
Commence with the cupcakes!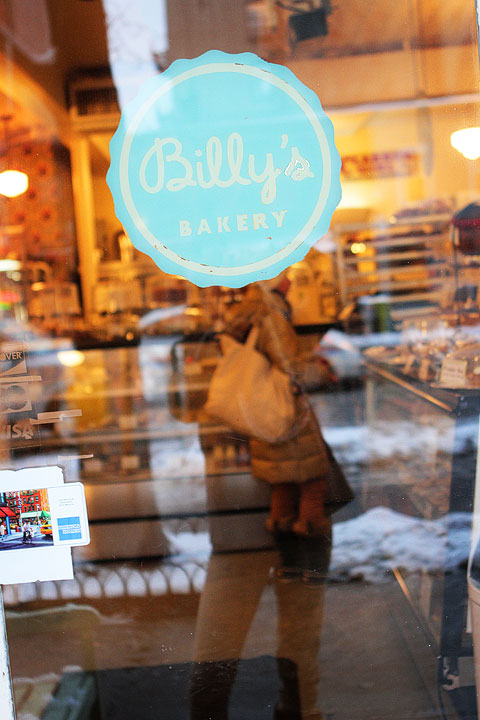 After brunch Jenny, Maria, Lori and I rushed back to the hotel, changed into warm, comfy city clothes and smooshed our four bundled booties into the back of a cab headed for Chelsea.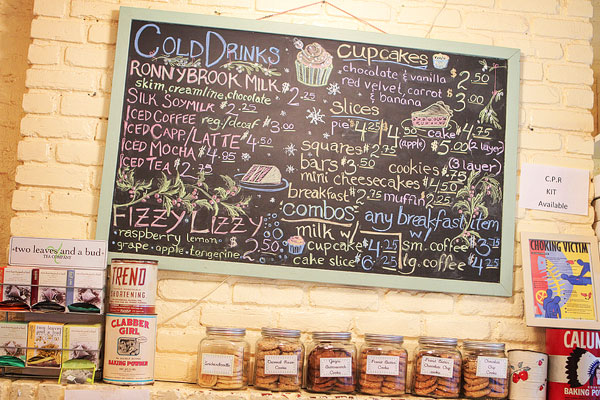 Our first stop was Billy's Bakery, what a cute place this was.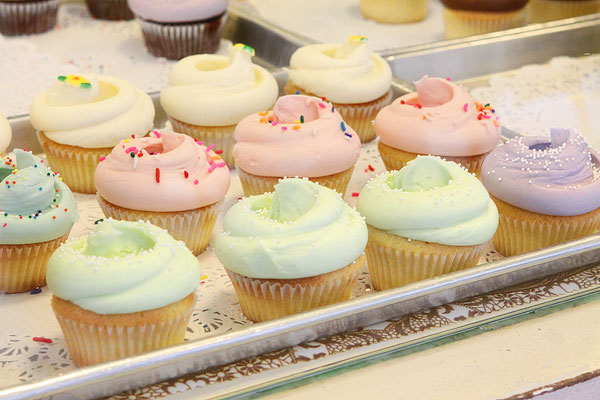 Photo via Jenny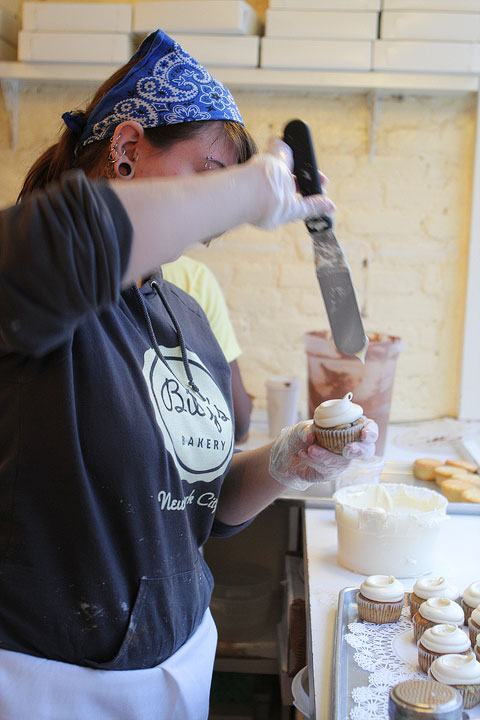 We loved their gorgeous, casual cupcakes, and the way the girl was effortlessly frosting them had us all intrigued.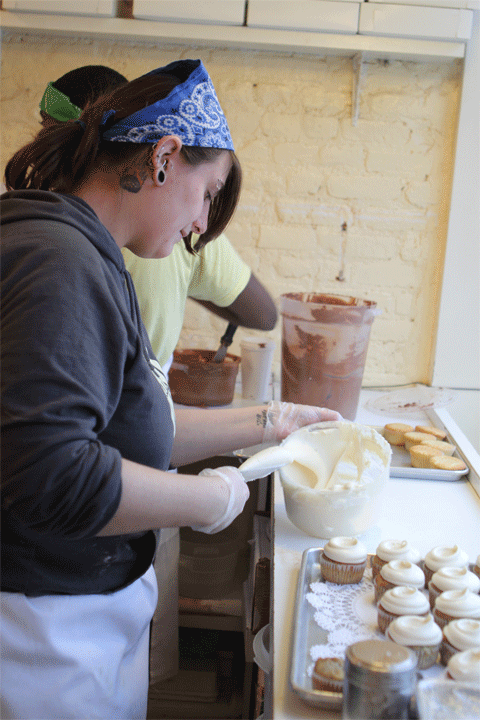 Press the ESC key to pause animation.
She starts by dropping the frosting onto the cupcake, twirling it around, then finishes it off with a jaunty smash, swirl and schmoop! A perfectly prodigious cupcake every time.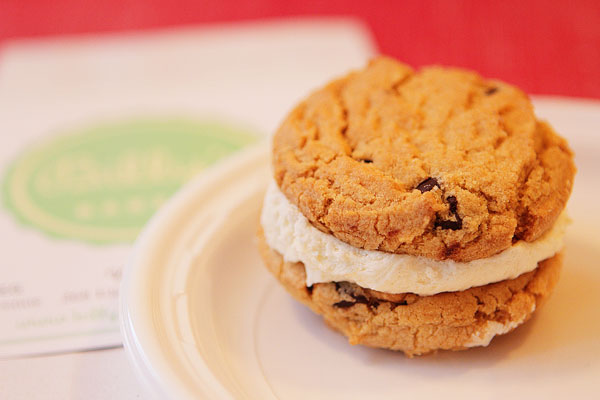 They also had a few other tempting treats.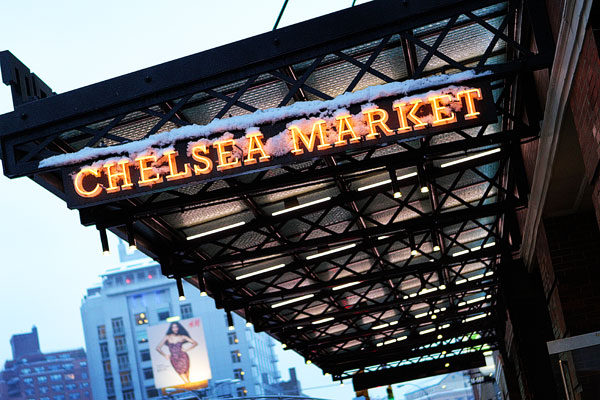 We made our way over to Chelsea Market, home of the Food Network offices and test kitchens.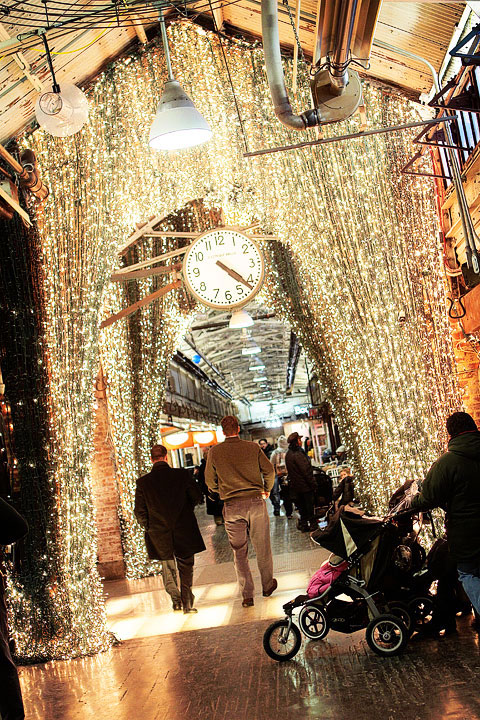 I am absolutely in love with Chelsea Market, it is so gorgeous!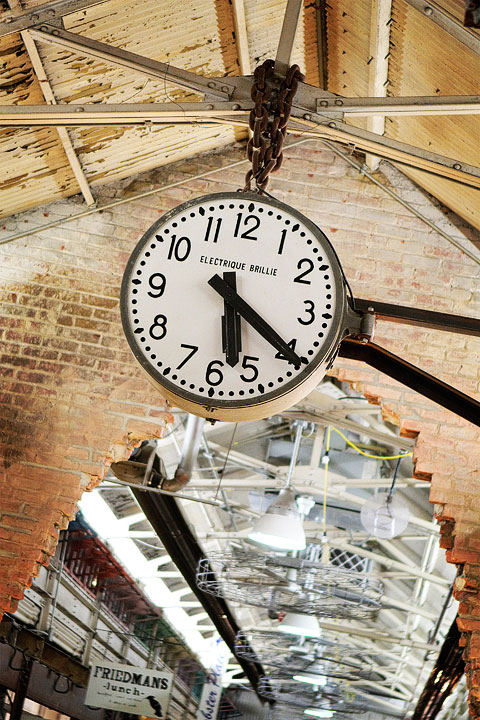 This place with all its unique shops are a definite must-see.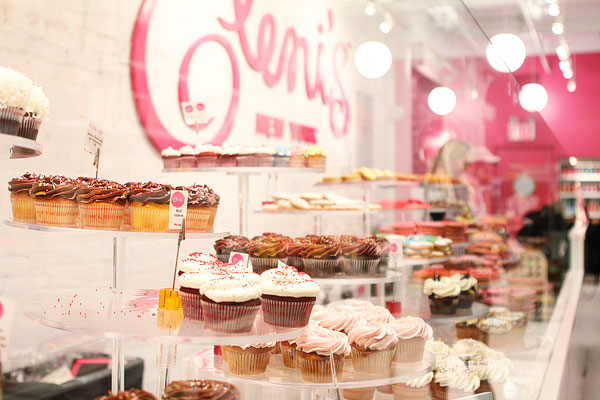 Photo via Jenny
Chelsea Market is also home to Eleni's Cupcakes. You guys remember Eleni's right?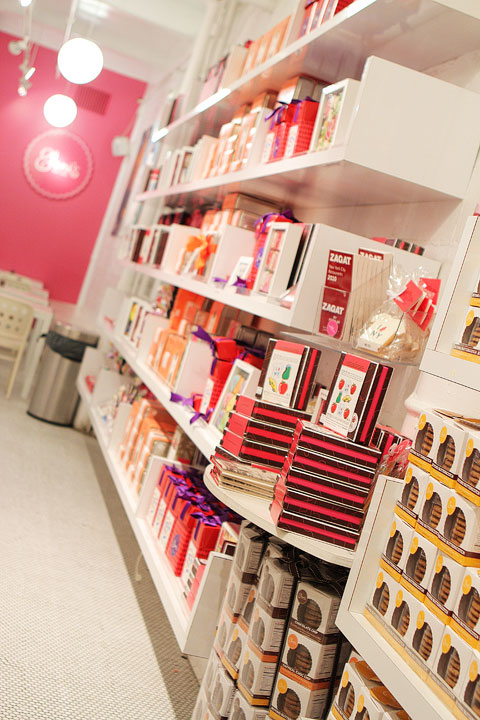 AKA Heaven. The Mothership. Bliss.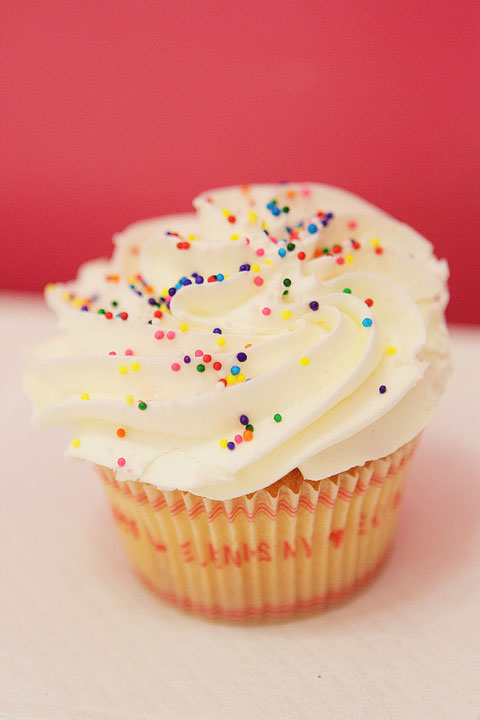 These cupcakes are, unequivocally, my favorite cupcakes ever. That frosting. It is the frosting to which all frostings are now held accountable. I dream about it. I need a dozen of these right now.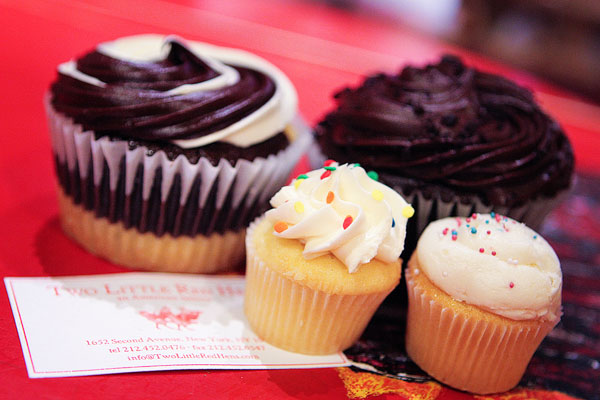 Although I did find a new cupcake this trip that comes exceptionally close. These cupcakes are from Two Little Red Hens on the Upper East Side. You know. Where Gossip Girl lives. See that mini vanilla sprinkled cupcake in the middle? Very, very good. If I'd known how delicious it was going to be, I would've definitely gotten the full-sized version, as I immediately inhaled this mini one.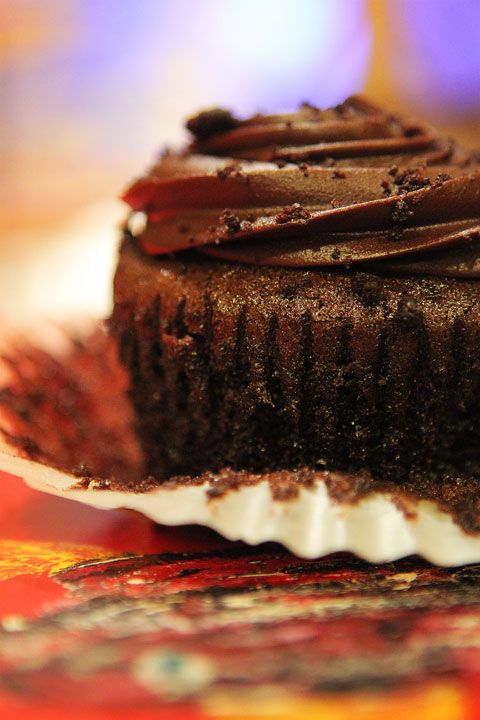 This extremely decadent chocolate cupcake was also a crowd favorite.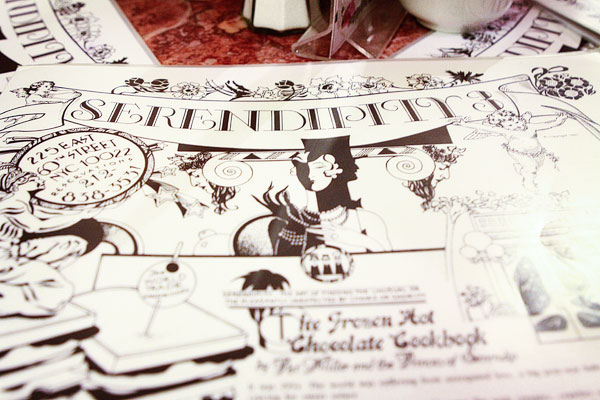 Photo via Jenny
Our last stop of the day was the ever famous Serendipity. What a funky little place this is!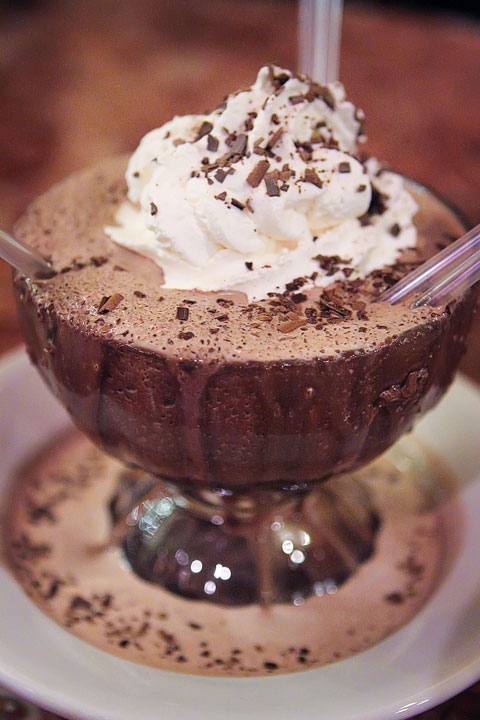 I have been wanting to try their frozen hot chocolate for forever. Literally forever. No really, since like, the beginning of time. Jenny and I tried so hard to get in last time when we were in NYC over the summer, but the wait was over two hours and they had no available reservations for two weeks.
After waiting in anticipation for so long, and having such an unbelievable day of blowing through bakeries left and right (we hit five in one short afternoon), I was a little worried and wondered if we'd be disappointed…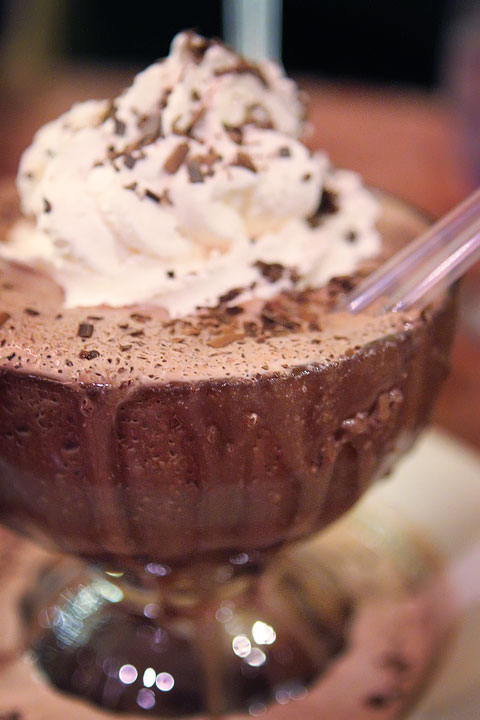 Let me just say this. After a day filled with sugar-overload from some of the best bakeries in New York…
This. Did. Not. Disappoint.
It was incredible. It was gorgeous. It was delicious. It is worth the hype.
And we ate the whole thing.