I had the time of my life Celebrating my Birthday in New York City with my friends! Check out all the amazing food and fun I had during my weekend in NYC!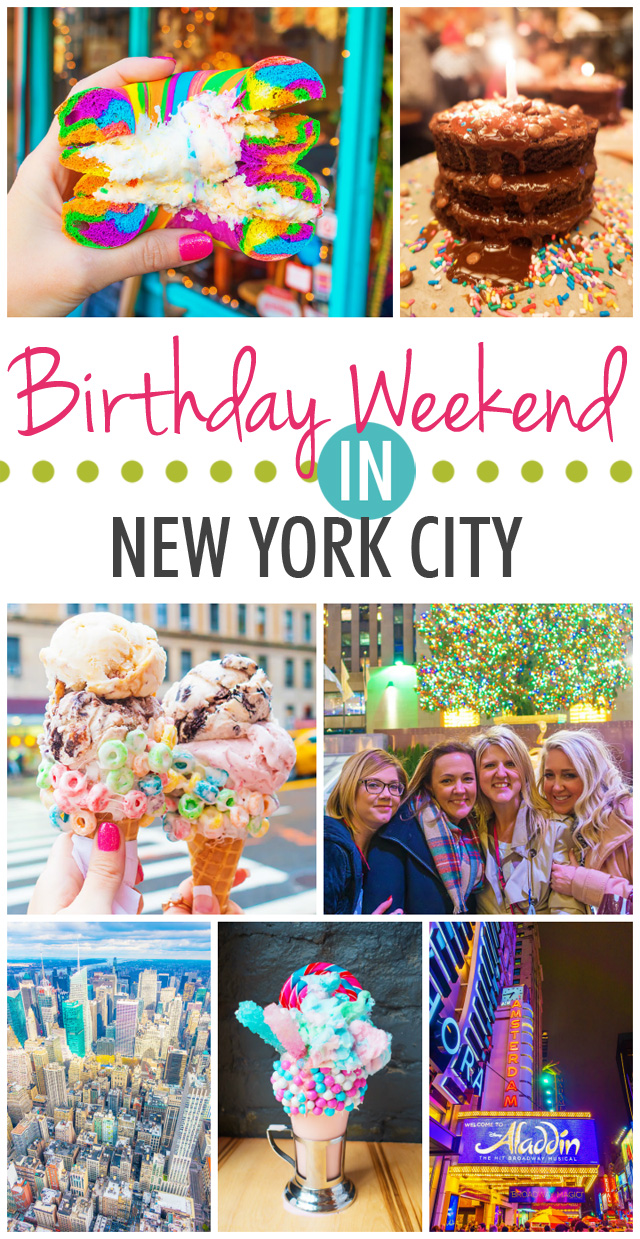 Birthday Weekend in New York City
This year for my birthday three of my most favorite friends met me for an unforgettable weekend in New York City. I had so much fun spending this special birthday in such a fun place with such amazing friends! We spent the weekend running all over the city hunting for the best, craziest, most decadent food NYC has to offer. Put on some stretchy pants and come see what we found!!! :)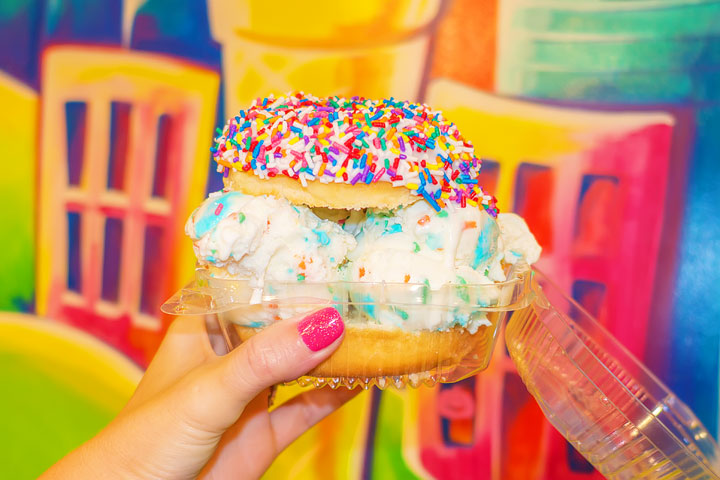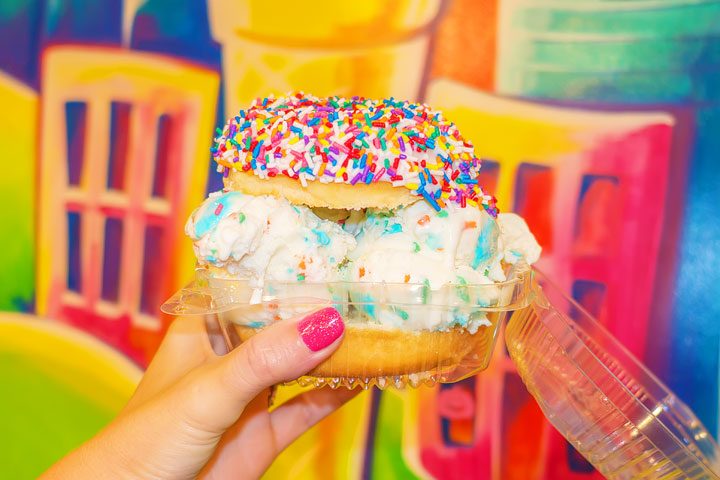 How fun is this build your own doughnut ice cream sandwich from Holey Cream? Pick your doughnut, pick your icing, pick your sprinkles, and pick your ice cream. The options are endless!! I went with vanilla icing, rainbow sprinkles, and cookie dough ice cream.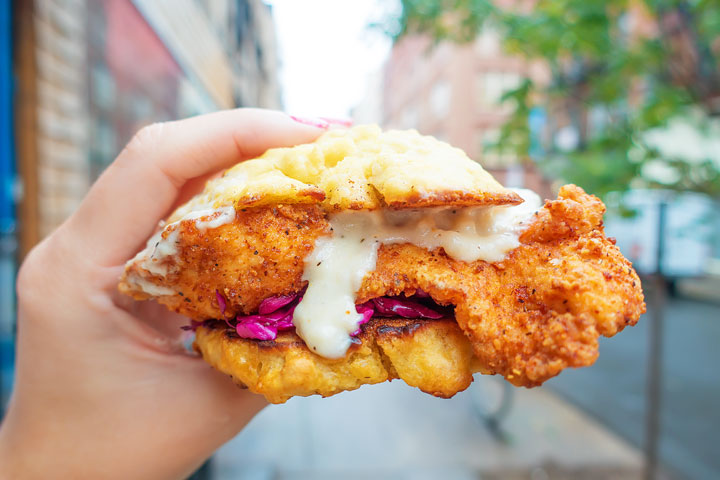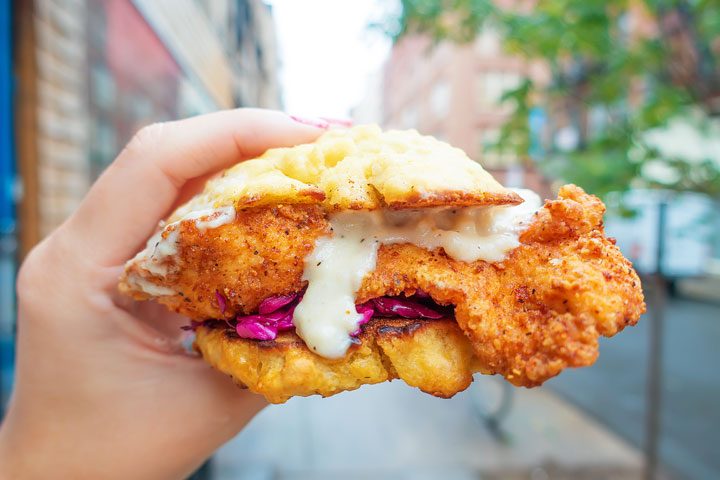 For breakfast, we'd heard the Fried Chicken Biscuit n' Gravy from Cheeky Sandwiches was not to be missed! This place is a literal hole in the wall, and we almost walked right past it. But definitely fun if you are in the area!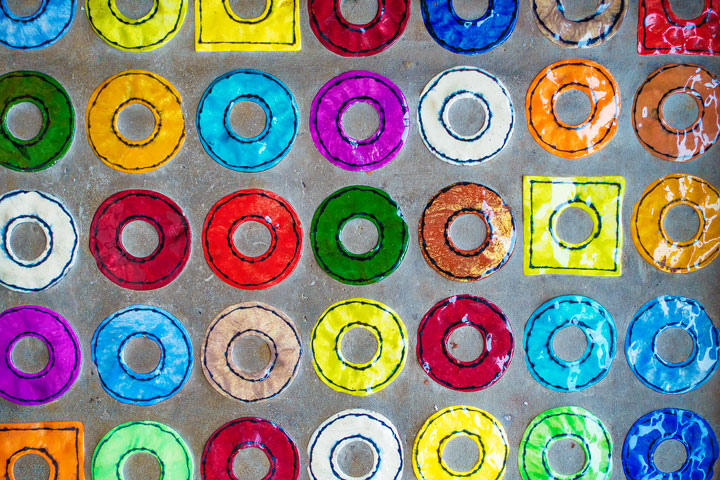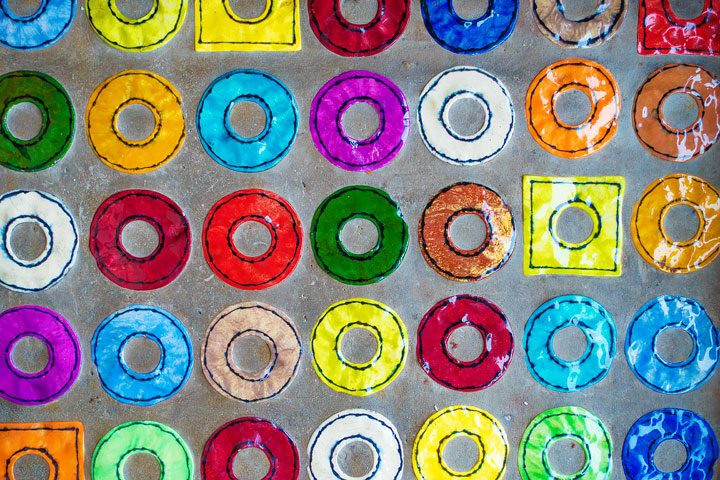 One of my favorite doughnut shops in NYC is Doughnut Plant!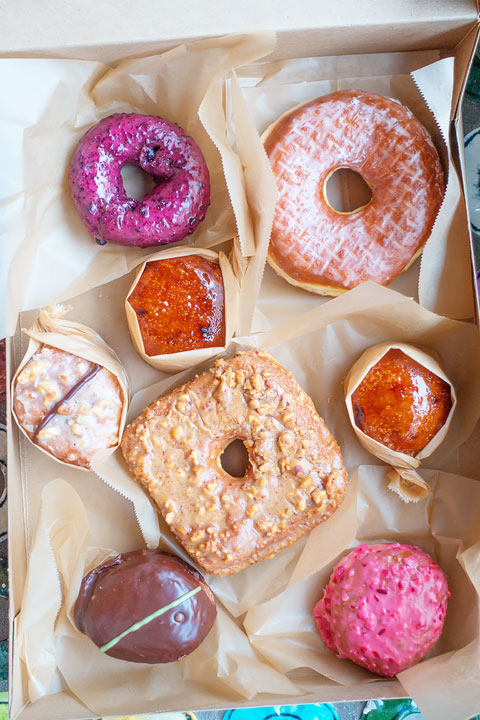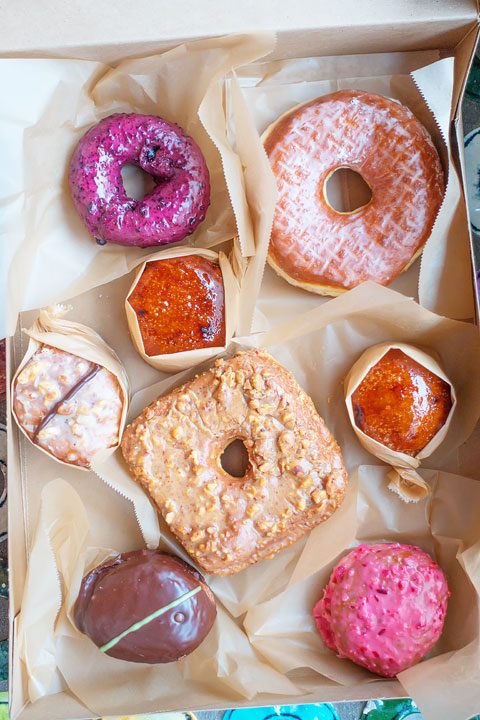 They have so many fun flavors. We had to get a few to sample!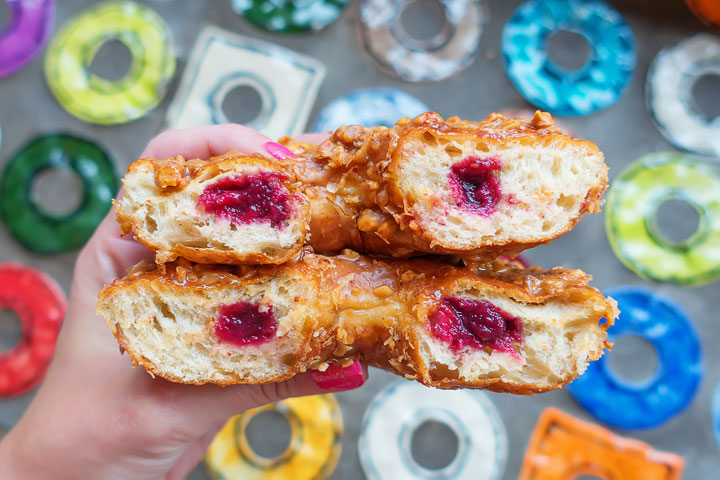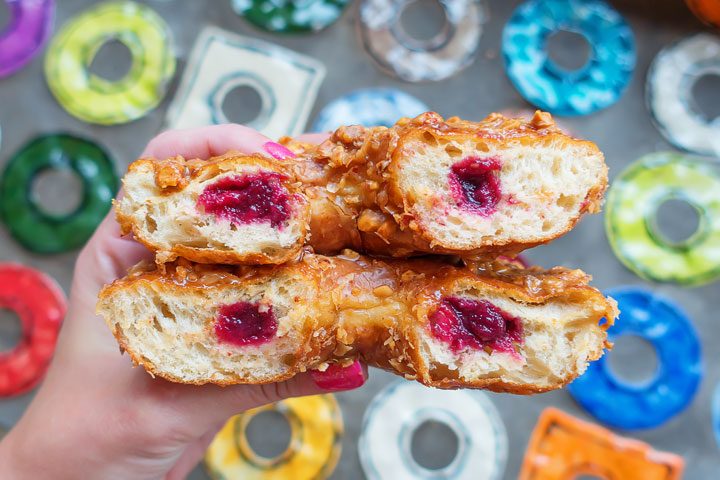 The Peanut Butter & Jelly Doughnut is a must!!!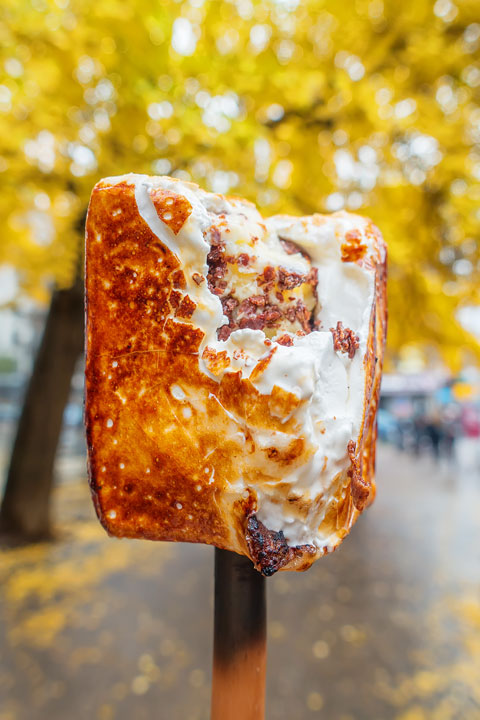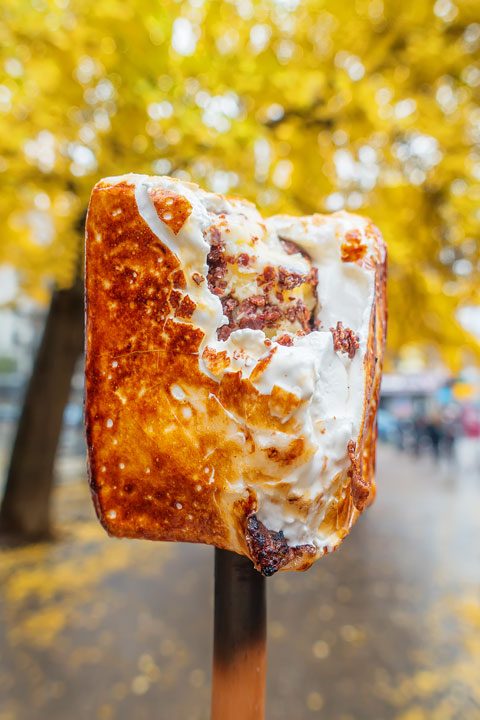 One of my favorite, can't-miss bakeries in New York is Dominique Ansel. They're the ones that invented the cronut, the chocolate chip cookie milk shot, and so many other fun and crazy treats. They also have my favorite pastry, kouign aman, and many other traditional French pastries. I always try to go whenever I'm in the city and get something different. This time I got the Frozen S'more on a Stick! Vanilla bean ice cream wrapped in a toasted marshmallow! So fun!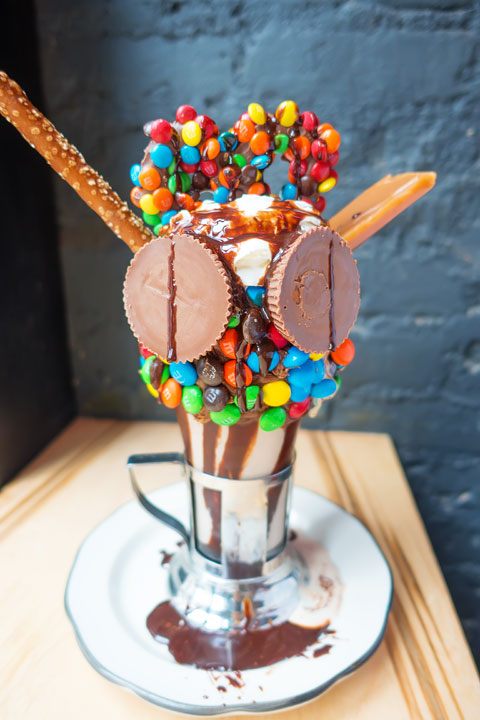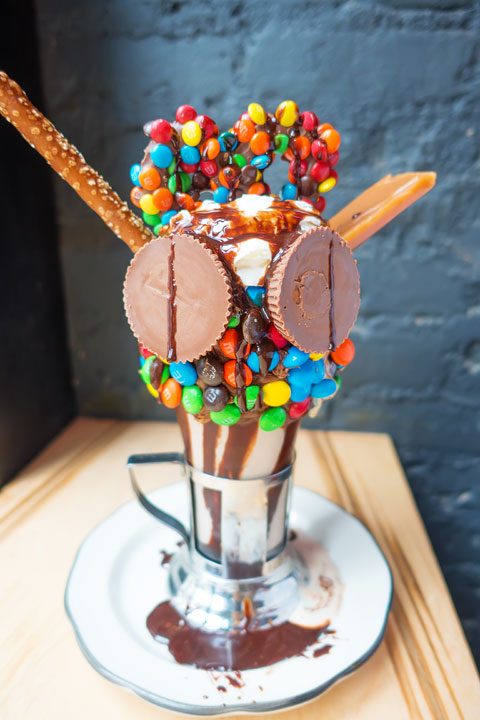 Okay, you guys. I have discovered my new favorite place in NYC — Black Tap NYC. Black Tap is home to AMAZING burgers and CRAZY DECADENT milkshakes!!! Just look at this crazy candy milkshake with M&Ms, Reese's Peanut Butter Cups, pretzels and toffee!!! To DIE for!!!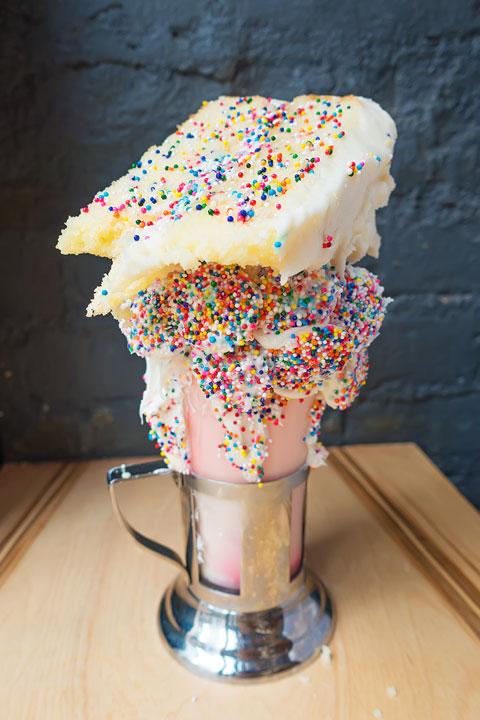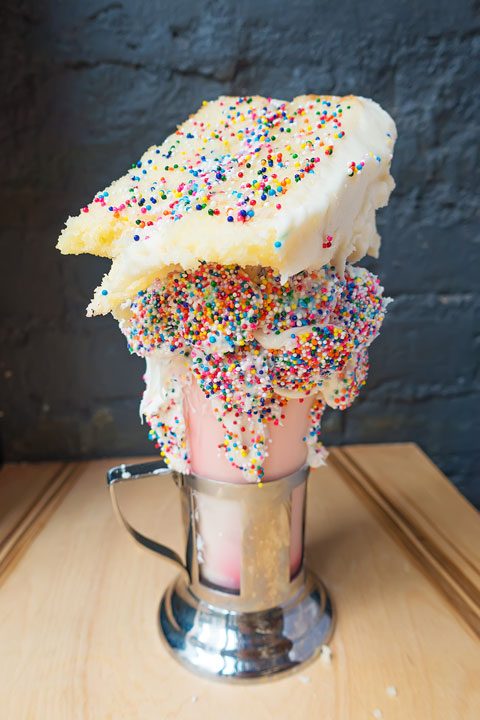 But the craziness doesn't stop there. It was my birthday, so of course we had to get the Birthday Cake Milkshake!!! Pink strawberry milkshake with an entire slab of birthday cake on top! And sprinkles galore! So good!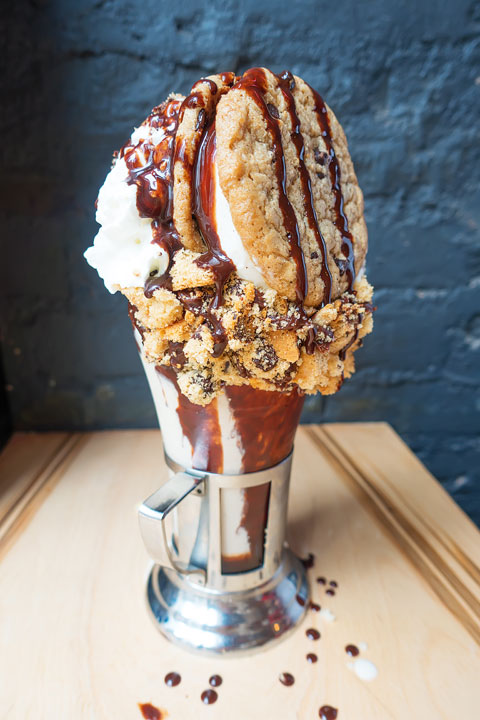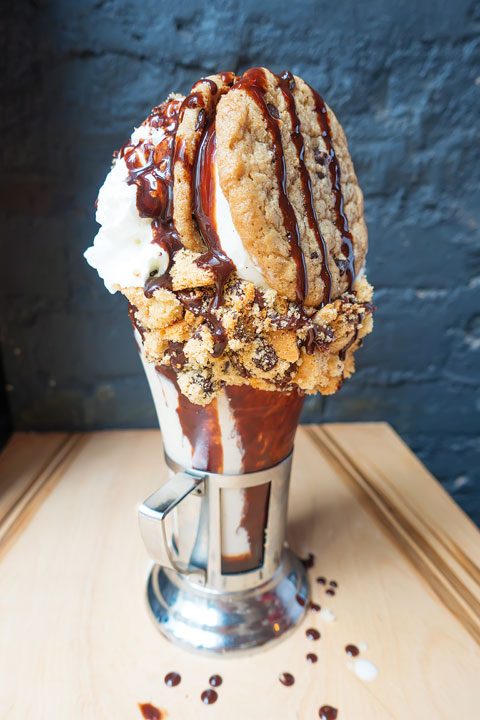 And the Cookie Dough Milkshake!!! Swoon!! Cookie dough milkshake topped with whole cookies! But wait til you see the next one…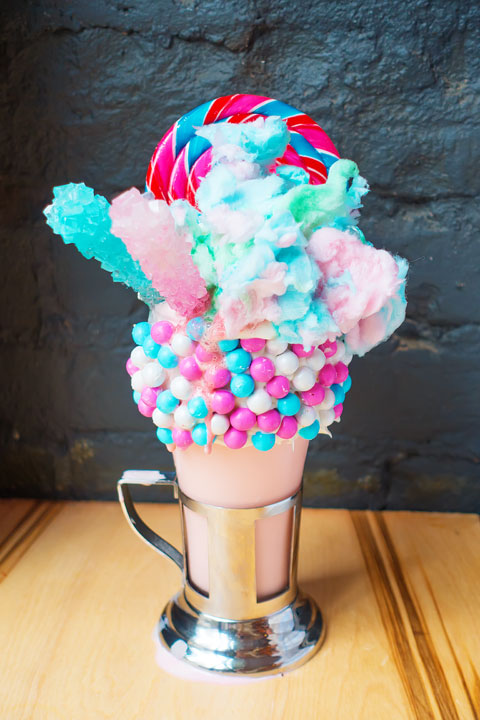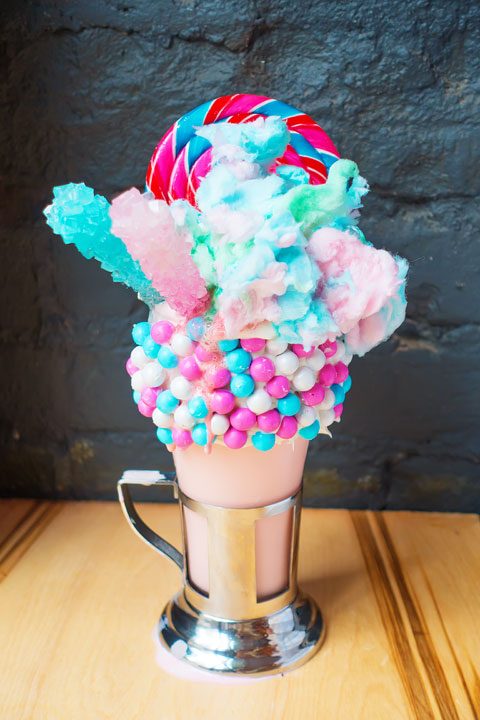 Cotton Candy Milkshake!!! If this is not the funnest milkshake ever, I don't know what is. Sixlets, Cotton Candy, rock candy, and a lollipop! Plus it's pink and pretty!!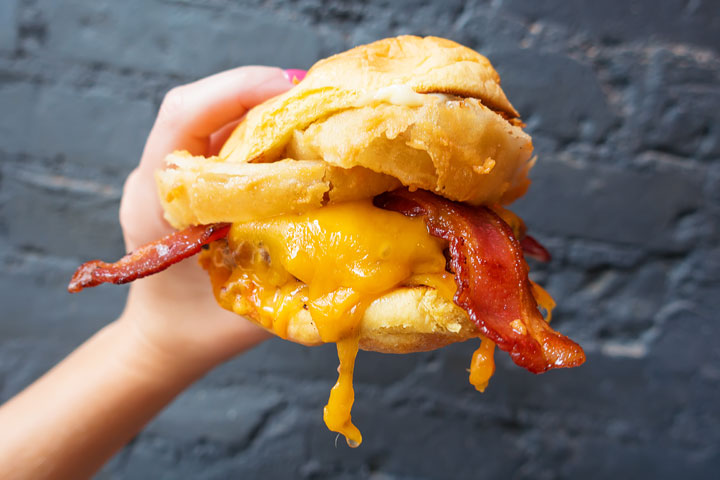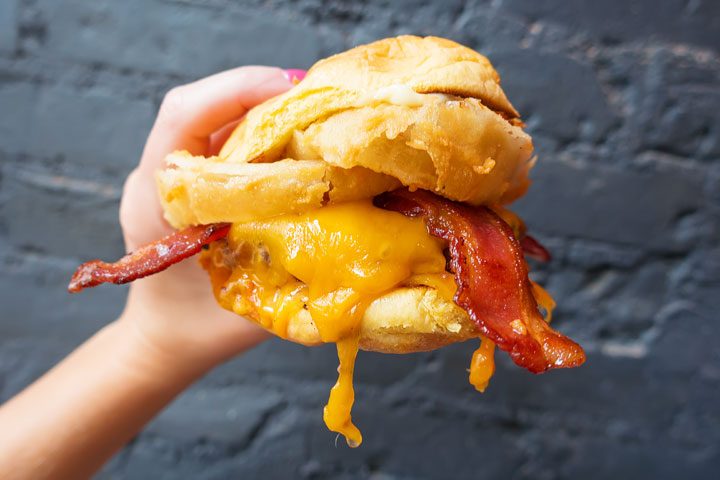 But the amazingness doesn't stop there. Their burgers are to DIE for!!! This Texas Burger is literally the best burger I've ever had. I am still dreaming about it!!! This is the number one place on my list next time I'm in NYC.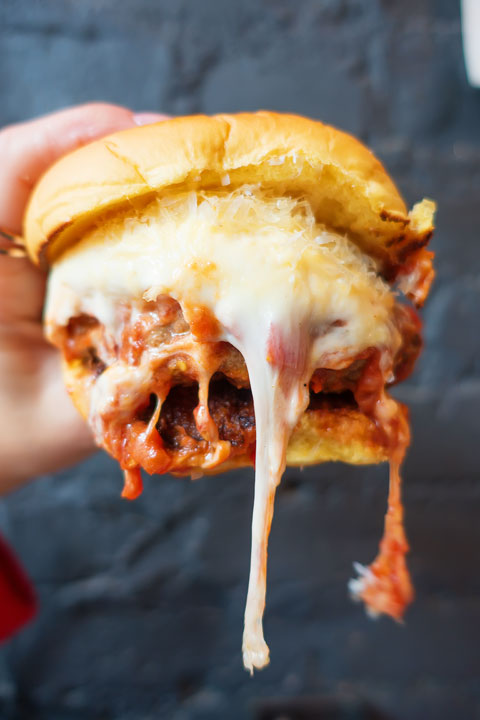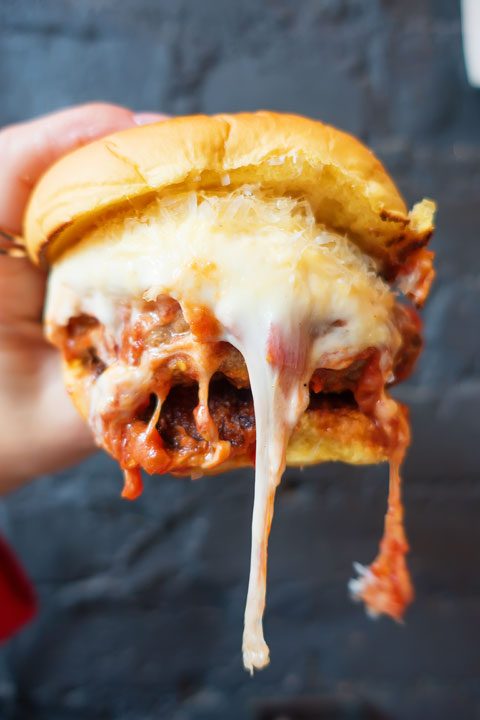 And this mozzarella pizza burger!!! So good! And the fries were to die for. Basically everything at Black Tap is amazing, so put it at the TOP of your NYC list!!! :)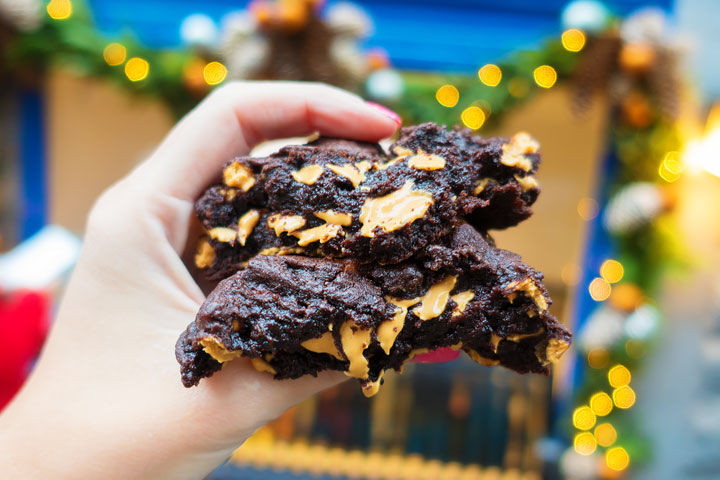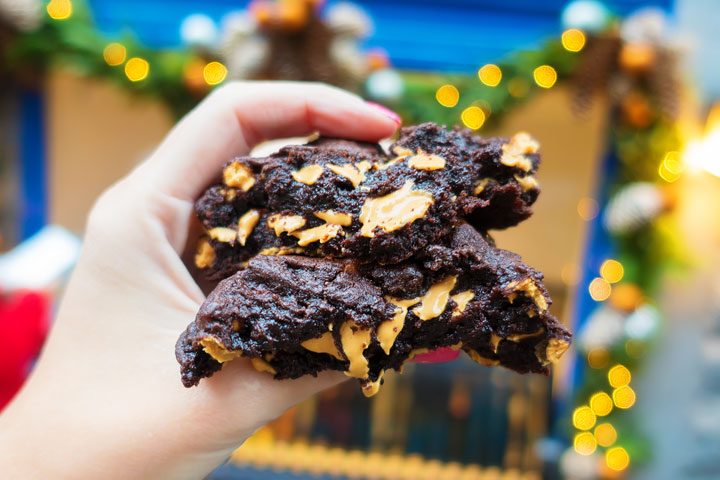 Levain is always my favorite cookie bakery in NYC! My favorite is the Chocolate Peanut Butter Cookie. Be sure to ask for a warm one! :)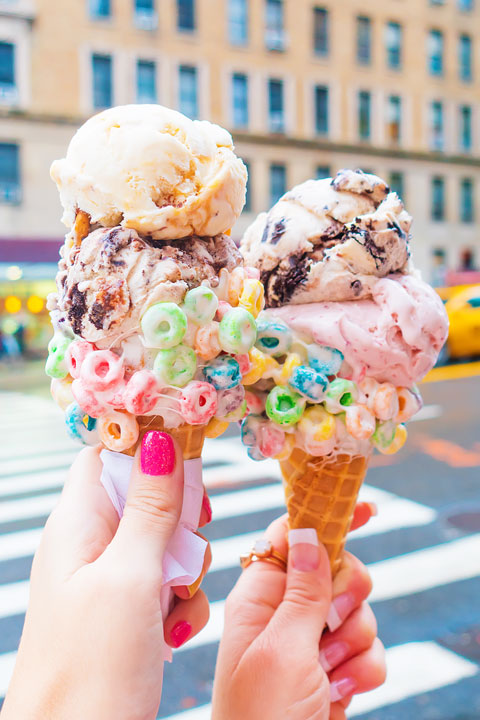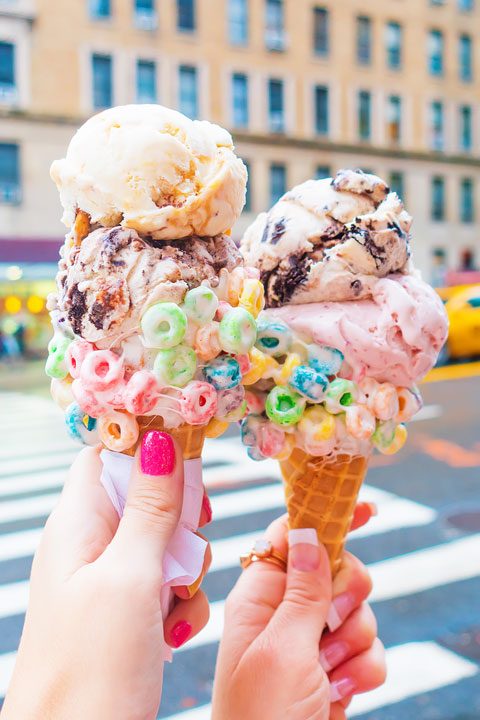 Emack & Bolio's is an ice cream shop with super fun ice cream cones!!! They're lined with fun marshmallow treats! Jenny and I got these fun Fruit Loop cones, but they also have Fruity Pebbles, Cookies & Cream, and more! And the ice cream was delicious!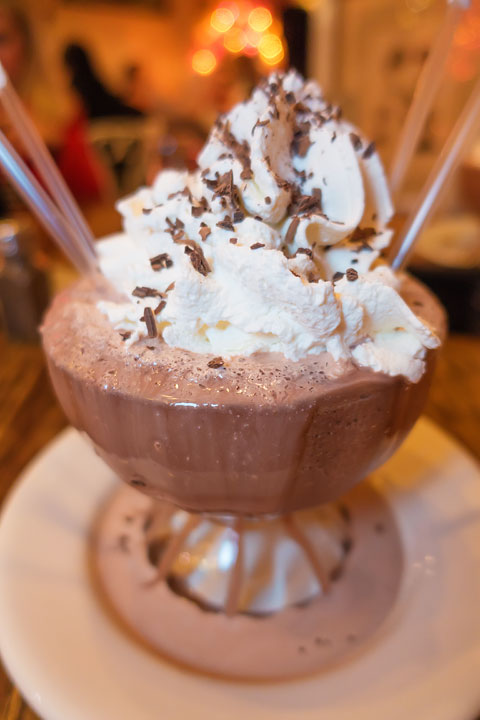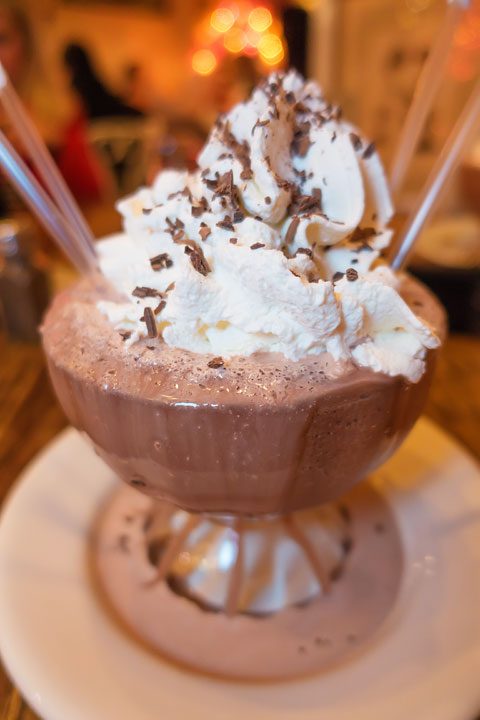 Ooooh, another NYC fav is Serendipity!! Always seem to end up here somehow!! Their Frozen Hot Chocolate is the best! My favorite is the Frozen Peanut Butter Hot Chocolate! It tastes like a Reese's Peanut Butter Cup!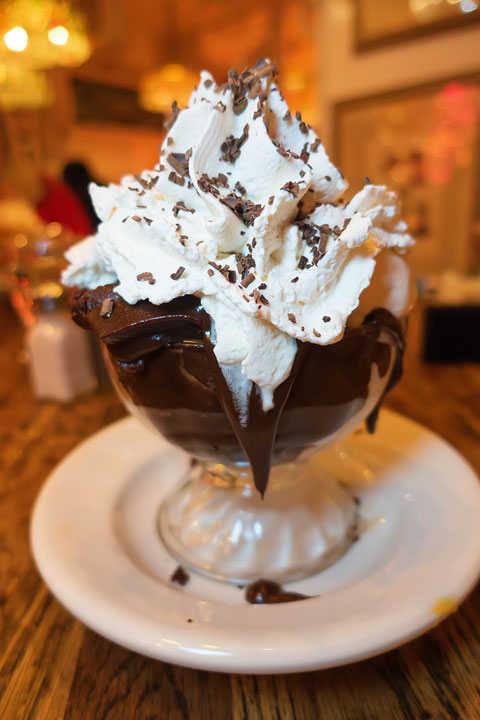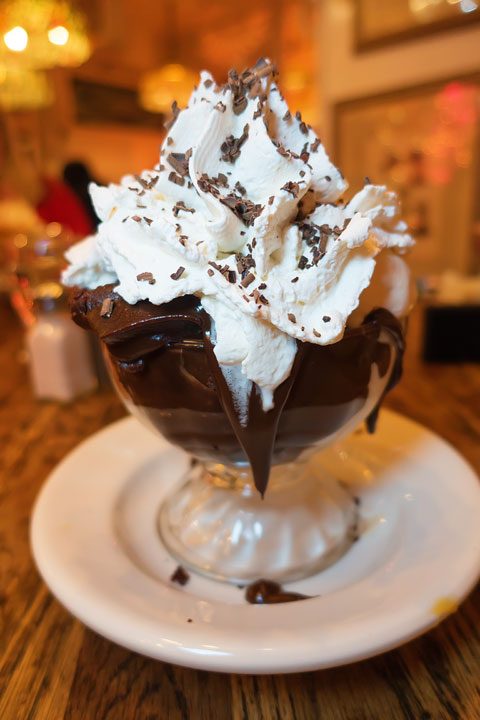 Serendipity also has other fun sundaes and desserts! The Chocolate Blackout Cake is over the top!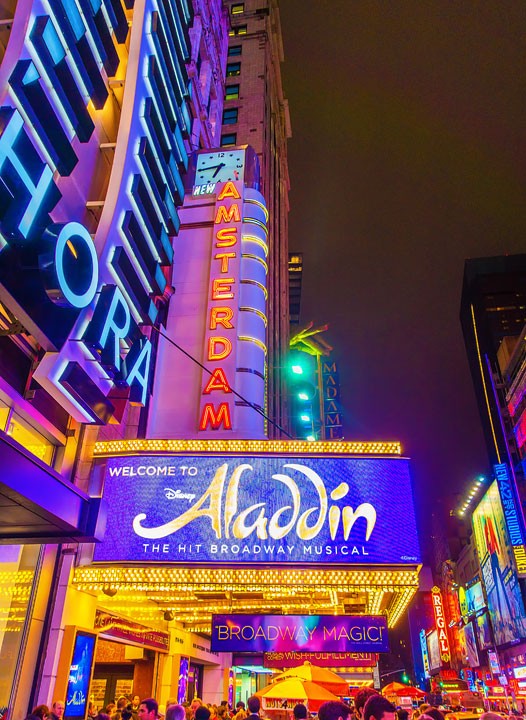 I always love seeing a show in NYC!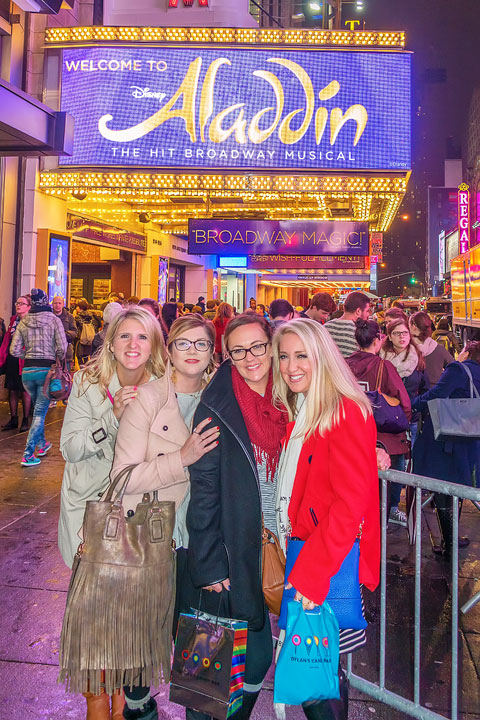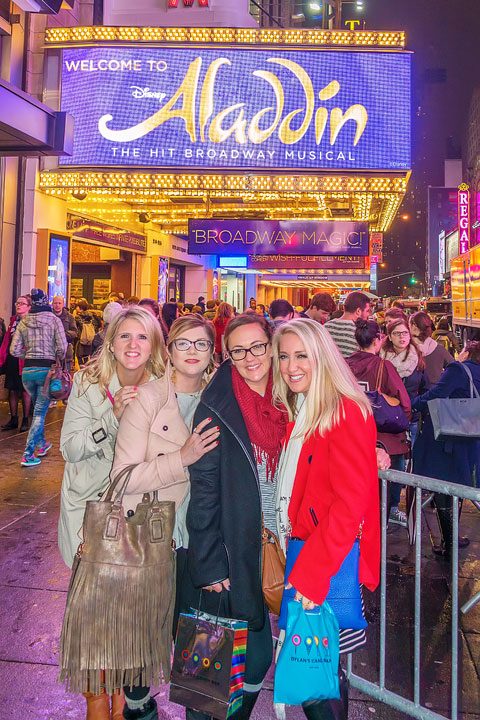 This time we saw Aladdin!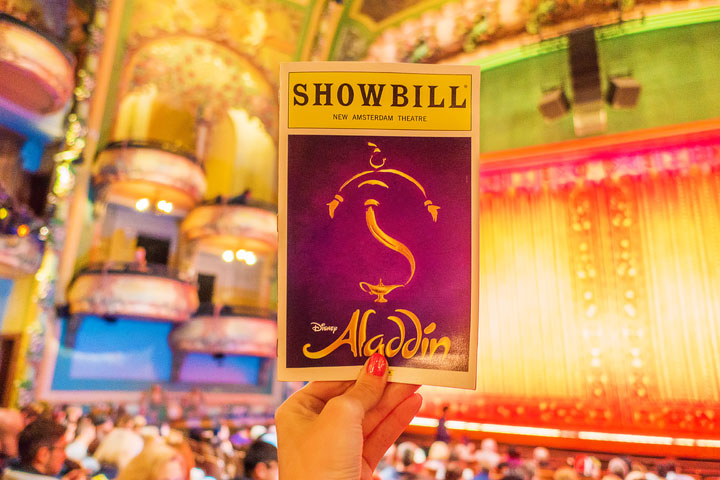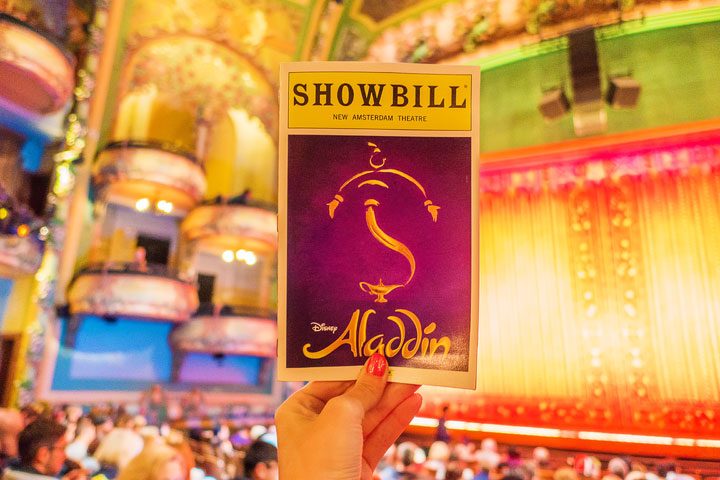 Such a cute show. Highly recommend! So glad we went.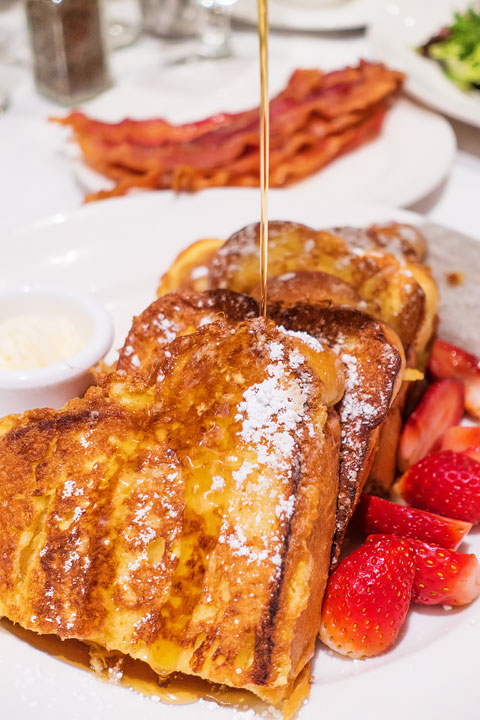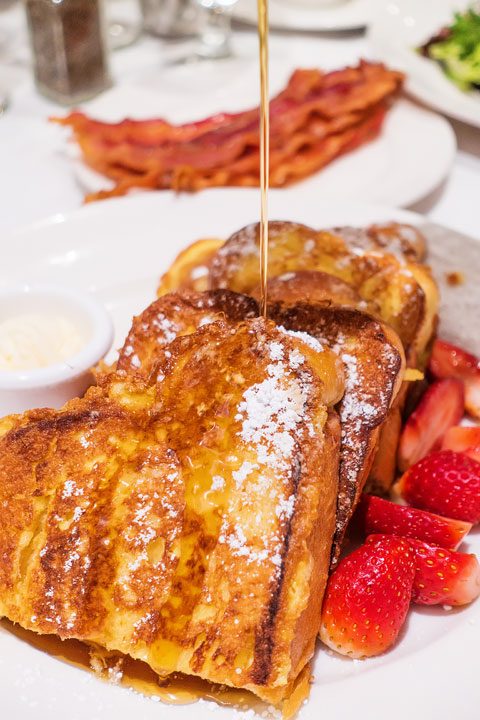 For all the times I've been to NYC, I've never been to Sarabeth's. We had to try it! Super fun sweet and savory breakfast items here.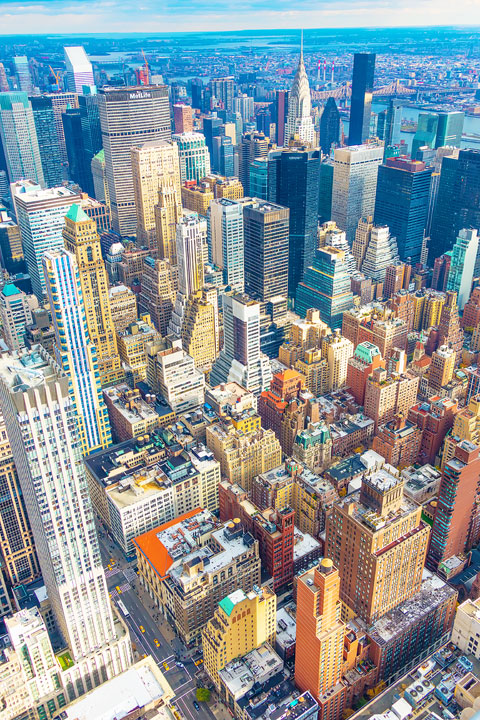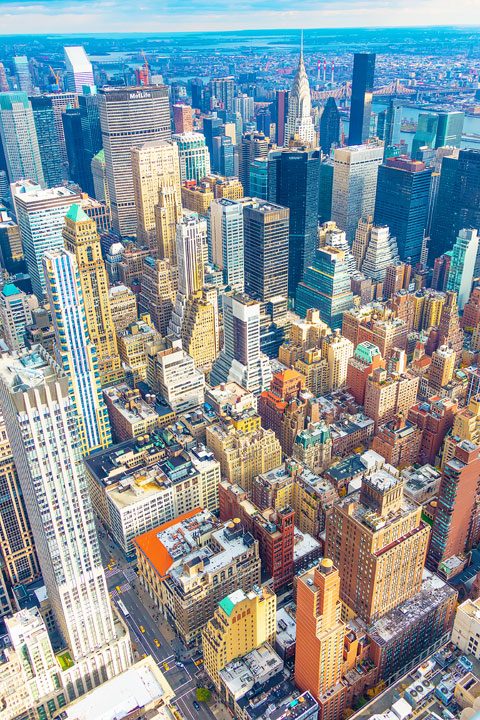 Of course we had to do some touristy stuff too! :)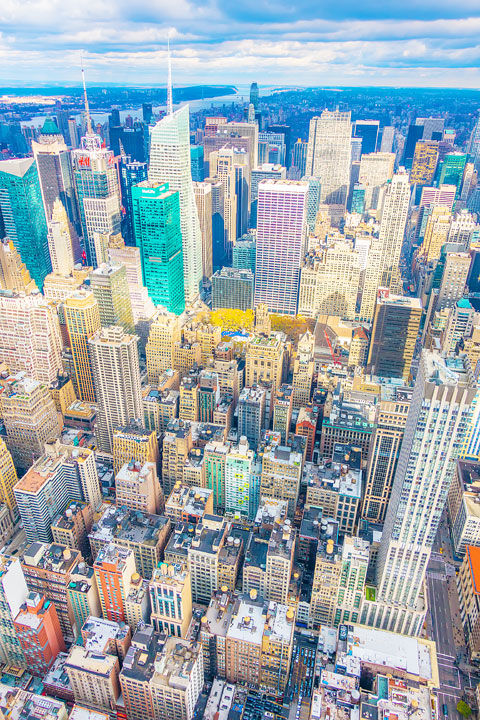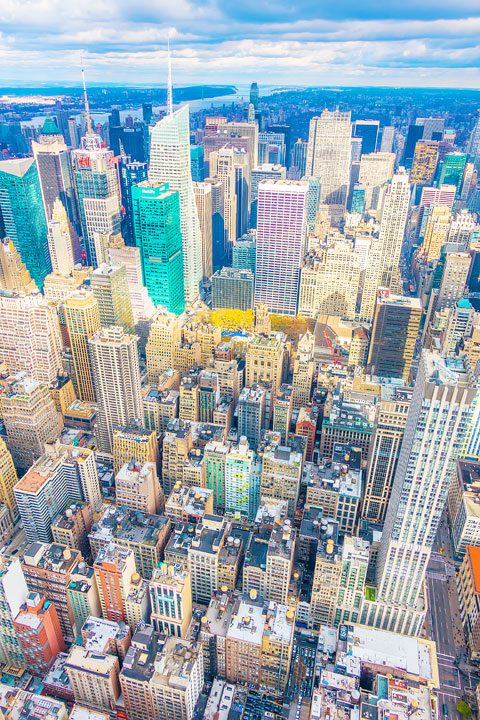 Here was our view from the top of the Empire State Building.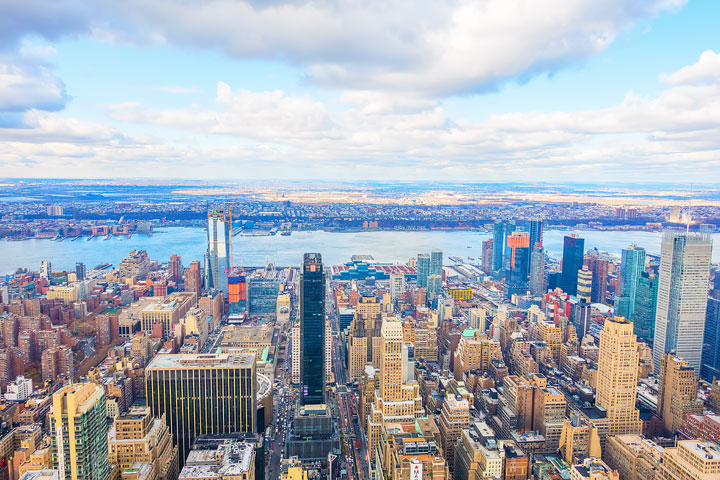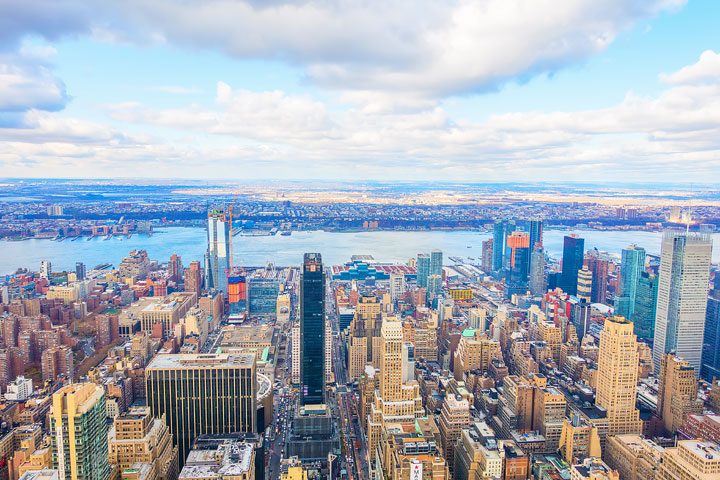 We got the VIP skip-the-line tickets which were worth every penny! The place was packed, but we literally did not ever have to wait in a single line. There are no appointments or scheduled times, so you can just show up whenever you want. We were at the top less than 10 minutes after we arrived. Otherwise, I'm sure it would've been a couple hours.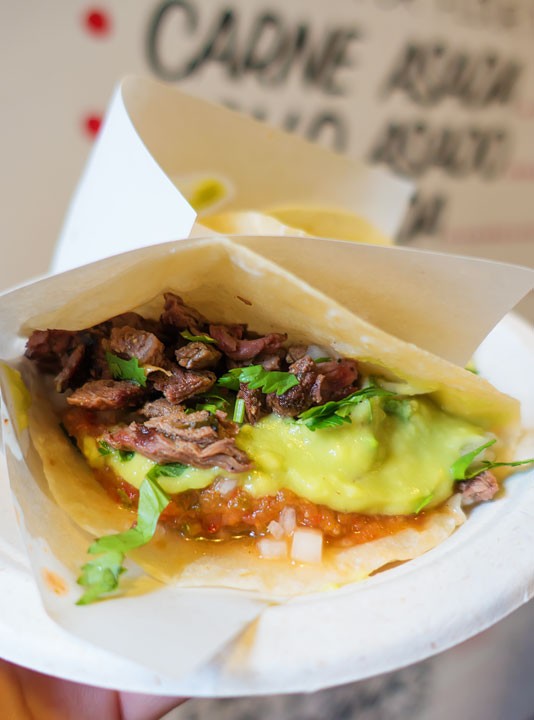 Chelsea Market is one of my favorite spots in NYC, especially at Christmas. I'd been dying to try the taco stand inside, so we hit them up for lunch. Perfect when you just want a small quick bite! :)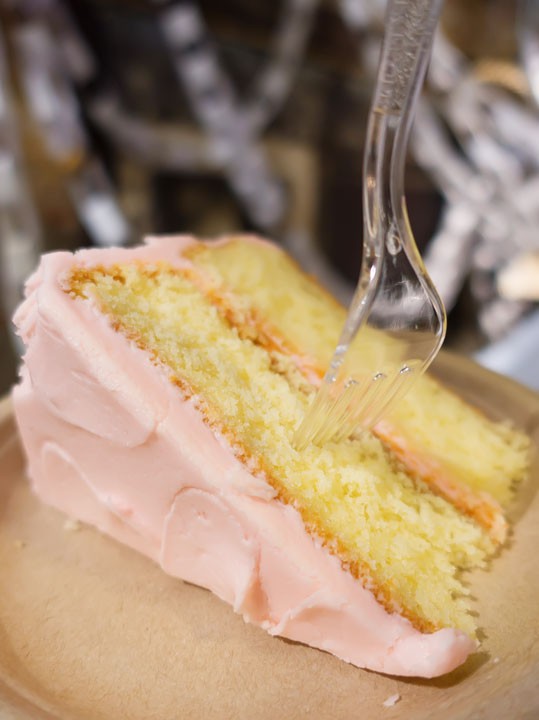 Two years ago Jenny and I took a fun girl's trip to New York and discovered the most amazing vanilla butter cake I've ever had. I said right there I wanted this cake for my birthday. Who would've thought the very next year I'd be there on my birthday with three of my BFFs sharing this cake??! Such an amazing memory. If you are ever in NYC be sure to get this cake from Amy's Bread in Chelsea Market!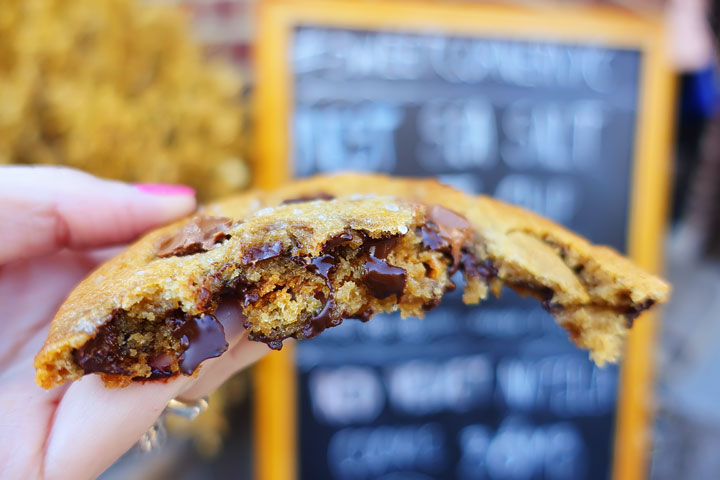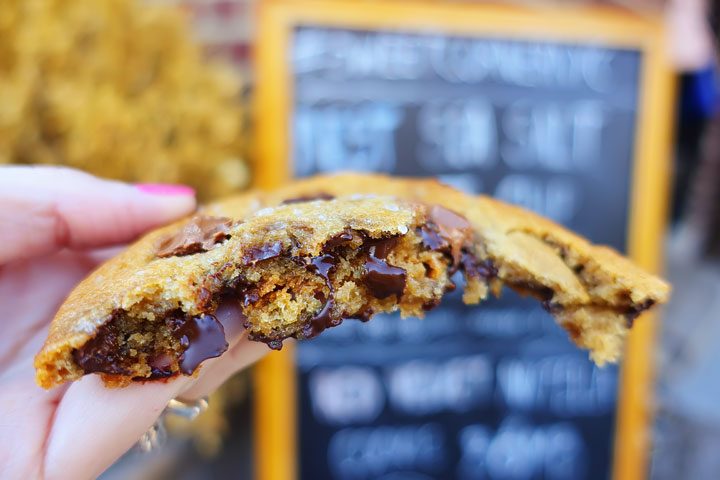 We just happened to wander past Sweet Corner Bake shop and these quadruple chocolate chip cookies had just come out of the oven. You know we had to get one!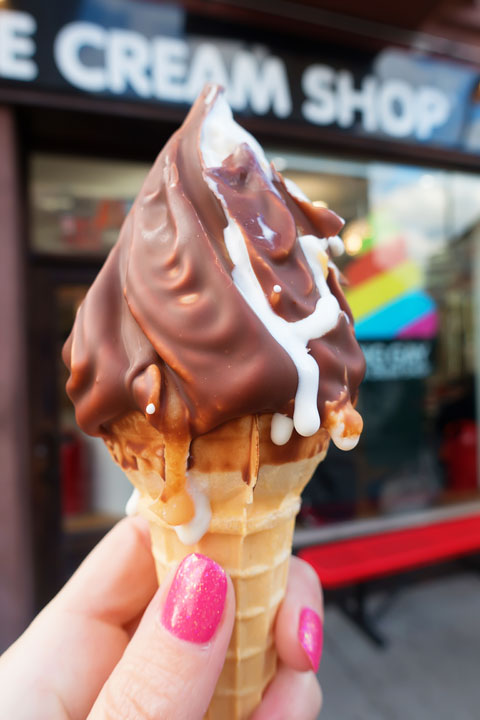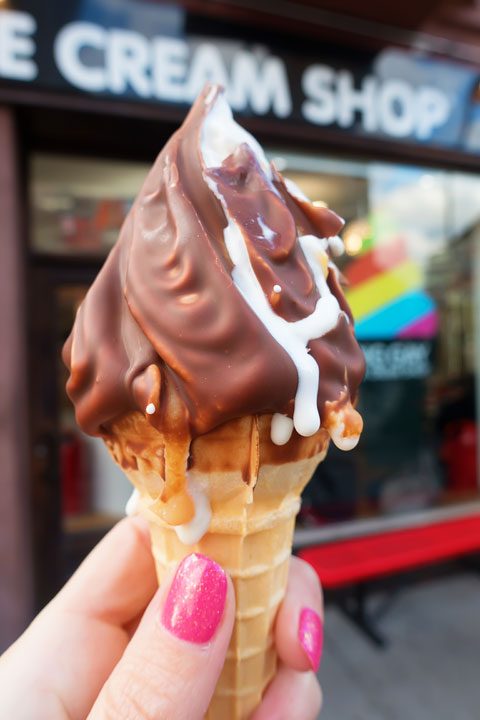 Of course you have to have cake and ice cream on your birthday right?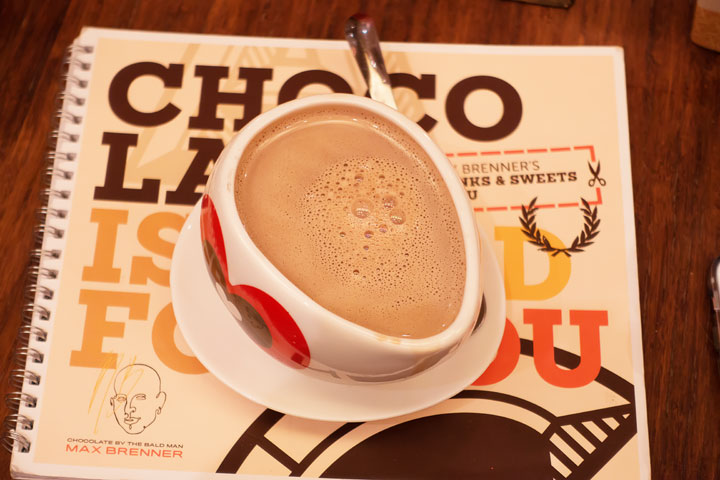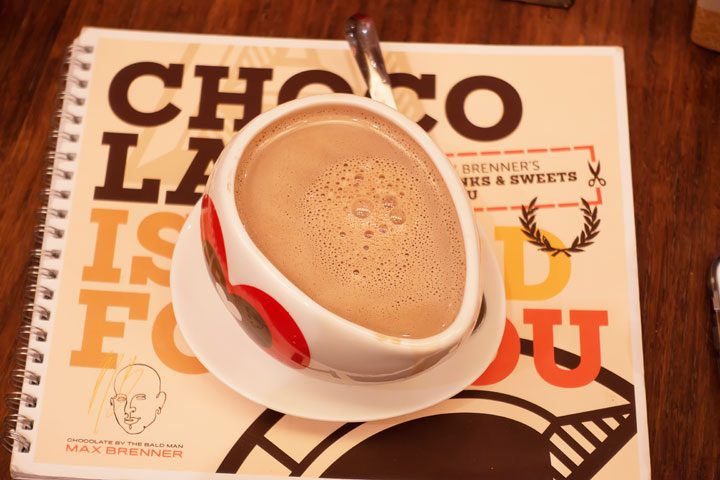 For my birthday dinner, I picked Max Brenner. Max Brenner is consistently one of my favorites in NYC! I always have to get the Italian Thick Hot Chocolate. You can get it in white, milk, or dark chocolate! I always get milk. It is a must!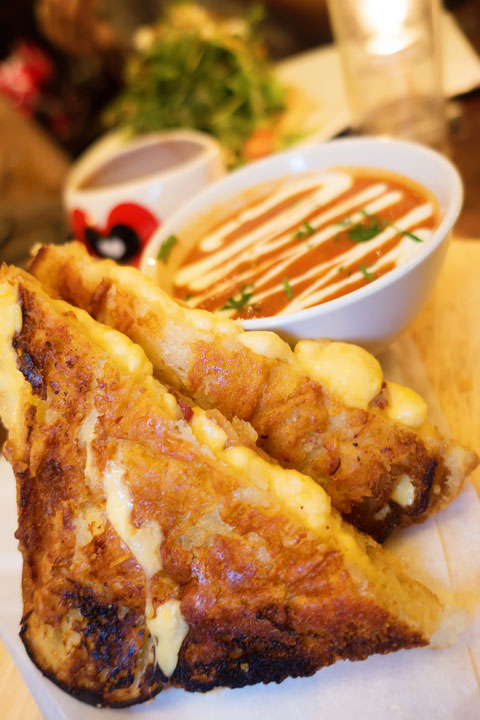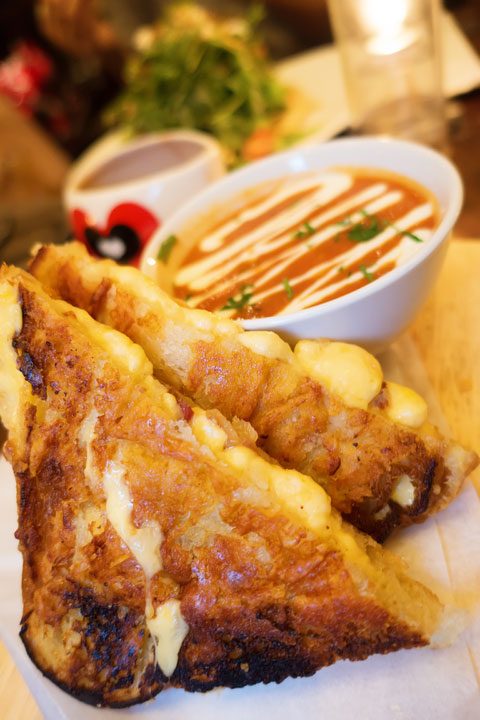 For dinner, I went with a classic grilled cheese and tomato soup. Such comfort food!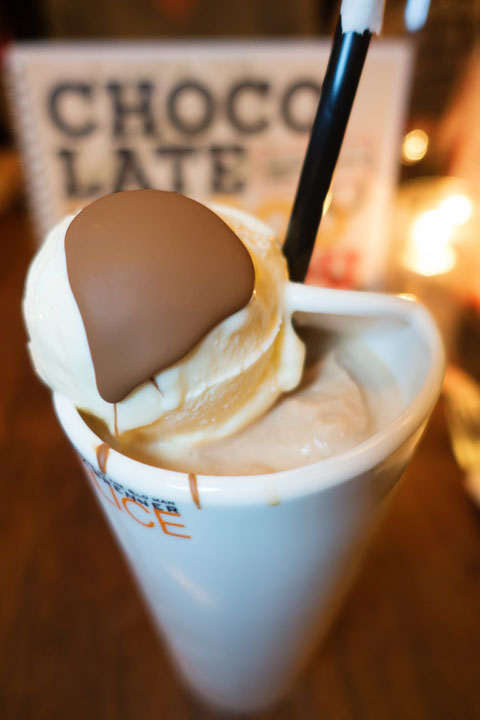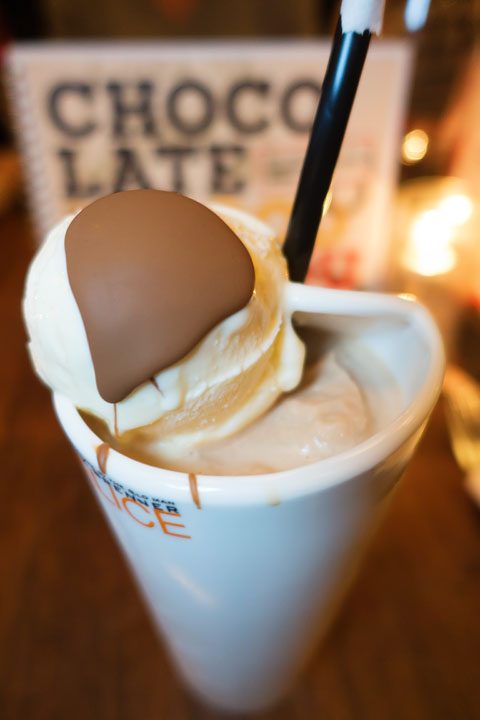 The second thing I always have to get at Max Brenner is the 80's Milkshake! It is out of this world! A perfectly chocolately milkshake is topped with a giant scoop of vanilla ice cream and dipped in a crunchy chocolate shell. A bite with all three is perfection!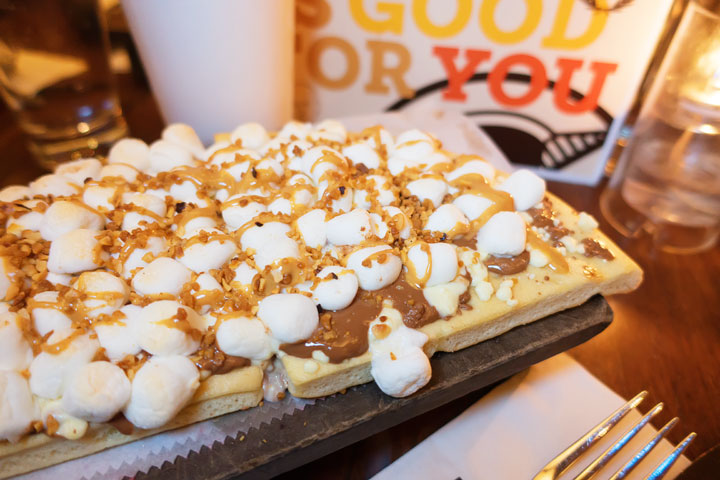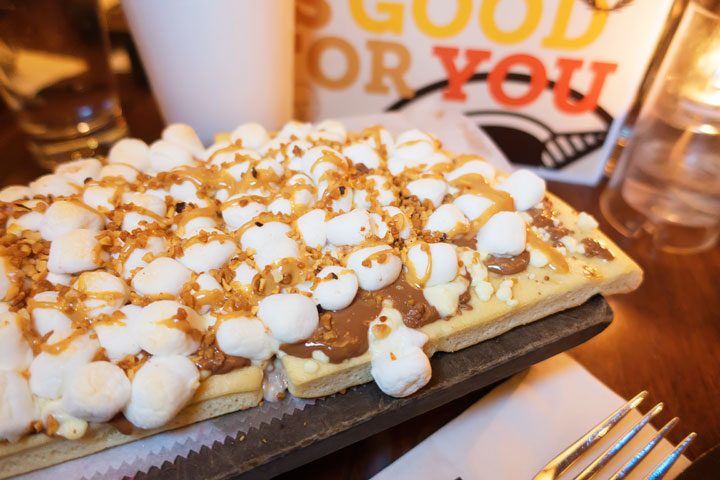 And finally I usually can never resist the Chocolate Pizza. A sweet, soft dough is topped with chocolate, warm, toasted marshmallows, and drizzled with peanut butter. Incredible.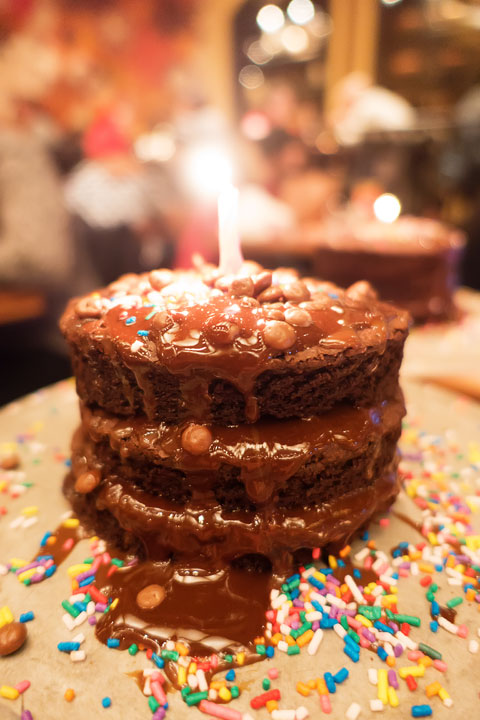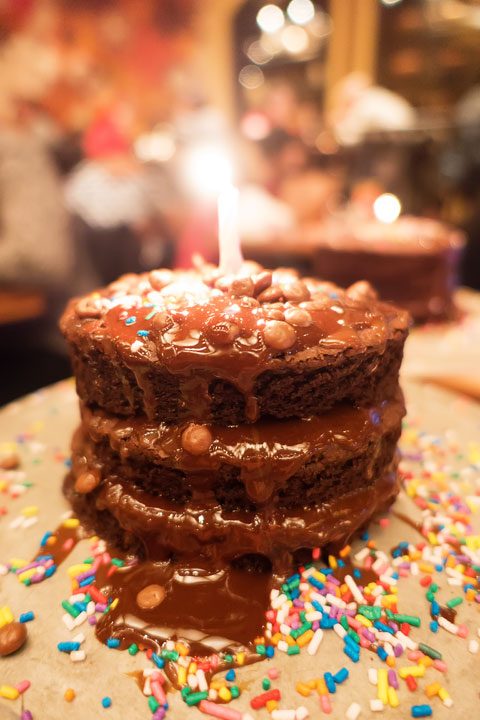 They even have a Build-Your-Own-Cake option on the menu. It comes with three layers of chocolate cake with chocolate frosting, rainbow sprinkles, milk chocolate ganache and white chocolate chunks. Stack, frost, and decorate any way you like! Shelly decorated this one and my sweet friend Gina even made sure they brought out a candle for my birthday. She captured this photo of me while everyone was singing Happy Birthday to me. Such a special experience. So glad I could celebrate with such wonderful friends!!! xoxo
If you are celebrating a special occasion in NYC, I highly recommend Max Brenner for a fun, one-of-a-kind experience!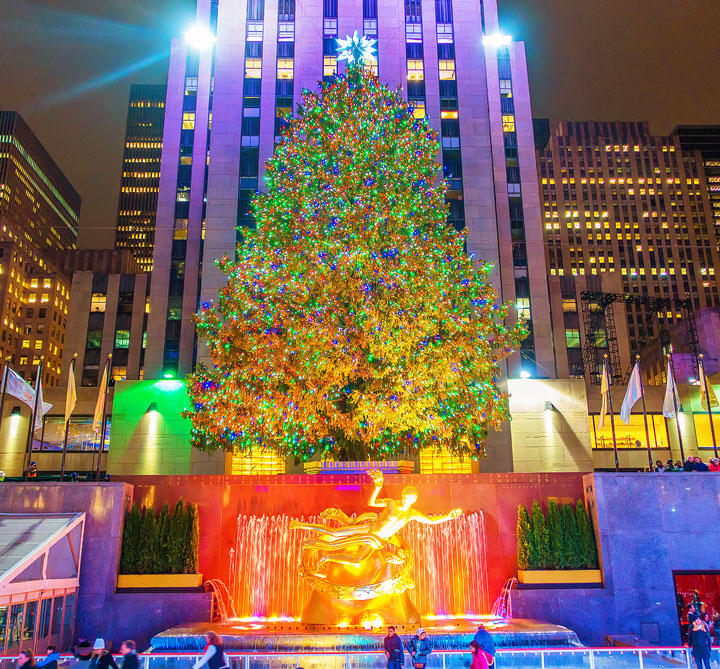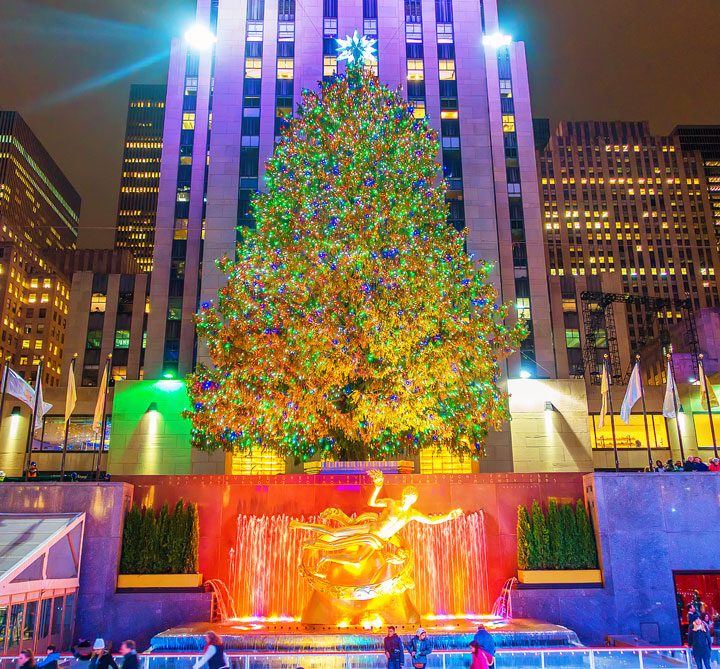 Love that my birthday weekend in NYC also doubles as a Christmas weekend in NYC! We had to go see the big tree at Rockefeller Center.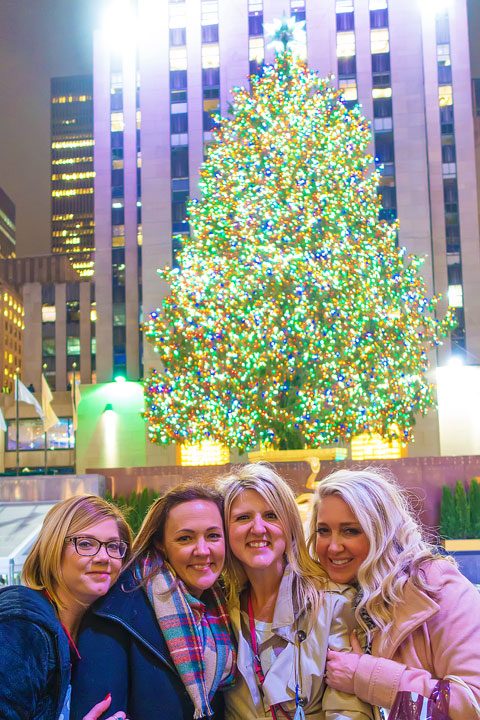 Left to right: Kristan, Shelly, Me, Jenny
So fun celebrating with three of the bestest friends ever.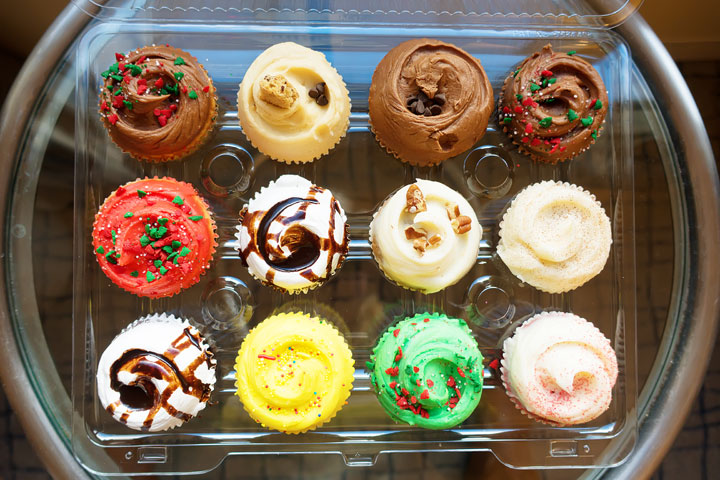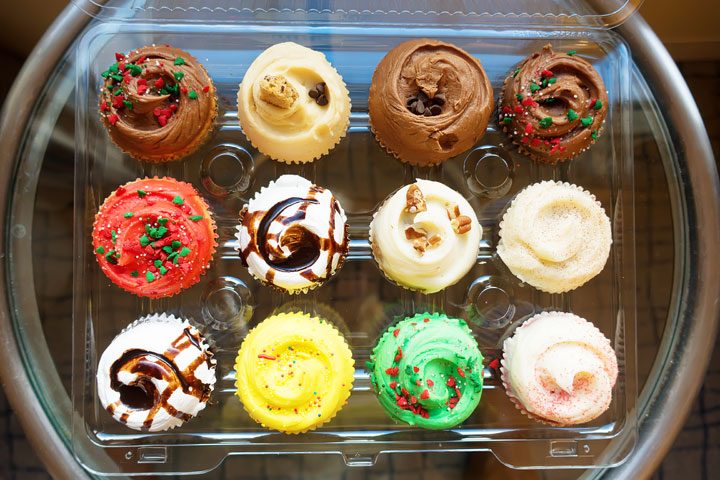 That night they surprised me with a cupcake PJ party in the room!!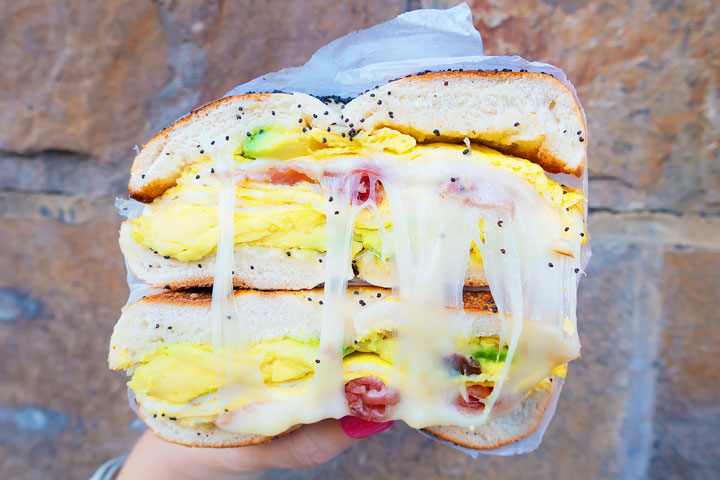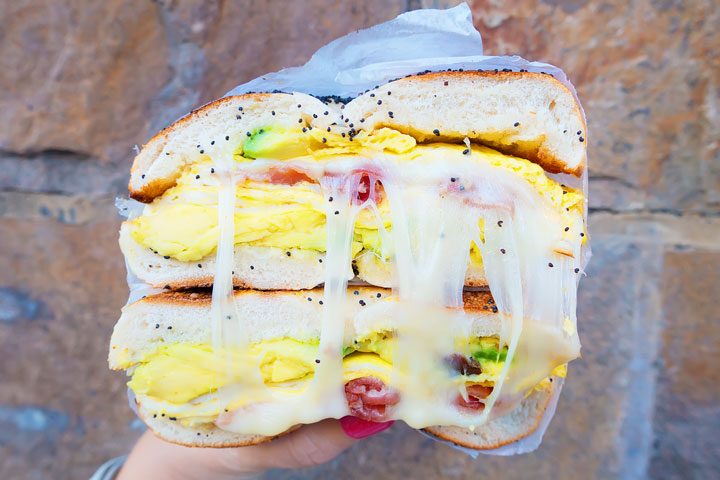 For our last day in NYC, we had to go out with a bang! We started with this amazing bagel sandwich from Space Market. So good!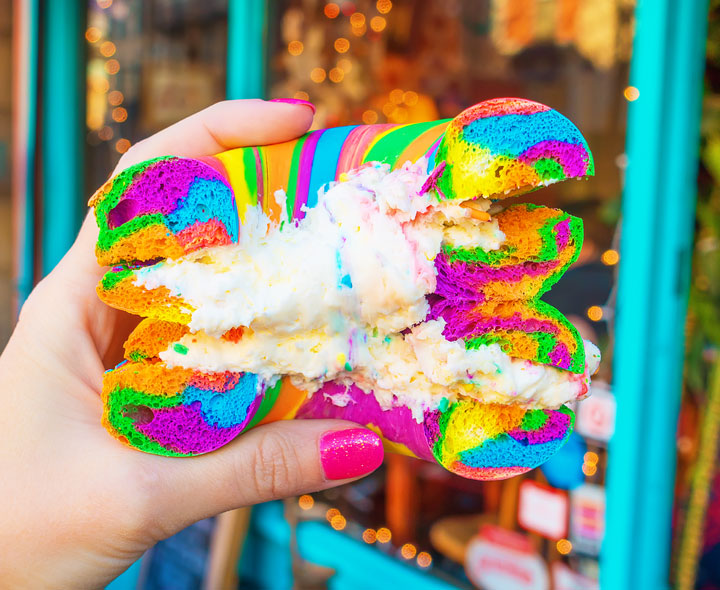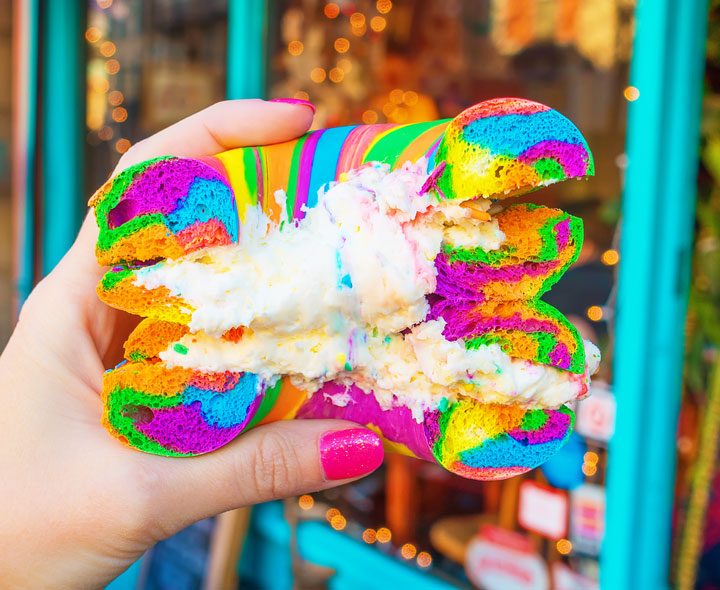 But THEN we had to get the RAINBOW BAGEL from The Bagel Store in Brooklyn! How amazingly fun is this bagel??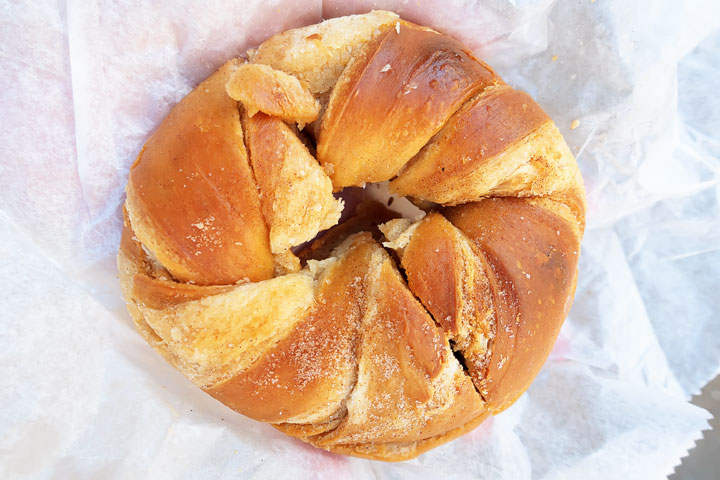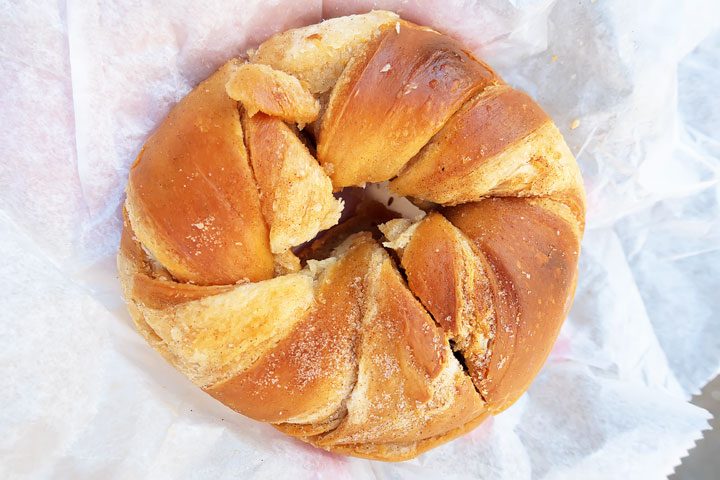 They also have this croissant / bagel hybrid. Delicious. Definitely worth a stop if you are in the area!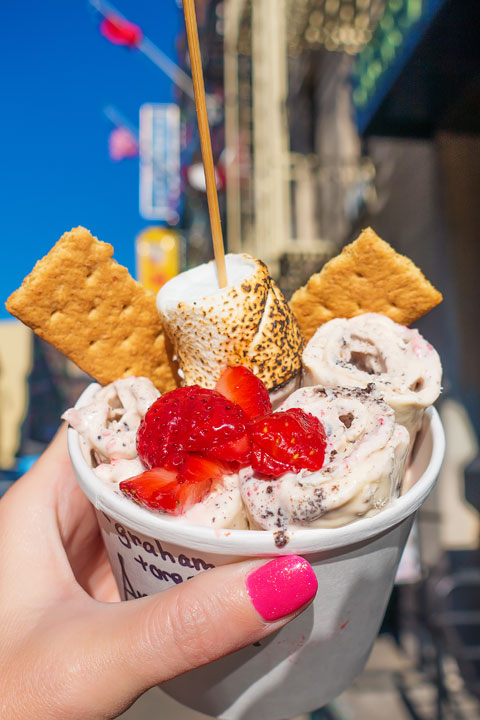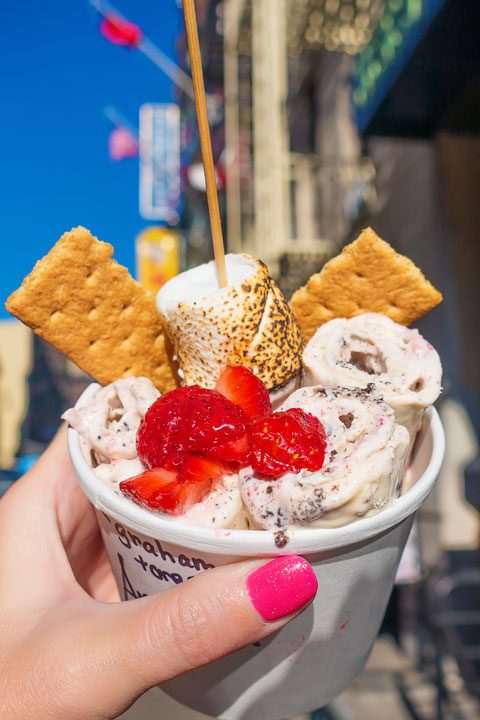 Okay. You guys. I'm sure you've seen the famous rolled ice cream all over Facebook, right? Totally gimmicky, but we totally had to check it out. Well. You guys. It is not just a gimmick. This is literally the BEST ice cream I have ever had in my entire life. So, so, so good. I will 100% be going back here next time I'm in NYC!!! Definitely add them to your list!!! Get it at 10Below in Chinatown!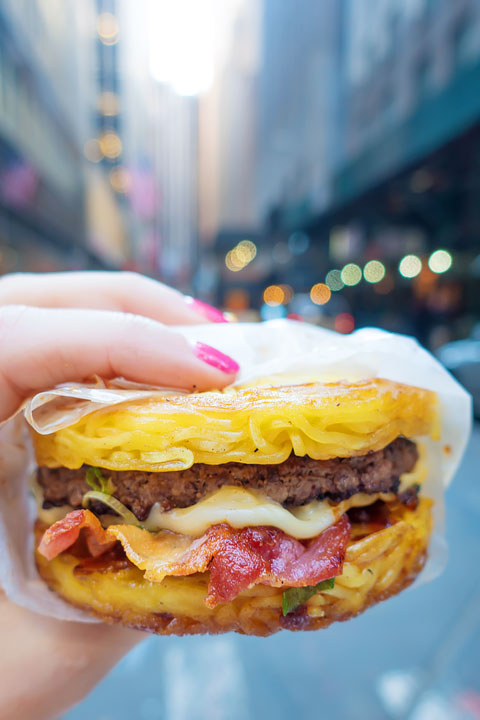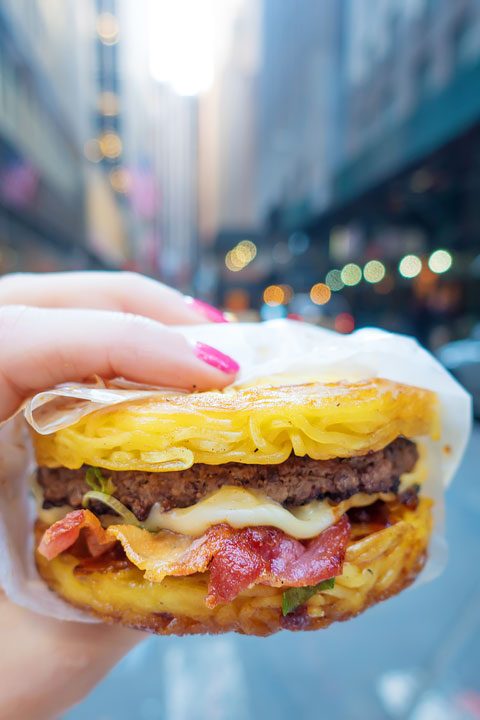 You guys!!!!! I had the RAMEN BURGER in New York!!!!! It's an actual bacon cheeseburger with RAMEN NOODLES for a bun!!!! And it was delicious!!!!! If you love ramen, you HAVE to try this burger!!! :)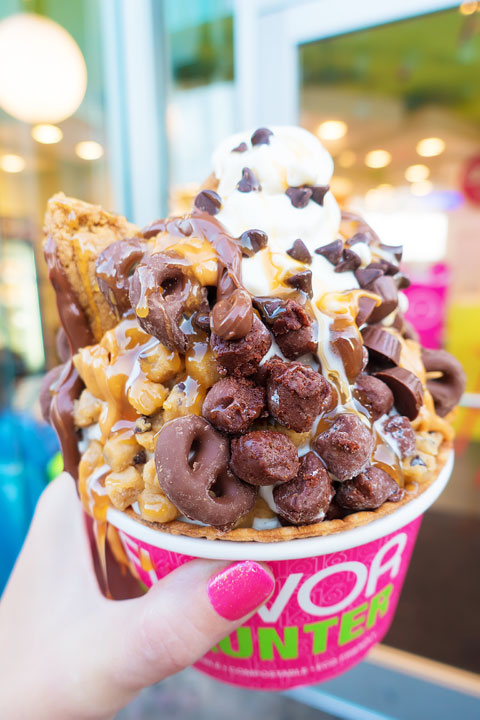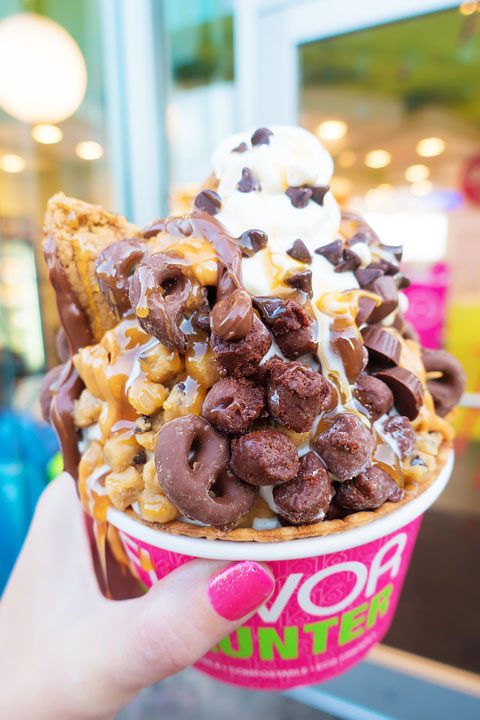 I did say we went out with a bang, right?? ;) Look at this crazy FroYo creation Jenny made!!! Cookie dough, chocolate, peanut butter overload!!! Swoon!!!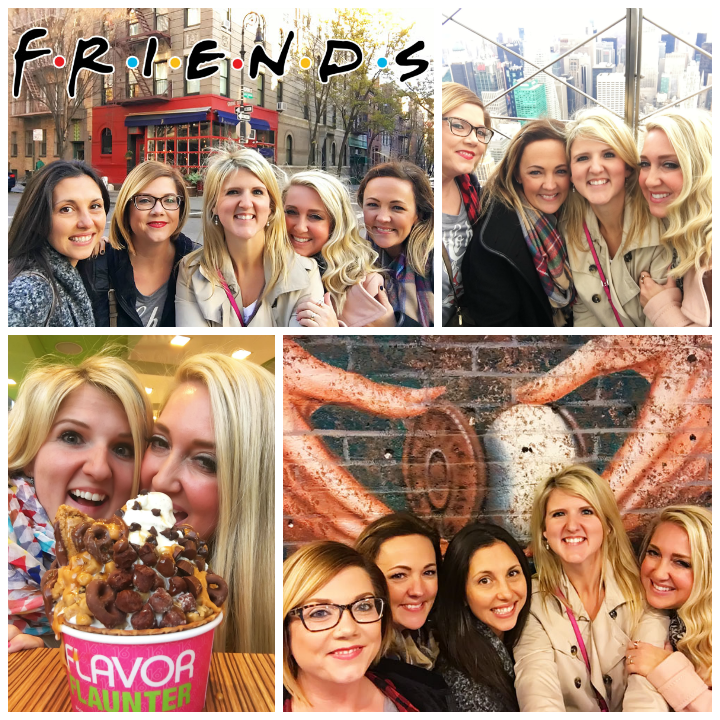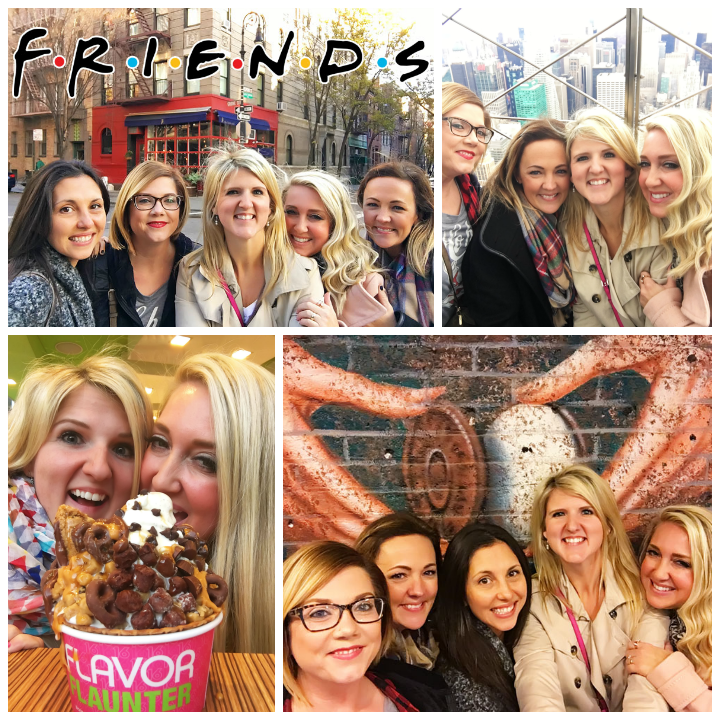 I will never, ever forget this weekend! So grateful for such awesome friends who made it even more special.
Thanks so much for following along!!! Until next time! :) xoxoxo