If you're planning a trip to London and looking for the best restaurants in London, here's our review of everywhere and everything we ate in London. Below are pictures and reviews of what we loved, what we didn't love, and a few off-the-beaten-path restaurants you'll definitely want to try to find!
Also be sure to check out THIS post for our favorite breakfast in London!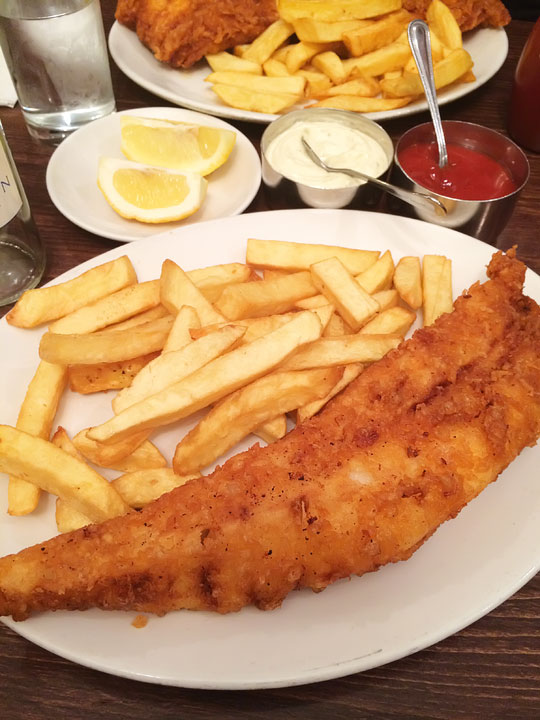 The Golden Hind
According to the ratings, The Golden Hind was supposed to be one of the best restaurants in London for fish and chips, so we definitely had to check it out! Honestly though, we thought it was just okay, and the fish definitely needed tons of salt and pepper to give it any flavor at all. The tartar sauce wasn't my favorite. We liked the fish and chips from The Old Inn in Scotland better!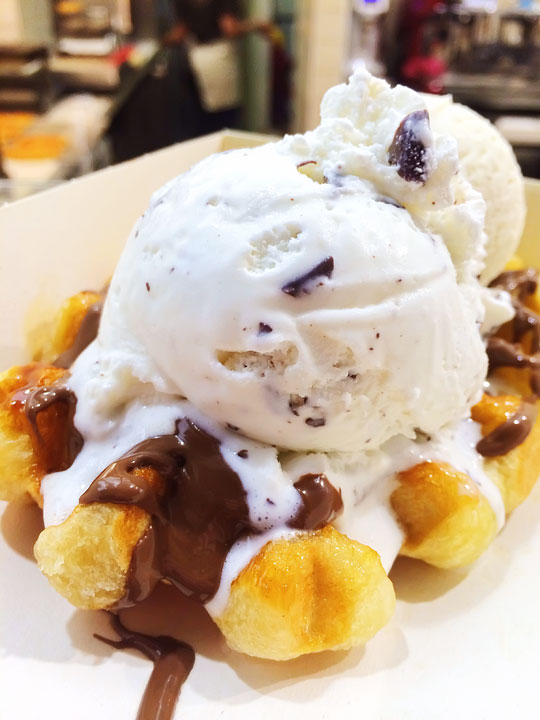 Wafflemeister
After having a life-changing waffle and ice cream in Scotland I was dying for another one, so we had to try Wafflemeister in London. Loved the ice cream, and definitely loved that this one had Nutella on it (the other one didn't), but the waffle itself just could not compare to the one in Scotland!!
Also, Wafflemeister is just a walk-up stand, so you have to eat it standing up on the street. The other waffle in Scotland was at a nice, quiet, non-smoking restaurant, at our own table, so that automatically makes it better. However, it's still a waffle with Nutella and ice cream on it, so it was still pretty dang good, and I would've gone back here twice if it had fit in our schedule.

Granger & Co.
Granger & Co. in Notting Hill is supposed to be one of the best restaurants in London for breakfast. We had the Ricotta Hotcakes with Honeycomb Butter (and a banana on the side). They were okay, but not life-changing. They were probably a lot better than they look in this photo though, lol! They were not very photogenic. The honeycomb butter was my favorite!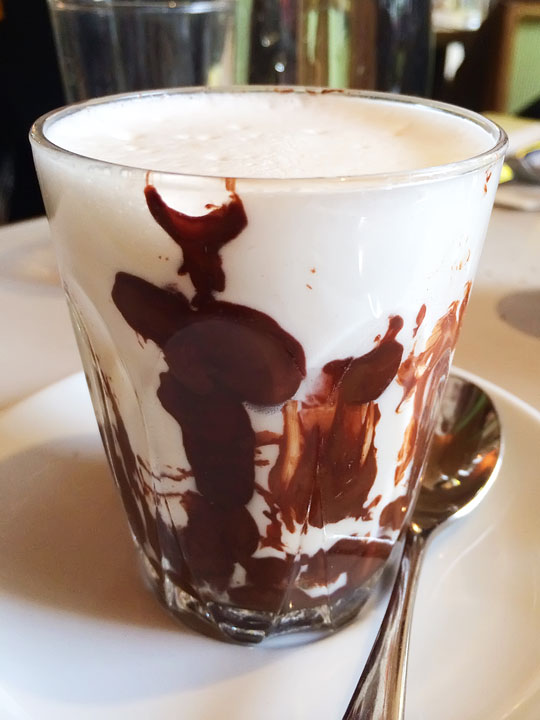 We also had this fun stir-it-yourself hot chocolate. This was a fun drink, but it could've been a little sweeter for my tastes. It also was not very thick and creamy, like drinking chocolate. Just your average thin hot chocolate.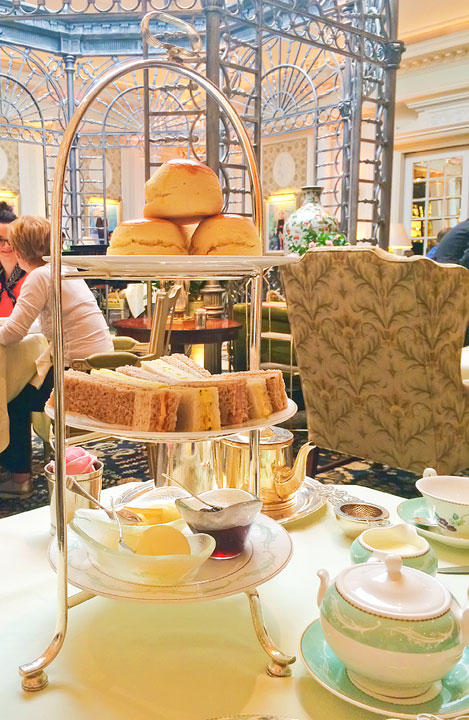 Afternoon Tea at The Savoy
I wish we could've had afternoon tea every single day in London!! I love afternoon tea and I wanted to try it at every single place possible. Unfortunately we only got to try two places, The Savoy and Fortnum and Mason. The scones were different at both places, but I liked them both. The sandwiches were very similar. The service was better at the Savoy. Where ever you go, be sure to make reservations ahead of time and plan to spend at least 2 hours at tea.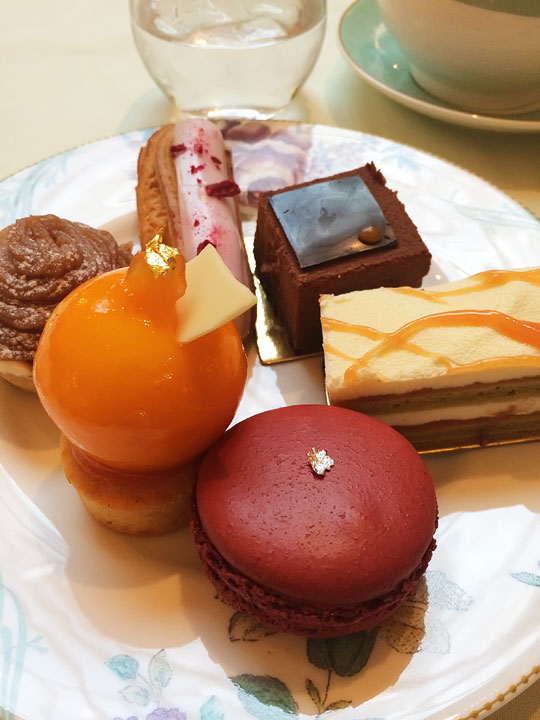 Here was our dessert selection at the Savoy.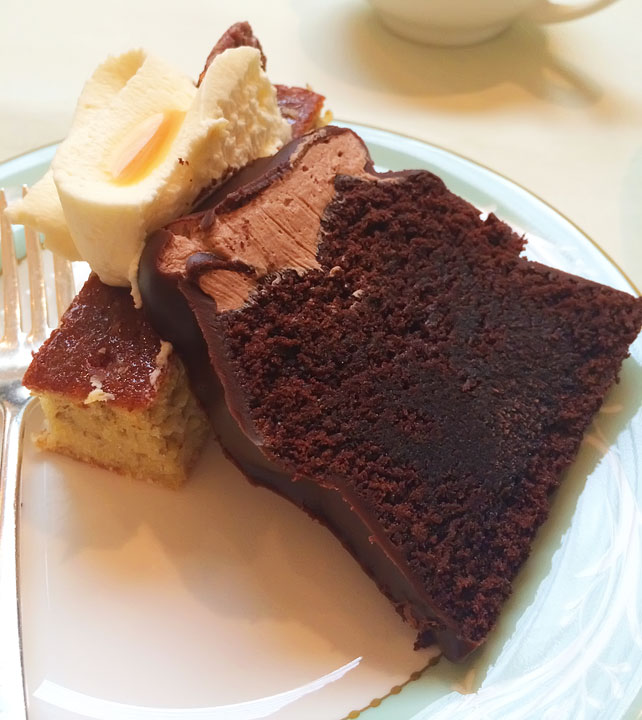 They also had chocolate cake and banana cake!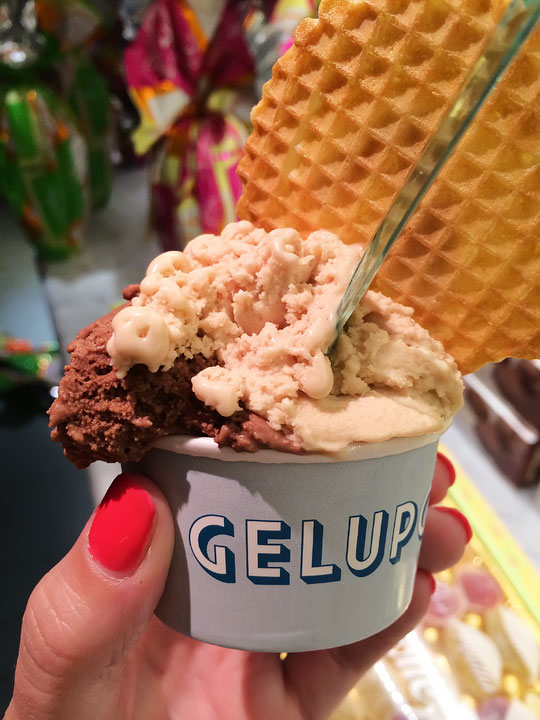 Gelupo
We definitely wanted to try this popular gelato shop after dinner one night in London! This place was packed — wall to wall people — so it was hard to navigate inside the shop, but the line wasn't too long fortunately. The gelato was just okay, but would do if you were craving gelato! But in hindsight I think I would've rather gone back to Wafflemeister. ;)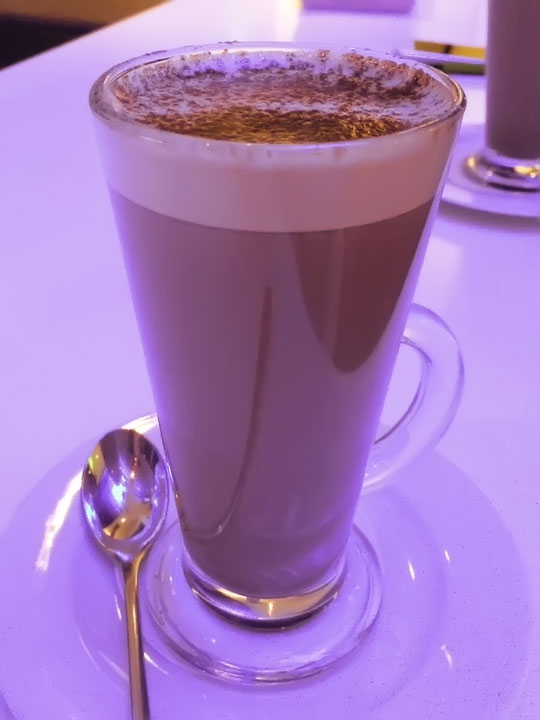 OXO Tower
We had reservations here on Saturday night in London. The OXO Tower is known to be one of the best restaurants in London for it's view. But it's not actually in a tower, the restaurant on the 6th floor of a regular building. However, the view is still nice and it's right on the water. We started with the hot chocolate to warm up.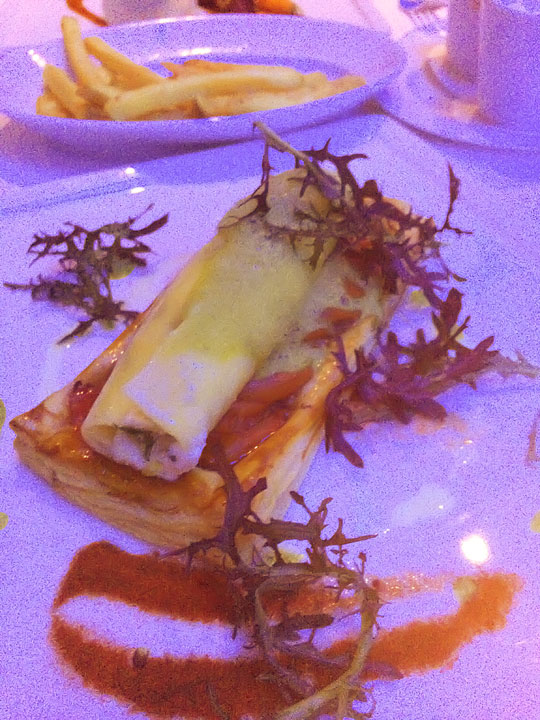 I had this sort of Lemon Ricotta Lasagna thing and it was pretty good.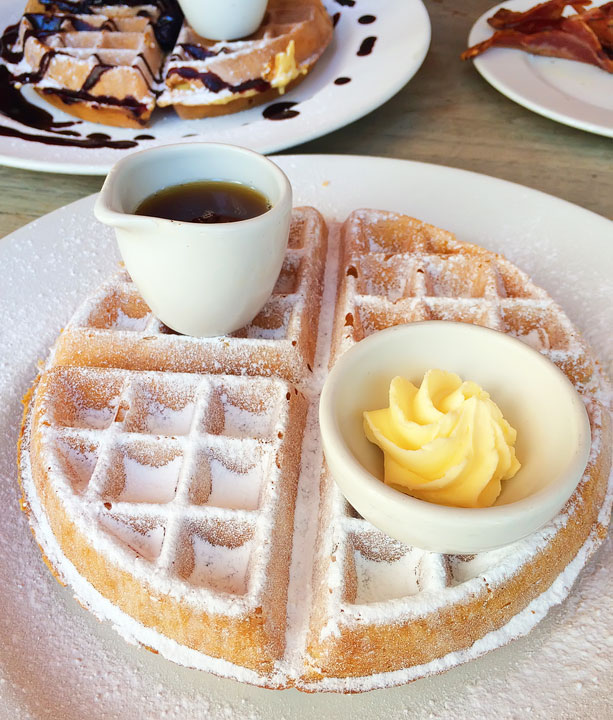 The Table Cafe
This was a very American breakfast cafe. This was the only place that served us "American" style bacon when we ordered bacon from the menu. Everywhere else brought us Canadian-style bacon. I had the plain waffle with butter and syrup. Very delicious if you are craving home!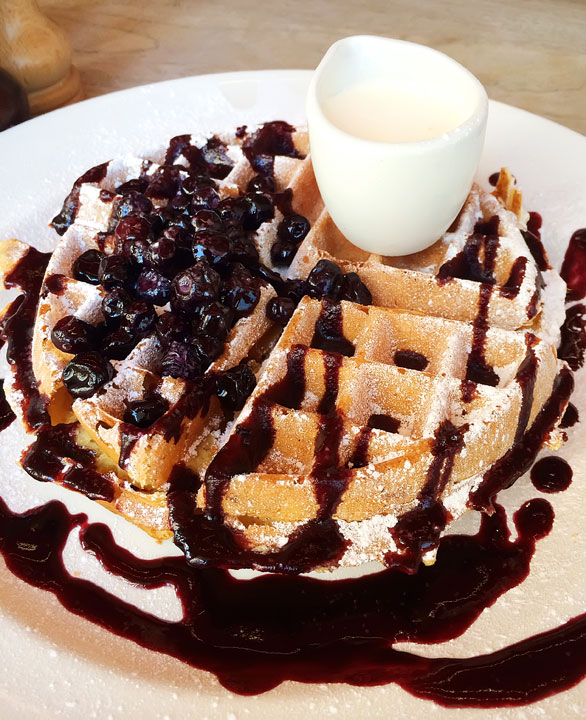 Kevin had the blueberries and cream waffle. That is blueberry sauce on top with cream to drizzle over.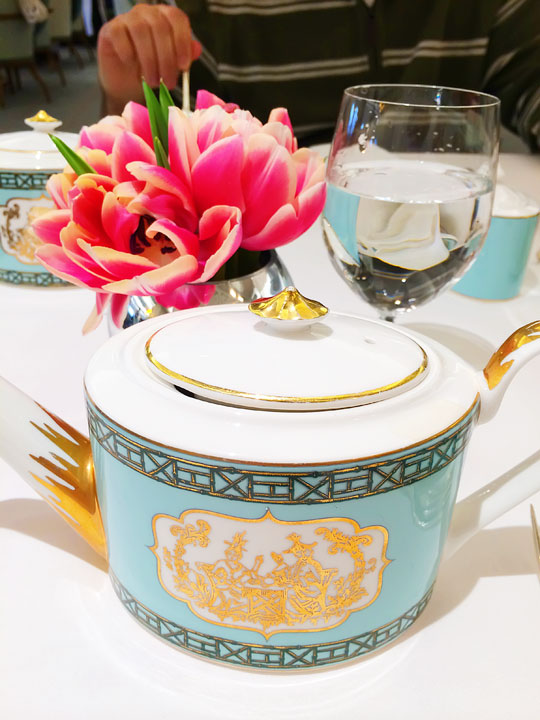 Diamond Jubilee Tea Salon at Fortnum & Mason
That afternoon we had tea at Fortnum and Mason. I would die to be here right now again! It was so lovely and relaxing. We had the strawberry tea and it was phenomenal!! Loved it.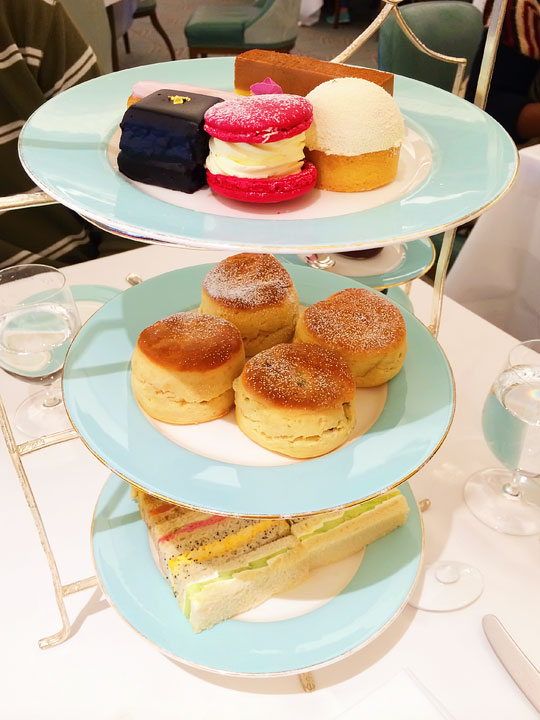 Look at these desserts!! And those scones!! I think the desserts here may have been a little better than the desserts at The Savoy.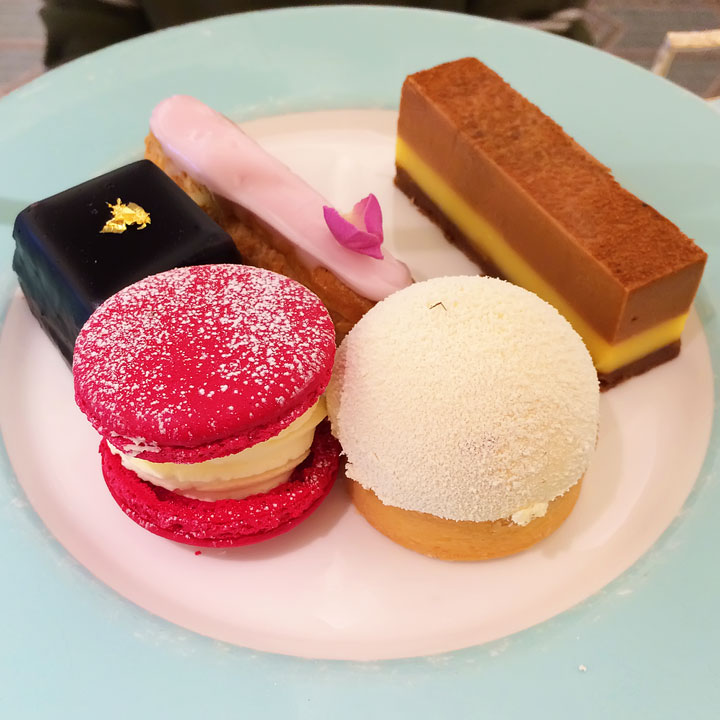 That macaron!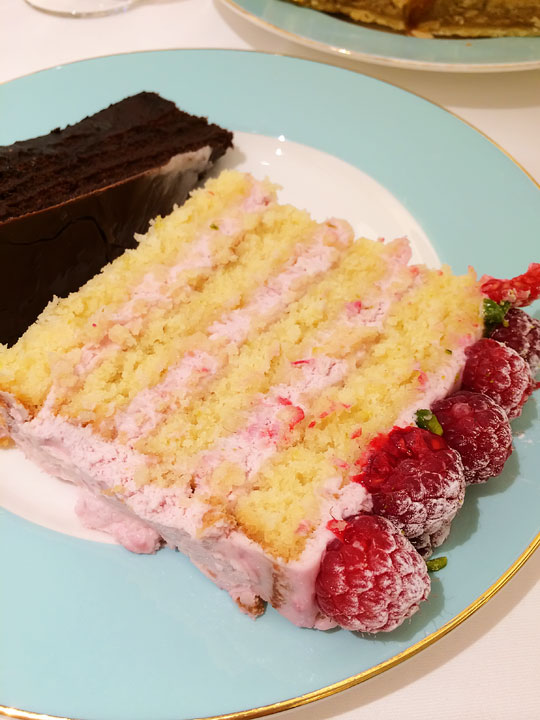 And this raspberry cake! The Diamond Jubilee Tea Salon is definitely one of the best restaurants in London for afternoon tea!!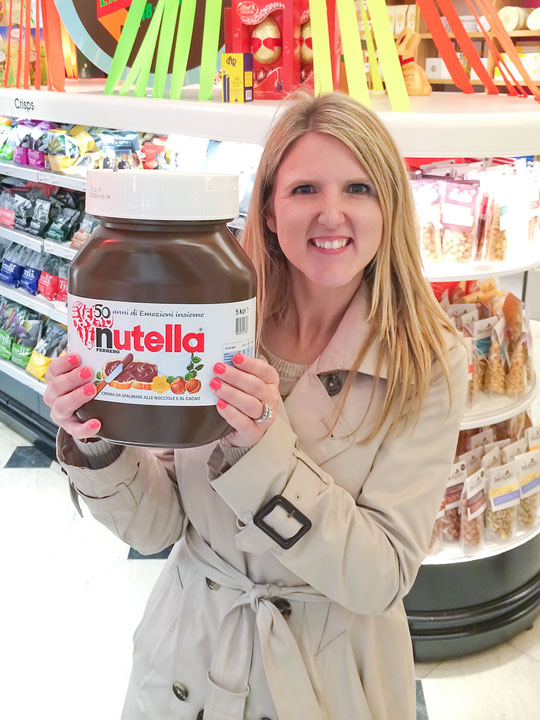 Later that afternoon we were browsing at Selfridges, and I found this ELEVEN POUND jar of Nutella. Good thing I didn't have a spoon or you would've found me crouched in a corner, acting all shifty, and devouring this entire jar! Wait, what am I saying… Who needs a spoon! ;)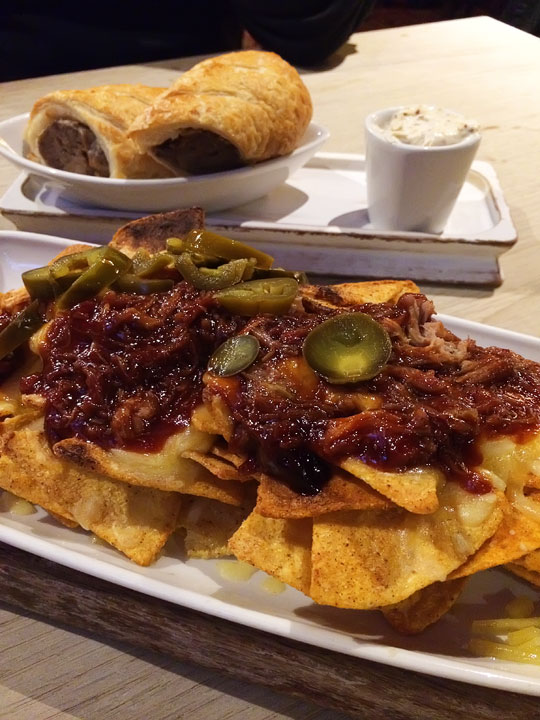 Anchor Bankside
Our last meal in London was at a pub, Anchor Bankside, and it was one of my favorite meals all week! I LOVED these pulled pork BBQ nachos!! Those chips are like homemade Doritos, but a million times better. The BBQ pulled pork was delicious, and it was topped with jalapenos and cheese and served with salsa and guacamole. Some of the best nachos I've ever had.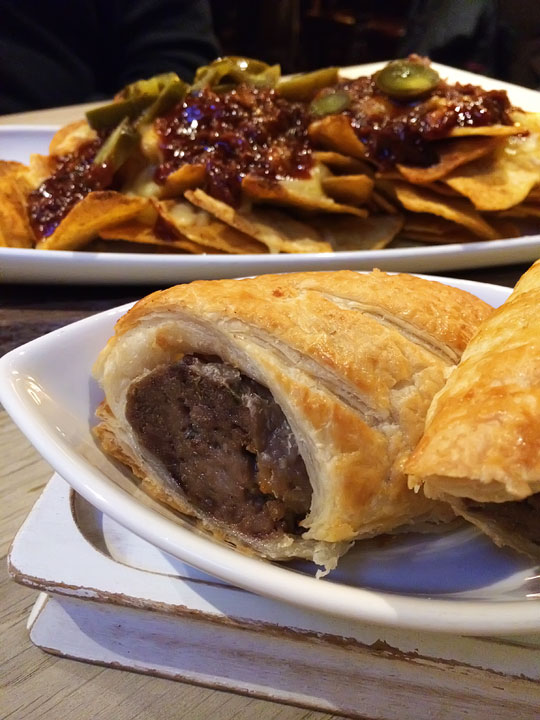 We also tried this Wild Boar Sausage Roll wrapped in puff pastry (pictured above), the Bangers & Mash, and the Ham, Egg & Chips, but the nachos were our favorite by far! Anchor Bankside is definitely one of the best pubs in London for food!!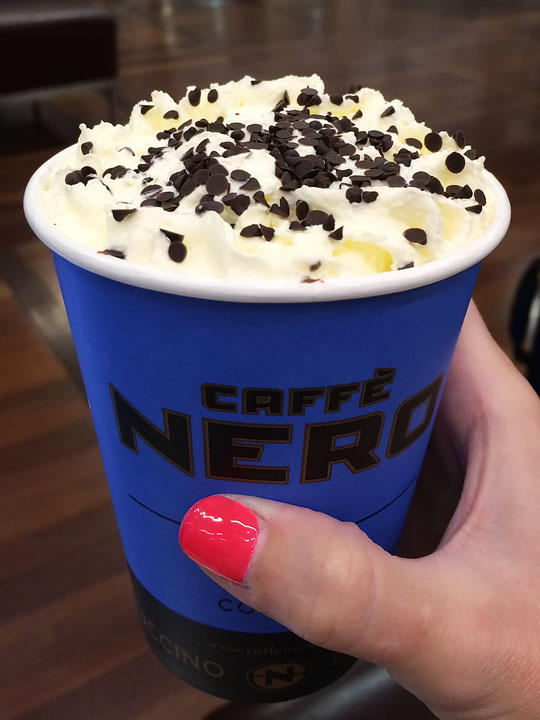 Caffé Nero
Our last morning in London we got up super early to catch the first train to Paris. There was a Caffé Nero in the train station, and I decided to check it out since we had some time to kill and I had been seeing them all over London. They were nearly as common as Starbucks are over here! When I saw they had a thick, luscious, drinking chocolate topped with fresh whipped cream and Belgian chocolate shavings, I knew I had to try it. This is the hot chocolate I had been looking for. Loved it.
---
Best Restaurants in London
Did I miss your favorite? What are the best restaurants in London and the best pubs in London? Let me know in the comments!