I had an amazing time exploring New York City with my girlfriends last week! Check out how much fun we had and learn the best things to do in New York City!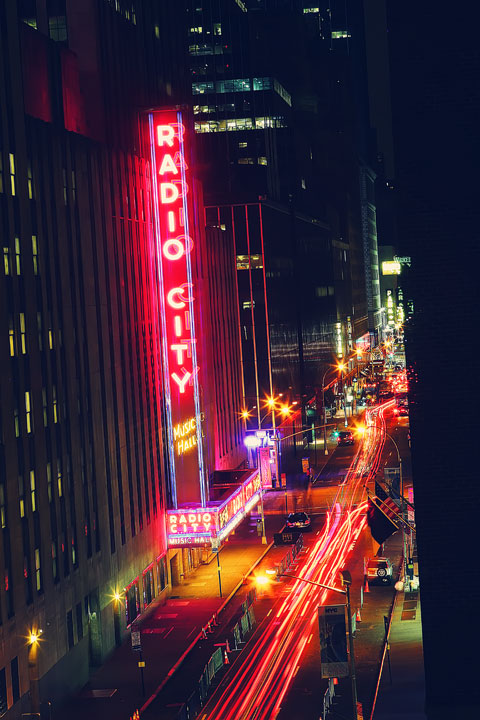 Exploring New York City
Last week I had such a fun opportunity to tag along with my sweet friend and neighbor Stephanie to NYC. She travels to all sorts of fun places for work, and when she slyly told me she was heading to NYC on her next fabulous trip, you know there was no way I was letting her go alone! :) She only had to work for two days, and we got to stay an extra few days to run around the city. Meanwhile, I was able to see my dear fellow bloggers Shelly at Cookies and Cups (we had tea at Alice's Tea Cup!) and Maggy at Three Many Cooks (Finally got to try Grimaldi's!) while Steph was at work. It was so much fun running around NYC with these three sweet girls! We saw Wicked, shopped on 5th Avenue for $900 shoes, bought purses on Canal Street, had tea at the Plaza, and ate way too many sweets. :)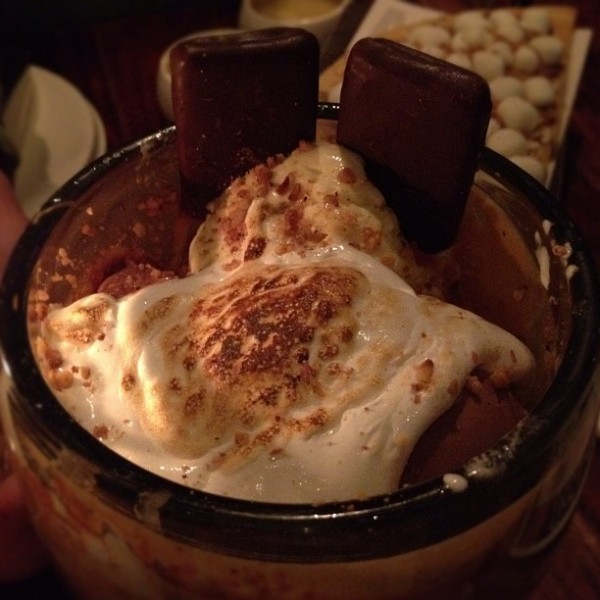 Like this Spectacular Melting Chocolate S'Mores Sundae from Max Brenner. I am a bit obsessed with everything S'mores lately!! This was absolutely swoon-worthy. It's a massive scoop of vanilla ice cream and another scoop of chocolate ice cream topped with milk chocolate fondue, pure chocolate chunks, marshmallow fluff & whipped cream. Then it's garnished with the gooiest toasted marshmallow ever. Oh. And it's served with white chocolate ganache on the side, and two chocolate-covered graham crackers. Heaven help me. If you follow me on Instagram you might've gotten a peek at this incredible sundae! Max Brenner is such a fun restaurant, definitely a must stop if you are ever in NYC. Their regular food is fabulous as well!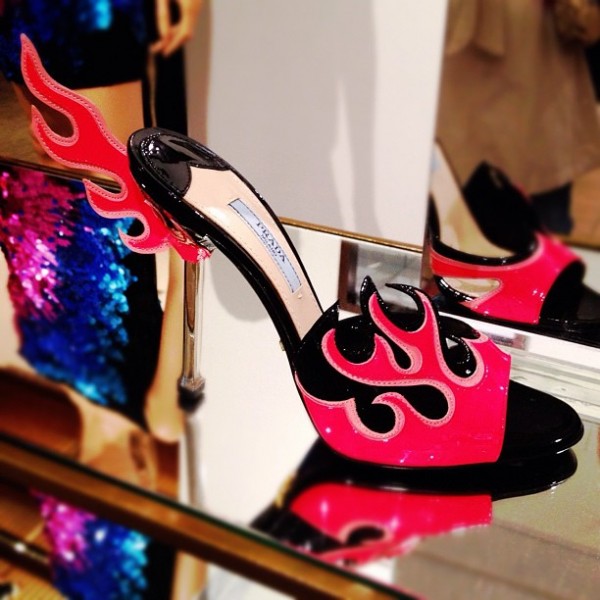 Totally had to do some window shopping on 5th Ave! How fun are these hot pink shoes??! Only $900.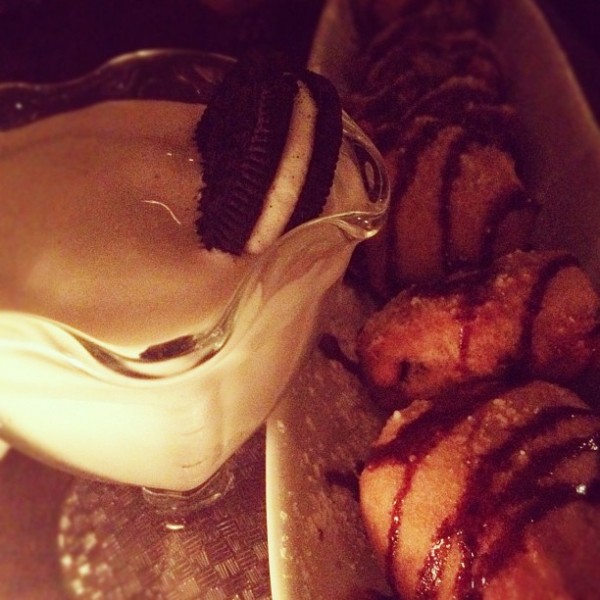 Did I mention there were deep fried Oreos involved, served with a gelato milkshake for dunking?? Mamma mia! These were from Lavo. Now I will admit, I am from the south and have had a better fried Oreo in my day — but I did actually love the food here! I just had a simple tomato basil spaghetti but it was so light and wonderful. I also tried Stephanie's salmon and it was so buttery it melted in my mouth. Yummy. We were able to make reservations on OpenTable, which I love to use. I would totally recommend this for a dinner, but fair warning — it was extremely loud in there!! Plan to communicate via telepathy. Or texting. Their brunch menu looked pretty delicious as well — maybe it would be quieter in the morning. :)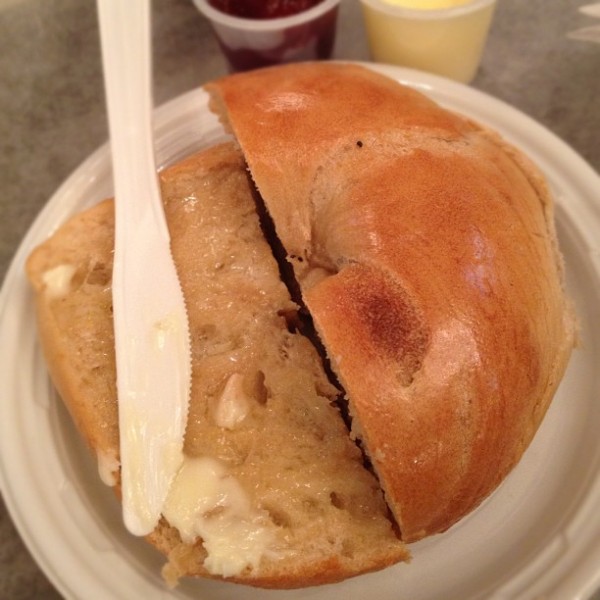 Oh my gosh, I had a life-changing bagel experience at Ess A Bagel one morning. Best darn bagel ever. Totally come here for a traditional New York bagel. I am totally a plain bagel and butter kinda gal, but they have tons of fun bagel and cream cheese flavors as well.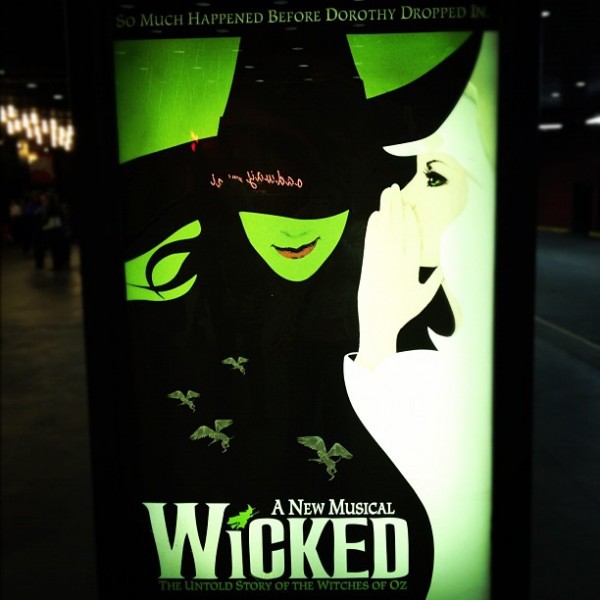 Seeing a Musical in NYC
We saw Wicked! Steph had never been before. Had to take her!!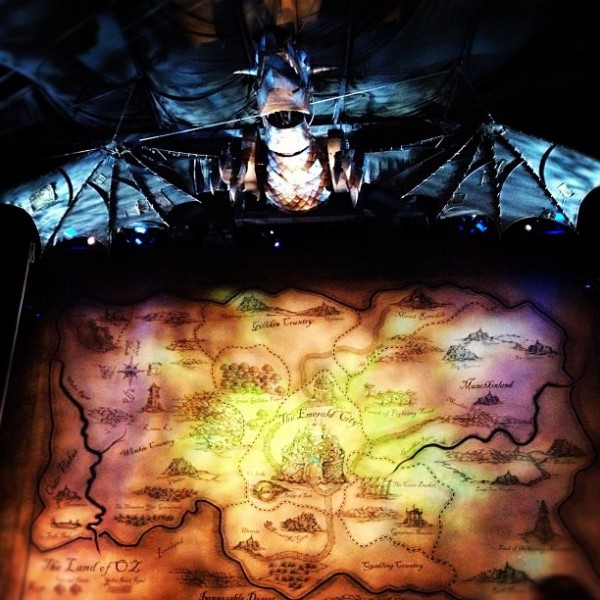 Oh my gosh, I was dying over our seats!! I don't know how we lucked out on these tickets. There were right in the middle, 10 rows from the stage. We just went to the box office around three o'clock that afternoon, and they were selling these seats for half price. I think I flipped out a little bit!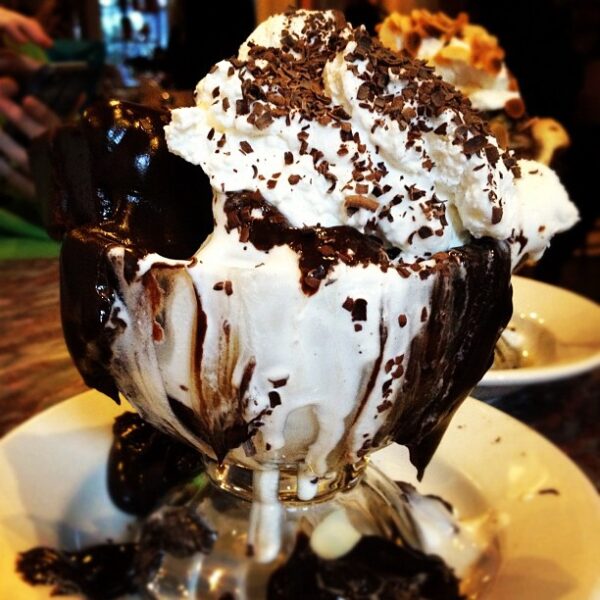 Oh my gosh. You totally know we had to do Serendipity. We showed up starving and ordered not one, not two, but three desserts!! In our defense, we counted one of them as our before dinner drink, and then we each ordered only one dessert after dinner. ;) That makes it okay, right? Here was mine, the Forbidden Broadway Sundae. The base is the richest chocolate fudge cake ever, topped with an incredibly fabulous chocolate ganache frosting, vanilla ice cream, whipped cream, hot fudge and chocolate shavings. Swoon.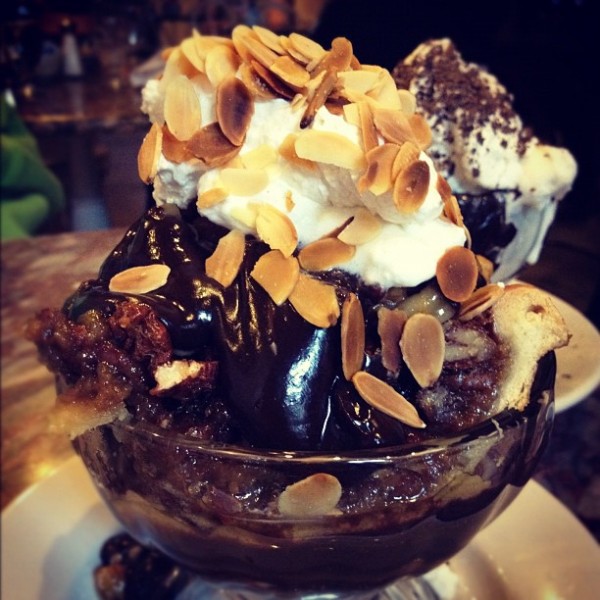 Here was Stephanie's Insanity Sundae, a new addition to the Serendipity menu. It is a pecan pie lover's dream!! This slice of pecan pie is topped with butter pecan ice cream, hot fudge, whipped cream, and toasted almond slivers. So yummy.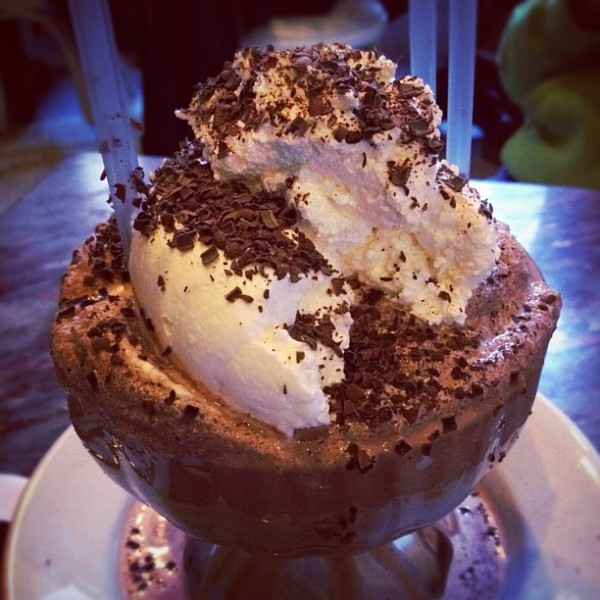 Here was our innocent before dinner drink :) A Frozen Peanut Butter Hot Chocolate, topped with whipped cream and chocolate shavings. Such a amazing twist on their famous Frozen Hot Chocolate. Loved the addition of peanut butter!! It definitely tasted like an extra thick peanut butter milkshake just a hint of ultra rich milk chocolate.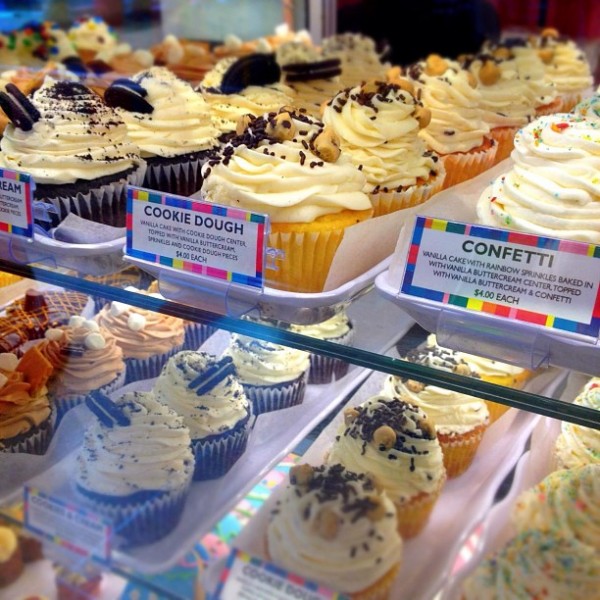 Of course we had to have a  little cupcake taste-testing party at Dylan's Candy Bar :) How fun are these flavors?? They are fun to look at, but definitely your basic boxed mix cupcake. You could make these at home easy. :)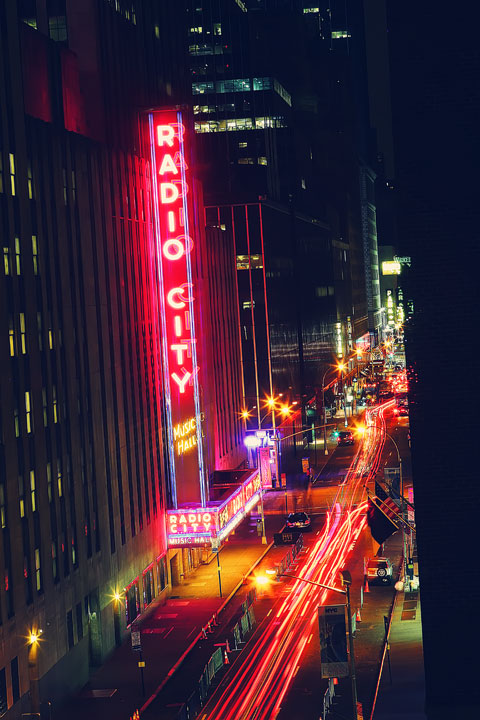 Where to Stay in New York City
Here was the view from our hotel room. We stayed at The Jewel at Rockefeller Center. This was a nice little place. We had two twin beds with plenty of plug-ins for phones and laptops that were easily accessible on the nightstand, free WiFi, and right outside our room was an endless supply of fresh, free chilled bottled water. Loved those things. We had a corner room, and the view was pretty darn good! Out one window we could see the massive Anthropologie at Rockefeller Center, and out the other we could see Radio City Music Hall and the Gershwin Theatre. Can you see the Wicked sign way in the background? :) The lighting in the bathroom was great for putting on makeup. The only negative was that there was practically zero water pressure in the shower. I totally have a thing about needing nice, solid water pressure!! :)
How to Take Great Nighttime Photos in the City
I took this photo on Friday night after seeing Wicked and realizing that we could see the Gershwin from our room. Here's how I took it.
Set the ISO to 100 — Night photos can get grainy pretty easily, so I always try to use as low of an ISO as possible.
Put the camera in TV (shutter-priority) mode and set the shutter speed to 15 seconds — This was to get those streaked car tail lights.
Positioned the camera on a chair — My makeshift tripod :)
Turned on the two-second self timer — I do this to avoid accidentally shaking the camera when taking the photo. I especially needed it this time because the chair was really soft and squishy!
After taking the photo, I checked to see if it was too bright or too dark and used the exposure compensation to adjust accordingly. The hardest part was waiting in between shots for the light to turn green so the traffic would be moving! :)
And now I'm in the mood to watch You've Got Mail. And When Harry Met Sally. And, for some reason, Sabrina.
XOXO,
Amanda