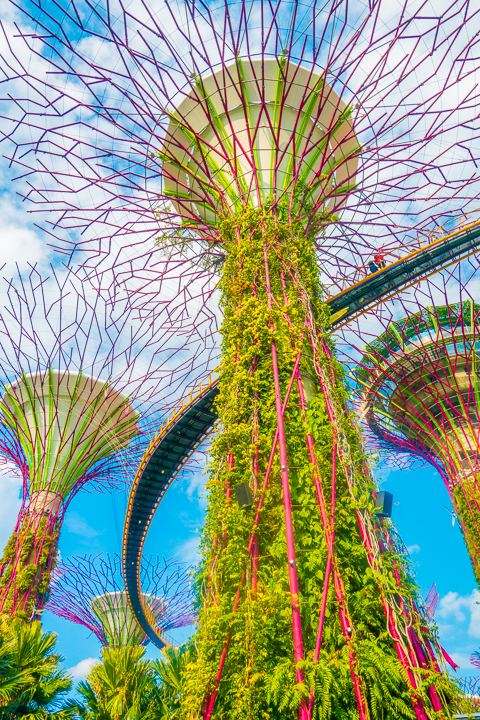 This fall I had the incredible opportunity to spend 7 weeks traveling in Asia. I started in Singapore and worked my way up through Malaysia and Thailand before heading on to the Maldives and Japan. I've been very lucky see many parts of the world, but besides 2 weeks in Bali, I'd never been to Asia.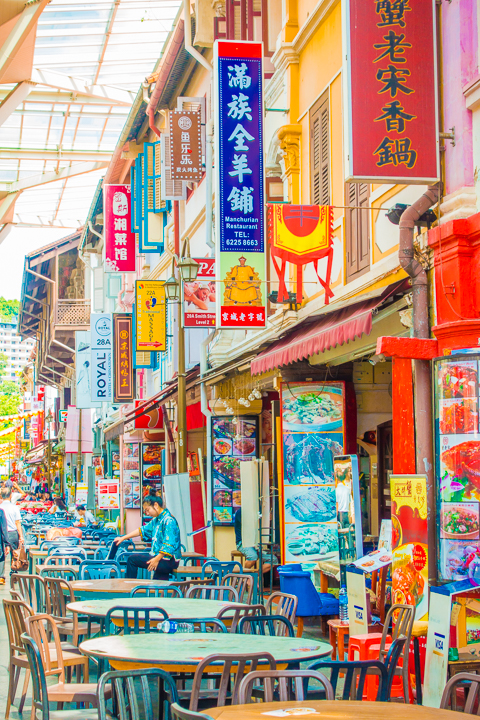 I didn't know much about Singapore (or why anyone would want to go there) before this trip. If Asia is on your bucket list, Singapore is an excellent place to start your journey.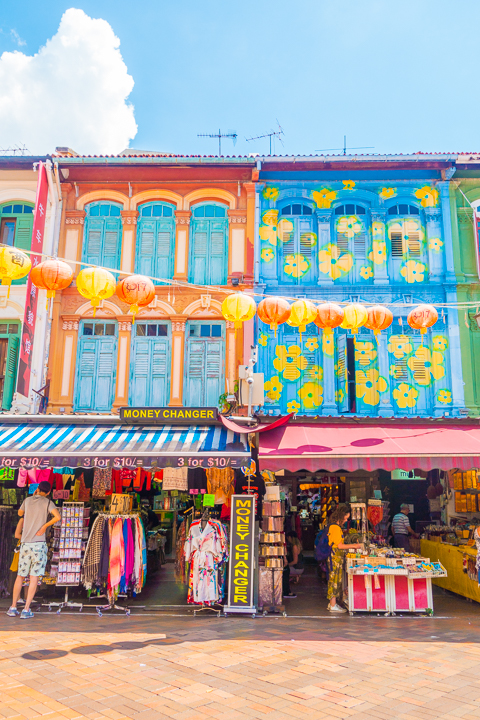 Singapore is a small island that's a city and also a country. Think Monaco. Like Monaco, it's also an extremely wealthy country. Singapore is home to one of the busiest cargo ports in the world.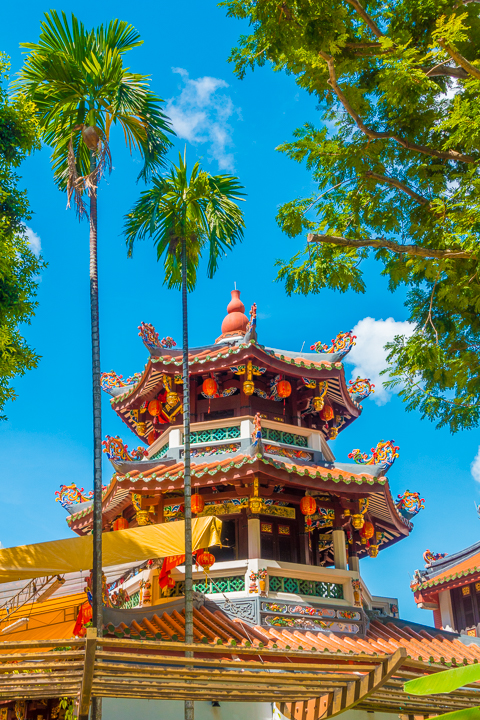 Singapore is ultra modern — I felt like a tourist in Times Square — I couldn't stop gawking at all the huge, tall buildings with incredible architecture!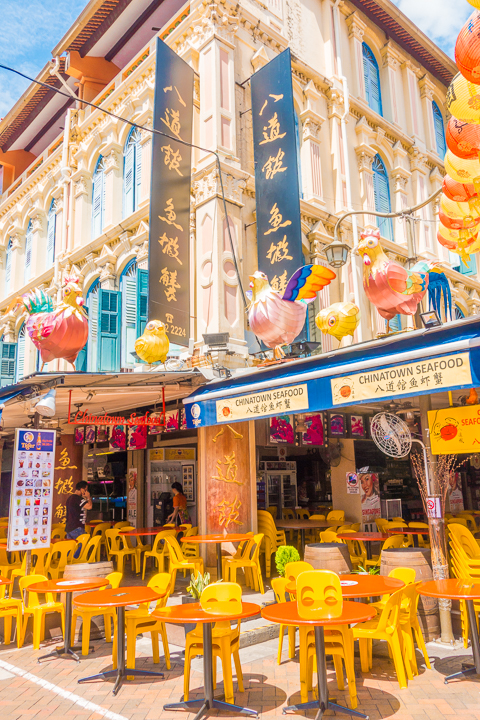 Singapore is very, very clean. Chewing gum and spitting in public is against the law. Even smoking outside is banned in many areas.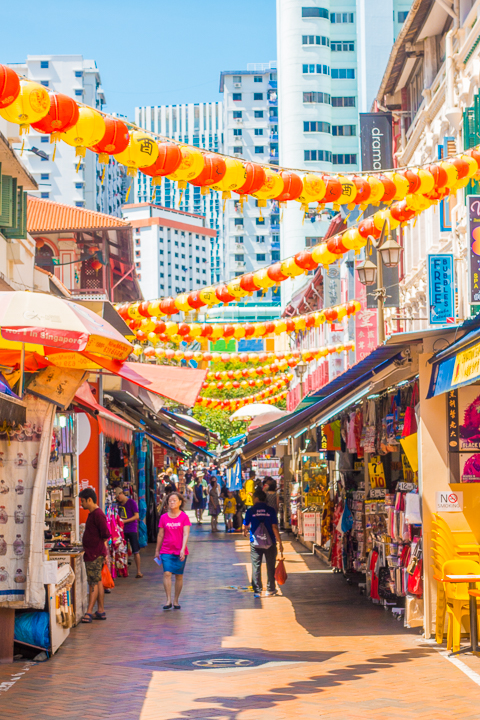 Singapore is very organized and safe. People aren't trying to scam you or take advantage of you as a tourist in an unfamiliar area.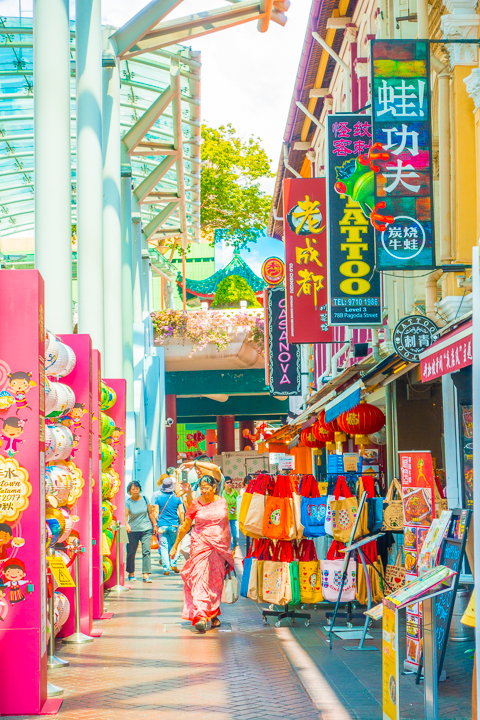 Public transportation is easy to access, understand, and use. Because Singapore used to be a British colony, English is the official language — all signs are in English.
Also, Singapore has Uber! Uber in Singapore was reasonably priced and arrived quickly after we called it.
*Use this link to sign up with Uber to get your first ride free!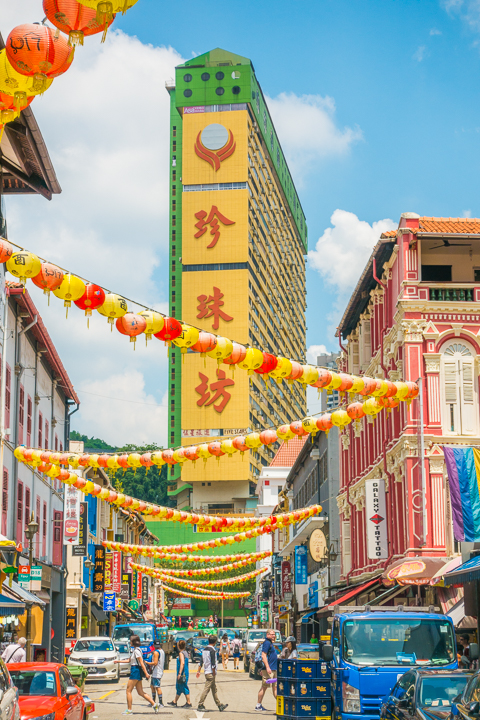 Singapore is one of the most popular travel destinations in the world. Singapore's Changi Airport has been voted the World's Best Airport for 5 years in a row. It's a huge airport hub with many flights serving many airlines. However it never felt confusing like Atlanta, Las Vegas, or Denver can be! Because it's such a huge hub, cheap flights to Singapore are easier to find than other destinations in Asia. If you're looking for a deal to travel in Asia, it might be cheaper to start in Singapore, then use a local airline to fly somewhere else (I used AirAsia). It's definitely worth checking out!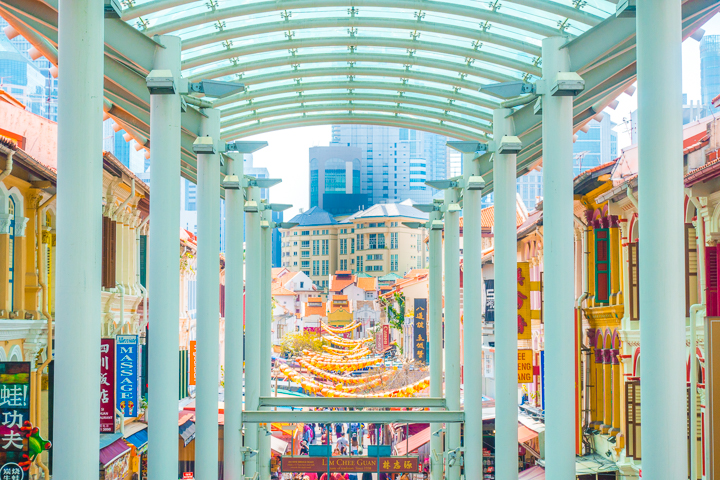 Keep reading below to see everything we did in Singapore… You may decide that Singapore is worth visiting all on its own. Either way, it's no doubt a great place to start if you've never been in Asia — especially if you enjoy the modern comforts of home.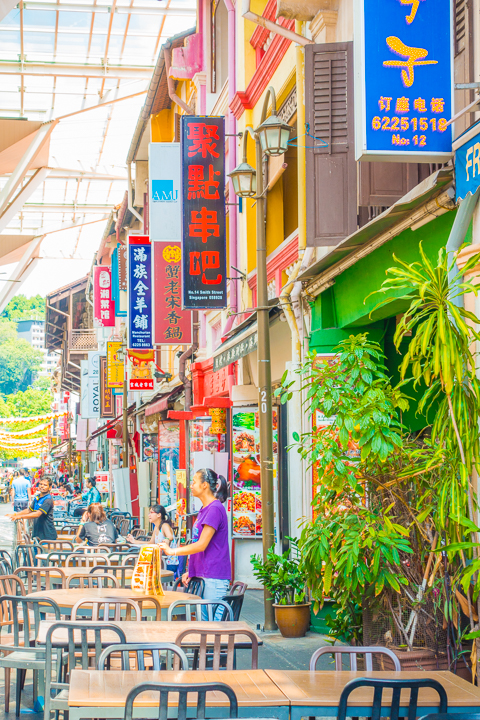 ---
Chinatown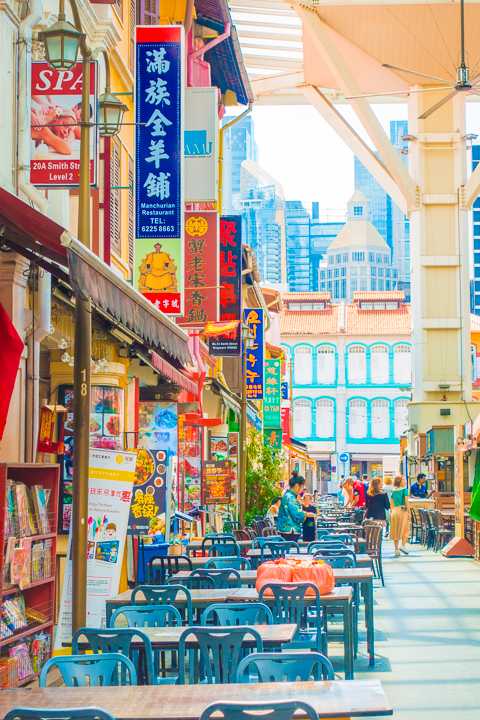 Except for the first picture, all of the above pictures in this post are from Singapore's Chinatown. You could easily spend a morning or afternoon exploring this historic area filled with ornate temples, narrow pedestrian streets, and traditional markets.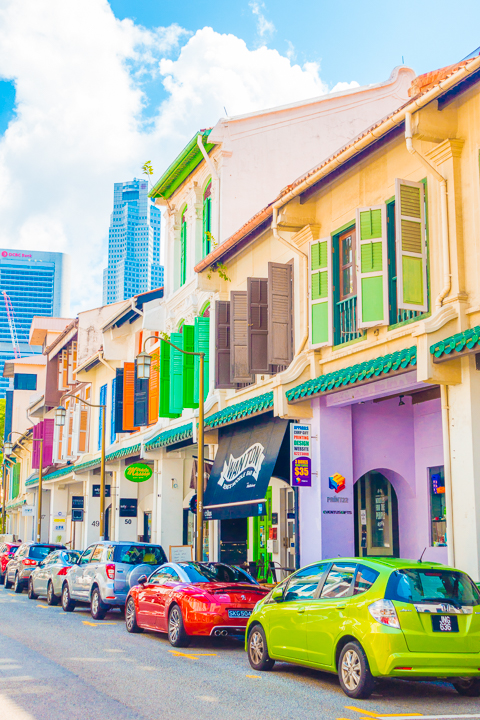 Here are some of the most interesting streets in Chinatown, perfect for wanding:
Temple Street
Pagoda Street
Chinatown Food Street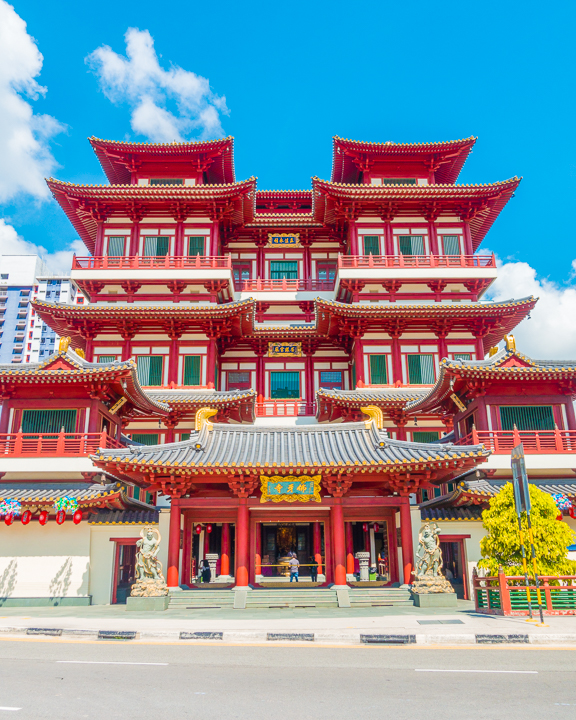 Another one of the main attractions in Chinatown is the Buddha Tooth Relic Temple and Museum.
---
Marina Bay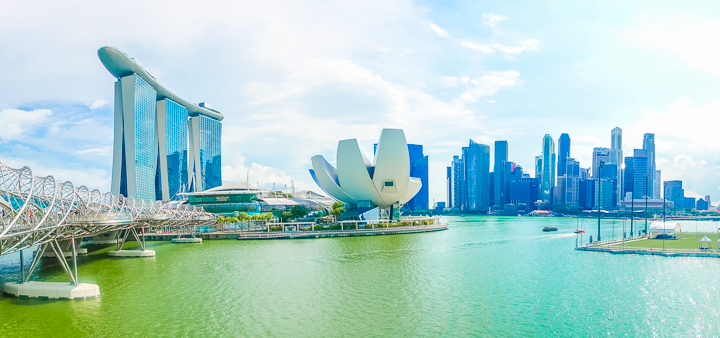 Marina Bay is home to Singapore's iconic skyline and some seriously amazing architecture. Definitely plan a morning or afternoon to walk around the bay. Below are the 4 things you don't want miss in this area.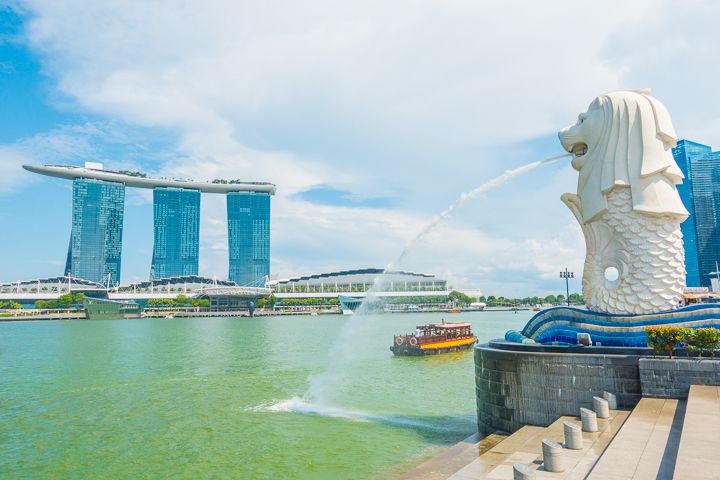 The Merlion —  The official mascot of Singapore. It's a mythical creature with the head of a lion and the body of a fish. The Merlion was first used as the logo for the Singapore tourism board.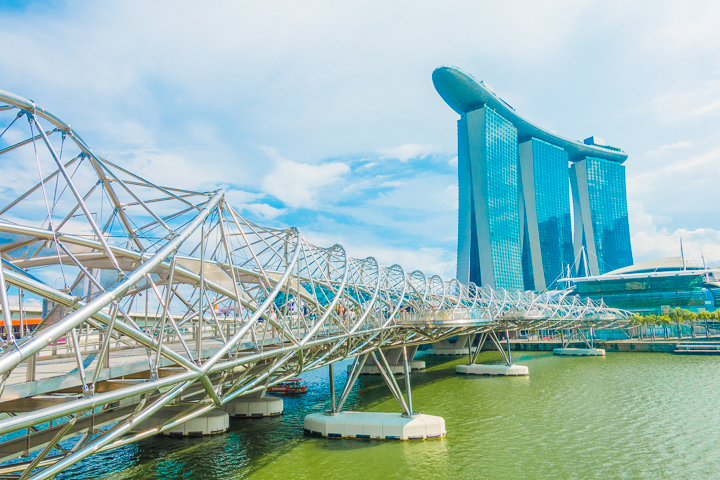 Helix Bridge — A pedestrian bridge over the bay with a unique shape and panoramic views of the bay.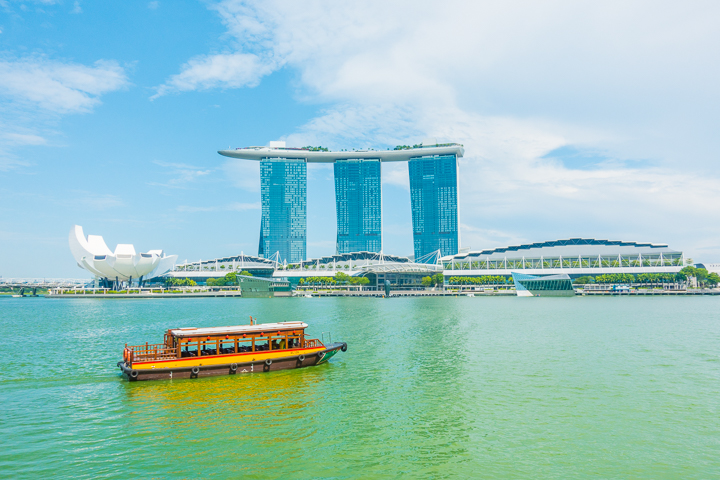 Marina Bay Sands Hotel — Home to the highest swimming pool in the world! Unfortunately you can only swim in this famous infinity pool if you are a guest of the hotel. However you can go up to the top for a fabulous view over the bay. I still regret not doing this! Even if you don't swim or go to the top, definitely get up close to check out the architecture of this grand hotel, or go inside and see the lobby and high end shops.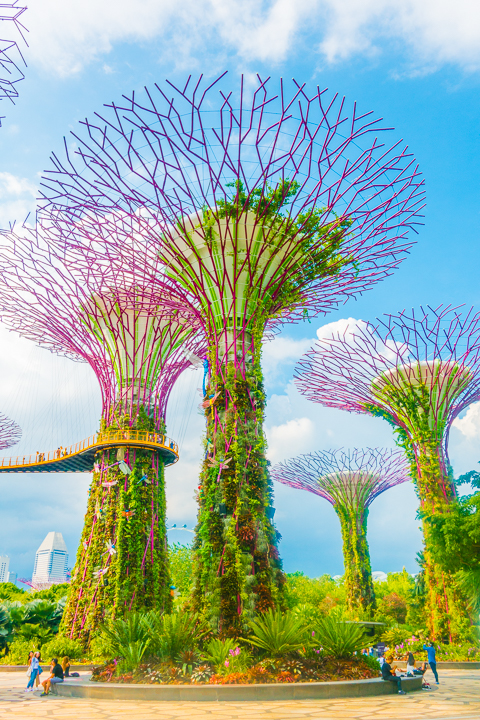 Gardens by the Bay — While some large metropolitan cities are just a concrete jungle, Singapore stands out because more than 50% of its area is covered in greenery. Gardens by the Bay is possibly one of Singapore's most iconic parks. It consists of three waterfront gardens and was designed by the Singapore government to raise the quality of life by enhancing greenery in the city. I saw plants and flowers here I've never seen anywhere else in the world.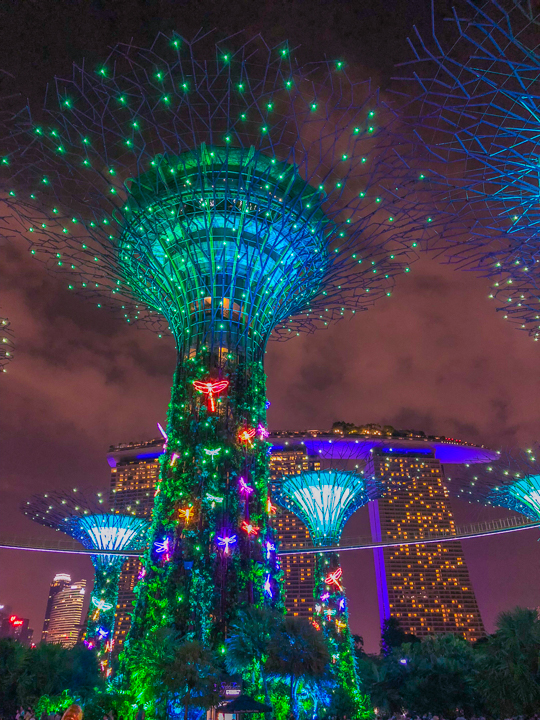 Don't miss the Supertree Grove at night — Just like you wouldn't go to Paris without seeing the Eiffel Tower light up at night, don't miss the Supertree light show in the Gardens by the Bay! Every night (twice per night) the Supertrees light up and perform a majestic show with music and dancing lights. This was honestly one of the highlights of our trip!
Check out the Gardens by the Bay website for show times.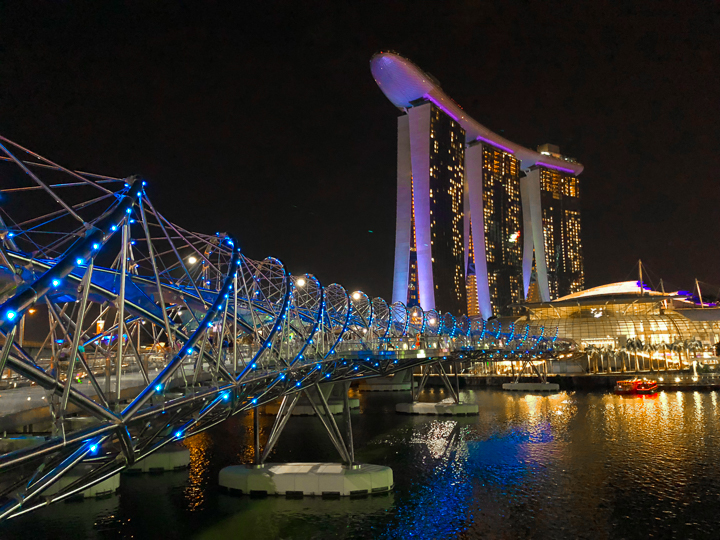 Once you've seen the bay during the day, you'll definitely want to come back and see it all again at night! All the lights and reflections on the water are magical.
---
Clark Quay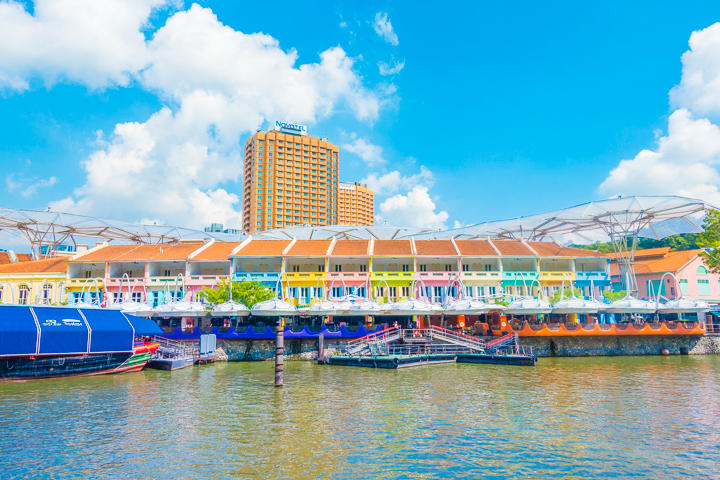 Clarke Quay is a colorful promenade along the Singapore River.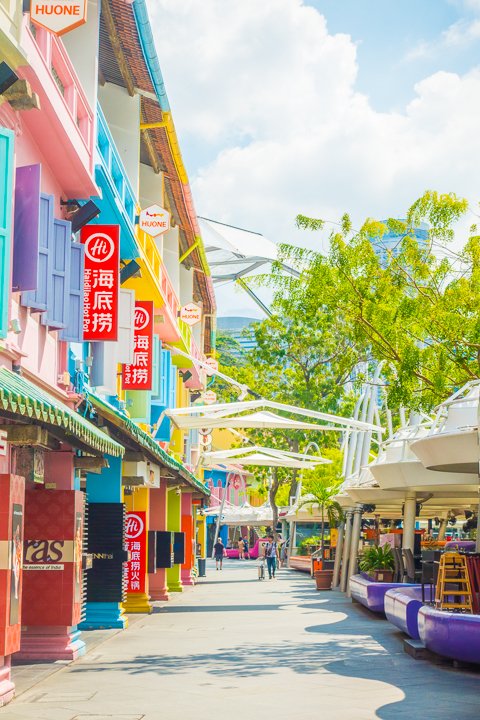 At night this area comes alive with restaurants and bars. Definitely come here if you're looking for a restaurant with great atmosphere.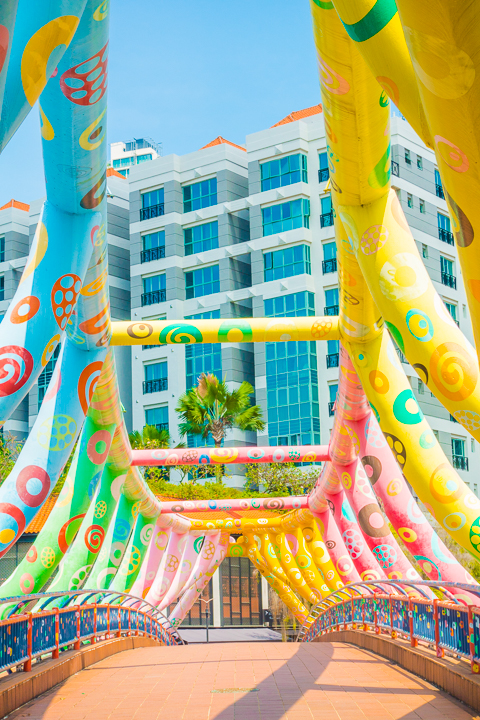 Be sure to check out the nearby Alkaff Bridge!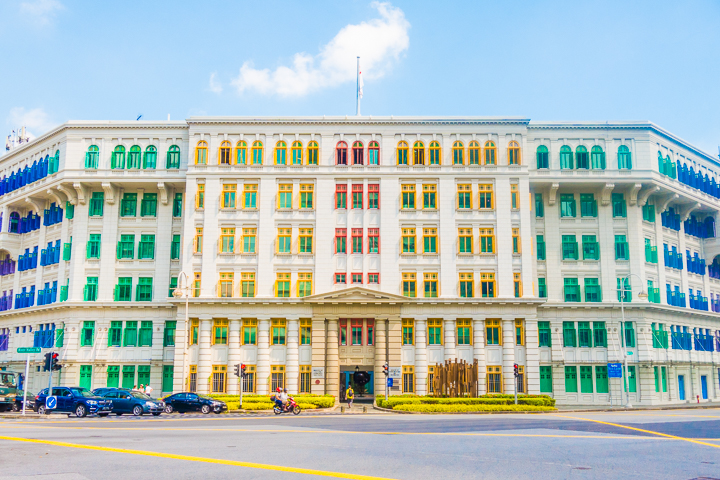 Also in this area is the Old Hill Street Police Station with fun rainbow windows.
---
Little India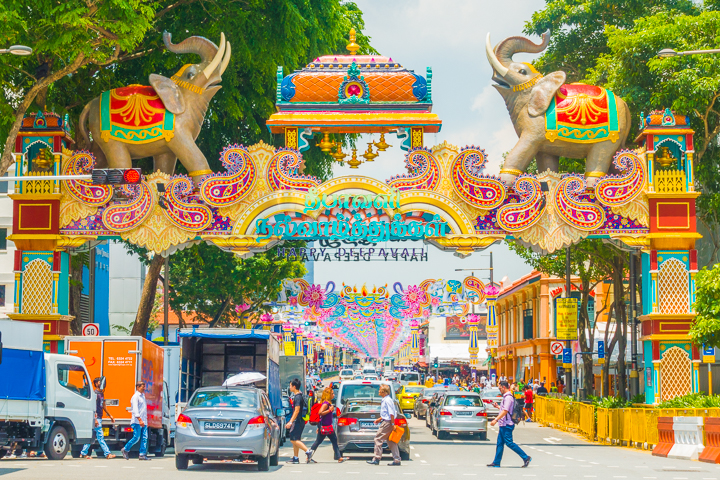 Little India is a vibrant historic neighborhood in Singapore full of culture, shopping, restaurants, bustling markets, and street stalls.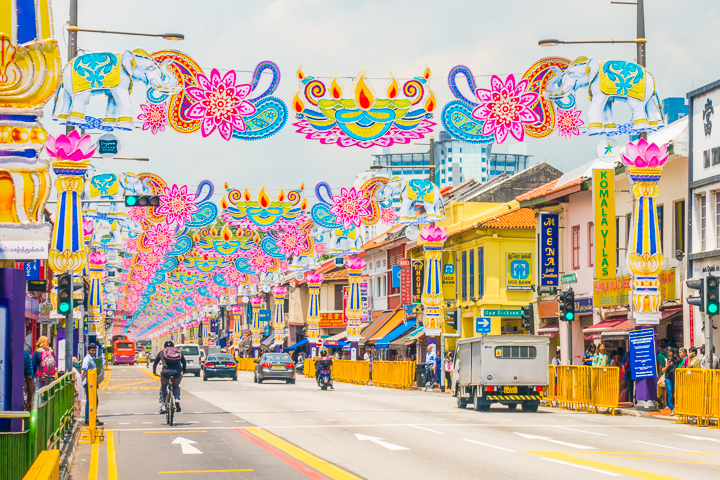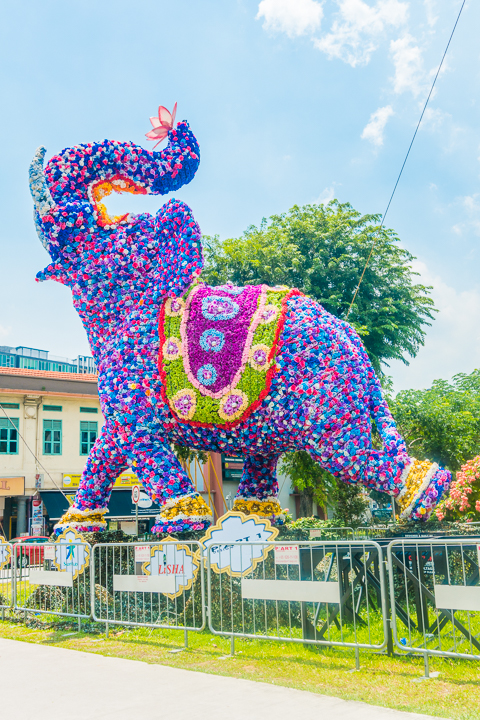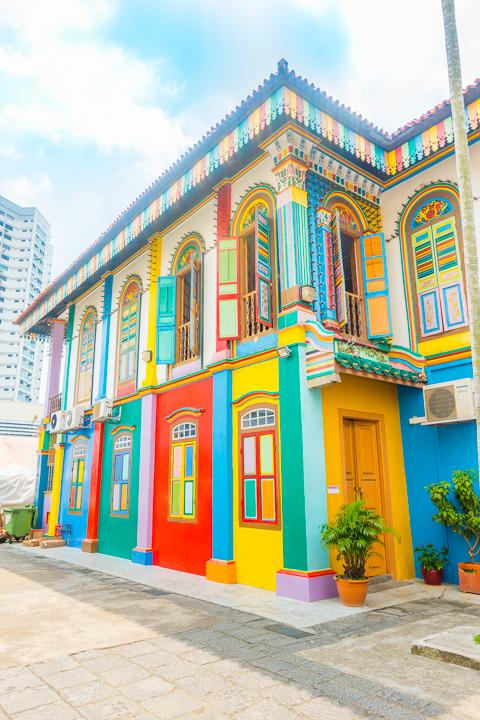 Don't miss the colorful Tan Teng Niah house in Little India!
---
Arab Street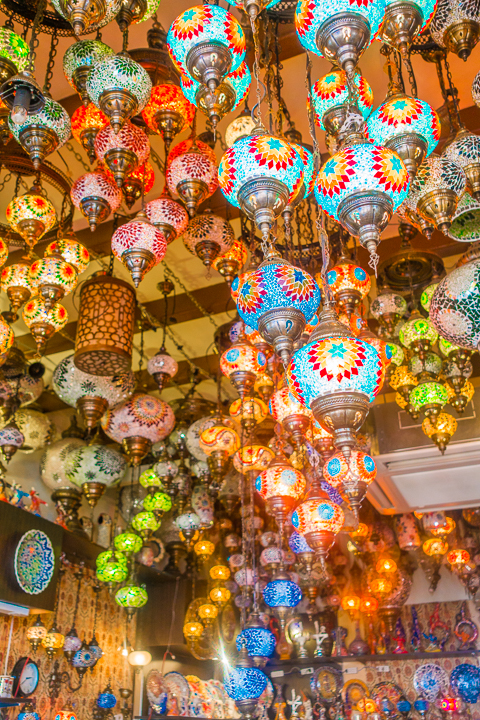 From Little India, you can walk to another cultural neighborhood, Arab Street.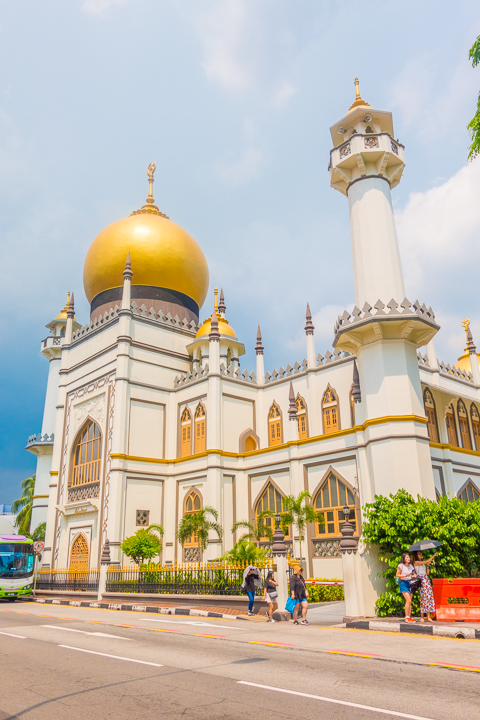 The name Arab Street refers the area including Muscat Street, Bussorah Street, Arab Street, Haji Lane, and Bali Lane. It's a neighborhood full of unique shops and restaurants. It's not too big though, so you can easily walk through this entire area.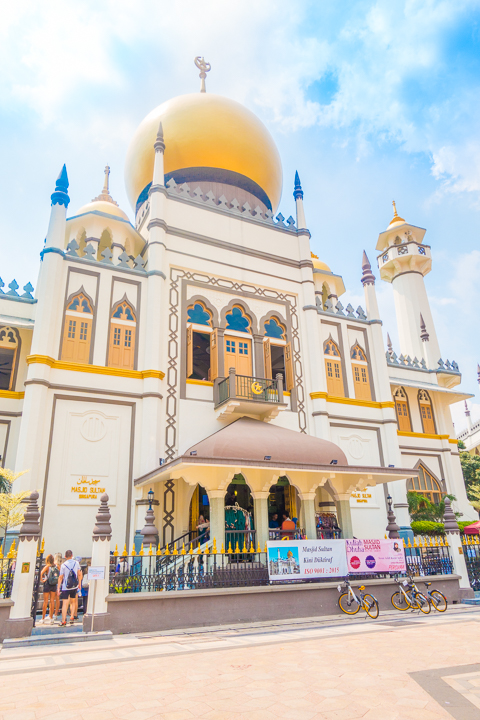 At the heart of Arab street is the Masjid Sultan Mosque, considered the "national mosque" of Singapore.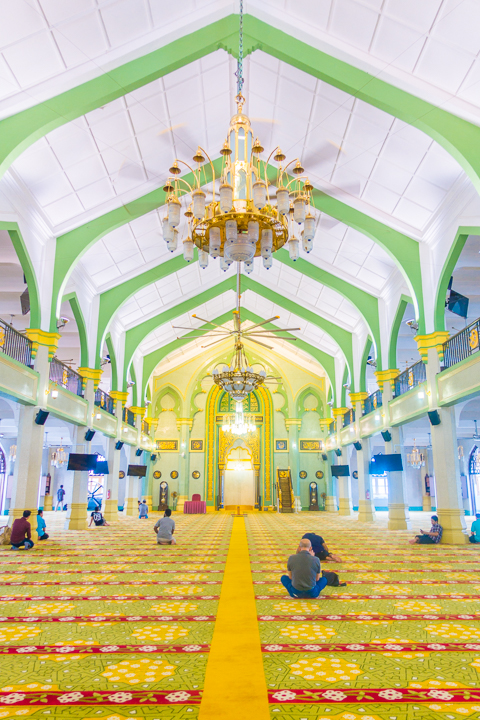 I had never been in a mosque before, or even seen the inside of one, so stepping inside this mosque for the first time was a special experience for me.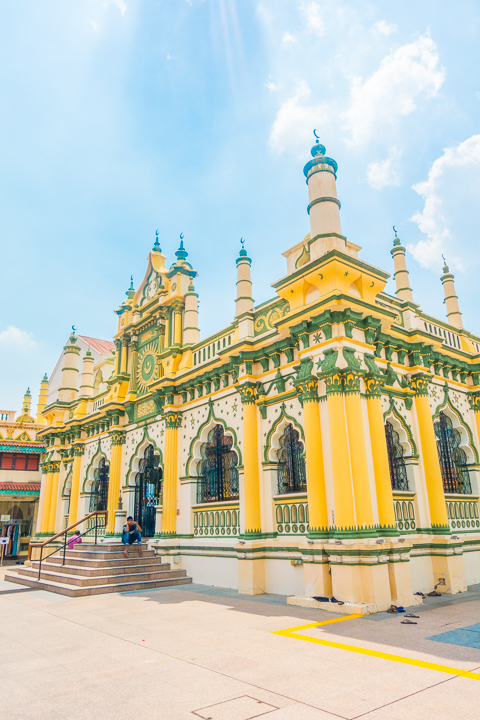 Another beautiful mosque you might pass on your way from Little India to Arab street is the Abdul Gafoor Mosque.
---
Chinese Garden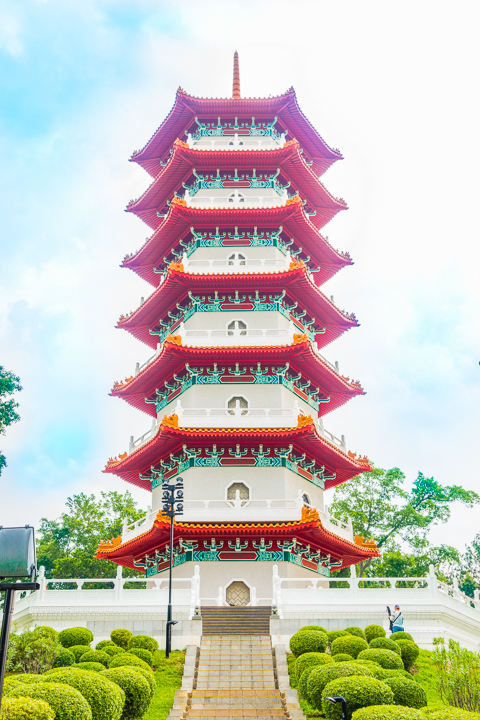 If you have extra time in Singapore, you might want to head outside of the city to the peaceful Chinese Gardens. You can explore the lake, gardens, animals, and pagodas here.
---
Where to Stay in Singapore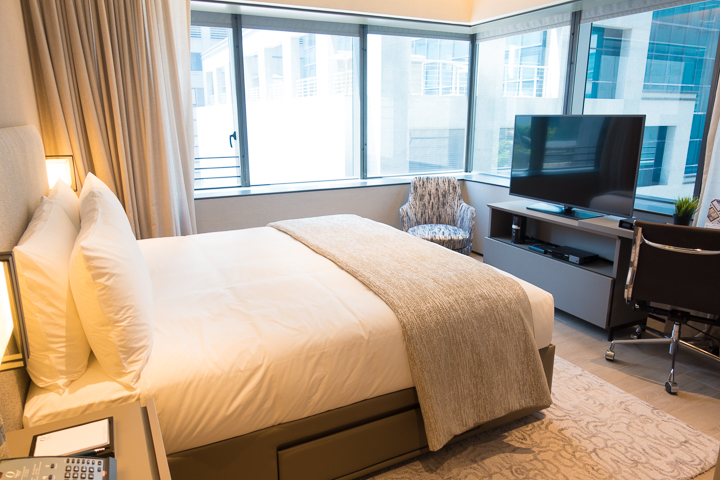 We stayed at the brand new Oakwood Premier OUE Singapore. This well-located hotel is right in the heart of Singapore's central business district, walkable to Chinatown and Marina Bay, and very close to multiple MRT stations.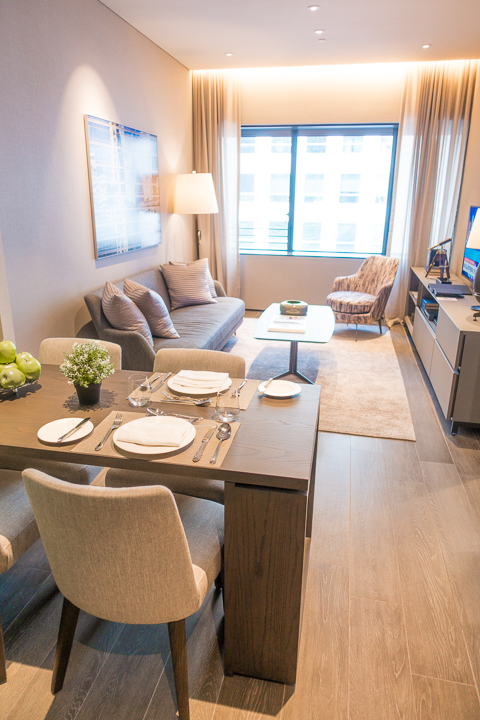 The Oakwood Premier OUE Singapore is a luxury serviced apartment style hotel. That means you get the comfort and space of a furnished home with all the luxuries of a hotel. The hotel offers premium amenities and services such as high speed internet, housekeeping, concierge, and 24-hour customer service.
One of the most useful amenities of this hotel is the room comes with a Samsung smartphone loaded with an internet browser and Google Maps for you to use while you're in Singapore. This came in SO HANDY! I didn't have to pay for international data fees or buy a SIM card in Singapore. I was able to do everything with the phone provided by the hotel. This easily saved me $30 in cell phone fees!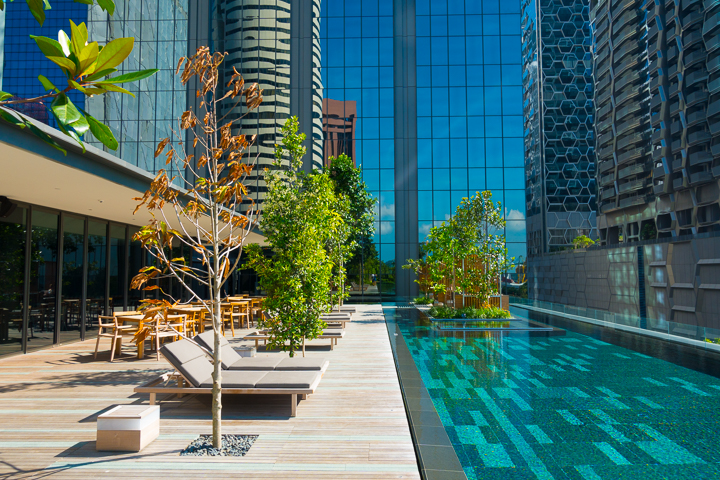 The Oakwood Premier OUE Singapore also has state-of-the-art facilities including a 24-hour fitness center, in-house restaurant, lobby bar, an incredible outdoor infinity pool with views over Singapore, even an outdoor barbeque if you feel like grilling by the pool one night.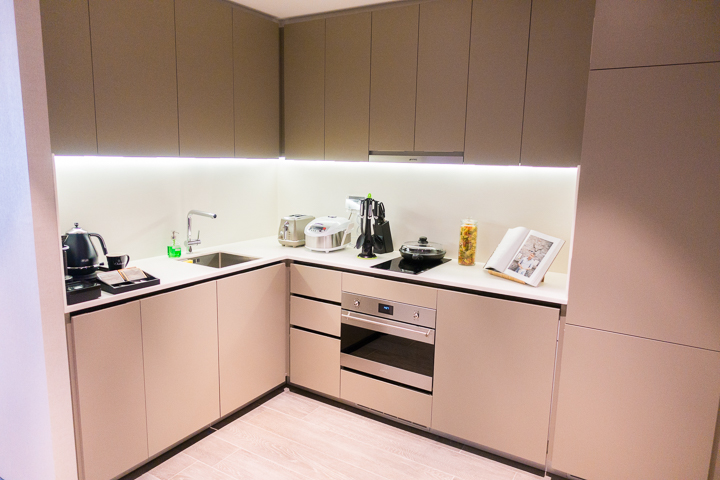 You can also stay in your room and cook! Our room had a fully equipped kitchen with a microwave, oven, refrigerator, toaster, utensils, even a rice cooker!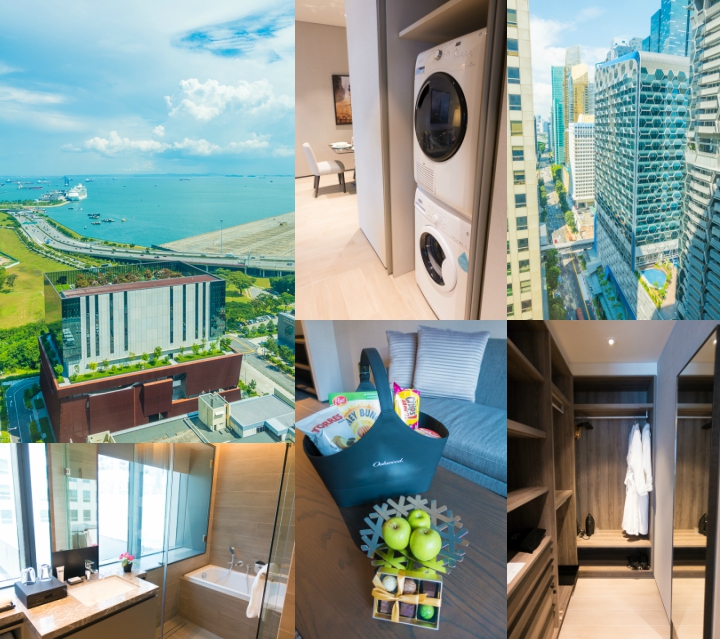 There was even a washer and dryer for laundry. During my 7 weeks of travel I had to do laundry many, many times, usually in the sink or bathtub. I wish I had a washer and dryer like this everywhere I stayed!! You better believe I took advantage of this one while I had it, even though I had only been away from home for 3 days at this point! :)
Check out the video tour of our room!
The Oakwood Premier OUE Singapore is honestly one of my favorite places I have ever stayed. The view from our corner suite was amazing, especially from the shower in the bathroom!!! I seriously looked forward to my shower every day for the view. And the robes were hands down the softest, most comfortable thing I have ever worn in my entire life. Pure luxury.
How crazy is this bathroom??! I've never seen this before!!
If you're looking for a luxurious place to stay in Singapore with tons of space, amenities, and a fabulous view, I highly recommend the Oakwood Premier OUE Singapore.
---
What to Eat in Singapore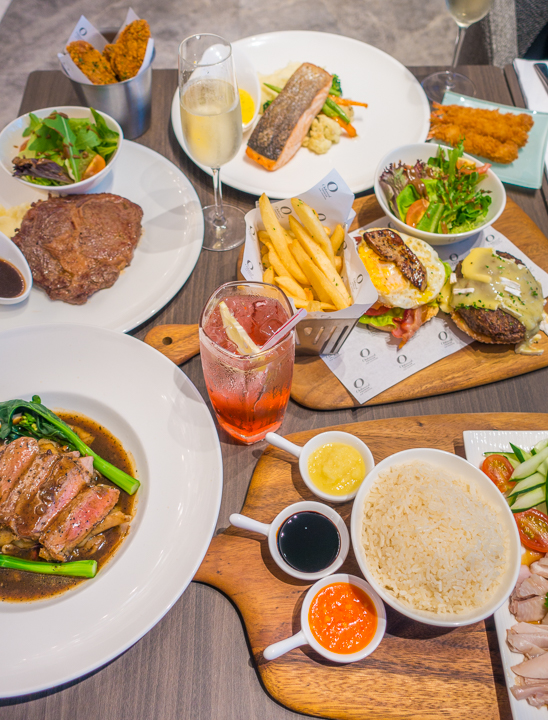 While you're at the Oakwood Premier OUE Singapore, definitely check out their in-house restaurant, Se7enth.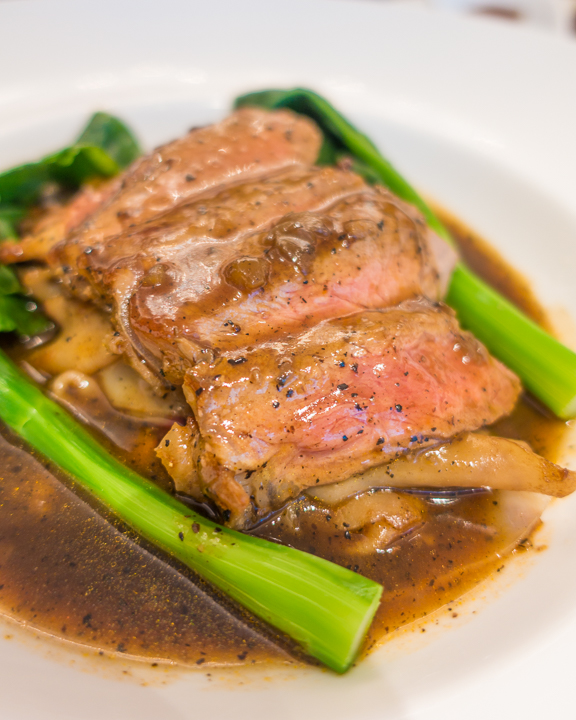 Se7enth is open for breakfast, lunch, and dinner and offers a modern international menu.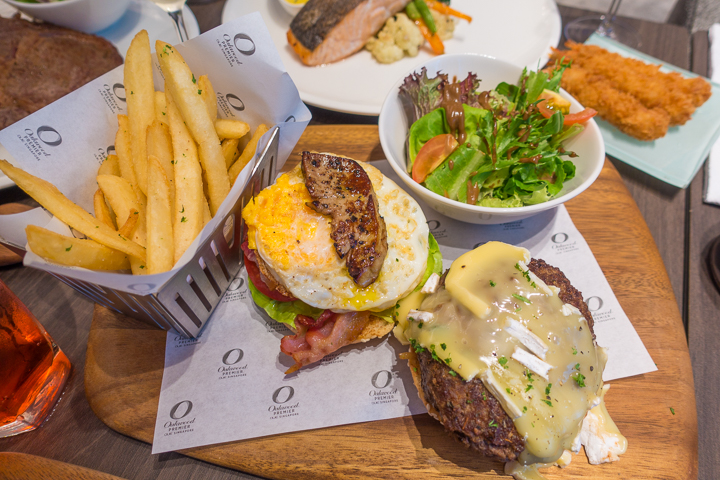 Oh my gosh, this Oakwood Se7enth Beef Burger was seriously the BEST burger I have ever had!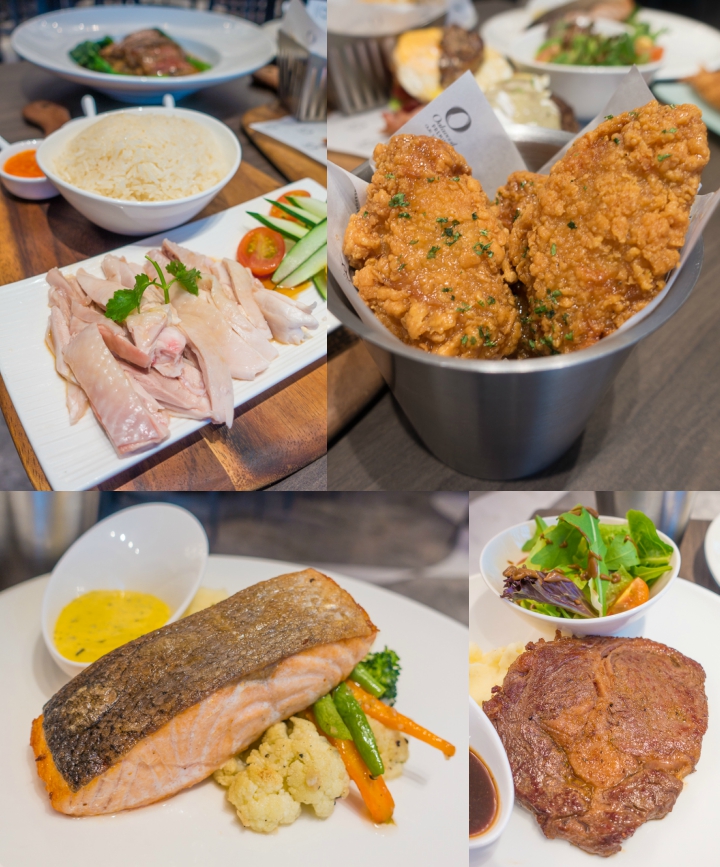 They also have local favorites such as sirloin beef hor fun, nasi goreng, and chicken rice!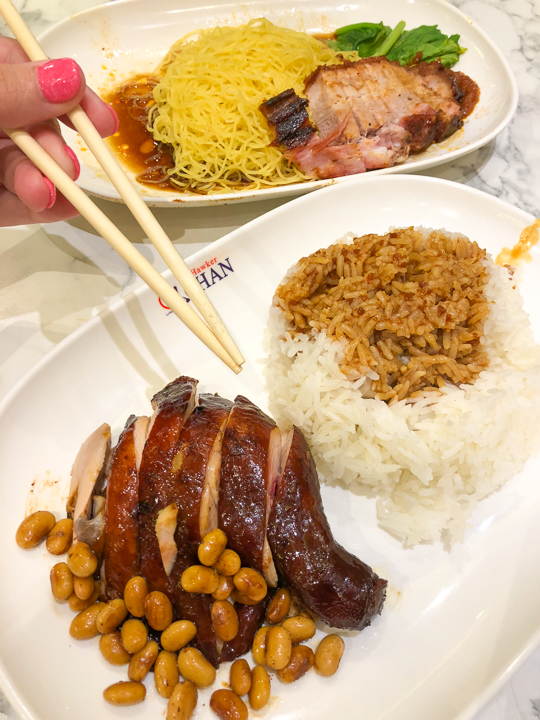 Singapore has the unique honor of being home to the world's cheapest Michelin-star meal. There are more than 6,000 food stalls selling popular local street fare in Singapore, and incredibly two of them have been awarded an elusive Michelin star. We went to the first one to be awarded, Hong Kong Soya Sauce Chicken Rice And Noodle, located in Chinatown.
We arrived a bit early for lunch, around 11 AM, and had to wait in line about 30 minutes for our food and then sit at a shared table once we got our food. But I can honestly say the Soya Sauce Chicken Rice was hands down the BEST chicken rice I had the entire trip. It was 100 times better than any other chicken rice I had there. I made the mistake of getting 2 things to try. The second dish was a pork dish, and I ended up hating it. If you're there with a friend, just get two of the Soya Sauce Chicken Rice!! You won't want to share!!  :)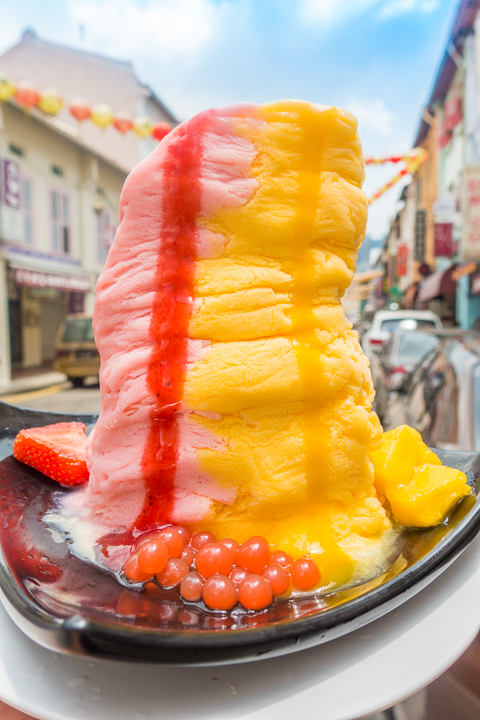 Right by the chicken rice shop is Mei Heong Yuen Dessert, with super soft shaved ice. Perfect for cooling off on a hot day in Singapore!!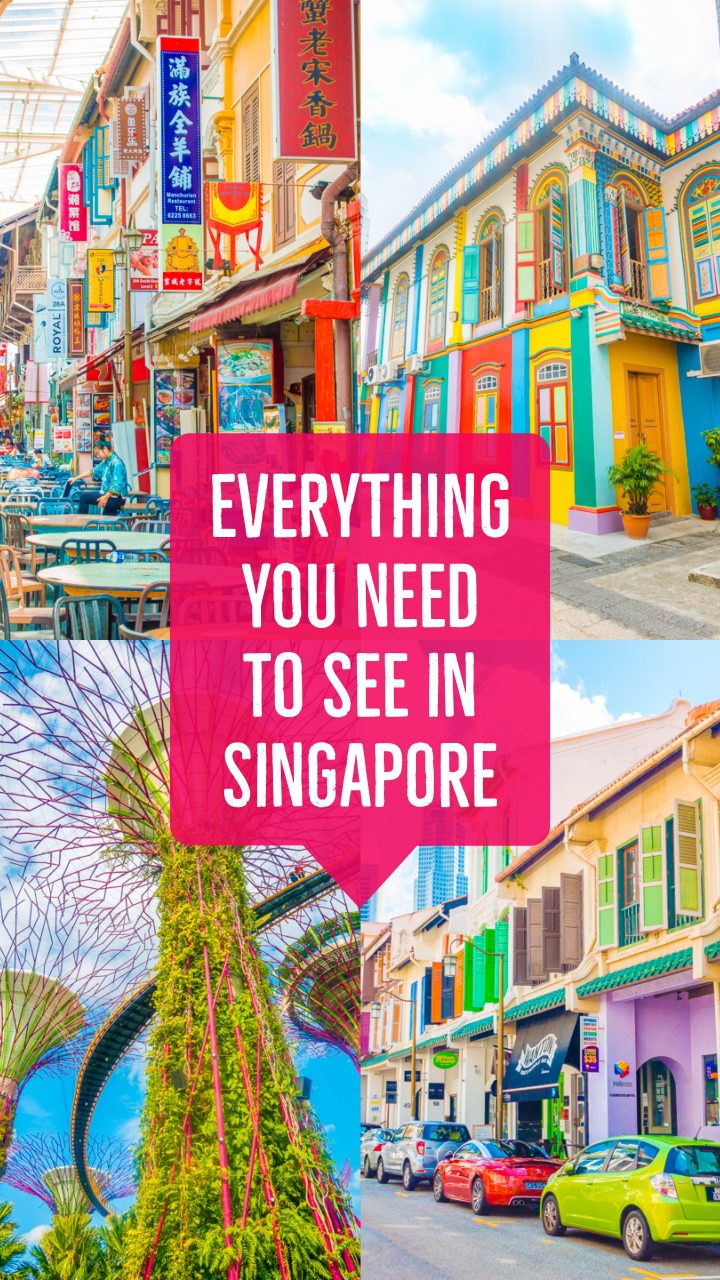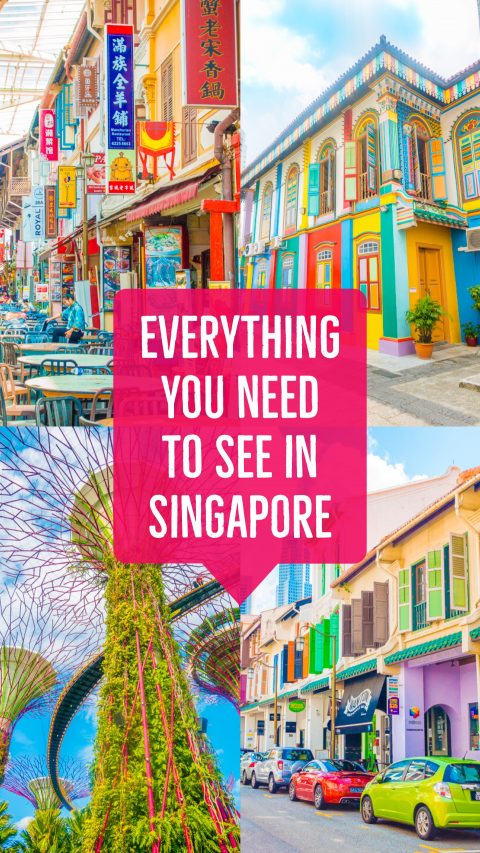 Thanks so much for reading! Stay tuned for more from our 7 week adventure in Asia.
Next up: Malaysia! If you have any questions, let me know in the comments!
Until next time :) xoxo