Planning a trip to India? This 1-week India Travel Itinerary will make sure you see the best of Northern India and the Taj Mahal. Use this guide so you don't miss the best things to do in India!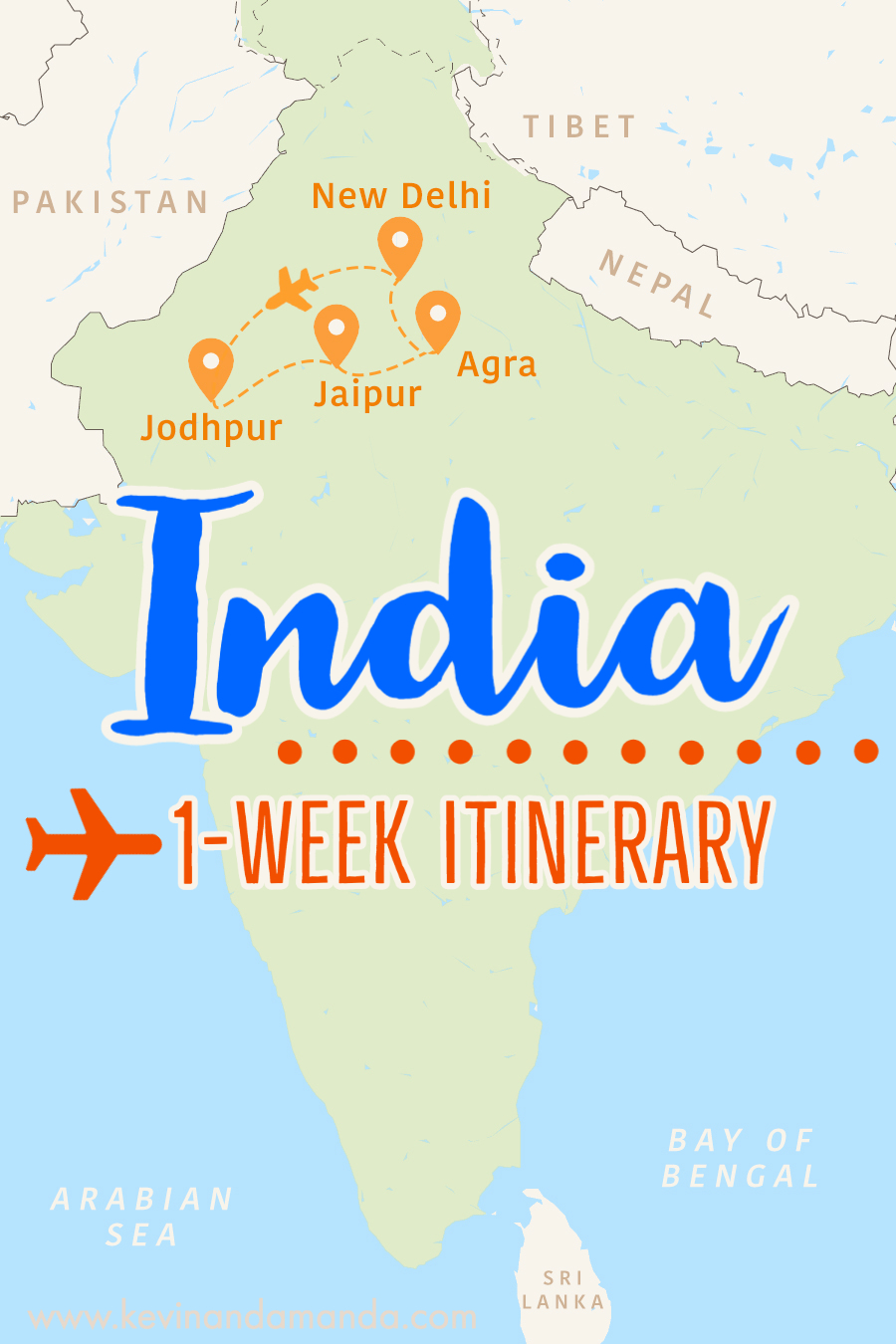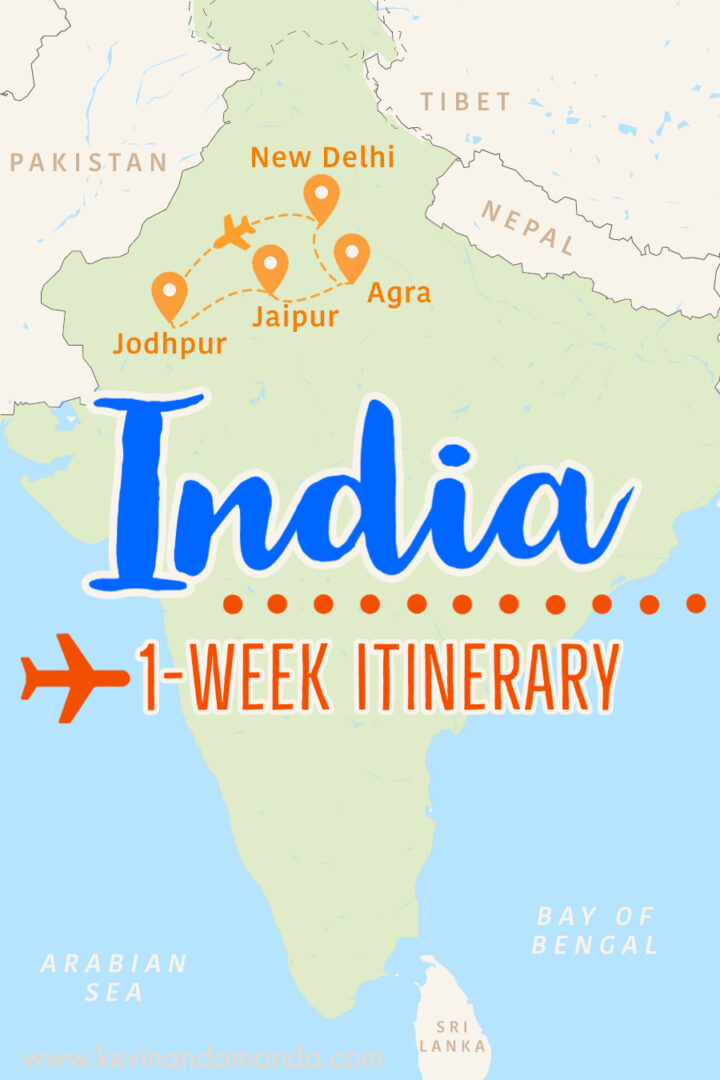 Where is India?
India is located in Asia, and shares a border with six other countries: China, Nepal, Bangladesh, Bhutan, Myanmar, and Pakistan.
The Himalayas separate India from most of Asia in the Northeast. In the south, water surrounds India on three sides: the Arabian Sea, the Bay of Bengal, and the Indian Ocean.
What is India Famous For?
India is known for its rich spices, flavorful cuisine, colorful fashion, vibrant culture, and legendary Bollywood movies.
In India, you'll see massive monuments made from intricately carved solid white marble, and brightly colored buildings in blues, pinks, and every color of the rainbow. It's some of the most beautiful architecture I've ever seen.
India is a popular tourist destination, and the most popular tourist circuit in India is to visit New Delhi, the Taj Mahal, and Jaipur — also known as "The Golden Triangle."
Is it Safe to Visit India?
Yes, I felt safe in India. But things will vary from place to place as you travel. Certain cities and areas within those cities will be more safe for tourists than others. India has a large population and with any large population, you will find crime.
I can honestly say that during my stay in India I never once felt like I was unsafe or at risk. One thing that made me feel even more secure was traveling with our tour guide who was with us most of the day.
Do I Need a Visa to Visit India?
Yes, you definitely need to apply for a visa before you go to India. But don't worry, it's easy to get one. U.S. citizens who are traveling to India solely for tourist purposes and will be staying less than 60 days are able to apply for an electronic travel authorization in place of a visa. You'll need to apply at least four days prior to your arrival and you can do it completely online instead of having to visit an Indian embassy or mail off your passport.
You can visit the Indian government's website to get the process started.
Please be aware, a visa on arrival is not available to U.S. citizens. If you do not have a valid visa (or travel authorization) and passport, you will not be allowed to enter India.
The Best Things to Do in India
A One Week India Tourist Itinerary
Below is an easy 1-week itinerary for visiting India's Golden Triangle. You can definitely experience the best of Northern India in just one week! This itinerary is a perfect quick trip to get a taste of Indian culture and cuisine.
Start With 2 Nights in New Delhi
New Delhi is the capital of India and it's where the international airport is, so it's the best place to fly into if you're visiting India. There are a few historic sites to see in New Delhi so I suggest spending 2 nights.
Here are some things you won't want to miss in New Delhi:
Take a rickshaw ride to the Chandni Chowk Market. This is one of the oldest and largest markets in India and the perfect place to take in the local culture.
Visit Qutub Minar, a UNESCO World Heritage Site. Admire the 800-year-old sandstone sculptures and Afgan inspired architecture.
Check out the Bahai Temple, also known as "The Lotus Temple" (it got that nickname based on its distinctive shape). This will give you a glimpse at more modern Indian architecture (it was built in 1987) and it celebrates worshipers of all faiths.
Visit the Jama Masjid, the largest mosque in India. It was built of sandstone and marble with gorgeous pink arches and wide staircases.
Eat Butter Chicken (a traditional Indian meal) at one of the top restaurants in the capital, like Rajinder Da Dhaba, or Gulati Restaurant.
Read More: The Best Things To Do in New Delhi
Next, 2 Nights in Jodhpur
Jodhpur is not part of the "Golden Triangle" but it is definitely worth adding on to your trip. It's a short, easy, direct flight from New Delhi and has so much beauty to offer. You don't want to miss it. See more about Jodhpur in my best things to do in Jodhpur post.
While in Jodhpur, you'll want to see this:
Wander through the historic Blue City of Jodhpur. It's located in a small historic part of town where are the houses are painted blue!
Take in breathtaking views of the city. Two of our favorite spots for stunning views were from the Pachatiya Hills and from the Mehrangarh Fort.
Visit the Mehrangarh Fort, a massive palace from the 1400s where the royal families of India lived.
Visit Jaswant Thada, the pure white marble monument built to honor a former king.
See the Jodhpur Stepwell. Built over 1,400 years ago, it's like nothing you've ever seen before!
Read More: Best Things To Do in Jodhpur, India
Then, 2 Nights in Jaipur
After 2 nights in Jodhpur, it'll be time to make the drive to Jaipur. Known as the "Pink City", Jaipur is truly magical. In 1876, the entire city was painted pink in honor of Queen Victoria and her son Prince Albert. You can see more from this beautiful destination in my post about the best things to do in Jaipur.
Don't miss any of these spots in Jaipur:
Visit a massive Amber Palace (Amer Fort). There is a reflecting lake in front of the palace, the interior is beautifully decorated, and you can even ride an elephant up the hill to the fort!
Check out the luxurious palaces. In Jaipur, you can visit both the Hawa Mahal (Pink Palace) and City Palace. The City Palace features courtyards, gates, and secret rooms.
For a peaceful and less crowded stop, don't miss the royal tombs, also known as Gaitor Ki Chhatriyan.
You've got to see this beautiful, colorful gate that looks straight out of a fairytale. The Patrika Gate is seriously jaw dropping. The colors, artwork, and architecture are stunning.
Read More: Best Things To Do in Jaipur
Finally, 1 Night in Agra
After visiting Jaipur, drive to Agra to spend one last night. If you visit the Taj Mahal the next morning you can be back at the airport in New Delhi for a flight home that night.
The Taj Mahal is said to be the most beautiful monument to love ever built. It will definitely be the highlight of your trip to India! There isn't much else to do in Agra after visiting the Taj Mahal and Agra Fort, so one night is plenty.
Read More: The Taj Majal — Everything You Need To Know!
What is the Best India Tour?
Honestly the easiest, most stress-free way to travel in India is to book a private tour. GetsHolidays was a joy to work with and we would recommend them to anyone. They were extremely responsive, detail oriented, and completely customized our itinerary.
All you have to do is tell them what you want to see, and they will take care of everything including booking hotels, transportation, tickets, airport transfers, and more. You can just sit back, relax, and enjoy your vacation without the stress of planning. You don't have to worry about missing anything because they will make sure you see all the best things to do in India.
Easiest, Safest, and Most Stress-Free Way to Travel in India
Booking a private tour in India is super affordable. It's not that much more expensive than booking all the hotels and taxis yourself. Plus it will make your trip so much easier and stress-free knowing there is someone taking care of all the little details for you.
We were picked up at the airport and we had our own private guide and driver who was with us the whole time. This one-on-one touch really helped to make us feel safe and sound while traveling through a foreign country. There's no need to give any taxi horror story a second thought with a professional private driver.
One of the nicest touches was that we had a local guide in each city we visited. In addition, they were born and raised in that city and knew it like the back of their hand. We left feeling certain we saw the absolute best of each place we visited and being with locals added to our sense of safety and security.
Honestly, a tour is the easiest also the safest option for traveling India. I would definitely go back to India and I would definitely book with GetsHolidays again.
Like this post? Save it on Pinterest!