Are you in need of a girls' night? How about a luxurious girls' weekend! Check out the awesome time I had with my girlfriends at the Four Seasons in Las Vegas and start planning your own ladies trip with your best friends!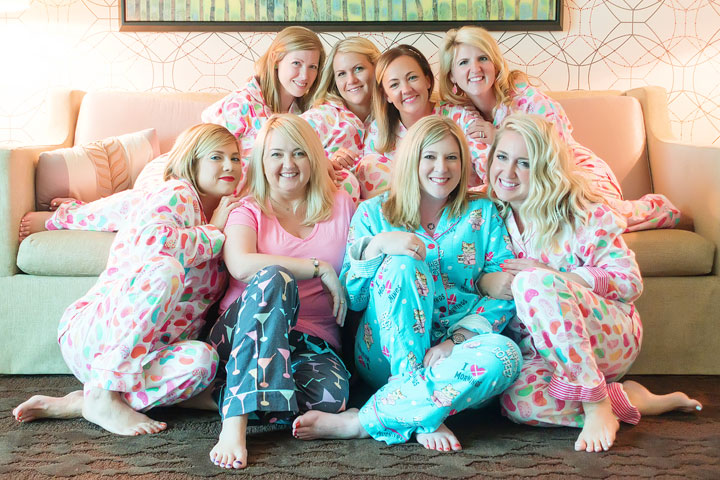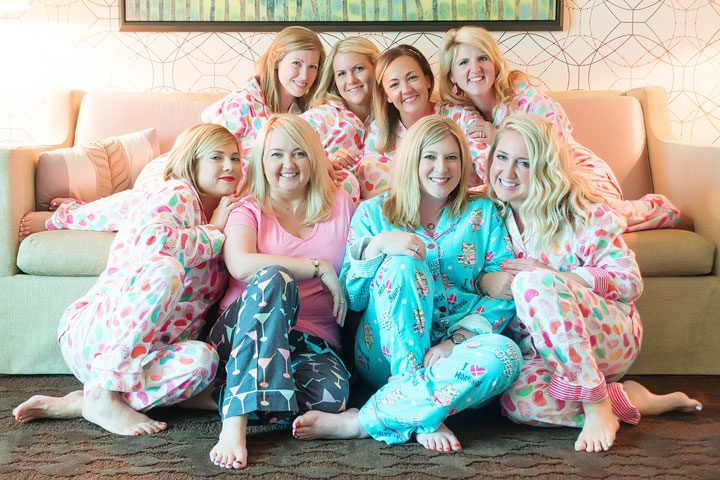 Top Row: Lauren, Shawn, Shelly and ME.  Bottom Row: Kristan, Angie, Stephanie and Jenny.
The Best Things to Do in Las Vegas
I am so grateful to have a great group of girlfriends from all over the country who love to get together to shop, EAT, and travel! I look forward to our trips all year long because they are just so much fun to be with. This spring we met up in Sandestin for a relaxing beach getaway. On our last night there we were already trying to figure out when we'd get to see each next! Someone suggested Vegas… the food, the shows… Britney Spears! How could we say no?? It sounded like the ultimate girls trip. Before the night was over, our plans were set.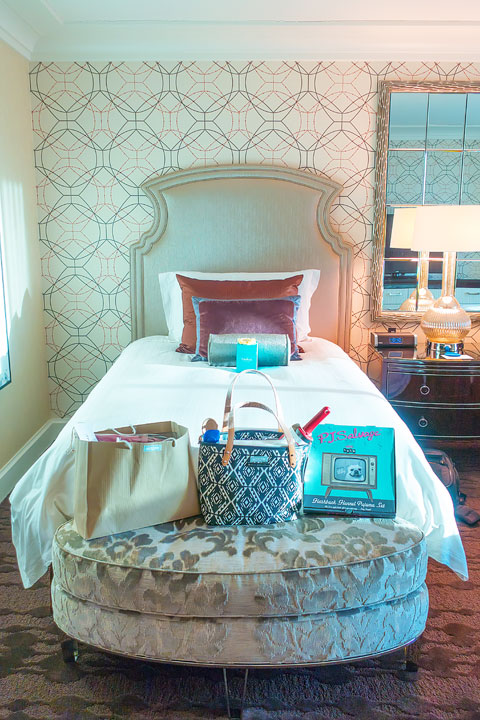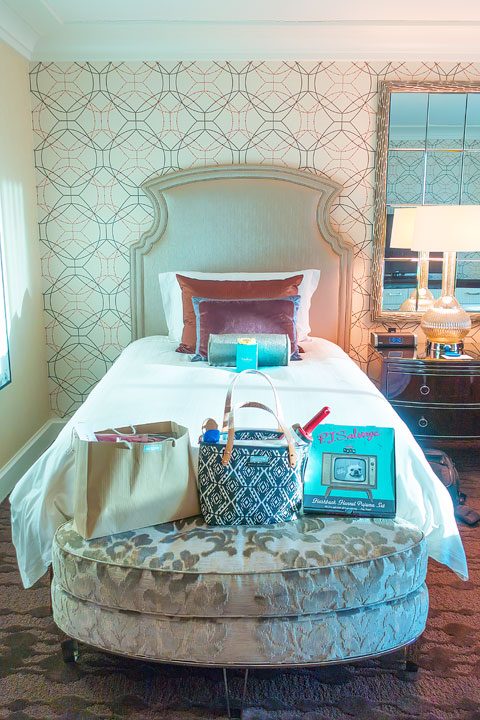 We stayed at the Four Seasons Hotel on the strip. This was my first time staying at the Four Seasons in Vegas, but it will definitely not be my last. To be perfectly honest, I had been to Vegas before, and it was not really high on my bucket list to return. I don't gamble, and I don't like walking through the smoky labyrinth of casinos just to get to my room. But the Four Seasons completely changed my mind about Vegas. I discovered a whole new Vegas. The food, the shopping, the shows… I am already ready to go back!!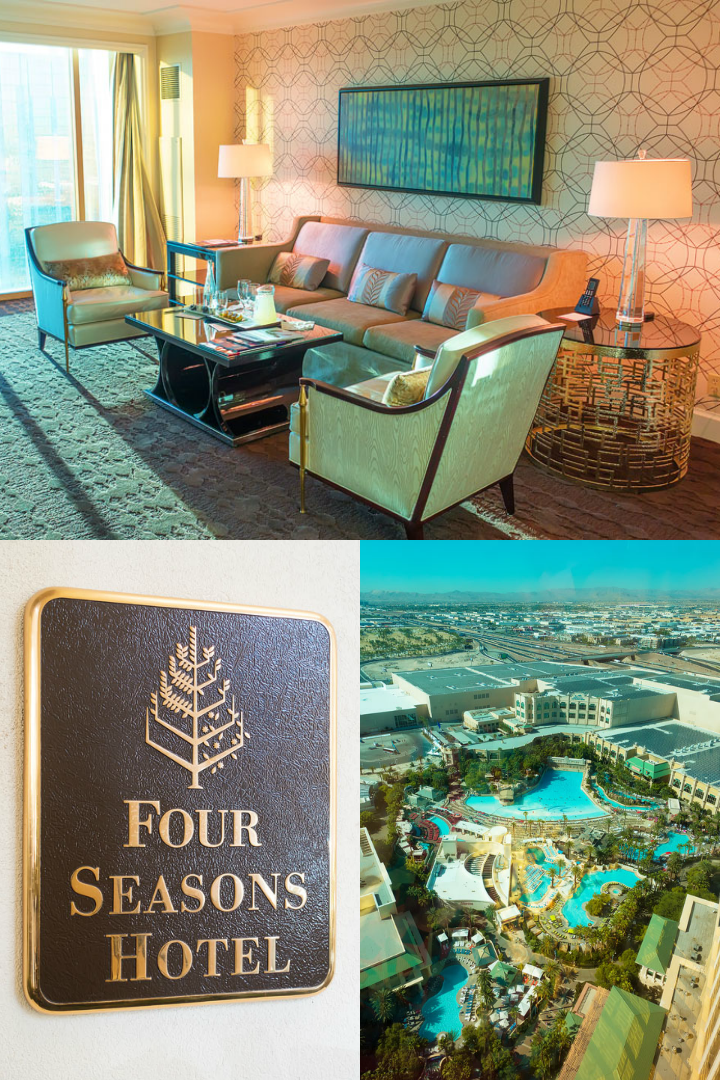 The Four Seasons is like an oasis away from Vegas. It's still on the strip, in the middle of all the action, but when you get to your hotel, it's like breathing a sigh of relief. There's no smoke or casinos inside the Four Seasons. You can escape the craziness. It's quiet. It feels like you're on a completely different planet. You can immediately get on the elevator and go straight to your room, instead of walking another 10 minutes through smoke and casinos. You get all the food, fun, shopping, restaurants, shows, and people watching of Vegas, but you can just as easily escape to the sanctuary of your room. And if gambling is your thing, you can take the elevator straight to the casino floor of the Mandalay Bay. :)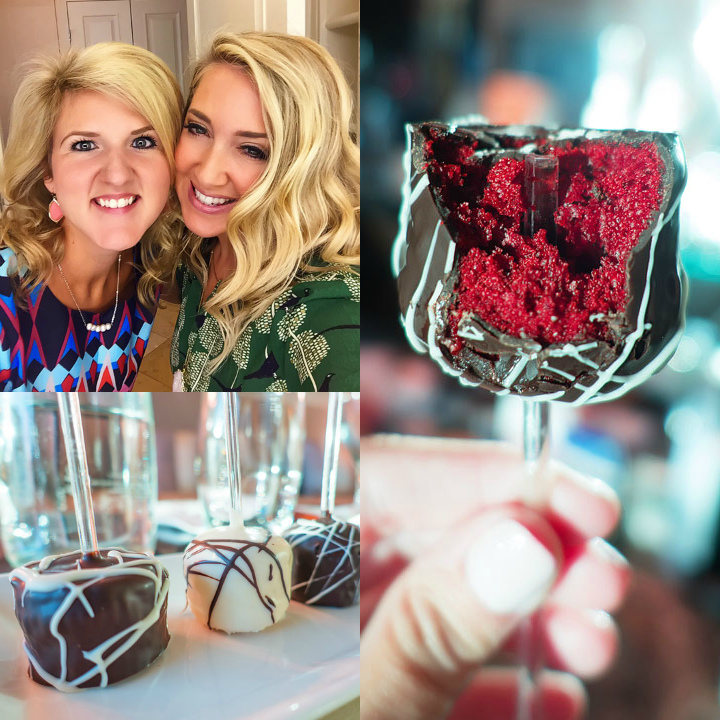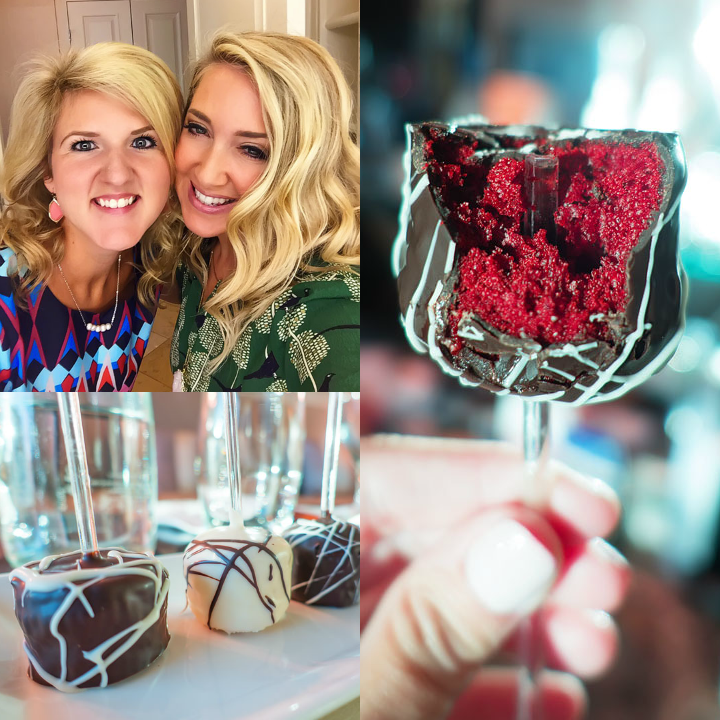 So fun to be reunited with my roomie for the weekend, Jenny! It's always a great time when we get together. The Four Seasons even sent up red velvet cake pops to welcome us!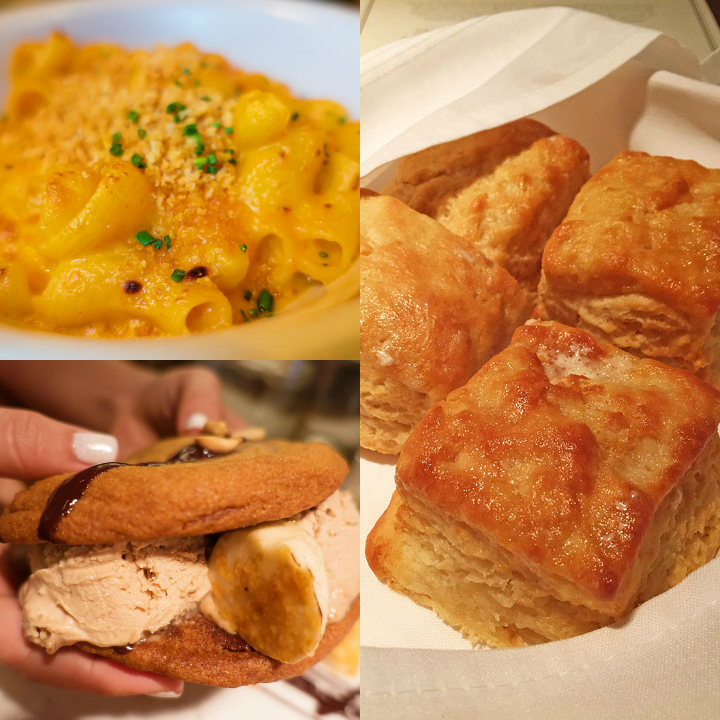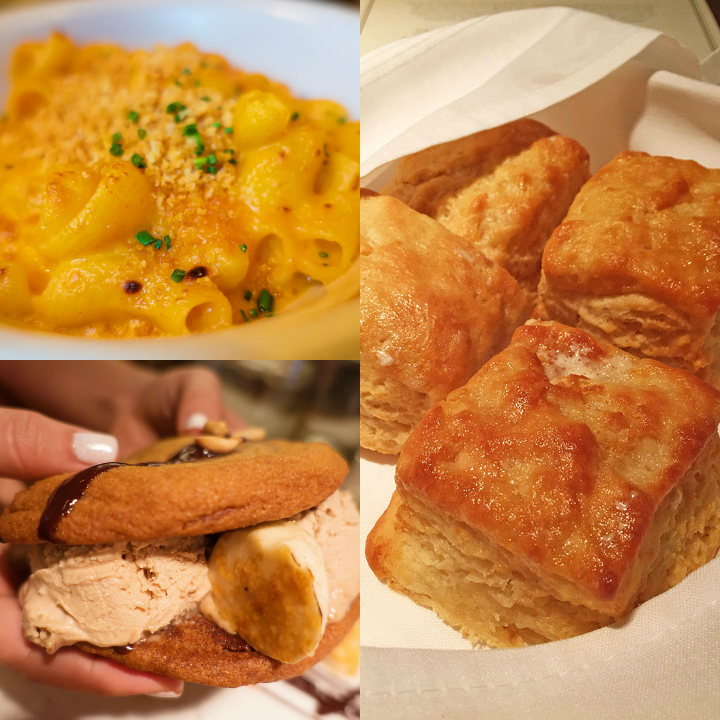 A Day on the Town in Las Vegas
Our first order of business in Vegas was LUNCH. We made our way to Yardbird Southern Table & Bar. How yum does this mac and cheese look?? Those biscuits were to DIE for. And of course we had to try the chef's special dessert! Those are two massive cookies sandwiched with peanut butter ice cream and caramelized bananas. It was definitely a crowd favorite!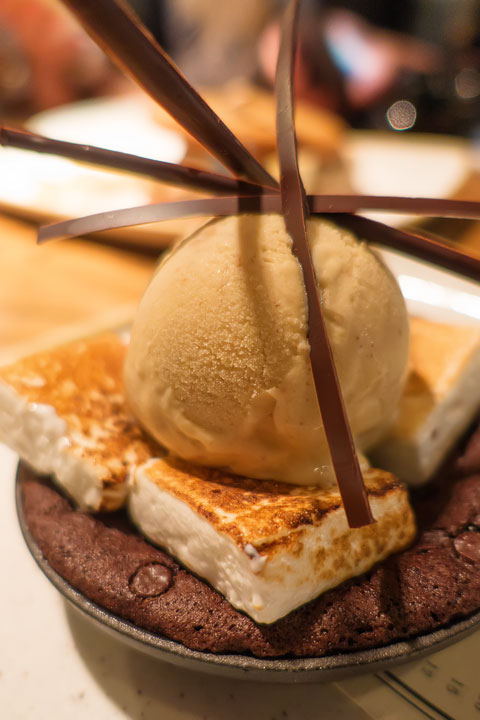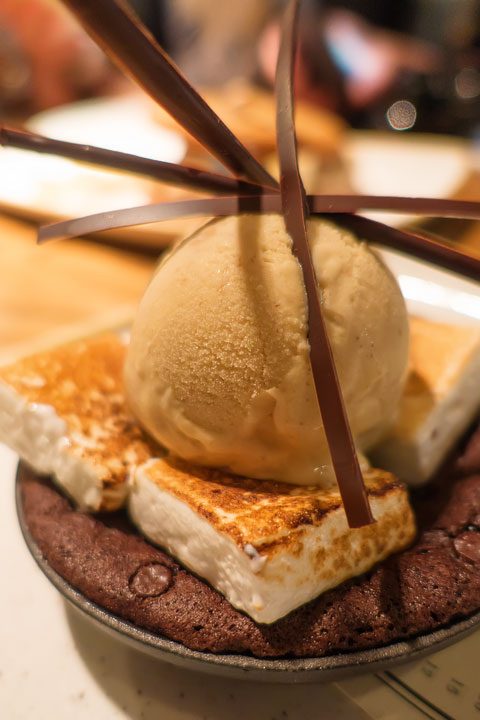 You know when there's a group of bloggers we can't just get one dessert. Totally loved this s'mores skillet brownie! :)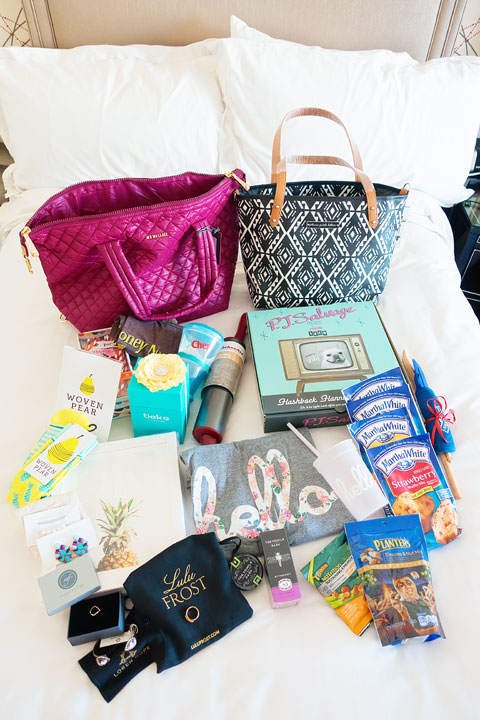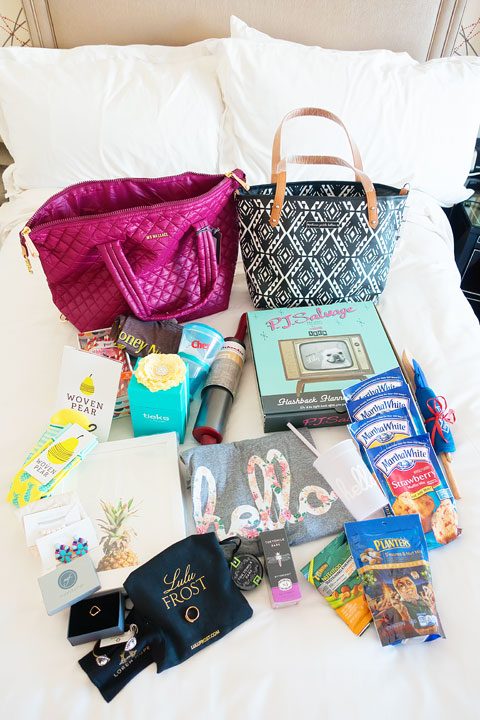 When we got back to the room, Jenny had a huge surprise waiting for everyone. Some of our favorite brands sent some goodies to celebrate the weekend!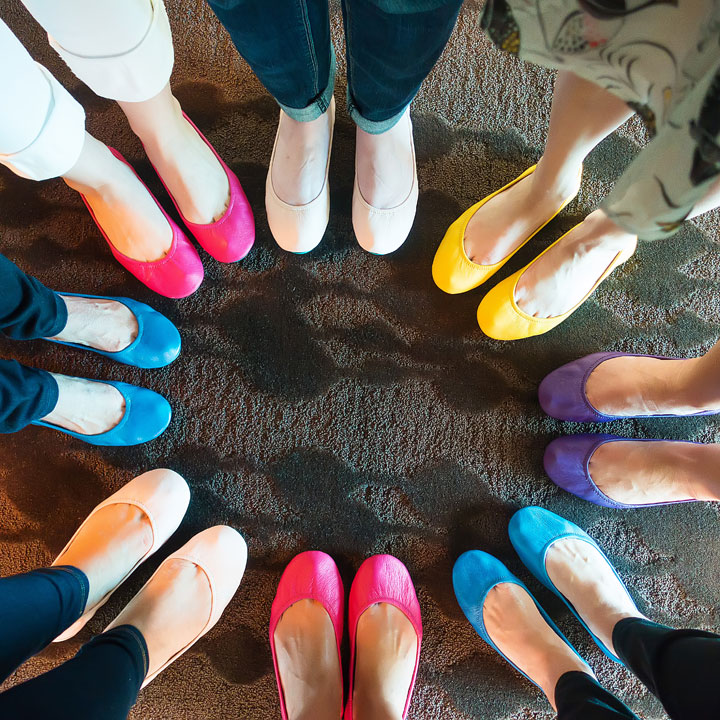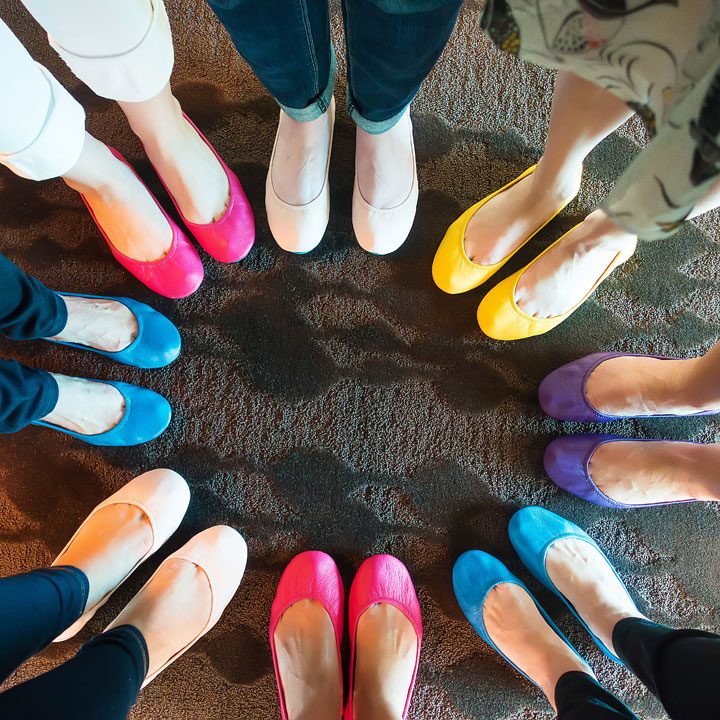 My first pair of Tieks! You definitely need good walking shoes in Vegas. I'm the hot pink ones at the bottom of the photo above. So excited to try these out on all my upcoming trips!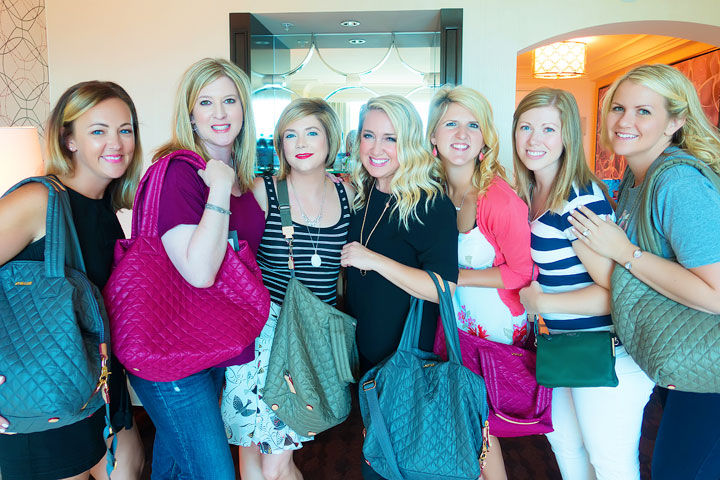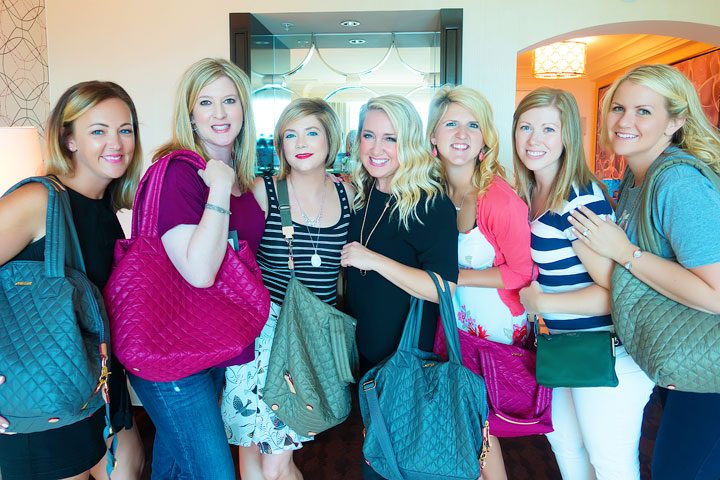 Love these cute Sutton bags from MZ Wallace. Comfy crossbody bags are also a must for all the fabulous shopping in Vegas!! :)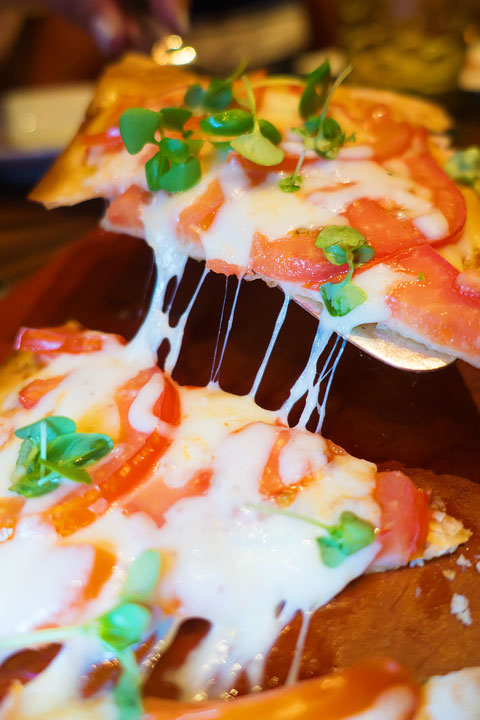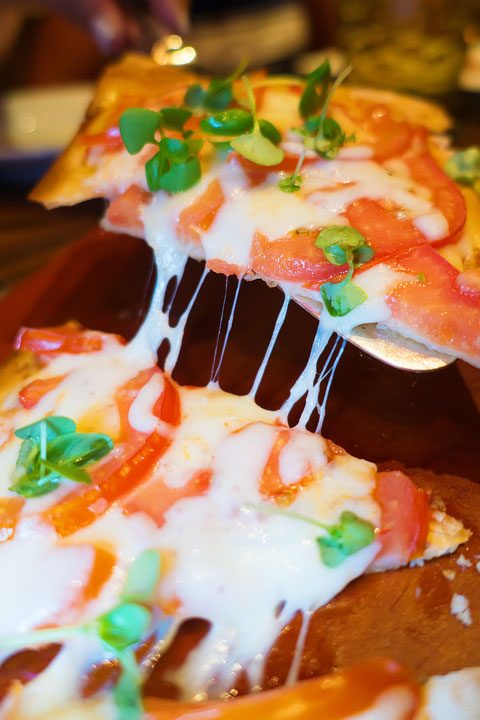 That night we had dinner downstairs in the Four Seasons at Veranda. Veranda offers authentic Italian cuisine with handmade pastas, slow-braised meats, wood-fired pizzas and fresh seafood.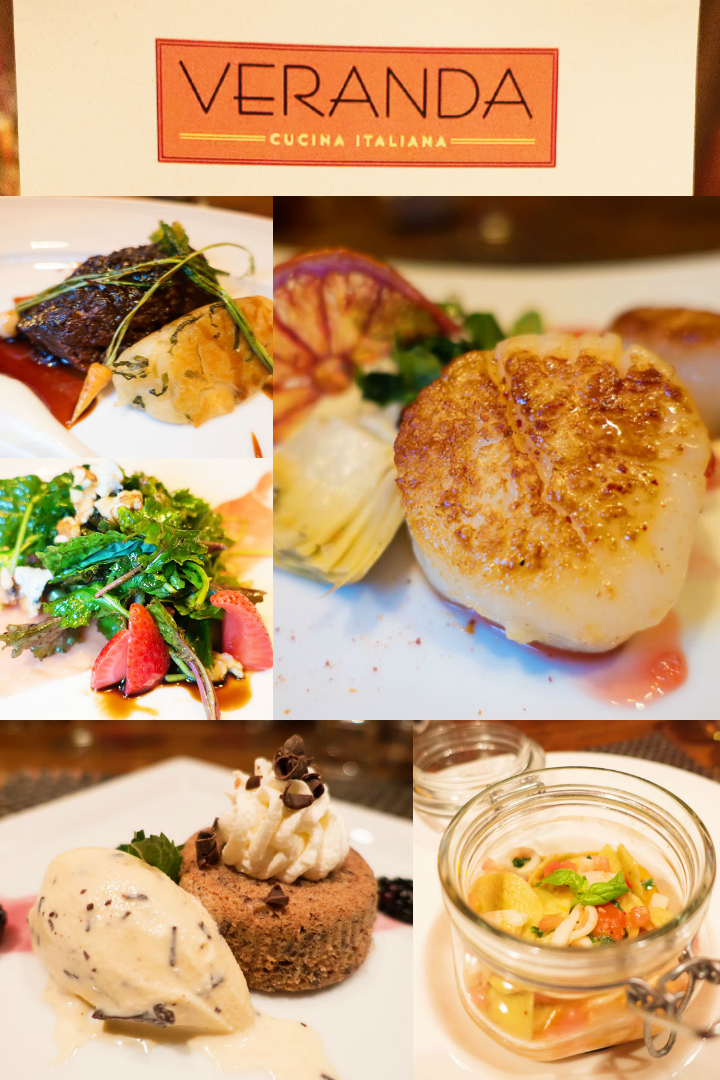 The dinner was phenomenal. Still dreaming about that seafood pasta in a jar!!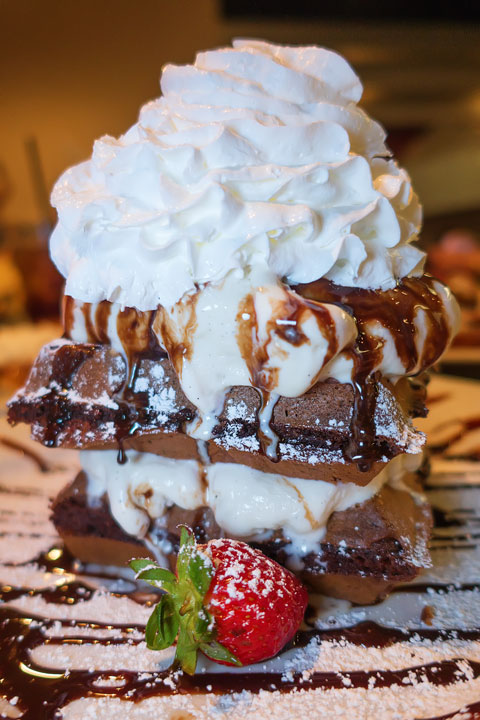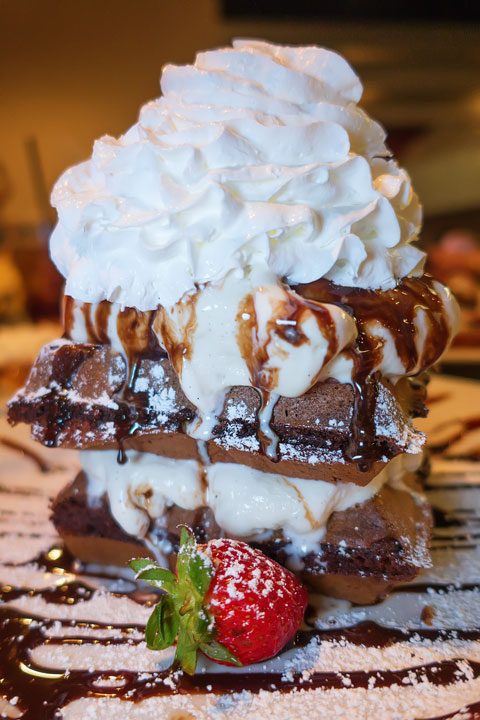 Day Two Exploring Vegas
The next morning we had breakfast at Hash House a Go Go, famous for their MASSIVE plates and pancakes twice the size of your head!! :) Loved these decadent chocolate waffles!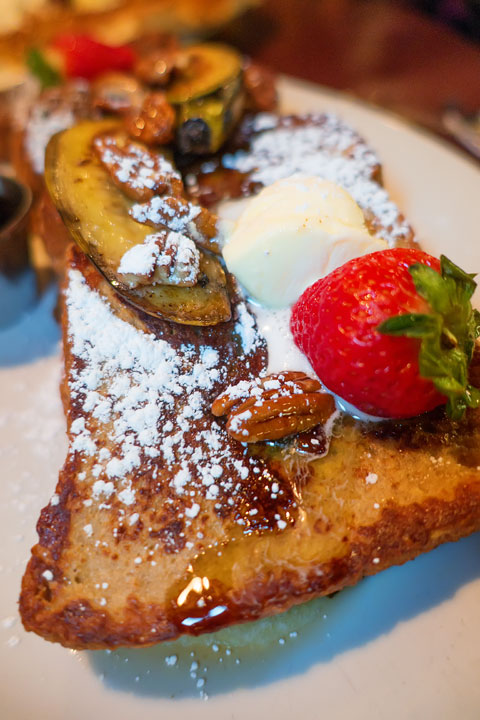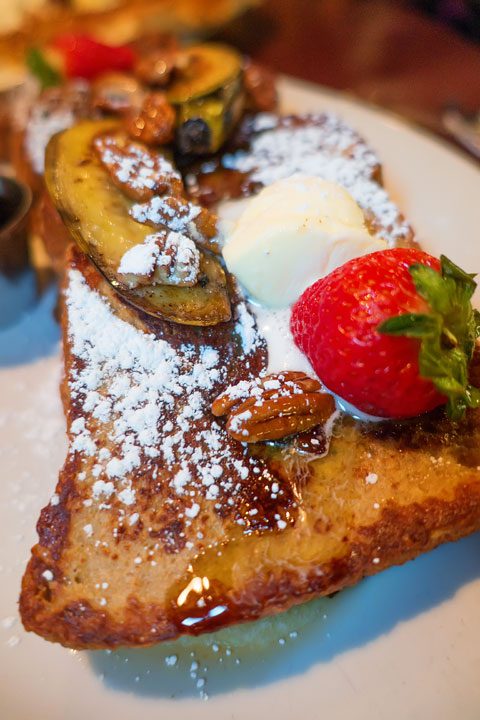 And you know I had to try the French Toast! Reservations are definitely recommended here. We arrived at 10am on a Friday morning, and there was at least a 2 hour wait. Fortunately we had reservations so we were seated immediately.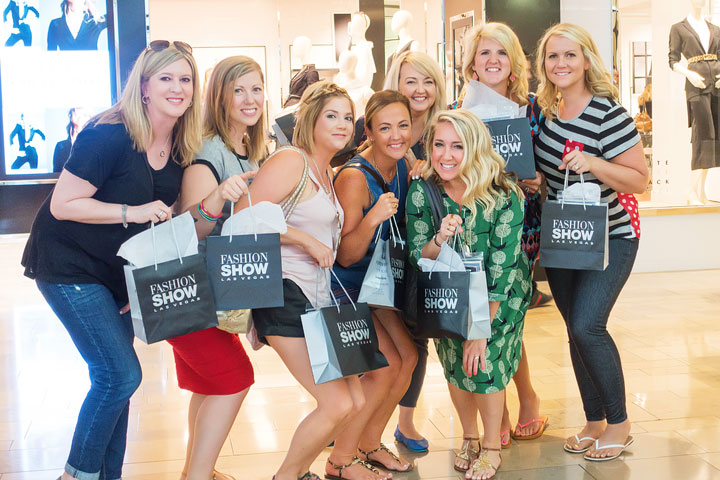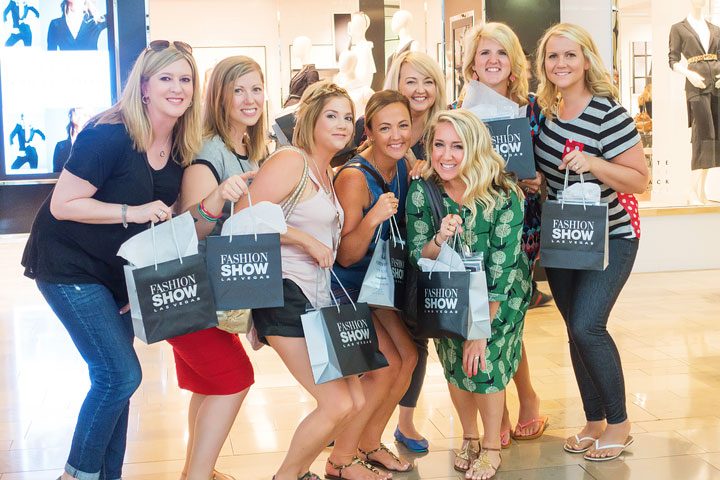 After breakfast we were treated to a shopping spree thanks to Sabra and Fashion Show Mall. Fashion Show is my favorite place to shop in Vegas because they have everything! Like literally every store you could want. They have the iconic Vegas high-end boutiques, multiple department stores, fun food stalls, and of course all your typical mall stores. The last time I was in Vegas Shelly and I spent almost an entire day here!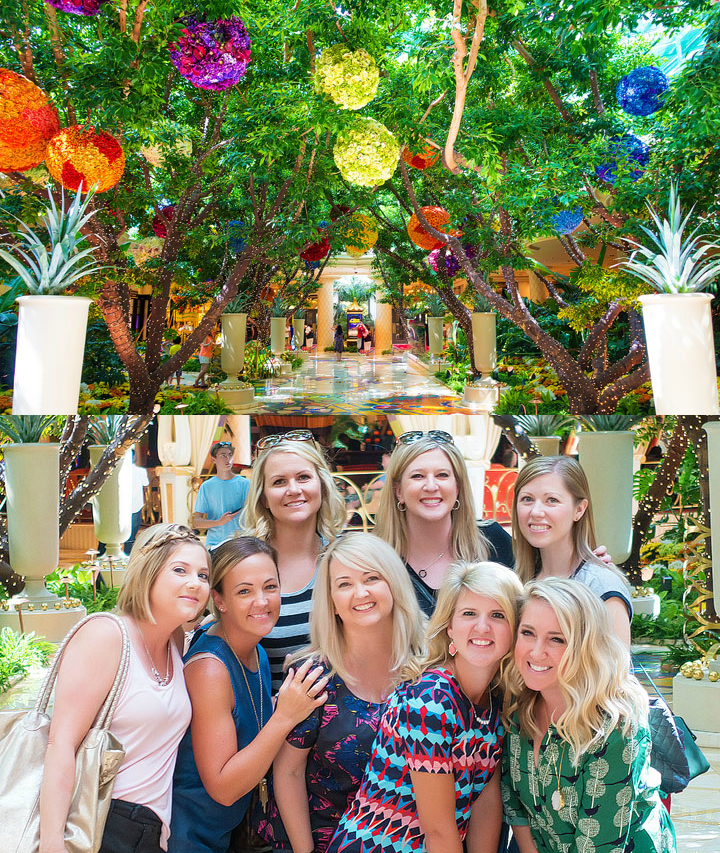 Always love a fun shopping day with girlfriends!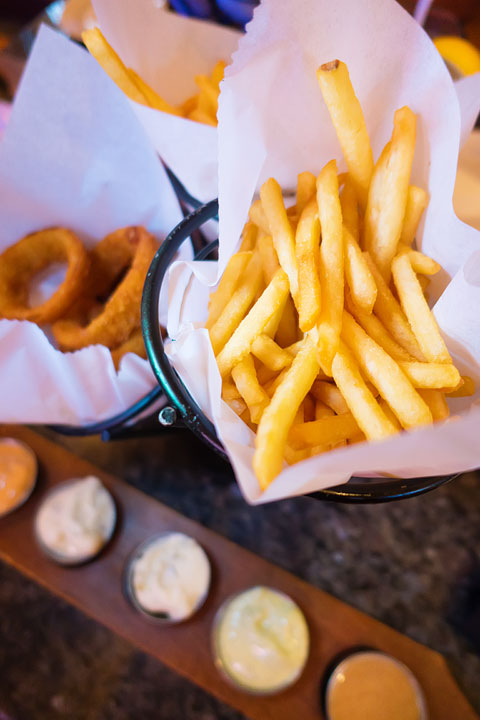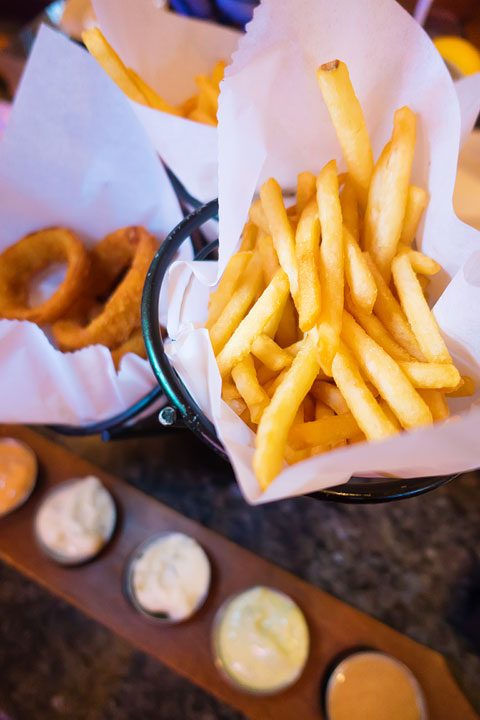 After a full morning of shopping, we stopped for lunch at Burger Bar. This was such a fun restaurant. You can fully customize and create your own burger, order up a fry sample with multiple dipping sauces, and then create your own milkshake with dozens of different options to choose from. The fries were addictive — so hot and crispy. I could not stop eating them!! I will definitely be going back here next time I'm in Vegas!!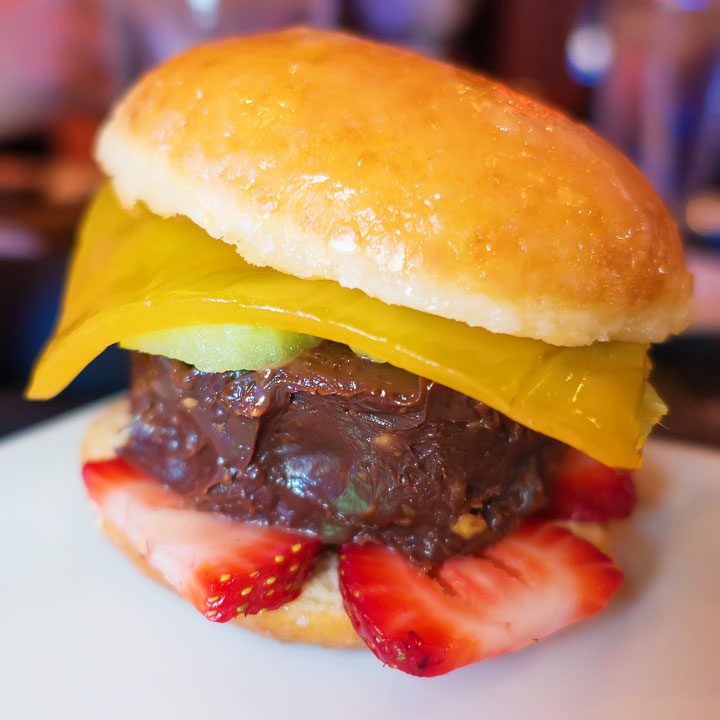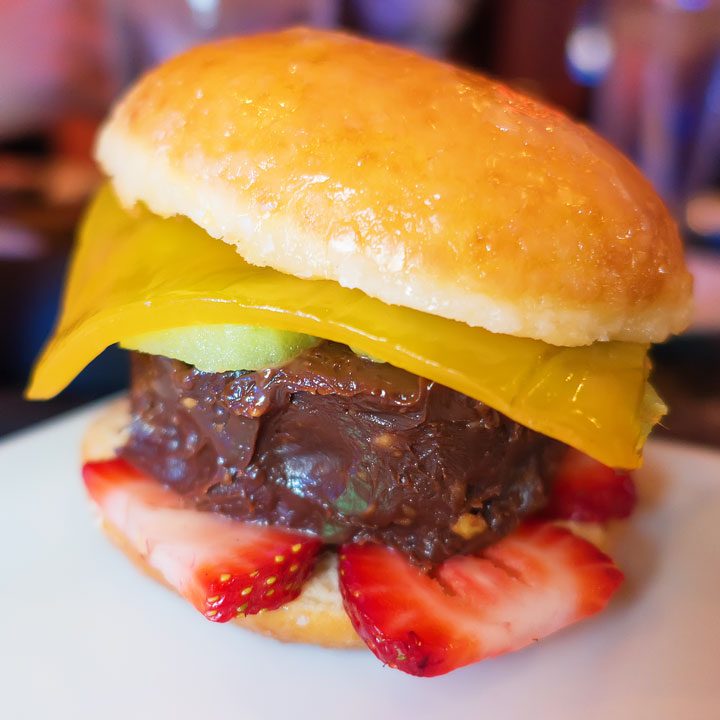 And how fun is this dessert "burger"?? The "bun" is a doughnut, the "cheese" is a passionfruit gel, (kinda like a fruit roll-up), the "burger" is a Nutella mousse, and it's garnished with kiwi and strawberry for the "lettuce and tomato".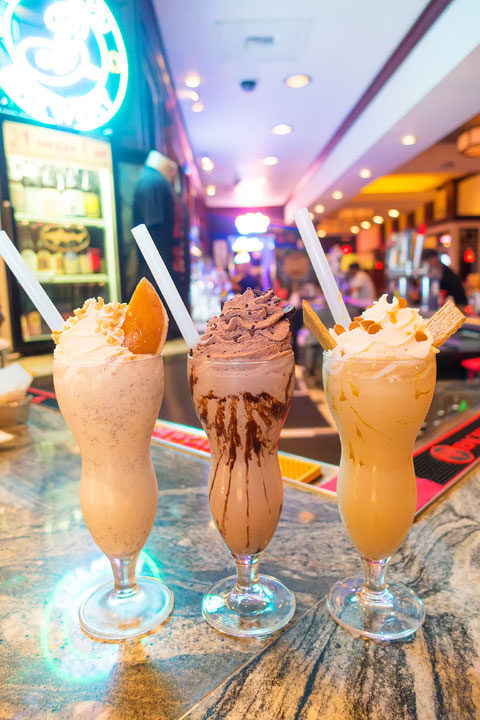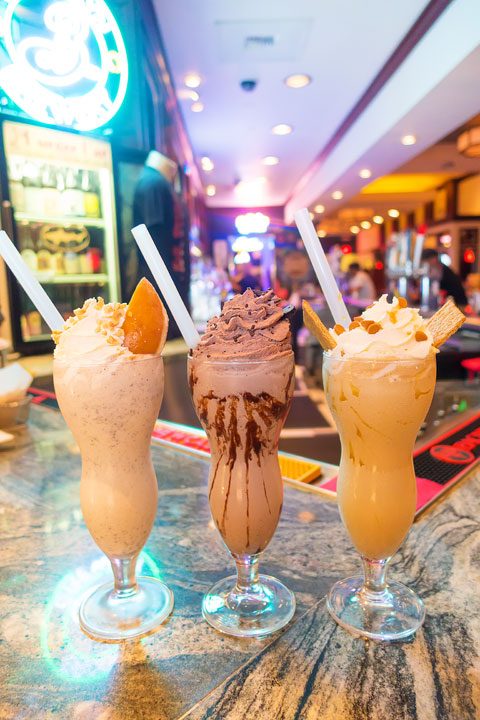 Now about those milkshakes!!! :) You could choose your own ice cream, syrup, toppings, and more — there were so many flavors to choose from!!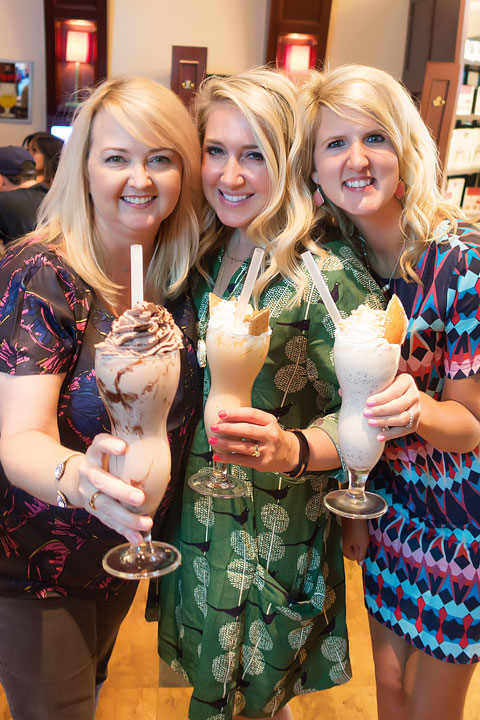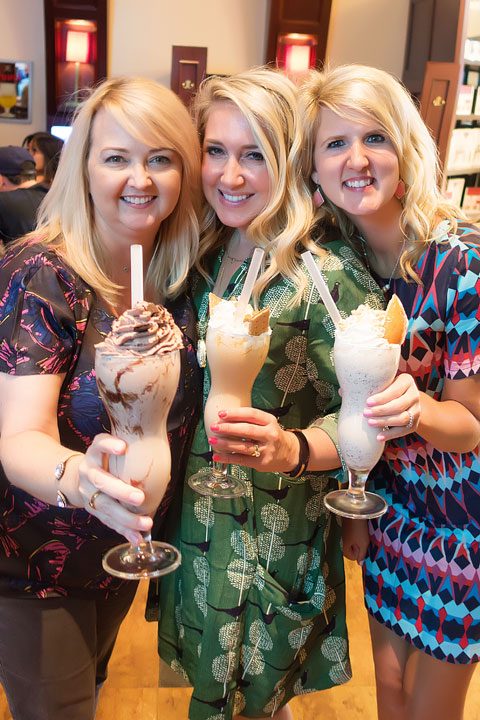 Mine was a Nutella cookie dough milkshake with Krispy Kreme doughnuts!!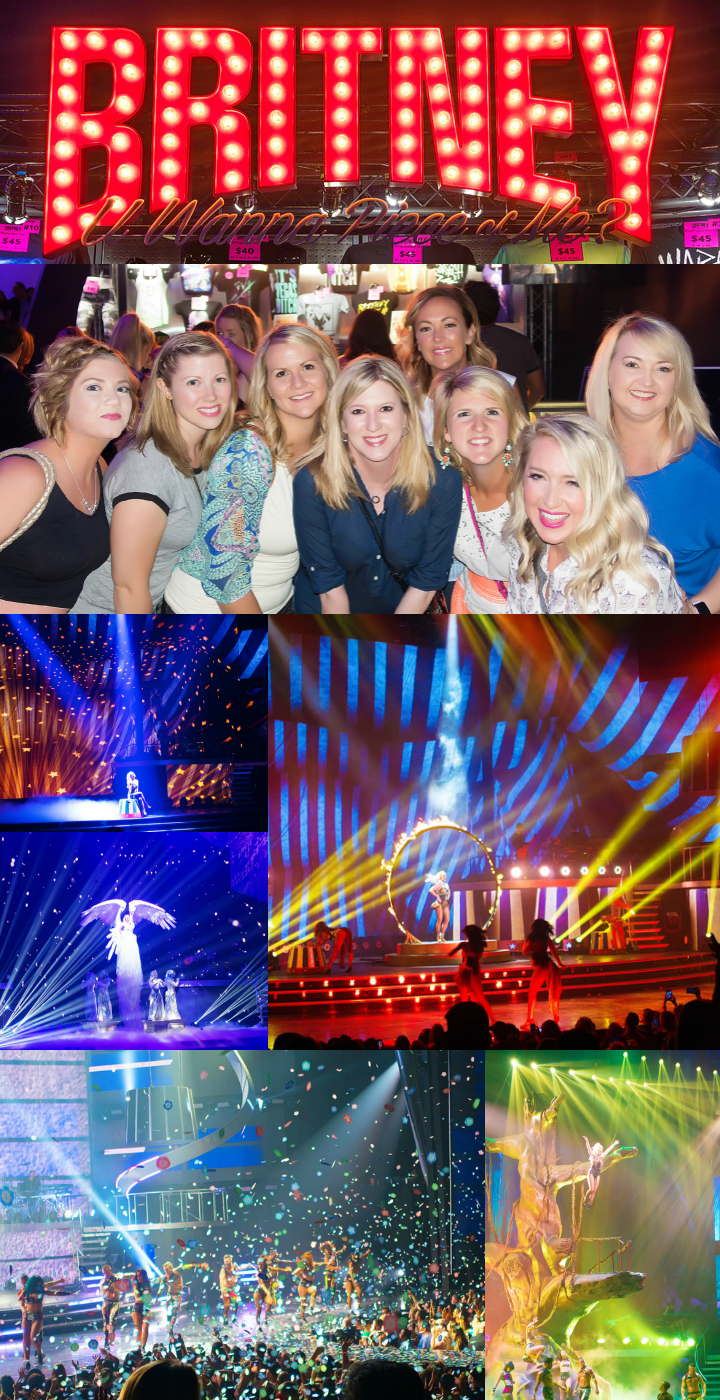 That night we had the time of our lives singing and dancing along to Britney Spears. She put on a fabulous show — we didn't want it to end!! We all left singing and planning when we could go back. I would definitely go again!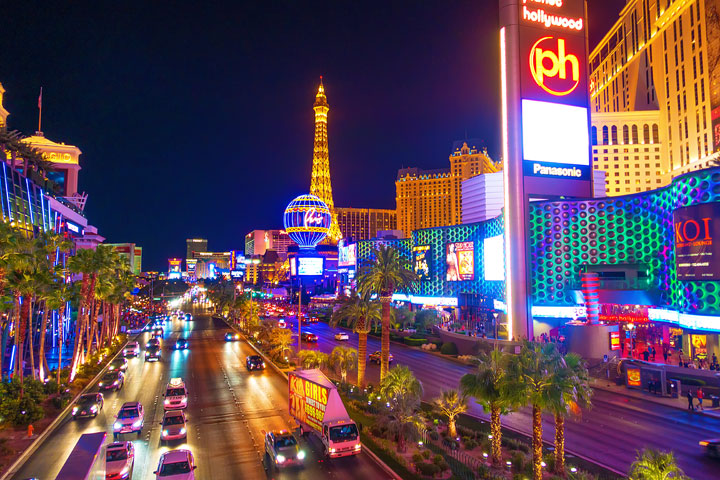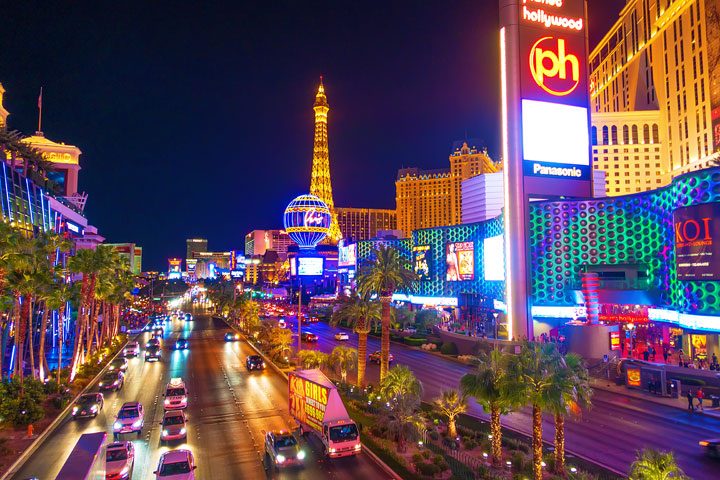 Such an unforgettable day in Vegas!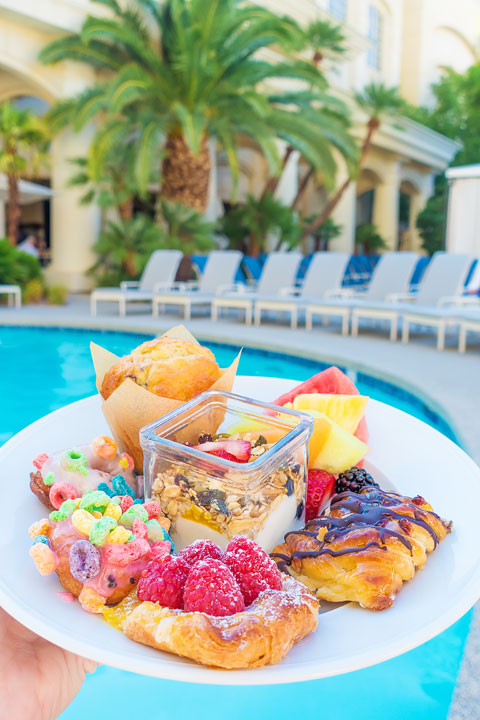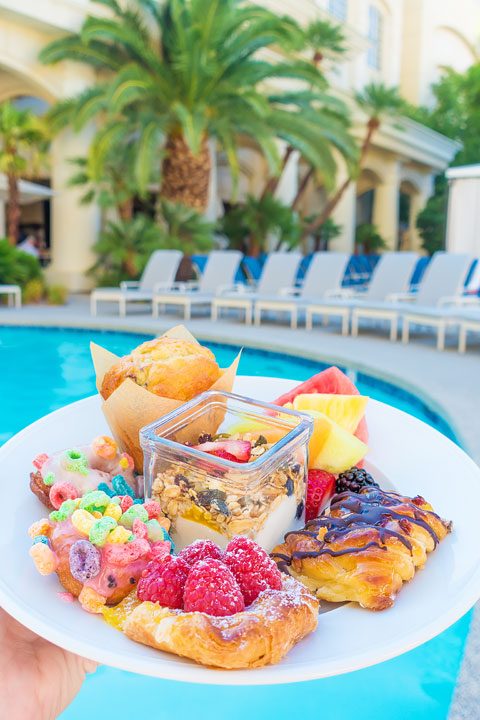 Poolside in Vegas!
We had heard from multiple sources that the weekend breakfast buffet at Veranda was legendary and NOT to be missed. So Saturday morning we knew we had to make it happen.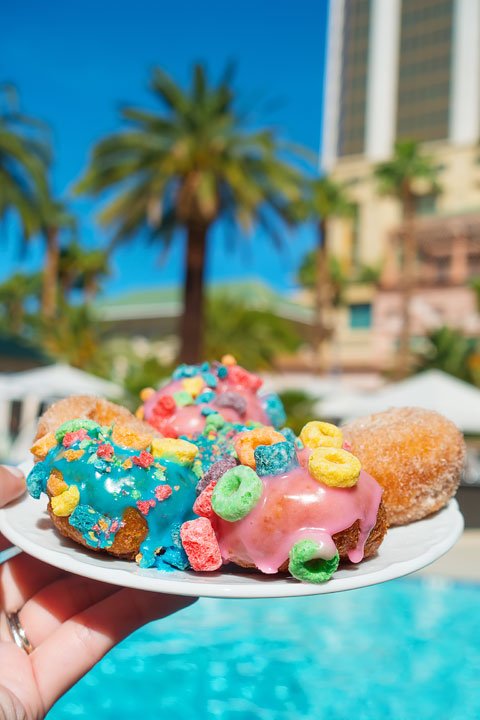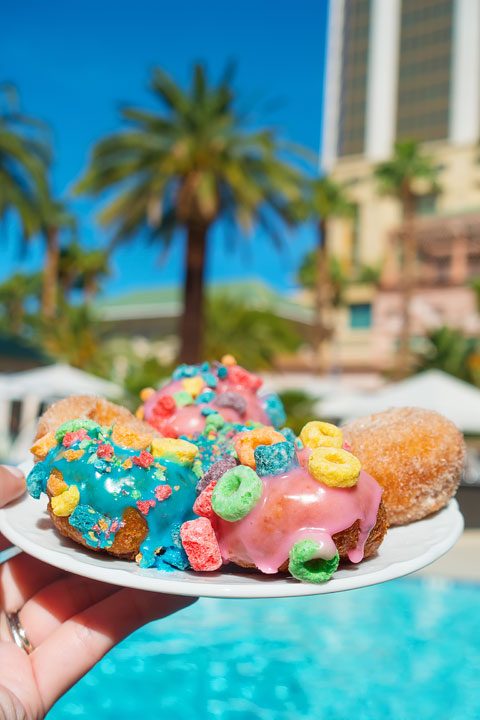 I mean, for heaven's sake, they have a create-your-own doughnut bar!! How could we miss that?? :) Fresh, hot, mini doughnuts are made to order, then you can choose from multiple glazes and toppings. So good!! And you can eat by the pool! :)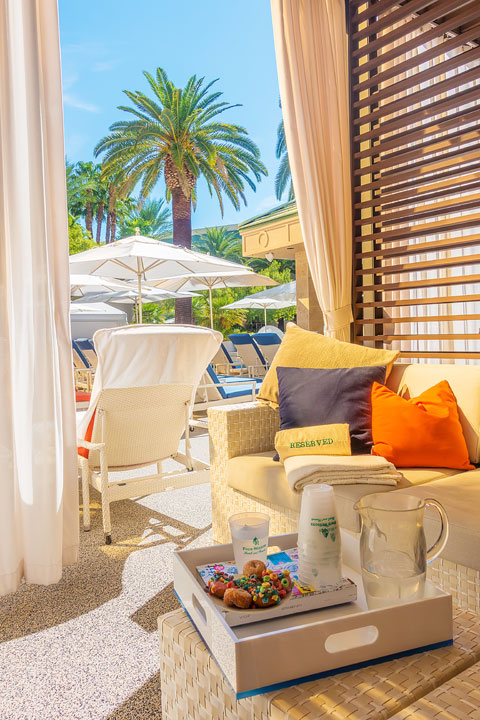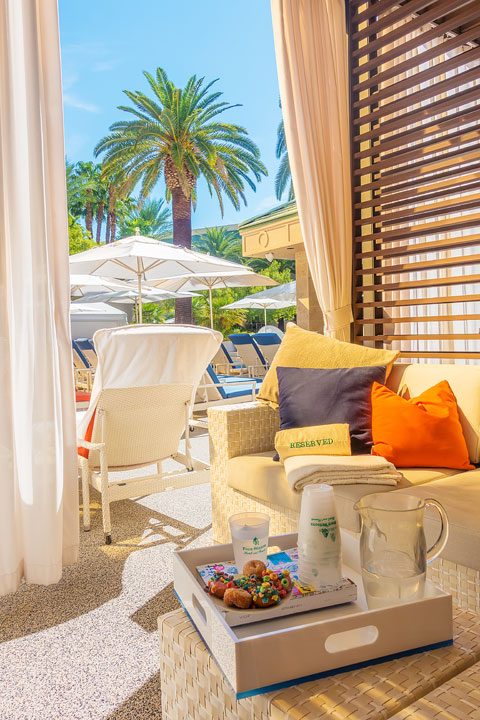 After breakfast we had a relaxing morning lounging by the pool in our private cabana. The cabanas at the Four Seasons are amazing. They're equipped with huge tvs, a refrigerator with chilled water and fresh fruit, a safe for your belongings, refreshing chilled hand towels, magazines, and free WiFi.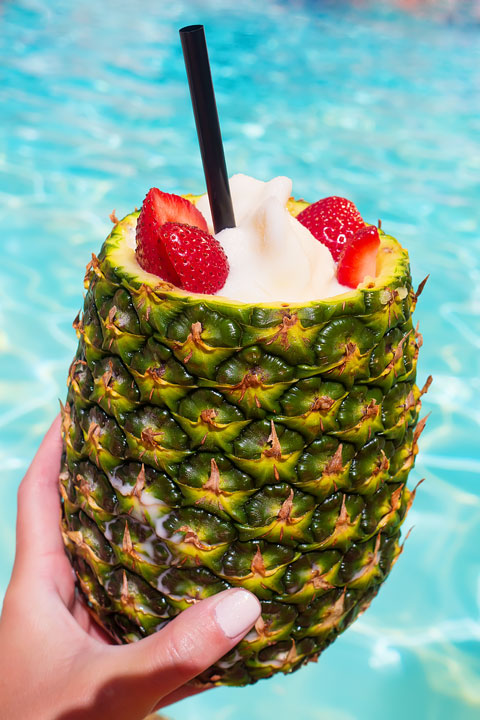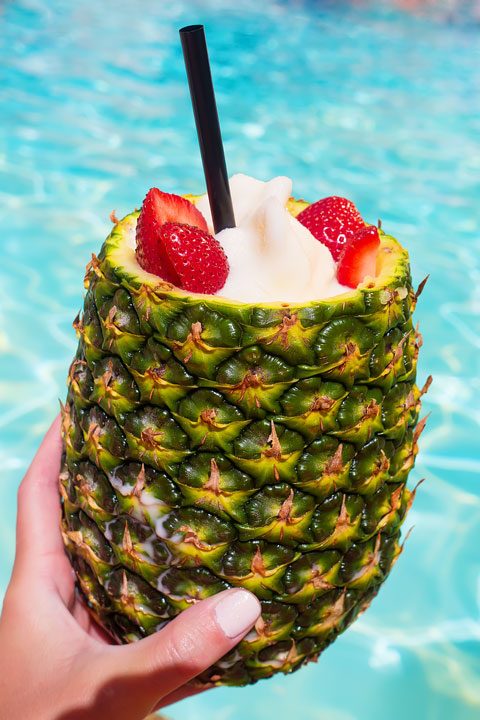 And of course you can order food and fun fruity drinks by the pool. ;)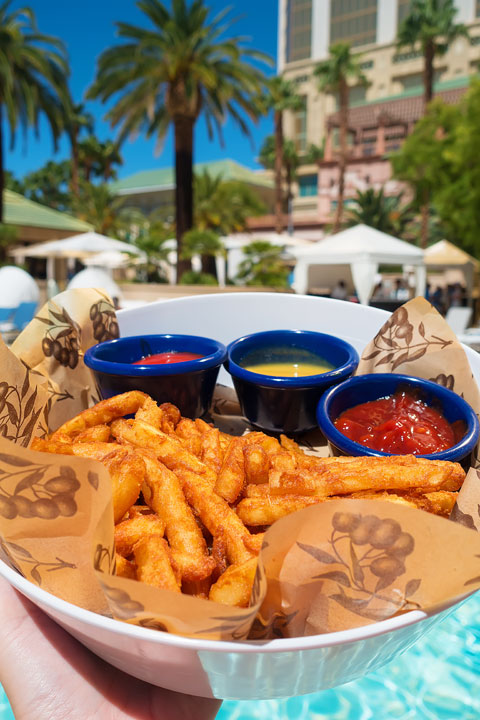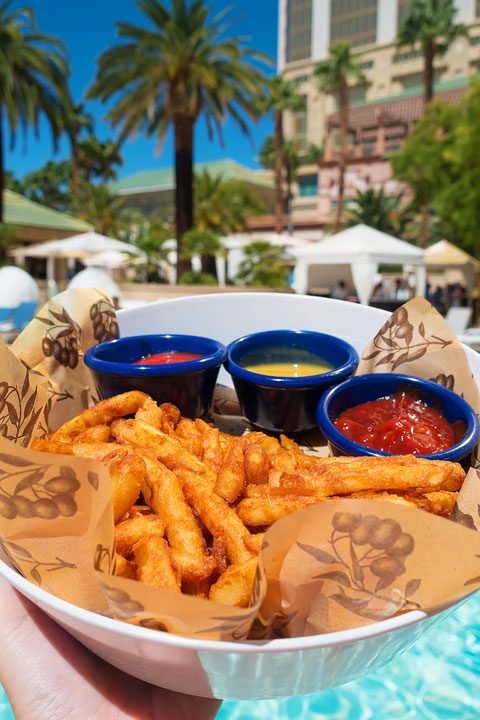 These fries were EVERYTHING. So impossibly crispy!! Love!!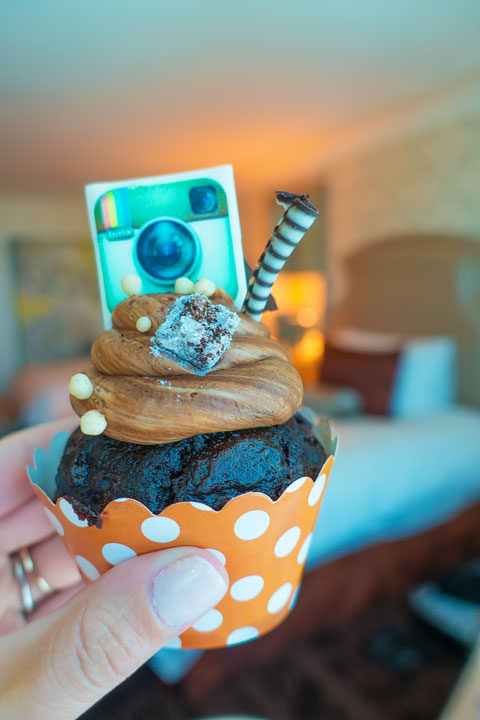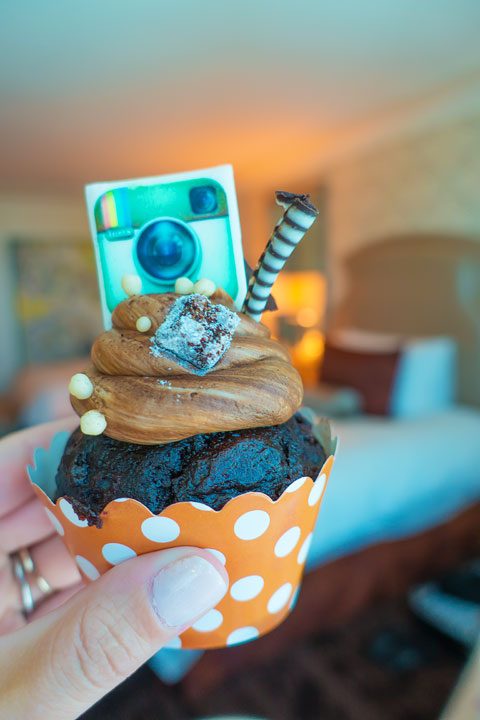 When we got back up to our rooms, the Four Seasons had these cute Instagram cupcakes waiting on us as a surprise. How fun!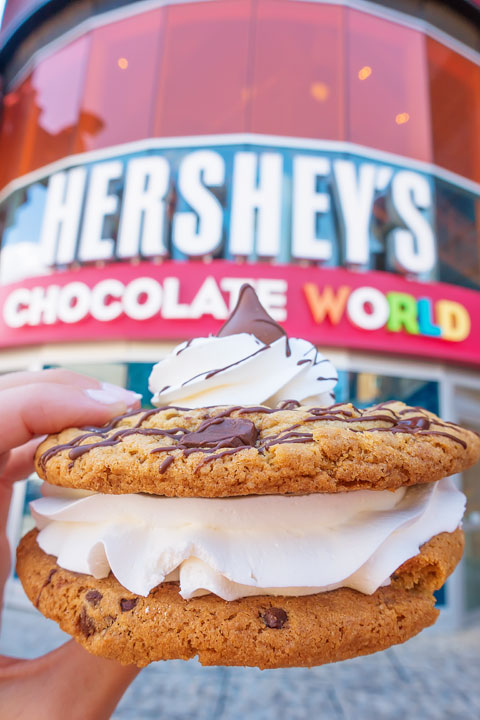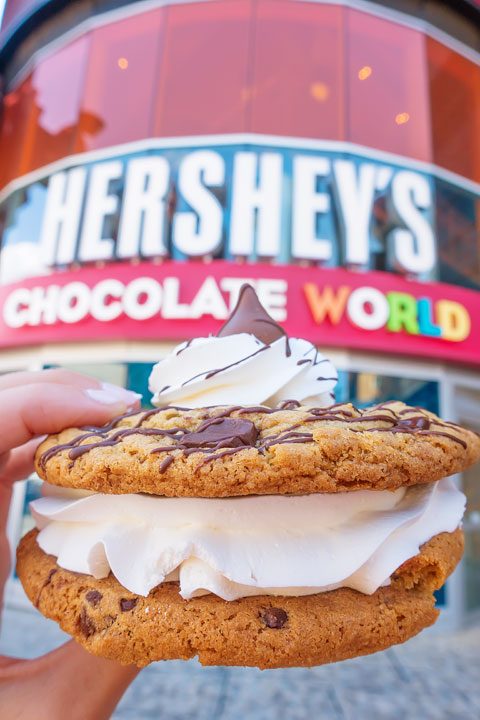 That afternoon we headed to Hershey's Chocolate World for some sweet shopping. :)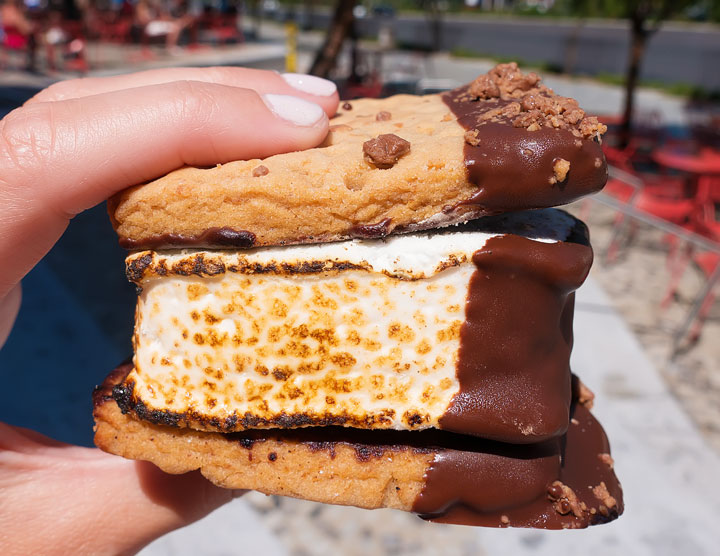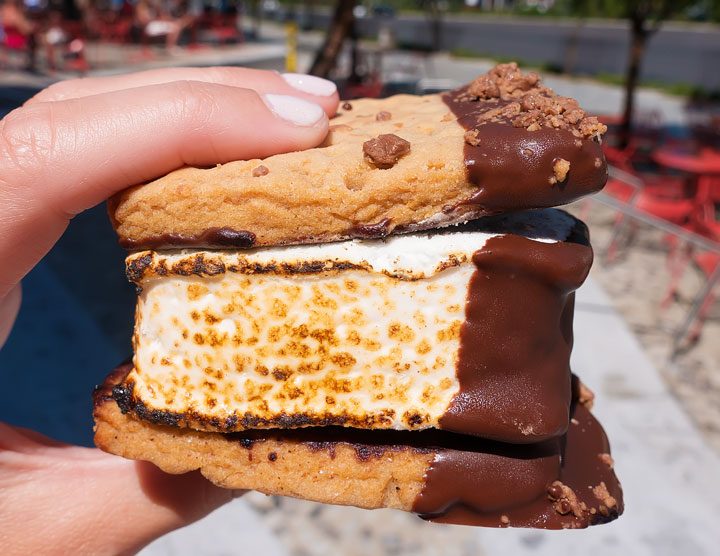 OMG. This massive s'more!! The graham cracker cookie was delicious!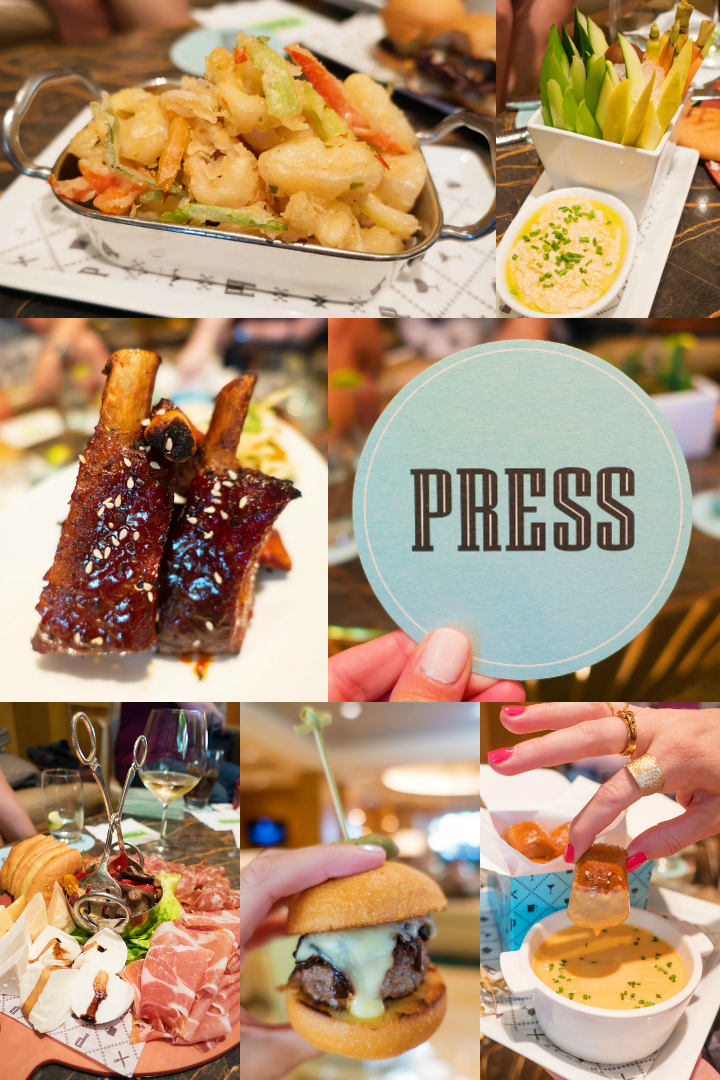 Late that afternoon we all met downstairs for delicious small bites and sharing plates at PRESS, the new lounge inside the Four Seasons' lobby. PRESS is the perfect spot for a quick bite from morning to late night. Those pretzel bites with cheese dip were to die for! We were fighting over the last bite!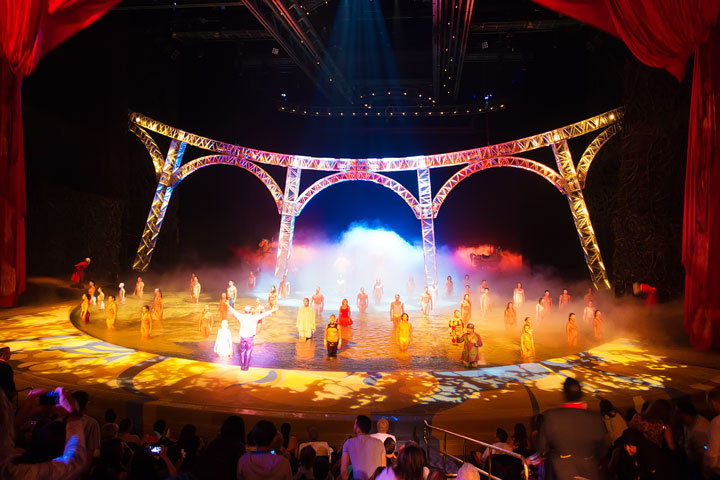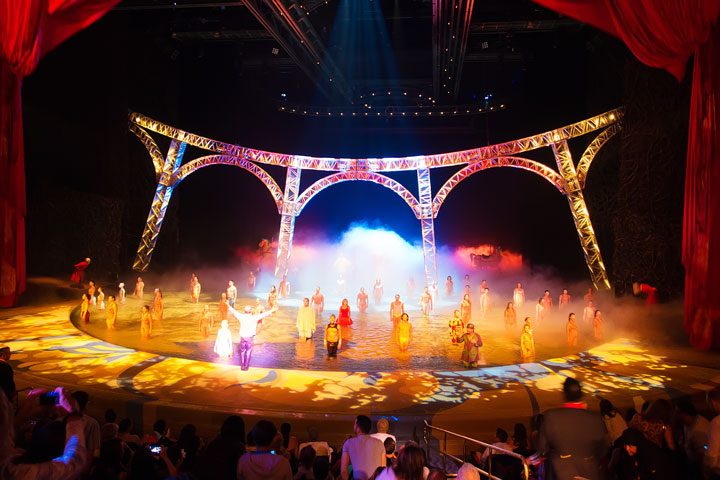 For our final night in Vegas we went to see O, the acrobatic water and diving Cirque du Soleil show. So unbelievable. We were gasping at the stunts!!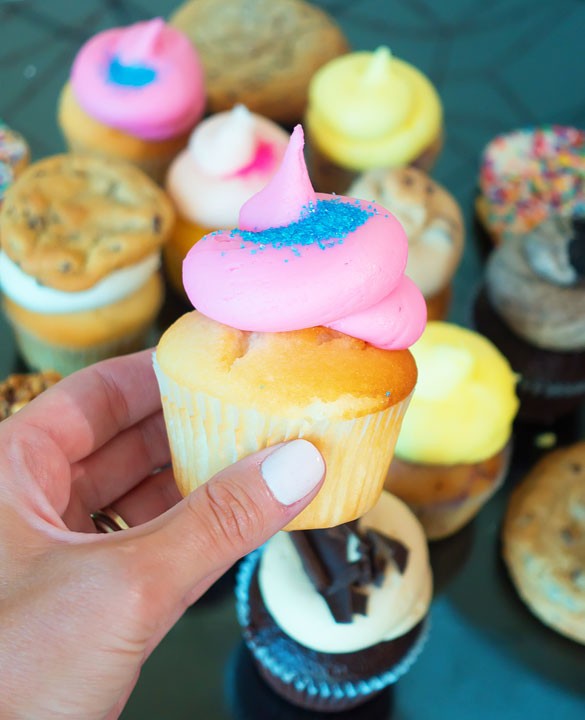 The night ended with a cupcake and PJ party thanks to Retro Bakery and PJ Salvage.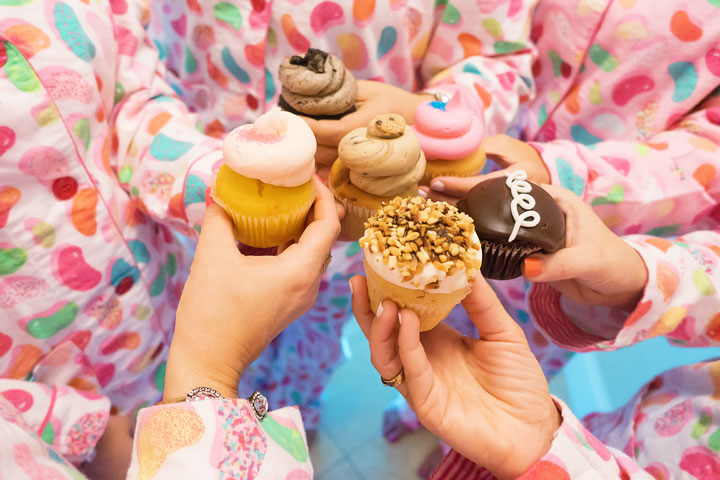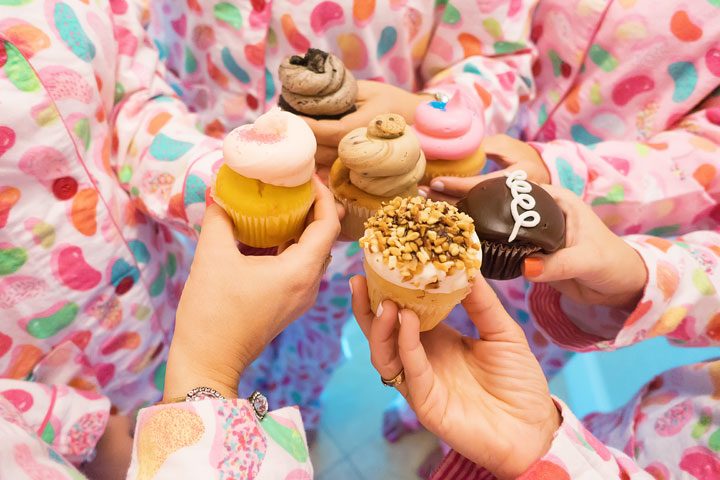 Loved our matching jelly bean pjs!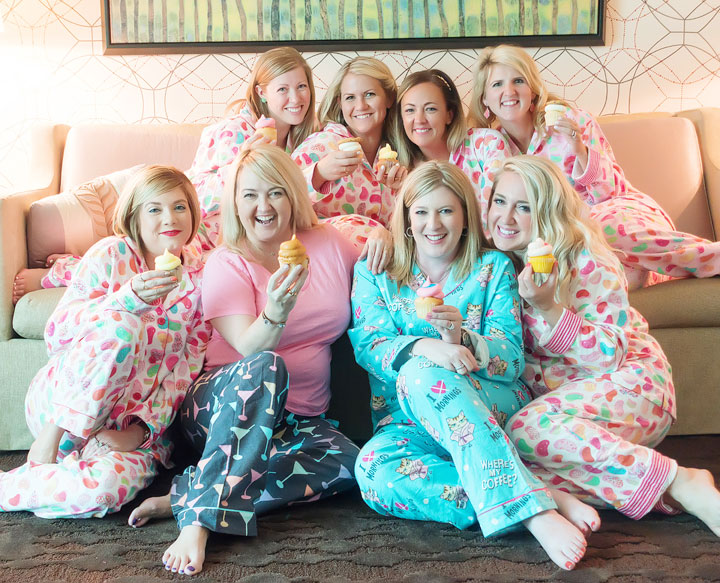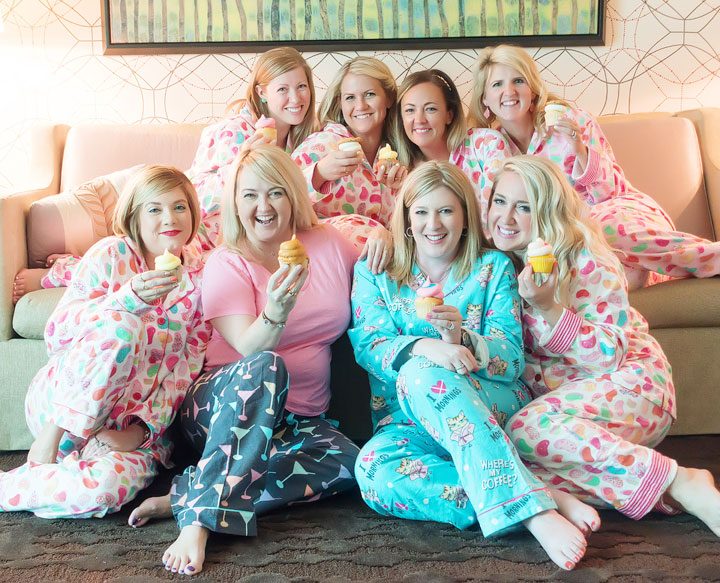 And the cupcakes and cookies from Retro Bakery were incredible. The sugar cookies and chocolate chip cookies from Retro Bakery are a MUST. I've never had cookies that good from a bakery!! Seriously wish I had one right now. The perfect ending to perfect girls weekend in Vegas.
Don't miss the other girls' posts from Vegas!
Jenny — Picky Palate
Shelly — Cookies & Cups
Shawn — I Wash, You Dry
Stephanie — Plain Chicken
Kristan — Confessions of a Cookbook Queen
Lauren — Lauren's Latest
Huge thanks to these amazing brands who made our trip so special: Four Seasons Las Vegas, Sabra Hummus, Petunia Pickle Bottom, MZ Wallace, Tieks, Lulu Frost, Loren Hope, Miranda Frye Jewelry, Minted.com, Tokyo Milk, Hello Apparel, Bella Cotton Candy Maker, P.J. Salvage, KitchenAid, Retro Bakery, Tillamook, Nestle, Planters, Bon Apetit Pizza and Martha White.
Until next time!! xoxo