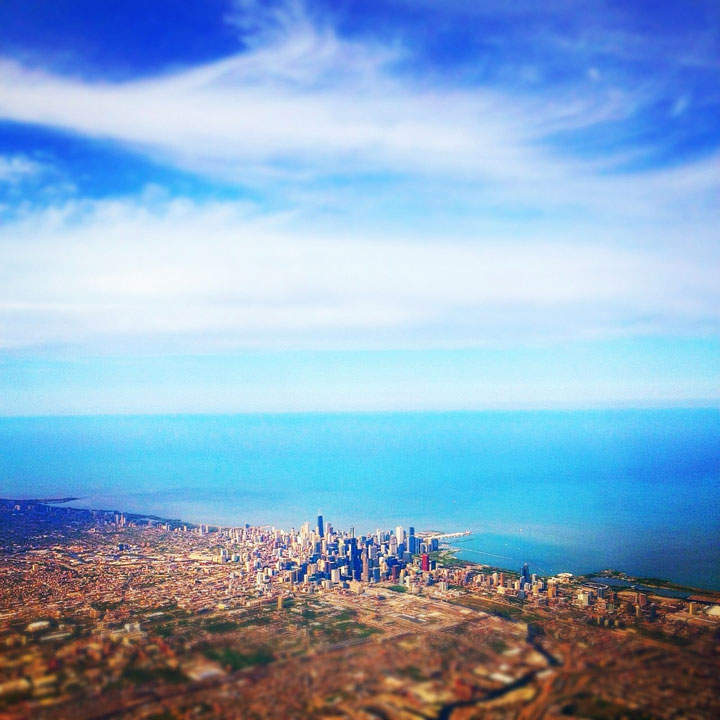 What a seriously fun-filled whirlwind this past weekend in Chicago was! I was there with some sweet foodie friends for the annual BlogHer conference. I was also speaking at the conference teaching a DSLR photography class! I've been going to the BlogHer conference every year since 2010 (In New York 2010, San Diego 2011, and back in New York 2012 again), and it is always a massive sea of bloggers, swag, parties, sponsors, food and fun. I love it. :) I always make new friends and I always learn something new. Plus it's always somewhere fun, and I always love an excuse to explore a new city! :) If you've ever considered going to a blogging conference, I highly recommend it. Next year BlogHer Food is Miami! So excited! :) I was in Illinois Wednesday through Sunday, and here's what all we did. :)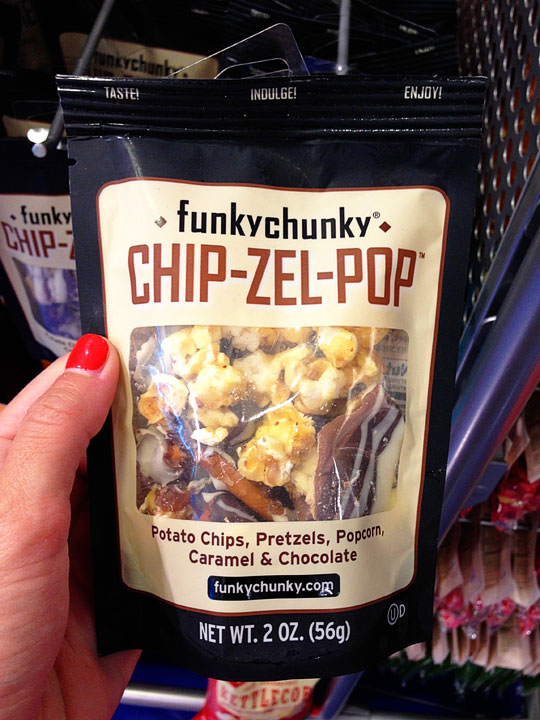 Okay, first things first. I saw these at my airport on the way to Chicago Wednesday morning. Potato Chips, Pretzels and Popcorn with caramel and chocolate?? Sounds like a combination of perfection to me!! Has anyone tried them? I didn't buy them because it was like 5am, but I'm seriously wishing I had now! Will definitely have to try these next time.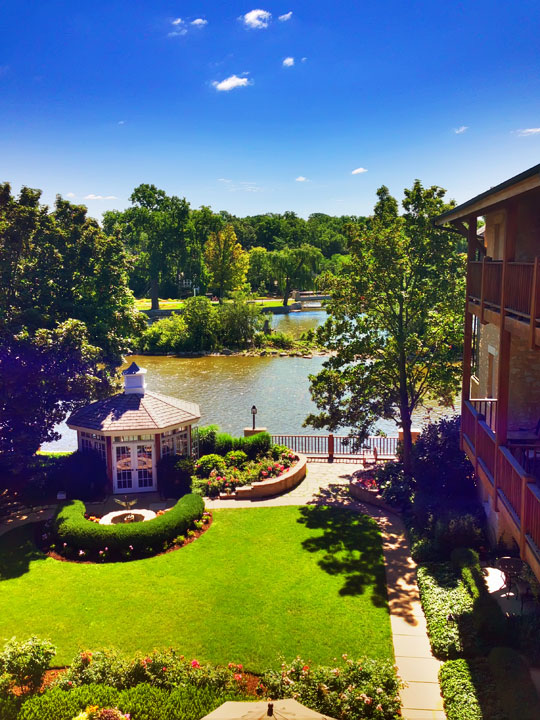 I arrived in Illinois on Wednesday, a day earlier than the conference, for a fun event with Aldi grocery stores. This was the gorgeous view from my room on the river at the Herrington Inn and Spa in Geneva, just outside of Chicago.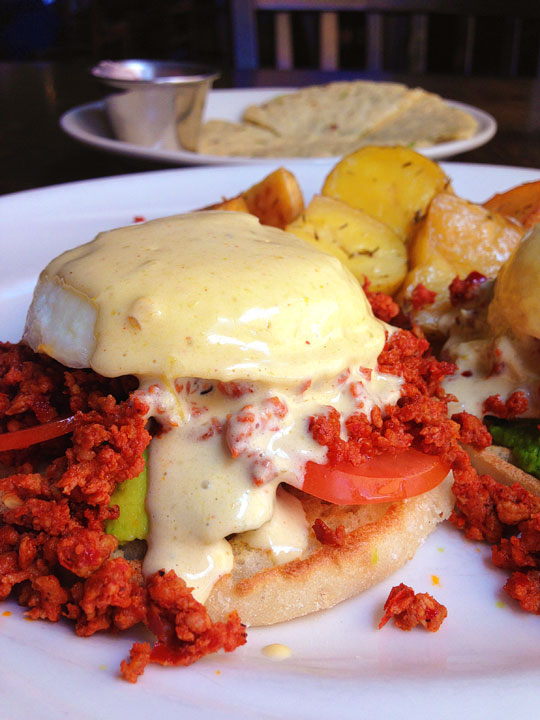 After checking in and dropping of my bags, I set off to explore the city. I love walking around and exploring new cities! What a fun area downtown Geneva is. I fell in love! So many cute little shops, boutiques, restaurants, and bakeries all in one area, right on the river. Definitely wished I'd had a few more days to explore! I got there just in time for brunch, and I saw this Mexican Eggs Benedict on the menu at Nosh and couldn't resist. Mexican chorizo sausage, tomato, avocado, and a jalapeno hollandaise. Omg. So good!!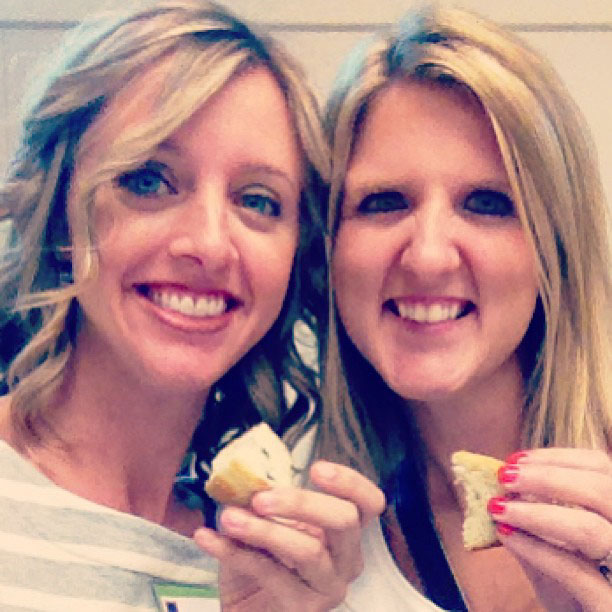 That afternoon I met up with Ali, Jenny, and the rest of the Aldi gang for a fun blind taste-testing session. Here we are taste-testing blueberry muffins. It's a tough job, but somebody's gotta do it! ;)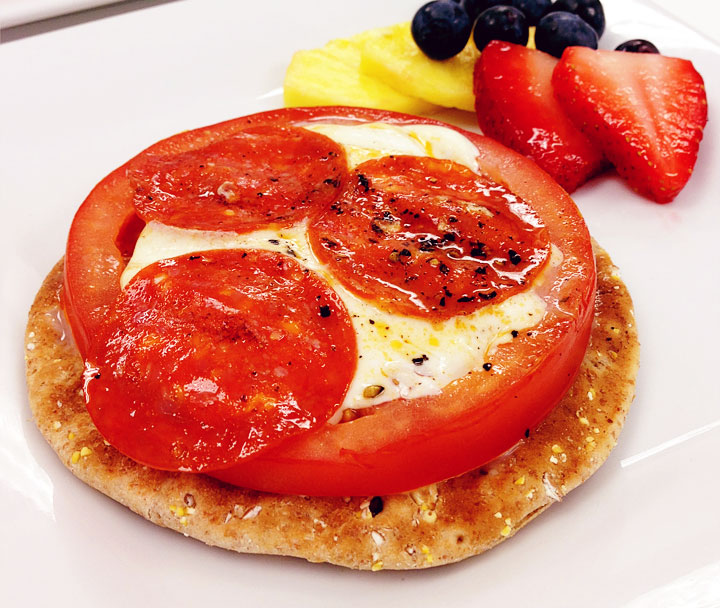 Next up was a back-to-school sandwich throwdown. Jenny and I created a strawberry nutella griddled s'more (okay, it was more of a dessert sandwich, lol!) and I also posted a few of the other entries on Instagram. This one by Piera at the Jolly Mom got lots of requests for the recipe, so I thought I'd share it here. :) It's a sandwich thin topped with sliced tomato, fresh mozzarella, pepperoni, and salt and pepper. Yum!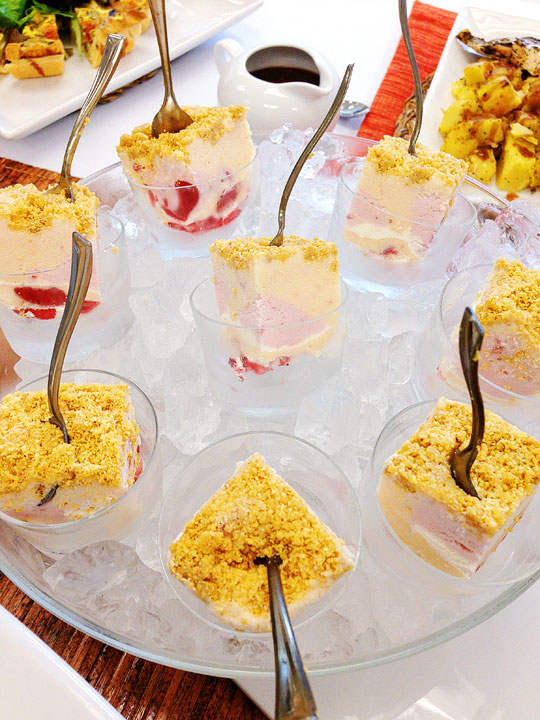 Next up was dinner and dessert courtesy of the fabulous Aldi Test Kitchen chefs!! All the food was fabulous, but of course I took photos of all the desserts, lol! These were Strawberry Cheesecake Pops. Aldi shared all the recipes with us, so if you'd like to grab them, just click on the name of the recipe.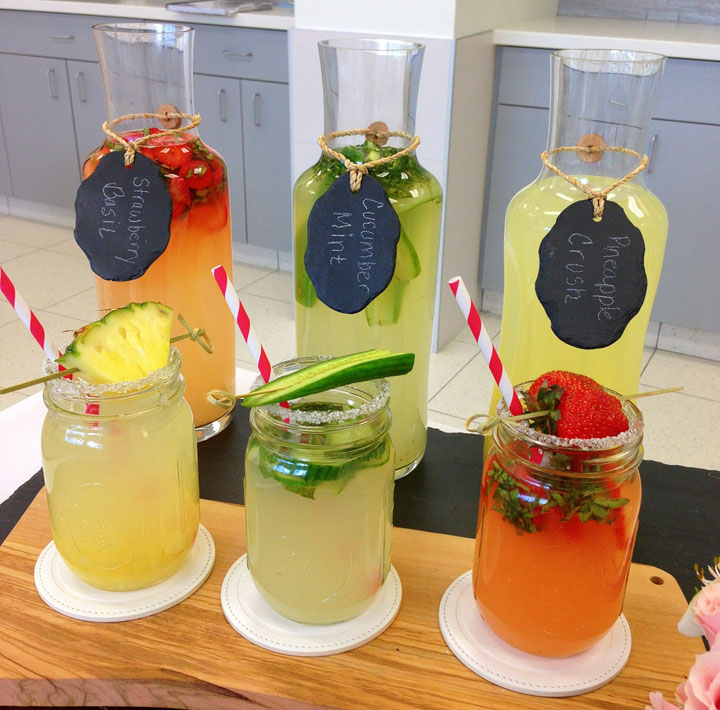 Loved these flavored lemonades they had for us!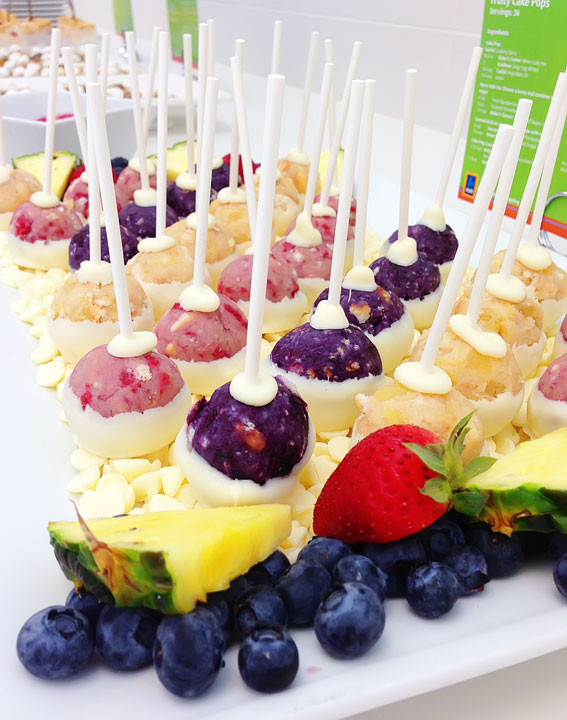 Pretty Fruity Cake Pops :)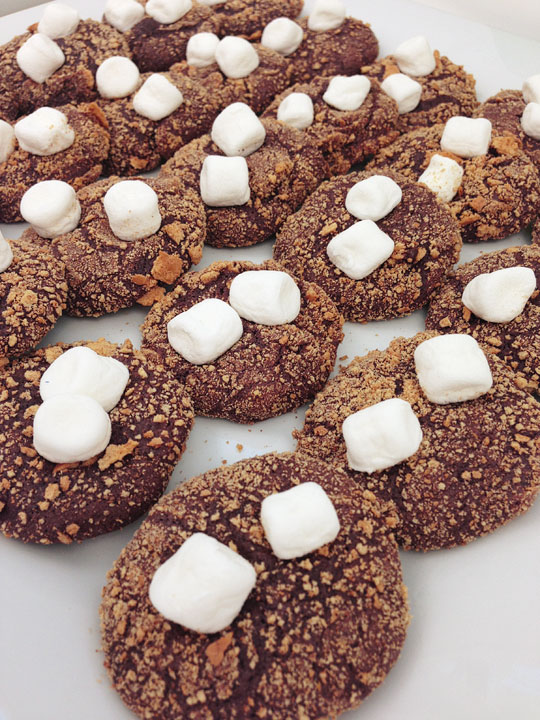 These S'mores Brownie Cookies were amazing!! So decadently soft and chewy.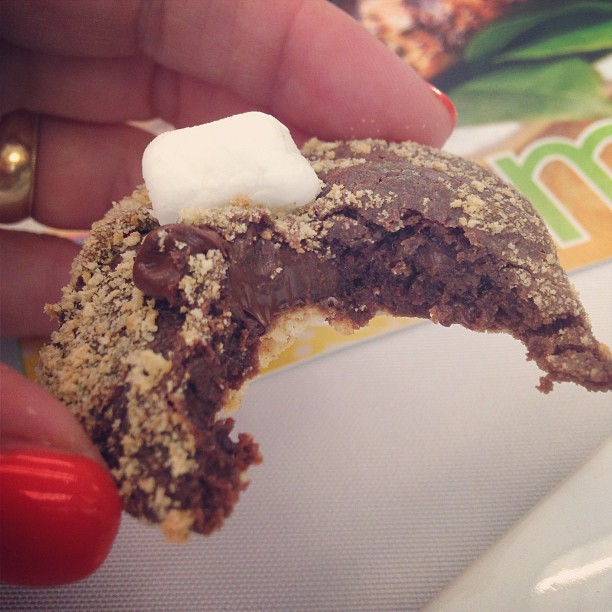 This photo from Jenny says it all. Will definitely be making these at home ASAP!!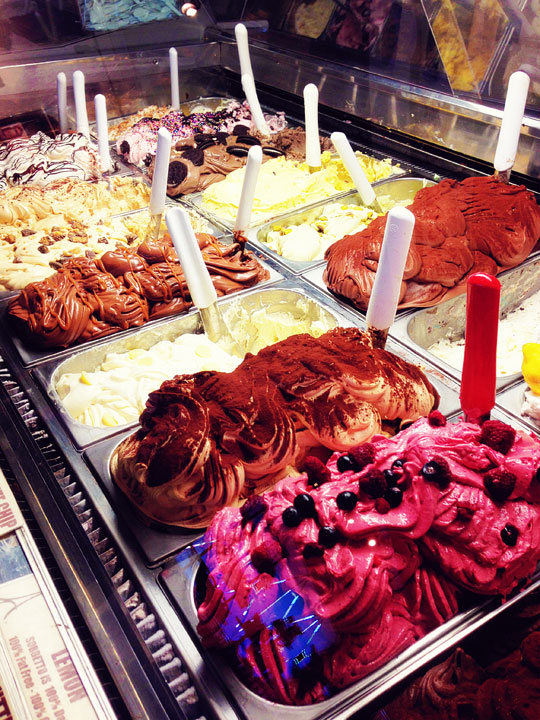 Okay, so even though we'd just had dinner and dessert, we had to go back out and explore the city of Geneva. There were just so many cute chocolate shops! We couldn't pass it up. :)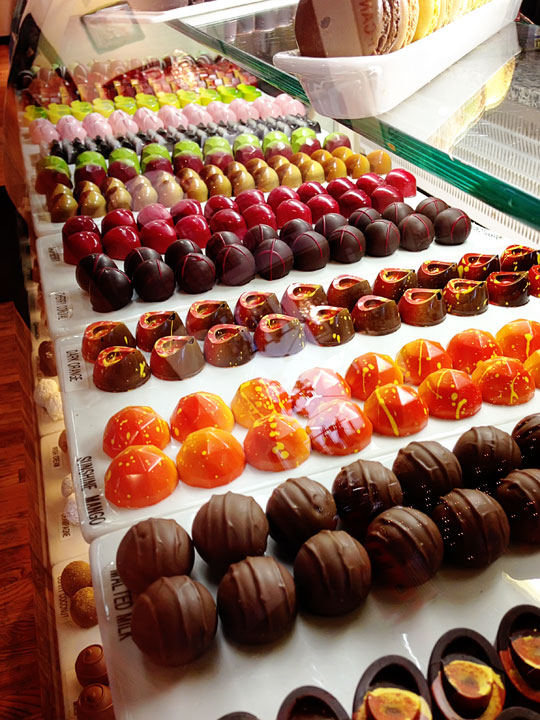 We walked down to the All Chocolate Kitchen to check out their gelato, chocolates, macarons, and bakery case.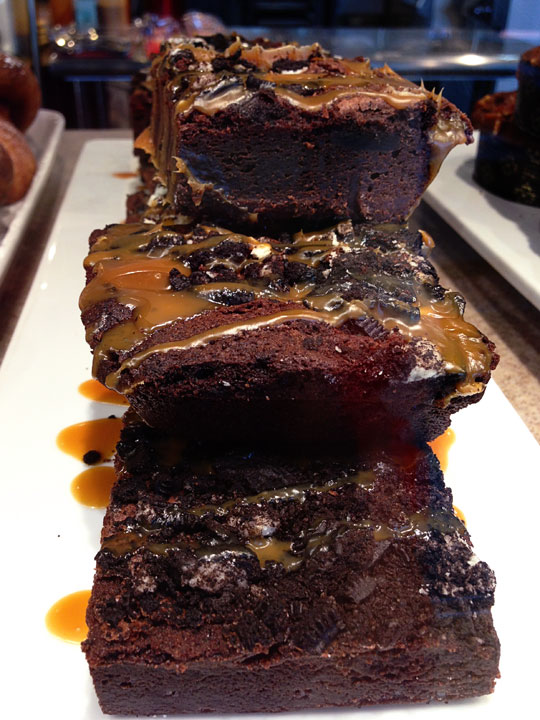 Is that a brownie topped with Oreos and caramel?!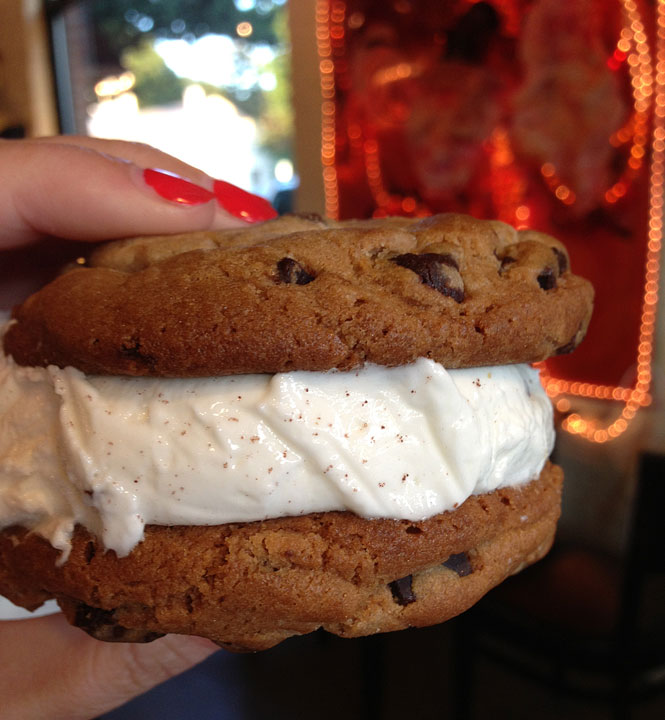 I decided on this massive chocolate chip gelato sandwich. :) Good way to end the night, lol!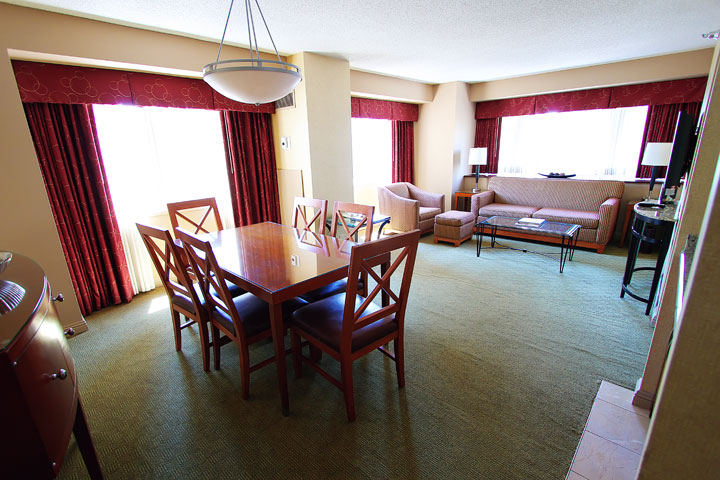 The next day was Thursday morning, and we made our way into Chicago where Jenny, Shelly, and I were staying at the Omni downtown on Magnificent Mile. We totally lucked out and they gave us a gorgeous suite on the 23rd floor! Thank you Omni! Five seconds later it looked like a tornado blew through with all of our stuff. I should've taken a before and after! No, the after would've been too scary, lol!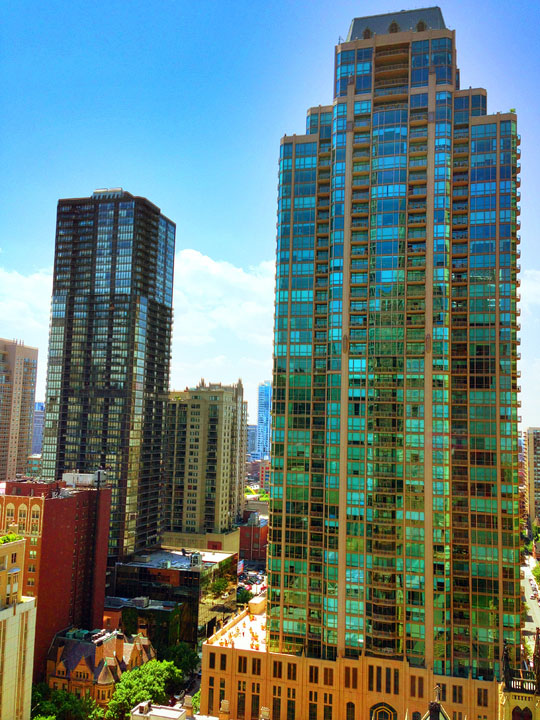 Here was our view of Michigan Avenue below.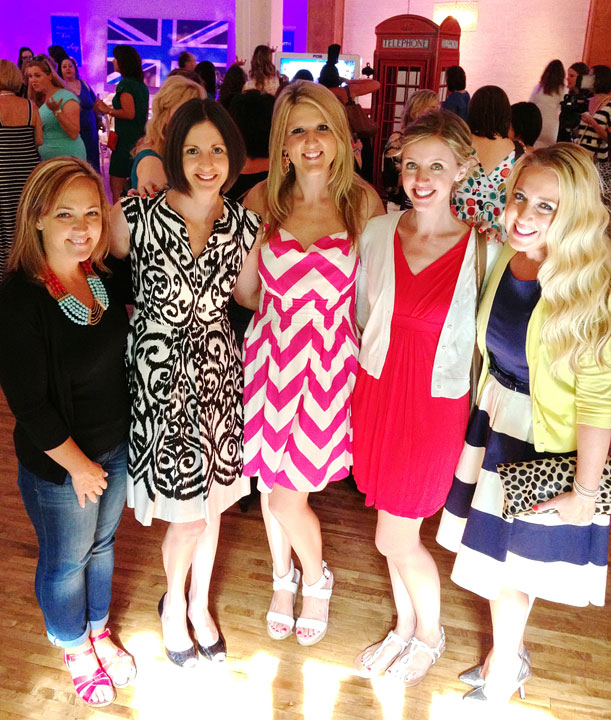 The first night was the ultra swanky Social Luxe party. It is like the Oscars for blogging, lol! Maria, Jenny, and I were presenting.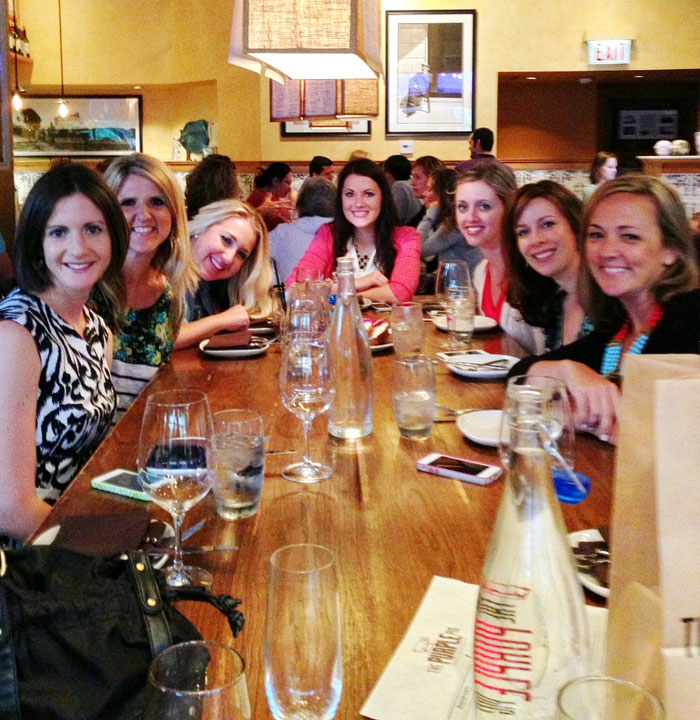 Love this group! Maria, me, Jenny, Jamielyn, Ali, Sommer, Shelly
I loved my pink dress from Altar'd State, but as soon as the party was over, I immediately ditched the dress and heels for a tshirt and flip flops, lol! We heard SO many recommendations for The Purple Pig in Chicago, so we knew we had to get there for dinner.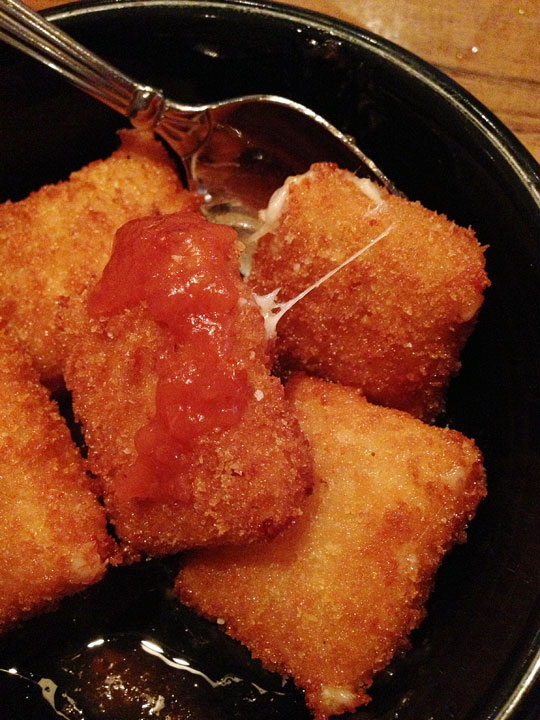 We tried all the popular menu items like the roasted bone marrow, pig's ear, and chicken thigh kebabs, but here are the two things that will absolutely make me go back. First, the Fried Manchego Cheese with Membrillo. Okay, so, right off the bat, let me just say, I was here with a group of foodies, and we could barely read the menu, lol! I am not entirely sure what Membrillo is, but it appeared to be a sweet fruit jam. Whatever it was, it was PERFECTION on top of this fried cheese!!!! Sweet jam + salty fried cheese = True. Love. 4. Ever. Seriously craving this right now. The second thing was the Turkey Leg! Love a good, huge, perfectly cooked turkey leg, lol! Oh, and the Milk Braised Pork Shoulder was good too. The best thing to do is come here with a group and order everything family style so you get to try a little of everything. :)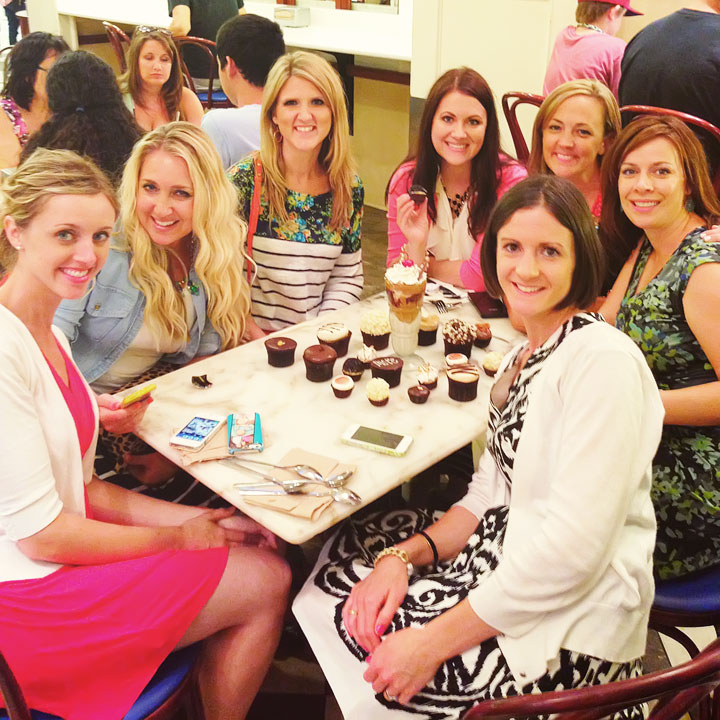 You know this mischievous group couldn't get together without getting into a little trouble! ;) Especially since we were all staying within walking distance of a Ghirardelli Ice Cream & Chocolate Shop. It had to be done.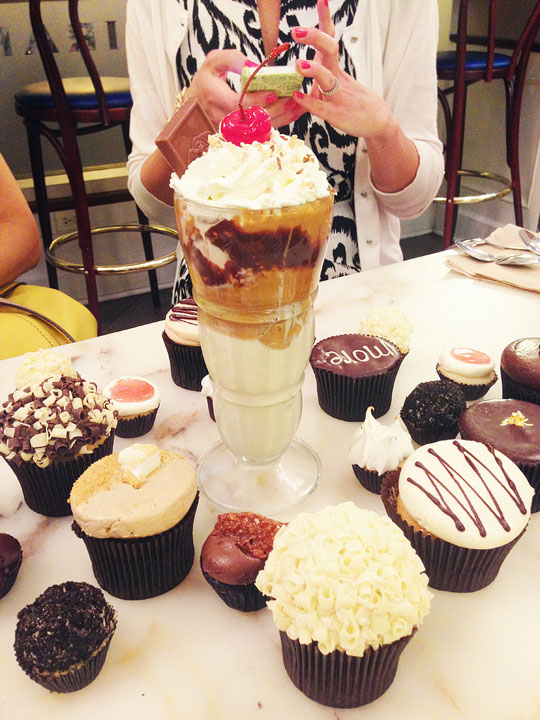 We all loved this Gold Rush Sundae!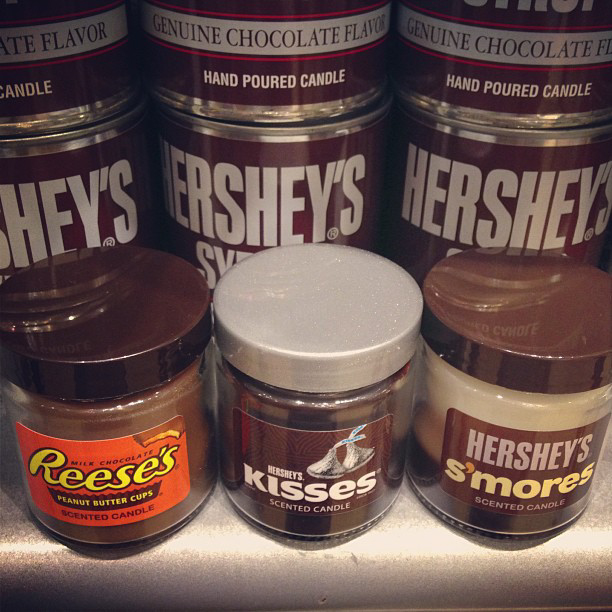 Photo via Jenny
Afterwards we walked next door to the Hershey Store. Seriously wanted to get one of each of these fun candles! The Reese's and S'mores were amazing. They were tiny and $10 a piece though, so I passed. :)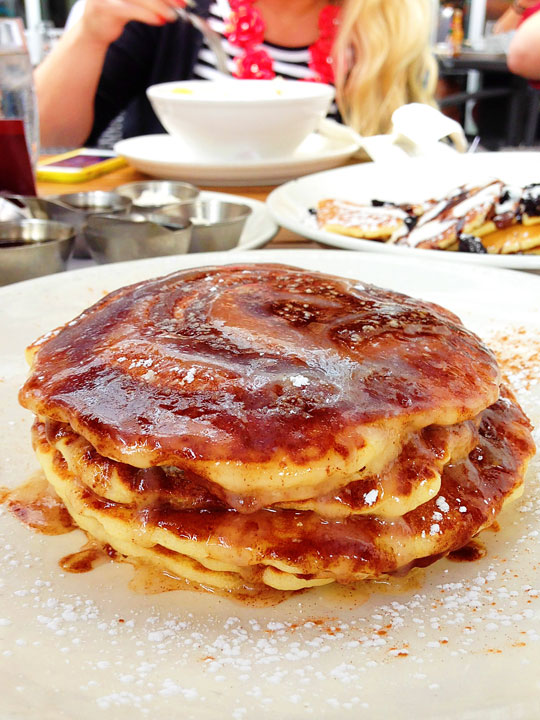 The next morning I started the day at Wildberry Pancakes with a breakfast of champions… Cinnamon Roll Pancakes, lol! :) If you want a seriously to-die-for cinnamon roll pancake recipe you have to make Maria's Cinnamon Streusel Pancakes. Seriously the best out there!! :) Top them with a powdered sugar glaze if you're feeling extra sinful. ;) I crave these every weekend!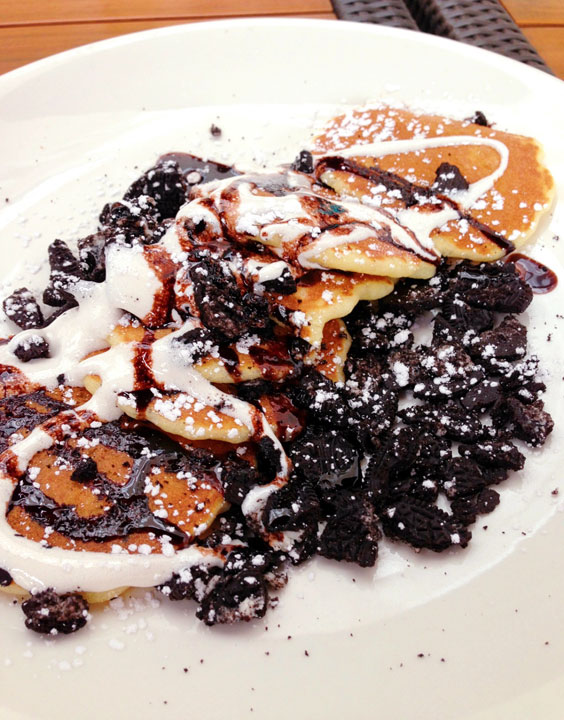 We also ordered a little S'mores Pancake on the side! ;) I needed massive amounts of sugar to distract me from my session that afternoon. ;)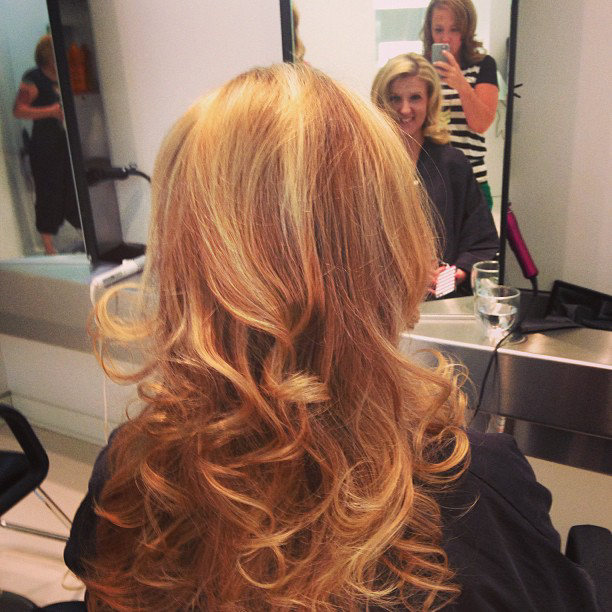 We had a little time before heading over to the conference, so Jenny, Shelly, and I decided to get blowouts at the salon across the street from the Omni, Maxine Salon.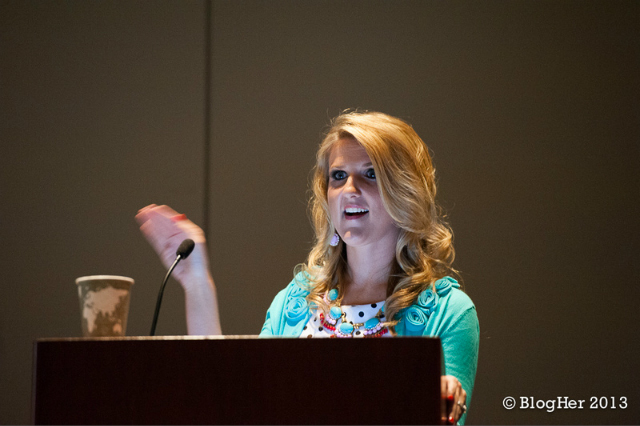 My session went great! I taught a basic introduction to DSLR photography. It was based on my Quick Guide to Understanding Your DSLR tutorial I wrote a few years ago. Not sure when this photo was snapped, I felt like I was staring at my notes the whole time, lol! I must've been talking fast and with my hands, though, hah. :) I think BlogHer will be providing my PowerPoint presentation along with a video of the session in a few weeks for anyone who didn't get to attend and is interested in the session. I'll keep you posted when it's available. :)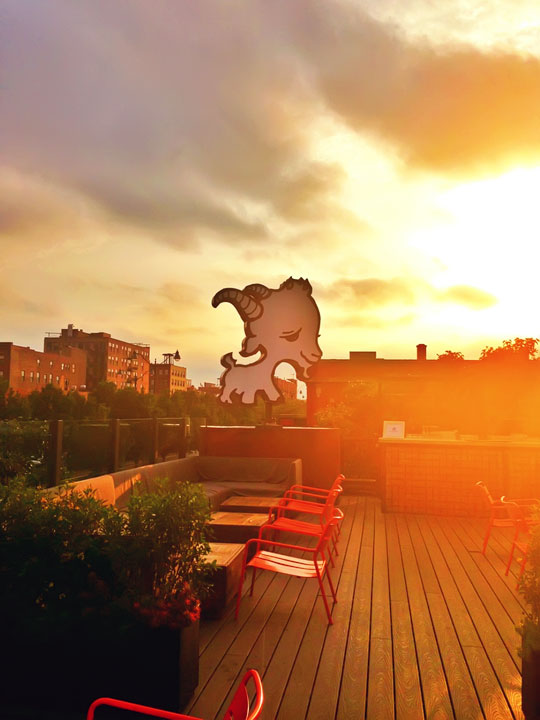 That night was one of the highlights of the trip: A dinner in the private upstairs kitchen of Little Goat Diner, prepared by Top Chef winner Stephanie Izard herself.
I'll tell you all about it tomorrow!! Stay tuned!! :)