When I was in Utah I spoke on a panel about blogging at the Build Your Blog Conference. I loved having the chance to help and encourage fellow bloggers, and wish I had the opportunity to do it more. Of course I felt like a huge dork up there! :) Everyone else was so eloquent! I am slightly high strung and I tend to ramble (especially when I'm nervous!) so I felt like most of the time I wasn't making any sense. But I hope some of what I said was able get through, lol! Thank you so much to those who were at the conference that have dropped by and left such sweet and encouraging comments here. It was such a pleasure to meet you all.  You are way too kind. :)
While I was at the conference I attended a session led by Cindy M. Hogan, Abby from Twist Me Pretty, Maria, and Heidi of Foodie Crush. All I can say is WOW! I came away super inspired. If you are on the fence about attending a blog conference, do it!! I've been blogging for 11 years (last Friday was kevinandamanda.com's 11 year blog birthday!) and I still always learn something. But the best part about blog conferences is meeting new friends and making connections you can take home with you after the conference.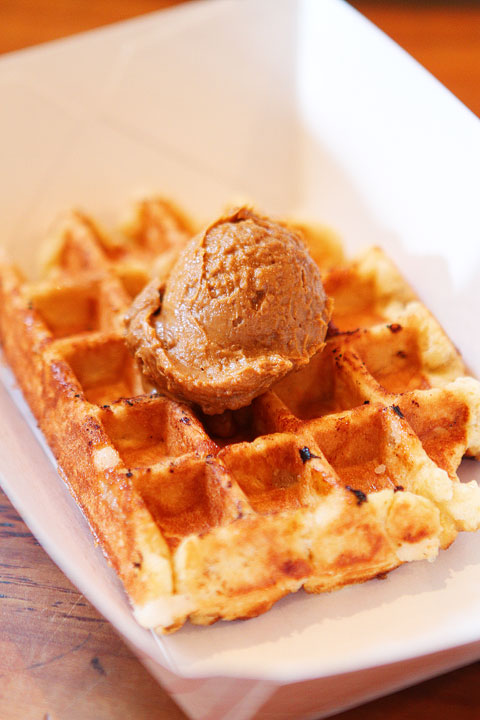 Everyone told me I had to try Bruges Waffles and Frites while I was in Salt Lake City!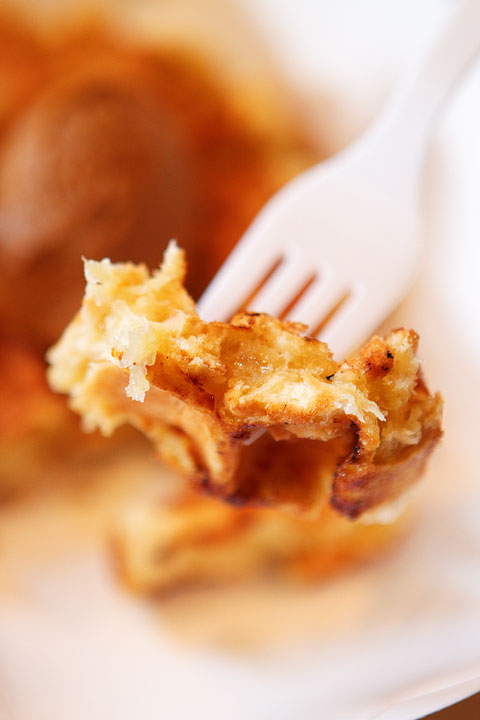 Bruges serves Liege-style waffles, which are made from a rich, yeast-risen dough that has big pearls of sugar mixed all throughout. When the dough is cooked in a hot waffle iron the sugar caramelizes, producing a a waffle with a perfectly crispy exterior while leaving the delicate center soft and chewy. And sweet! How perfect is this little bite??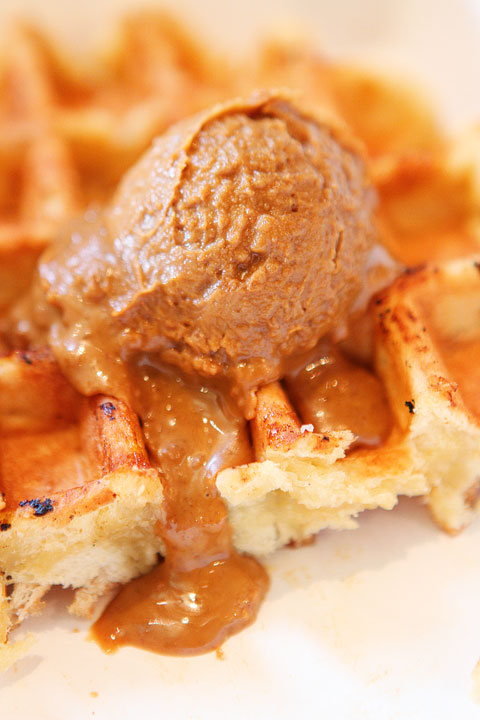 I got my topped with chunky Biscoff spread. Swoon! This was my first time trying chunky Biscoff spread. Have you had it yet? I loved it!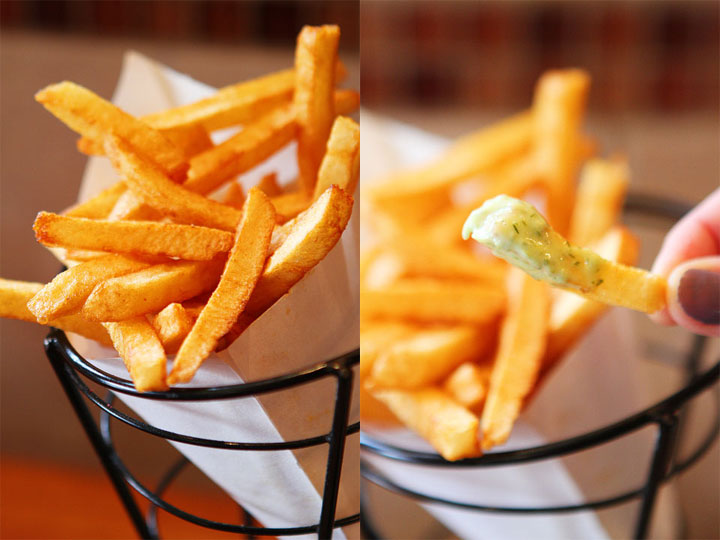 Of course I couldn't leave Utah without trying the fries as well. ;) Breakfast and lunch, all in one spot! What drew me in was the 10 house-made dipping sauces to choose from. I love to dip! :) I picked Lemon Pepper Dill, because I am pretty much in love with every single thing about lemon, pepper, and dill. Super yummy! Bruges was a hit!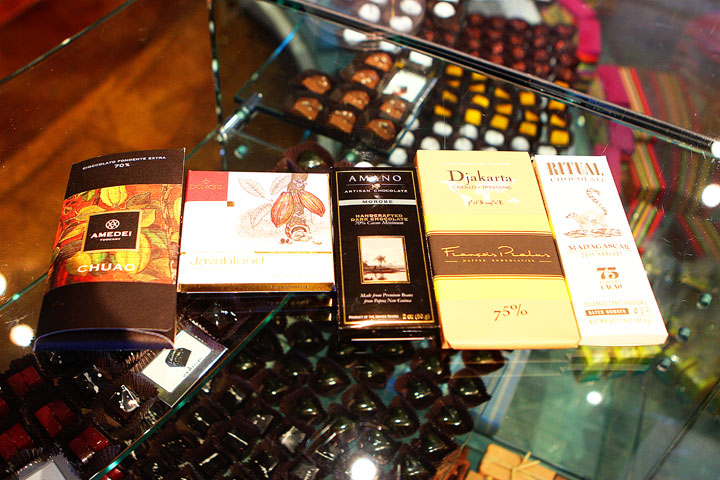 It's also right next door to Caputo's Market, and if you have a chance you should definitely pop in this fun shop. So many delicious gourmet items like chocolate, cheese, honey, olive oil, and jams you can take back as a souvenir. Heck, I would stock my whole kitchen from here if I lived in Salt Lake! Matt Caputo just happened to be behind the giant chocolate display case as Maria and I were drooling over it, and he offered to give us a private mini chocolate taste-testing class.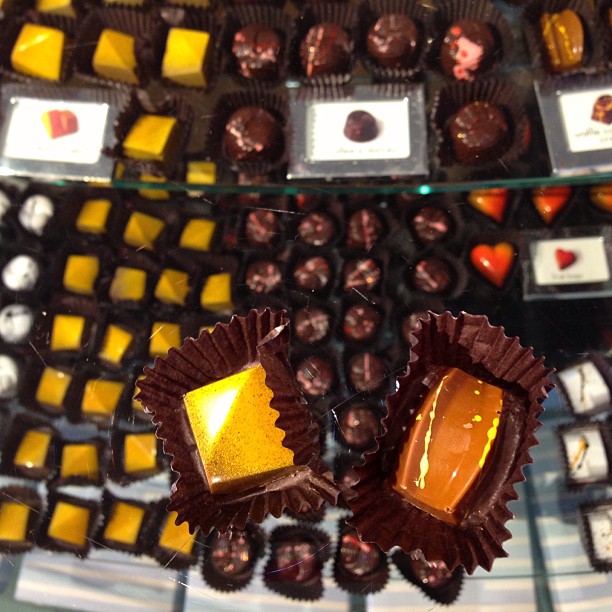 See, this is why you should go :) French Toast and Waffles & Ice Cream truffles!! :) Still kicking myself I didn't bring home a box of these, lol!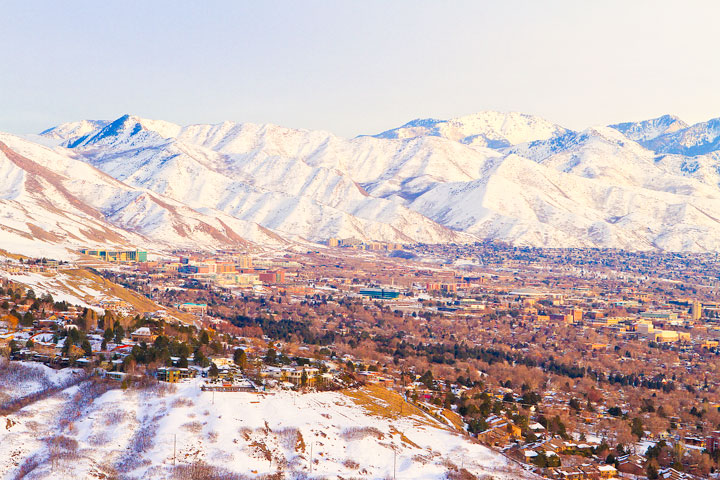 Pretty much everywhere we went in Utah looked like this. Could not get over those mountains. Everywhere. Seriously, I was looking up at a Bed, Bath, & Beyond, and there were those mountains.
Have a fabulous Tuesday!! xoxo