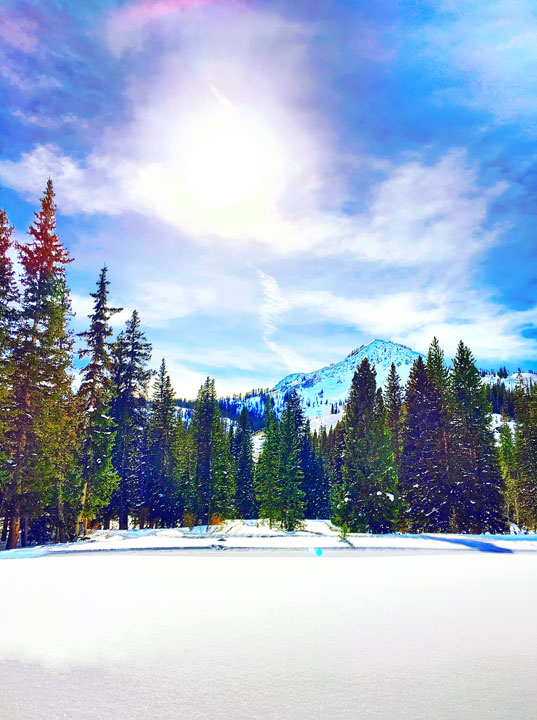 After an incredible weekend at Deer Valley, we were so thrilled to also get the amazing opportunity to experience Deer Valley's newest ski property, Solitude Mountain Resort.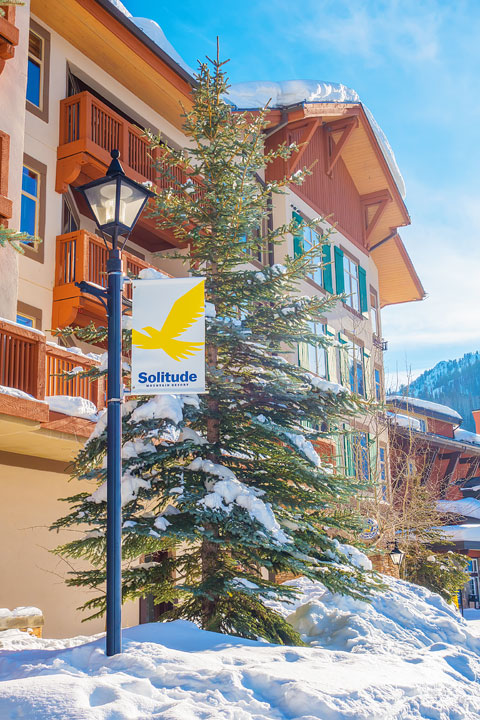 Solitude has over 1,200 acres of trails for skiing and snowboarding. It's conveniently located just 30 minutes from Salt Lake City, but even with it's close proximity, Solitude is quiet and secluded.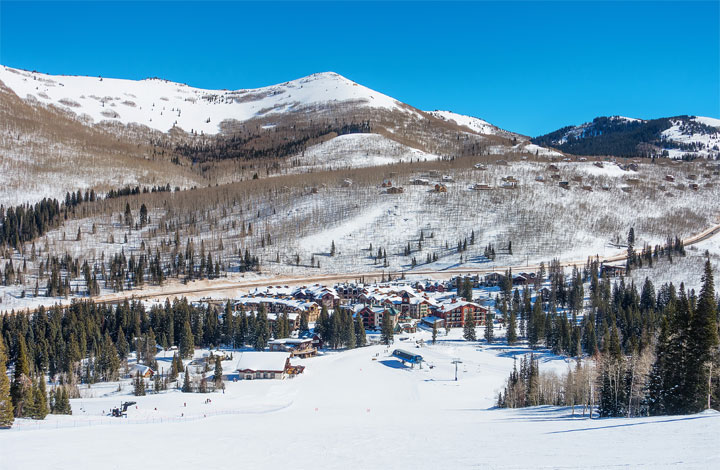 There's no hustle and bustle at Solitude. It's peaceful and serene. The uncrowded slopes make you feel like you're skiing in your own private backcountry. It's the ideal resort if you want a more private, quiet ski experience.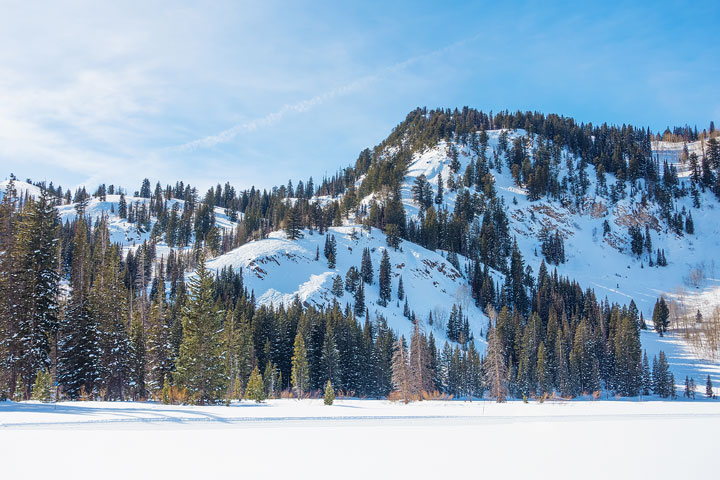 Solitude offers a wide range of green, blue and black runs to satisfy every level of skier. If you're looking to improve your skiing, Solitude is the ideal place to advance.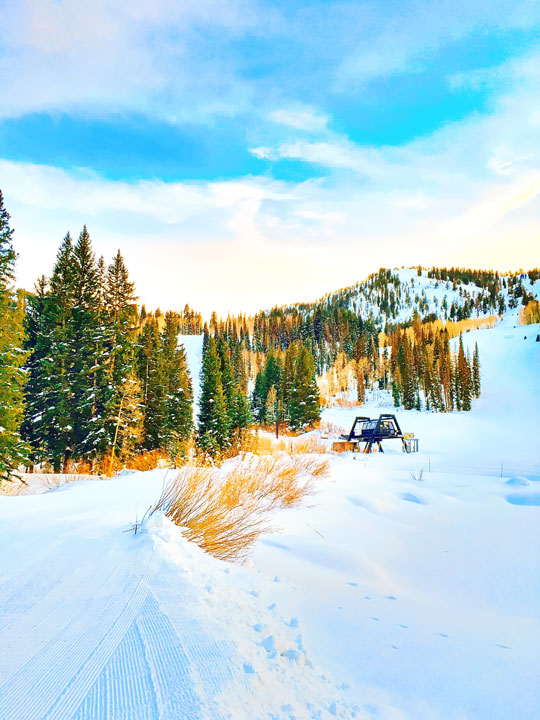 The slopes are comfortably wide, allowing plenty of room to maneuver and fine tune your skills. And fewer crowds mean fewer obstacles to avert!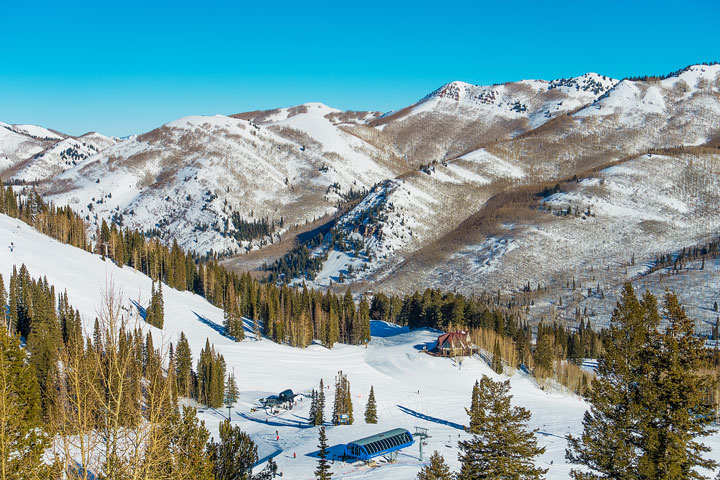 Deer Valley's new ownership and operation of Solitude is the icing on the cake.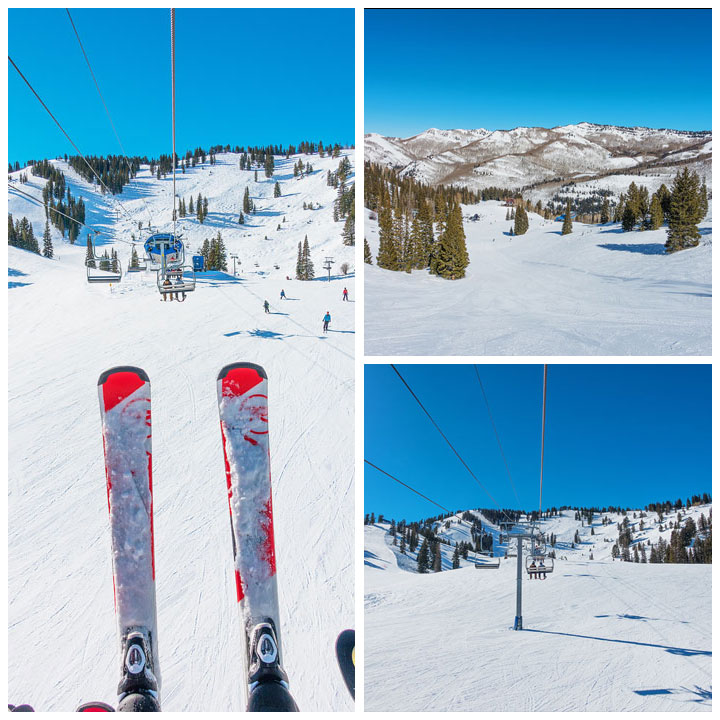 With new chairlift upgrades, lodge remodels, and a full overhaul of the mountain's food and beverage service, Deer Valley is bringing its renowned tradition of outstanding service and meeting guest expectations to this brilliant hidden gem.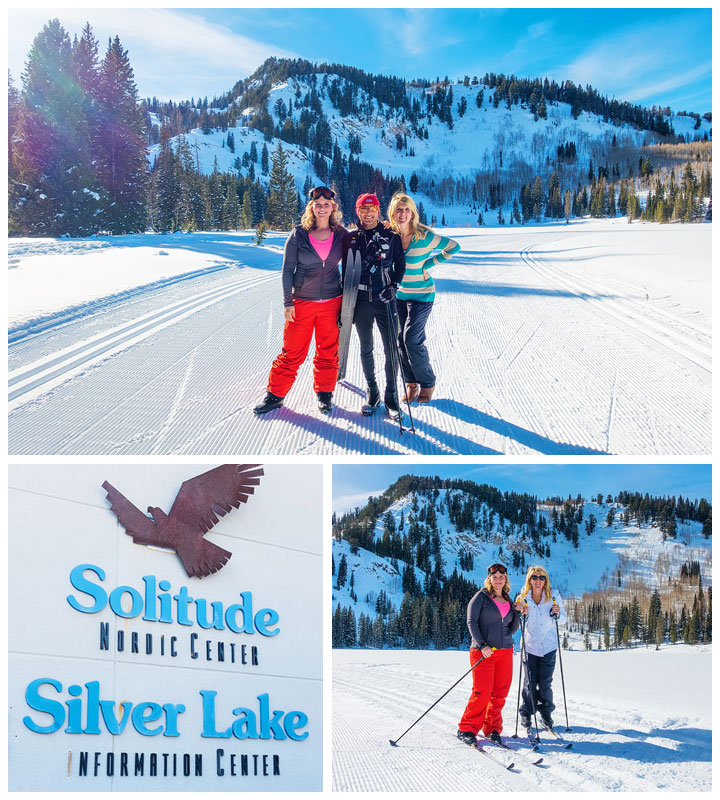 Solitude's acclaimed Nordic Center is what sets it apart from the other resorts. Ideal for families, beginners, and skiers of all abilities, the Nordic Center boasts nearly 20 kilometers of trails groomed for both classic and skating styles of Nordic skiing. If you've never tried nordic skiing, you can learn from the best at Solitude. One of their instructors was an Olympic athlete from the 2002 Olympics, who fell in love with Utah and never left, and has been working at Solitude ever since.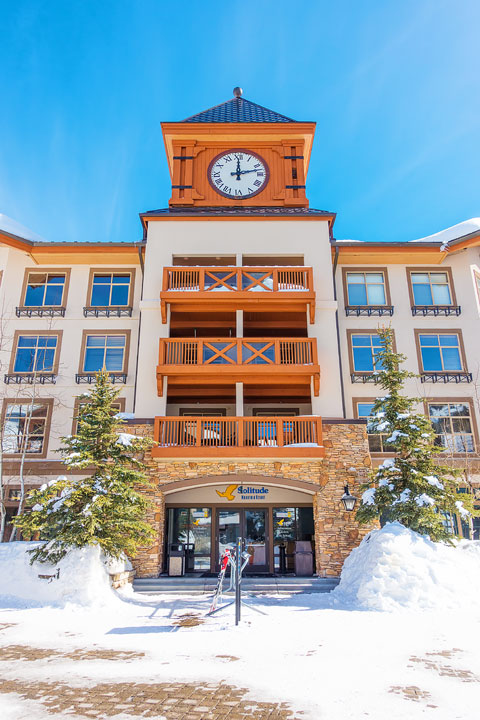 The Village at Solitude creates a true, European mountain resort feel.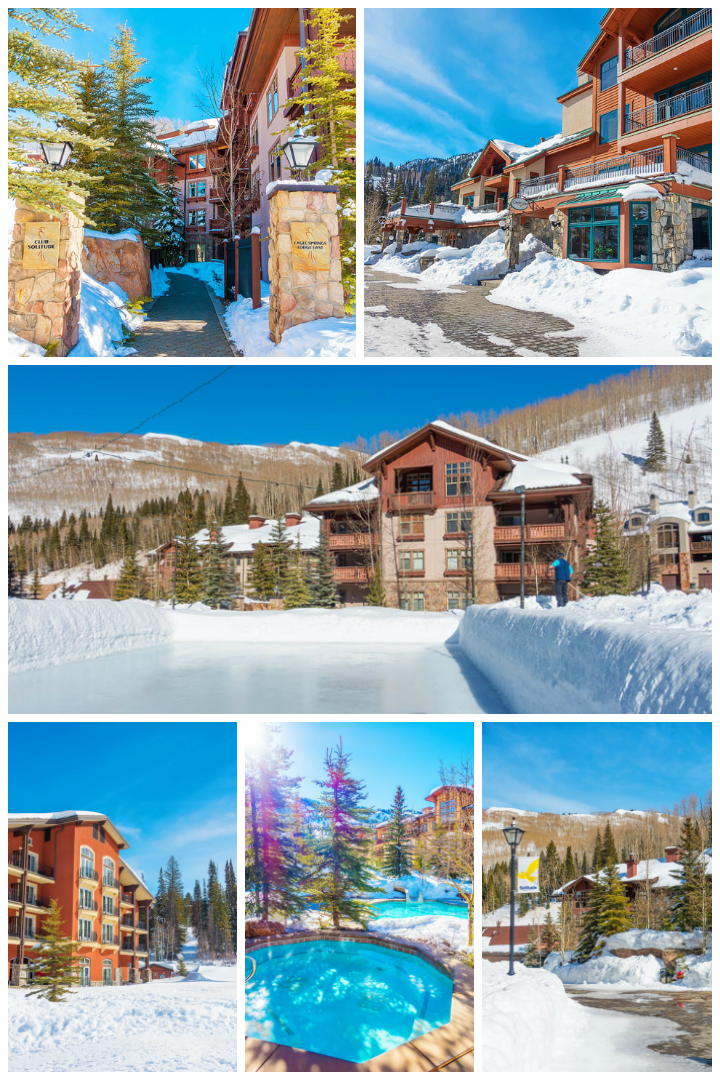 With convenient access to lodging, dining, shopping, and the slopes, everything you could want is within walking distance in this charming village. There's even an ice-skating rink!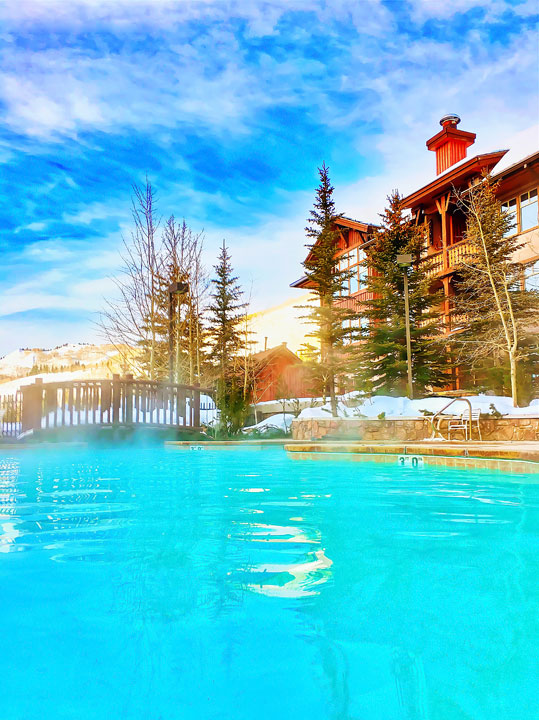 Located in the heart of the Village is Club Solitude. Guests staying in the village have access to the heated pool, saunas, and hot tubs that Club Solitude provides. There's also a pool table, game room (with classic board games and Xbox consoles) and a theatre with nightly movies. If curling up on the couch and toasting by the fire is your thing, the fireplace in the great room is the perfect spot to unwind.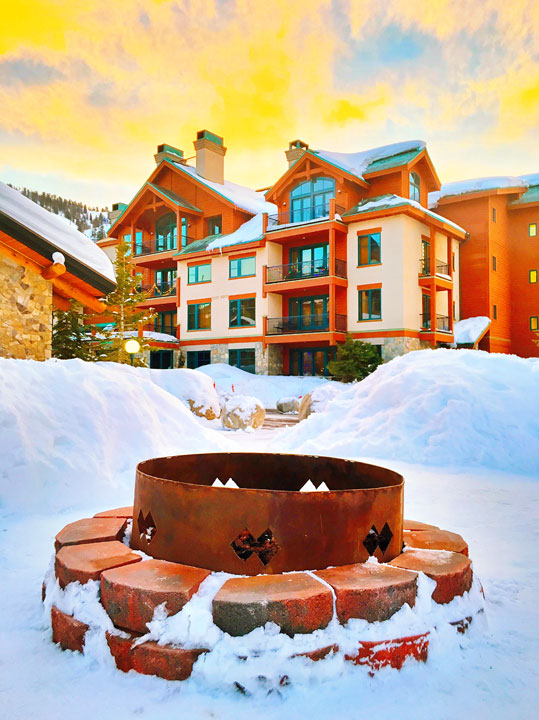 There's even a fire pit right in the middle of the village (and right next to the skating rink), perfect for toasting s'mores after a day on the slopes.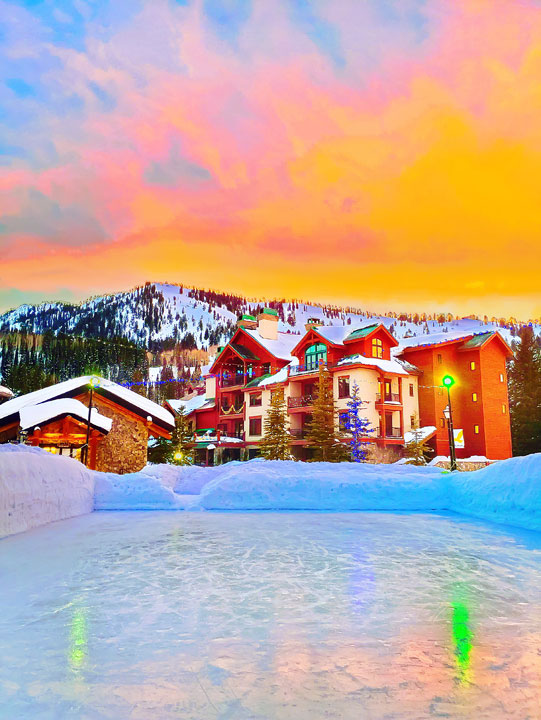 Photo via Shawn
Sunsets at Solitude are magical!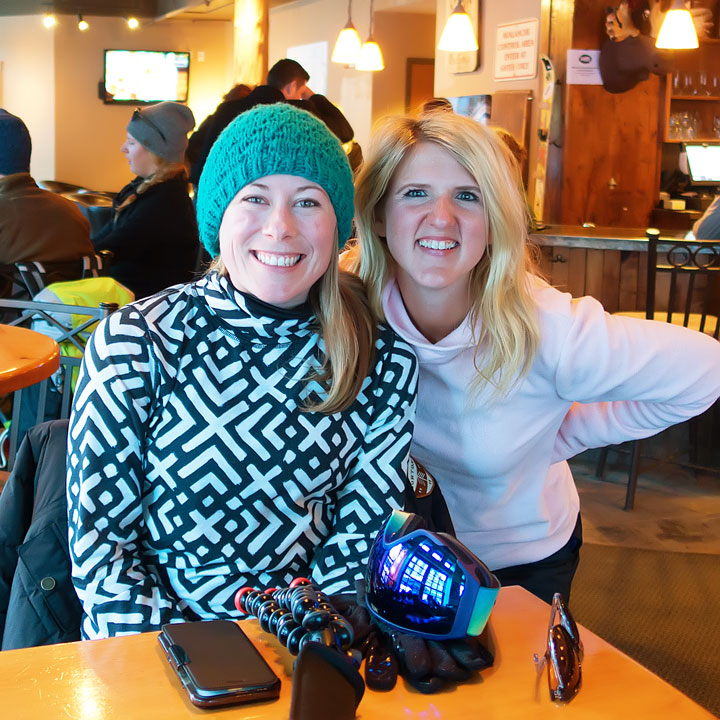 While we were there, Ski Magazine was shooting a video about Solitude. It ended up being a hilarious parody of The Bachelorette! I got to meet the sweet Halley O'Brien, the host of the show, and also the lucky Bachelor and Bachelorette. You guys, I think they honestly made a true love connection! We all ended up at aprés in the Village, and they couldn't take their eyes off each other all night. So sweet! We'll have to see what the future holds for these two. Be sure to watch the video here!
The Food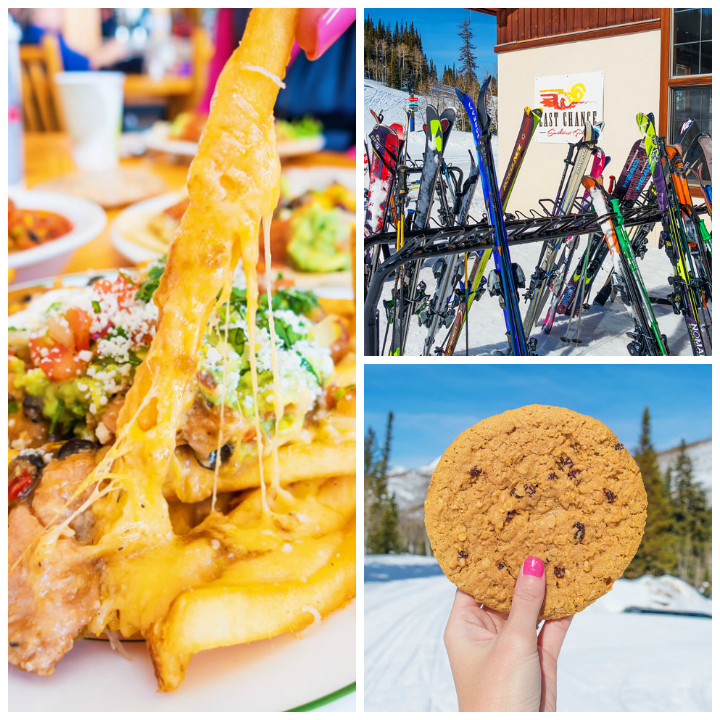 Last Chance Southwest Grill — Great for a quick and easy lunch right off the slopes! Loved these loaded fries! They're topped with Deer Valley's famous Turkey Chili. And you HAVE to try the massive cookies! The sugar cookie was the best!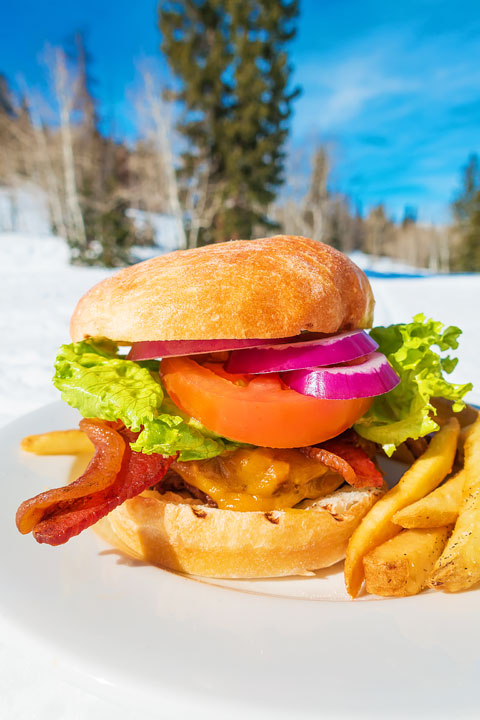 How awesome is this burger??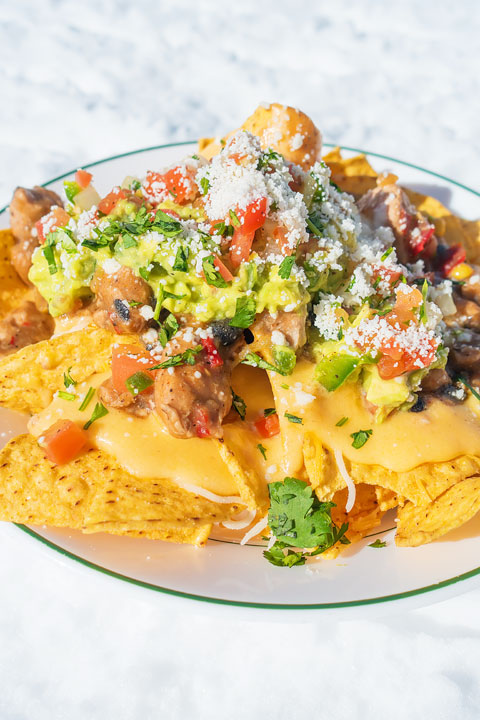 Oh, and yes. The nachos. To die for! Huge assortment, everyone in the family will love!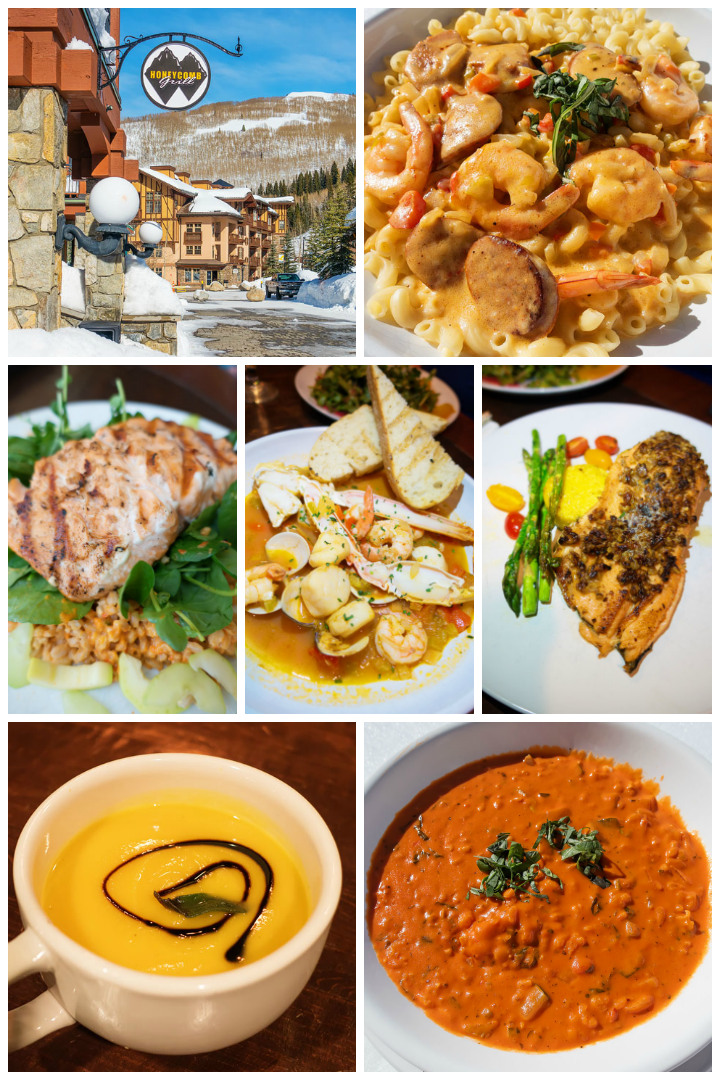 Honeycomb Grill — With  fresh, local, and sustainable ingredients (not to mention amazing views of the mountain), Honeycomb Grill is perfect for an unforgettable meal. Loved all their seafood offerings. The Cajun Mac & Cheese is to die for!! It's a HUGE portion… I think one serving could feed 4 people! :)
Their soup-of-the-day is a must. Whatever it is, get it. We had tomato-basil one day and butternut squash the next. Both were incredible.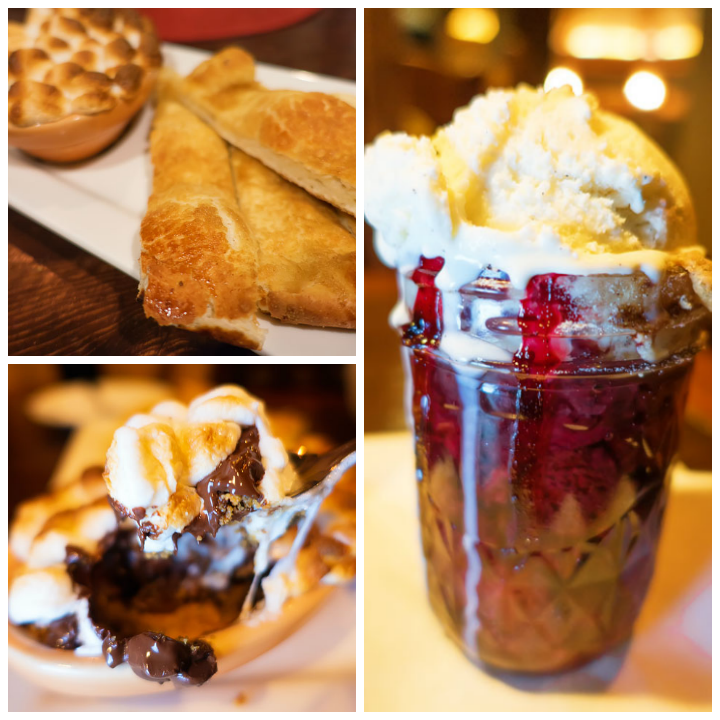 Whatever you do, be sure to save room for dessert!! The Molten S'mores were phenomenal. They're served with buttery, brown sugar flat bread — way better than plain old grahams! :) And the berry cobbler was fabulous!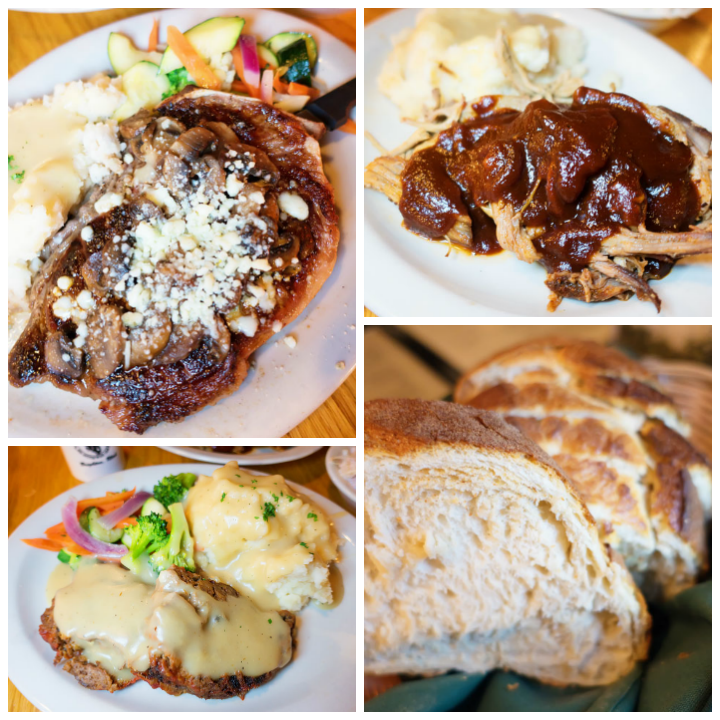 On our last night at Solitude, we had dinner at the Silver Fork Lodge. Silver Fork serves down home comfort food for breakfast, lunch, and dinner. We only got to have dinner there, but I really wanted to go back the next day for breakfast!! It sounded amazing! Just check out their dinner menu. It was so hard to choose! Everything sounded incredible. We got pulled pork, ribs, steak, meatloaf. And just look at that fabulous sourdough bread! For breakfast they use it for French Toast! Ahhh! I have to go back.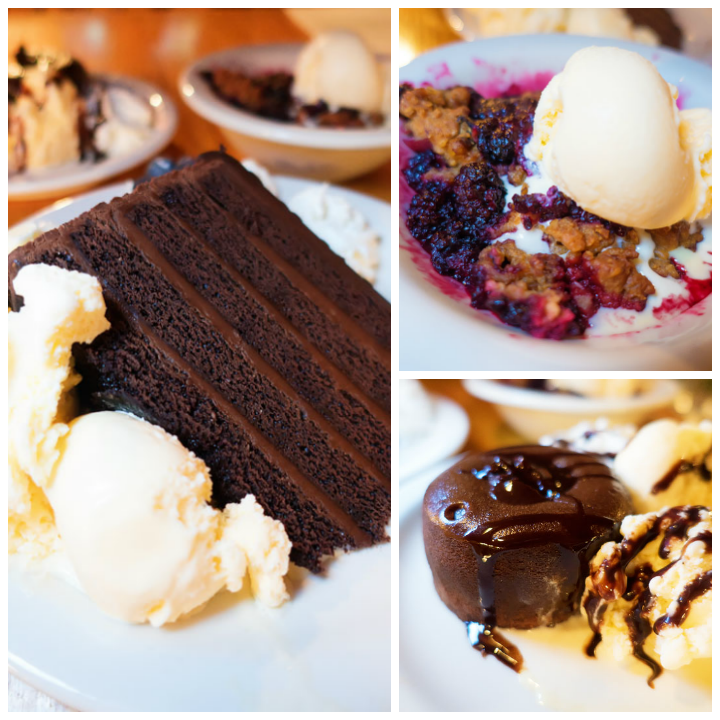 The desserts at Silver Fork Lodge were fantastic. Of course we needed to try one of each. I am still dreaming about that chocolate cake! And the cobbler!
No car at Solitude? No problem! If you're staying at Solitude, Silver Fork offers a FREE SHUTTLE to and from Silver Fork Lodge for dining. Just call and they will pick you up! It's just 3 minutes down the road from Solitude.
Lodging at Solitude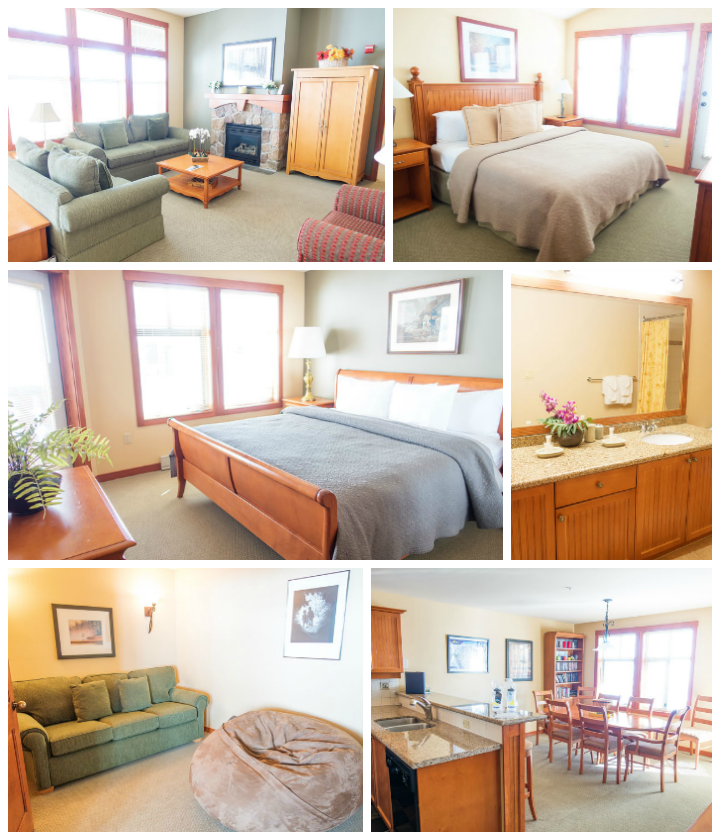 We stayed in 2 bedroom / 3 bathroom condo at Eagle Springs East in the Village at Solitude. Although it was really more like a 3 bedroom. See the media room with the green couch and bean bag? The couch turns into a bed, and the doors close for privacy, so you could easily sleep two families with kiddos in this condo.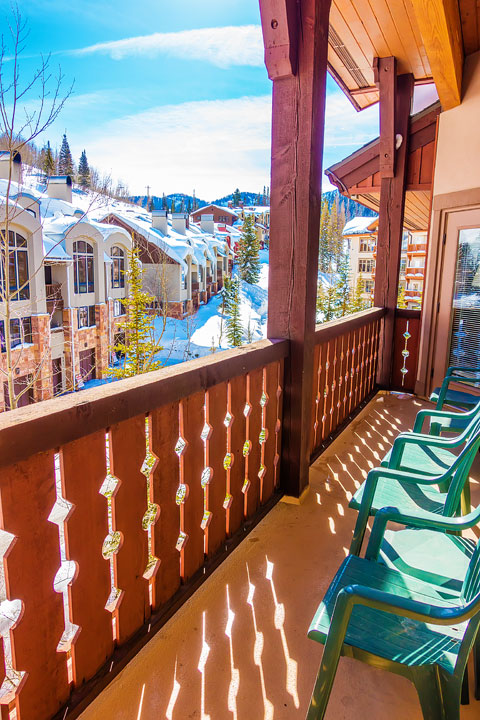 The room and views were gorgeous, and right in the middle of the village. So nice to be able to walk to dinner every night!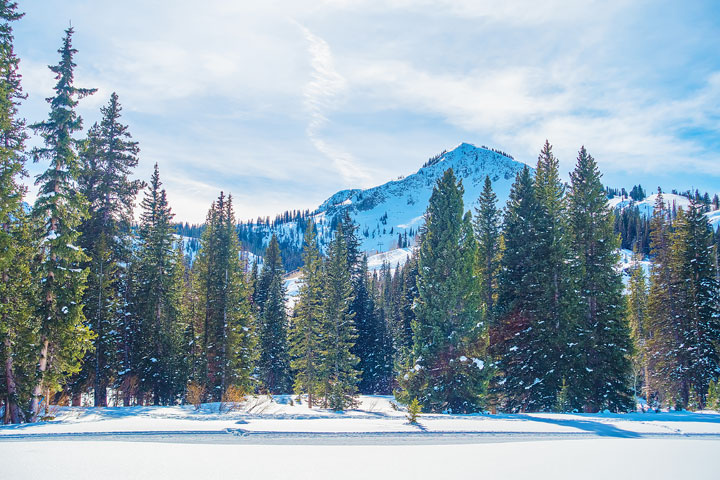 If you are looking for a quiet, private ski vacation with the exceptional Deer Valley service, add Solitude to your must-ski list. We couldn't have asked for a more amazing experience. Thanks so much Deer Valley and Solitude for making this dream vacation possible!
See more: Our Deer Valley Experience
Until next time!! xoxo