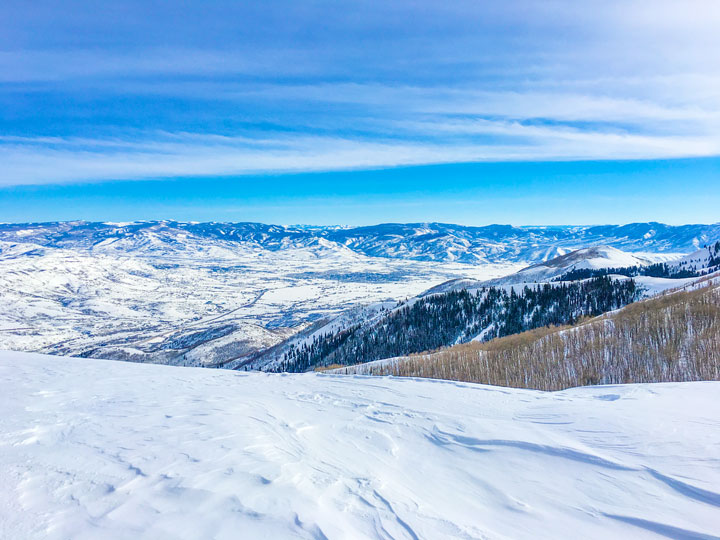 When I was a kid, my parents loved to ski. They had been skiing long before I came along, and once I did my dad taught me how to ski at a young age. However, we lived in Alabama (where it hardly ever even flurries) and there certainly weren't ski resorts anywhere close by. The nearest one was at least a 12-hour drive away. Ski trips were a very special occasion, and something I always loved and looked forward to. We didn't get to go every year, but my parents planned and saved up, and the trips we did get to take were extremely special and meaningful.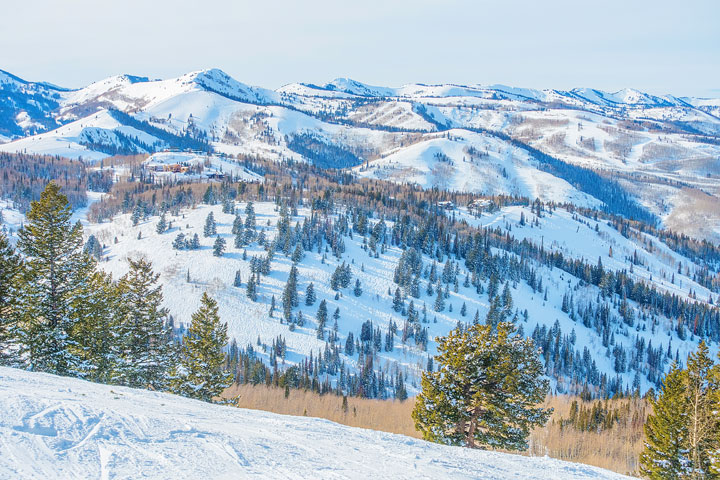 My parents always worked hard and saved and made travel a priority for us. It's one of the reasons I think I still love to travel to this day. My favorite memories growing up are from all the fun road trips we took. We had a camper, and my dad owned his own construction company, so he was fortunate to be able to somewhat set his own schedule. When things were slow, we could just take off and go. We drove out west and spent a month in Yellowstone. We drove up north and spent an educational couple weeks exploring Gettysburg and Williamsburg. We drove all the way down to the southern tip of Florida for a fun snorkling vacation in the sunny Florida Keys.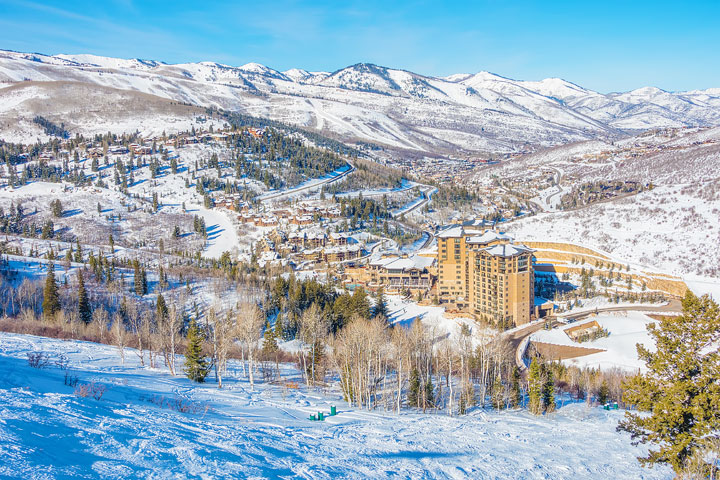 My parents always made sure I was loaded up with plenty of books to read for the long ride and disposable cameras for taking lots of pictures. I have always loved taking pictures. I still have the scrapbook I made when I was in 7th grade of our snorkeling trip to Florida.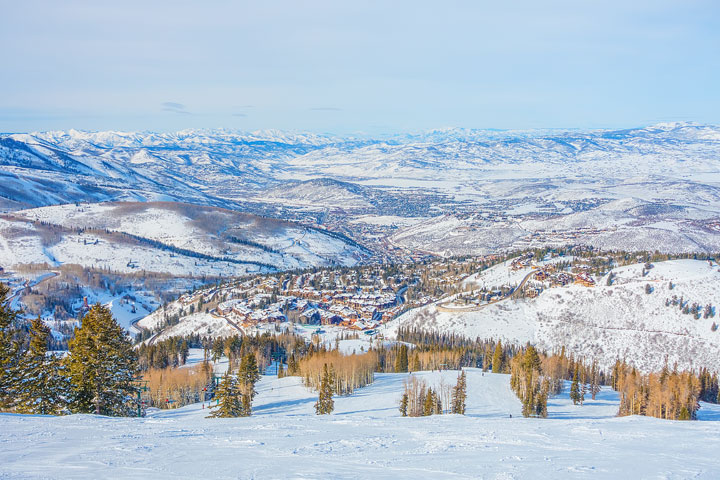 My parents still do so much for us. They are so generous with their time and resources. My dad built an amazing scrapbook room for me, they give up their weekends to help us with home projects, installations, and remodeling that otherwise we would've had to hire someone to do, even though they are in the midst of building their own house, with their own hands right now. And of course, they always take such good care of Miley and Howie (and now Winnie!) for us when we are traveling. :)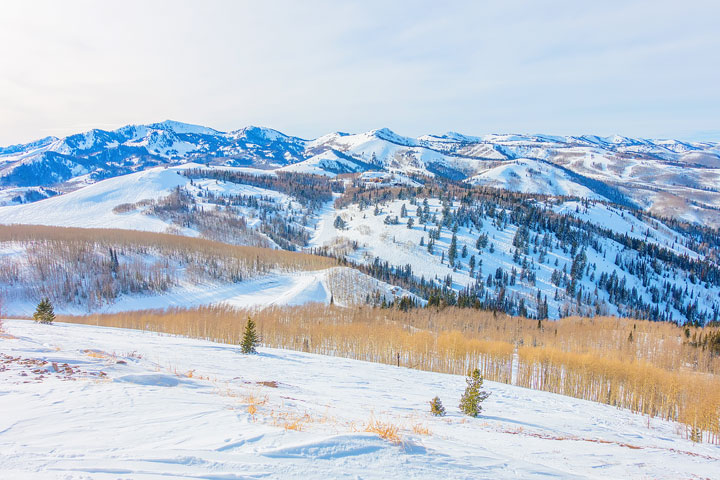 For the past few years, I've been so fortunate to take them skiing at our favorite resort, Deer Valley in Park City, Utah, as a thank you for all they do for us. Let me show you a few of the things we love about Deer Valley.
The Food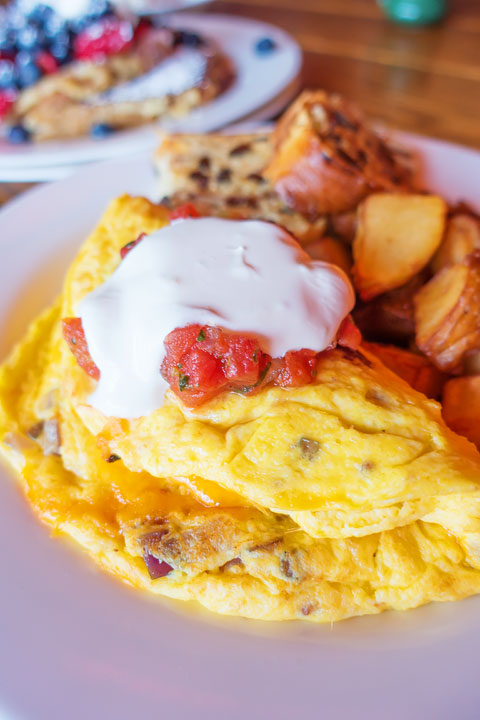 The food is amazing at Deer Valley! We ate breakfast at Snow Park Lodge two days in a row. They have an egg and omelet station, a French Toast / Belgian Waffle Station, a bakery, a fresh salad bar and more. The omelets were incredible!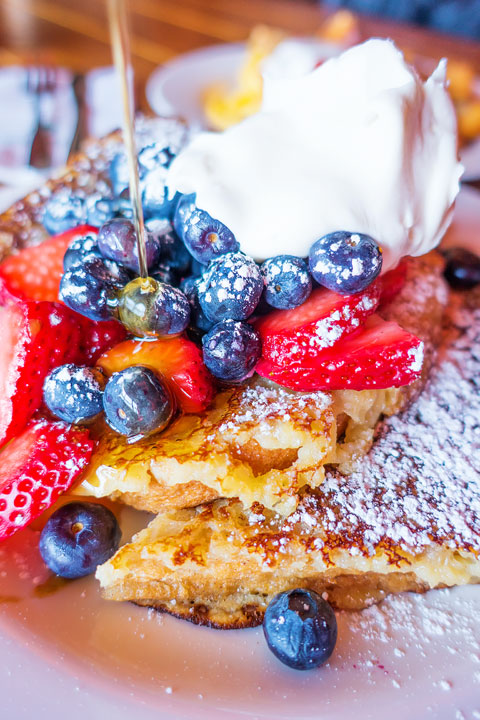 You could load the French Toast mile high with fresh berries, powdered sugar, and freshly whipped cream.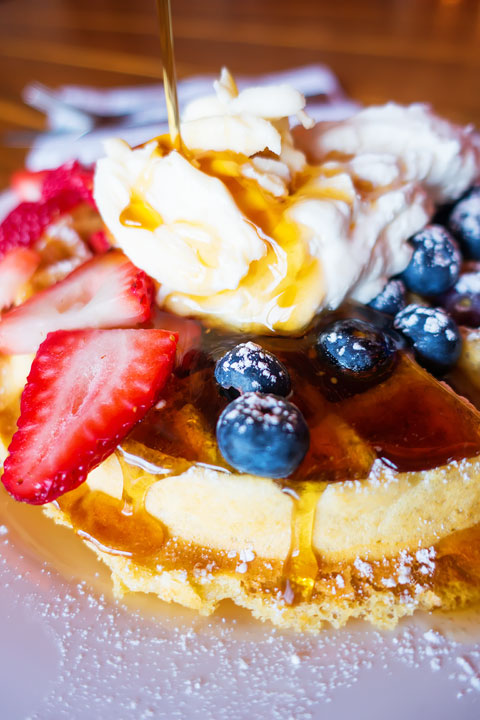 The Belgian Waffle was my favorite! They even had homemade banana butter.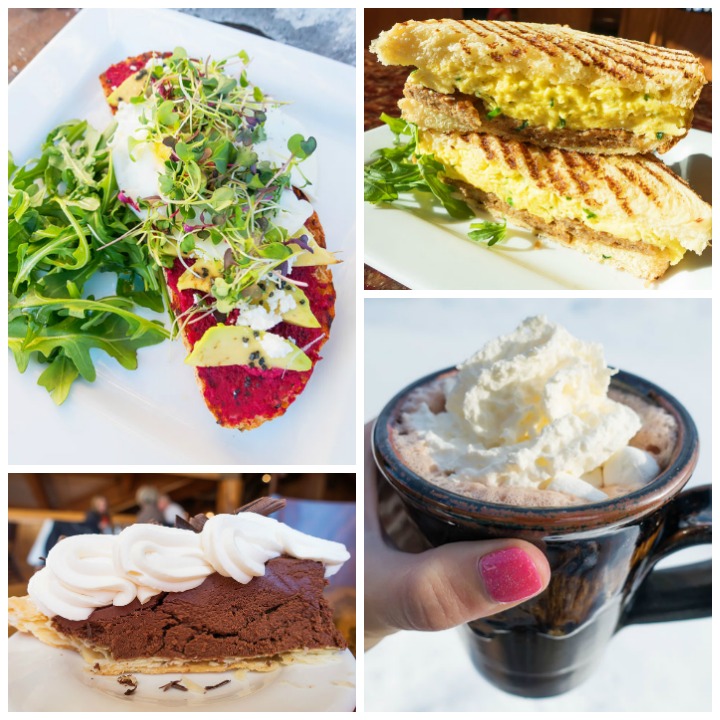 On our last morning we had breakfast at Deer Valley Grocery Cafe. I highly, highly recommend it! They had fabulous hot chocolate, breakfast sandwiches, even an avocado beet toast with an egg!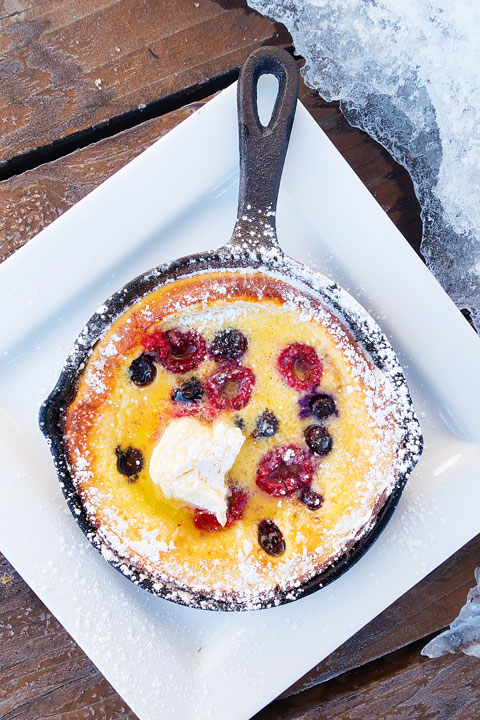 The Lemon Berry Dutch Baby pancake was TO DIE for!!!
If you are staying in a condo, you can also stop by Deer Valley Grocery Cafe for quick and easy meals freshly prepared meals you can make in your condo if you don't feel like going out.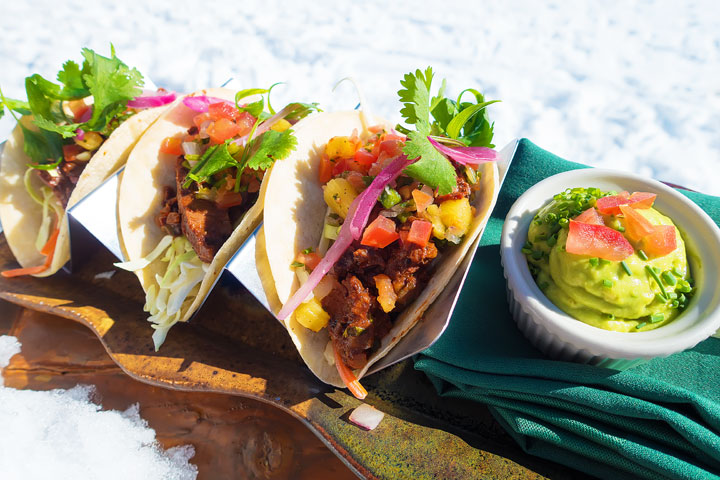 One of my favorite lunch spots at Deer Valley is Royal Street Cafe. These pulled pork tacos were a hit!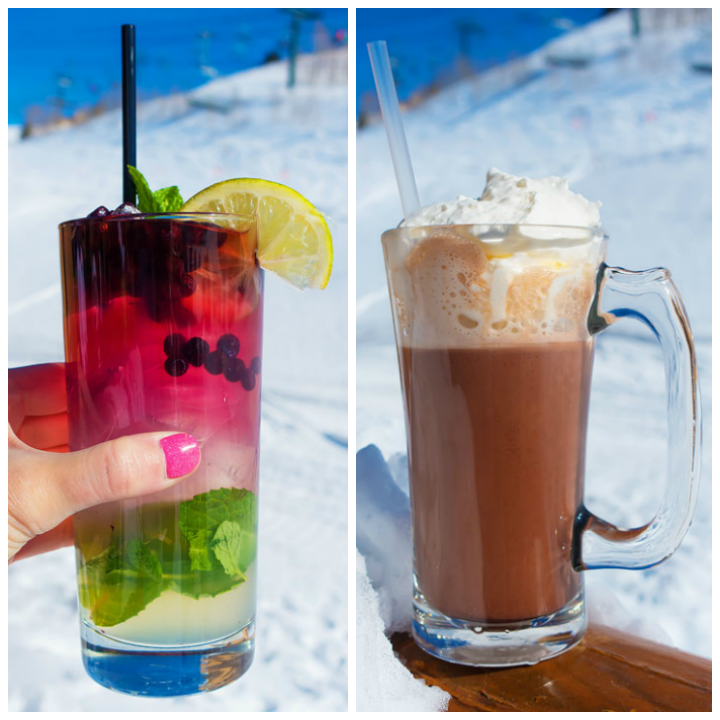 Of course we had to warm up with some hot chocolate… and a virgin Blueberry mojito!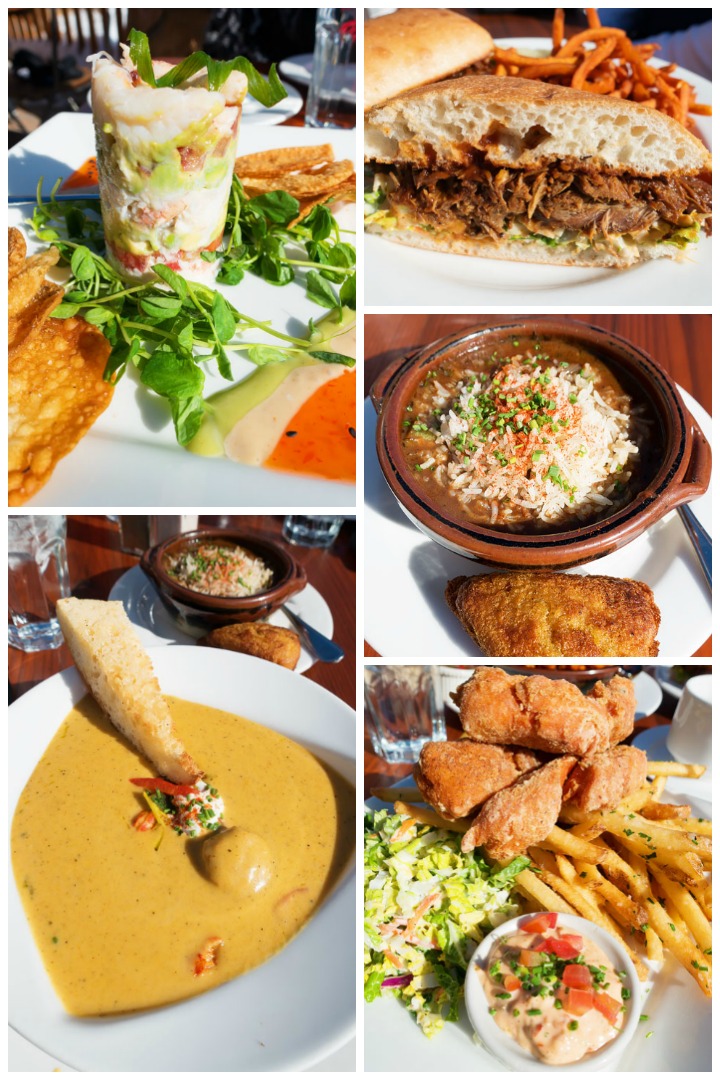 Everything I've ever had at Royal Street is amazing. This time we got the Dungeness Crab Tower (SO GOOD!), pulled pork sandwich, crawfish bisque, salmon, and the famous Deer Valley Turkey Chili.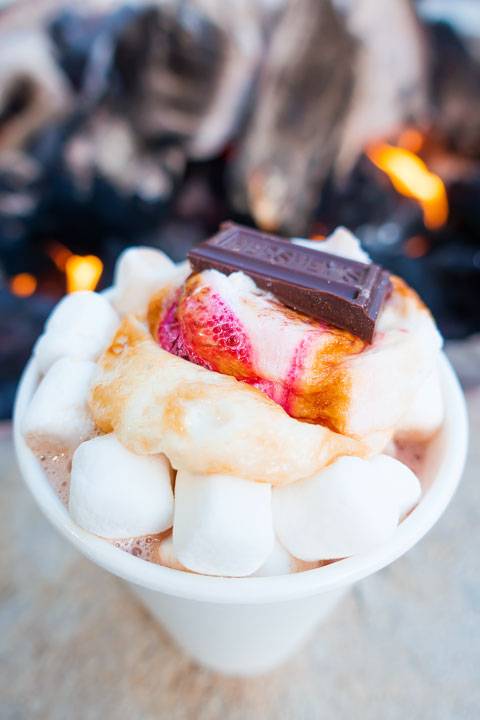 After skiing, one of my favorite spots for aprés ski is the Montage at Deer Valley. They have an incredible s'mores and hot chocolate station set up. They have gourmet, homemade marshmallows in tons of different flavors like caramel, peppermint, mocha and more. This is such a genius idea, because you can toast the marshmallow and put them in your hot chocolate! You can also add a little piece of chocolate to make it extra rich. So fun!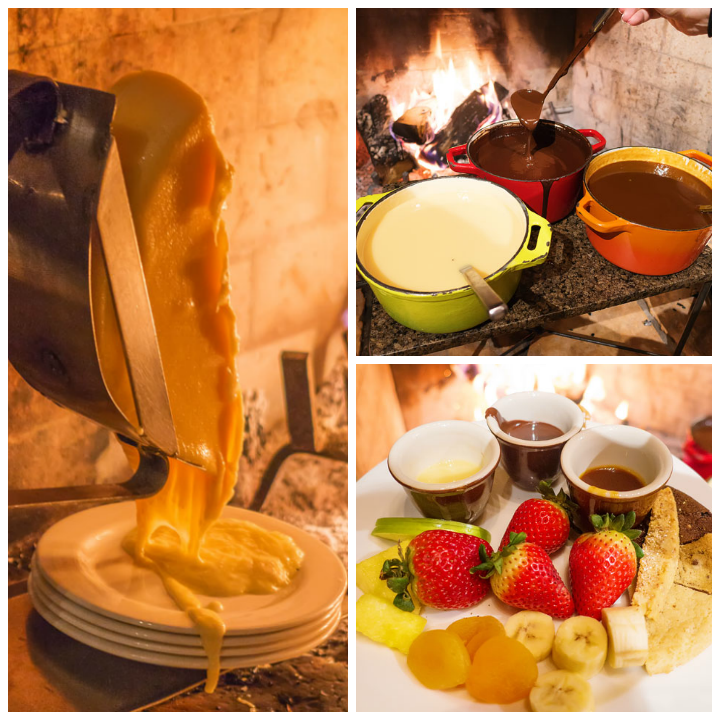 One of the most unique and memorable dining experiences is Fireside Dining at Deer Valley. They have massive hunks of Swiss Raclette cheese melting by the fireplace, and everything you could possibly want to go with it: freshly baked breads, prosciutto and other cured meats, fruits and vegetables, and even a homemade strawberry jam. The cheese, bread, and strawberry jam together were phenomenal! They have several other stations as well with homemade soup, salad, side dishes (like incredible mashed potatoes and mac and cheese!) and even a leg of lamb carving station. Oh, and don't forget about dessert! Don't miss the fondue station with white chocolate, milk chocolate, and caramel, plus all the cookies and fruit you could want to dip.
If you are ever anywhere near Deer Valley, Fireside Dining is a must for a special occasion!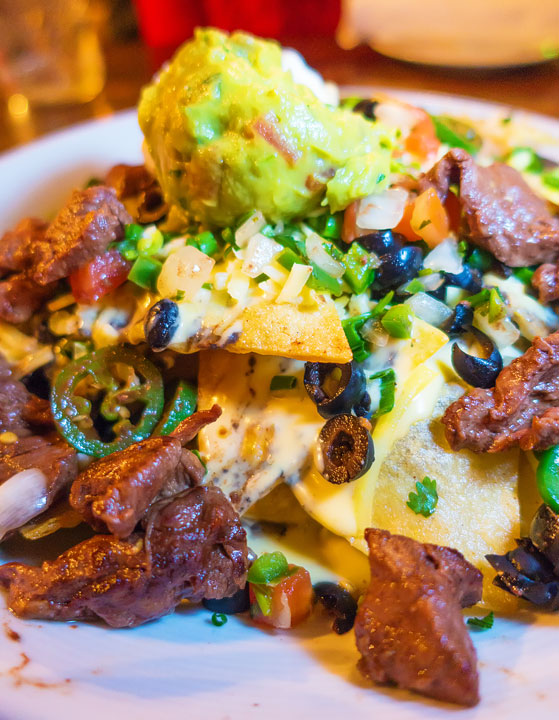 Another favorite dinner was at Burgers & Bourbon at The Montage. The steak nachos were amazing!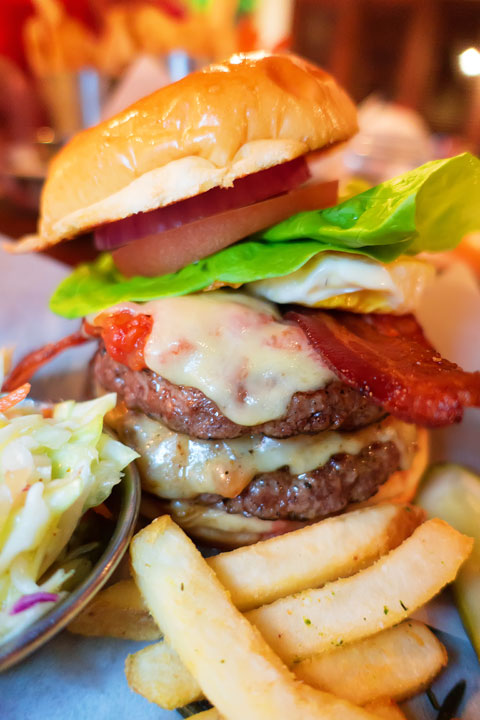 The burgers were out of this world. I got the Big Rob, a double patty with bacon, cheddar, tomato jam, and a fried egg.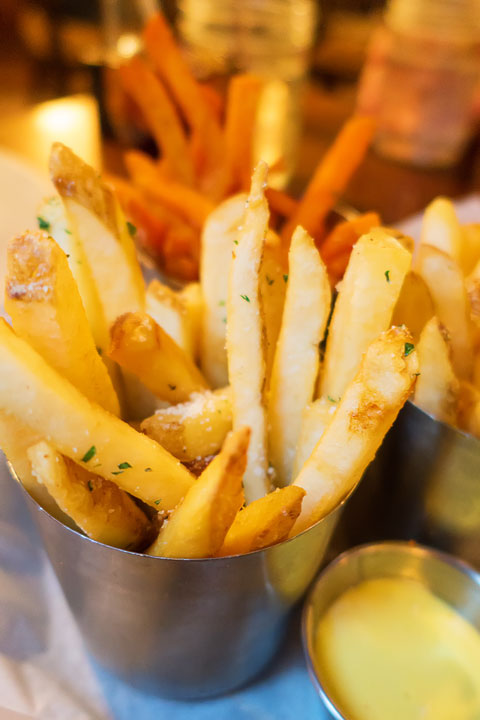 The Trio of Fries was fabulous! Rosemary Sea Salt, Sweet Potato, and Truffle Parmesan fries are served with paprika ranch, fry sauce, and garlic aioli to dip.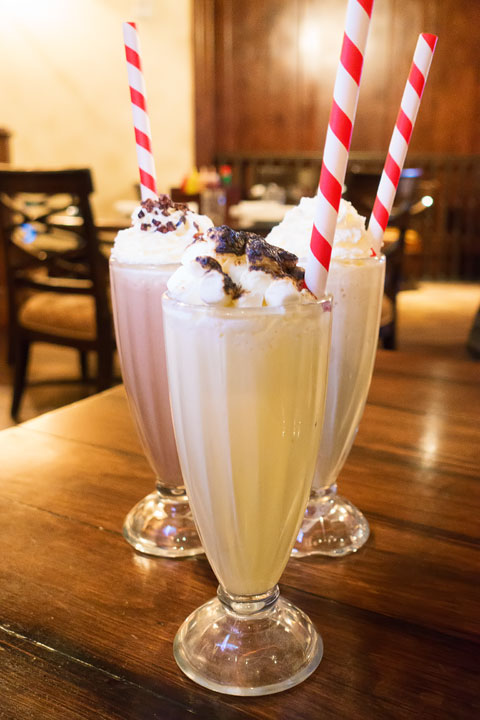 You guys, the milkshakes are WHERE IT'S AT!!! :) How fun is this S'mores milkshake?? :) But the real winner was the Brown Sugar ice cream. We saw there was a Birch Beer Float on the menu that came with Brown Sugar Ice Cream. I'm not super into floats, so I asked if they could make just a milkshake with the brown sugar ice cream. They were more than happy to oblige, and you guys. It was the most LIFE CHANGING MILKSHAKE ever. So not even kidding! If you are ever anywhere near the Montage, you HAVE to try the brown sugar ice cream!! :)
The Service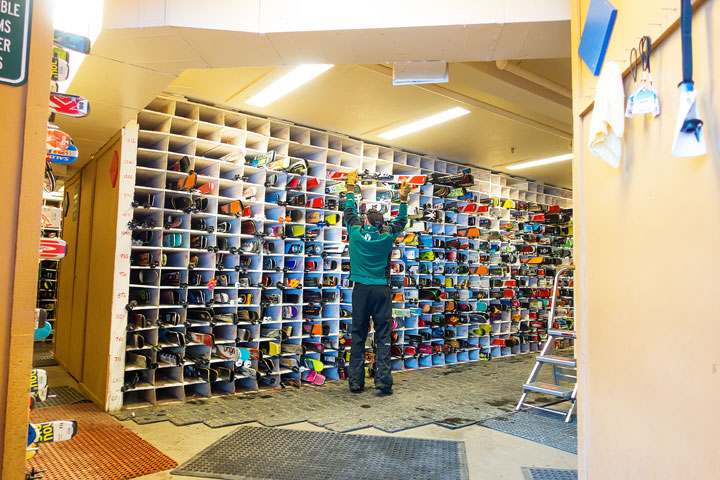 The service at Deer Valley is what sets them above and beyond. They strive to exceed their guests' expectations on every front. They are consistently ranked #1 in guest service for ski resorts in North America by the readers of Ski Magazine.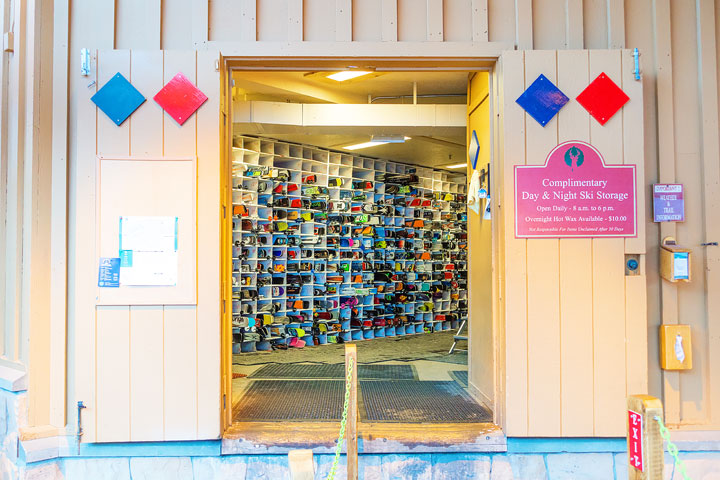 One of my favorite features this trip was their complimentary day and night ski storage. That way you don't have to carry your skis back and forth to the room with you! As soon as you're done skiing, you just ski to the ski storage, drop your stuff, then you don't have to worry about it until the next day.Your equipment is locked up and guarded, so you never have to worry about it. The Ski Storage is open an hour before the slopes and two hours after they close. They are located right at the base of the mountain, next to the chairlifts, so you never have to carry your skis. Such a treat!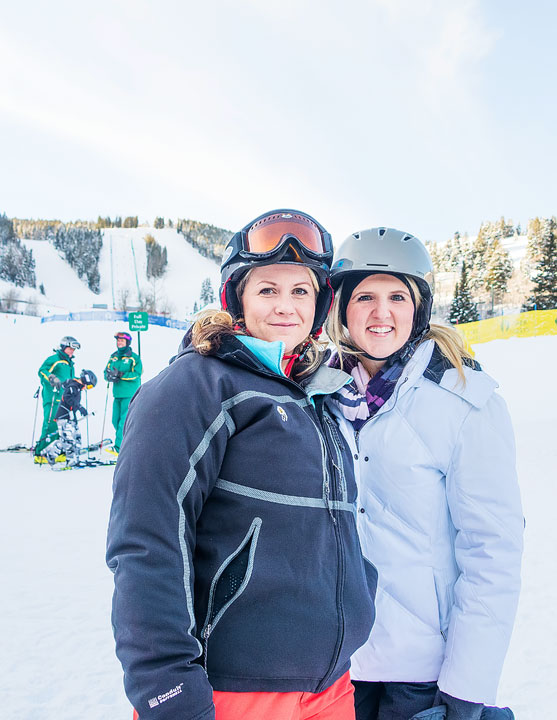 Sadly, Kevin doesn't ski, so this year I took one of my favorite friends, Shawn from I Wash, You Dry with me. Shawn snowboards, but had never skied. She took an all-day private lesson at Deer Valley and by the next day she skiing right along with me! Even if you've never skied, it's never too late to start, especially with the amazing instructors at Deer Valley.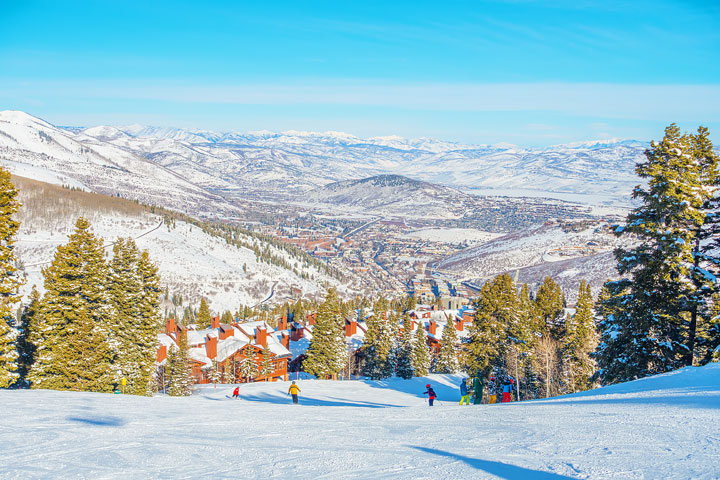 It would truly be hard to ski anywhere else after Deer Valley!
The Accomodations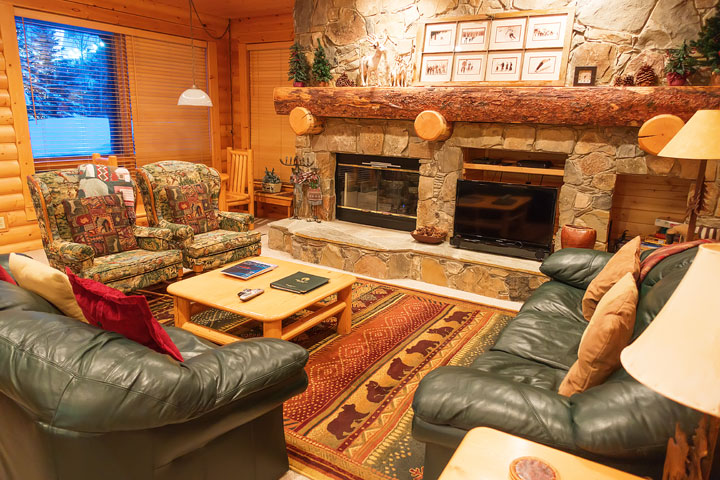 This year we stayed in a 3-bedroom condo at Bristlecone at Deer Valley.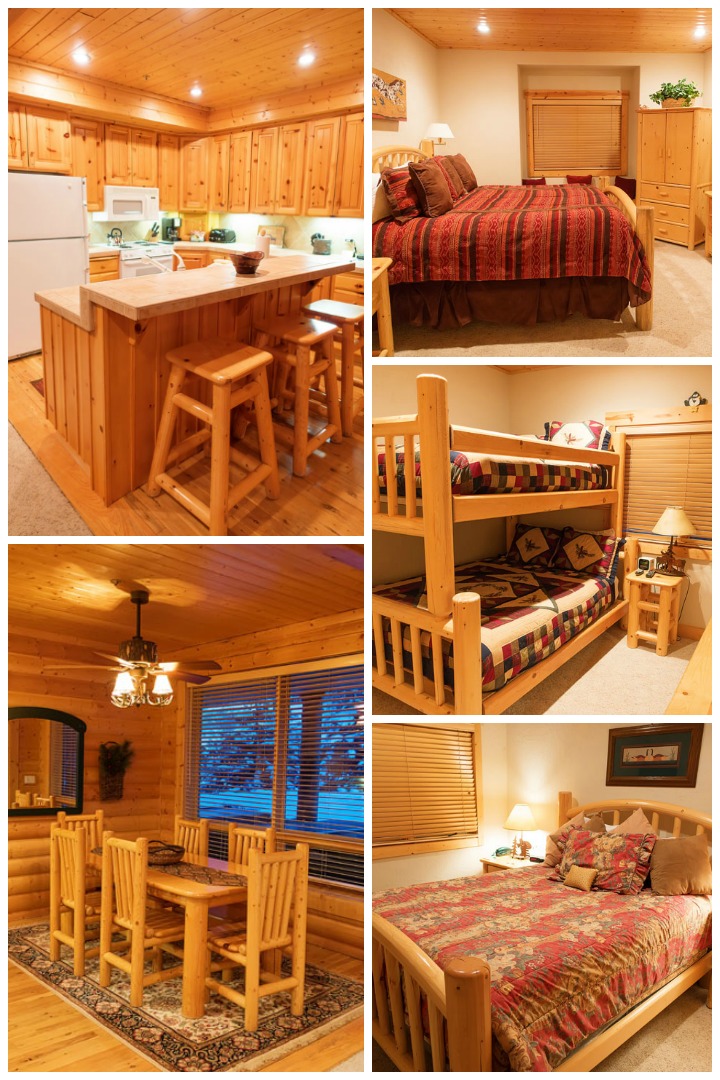 The condo was totally spacious and featured a fully equipped kitchen, stone fireplace, private outdoor hot tub, private garage, deck facing the ski resort, washer and dryer and complimentary wireless Internet. This would be a great place to stay if you were driving because it comes with it's own private garage for your car! You even get a garage door opener when you check in.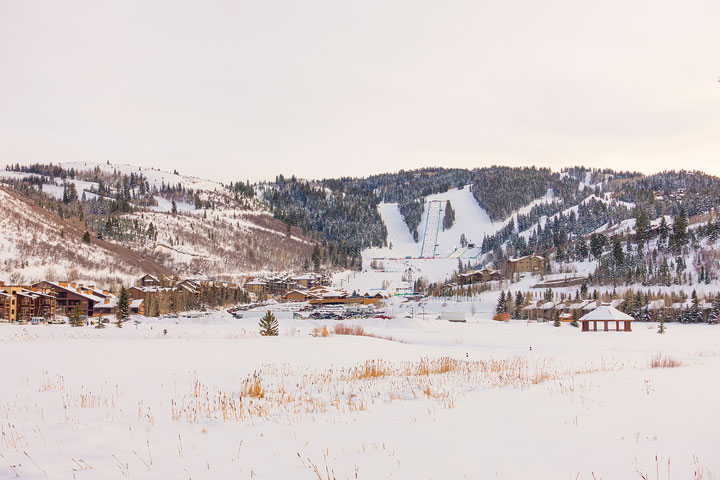 How beautiful is this view from our back porch??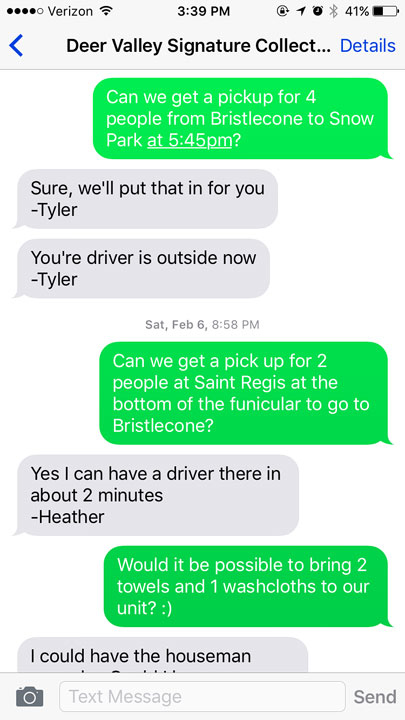 This was our first year staying in a condo without ski in / ski out access. I wasn't sure how that would go, but it turned out to be totally fine. Bristlecone is a part of Deer Valley's Signature Collection of accommodations. As a part of the Deer Valley Signature Collection, complimentary in-town transportation is offered during ski season. A private Cadillac will pick you up on demand and take you straight to the slopes or anywhere in Park City. When you check in, they give you a number you can call or text and they will arrange everything for you. It's like having your own private personal assistant. You could schedule a car up to 24 hours in advance. You could even text them for anything and everything you needed, like extra towels. It was amazing!
The Spa at Stein Eriksen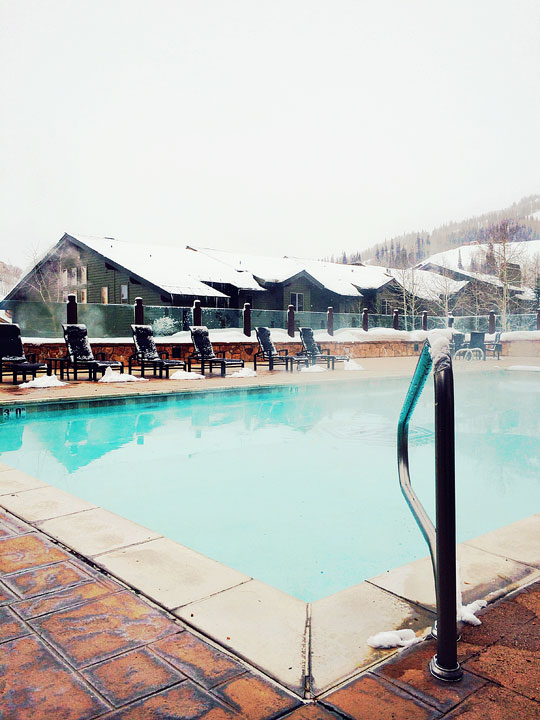 After a few days of skiing nothing feels better than a soothing and rejuvenating massage. If you're looking to treat yourself to a luxury experience, one of our favorite spas is at the Stein Eriksen Lodge, Deer Valley's premier on-mountain luxury hotel. The Stein Eriksen Lodge is the ONLY Forbes five-star rated Hotel & Spa in the entire state of Utah. Their 23,000 square-foot Five Star luxury spa offers dozens of customizable treatments including massage, facials, and even full salon services. The spa also features access to a fitness center, heated pool, sauna, steam room and hot and cold plunge baths.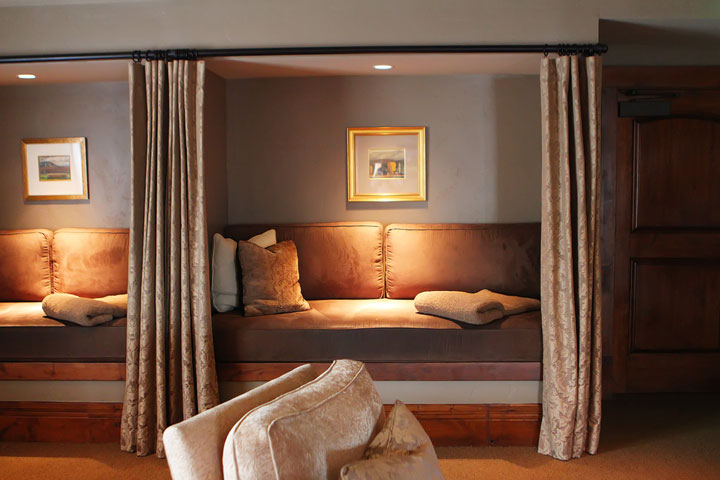 Shawn, my mom, and I had an unforgettable girls day at the spa. We each got the 80-minute signature Stein massage, then spent the afternoon relaxing in the spa lounge.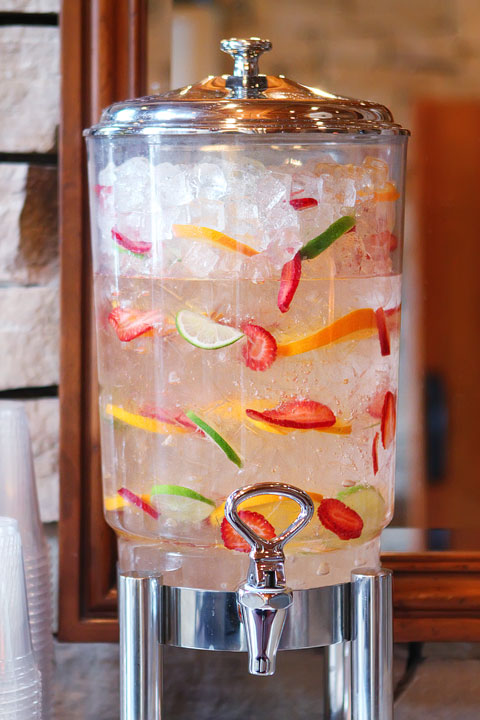 One of my favorite features of the Stein Lodge is the spa water. It's important to drink lots of water and stay hydrated after a massage, and they make it so easy for you with their creative, delicious, fruit-infused flavors. Highly recommend the Spa at Stein Eriksen!
Getting Around
This year we decided to have some fun and rent a 4×4 to drive around Utah! A Jeep is always fun to drive, especially in the mountains. And it's always nice to have a car just in case! Park City 4×4 is a unique Jeep rental and delivery service in Utah. They do everything over the phone and online and a Jeep shows up in your driveway and then they pick it up at the end of the rental. You never have to worry about standing in line at the car rental. If you're coming straight from the airport, like we did, they will pick you up at the airport, take you to your car, (you can just get in and drive, there are no forms to sign or anything!) and then at the end of the rental take you back to the airport. All car rentals should be this easy!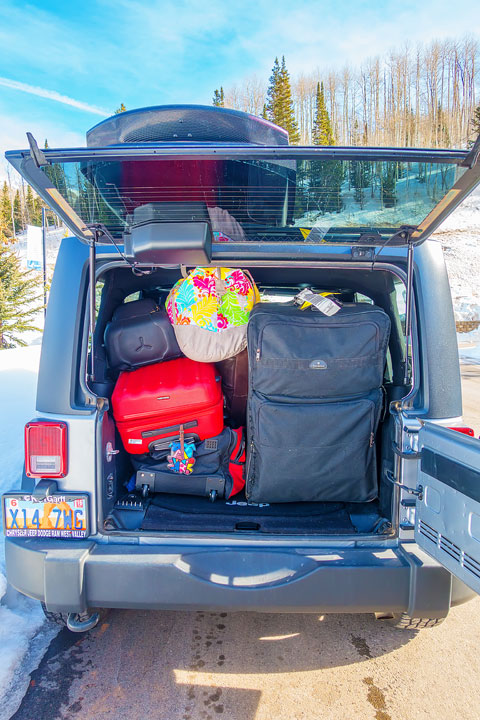 There was plenty of room in the Jeep for luggage for 4 adults. There was even a rooftop cargo box, which would have been perfect for skis or snowboards.
And if you just need a ride to and from the airport, be sure to check our their parent company, Canyon Transport!
Utah Friends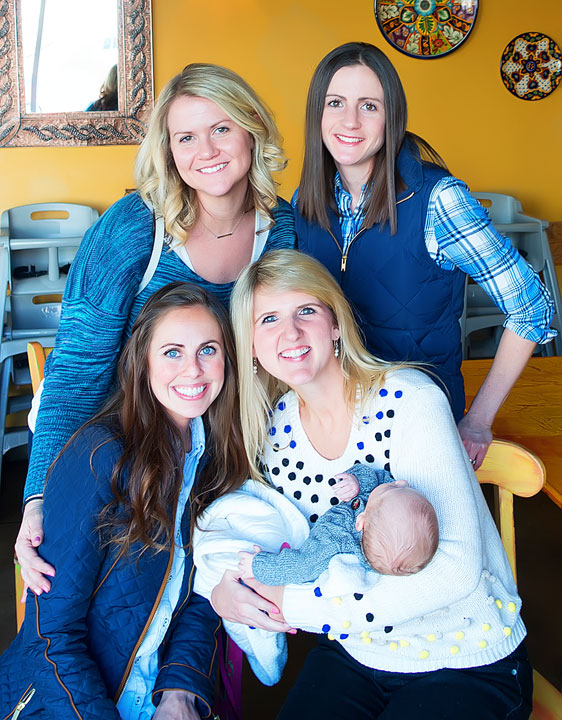 It was so fun seeing fellow blogging friends Maria and Carrian while we were in Utah! I even got to snuggle Carrian's sweet baby boy.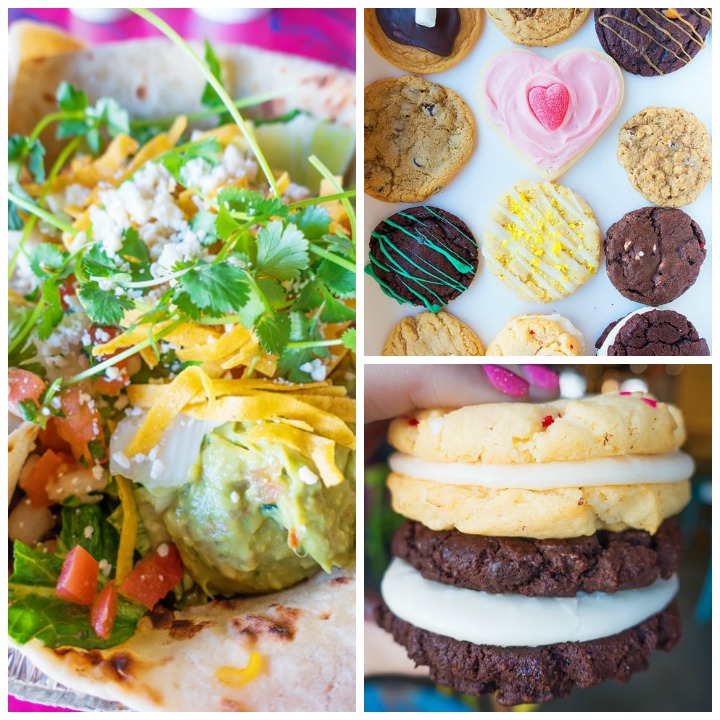 We ate at my favorite Utah restaurant… Cafe Rio!!! They have the BEST pulled pork salad ever. Every time I'm in Utah, I HAVE to go to Cafe Rio!
Carrian even brought these fabulous cookies for dessert. Swoon!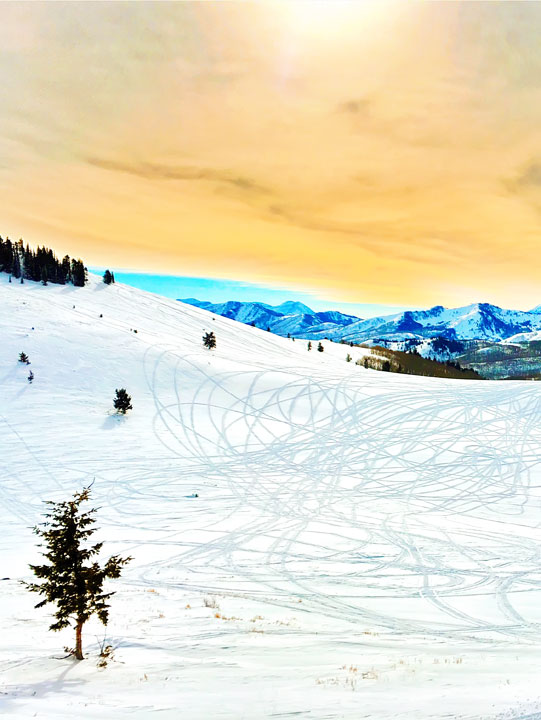 Thank you so much Deer Valley for making this dream vacation possible. If you like skiing, put Deer Valley on your bucket list!
See more posts about Deer Valley.
And be sure to check out Shawn's post from our weekend at Deer Valley!! :)
Until next time!! xoxo